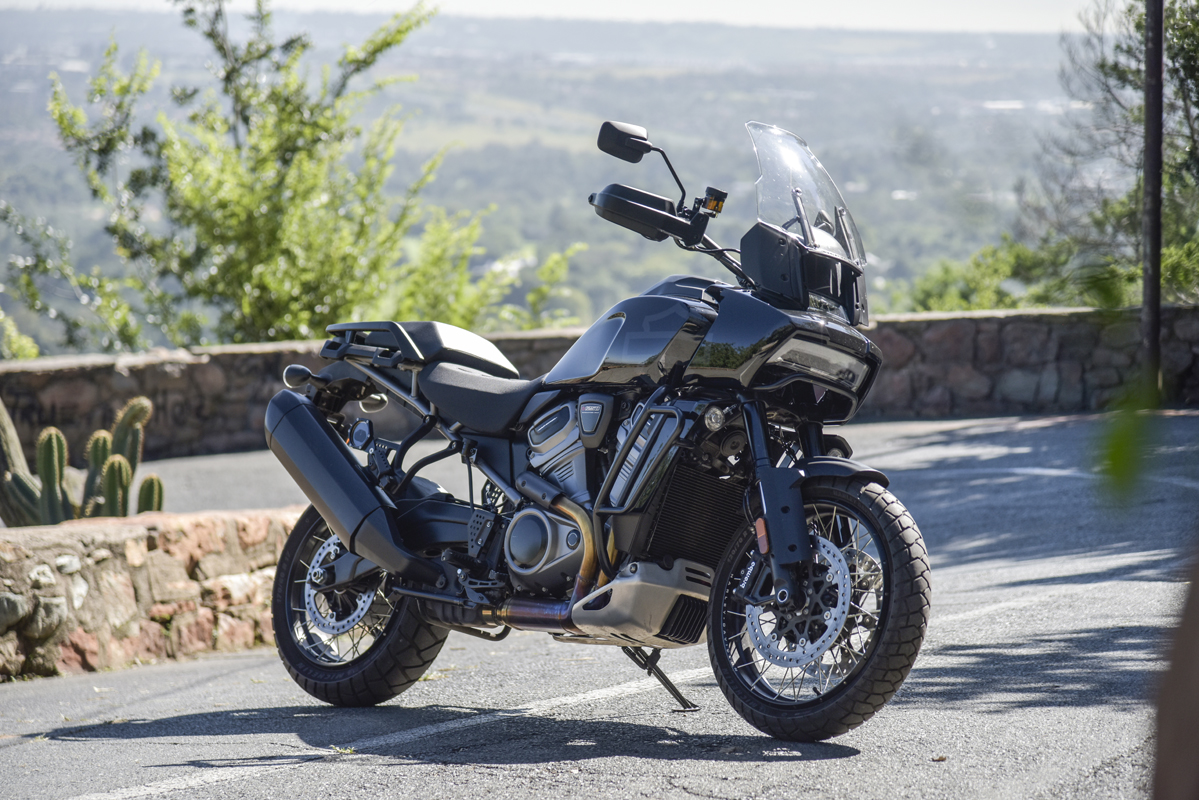 Innovation in motorcycling tends to come in small steps. It is only when we look back that we see all the small steps add up to a significant shift in engineering or technology. It's a bit like your children growing up: seeing them every day, you don't notice the changes but look back at pictures from a year or two ago and you had almost forgotten that they were like that.
Then there is innovation at manufacturer level and that is much rarer. It happened at Ducati when they launched the Multistrada: it will happen this year (or next) when Triumph launches its MX and Enduro bikes. It is fantastic when a manufacturer takes a sharp left turn into a new field: it signals a willingness to challenge the status quo and a management that is not afraid to take risks.
And that brings us neatly to the Harley-Davidson Pan America. Where the hell did that come from? The world's most tradition-bound manufacturer taking not just a left turn but ripping up the entire map and starting all over again.
There is a precedent for this within Harley Davidson, of course: remember the Livewire, where Harley beat every other manufacturer to market with a production electric bike? There are some seriously brave thinkers in Milwaukee.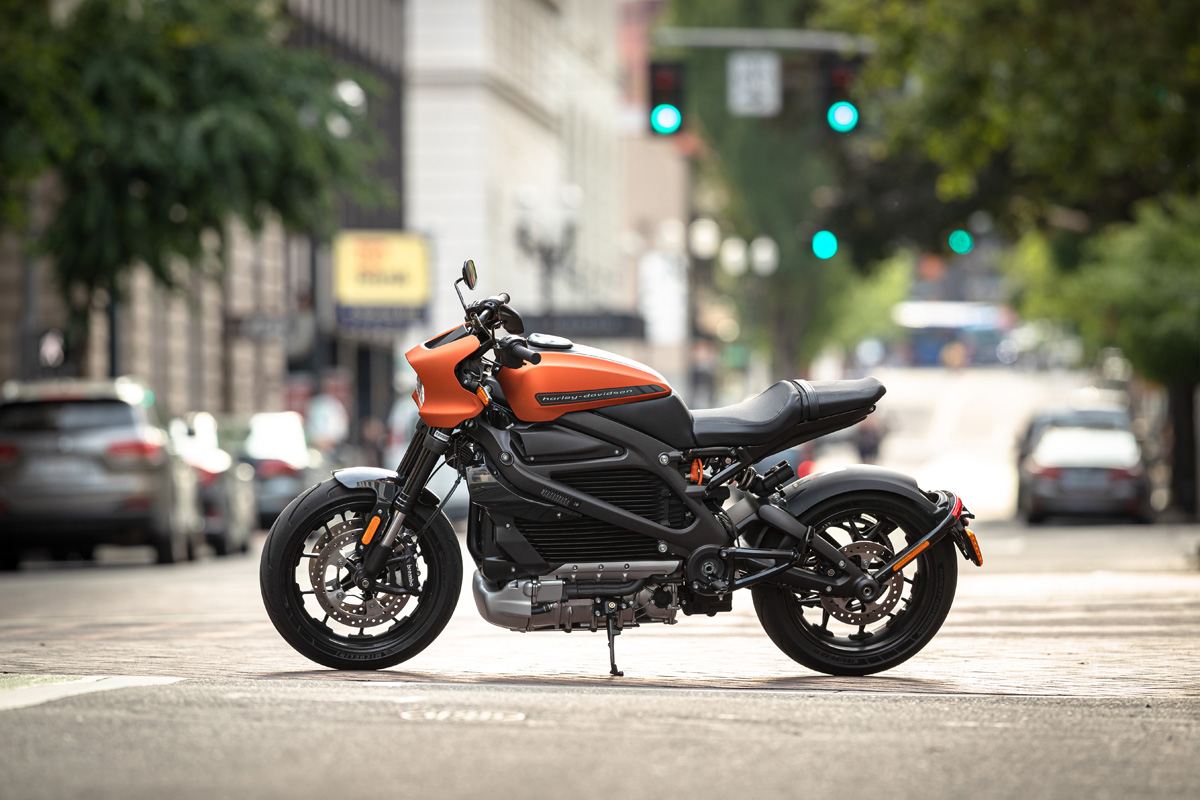 Then they hit us with the Pan America adventure bike. Again, where the hell did that come from? But come it has and its stirred emotions that I didn't think I'd feel again looking at a Harley. Even without swinging a leg over the Pan America, I love it and I love Harley Davidson for doing it, and there's three reasons why.
Firstly, I love Harley-Davidson for having the balls to even consider building an adventure bike in the first place: a bike that is so completely out of the company's comfort zone, I'd be surprised if they could find their way back. In fact, I'll be disappointed if they find their way back: they really should carry on along the road less travelled.
Secondly, I love the fact that, right out of the box, they have got it so right, and that's not me talking but the vast majority of the world's press and anyone else who has ridden it. This isn't some half-arsed attempt at being current and relevant: this is a carefully thought out, properly executed and genuinely good product that can hold its head up straight away against the best in the world.
Thirdly, I love the fact that there is not one piece on the whole bike that is in any way identifiable as Harley-Davidson: it's the least Harley Harley ever, if you get my drift. There's no bling, no gratuitous chrome. Hell, there's hardly any H-D branding! If you didn't know it was a Harley, you would have a hard time identifying it as a Harley.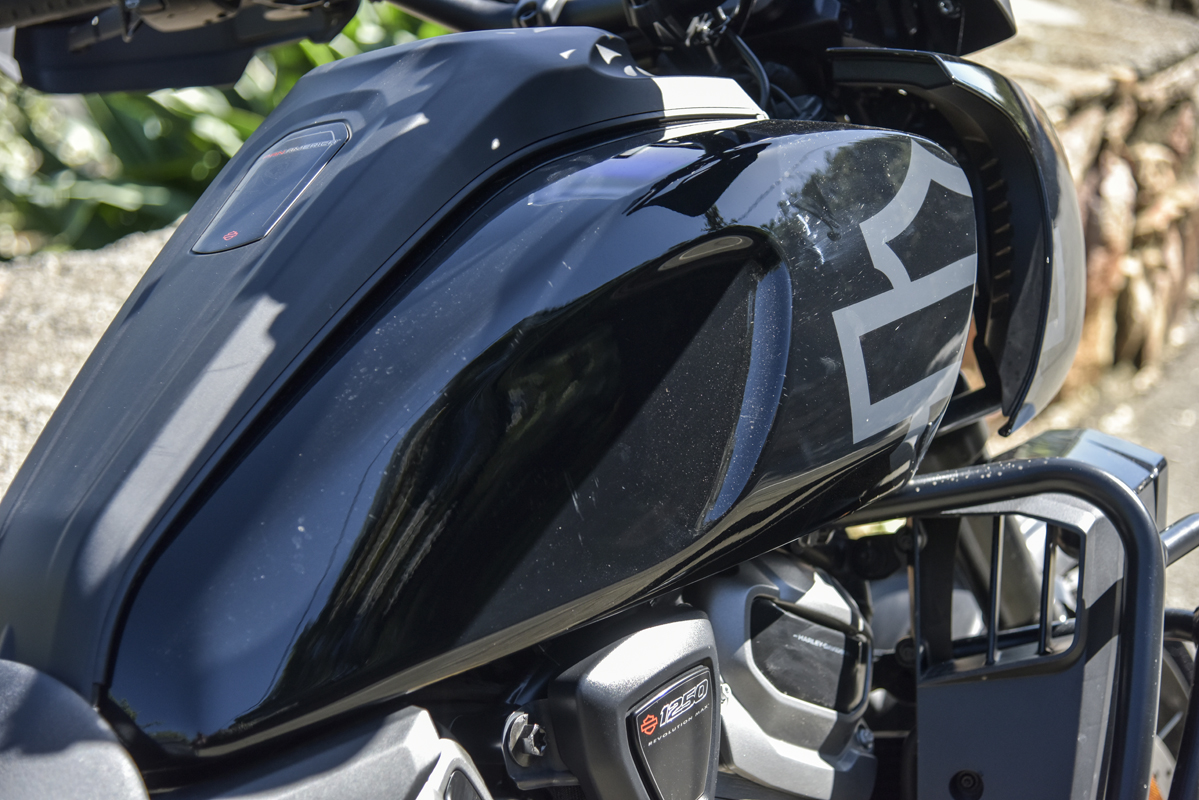 Fourthly (I know, I said three…) I love the way it looks. OK, it might be the love a mother has for her ugly baby but at least H-D has dared to do something a little different and, honestly, it looks better in the flesh than in photographs. The test bike was all black which only adds to the non-Harley-ness of the Pan Am (as we in the know like to call it…) but I also like the orange tank/off-white nose piece colour scheme. New for 2022 is a version with the petrol tank in blue as well as a version in various shades of grey.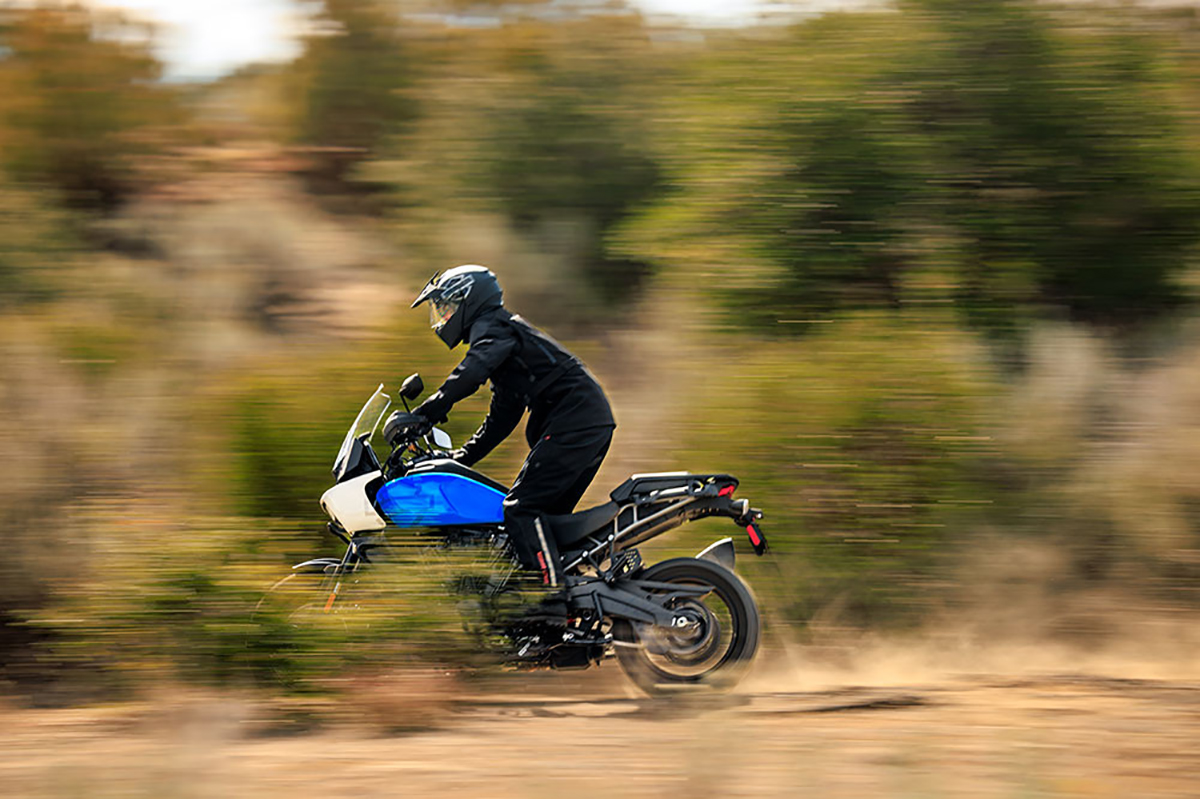 In line with every other adventure bike, it's not small. With a wheelbase of 1580mm, it is 66mm longer than a BMW R 1250 GS and 43mm longer than a KTM 1290 Super Adventure: neither dimension is enough to make much difference but the Harley does look long.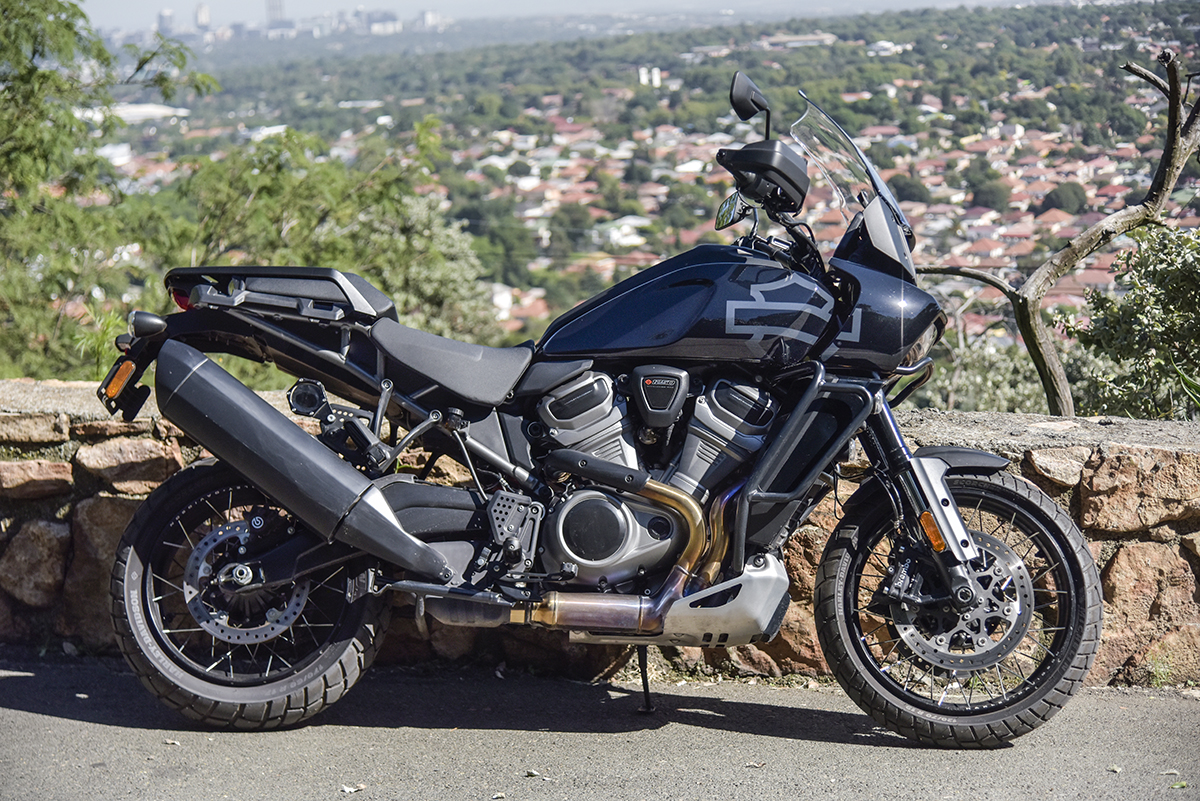 The handlebars have a much higher rise than on either of the other two and, when sitting on the bike, you do feel a bit further away from the front, with a long petrol tank between you and the headstock. But it never feels unnatural and, with the seat on its lowest setting, you feel as if you are sitting in the bike and not on it.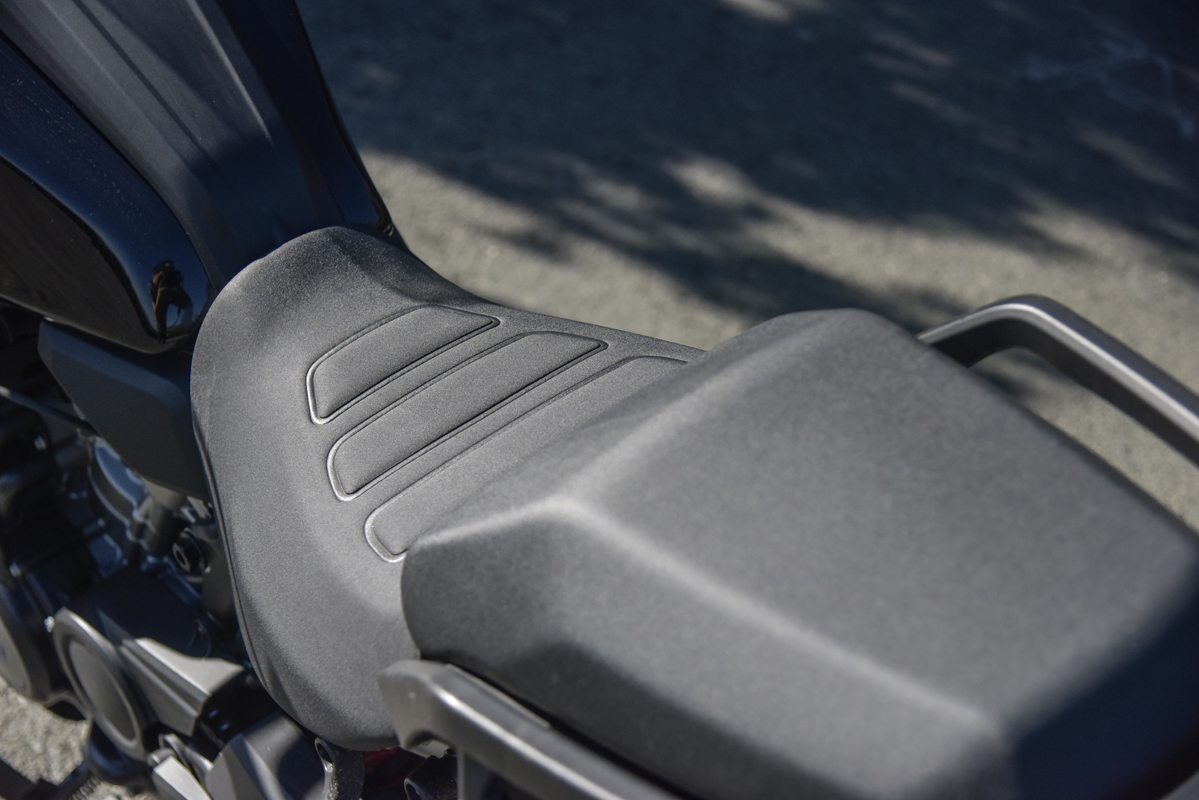 Ahh, seat height: now there's a thing. Not only have Harley entered a completely alien field, but they have also brought a new idea to the table. To be quite frank, it is an idea that the established adventure bikes should feel ashamed for not thinking of themselves. Not only is it simple, but it is utterly logical, especially given the increasing sophistication of electronic suspensions systems.
Of course, you all know about this already but, on the Pan America S models, the suspension lowers itself by 5cm when the bike comes to a stop, enabling riders who are deficient in the leg inseam to get their feet on the ground. Why has no-one else thought of that? It's genius. It's also a bit disconcerting the first time you feel the bike sinking beneath you when you come to a stop but you soon get used to it.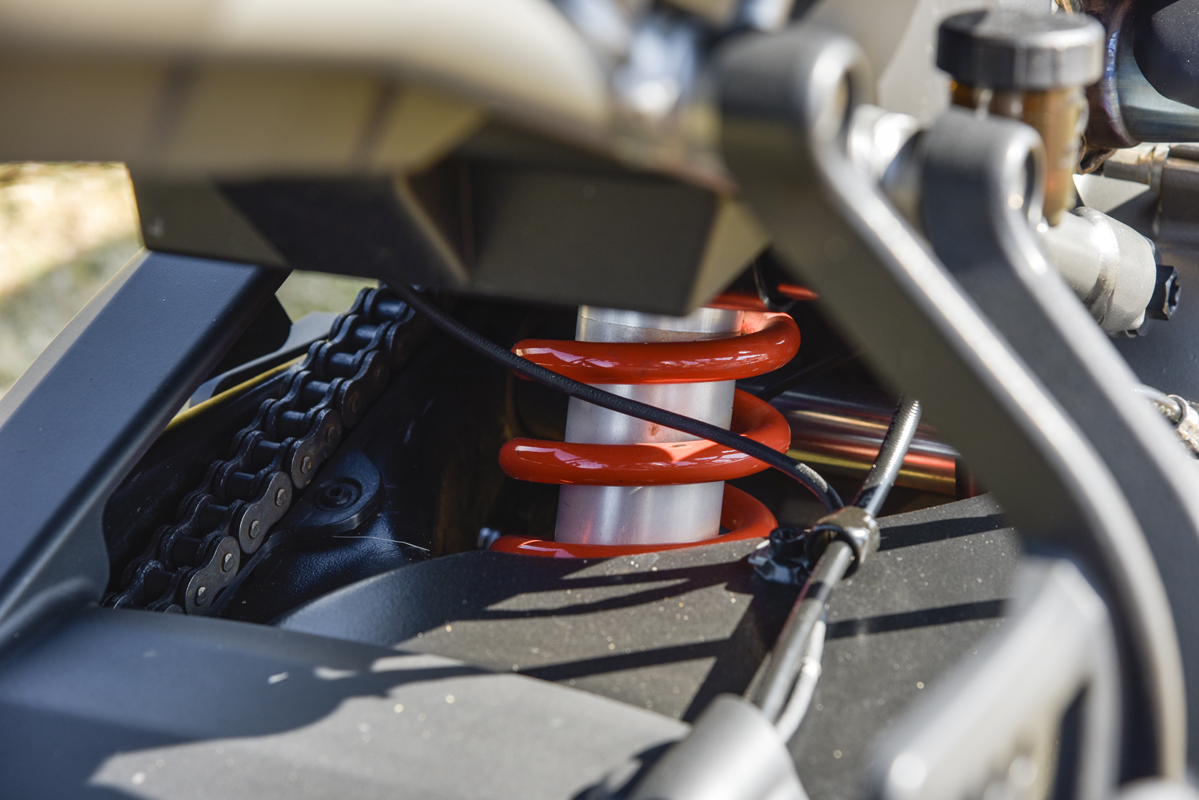 OK, the height doesn't bother me, having the leg length of a giraffe, but it makes so much sense for people who might not. Yes, I know that there are suspension lowering kits available for most adventure bikes but that then compromises the ground clearance. To enable your electronic suspension to lower itself when it matters, i.e. at rest, is so simple a solution maybe other manufacturers missed it in the race for ever greater sophistication.
At first glance, the 'cockpit' is a bewildering place to sit. A total of 26 buttons adorn the left and right handlebar clusters and, like any new vehicle, take a bit of time to get used to. The problem of unfamiliarity due to lack of time spent with a new bike should not be allowed to influence our impression of what turns out to be a perfectly usable set-up once learned.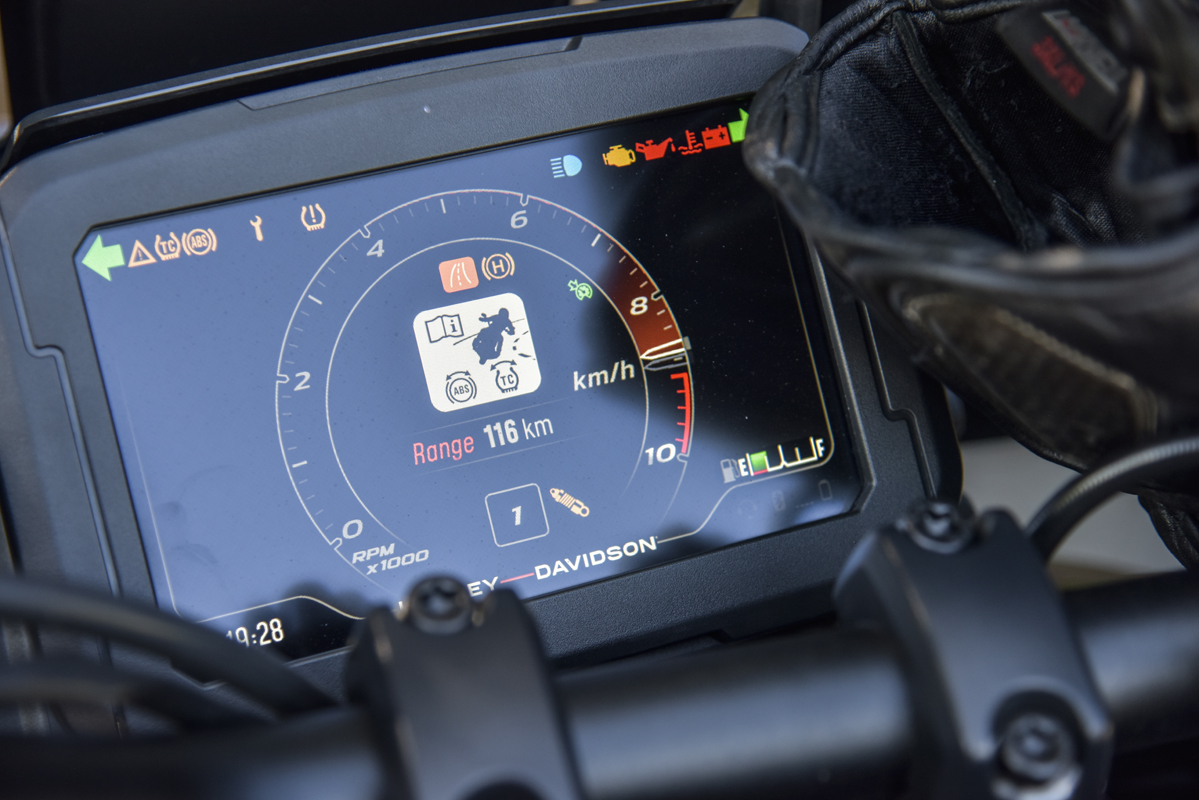 The colour TFT dash is rather busy with information but there is an option for a second, less crowded display that can be accessed via the menu. Just as with the handlebar buttons, all it takes is a few kilometres to familiarise yourself with the display and know where to look at a glance to find the information you require.
The screen is adjustable manually but it has to be one of the most awkward mechanisms I have come across when on the move. Quite simply, it's just not safe to try and adjust it while riding, needing an awkward movement of the wrist from your seating position. To be fair, this shouldn't be a deal-breaker: some riders set the screen once and never touch it again while others will lower it for town riding and raise it for the open road. In the case of the latter, you just have to stop and adjust it which, let's face it, isn't that much of a problem. After all, it's not that long ago that screens weren't adjustable so when did we get so particular?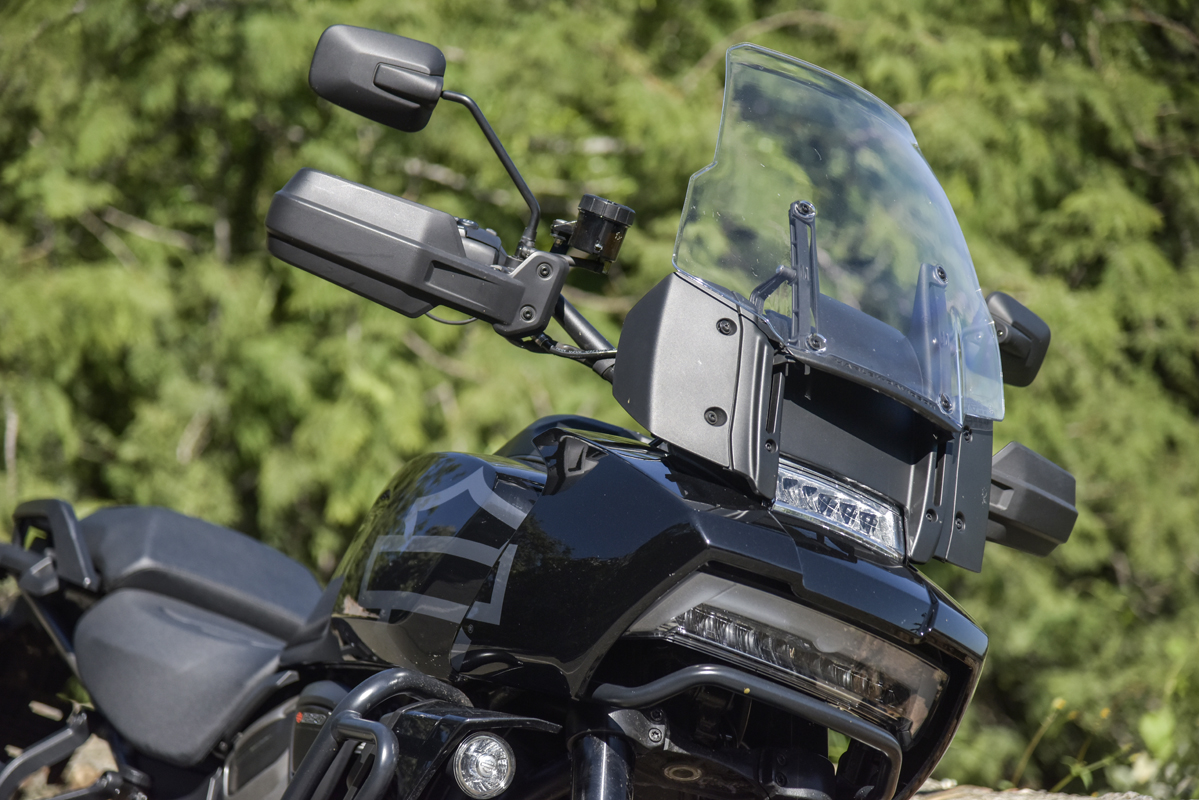 So far, so good. H-D engineers and designers have done their homework well and ticked the right boxes. But all that work would be in vain if it doesn't deliver where it really matters.
Don't worry: it does.
Right now, let's forget all this nonsense about whether it's as good – or not as good – as the KTM, BMW, Triumph, Suzuki, Yamaha, whatever adventure bike you care to mention. To be frank, it doesn't matter. What does matter is whether the Pan America is a good bike in its own right.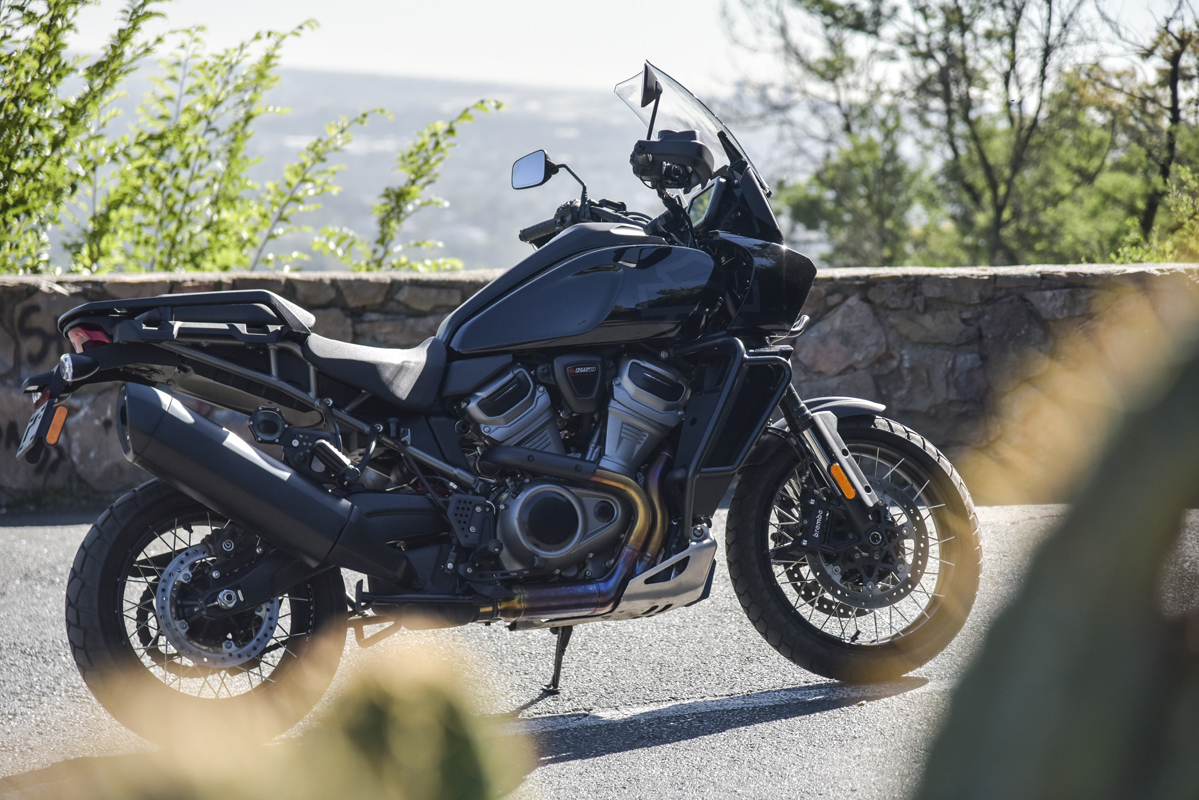 It is.
Part of the enjoyment comes from the surprise that it is so good: it's a great feeling. A huge part of me wanted the Pan America to be good and the relief that it is and that all the haters don't have a leg to stand on is massively satisfying.
The engine is strong and smooth and loves to rev. The seat is comfortable and the rider triangle is just about perfect (for me, that is, but there's nothing to suggest it won't fit other shapes and sizes of rider). The chassis feels agile and confidence-inspiring and the suspension is perfectly dialled in. You really get the feeling that a whole day in this saddle wouldn't be a problem and that the bike is good enough to make that whole day entertaining.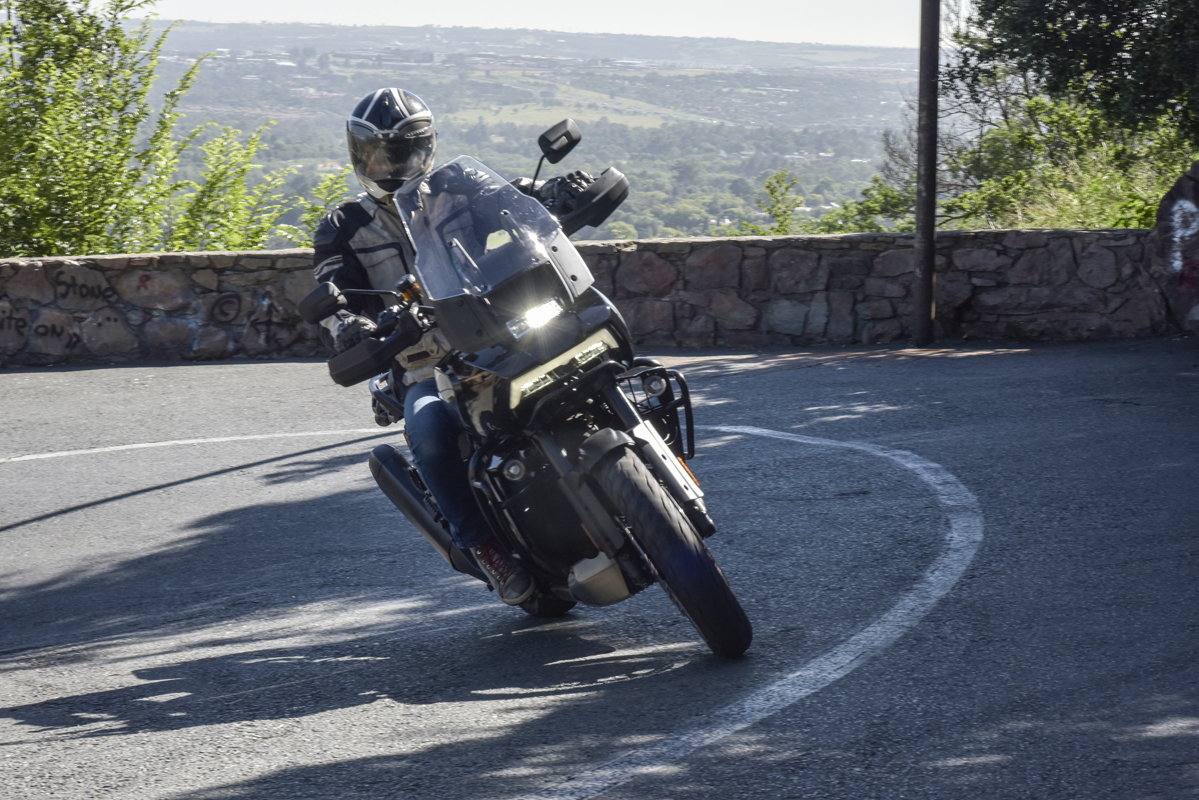 Right here I have to admit that, in the time I had with the bike, I wasn't able to complete any serious off-road riding but may I excuse myself on the grounds that many owners will restrict their riding to the blacktop and never get the wheels dirty. Perhaps that is less likely in South Africa than in other countries but it is a reality for this type of bike just as it is for nearly every Range Rover that is sold.
Adventure bikes have quickly become the Swiss Army Knife of motorcycles, able to do everything well and smashing long distances in a day on the open road is one of its strengths. If we are to believe the reports from other publications, the Pan America's off-road performance, when compared to its rivals, is nothing to be ashamed of: in one comparison with the BMW R 1250 GS, both bikes emerged virtually equal in the final assessment, each beating the other marginally in different areas and that's a seriously impressive performance for a newcomer from a manufacturer who, a few years before, had never even attempted to spell 'adventure', let alone build a bike around the word.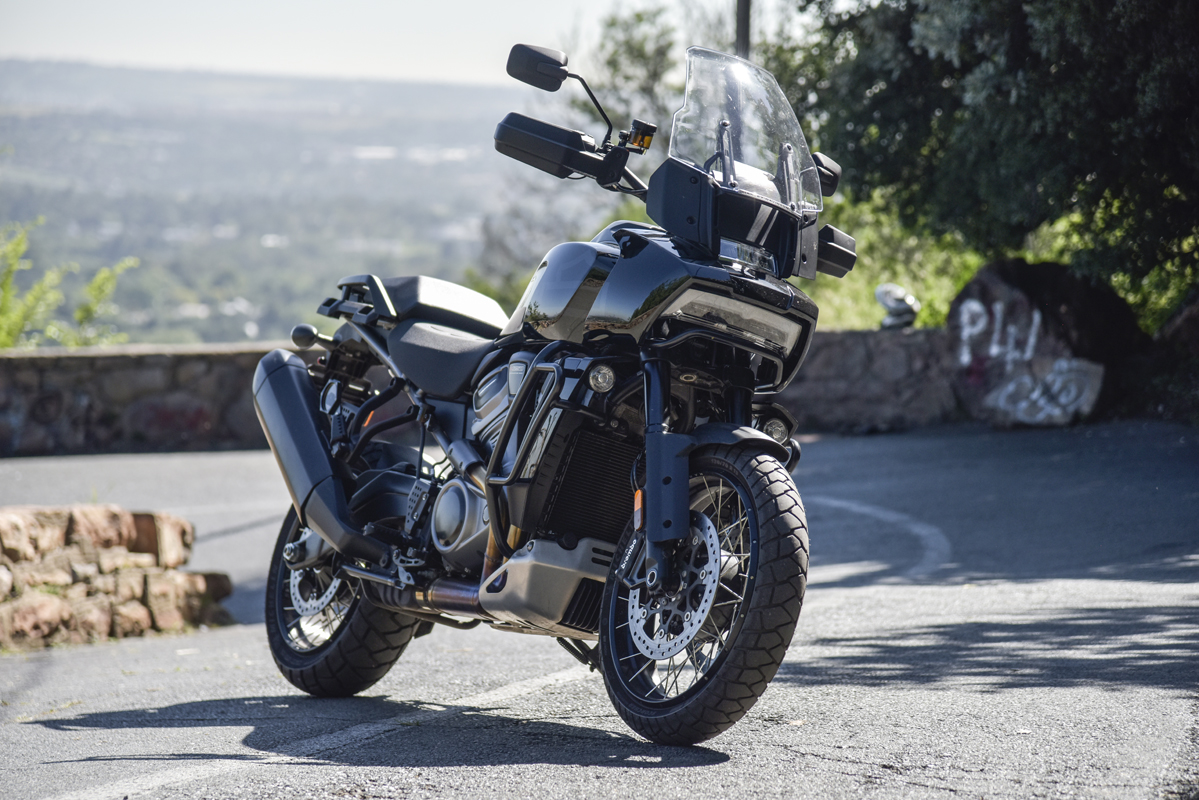 Harley are in the enviable position of not having to care if the Pan Am is as good as any of its rivals. Harley Davidson is as American as apple pie and Americans are loyal to the point of fanaticism. All Harley has to do is "build it and they will come," to paraphrase Waynes World 2. That doesn't forgive them cynically building any old shit, confident that it will sell but, thankfully, the engineers have a lot of pride and the company realises that they have to succeed in the wider world and not just in America.
So they have built a very good motorcycle that will sell in the wider world but, just as importantly, it will sell like hot cakes in the U.S… It already is doing just that, helping H-D to a huge hike in revenue and market share in the fourth quarter of 2021. Job done.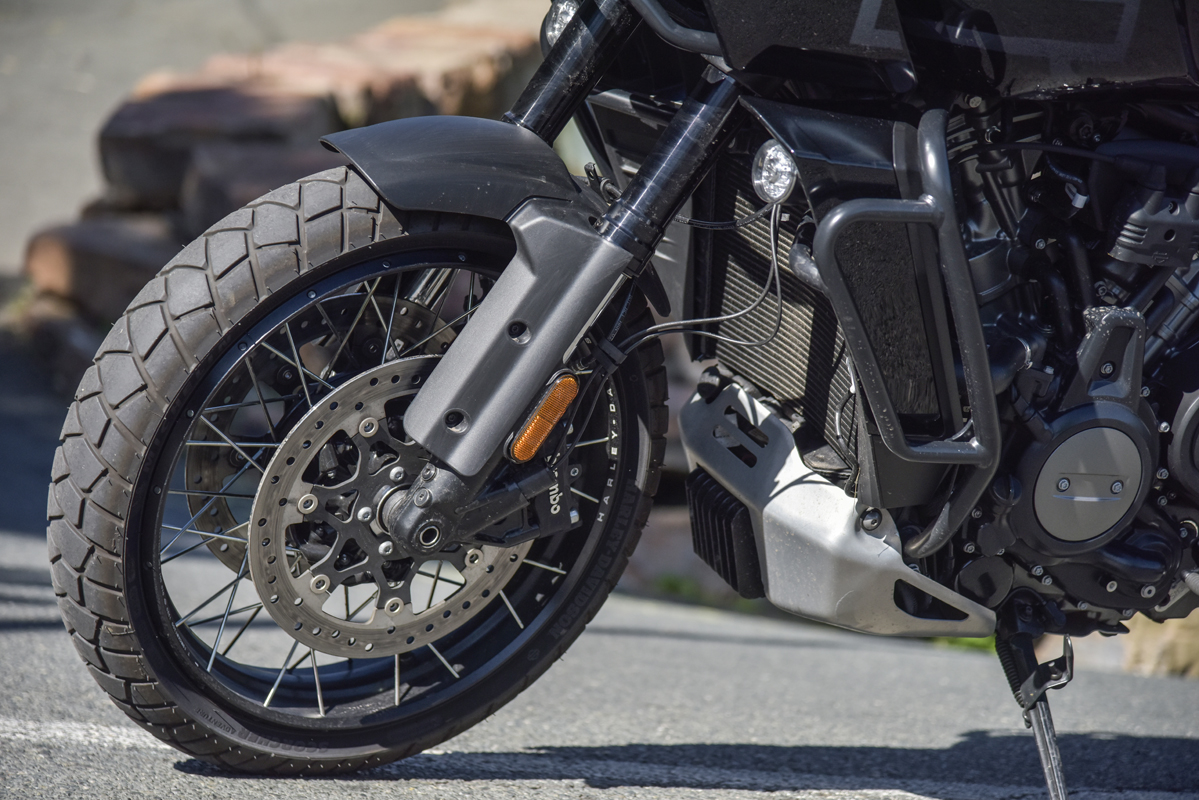 We've already seen the Sportster S as a second arrow in the company's brand new quiver and the arrival of these two bikes merely whets one's appetite for what's next. Perhaps the Bronx streetfighter concept will see the light of day? We can only dream.
There is a fifth reason I love this bike and it came to me as I was riding it or, more accurately, parking it: it's a petty little thing but gave me silly pleasure each time it happened.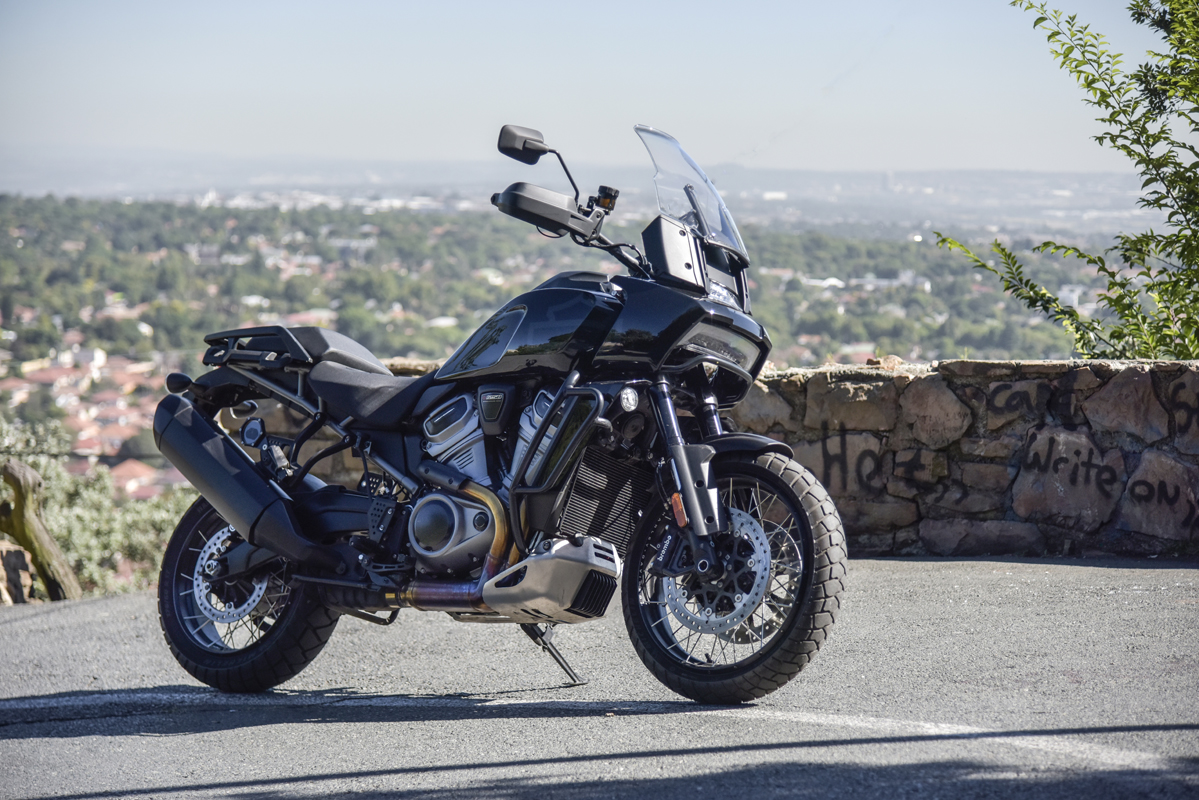 Invariably, people would be drawn to the bike and it was only a matter of seconds before the inevitable question, "what is it?" The look on their faces when they were told it was a Harley-Davidson was priceless and it was a genuine pleasure to stand and talk about the bike and its features. A Harley has always been a crowd-puller and it is great for the Pan Am to carry on the tradition but for completely different reasons.
The argument about which adventure bike is better is a pointless one: they'll all do what they are designed to do and the differences are measured only in fractions of degrees. What really matters is how you connect with your choice and your choice is largely dictated by how you connect with it.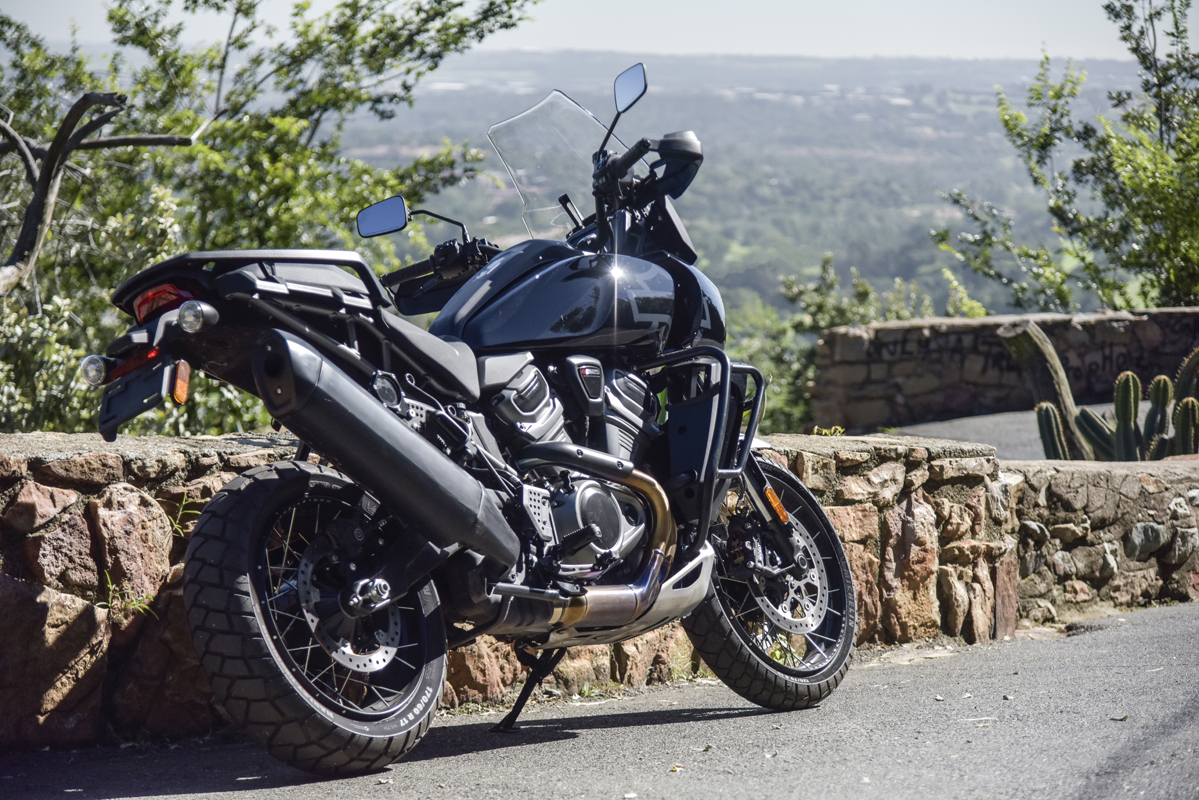 When asked, I would always pledge allegiance to one particular brand of adventure bike, possibly because I had spent more time on that brand than any other. Now, that allegiance has been sorely tested and I'm not sure that the Harley-Davidson Pan America hasn't shot to the top of my wish list.
Harley-Davidson's Pan America 1250 Special
For more information on the bike that we tested in this article, click on the link below…