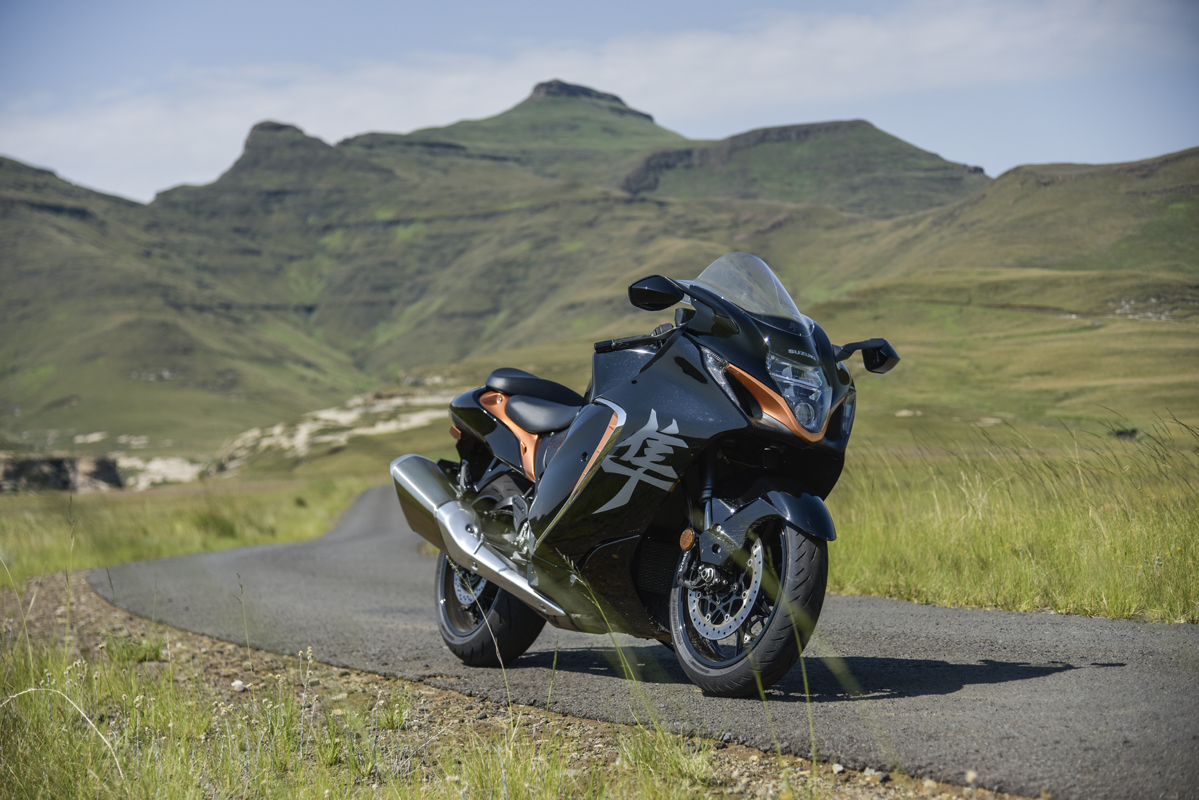 Just when we thought high-performance sport touring missiles were heading towards extinction, Suzuki decided to resurrect their ultimate predator: the Hayabusa. Many of us thought Suzuki would go all Super Saiyan with the latest 'Busa, and give it a million horsepower to reclaim its crown as the king of speed. But no… instead, we got what appeared to be an evolution.
This means that Suzuki decided to refine their winning formula instead of rewriting it. Don't get me wrong—Suzuki hasn't simply sent the latest 'Busa to lift weights in a wind tunnel. The team have put countless hours into motor development, leaving nothing but the engine covers unchanged. They've also focused on making it more comfortable and aerodynamic, and introduced a host of rider aids to help riders get as much out of the bike as humanly possible.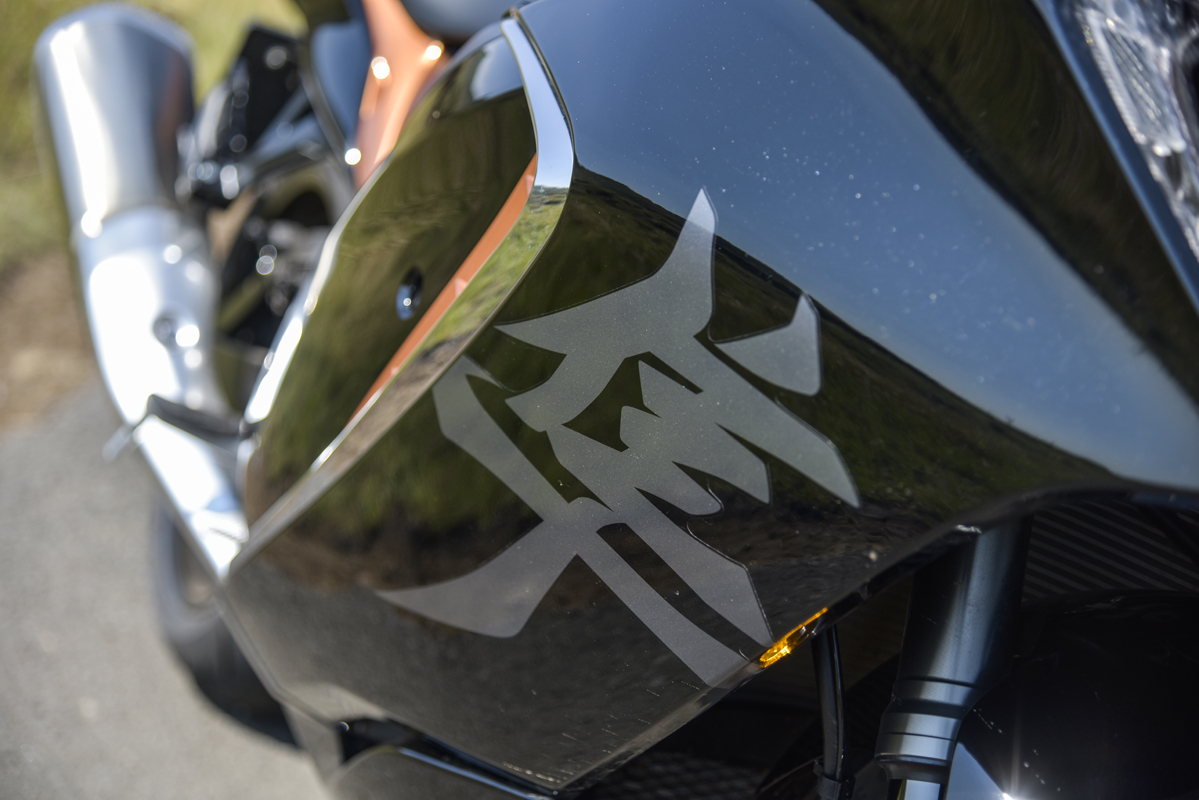 The question is, could all these changes actually make the third generation Hayabusa less of a Hayabusa? And are bikes like the 'Busa even still relevant in this day and age?
To find out, I spent a couple of days riding the 'Busa in its natural habitat—the wide open road, where life is lived "a quarter mile at a time," as Vin Diesel famously said. A road trip to a small town situated in the foothills of the Maluti Mountains called Clarens was on the cards, of which two days would be spent enjoying the beautiful surrounds and twisty roads before hitting the open road back home.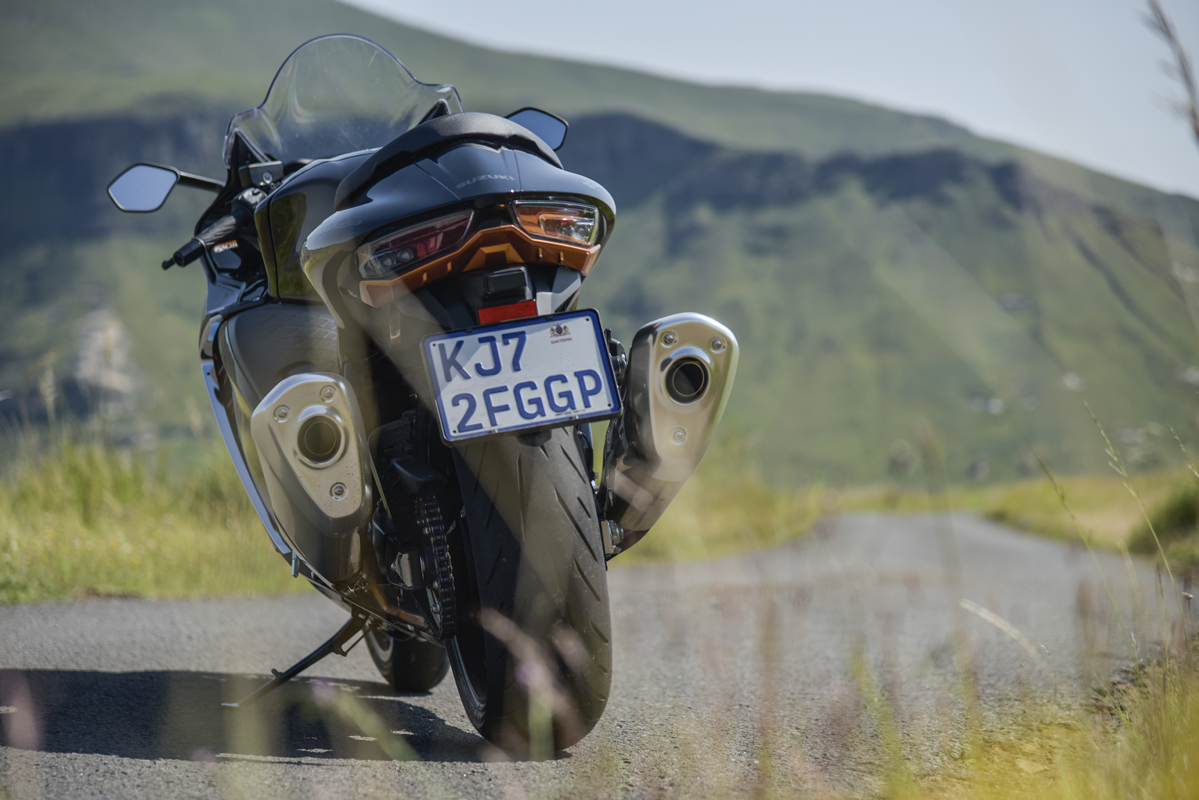 While the normal working man was just getting to the office on a Friday, I was busy filling up the falcon's 20 L tank in Pretoria—before meeting up with a few riding mates in Benoni. With not a cloud in sight, we rolled onto the N3 and cruised down to Harrismith for lunch, then peeled our way through Bethlehem, before arriving in Clarens.
On the journey down south, one word just kept coming to mind: smooth! The motor builds its power in a turbine-like way, with a very linear mid-range torque curve that can only be described as buttery smooth. On the open stuff, the bike builds thrust effortlessly, and on more than one occasion I looked down at the speedo and saw a number much higher than I perceived. With an indicated fuel consumption of 20 km/l, it's pure hypocrisy! This meant that 'Busa would return 400 km on a tank, allowing me to get to Clarens (395 km away) on a single tank of fuel.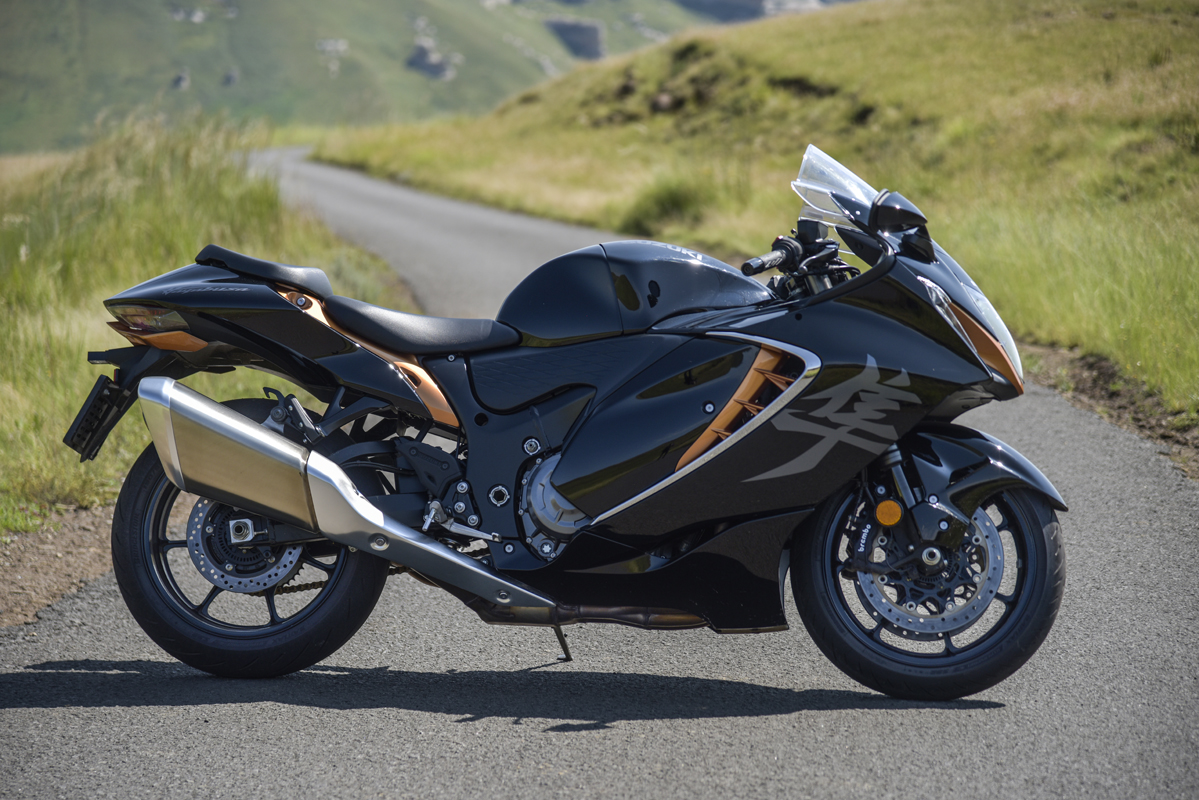 Let's talk about the motor: we've got a new generation 1,340 cc liquid-cooled inline-four engine, compliant with the Euro 5 emissions standard. The overall result is an output of 187 hp at 9,700 rpm, and 150 Nm of torque at 7,000 rpm—plenty in my book. So yes, it's not that much more powerful than what we saw in 1998, and slightly less powerful than the last-gen 'Busa. But thanks to modern technology, more power doesn't always mean more performance.
I personally love the 'Busa's cockpit and found it to be a very comfortable place to be. It brings back a blend of super minimalistic 90s styling, with a modern touch from the micro TFT display between the analogue clocks. It might look simple, but it packs a lot of tech. The 'Busa features Suzuki's Intelligent Ride System (S.I.R.S.), which allows you to select different riding modes and fine-tune the parameters of each. That makes sure you can get the most out of the bike—or dial it down for a more manageable ride.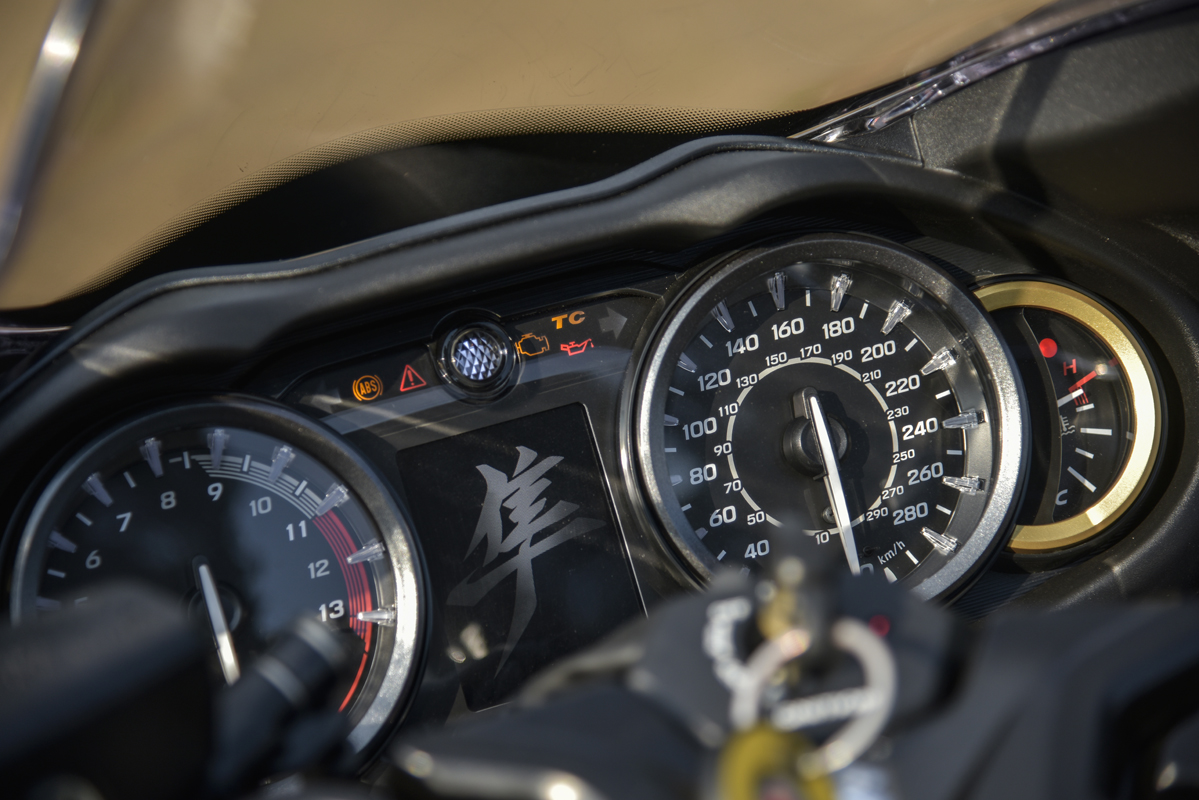 I mean, flip, I rode the bike 90 percent of the time with TC1, PW1 and A mode engaged—the settings with the least intervention. At no point did I feel any serious intrusion, but at the same time, the bike wouldn't buck or lift a wheel on me either. With all these riding aids, the bike has instantly become more docile, and I think it's the first time the 'Busa has found that perfect balance between performance and usability.
Whenever I visit Clarens, I make sure to pull through to Golden Gate Highlands National Park—a two-metre-wide piece of tar that winds itself through a beautiful mountainy landscape. This is where I spent some time admiring the Hayabusa in all its glory.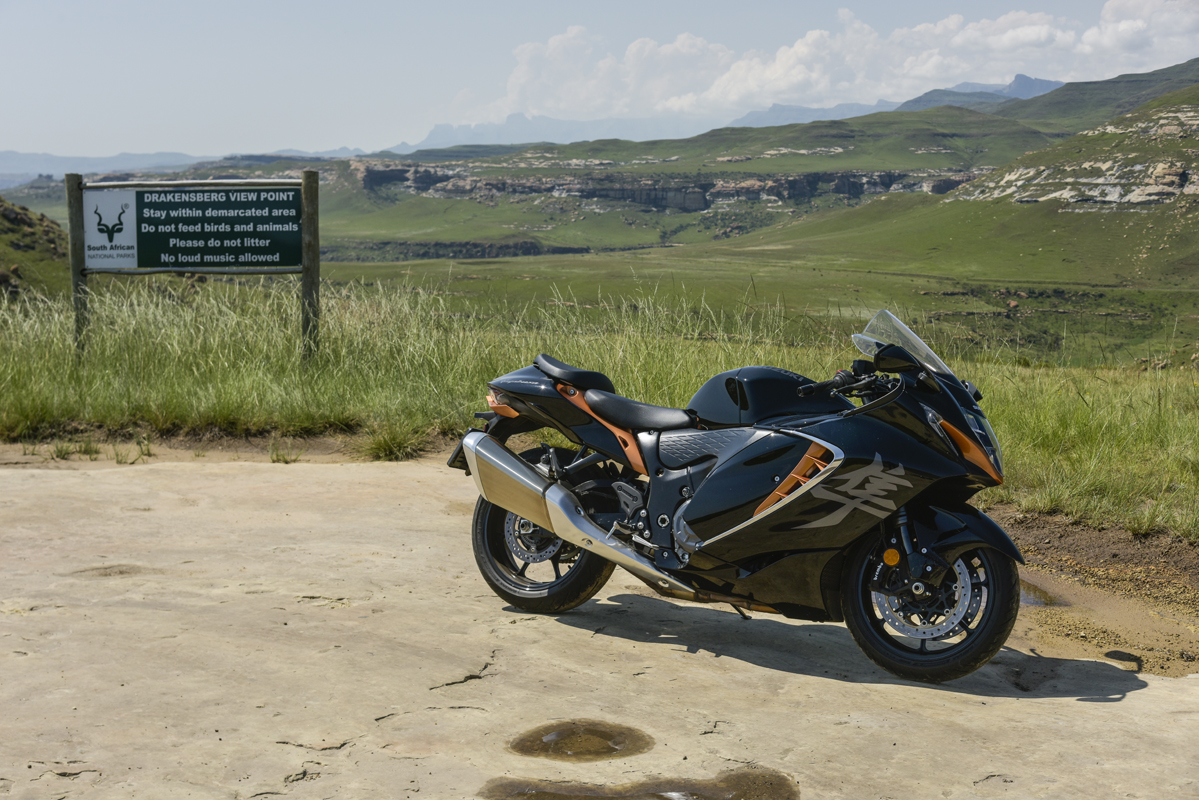 Let's not beat around the bush—for over two decades the Hayabusa has split opinion over its looks. I personally thought the first-gen looked like a melted action figure. Not a fan. However, the latest generation takes things to a sharper and more triangular level, with traces of the original Hayabusa DNA showing itself here and there. I would describe the new look as aggressive yet contemporary, combining functional aero with a sleek design.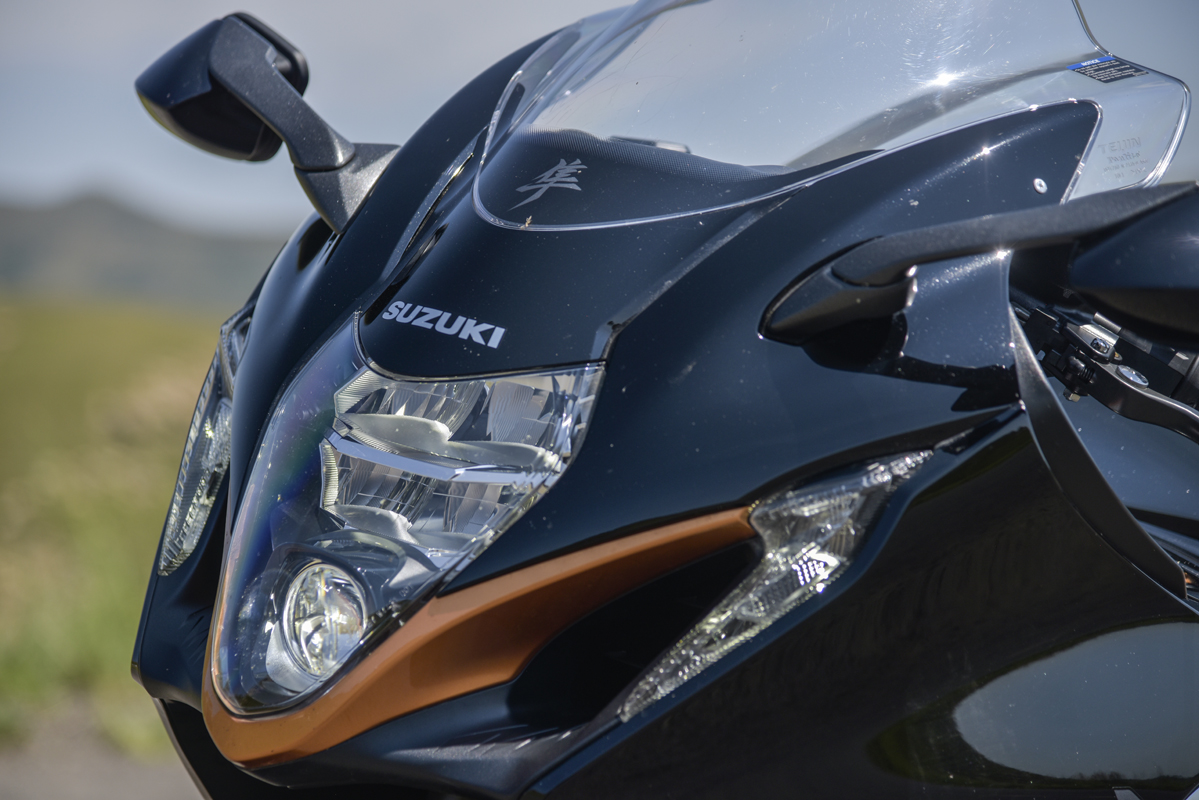 In my opinion, the new look isn't as loud or as controversial as the 98 'Busa, but rather a modern rendition. Dare I say it: a luxurious-looking speed king.
It's not all about performance though. Just look at the stunning side fairings, highlighted with chrome-plated V-shaped mouldings—pure class. I personally love the glass sparkle black and candy burnt gold livery, with the burnt gold peeking its way out of the air intake, exhaust and tail section. It almost adds a visual effect of the 98-model lurking underneath.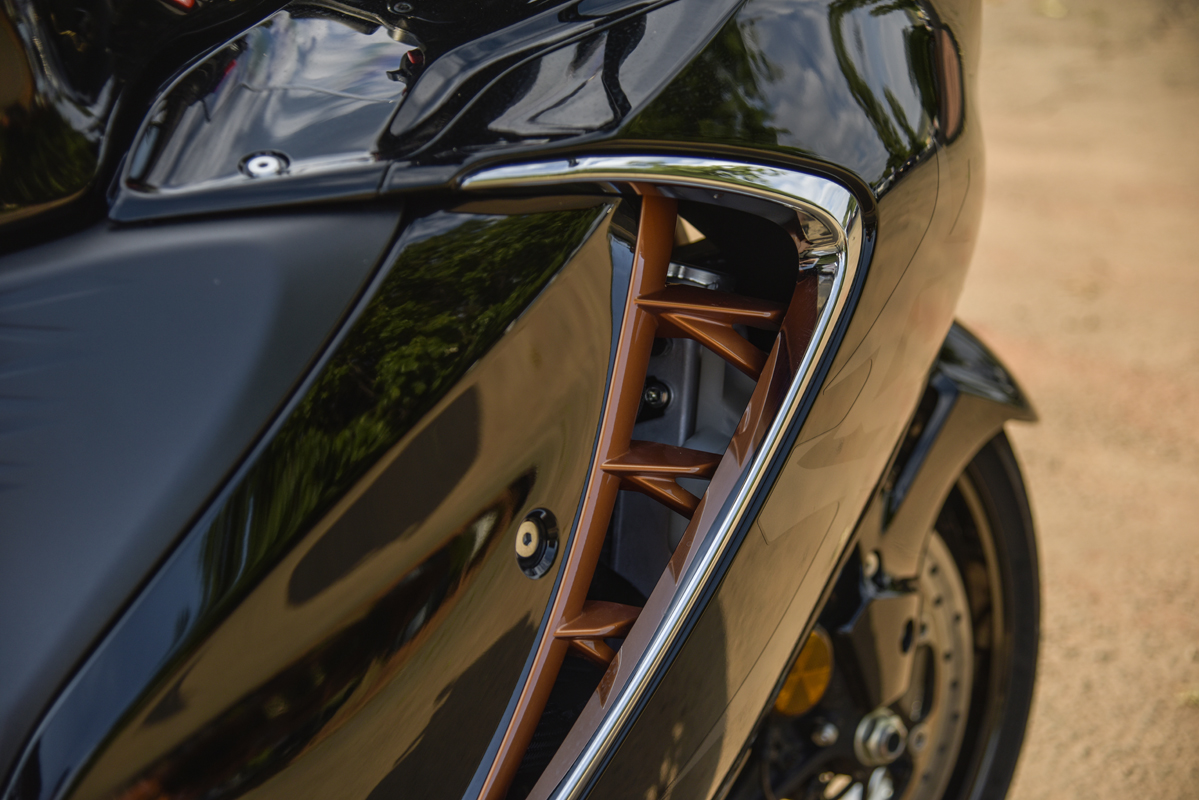 Heading out of Golden Gate and onto the R712, I had a chance to test the hill hold control, and it works. Pull up to an incline and the brake automatically engages for 30 seconds, giving you time to readjust your setoff, or allowing you to get cruise control engaged for the open road. During the slower stuff, I also found the mammoth of a bike to be quite nimble and not as heavy as I thought, which is a rarity with bigger tourers.
Even though the cruise control is easy to use, it's a hassle when you're riding in a group with riders that either don't have, or don't use, cruise control. So I wish the 'Busa had an adaptive system onboard for longer group rides. Another annoying downer is that, once cruise control is engaged, you can't access trip or fuel info on the dash.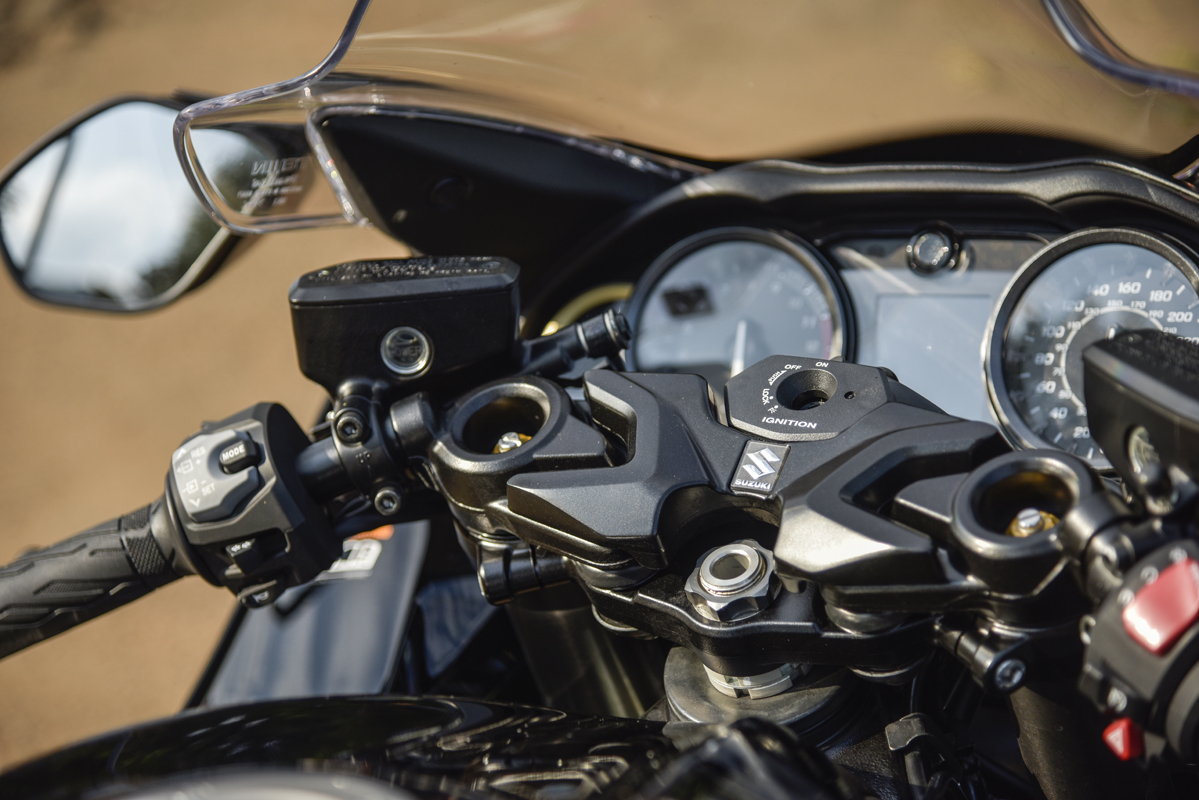 The 'Busa surprised me on the twisties, where it hunkered down and railed through the high-speed sweepers. You can still feel the weight, but only when changing direction in slower corners. Once the nose is pointing out the corner, that rear wheel hooks up and shoots you to the next bend.
You actually feel like you're going super slow because of how composed the Busa feels on the edge of its tyre, but one look at the clocks will tell you otherwise. Slow or fast, long or short, the seat and riding position was super comfortable for my 175 cm frame—but I do think taller riders may feel a bit cramped with the high foot peg position.
I planned a solo ride home for my last day with the Busa, staying off the highway for the most part by riding to Heilbron and Sasolburg, and only hitting the last 100 km on the highway from Vereeniging. I left at 5 am with the sun behind me and smooth back roads ahead of me.
It was 200 km of solo riding heaven, with only a handful of cars spotted on the whole stint. Tranquillity and peace is what I experience on the way back, just the sound of the wind and the beautiful view of a mountainy landscape in my mirrors, calling me and the 'Busa back. I felt as free as a falcon soaring through the wind.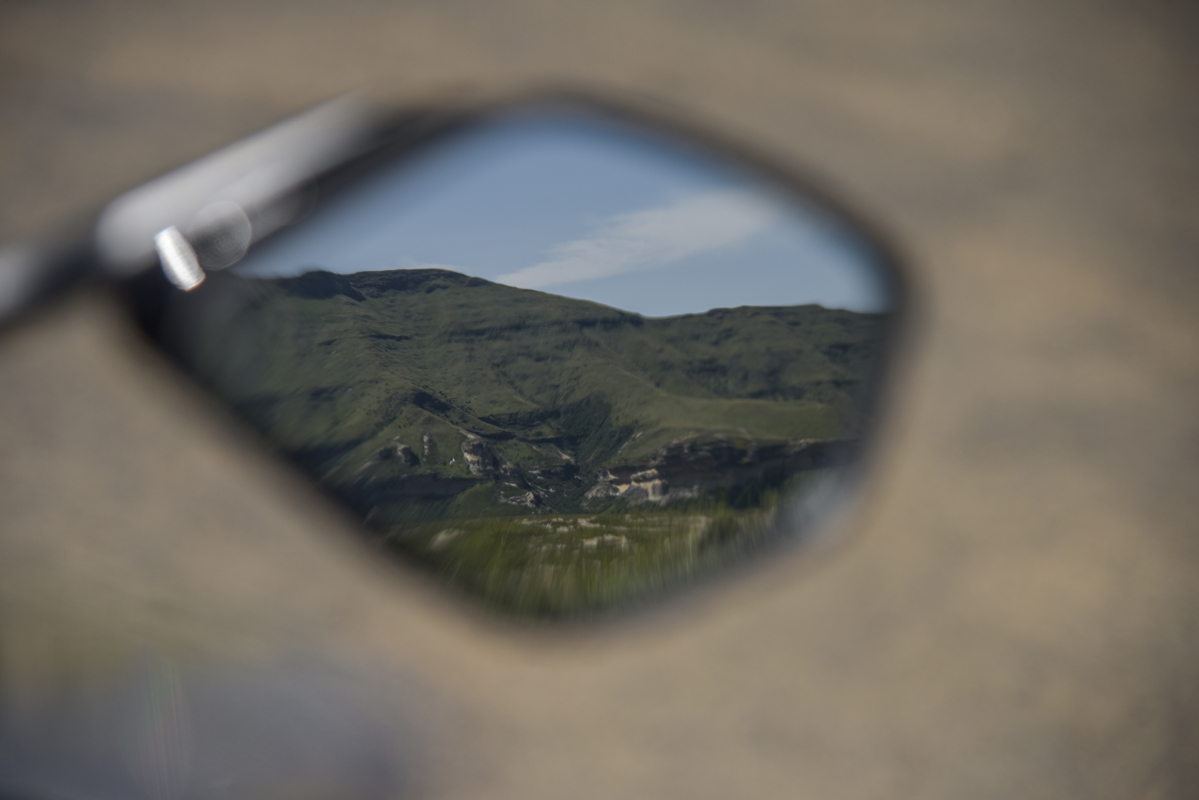 So, has the king of speed lost its edge? I don't think so. It's almost like the Busa was frozen in time and brought back to life just when the right technology was around to take it to the next level. I think if Suzuki had to stop making the 'Busa after this final hoorah, it would be a good farewell to the legend—almost like Rossi finishing on the podium one last time.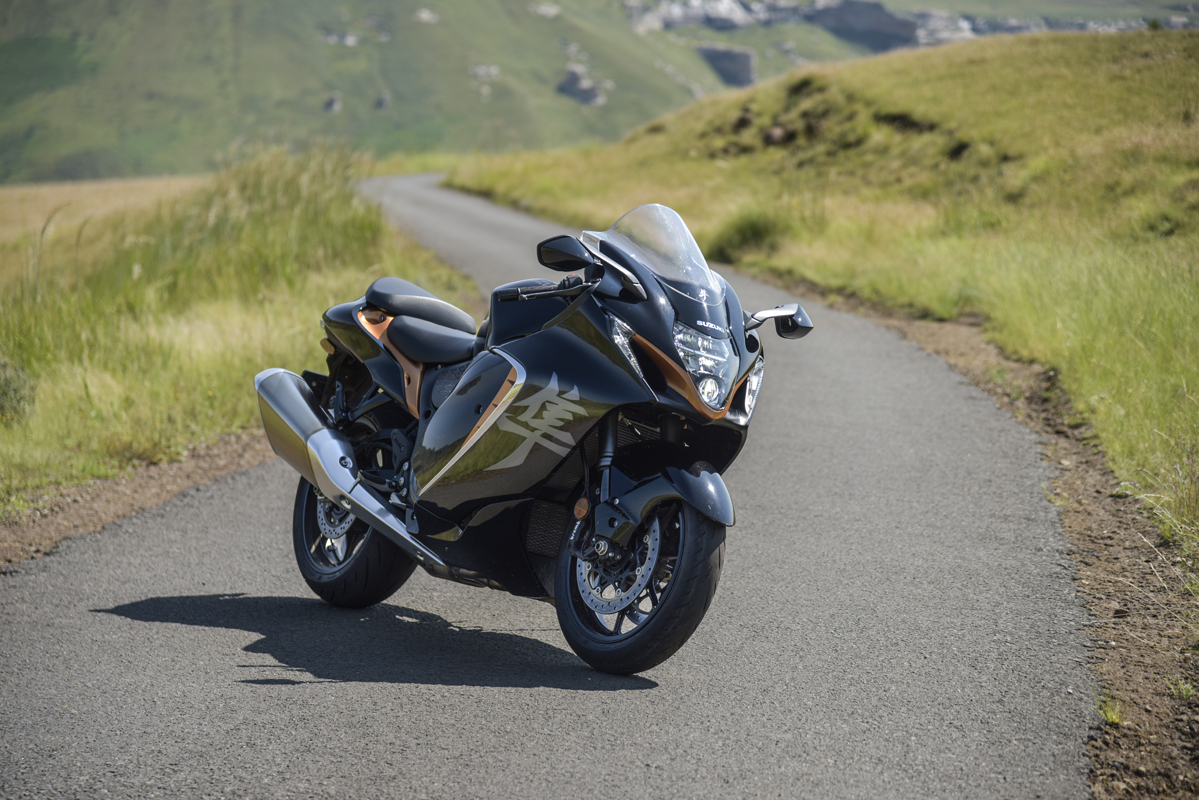 In times like today, with hydrogen and electric motorcycles slowly becoming the norm, I can only appreciate the honour of riding a living legend, that thankfully hasn't lost its original DNA and become a hybrid or E-bike—like Porsche with their Taycan Turbo. (There's no turbo in an electric car, stop confusing us, please.)
It may not make sense to a climatologist for a 1,300 cc inline-four Hayabusa to exist in today's age, but the 'Busa will always be welcomed and loved by petrolheads and the mechanically inclined. 'Busa on, my friends!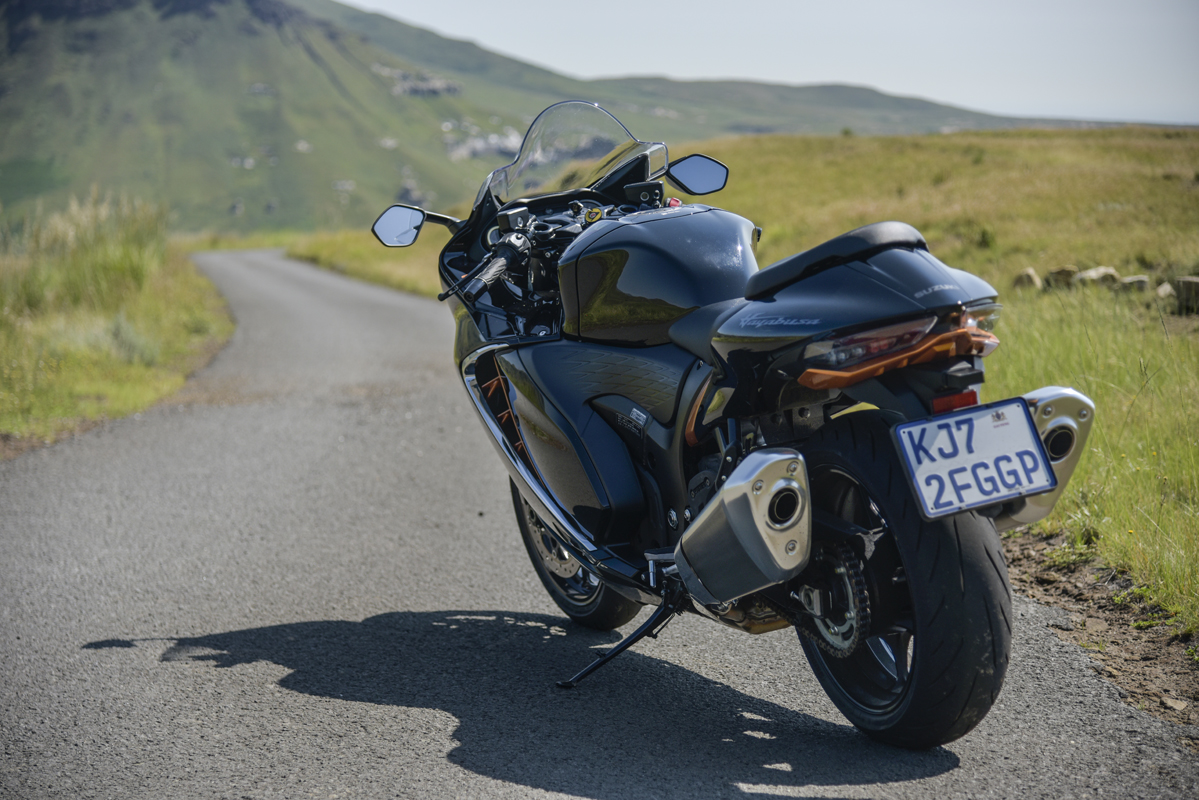 Suzuki Hayabusa
For more information on the bike that we tested in this article, click on the link below…