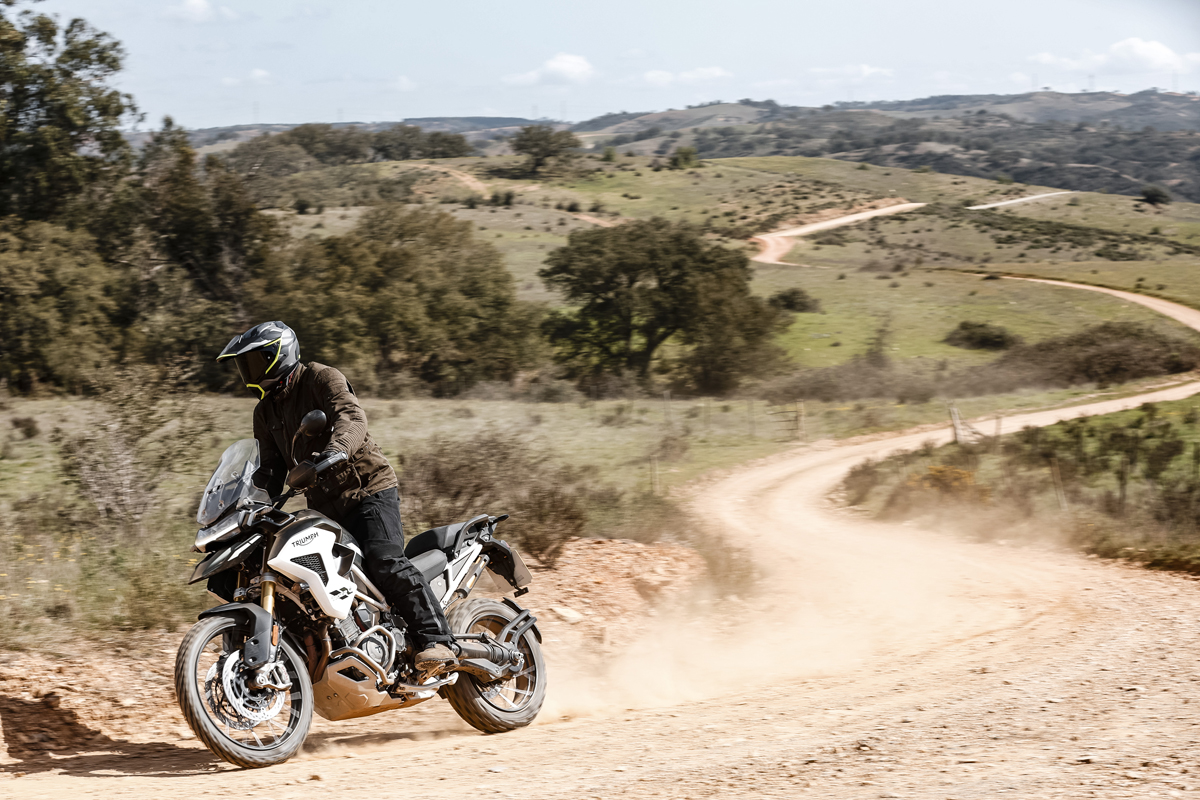 The Triumph Tiger 1200's life cycle is rather short, having been updated in 2015, and again in 2018. Just four years on, and there's a brand new version out again. We had the chance to test ride it in the south of Portugal, to find out how good it is.
A 25-kilo weight saving, a brand new engine, up-to-date electronics and many versions to choose from; welcome to the 2022 Triumph Tiger 1200.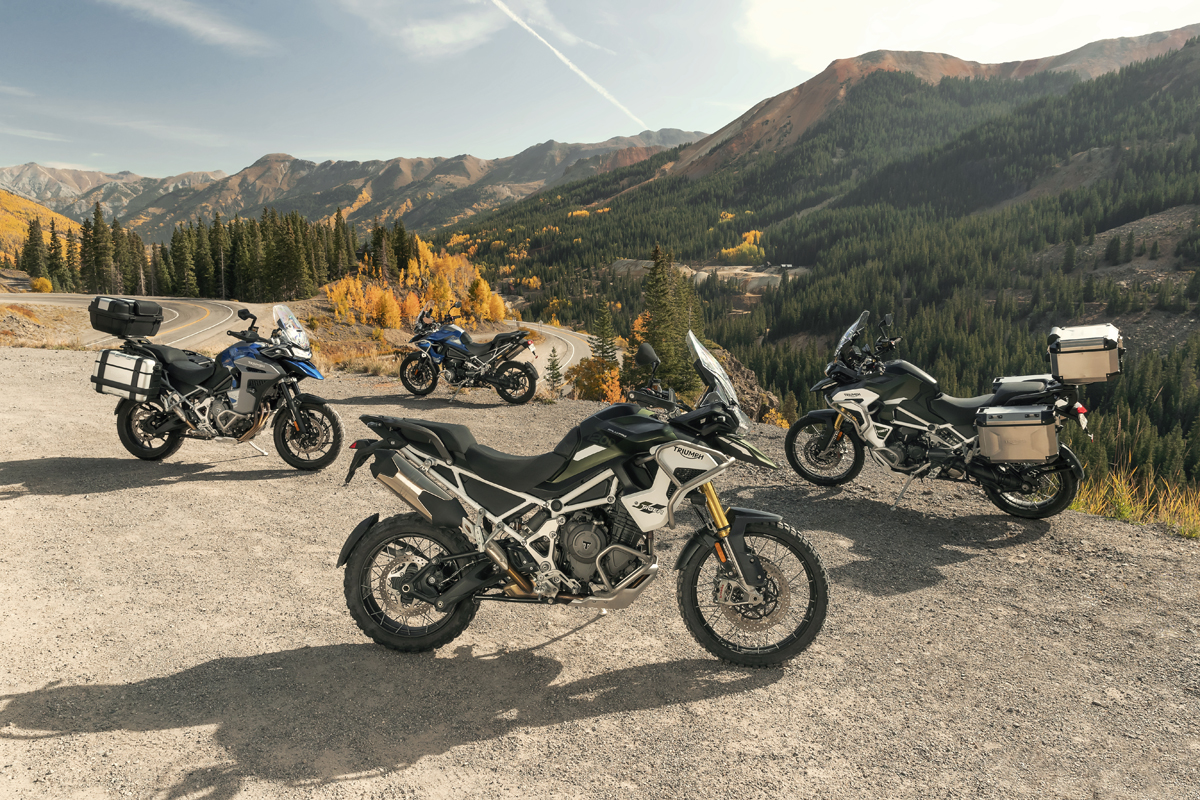 First, here's a lesson in how to tell the six Triumph Tiger 1200 variants apart: the 19F/18R alloy wheels belong to the 'GT' family, while the 21F/18R spoked wheels belong to the 'Rally' family. All of them share the same engine and frame, Brembo Stylema brakes, cornering ABS and semi-active Showa suspension, as well as a TFT dash.
Then there are the 'GT Pro' and 'Rally Pro' versions. They come with cruise control, quick-shifters, hill start assist, adaptive cornering headlights, centre stands, heated grips and extra rider modes. The 'GT Explorer' and 'Rally Explorer' get 30-litre fuel tanks instead of the standard 20-litre tanks, making them good for about 600 km of range. And they get a tyre pressure monitoring system, heated seats and blind-spot radar.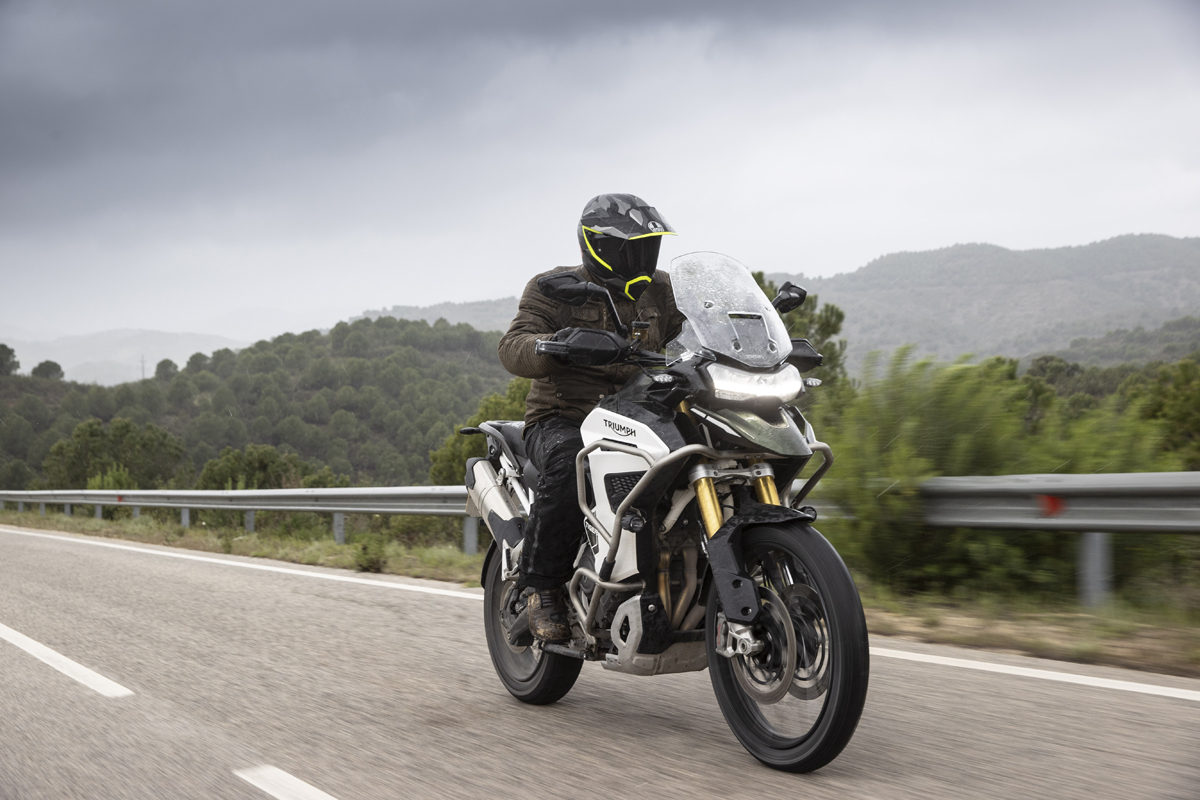 Triumph invited us to the south of Portugal for a full day of off-road riding on the Rally Pro version, fitted with Michelin Anakee Wild tyres, plus a second day of on-road riding. We spent most of the second day on the GT Explorer version, but also covered a few kilometres on the GT Pro and Rally Explorer.
Discovering the bike
Do you like dogs? Imagine a nice, fully grown bulldog, weighing around 25 kg. Now imagine carrying it around on your back all day long—that's the weight saving from the previous Tiger 1200 to this one. Triumph now claims to have the lightest "big dual-purpose bike with a shaft drive" on the market, up to 17-kilos lighter than the nearest (read: German) competition. To reach that goal, Triumph made the frame 5,4 kg lighter, and took 1.5 kg off the swingarm.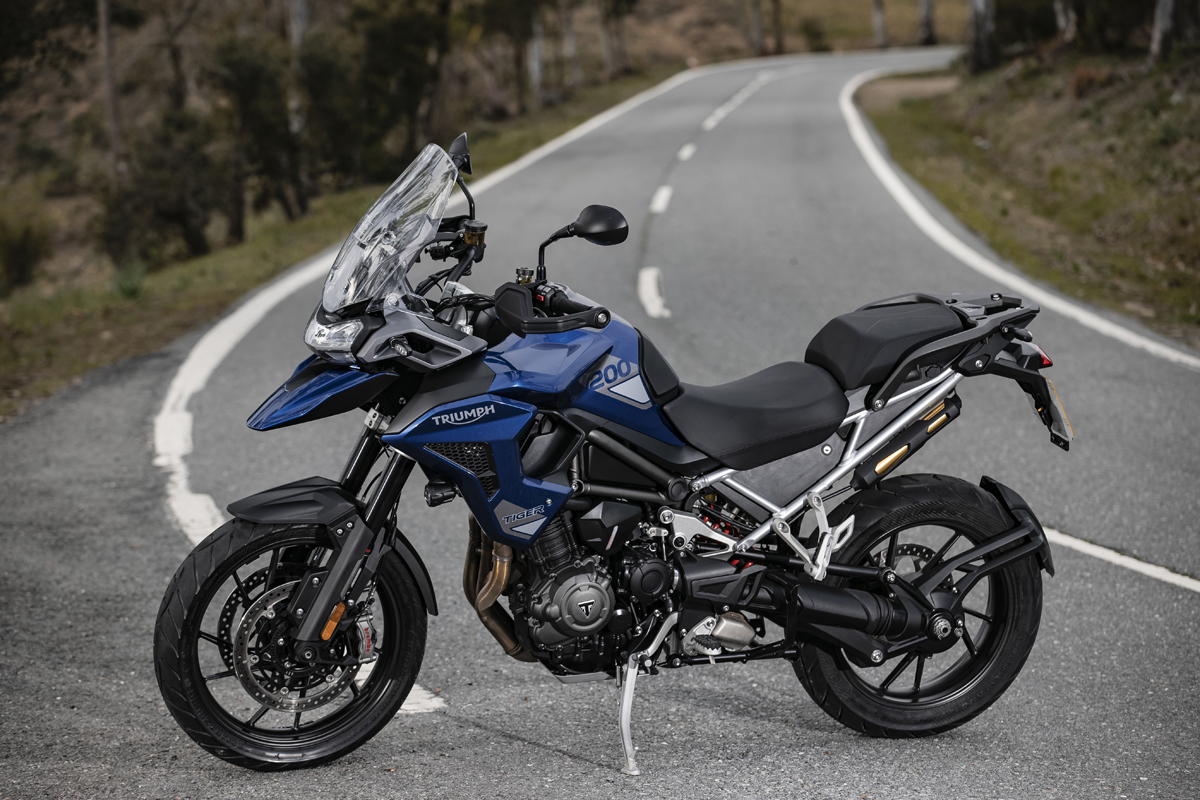 The bike's design is on par with the latest generation of the Tiger 900. It's sleek, much more dynamic than before, and the attention to detail is typical of Triumph's latest creations. The bikes are either built in Great Britain or Thailand, depending on which markets they're being shipped to, but there's no difference in spec.
Just like with the Tiger 900, Triumph started with a blank page when redesigning the 1200. It doesn't share a single part with its predecessor—from the frame, to the brakes and suspension, everything is new.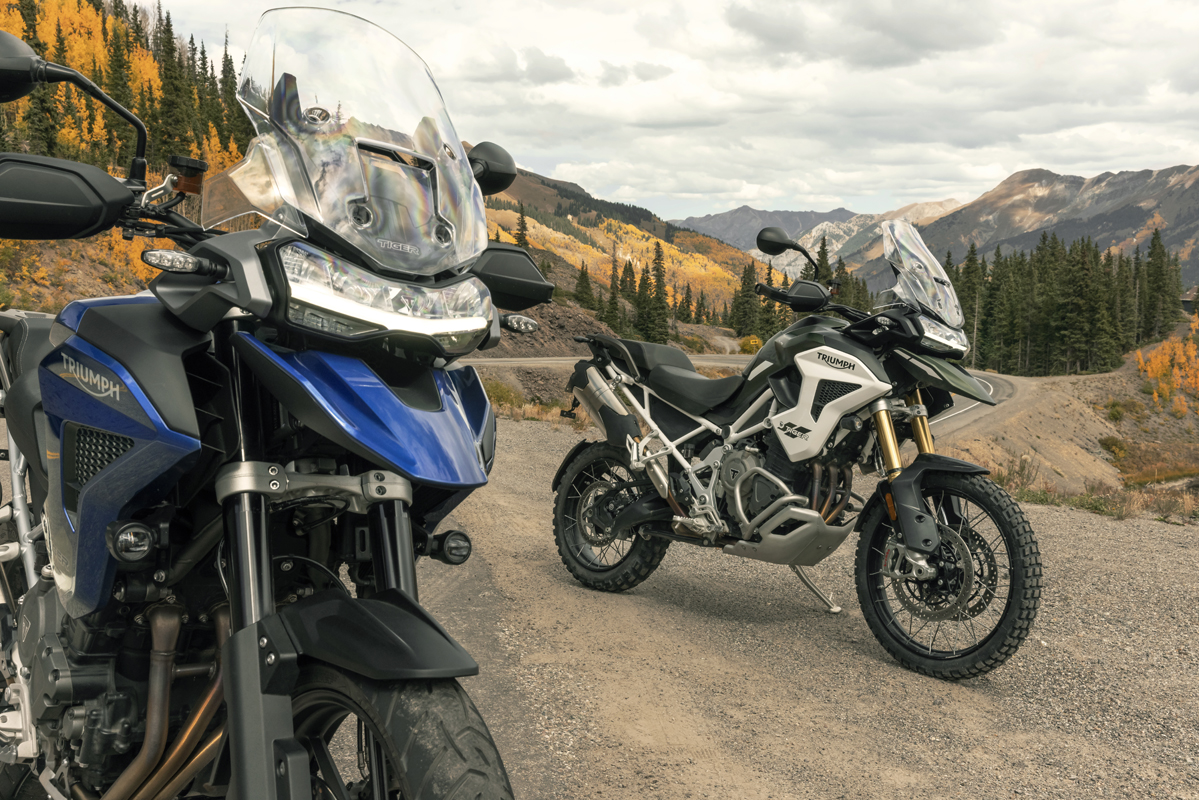 The same goes for the engine. Long gone is the previous 1,215 cc unit, replaced by a brand new 1,160 power plant which derived from the 180 hp Speed Triple. Here it's been down-tuned to 150 hp (at 9,000 rpm) but is still good for a beefy 130 Nm of torque (at 7,000 rpm).
The instrument panel is a TFT unit with Triumph's full Bluetooth-enabled connectivity suite. Some recent Triumph TFT displays were not that easy to read, but this one is just perfect and easy to manage, with a joystick located on the left-hand switch cube.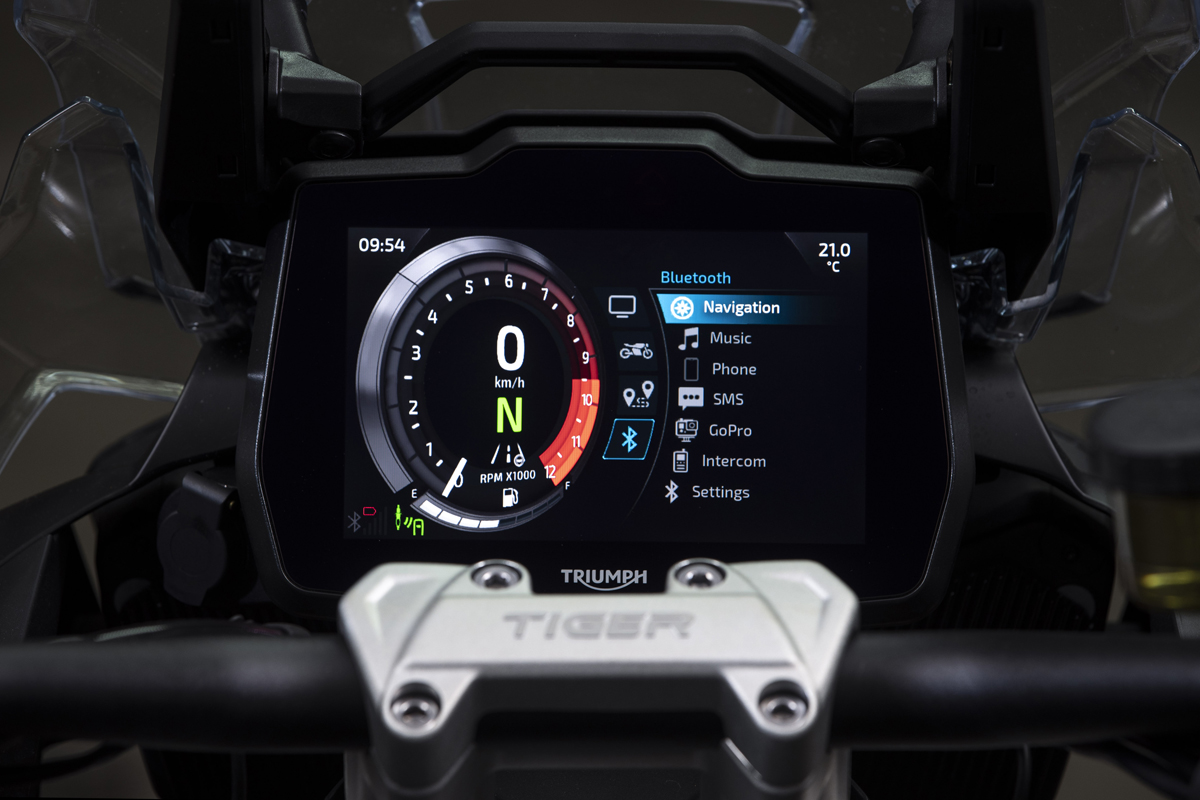 There's a waterproof storage space under the pillion seat to stash your phone and feed it power from the USB port, so that the GPS function remains reliable. The system also works with phone calls and music, plus you can add your name to the start up screen and even control your GoPro.
You can also adjust your own rider mode settings, with control over engine maps, engine braking levels and traction control, and safety features, like hill assist and the 'Explorer' models' blind-spot radar. Added up, the new Triumph 1200 Tiger has some amazing value-for-money specs and tech.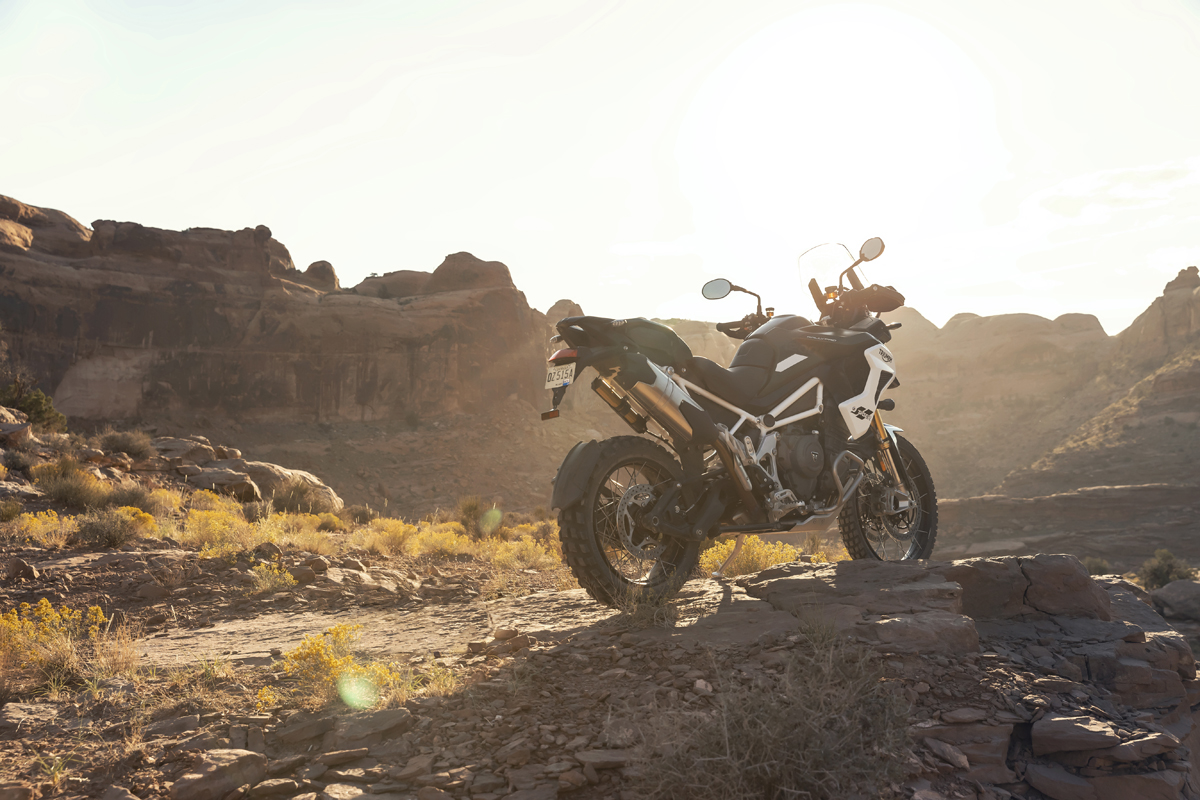 Riding the Tiger 1200 off-road
You might have heard that Triumph has a full motocross and enduro motorcycle plan, and that the bikes might be unveiled quite soon. So they've been working with off-road specialists such as Ivan Cervantes, a five-time Enduro World Champion. Ivan was there, and gave us a demonstration of how capable the Tiger 1200 really is.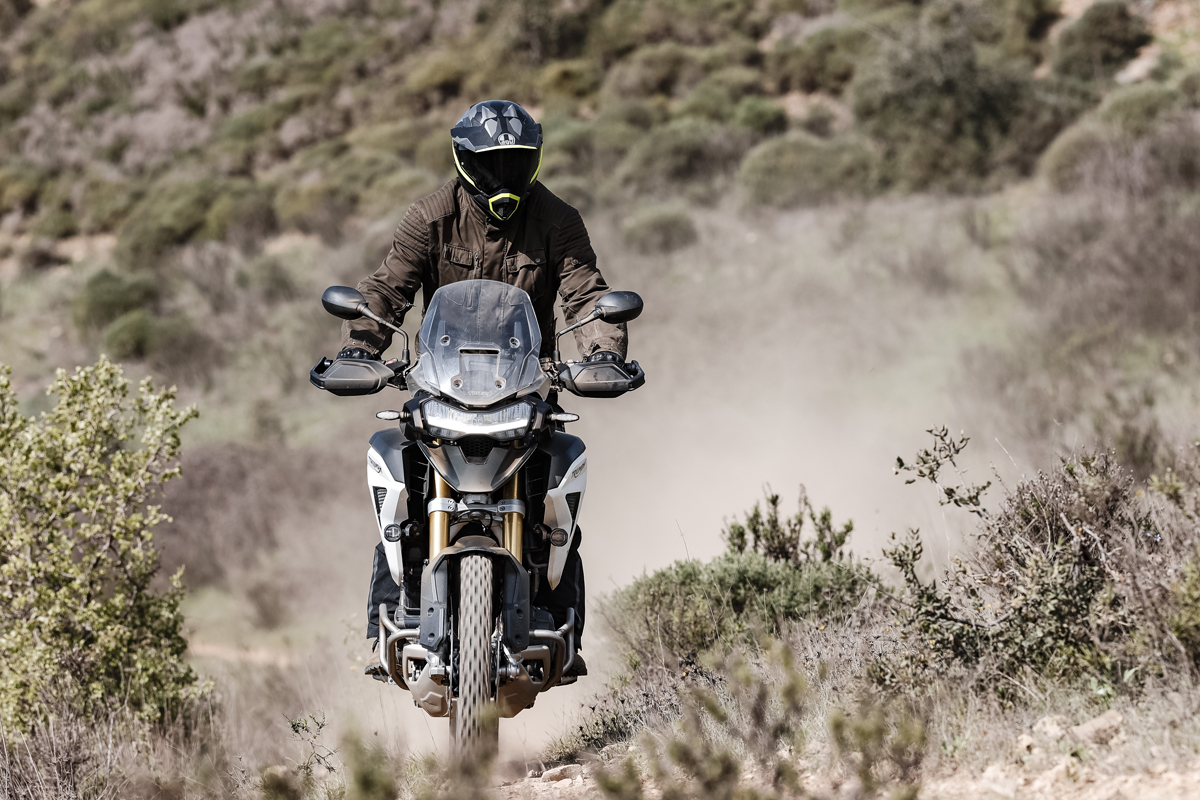 And it's very capable—able to do jumps, wheelies and doughnuts, and even ride over tractor tyres, at least with Ivan on board. So we knew if we encountered problems during our day of off-road riding, it wouldn't be the bike's fault.
Start the engine, and it's immediately clear that this is a new motor. The T-Plane unit doesn't sound anything like the old one—giving off a VFR750-like whistle at low revs, and an MT-10 rumble in the midrange, despite missing one cylinder. There's no doubt about it: the Tiger 1200 is perfect for South Africa's abundant gravel highways.
The Rally Pro's seat height is adjustable from 875 to 895 mm. There's nothing to criticise about the stand-up riding position, the smooth throttle response or the quality of the semi-active Showa suspension. The ABS calibration is great too, especially when it comes to riding downhill on rocky singletrack.
Portugals red sand and dense green trees remind me of Africa, and I could see myself riding the Tiger 1200 through some of Africa's best regions. But you have to keep in mind that, despite the weight saving, this is still a big bike—so I'm not sure that Joe Average would be able to take it up Sani Pass. That said, Triumph have managed to create such a balanced setup for such a big bike!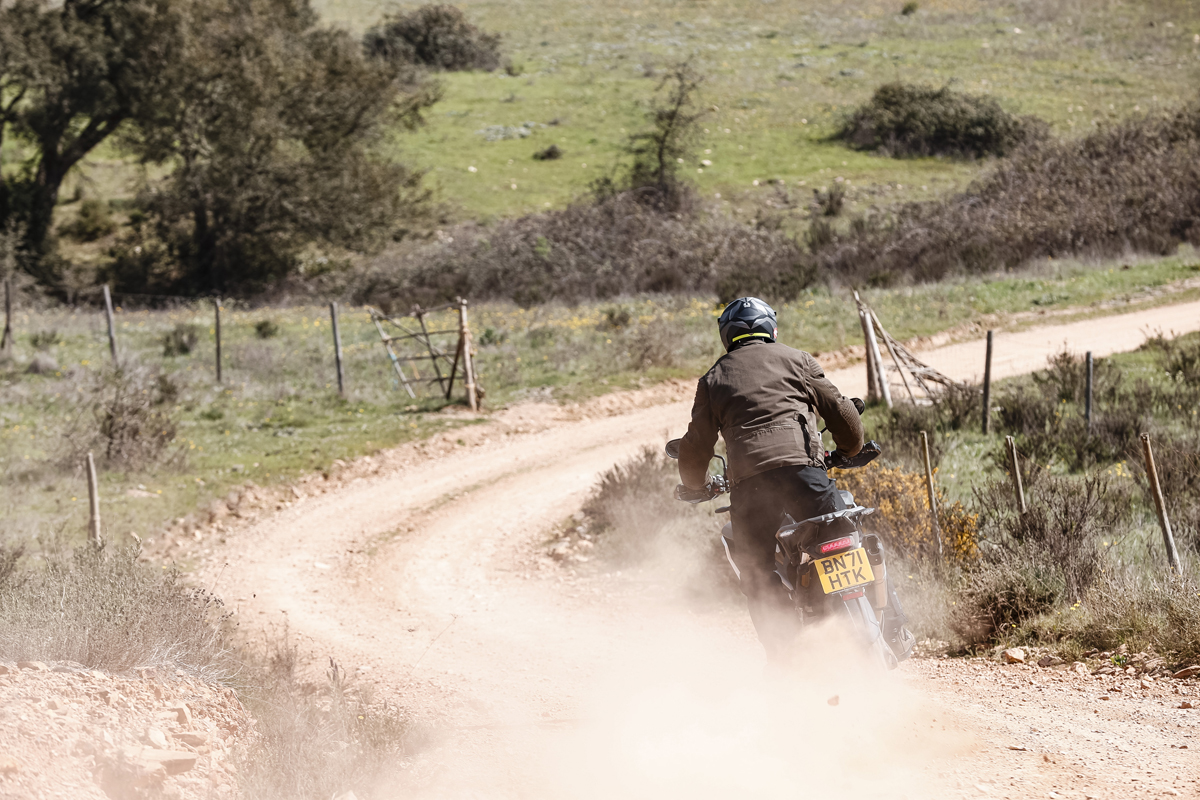 Riding the Tiger 1200 on the road
During press launches, we usually follow a lead ride that knows the way and makes sure the pace is on par with the journos' abilities. Our lead rider was the excellent Joe Aykroyd—an experienced racer and TT rider. With him, you know that you won't arrive late at the coffee stop.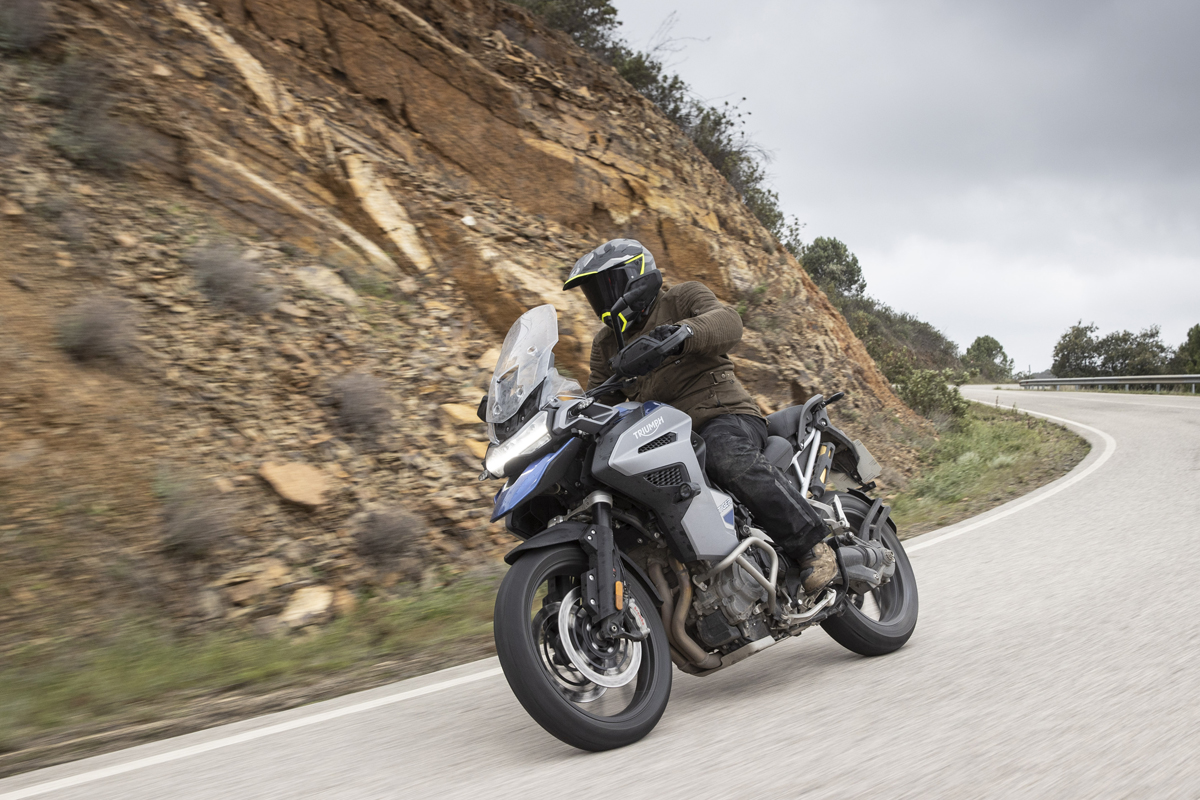 But before pushing the bike to its limits, let's take a look at the Tiger 1200 GT Explorer's touring amenities. With one hand, I put the windscreen in the highest position. The weather is going to be very bad today, I mean seriously bad, so the heated grips and seat are valuable assets.
With an off-road-ish helmet (an AGV AX9), there is still a bit of buffeting around the top of the helmet (riders up to 1,85 m tall will be perfectly comfortable, though). Besides for that niggle, I have to give maximum credit to the highest level of comfort provided by the seat and suspension.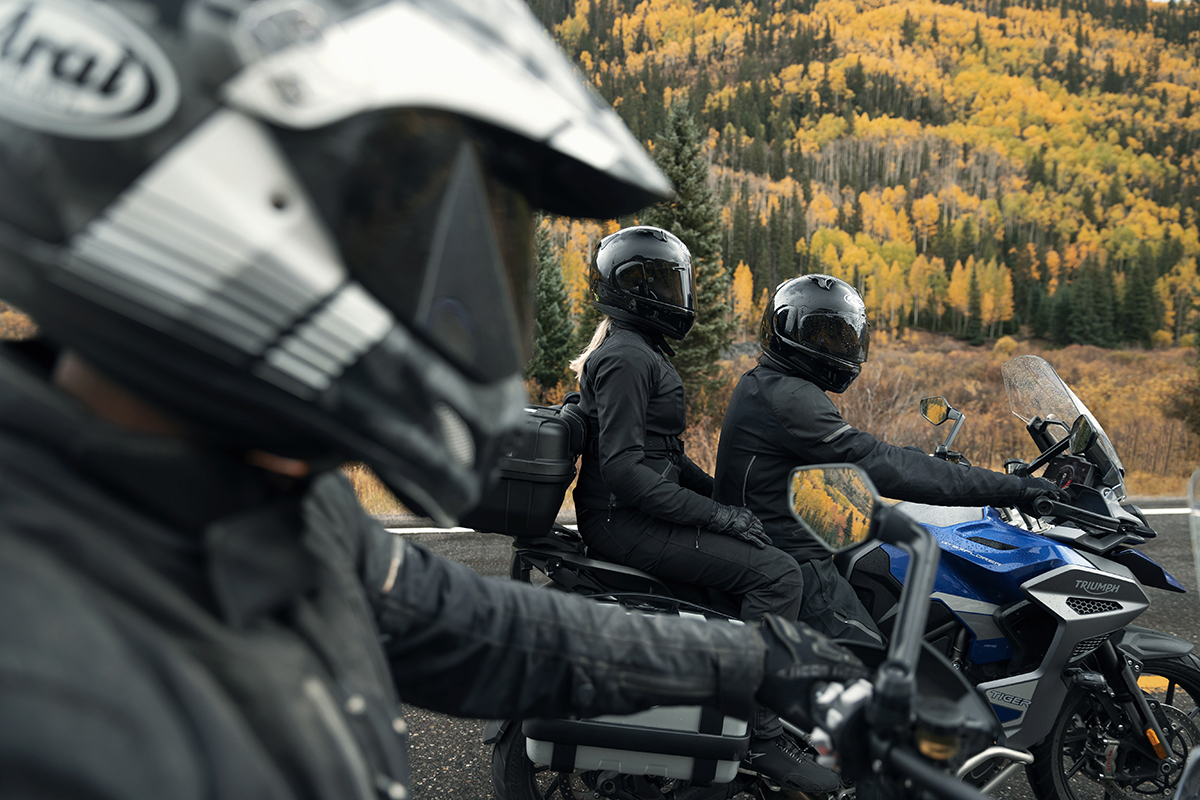 On the road, the engine is noticeably more lively than it used to be! There's power and torque everywhere through the power band. The Tiger 1200 has never been so free-revving, and when you seriously open the throttle, there is equally serious power distribution.
So for touring purposes, like going from Pretoria to Cape Town in one day, the Tiger 1200 GT Explorer would be definitely one of my first choices. The 30-litre fuel tank promises up to 600 kilometres of fuel range; in reality, from our own figures, expect something around 500 kilometres, which is more than enough to get to the next Wimpy.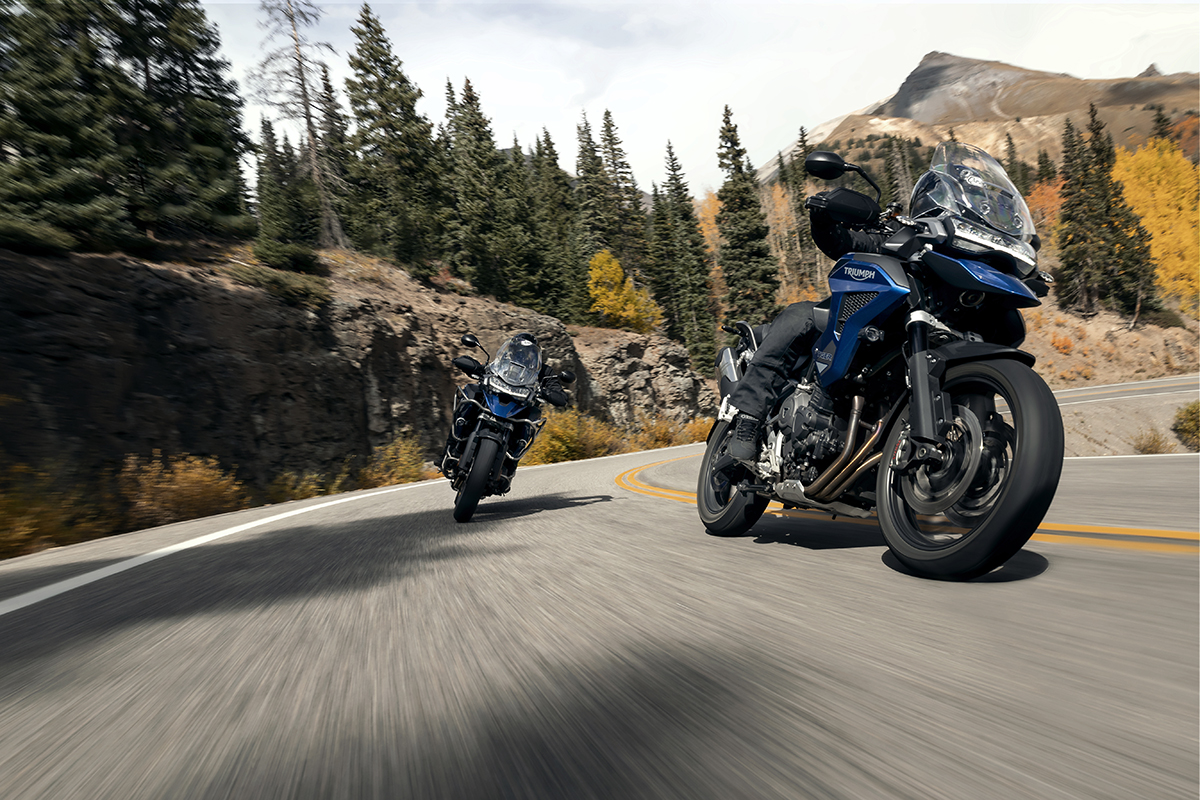 Remember Joe Aykroyd. With him as a leader, you get to the coffee stop when the coffee is still hot!
To sum it up, the new Tiger 1200 puts out 150 hp, has semi-active suspension and Brembo Stylema brakes, and is the lightest big-bore, shaft-driven dual-sport on the market. It boasts serious improvements in engine performance and character, and even when you flick it into 'Sport' mode, it remains comfortable. And even the models with the 30-litre fuel tanks are more agile than the outgoing Tiger 1200 with its 20-litre fuel tank.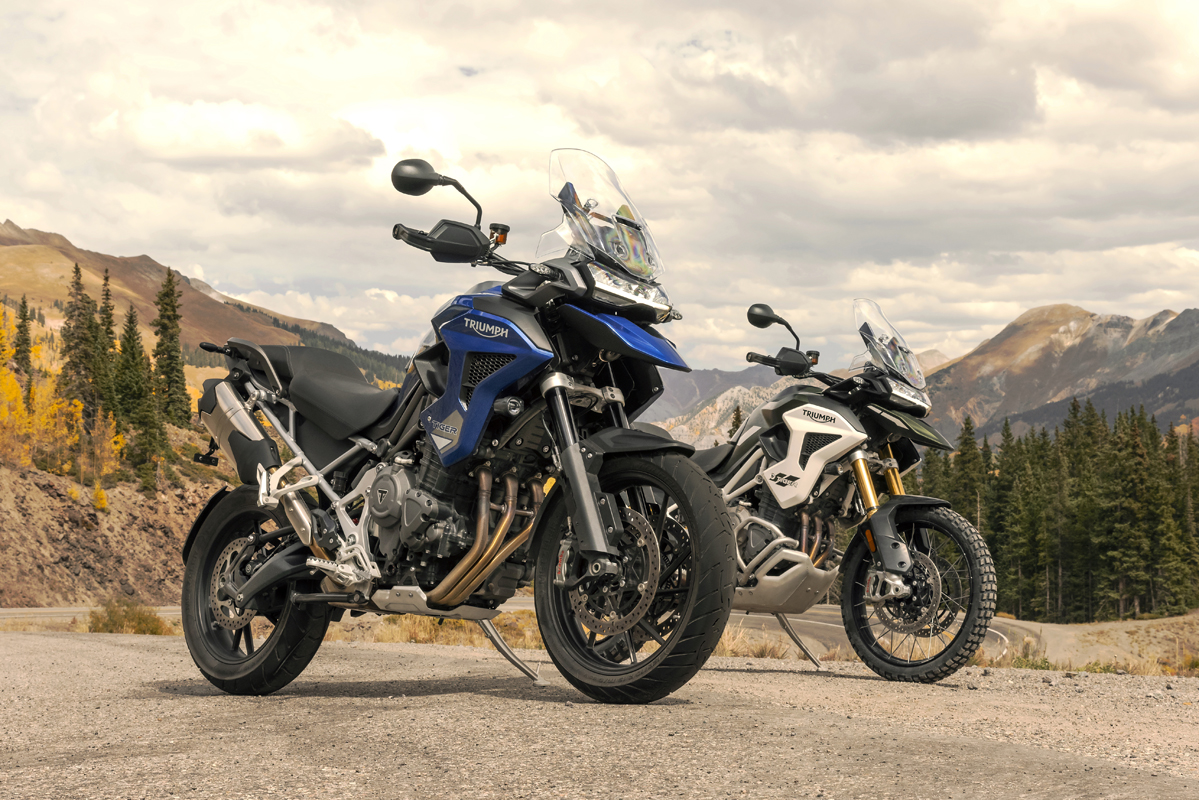 Triumph did a great job, wouldn't you say?
All-New Tiger 1200 Range
For more information on the bikes that we tested in this article, click on the links below…