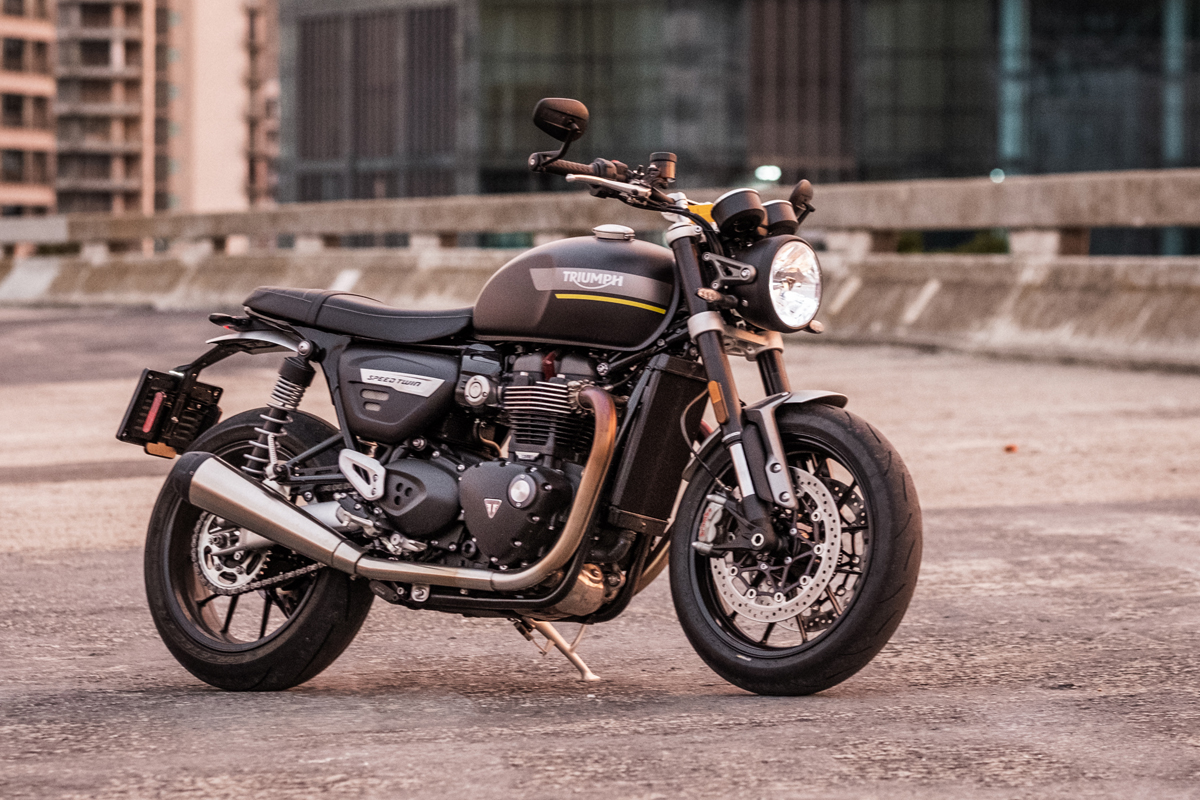 Triumph is clearly on the offensive. They've released a slew of brand new bikes over the past few years, radically redefining mainstays like the Speed Triple and Tiger ranges. But despite this, they haven't added something truly fresh to their range of modern classics in a while.
Instead, they've been making subtle refinements to existing models—which is actually great news. As a former air-cooled Triumph Bonneville owner I'm probably a tiny bit biased, but from where I'm standing there's much to love about Triumph's retro parallel twins. And it looks like Triumph have now targeted the few nits that there are to pick.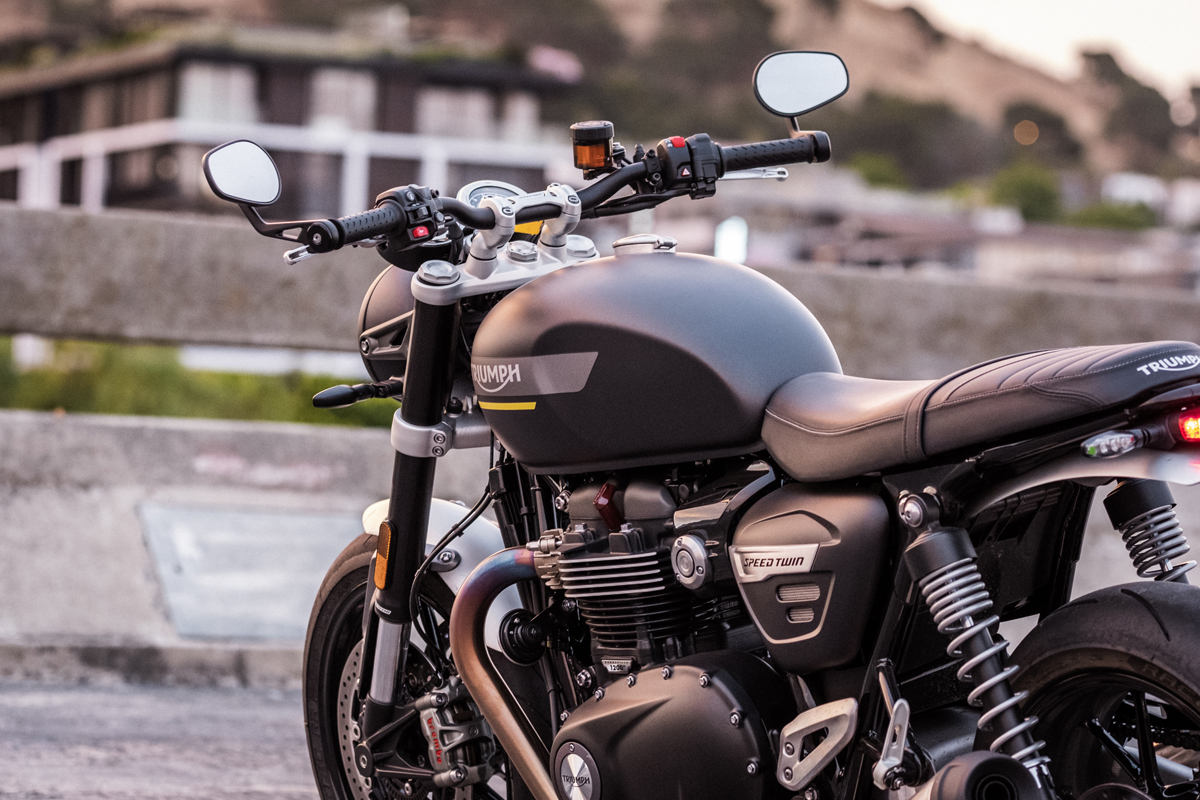 Released last year, Triumph's updated modern classics sport a slew of engine and component upgrades, Euro 5 compliance and, naturally, fresh paint jobs. The changes span the whole range, but we're focussing on two notable models: the new Triumph Speed Twin, and the new Triumph Bobber.
Triumph Speed Twin
Triumph labels the Speed Twin as a "modern classic performance icon," which basically means that it rides the line between British classic and performance roadster. A hopped-up Bonneville, if you will. The first generation Speed Twin mostly lived up to the hype, but was lacking in a few areas—and it's those that Triumph have addressed.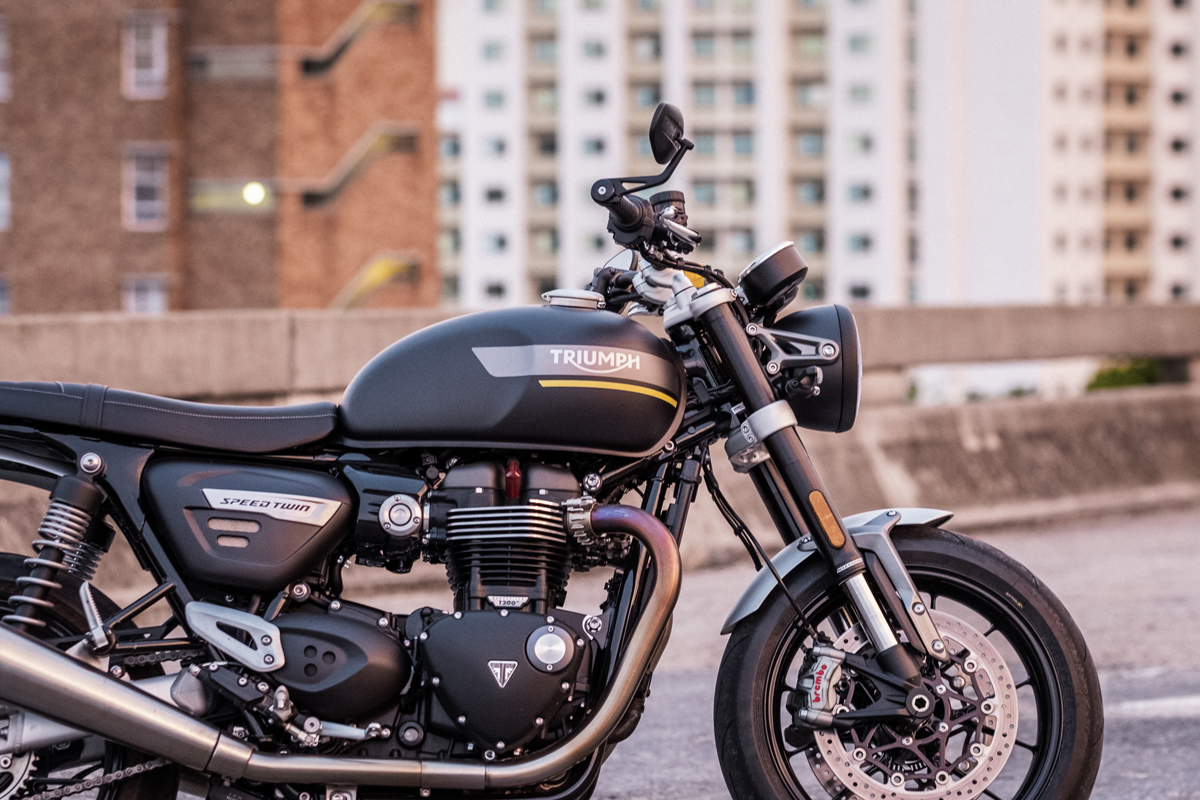 For starters, the Speed Twin's 1,200 cc parallel-twin engine is packing a host of upgrades. It's Euro 5 compliant now, but also features new high compression pistons, revised ports and a new cam profile. It now makes 6 hp more, for a total of 98.6 hp at 7,250 rpm, and hits its peak torque of 112 Nm lower than before, at 4,250 rpm. And the redline's been bumped up by 500 rpm.
There's also a new low inertia crank, with a total reduction of 17% in the motor's inertia. The Speed Twin was never a slouch, but there's a noticeable pep in its step now. It feels like it spools up quicker too, and, more importantly, the jerkiness it used to have at low revs is gone.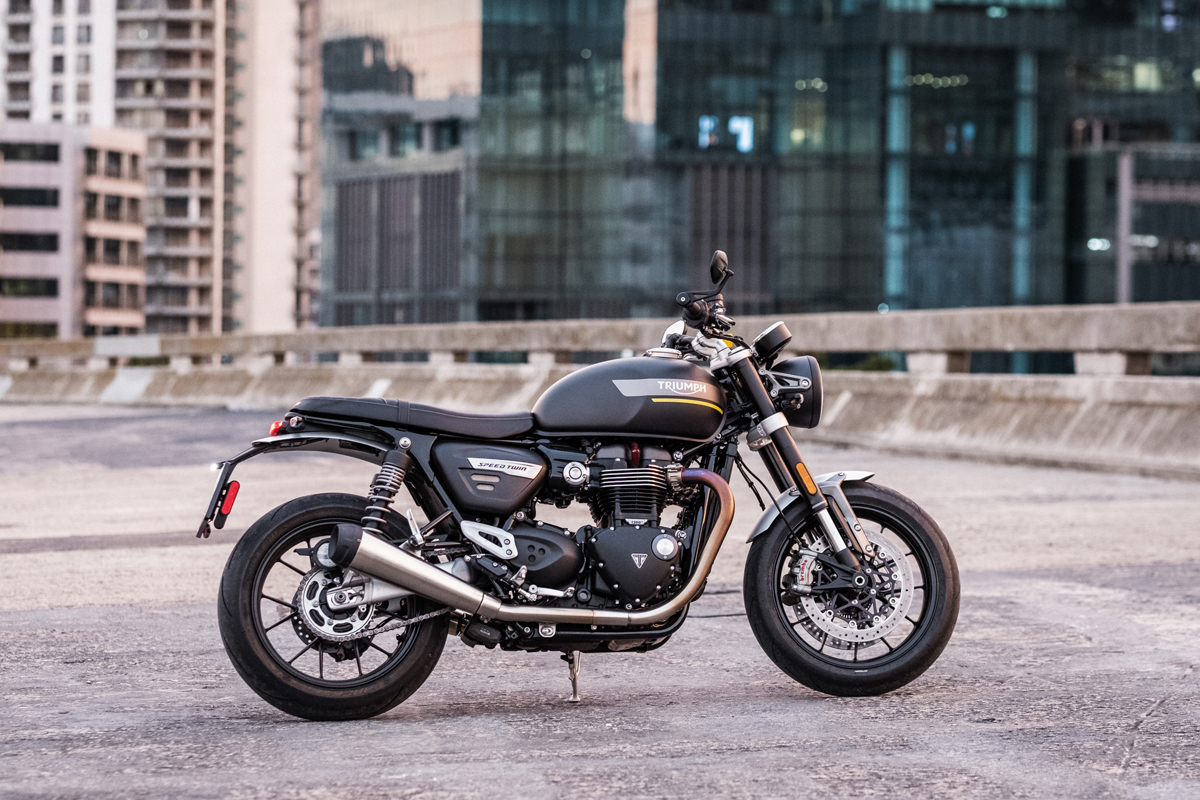 Triumph have doubled down on the 'performance Bonneville' concept by upgrading the Speed Twin's brakes and suspension too. It now has 43 mm upside-down Marzocchi forks up front, with cartridge damping and 120 mm of travel. The forks aren't adjustable, and the rear end still features a pair of standard-issue KYB shocks; cue disappointment.
The wheels have been redesigned, and don't just look great, but weigh less too. They're wrapped in high-performance Metzeler Racetec RR tyres. And if you dig deep into the spec sheet, you'll notice minor tweaks to the bike's overall geometry.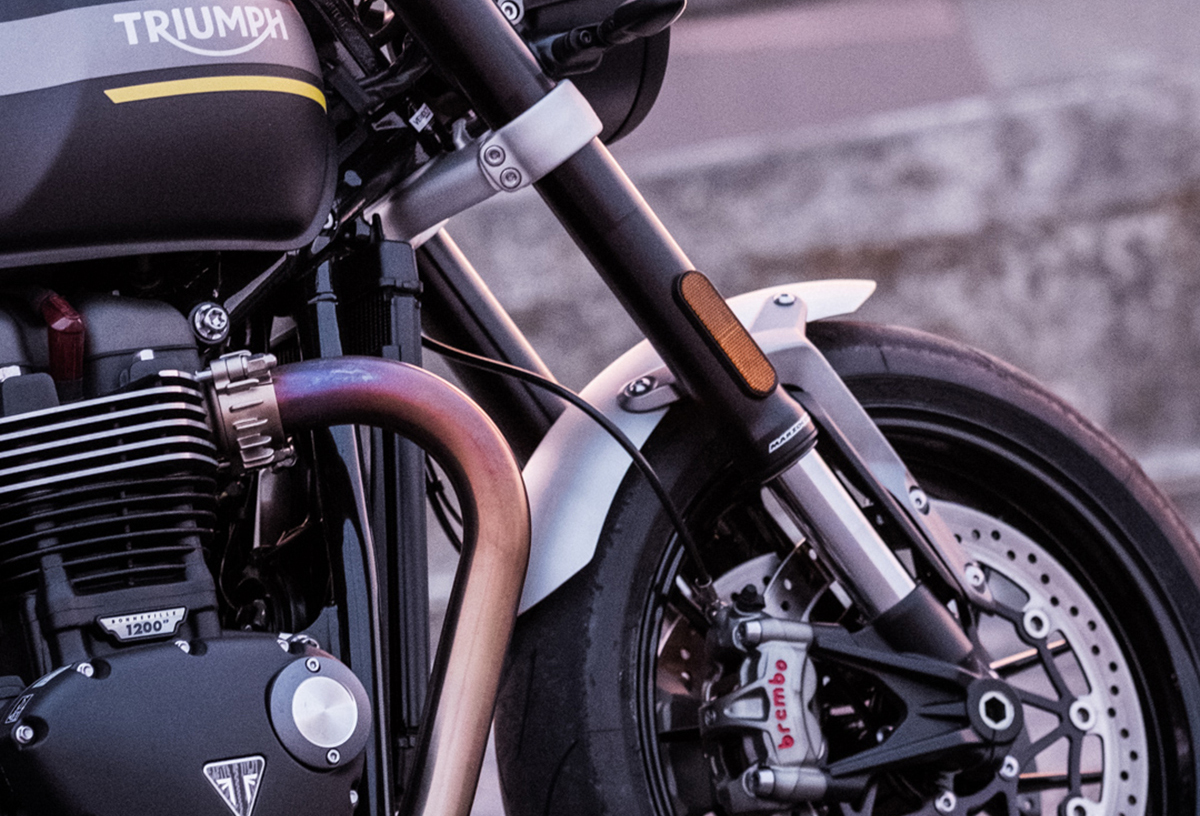 The changes aren't major, but they have made the Speed Twin sharper in almost every way on the road. It's ergonomically more aggressive without sacrificing comfort, and is just the right amount more nimble. Stopping power's been improved too, with new Brembo M50 radial mono-bloc calipers up front, gripping bigger-than-before 320 mm twin discs.
Other notable changes include a revised slip-assist clutch, and tweaks to all three of the bike's standard rider modes. The headlight features a new LED daytime running light, and the indicators and rear light are all LED units.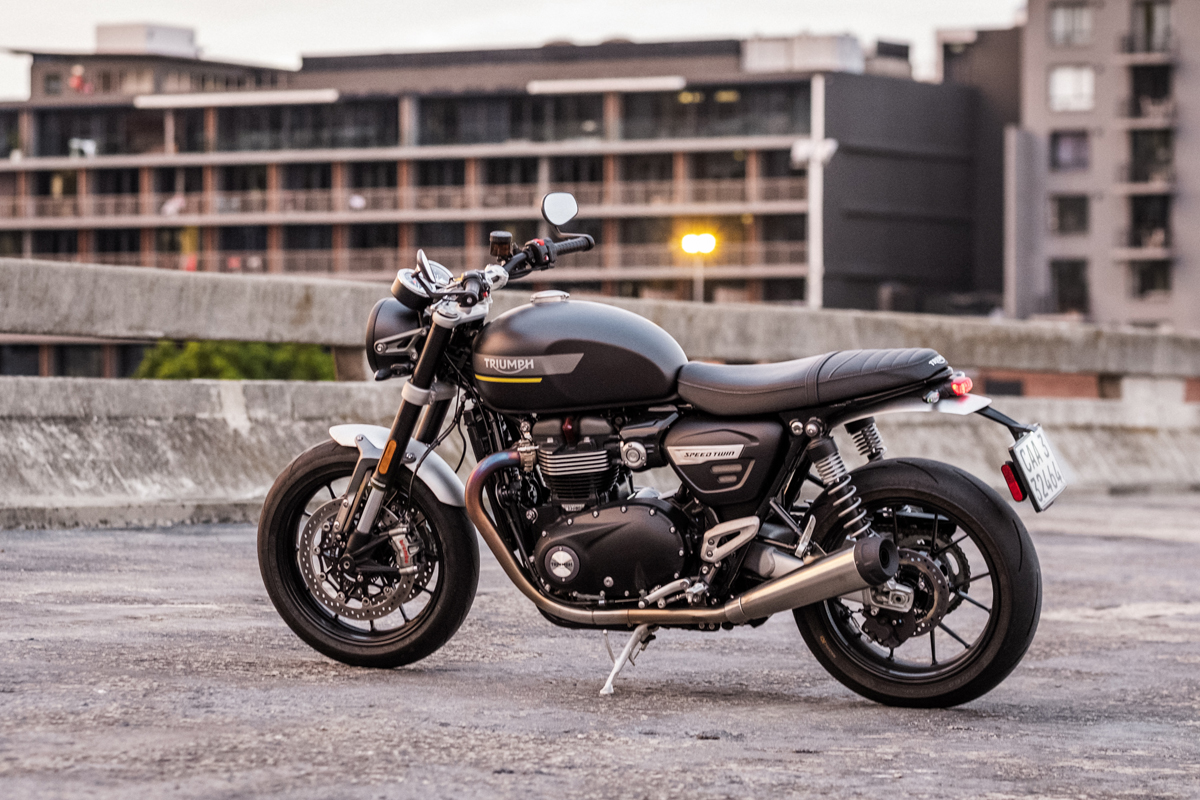 Visually, there's not much that's changed. A number of smaller parts have been tweaked, swapped out or finished in a different colour, but the vibe is much the same. The silver silencers look noticeably more premium than the older black units, and I'm a fan of the new matte liveries.
I've always thought of the Speed Twin as a bike that was 80% there, and these upgrades have done a lot to bridge that gap. If Triumph manage to add fully adjustable suspension and a quick-shifter to the next one (or just give us an 'RS' version), I'd legitimately score it a perfect 10.
For more information on the Triumph Speed Twin, click on the link below…
Triumph Bonneville Bobber
The Triumph Bobber doesn't quite boast the same number of upgrades as the Speed Twin, but there are some significant changes. The motor is now also Euro 5 compliant, with a more responsive feel and a better torque curve. The Bobber has always been plenty torquey, so I can't say that I felt a massive change—but, like the Speed Twin, it is tangibly smoother at low revs.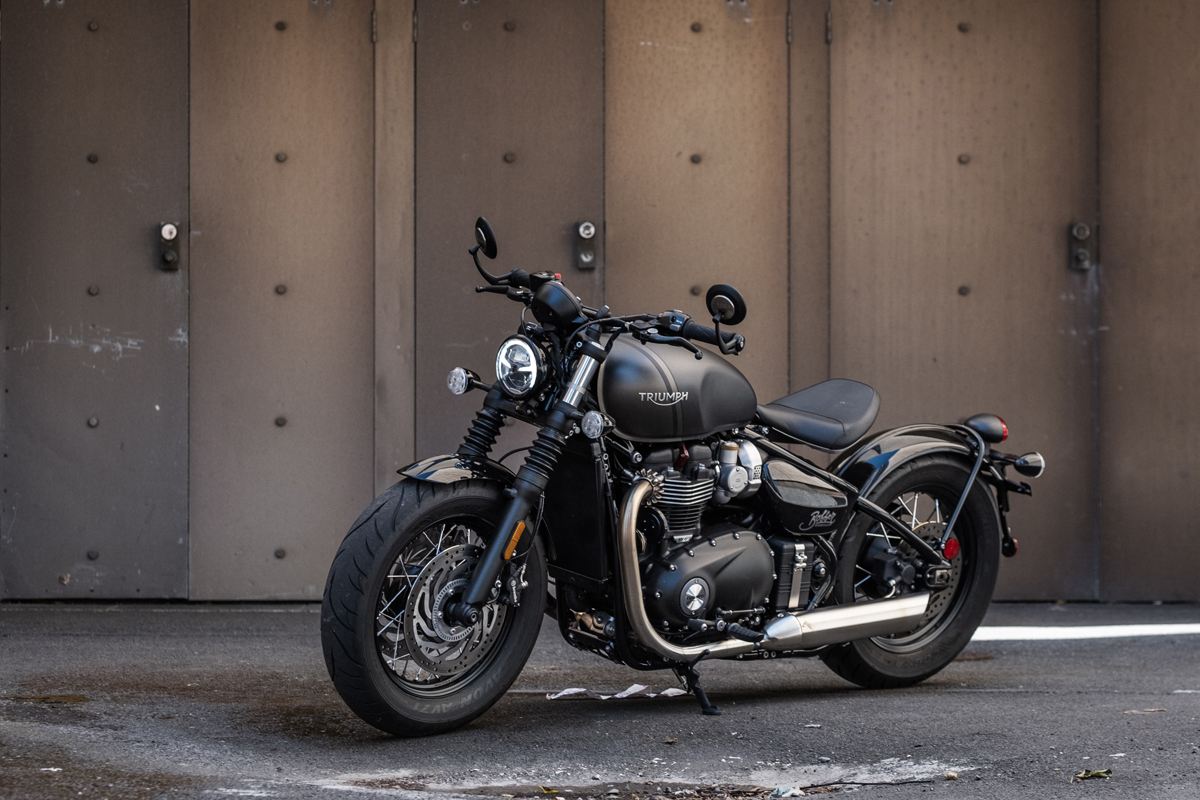 But the real news here is that Triumph has rolled their previous two Bobber variants—the Bobber and Bobber Black—into one model. Or more accurately, they've ditched the Bobber and simply renamed the Bobber Black.
It's a clever move. The standard model was overshadowed by the considerably more menacing Bobber Black, while the latter lacked the benefit of a wider choice in colours. So this new variant is the best of both worlds.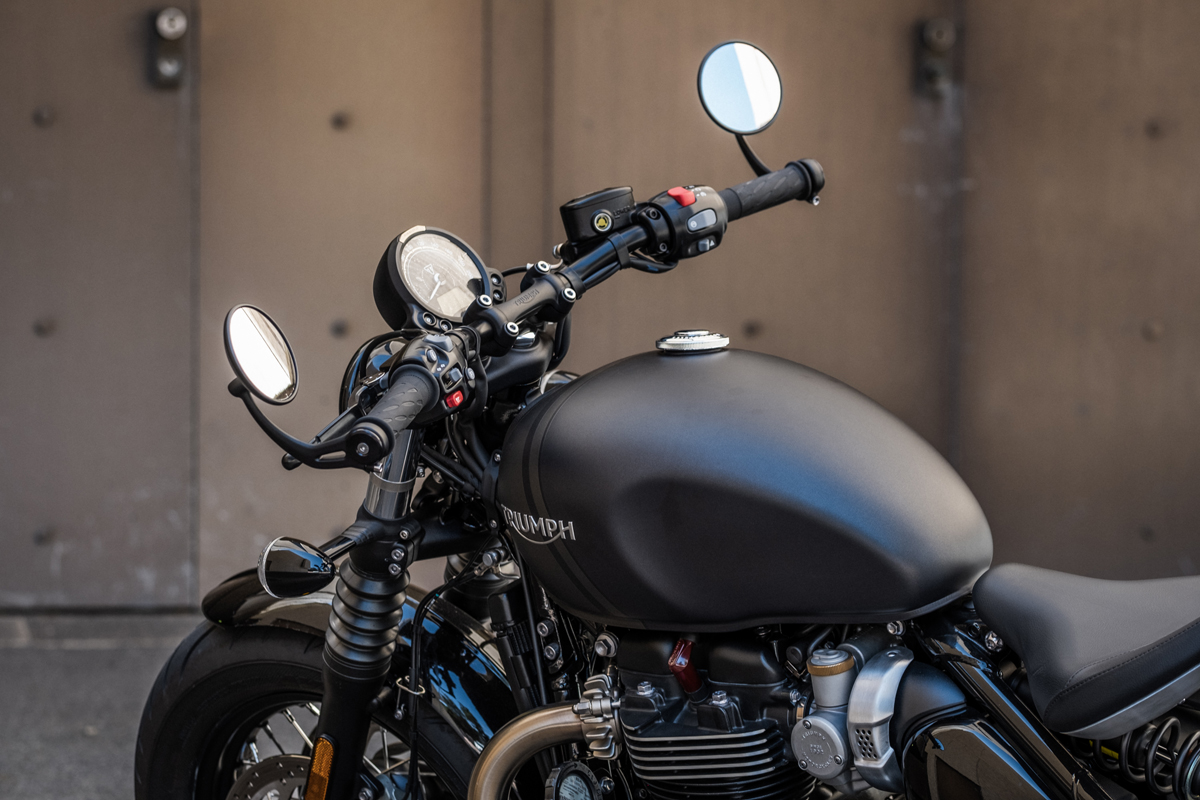 Gone are the standard Bobber's 19F/16R wheels and 41 mm front forks, replaced by the Bobber Black's chunky 16" wheel set and 47 mm forks. The new Bobber also gets Avon Cobra tyres, and a Brembo brake upgrades with twin two-piston calipers up front.
Visually, the Bobber's adopted the Bobber Black's all-black engine, and now comes in three different matte colours, along with an über-swanky (and more expensive) red 'Gold Line' livery. Small details abound—like the redesigned speedo bezel, and the LED headlight. Cruise control is standard now too, along with a new torque-assist clutch.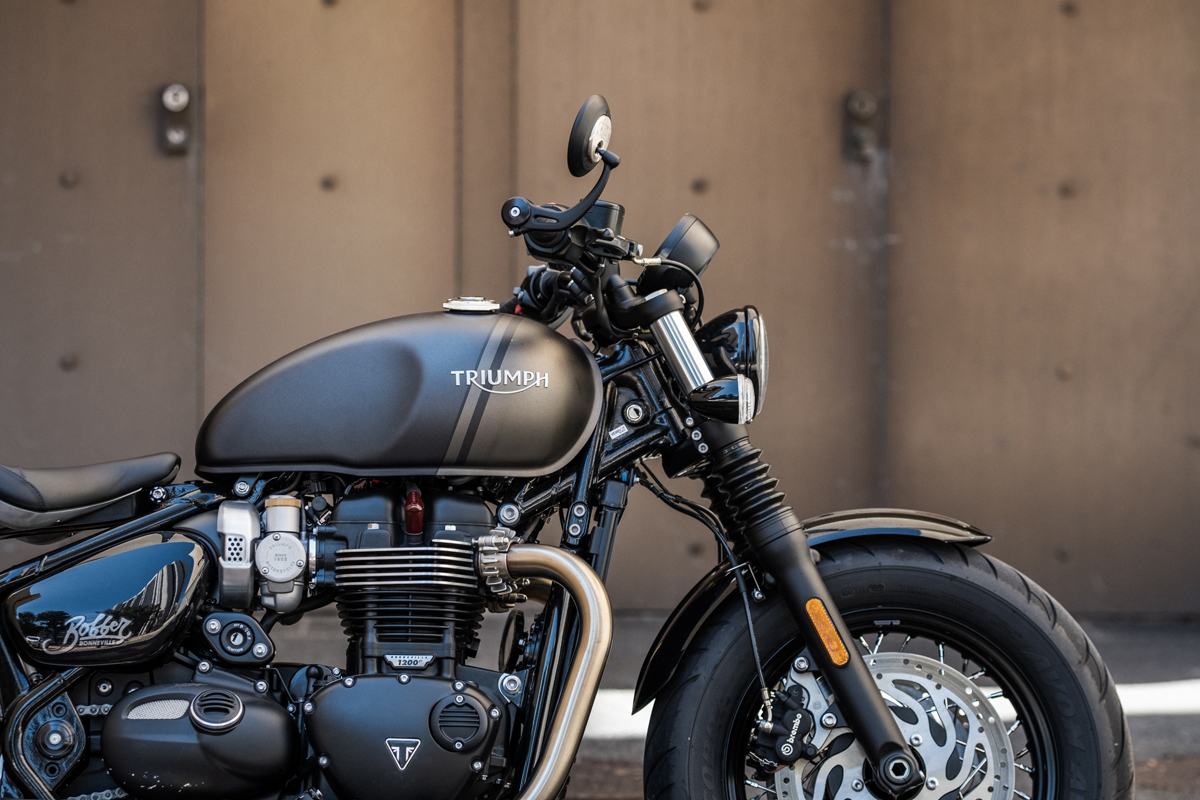 As for the rest, there's not much to report. The speedo and cantilevered seat are both still adjustable, and much of the bike's trim remains unchanged. It does have a slightly bigger fuel tank though, with a new capacity of 12 l.
The new Bobber will set you back R202,000 in plain black, R209,000 in grey or red, and R218,000 if you want to spring for the Gold Line edition. The Speed Twin's pricing starts at R202,000.
Both bikes prove that Triumph are killing it in the neo-retro space right now. The changes made speak of a subtle evolution rather than a totally new approach—but they should give the Speed Twin and Bobber the longevity to remain relevant for a good few years still.
For more information on the Triumph Bonneville Bobber, click on the link below…