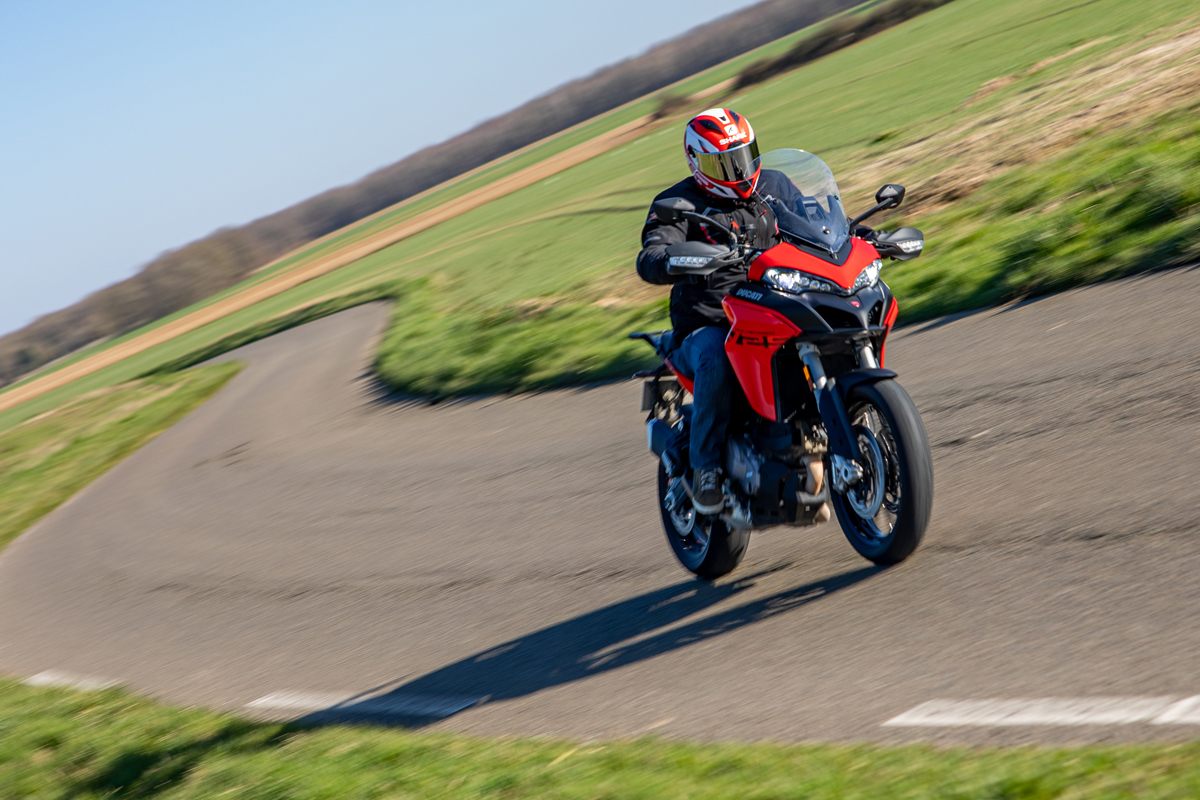 Can you guess what Ducati's best seller is? Simple: the Multistrada! Ducati got us hooked last year with the mighty V4, and now they've updated their 2022 offering with the Multistrada V2S. It looks a bit like the good old Multi 950, but many things have been changed. For the good too, as we found out during our recent test ride.
The Multistrada V4 has been a tremendous success for Ducati. Despite last year's Covid-related industry hassles (everything from containers prices to component shortages), Ducati had a record year with 59 447 motorcycles produced—their best year ever. That's a 24% increase from 2020, and even a 12% increase from 2019, the last 'normal year' before the pandemic.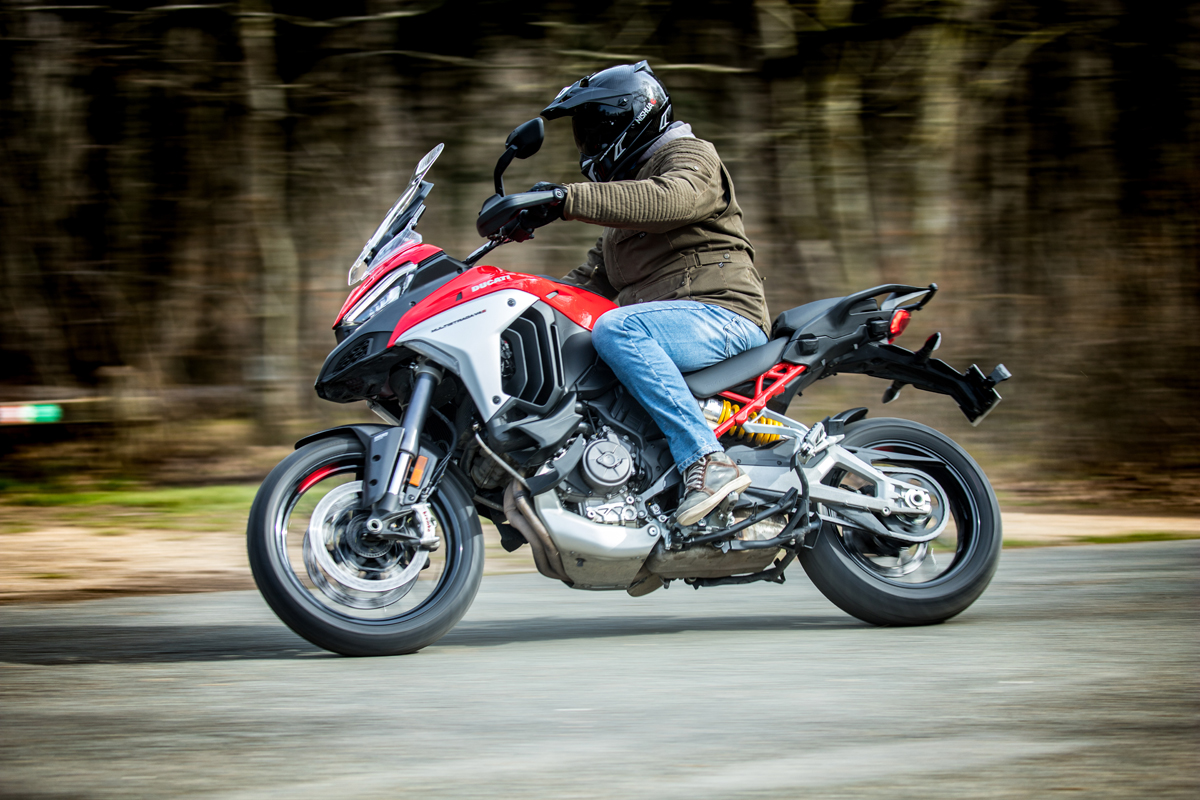 It's no surprise that the Multistrada V4 sold more than any other Ducati. 9,957 of them left the Borgo Panigale plant in Bologna—a tad more than the Scrambler family (9,059 units) and the Monster (8,734).
Since the Multistrada V4 was so popular, Ducati decided to upgrade their entry-level Multistrada too. Gone is the Multistrada 950; enter the Euro 5-compliant 2022 Multistrada V2 and V2S!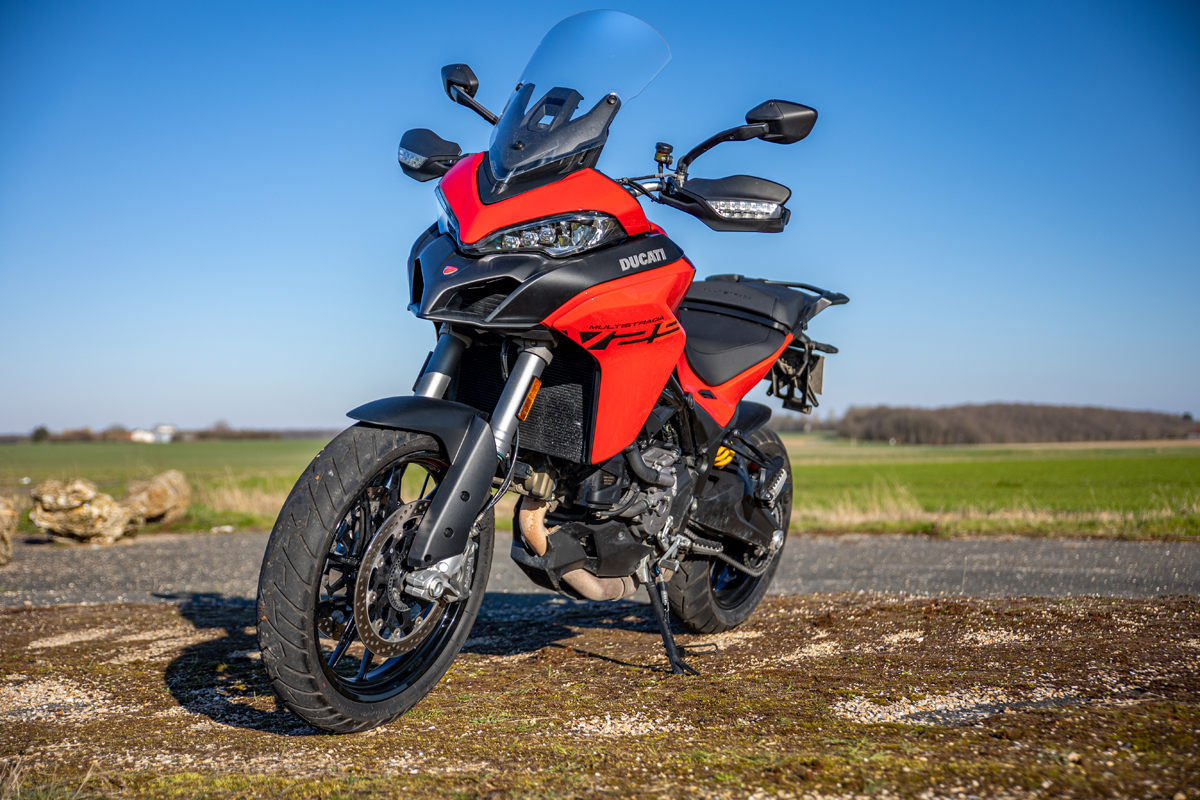 The changes are quite reasonable, though. Ducati chose not to replicate the V4's headlight design, so its smaller sibling retains its own visual identity. The side panels have been redesigned, so they're slimmer now, and run high up to the rear subframe. Now when the bike is fitted with side panniers, they look more integrated than before.
The ergonomics have also changed a little bit. The seat is 10 mm lower at 830 mm, and it feels narrower between your legs. You don't need to be a giant to feel comfortable on board this new V2S. The foot pegs have also been lowered by 10 mm.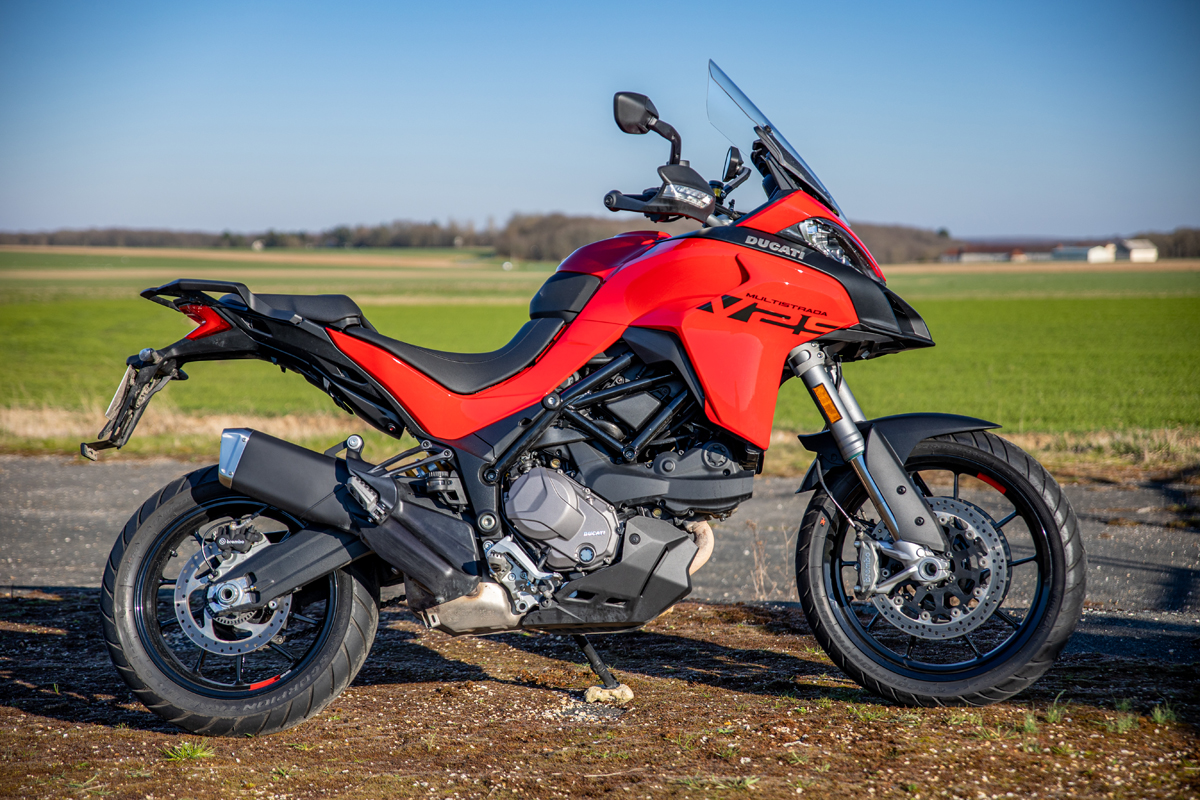 10 mils here, 10 mils there—those figures don't sound like drastic changes, but the fact is, once you're on board, you feel very much at home. The riding position is ideal, the seat hits the perfect mark between softness and firmness, and the adjustable screen gives decent wind protection.
On top of that, the S version has semi-active suspension from Sachs, with 150 mm travel (front and rear). The Sachs unit can be adjusted through four positions: touring, urban, sport and enduro. You can also dial in individual settings, select your own preferences for the front and the rear suspension, and adapt the preload to compensate for a pillion and/or luggage.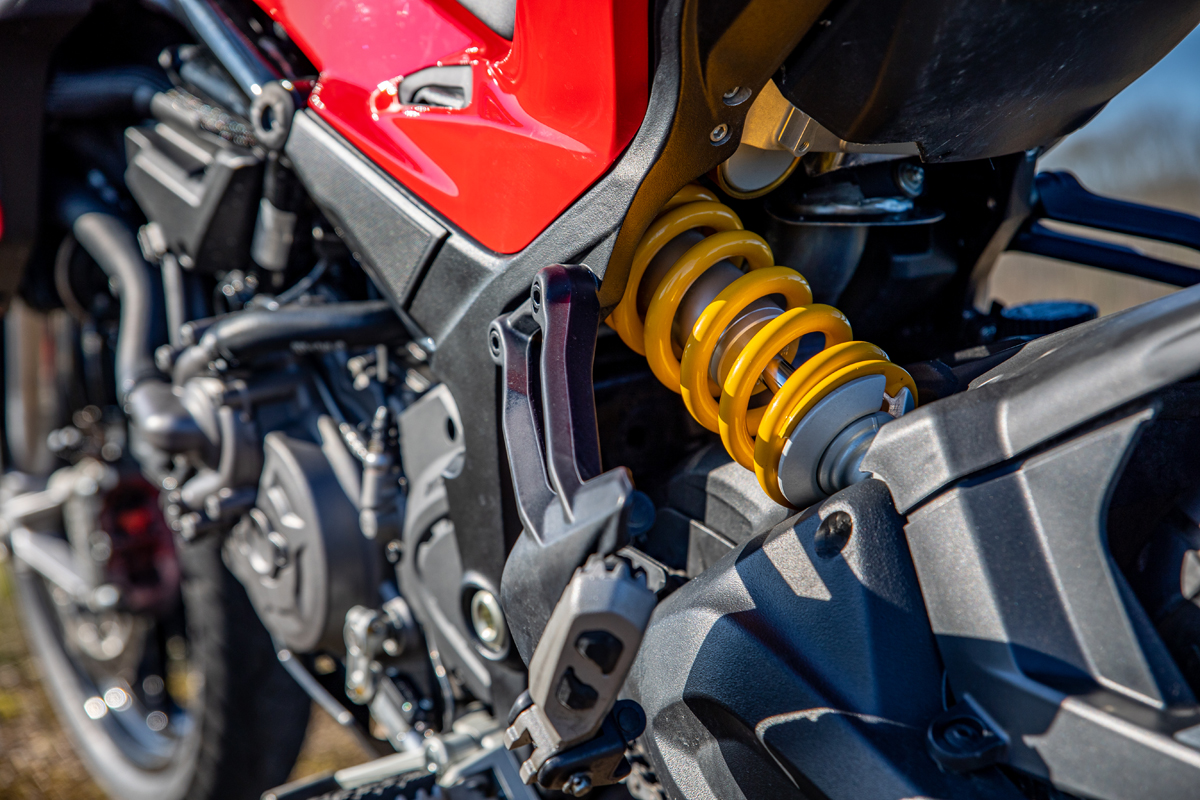 There's a lot of choice, but luckily the 5" TFT dash is quite easy to use—unlike some of the competition. The switches are also backlit at night.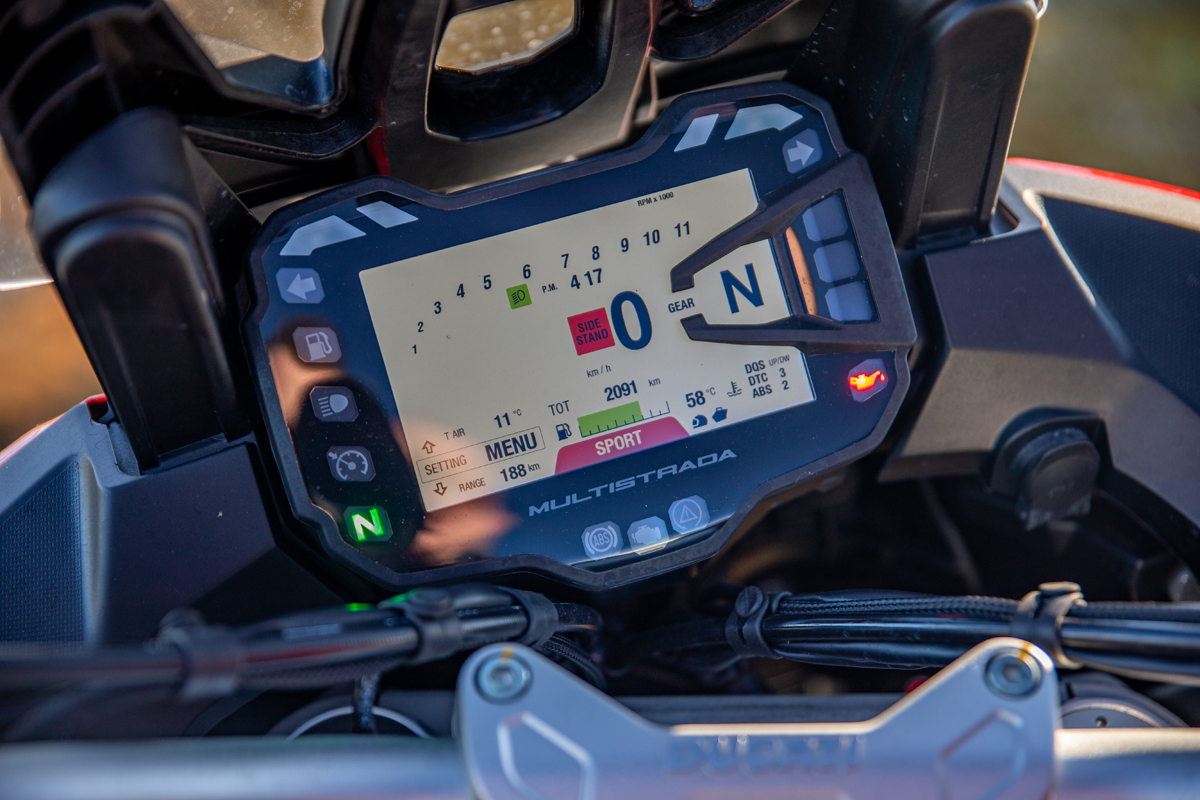 One last number: Ducati managed to save 5 kilograms from the previous 950, by doing things like shaving 1,7 kilos off the wheels. It comes in at 199 kg dry—not bad at all for such a big versatile touring bike.
So, how does it ride? There's a lot of tech on the Multistrada V2S; cornering lights, cornering ABS, and all the traction control and engine mapping that you like. Brembo M4.32 brakes keep things in check, so power is not an issue.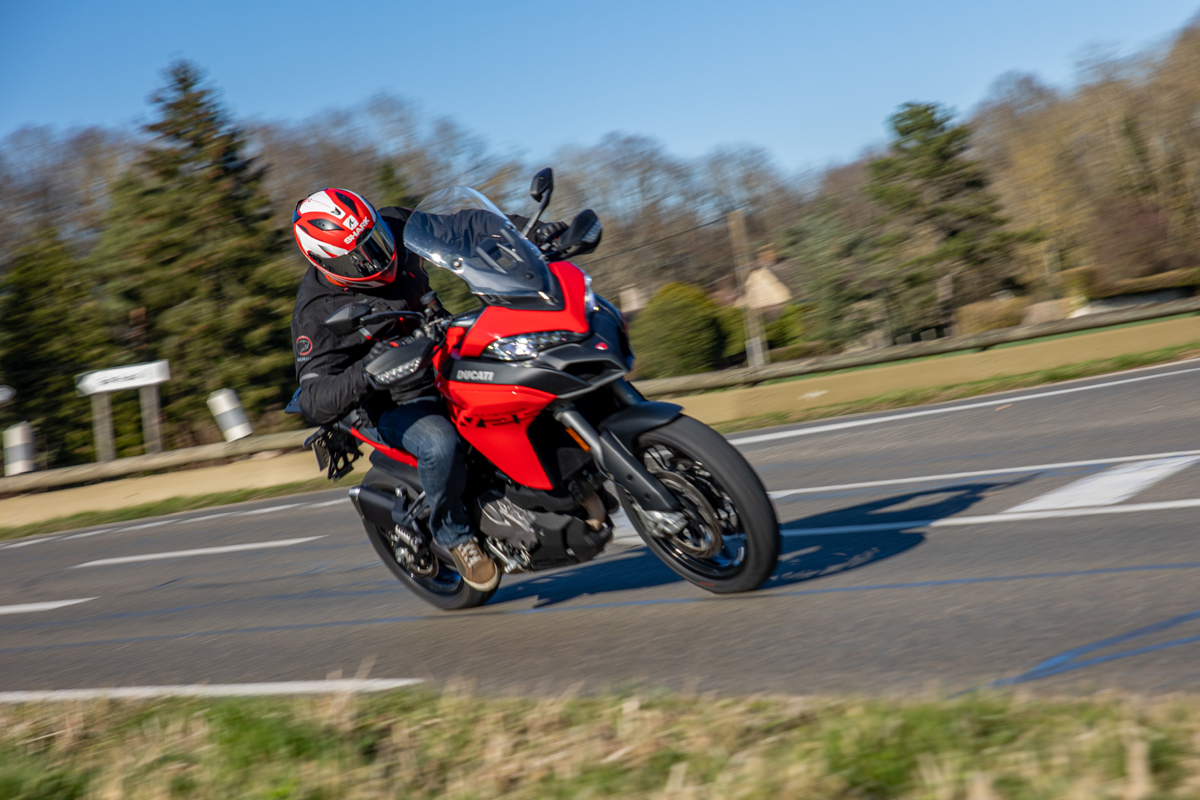 Let's talk about that power. The engine is still the 937 cc unit (listed as '950' on some versions), but it uses new casings to save a mighty 2 kilograms. It delivers the same 113 hp as before, but Euro 5 compliance has reduced the torque by 2 Nm. There's still 94 Nm available at 6,750 rpm, which is decent.
Forget about the 'urban' riding mode—although the engine becomes extremely smooth, it cuts the power down to 73 hp. (In some countries, a 47,5 hp / 35 kW A2 version is also available.)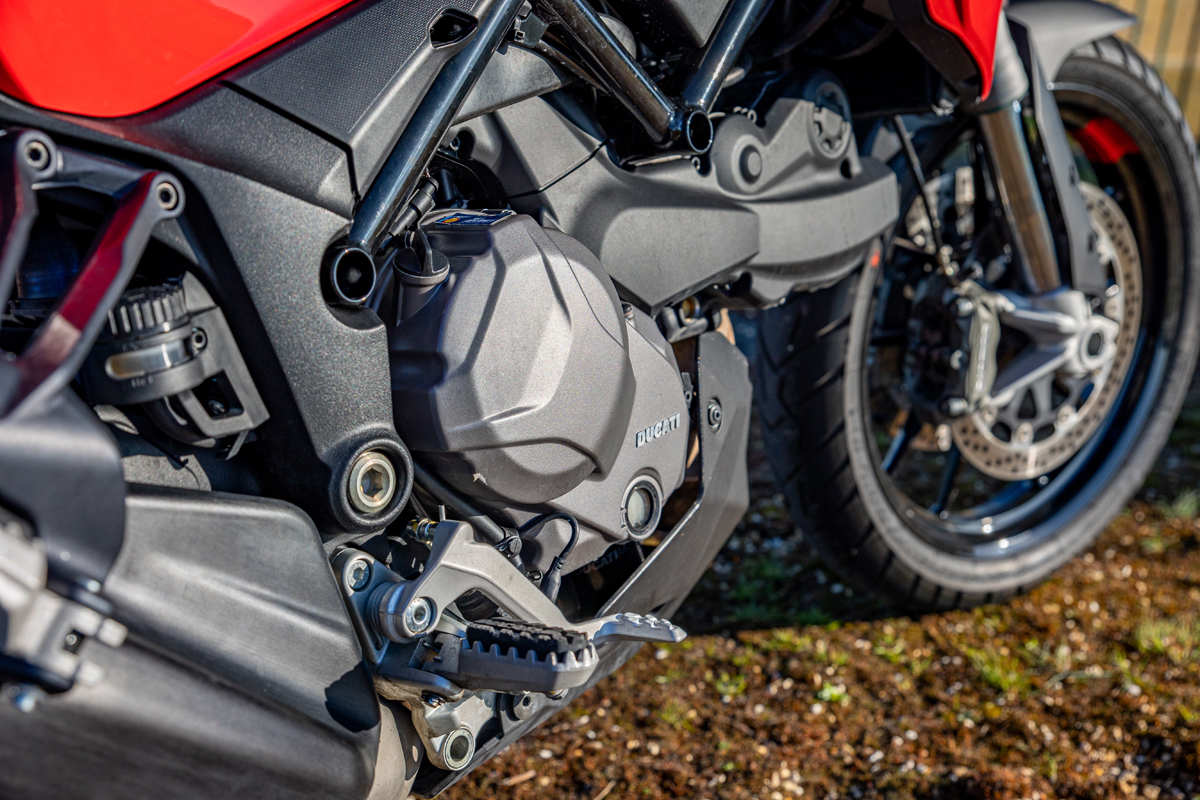 Let's be honest though, the Euro 5 version has lost a bit of that archetypal V-twin character at low and mid revs. The Multistrada V2S is very gentle below 5,000 rpm, with a rather discreet engine sound—hence it will be a great commuter for those who don't ride always with the throttle wide open. But if you're looking for proper Italian character and real Ducati personality, you'd better get use to the 5,000 / 9,000 rpm range.
The gear shifter is a peach, especially since the gearbox feel has been revamped with an eight-plate clutch. When ridden properly, the Ducati Multistrada V2S offers more than decent level of performance.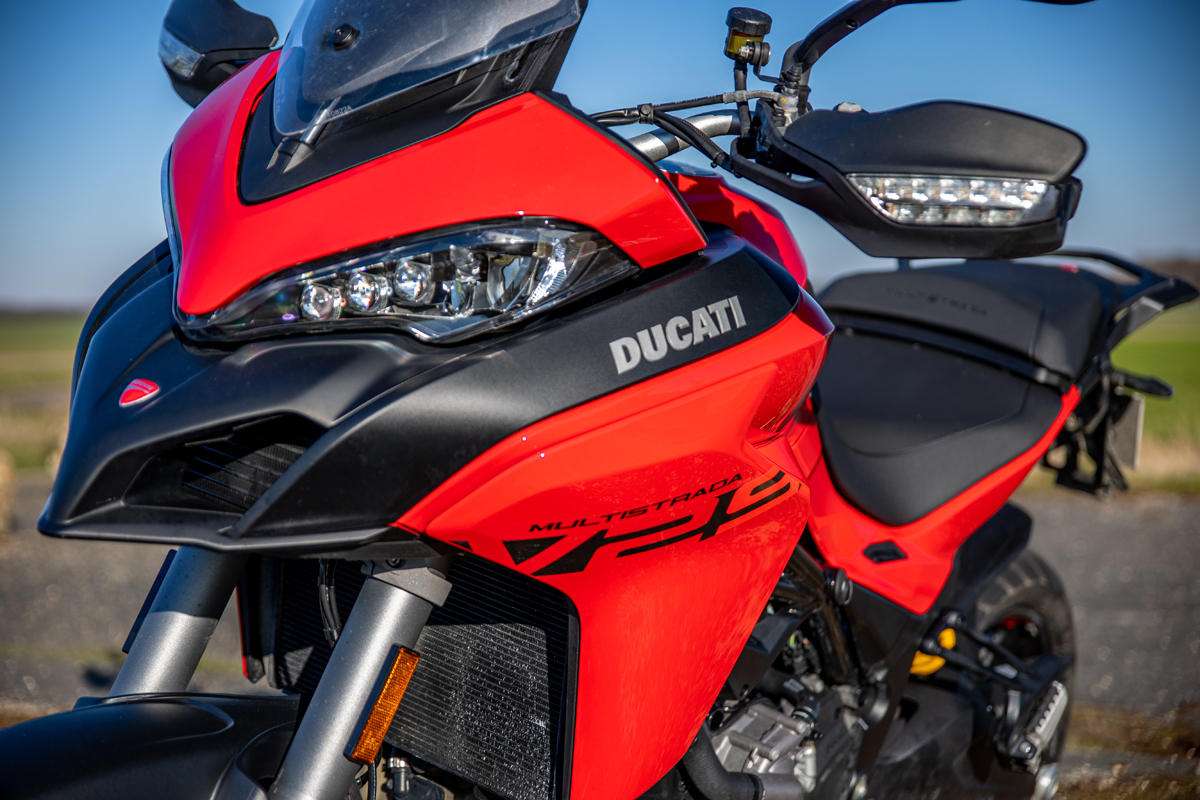 I had the chance to ride the Multistrada V2S alongside the brand new Honda NT 1100—a motorcycle not imported in SA, with a comparable spec sheet (twin cylinder, 102 hp, more torque). The Ducati was always more fun to ride, especially in corners, despite its 19" front wheel.
The Honda feels a bit more solid on its 17" rims, but also feels way more heavy. The Ducati will be definitely more rewarding to ride on a mountain pass—and it'll be the quickest to the top too. There's nothing bad to say about its handling, brakes, stability, suspension feel or the excellent Pirelli Scorpion Trail tyres.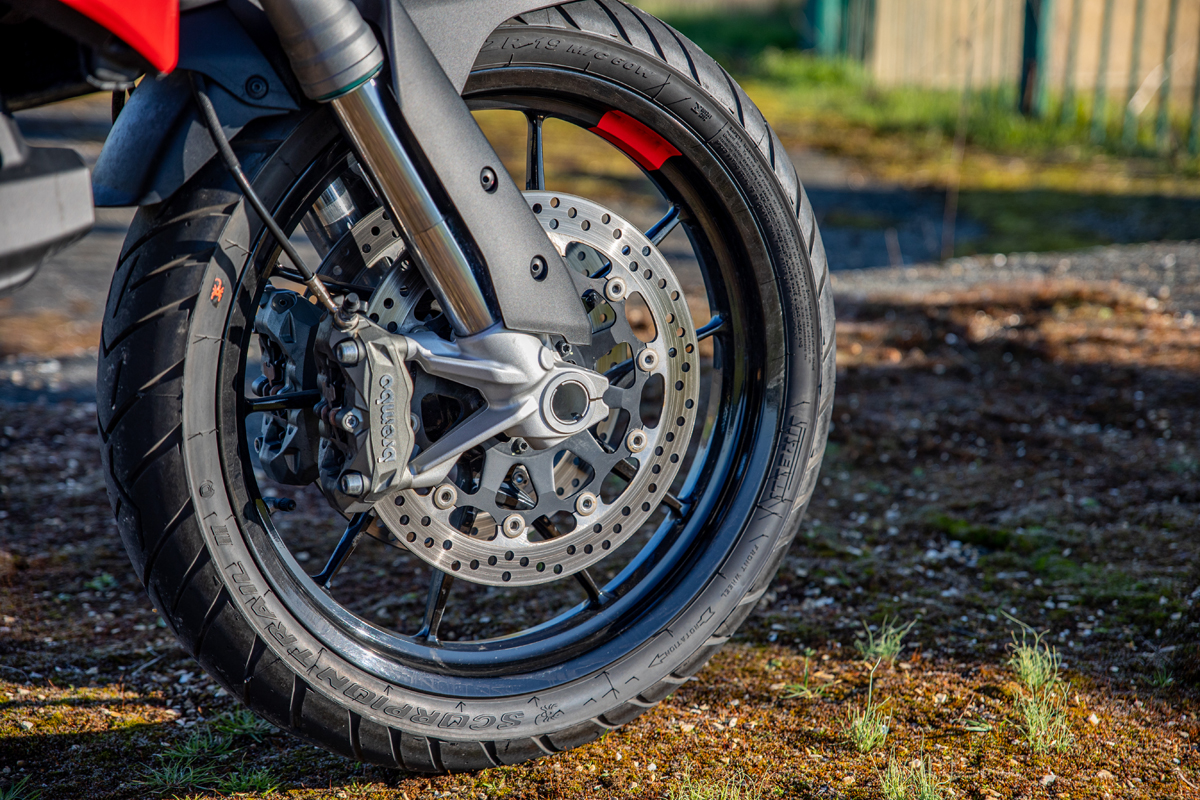 The good thing is that the fun doesn't come at the expense of comfort. The Multistrada V2S is good for more than 300 km on a tank of fuel, and offers a bit of dual-purpose versatility. (Friendly advice: consider purchasing crash bars and better off-road tyres).
The last two figures to mention are; 4 years (warranty) and 15,000 km (service interval).
The Ducati Multistrada V2S ticks all the boxes, don't you think?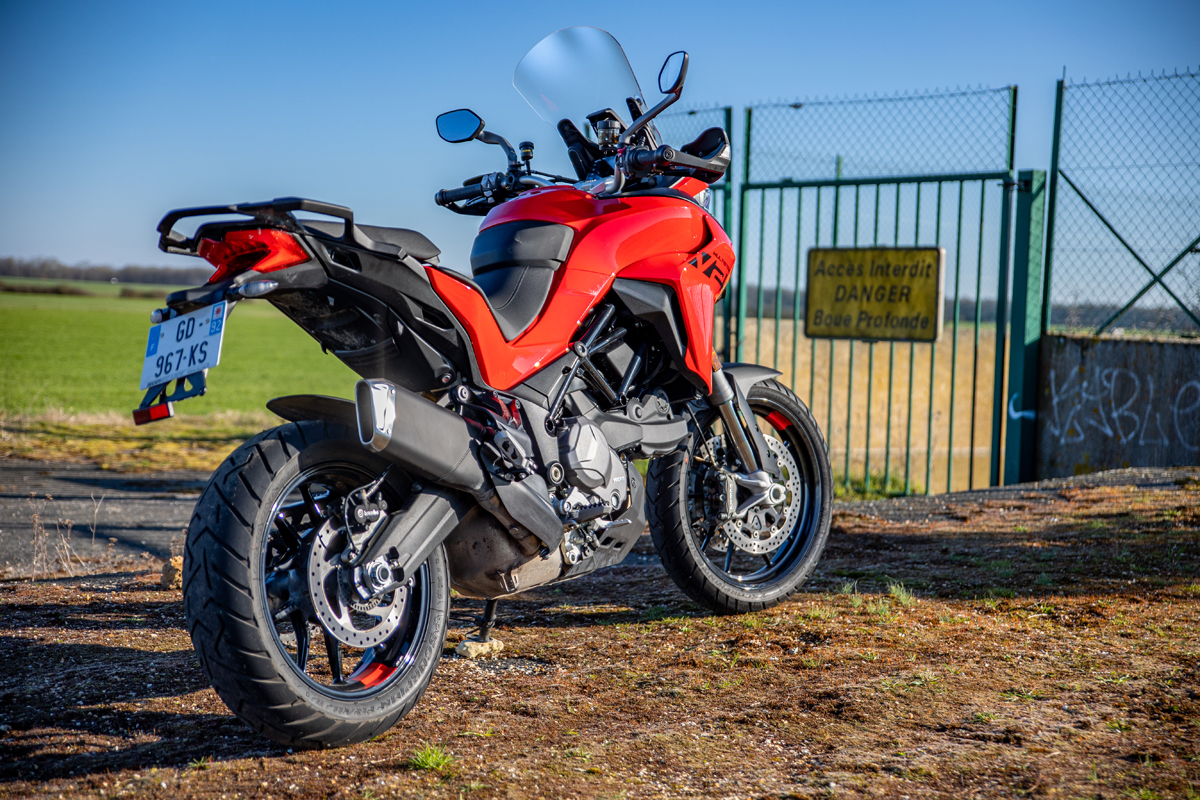 Ducati Multistrada V2S
For more information on the bike that we used in this article, click on the links below…