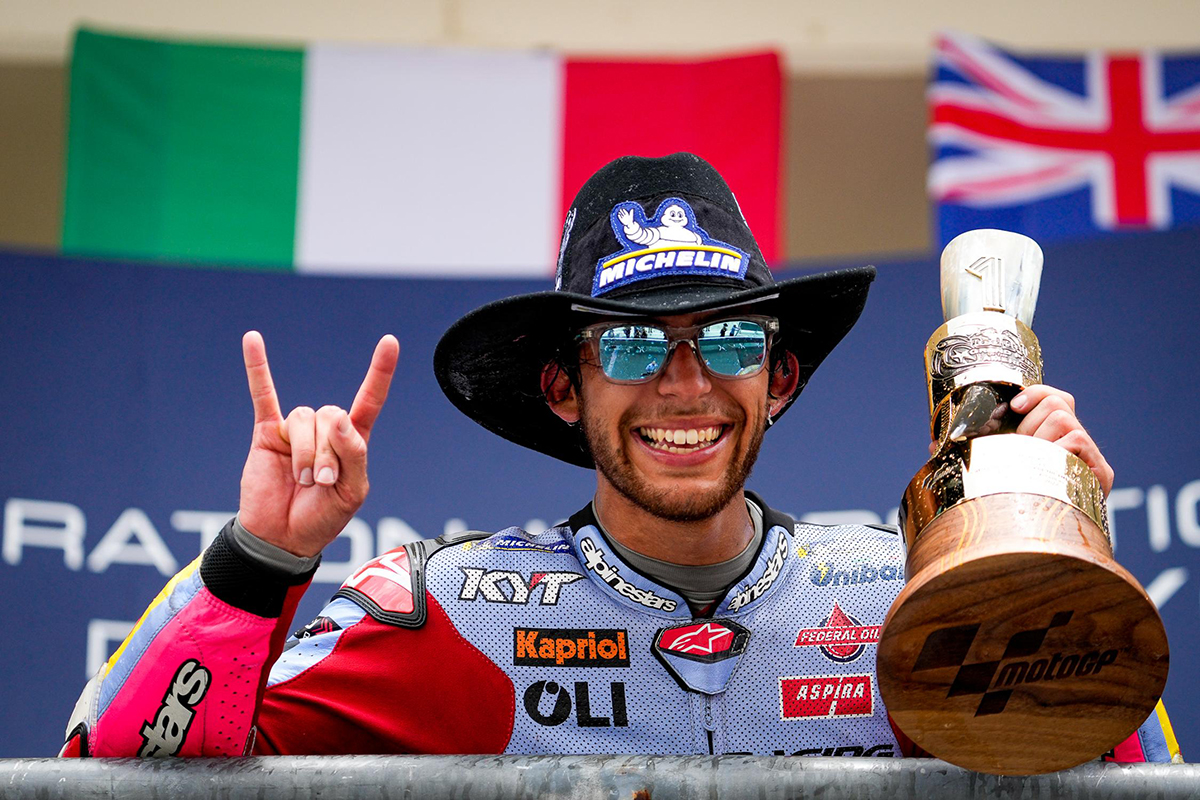 Four races into the season and four victories by European manufacturers, to add to the four out of the last five races in 2021, is leaving the Japanese manufacturers reeling more than a little. Everyone knew that the Ducatis were fast in a straight line but, until those last five races in 2021, they looked too compromised everywhere else on a race track to put together a race-winning charge, let alone a championship-winning charge.
Now, a Ducati is the bike to be on. Well, more specifically, a GP21 – last year's bike – is the Ducati to be on. That's the bike that Bastianini is riding and he's making the most of it. His riding style helps: he is all about using the front tyre and leaving the rear alone, not using it to turn the bike as Jack Miller does. This means that he has plenty of rear tyre left at the end of a race, while everyone else is dropping off a cliff.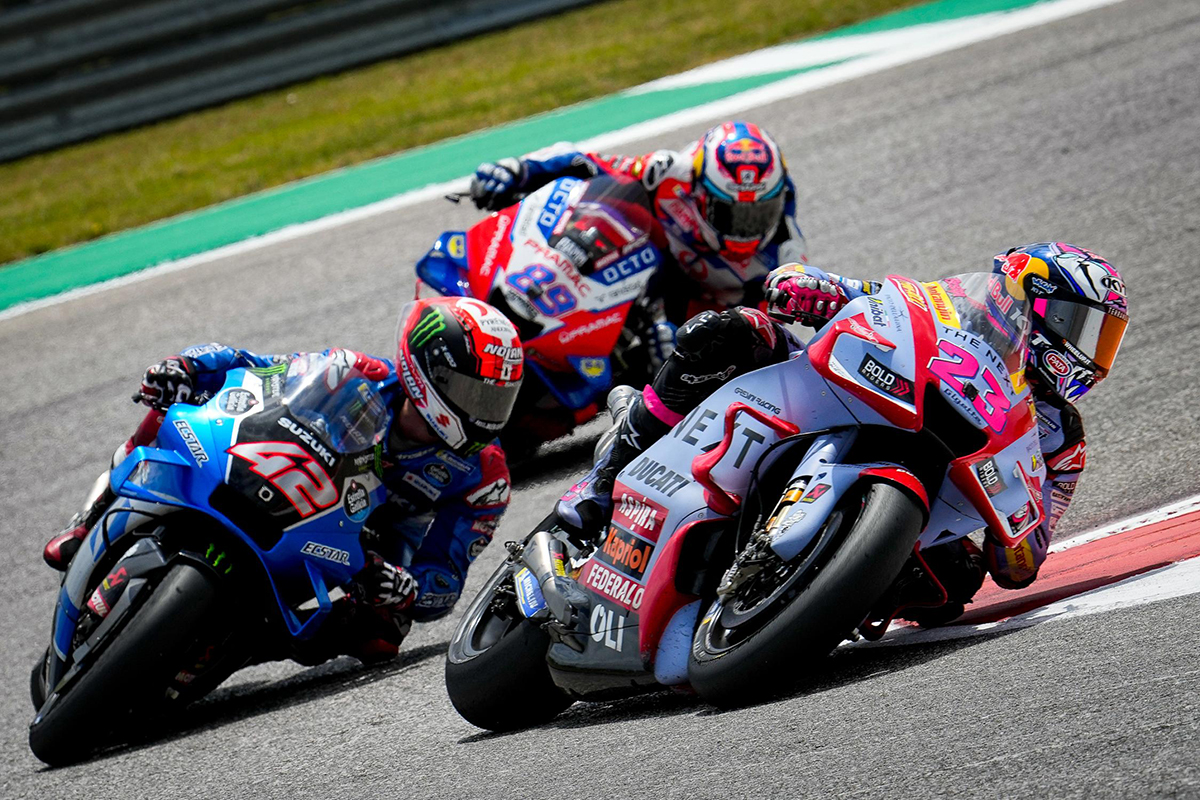 Ducati has shown extremely well in the first four races but that has been courtesy of the satellite Pramac and Gresini teams, Bastianini taking two victories for Gresini and Zarco and Martin a second and a third place in the first four races.
The factory Ducatis, on the other hand, have struggled, Jack Miller's third place in America – after leading the race for so long – the only podium finish so far. Pecco Bagnaia, who came into 2022 off the back of those four victories in the last five races of 2021, has not looked remotely likely to challenge the top three at any race while Jack Miller made not one single overtake last time out in Argentina, starting fourteenth and ending the race in that position as well, while Pramac Ducati rider Jorge Martin led for all but four laps and finished second to the Aprilia of Aleix Espargaro. Add to all this the fact that both 2022 victories were achieved on GP21 models – last year's race bike! – and the factory's problems seem amplified.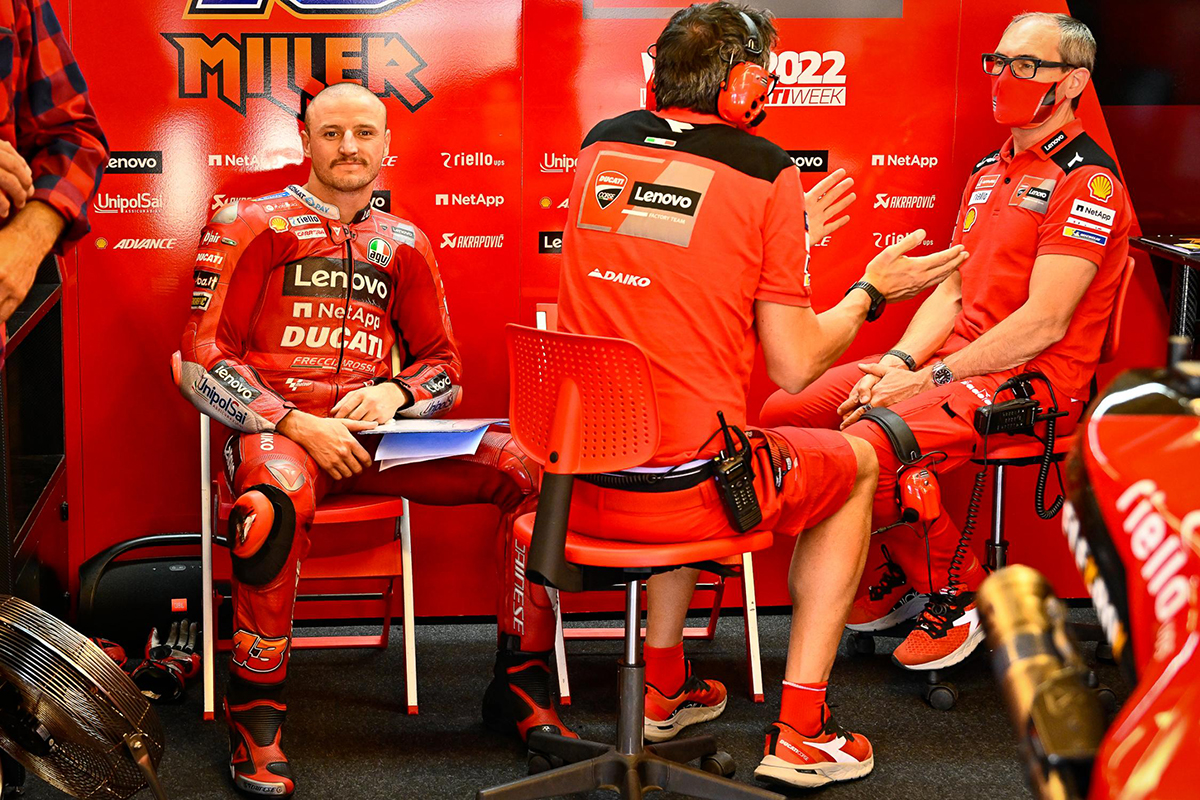 The two other 2022 race winning manufacturers, Aprilia and KTM, had a torrid time of it in America. KTM might have won a race and taken a second place but, at CoTA, they were all at sea, Brad Binder being the highest placed KTM rider, finishing in 12th place. How can they go from hero to zero from one race to the next? KTM, more than most, have tracks where the bike works, and tracks where it just doesn't and unless they can get a handle on it, it will be this that will prevent them from being championship contenders.
Aprilia also displayed none of that race-winning potential that had us all so worked up last time out in Argentina. 10th and 11th for Viñales and Espargaro respectively was nothing to write home about. Both riders and the team knew that the spotlight would be on them in America after that debut victory but Aprilia, like KTM, seems to blow hot and cold from one weekend to the next.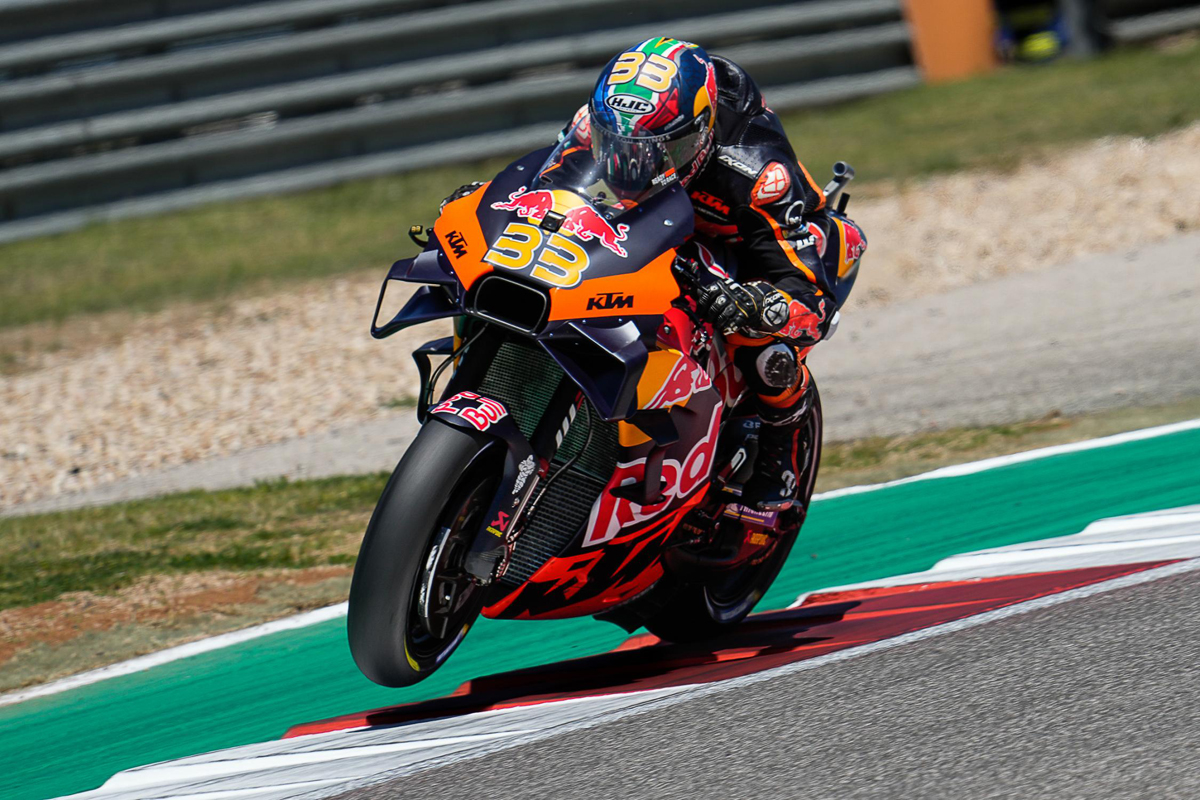 Japanese manufacturers, by comparison, have managed only four podium finishes out of 12 in 2022. Yamaha's pre-season woes were well documented and that form seems to have carried through to the races, a lack of top speed the main problem. Suzuki has gained straight line speed to go with its sweet-handling chassis and this is serving them well, Alex Rins taking a second and a third so far and looked like he could have challenged for the lead in America if the race had been a few laps longer.
All this has potentially more serious ramifications: who will be riding for whom in 2023? Jack Miller is fighting for his seat, and the odd podium here and there won't help him retain it, especially when he is being made to look pedestrian by the likes of Bastianini and Martin, both of whom are in the running for his seat.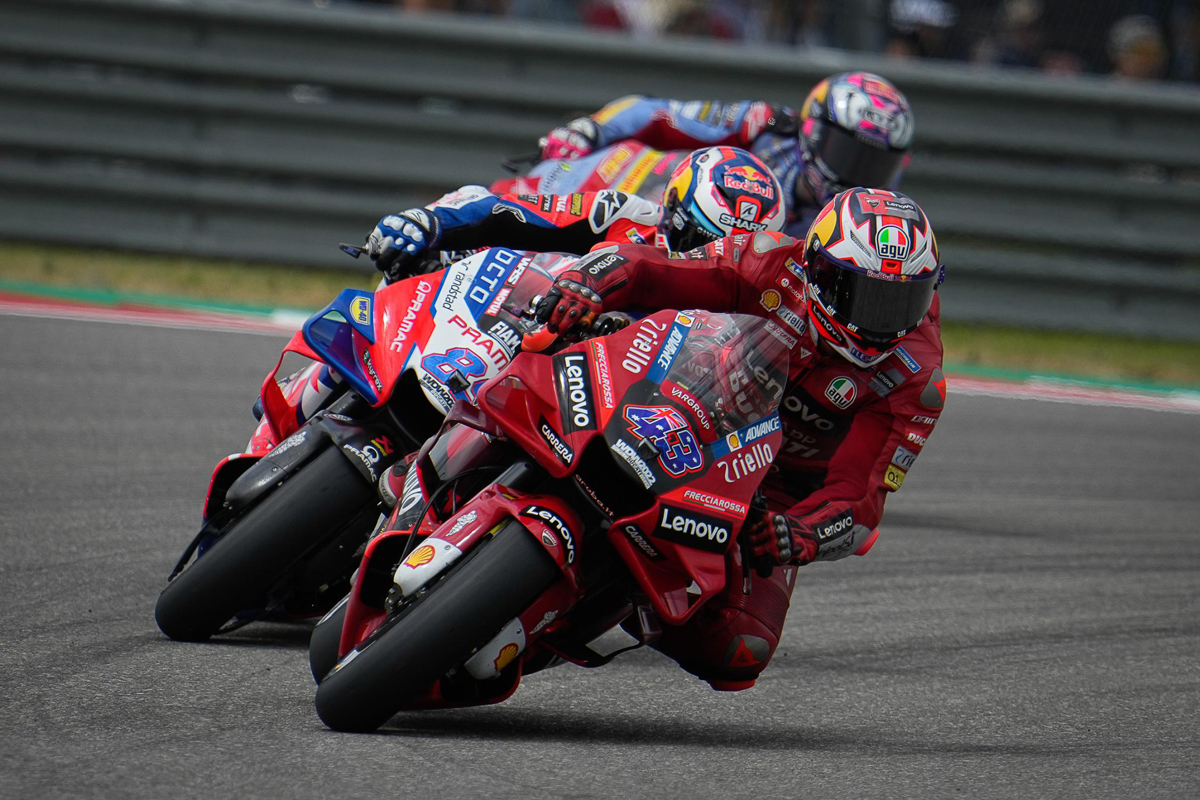 Miller professes to be relaxed about the future:
"I'm just here to ride my motorbike and do the best I can. That's all. If I get a job next year with Ducati, it is what it is. I'd be more than happy to stick around. I love the group I'm with.
"I'm just focused on this year and trying to do the best job I can do."
When asked about a possible move to Pramac Ducati next year, Miller was equally relaxed: "I wouldn't care. As you can tell, the bikes are all good. They're fantastic. I know for a fact that they're [Pramac] on the same equipment.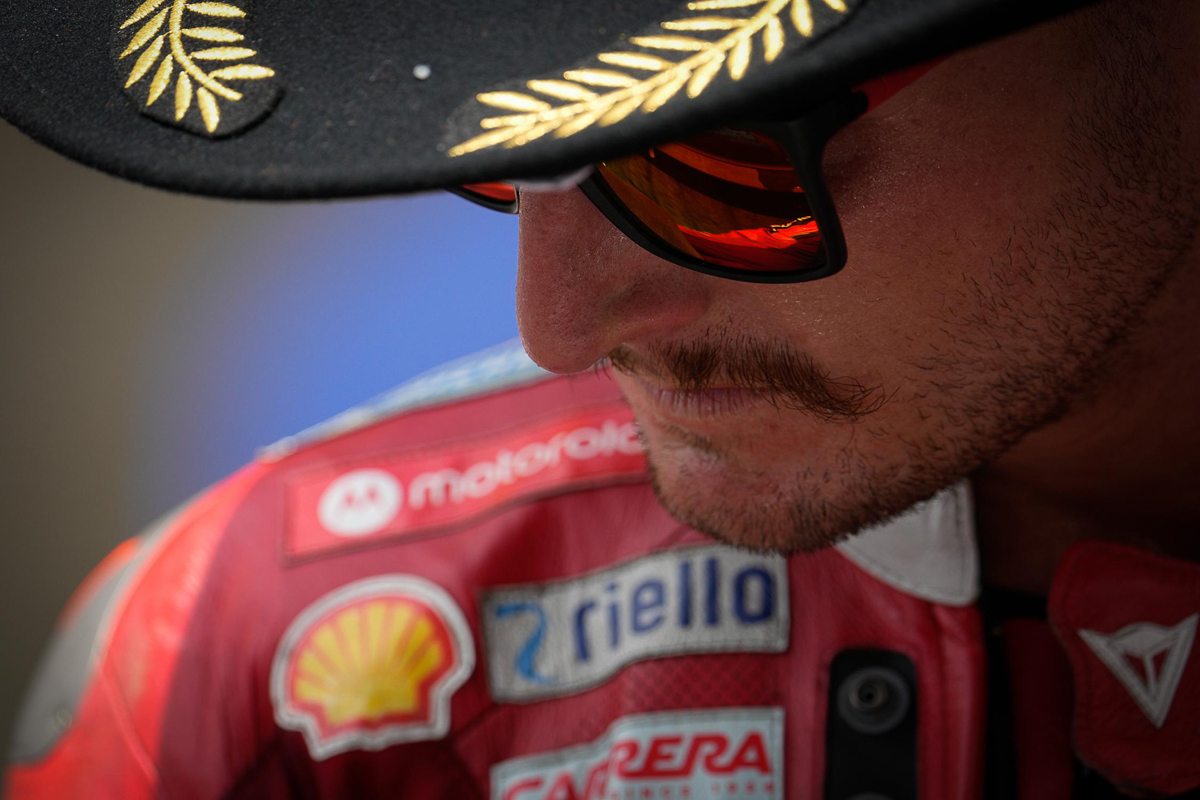 "It doesn't bother me. As long as I'm getting the opportunity to fight for podiums and be here with all the fans, living my dream, that's the main part." Is it any wonder Miller is one of the most popular personalities in the paddock?
Fabio Quartararo's management has admitted they are talking to other teams for 2023 and, if Yamaha doesn't pull its socks up and give the Frenchman a race-winning bike soon, he might well be tempted to move. Should Yamaha lose their champion rider, who knows how deep a hole that would leave them in. Franco Morbidelli has race-winning potential, but is faring worse than Quartararo at the moment on the current Yamaha M1.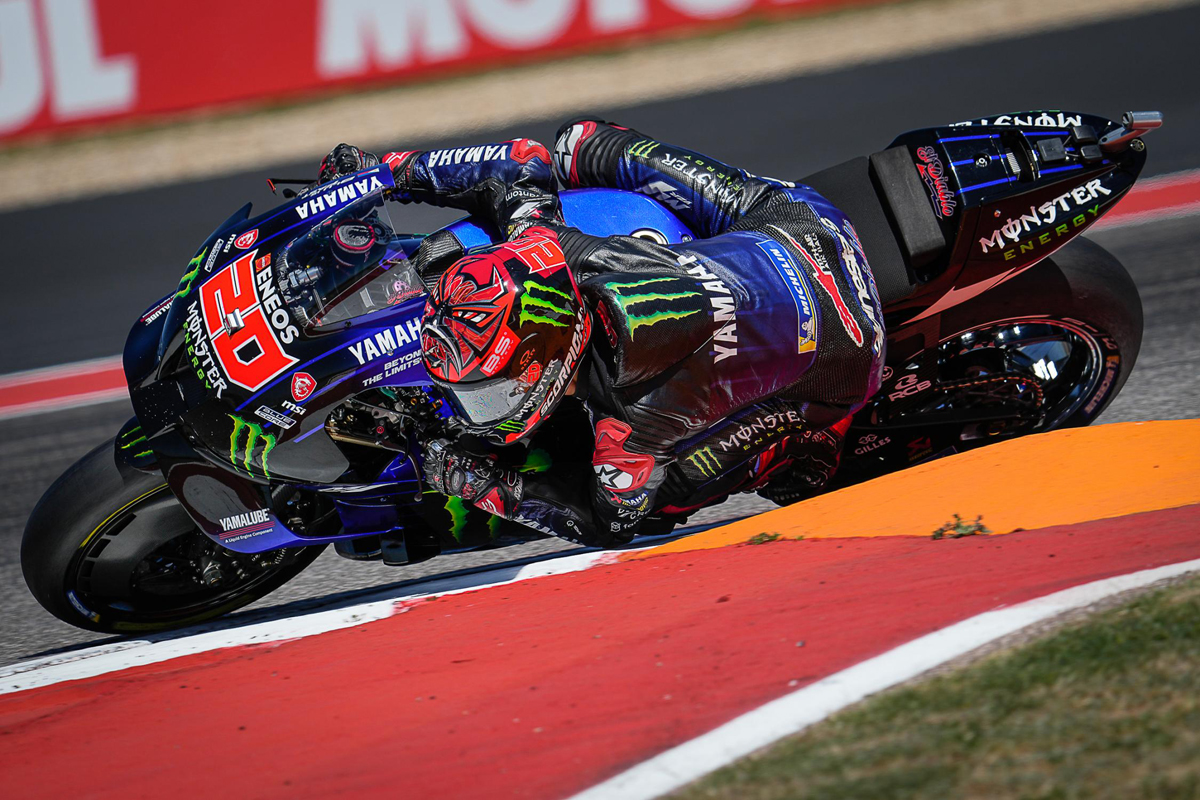 Only Brad Binder, Marc Marquez and Pecco Bagnaia have contracts that run further than the end of 2022 and that means a huge game of musical chairs to be played over the next few months. Of course, stability in a team is of paramount importance but a rider needs to know he's on a race-winning machine and he will jump to wherever he thinks that might be. The only problem with that, is that what bike is winning – or losing – one season might be doing the exact opposite the next.
The United States MotoGP race could have had a much different conclusion: Marc Marquez was back on his bike, after missing Indonesia and Argentina through his recurrent eye problems, exacerbated by the high-side in Indonesia.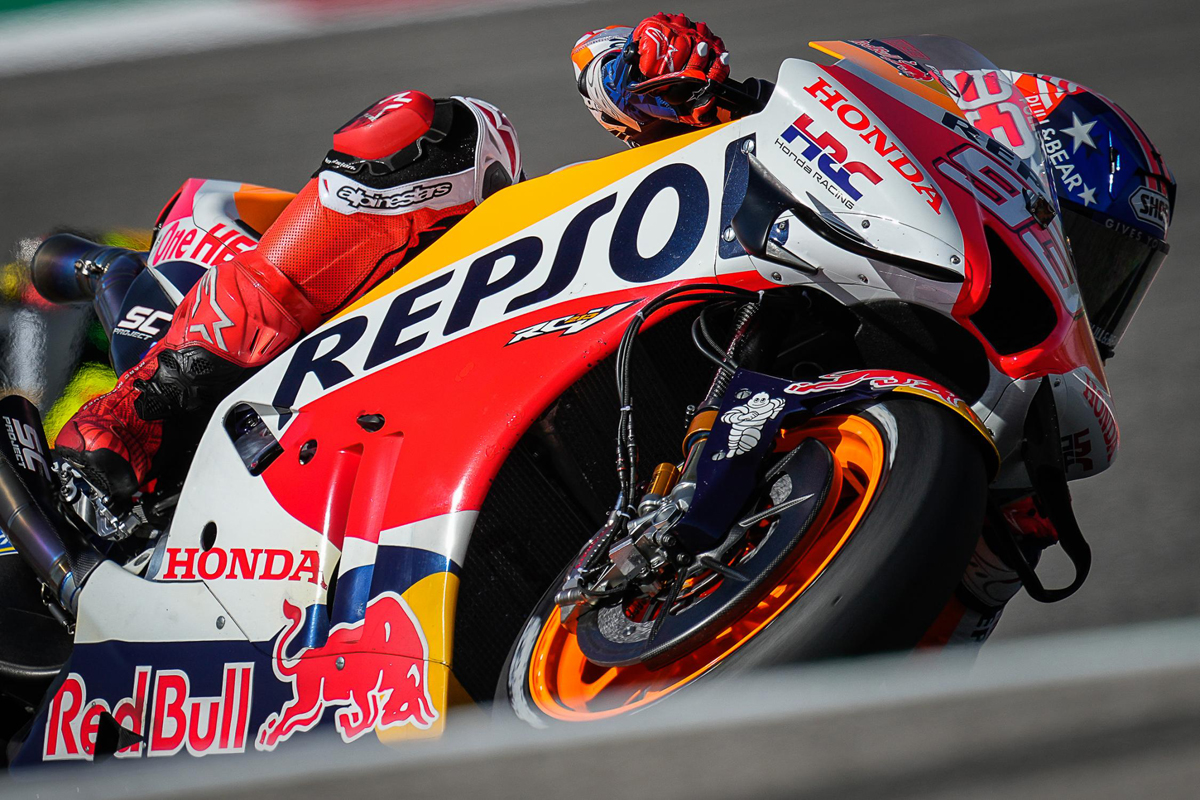 And what a track for him to come back at. He's won at the Circuit of the Americas seven times – 2013 to 2018 and 2021 – and no-one would have bet against him making it eight by the time the flag fell in 2022.
But that will forever be one of those 'what if' moments that racing is littered with. Marquez managed to qualify only ninth but few doubted that, once the lights went out, he would be right up there with the front runners.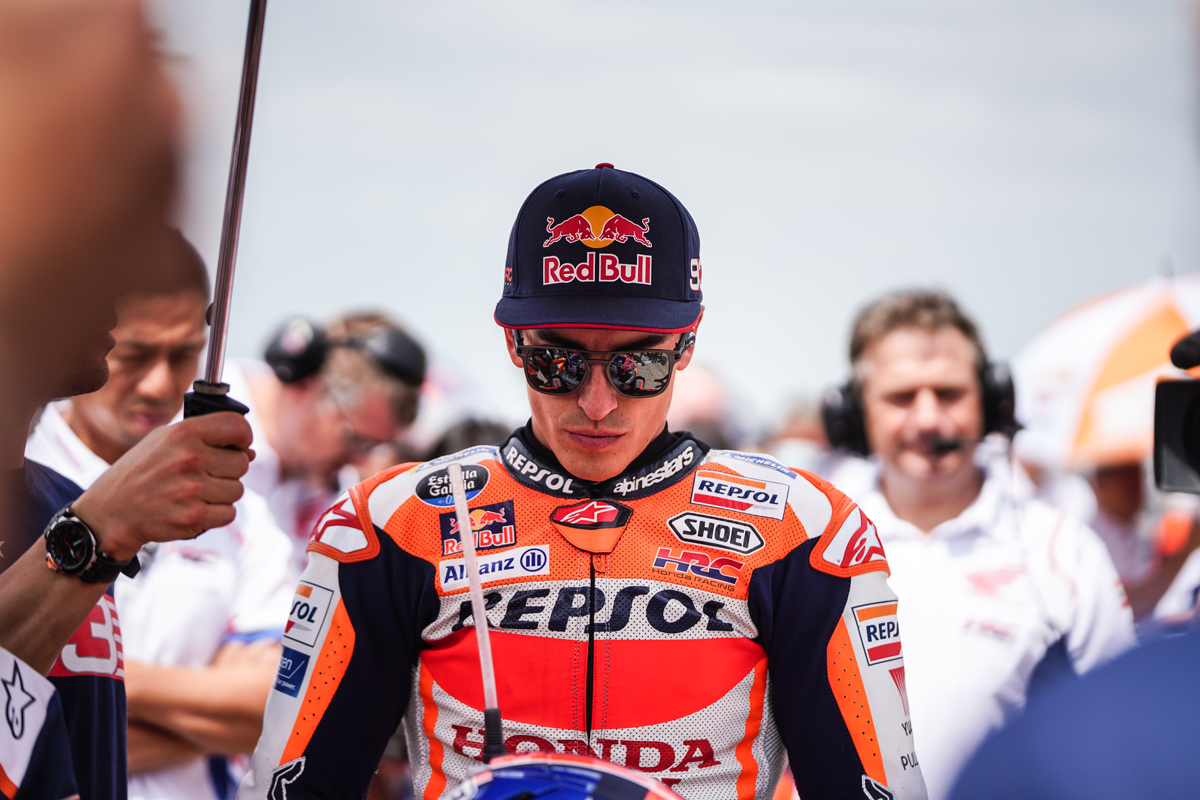 Come the race and he was running at the same pace as the leaders, if not slightly faster. The only problem is that he was doing it at the back of the field. At the start, he had a technical problem that left him with no power off the line and he was swamped by every rider behind him and entered turn one dead last.
Marquez being Marquez, he set about passing riders left, right and centre, eventually finishing sixth. All that time, he was setting lap times that matched the leaders, and this, while he was fighting his way through the pack, making at least 20, overtakes in the process.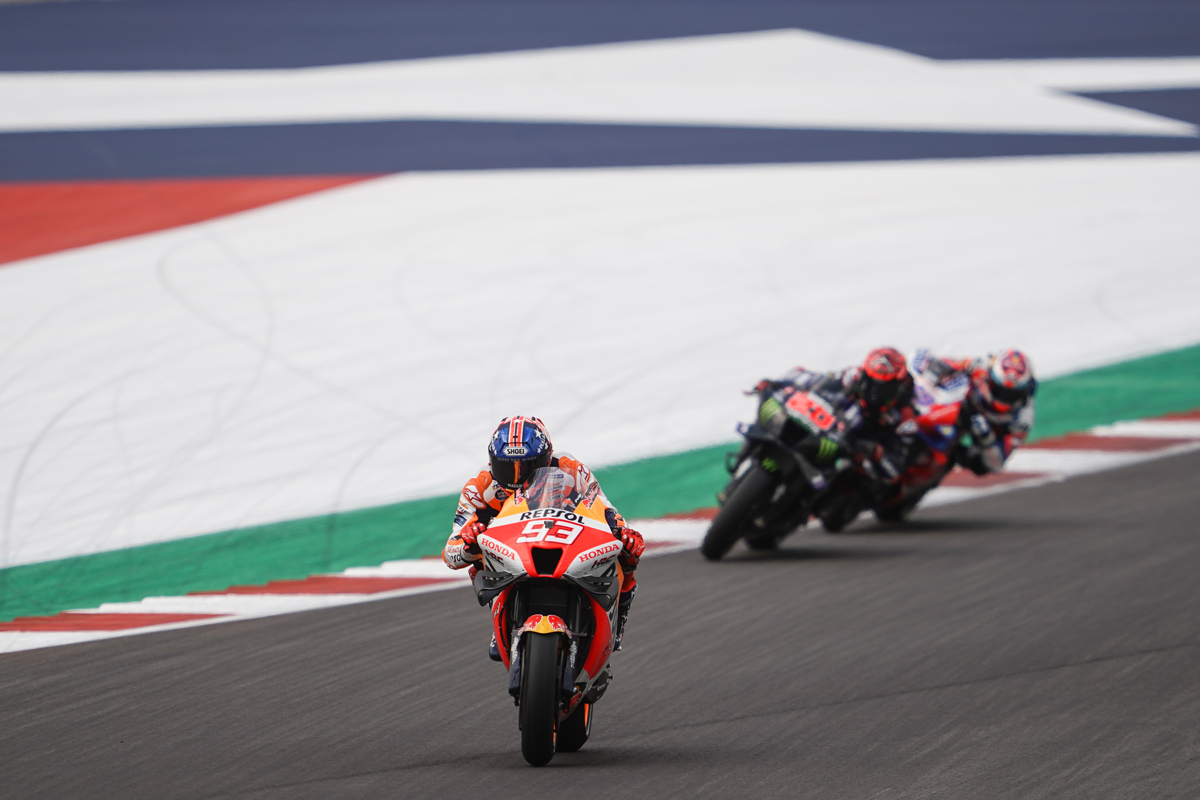 Marquez explained that an alarm light came on on the warm-up lap and stayed on throughout the race, even though he regained full power as the ride-height devices deactivated as he got through turn one. With the knowledge that another bad crash could have bad implications for his eye problem, it was an incredible performance. That he's still not completely race fit was evidenced by his comment that, with five or six laps left to run, he was spent physically.
"I knew that riding at 100% for all the laps would be impossible, but I gave everything and then when 5-6 laps remained my body said 'okay, that's it' and I just tried to finish the race," he said.
"Even like this, I was able to ride at a good pace. Okay, the result is not the one that we expected, but if we check how we started and where we were at the first corner, with how we finished, we can say that we built a lot of confidence."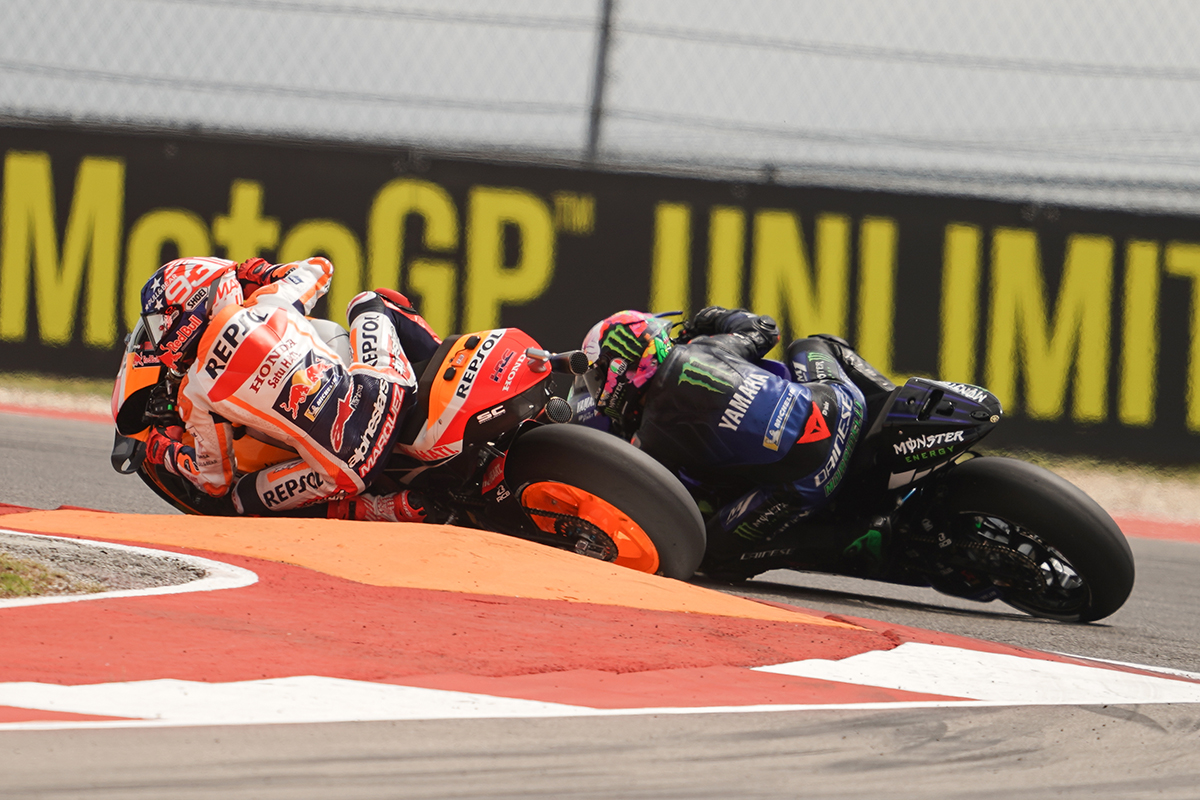 But, just imagine if he had got a clean start? There is no doubt that he would have been battling up at the front with the Ducatis and Suzukis and with a lot less danger than fighting your way through the pack. A victory was certainly not out of the question but that start made all the difference.
Having had more time on the 2022 Honda RC213V, Marquez was able to identify where the bike needs more development.
"It looks like we need too much track to turn the bike," he added. "We need too much track to use the rear grip and that's not the Honda DNA. The Honda DNA was always a 'V' cornering style – pushing and turning in a short time and picking up.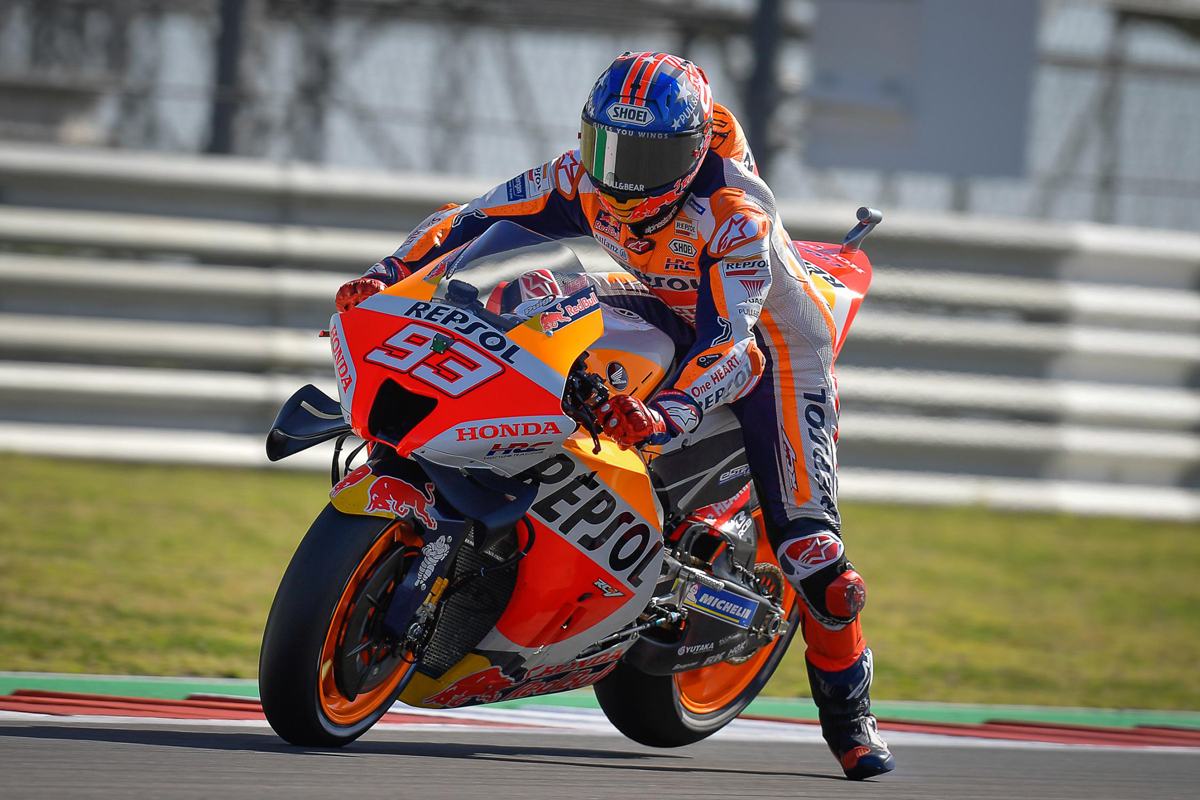 "My overtakes were at the brake points because we have a bike that's really good on the brakes, but to turn the bike and understand the front tyre is difficult. The bike is the complete opposite of what we had last year.
"Another important thing is that this is a circuit I know very well, so I already know exactly what the bike's weak points are, so I can I say to Honda that they need to work there and there if they want to be competitive.
"Now we need to understand what will be our level at European tracks, which I don't think is the level to win or fight for victory at every race.
"With MotoGP now you cannot predict a GP. You cannot go to a GP and say, this one I can win, this one I will finish top five, this one I will finish top ten. During the weekend you need to accept where you are and if you are tenth you finish tenth. But of course, I will push and I will take risks. The target is to try to be on the podium at every race but right now isn't the time to fight for podiums."
Marc Marquez admitting a weakness, both in himself and the bike? Now, that's unpredictable!