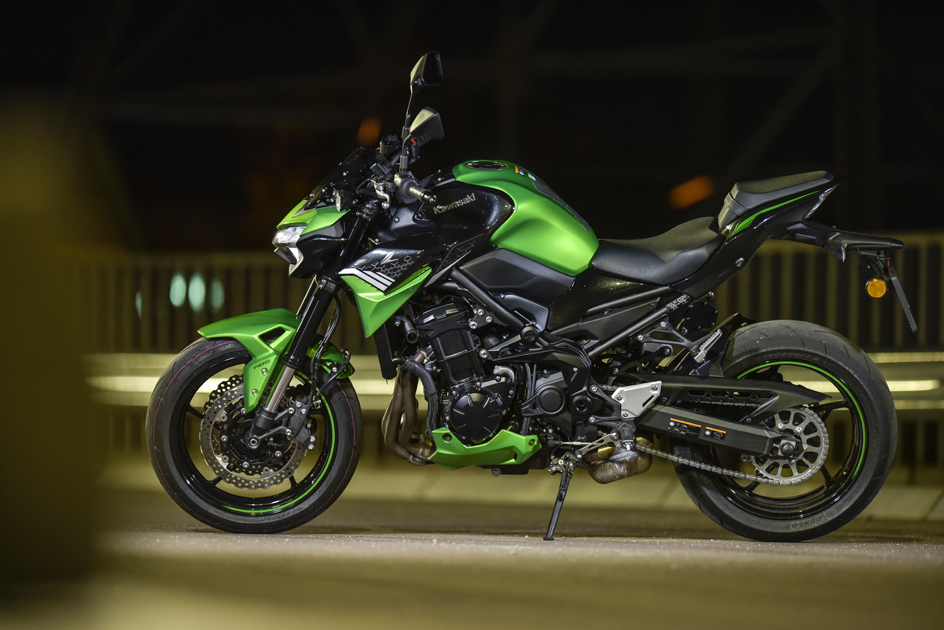 I had a proper look at the Buyers Guide on our site the other day and, even if I say so myself, I was frikken' impressed! I literally was doing a bit of window shopping. We tend to forget what is available out there and what I discovered in particular, was that there are loads of real bargains to be had in virtually every class of bike. By 'bargains', I mean bikes that just seem to scream 'Value'! when compared to other bikes at a similar price. We are all, to a degree, feeling the pinch of a tight economy, allied to a fuel price that prompts you to do push-ups on your pen knife. Not only do bikes offer some financial relief, but they also open up a whole new world of enjoyment. Even your crappy commute can morph into a fun fest on two wheels! So, without further ado, I'm going to share some of the 'bargains' I discovered.
Kawasaki Z900
The Kawi is endowed with one of the most powerful engines in the class in a sexy trellis-style chassis that simply works. One of those bikes that is sorted on all fronts and just delivers. An absolute steal at R165,995! Comparable bikes all cost in excess of R200k.
Adventure bikes are all the rage, so are there bargains to be had? Absolutely!
Triumph Tiger 900 Rally Pro
The abilities of the Trumpet are already common knowledge. What makes it a compelling choice at this price, is the incredibly high level of standard features. You can literally just hop on and go without any extra spend on crash bars, belly pan, heated grips, heated seats, and spotlights. Comparable bikes already cost significantly more before adding all of Triumph's standard features. Huge value at R235,000.
Suzuki V-Strom DL 650 XA
Middleweight Adventure and touring magic for a mere R155,950. Say no more!
Kawasaki Versys-X 300 (MY21)
Practical, competent, versatile and reliable. The little parallel twin Kawi is a compelling lightweight Adventure option at R85,995 for the MY21 (the MY22 retails for R99,995).
Hero X-Pulse 200 Rally
Endowed with the Factory Rally kit the Xpulse Rally is properly competent offroad and tough as old boots. It conquered the Roof at its first attempt. All this pukka dirt ability at a mere R52,499. Commute in the week and hit the trail on the weekend.
Sportbike bargains, I hear the hopeful ask? Don't despair when Dave is near!
Ducati Super Sports 950
For those that want to Sports Tour with style too. Every bit of Ducati passion and ability in a package that punches so far above its weight that you will embarrass plenty of wannabes on the right piece of road. C'mon! Only R225,000.
Suzuki GSX-R 1000
Suzuki's base GSX-R is fantastic value in terms of what you pay for what you get. It may be a simple option in a class that frankly has gone crazy with complexity, but here is the thing. In a world where Sports motorcycles cost well over R330,000, the Suzuki gives you a brilliant usable superbike for a mere R276,900.
Modern Classics… bikes that feed the soul.
Scrambler Ducati Icon Dark
Unfairly kept in the shadow of the flashier Desert Sled, the Icon Dark stays closer to the original low weight, a torquey recipe that made the Scrambler Ducati's biggest success story ever. Power of 54 kW does much with the featherweight 177 Kg Scrambler. Fun with a capital 'F'!. R161,000… A bargain in this class.
Scooters & Commuters. The bikes that literally are bought by your fuel savings!
Sym JET 14 200
Having just spent a couple of months hooning around town at 30 km/L on this sporty, nimble scoot, I think it's an absolute no-brainer at R32,995.
Suzuki Gixxer 250
Probably the bargain of all bargains! It costs less than most of the bikes of half the engine capacity, and that for a Suz! The 19 kW and 23 Nm single does much for a bike that weighs a wispy and manageable 156 Kg's. A mere R48,450 gets you this funky ride.
Kymco G-Dink 300i ABS

First launched at R64,950 this scoot is now selling at an 'unbelievable' price of R49,950.
With current fuel prices that keep on rising, this practical, modern, good all-rounder, makes 'hella' financial sense as a daily commuter.
KTM 390 Duke
More fun than a trio of kittens, the little Katoom is a blast around town and holds its own effortlessly at highway speed. Just the ticket for the crazy price of fuel. Good value at R94,999.
Husqvarna Svartpilen 401
Super stylish commuter with the same soul as the little Duke but makes a styling statement of note. Only R88,699.
Yamaha MT 07 Tracer (MY20)
Brilliant little backroad ripper and all-rounder. Pretty frugal too. More fun than a bag of monkeys! R124,950.
Honda NC 750 X
The bike that re-invented the middleweight commuting/touring class. Practical and now stylish too. The Arabs hate it! Fuel economy of a 250. Brilliant value at R132,400.
So there you have it my guys and guyesses, I am sure if you, like me, scour the Buyers Guide, you will find a few more compelling deals. Window shopping is just so much fun. As a good friend always reminds us, "the hunt is invariably so much better than the kill". So, go hunting and change your life for the better!