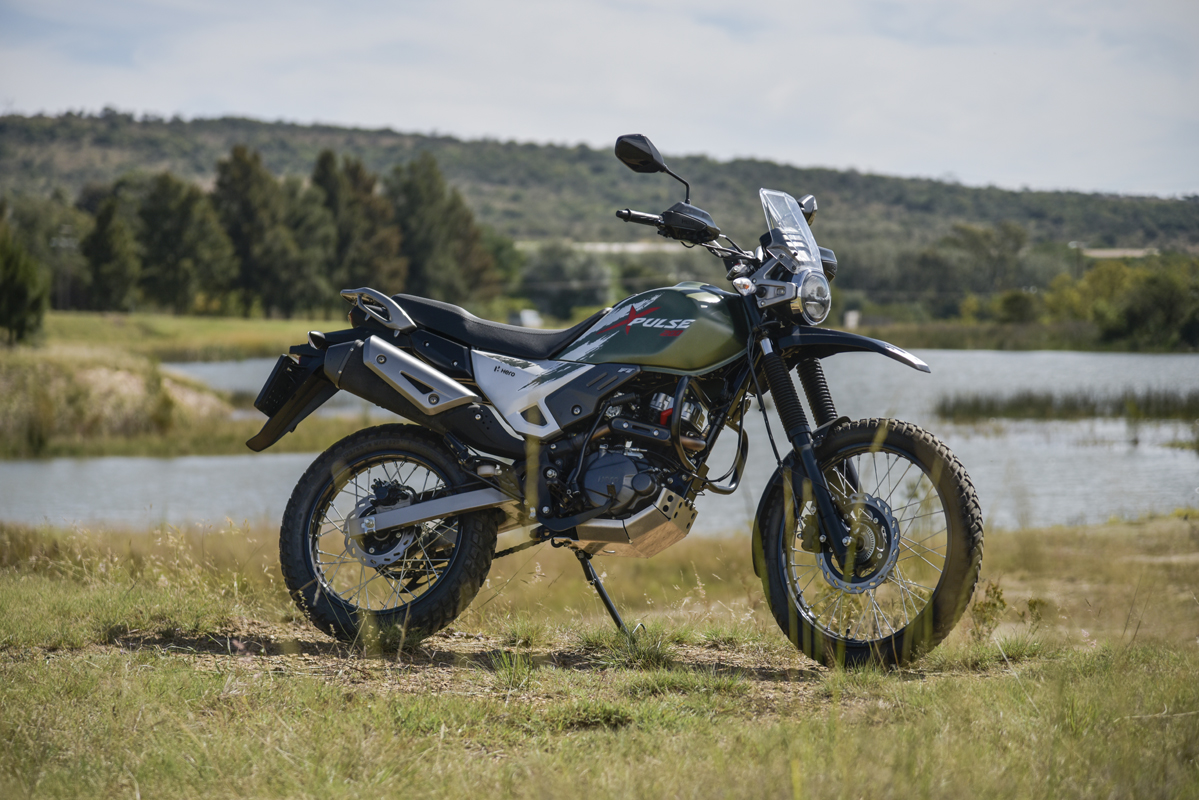 We were properly taken by the X-Pulse 200 when it arrived. India's Motorcycle of the Year gave us access, for the first time, to a capable small-bore, affordable motorcycle, that had a decent degree of dirt worthiness. We have always enjoyed the concept and practice of 'Tiddler Touring'. Taking a small motorcycle on an improbable long journey. The only dirt worthy contenders were bikes built for farmers. Off-road oriented bikes complete with racks and stuff for them to qualify as a farm tool.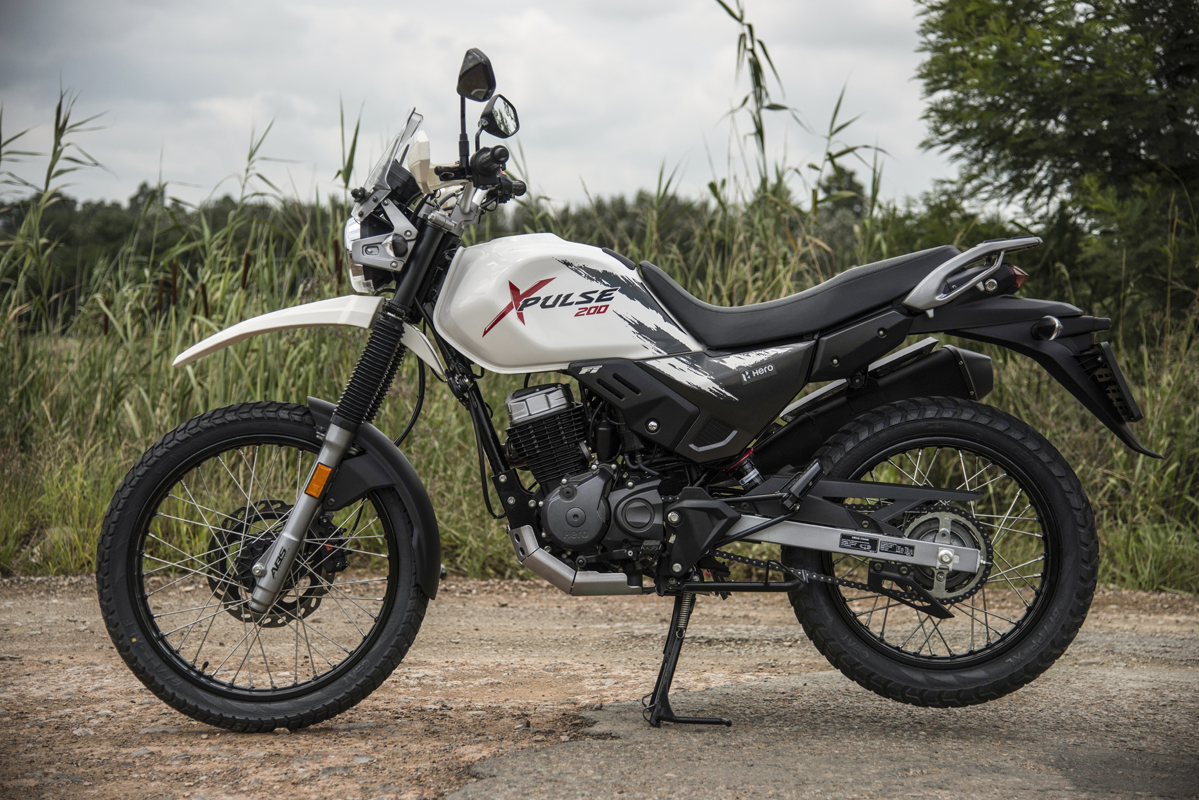 Over time these have disappeared from the new bike landscape, leaving a hole that needed filling. A kind of modern take on a bike like Honda's XL 185 S. A bike that you could travel to work on in the week, then trail ride on the weekend, or on which a farmer could use to traverse his farm. Honda, for some inexplicable reason, even see fit to govern their XR190 to 100 kph!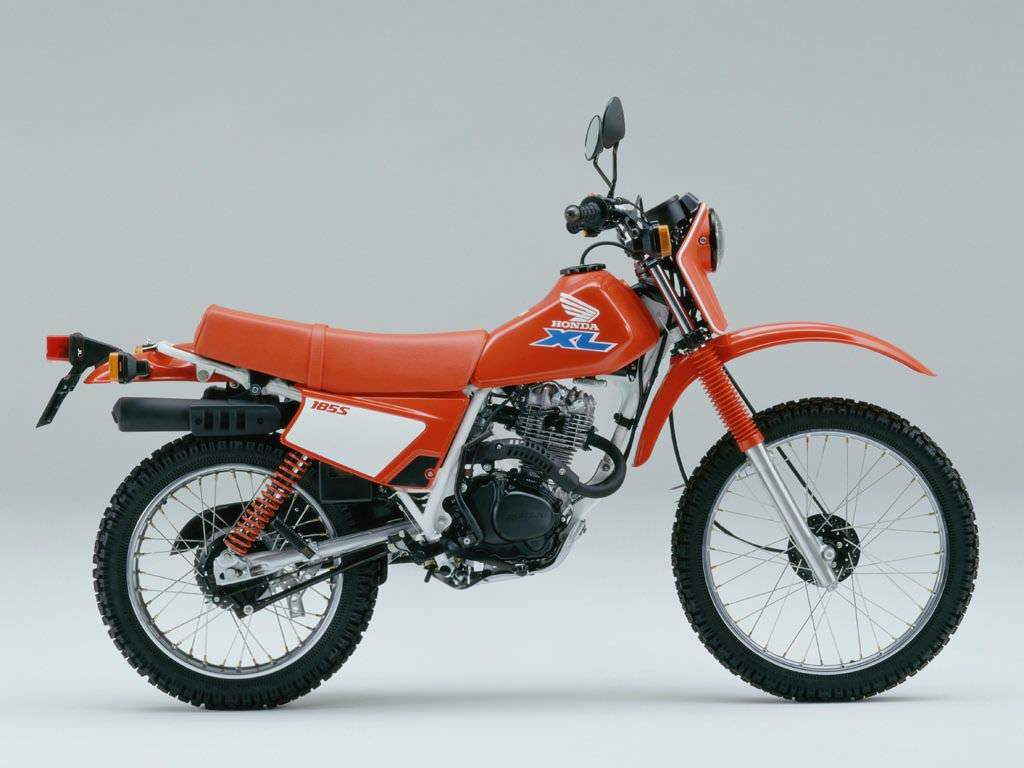 Hero have made significant inroads into the world of Rally Raid in recent years, building bikes that slog it out toe to toe with the world's best. They have Dakar stage wins to their credit. This has spawned bikes like the X-Pulse. A proper small dual sport. Like most bikes built for the widest possible appeal, the off-road X-Pulse is a compromise. Ridden within its design parameters, it is fine, but, motorcyclists being what they are, in next to no time they are asking questions that the standard X-Pulse can't answer.
Enter the Hero X-Pulse 200 Rally…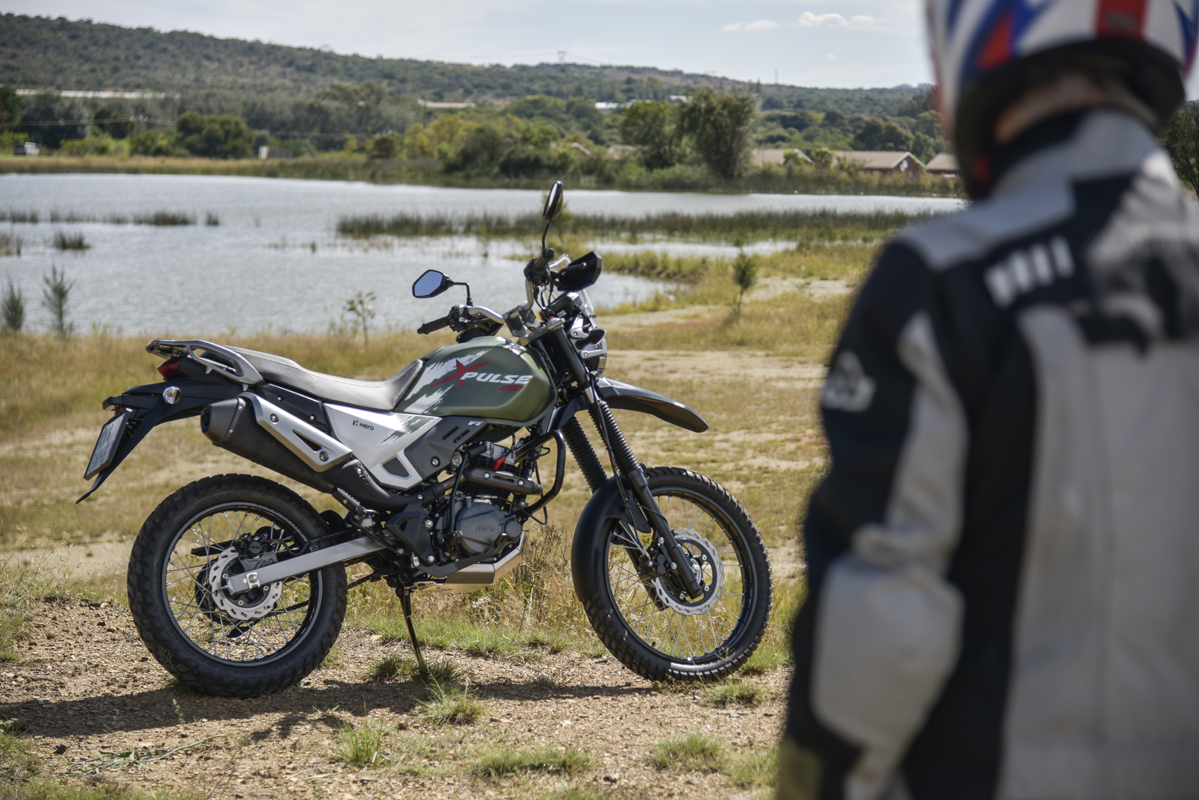 Hero, spurred on by their Dakar achievements and a groundswell of customer requests, decided to build a Rally Kit for their X-Pulse. The biggest challenge to road-oriented traillies is the suspension. As soon as you start riding with exuberance in the dirt, the suspension is found wanting. Ground clearance gets swallowed up by overly soft shocks and bits start breaking. Hero did not try to modify the standard units, but rather fitted the Rally with totally fresh, longer travel shocks with uprated spring rates for serious off-road work. How serious, you may ask? Serious enough to enter and finish the Roof of Africa serious.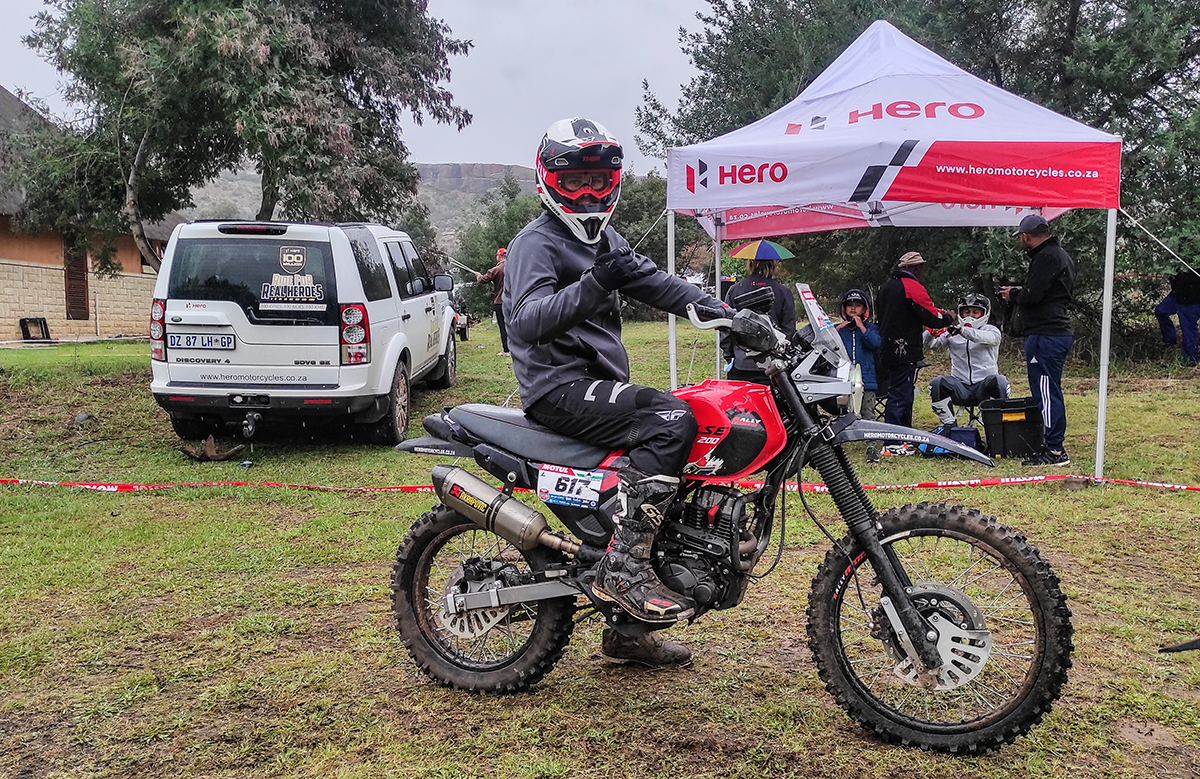 The rear shock is longer, stiffer and has proper damping adjustment. The 190 mm travel forks follow the same recipe. Firmed up with compression and rebound damping which allows you to tune the ride to suit.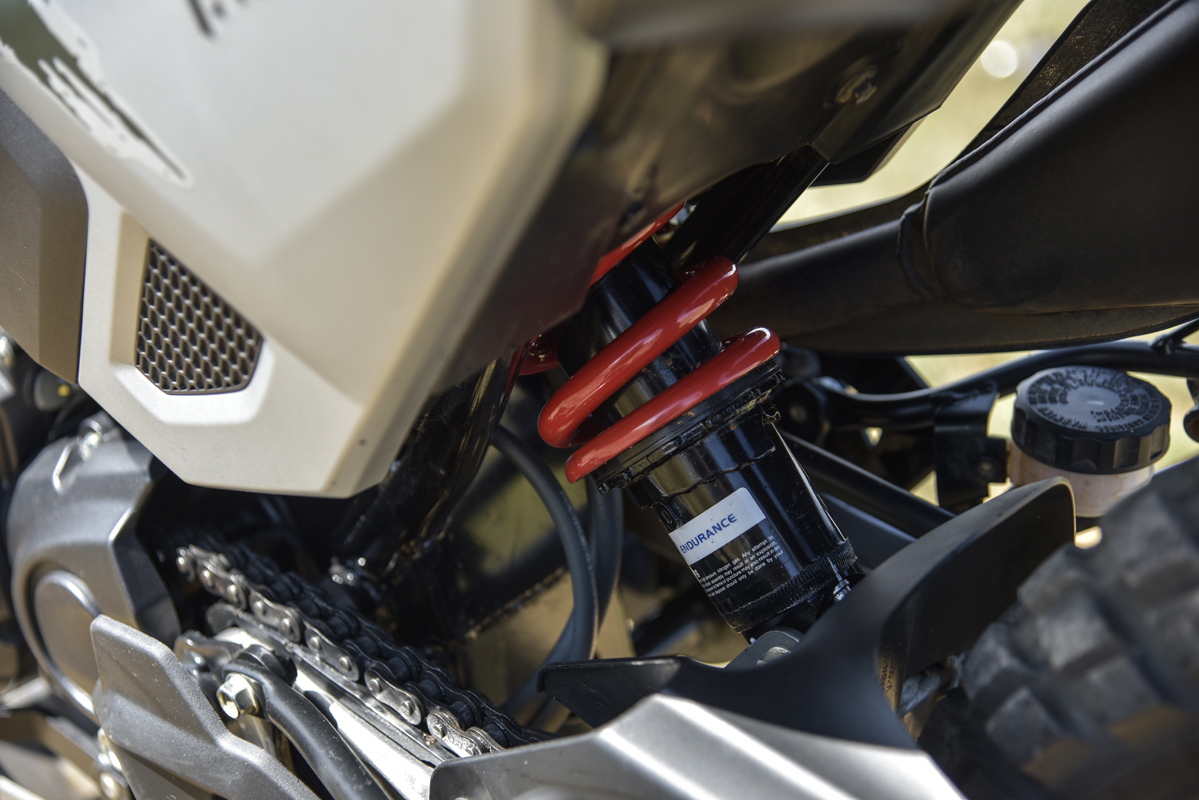 This is the really significant 'game-changing' aspect of the Rally. More on this later. The Rally has a tall purposeful stance and looks brilliant in the matt green colour of our test bike.
The longer suspension requires other mods. The bike gets a longer side stand to compensate for its taller 220 mm of ground clearance stance. A flat seat replaces the shaped stock unit. This facilitates the to and fro movement which is such a big part of dirt riding.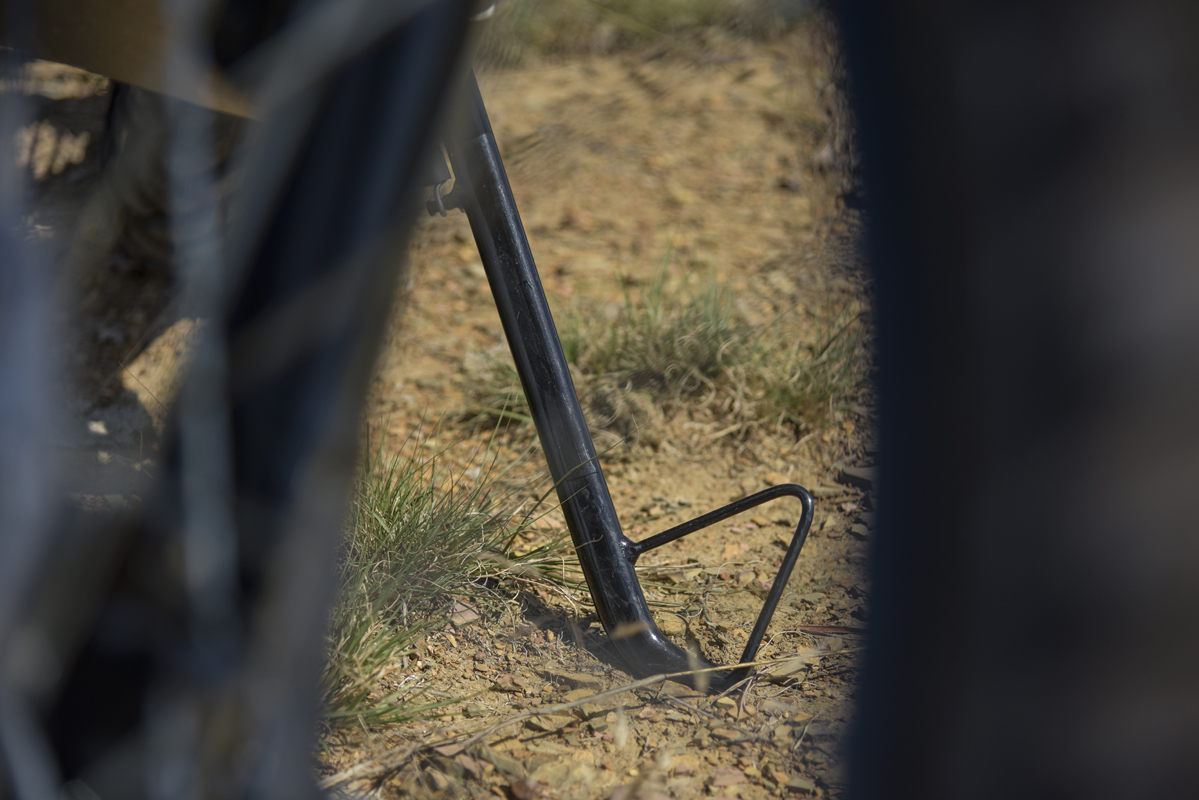 Handlebar risers raise the bars to make standing more comfortable. This does move the bars back as well which can make the cockpit a bit cramped for tall riders, especially given that the footpegs are slightly further forward than is typical on your average dirt bike. Probably a carry-over from the standard X-Pulse's attempt to accommodate as wide an audience as possible. Not a big issue to mod the bike to suit the individual if needs be.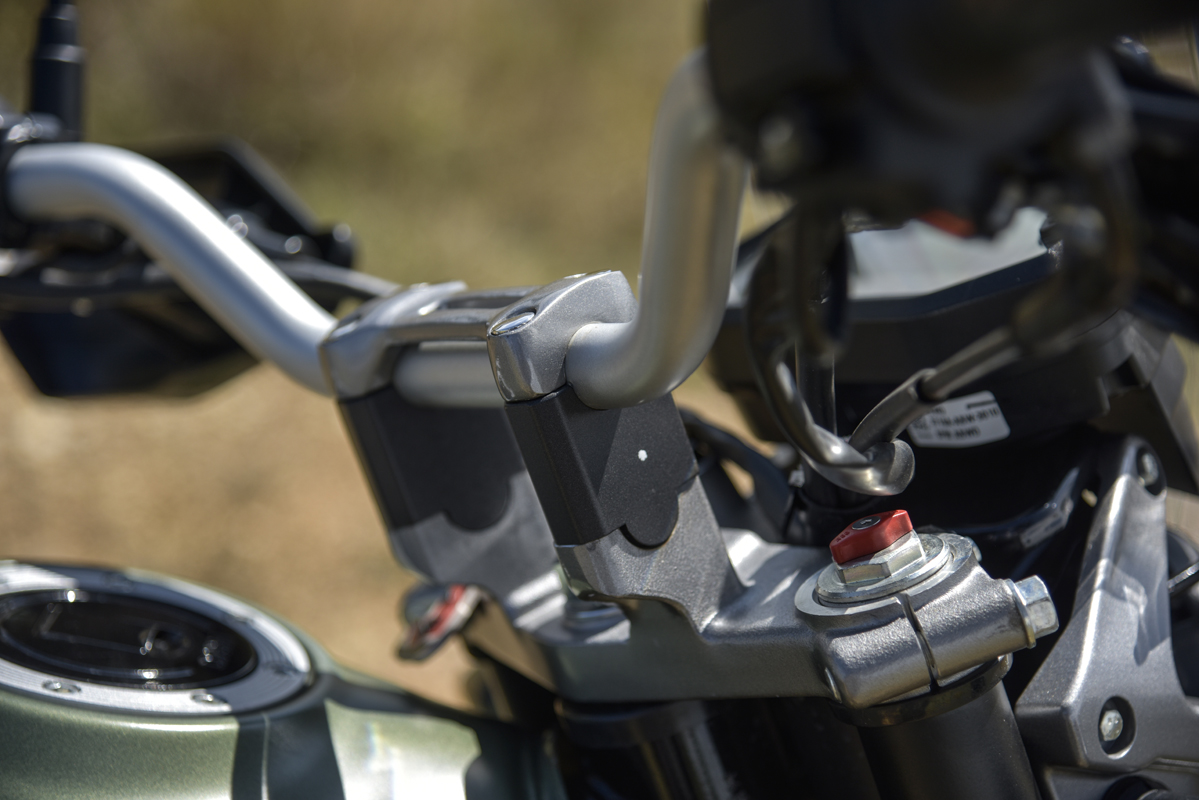 The gear lever is also more MX boot friendly. An additional option is an Akropovic slip-on pipe. This bumps the price significantly. Maxxis tyres up the off-road ante significantly too.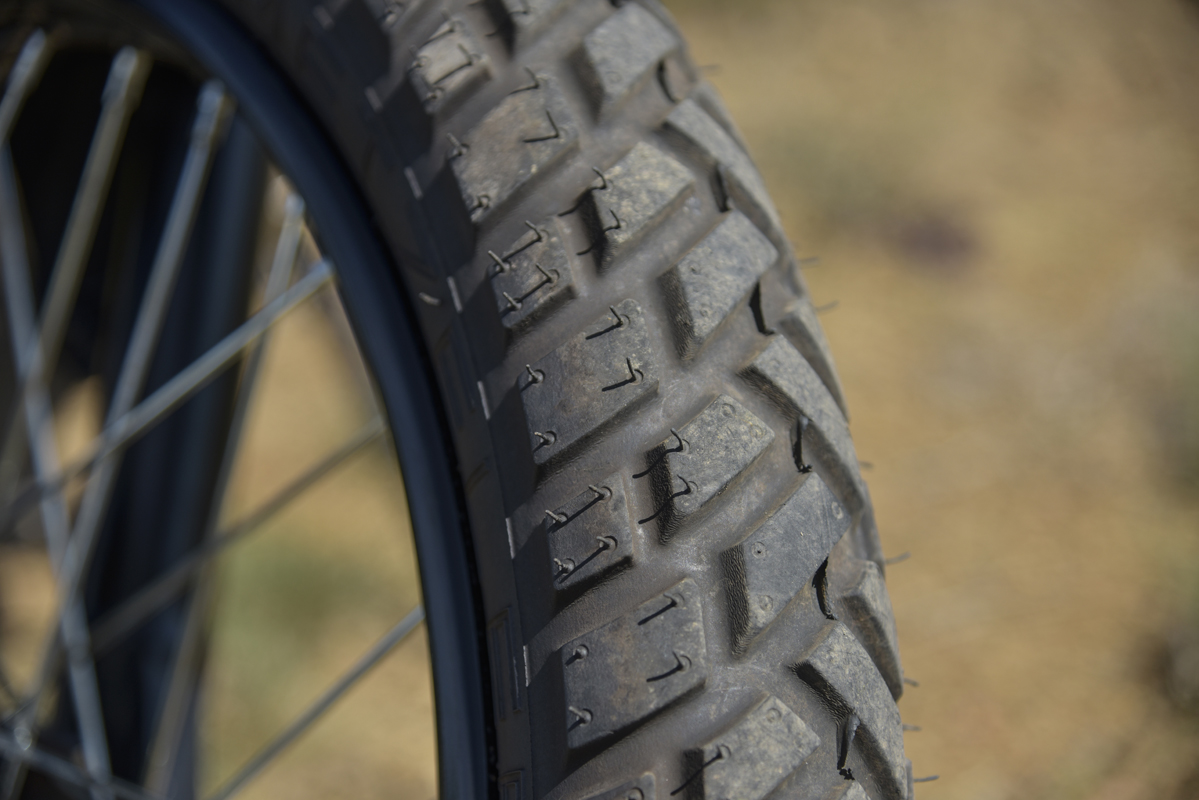 All the standard X-Pulse features remain, such as turn by turn navigation, full LED lights and an effective windshield. The decent standard bash plate is complemented by a sturdy black crash bar that will limit damage after that inevitable capsize, which is part of off-road riding.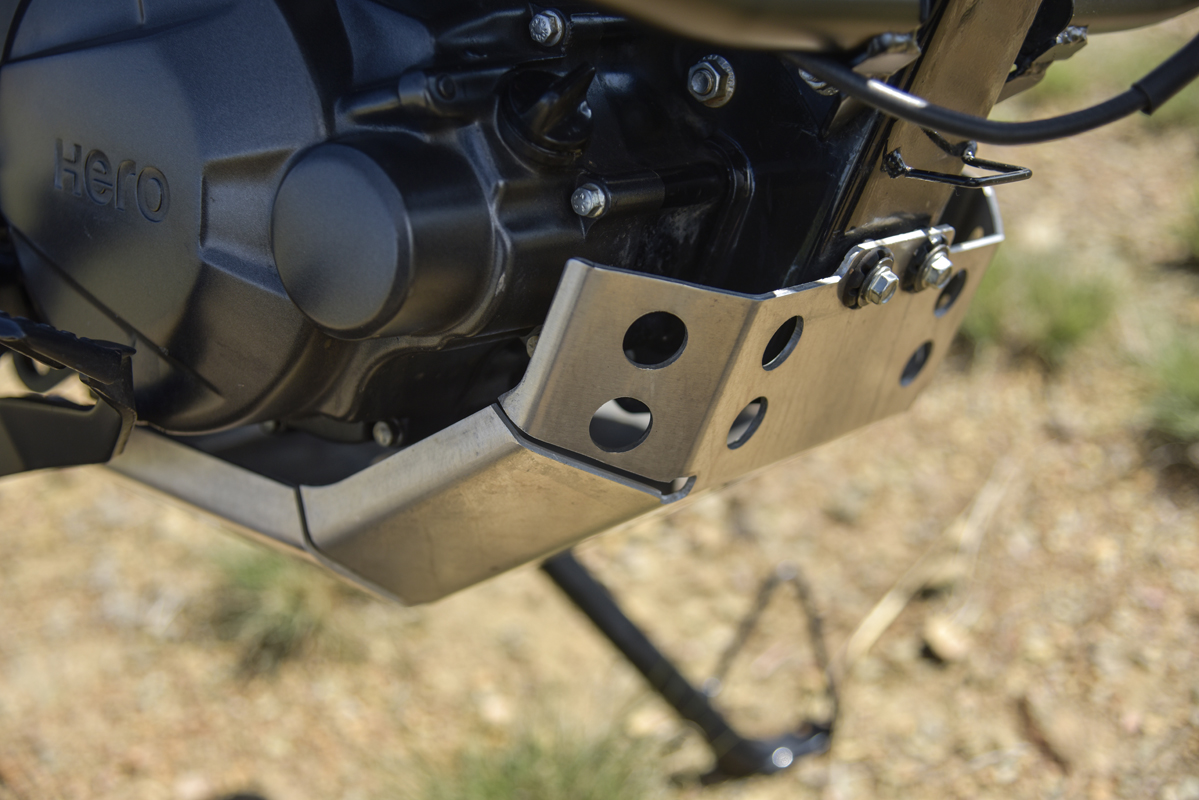 So how does it all work? Put simply, the suspension defines the bike. The ride and damping quality is absolutely superb. Riding down a potholed and lurker strewn road required none of the avoidance techniques which you would typically employ. I mean you can, but you don't need to.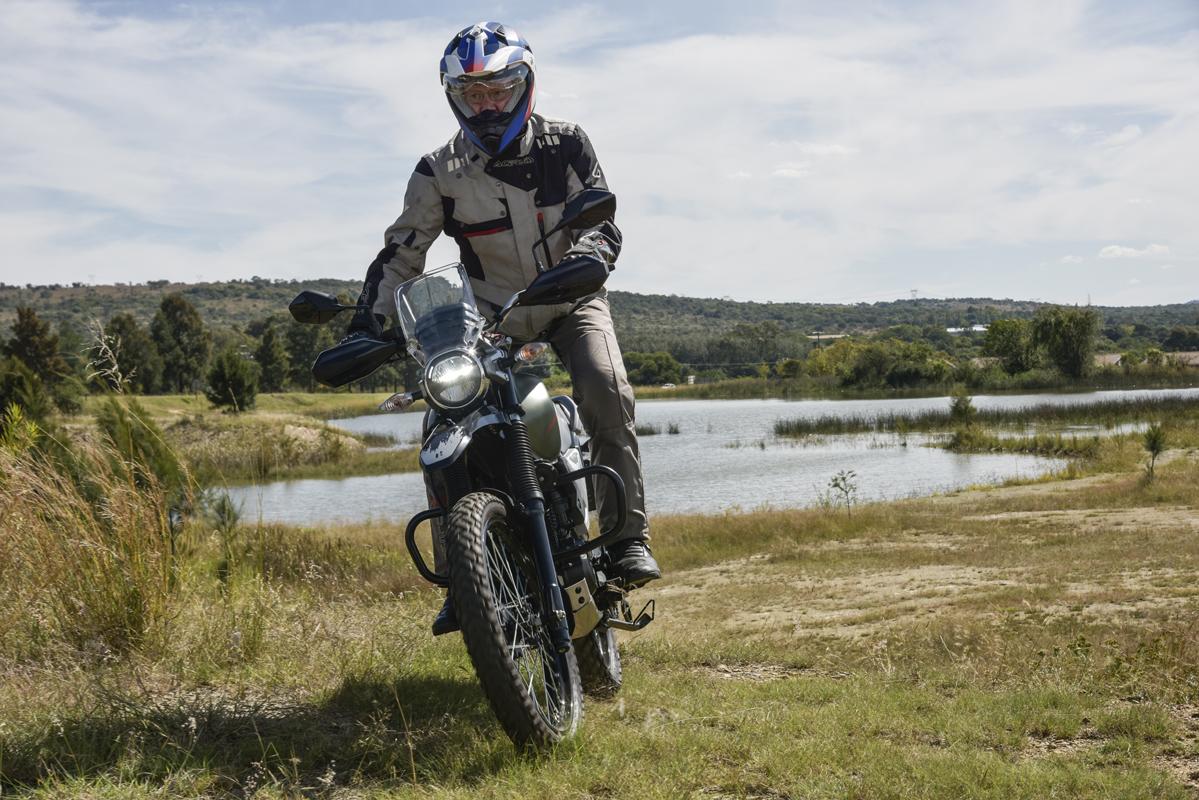 The Rally shrugs off rough terrain like the ANC does criticism. It tracks straight and true with absolutely no hint of headshake or instability. 200 metres into the ride on the dirt you find a stupid grin filling your face. Damn, this little beast boogies! In fact, it is the reverse of the typical scenario where the engine overwhelms the suspension. The ride remains so composed over broken ground that you wish you had a few more ponies at your disposal.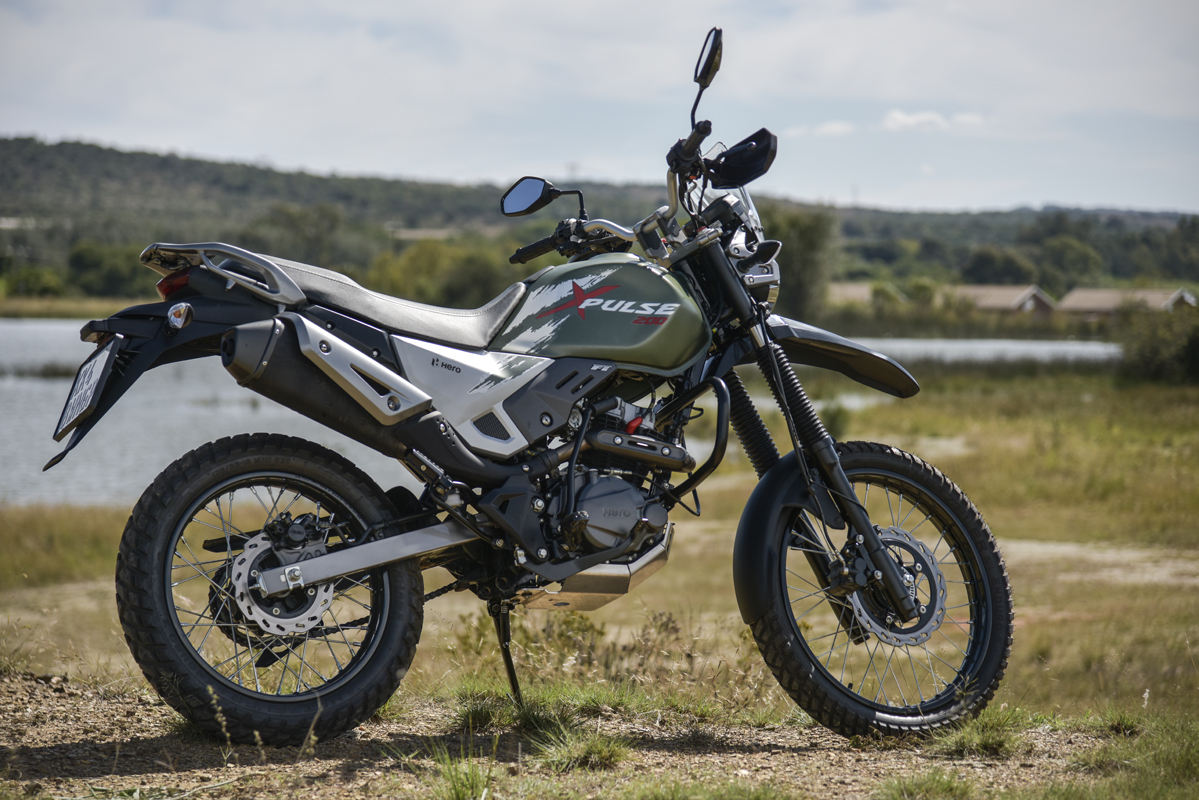 So who should buy a Rally? Well, anyone who is tired of being held to ransom by an extortionate petrol price and enjoys de-stressing riding dirt and trails on the weekends. If the dirt is not really your thing but you want a fuel-efficient commuter with some dirt ability, then the standard X-Pulse is just fine. If, on the other hand, you love technical off-road and ride aggressively in the dirt, then the Rally is a steal. To get all those significant upgrades for a mere R10k extra spend is a no brainer. Dirty fun was never such a bargain!
HERO X-PULSE 200 RALLY
For more information on the bike that we used in this article, click on the links below…