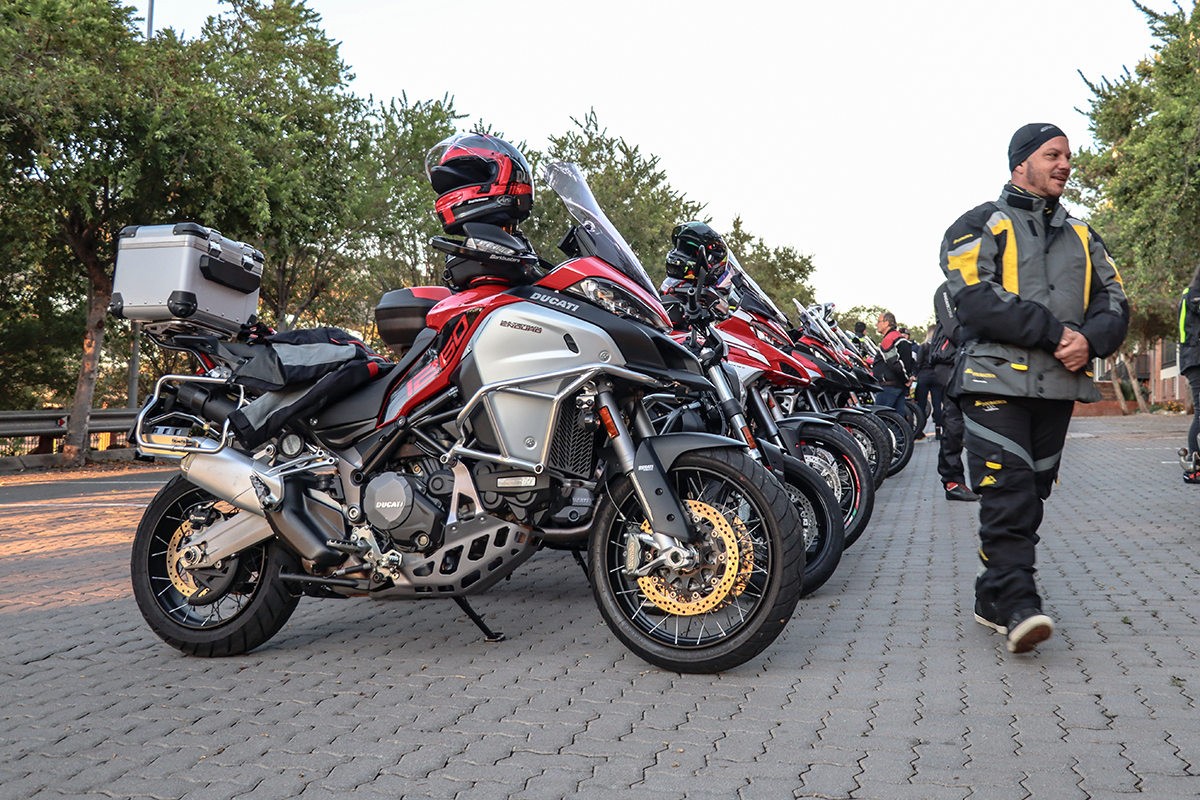 When it comes to writing each Mystery Tour story, it becomes more and more of a challenge. It is not just an account of the roads travelled, but about friendships formed or old ones fostered. It is about comradery around an iconic brand of motorcycles infused with passion. Riding roads that challenge skill and sometimes endurance. It is about people. People with a deep love of the Bologna bullets. When Ducati Supremo, Jos Matthysen, bought a home in George, the seed of a Cape Mystery Tour was planted and took root.
Ducatisti from far and wide heeded the call to ride and converged on George, where the ride was scheduled to begin. Some shipped their bikes and flew down. Others, with a serious itch to scratch, left two days prior to the George departure date from World of Motorcycles in Centurion. This was going to be a very different Mystery Tour for me, as I was riding my own Ducati 950 SuperSport, acquired three days before the date of departure. Also on a 950 SS was Brian Cheyne, my journo colleague. Let the games begin!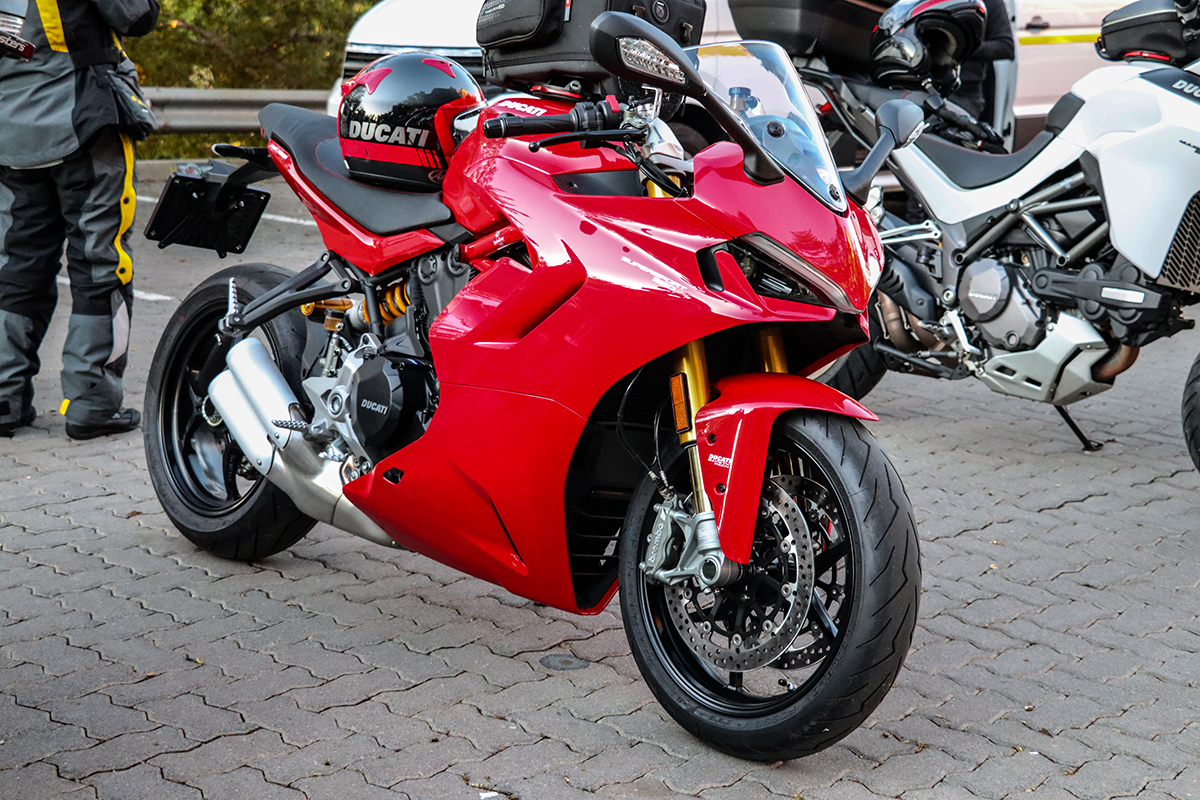 I could babble on for reams about my experiences with the Duc on the Mystery Tour, but for the sake of brevity, I will make that part of a separate review on this particular bike.
A whole bunch of us gathered on Tuesday morning for the ride down to Gariep, where we would overnight before continuing to George the next day. True to form, Jos led a sizeable group of 'hardegatte' down secondary roads through the Cradle, Carletonville, Bothaville and diverse Free State backroads to Bloemfontein where Rodos, a local Ducati owner, had organised yummy lunch platters for the hungry hordes. Riding the Free State roads at this time of year has a special allure.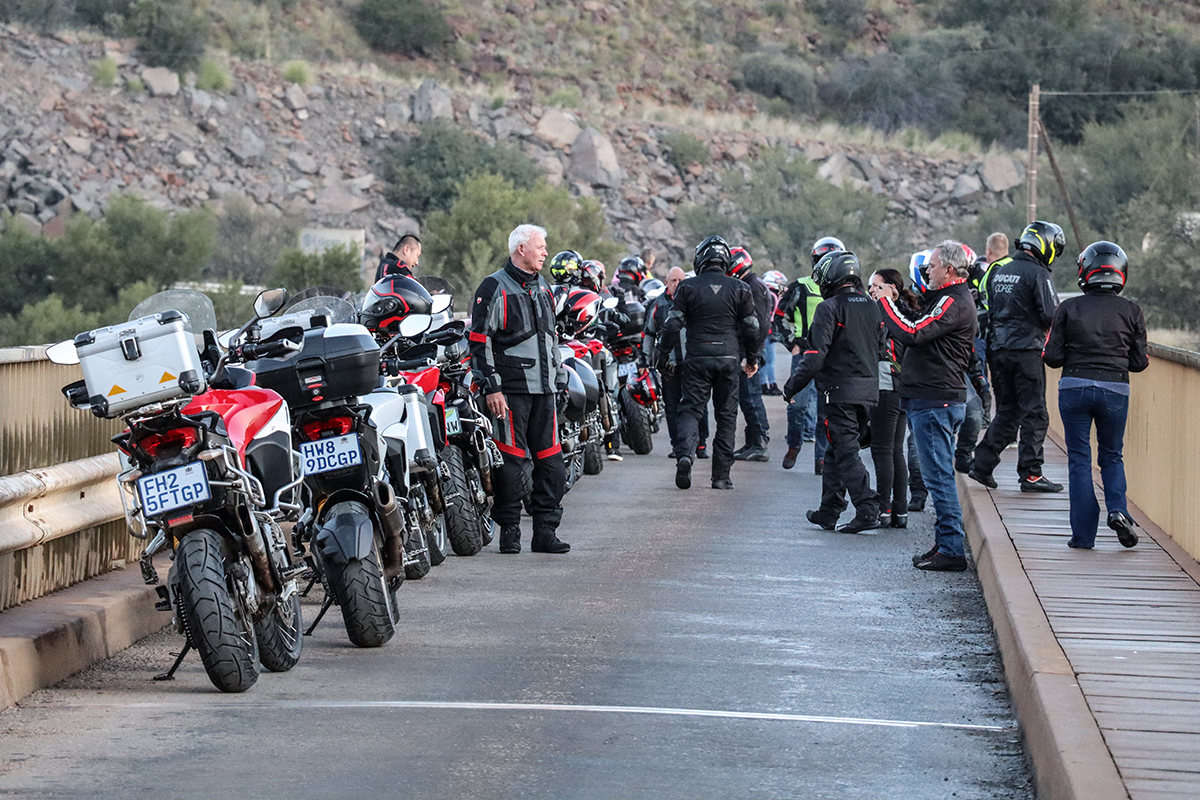 The air is crisp and cool and the green vistas of a month ago are now endless gold grasslands, painted by the frosty autumn mornings. Our numbers swelled with more Ducati faithful as we rode to Smithfield, where we stopped for refreshments before carrying on to Gariep. We took photos of the overflowing dam wall before settling into the Forever Resorts Chalets for the night.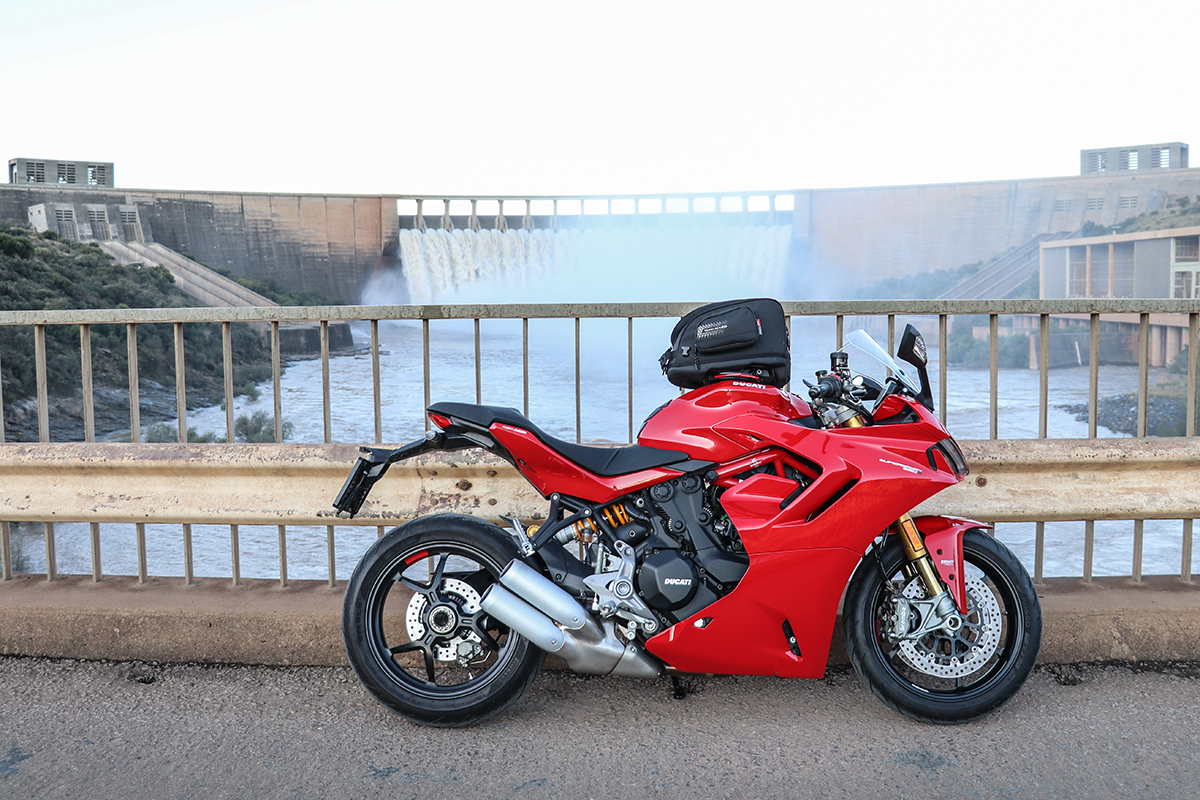 Dinner was steak rolls washed down by some welcome drinks. The fabled Mystery Tour banana bread also put in an appearance for the first time. I was particularly peckish, so I quaffed a piece for pudding. Holy Smoke!, half an hour later I had a weird disconnect between my brain and my legs. Getting back to my Chalet and into bed became a proper challenge! Note to self, "steer clear of the banana bread".
An awesome sunrise over the Gariep dam heralded in a clear but decidedly chilly day. My bike registered 4 degrees and an ice warning, as we rode south through Colesburg. Carlton Heights beyond Noupoort was mist bedecked, which made for some hairy riding. It was not long before we dropped down out of the mist and turned to Graaff-Reinet, then on past Aberdeen, refuelled in Willowmore and now had our destination, George, in our tanks.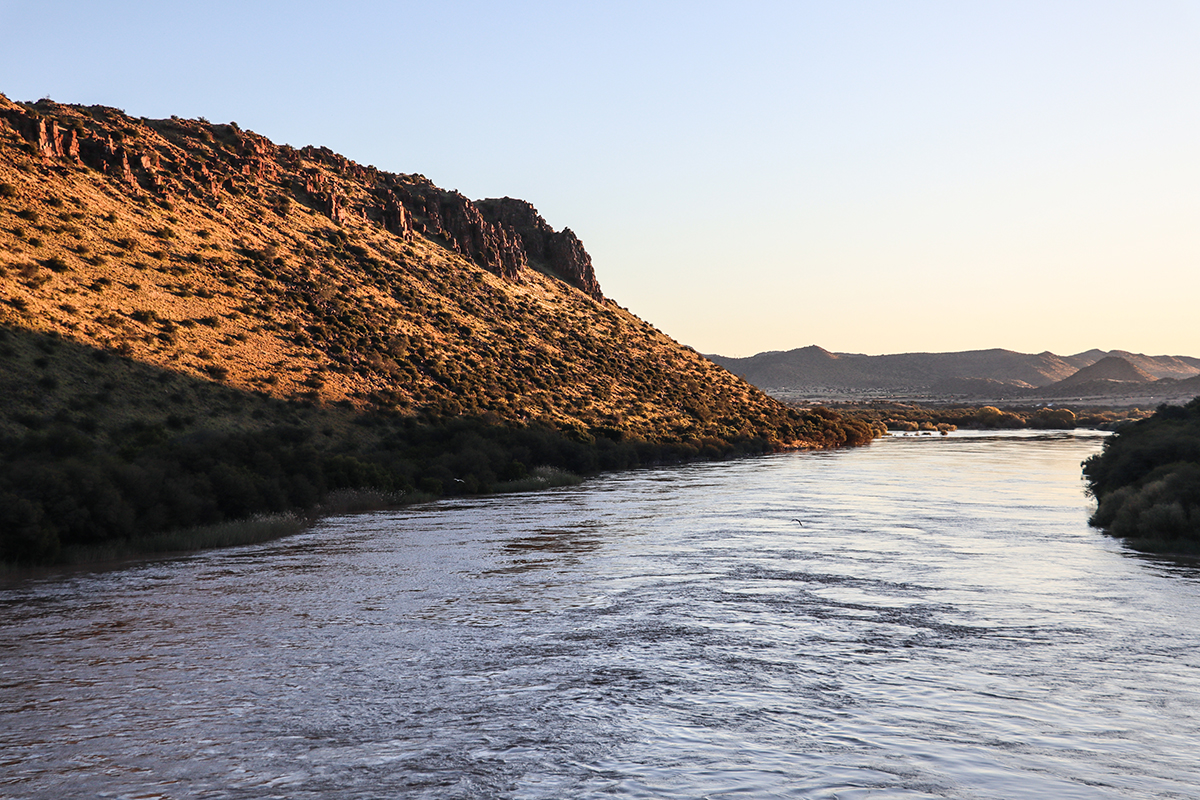 Endless 'Klein Karoo' vistas topped by an azure sky beckoned us on and on. Brian and I had a ball on the sweet handling Super Sports through the impeccably surfaced Outeniqua Pass, then went straight to Garden Route Motors for our run-in service. I spent much of the time chatting with Paul and Sue, the owners of this lovely bike shop. We found we had some Honda history to reminisce about. It was late afternoon before we could settle in at Oubaai. A quick shower and then it was off to dinner and the official start of Ducati Mystery Tour festivities.
Travelling with us out of Centurion was a mini bus with "Ducati Ouetehuis" emblazoned on the side, as well as a sticker declaring "Over the hill and picking up speed". This was for invited guests and those needing a break from riding (hardly likely!). The "sick, lame and lazy", to use army parlance. The plight of old folk is something that is close to Jos and Lida's hearts, so the evening kicked off with pledges from various 'Tourists' for alleged misdemeanours. For example, Dirk Ackerman was caught wearing KTM sneakers. Oh, horror of horrors, blasphemy to any Bologna bullet rider worth his salt. No matter that he was V4S Multistrada mounted. The offending footwear was put on display and a chastised Dirk took his shooter 'strafdop' like the man he is. He also contributed generously to the cause. So it went with people digging deep into their pockets.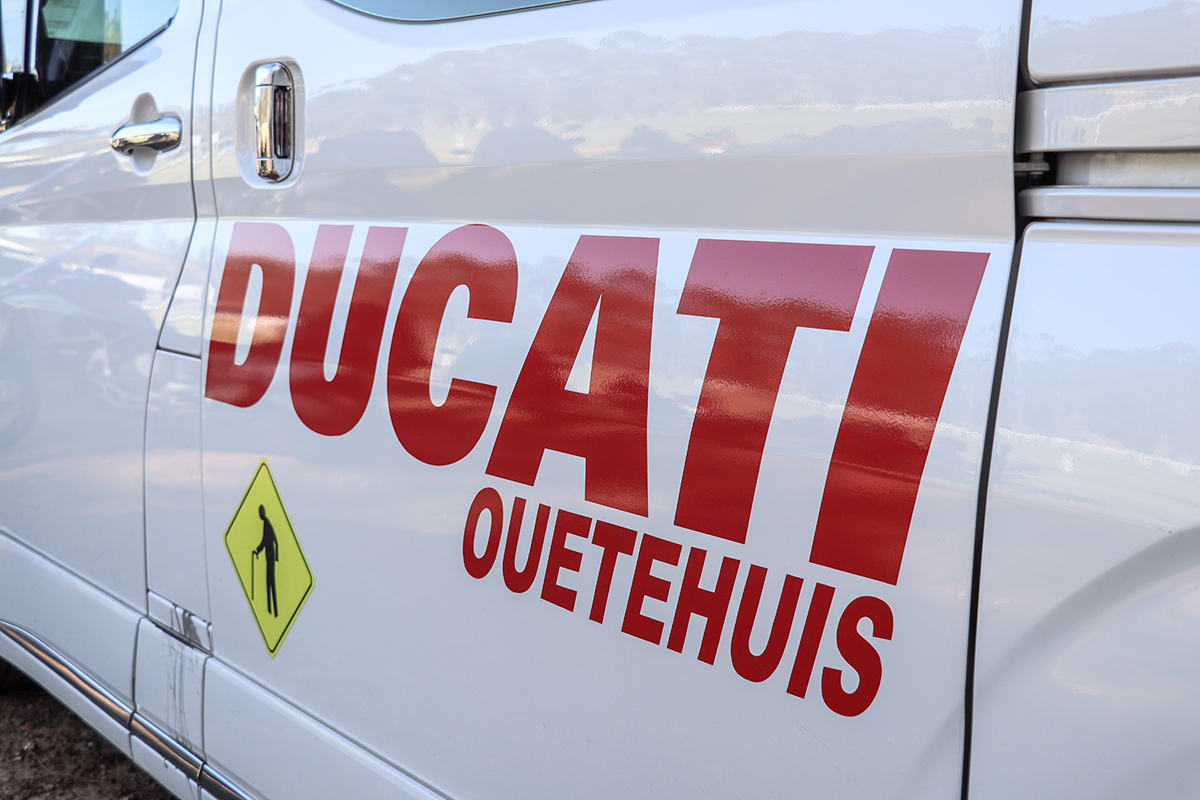 Jos, in a move typical of the man, then announced that he, as Ducati SA, would match the pledges rand for rand. This raised over R240,000 for a local old age home! Next up was an auction of donated appliances. Again the Ducatisti rose to the occasion, paying ridiculous prices for goods, which in many cases, were given back to be auctioned a second time. I did not keep an exact tally, but at least another R100K was added to the tally. Amazing people! "As ye sow, so shall ye reap!" Next up was the draw for the 1200 Multi for which 100 raffle tickets were sold and which was pimped to the nines by 300+. A fair and transparent process saw Mr Nice Guy himself, Gerrit, walk off with a second Ducati. Having had a load of fun and filled our faces with scrumptious nosh, it was off to bed. On the morrow we would start our ride in paradise.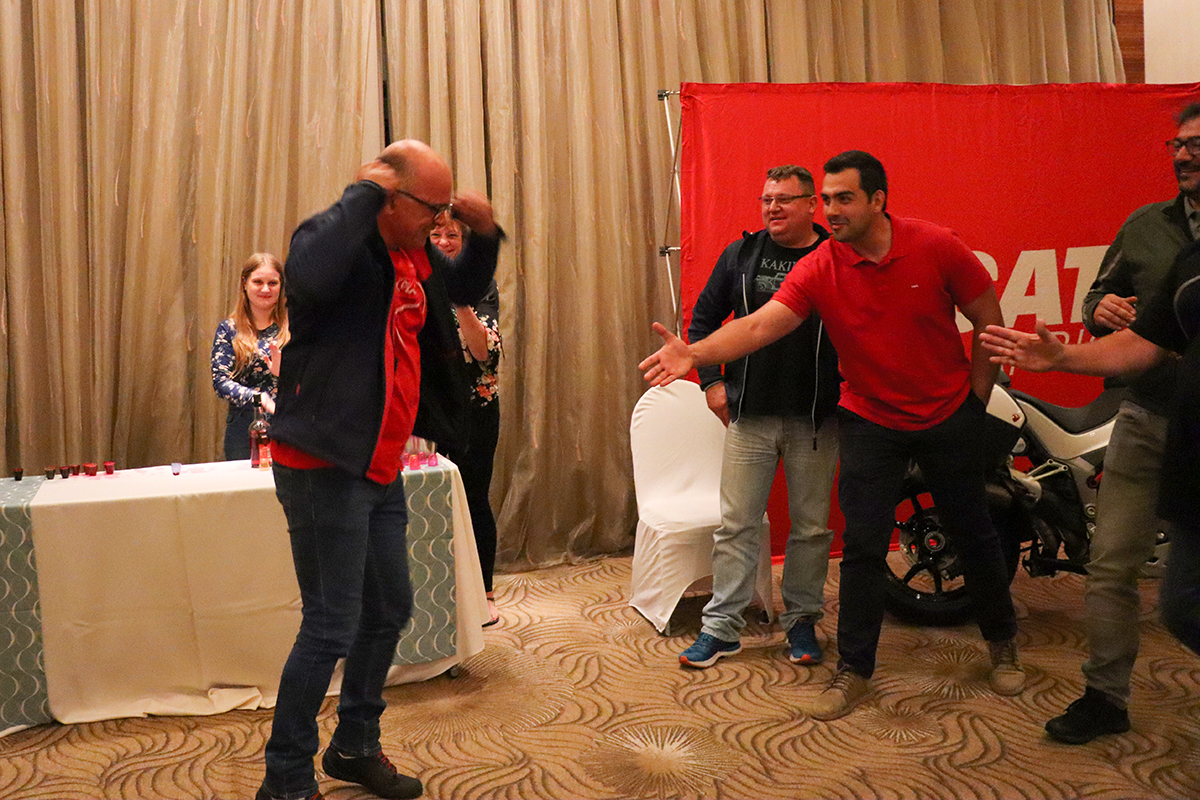 On a bright and fresh morning and after the customary prayer, we mounted up and fired up the Ducati's. Multistrada's of every description, a Panigale, three 950 SuperSports, a single Streetfighter and an X-Diavel. 50+ Duc's filled the air with their bass baritone bellow. As we rode out of Oubaai, an oft-repeated scene played out. Bystanders spontaneously applauded and recorded the passing predominantly red cavalcade on their mobiles. Predictably we headed up Outeniqua pass, a magnet to anyone with a motorcycle. Tar which is billiard table smooth, winding through the stunning fynbos clad Outeniqua mountain.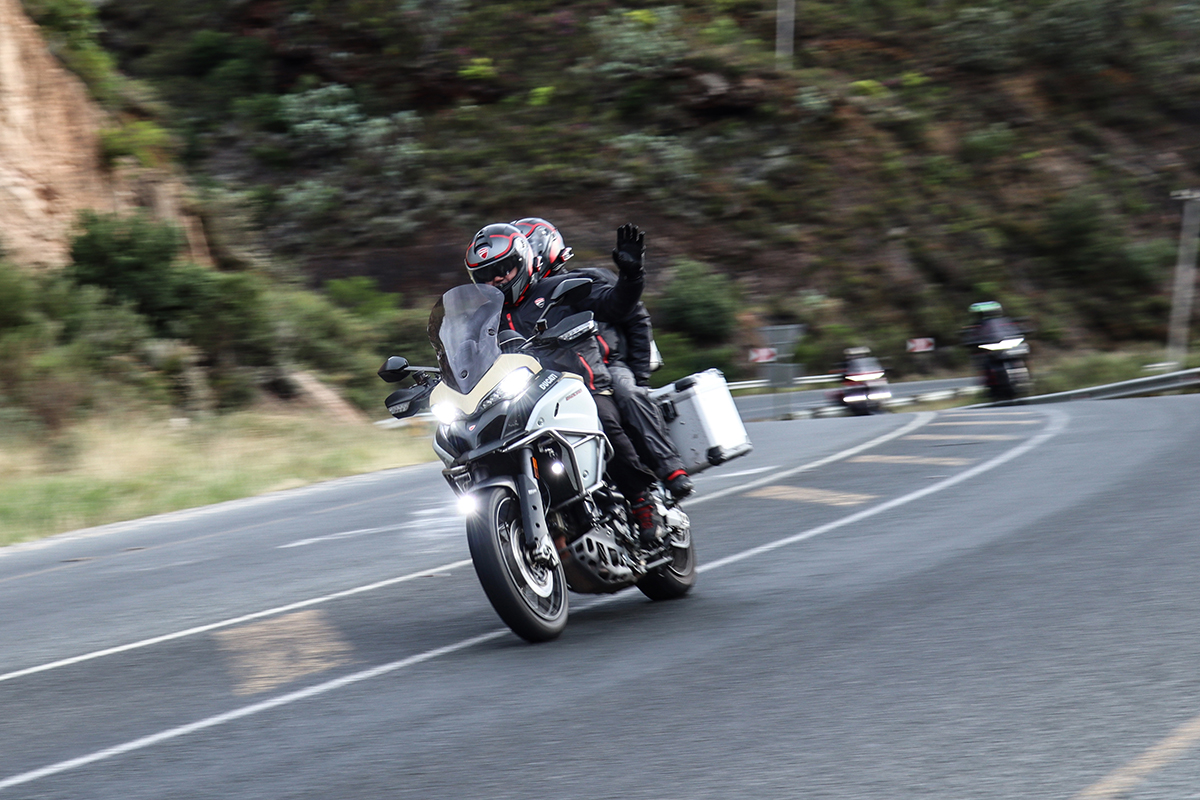 In Oudtshoorn, Jos threw his first curved ball. Expecting to head down the famous Route 62, he headed in the opposite direction. Yes! De Rust and Meiringspoort. Shortly before entering Meiringspoort, Jos got the marshals to shepherd me and Gerardo, the Ducati Italy representative who had ridden down with us, to join him at the front of the long line of bikes. With Lida on the back of his 1260 Multistrada beckoning us to follow, Jos dropped a gear or two and sped into the delightful sweeps of Meiringspoort. If you have never ridden Meiringspoort, you need to put it at the top of your bucket list. The road meanders through the most spectacular steep sided jagged cliffs, alongside the river that cut its way through the mountain over the millennia. Words fail me, just experience it for yourself!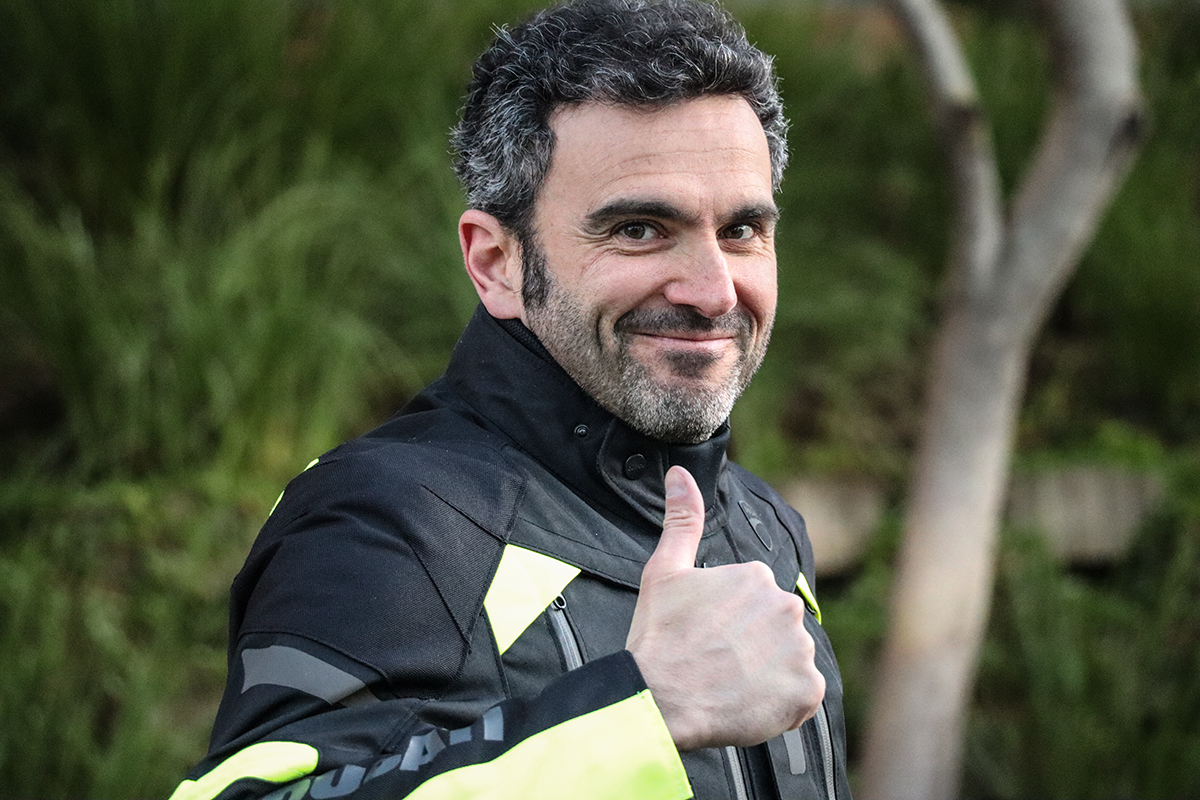 Now let me tell you, if you haven't had first-hand experience, this Jos fellow can peddle a motorcycle! I revelled in the precise and stable handling of my 950 SS as I glued myself to his tail. Gerardo needed no invitation either. He slotted his Multi V4 S in behind me as we railed the bends in a high-speed trio of Italian precision. Being early morning meant that the Poort was virtually devoid of traffic. A perfect time to enjoy what the Ducati's do so well. It seemed like no time and we were through the Poort and pulling into a rest area where we were greeted by the Ducati van with refreshments.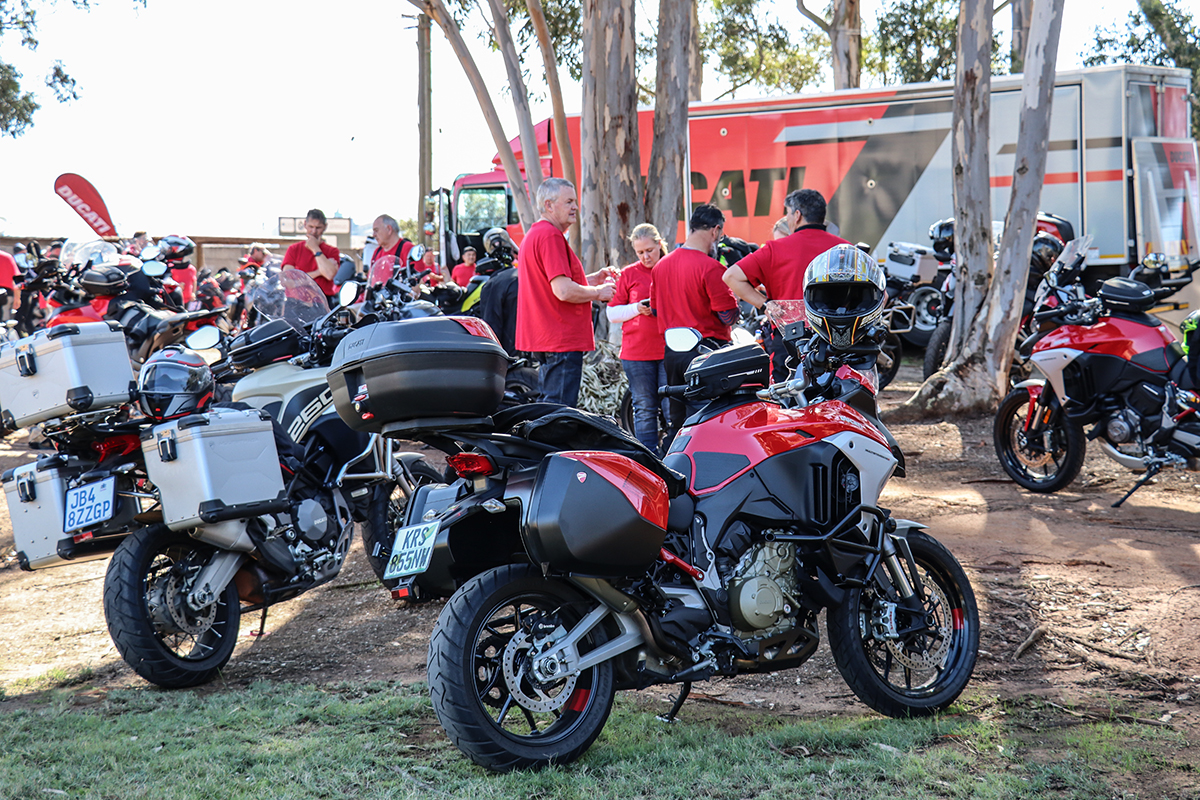 All and sundry were exhilarated by the spectacular ride through one of the most beautiful places in our magnificent country. War stories abounded. What a way to start a Mystery Tour in this special part of the fairest Cape of them all. Having allowed the adrenaline to abate, we retraced our steps, albeit at a sightseeing pace. Back to Oudtshoorn and onto Route 62. Having just had the first proper experience of my Ducati's handling ability, I couldn't wait for the sweeps and turns of the Huisrivier pass, just beyond Calitzdorp.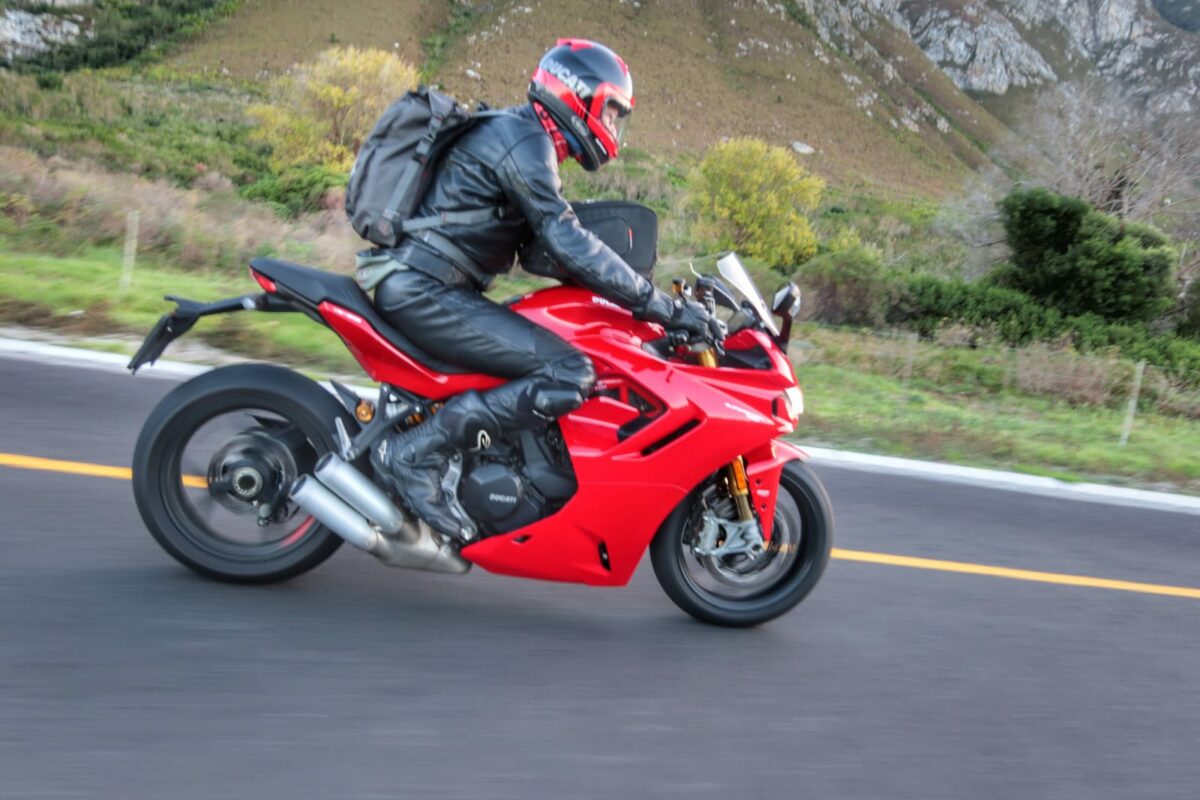 We rode on in Ducati heaven. Huisrivier pass, Wapadskloof and the spectacular Garcia Pass to Riversdale all flew by under the wheels of the red horde. Jessica, Jos's daughter deserves honourable mention at this point. Doing her first Mystery Tour on a trick, Termignoni equipped 821 Monster, she was following directly behind her Dad. "Die appel val nie ver van die boom af nie" goes the afrikaans expression, and I get it. Jess handled the Monster with skill as she swept through the bends of Garcia pass. Even when she ran in a little hot, no bother or panic. She just eased off the gas, tightening her line and then I heard the bass bellow from the Termignoni's as she got back on the power. Frikken' magic! This is why we ride bikes! How do you even begin to explain the thrill of honing your skills through a mountain pass on a fine handling motorcycle, to someone who has never ridden?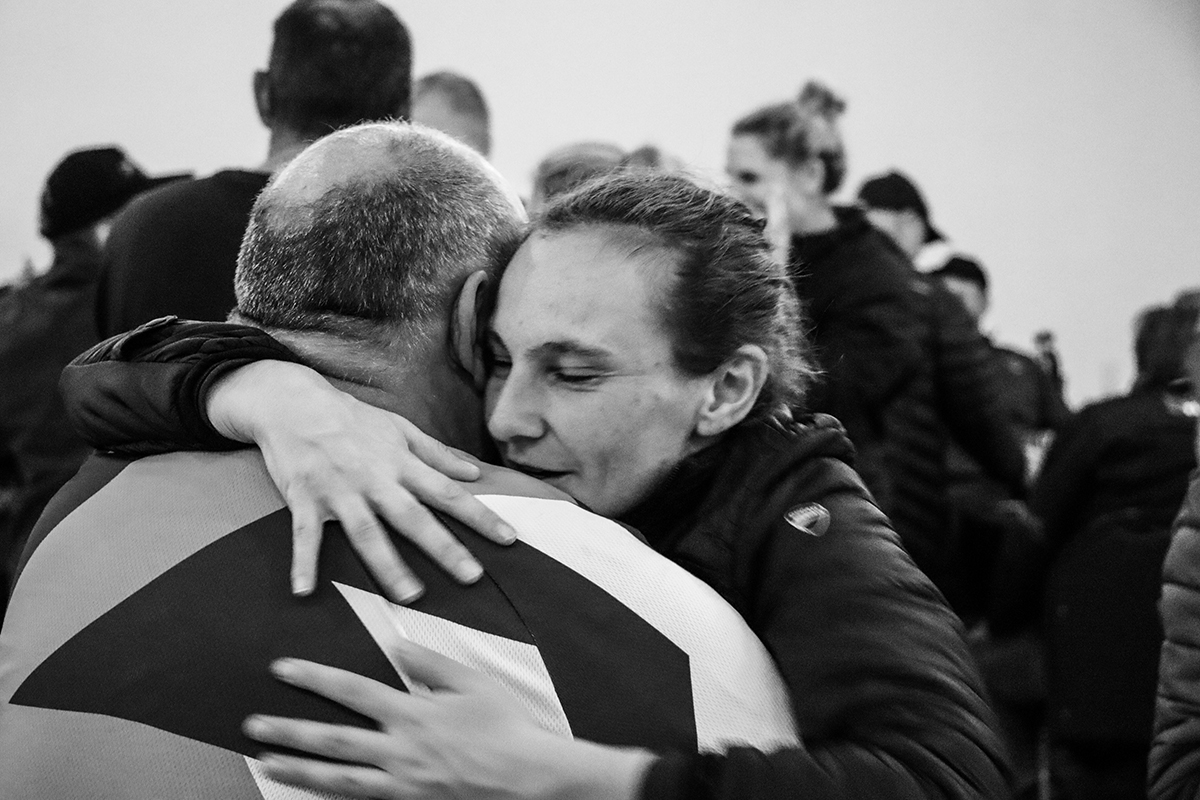 We trundled to our lunch stop at the Riversdale Stadium, where the Ducati truck and vans were already parked. Ronel, Robbie and their team had the patties already braaing as we rode in. Scrumptious burgers and drinks for lunch. Score! A quick post lunch group photo and we were back on the bikes. What was clear from everyone's demeanour was that an incredibly good time was being had by all! Next up was Tradouw's pass back to Route 62, then through Montagu, Ashton, Robertson, Worcester (at rush hour) and our first-night destination, Goudini Spa near Rawsonville.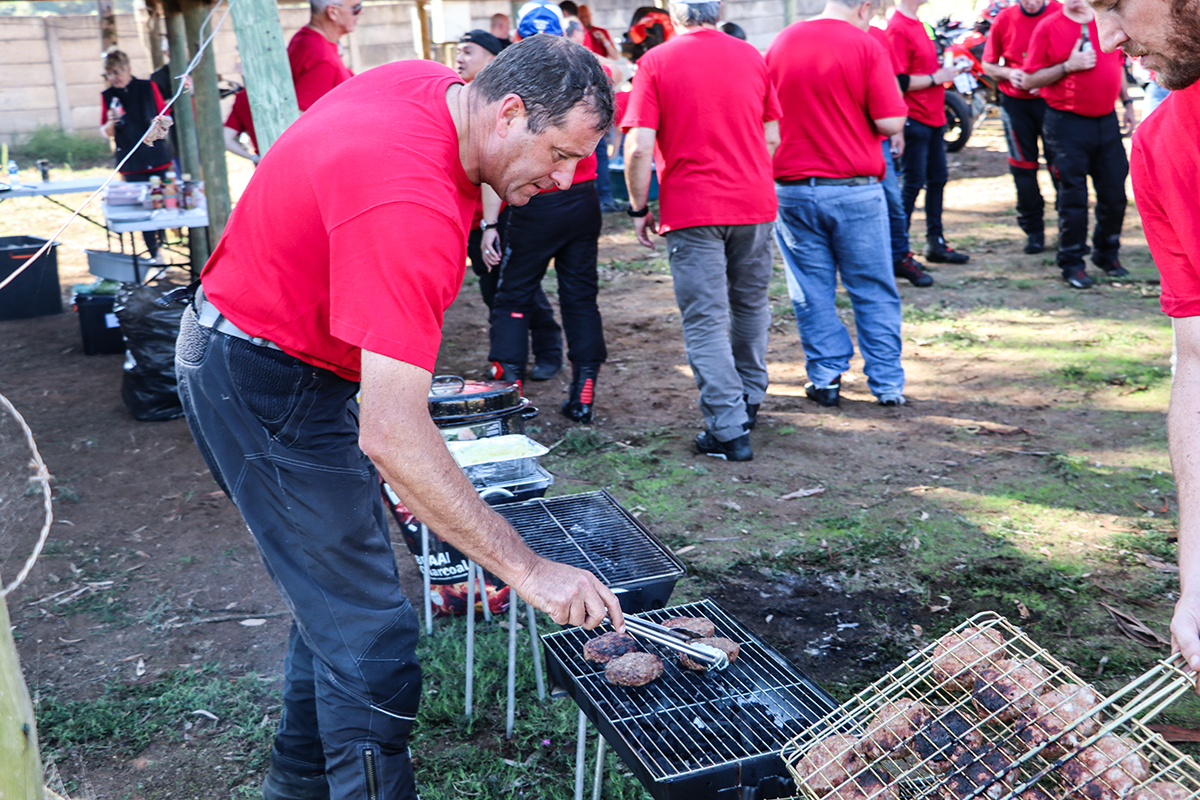 We enjoyed a good old Ducati 'kuier', chatting as only bikers can. Stories were told and retold, with endless good natured banter over drinks and dinner. I chatted at length with George and Mary-Anne. George retired 20 odd years ago and, at 79 years of age, (you would never say so) is awaiting delivery of his Panigale V4 S. That, my friends is what they mean when they say you must grow old gracefully! Mary-Ann and George, both slim and trim, are also both still active distance runners.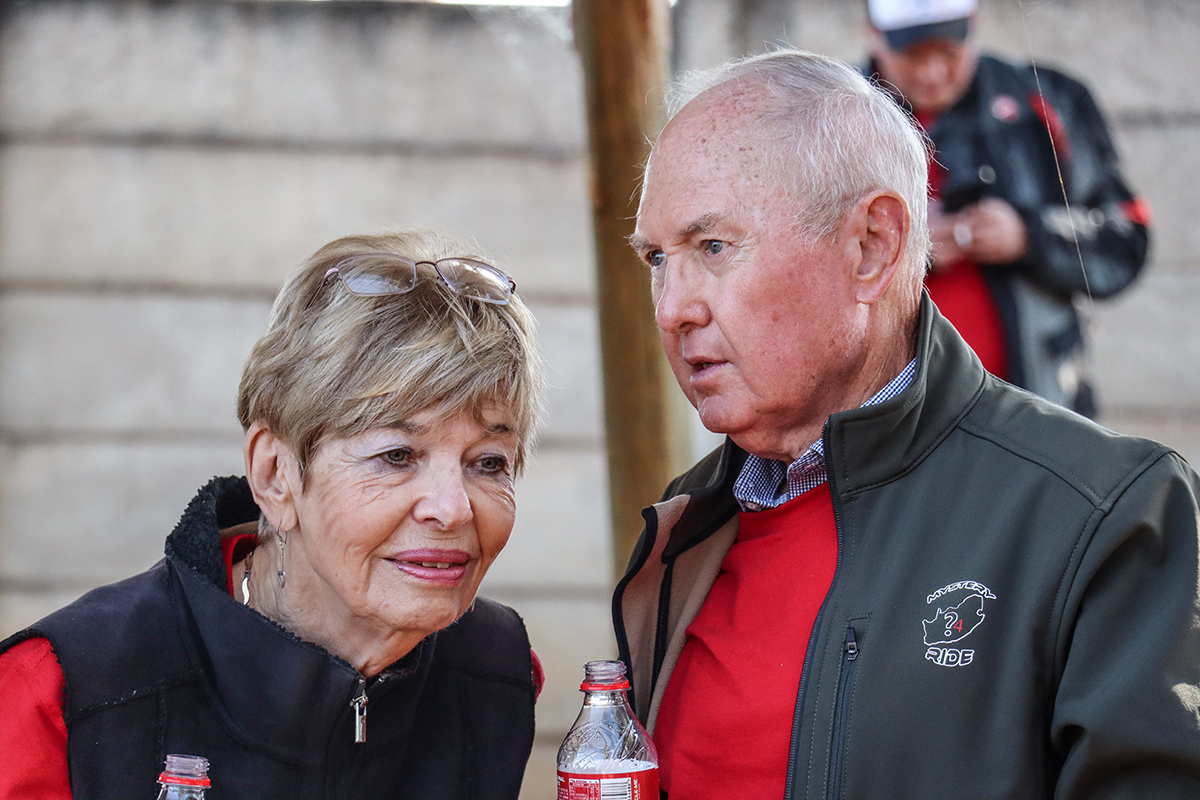 A new day dawned with a hint of drizzle in the air. We rode towards Villiersdorp, then turned right, adjacent to the Theewaterskloof dam, to ascend the Franschhoek pass. I got behind Jos, as I suspected that he may have a mild red mist moment on the pass and I wanted to share in the fun. So it was. Our fun was curtailed by mist on the descent into Franschhoek, where we proceeded to a delightful Craft Brewery for lunch. It bucketed down while we ate, but fortunately cleared for our return ride over the pass. Too wet for spirited riding, we were content to enjoy the spectacular views across the Theewaterskloof dam as we descended from the pass.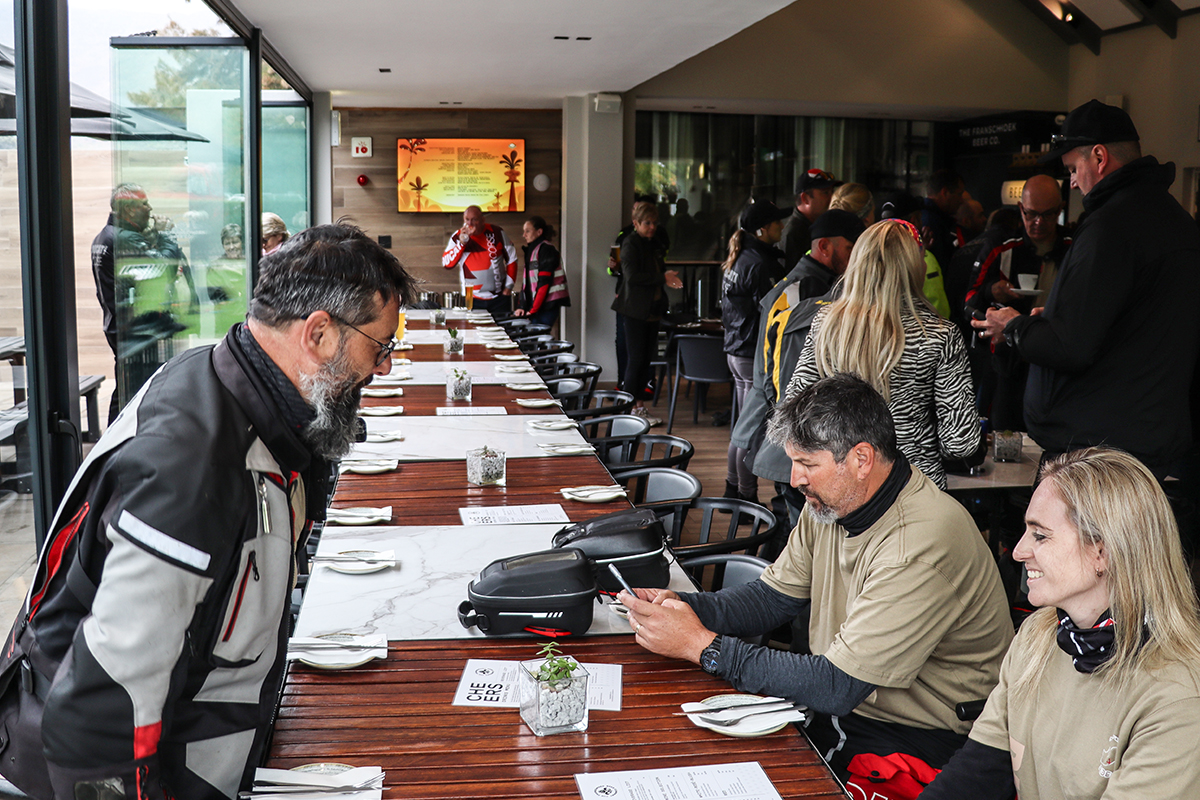 We turned right and skirted the dam en route to rolling into Hermanus, our destination, like a veritable Italian red tide.  If you remember, there are prizes for the first person to guess the daily destinations. This is the mystery of the Mystery Tour. Only Jos knows the route and keeps us all constantly guessing. We just know each day's riding distance. We had the late afternoon at leisure as we divided into three groups at different overnight venues. Brian and I roomed at a pleasant small hotel, where we showered and then rode to a nearby restaurant on the beach called Dutchies. Seeing the two beautiful 950s parked cheek by jowl, with the sun setting over the sea as a backdrop, was something special. A splendid dinner, then off to bed for the sleep of the weary. Another tough day in paradise.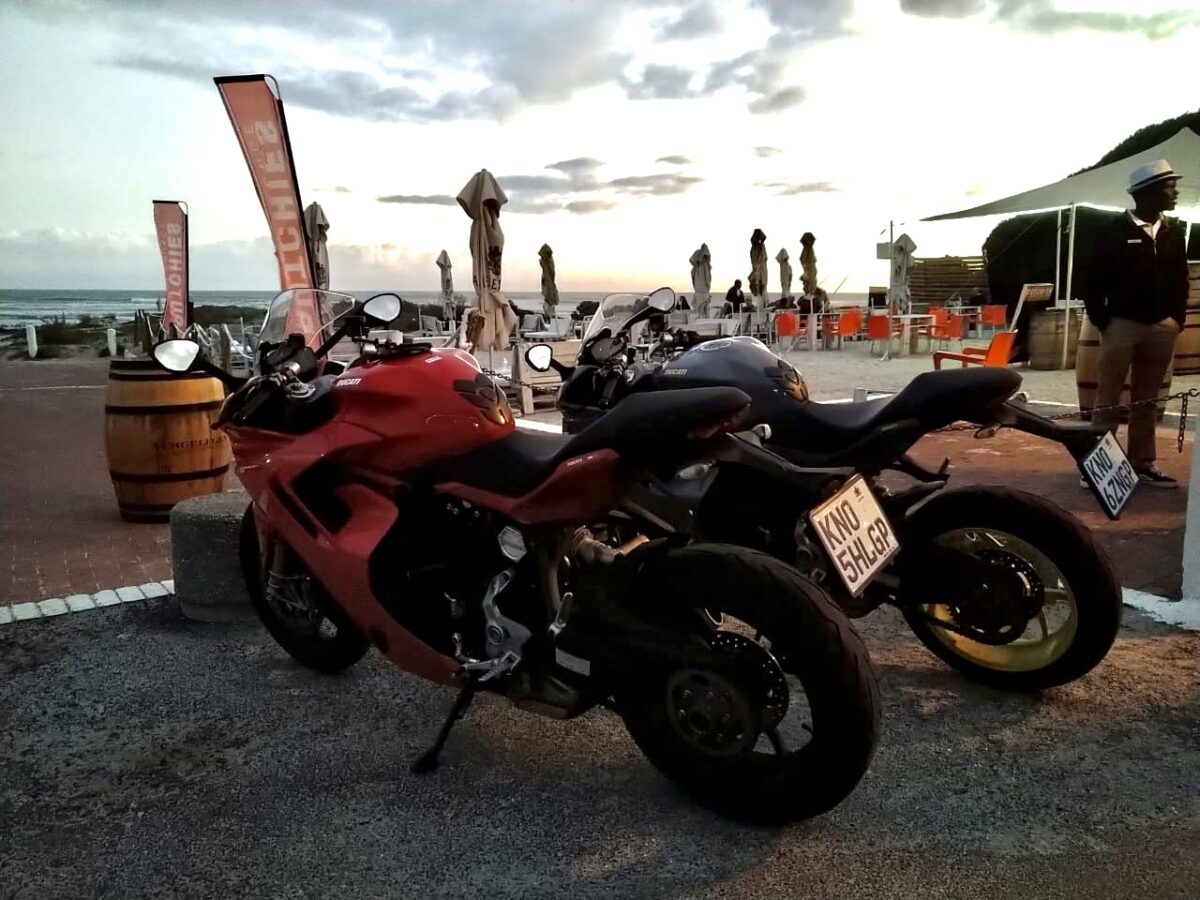 Behind the scenes, the logistics never end. Chris and Vincent, the technical boys, lube and adjust chains, change tyres (and chains if necessary) or do whatever it takes to keep bikes in top shape. Always a smile and nothing is too much trouble. Huge thanks guys! Robbie drives the truck and Ronel sees to luggage collection and drop off, bookings, food along the way and Lord knows what else! Boggles the mind how they keep everything running so smoothly, given that they too only learn our destination at the 11th hour. Somehow, almost magically, the 'Ouetehuis bussie' also arrives at destinations and stops as well. The planning that Jos puts into these events is nothing short of epic. Testimony to his commitment to building the brand, with a spirit amongst owners that is second to none. A veritable family of Ducatisti!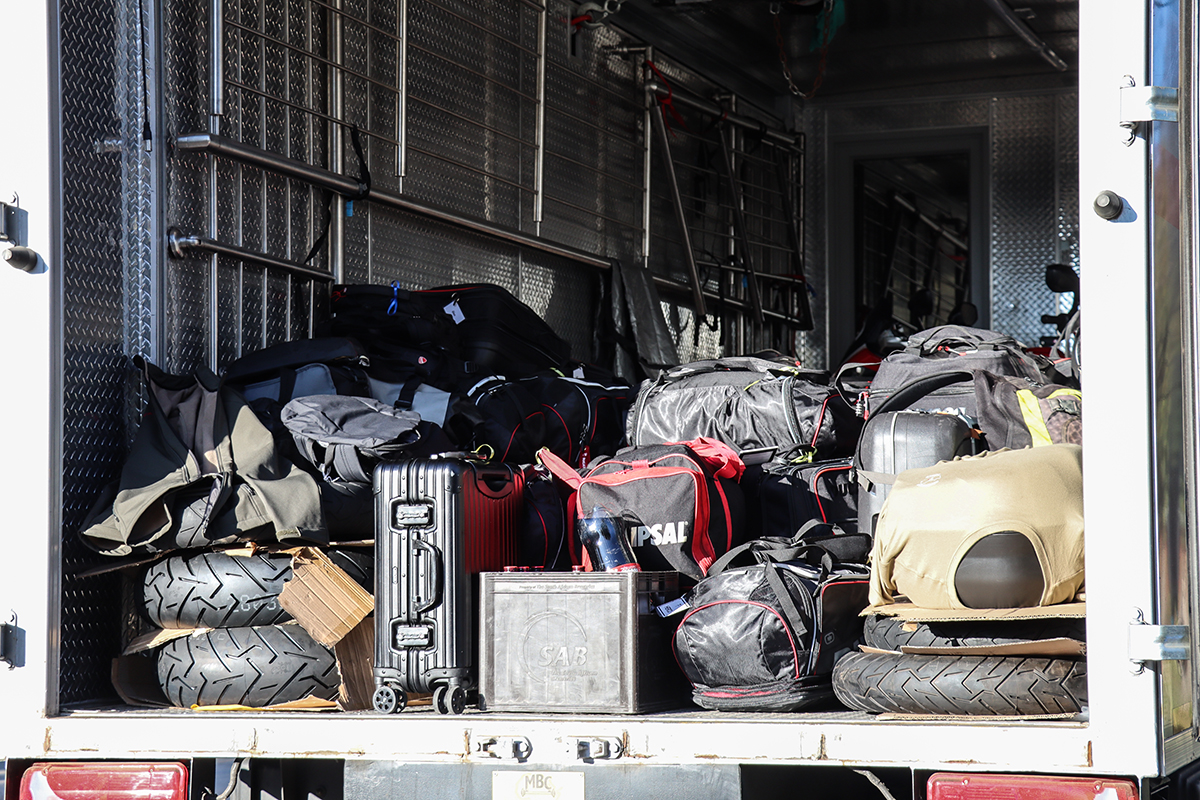 Our ride the next day convinced me that if anyone even dreams of voting ANC he should drive from Gauteng, through rural Free State and then into the Western Cape. The road undulated and snaked through the magnificent Cape backcountry. Stanford, Napier and Bredasdorp are beyond quaint and clean and unspoilt. By contrast, the rural towns of the aforementioned provinces are in varying states of degradation and disrepair. "By your works, you will be known". Well, based on that biblical truth, the ANC run provinces say it all! By contrast, the DA are doing an excellent job of maintaining standards, to the benefit of all who live there. Enough of that, and back to the ride.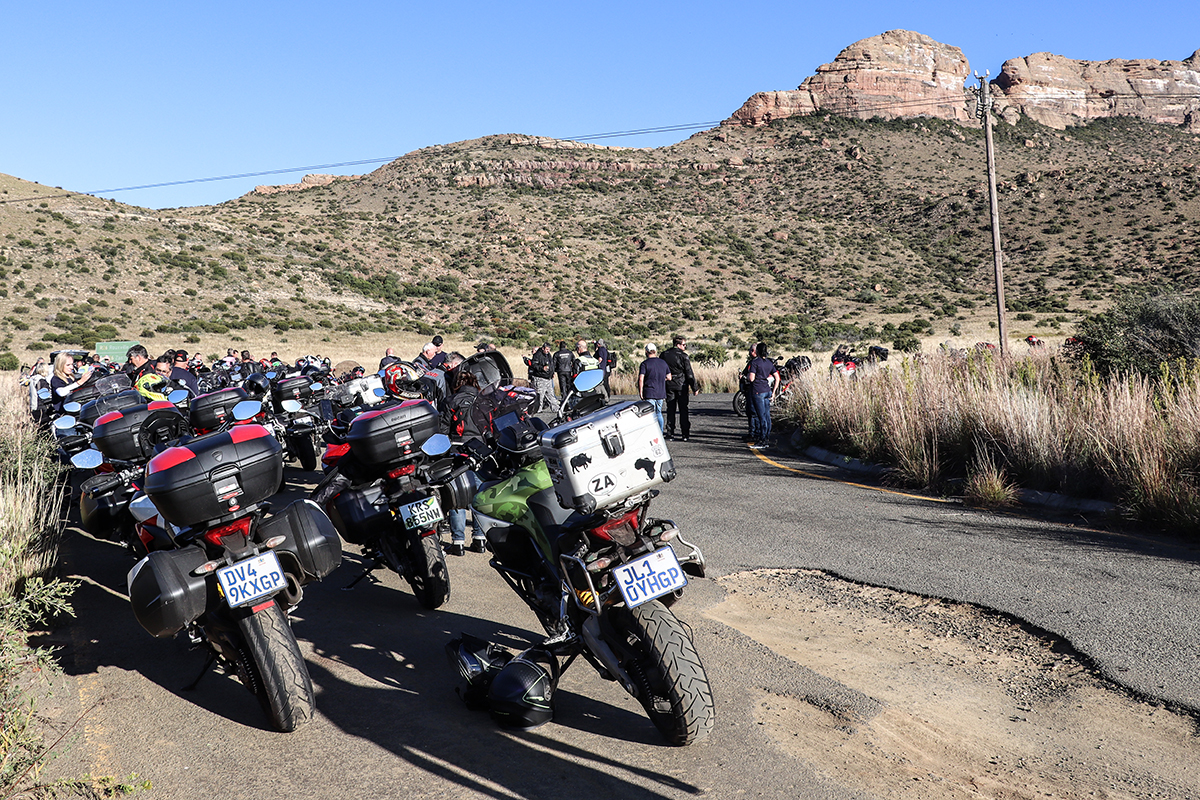 Swellendam saw us back on the N2 for a few kays, before again turning onto Tradouw Pass to Barrydale. We had an hour or so at leisure before gathering at Ronnie's Sex Shop, 26 kays down R62. A number of guys used this opportunity to open their bikes up. The small Karoo reverberated to the sound of booming big V–Twins and wailing V4s. Garth from Carrera, experiencing motorcycle riding and touring for the first time ever, having been pressed into service by that persuasive Matthysen chap, told me with wide eyes that he had seen 210 on his Multistrada 1260. His excitement and exhilaration were both palpable and infectious. How many times over the years, have I not witnessed that emotion from new riders exposed to the wonders of motorcycling.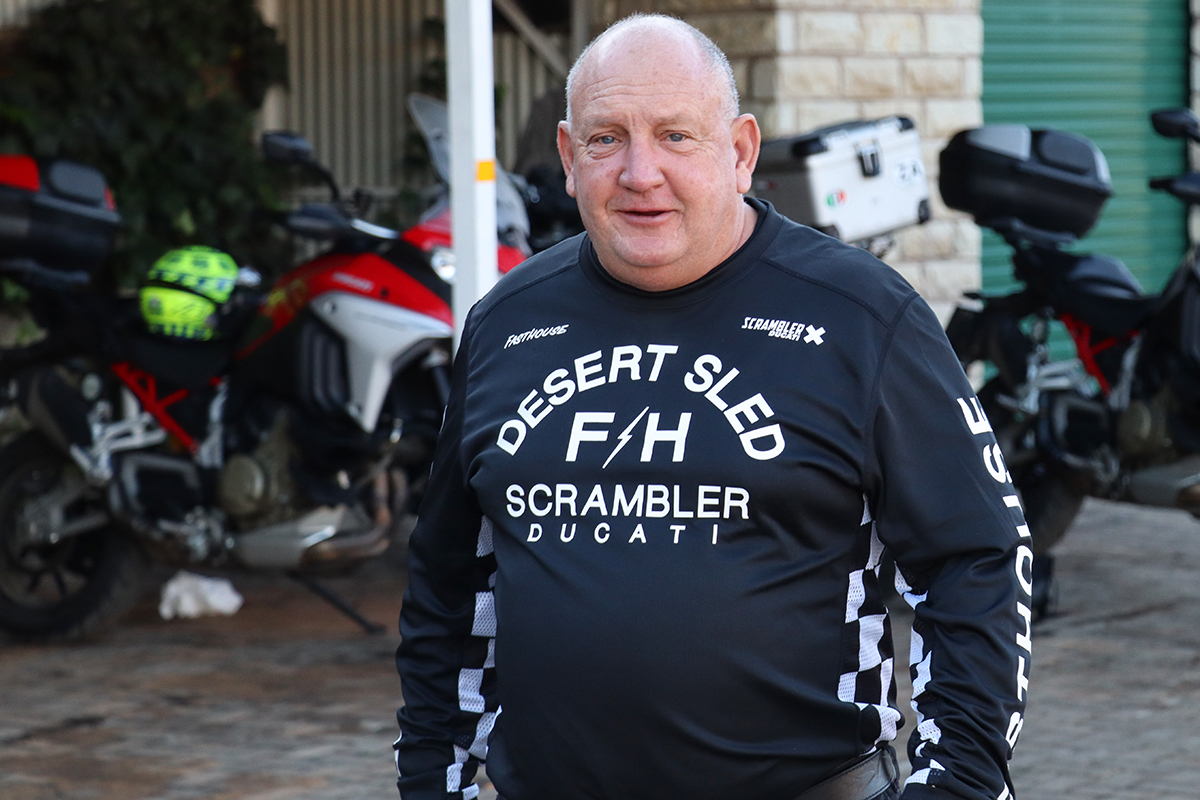 We retraced R62 to Oudtshoorn. En route, Jos and I had another special stage through Huisrivier pass. This time Braam Smit, with Marieta as pillion, joined in the fun. And fun with a capital 'F' it was too! Kudos to Lida and Marieta to sit on the back of motorcycles whilst scratching through the mountains. You have my utmost respect! In Oudtshoorn, we stopped at the iconic Smits Winkel for a quick bevvie before heading on to George via, you guessed it, Outeniqua pass. This time Jos got Byron on his Streetfighter to follow him down the pass with me as tail gunner. Braam once again hooked in behind us to put his 950 Multistrada to proper use. We only got baulked by cars on one occasion, so we got our money's worth, turning the bikes on their ears and booming down the pass.
The sound of that angry Akropovic equipped V-4 Streetfighter was music to my ears as Byron 'conducted the orchestra' on Jos's tail. We regrouped at the foot of the pass with the rest of the party before cruising through George, Wilderness, Knysna and on to Plett, our overnight stop. In separate accommodation, we gathered for a most pleasant dinner at the Fat Fish Restaurant, opposite the Beacon Isle Hotel. It was early to bed, as the next day was a biggie. 932 kays big, to be exact! Flip Garth, another baptism of fire awaits my friend.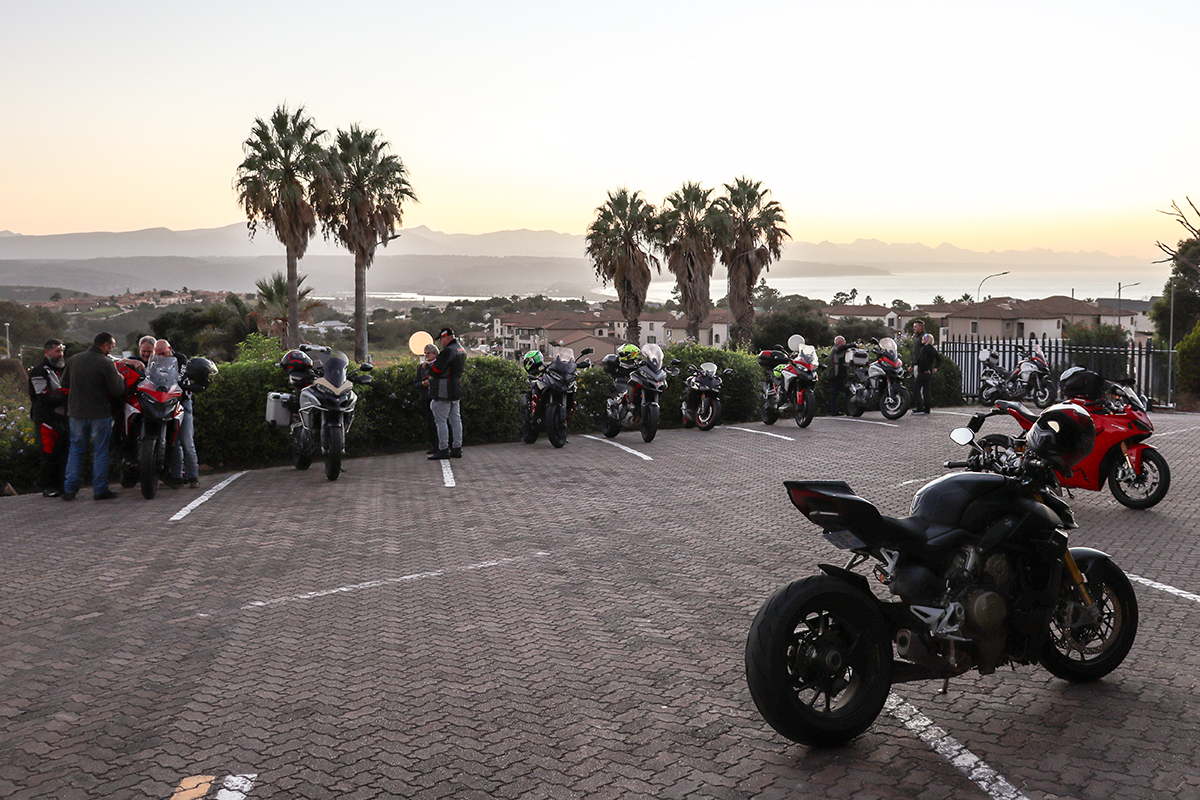 With the sun just peeking its rosy cheeks out across the bay, we rode up the scenic N2 to PE, then strafed the Olifanstskop pass on the N10 to Cradock, where we had a steak roll and sosatie brekkie. Hofmeyr, Steynsburg and on to Aliwal North, the kays being eaten by a procession of bellowing Bologna bullets. Turning right at Rouxville was where things got somewhat interesting. Just short of Zastron we pulled into a side road where we were met by Peter Pan's family with an ice chest full of bitterly cold bevvies. Sipping on a chilly chap with a typical Eastern Free State koppie, illuminated by a golden sun as a backdrop, was rather special. Just what we needed to revive our flagging energy levels.
With the sun getting low in the west, we tackled what proved to be the last leg of the day. And what a leg it was. The potholes grew bigger and bigger. At times I could not believe how deep they could get. They will totally destroy a wheel and probably suspension as well. Next was equally daunting. The ANC stalwarts who run the province saw fit to solve the pothole problem by simply covering the road in sand, effectively making it a bumpy dirt track. The Multis were in their element, but not so the sport bikes.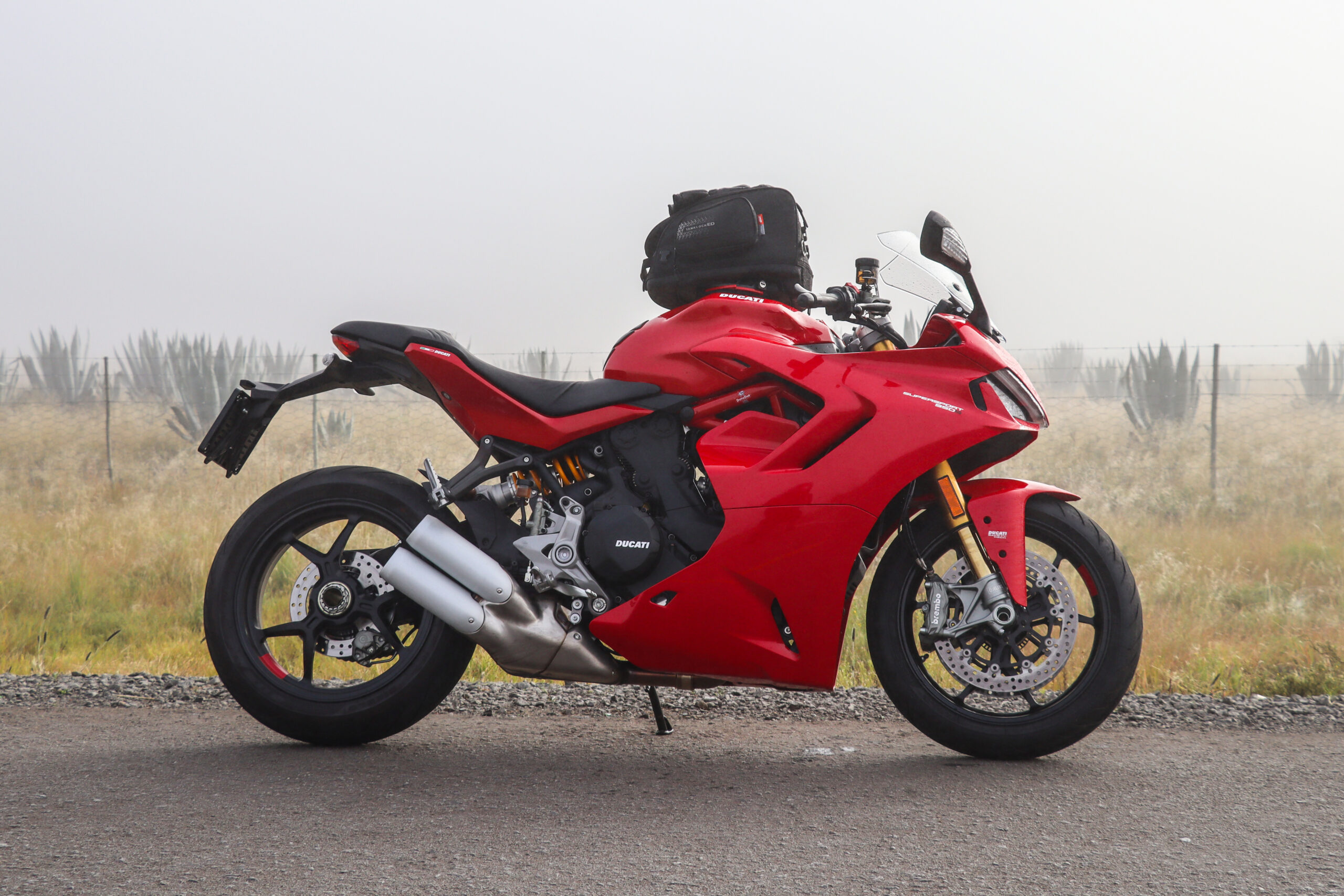 With visions of the sand blasting off my belly pan, I proceeded at a snail's pace. At last, just short of Ladybrand, the agony ended and we got back on tolerable tar. As it turned out, a festive establishment in Ladybrand was our destination and we soon got showered for dinner, where the judge, Cilliers, would mete out punishment for what he considered untoward behaviour that he had witnessed over the course of the tour.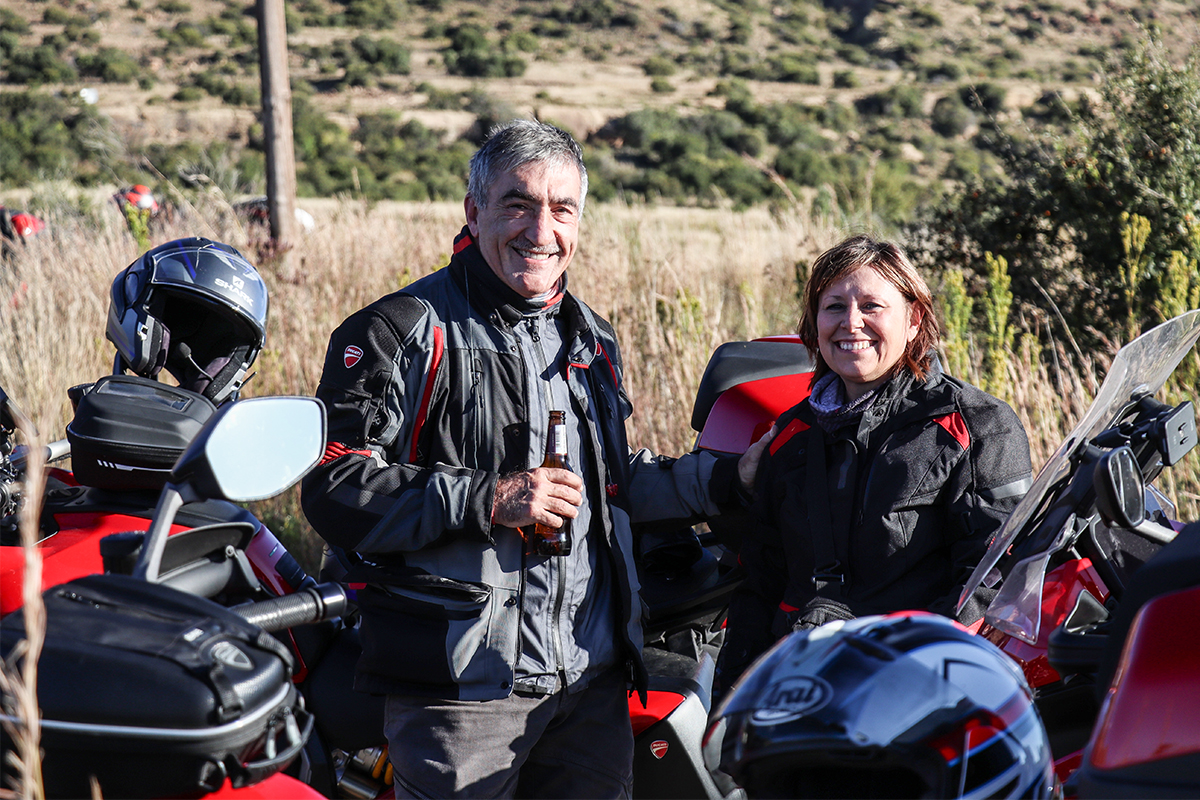 Last night on tour is somewhat bittersweet. On the one hand, another epic ride is coming to an end and yet the prospect of reuniting with your loved ones at home is also appealing. No question there is going to be some proper partying too! And so it was. Robbie, our super talented truckie, grabbed his guitar and regaled us in song. As the giggle juice flowed after a scrumptious dinner, serious festivities ensued, with the promise of quite a few sore heads on the last stage home. Ladybrand gets properly chilly at night at this time of year, so it was particularly pleasant to hop into a warm bed for some deserved sleep after a long and tiring day capped with serious festivities.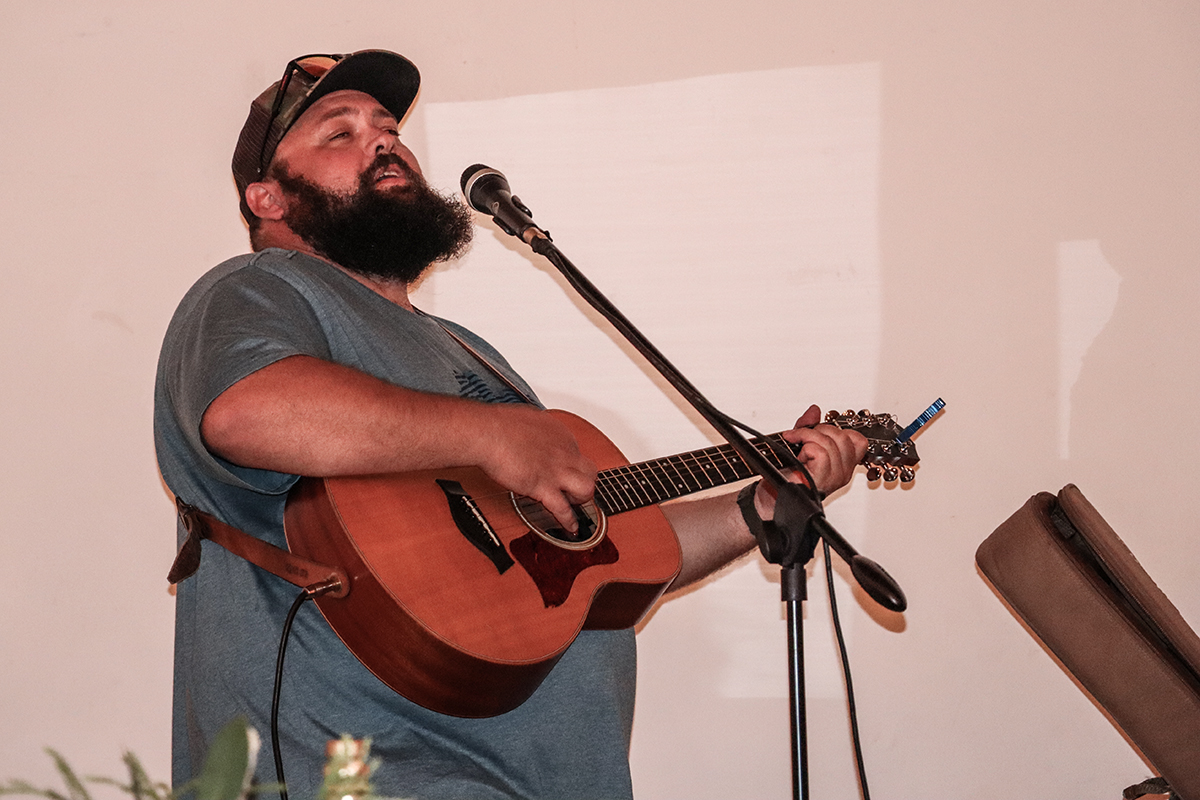 Anticipating a cold morning ride, I asked Brian what he was going to wear. "Everything" was his immediate retort. Following his lead, I too dressed for bear. When we left at 8.30 it had thankfully warmed up significantly. Riding was actually pleasant. Jos decided, after consulting locals on the state of the roads to our intended route via Clarens, to rather ride via Bloem. We cruised past Bloemfontein, Brandfort, Virginia, Welkom and Kroonstad, before riding the back road to Parys, where we joined the N1 for the final quick squirt home. Just short of 5000 kays in six days of absolutely epic riding. The tour out of George was obviously a tad shorter.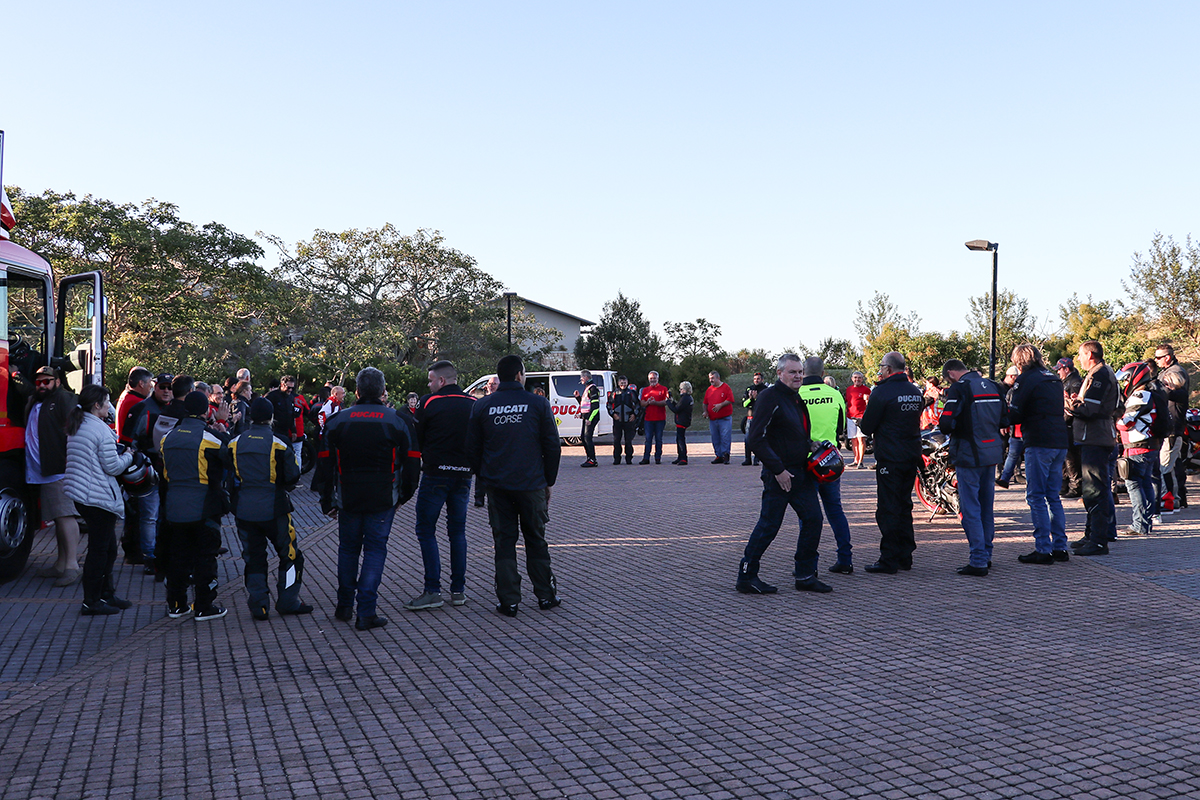 I actually struggle to find words to adequately sum up a Ducati Mystery Tour. There is so much anticipation, fun, friendship, good riding, revelry and good, old fashioned comradery, that it is a bit of a roller coaster of emotions that well up inside me that I'm not quite sure how to describe. There are times when you say to yourself, "why am I doing this?" and then others when you know exactly why. What I can tell you, is that the Ducati family is like none other. It is unique. It is what keeps bringing the faithful back, again and again.
"So Jos, what are the dates for the next one?"