It's that time of the year again when winter shows us bikers the middle finger. Heading into June means we'll have to put up with a good three months of freezing weather at both ends of the clock—where only the brave are seen on their iron steeds. With riding coming to a minimum, motorcyclists need to start thinking about what to do with their bikes during the cold season. How about spending some time in the garage with your ride?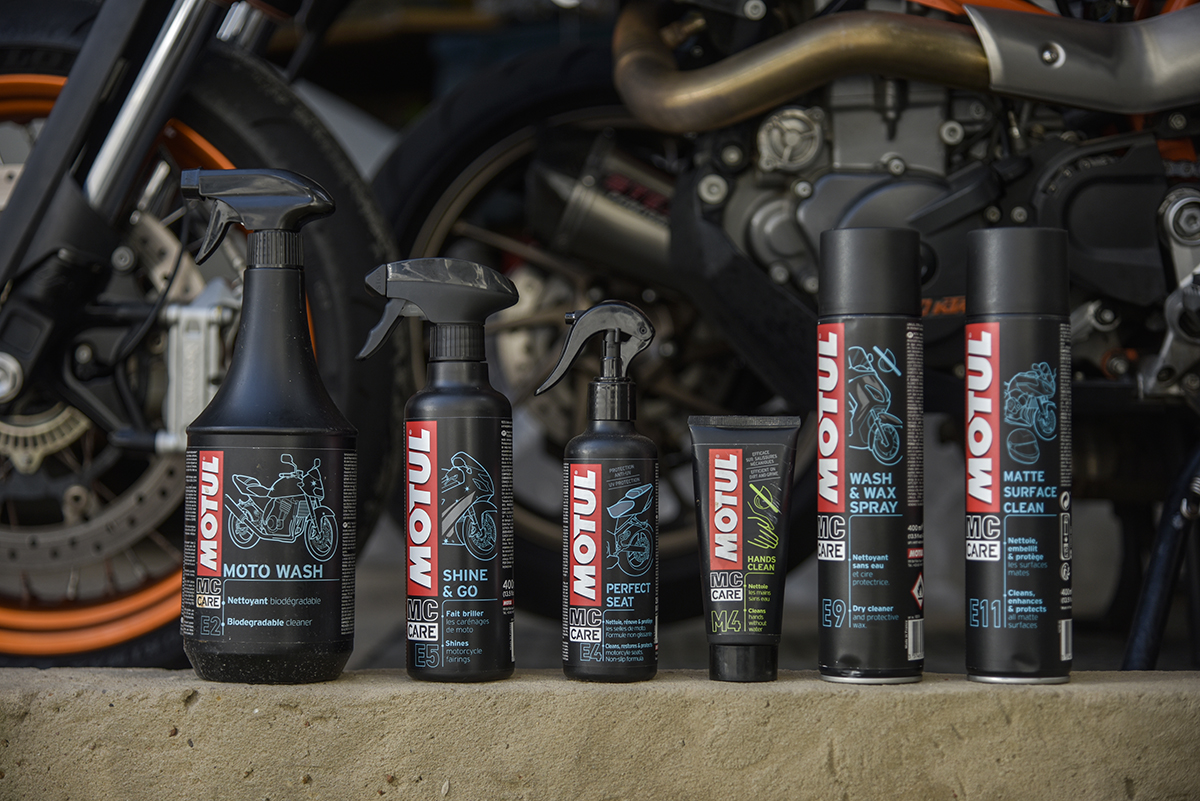 Our good mates at Motul South Africa gave us a few bottles of the good stuff from their "MC CARE" rang to crack open with our bikes this winter. Less time spent on the road doesn't have to mean less time spent with our machines, it actually allows us to spend more time shinning and lubricating them for the special few days that we do decide on riding—we also tend to find any underlying gremlins that need fixing or attending to.
Motul's six-pack has everything from bike washes, cleaners and waxes to get the beasts fit for riding and even a tube of hand cleaner that needs no water to get the job done.
MOTO WASH:
Moto Wash is what you use to get it all started, it's a powerful biodegradable degreaser for the entire motorcycle and leaves a corrosion-resistant film to protect the paint and metallic components parts.
SHINE & GO:
Using Motul's Shine & Go, will make cleaning and polishing your bike quicker and enjoyable, as you see a new sheen start to appear—Motul is here to keep your rides shiny side up. Its clever formula revives the colours of motorcycle plastic surfaces: fairings, paint, fenders, and mirrors—leaving a long-lasting non-sticky protective film.
PERFECT SEAT:
We all have a special way of cleaning and maintaining our motorcycles, but who really pays attention to their seat? Clearly Motul do, because they've got just the right product in their MC CARE range called, Perfect Seat. Perfect Seat is a powerful cleaner and restorer for all vinyl saddles. It too has a special formula that's Non-slip and UV protective.
WASH & WAX SPRAY:
There is no bucket of water needed when using Wash & Wax Spray and therefore you can use it anywhere, all you need is two microfibre cloths and a shaded off area. Wash & Wax Spray is a dry cleaner that cleans and shines up all surfaces in-depth leaving a protective wax film for extended effectiveness.
MATTE SURFACE CLEAN:
Matte Surface Clean is a cleaner and restorer for all matte plastic and painted areas, leaving a flat, matte, and non-sticky finish. It contains a protective UV filter.
HANDS CLEAN:
Hands Clean is another dry cleaner which dissolves grease, oil, and other stubborn dirt without the help of a single drop of water.
If you are serious about maintaining your ride, then follow us over the next few weeks as we take a look at Motul's extensive range of motorcycle care products—helping your bike hold its value.