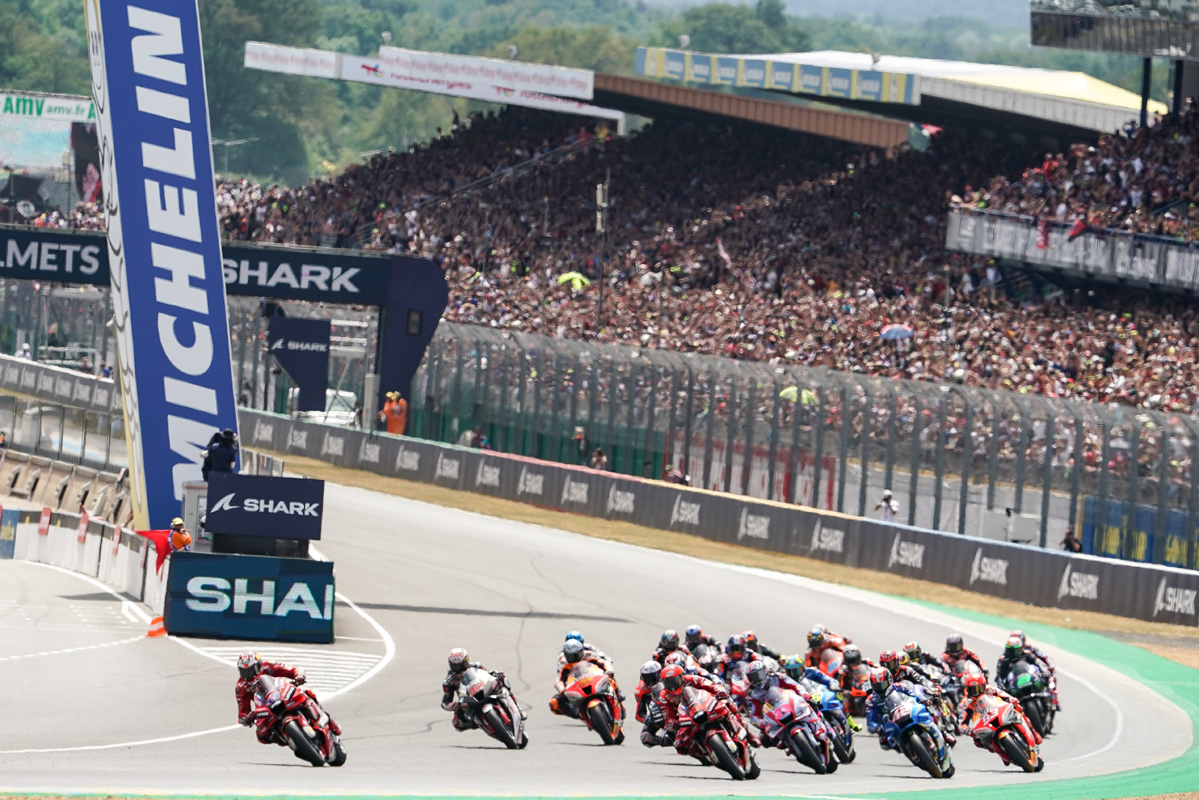 Pressure. The last two races have been all about pressure, in every sense of the word: pressure to retain your seat, pressure in the races and tyre pressure.
If there was a talking point after Jerez that wasn't about Suzuki leaving the sport, then it was tyre pressures! A post-race document revealed that Bagnaia had run the whole race with a front tyre that was below the pressure stipulated in the rules – 1.9bar. With the properties of the Michelin front tyre, riders like to start with it too soft so that, when up to working temperature – especially if following another rider – it is not too hard.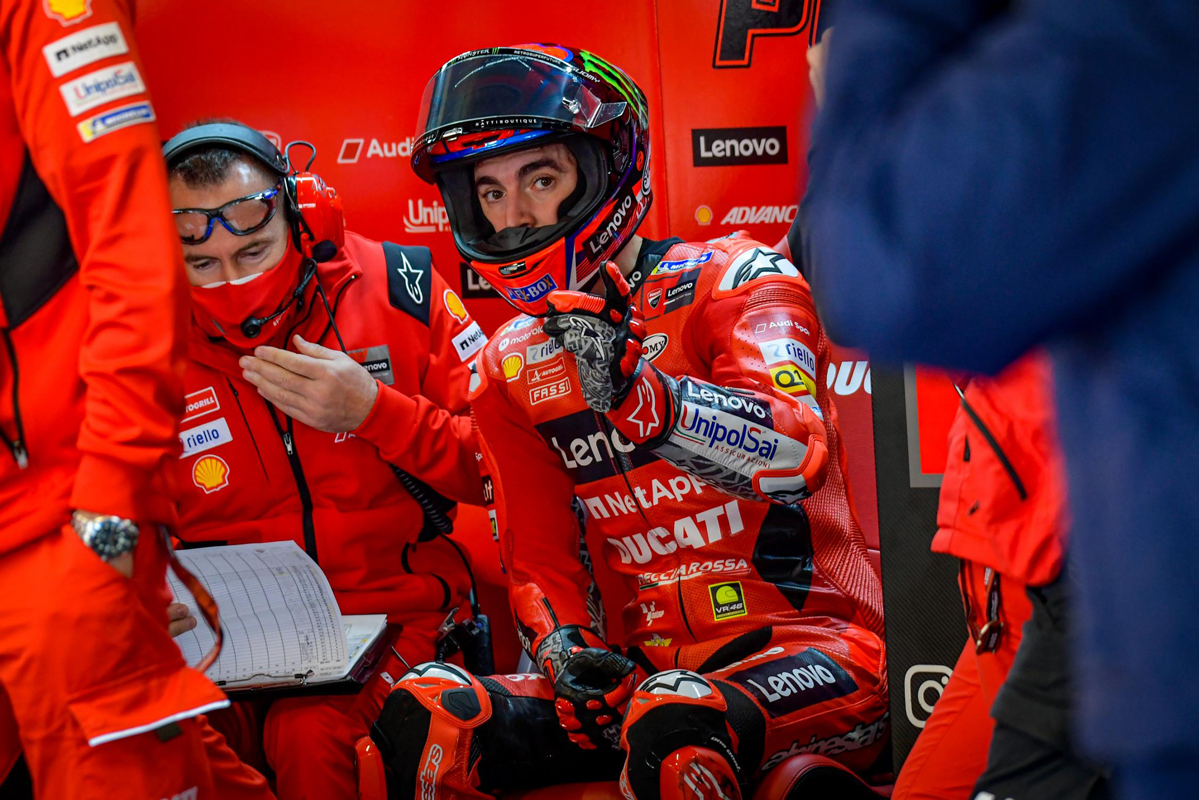 Bagnaia running at the front in clean air thus caused his tyre to remain too soft for the whole race. He wasn't the only one but, as the winner, he was more exposed than the rest who were undoubtedly also doing the same thing.
This brought miles of print from the media, although the riders themselves accepted that it had to happen because of the Michelin front tyre situation – basically, it doesn't work! – and were pretty unfazed by the whole hoo-ha. After all, it is they who are putting their lives on the line riding the bikes so who are we to say what they should or shouldn't do if it is within the rules….more or less. Things will be tightened up for 2023 but, for now, it's a free-for-all.
The other pressure that is mounting, is the pressure to either retain – or find – a seat for 2023. With only four riders with contracts for 2023 – Brad Binder, Marquez, Bagnaia and Morbidelli – that is a lot of seats up for grabs, even if some riders are almost guaranteed to retain the seats they occupy in 2022. But the departure of Suzuki has really set the cat among the pigeons with the availability of two race- and championship-winning riders suddenly available. Imagine Yamaha or Honda leaving and suddenly you've got Marc Marquez or Fabio Quartararo available.
Of course, it is increasingly likely that the two grid slots left by Suzuki will be filled one way or another but the new team is hardly likely to be in the same league as Suzuki – a factory effort. At best, it will have current-year models, most likely from Aprilia or KTM and, while that might seem like a good idea, recent seasons have taught us that this year's model isn't necessarily the one to have! How many races has Gresini won on last year's Ducati GP21? Now, how many races have the factory GP22 won? Exactly. Wasn't it the same with the Tech3 Yamaha of a certain M. Quartararo in 2020?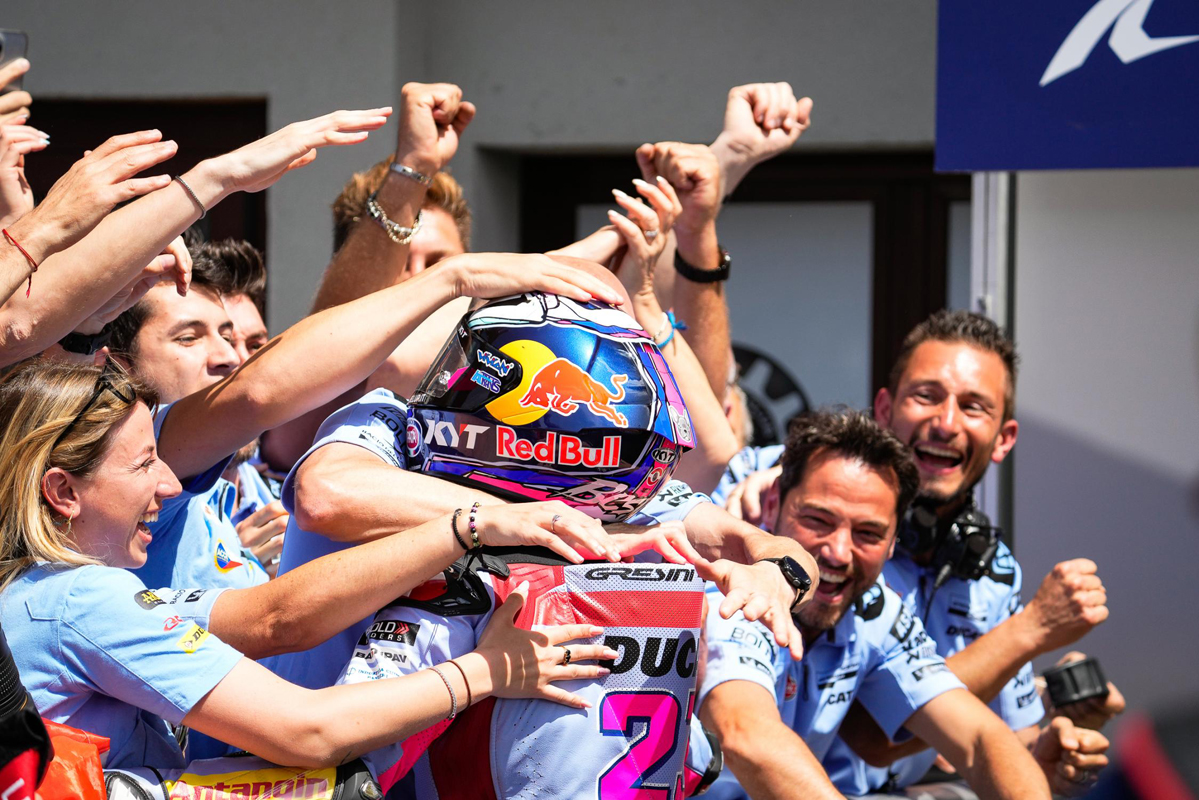 There are a few riders who are likely to not be with the current team in 2023. Jack Miller is the most high-profile, Bastianini laying solid claim to the second factory Ducati on this year's form to date. Jorge Martin was seen as a contender for that seat but five crashes out of seven races are not doing his prospects any good. It's just unfortunate that the crash in Le Mans was not his fault – a problem with the nerves in his right hand are giving him no feeling whatsoever and when you're trying to control 300+bhp with throttle and brake, you kind of need a bit of feeling.
Pol Espargaro's seat at Repsol Honda is under threat from Joan Mir, even though all parties deny that anything has been signed. But why wouldn't Honda want Mir, even if there aren't too many in the paddock who can't quite see how two world champions in the same team would work, especially when one of those world champions is Marc Marquez?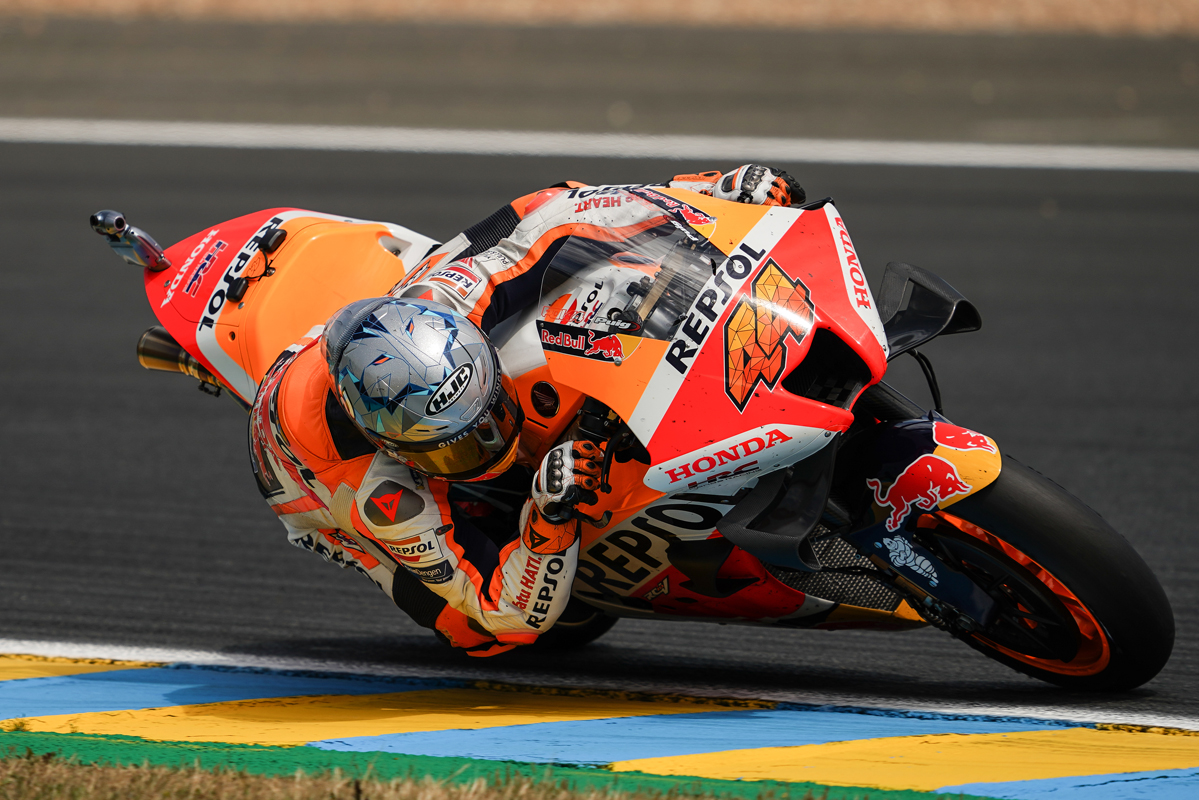 Franco Morbidelli might have a contract for 2023 but his recent dire form is not doing his prospects of that contract being honoured any good, especially with the likes of Alex Rins and – potentially – Pol Espargaro becoming available. Morbidelli could be moved sideways to the RNF Racing team, along with a chunk more factory support for the satellite team. Of course, that would mean sacking either Darryn Binder or Andrea Dovizioso: no-one said racing was fair!
You could think that Maverick Viñales isn't terribly safe at Aprilia if you look solely at his results. But would any other rider be able to do any better? In Viñales, Aprilia have a seasoned race winner, so why would they want to change him for another – Rins or Mir – when there is no guarantee the RS-GP will be any more suited to them, and lose a year's development with Viñales.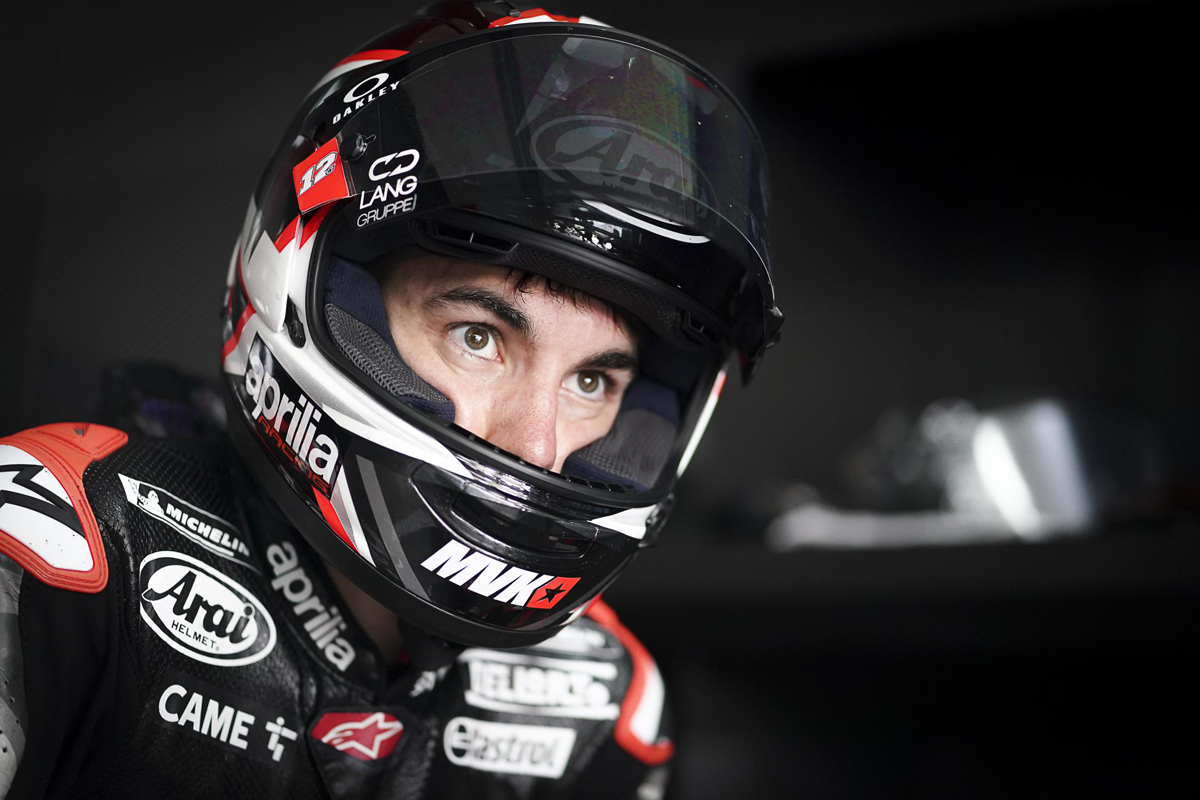 Racing riders or drivers always say that to perform well, your head has to be clear of any worries so you can concentrate fully on the job at hand. Worrying whether you have a seat next season surely has to weigh heavily on your mind and you can't help but be distracted no matter how professional you are.
The third type of pressure was on the race track. Last time out in Jerez, Pecco Bagnaia soaked up enormous pressure from Fabio Quartararo and, despite knowing about the Yamaha's front tyre temperature issues when following another bike, he couldn't relax for a tenth of a second if he wasn't to make a mistake and open the door for the grateful Frenchman.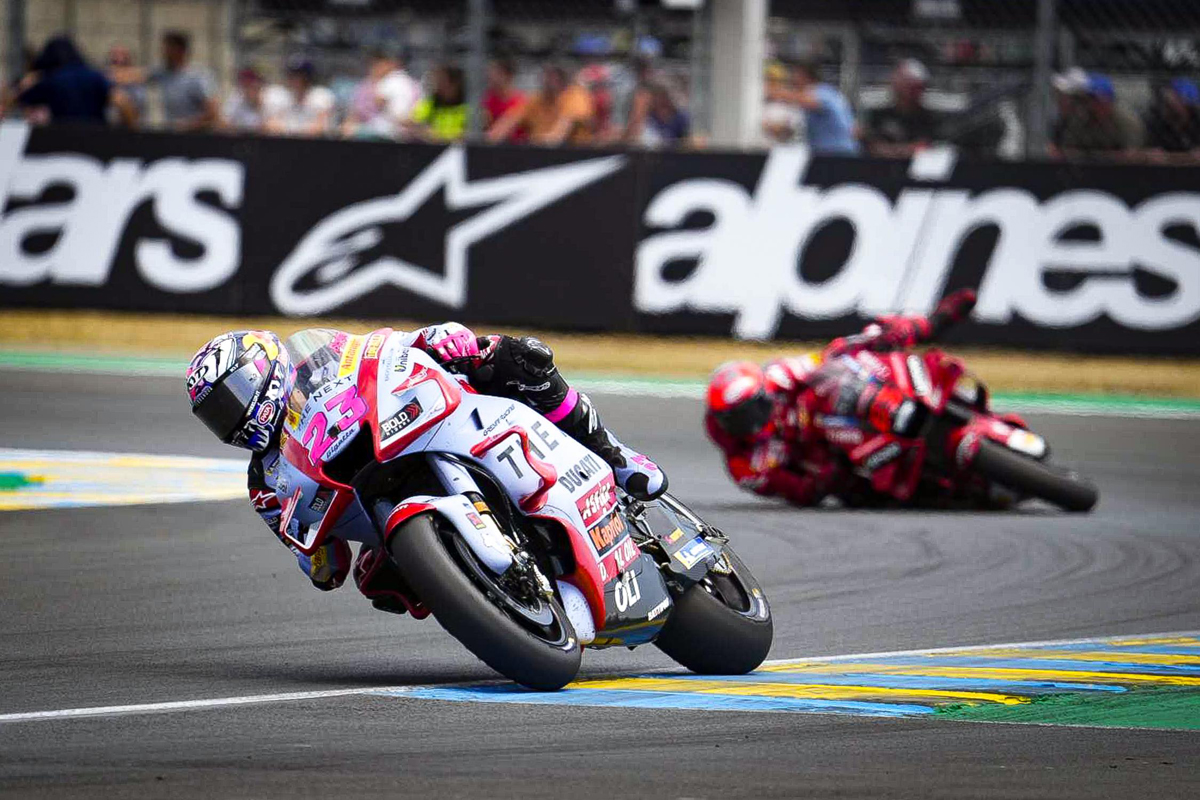 In Le Mans, Bagnaia again soaked up pressure from first Miller, then Bastianini but this time, he cracked, although not before he had resisted the attack of Bastianini over the course of one frenetic lap. Down and out he went at the last turn and Bastianini was away, 2.7s to the good at the flag, Jack Miller second and Espargaro A. in third. He, too, had soaked up all the pressure Quartararo had put him under for the majority of the race but Espargaro hadn't cracked and took his third consecutive podium, his fourth overall this year. Isn't that just brilliant?
Alongside pressure in all its manifestations, the other talking point at le Mans was still the inability of one bike to follow another closely without it leading to disaster. Alex Rins gave a graphic demonstration of this while following Bagnaia into the blisteringly fast turn one.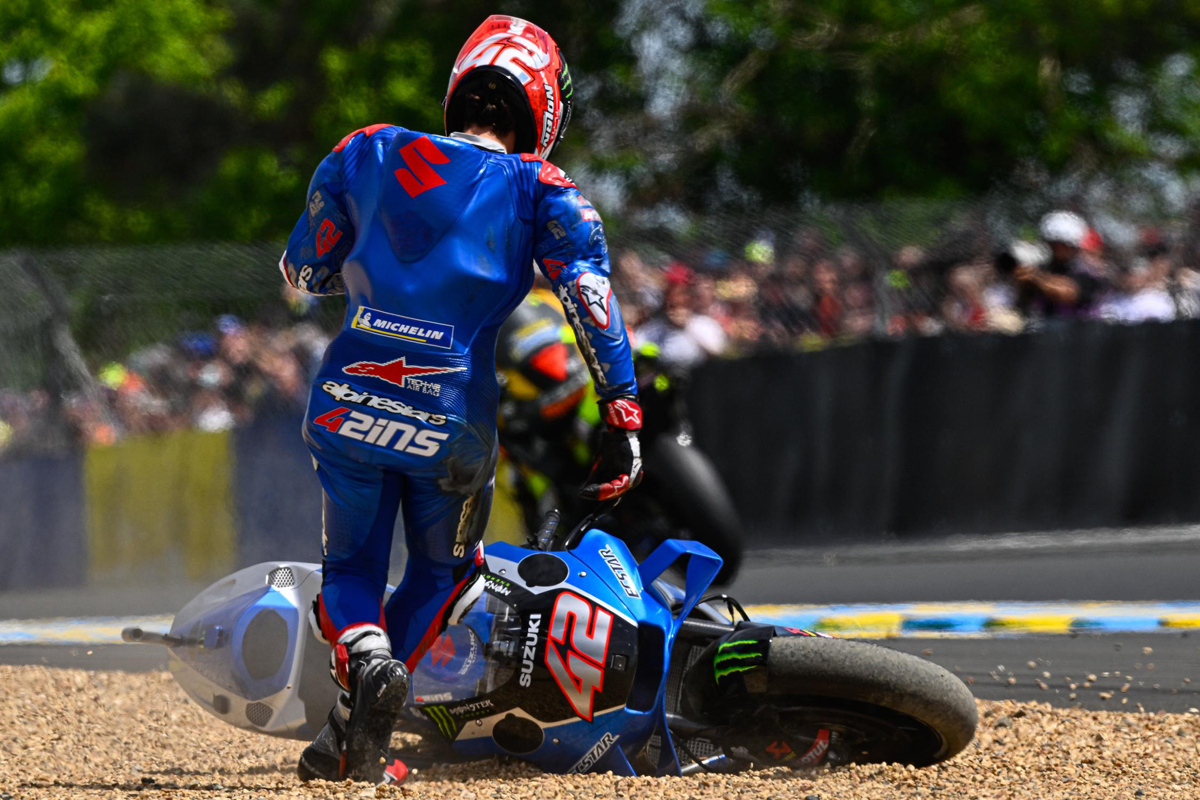 "I braked at the exact same point as the lap before but in his slipstream," said Rins. The slipstream meant he was travelling faster and the vacuum in which he was riding thanks to Bagnaia's aero meant that his front brake just wasn't as effective as it would have been if he had full airflow over his front wing.
He went through the gravel trap at 125mph – just as Zarco had done the day before – but Rins wasn't so lucky, the bike kicking slightly sideways as he left the gravel and re-joined the track and that was it: he was down and out, thankfully without affecting anyone else's race.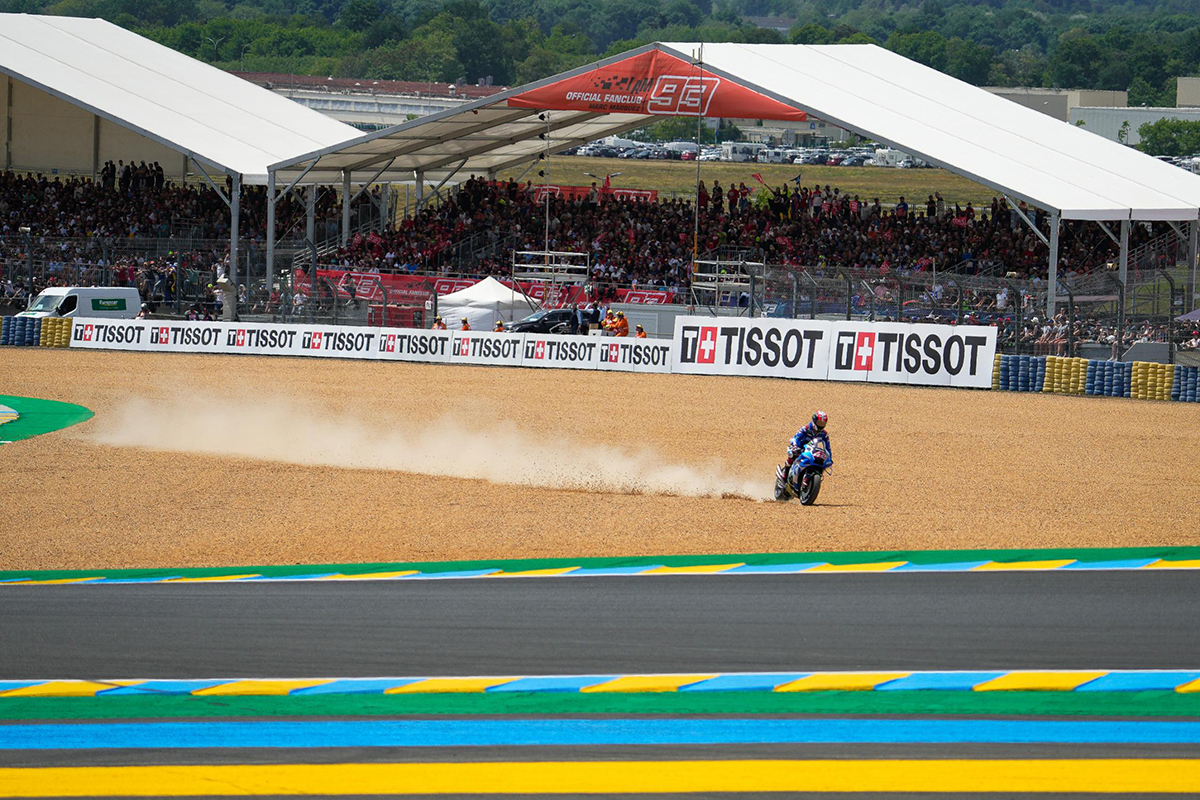 With this victory, Bastianini not only puts himself in pole position to take the second factory Ducati seat but the championship itself. Many commentators still cite Quartararo as being the title favourite, but he himself doesn't see it that way:
"Enea is the only guy who's won more than one race and he's won three, so he's the man right now," said Quartararo. "He's had some difficulties at some tracks but he's consistent and when he has the pace he's really fast, so I'm not the favourite by far.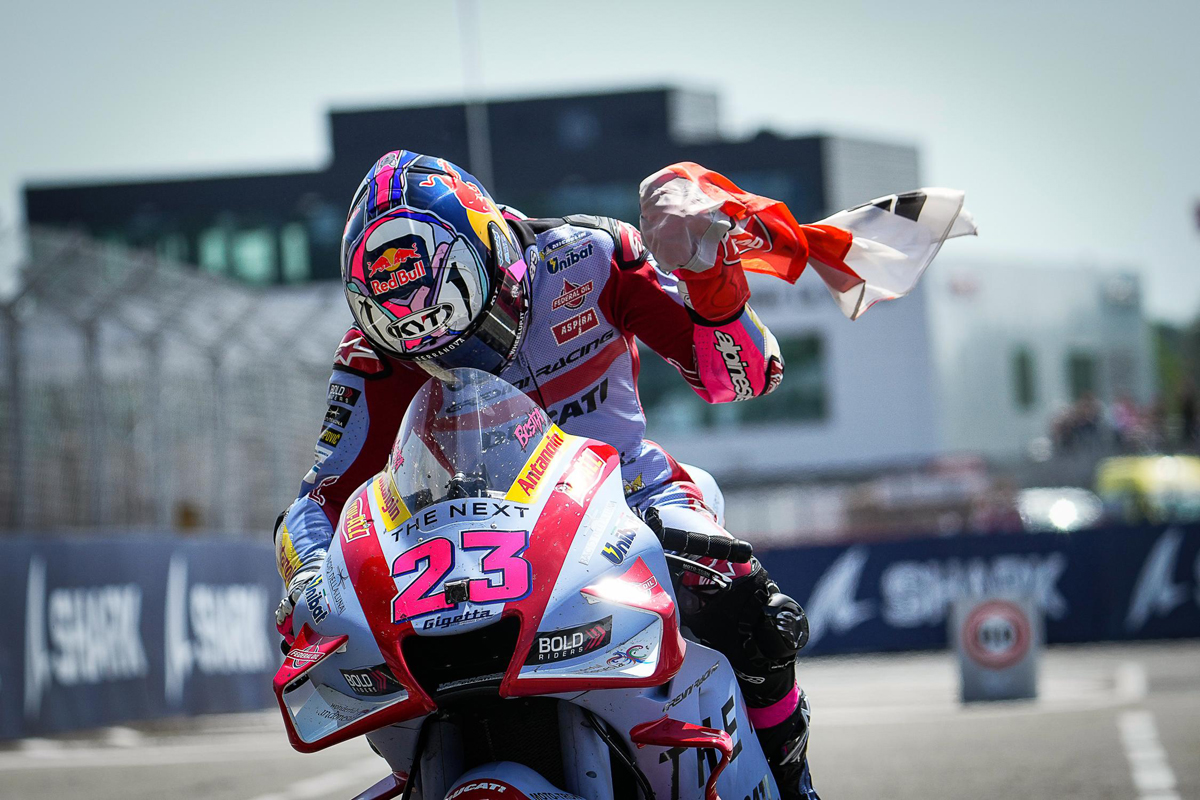 "I don't know what I can do, because I'm pushing myself to the limit, I'm on the limit everywhere. Even when I'm one centimetre behind these guys they accelerate and I lose one-tenth and to recover one-tenth you need to take a lot of risks. That's why I don't feel favourite.
"The only thing I can do is make no mistakes. If I make no mistakes I can be there, because almost every track we go to we are fast. I was fastest here on pace, but as soon as you make a small mistake you are gone."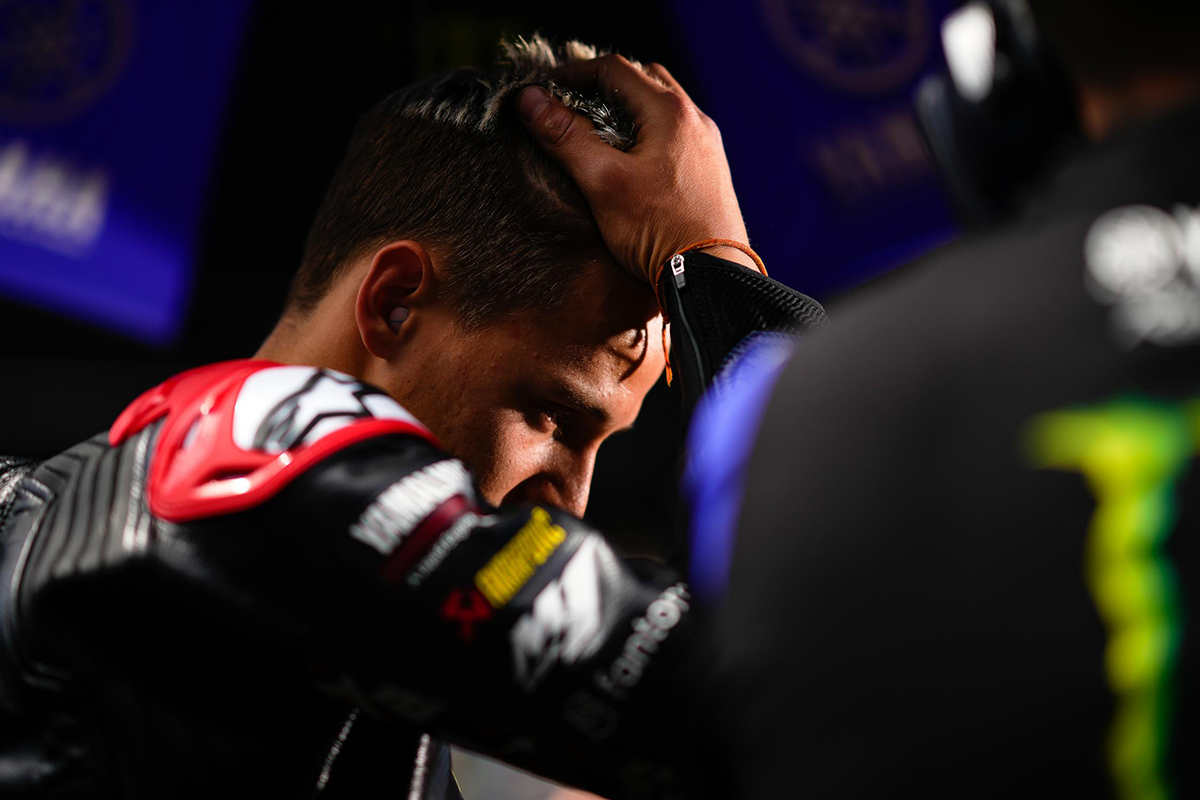 The change in Quartararo in recent months has been remarkable. He is managing to remain calm in spite of the problems with the Yamaha and this is translating itself to making the Yamaha perform as it should: that's not coming from the bike – just look at Morbidelli and Dovizioso – but from himself and that is impressive. He knows the M1 won't be good at every track so he is simply waiting for the odds to turn in his favour and not getting angry when they are turned against him. As Joan Mir showed in 2020, consistency is the key to winning a championship and, as long as Quartararo keeps racking up the points, he has to be seen as the title favourite, no matter what he says.