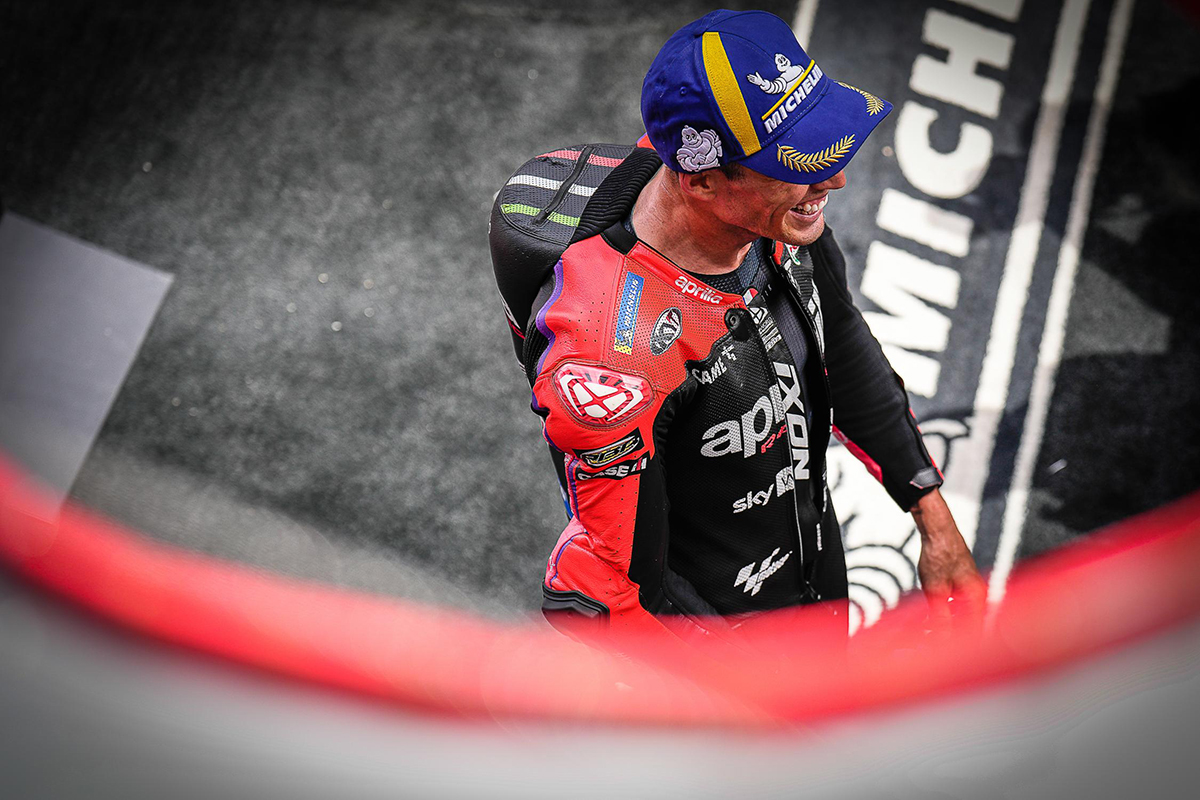 Now, we haven't seen that for a long time – one rider disappearing into the distance at the beginning of the race and winning by over six seconds – and it doesn't bode well for the rest of the riders on the grid in the remaining races.
The fact that it was Quartararo surprised some until it was remembered that he is the master of his machine right now and, in clear air, he's well-nigh unbeatable. With the ultra-high track temperatures over the weekend of the Catalunya race, the Yamaha's front tyre was going to suffer mightily if it was stuck behind another bike and Quartararo would have been powerless to do anything about it. He made sure he wasn't and that was it as far as the race for the victory was concerned.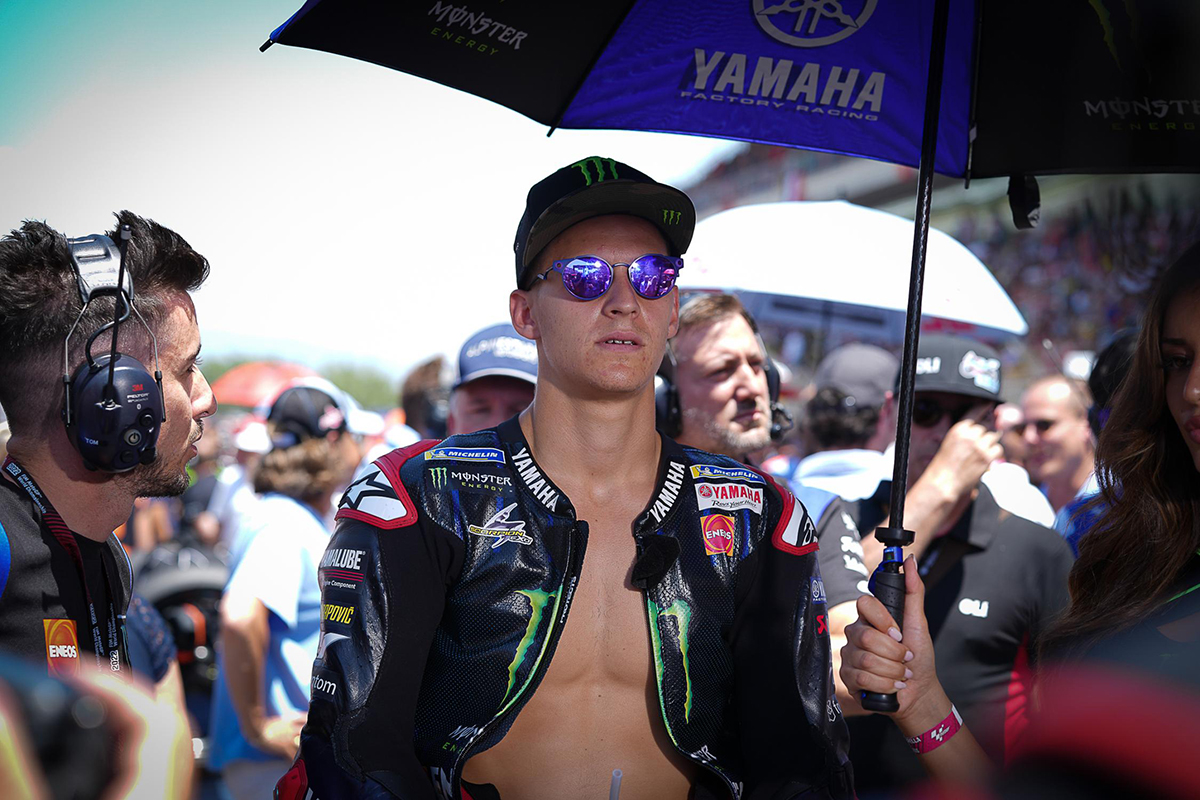 There are shades of Lorenzo about Quartararo's performances right now: given the space to do as he pleases, he just crushes the opposition. It might not make for good racing but it's clinical and effective as hell.
Another factor is Quartararo's new mental attitude. He doesn't get riled or impatient, just waits for the odds to turn in his favour. At the beginning of the season, he knew there would be tracks that suited the Yamaha and tracks where he would be compromised and, rather than throwing his toys out of the cot when things aren't going his way, he makes the best of the situation and gathers points until such time as he can take control again.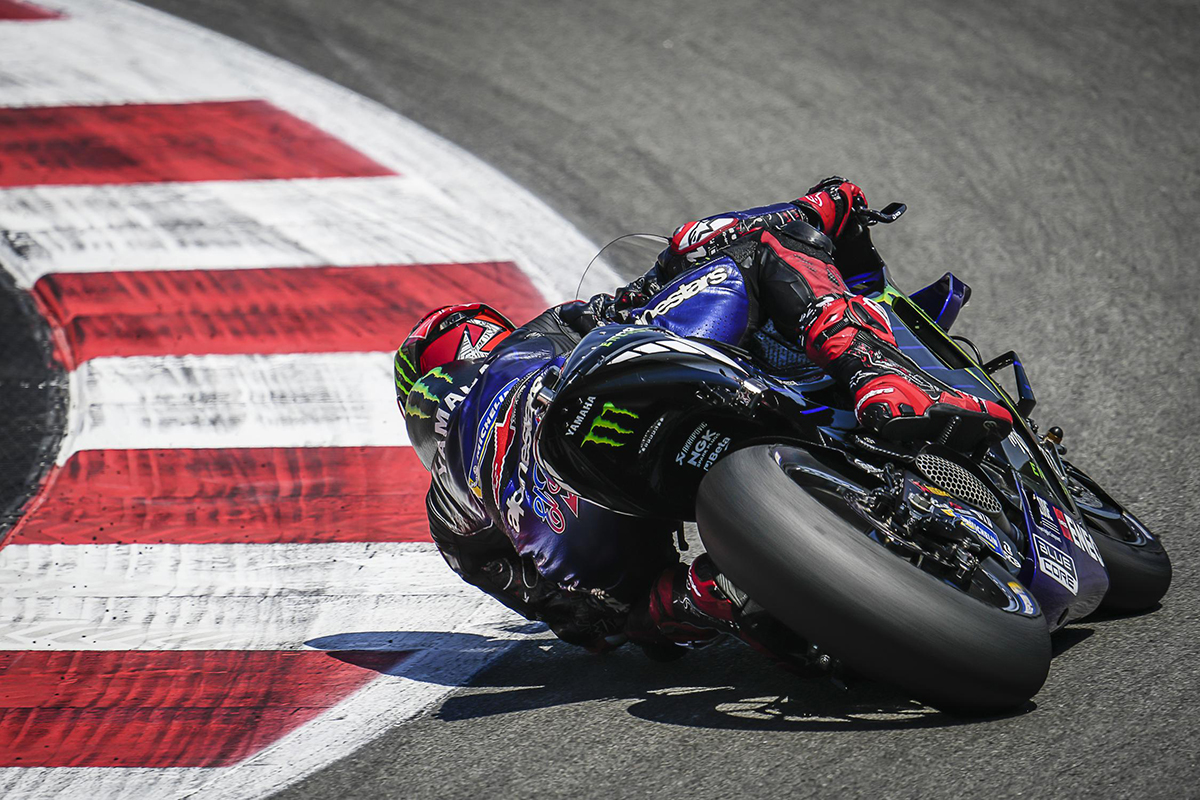 Such mental fortitude is going to be difficult for his rivals to break down. In addition, the confirmation of Yamaha's belief in him by signing a new two-year contract, with promises of engine development to counter the top speed attacks of the Ducatis, must make grim reading for the rest of the paddock given his superiority right now on a compromised Yamaha. Four titles in a row on the Yamaha doesn't seem like too much of a problem all of a sudden.
Quartararo's cause was helped by the mistakes of his closest rivals. Bagnaia's exit wasn't his own fault but it has certainly hurt his championship hopes: a 56 point deficit will be extremely difficult to overhaul. Even should Bagnaia win every remaining round, all Quartararo has to do is finish on the podium behind the Ducati and there's nothing Bagnaia can do about it.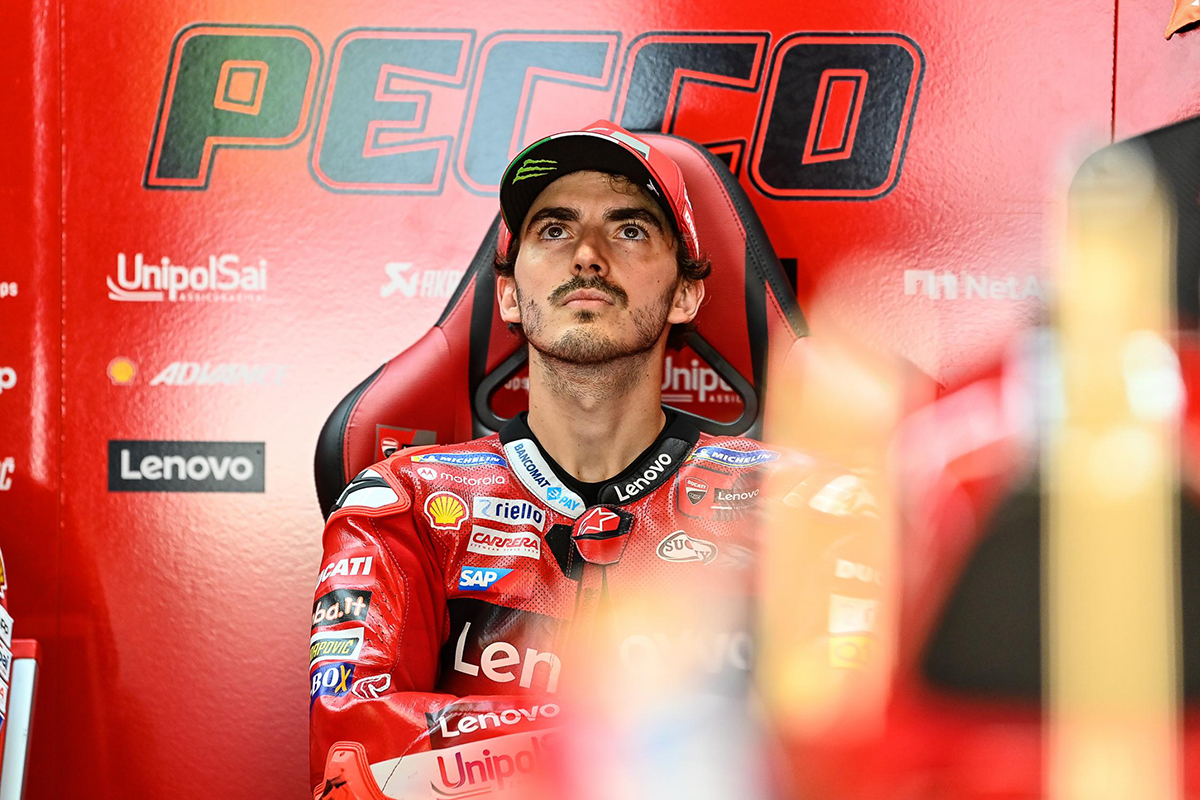 Quartararo's saving grace in Catalunya was getting a good start and having the balls to risk everything by out-braking Bagnaia and Espargaro into the first turn. If he hadn't done that, then he might have been the unwitting target for Nakagami's wayward LCR Honda. Instead, Bagnaia was skittled out and Quartararo's biggest race rival was gone.
And then there's Espargaro! If proof were needed that these guys are human, then Aleix demonstrated it perfectly. Instead of relying on his pit board, which was difficult to see given the Aprilia's garage position close to the exit of the last corner, when the riders are slightly pre-occupied making sure they get the best drive onto the straight to look to their right and search for the pit board, he was using the digital tower that gives race positions and laps left to run for the spectators.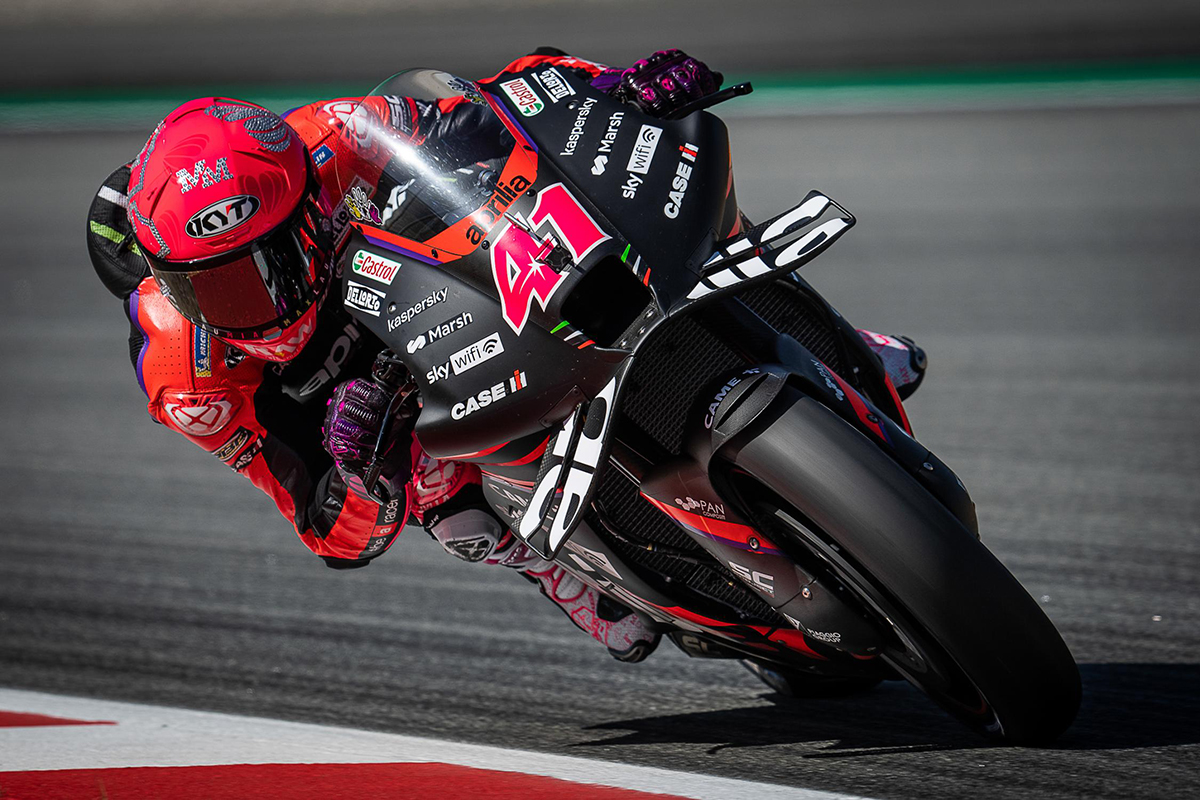 The only problem with that is that, while his pit board would say L1 for the last lap, the tower says L0 for the last lap. Espargaro forgot this and read L1 on the tower as the last lap. As he crossed the line, he was already congratulating himself on a job well done – yet another podium – only for that euphoria to turn to dismay a few seconds later as he realised his mistake and got back on the gas to finish fifth and give away more points than he could afford to Quartararo in the championship. Titles have been won by much less than the nine points difference between second and fifth and Espargaro will have only himself to blame if he loses the title to Quartararo by a point or two.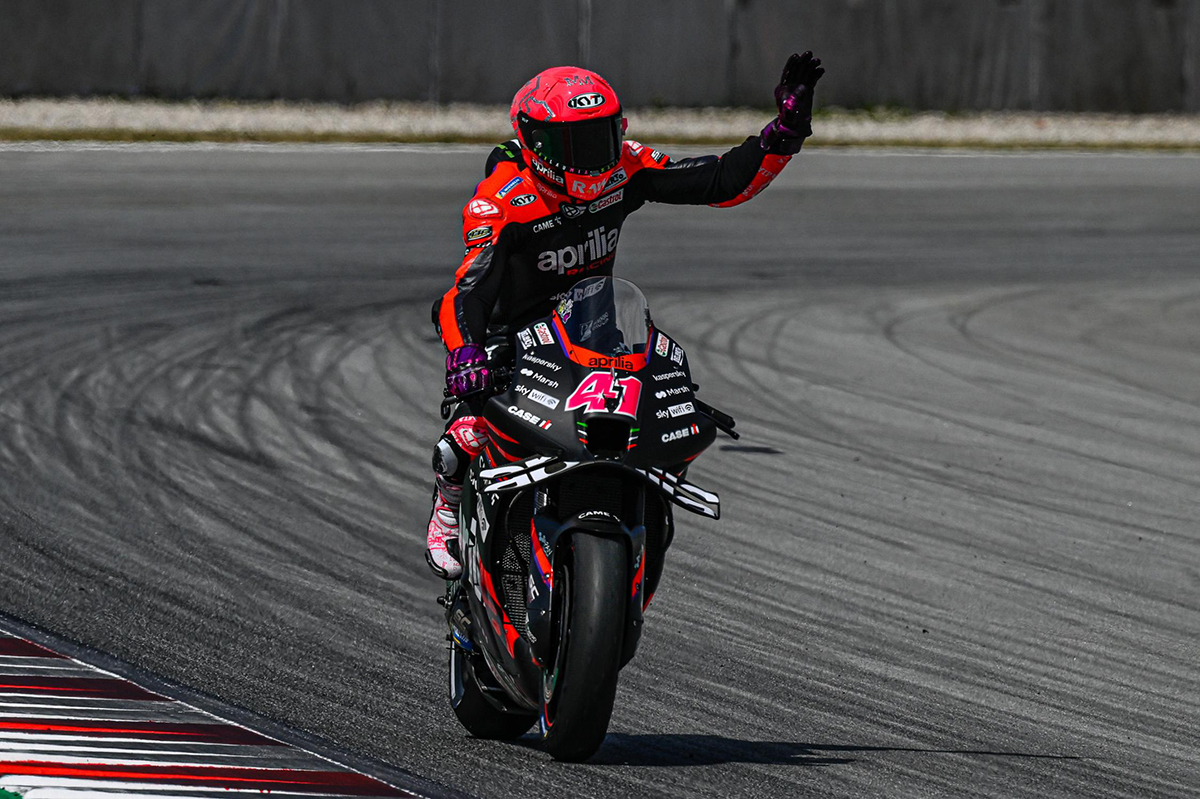 Mistakes such as this are uncommon – usually, the result of a mistake is a crash – but not unknown and, at least, it does show us that these supermen are at least human.
The beneficiaries of Espargaro's mistake – apart from Quartararo – were the Ducatis of Martin and Zarco, who had refused to give Espargaro an easy time of it all through the race and reaped the rewards at the end. Martin has had a torrid time of it in 2022, his second place in Argentina notwithstanding. Crashing in five out of nine races is not the way to build a championship-winning campaign but perhaps that is all behind him as he reverted to 2021-spec Öhlins forks which he much prefers over the 2022-spec units. They just suit his riding style much better and a happy rider is a fast rider.
Enea Bastianini had a disastrous race, crashing out for the second race in a row, scoring no points while Quartararo has added 45 to his tally. The crash might not have been Bastianini's fault – track temperatures were making it difficult for everyone and, at one point, it seemed as if there might not be that many finishers as riders were flying through the gravel all over the place – but that is not the consistency that wins championships.
Bastianini's three wins so far might be one more than Quartararo, but Fabio has three second places as well, while Bastianini has no other podium finishes. See what I mean about Quartararo making the most of the days when he knows he can't win?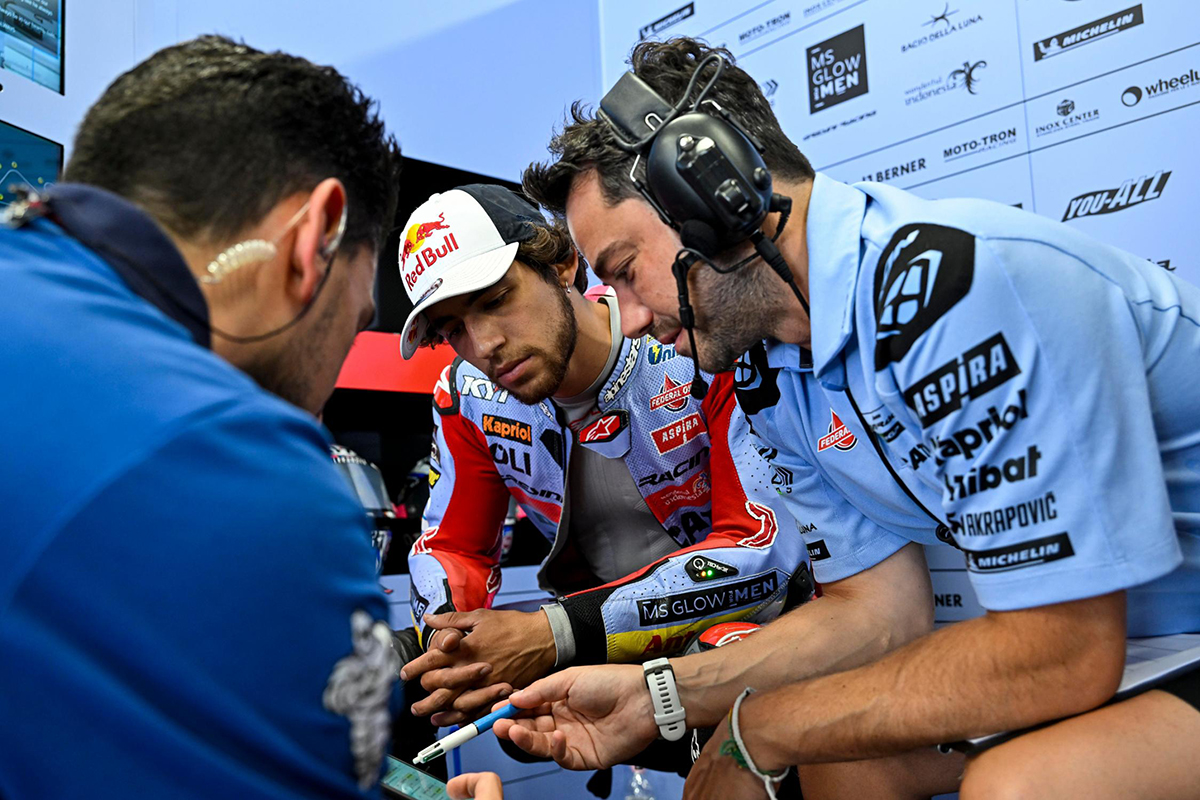 What also makes Quartararo's results so incredible is the fact that the other Yamaha's are so far behind: Darryn Binder was again best of the rest in a creditable 12th, with poor old Morbidelli behind in 13th, while Dovizioso failed to finish. Never before has Yamaha had such a poor-performing supporting cast for its star rider: indeed, often the supporting cast member has fought tooth and nail with the number one rider and beaten him – Valentino Rossi and Jorge Lorenzo, anyone?
Darryn Binder's performances are doing his MotoGP prospects no harm, of course, but that doesn't solve the problem of where he might slot in next year. We touched on the silly season last time but it is still in full swing.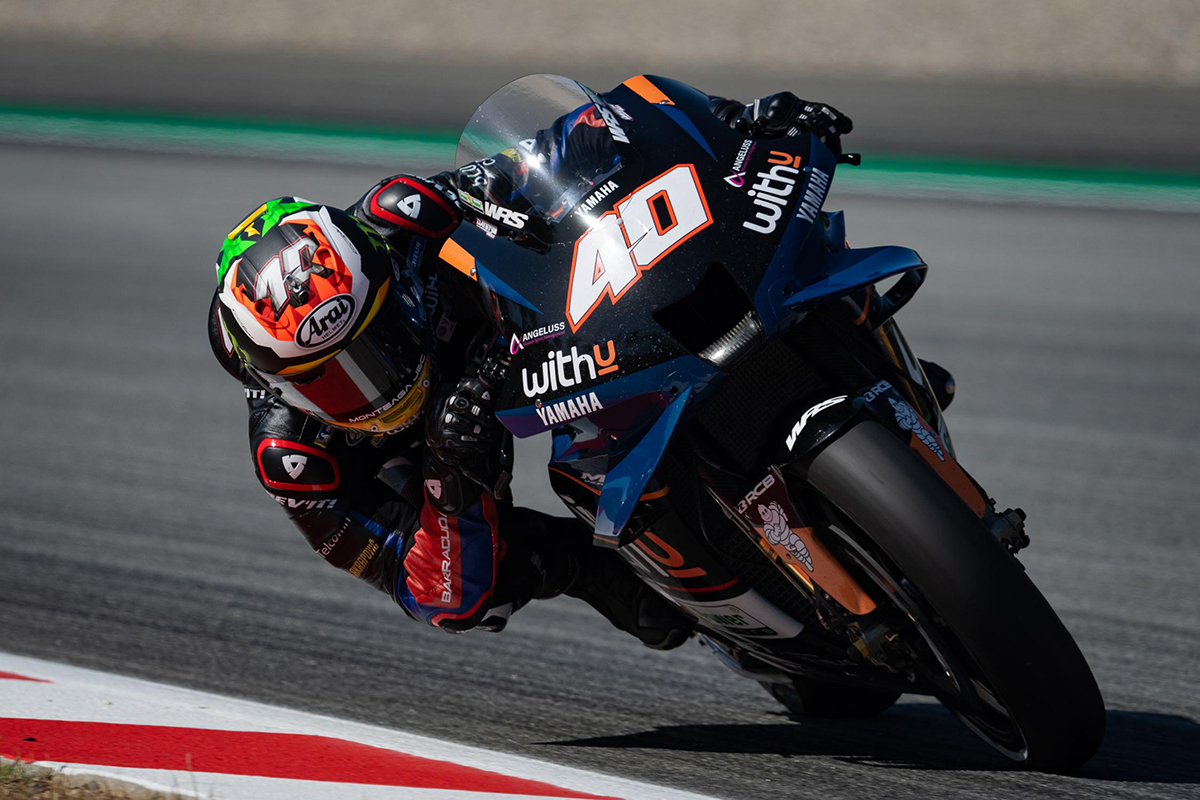 Since last weekend, not only has Quartararo inked a new two-year deal with Yamaha but the rumour mill has Jack Miller tucking a two-year KTM contract into his back pocket, signed and sealed. There's been no official word as yet but that doesn't mean there's not a grain of truth in the rumour. Miller is clearly on the way out of the factory Ducati team and so is Oliveira from the factory KTM team and while Oliveira is certainly not taking Miller's seat –  that will go to Bastiannini or Martin – signing Miller would be a bonus for KTM.
With Suzuki on the way out, both Mir and Rins are looking to make big impressions on the other teams to ensure a seat in 2023, which makes it all the more galling for Rins who was the second rider to be skittled out by Nakagami. However, while Bagnaia and Nakagami walked away undamaged, Rins broke his wrist, putting his participation in the next races in doubt: not what he needed.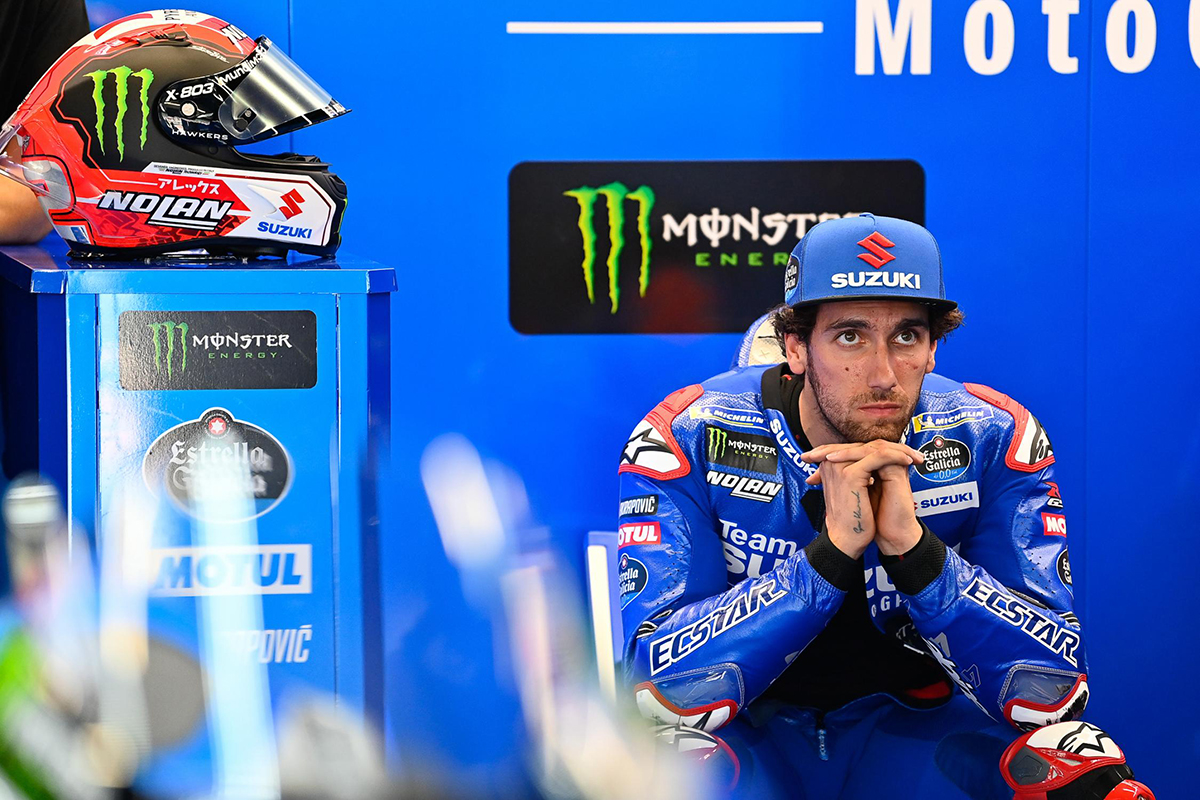 Mir, on the other hand, did his prospects no harm by finishing a strong fourth after starting seventeenth. Yes, he was helped by riders falling out ahead of him but that doesn't take away from his race pace: if only he can qualify better.
Similarly, Brad Binder needs to get on top of his qualifying performance if he is to take advantage of his race pace, which saw him finish in eighth after starting fifteenth. The drop-off of lap times in the race compared to his qualifying pace is less than the other riders but that's not much help if he is left with too much work to do during the race. Only his good start helped him to his finishing position: imagine what he could do if he qualified in the top ten.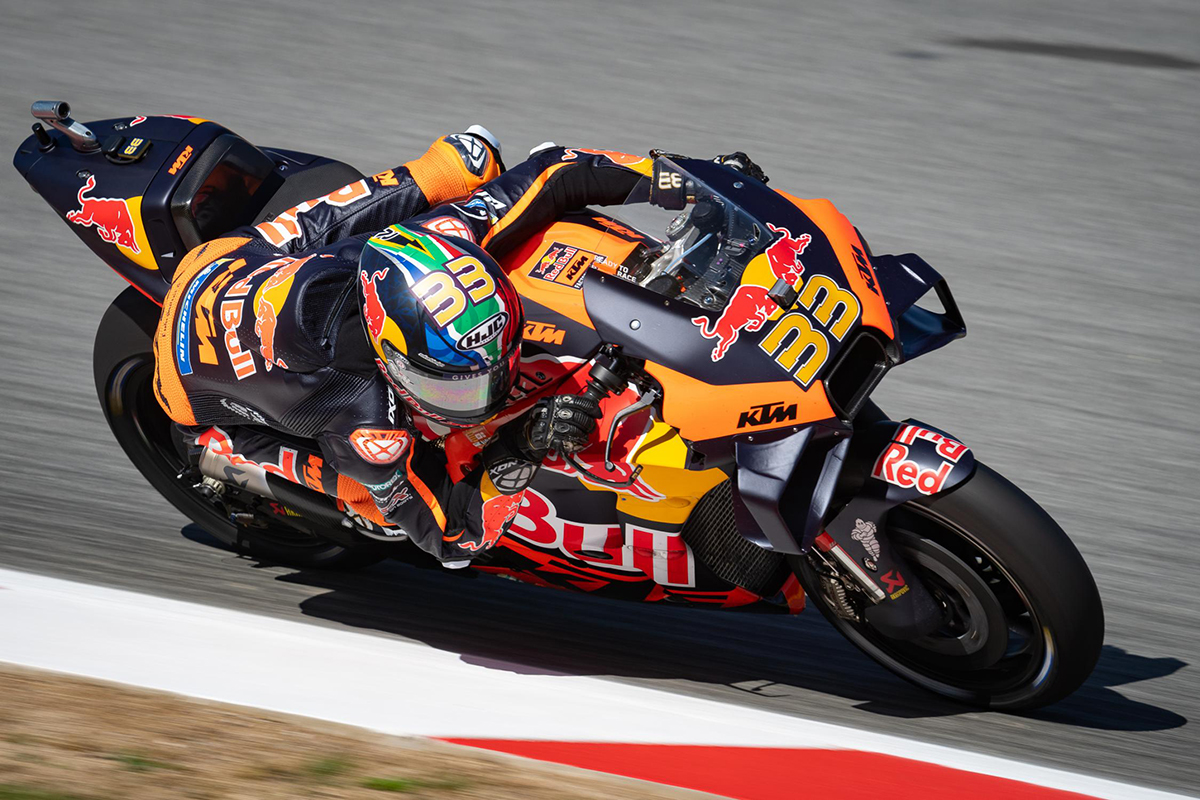 Marc Marquez has had surgery on his right arm for the fourth time and the doctors proclaimed the procedure a success but that doesn't answer when Marquez will be back to racing. If the last two years have taught him anything, it is to not rush rehabilitation. If he wants his career to continue into 2023, the best thing he can do is to do nothing before he is fully fit and ready. No Marquez on the grid is a huge loss but let's rather have a fully fit and dangerous Marquez than a shadow of his former self.
It's ironic that the next race is the Sachsenring which has been the sole preserve of Marquez for so many years. 2022 will finally see a different rider on the top step after eleven years of Marquez's domination at the circuit. In current form, it is difficult to see anyone other than Quartararo picking up the mantle.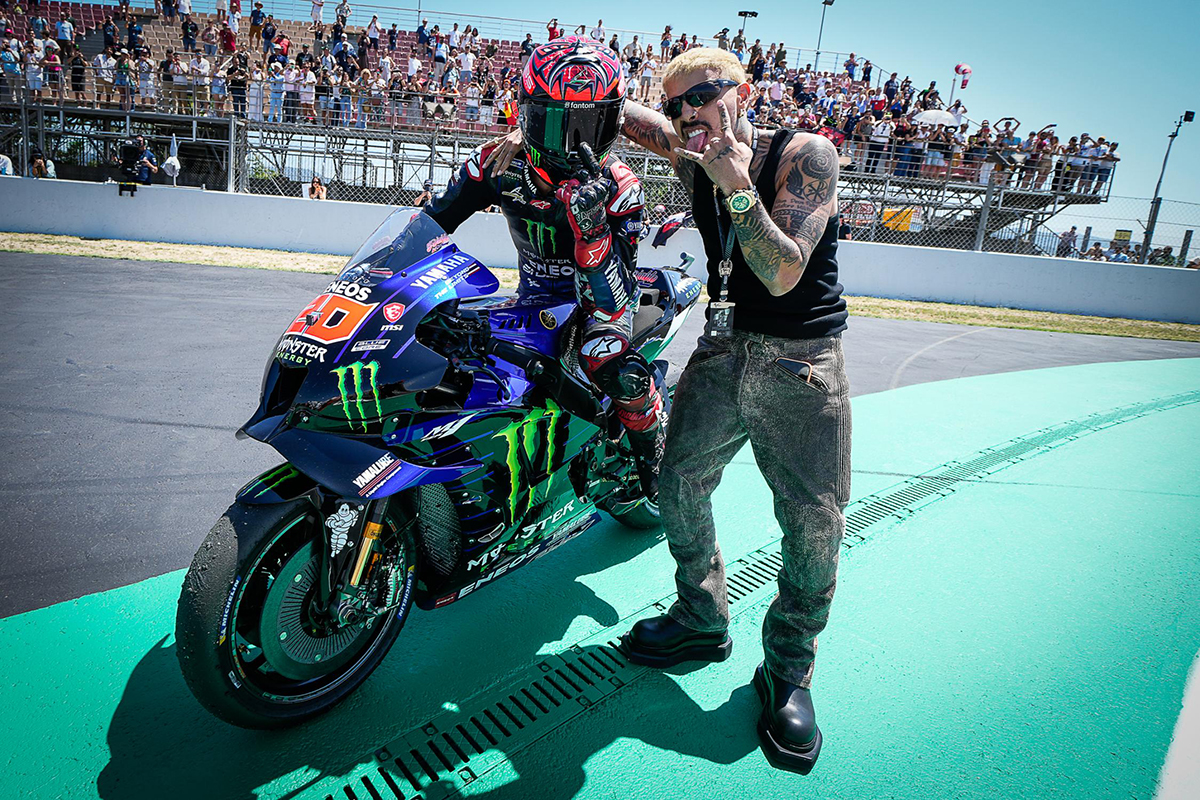 Postscript: as we were going to press with this article, the confirmation came through that Jack Miller has signed a two year deal with the factory KTM team to ride alongside Brad Binder in 2023 and 2024. No news on where Miguel Oliveira will ride, but a move to either LCR Honda or taking the place of factory Ducati-bound Enea Bastianini at Gresini Ducati are the most likely options.