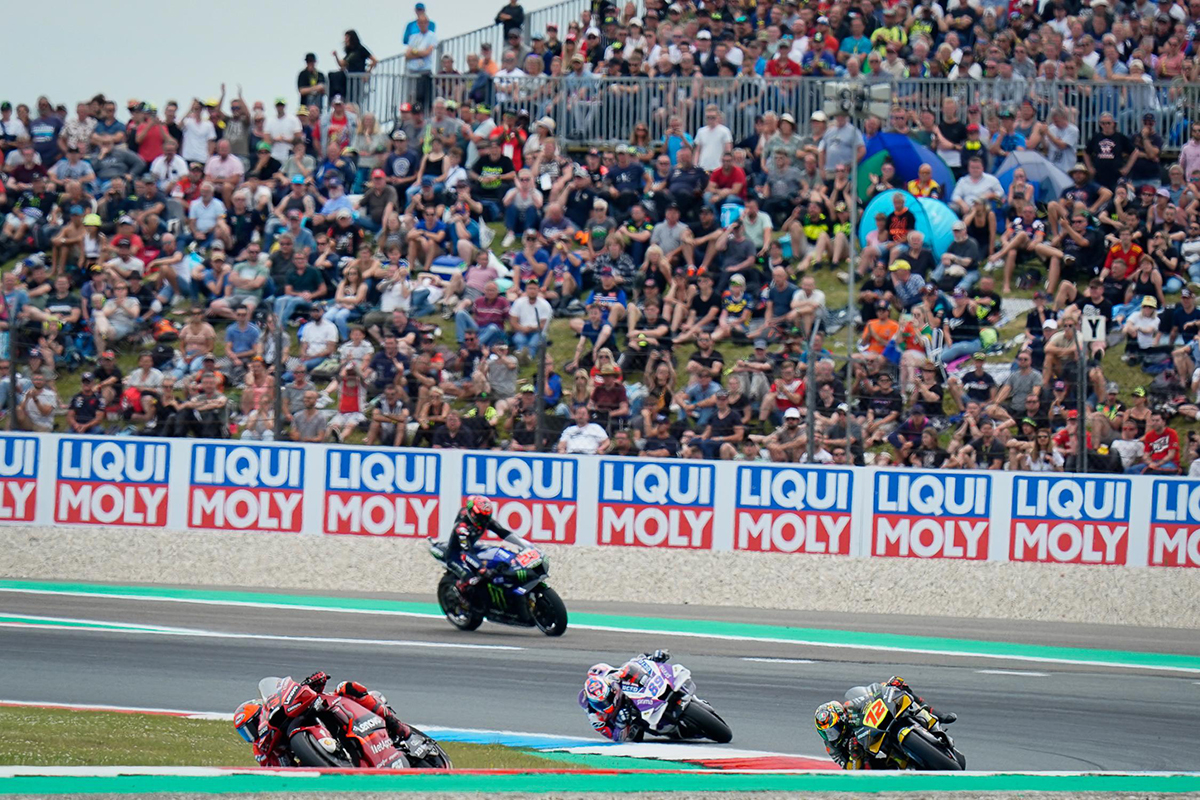 If you are a Fabio Quartararo fan, then I have an apology to make. Before the race, I had already come up with the headline for this article which was along the lines of Quartararo: An Unstoppable Force. Well, talk about commentators' curse! When was the last time we saw the Yamaha rider make a mistake of that magnitude? In the last 27 races, he has failed to finish only one! In the last ten race meetings, he has crashed only twice, crucially never on race day.
He was lucky that it was Espargaro that was involved (not that Espargaro will see it that way!): had the Aprilia rider got away scot-free, then there can be little doubt that he would have been challenging for the race win and cutting Quartararo's championship points lead to less than ten. As it was, Aleix produced possibly the ride of the decade to pull back from 15th to fourth at the flag, including an outrageous manoeuvre on Brad Binder and Jack Miller at the chicane on the final lap: that's what you call not giving up!
Whatever the result in Assen, Quartararo has to be seen as the man to beat in 2022, a feat made all the more remarkable by the inability of any other Yamaha rider to do more than tool around at the back of the field. Morbidelli must be wondering what the hell is going on in 2022 after showing such promise in 2020. Dovizioso also has to be simply marking time before he can retire at the end of the season.
Darryn Binder's predicament is not so clear-cut: in his rookie year, nothing too much is expected of him although his own expectations will be sky high as he fights for a seat at the top table in 2023. Suzuki's withdrawal has played havoc with the available seats in MotoGP: there are now simply too many top riders and not enough bikes and, while a move back to Moto2 in 2023 for the young South African might seem like a retrograde step, at least it gives him another chance to prove his worth for a MotoGP seat in 2024.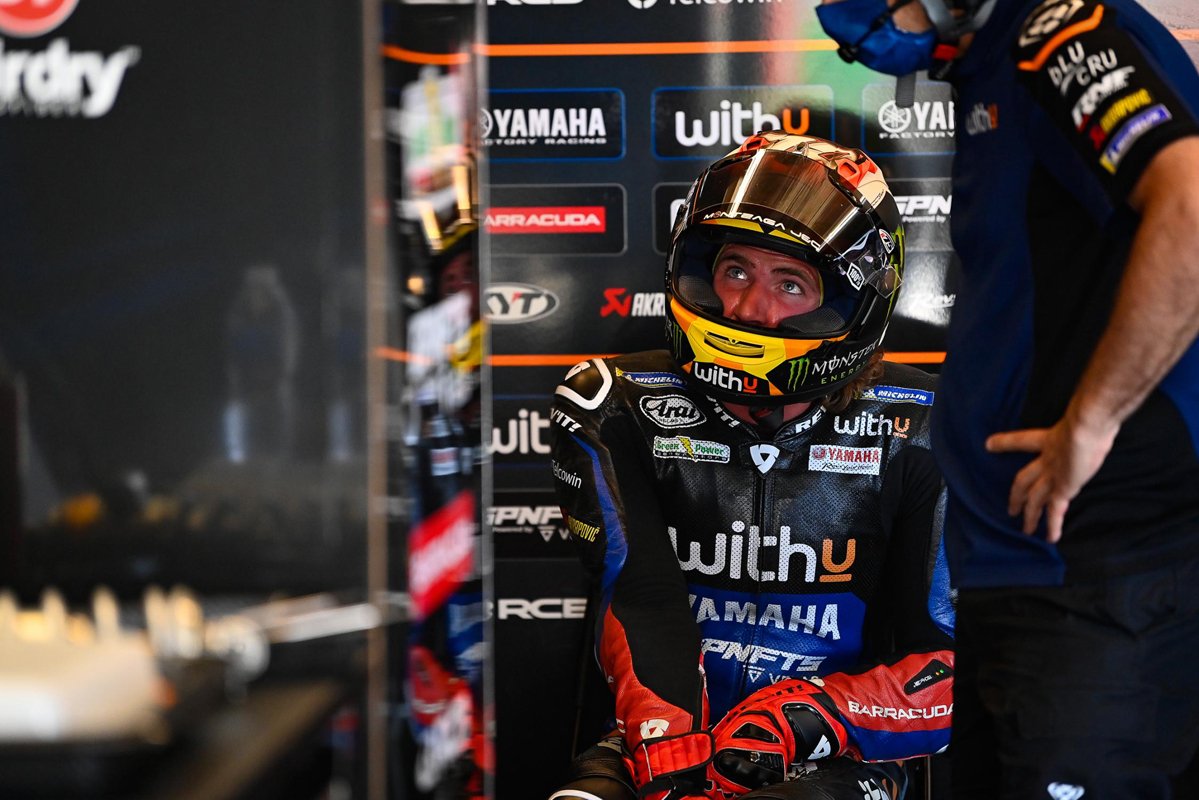 In Germany, we faced the prospect of a new winner of the race in 11 years, with the absence of Marc Marquez, away from having a last-ditch attempt to sort his right arm out. It's becoming increasingly clear that, in order to beat him, Quartararo's rivals have to get in front of him at the start, although even that tactic is ceasing to have the desired effect.
Bagnaia had the best chance of doing this in Germany but, for once, the rocket ship that is the Ducati failed to get the upper hand and Quartararo was in the lead coming out of the first corner. Bagnaia knew he couldn't relax the pressure but pushed too hard and slid ingloriously out on the fourth lap. With Quartararo's win, Bagnaia was suddenly 91 points behind the championship leader: that's the sort of gap that will be very difficult to overhaul, especially with Quartararo's current form.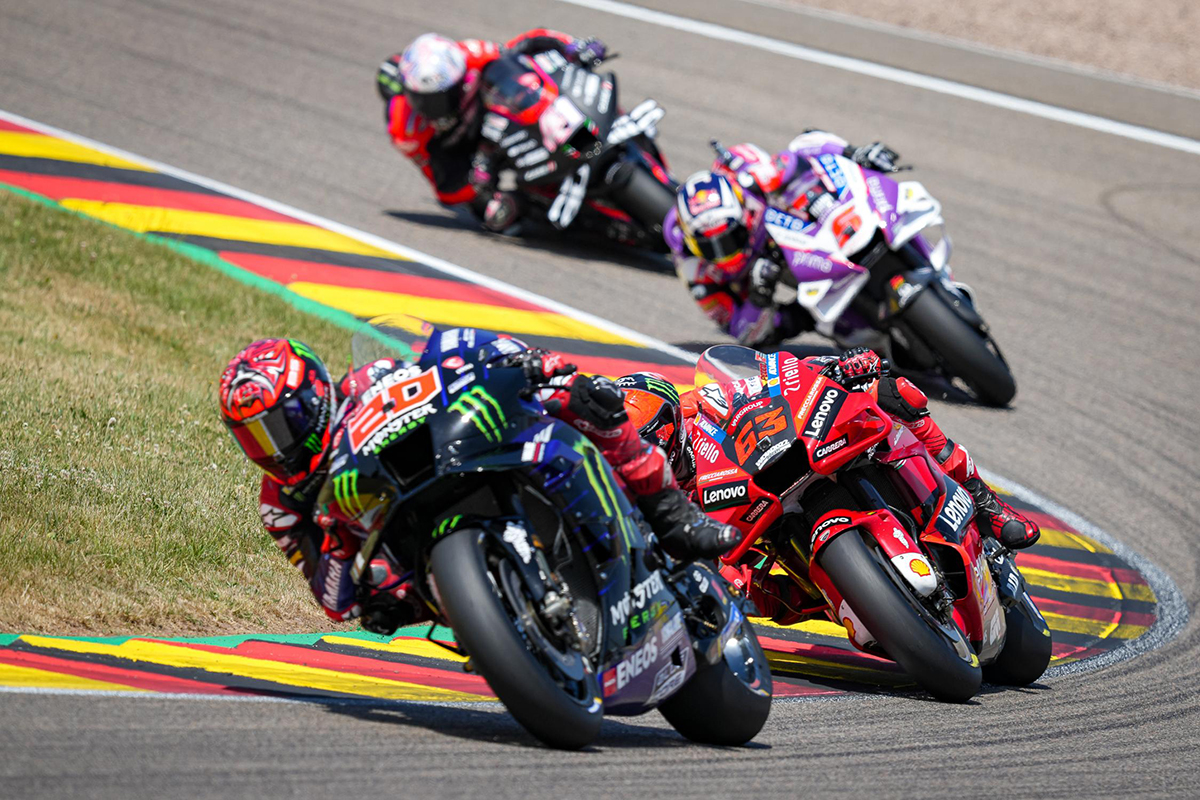 That left Quartararo to ride at his own devastating pace at the front to take a dominant victory. But the real news was how the Aprilias were faring. Viñales was having his best race yet, only for his ride height device to malfunction and force him to retire. He might have failed to finish, but you wouldn't have known it by the expression on the Spaniard's face. Here is a rider who is getting to grips with his mount and this growing confidence was in evidence at Assen, where he took his first podium on the Aprilia.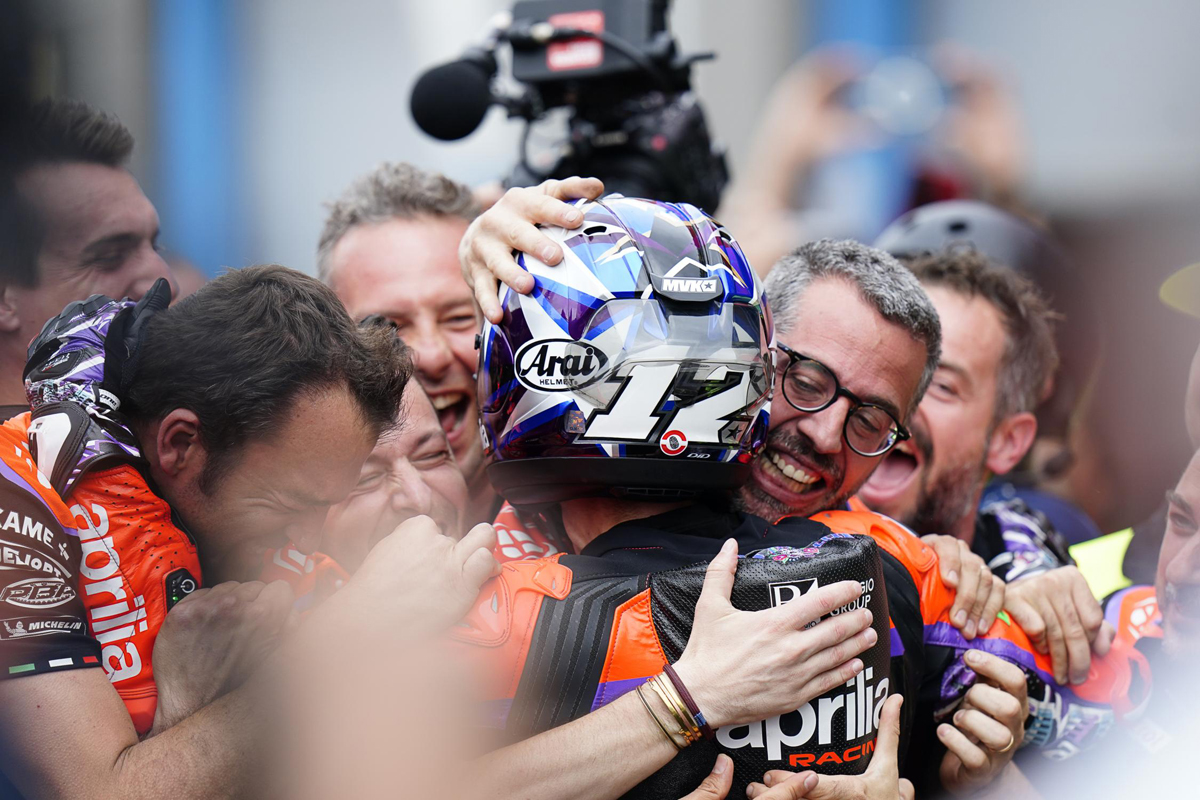 Espargaro's monumental recovery ride was something to behold. Even when he got past a gaggle of riders to be faced with a couple of seconds gap to the next rider, he simply demolished that gap and swept imperiously by. What looked like a lost opportunity to close the gap to Quartararo in the championship, turned into a mesmerising damage limitation exercise, culminating with that last-corner two-position swing, leaving him a race victory away from taking the lead in the championship.
Espargaro was trying a new type of ground effect bodywork on his Aprilia, which sucks the bike onto the ground when at a full lean angle. Because of that, he was around 12km/h faster through the penultimate left-hander leading to the chicane than anyone else. No wonder he pulled off that move on Miller and Binder.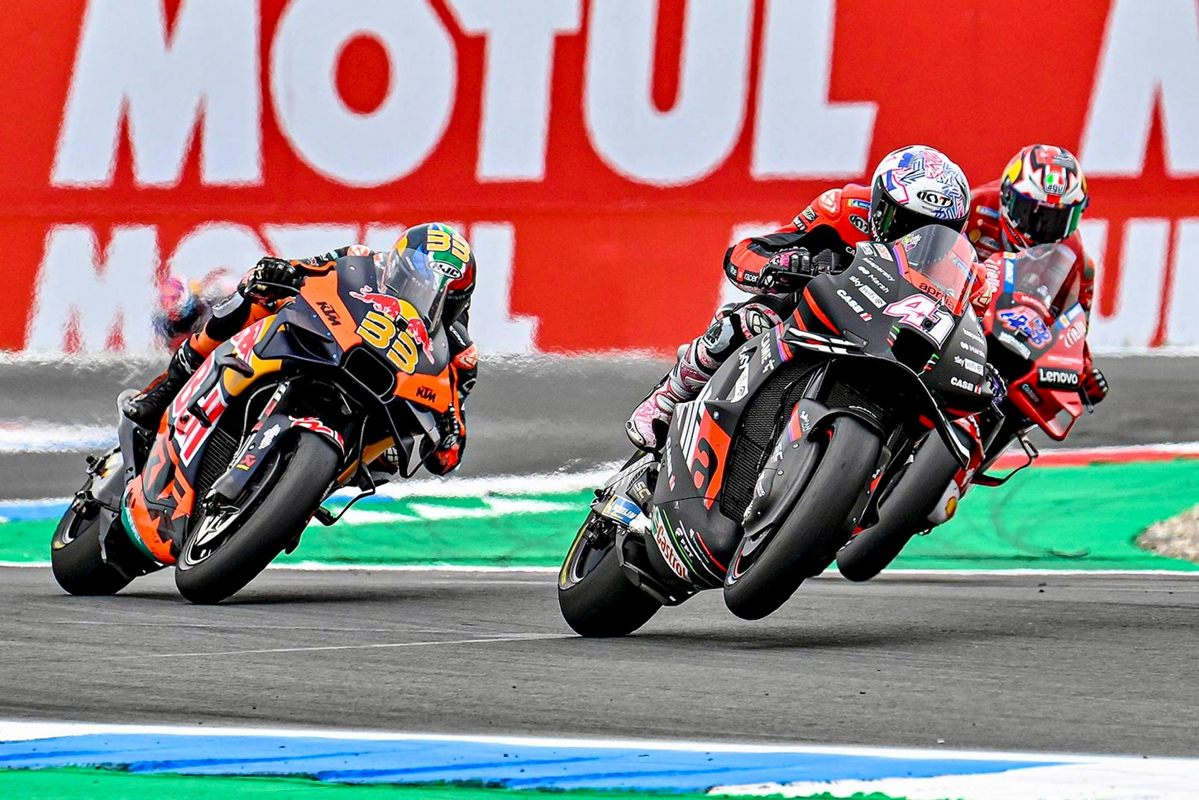 Before Assen, the thought of Quartararo making a mistake seemed impossible but a small chink in his armour appeared, as he was too impatient to get past Espargaro, conscious of both the Aprilia's and the Ducati's speed. The resulting crash gained him a long-lap penalty for the next race at Silverstone although, as Jack Miller has proven in the last two races, that isn't necessarily a barrier to a good result.
Silverstone is a top-speed track, which you have to think plays into Ducati's hands. A Ducati, no matter in whose hands, is a formidable weapon: witness Marco Bezzechi's fine second place in Assen – Valentino Rossi's Mooney VR46 team's first – where he put huge pressure on Bagnaia throughout the race; or Johann Zarco's podium finish in Germany, or Jorge Martin's second place on the grid in Assen. There might be strength in numbers for Ducati in MotoGP but that strength is worth nothing if the bike isn't up to the job. Worryingly for everyone else, it is!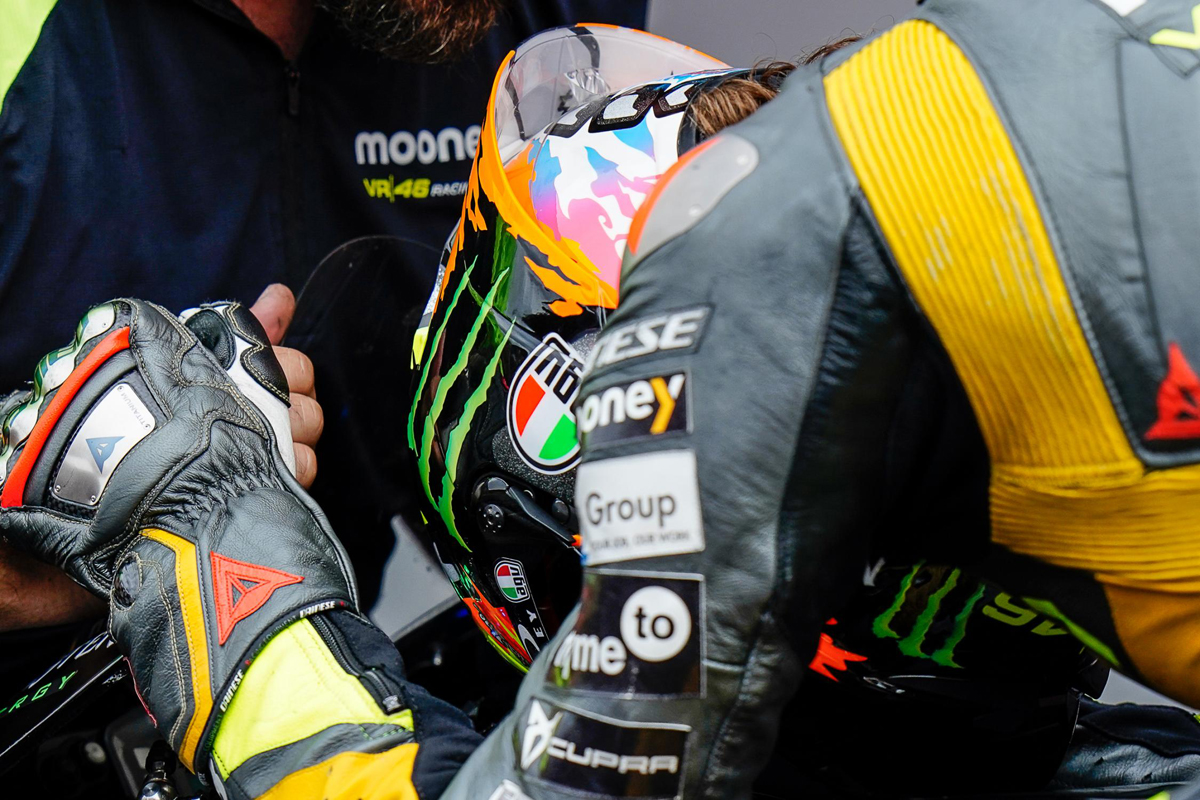 Assen was a brilliant race, even if Bagnaia led every lap. There was great racing everywhere you looked, although you have to wonder at Yamaha's decision to send Quartararo out again on what was definitely a damaged bike – his later high side showed that and it was surprising that neither rider nor team was penalised for allowing that to happen. Crashing out is one thing but then riding an unsafe bike is quite another, especially when you are a moving chicane and machinery failure could have had implications for other riders.
Quartararo's long lap penalty that he will have to serve at Silverstone was rather controversial: how did Nakagami escape such censure after taking out Bagnaia and Rins in Catalunya, which left Rins nursing a damaged wrist and keeping him out of the Sachsenring race? How about Bagnaia knocking Jorge Martin off in Qatar or Miller taking Mir out in Portugal. All racing incidents resulted in no penalties.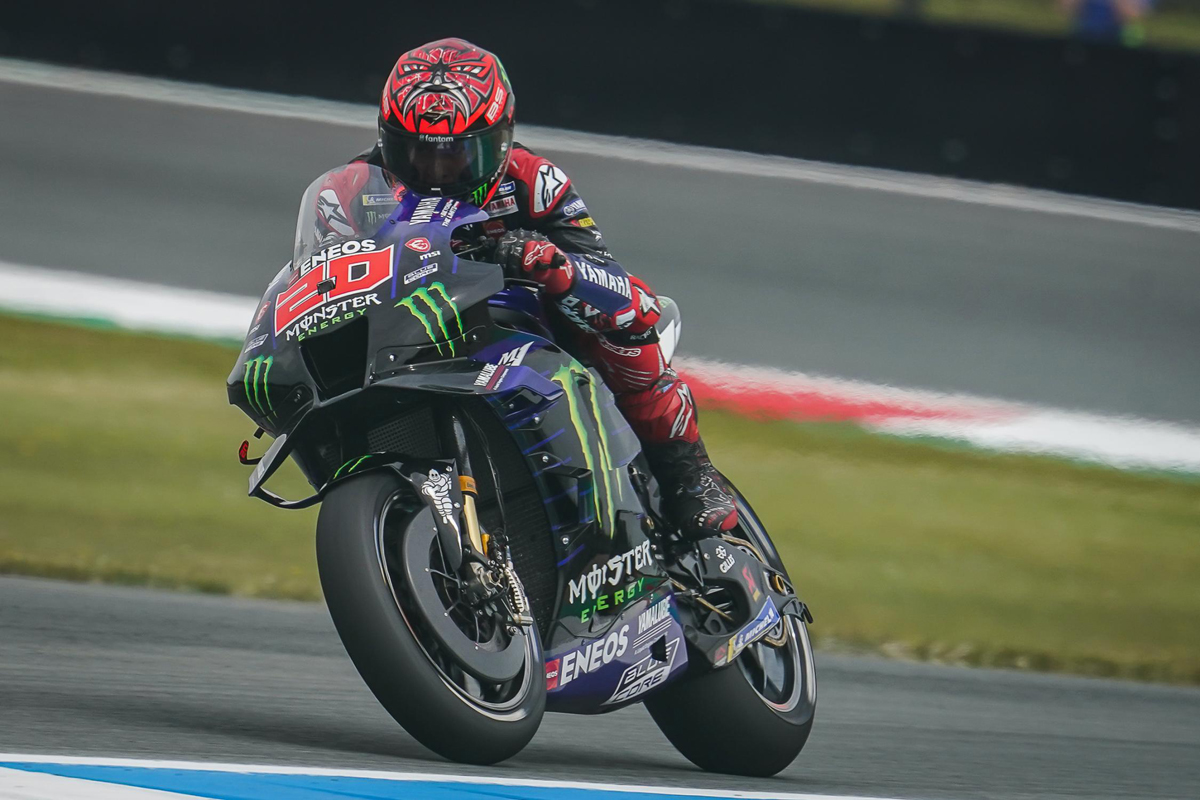 In Quartararo's case, what would have been more appropriate would have been a penalty for the team sending him out on an unsafe motorcycle. Of course, they were almost obliged to do so given the attrition rate and the possibility of rain. Even a single point could be essential at the end of the season but it doesn't alter the fact that Yamaha was putting their main asset at risk, not to mention other riders. Given the infinite possibility for even a small injury to keep a rider out for a race or two (or worse), it was a strange decision.
Assen is just one of those tracks that produce great racing. Even if the battle for the lead wasn't really a battle at all, there was so much else going on that it didn't really matter who won.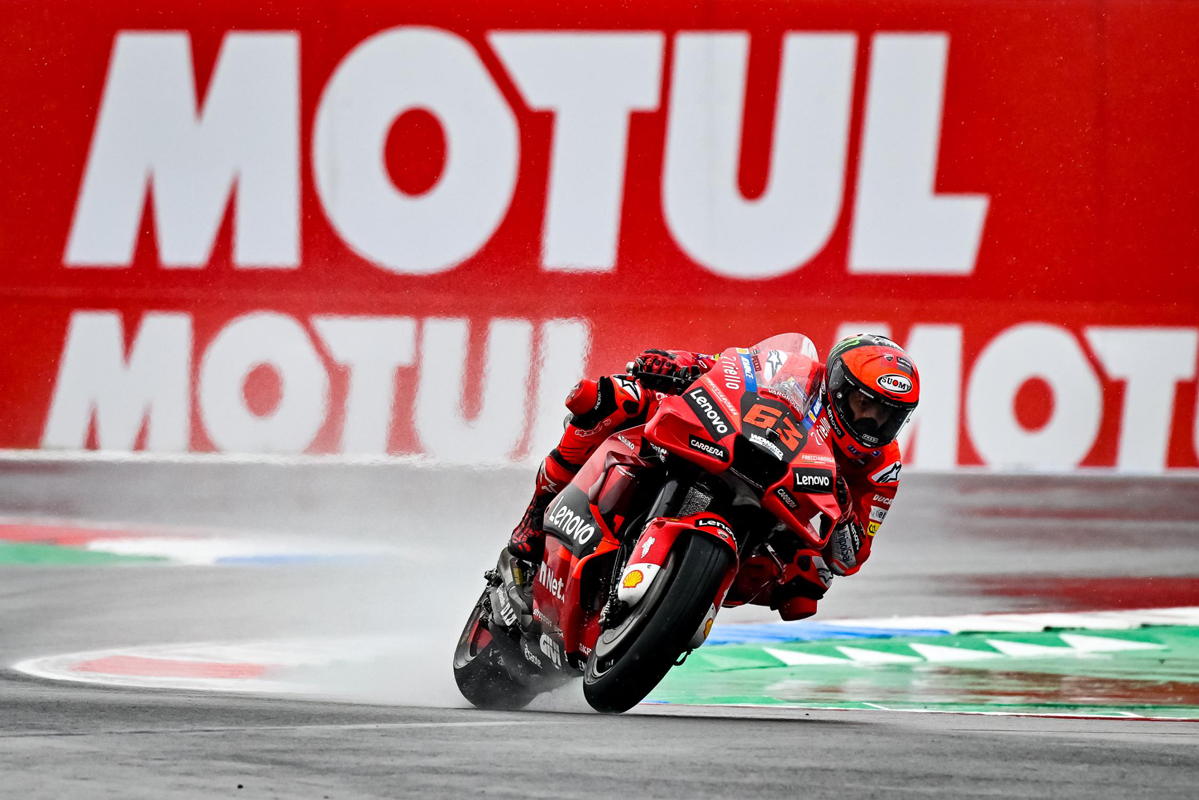 We've touched on this before but the Sachsenring and Assen were notable for another milestone in GP racing. At the Sachsenring, there was no Honda points scorer for the first time since 1981! At Assen, there was no Japanese manufacturer in the top seven finishers and that hasn't happened since 1969!
The reasons for this turnaround in fortunes will be many and varied but the statistic doesn't look like it will get any better any time soon. Next year, don't forget, there will be 16 European bikes – eight Ducatis, four Aprilia and four KTMs – and only six Japanese bikes – two Yamahas and four Hondas. Who would have believed you if you had said that even ten years ago, let alone 30 years ago!
MotoGP is at a dangerous stage right now. It only needs another manufacturer to decide to pull out and the grid is starting to get too small (imagine if Ducati pulls out?) but the prospect of another manufacturer coming in is remote: BMW has had its fingers burnt too badly in World Superbikes – too much investment for too little reward – and Kawasaki, which has always played a bit-part in MotoGP, is reaping too many rewards, also in WSBK. Who else is there? Harley Davidson? Well, after the surprises of the Livewire and Pan America, maybe it's not too far-fetched. Actually, no, it is!
But, really, who else is there? MV Agusta is too small, Moto Guzzi the same (can you imagine a transverse v-twin-engined Guzzi lumbering around the track….?) and that's about it. There are some Chinese manufacturers who could come in but, in the case of CFMoto, they would be running KTMs so that doesn't solve the problem of a new manufacturer.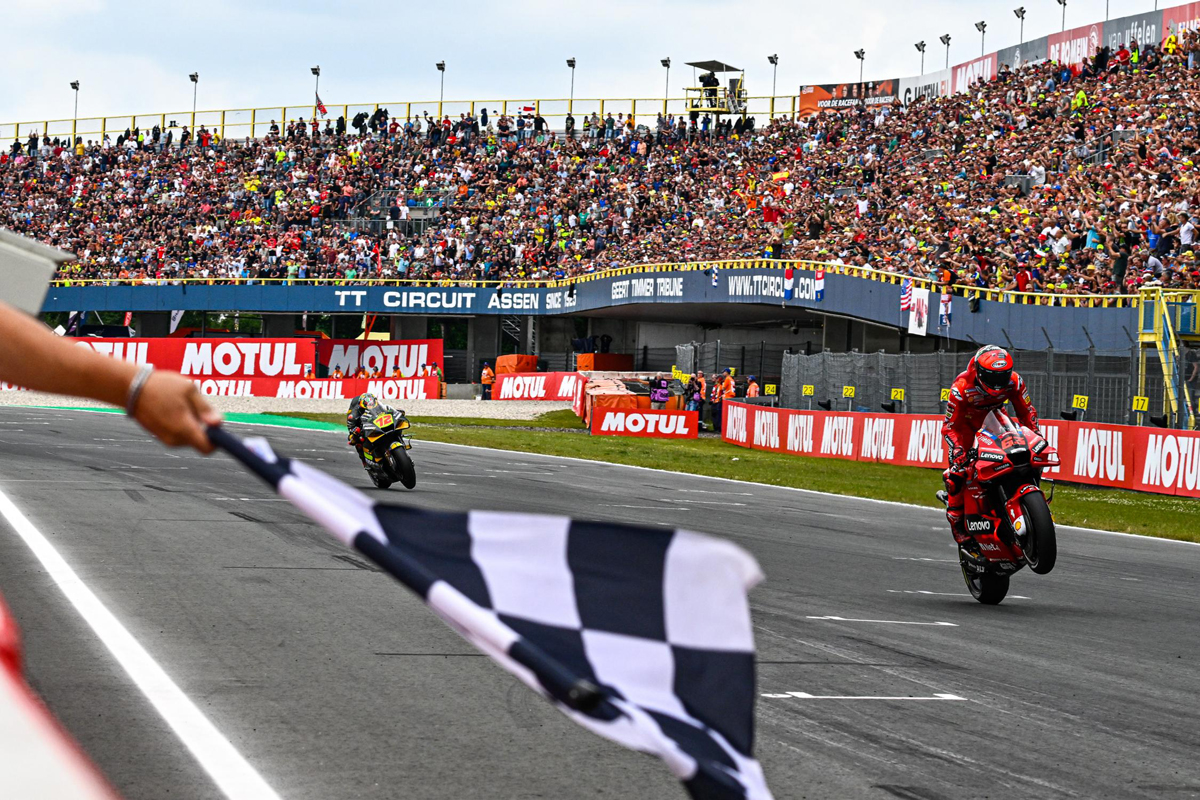 But that's too depressing a note to end on. For now, MotoGP is in rude health, with every manufacturer on the grid capable of winning races: when was the last time you could say that?
Five long weeks with no MotoGP stretch ahead of us, which will be pretty hard to bear but there are plenty of riders with wounds to lick, either mental or physical so let's just hope they all come back at Silverstone ready to fight.