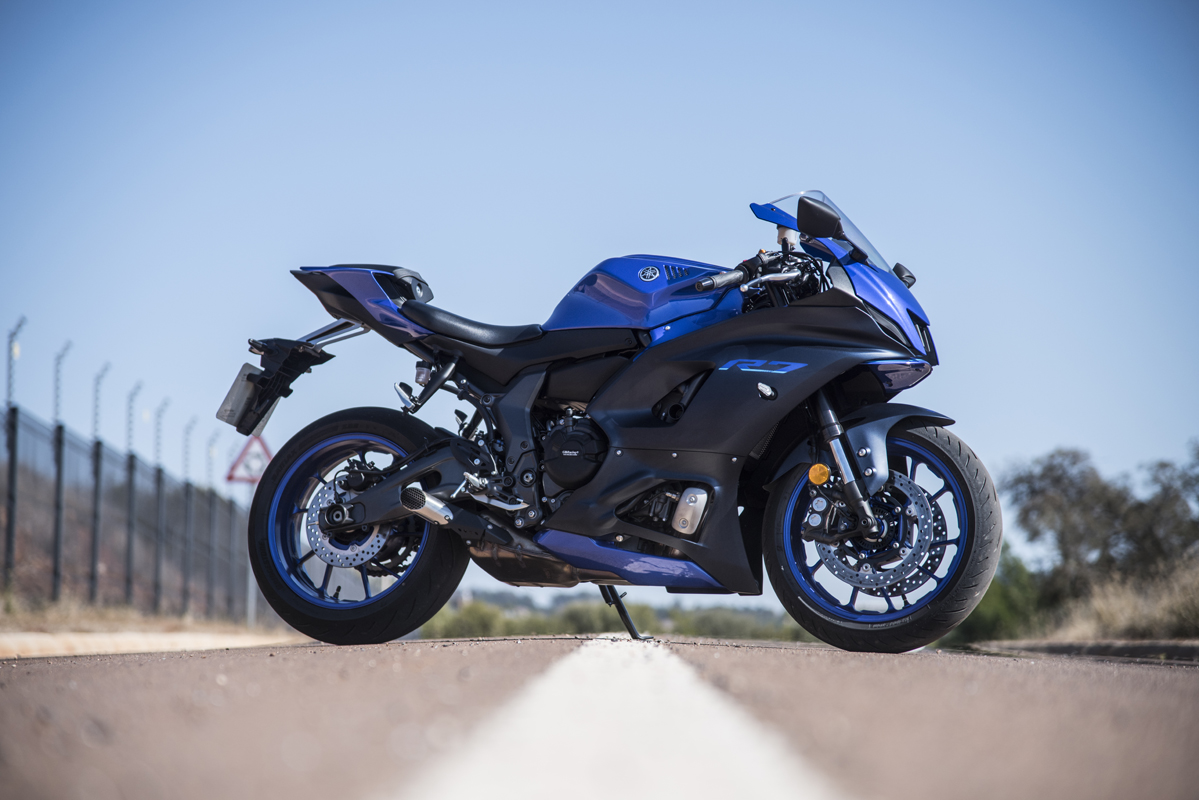 Let's face it, sport bikes are a dying breed, and have been for the last decade. Statistics prove it—more people are interested in function over form, and the extinction of the beloved 600 cc supersport is just one example. To many petrol heads this may sound like the end times, but there may be a little light at the end of this dark tunnel in the form of an 'R'-tagged Yamaha.
Yamaha seems to have listened to their consumers, and in turn has built a bike for the current market: the Yamaha YZF-R7. Gone are the inline-four screamer and stiff chassis, in are the parallel twin CP2 motor and a buttery smooth chassis. "Blasphemy," you say, "I will never, burn it alive," you say… but wait a minute and just hear Yamaha out.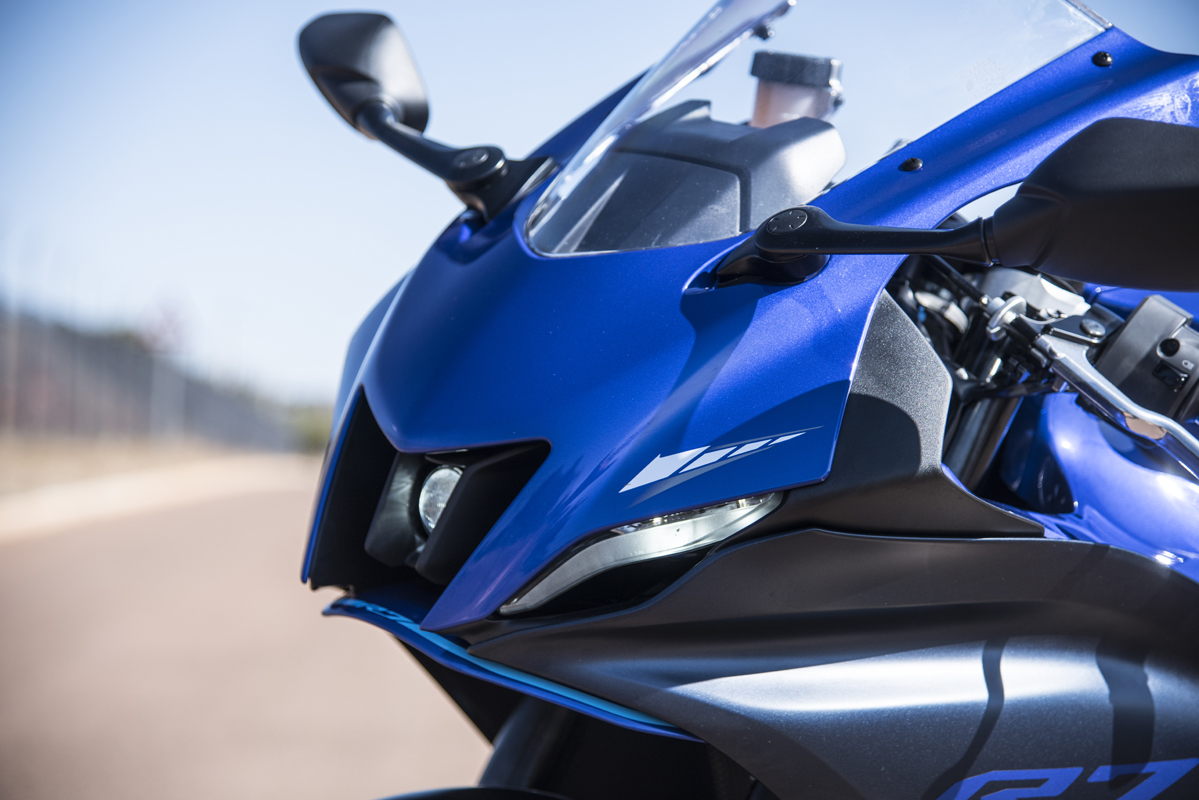 There is no arguing against the case that the new R7 isn't a 'true' R7, because it really isn't. It's not reincarnation, but rather a new creation. Yamaha is focusing on a new future where form follows function, and where bridging the gap in their range of motorcycles makes the most sense.
We need to be honest with ourselves and face the fact that we aren't all Fabio Quartararos; 1% of us are barely dried-up Dovis at best. The real question we should be asking is, has Yamaha kept our supersport riding dreams alive with their R7, or have they just built a vanilla-flavoured wannabe?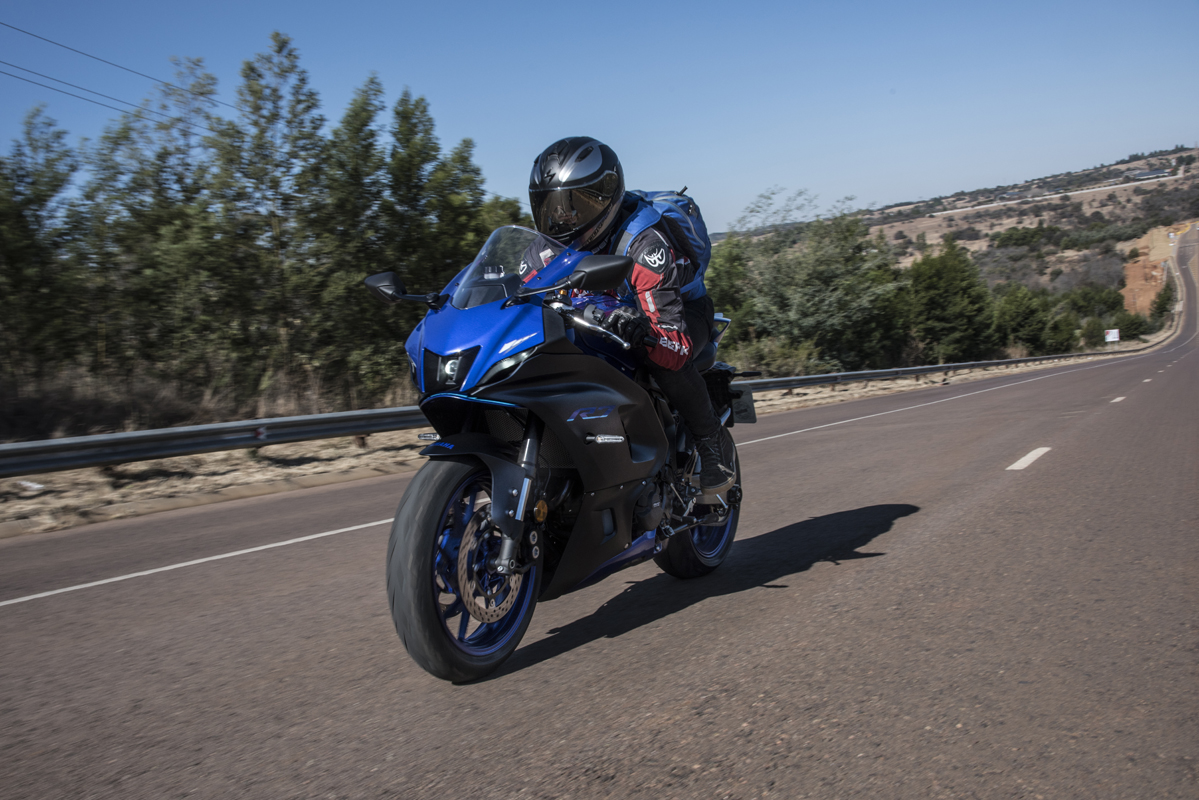 The average Joe would be forgiven for mistaking the R7 for an R6 because Yamaha has injected every last bit of their R-series DNA into this latest Yam. With its sharp fairings, indented LED lights, bubble screen, blue wheels, aero tail section, fully adjustable suspension, M1-inspired triple clamp and race-like livery, it all screams chequered flag. Even the after-market slip-on exhaust on our test bike had a bit of a GP flair to it with its steel mesh end cap. Race-inspired stuff aside, the R7 is a really attractive motorcycle that gets a 10/10 from me.
You'd expect to see the same race-style tucked behind the fairing, but Yamaha decided to stick to their guns instead, equipping the R7 with the same inverted LCD display as on the latest MT-07. It's a no-frills display with no electronic wizardry, but rather your usual trip, odo, fuel economy, speed and rpm info.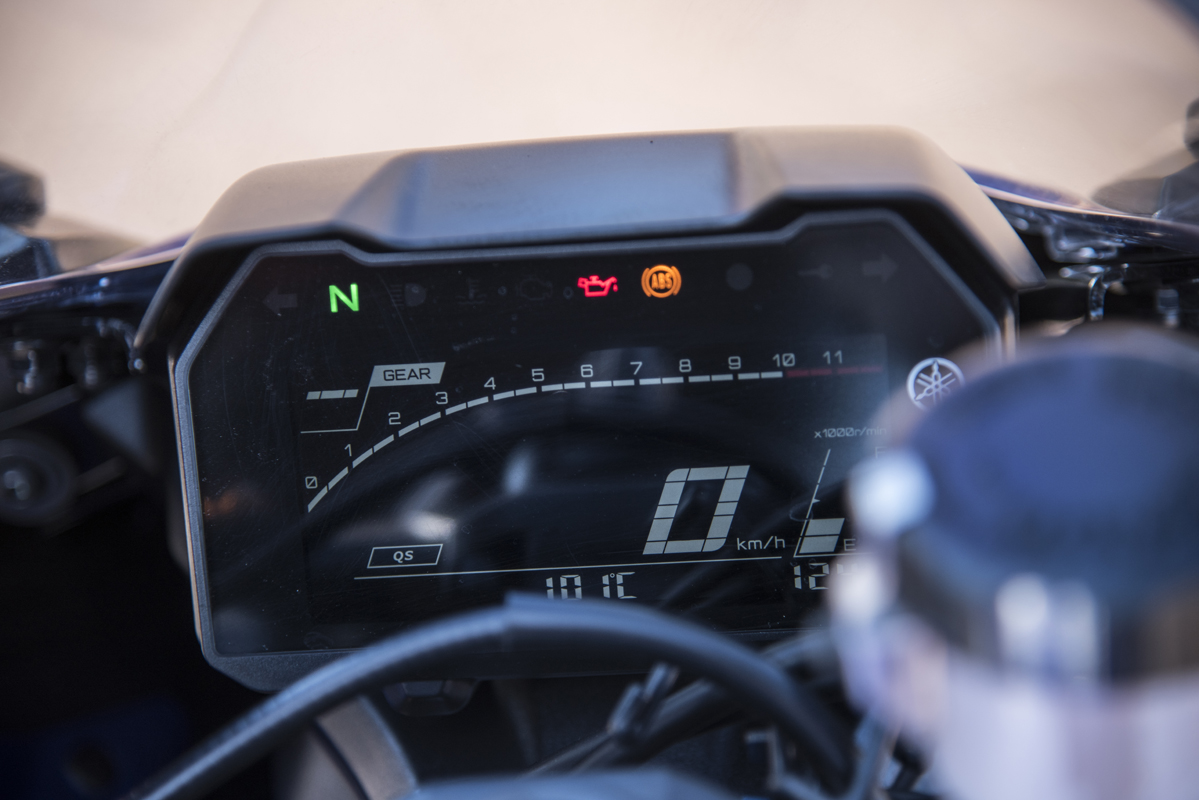 You could be cheesed off with Yamaha for the lack of electronics, or features like navigation and so forth, but the R7 doesn't need it. It's an honest bike, that does it all without needing it all. And if you're coming off of an R6, then this would still be a massive visual upgrade.
Let's talk about the elephant in the room: the CP2 parallel twin engine. Funnily enough, it has 89 ccs more displacement and 5 Nm more torque at 4,000 rpm lower in the rev range than the R6. Yes, it's got fewer ponies—but what two fewer cylinders have done is made this R a torque monster.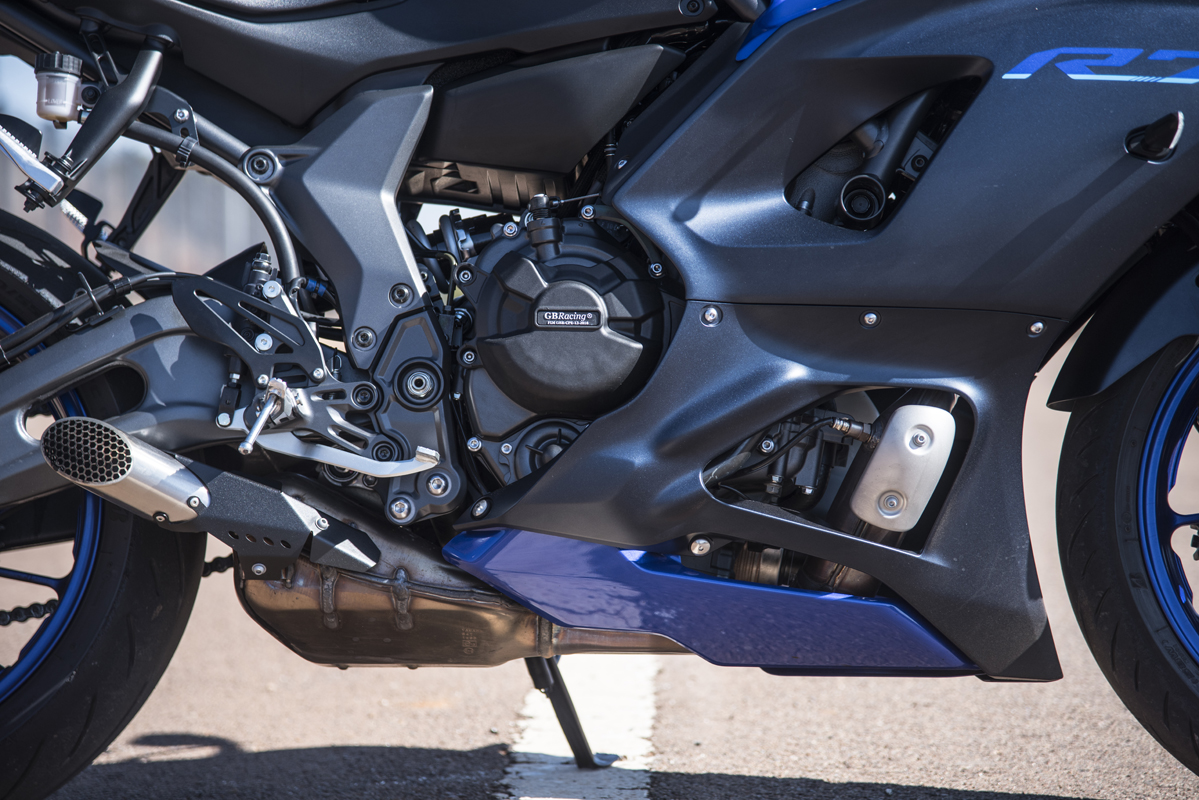 This gives riders a more manageable power band for road or tight circuit riding; no more need to drop two gears to overtake a minivan. With the ease of it all comes the pleasurable sound of that cross-plane crank—and man does it sound awesome when kicking up through the gears with Yamaha's optional-extra quick-shifter.
Placing the CP2 engine in the R7 adds a lot of positives for daily riders—the biggest being its notorious reliability which has been tried and tested since 2013. There's just peace of mind knowing you've got a bulletproof motor spread across a range of models. One thing that I have always enjoyed about this motor, and even more so in this chassis, is how it just inspires confidence when the wrist rolls back.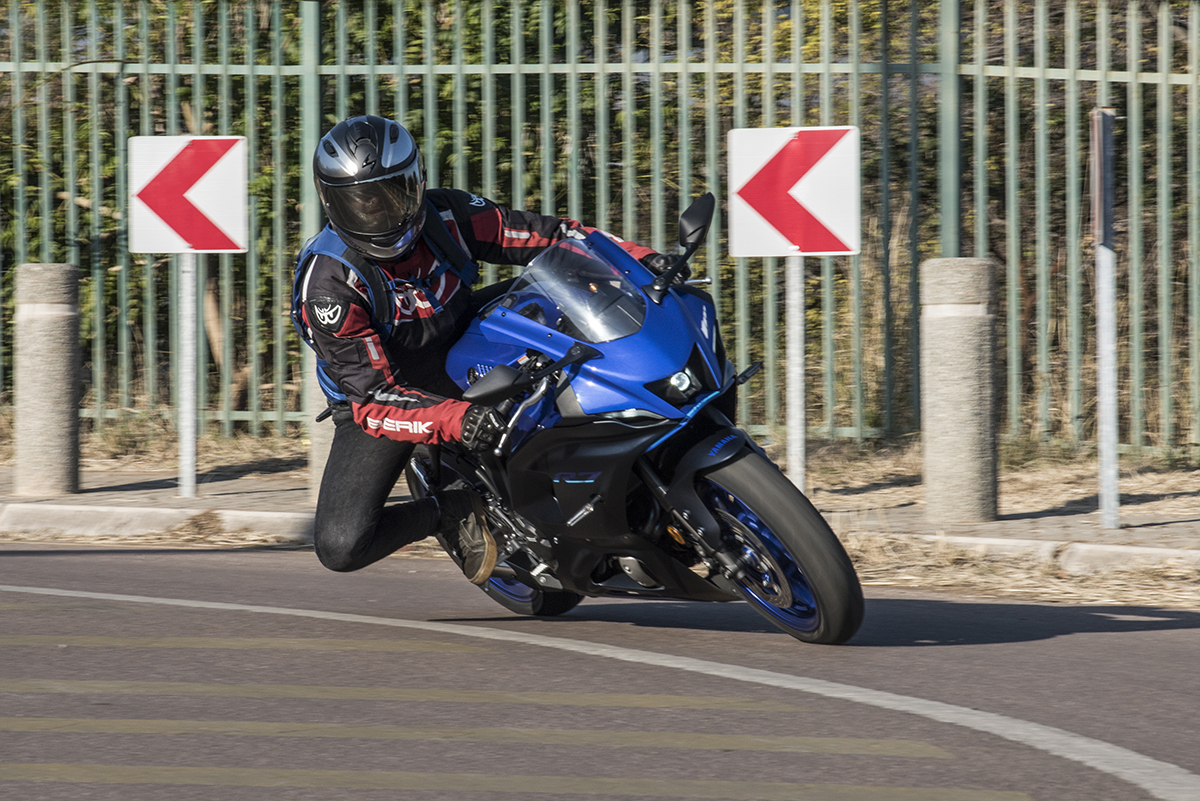 Luckily, the R7 has good fuel economy, and the reason I say luckily is that you've only got 13-litres of fuel in what looks like a Le Mans 24-hour racing tank. The R6 had a 17-litre tank—granted, it drank fuel like a dry river bed, but just imagine how far you could go with that tank on the R7. However, despite my pet peeve, the R7 will do upwards of 23 km/L with a gentle wrist and around 19 km/L when ridden hard, which gives you around 250 to 300 km on a tank. The 13-litre tank also helps keeps the R7 weight down, at just 188 kg.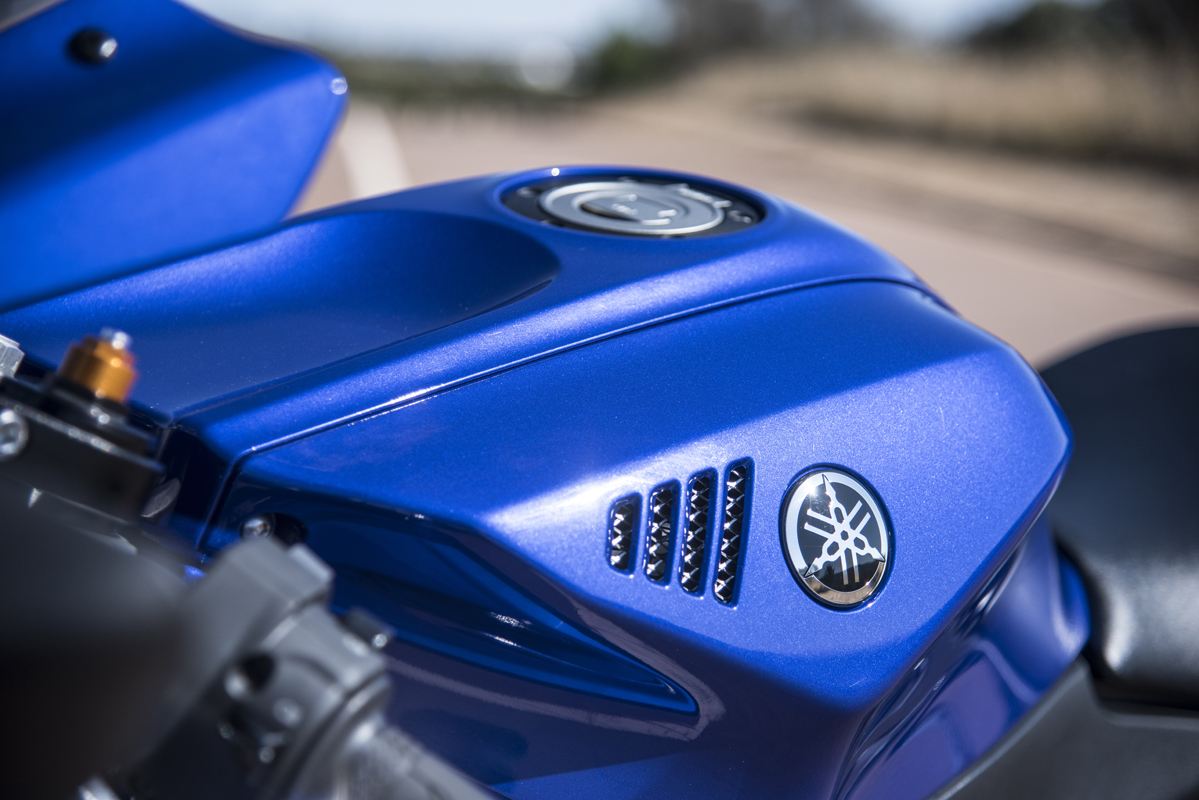 The R7 is not just a dressed-up MT-07—it's flooded with geometry changes, a different rider triangle, and a host of premium parts that just make it that much more supersport-like. Although more road-biased, the R7's riding position says otherwise. Its aggressive lean onto the bars, and high and rear set pegs are very much like a traditional 600 cc supersport, but with a comfier seat and a little less lean on the wrist.
With a seat height of just 835 mm, the R7 sits 30 mm taller than the MT-07, but a good 15 mm lower than an R6, which gives room to a wider number of riders looking for a perfect fit. At just 175 cm tall and 80 kg after breakfast, I found the seat height perfect with both feet almost flat, and plenty of room to move between the tank and tail.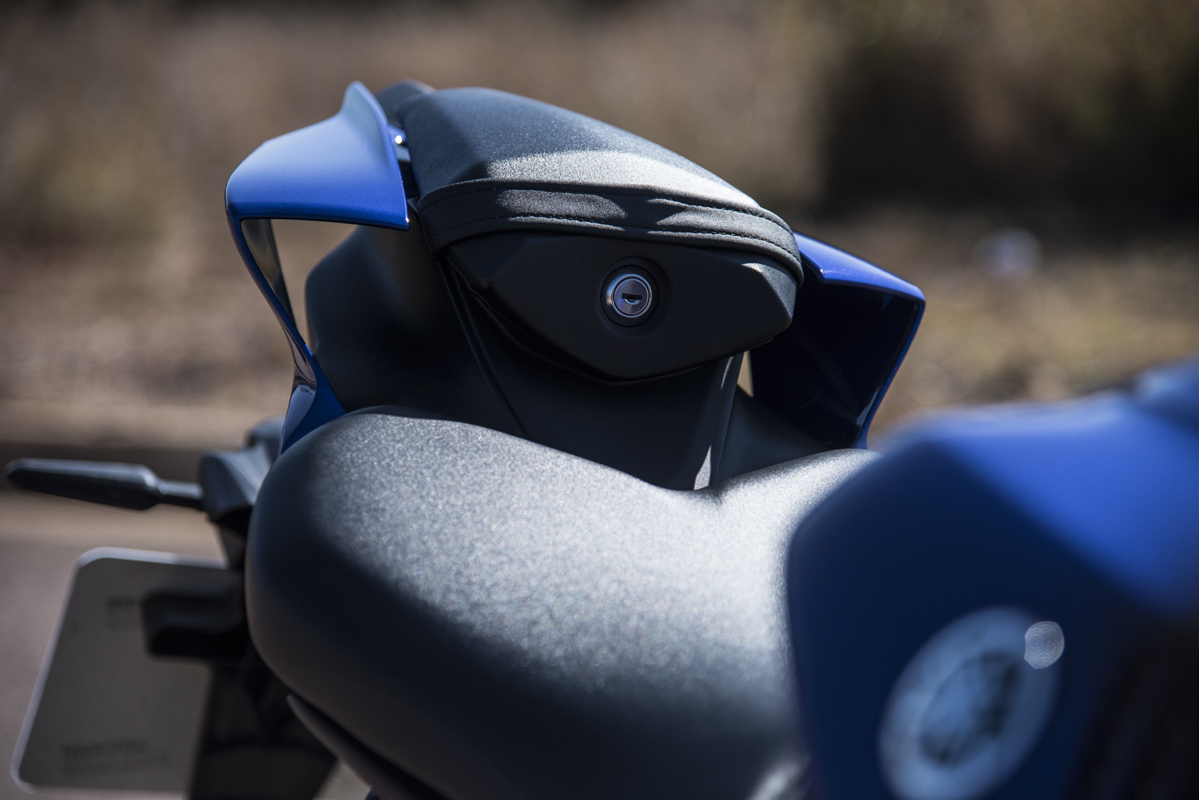 I kept the R7 off the race track and spent more time enjoying it on the black stripy stuff that 90% of all R7 owners will most likely see. On the road, the R7 feels planted yet plush when riding on typical urban routes, which has never been the case on a supersport. With its sophisticated fully-adjustable KYB suspension and steep rake angle on the forks, I can honestly say that there's no comparison between it and an MT-07. It just feels way more agile and stable and in turn a much more rewarding bike to ride.
The Brembo master cylinder helps get the job done with a great sense of brake feel and modulation sent down into Yamaha's ABS-equipped OEM callipers. It's not often that I'll mention the tyres of a motorcycle in a test, but man do I love the Bridgestone S22s on the R7; a great factory-fit tyre from Yamaha. It's these small hardware items that showcase the thinking of the blue brand, and how it works closely with its test riders to polish the final product.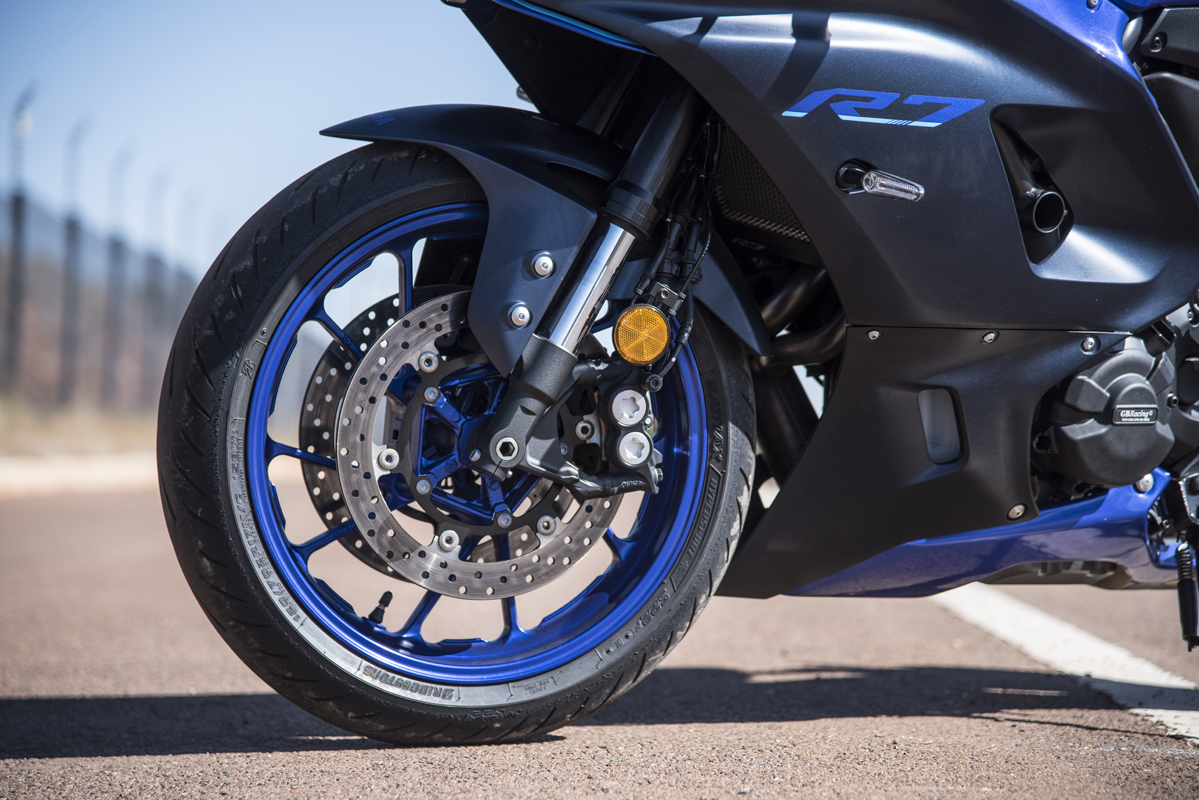 All in all, the Yamaha R7 captures the essence of the past R-series bikes and brings it back to life in a more practical and rewarding package that many different riding calibres can now enjoy. If there was anything to complain about or dislike, it would be the bad passenger accommodation, and how the rider triangle may be a bit hardcore for touring or long daily commutes. Other than those two gripes, I think the R7 is an awesome option for riders looking for a bit of an in-betweener.
So, what's the damage, you ask? The YZF-R7 is priced pretty well in my books at 180k for the base, before adding any upgrade packages from Yamaha. These packs (named 'Style' and 'Adrenaline') include all sorts of goodies like a quick-shifter, tank side grip pads, brake lever guard, different screens, tail tidy, racing rear sets, seat cowl and a full sports exhaust system. In my book, even after personalising your R7, it's still a good value proposition and plenty worth it.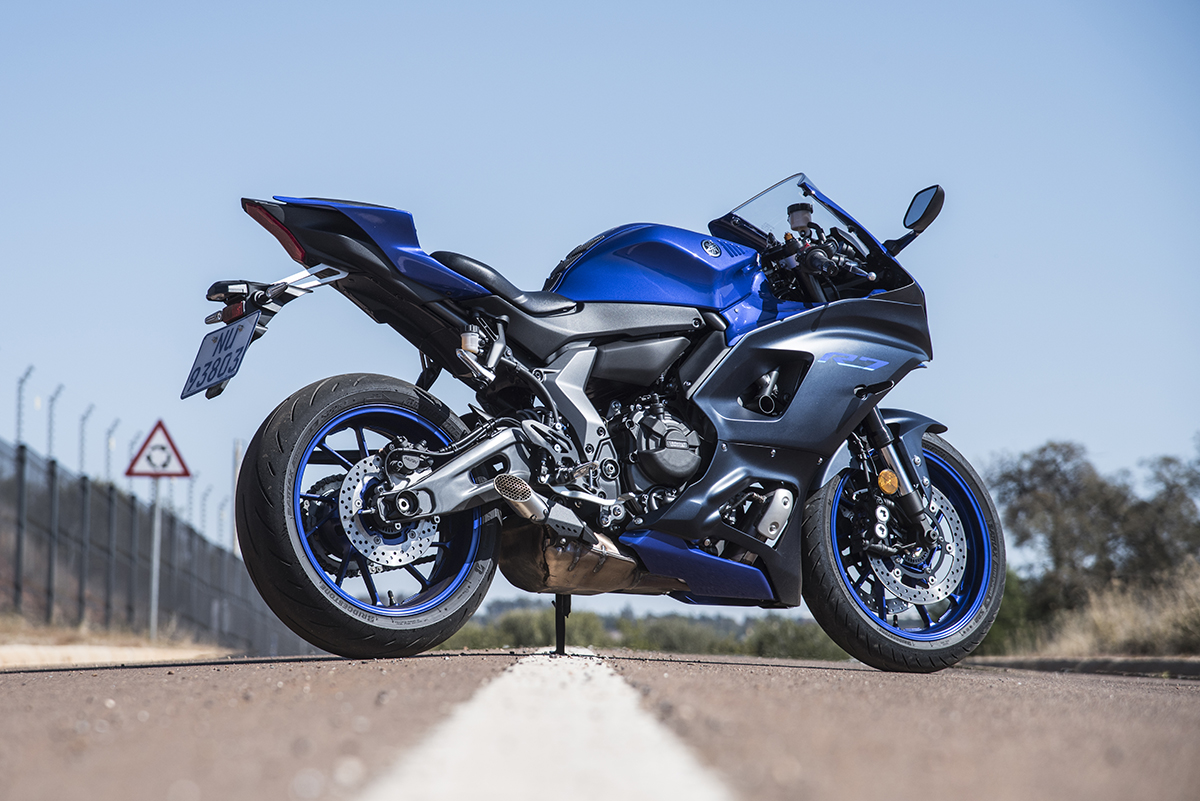 Yamaha YZF-R7
For more information on the bike that we tested in this article, click on the link below…