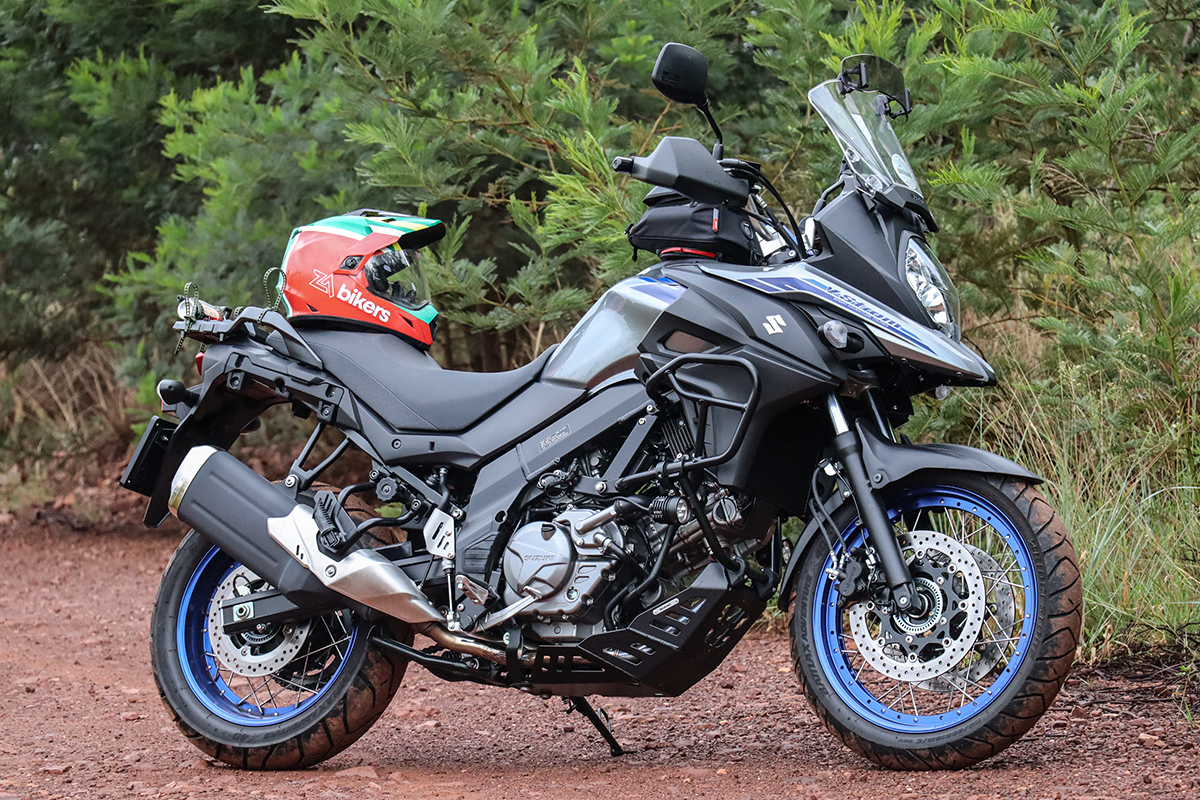 Some bikes have been around for such a long time that we tend to gloss over them when considering our next bike. With the latest version of their venerable V-Strom that would be a huge blunder. The XT spoked wheel version of Suzuki's latest 650 V-Strom is, without a doubt, the best small Strom yet. The styling is a trifle quirky, but it has grown on me over the year we have spent together and I think it is quite a handsome beast. The silver and blue colour scheme of my bike, with its blue anodised wheels look, to my mind, particularly good.
To best understand the strengths of the V-Strom, I need to explain how it fits into my stable of bikes. I ride motorcycles daily as my primary and preferred means of transport. Bikes that may be incredible recreational, weekend rides, may not be as enjoyable when pressed into daily duty. The DL650 XT V-Strom fills the daily driver slot in my bike stable. That means it must be multi-talented without any seemingly benign irritations that may become festering sores over time. So, how has the mid-sized Strom stacked up over the last year and 8000k's?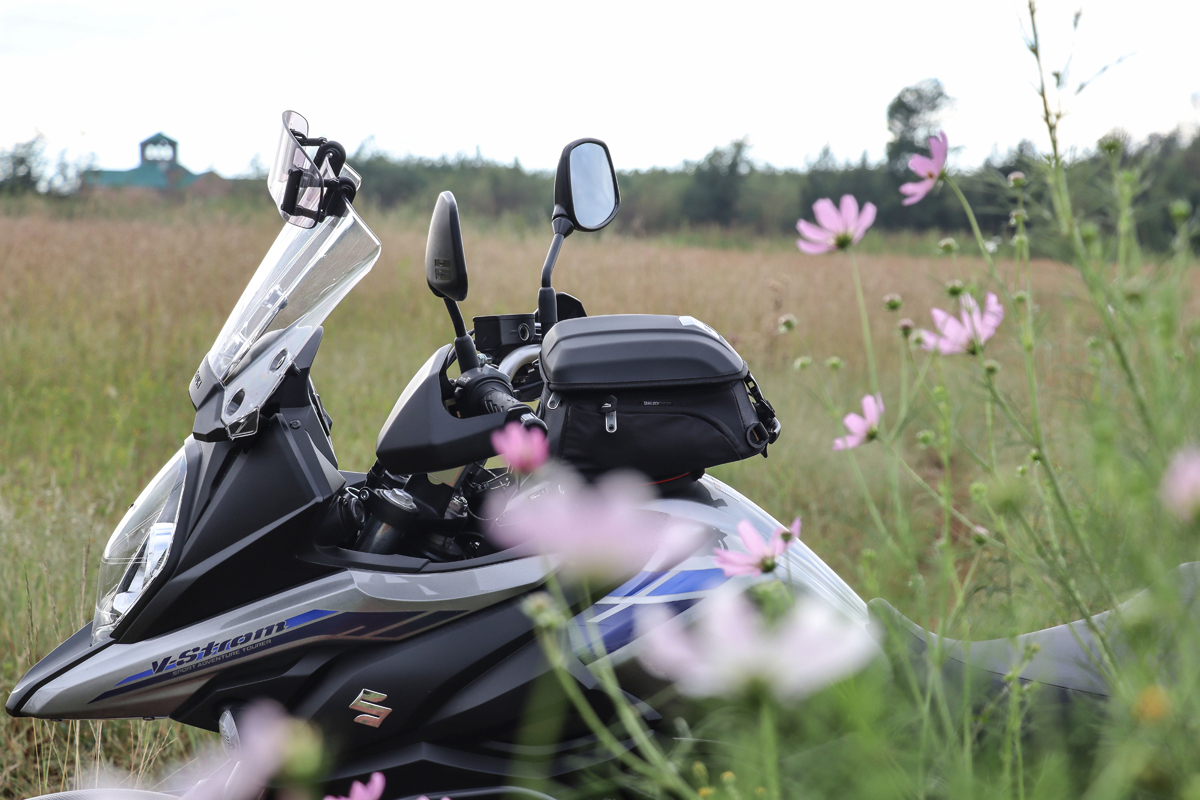 Let me start by saying that the Strom replaced two bikes. I was finding the sheer bulk of my BMW R 1200 GS Adventure a bit intimidating after losing some strength in my left shoulder after a dislocation. I was using Yamaha's excellent MT-07 Tracer as my daily runabout. The Strom replaced these two bikes. It gave me the dirt road ability which my Tracer lacked yet still allowed the off-road touring that my GS offered. Let me just say that I still believe the big GS to be one of the best long-distance all-road motorcycles that money can buy. Shaft drive, brilliant weather protection, comfort, and the unburstable boxer motor is an incredible recipe for enjoyment. There was also an obvious financial benefit to consolidating the two bikes into one.
The Strom endeared itself to me from the word go. It is an absolutely unpretentious motorcycle. It has all the road ability of the MT-07 Tracer and then some. The label on the beak reads 'Sports Adventure Tourer' and that is exactly what it is. I have way too much sympathy for my bikes (and way too little money to waste) to take a large Adventure bike and destroy it by trying to ride where 'plastic bikes' are intended to ride. I do get it as to why there are those that want to pit their skill against nature's obstacles, irrespective of the cost, I am just not that guy.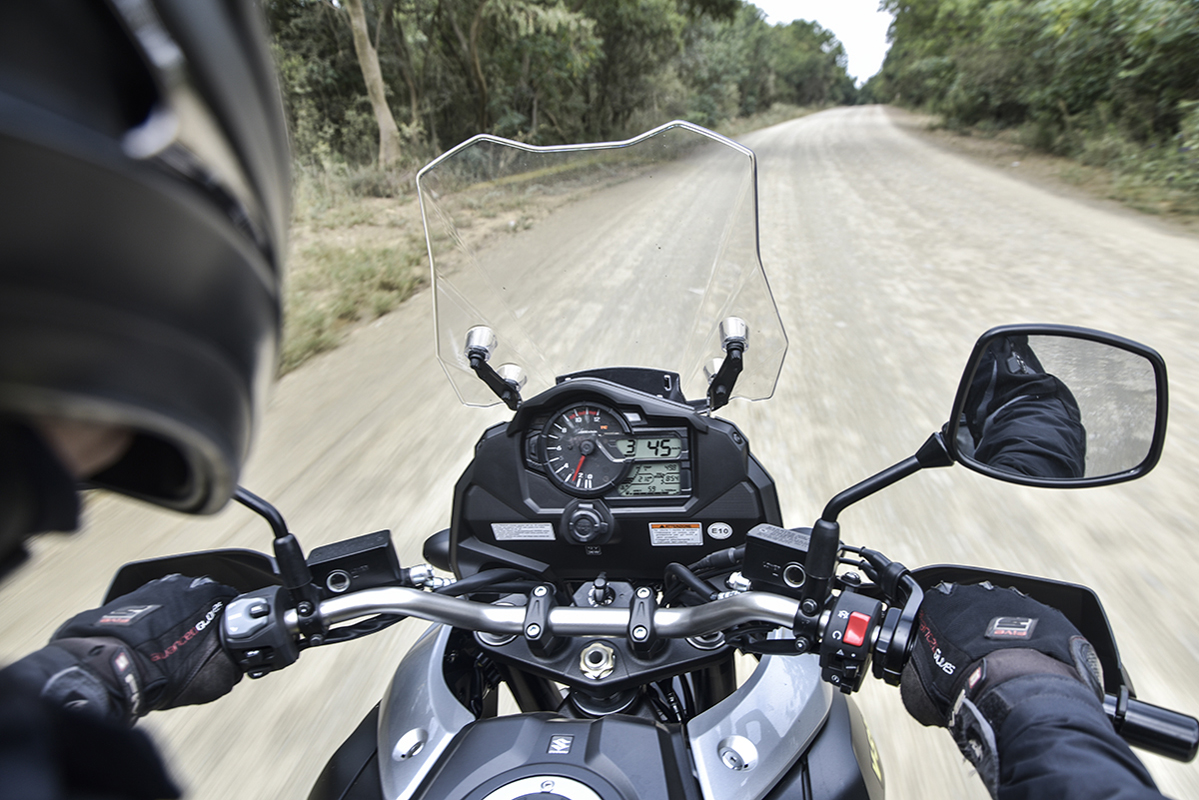 Having said that, I want to go to out-of-the-way places, which does necessitate some off-road ability. The DL650 XT will get you there, no problem, just not at a race pace. The suspension is perfectly adequate, albeit with less travel than its more aggressive peers, to allow you to cross the Makgadikgadi Pans, traverse Namibia's Khomashochland or visit Die Hel (Gamkaskloof), Swartberg Pass, tour the Tankwa, or wherever else a dirt road may take you. But here is the thing. It will do it in a practical and utterly reliable way that is both enjoyable and reassuring.
The Strom is really comfortable for long days in the saddle, ace up, or carrying a passenger. The 20-litre tank gives a decent range, negating the need to pack extra fuel. Riding conservatively at the speed limit, has given me up to 500 k's on a tank. I routinely get over 440 k's in my town and around commute. It is perfectly geared too. You can catch a hurry-up and cruise at 150 kph and still be 3,000 rpm from the redline. A level of vibration is apparent at high revs when accelerating hard through the gears, however, when cruising at a constant rpm the motor is wonderfully smooth. The V-Twin 645 cc motor is torque-rich at low revs, meaning that I seldom exceed 5,000 rpm in general riding. The seat is spacious and comfy and allied to a decent windscreen making the bike properly comfortable for distance travel.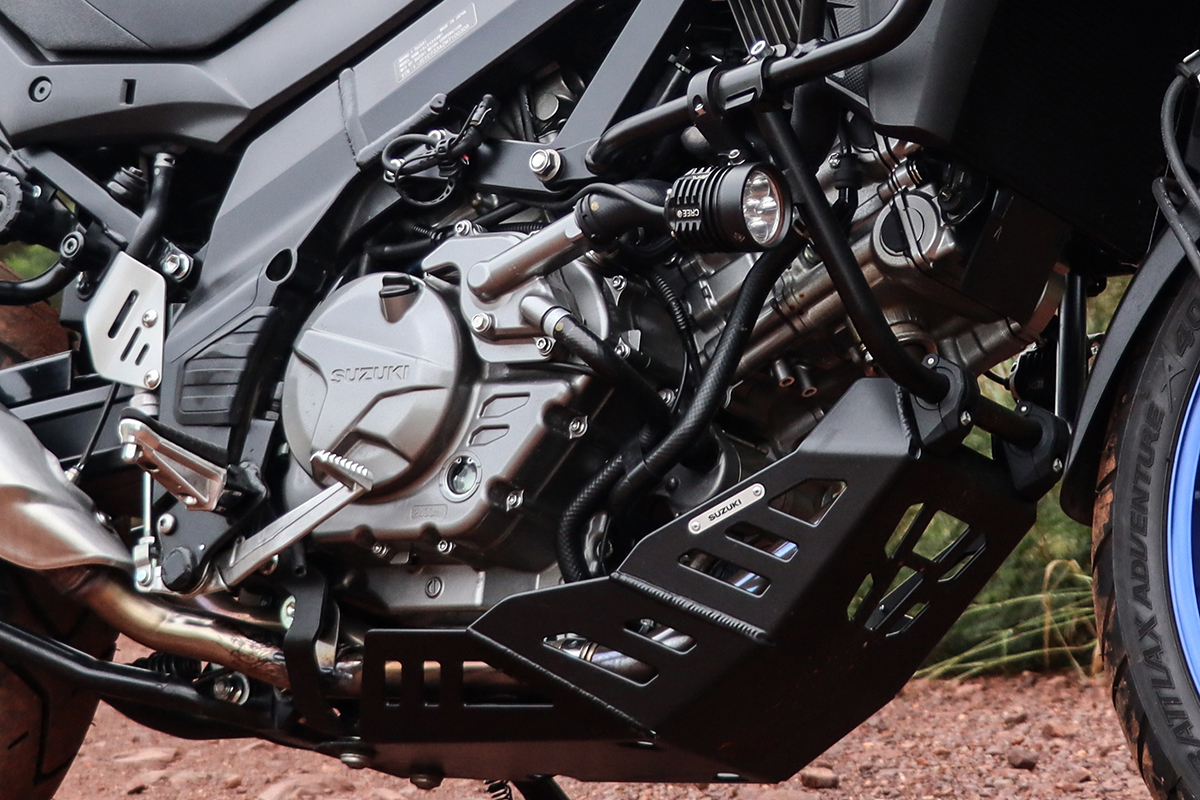 Contemplating using the DL on a recent Botswana trip, I actually measured and found that the seat is marginally longer than that on my BMW R 1200 R, a boon when two up. Wide handguards keep all the wind off your hands, so I have not really missed heated grips. Decent gloves and you are sorted. A twist-assist on the throttle makes long days painless, and I really don't miss cruise control. I don't generally know where to put my hand anyway after engaging cruise control.
The engine of a bike can really make or break a long-term relationship. Granted, I have other bikes which satiate my occasional need for speed, however, I have never, using the DL as I do, ever felt that I should have bought the bigger Strom. It delivers totally, for me anyhow, satisfying performance, even when two up. It is a beautifully quiet, smooth, and pleasant engine which endears itself to you more and more over time.
After 8000 k's and a year of riding this bike, I still look forward to riding it! I have tweaked the comfort, especially when standing, with handle-bar risers and a screen deflector that works wonders on the windshield.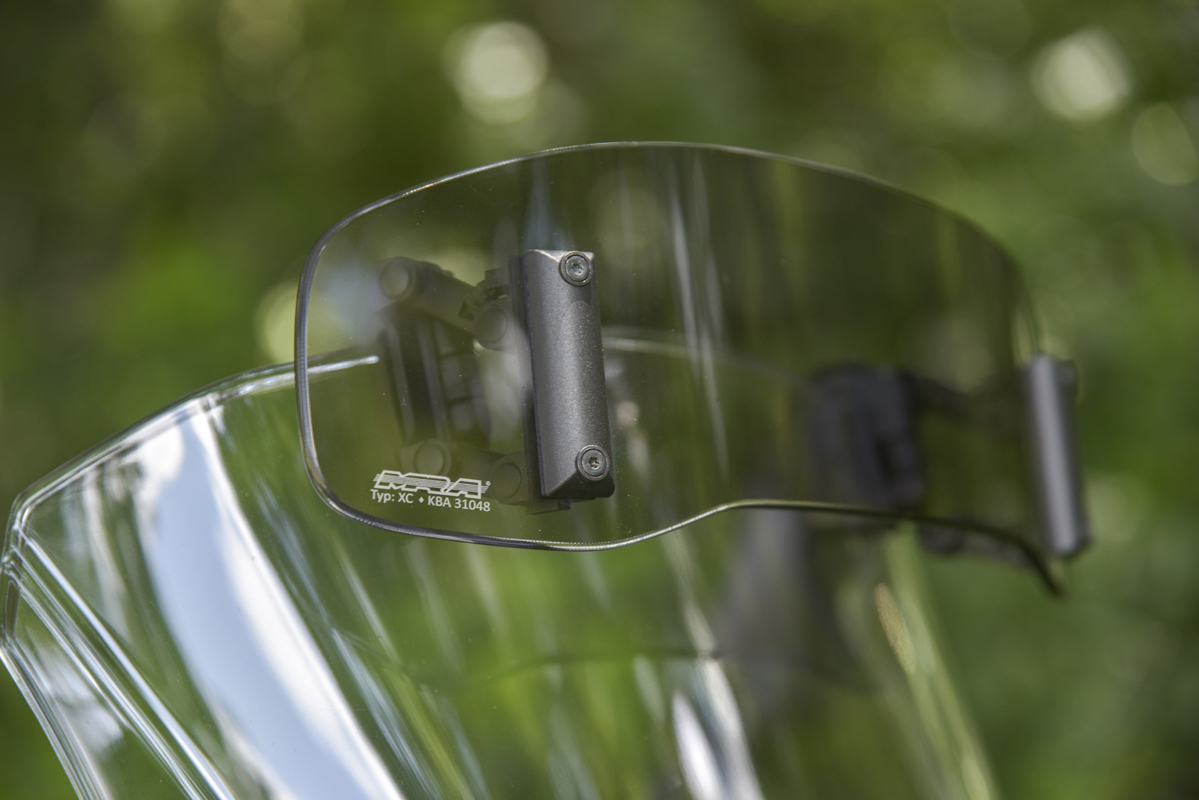 A factory bashplate keeps things tidy offroad and a Givi Top box adds huge practicality to what is essentially my utility bike. I never tire of its lightweight manoeuvrability as compared to the 'big' Adventure bikes which South Africans seem to find so compulsory. Everything on the Strom is just so effortless.
The dash on the Strom is absolutely brilliant. A big analogue Tachometer on the left and a digital information screen on the right gives you clear access to all the bike's vitals in any light via a toggle switch on the left-hand handlebar. Brilliant! It irritates the living poo out of me when I ride TFT-equipped bikes that require scrolling between screens and various menus to do what the DL does at the press of one button.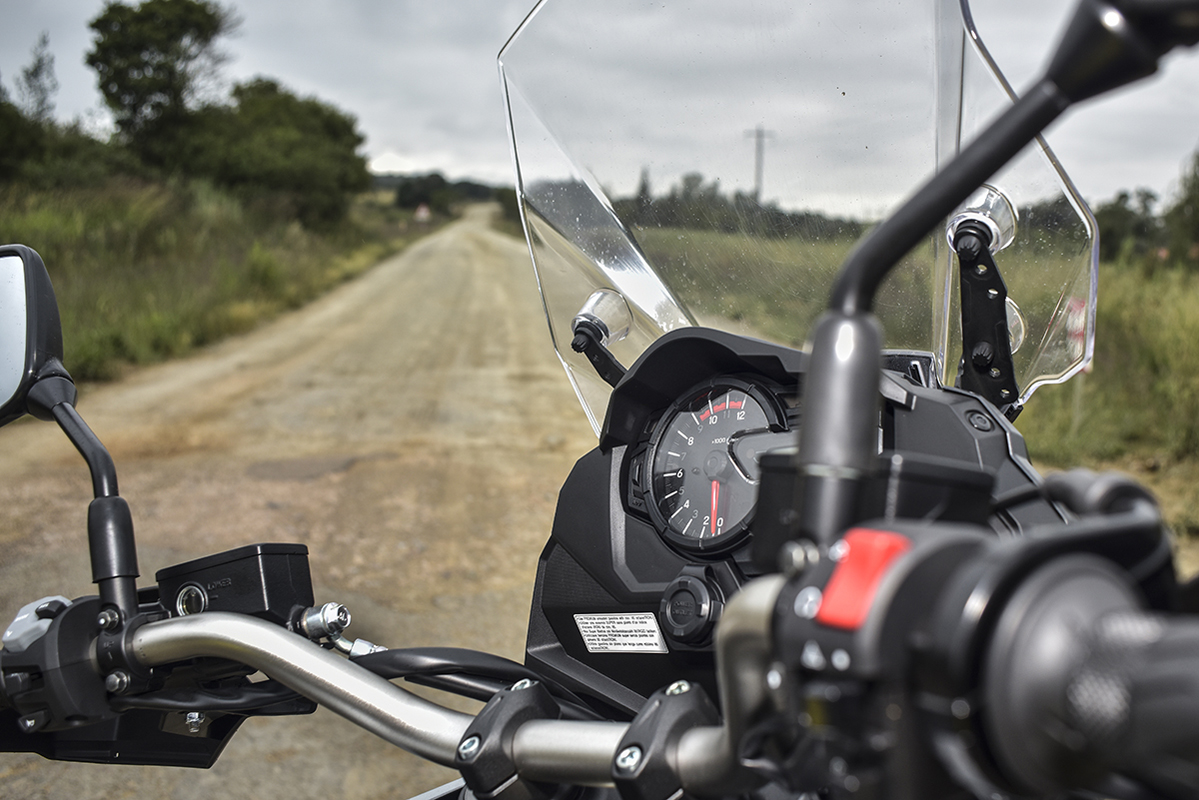 The bike is ABS equipped and comes under scathing attack for not being able to switch it off when on dirt roads. Why? Modern ABS is so well modulated that you are riding like a kluts if you need it to save your bacon. This is not a bike that encourages you to race off-road anyway, so the ABS is really just fine for how and where you ride this bike. The brakes are adequate, but nothing more. The double front discs require a lot of lever pressure to generate strong braking power. This is great on the dirt but could be better for panic stops on tar. The feel is good, unlike the wooden feel on some bikes, but could be more powerful.
Handling is excellent, making the bike both fun and fast in the twisties. Its relatively lightweight aids it. The bars, which may be less 'trick' than the fat bars on some other bikes, fall naturally to hand and work effectively to steer the bike without effort. The front forks are not adjustable, but the factory has got a good overall setting on preload and damping. Progressive springs and playing with oil viscosity could improve things further if you feel the need. Used as intended, the forks are just fine.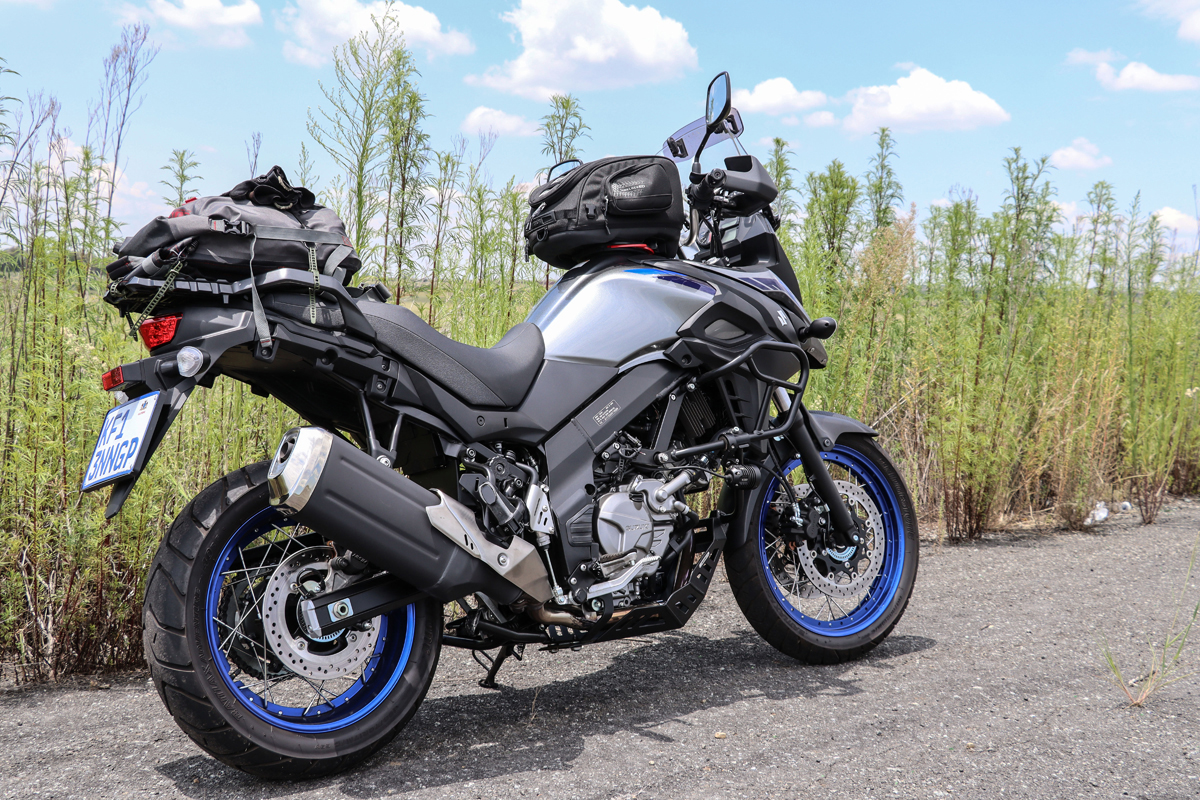 The rear shock has a handy remote knob by which to easily adjust the preload. This is great for when you have a passenger or want to attack some bends with gusto and want to quicken the steering. I have dialled in more preload and the general demeanour of the DL is all the better for it, giving a firm and controlled ride over all surfaces.
The Suzuki has impressed me with the low cost of ownership. Firstly, at a purchase price of just over R150,000, you get a huge amount of reliable, competent, and sorted bike for your money. Secondly, middleweight bikes without mega weight, power, and torque do not destroy their tyres. After 8000 k's the tyres are still looking really good, probably ok for another 8k at least. The fuel economy is consistently around 22 km/L, a blessing given the current punitive petrol prices. The simplicity of the bike makes it so easy to live with. The chain has never required adjustment. The rims are tubeless, so plug, bomb and go if you get a puncture. It is just such a sound and enduring recipe.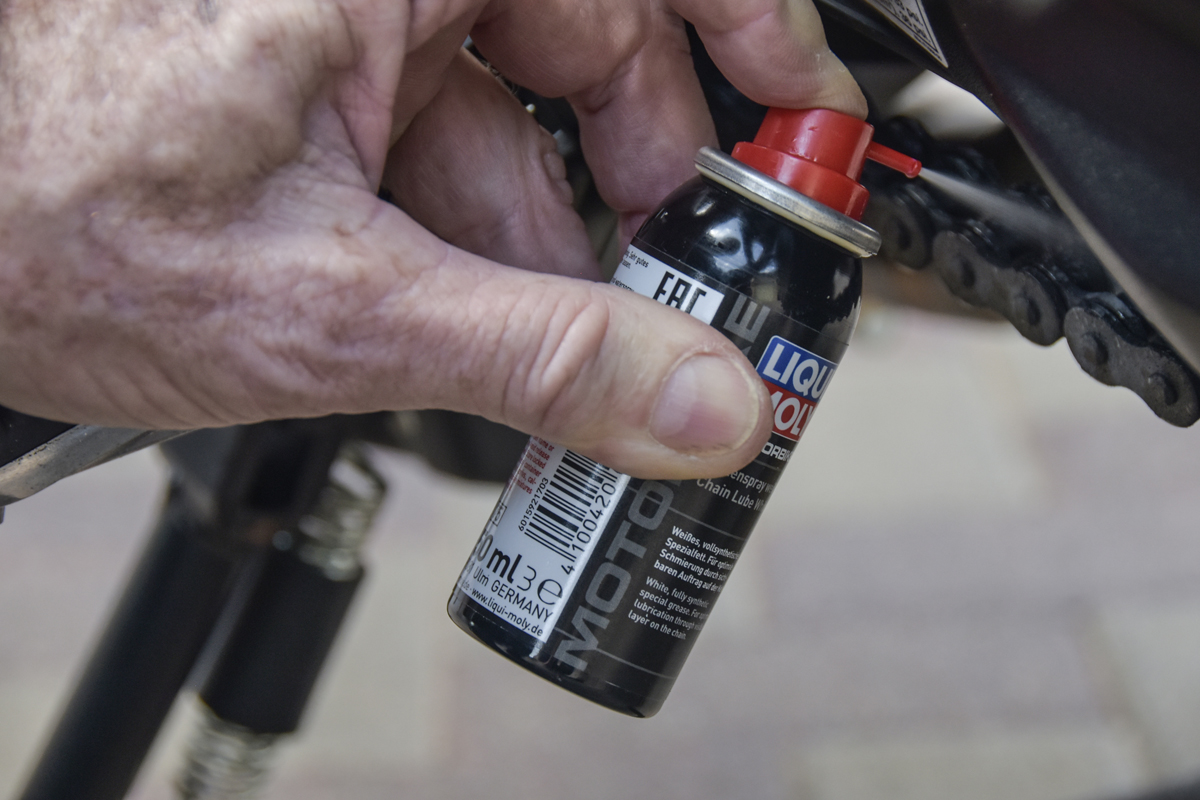 People who know me well and say "OK Dave, when is the Suzie going?", and given that I have owned around 350 bikes over the years, I can't really blame them. I generally don't marry bikes. This Suzuki is, for now, a keeper. I have ordered GIVI luggage racks and panniers (Suzuki has factory panniers too) to make touring two up easier. Soft luggage and a passenger are always a difficult combo, with the straps across the seat compromising passenger comfort. I also found on my Botswana trip with my wife Irene, that being able to secure all your luggage when the bike is unattended is a huge benefit in these dodgy days that we find ourselves. Soft luggage is probably better for extended off-road travel, however.
So there you have the full story. A lot of our motorcycle-related decisions are influenced more by the heart than by the head. A bit (or a lot) of ego often gets thrown into the mix. We buy a bike that we believe will be considered cool or hardcore by our peers, which, by association elevates our perceived image, status, or standing. This often results in buying the wrong bike for the wrong reasons. For me, that ship sailed many years ago! I buy the bikes that are going to do what I need to be done, irrespective of all that other 'BS'.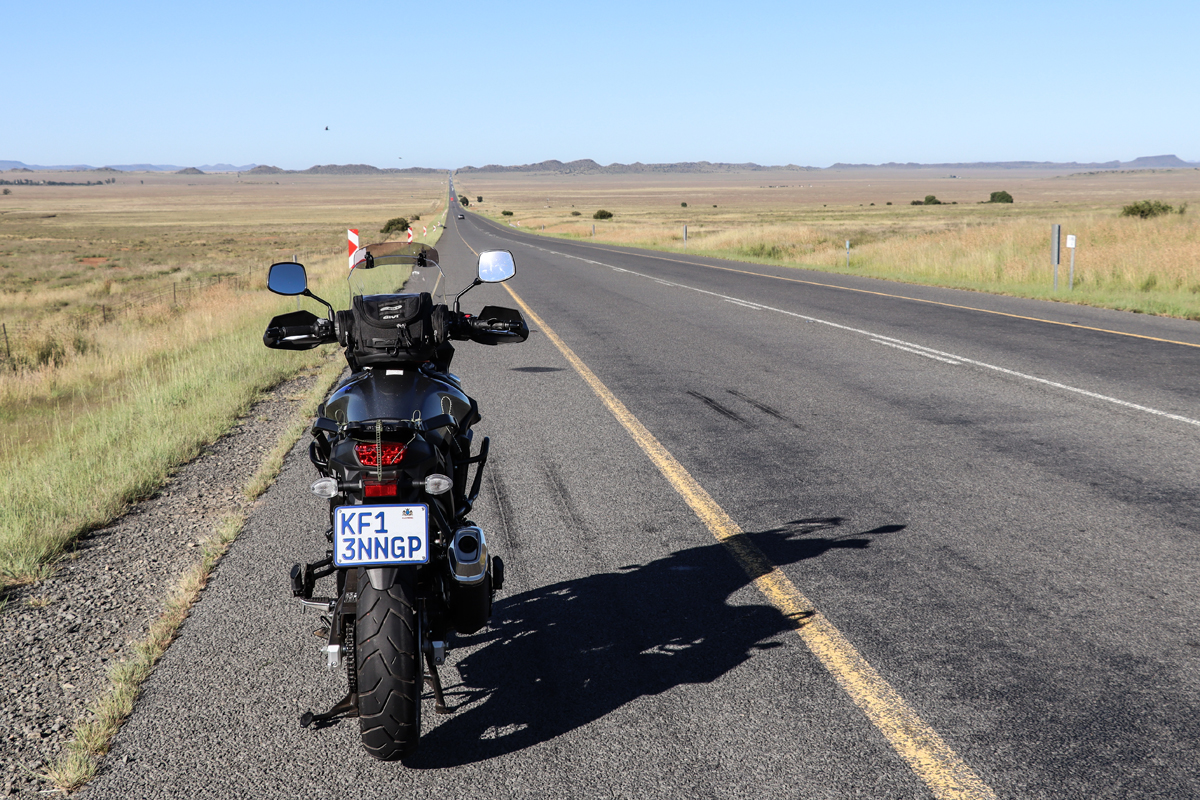 The Suzuki V-Strom has evolved into a bike that you can go to war with. It will always exceed your expectations and more than deliver on its promises. That is rare praise in this day and age. God willing, there will still be many more Strom stories written by my ever so trusty Strom and me…
Suzuki DL650 XT V-Strom
For more information on the bike featured in this article, click on the link below…