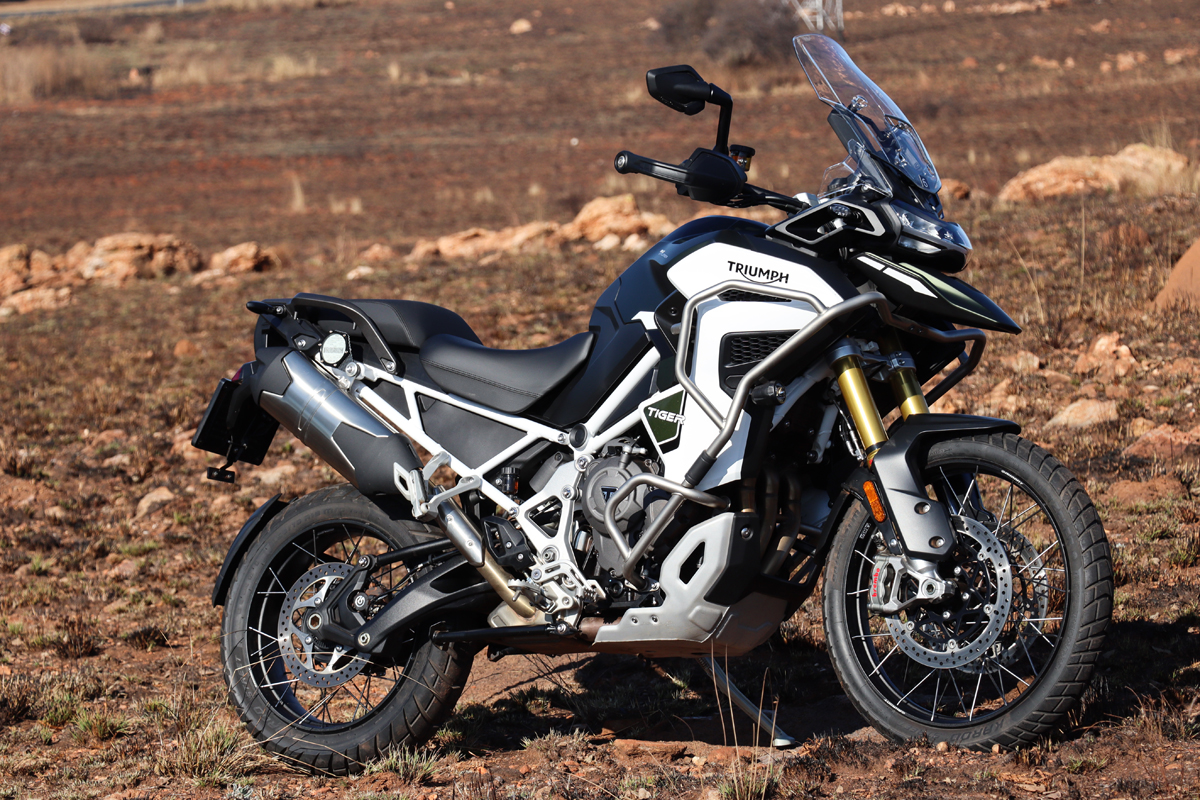 When we speak of the 'new' Tiger, we mean new, as in completely new. Triumph embarked on a complete redesign of their big Tiger in the same way that they redesigned their 800s into the current 900s. So what is different, you may ask? In short, everything! Let me give you a rundown on the new Tiger's specs and it will be clear as the gonads on a dog that this bike deserves, in fact, demands, your attention.
The motor has received the T-Plane treatment. This means a 1,3,2 firing order for a longer gap in firing impulses into the crank, allowing the rear wheel a moment's power respite from the crank and thus hooking up rather than spinning up. The same idea as a 270-degree crank on a parallel twin. It works. The downside for owners of the previous 1200 is a smidge more engine vibration, albeit with significant engine character and a soulful exhaust note. Personally, I love the sound and feel of the new T-Plane engine.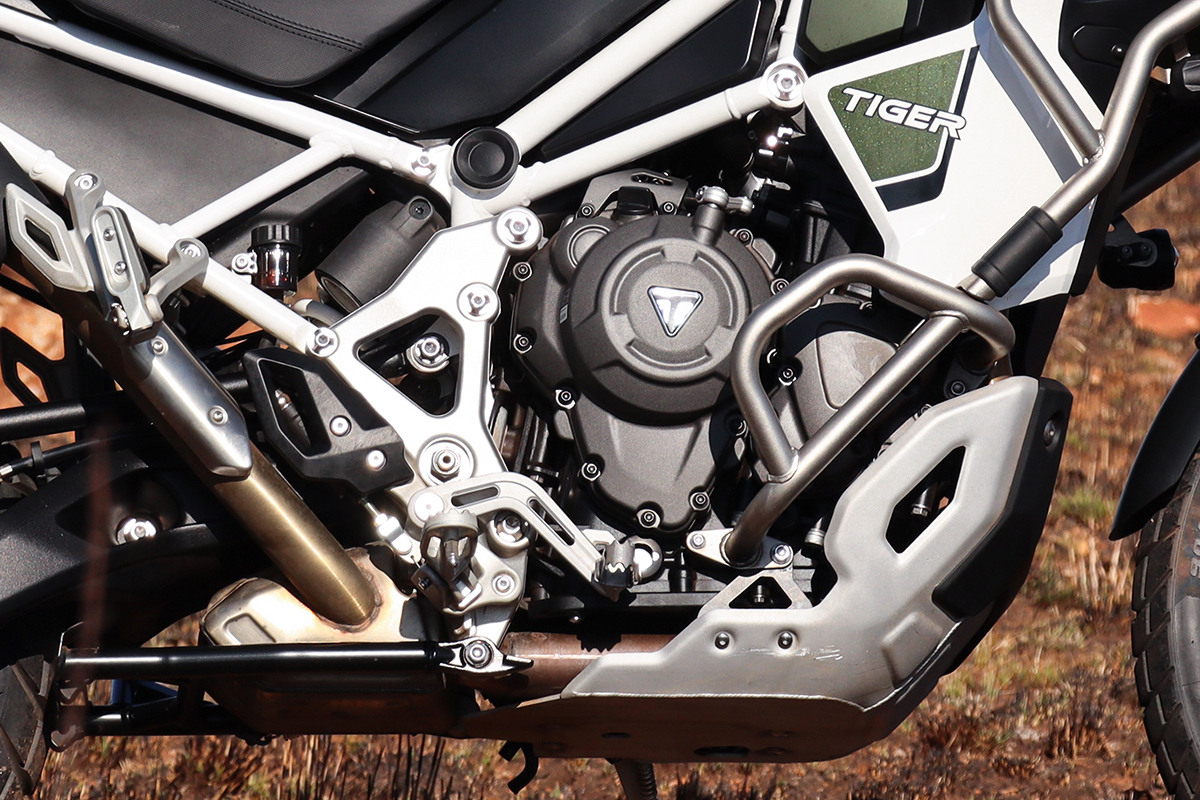 The 1160 cc oversquare DOHC Triple pumps out a healthy 148 hp @ 9000 rpm and 130 Nm of torque @ 7000. This propels the bike that is a huge 25 kg lighter than the 'old' Tiger. There is no shortage of shove, in fact, you pretty much always have power to spare. The gearbox has 6 speeds and is equipped with a seamless quick-shifter which is a pleasure to use, even at low revs. Triumph has done an excellent job of channelling engine heat away from the rider. The previous Tiger was known to cook your legs in hot weather. Not so with the latest Tiger which keeps its cool wonderfully. The frame is tubular steel with forged aluminium add-ons for passenger pegs and the like. The sub-frame is also separate. Triumph clearly listens to its customers.
Suspension is from Showa, with 49 mm semi-active front USD forks offering 220 mm of travel. The rear shock also has semi-active electronic damping and preload adjustment with 220 mm of travel. Brakes are the brilliant Brembo Stylema calipers chomping on twin 320 mm discs up front and a 282 mm rear with a single pot Brembo caliper. Faultless in feel and power. ABS is standard, with the ability to switch off the rear for off-road duty.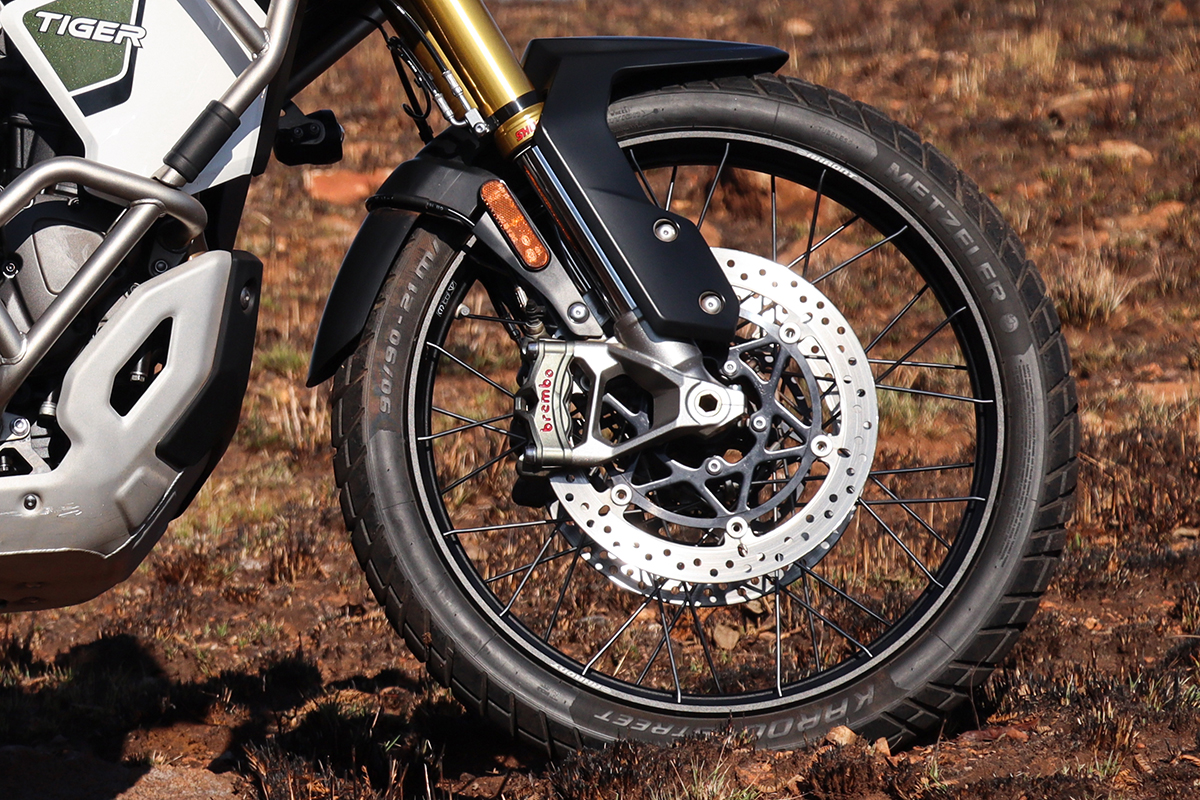 Triumph's biggest Tiger has always enjoyed shaft drive. The latest version has a trick and light-looking shaft, which is devoid of 'lash' or 'slop'. Where the Rally Pro is unique, is that it pairs its shaft drive with an off-road friendly 21" front wheel. This is music to the ears of the boys who like to spend the bulk of their riding time getting dusty. The spoked 150/70 x 18 rear and 90/90 x 21 front Metzeler Karoo Street tyres mount on superb Akront alloy rims. They are stronger than a strong thing! Not a single bike suffered any rim damage after some spirited riding on the recent 1200 Tiger launch.
The Rally Pro Explorer has a 30-litre tank for some serious touring range. As the range-topping 1200, it also has both upper and lower crash bars as standard. Also standard are hand shields, centre stand, heated grips, heated seats, cruise control, quick-shifter, hill-hold assist, and 5 engine modes. Switches are backlit too. Speaking of lights, the LED chaps on the Tiger (including adaptive cornering and spots) are as good as they get. A 7" TFT display with Triumph Connectivity is driven by a 5-way joystick, mode and home buttons.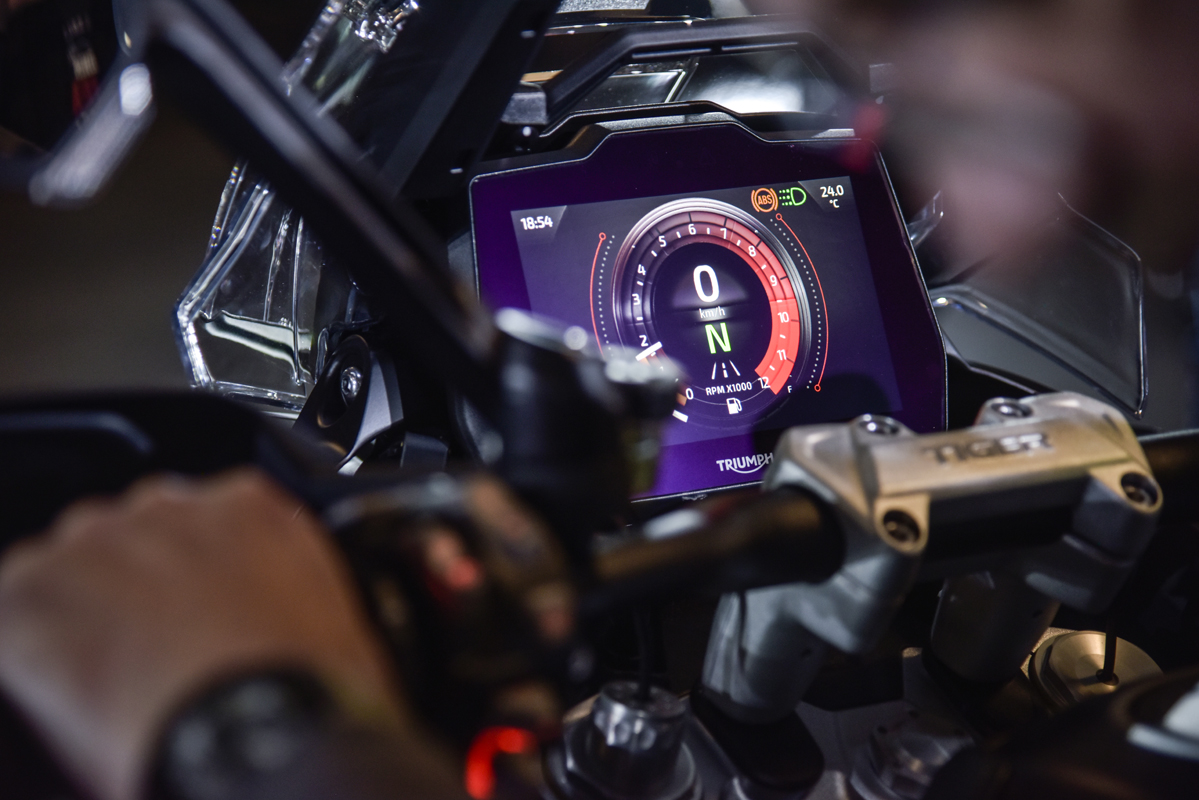 All the info you may need and then some are available on the various screens that can be accessed on the display. This will require, as with all the new TFT-equipped bikes, an hour or two of study and playing before it is in any way intuitive. Clearly, I am not Playstation Generation. Give me the old one-button access displays any day. For those that want to, Smartphones, GPS and Go Pro are all available via the Connectivity App. Modes, (affecting fuel mapping, and suspension settings) are adjustable on the fly. Modes are Sport, Road, Rain, Off-road and Off-road Pro, as well as a Rider mode where you can set the bike up to suit you.
Luggage is available via GIVI-designed hard luggage, which will require fitting the appropriate brackets. I like this, as you can then use soft luggage too if you would prefer, for serious off-road. The excellent windshield adjusts up and down in an instant by hand. The riding position is perfect for my 6' 3" frame, whether sitting or standing. The seat adjusts from a low of 875 mm to a high of 895 mm. There is a sponge-lined receptacle under the seat with a smartphone charging point.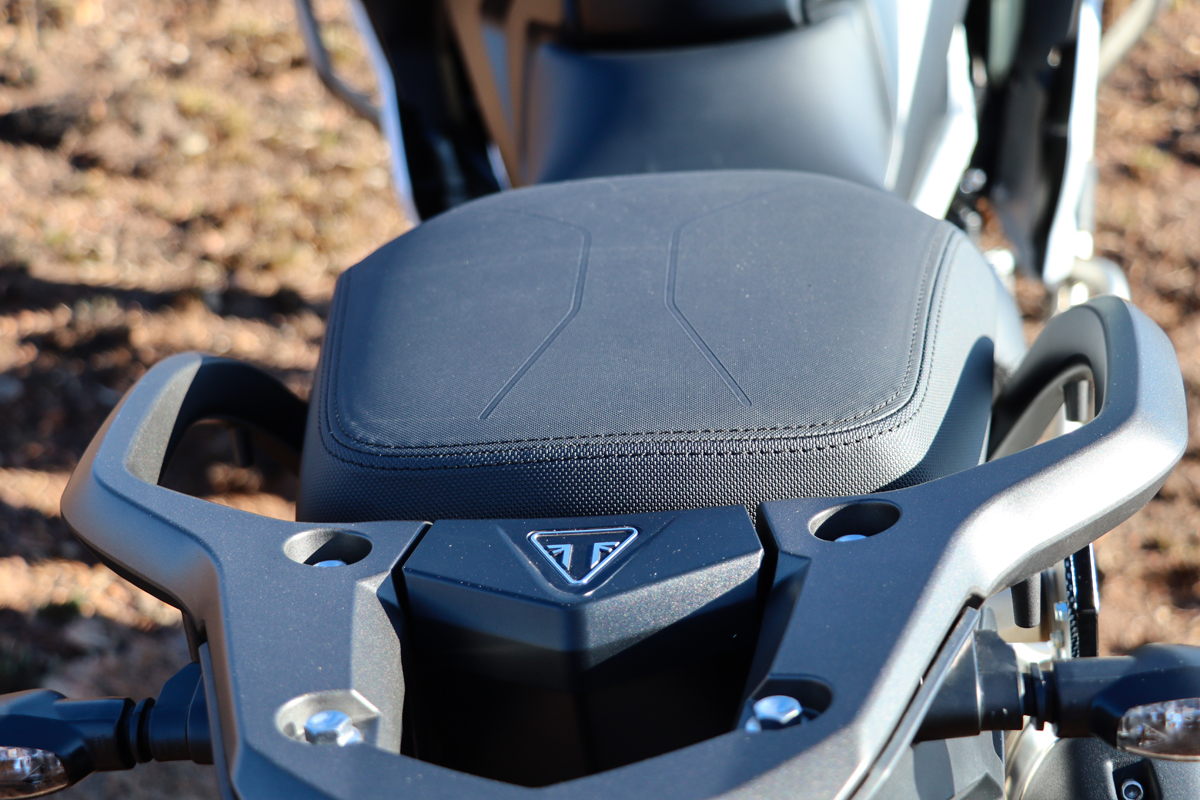 I'm sure that you would have gathered by now that this top of the Off-road range Tiger is incredibly comprehensively spec'd. Even the bash plate shows great design. The thinner aluminium sides are welded to a heavy-duty aluminium bottom to protect against hits from below. Cable routing shows similar attention to detail, with clips keeping everything tidy and in place. Triumph, in my opinion, has become the leader in the industry when it comes to fit and finish. The attention to detail is astounding. The Tigers are handsome beasts. Just look at the photos and you be the judge.
Triumph offers various models across the 1200 Tiger range. The GTs being more road-biased with their more conservative suspension travel and 19" front wheels. The Rallys can then be unashamedly more dirt biased with their spec. This is great because you the buyer do not have to compromise, but can get the model that best floats your boat.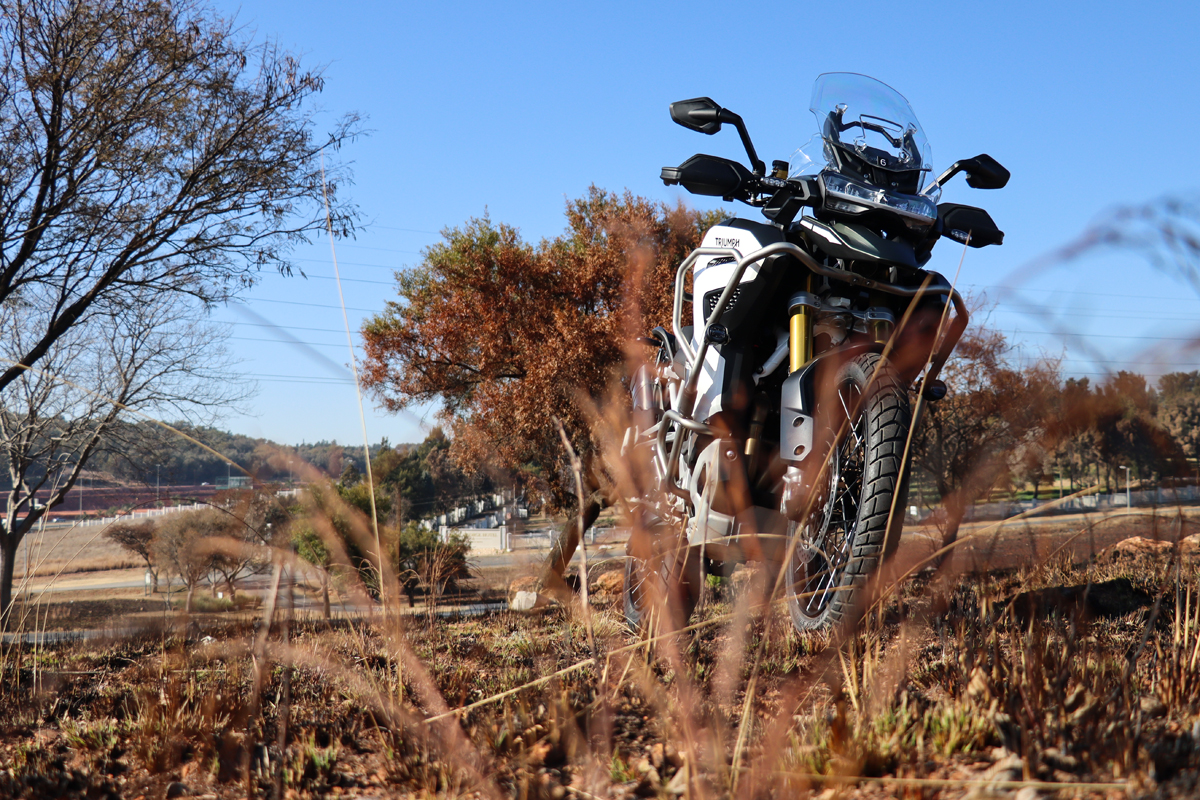 So how did the Tiger Explorer 1200 Rally Pro float my boat? Hopping on board I was surprised by the relative lack of bulk, given the 30-litre tank. I am used to a BMW R 1200 R Adventure after all. The Triumph once on the move feels light and agile for such a large bike. Please understand that despite the 25 kg weight loss over the previous 1200 it remains, at 249 kg, a large, heavy and intimidating motorcycle.
I love the feel of the T-Plane motor. It is full of soulful character and packs a proper punch. Power builds relentlessly as the revs rise and propel the Tiger effortlessly in all situations. Sport mode is slightly snatchy at low revs, but that is not what Sport mode is about, is it? Rolling off the throttle and back on again is not perfectly seamless, but requires a slightly more deft rider touch.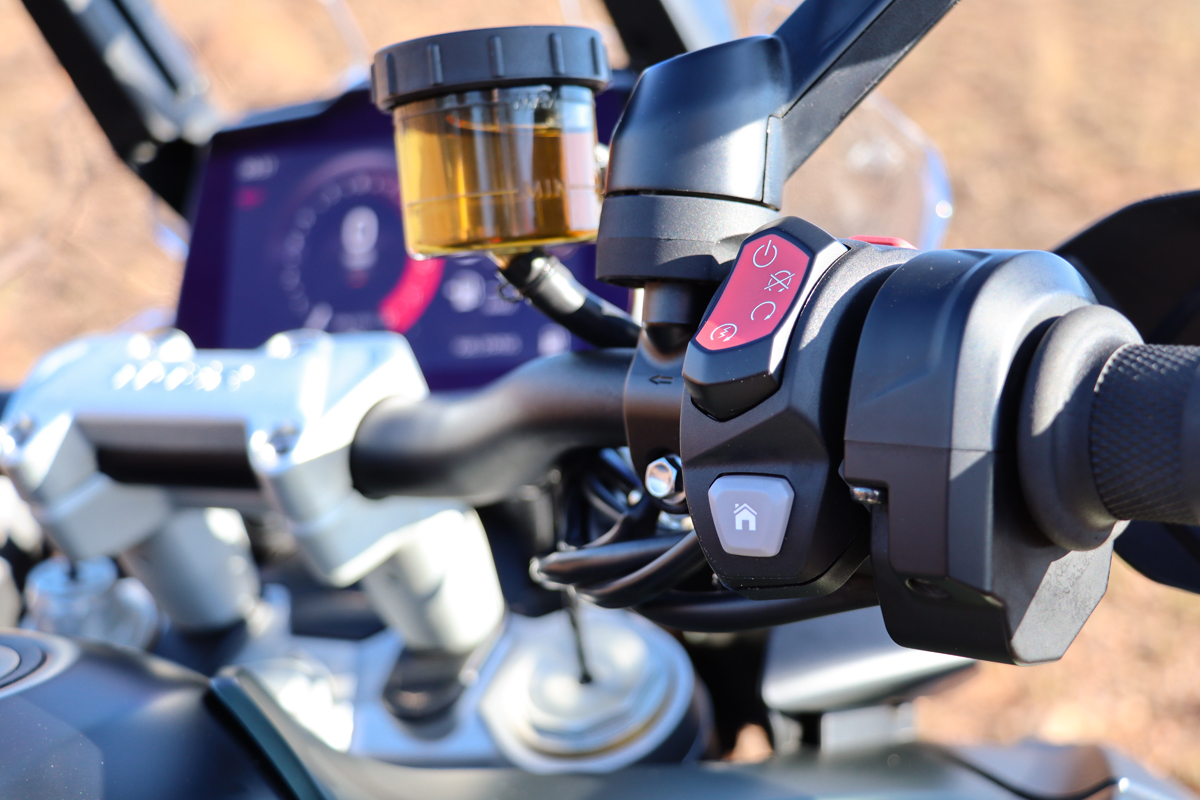 I was so enthralled at the idea of riding the Tiger in different terrain that I did a quick one-nighter on a farm stay. This would give me the opportunity to ride it in the dirt, on highways and on secondary roads. Comfort-wise, the Tiger is hard to fault. It effortlessly reels in the horizon. Seat comfort is good, both for rider and passenger, as confirmed by Irene after a stint on the pillion. Fuel consumption is pretty much in the large Adventure bike ballpark with 5,5 to 6,5 l/100, depending on cruising speed and prevailing wind conditions. The suspension soaks up road imperfections superbly, with the bike sailing along serenely as the wheels do their thing.
Let's talk about off-road. The suspension firms up nicely in Off-Road mode and you find yourself covering ground at speeds that should not be comfortable on a 249 kg motorcycle with 148 hp. The suspension is superb when you stay within the rational design parameters of large Adventure bikes. Yes, it is possible to bottom the suspension across the gnarly ground at serious speed or when landing from a jump, both activities that are, to my mind, crazy on a motorcycle this expensive and large. You can get a proper hurry up off-road with everything working with you and inspiring confidence. It is only when you start doing crazy stuff, euphemistically called 'riding aggressively', that you will find the limits of the suspension. This will probably also result in finding the limits of your medical aid, but it seems that ego and brains are mutually exclusive.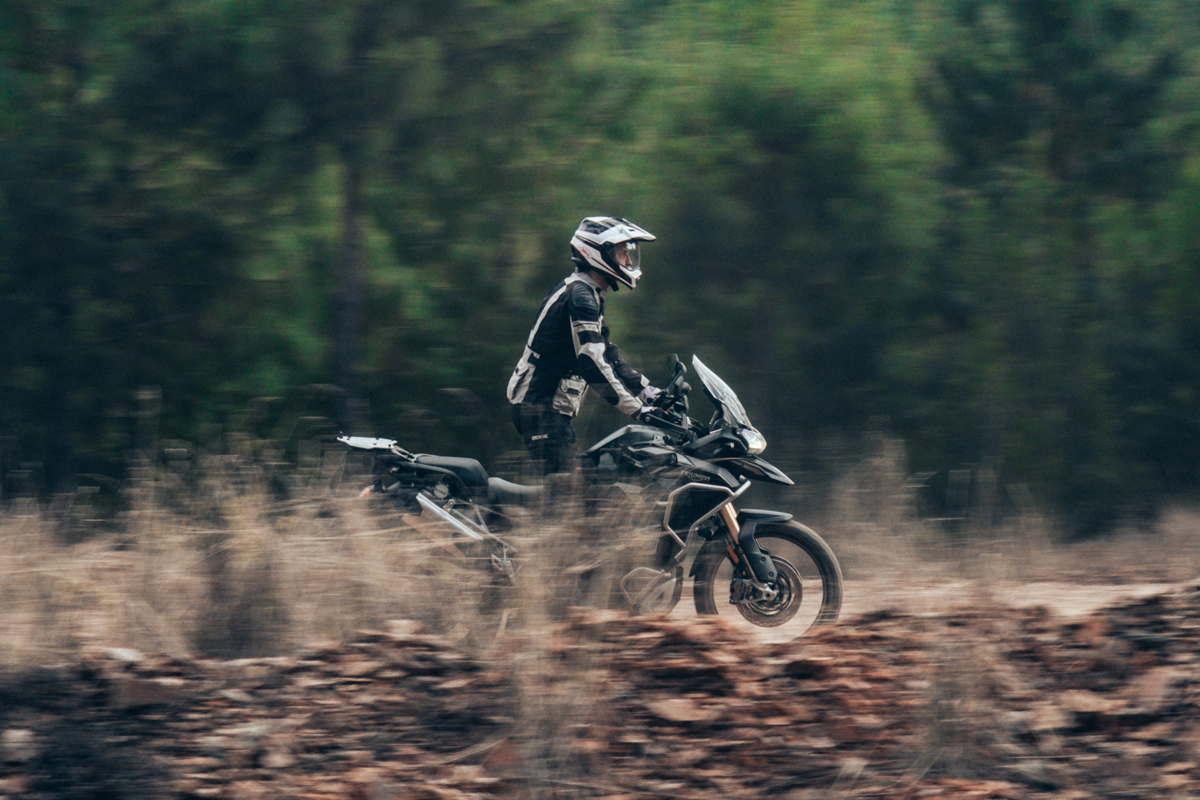 Within the design parameters of a large capacity Adventure Tourer, the Triumph performs admirably in all situations. There is significant fork dive when you get hard on the brakes, as can be expected from long travel suspension, however, I found that if you anticipate properly, as you should do on a big fast bike on dirt, you can rely on good engine braking, with your brakes as back up. The off-road modes give you full power, but with a softer throttle response. As I became accustomed to the feel of the bike and its inherent stability, I relaxed and started to really enjoy the off-road experience. The sandy sections did not unsettle the bike on the throttle and it tracked straight and true.
Riding out of the campsite where I spent the night I almost launched myself over the handlebars. The track was steep, rocky and loose. As I accelerated up the slope, the bike lost power to the extent that I thought it had cut out. The sudden deceleration had me almost over the screen. It then dawned on me that the bike had gone back to the default road mode and the traction control had activated, cutting the power on the loose incline. Be warned.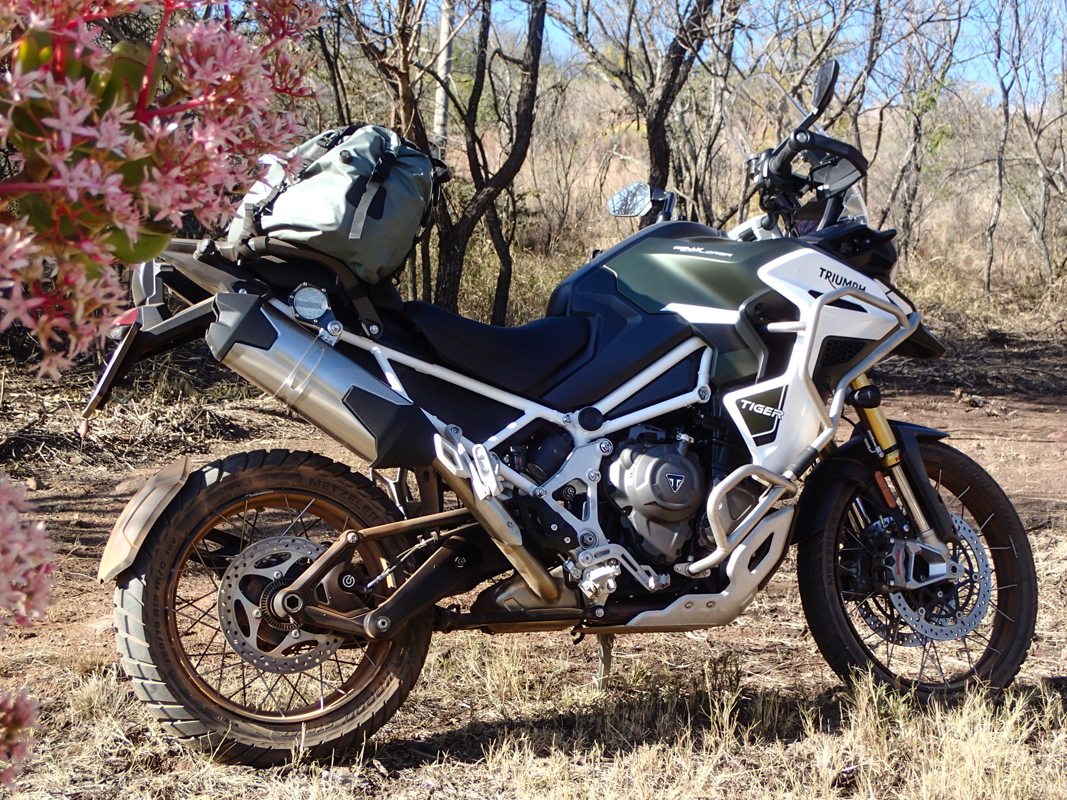 One other thing that I need to get off my chest. There is no place on a bike used for travel to far-flung remote places for keyless ignition. The disadvantages far outweigh any possible advantage, when the key battery goes flat at Elephant Sands in Botswana, or the ignition won't read the key and your mechanically perfect bike won't start you will be royally screwed. Make sure you carry a spare battery and suitable tools to change batteries. Don't say I didn't warn you. All the manufacturers think the keyless thing is great, so Triumph, I am not pointing fingers at only you. When the 'battery low' icon appears on the dash it introduces a level of unwarranted anxiety that is so easily avoided. Give us the keys back!
Road handling is typically Triumph, in other words, good. Having said that, bikes with long suspension travel and 21" front wheels always feel just a bit vague when pushing on. Triumph appreciates this and gives you the GTs if really fast road riding is your thing. This is the advantage of a comprehensive range. You just need to be honest with yourself as to how, and where you are going to ride your bike.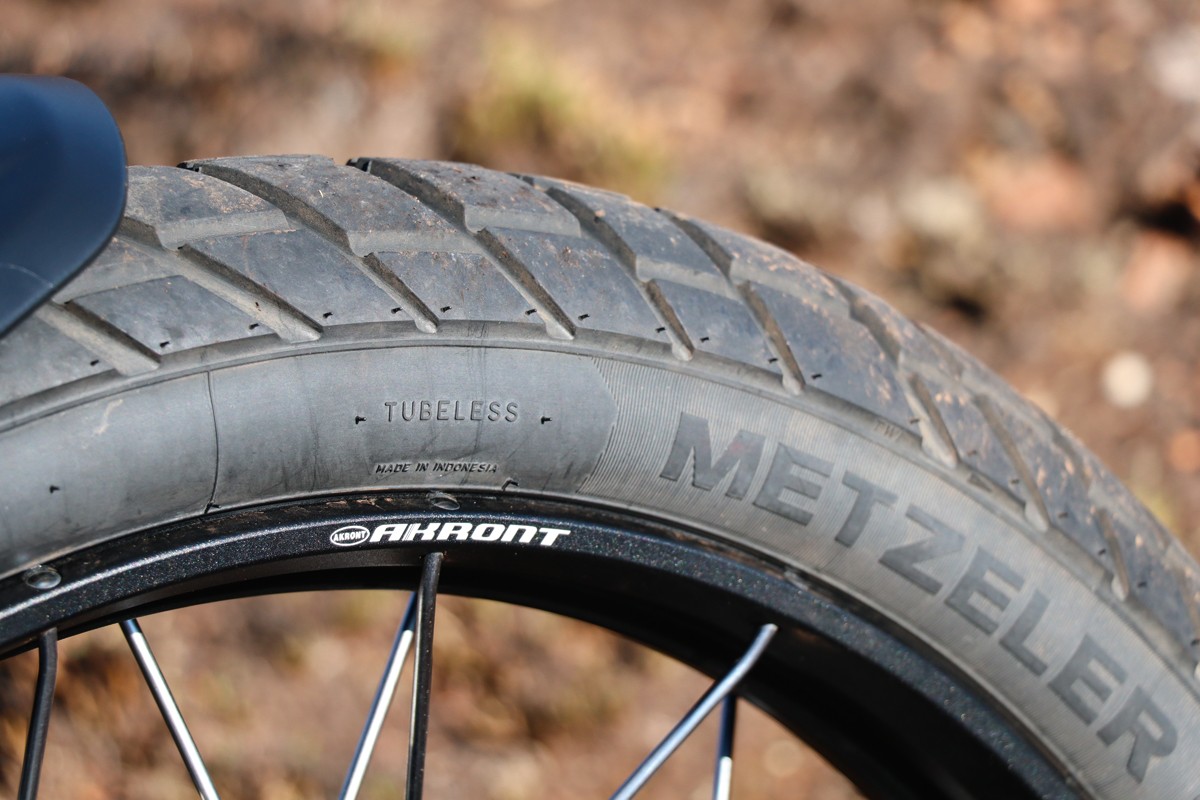 There is a tendency to want to appear 'hardcore' and therefore buy the most badass dirt-busting model there is. You then venture into the dirt perhaps 5% of your riding time. That my friends, when you are spending over R300K, is just plain dumb. The GTs are more than capable of smashing dirt highways and going where any sensible person would want to go with a large Adventure bike should the occasional need arise. Think of the tyres you typically fit to your Adventure bike. If it lives primarily on knobblies, buy the Rally Pro, if 80/20s are your choice, buy a GT.
If you are critical of the limits of large-capacity Adventure bikes off-road, you are probably shopping in the wrong market. You would be better served with a Tiger 900 Rally Pro, KTM 890 Adventure R or a Yamaha T7. However, if effortless long-distance touring, predominantly two up is your thing, with regular forays on distant dirt highways, you will absolutely love this bike. I would wager that the bike's abilities significantly outweigh yours and that over time, as you upskill yourself to take full advantage of what the Triumph Tiger Explorer 1200 Rally Pro is capable of, you may just find that it is a match made in motorcycling heaven.
Triumph Tiger 1200 Explorer Rally Pro 
For more information on the bike that we tested in this article, click on the link below…