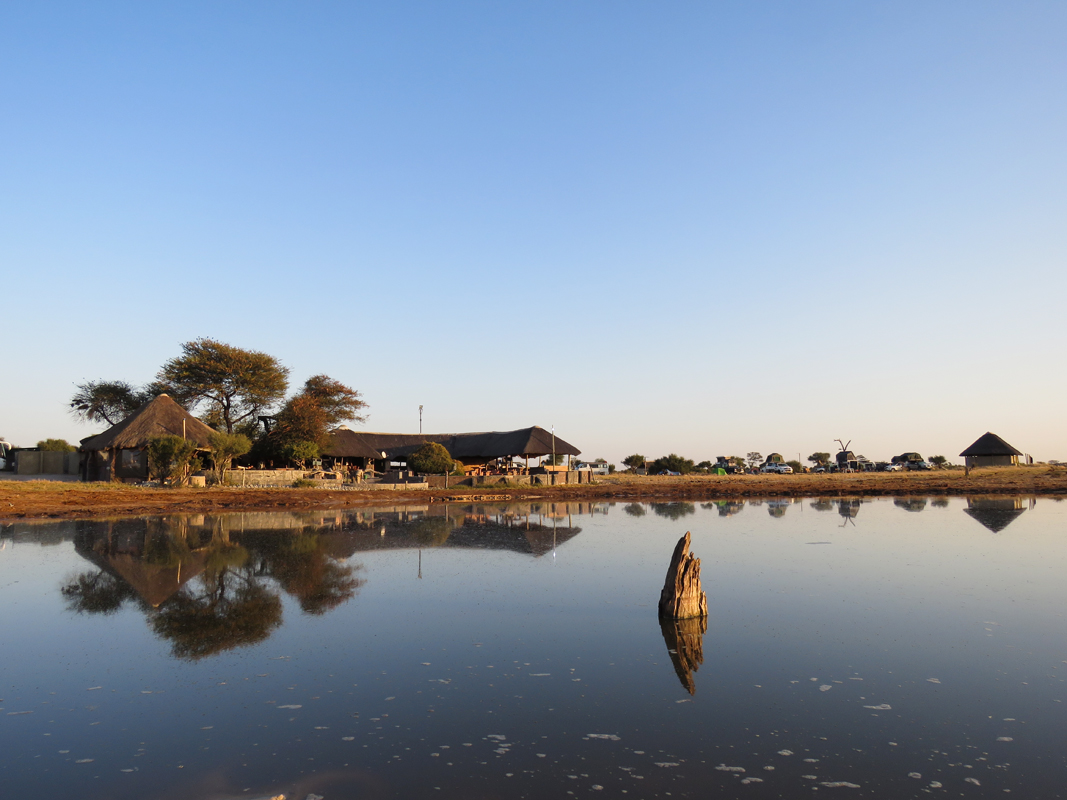 As soon as we got the news that the Covid protocols were for all intents done away with at the Botswana border, Irene and I packed the bike and hit the road to Elephant Sands, our favourite spot in all of Bots. There was some initial hesitation over which bike would be pressed into service. The obvious choice was my BMW R 1200 R with Givi Hard cases and top box. I was keen to go on my Suzuki DL650 V-Strom. I have been blown away by the overall competence of this bike.
You may think that a 650 is a bit light in the loafers for two-up duty, but here's the thing. Touring on SA secondary roads is no longer a high-speed affair. The DL650 has more than enough power for 130 km/h two-up cruising, hardly ever needing a downshift unless you want to get a hurry up whilst overtaking. It is also spacious enough to not feel cramped when two up. What eventually tipped the scales in favour of my R 1200 R was the ease of packing the bike with all we needed for a week away. So it was that we rode out of Pretoria on a crisp and cold Tuesday morning, excited at the prospect of traversing the big country by motorcycle once again.
We made short work of the highway before turning off to Vaalwater and our brunch stop. Dressed in the proper kit, we were actually enjoying the fresh weather. We topped up with fuel so as to easily make the 200 k's to the border at Groblersbrug, where we would then fill the tank with way cheaper Botswana petrol. The Zeederberg Centre on the far side of Vaalwater is a lovely spot for a coffee or meal. It has a real 'Bushveld' vibe. Fed and watered, or should I say 'coffee'd', we jumped back on the bike and headed North to Ellisras.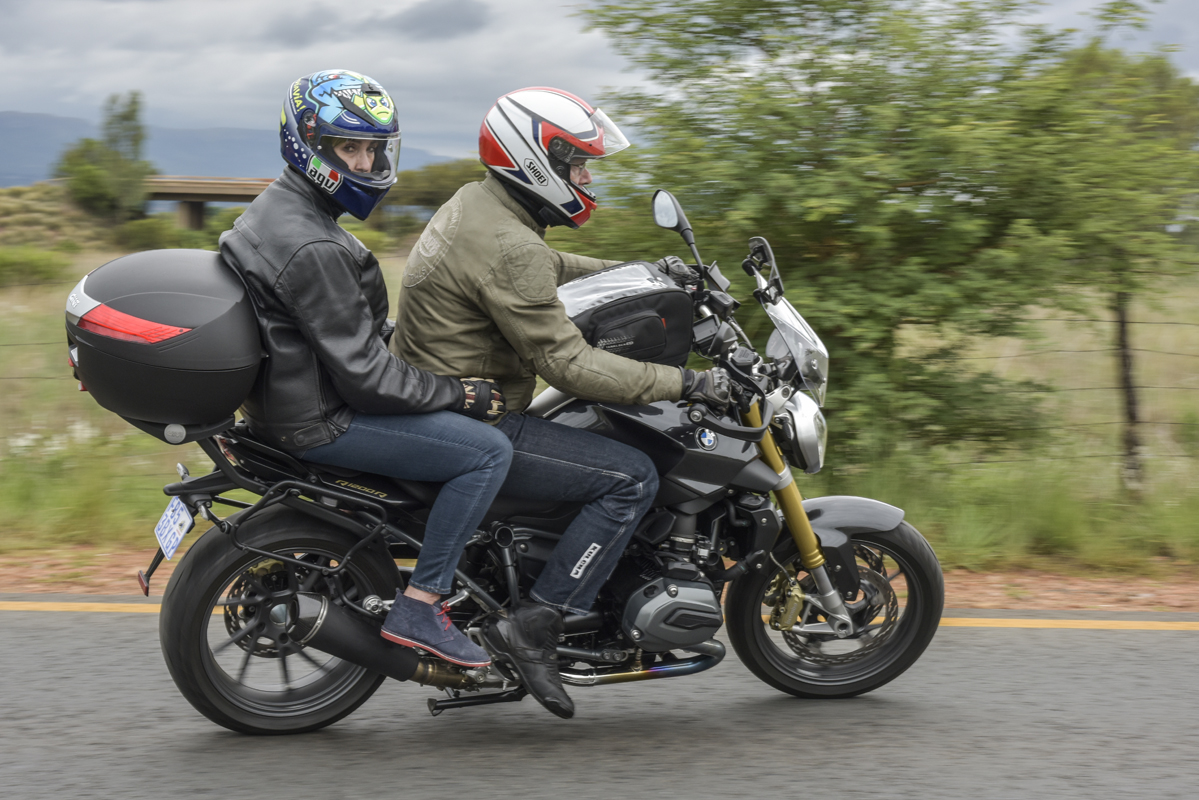 After a rough stretch of pothole-patched tar, the road surface improves drastically as you ride the mountain pass that follows. The R 1200 R impressed with how well the electronic suspension, set on two up and 'road', coped with the varying road surfaces, delivering a magic carpet ride of note. Irene was snug as a bug on the comfy seat and remarked that it was one of the best rides she had experienced in a while. Railing through the sweeping bends at 150 km/h was exhilarating and smashed the 88 k's in no time. We rolled through town and then on to the border, maintaining a fast clip.
The border was quiet so we filled up at the Kwa Nokeng fuel stop just inside Botswana where we also swapped some money for Botswana Pula at the forex dealer in the same complex. Be advised that the exchange rate is vastly more favourable there than at the money changers at the border itself. It is always a good feeling to ride into Botswana, with border formalities done and dusted. I have learned over the years to adhere to the speed limits when riding in Bots. They have a zero-tolerance for speeding and you pay your fine by swiping your credit card there and then.
Long open road sections with a 120 km/h limit are seldom if ever policed, but when passing settlements with lower limits, stick to the posted limit religiously. Still feeling fresh we dispatched the final 100 odd k's to our first night stop at the Itumela rest camp in Palapye. Itumela, like many tourist-funded establishments, has struggled through Covid. The housekeeping is not quite up to scratch. Having said that, we had a pleasant evening, enjoying drinks and a tasty meal at the pub under a sprawling thatch Lapa. Significantly warmer than Pretoria, we retired to bed feeling pleasantly weary from our 500 k ride.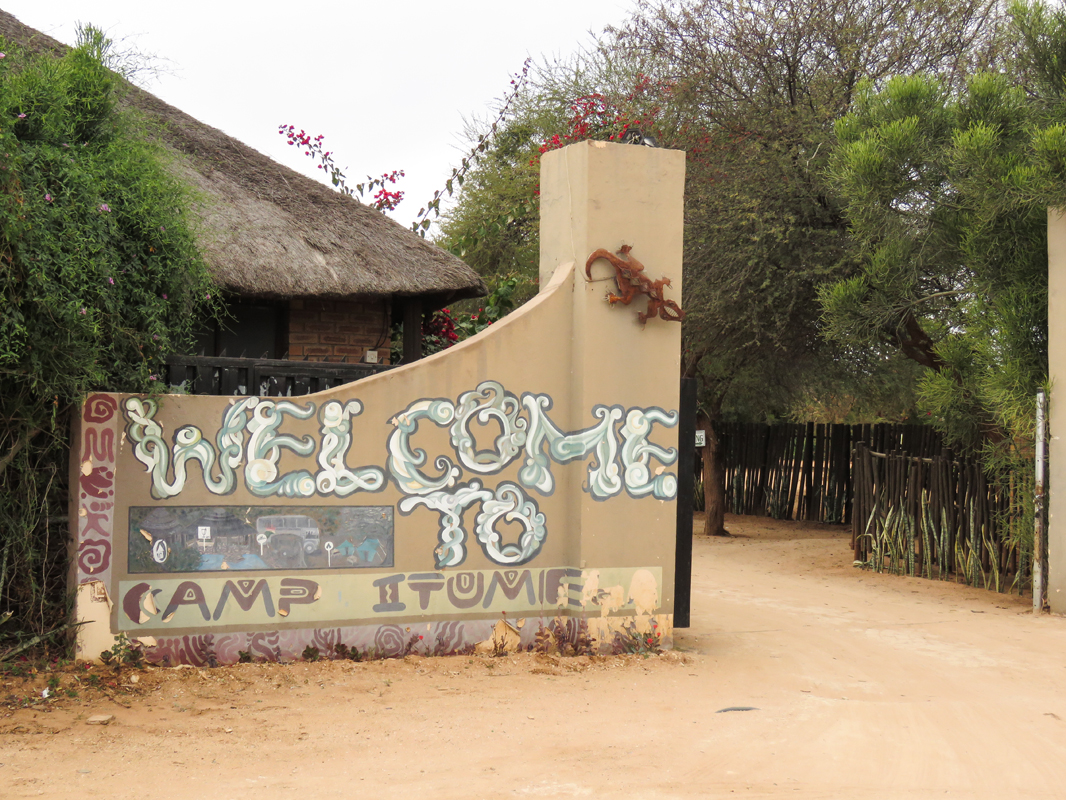 We awoke to a bright and breezy winter's day. The temperature gauge on the Bee Emm indicated a balmy 17,5 degrees as we cruised up the A1 to Francistown, 180 k's distant, for our Wimpy breakfast stop. Francistown is just the right distance for your first stop. You get to have a chow, refuel, and then get back on the bike for another 180 k's to Nata, where there is an almost obligatory stop at the charming Nata Lodge. The road to Nata is reasonable but you need to be alert to some serious potholes that could have your ride end in tears.
For me, the Botswana that I love so much is where you start to see real Fan Palm trees. They occur in sandy brackish water areas typical of the pans. Shortly before Nata, these palms put in an appearance and I get that feeling of being 'home' again. We pulled into Nata lodge for a drinks break before tackling the final hop to Elephant Sands. Nata Lodge is like an oasis in the desert. Bird life abounds in the bush around the pool. Sipping on a cold one under the Lapa next to the pool is a truly special experience.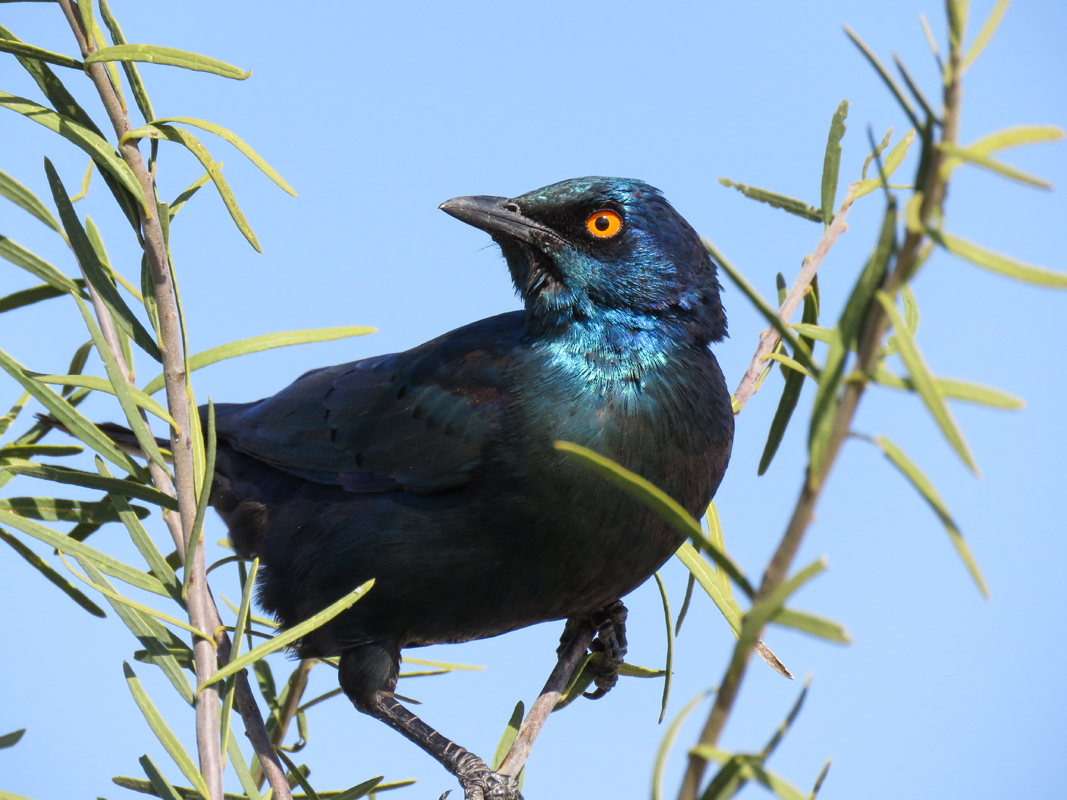 The final 58 k's to our destination required paying proper attention, as stretches are badly potholed. The single track on a bike makes things a lot easier than for cars. This means that you have to keep a close watch on the four-wheelers as they swerve all over the road to avoid disaster. Oh, the joys of biking in Africa! Riding the deep sand into Elephant Sands can be a challenge. Especially if you are two up and loaded. I was actually surprised at how well the road-biased R 1200 R coped.
We rolled up to the lodge in one piece and to the sight of five huge elephants drinking at the waterhole mere metres away. We settled into our chalet, got cleaned up, and then sat on the veranda to watch the incredible Ellie show whilst sipping on a glass of red.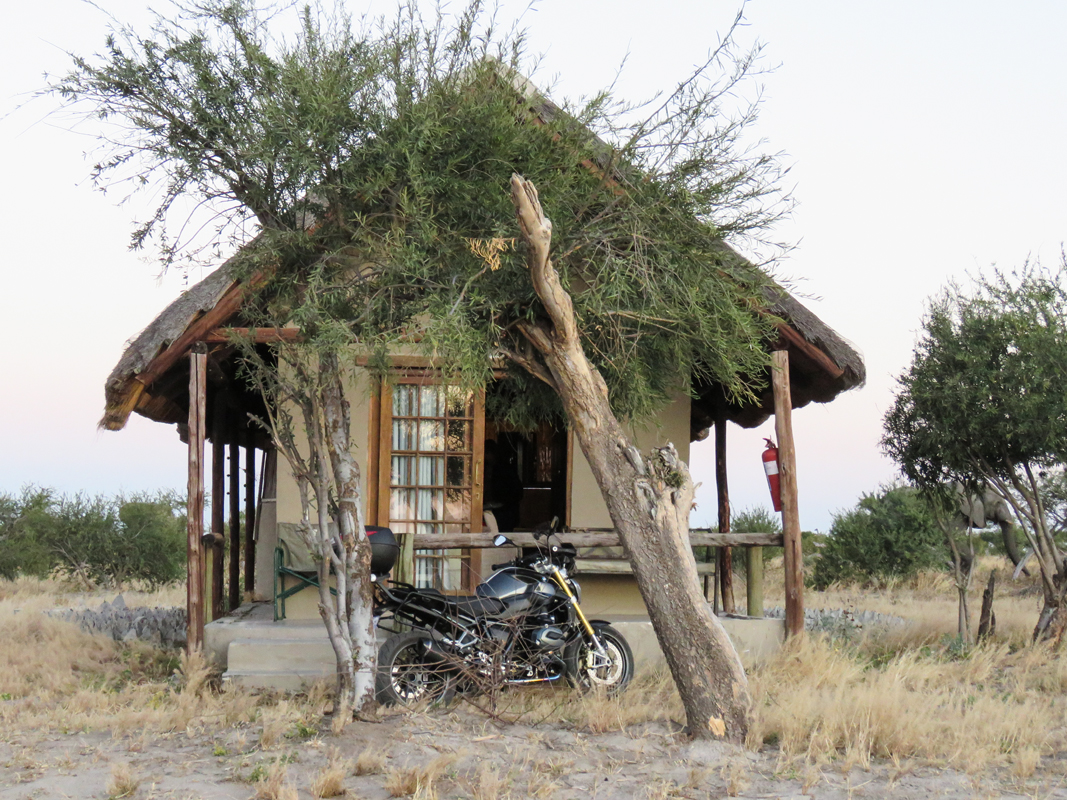 The huge pachyderms never ever disappoint. They are incredible creatures of habit. They walk the same path to the water day after day, to the point that a shallow depressed pathway bears testimony to their continuous passing. The feeling you get when these huge, immensely powerful creatures pass by within a couple of metres of where you are sitting, is almost spiritual.
They pad past in absolute silence. Occasionally a feisty fellow will shake his head with a thunderclap of sound as the huge ears give off a mist of dust around the huge head. It is not unusual for people to be moved to tears by the awesomeness of it all. Slowly we witnessed the sun bid farewell to another dusty African day, bathing the lodge in a red glow as serene darkness descended over the bush. Grateful to be back at our favourite spot after two long Covid tainted years, we strolled to the lodge for dinner.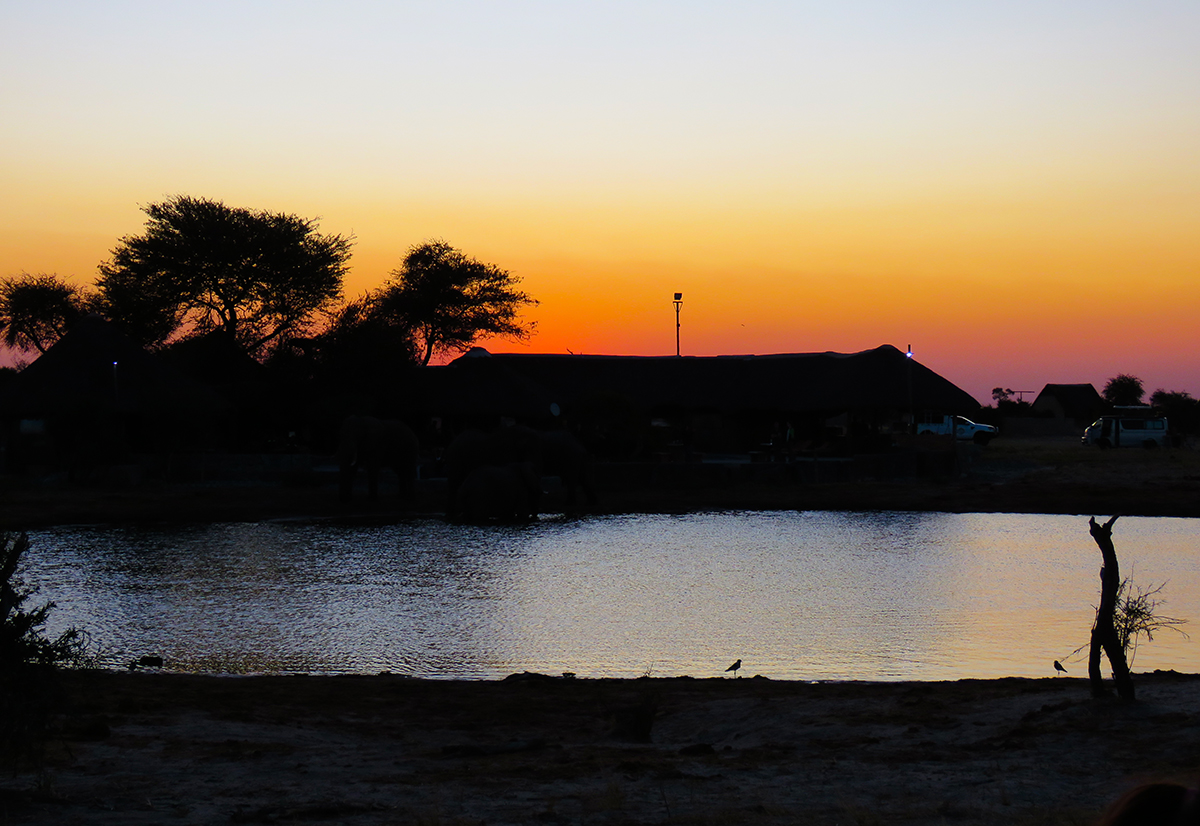 Dinner at Elephant Sands is an occasion. The drinking trough that feeds the waterhole in front of the lodge is literally three metres, at most, from where you can sit to watch the elephants interacting, as they jostle for their sweet water fix. A 'hardekool' fire spreads its heady aroma of Africa and provides that ageless 'bushveld TV'. The meat roasting on the braai fires fuelled a serious appetite. Delicious meat, veggies, salads and the best 'sadza' (pap) you will ever taste, soon sorted that out.
Sitting next to the fire, watching the huge ghostly shapes of the ellies, whilst sipping on a nightcap, was a fitting end to what had been an incredible day. One has to take care not to walk into an elephant or three on your way back to your chalet. They are seriously non-reflective, approach from all sides and as previously stated, make no sound as they pass by. Snuggling into a warm and cosy bed, we drifted off to sleep to the accompaniment of the odd elephant trumpeting.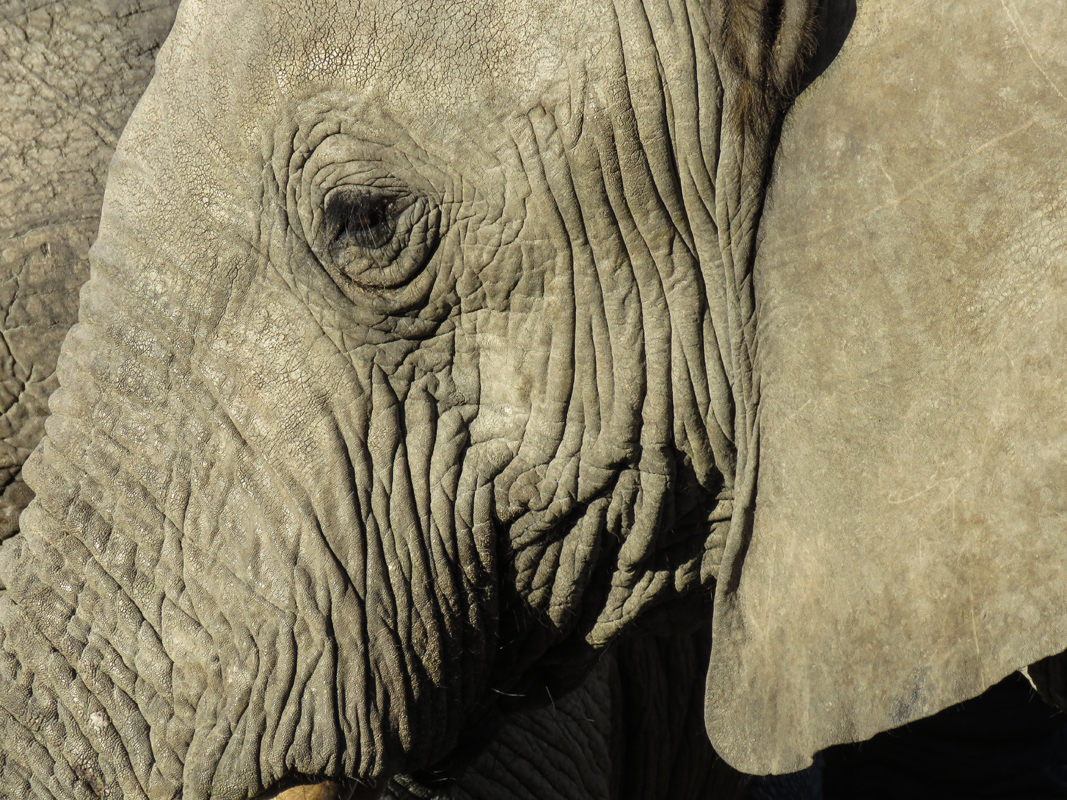 The watering hole was totally placid in the early morning sunlight, providing a mirror image of the lodge and campsite. Only the profusion of huge footprints told of the passing of the many elephants that we had witnessed the previous day. We enjoyed a leisurely breakfast on the patio of the lodge, went for a stroll around the waterhole, and then retired to a huge couch adjacent to the pool with a book for some R and R.
Here we had another special encounter. Mike Toth and his wife Saskia, who run the lodge, fostered a bunch of mongoose babies found orphaned in the bush. Two little females have decided that the lodge is their beat and are always up to mischief. We watched the restaurant staff chasing after them to retrieve a tablecloth which they were dragging away.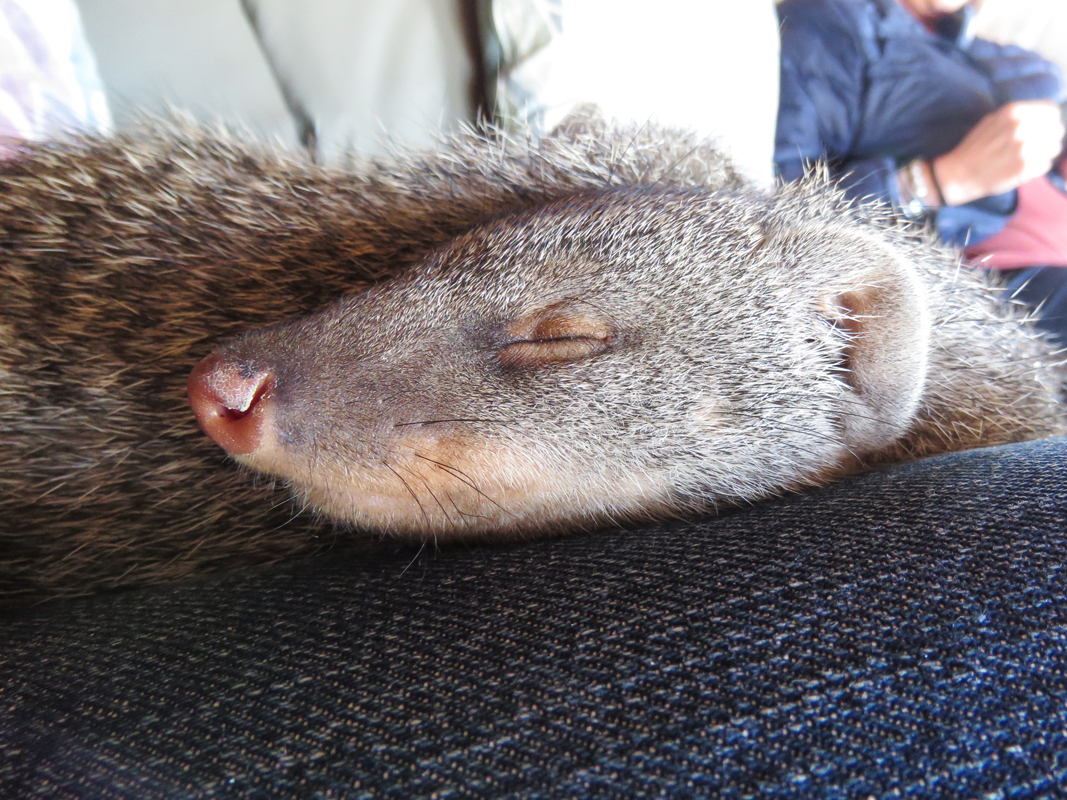 Seeing us on the couch reading, the two came over to investigate. In no time one was nestling into Irene's neck, much to her delight. The other little one plonked itself on my lap and fell fast asleep, joined moments later by number two. For an hour at least, they chilled, warm and secure, on my lap while I read my book. This is the thing with Elephant Sands. You just never know what is going to come along next. In late morning the first elephants put in an appearance and the show starts all over again.
Enjoying pre-dinner sundowners, we caught up on the latest lodge news with Mike and Saskia. This is a couple that puts heart and soul into what they do. As Saskia says, "she doesn't know what Mike would do with himself if he didn't have to constantly repair elephant damage to the lodge's infrastructure." Keeping the elephants from digging up water pipes is a constant challenge. The ingenuity of the huge pachyderms knows no bounds.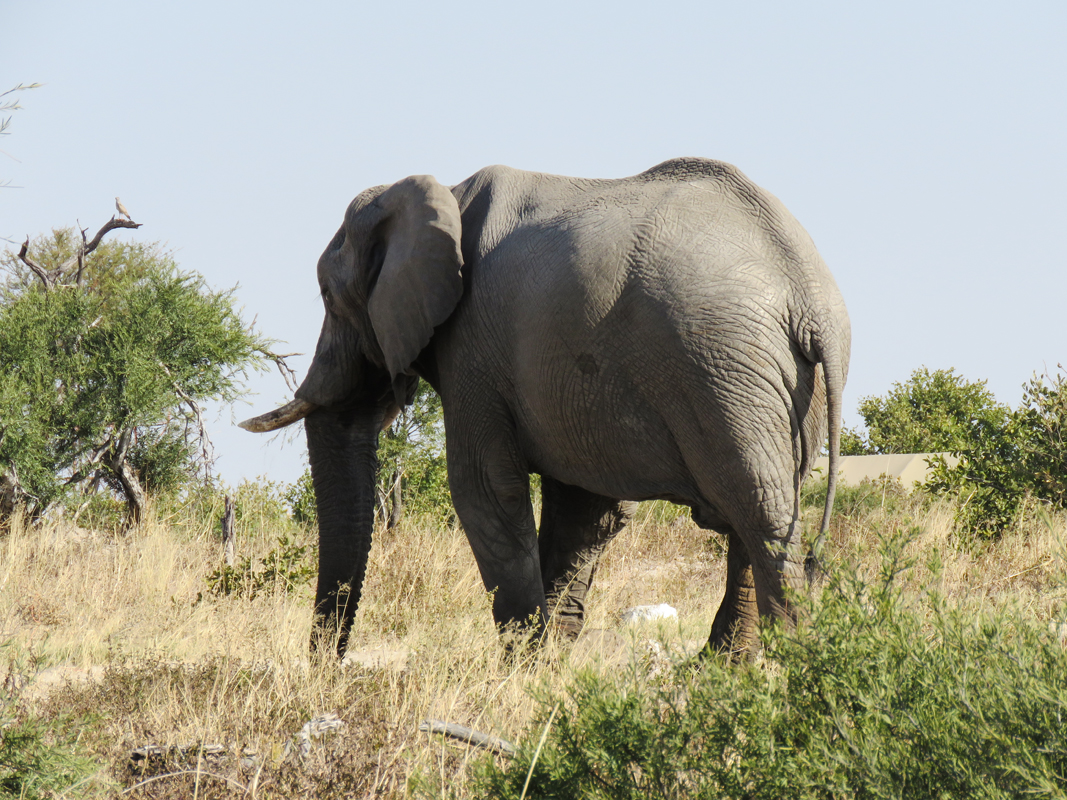 They now have a second, more remote lodge, close by, but deeper in the bush, which can be booked by groups of up to 24 people. Elephants, buffalo, kudu, wild dogs, giraffes and lions all frequent this spot. Hmmm, let the planning begin! Dinner on our second night was tasty stew, veggies, salad and pudding. Tummies full, it was off to bed.
Sadly all good things come to an end, so after a hearty breakfast, we had the bike packed and were on the road by 8:15. With a better idea of road conditions, I turned up the wick a bit and we got to the border at 2 pm. We shelved our original plan of sleeping at Kwa Nokeng Lodge at the border. The border formalities took no time at all and we were back on the road. Rolling into Vaalwater just before 5, we decided to ride the 30 k's out of town on the Melkboom road to a wildlife park, where we spent the night.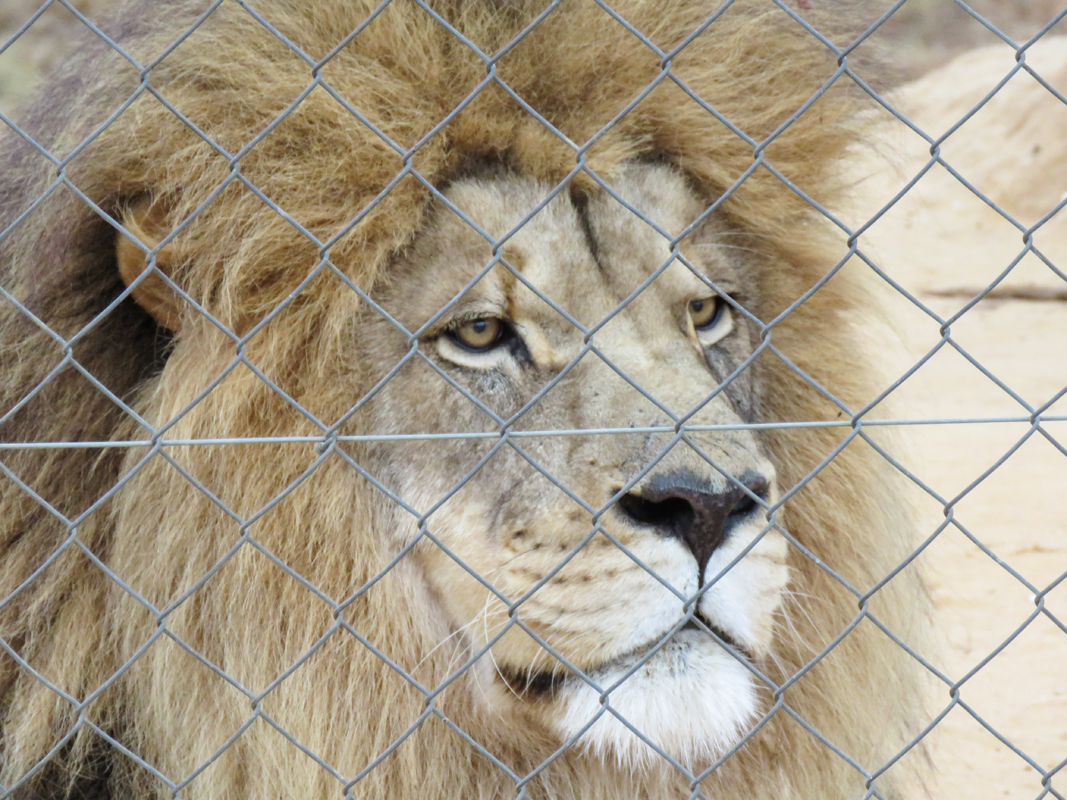 They have a wide variety of animals rescued from zoos and the like. It was fitting that we fell asleep to the roars of a big male Kalahari lion mere metres away in his enclosure. After witnessing the animals free in their natural habitat in Botswana, it was bittersweet to see the rescued lions and tigers in enclosures.
We had a short hop home the next day. It is always a rude awakening to join the highway after cruising the sparsely trafficked Botswana roads on our way back to the big smoke. We endured some fine rain and cold before getting home at around 12. Reflecting on our trip, I can say that if you are appropriately kitted up and on the right bike, winter touring can be a blast! As for the right bike…. if it has two wheels then it is "right!"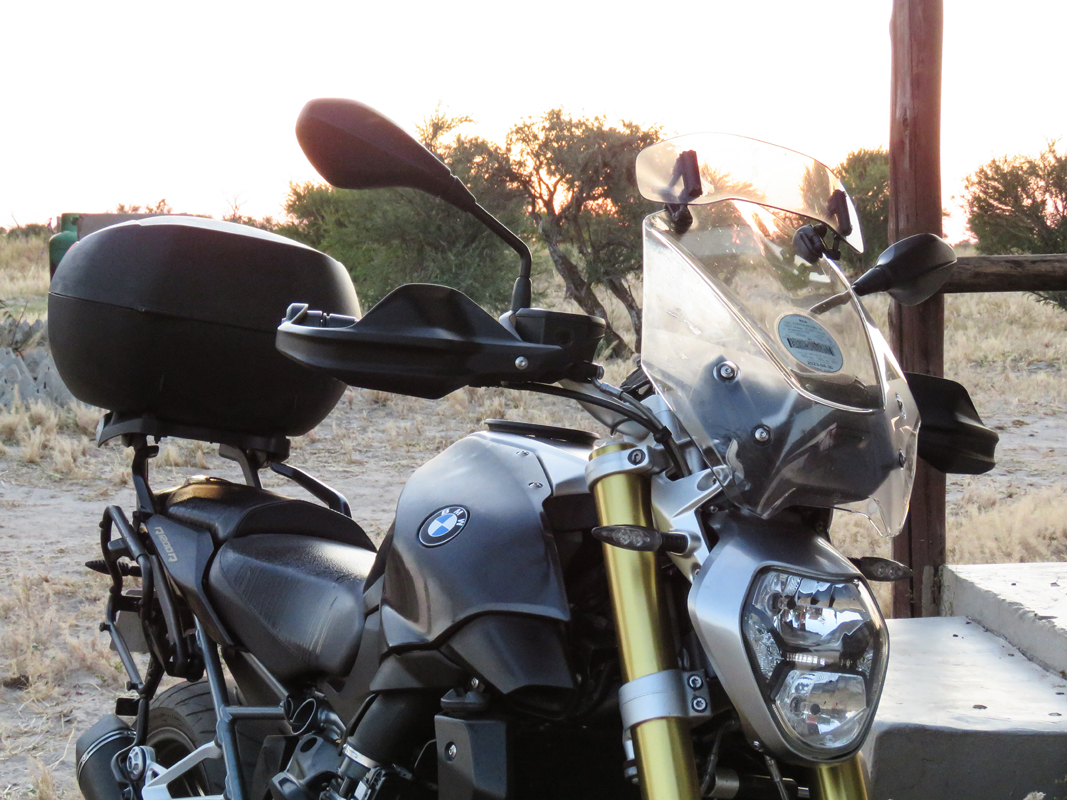 Having said that, I have to tell you that once again my R 1200 R blew me away. Firstly with the comfort. I have the touring screen fitted with a wind deflector. It works a treat, taking all the blasts off your body, yet leaving your helmet in clean air. The boxer motor is nothing short of spectacular. Perfectly powered, it has plenty of low-down torque, making the gearbox almost superfluous. It is silky smooth, responsive and economical. Even with a headwind and 150 km/h cruising, it gave me between 5,5 and 6 l/100. Not too shabby, considering that we were two up, with loaded panniers and a top box.
Interestingly, it is significantly lighter on fuel than my previous R 1200 GS Adventure with the same engine. This is probably thanks to the much smaller frontal area and lighter weight of the R. Irene found the seat supremely comfy too… My mate Cobus, when I told him of my proposed trip, had doubts as to how well the 'city slicker', as he put it, would work on the sand and dodgy roads. I pointed out to him that it is only in recent times that we have had 'horses for courses.' There was a time when we did everything with the bike we had.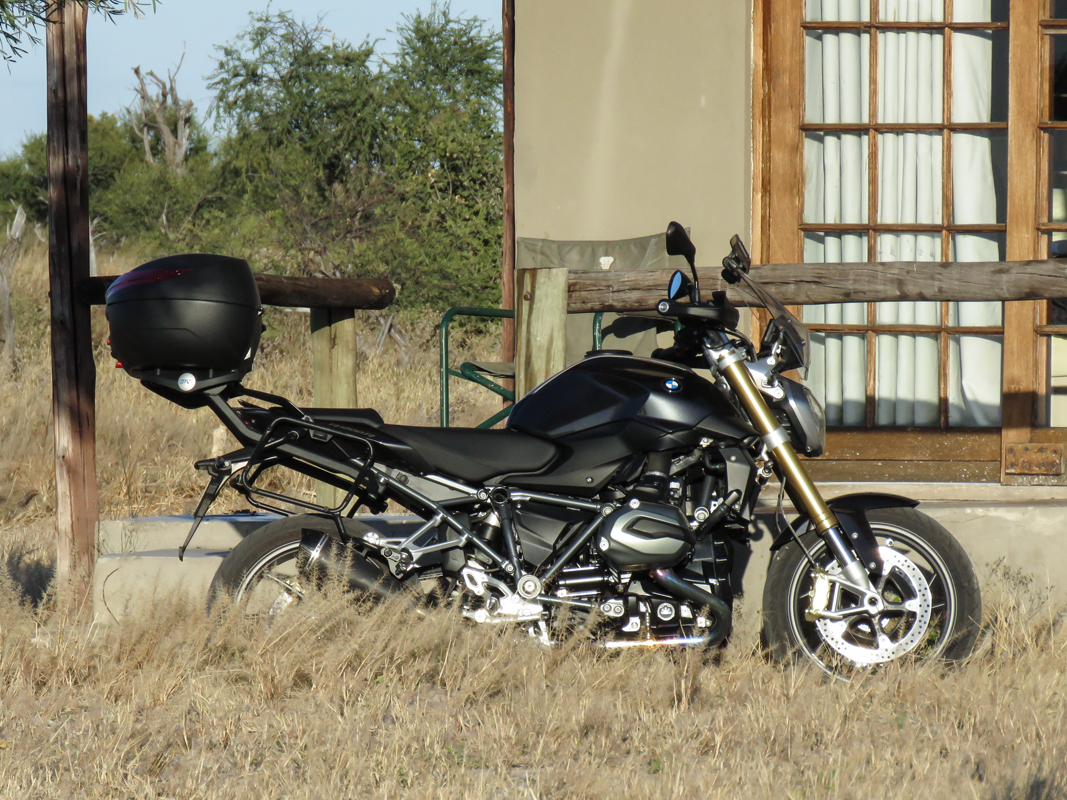 And then the shaft…. mention is seldom made these days of the fact that BM's are shaft driven. As if it's no big deal. It was a pleasure to never give it a thought, just ride. Cleaning the bike post-trip was also a doddle, with no messy chain grease to contend with.
So there we have it. Another Bots trip was done and dusted. God willing it won't be 2 years before the next one. If you haven't been to Elephant Sands yet, put it on your bucket list. It is a truly unique and special place!