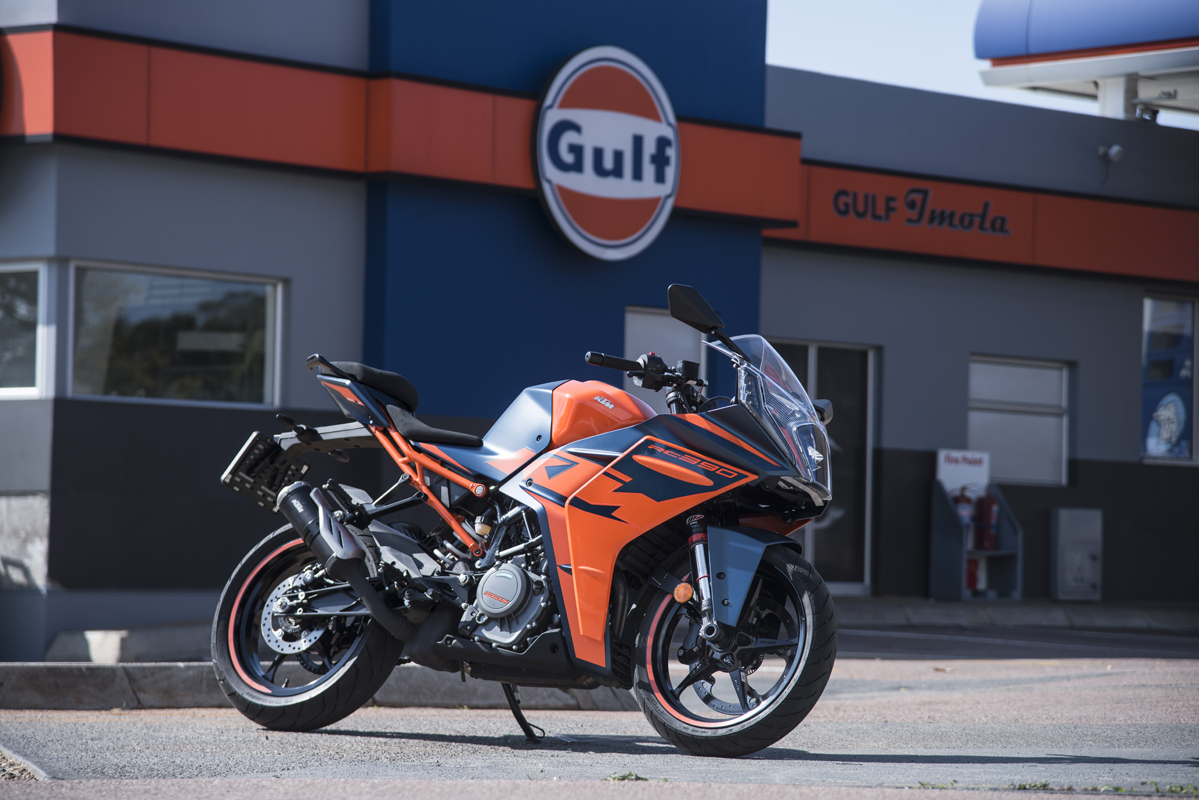 Over the years KTM has earned themselves the reputation of building a particular breed of motorcycle, a breed that can only be described as thoroughbred race-ready machines—bikes that love their throttles to be held wide open and fed fuel. Over the years the "Ready to Race" DNA has escaped their plastics and entered the bloodstream of KTM's nakeds, tourers, and even their big bore adventure bikes. The only segment that lacked the "readiness" was KTM's more commuter-biased 390 range of bikes.
However, for 2022 KTM has thrown diehard race boys and petrol heads an interesting curveball, by making the new RC390 a more race-ready package. The Austrians have improved the motor's torque, refined the handling, enhanced the technology and aerodynamics. Aside from the awesome aerodynamic MotoGP-inspired looks, the all-new 2022 RC features a 3D sensor which supports lean-sensitive rider aids—a first in its class.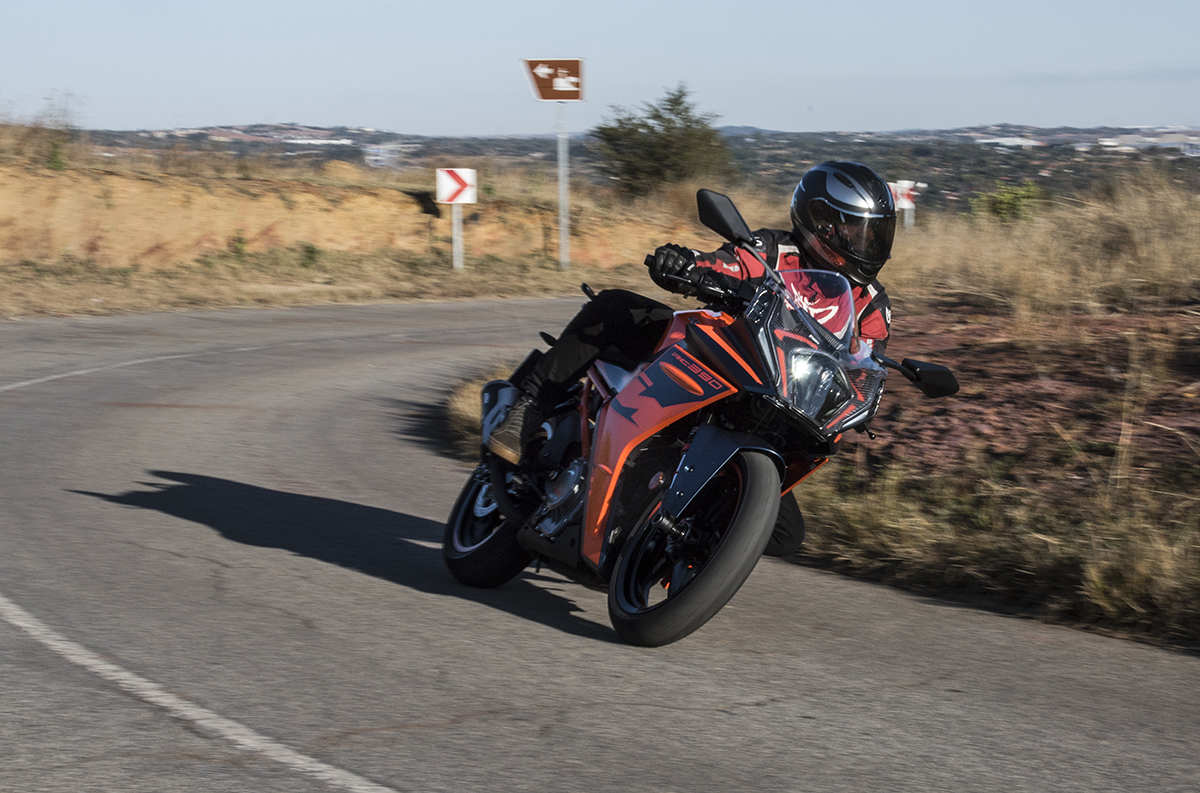 This begs the question: is the new RC390 still a viable option for beginners, and in this respect, is it enough bike for advanced riders?
The new look takes a mixture of design cues from KTM's RC16 GP bike and RC8 Superbike with its sharp flared fairing design and epic Red Bull blue colour shining subtlety behind all the orange. Let's nerd out a bit; the sharper fairing and flush-fitting indicators aren't just for dramatic effect but rather to aerodynamically increase the top speed by a claimed 7 km/h. This should give you an idea of what great lengths this brand is willing to go to—even on a sub 400 cc Supersport.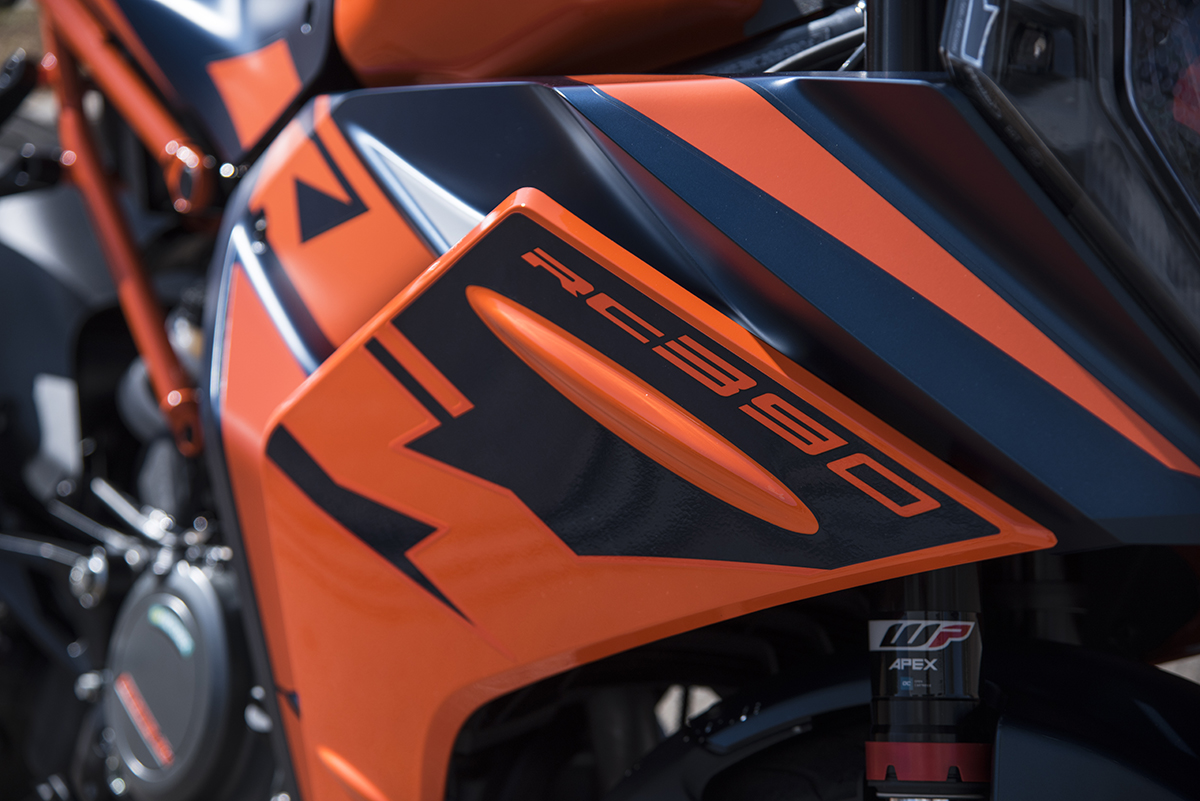 I don't know about you, but I personally disliked the previous gen RC390 headlight setup with a passion, as it sort of reminded me of the dog ugly 620 Duke; popping its large centred eyeballs out between the front fairing. The new headlight on the other hand is a work of art and it's placed inside of a super cool transparent fairing with an orange halo. Yes, it fogs up with a bit of humidity and shows a lot of dirt, but it's totally worth the extra bit of cleaning when you've got such an attractive and unique front end.
KTM's awesome attention to detail just keeps popping up everywhere, the new orange 13.7L (3.7L bigger) aluminium tank has a wraparound blue plastic fairing and laser-cut KTM bagging which just gives it that extra premium feel (as opposed to having the usual KTM sticker logo). The split seat with its suede-like finish is probably one of my favourite seats to this day and ups the comfort levels by being softer and wider than before.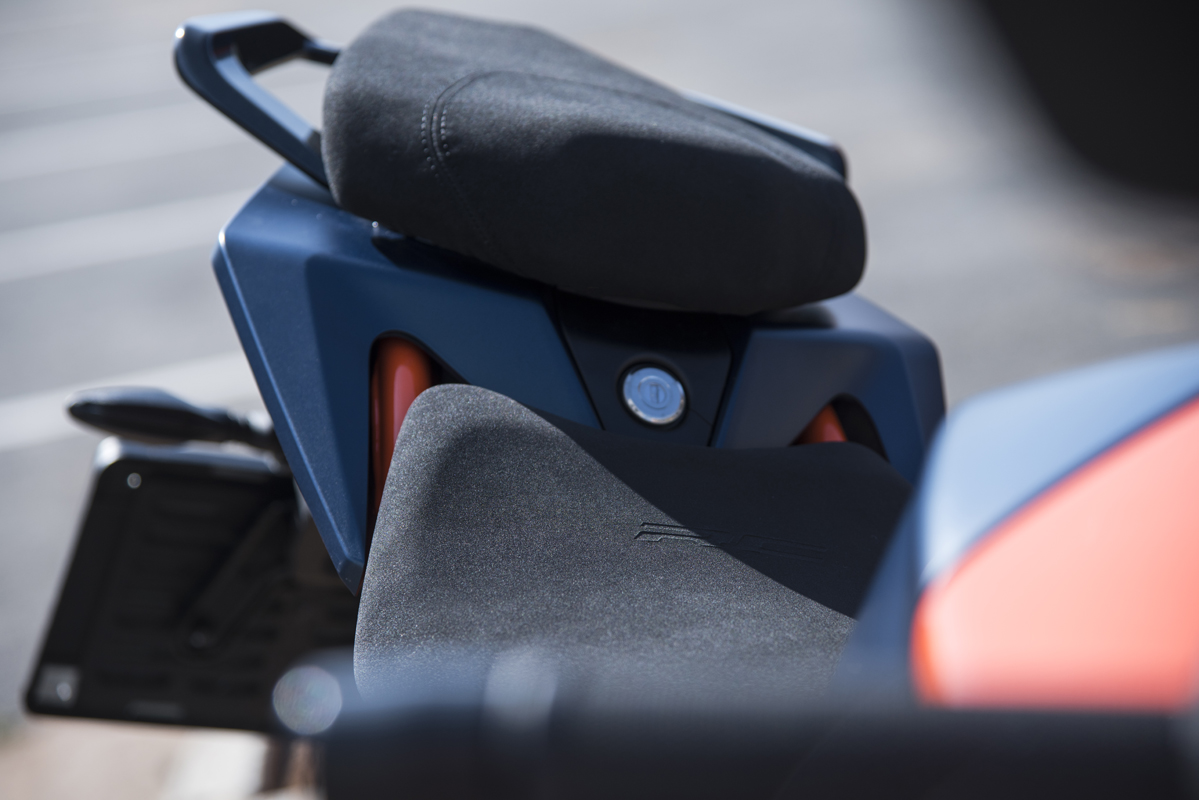 Heading towards the rear of the bike we see a GP look alike mesh on the standard exhaust, although a subtle design cue, it nails the race bike look. KTM has given the RC390 a new bionic wheel design which has 5 spokes and an open hub that improves handling whilst saving a whopping 3.4 kg of rotating unsprung mass (30% lighter than before). For those who don't talk numbers, they look just as cool as those found on the RC8.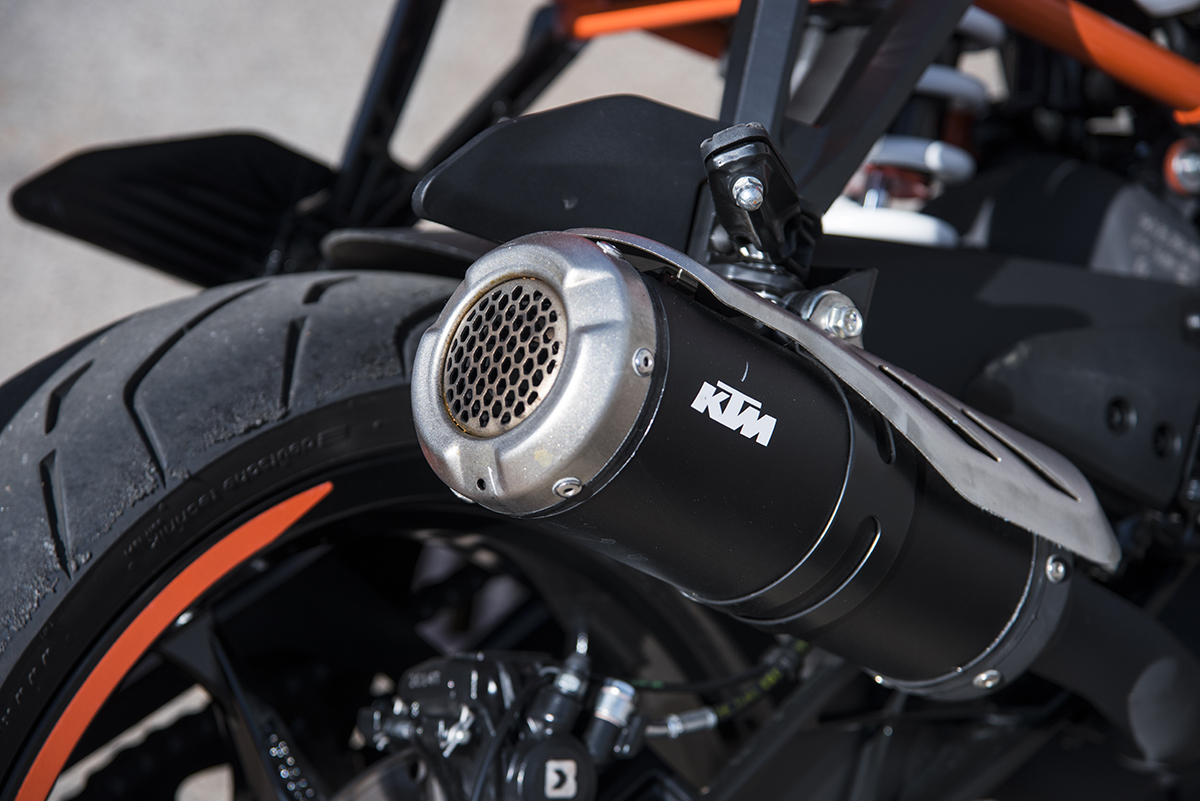 Finally, we throw a leg over the RC390 and the most apparent change is the amount of room you've got to move around on the bike. The wide bars, short reach and decent peg height sets riders up with a comfortable riding triangle, which I found worked great for both commuting and when riding fast. Turn the key and "Ready To Race" pops up on the full-colour TFT dash and just like a packet of Liquorice Allsorts, there is a wide variety of customisable parameters especially designed for riders to set up their ideal ride and display layout.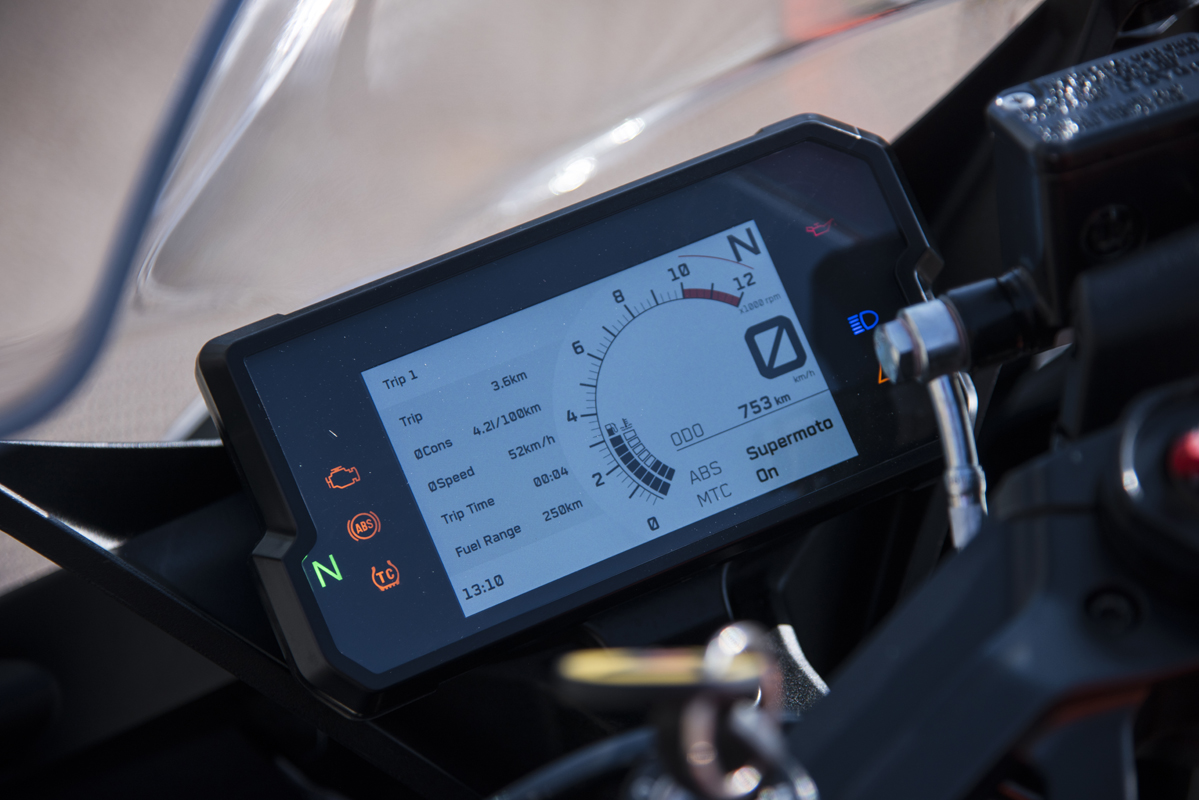 The RC makes you feel like you could win the race from the back of the grid. It really does, even if your grid is the daily grind and your opponents are handicapped by the evils of traffic. With the RC being so nimble and narrow, filtering your way through traffic is a breeze. Even in traffic, I really appreciated the RCs new 320 mm Bybre brake setup and new ABS software, namely the 'Supermoto' mode. The Supermoto ABS still has active ABS working in the background but with much less intrusion, allowing you to make a much quicker and safer emergency stop without the brakes going numb or making you walk the plank.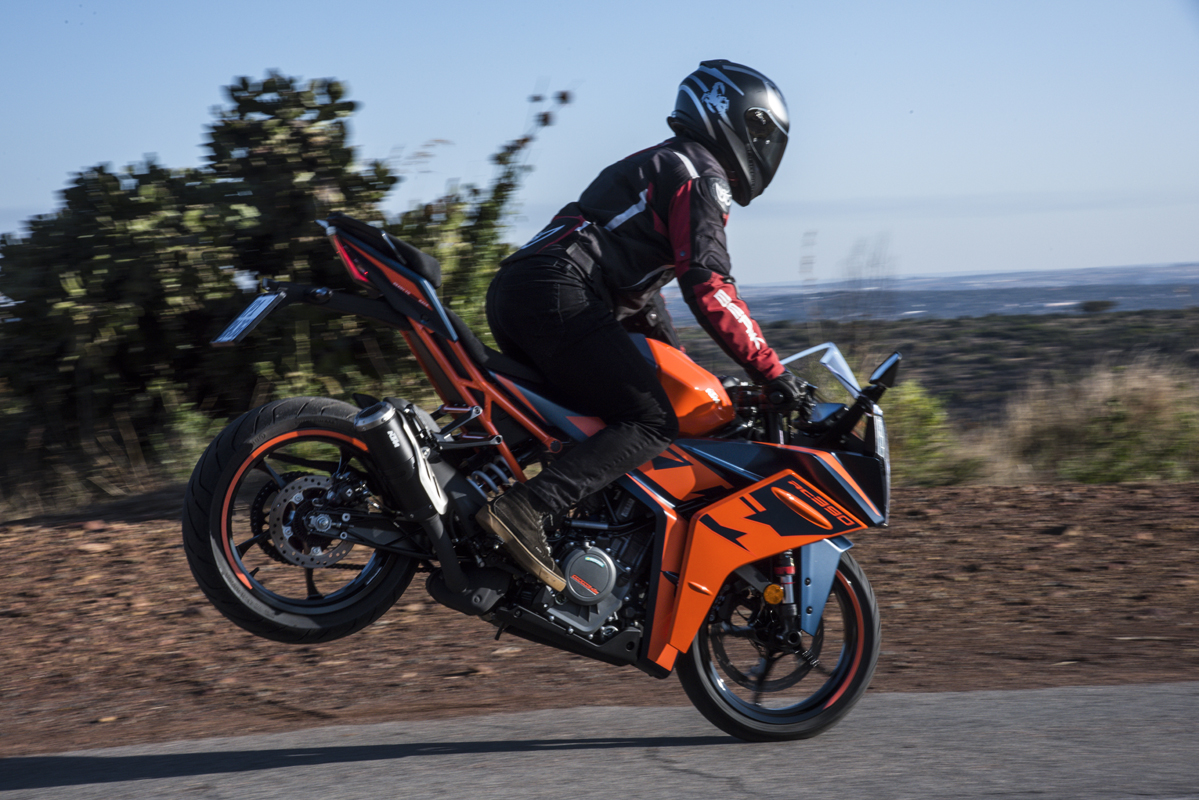 When out of the snarled-up traffic and on the snaking back roads this is where you start to see the day and night difference between the new and old model. The latest RC is effortless to lean over, making it easy to add a few new tears to your skinny jeans with its newly improved and fully adjustable WP suspension.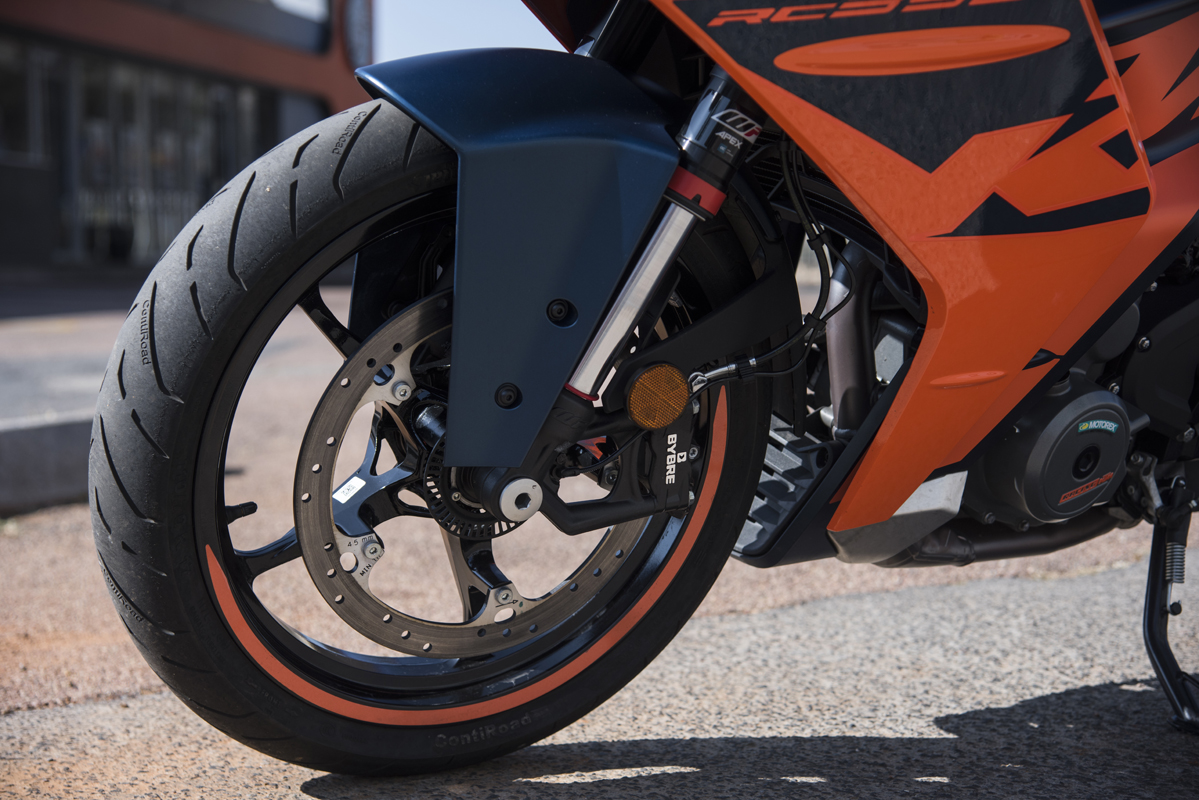 Where the old model was feeling too soft and struggling for grip, the new RC gives you that extra layer of confidence and stability. The suspension isn't just a game changer compared to its predecessor but rather a new level of handling and adjustment in its class. It is definitely my top pick.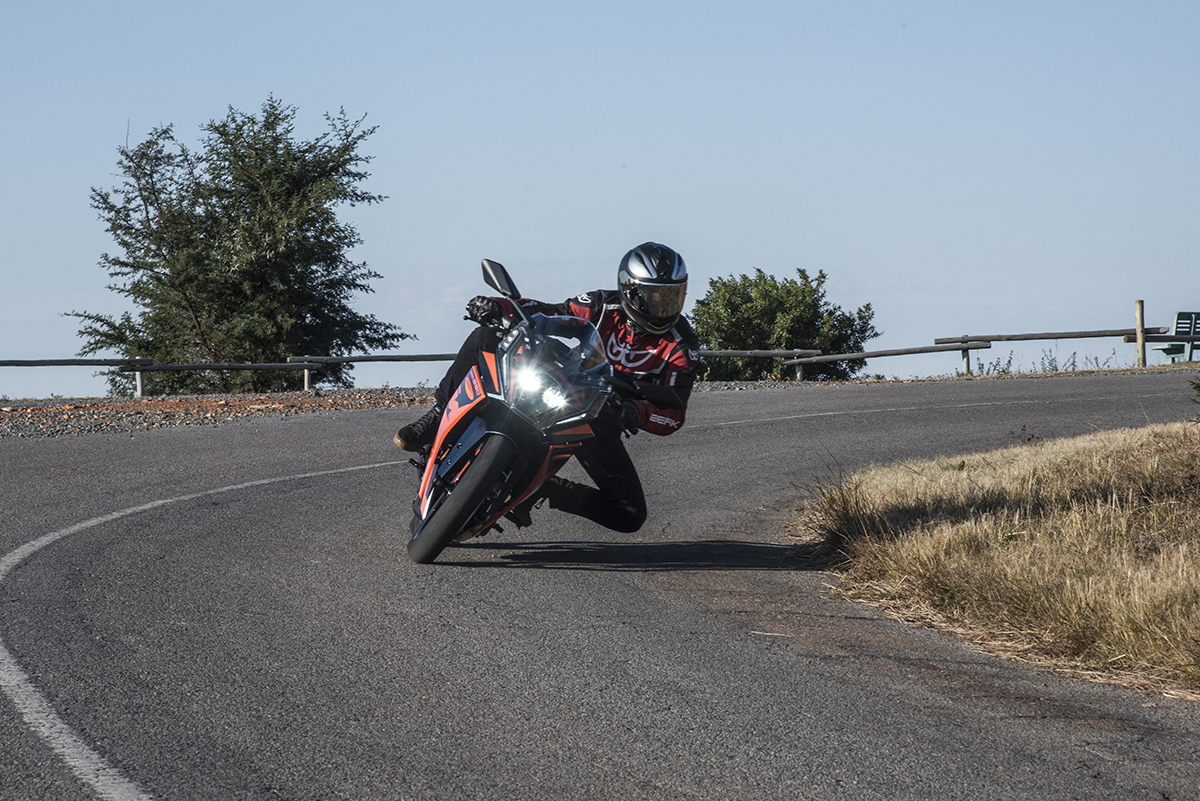 With the bigger tank on the new RC390 you can enjoy hustling or commuting for longer, almost 90 km longer than before. You can expect to get around 25 km/L out of the RC on the daily urban commute, which equates to an impressive 342 km on a tank. Even with a heavy wrist, you can expect around 300 km on a tank and for a little bike, I think this is very impressive.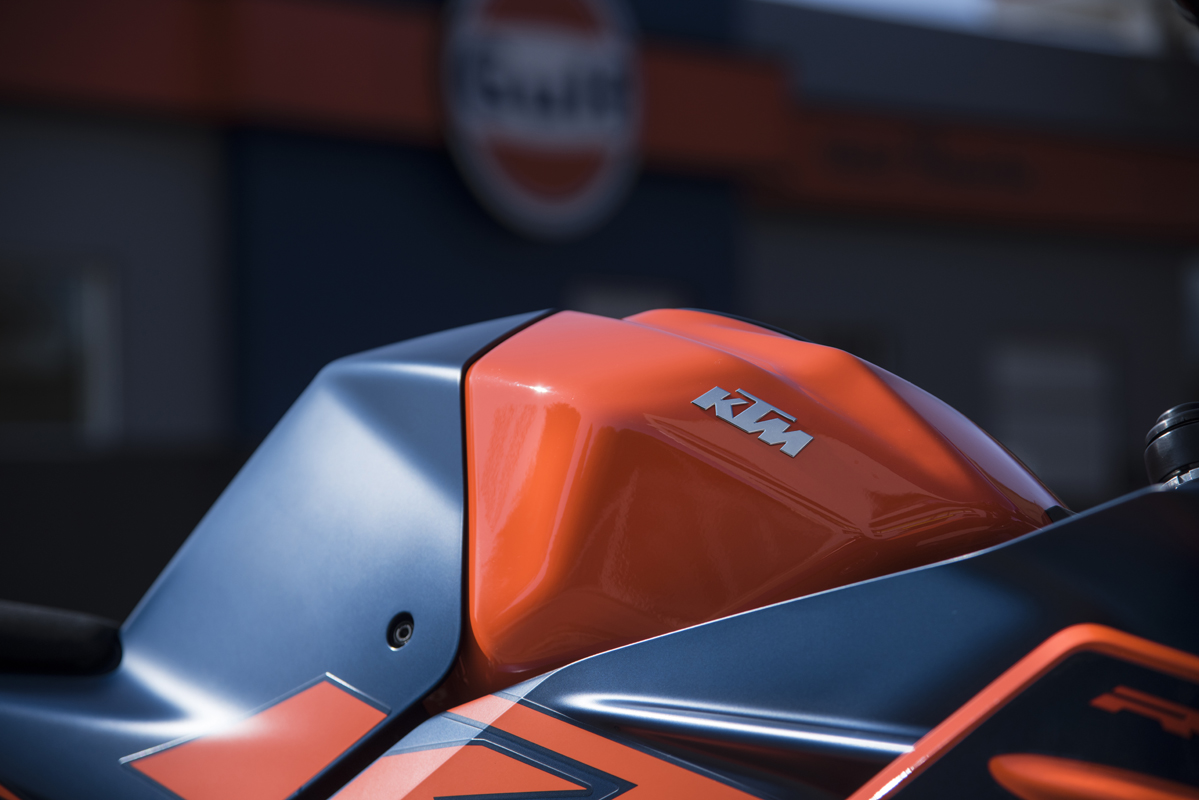 Most of KTM's efforts have gone into the handling which may leave you wondering why have they not increased the peak power of their 373 cc single cylinder power plant? The sad truth is, for KTM to sell more volumes overseas they need to keep the RC390 within the A2 licence regulations. This may sound like a downer but not all is lost, KTM has cleverly made a few tweaks to the new airbox which in turn has provided the RC with a comfy 43 hp of power and 37 Nm (2 Nm more) of peak torque. I felt the peak power to be adequate, however, the fuelling has become sluggish and with a narrow band of power in the rev range, this makes you have to shift gears high up in the rev range to keep the RC ticking.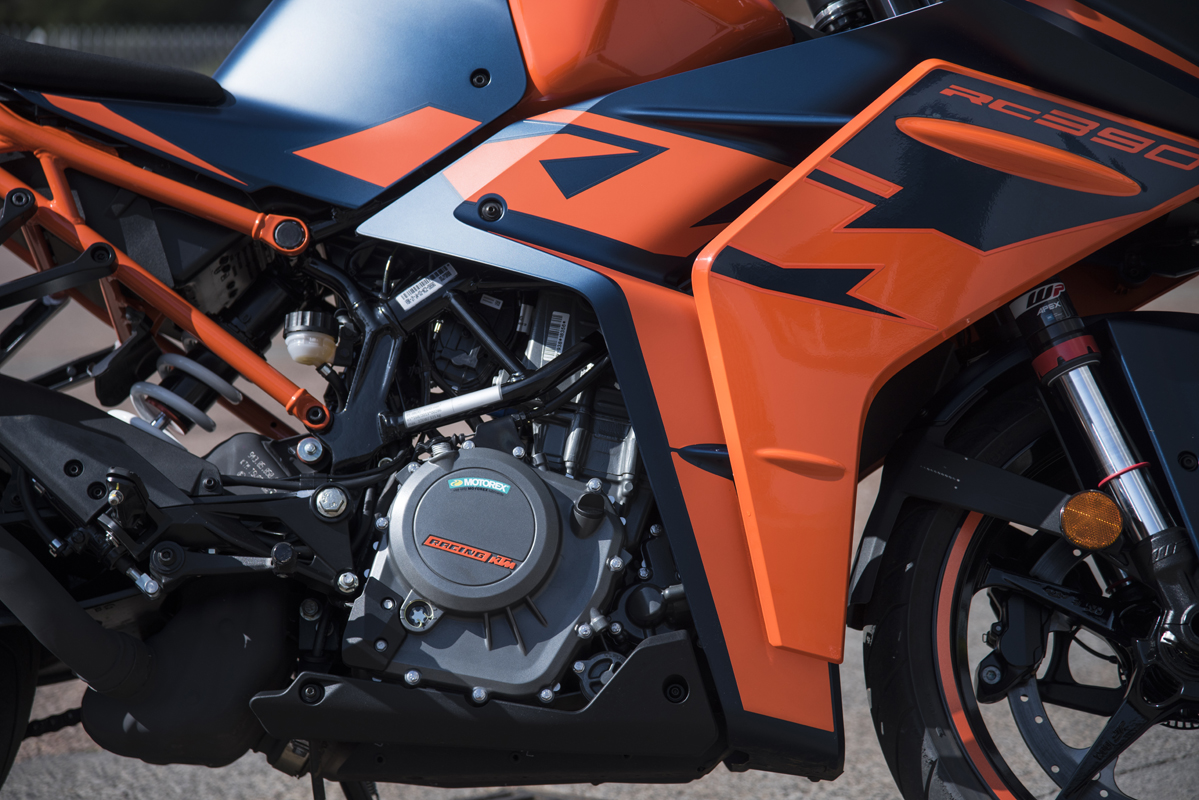 Having the same power plant isn't a train smash and quite frankly it suits the race-like character of the new chassis. Once you've gotten used to riding a 390, you can really hustle it around and enjoy all the engineering behind the pretty looks. The optional up-and-down quick shifter is another first in its class, it complements the motor with quick changes between the short gears and is really smooth on the downshifts.
So, there you have it the 2022 KTM RC390 has been improved in almost every aspect and coming from someone who has spent just over 25,000 km on KTM's 390 range (of which 16k was done on my very own 390 Duke), I can honestly say this new RC is a special bike and well worth sacrificing top end power for probably one of the best chassis in the game. For just under 100k, I think KTM has brought out a great bike for the Supersport enthusiast and beginner riders who are looking to master their skills without needing to fork out any additional money on track bike upgrades.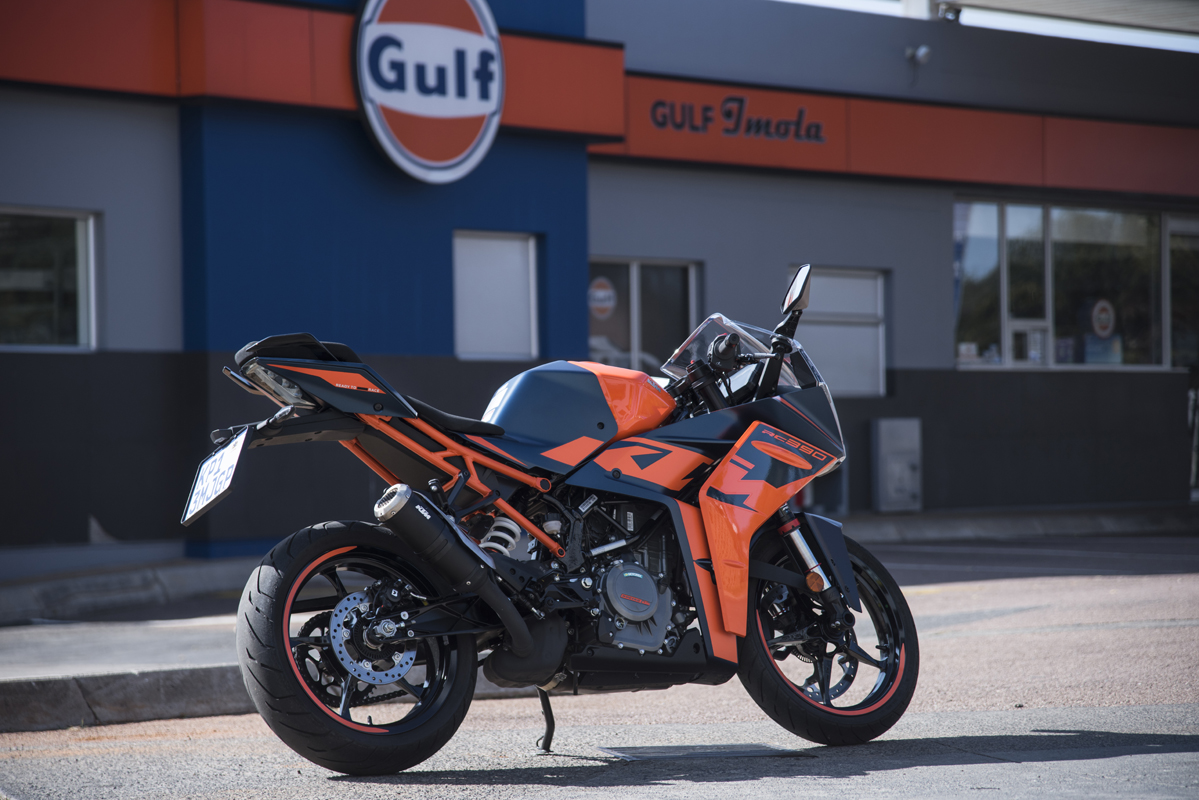 KTM RC390 
For more information on the bike that we tested in this article, click on the link below…