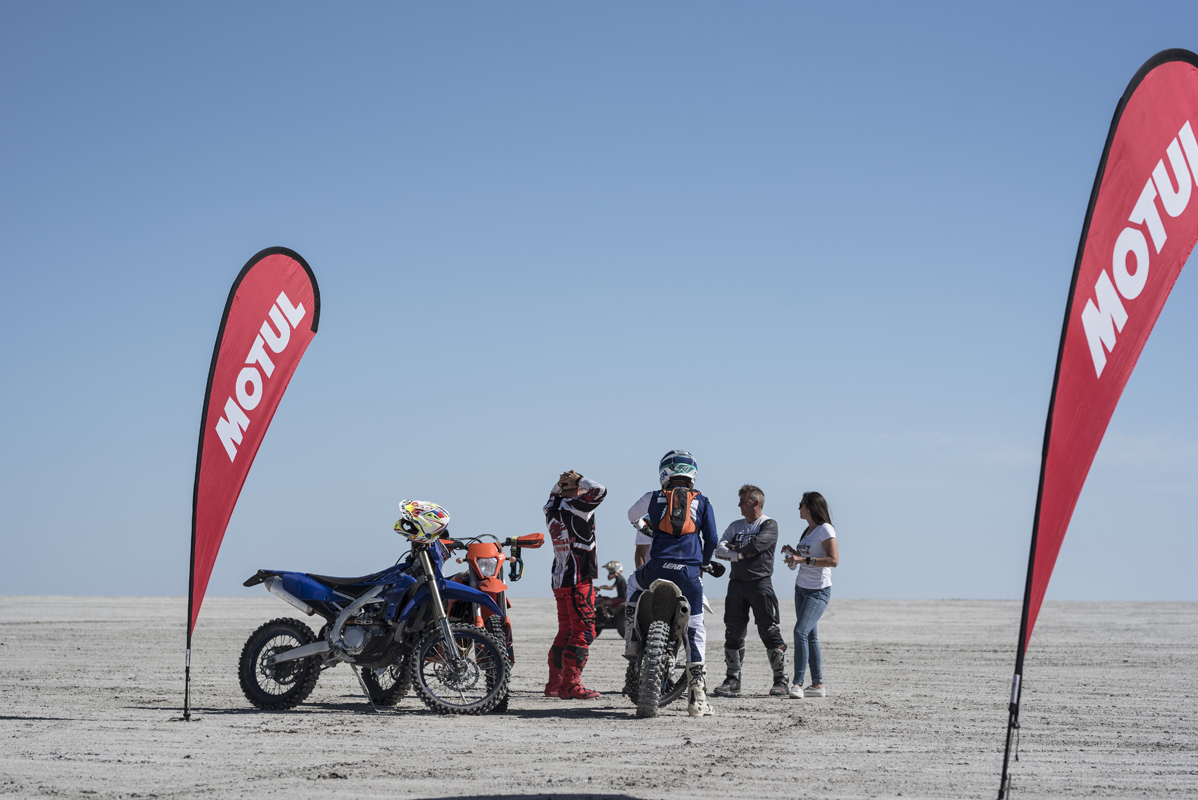 We recently got to attend Motul's On the Move Moonlight Adventure to Botswana. Bjorn and Meredith accompanied the Motul and SADAC crew to capture the moments in images as only they can, whilst Irene and I went along just to support Muddy Face and spend time in our favourite neighbouring country. Here is our story…
Adventure is something our inner souls long for in this busy world, a respite from our everyday cares and commitments. Whether it's cruising your way to a new destination on a map or trekking to a faraway spot, we adventurers love chasing the sun towards new horizons—sometimes the chase is just as fulfilling as the end destination. Mmmm, this sounds just like the Motul On The Move Moonlight Adventure.
The Motul on the Move Moonlight Adventure is one of those trips that gets tattooed into that deep part of the brain where bucket list memories live. This year, Southern Africa Dual-Sport Adventure Challenge (SADAC) supported Botswana-based Muddy Face Adventures to give riders a unique opportunity to experience riding their adventure bikes under the light of a full moon over the Pans. Yes, you heard correctly, the Motul On The Move Moonlight Tour (proudly sponsored by Motul) saw riders head from Motul's Johannesburg HQ, on tar and dirt roads, to Botswana's iconic Makgadikgadi Salt Pans.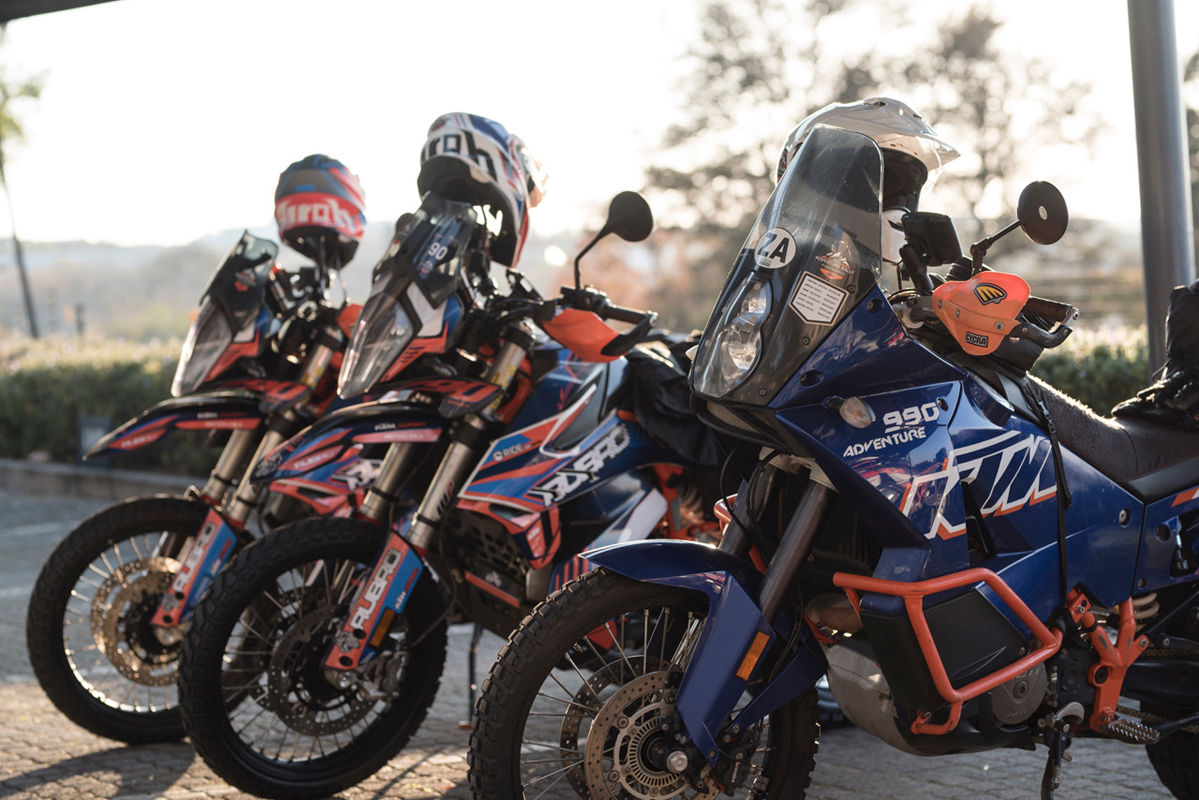 The trip would see us ride just under 2000 km of tar and dirt. The first two days would be spent enjoying typical adventure riding to the Pans, and the next 3 days would be spent enjoying the Muddy Face event.
Day one started off with an early bird coffee and snack, kindly laid out by Motul SA. Treffon Smith from SADAC then led the riders through a briefing, set up the GPS devices on each rider's motorcycle and got the baggage fastened on the recovery vehicle, before hitting the road at 8:00 AM. Joining the group on his first-ever adventure ride was Motul's oil maestro, Taki Bogiages, on a Rally-kitted Husqvarna 701 Enduro.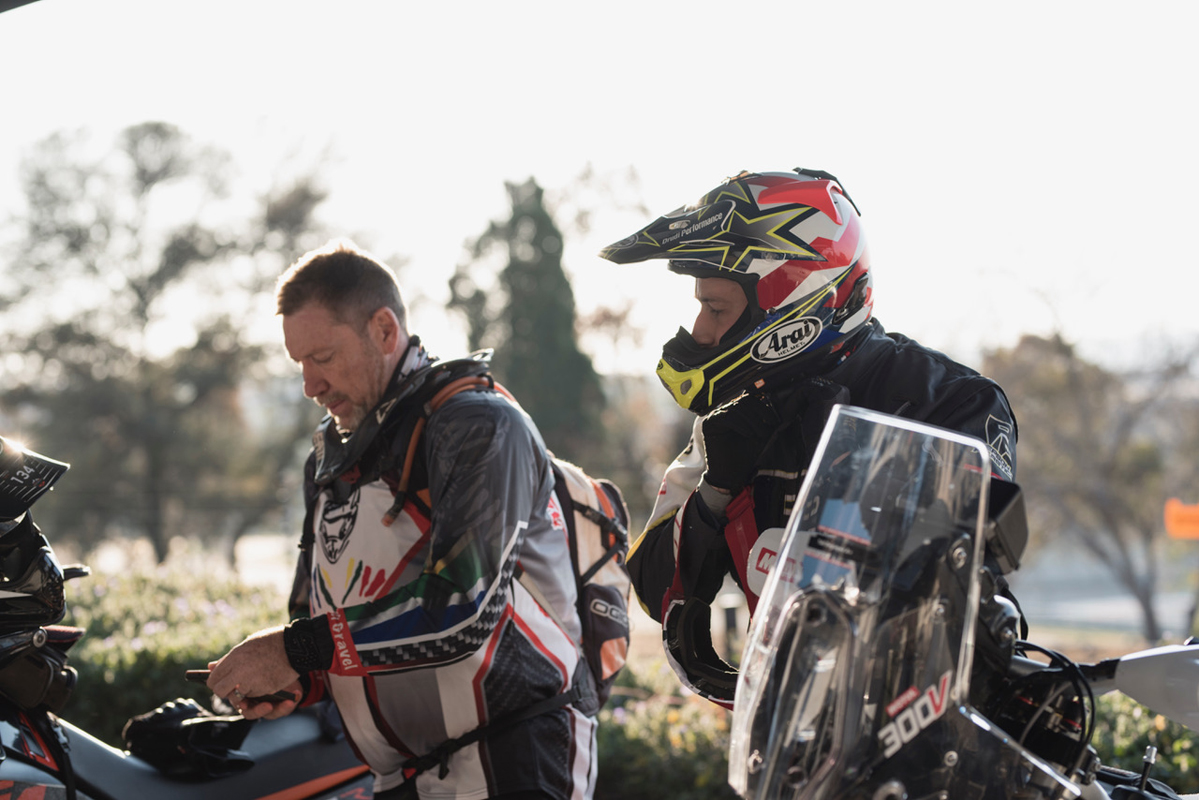 We rolled out of busy Kyalami towards Hartbeespoort, taking dirt roads past Brits towards Thabazimbi. Riders soon shook off their adventure cobwebs and began to smile their way into the sunny and warm weather. Thanks to Carl (support vehicle), Anke and Tracey, the riders were kept well hydrated and fed, whilst Treffon kept the smiles going with his humour.
On reaching Thabazimbi after a couple of hours of riding, the tummies were grumbling for some refuelling. A quick lunch and rest set us up for a ride in the afternoon cool to our night's stay over at the Buffalo Thorne Safari Lodge. We arrived as the late afternoon sun heralded in a typical awesome African sunset which we enjoyed with a sundowner underneath a magnificent baobab tree. Another perfect day in Africa…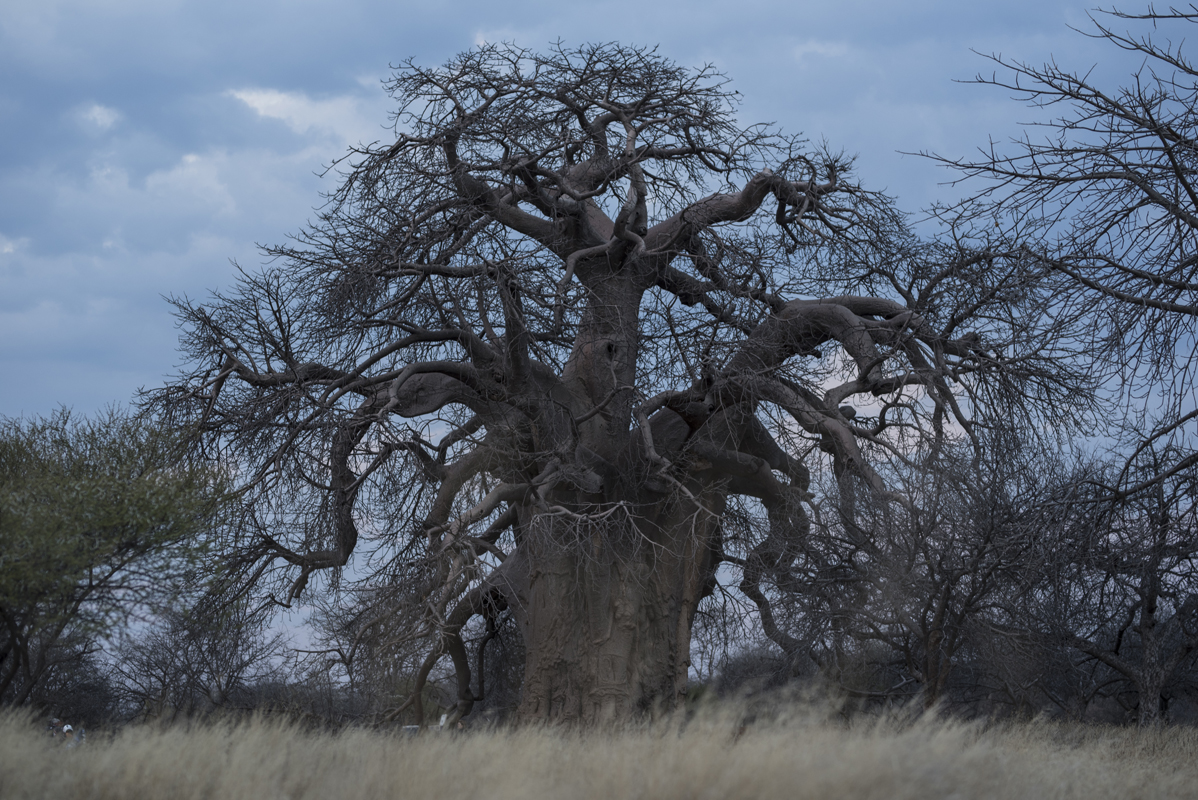 There's just something about waking up in the bush, its freshness and tranquillity soothe the soul and recharge the mental batteries. A hearty breakfast drew our stay to a memorable close and then it was back on the bikes for day two of our adventure. A short 100 km ride found us at the Grobler's Bridge border post into Botswana. A few stamps later we hit the road towards our lunch stop at Khama Rhino Sanctuary. Our final stop before heading to the Makgadikgadi Pans was in Letlhakane, for a few supplies.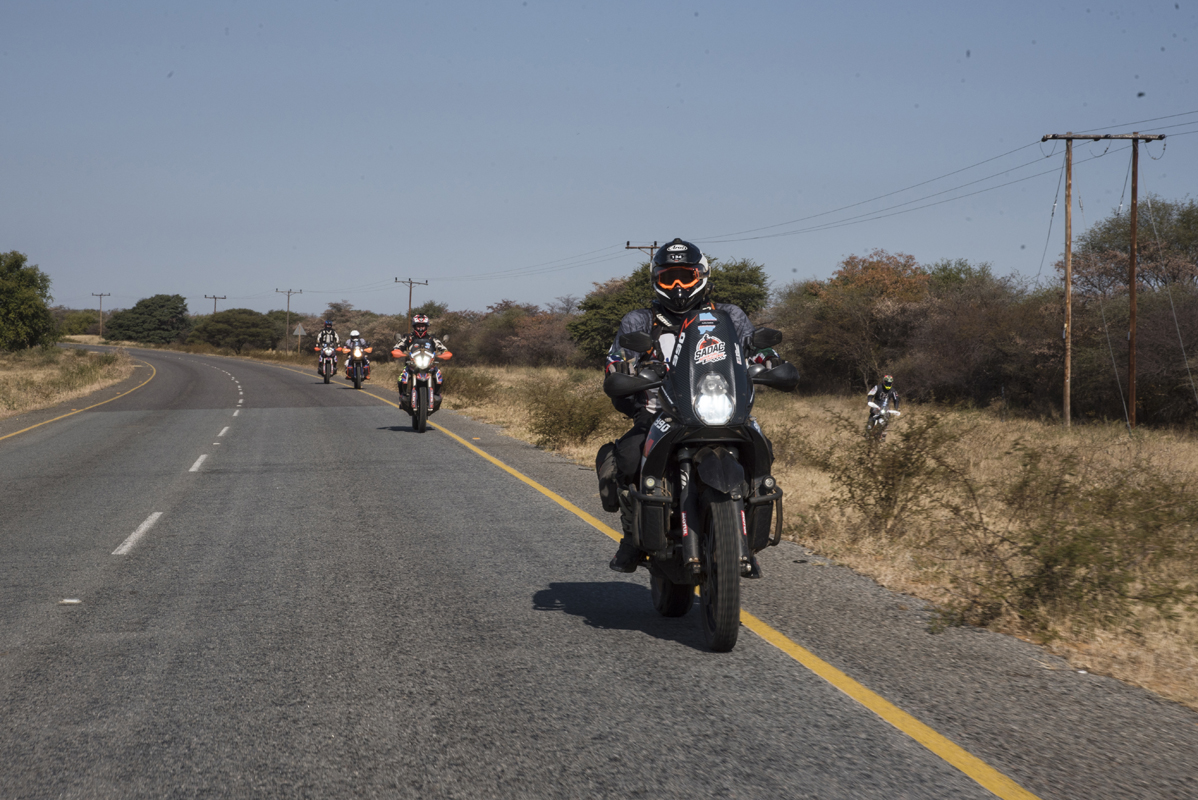 Turning off the tar road between Letlhakane and Francistown, at the sizeable village of Tlalamabele, we had 20 k's of dirt road and 30 k's of 'twee spoor' to negotiate before arriving at the Muddy Face Adventures campsite on the southern fringe of Sowa Pan.
Seeing Ellie poo on the roads reminds you that you are back in Botswana and just adds to the sense of wildness and adventure. Some had opted for a touch of glamping in Safari tents, whilst others pitched their own tents before settling in for a relaxed evening, chilling around a campfire under the moonlight on the Pans.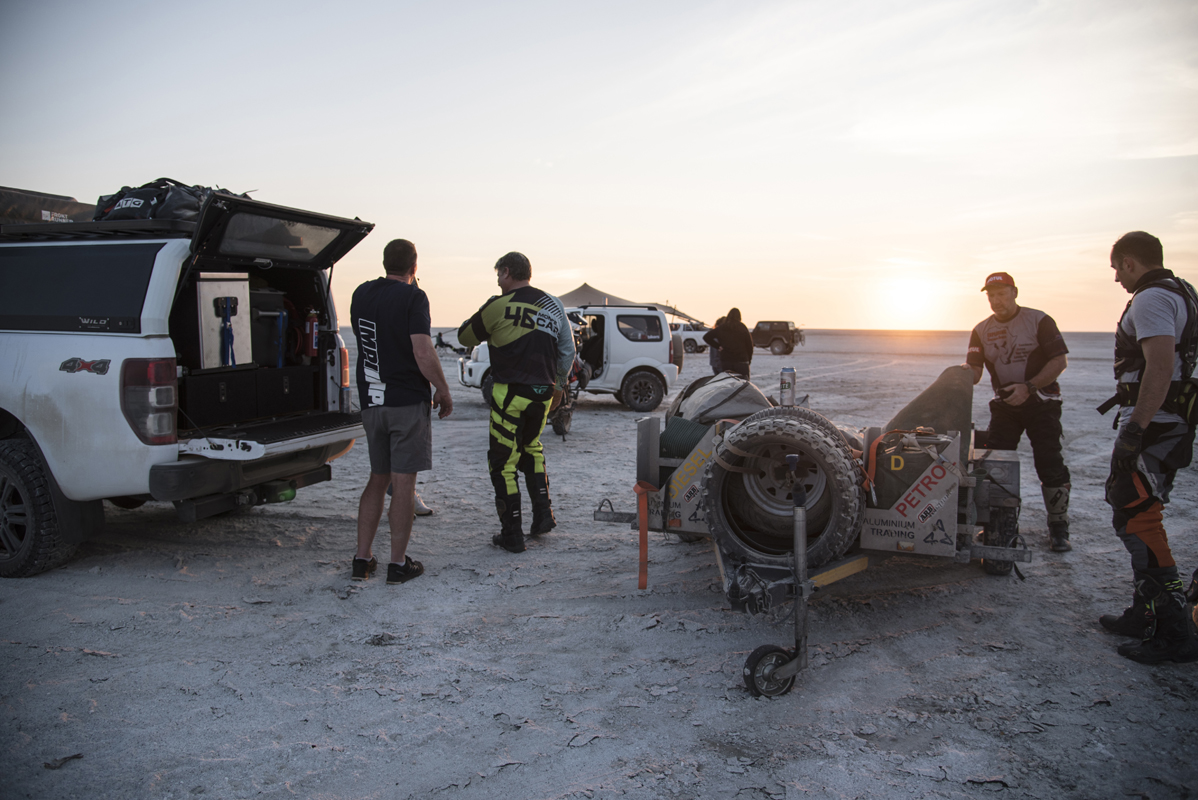 We experienced our first unique sunset on the pans. We watched the sunset in a huge red orb below a dusty horizon. Just when you imagine the spectacle is over, the last rays of the day paint the few scattered clouds blood red, which then soften to pink before fading into purple and finally bidding the day goodbye. The skies do indeed "declare the Glory of the Lord!" Turning around, we were greeted by the huge pale rising moon, soon to cast its light in an eerie glow over the white of the pans.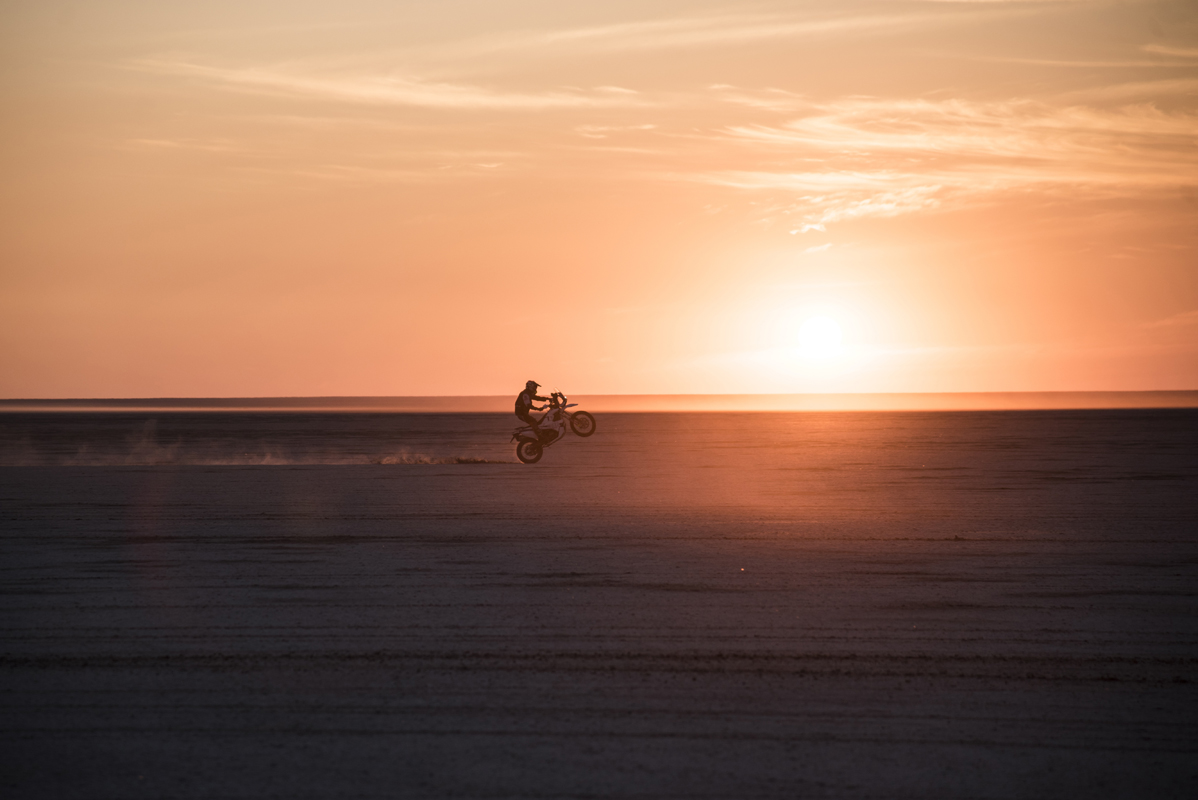 Muddy Face Adventures is the brainchild of Botswana's Dakar star, and factory Hero rider, Ross Branch, the "Kalahari Ferrari". Ably assisted by Lola Berry, they organise a few unique adventures in Botswana. It is a logistical exercise of note to set up a 'village', given that everything must be trucked onto the pans. The Botswana dirt bike fraternity pitched up in force, as well as a few 'imports' such as us, soon dotting the fringes of the pans with all manners of camps. Muddy Face set up a stage, drumming circle and chill zone, with a bar and food vendors and sponsors like Motul and Hero arranged in a large semi-circle around a freestyle motocross ramp, flat track and enduro course.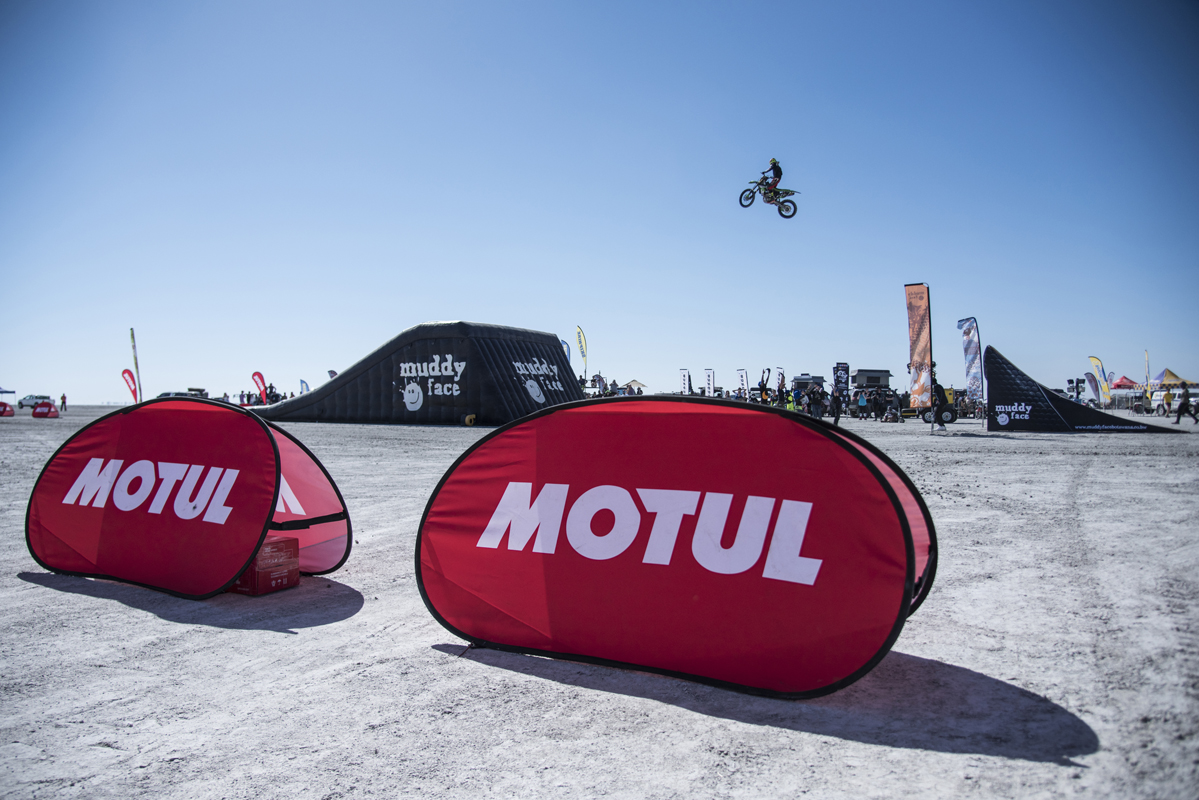 Ross was the MC for the weekend. His racing buddies, both past and present, showed up to support his event. It became a bit of a who's who of dirtbike racing, with the likes of Darryl Curtiss, Gray Dick, Taki Bogiages and Charan Moore all strutting their stuff. You realise what a close-knit bunch these boys are. They race with no quarter given or asked, but when racing is done, they play equally hard.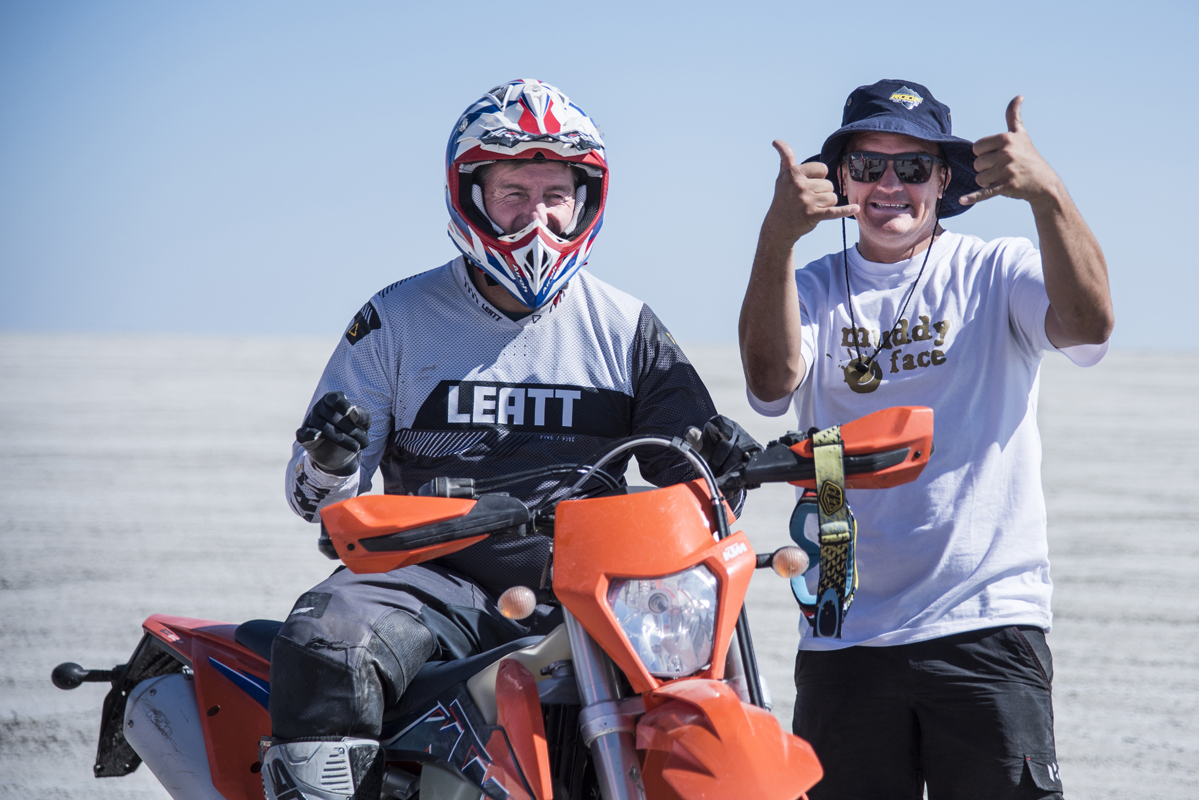 Over the course of the weekend, we were treated to Freestyle Motocross, with guys sailing many metres into the Makgadigadi air before landing on a Muddy Face emblazoned inflatable ramp. Flat track catered to littlies, intermediates and the aforementioned pros. Racing was all about fun, but racers will be racers and when the flag dropped the action was electric! Watching the quad boys strut their stuff was also hugely entertaining.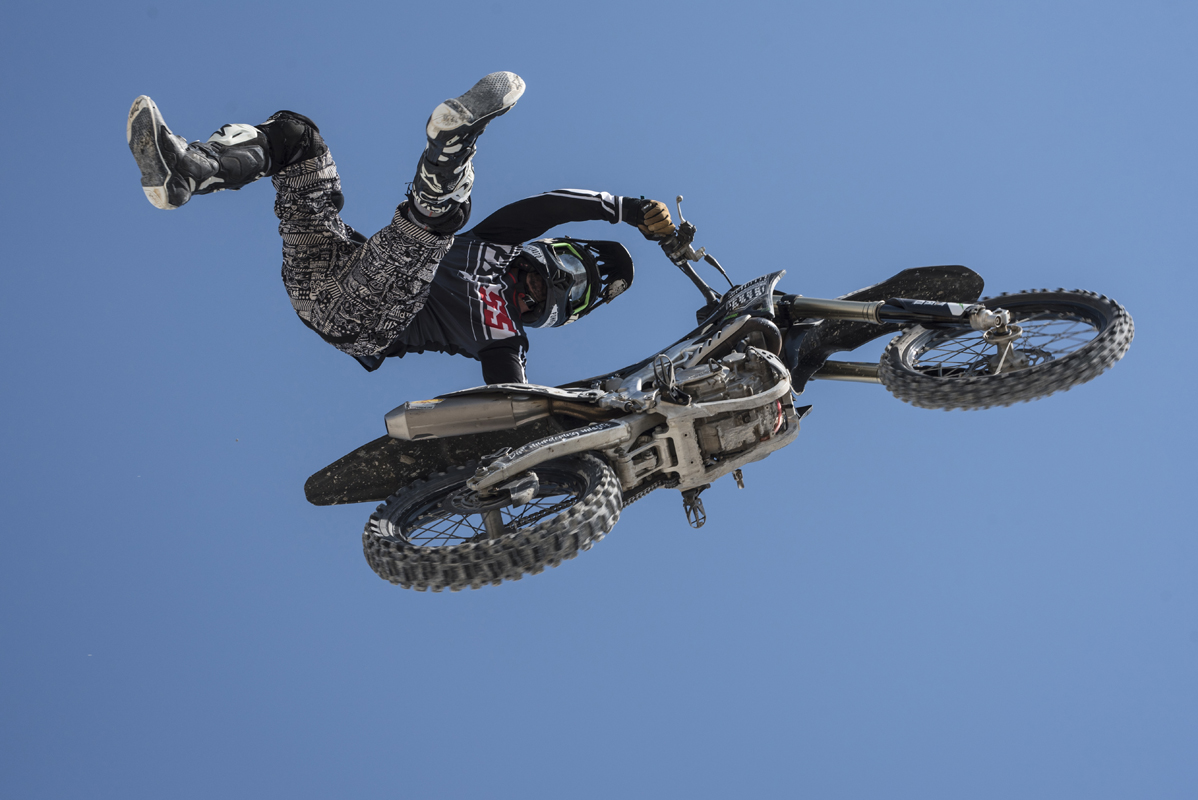 It was the pros who provided the biggest spectacle. Lining up against some Botswana hotshots, it was game on. Elbows, knees, and lots of sideways roosting action. The boom and braap of 450cc dirt race bikes echoed across the pans as the boys went at it. Gray Dick showed the talent that won him many a title, as he smoked the field in the 'final'.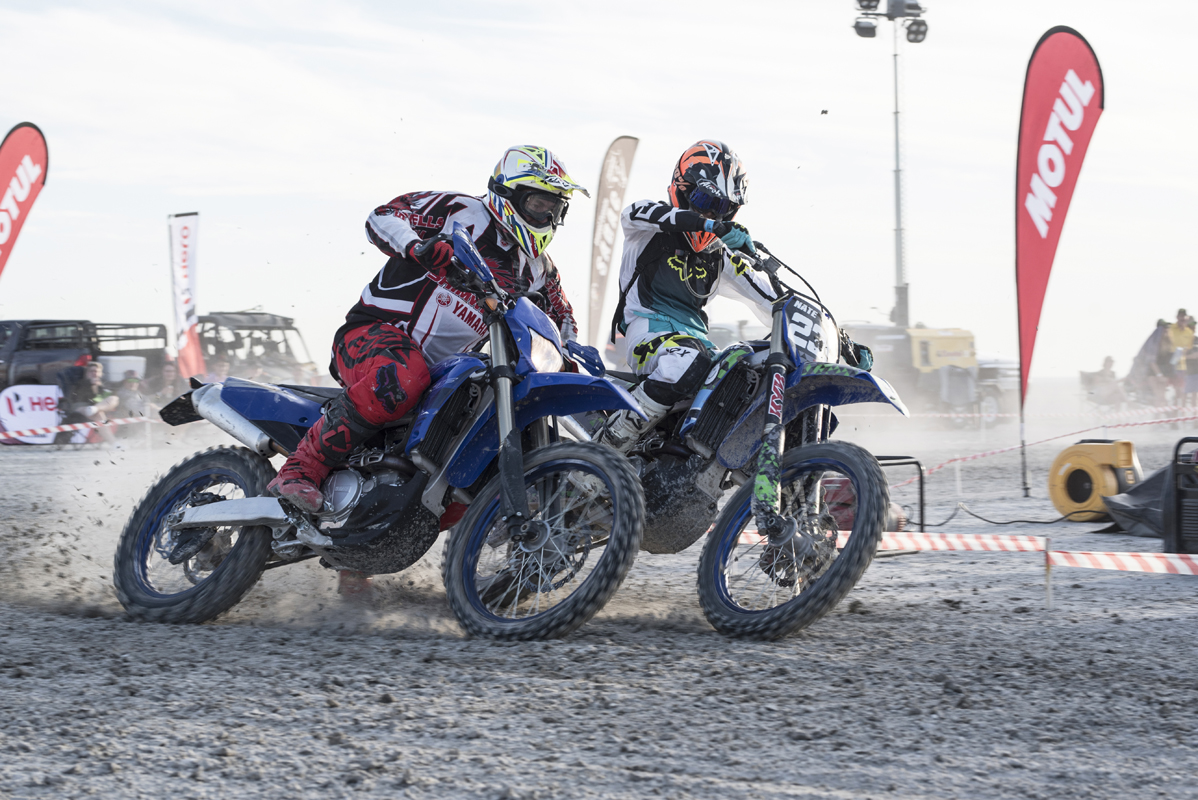 There was live music, drumming and DJ-induced music late into the night. A glowstick ride on the pans was well-supported as well. It is not a weekend to experience the quiet and solitude of the pans, that's a fact! A dude camping near us decided to take a blast on the pans at around 3:30 AM. He fired his 450 up and blasted past our camp on the rev limiter. C'EST LA VIE! You wake up to glorious red sunrises as the sun greets a new day. It really is a unique place that should be on every nature lover's bucket list to visit.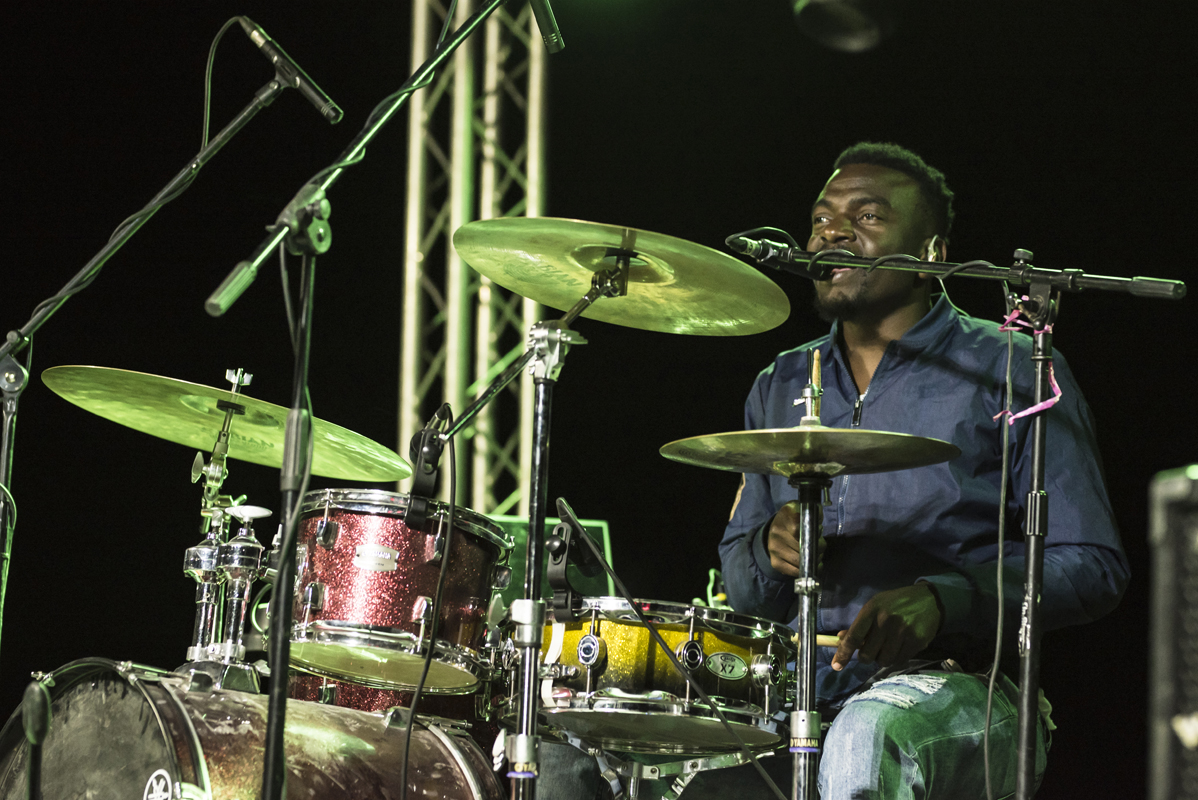 Early mornings were fresh but not highveld cold. By mid-morning, we were sporting T-shirts and basking in the Botswana sunshine. It is brilliant waking up with nothing that needs your attention. Camping is cool because there are always little things to do, so you never get bored. The ritual of boiling water for coffee, or putting a simple meal together is almost therapeutic.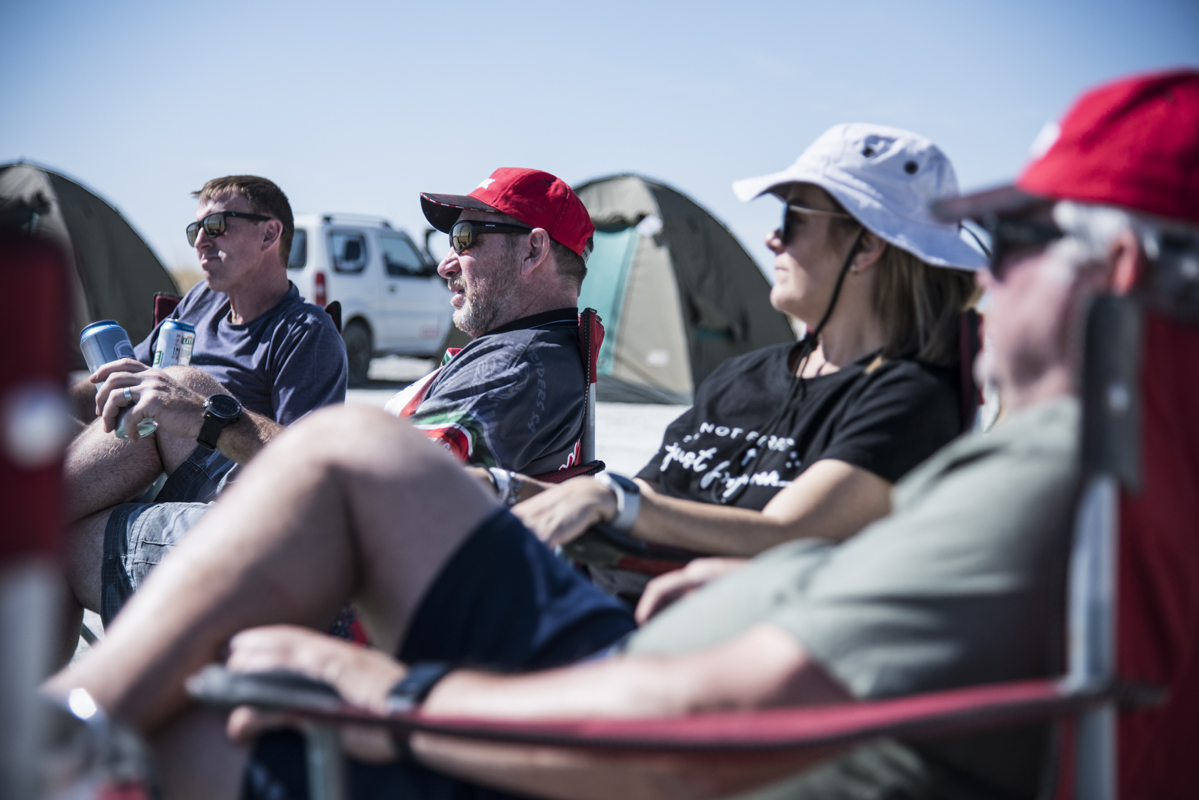 Taking a stroll and taking in the sights around the 'village' was fascinating. A large refrigeration truck which had brought supplies to the pans was stuck in the mud, serving as a warning to all of the fickle nature of the pans. Late summer rains have resulted in the pans being a bit wetter than is typical for this time of year. A heavy vehicle can roll along merrily yet as soon as it stops for a while the weight breaks through the firm crust of the pans into a glutinous mud which sinks it onto its chassis. Getting it free is a mammoth task requiring hours of digging and placing objects under the wheels to give it traction. A rescue tow truck eventually got the truck free. Bikes are light so they don't generally have a hassle, but cars should take extreme care. Turning sharply on the pans can break through the crust, pull a tyre from the rim, and roll the vehicle.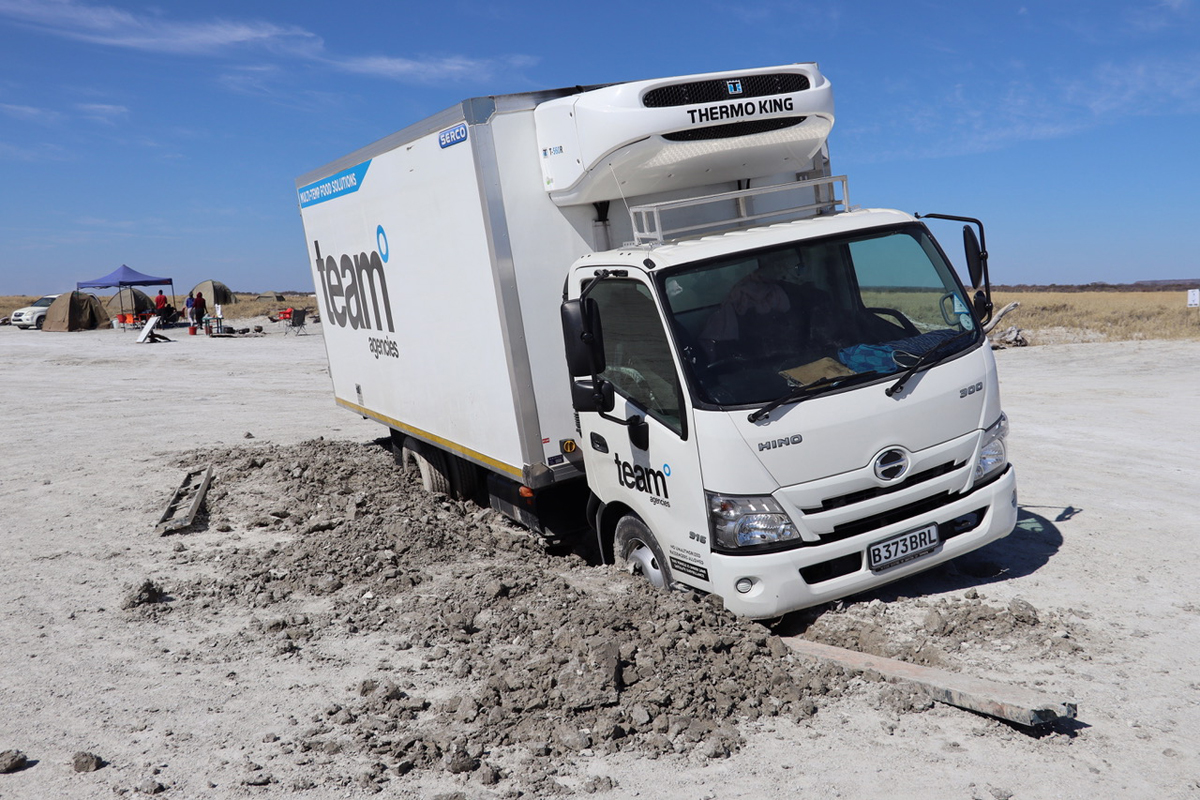 It was impressive to see how this little 'village' sprang up from nothing. Motul had a cool chill zone under a Bedouin tent with inflatable bean bag recliners. In fact, the Motul branding made the village look like a Dakar bivouac. Very cool.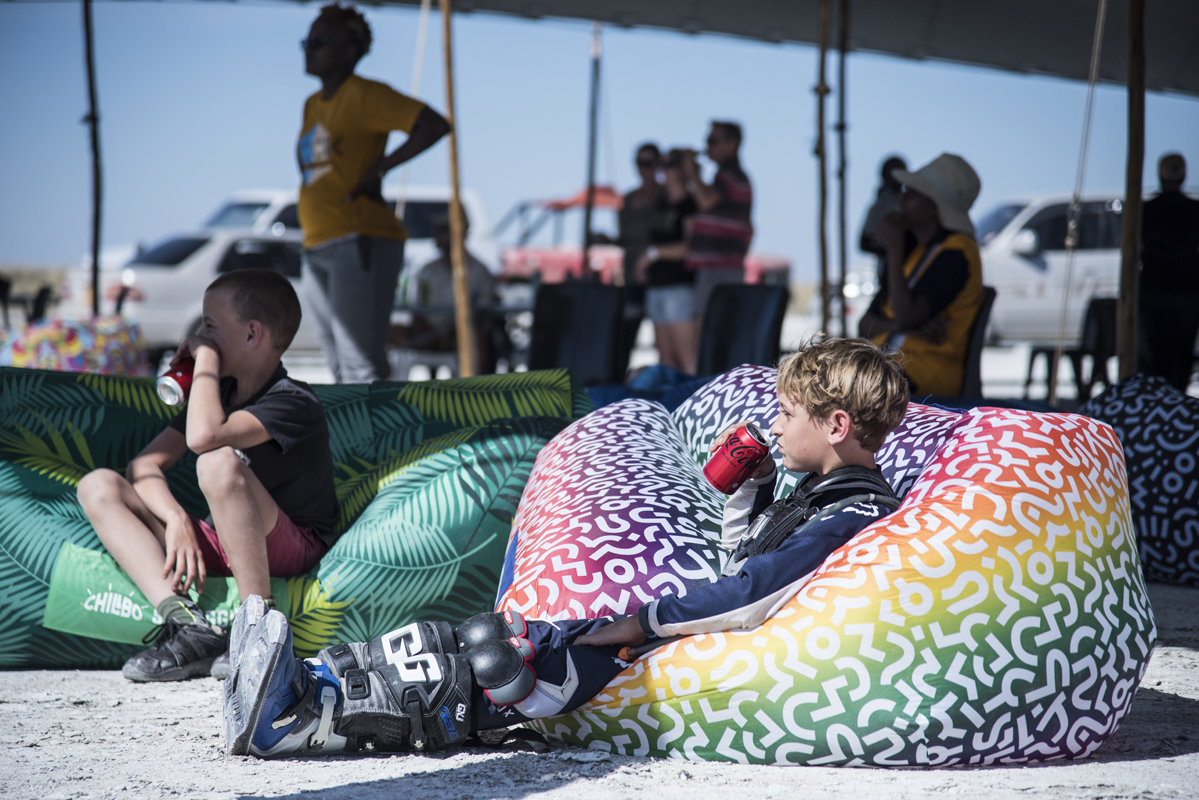 A row of his and her showers made up with shade netting worked well, with guys keeping a 'donkey' going for plenty of hot water. Toilets were rows of typical portable loos with a trailer born 'glamping' flushing chap for the really fastidious. All in all, it was pretty comfortable. It was lovely to see kids playing on the pans and having a ball without a smartphone in sight. Our children don't even know how compromised their city life has become.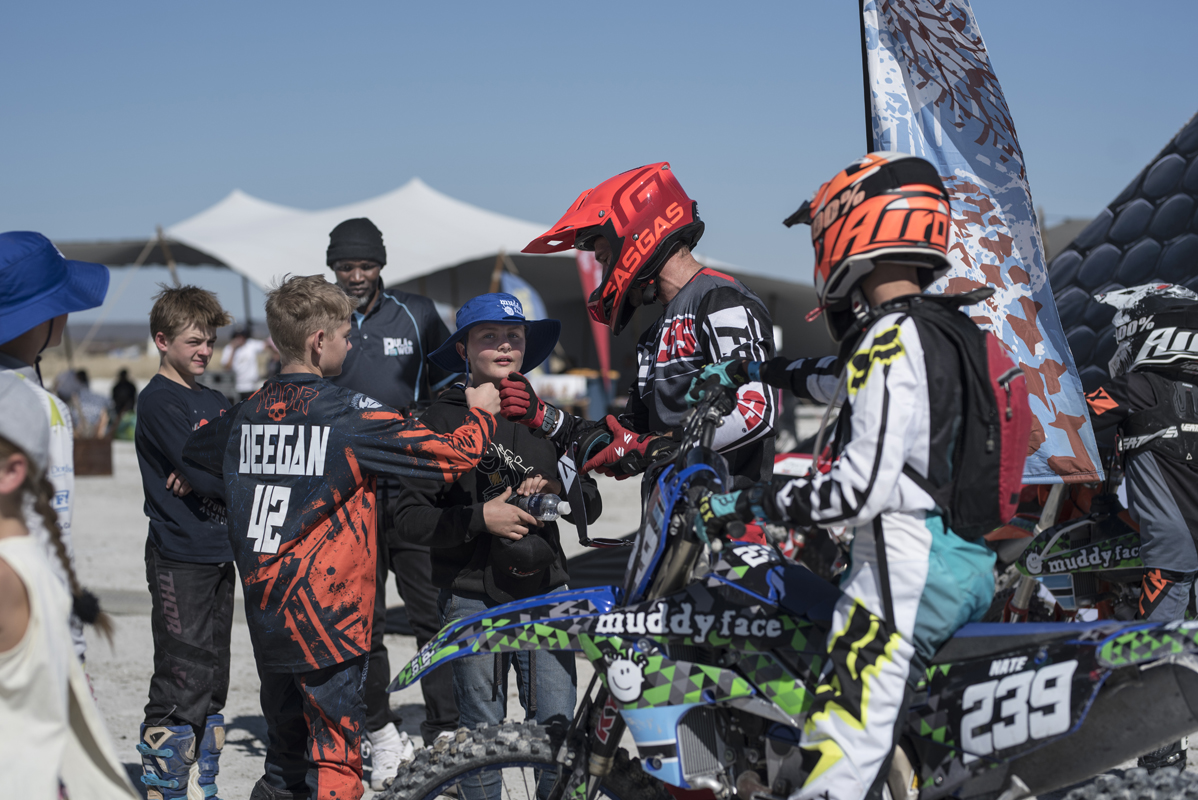 Although the majority of folk were obviously involved in offroad motorcycling there were a number of outdoor enthusiasts just making a family outing of the weekend. The cost of attending the Moonlight Adventure was dirt cheap, with the whole weekend fee at around R1000 per adult. Granted you set up your own camp, but to enjoy the infrastructure provided, as well as the entertainment, was a bargain of note!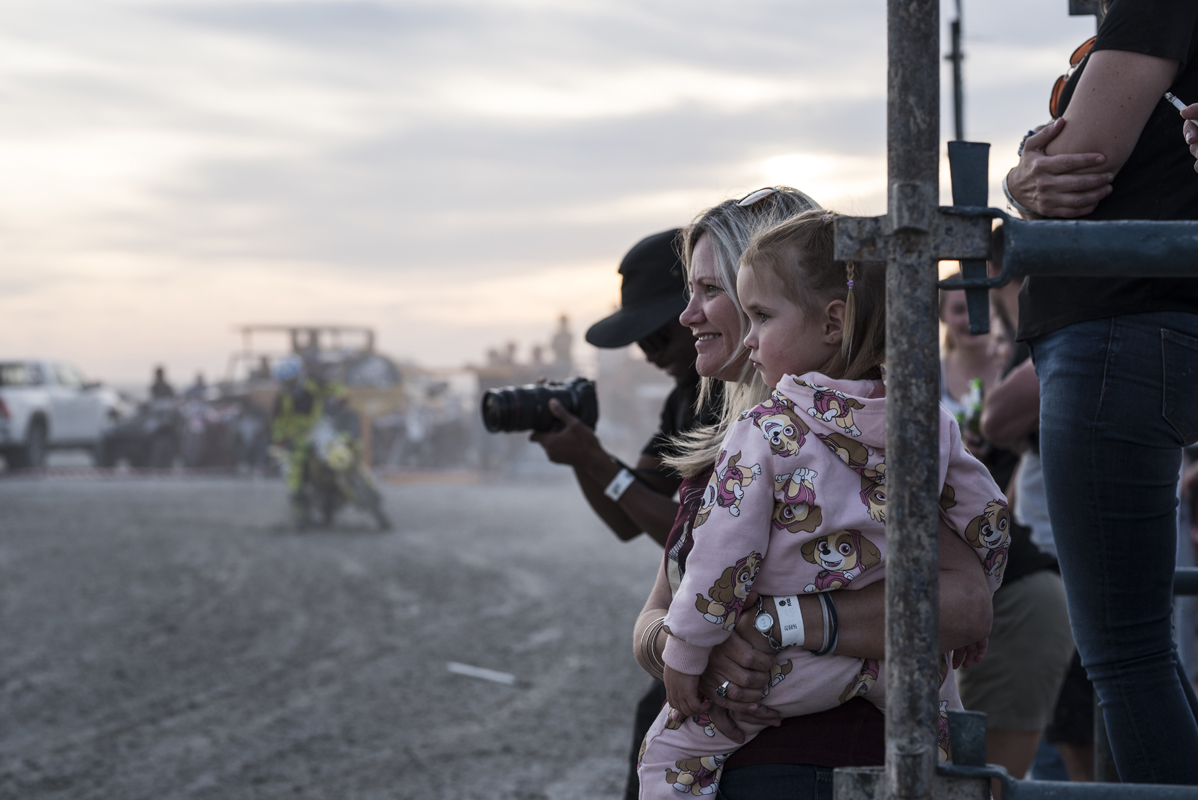 The bulk of attendees were Botswana residents with a few SA 'imports'. We really need to change that next year. If you are into adventure or dirt bikes, or just enjoy the wide outdoors, you need to make the effort. Botswana is one of the few unspoilt places where you can still roam far and wide under awesome African skies. Take yourself out of your comfort zone for a few days and have a truly memorable experience. Look at the brilliant images captured by our ZA Bikers team, and you will get a good sense of what an amazing and memorable event it was.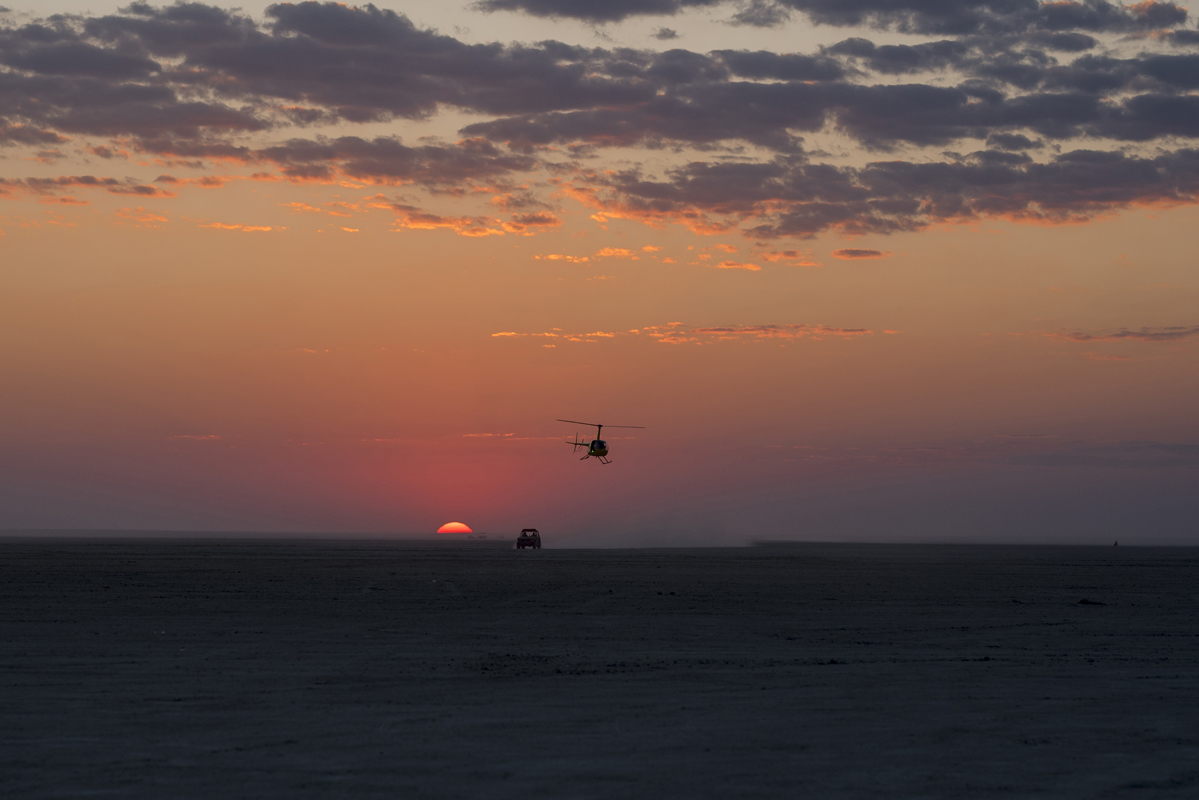 Huge thanks to Motul, SADAC and Muddy Face Adventures for putting together a great event. God willing, we will see you on the pans next year.