Looking back five years ago, KTM caught everyone napping and reinvented the middleweight adventure segment with their 790 adventure range. Back in 2019, every manufacturer dreamt of building a dirt-focused, high-tech, intoxicating, Swiss Army knife-like motorcycle like the 790—most would only come to market much later. Why are we going back in time? Well, that same formula that embodied the 790 adventure still lives on, in the bodies of KTM's 890 range of adventures.
2021 saw KTM up the ante by using the 889 cc parallel twin motor to build two new adventure bikes: the KTM 890 Adventure and 890 Adventure R. The Adventure R offered unmatchable off-road performance within its class, while the Adventure added everyday usability and relaxed open road manors. Moving to the 890 platforms saw a 10 hp and 12 Nm increase in performance, 20 per cent more rotating mass on the crank, new traction control algorithms, reinforced clutch and cruise control.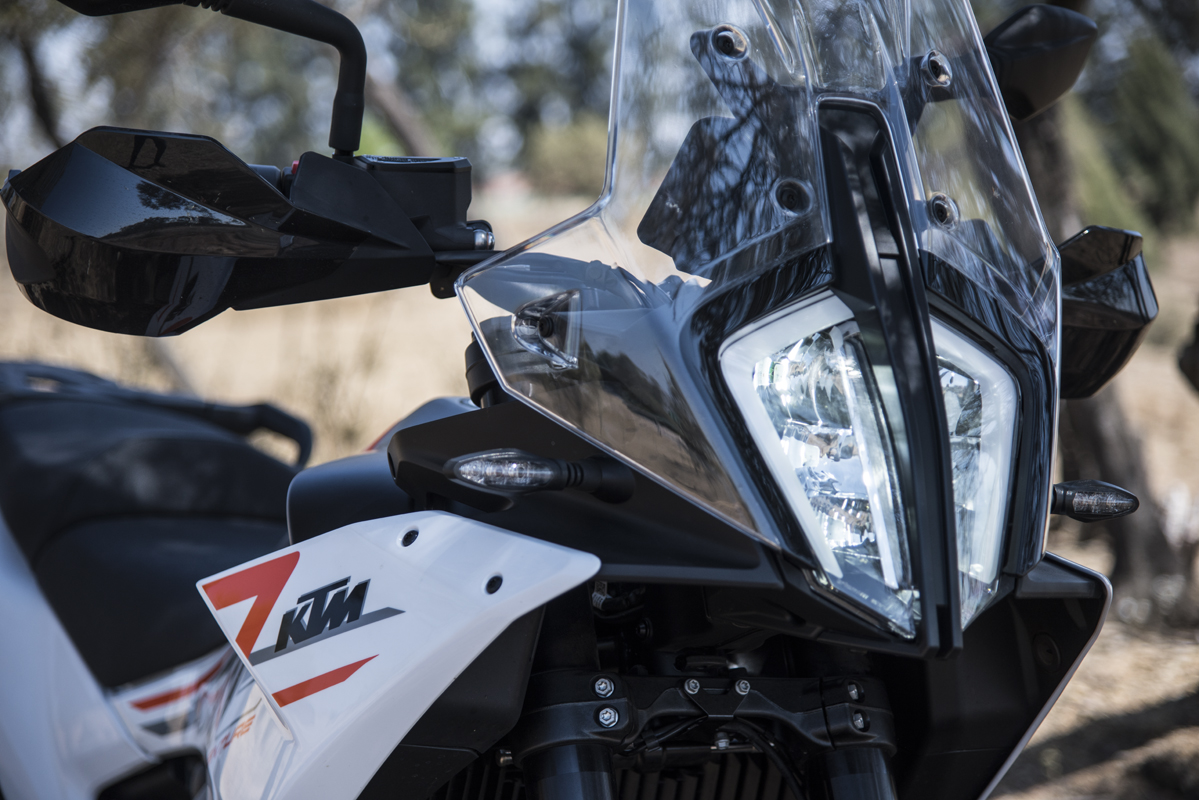 Now, 2023 sees a legend make its return with some upgrades handed down from the 890 platform, along with some new Dakar-inspired fairing design. We are talking about the all-new KTM 790 Adventure. Yes, the original middle-weight champion of the world has returned, but in the meantime, the game has changed quite a bit, so where does the 790 stand and why has the 790 made its return?
The middle-weight adventure class has recently split up into two groups, adventure tourers and off-road rally raid capable machines. With the extremely off-road capable rally-inspired machines you've got a few downsides, that's low fuel range, a tall seat height, ok road manors and they're pretty pricey. This is where a few manufacturers have spotted the gap and have come up with a few sensible and price-sensitive options: the Honda Transalp and the Suzuki V-Strom 800DE. Both these bikes have great road manors, are capable of comfortable two-up travel and are both around the 200k mark. This is where KTM are aiming their scope towards by bringing the 790 Adventure back.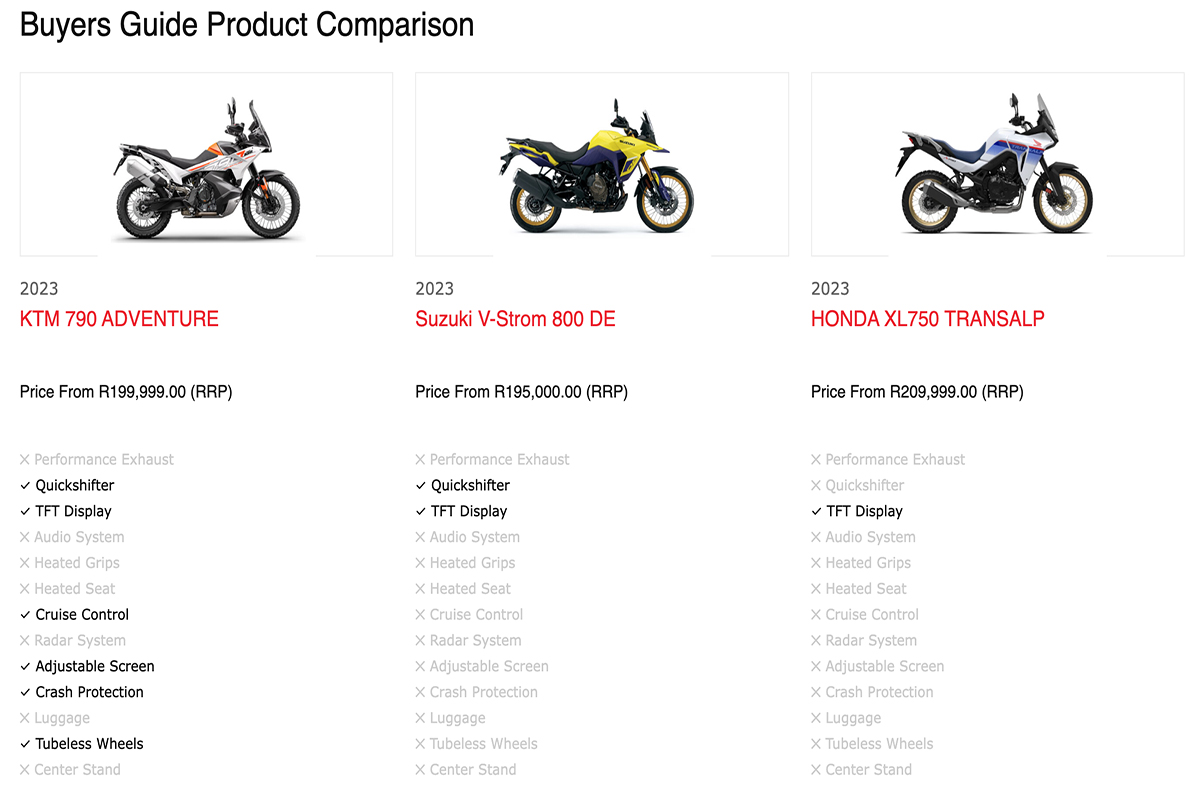 Out of the box for 2023 the 790 Adventure is not only the most tech-heavy in its class with a full arsenal of rider aids, ride modes, ABS, traction control features and smartphone connectivity, but thanks to KTM South Africa, the 790 comes standard with KTM's tech pack. The tech pack unlocks the quick-shifter, cruise control and Rally mode. This means your standard 790 is not only more technological than the competitors, but also more than its bigger brother the KTM 890 Adventure in its stock form (you need to unlock these features for an additional cost of R16,235).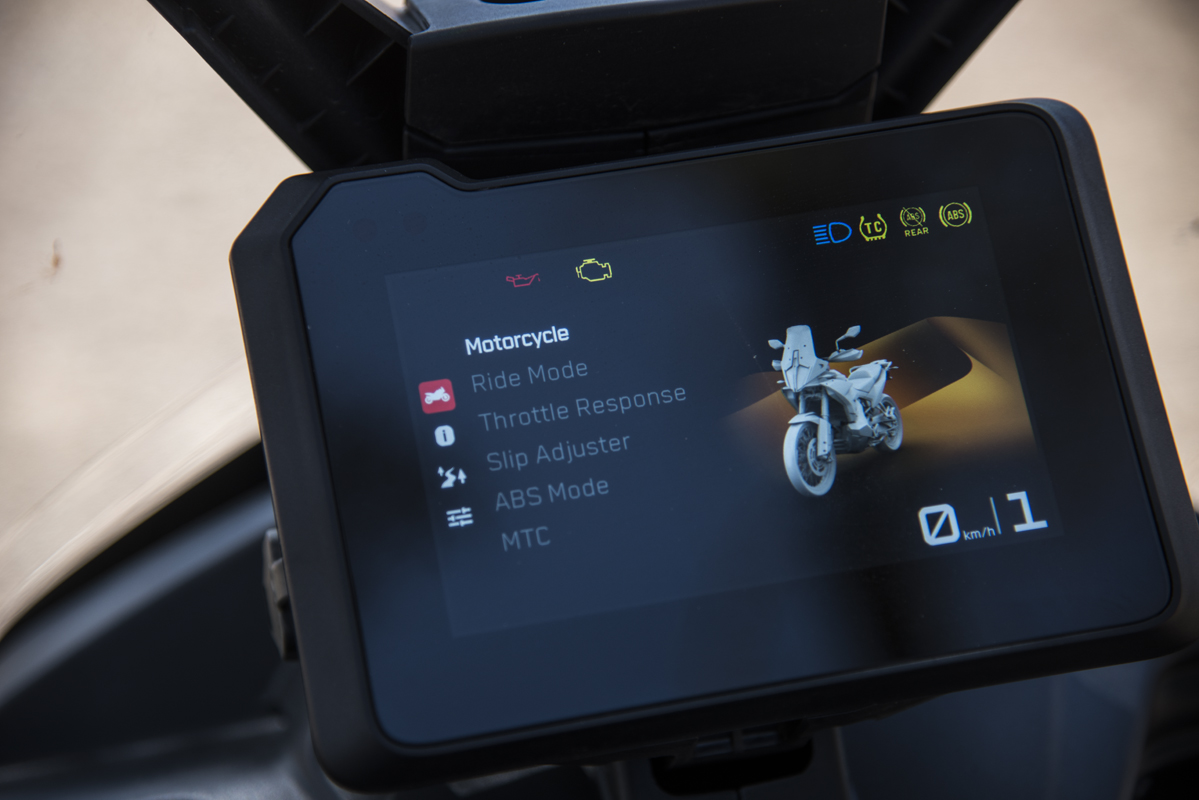 Tech aside, the 790 also has tubeless wheels with grippy Pirelli Scorpion Rally STRs, an aluminium bash plate between the low-slung fuel tanks, a new and wider touring screen and a height-adjustable two-piece seat. On paper, the 790 has lost nothing but gained it all.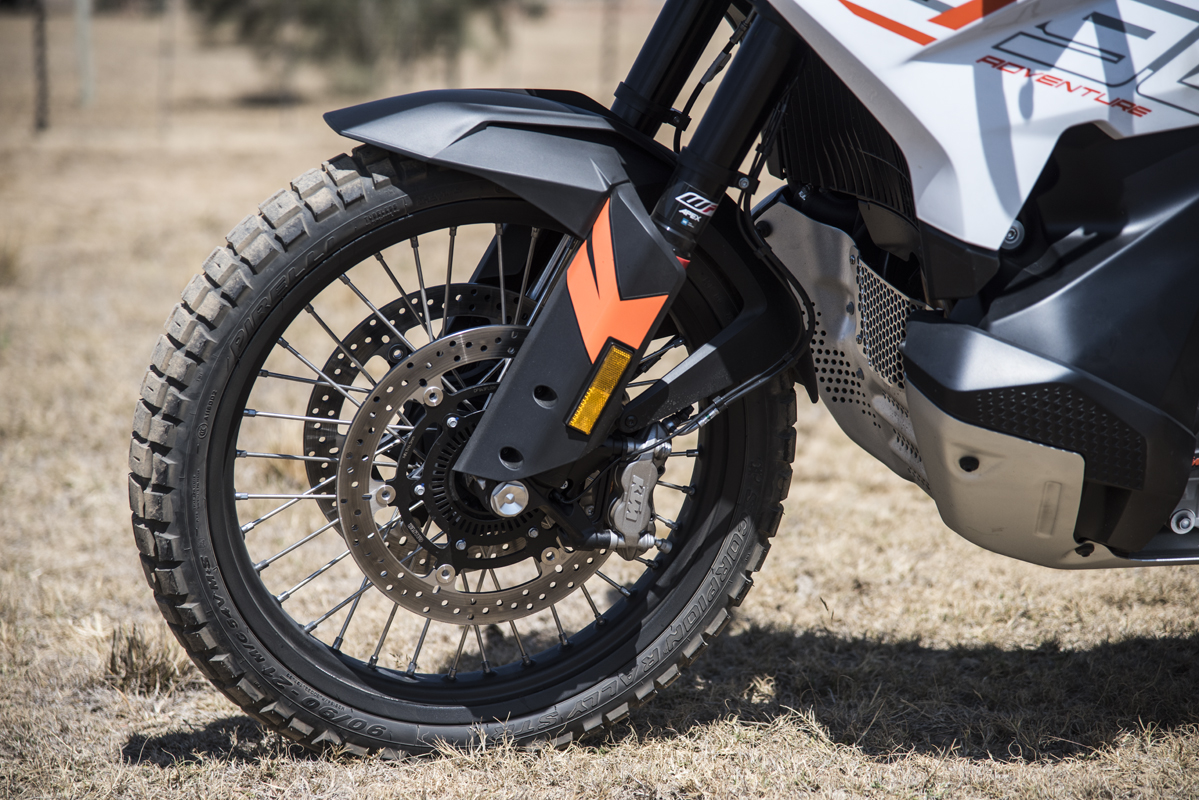 So, what's the caveat you ask? Well, it may or may not be a caveat to some, but the new 790 Adventure is built in its entirety by CFMOTO in China, to keep pricing competitive with the Japanese adventure-built bikes. CFMOTO has been around since the late 80s as a premium yacht-building company and later expanded into manufacturing engines, motorcycles, all-terrain vehicles, quadricycles and quads. Since CFMOTO was acquired by KTM they have gone to the next level and now compete in the Moto3 world championship and Isle of Man. Backing CFMOTO's production is their 280 thousand square meters headquarters with two campuses, employing more than 4800 people as of 2023.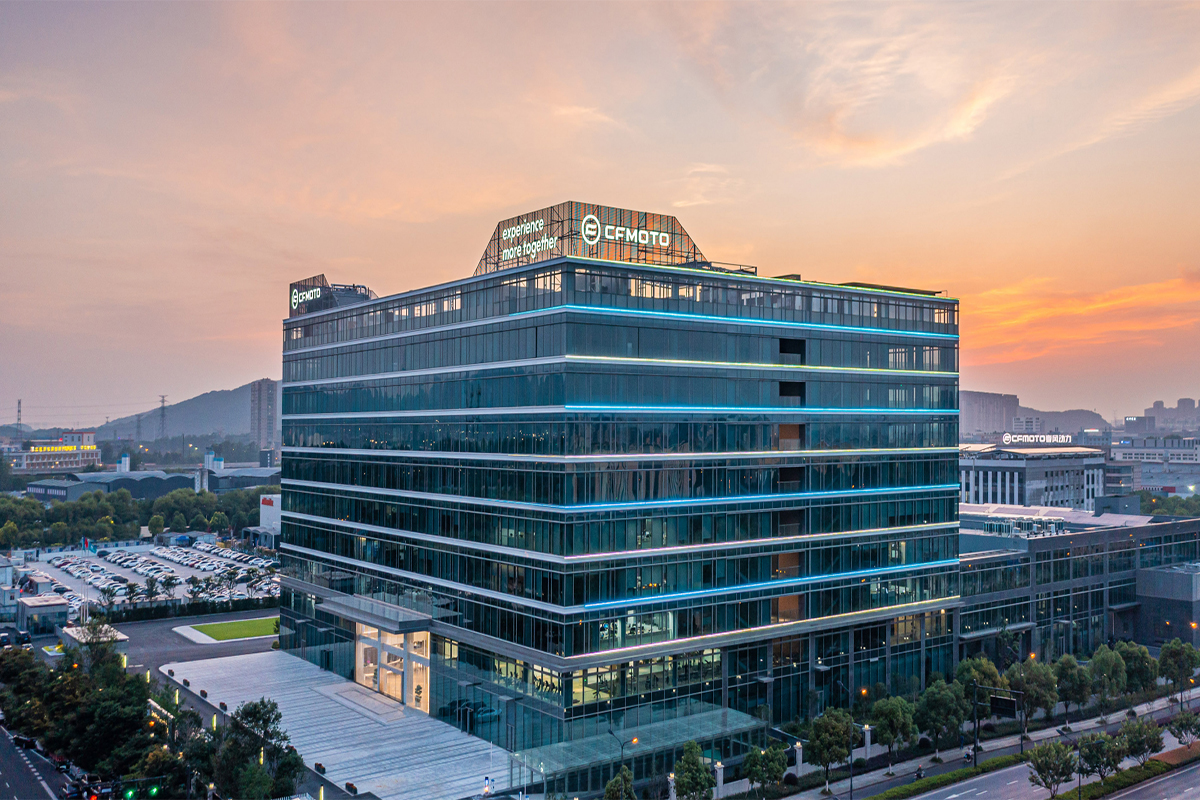 We are starting to see more and more manufacturers spreading the load of production, just like they've done in the car industry for years. We take a look at companies like BMW which have their F 750 GS and F 850 GS motors produced by a world-renowned Chinese manufacturer Loncin and even Triumph has factories located in Thailand and Brazil. My point is, if it has KTM's stamp of approval then it should have ours.
Having spent a lot of seat time on the first-gen 790 Adventure and the new 890 Adventure, the reincarnation of the 790 feels like all the good parts of both these machines. The seat height is relatively low at 840 mm (can be adjusted to 860 mm) on its lower setting allowing me to almost flat foot at my 175 cm height, but at the same time, KTM haven't sacrificed their 233 mm ground clearance.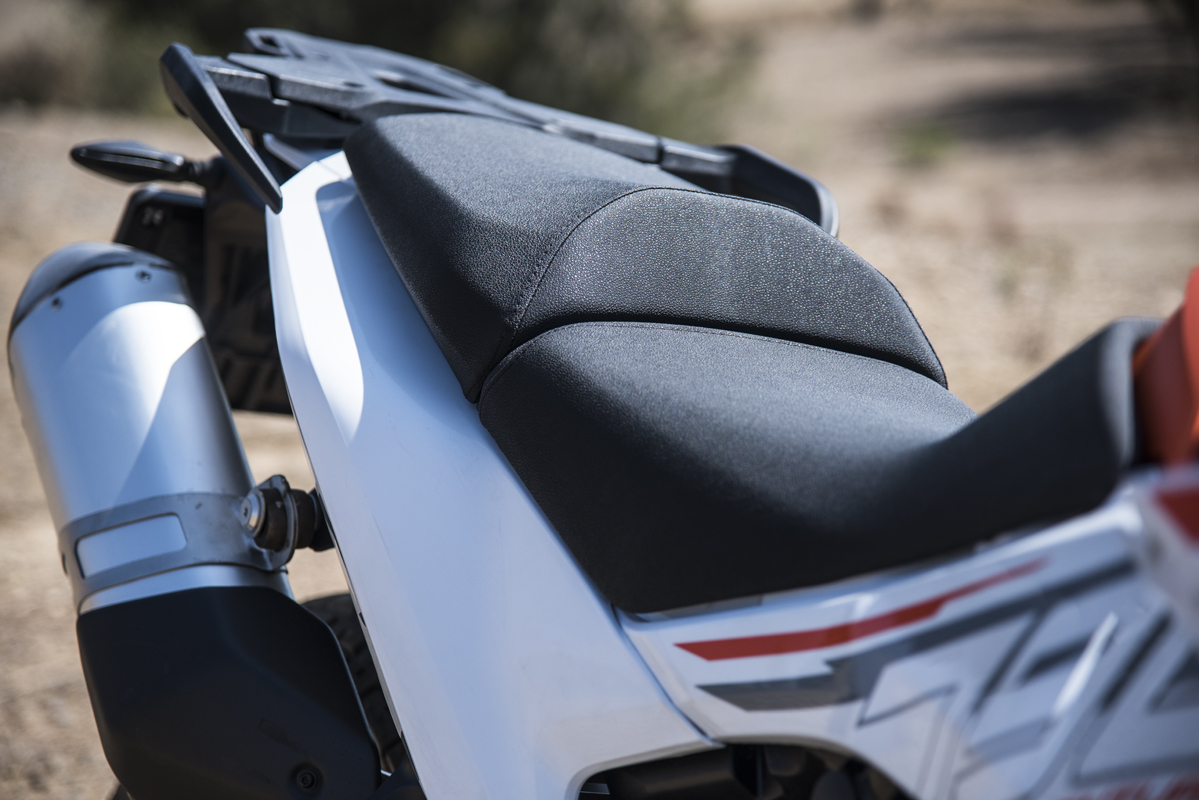 The WP APEX 43 forks are non-adjustable but are set on the stiffer side, with the WP APEX monoshock only offering preload adjustment. This is another obvious area where KTM has made some savings, but in all honesty for those riders who are commuting and have adventure touring in mind, this suspension setup gets the job done with a simple preload adjustment for when carrying extra weight on the rear. I fully expected to be bottoming and bouncing once I hit the high-speed off-road sections, but even though the Apex is KTM's more budget-friendly suspension, it still works better than a lot of other companies' higher-end stuff.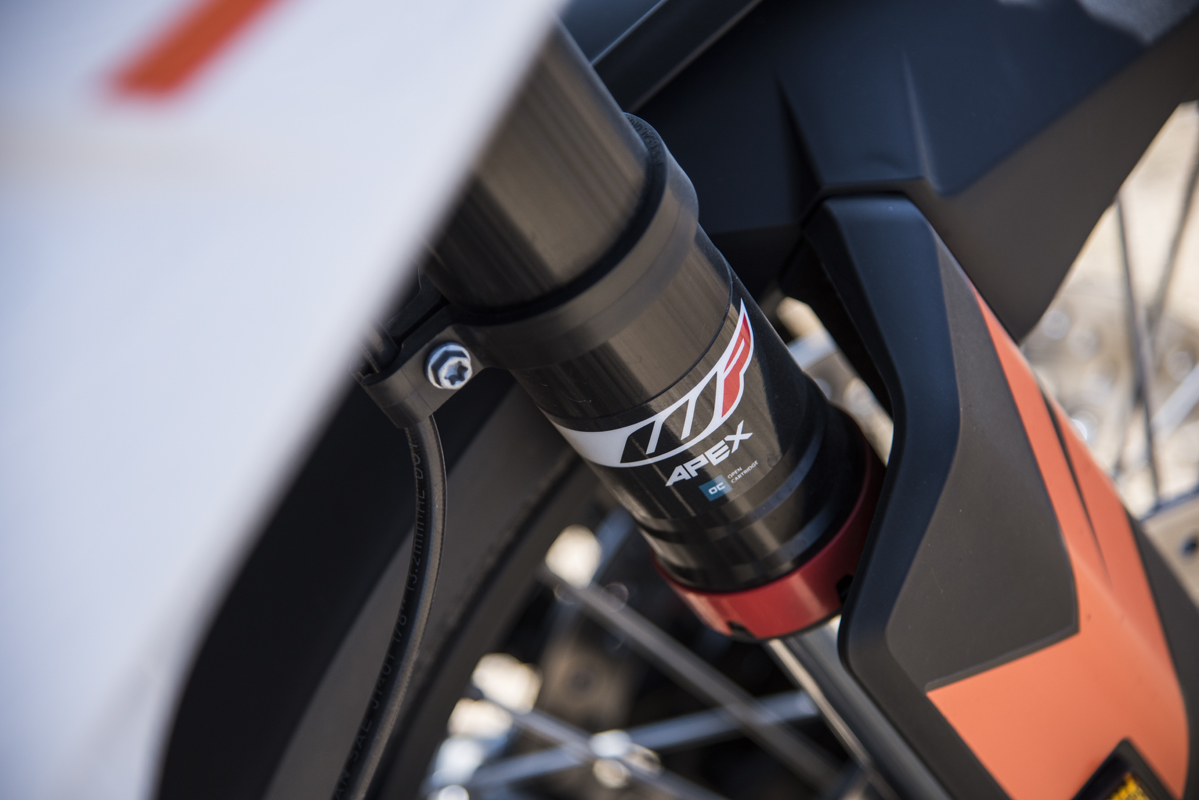 KTM's middle-weights have been dubbed with a reputation for having almost zero compromises when steering between the dirt and tar. With the 790's mid-set trail, long wheelbase and low-slung tanks it feels at home on the twisty tared roads and even more so on those winding dirt roads, allowing you to rear wheel steer almost like Chris Birch.
Adding to the mix of rear-wheel steering on the throttle is the Rally mode. Rally mode allows you to dial in your slip control (fancy traction control) with 9 different lean-sensitive traction control settings. I also appreciated that all your settings are remembered once the bike is switched off. If you are never going to dive into these settings and turn things off for some fun, then the standard programmed modes Street, Rain and Off-Road will do you just fine with their pre-programmed ABS and traction control settings taking care of it all for you.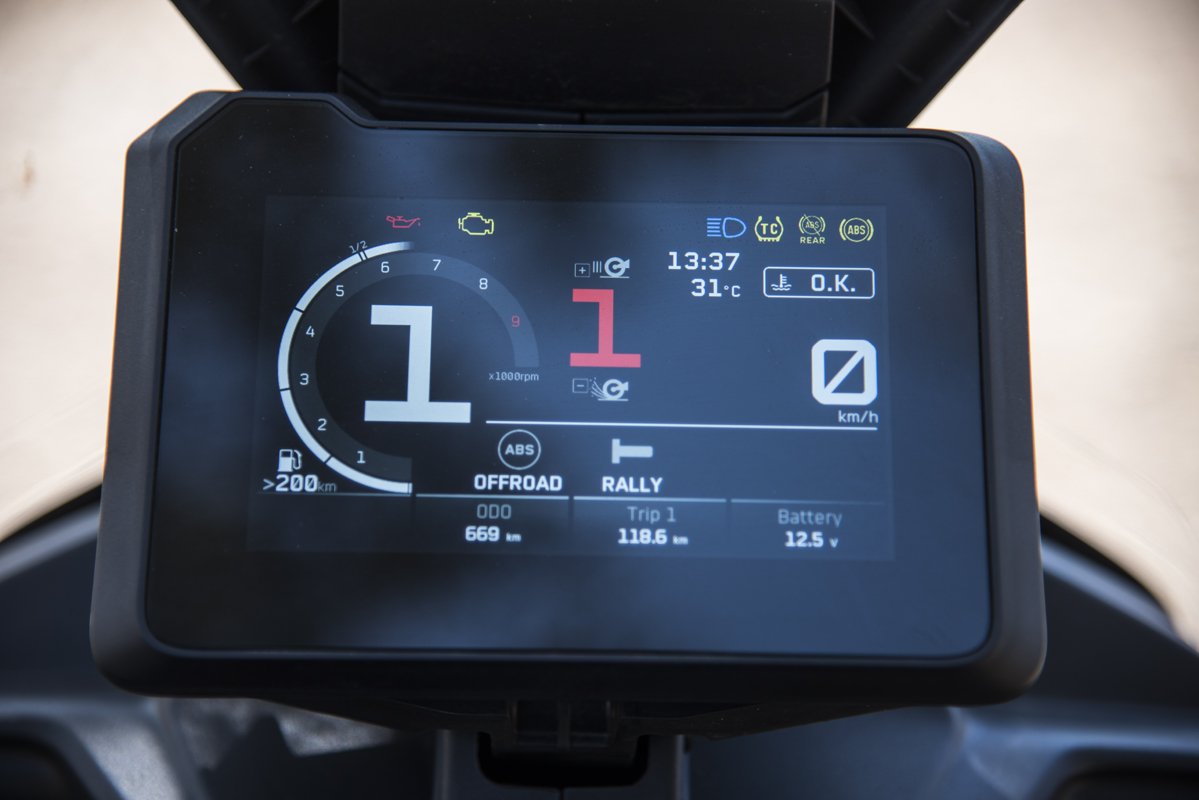 Riding the 790 Adventure in solitude, you wouldn't even think it was down on power compared to the 890 Adventure. The engine spins up quickly and holds its own compared to its competition at 94 hp (70 kW) and 87 Nm, I honestly barely felt the difference in power compared to the 890 in the low and mid-range. The 790 sits comfortably at highway speeds, with a good economy to match at 4.2 l/100 km, leaving you with a high 400-plus kilometre range thanks to the 20l fuel capacity—that's if the little orange man inside doesn't get the best of you.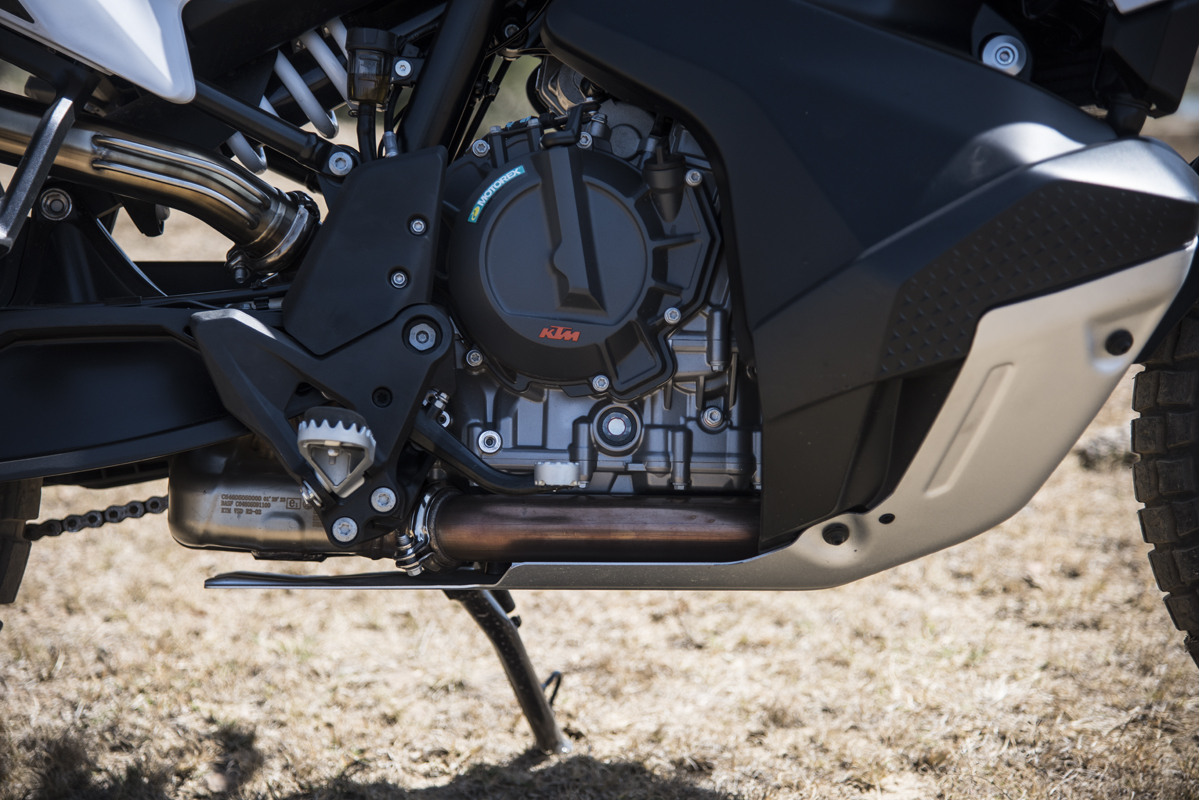 Do I have any pet peeves about the 790? If anything, because of the low-slung tanks the motor does throw up a lot of heat, which only really becomes annoying in town. The motor can sound a bit rough under a cold start, sounding almost like a Greek restaurant on a Wednesday until reaching operating temp. Although the new and taller screen worked well for my 175 cm height, our fellow tester Dave Cilliers did happen to experience some buffeting with his taller 185 cm frame.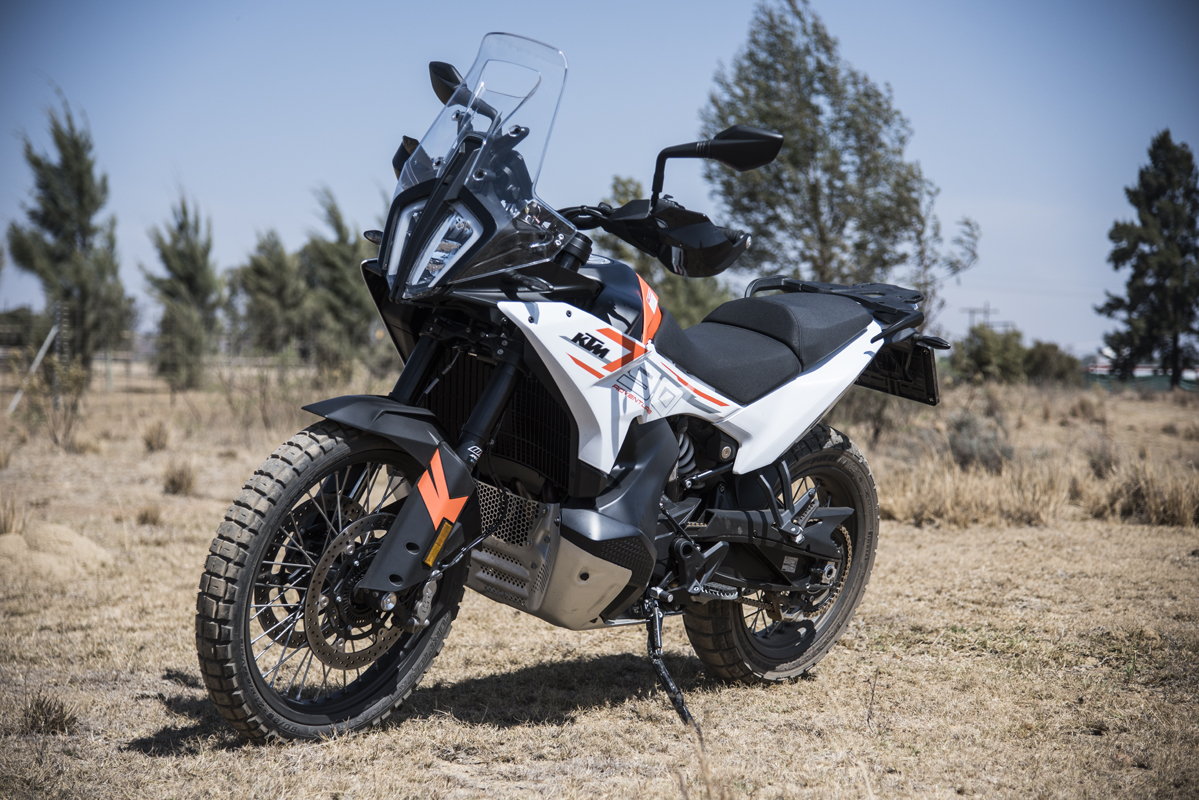 In this case both sayings, "more is more" and "less is more", with the subject being the 790 Adventure stand. KTM is offering adventure tourers a strong contender in the middle-weight adventure segment, with all the amenities of the 890 Adventure, minus the adjustable suspension. In my opinion, the 790 is all the bike the 890 is and if not a little more thanks to the included Tech pack as standard. If you are looking for a light, quick and fully loaded adventure tourer, the 790 Adventure should be high on your shopping list.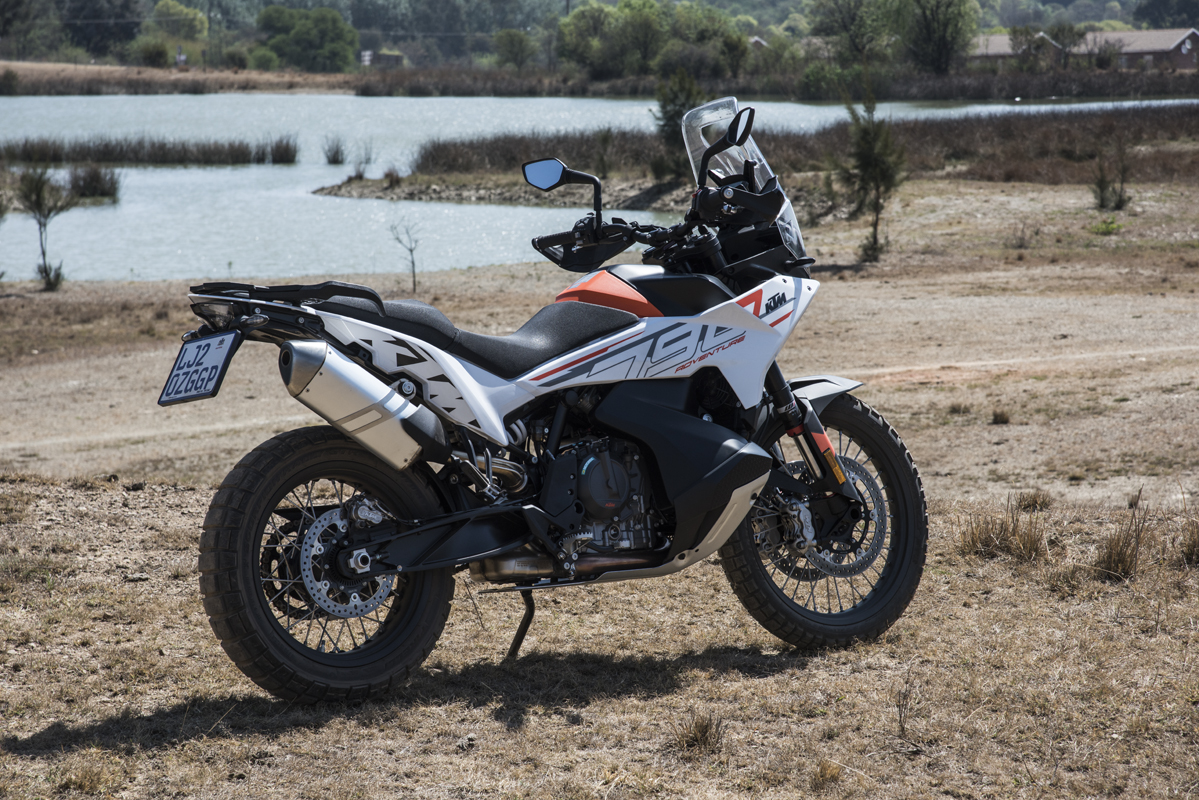 KTM 790 Adventure
For more information on the bike featured in this article, click on the link below…