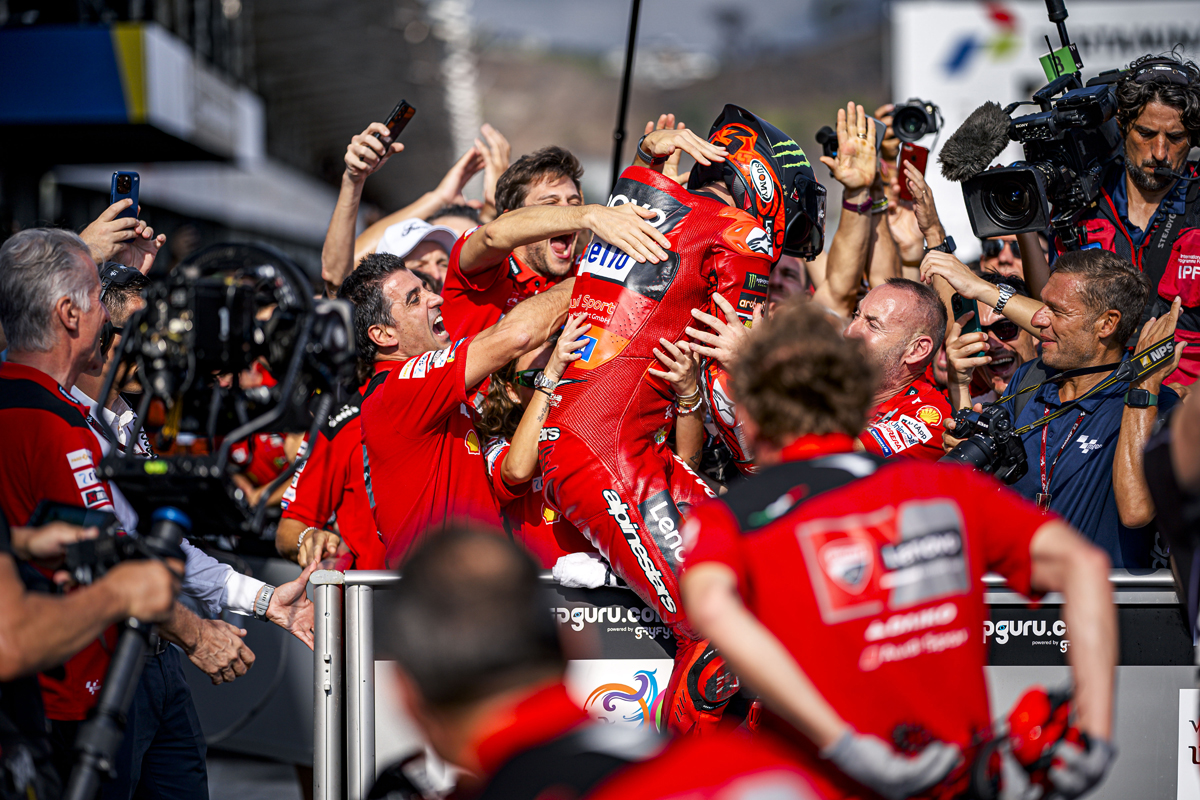 If Bagnaia ever showed that he was a worthy champion, then it was demonstrated in Indonesia. In the space of a weekend, he went from championship leader to losing the lead, to getting it back again, while his main protagonist, Jorge Martin, snatched the lead and then snatched defeat from the jaws of victory, heading the championship for all of a day.
Talk about a weekend of ups and downs. Bagnaia failing to make it directly into Q2 and then failing to get out of Q1 and thus starting thirteenth on the grid. Martin taking the Sprint victory to take the lead in the championship, then crashing out of a commanding lead in the Main race. Bagnaia coming through in the Main race to take victory and, with it, an 18-point gap to Martin. Viñales within a whisker of making history by winning for a third different manufacturer. Binder making a real hash of it on Sunday and clattering into two different riders, ruining their races, after having his own race ruined by Espargaro on Saturday, while Espargaro messed up properly on Sunday with the wrong tyre choice. Quartararo taking a well-deserved third place on Sunday. You couldn't make this stuff up. Hollywood, take note.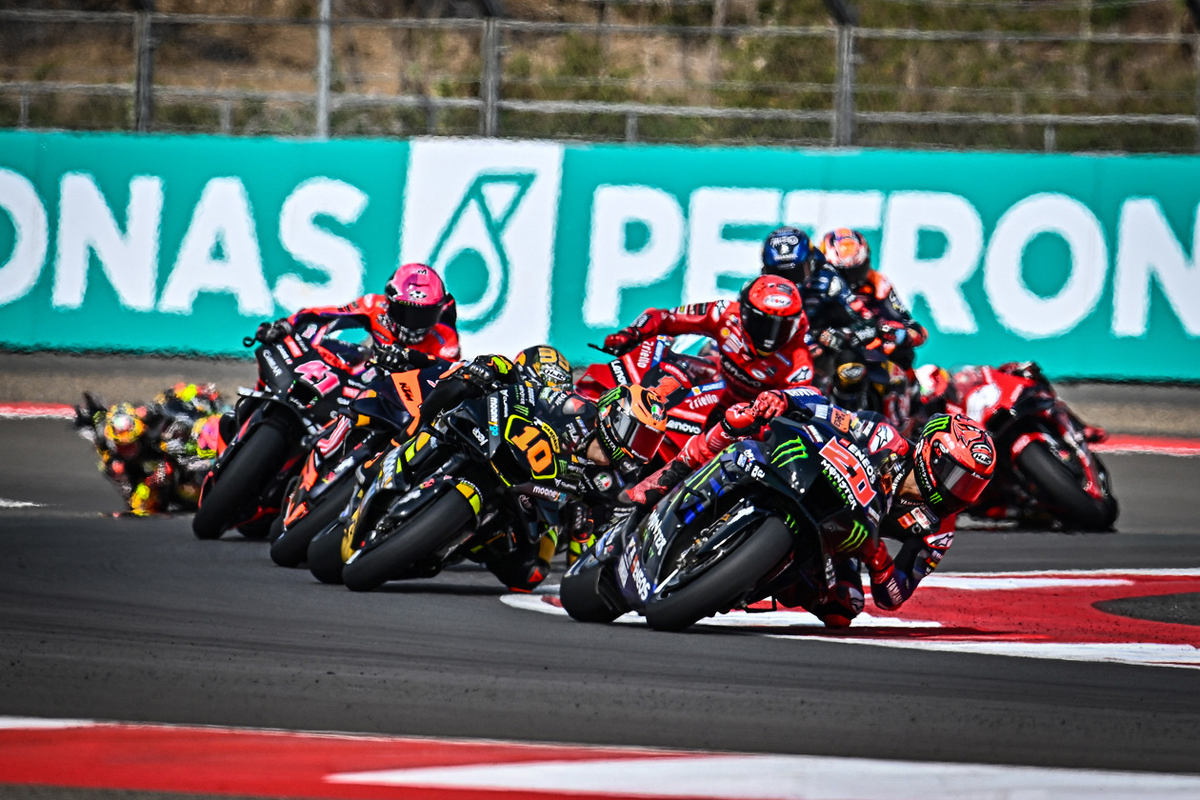 If Bagnaia has been looking like a man under threat recently, he showed that he has lost none of his motivation. When a rival who has been punishing you in recent races fails to finish a race, a rider needs to capitalise on that to inflict the most damage in return. Starting thirteenth on the grid, no one gave Bagnaia too much of a chance to claw back ground to Martin, should anything befall the latter, and it looked like Martin was going to continue to put the pressure on Bagnaia by leaving everyone in his wake right from the get-go. But this is where the class of Bagnaia showed: a good result after Martin crashed out would have seen him re-take the championship lead but not only did he finish the race, he won, turning around Martin's eight-point advantage to an 18-point deficit and rescuing what was looking like a near-disaster.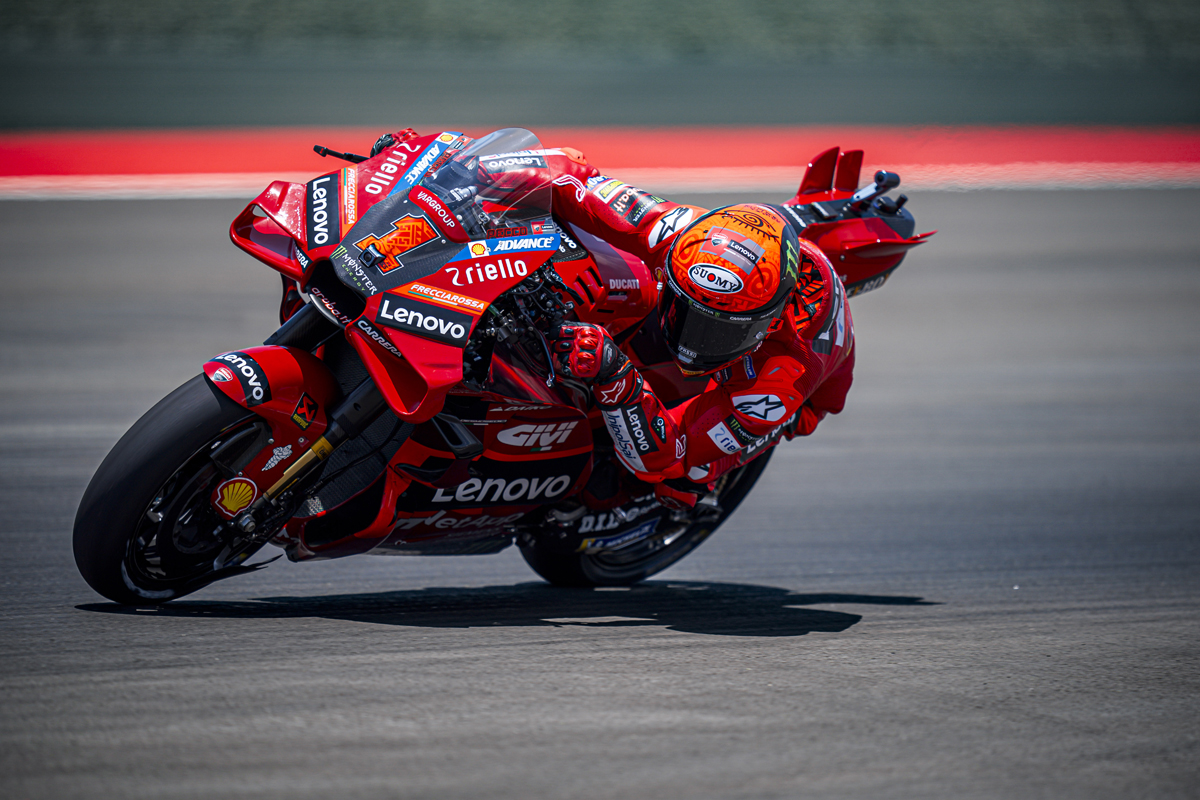 Bagnaia had been having a torrid time from the start at Mandalika. His Ducati GP23 just didn't like the soft rear Michelin, which he needed to use to set a fast time. Interestingly, the problem was too much grip which made the bike too aggressive on the throttle. That translated into failing to get into Q2 on Saturday and being pipped at the post by his teammate Bastianini. No dream orders there, then, which became clear in the Sprint race, where Bastianini led his teammate over the line, despite having Bagnaia snapping at his heels in the second half of the race.
That also highlighted a characteristic of Mandalika: the grip is high but the racing line is narrow, so to go off line is to court disaster, as demonstrated by Aleix Espargaro, who skittled out Binder by going up the inside at the entry to the penultimate corner and losing it. That should mean that overtaking is difficult but try telling that to Martin and Bagnaia, both of whom made plenty of overtakes in the course of both the Sprint and Main races.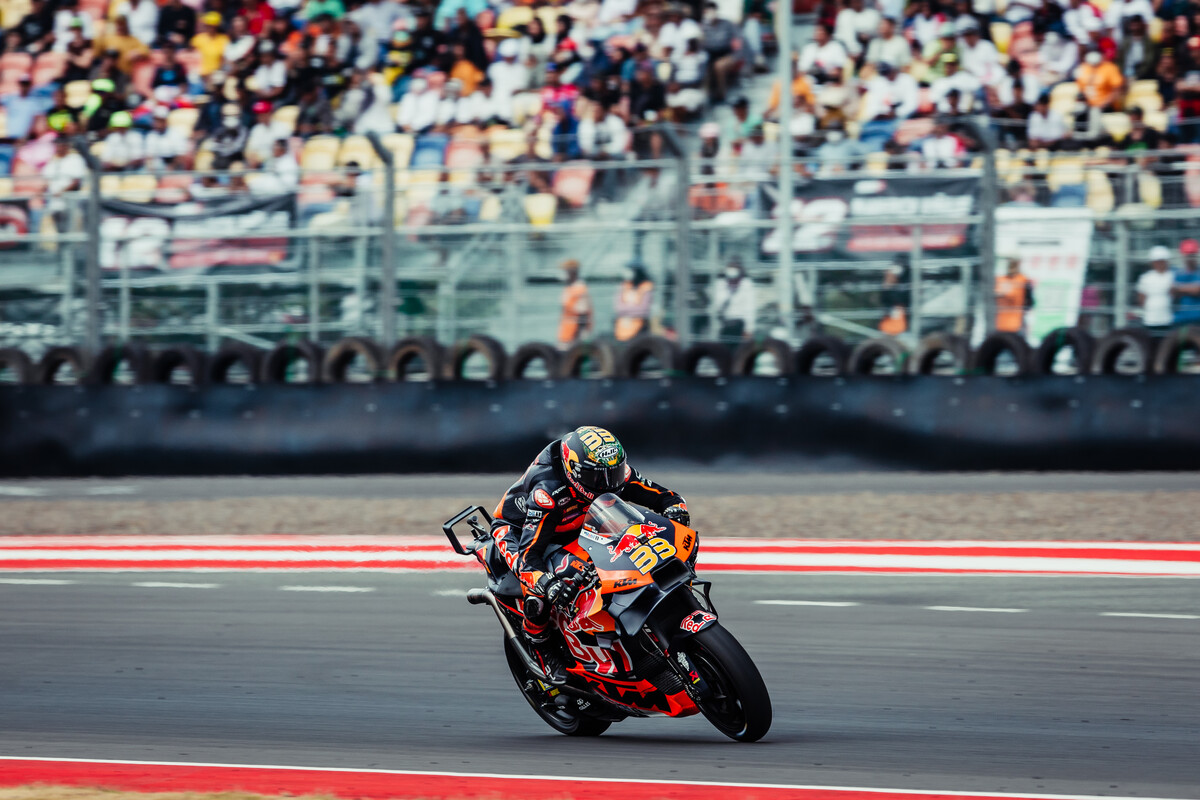 Martin made sure he didn't have to overtake anyone in the Main race by rocketing off the line thanks to Ducati's improved launch control software and taking the lead into turn one and he simply rode away from everyone. He then went one metre off line into turn ten on lap 13, dirtying his tyres which caused him to fall in the next corner and that was it: down and out and a severe talking to himself, while Bagnaia inflicted maximum damage. Martin was pragmatic about his mistake after the race: "I'd done 14 races without a mistake, so it was coming sooner or later, and it came today."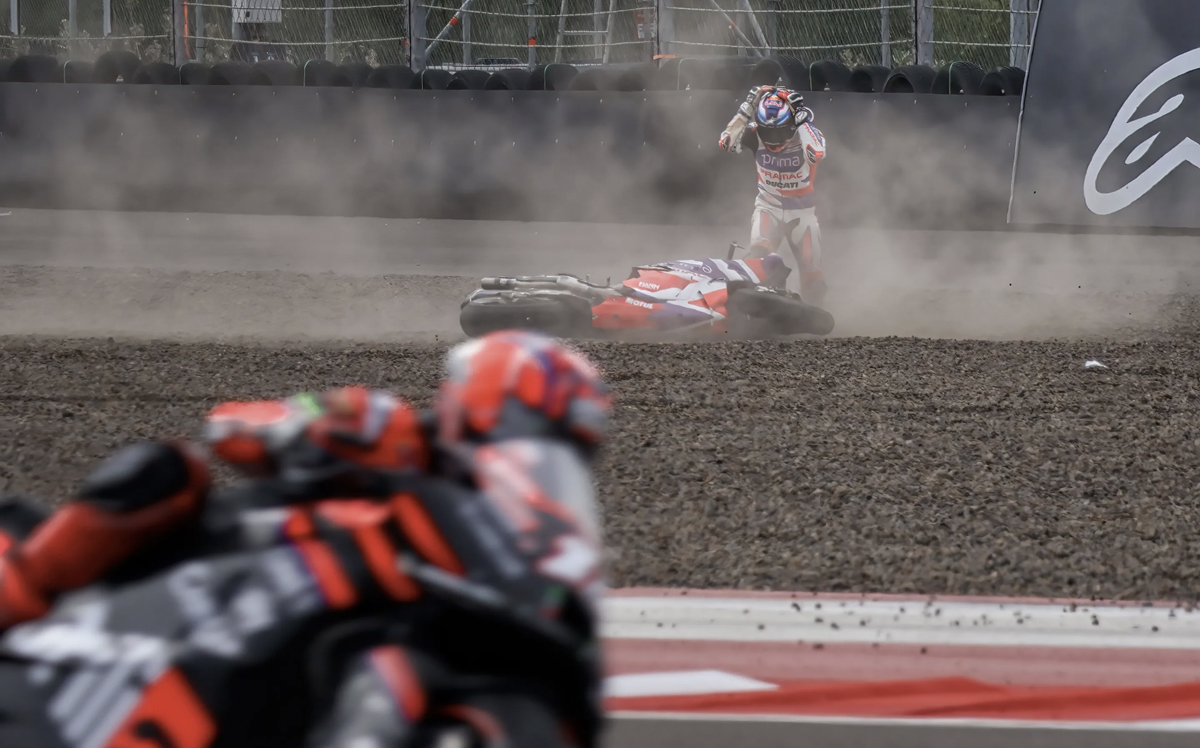 What that does, of course, is really light up the championship tussle heading into the last five rounds. It's often easier being the hunter and not the hunted and it seems to be a situation that Martin revels in but, sooner or later, he's going to have to believe in himself to lead from the front.
Ominously for Martin, this race was the first time Bagnaia has been fully fit since damaging his leg at Le Mans when Brad Binder ran over him at the beginning of the race after the Ducati rider crashed in front of everyone. If the resulting injury has been bothering Bagnaia, then it isn't any more, which means he's back to full strength and a full-strength Bagnaia, in his current form, is going to be hard to beat. On the other hand, Martin has nothing to lose – although, maybe, everything to prove – and while there will be pressure on him, the pressure is definitely heavier on Bagnaia.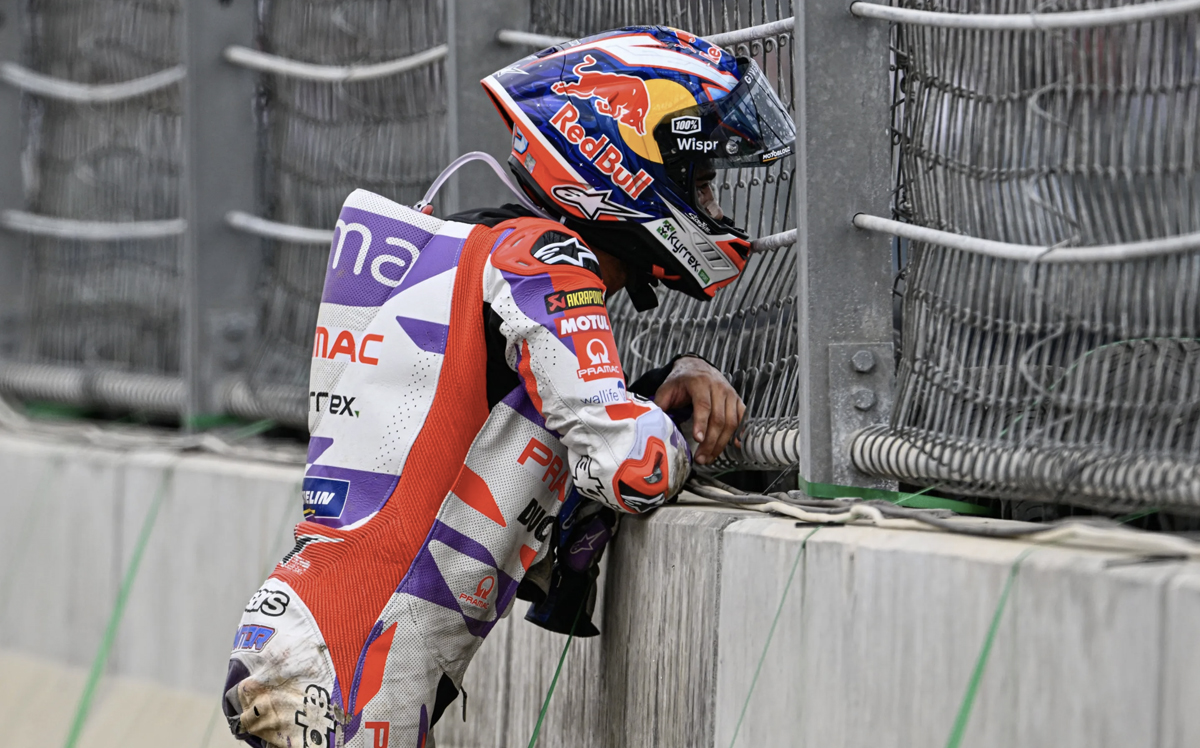 Yet again, Aprilia showed huge promise, easily the best bike for the fast, sweeping corners of the circuit. Espargaro really cocked it up by crashing out of the Sprint race before it was a lap old and then, for some strange reason, chose the soft rear tyre for the Main race which predictably wilted before half distance and left him 30 seconds behind his teammate Viñales at the end: a race, don't forget, that Viñales had led after Martin crashed. If Viñales could do nothing to resist the attentions of Bagnaia, a second place was a good reward, especially in light of Quartararo's attentions in the latter stages of the race.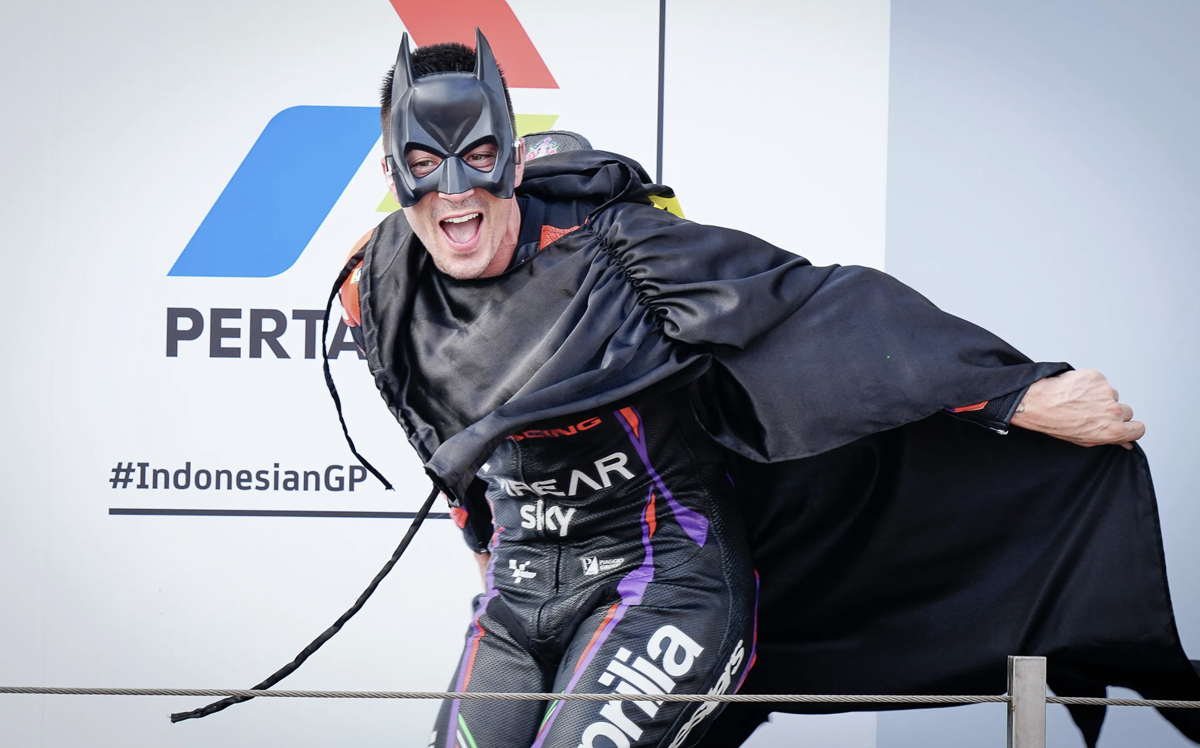 But that was as far as the Yamaha rider got: it's one thing catching, but another thing entirely passing. It's a Yamaha trait of old: perfect when on its own and able to do what it needs to do but all at sea when following another rider closely, with neither the power nor the traction to effect an overtake. Remember Lorenzo? If he got to the front, he was all but unbeatable but mire him in the midfield and he was nowhere. Frustrating for Quartararo, but a podium must feel like a victory at the moment. Yet again, how good was it to have him challenging at the front? All we need is Marc Marquez to be up there as well, along with Binder, Miller, Rins and all the rest and then we'll have a season.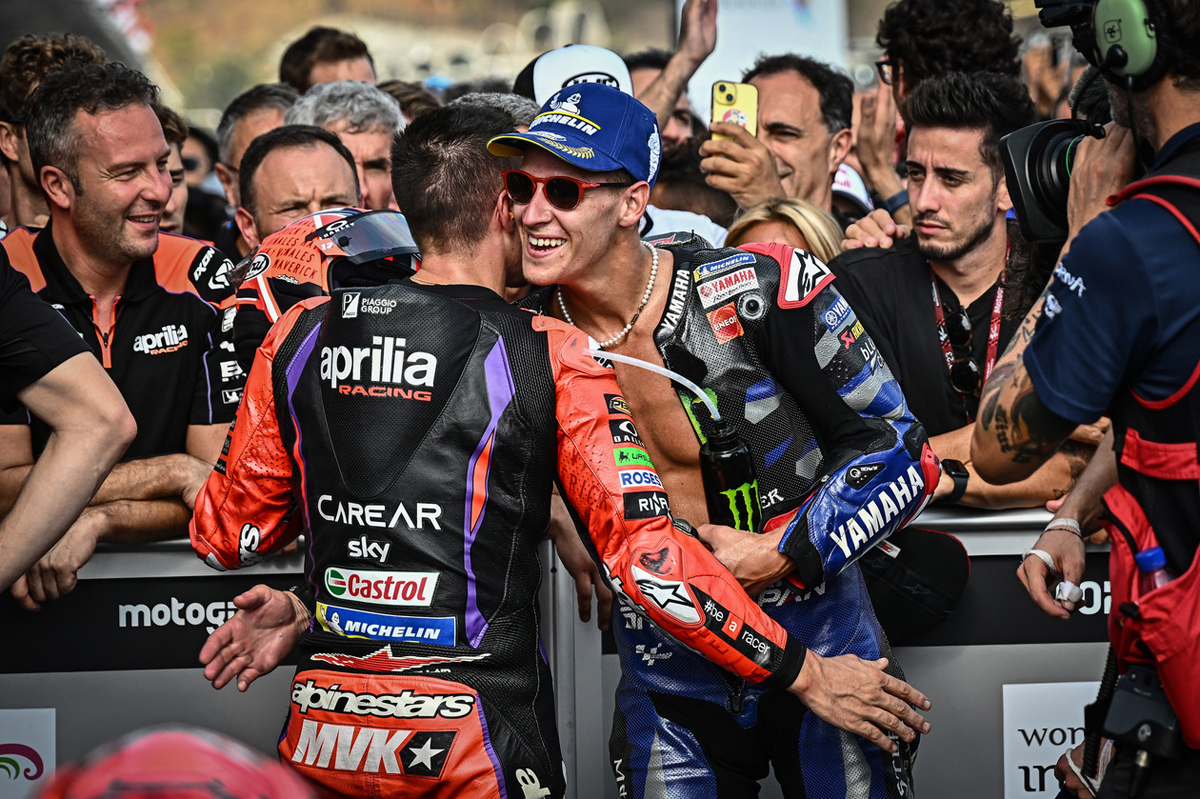 Next up is Australia: Philip Island is a track everyone loves; riders and fans alike. But it's forecast to be cold and wet – on Sunday, at least – so all bets are off and, while it seems inevitable that Bagnaia and Martin will be making the running, we can rightly expect the unexpected.