Ducati has emphasised its commitment to the Multistrada platform with the launch of the sixth variant in the current range of V4 Multistrada in the form of the Multistrada V4 RS.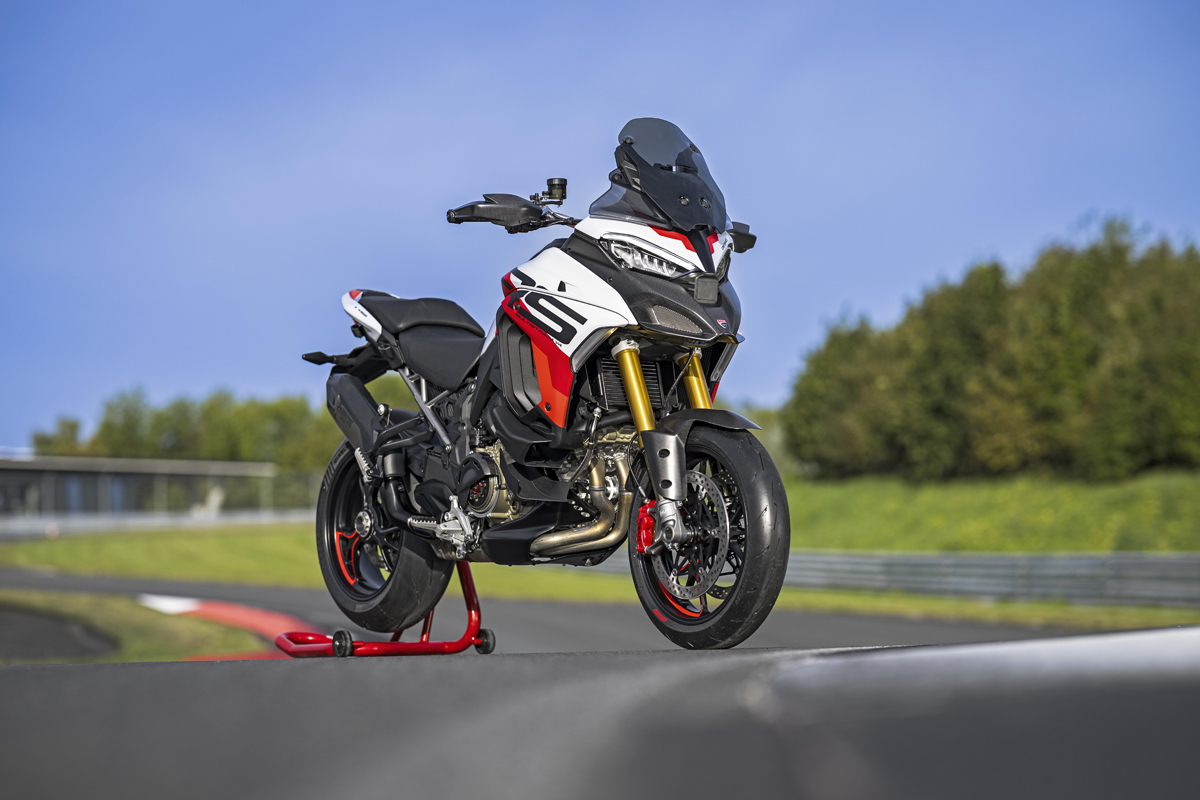 One aspect of the new V4 engine was its impressive service and valve train adjustment intervals, which was made possible by dropping the desmodromic valve actuation in favour of valve springs to close the valves. This enabled valve adjustment intervals to be extended to an impressive 60,000km, while an oil change is needed at 15,000km and an air filter change at 30,000km.
However, for the Multistrada V4 RS, Ducati has reverted to desmodromic valve actuation which, for those who might not know, both opens and closes the valve with cam lobes and does away with the need for valve springs, which are a limiting factor to how well an engine breathes at high revs and also how high the engine can rev. The engine of the V4 RS will rev to 13,500rpm, with peak power at 12,250rpm, while the valve-spring Multistrada engine tops out at 10,000rpm.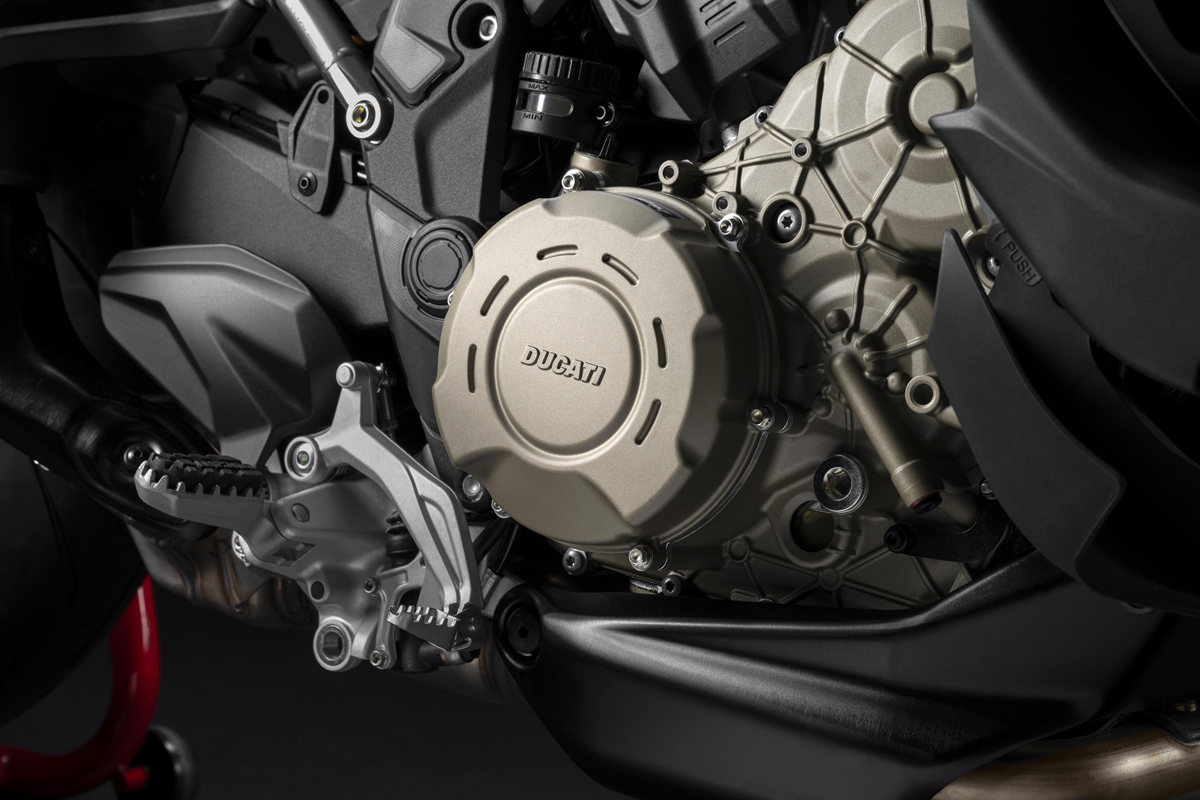 Engine displacement is 1,103cc and the power output is 180 horsepower or 192 with the optional Akrapovič race exhaust system. The new RS runs super light 17-inch Marchesini wheels (in place of the 19-inch wheels on the rest of the range) and the chassis geometry has been altered that puts more weight on the front wheel so the V4 RS will turn like a sports bike. By doing this, Ducati has blurred the lines between a sports-touring bike and a full-fat sports bike. It is, in effect, a tall and much more comfortable Panigale V4S.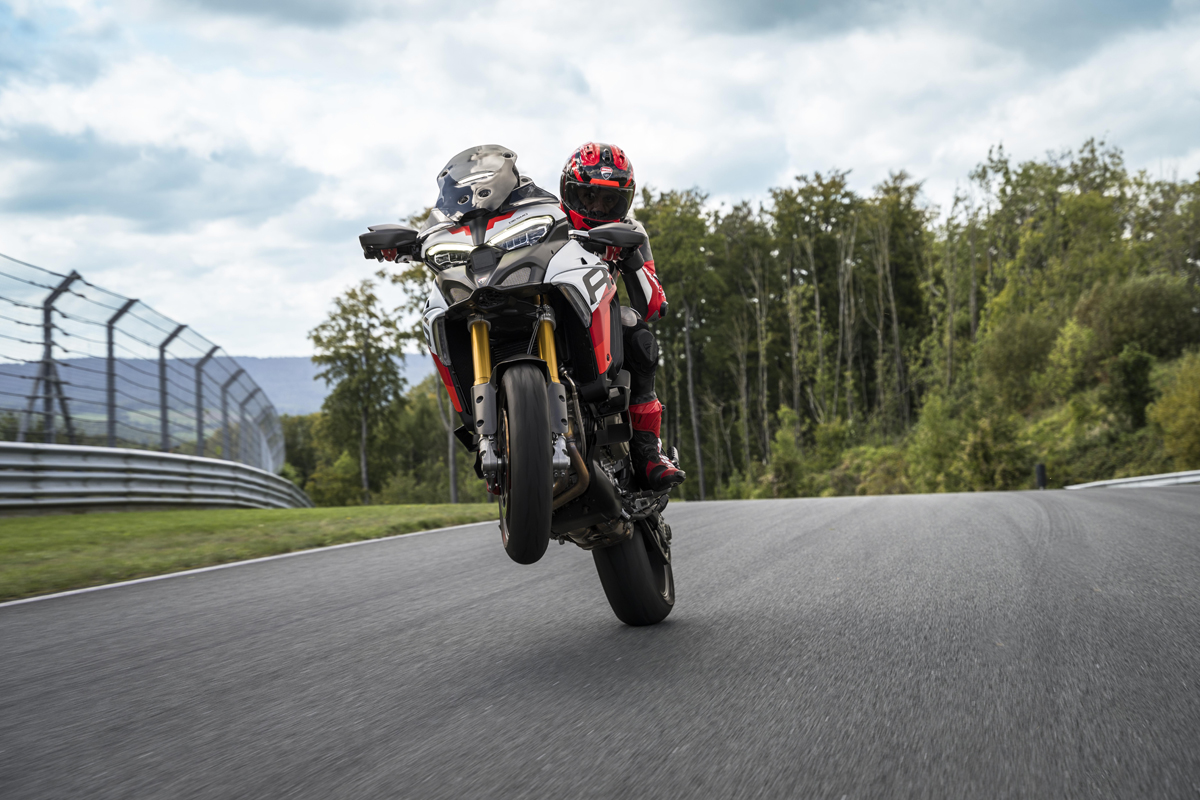 Suspension is Ohlins Smart EC semi-active suspension and, naturally, the best Brembo calipers – Stylema Monoblocs – money can buy.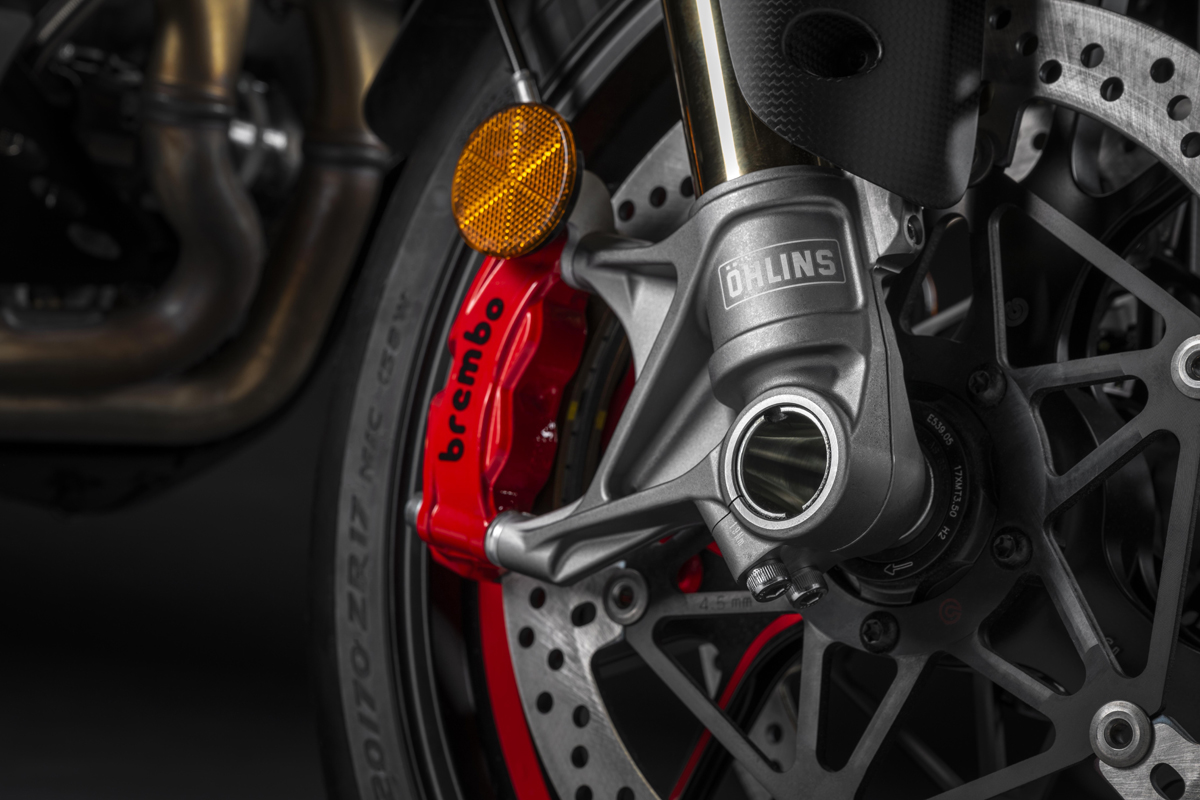 On the electronics front, the 'Enduro' riding mode has been replaced by a 'Race' mode and the V4 RS retains the rest of the comprehensive electronics package, with four power modes which significantly alter the power and torque characteristics in the intermediate gears as well as sixth gear. You can adjust engine brake control, wheelie control, traction control and ABS, while the radar detection front and rear is another refinement.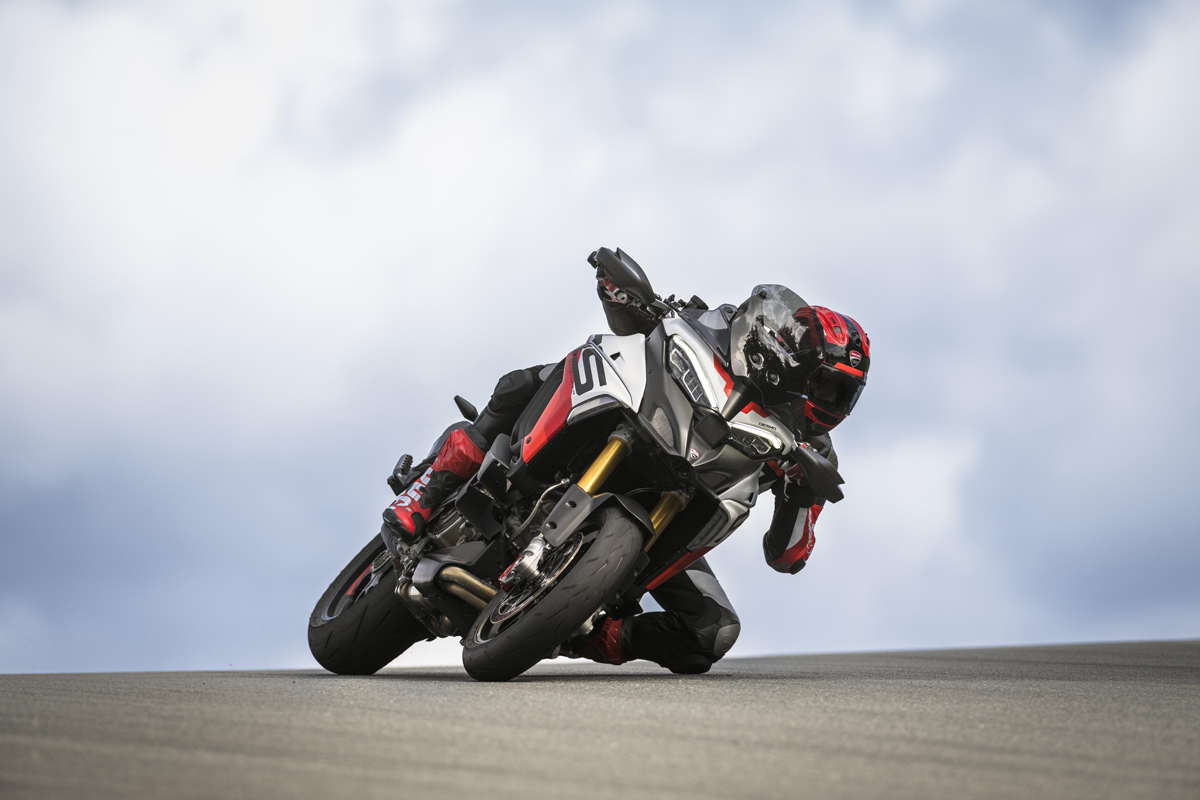 Weight reduction has been taken seriously, with 2.7kg off the wheels, 2.4kg off the subframe and 1.4kg off the battery. With the Akrapovič exhaust fitted, the all-in weight of the V4 RS will be 205kg, which isn't much heavier than the Streetfighter V4S!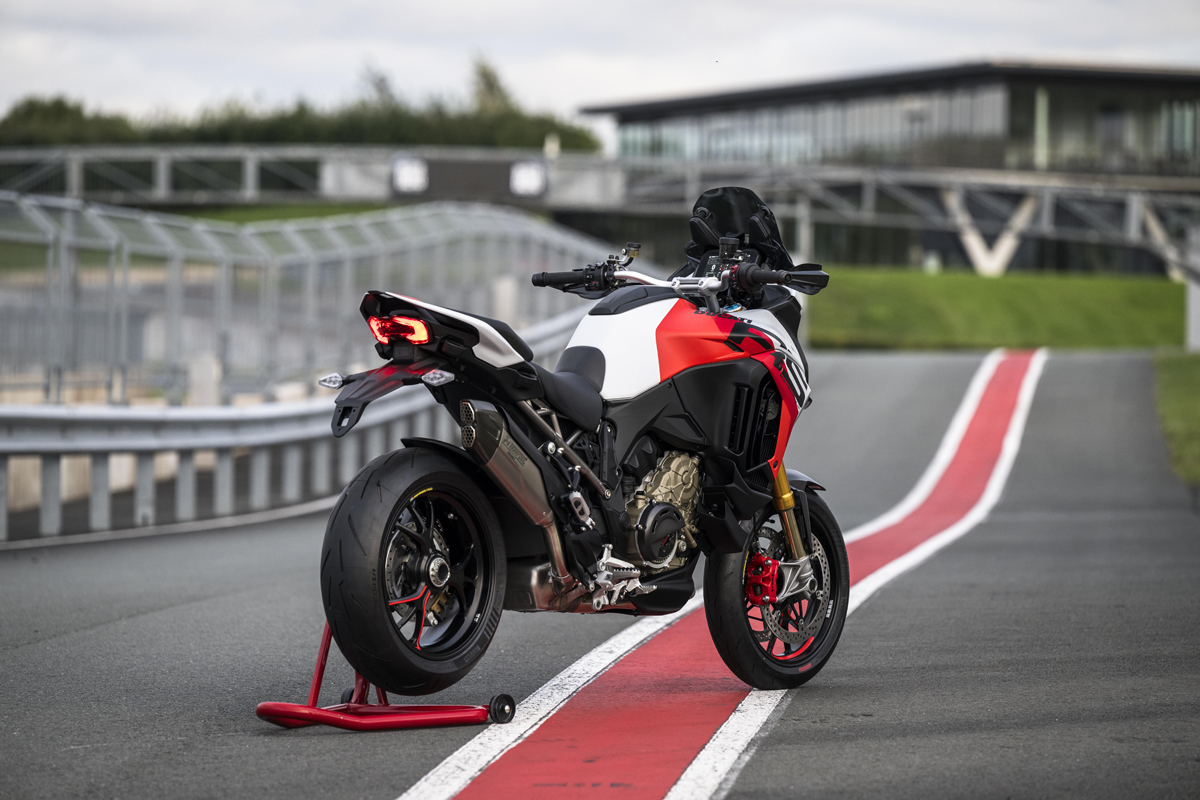 Whether the world needs a track-blitzing, upright riding position, comfortable Multistrada is not for us to question: it's enough for us that Ducati feels it's what we need and we're happy to listen to them.
For arrival dates and pricing information, contact Ducati South Africa.