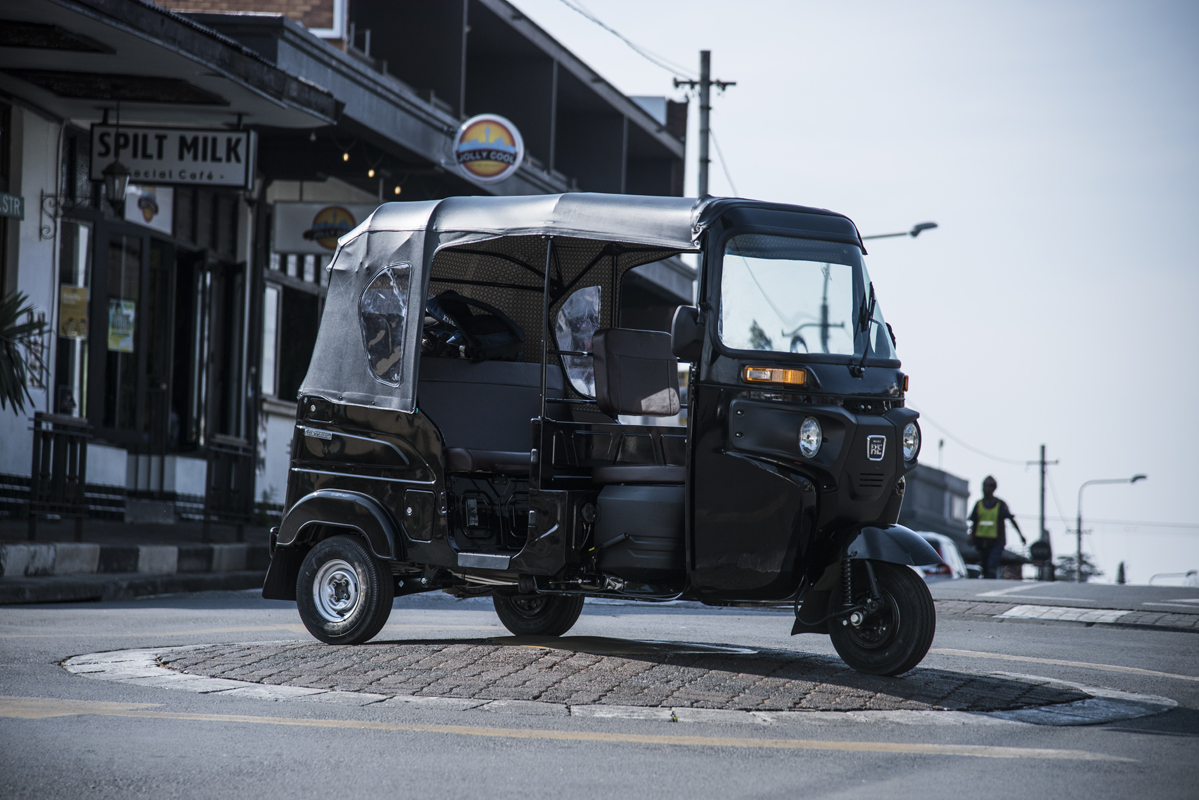 If the truth be told, South Africa, in an African context, has always had delusions of grandeur. There was a time when that way of thinking was perhaps justified, albeit not in respect of all its citizens. We did, 30 odd years ago, enjoy world-class infrastructure, an immaculately maintained road system, clean and tidy towns and cities, borders that were controlled and a vibrant economy. Well, the fact is, that ship has sadly sailed. We have had an influx of migrants into SA, coming to seek their fortune, which has swelled our naturally growing population to the point that urban congestion is the new norm. This has brought new challenges for those who, for work or play, need to move around the cities and bigger towns.
Companies like 'Uber' and similar entities have increased in popularity as urban commuters have opted to be driven rather than drive themselves. Finding parking, or the pain of traffic fines if you overstay your welcome and so on, just make hitching a ride really viable. Countries in the Far East have had this crowded city dilemma for decades already, and have been forced to address this issue. Both the transport of goods, as well as people around their cities, has been made much easier by the adoption of what has become known as the 'Tuk Tuk'. The name no doubt arises from the exhaust note of their single-cylinder motors. Kind of an Asian version of 'putt putt', if you get my drift.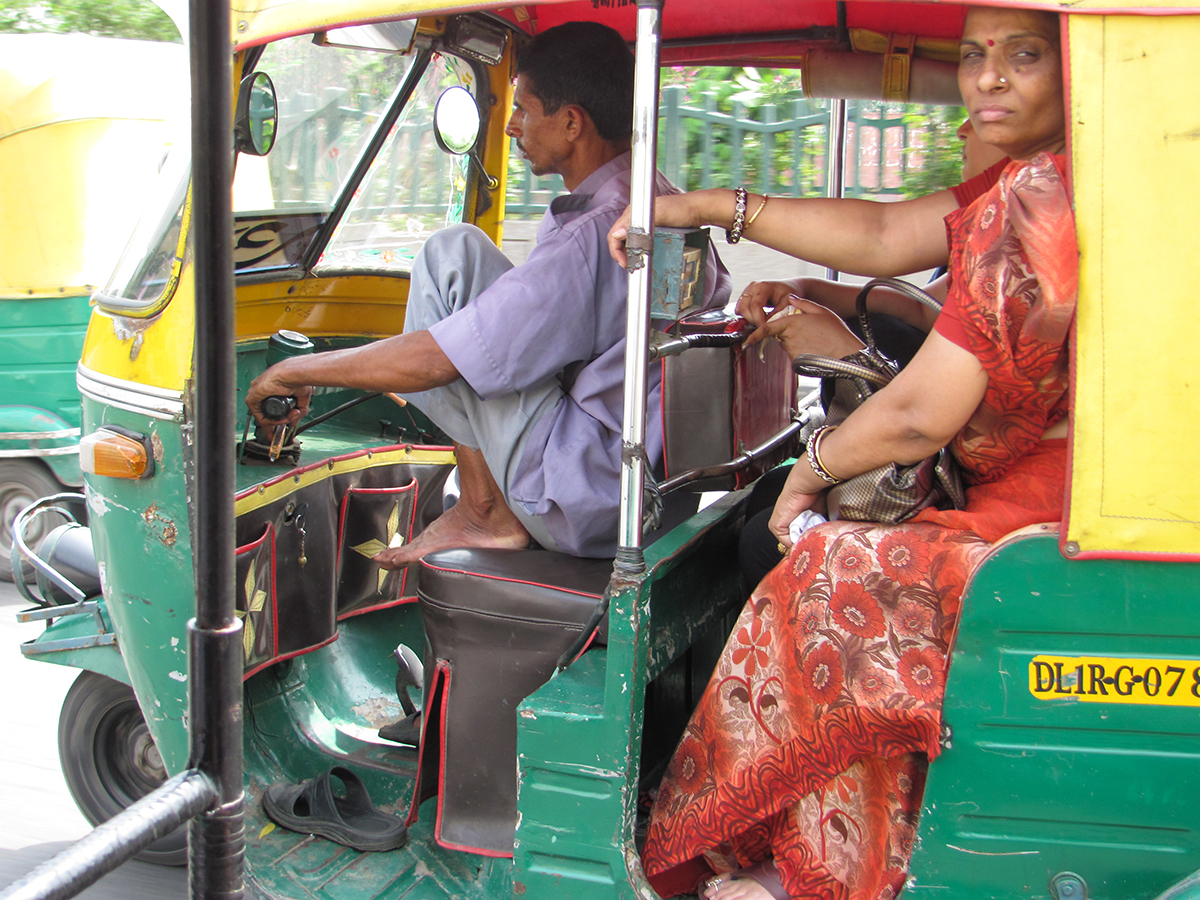 The Tuk Tuk owes its origins to the Piaggio Ape, the venerable little three-wheeler developed post World War 2 in Italy to meet the need for a small, affordable, practical, and economical commercial vehicle. Ape is Italian for Bee. The original 50cc 2-stroke Ape buzzed like a Bee and had a 200 kg payload. Performance was sedate, to put it kindly, and the Ape topped out at 43 kph. Not that this was an issue in its field of operation. In time a diesel engine was developed for the Ape and the rest, as we say, is history. Italian cities are still infested with these plucky little workhorses.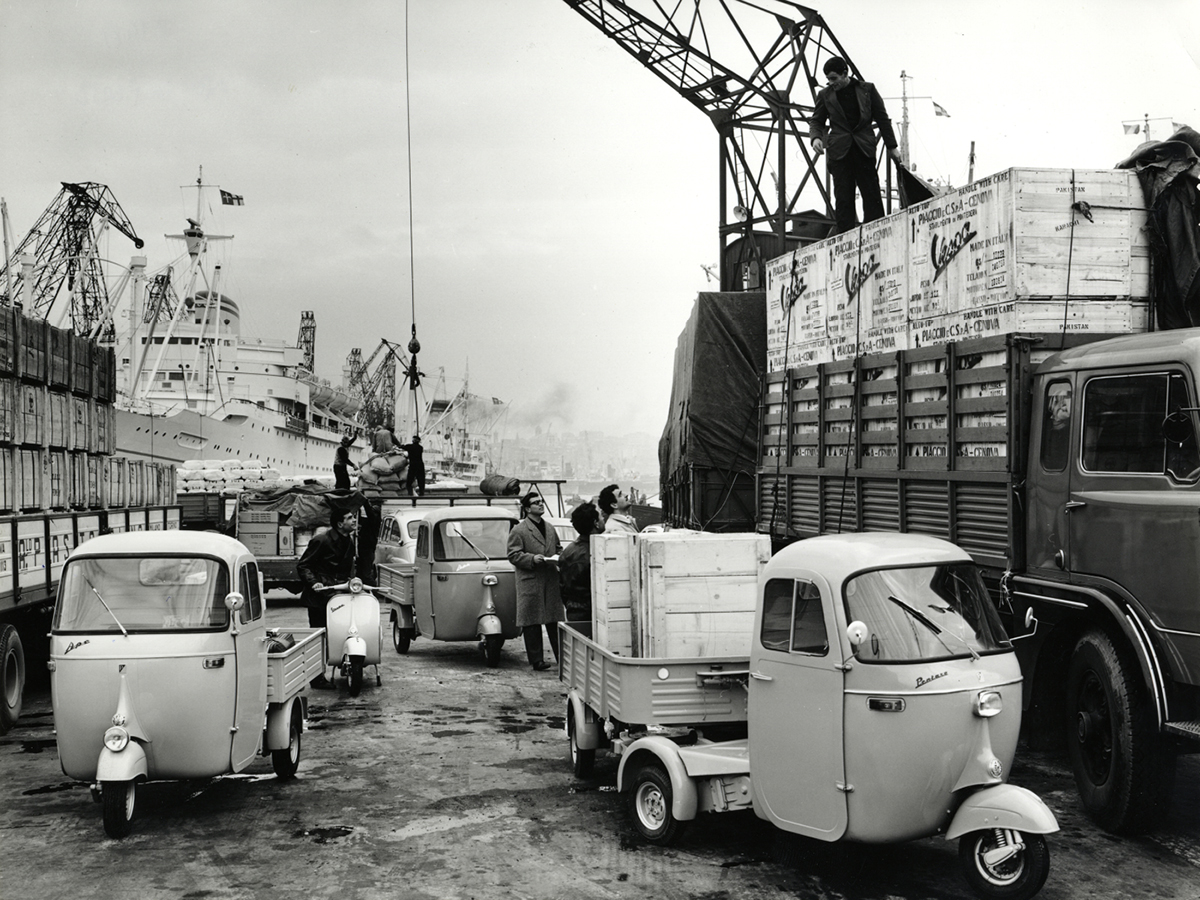 The 1980s saw the Ape take off in India, where Tuk Tuk's are known colloquially as "loading Gadi's". Indian motorcycle manufacturers like Bajaj, Mahindra and TVS all make versions of the Tuk Tuk. Bajaj, the subject of this story, specialises in the people carrying variety and has built an enviable reputation over time. Bajaj were the first Indian company to develop and build what was termed an "Auto Rickshaw" in 1971, after which they started building Apes under licence to Piaggio in the '80s. Bajaj are currently the largest manufacturer of Tuk Tuk's in the world.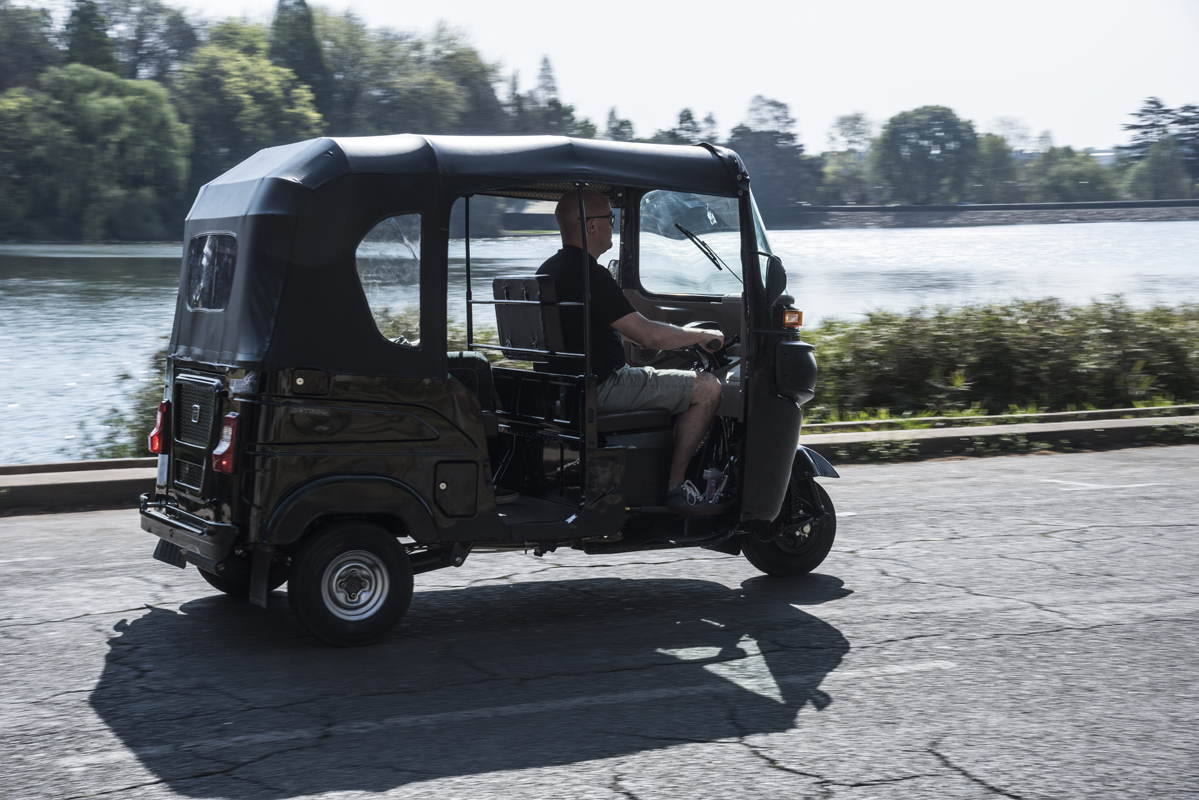 Simon and I visited India around 2010 when we visited TVS in Bengaluru and Hero in New Delhi. We had our first experience of Tuk Tuks right off the plane in Mumbai, when we hitched a ride to our hotel in a Tuk Tuk. Welcome to India. I had ridden on a Tuk Tuk when I visited Singapore and Thailand in the '90s so I was already familiar with this unique and funky form of transport. Si and I spent hours in the company of a Sikh fellow who took us on an extended tour of Delhi. His Tuk Tuk was a Bajaj that ran on Liquid Petroleum Gas [LPG].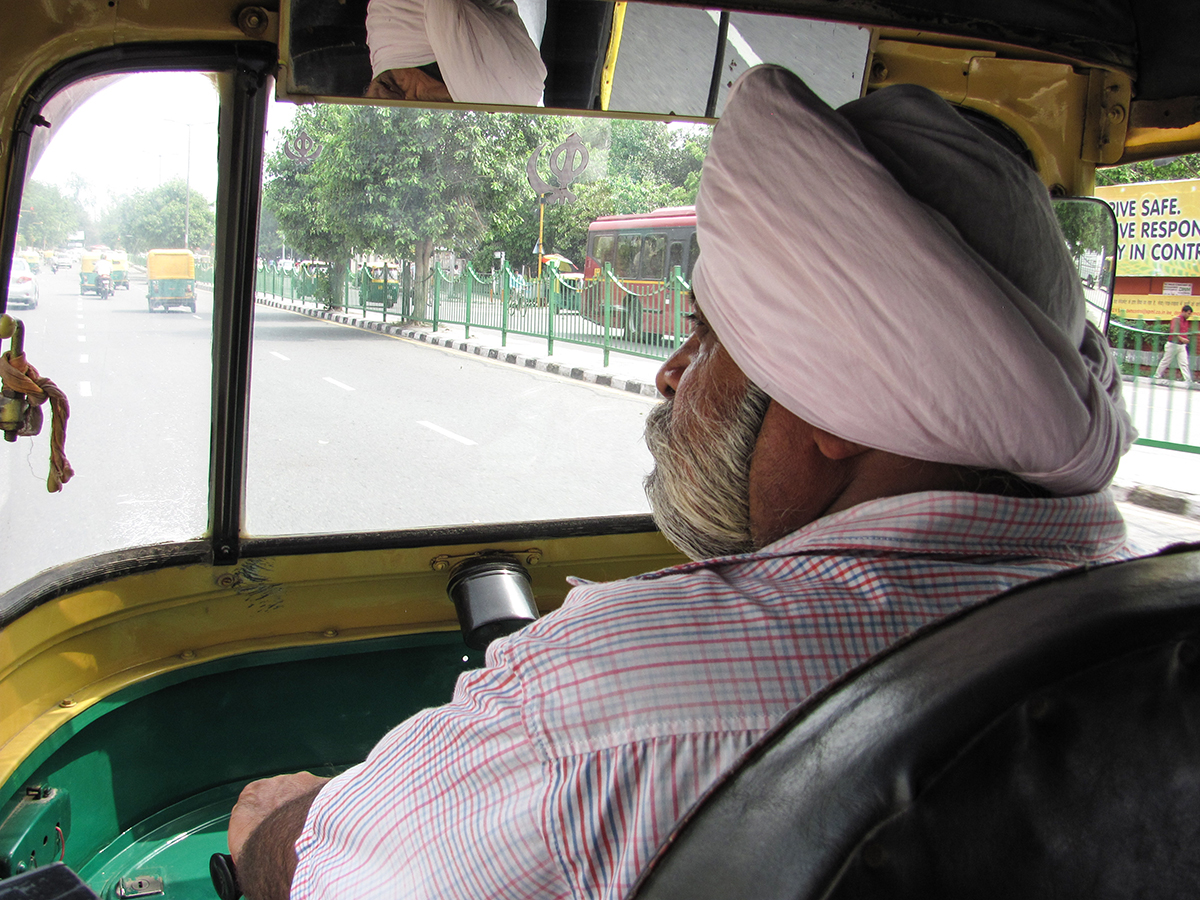 Bajaj have brought their latest version of the Auto Rickshaw, called the Bajaj RE 4S, to SA. We got the opportunity to give it a spin through the streets of Parkhurst and surrounds. For the most part, Bjorn was the designated driver, ferrying Simon and his children Adam and Abigail around the 'burbs. The RE is driven by a 198.8cc 4-stroke fuel-injected motor developing 7,3 kW@5000 rpm and 17.1 Nm of torque @ a lowly 3,500 rpm. It has a turning circle of 2,88 m which makes it easy to manoeuvre through congested city traffic. With a payload of just over 300 kg, it could easily cope with the Morton family. Not so sure that it would work with the Springbok front row. We may just need a couple of REs for that job!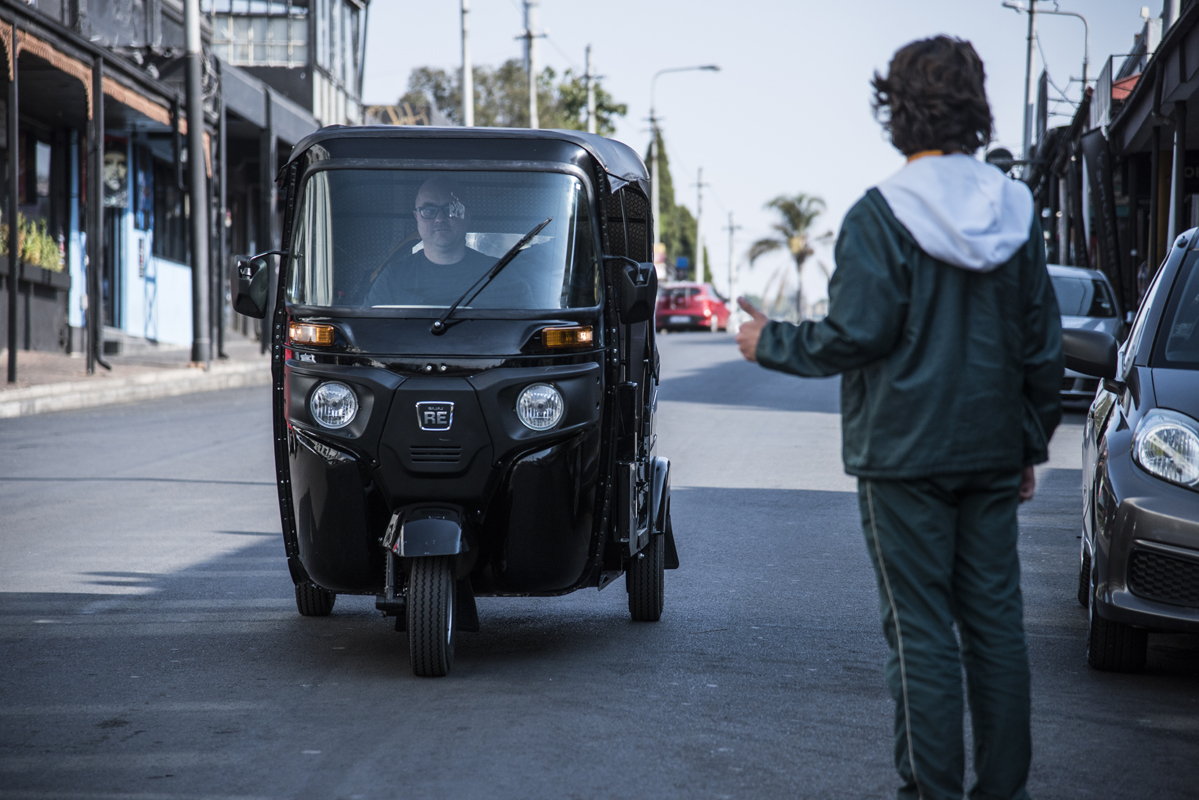 It is high time that SA has a reality check. Let's shake off our misplaced First World pretensions and embrace what is practical and works in our beleaguered economy. I would love to see the streets of our cities reverberating to the 'Tuk Tuk' of Tuk Tuks.  Imagine for a moment having a little operation called Tuk TuK Tours taking you around Jo'Burg's sights, or around the Cape Peninsula, let alone visiting Wine farms around Franschhoek. You want something open, airy, and slow enough to connect you with your surroundings. Obviously urban taxis, the original 'Auto Rickshaws', as a budget Uber alternative make much sense. Getting kids to and from school is a real pain. Why not entrust that task to the TukTuk team?
Come on South Africa, it's not just what you do, but HOW you do it that counts. Cruising around on a Tuk Tuk is just a special kind of cool. Seeing the Morton kid's reaction to the fun factor of the RE, was a reminder that we could all do well to let the kid in all of us hold sway at times. Loosen up and live a little! A Tuk Tuk ride could be just the ticket. At around R65,000 a pop, it wouldn't take much to own your own urban mobility business. Sounds fun, doesn't it?
Bajaj RE 4S
For more information on the vehicle featured in this article, click on the link below…