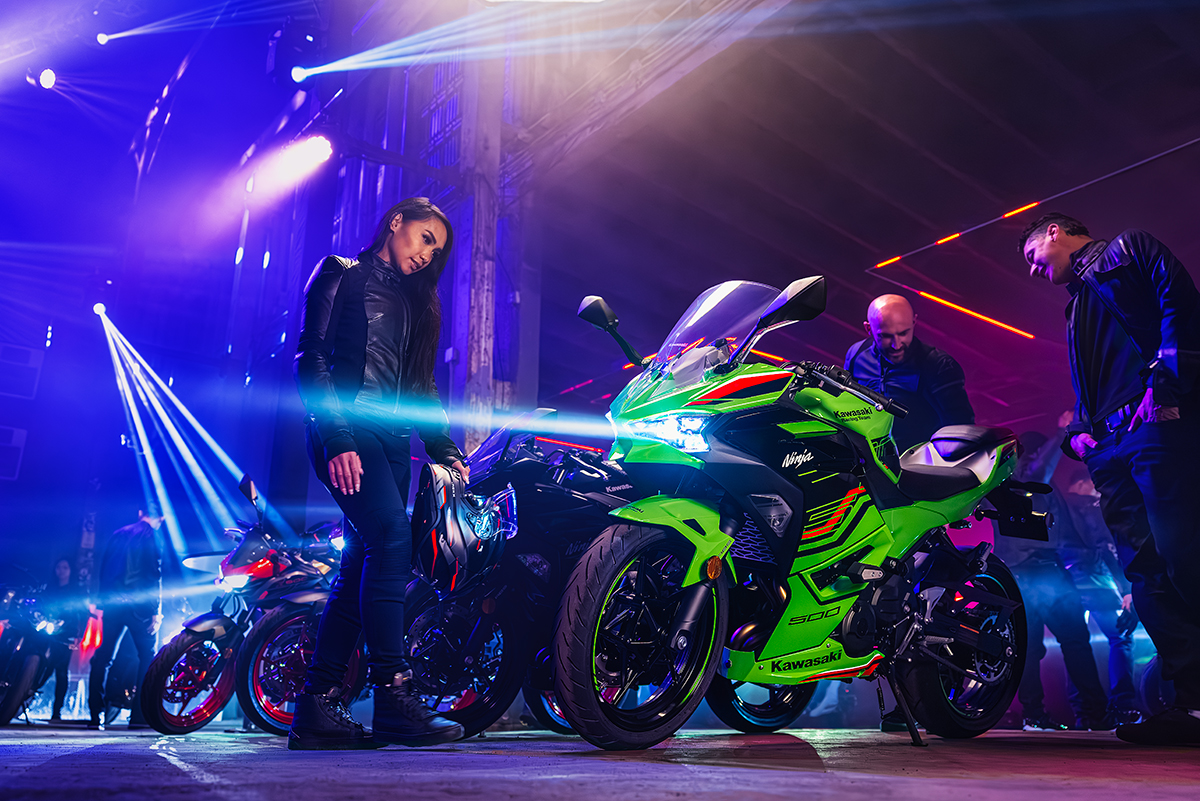 The annual two-wheel festival of everything that is new and good in motorcycling that is the EICMA show is taking place in Milan, Italy this weekend. The first two days are for the press, who get to see the reveals of new models from the world's motorcycle manufacturers, some of which have been seen already in online launches but others which are being seen for the first time.
It would be impossible – and wrong – to say that some new models are more important than others as, to their respective manufacturers, they are all important. So we've decided to present them to you in alphabetical order, to save insulting any fragile egos!
Ducati Hypermotard 698 Mono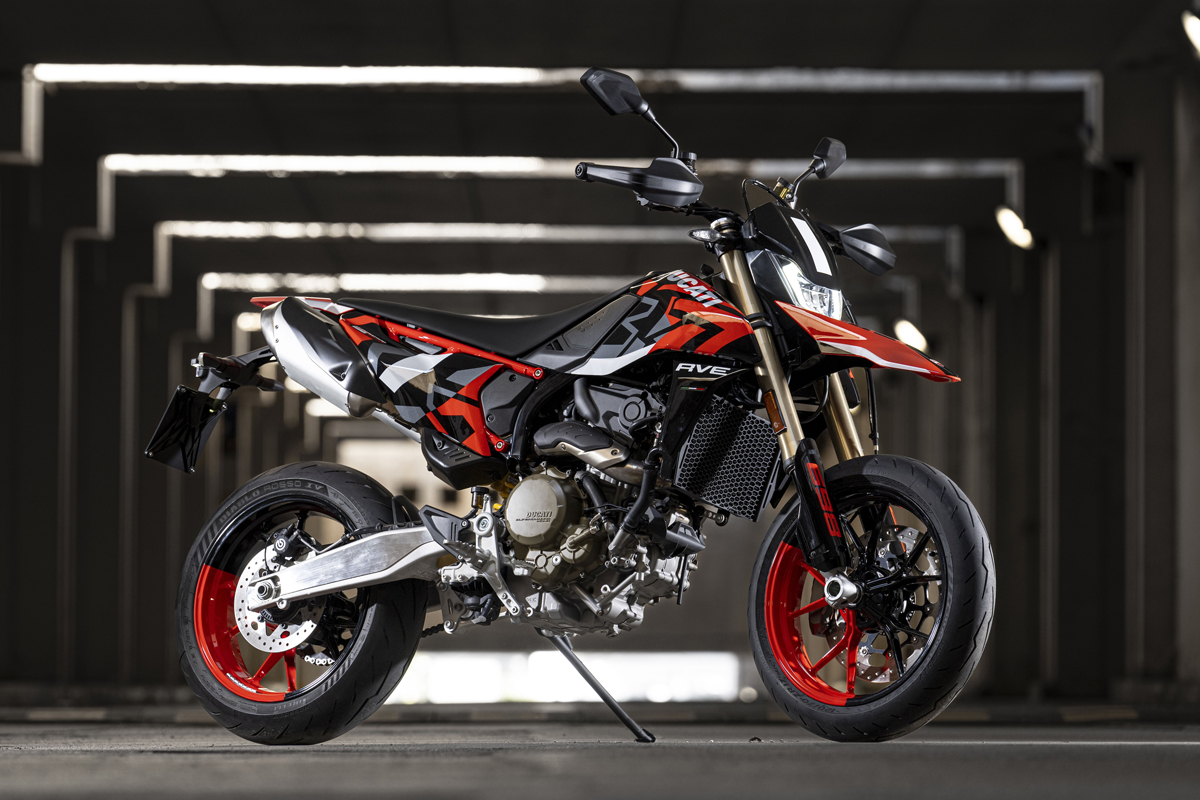 First up is the new model that will be powered by Ducati's first single-cylinder engine in their decades, the Hypermotard 698 Mono. In effect, the engine is one cylinder of the Superquadro engine as used in the 1299 Panigale but updated with MotoGP-derived technology as found in the Panigale V4R engine. 77.5 horsepower is developed, which can be boosted to 85 horsepower with the fitting of a Termignoni racing exhaust system.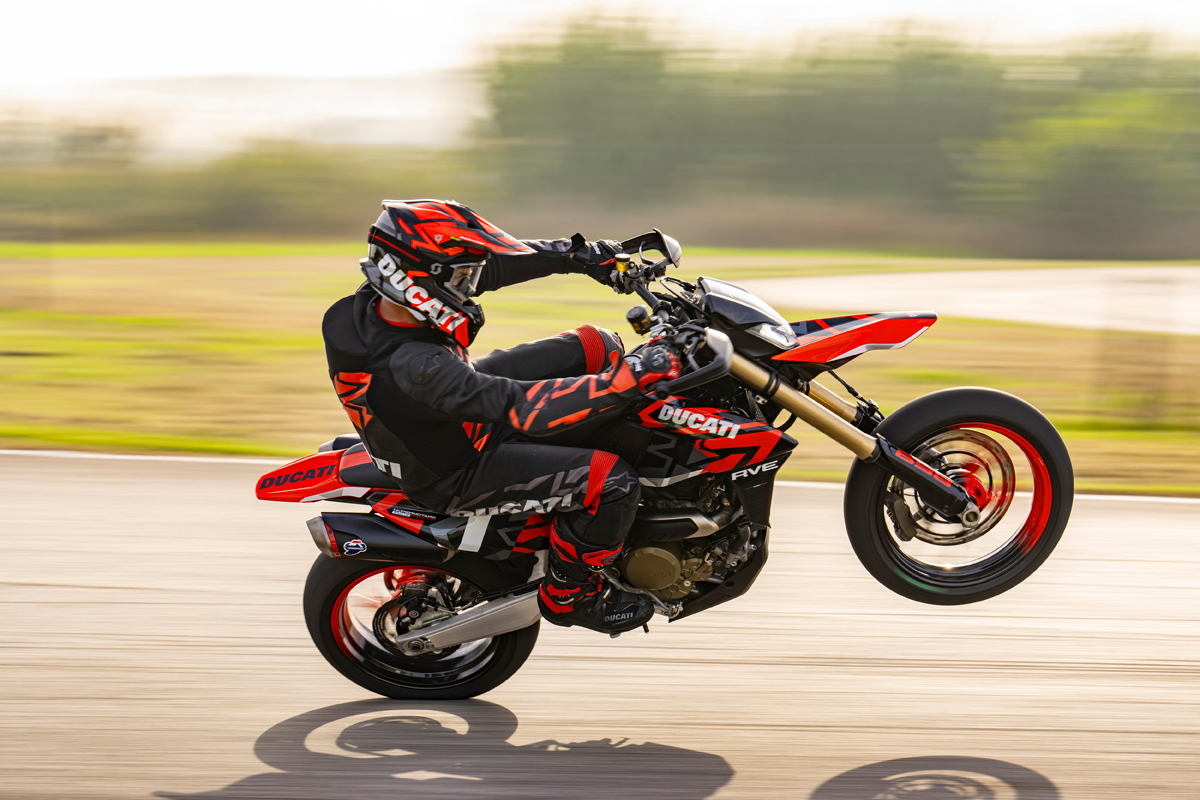 The frame is the traditional steel tube trellis affair, the wheels are cast alloy and the swing arm is double-sided. Overall weight is a respectable 151kg. Fully adjustable Marzocchi suspension and Pirelli Diablo Rosso IV tyres are fitted, as is a Brembo M4.32 brake calliper acting on the single front disc.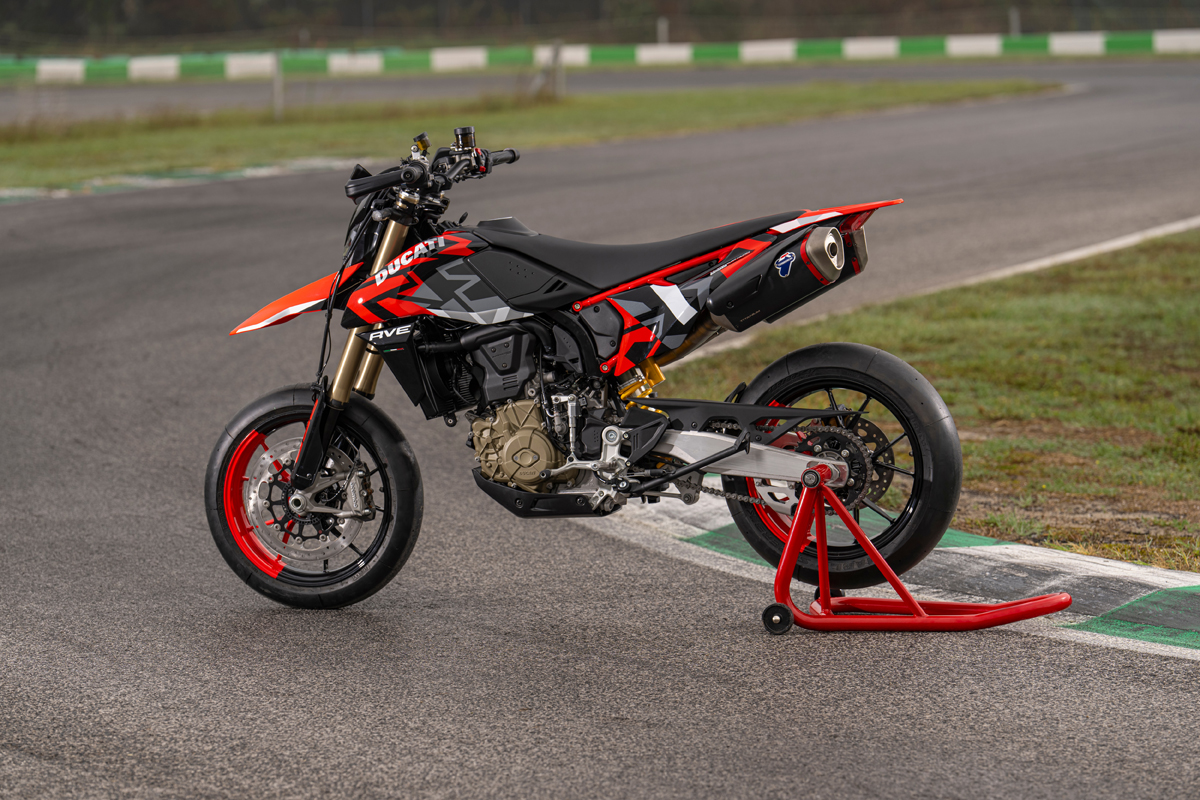 Huge electronics package, including traction control, wheelie control, engine brake control, launch control, quick shifter, cornering ABS and a 'Slide by Brake' function for that proper supermotard riding style.
Kawasaki Ninja 500/Z 500
Kawasaki continues the upward trend of its parallel twin-engined models, which started at 300cc, went to 400cc and are now sitting at 500cc. Actually, the actual displacement hasn't been given and neither has the horsepower figure but we do know that there will be a faired Ninja and naked 'Z' models.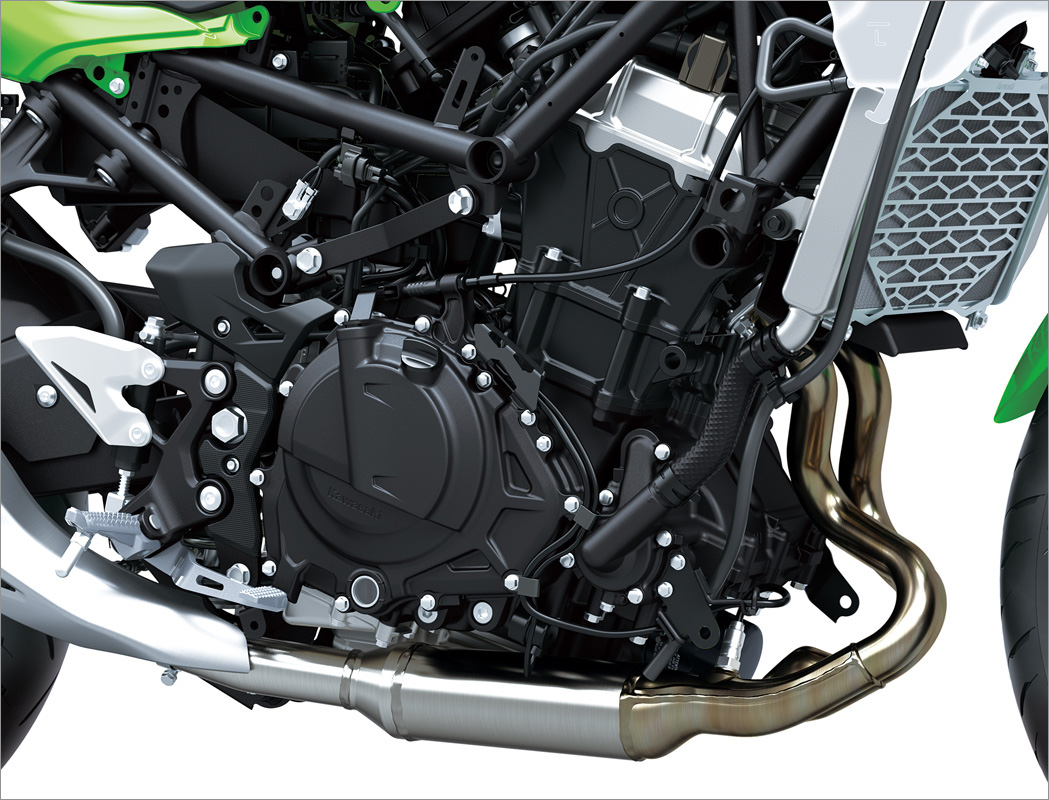 The trellis frame remains the same and there will be SE versions of both: the Special Edition variants, in both cases, also come with different paint options compared to the standard. The standard option for the Z 500 is 'Metallic Spark Black/Metallic Matte Graphene Steel Gray', and 'Metallic Spark Black/Metallic Flat Raw Graystone' for the Ninja 500.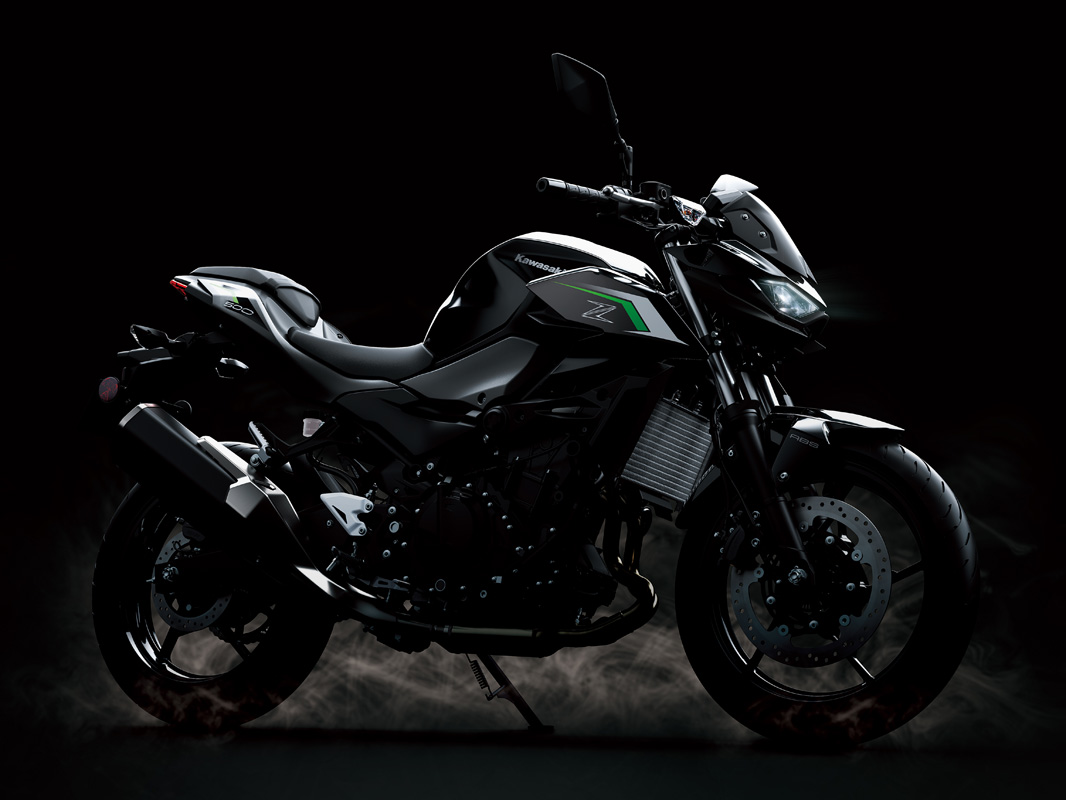 'Candy Persimmon Red/Metallic Flat Spark Black/Metallic Matte Graphene Steel Gray' and Candy Lime Green/Metallic Spark Black/Metallic Matte Graphene Steel Gray' are the Z 500 SE's choices, while the Ninja 500 SE is available in either 'Lime Green/Ebony' or 'Metallic Matte Dark Gray/Metallic Flat Spark Black/Metallic Moondust Gray'.
Kawasaki Z 7 Hybrid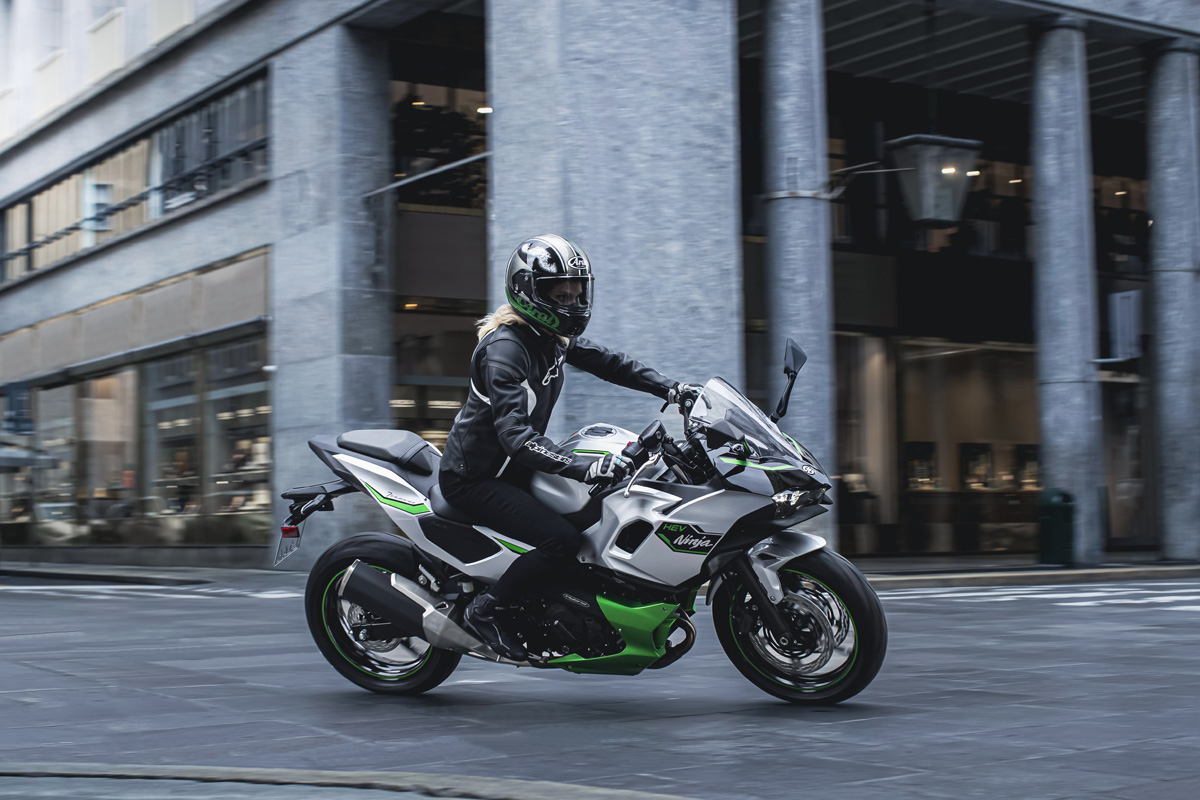 More from Kawasaki, which appears to be ignoring the electric drive path of rival manufacturers in favour of a hybrid system. Following on from the faired Ninja 7 Hybrid that was launched earlier in 2023, there is now a naked Z 7 Hybrid.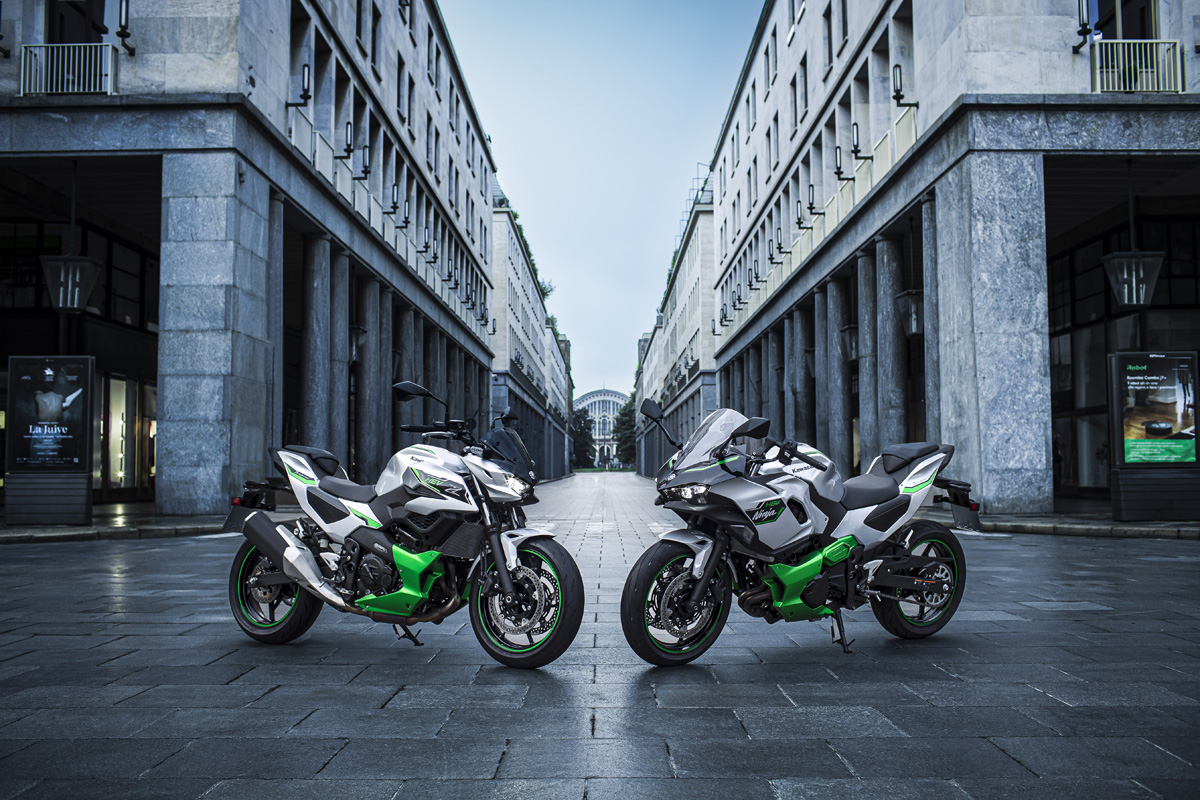 Making use of the same 451cc twin-cylinder combustion engine and 9kW traction motor combination as the Ninja 7 Hybrid, the Z 7 Hybrid makes the same 58bhp as its faired sibling, and offers up to 12km of electric-only drive before the internal combustion engine (ICE) kicks in to charge the battery.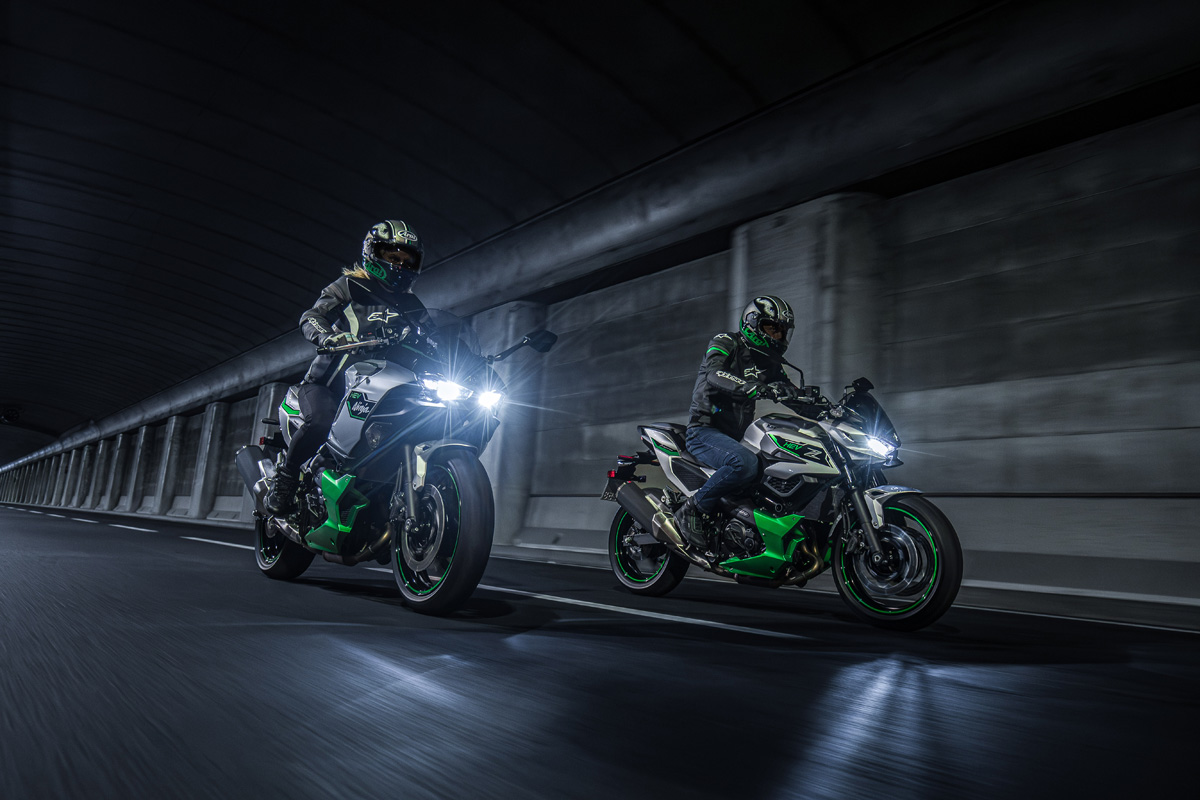 An 'Eco-Hybrid' mode provides a combination of electric and ICE power, and for the rider to select either manual or automatic gearshifts. Manual shifting is operated via a switch on the left bar, which has no clutch lever. As with the Ninja 7, the Z 7 also features a 'walk mode'.
KTM 990 Duke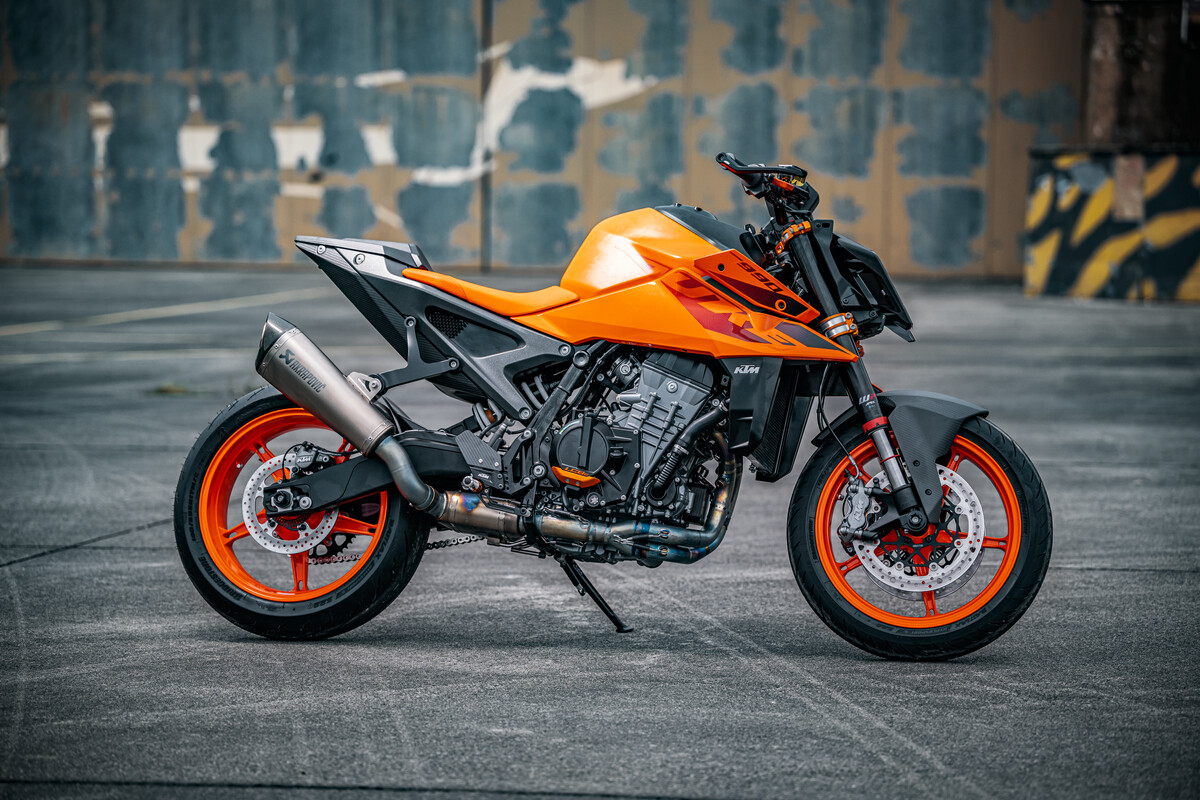 Filling out the KTM Duke range is a new 990 model, with an enlarged LC8c parallel twin as found in the 790 and 890 Duke models, this time being of 947cc and developing 123 horsepower and 103Nm of torque.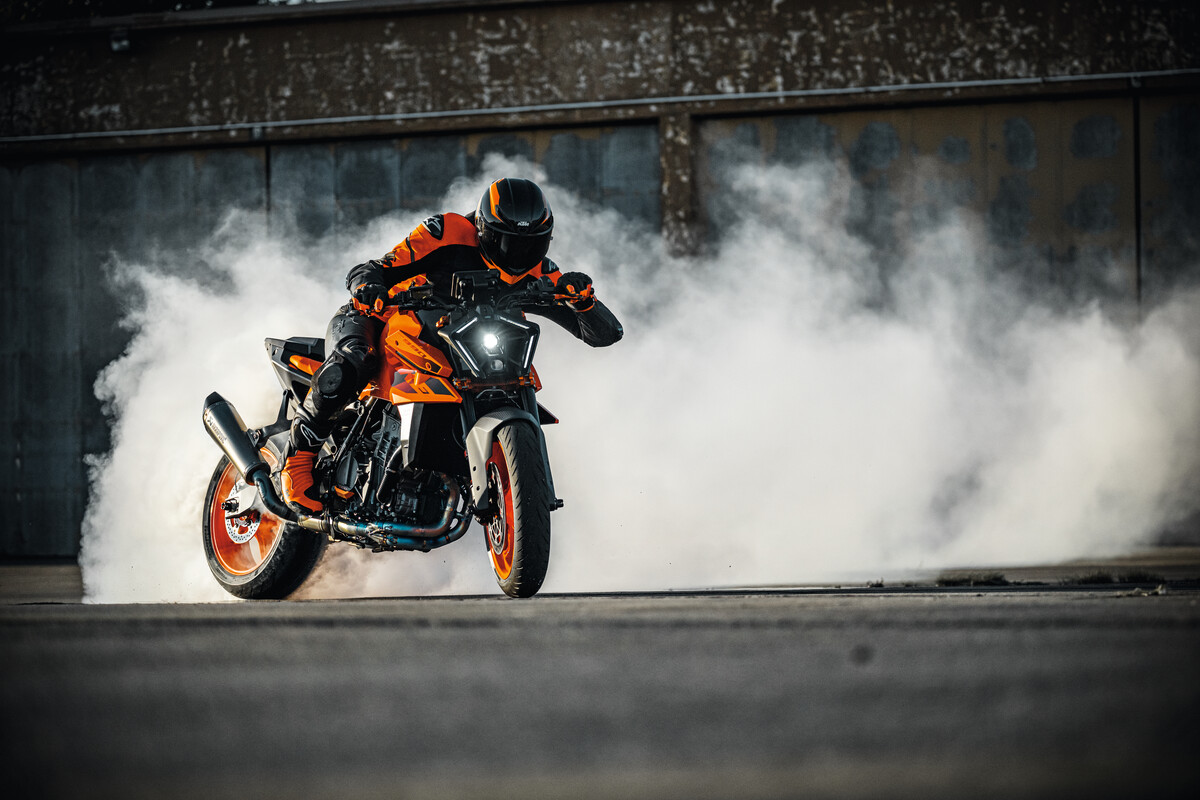 The recipe for the rest of the bike is pure Duke but something which has not been mentioned by KTM much since last year has been the 'Demo Mode', present on the 990 Duke. It means that all of the electronic options are available for the first 1,500km, and then the owner of the bike has to take it to a KTM dealer and tell them which electronic options they want to keep, and which ones they can do without, and pay an according fee to keep the options they want.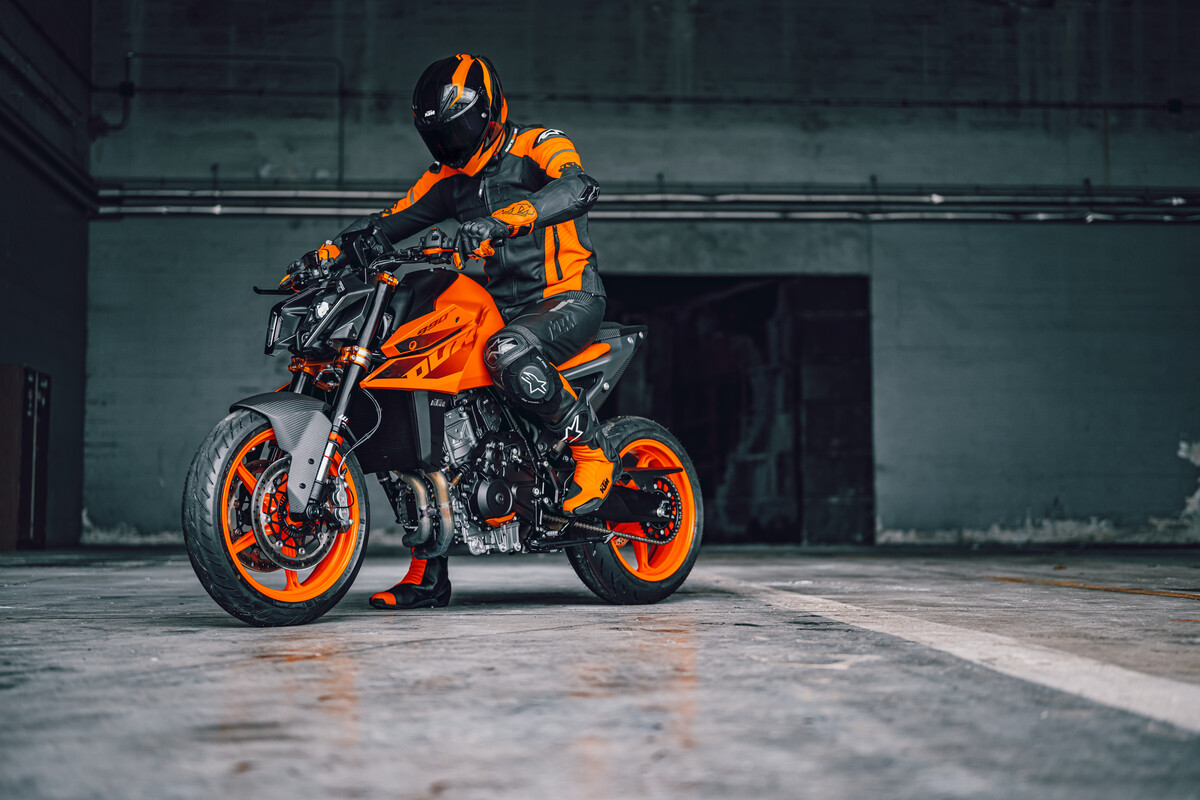 All the usual electronic rider aids – ABS, traction control, wheelie control, launch control and even cruise control, while there are three preset riding modes and two optional modes, Track and Performance, which are user-configurable. It will be available in two colours – 'Electronic Orange' and 'Black Metallic.'
MV Agusta LXP Orioli
MV Agusta has been threatening to enter the adventure segment for a couple of years and now it has become reality with a three-cylinder-engined model, called the LXP Orioli, a tribute to Italian Edi Orioli, whose four Dakar Rally wins include two aboard Cagiva's Elefant (1990 & 1994).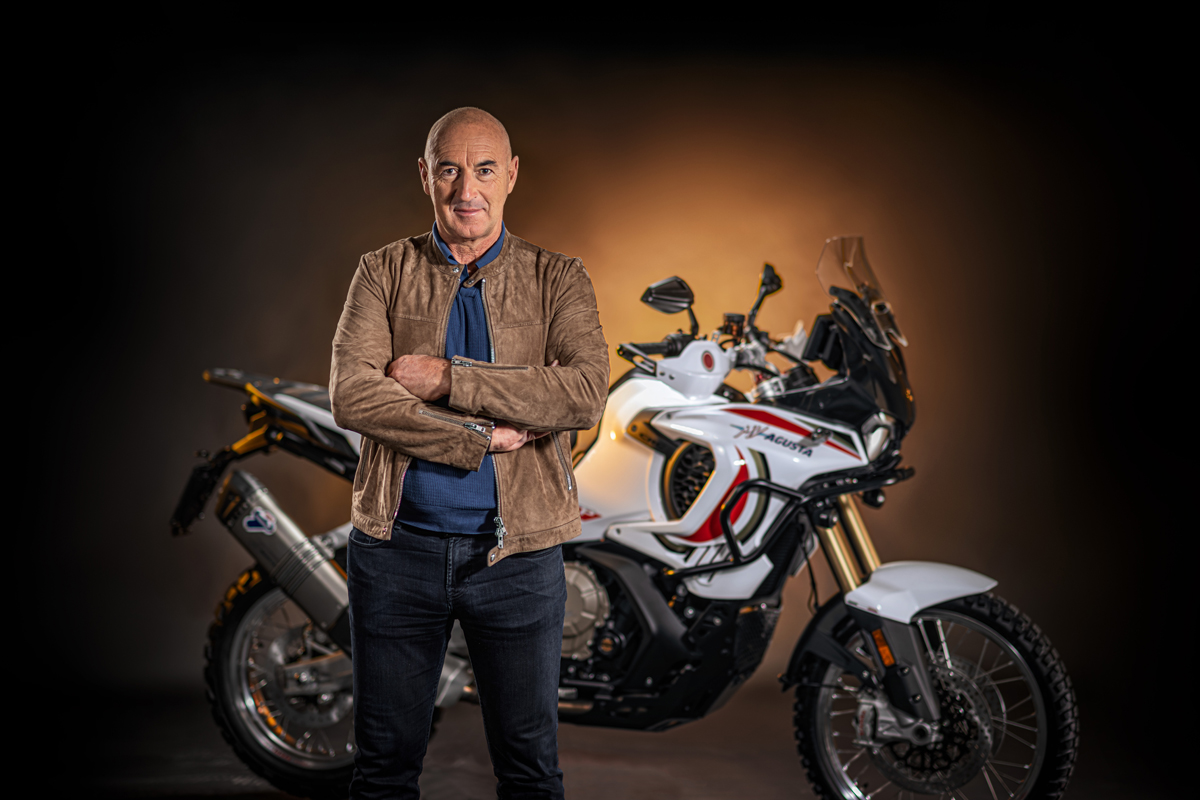 The new model takes off from where the projected Lucky Explorer models left off, being powered by a re-engineered version of MV's existing 800cc triple. Capacity has grown to 931cc thanks to a bigger bore and a longer stroke, with peak power up to 122bhp. Maximum torque is 75 lb-ft, with a curve so fat and flat that 85 per cent of it (64 lb-ft by our sums) is available from just 3000rpm.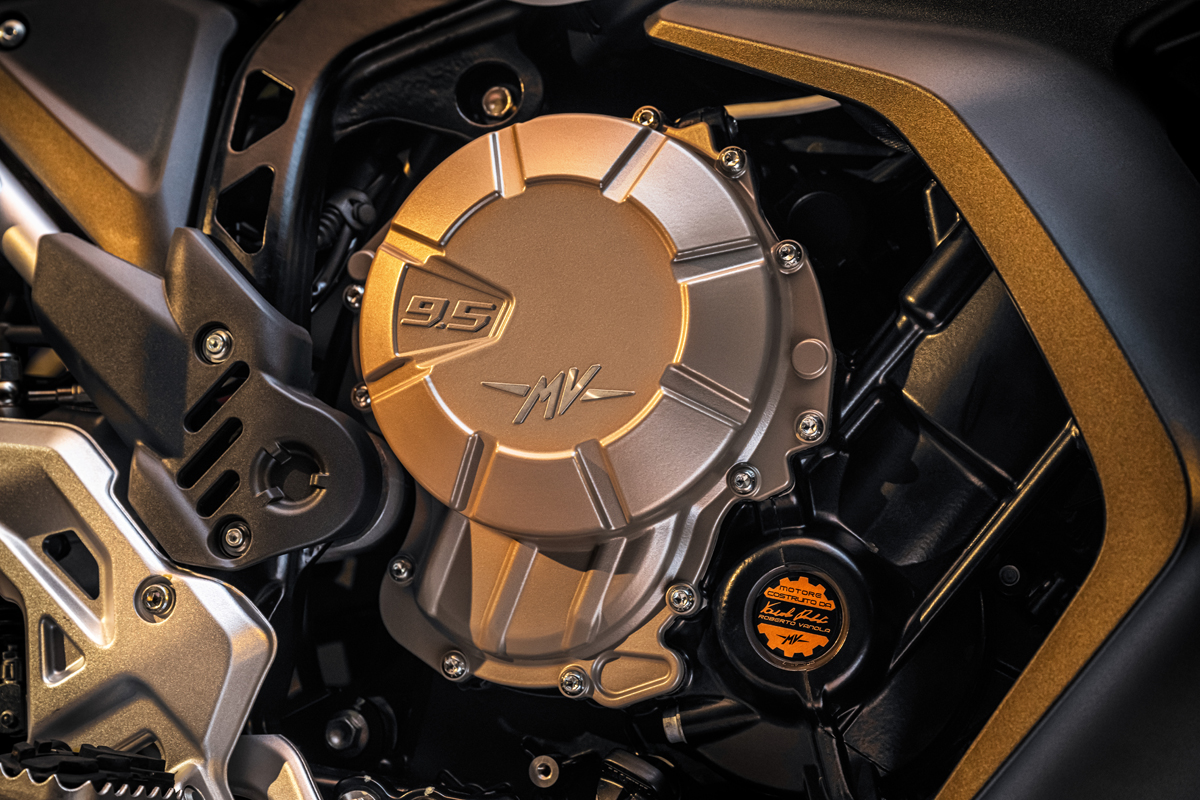 As with MV's current triples, the crank spins backwards to improve agility. The LXP Orioli's motor serves as a stressed member of the chassis. It's held in place by a new steel beam frame, with a bolt-on double cradle and detachable rear trellis subframe. The swingarm is cast aluminium and is twin-sided.
The suspension is by Sachs, has 210mm of travel at both ends and is fully adjustable. There are 21-inch/18-inch spoked wheels and Brembo Stylema calipers. There is a 20-litre tank and an overall weight of 240kg.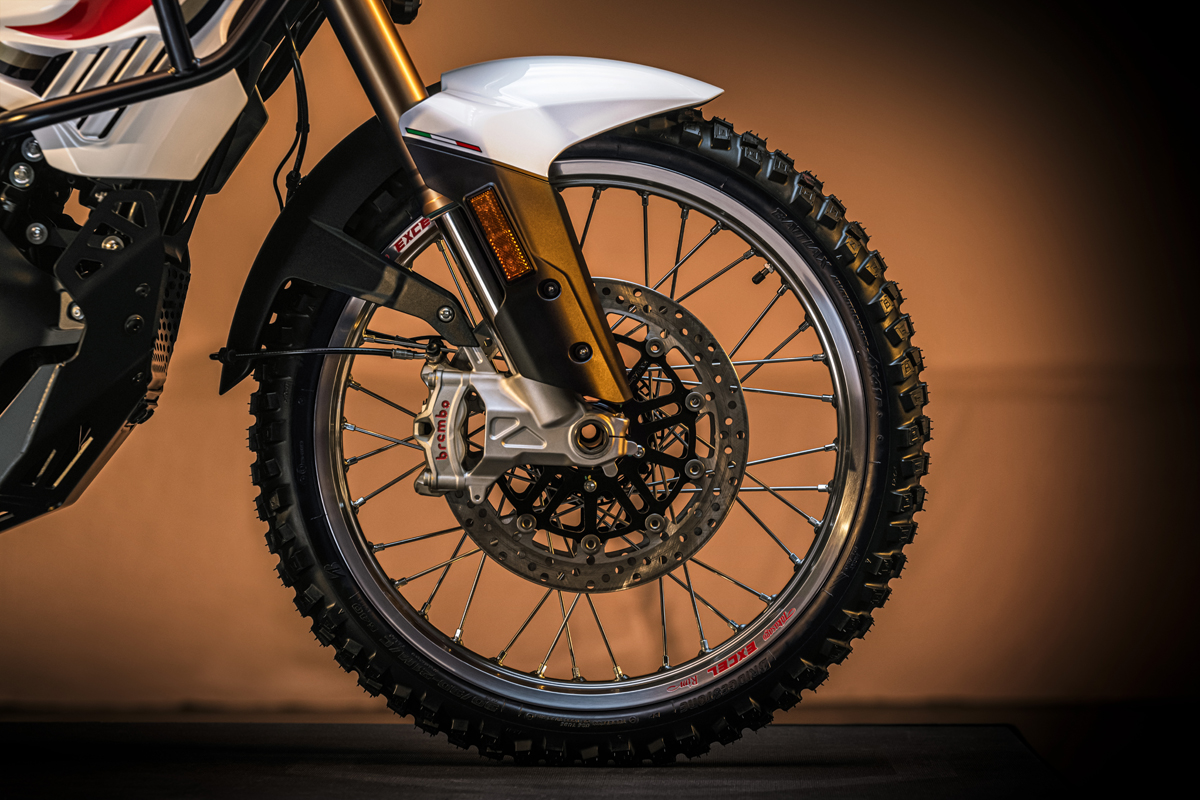 Electronics include a seven-inch TFT dash with Bluetooth and WiFi connectivity, keyless ignition, cruise control, a two-way quick-shifter, four riding modes, lean-sensitive ABS and traction control, adjustable engine braking, front lift control, and even launch control. The LXP Orioli also comes with a pair of aluminium panniers, LED fog lights, an engine skid plate and crash bars, plus a Termignoni titanium silencer in a Dakar-style kit box. Only 500 are slated to be built and don't expect it to be cheap!
Suzuki GSX-8R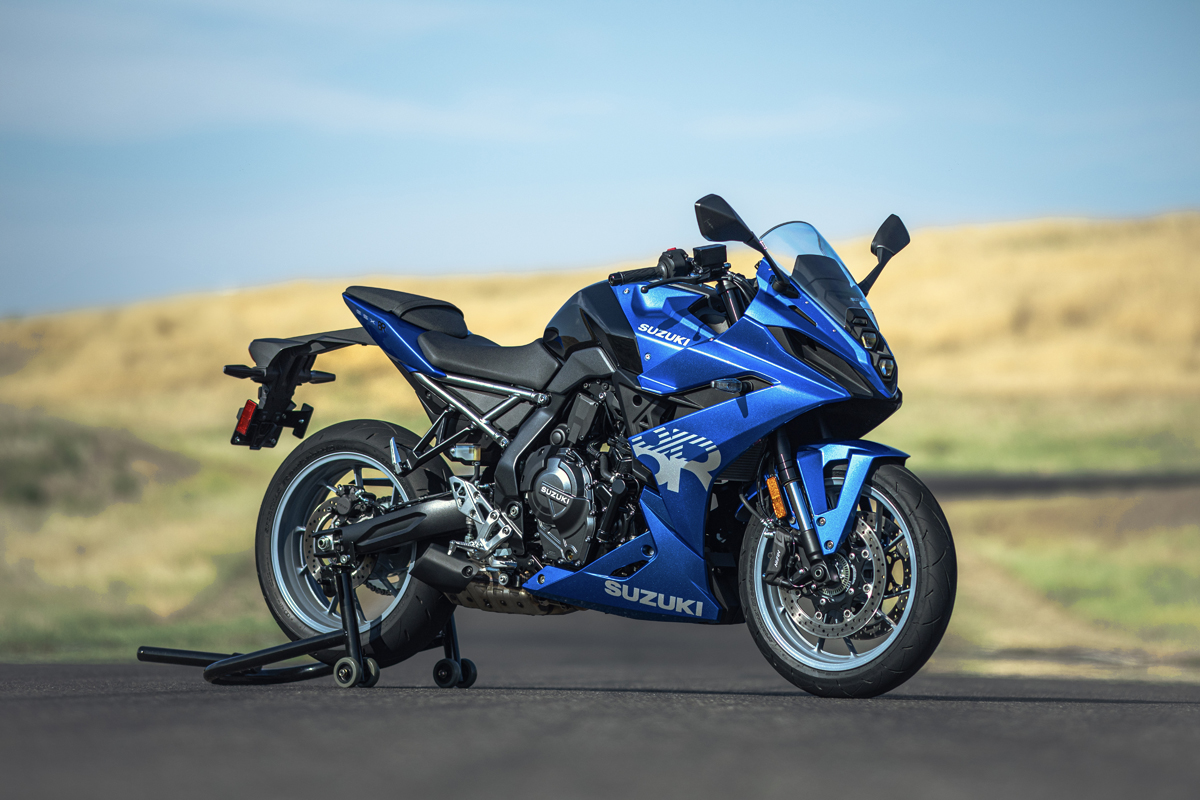 When the brilliant new GSX-8S arrived earlier this year, it was fairly obvious that Suzuki would be developing the platform into alternative models and this was confirmed by the arrival of the faired GSX-8R, which will go head-to-head with the likes of the Yamaha R7, Aprilia RS660 and Yamaha's XSR900 GP.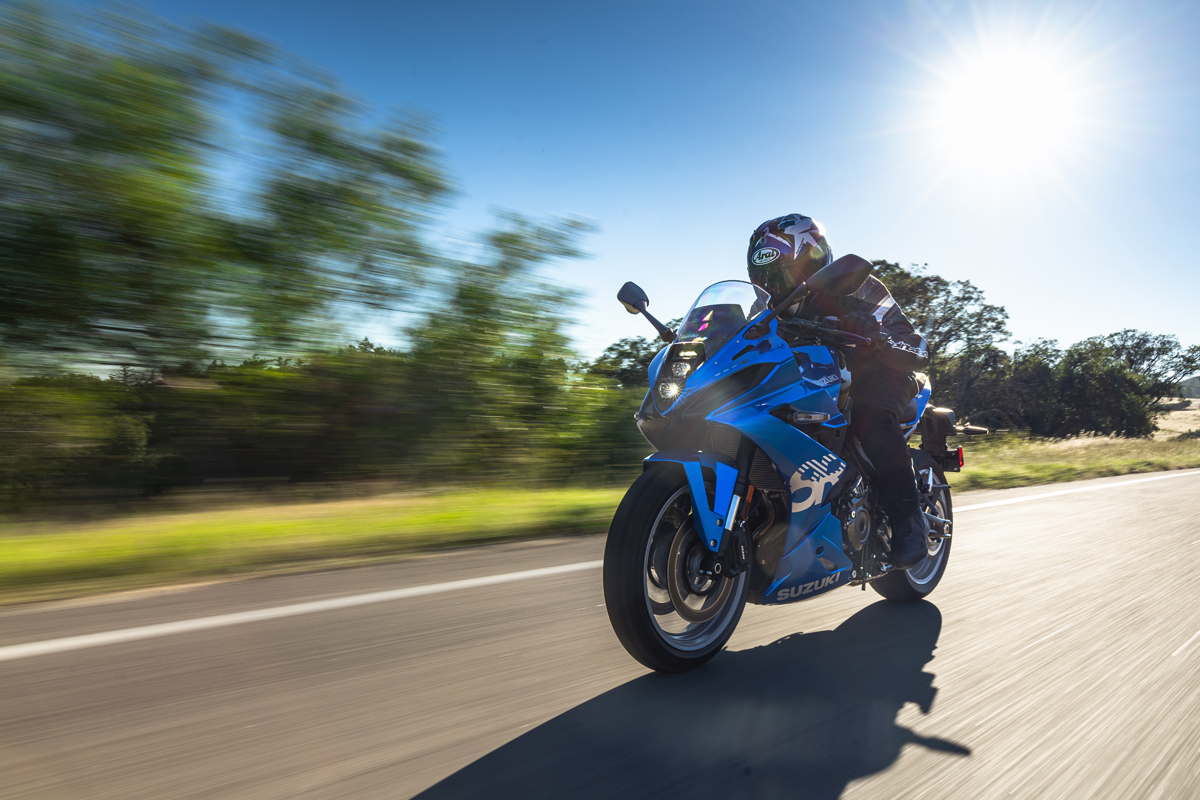 It shares much in common with the GSX-8S, using Suzuki's first all-new frame and engine in more years than we can remember. There's a tubular steel frame with a separate aluminium subframe, within which lives a 776cc parallel twin featuring a 270-degree crankshaft, giving a V-twin-like offset firing order. Suzuki's Cross Balancer keeps everything nice and smooth.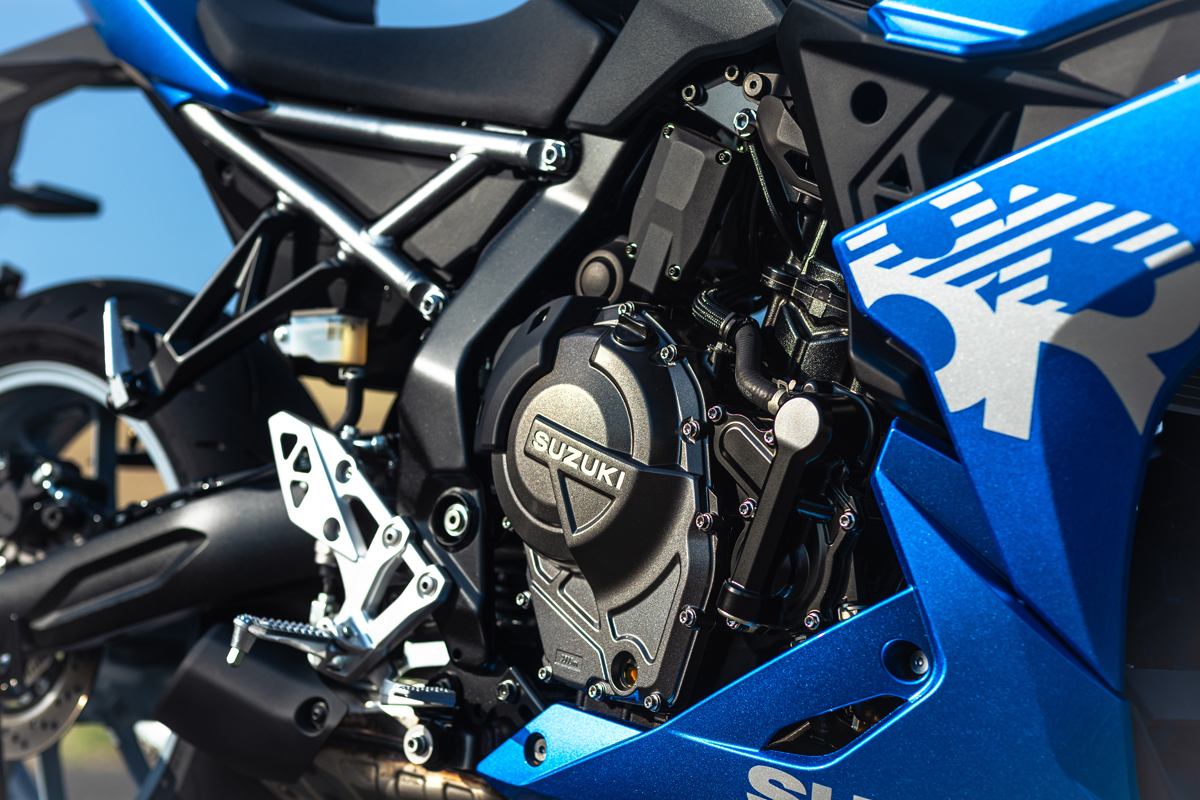 There's now a full fairing and screen, integrating the double-stacked headlight arrangement of the 8S. There are now separate forged aluminium handlebars bolted to the top of the triple clamp giving a sportier, forward riding position. It's a cross between an out-and-out sports bike, such as the GSX-R750 and a sports tourer.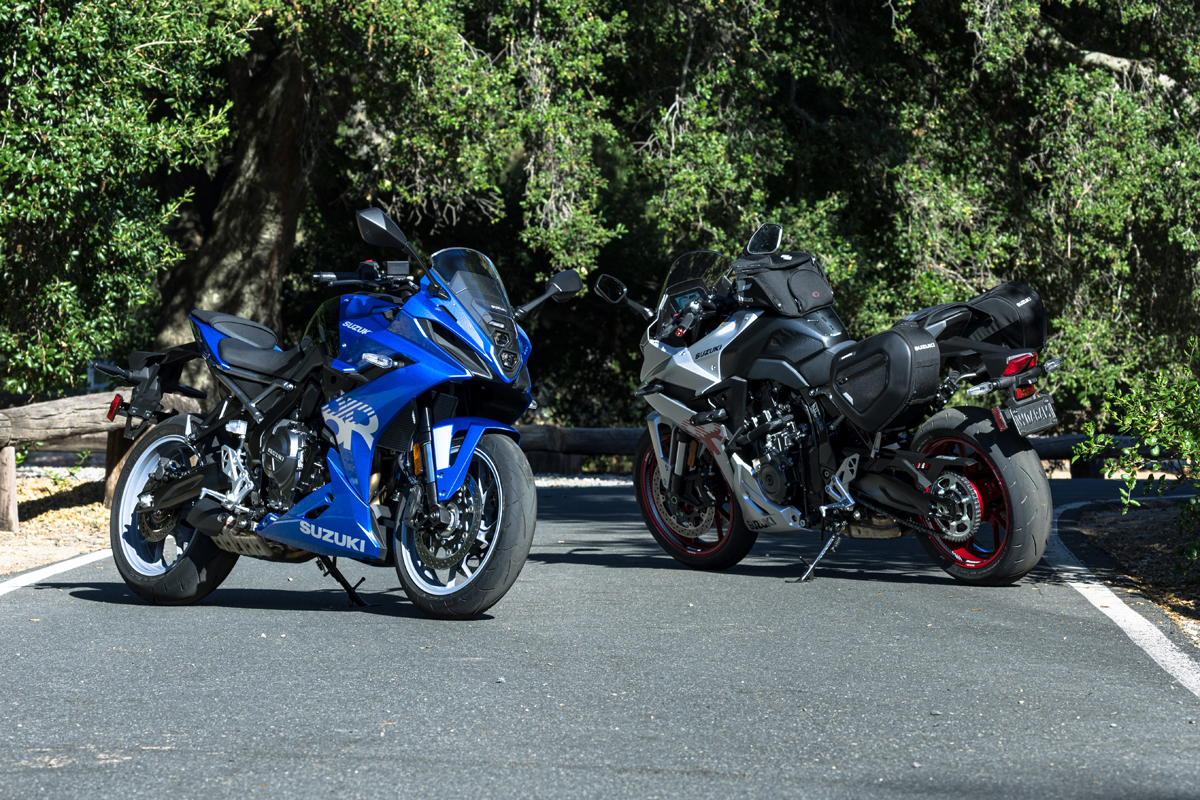 Showa suspension is fitted in place of the KYB units of the 8S, Nissin brake calipers are present and a bi-directional quick shifter is fitted as standard.
Suzuki GSX-S1000GX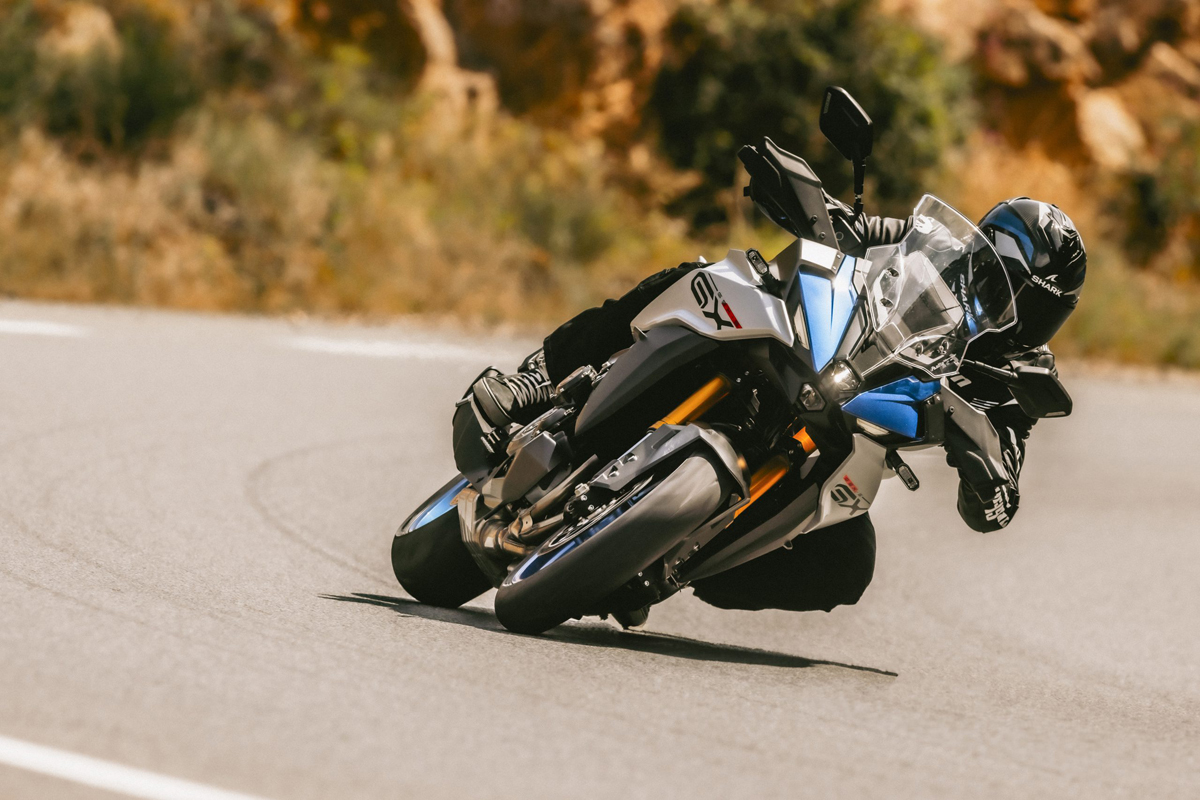 Suzuki's second big reveal is a BMW S1000XR-baiting adventure-sports-tourer model, using the GSX-S1000 and GSX-S1000GT platform with taller adventure styling, while having no off-road pretensions whatsoever.
The K5, 1000cc, 150 horsepower engine is the same and suspension travel is 150mm front and back, against the 130mm front/120mm rear of the GT. The suspension of the GX uses Suzuki's first-ever electronically controlled system. Thanks to the use of a solenoid valve, both the rebound and compression can be adjusted automatically thousands of times a second.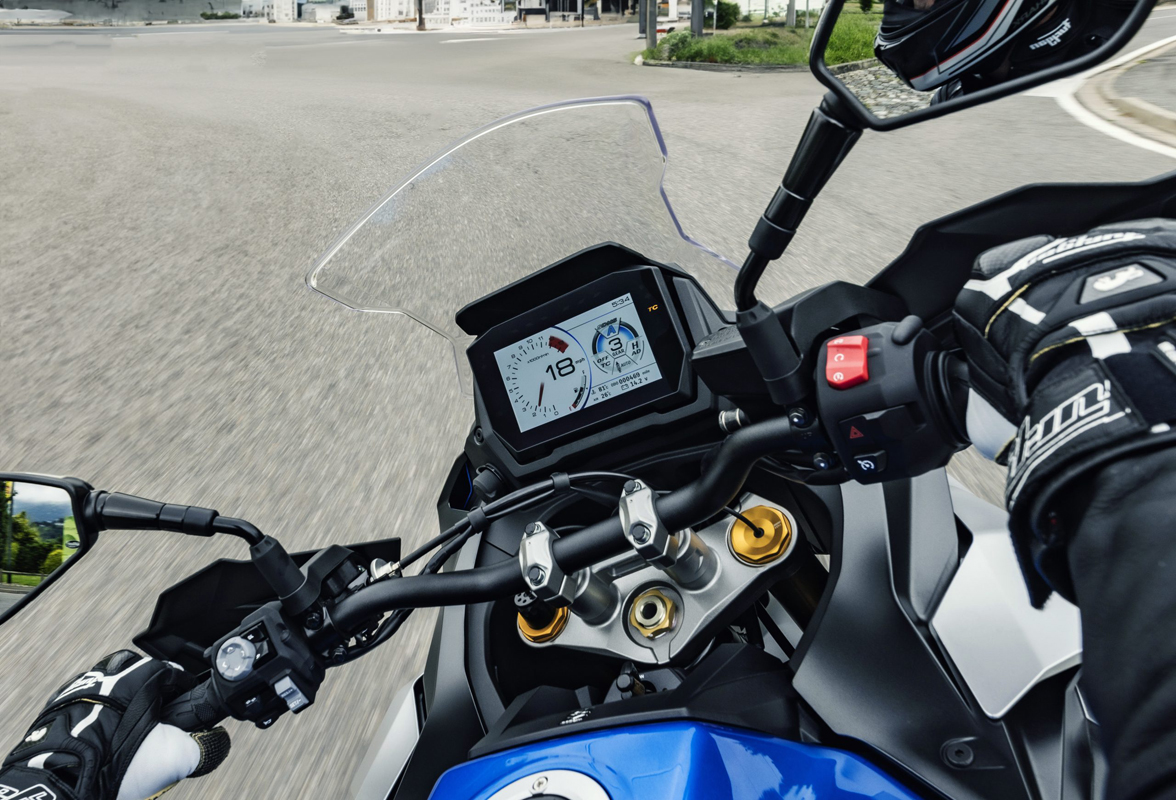 There are three main settings – hard, medium and soft – tied to the A, B and C modes of the SDMS-α (Suzuki Drive Mode Selector Alpha) plus a customisable mode and four remotely adjustable preload settings for the rear. The suspension hardware comes from Showa, comprising an inverted separate function fork and link-type monoshock from Showa. 17-inch wheels front and back are shod in Dunlop Sportmax Roadsport 2 tyres and Brembo Monobloc callipers clamp onto twin 310mm front discs. The screen is adjustable by up to 50mm. There's cornering ABS and traction control, cruise control and a bi-directional quick shifter.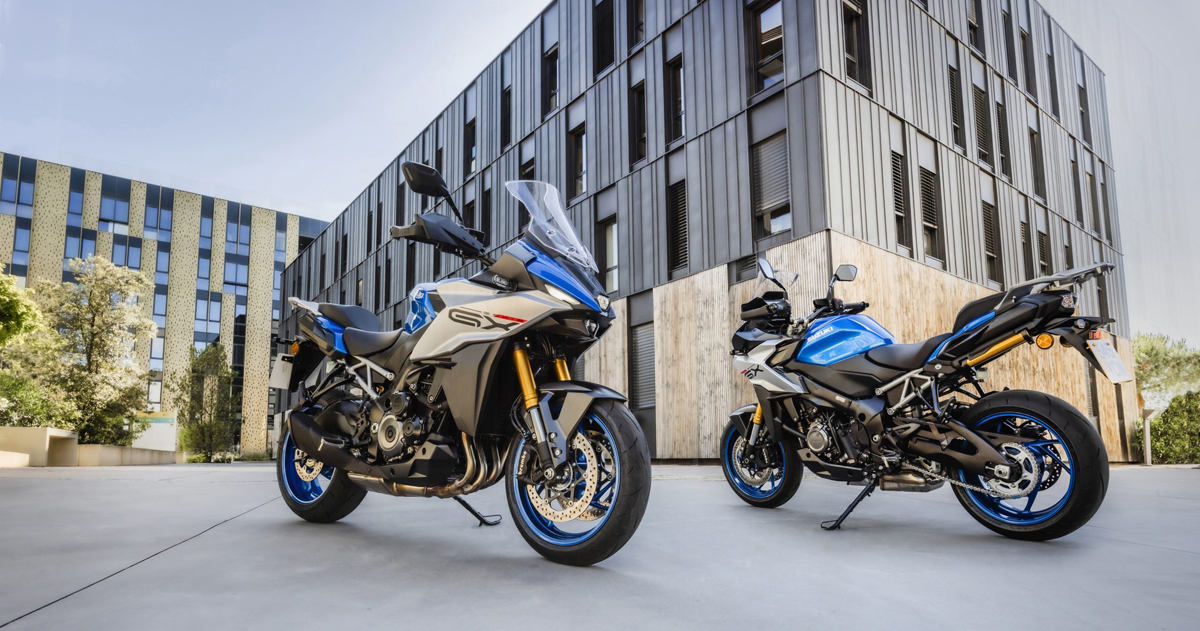 With today being the second of the Press days, it's likely there might be more important news to come out of Milan. If there is, we'll be sure to bring you all the relevant information on the bikes that have been revealed.