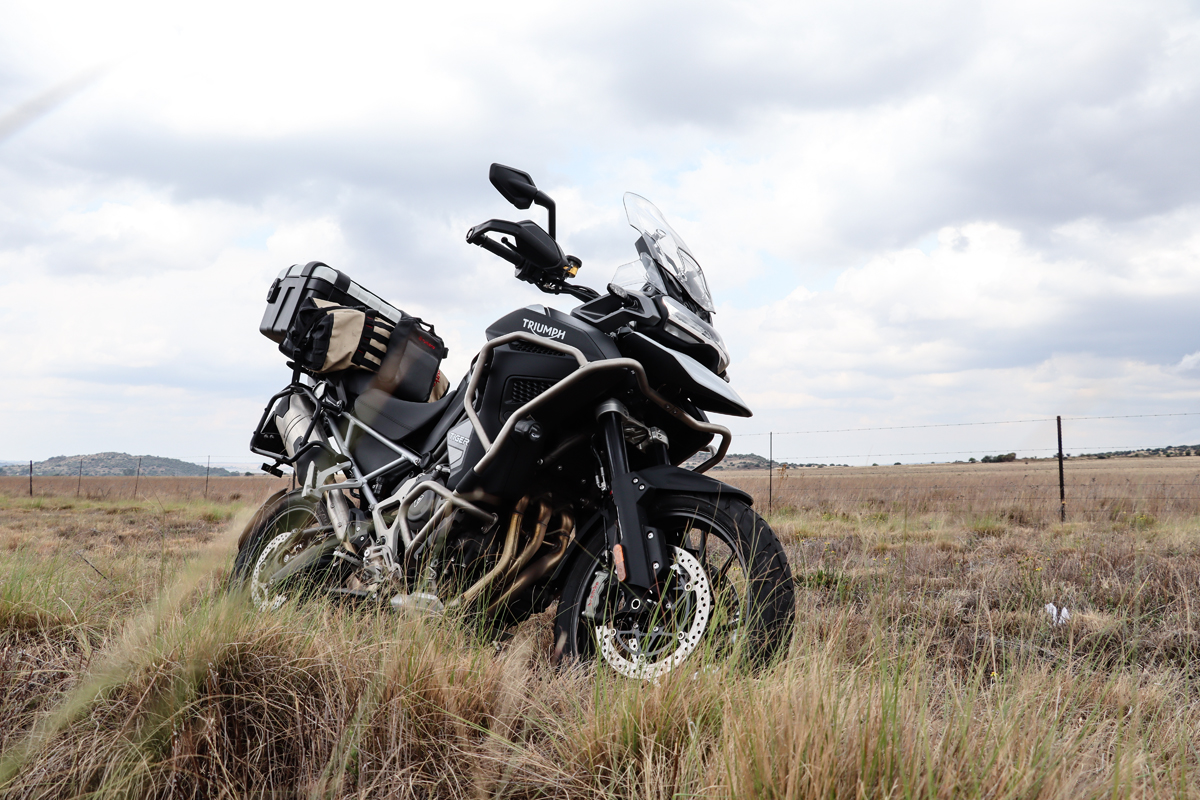 I needed to do a quick trip down to Jeffreys Bay via Port Alfred and PE for some business. I was planning to go on my own all-road touring weapon, the Triumph Tiger 900 Rally Pro. Then I got to thinking… I phoned Triumph boss Bruce Allen and asked if he perchance had a demo 1200 Tiger GT for me to use on the trip. I was so impressed by the 1200 Tiger Rally Pro, that I was dead keen to test the bespoke 1200 tourer in the 1200 range. Bruce's immediate retort was "Dave, I'll go one better, we've just put a GT Explorer into demo, we'll get some k's on it, do the first service and you can pick it up on Wednesday afternoon". Oh wow, the big Tiger with its 30-litre tank was just the ticket for the trip.
I picked the bike up from Triumph's Sandton dealership. Bruce ran through all the functions of the bike with me before waving me on my way. Having bought bikes from Triumph, I can tell you that Bruce has brought a level of professionalism to Triumph that is not altogether common in motorcycle dealerships. Sometimes high on enthusiasm but lacking in professionalism, some dealerships fall a bit short with the details. Not so Triumph. Everything is slick, sorted and professional. Bikes are thoroughly prepared, full of fuel and presented to you with all the T's crossed and the I's dotted. Good job guys!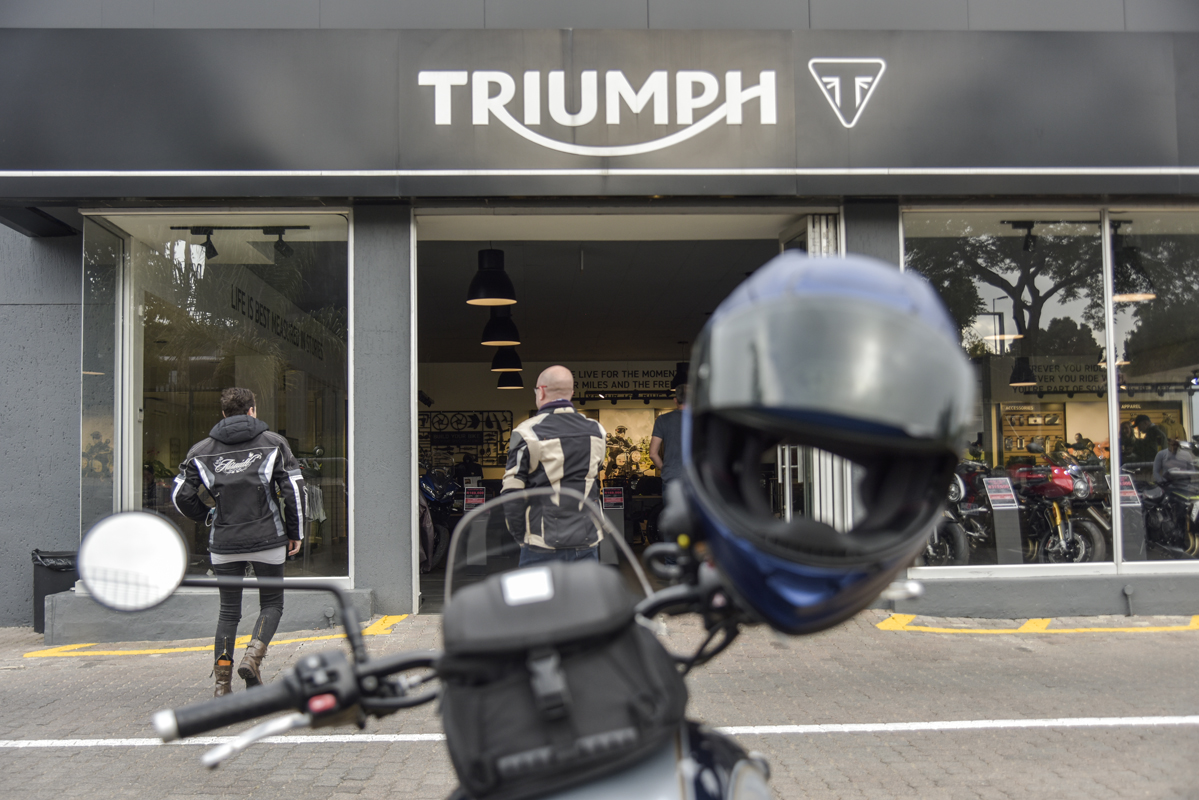 I negotiated the traffic back to my home in Pretoria, quickly familiarising myself with the big Tiger. Man, this was going to be a good trip, I mused. I got away by 8:30 on Thursday morning, somewhat apprehensive about what the weather would have in store for me. Mid-October and the temperature plummeted the further south I rode. So much for this Global warming BS! Just past the Grasmere toll plaza, I stopped to don my rain suit, which I wore all the way to Bloemfontein. A big tank is such a boon on a touring bike. The Triumph is extremely comfortable. The rider ergo's are perfect, the seat is all day comfortable, and the screen works a treat. The motor is a peach. Smooth and powerful with perfectly linear fuelling, it punts you along effortlessly. The cruise control allows you to chill on the open road as the k's fly by.
I filled up with fuel and grabbed a late brekkie burger then got back on the road. The Tiger was cruising at 135 km\h and delivering just short of 20 km/L. This gave an effective range of well over 500 k's on a tank. I also made a huge judgment blunder. With the weather appearing to clear slightly I stashed my rain suit and rode towards Colesburg. Almost without warning rain swept in and I found it too dangerous, with the spray thrown up by the passing trucks which infest our national roads, to stop and get my rain suit on. I got properly drenched. And cold.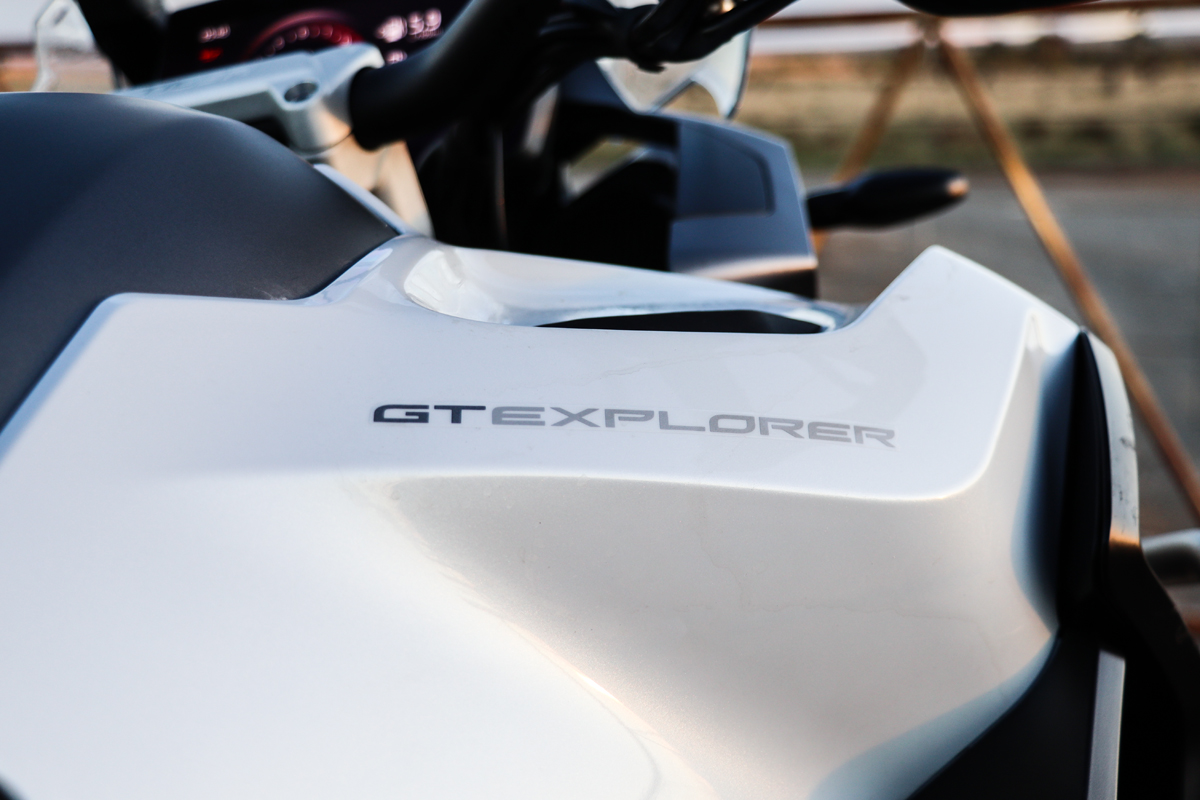 The Tiger was reading an ambient temperature of a mere 10 Degrees. Only the heated seat and grips warded off hypothermia. I pulled into Colesburg where I put on all the warm clothes that I had and headed to my overnight stop in Cradock. Luckily the rain had abated, and I kept my rain suit off in the hope of blow drying. Safe in Cradock, I got my damp clothes off and dived into a warm bed after making some lifesaving coffee.
Doing a multi-day bike trip is such a proxy for life. Thursday was just a day to be endured. It was one of those "Are you having fun yet?" questions to which the answer was a resounding "No!". Passing a line of trucks with a stiff breeze from the left meant that the copious spray coming off the wheels blew across the oncoming lane. To overtake, you need to drop back out of the spray, go as wide as you can to try and see if there is oncoming traffic, and if clear, nail it. To get past as quickly and safely as possible I would prod down twice on the seamless quick-shifter, and then let the big Tiger off the leash. Oh Lordy, the 1200 motor has serious mumbo! Re-engage the cruise control then repeat the process for the next traffic obstruction. The wide tank and decent screen offer decent weather protection if you can stay at speed. Unfortunately, you must back off for pedestrian traffic and that is when the rain and spray nail you.
As in life, crappy days are often followed by good ones. I rode out of Cradock early the next morning in sunshine. The early morning air was crisp after the rain and white clouds scudded across an azure sky. The GT Explorer revelled in the cool air, sucking in the oxygen-rich air and flew across the pristine landscape. I turned left to Bedford and then right onto the Grahamstown Road. The road was pockmarked with potholes, so I proceeded with caution. The potholes receded but the road remained bumpy as it undulated and swept through the Eastern Cape countryside.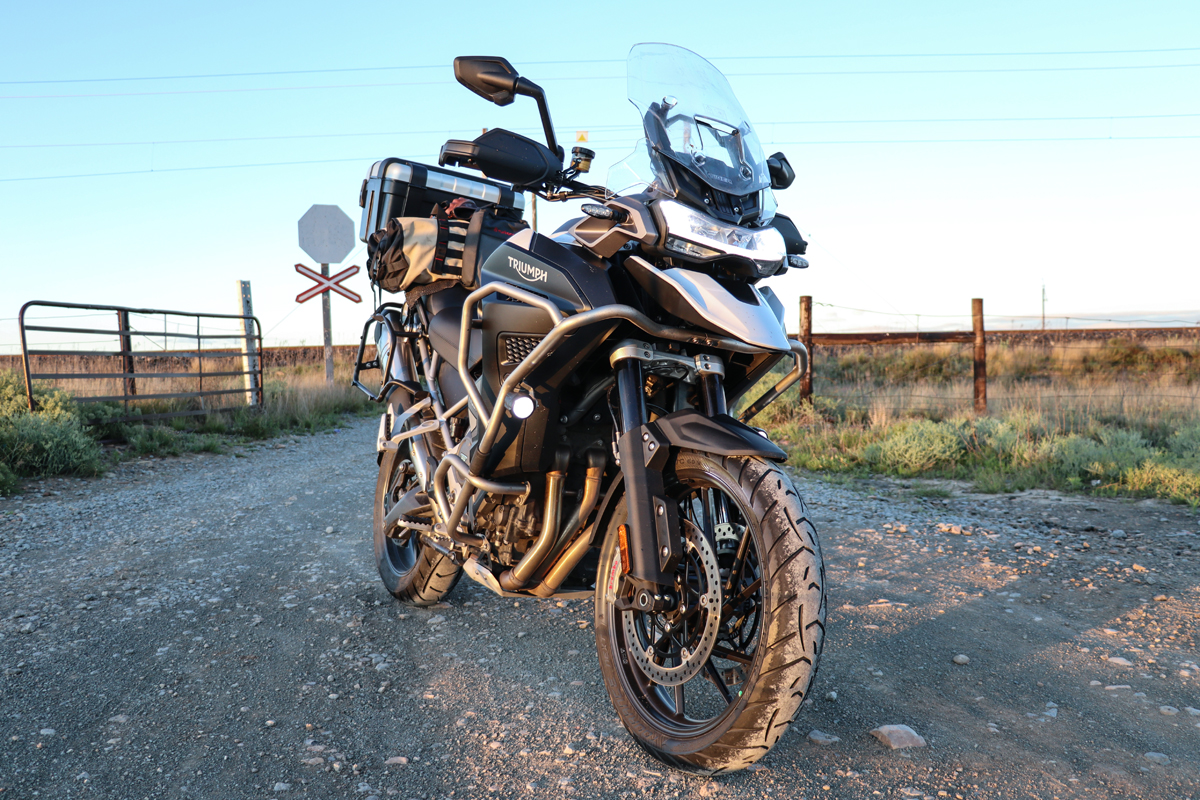 The electronic suspension was set on 'Normal' and did a magnificent job of keeping the Tiger stable and tracked through the less-than-perfect curves with precision. The 19" front wheel is just that bit more precise than a 21″. Many riders buy the 21" version Adventure bike for its superior offroad ability despite only seldom venturing off the tar. The GT is a case in point. It has perfect offroad credentials for the occasional foray on dirt, but with its more taught suspension and more tar-friendly wheel sizes is for many a better option. The big Tiger is a damn near flawless sports tourer.
Riding through Grahamstown is a stark reality check on the state of our nation. The university and cathedral city are a shadow of its former charming self. I left town and turned onto the Bathurst Road. The road meanders down the mountain towards the sea. The Tiger was feeling more and more potent as the dense coastal air bumped up the horsepower. I pulled off the road to take some pics of an immaculate little church built over 100 years ago. There is so much settler history in this part of the country.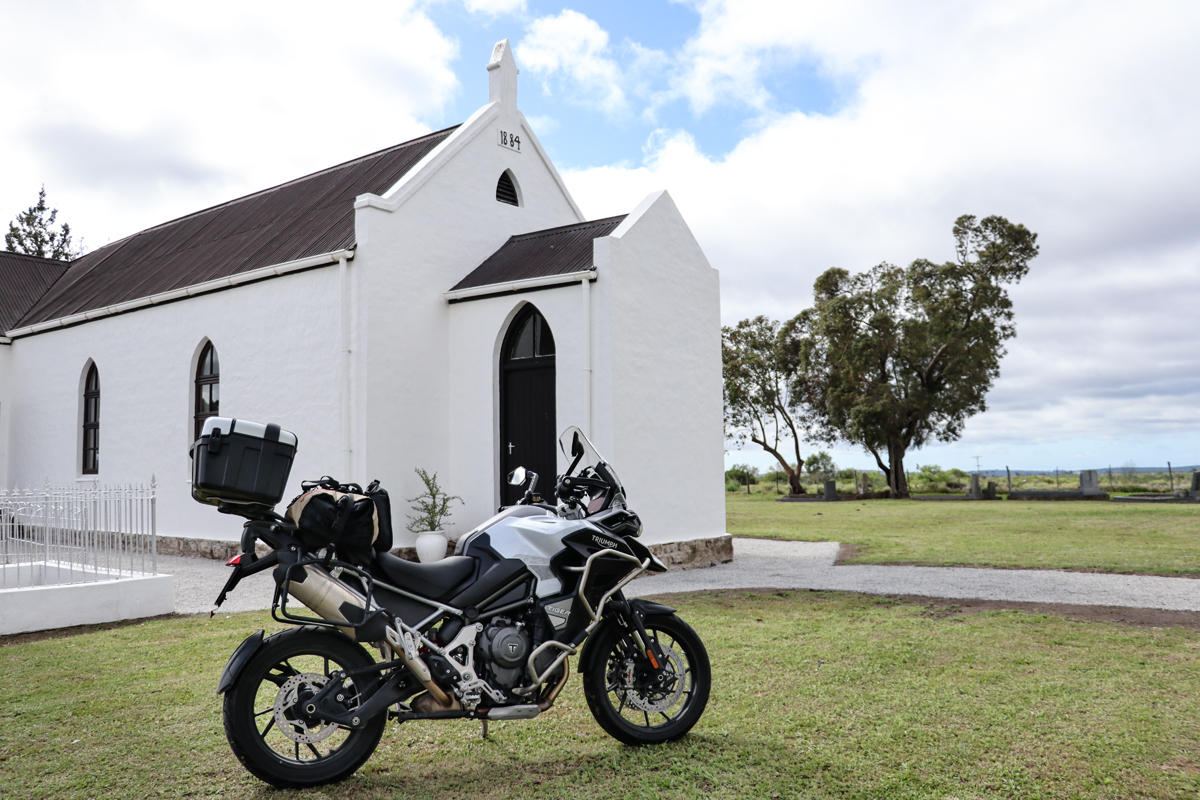 The weather was still good but there were mounting signs of rain towards PE. After winding up my business in Port Alfred I set off for PE down the road that hugs the coast and makes for great riding. Not about to make another rookie error, I suited up before the rain started again in earnest and persisted all the way to PE. The Tiger, with its sorted chassis and suspension, generates huge rider confidence regardless of how lousy the conditions are. I enjoyed the ride despite the rain.
After a weekend with family, I rode to Jeffreys for another business meeting. The rain had abated and despite some damp roads, made for good riding. I left Jeffreys just after lunch and sped past PE and into the mountains towards Cradock, where I was booked into a B&B for the night. Man, oh man, I loved attacking the Olifantshoek pass on the Triumph. The road can be treacherous with tight bends and damp patches in shady areas, not to mention the odd truck crawling up the steep inclines.
No sweat for the Tiger. The torquey motor and brilliant Brembos, backed up by cornering ABS inspired huge confidence. In no time I was over the mountain and running hard to Cradock. I filled up on arrival as I planned an early start the next morning for my run back to Pretoria. Such a pleasure having a good tank range. Leaving with a full tank it only requires two top-ups, at Cradock and Bloem to get home. Riding at a fair clip I saw a consistent 5,5l/100.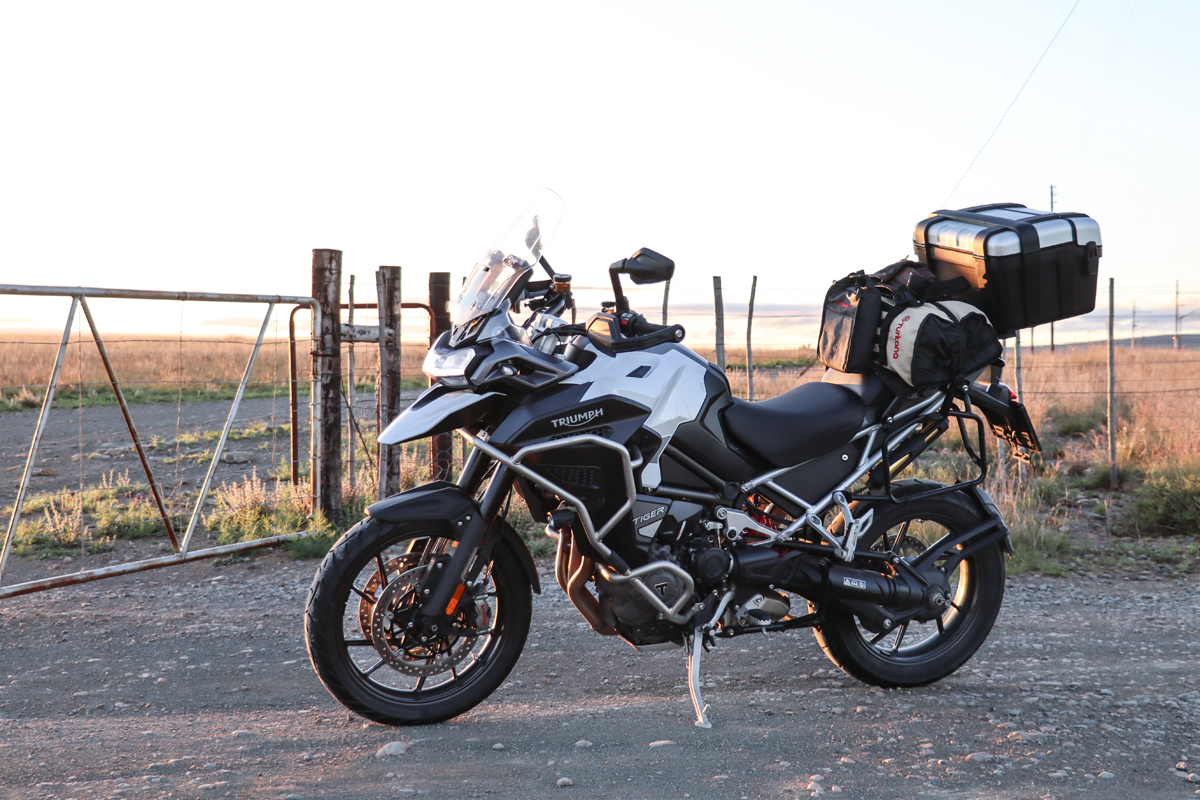 Global warming? I don't buy it. Riding out of Cradock at sunrise the Tiger was showing a mere 8 degrees! In October… The heated seat and grips kept me cosy as I sped across the vast Karoo landscape. The Tiger motor never feels stressed. It is velvet smooth at all speeds and absolutely devours distance. Colesburg came and went and before I knew it, I was rolling into Bloemfontein. Splash 'n Dash and the Tiger and I were boogieing through the States.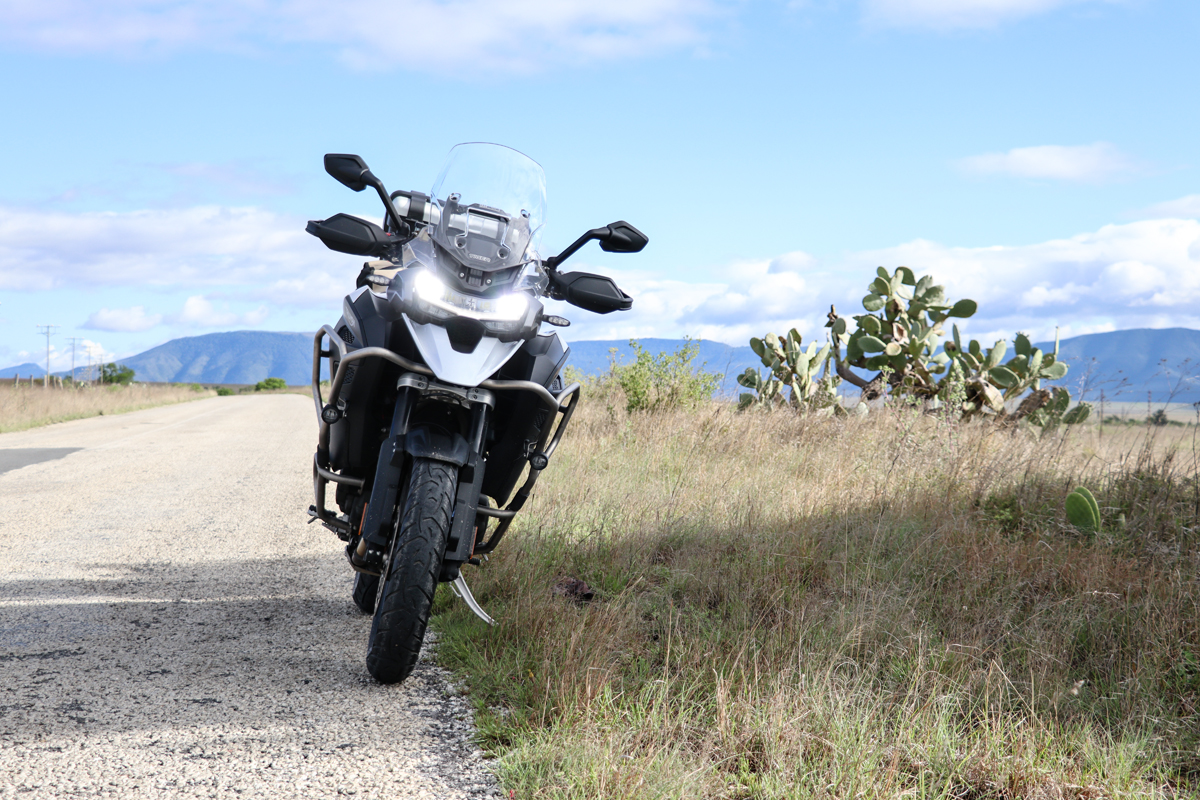 I rolled up to my gate before lunch, still feeling amazingly fresh. So much so that once the bike had cooled down, I gave it a good bath. And that is all I can criticise about the Triumph. It has more nooks and crannies than a Moroccan drug den! A good bike wash and a power washer will sort that out.
Fact is that this story will not be complete without talking a bit about the Tiger. Let me start by saying that it is a night-and-day improvement over the old Tiger. The first, and huge improvement that is immediately noticeable to anyone who has spent time on the older version is the heat management. The old bike was almost painful to ride on a really hot day. It washed hot air over your legs to the point that you would stand up on the bike for some relief. The new Tiger is sorted! Hot air is ducted away from the rider totally. My 900 could learn a lot from the 1200 in this regard.
The new 1160cc, DOHC, 4-valve per cylinder, T-Plane crank triple is so characterful. It brings a bit of braap braap to the whoop whoop. 148hp@9,000rpm and 130Nm@7000rpm provide all the shove that you will ever need, fed through a seamless 6-speed quick-shifter equipped gearbox, and tempered by your choice of 6 riding modes. Cornering traction control, blind spot radar and heated grips and seats round out a comprehensive package.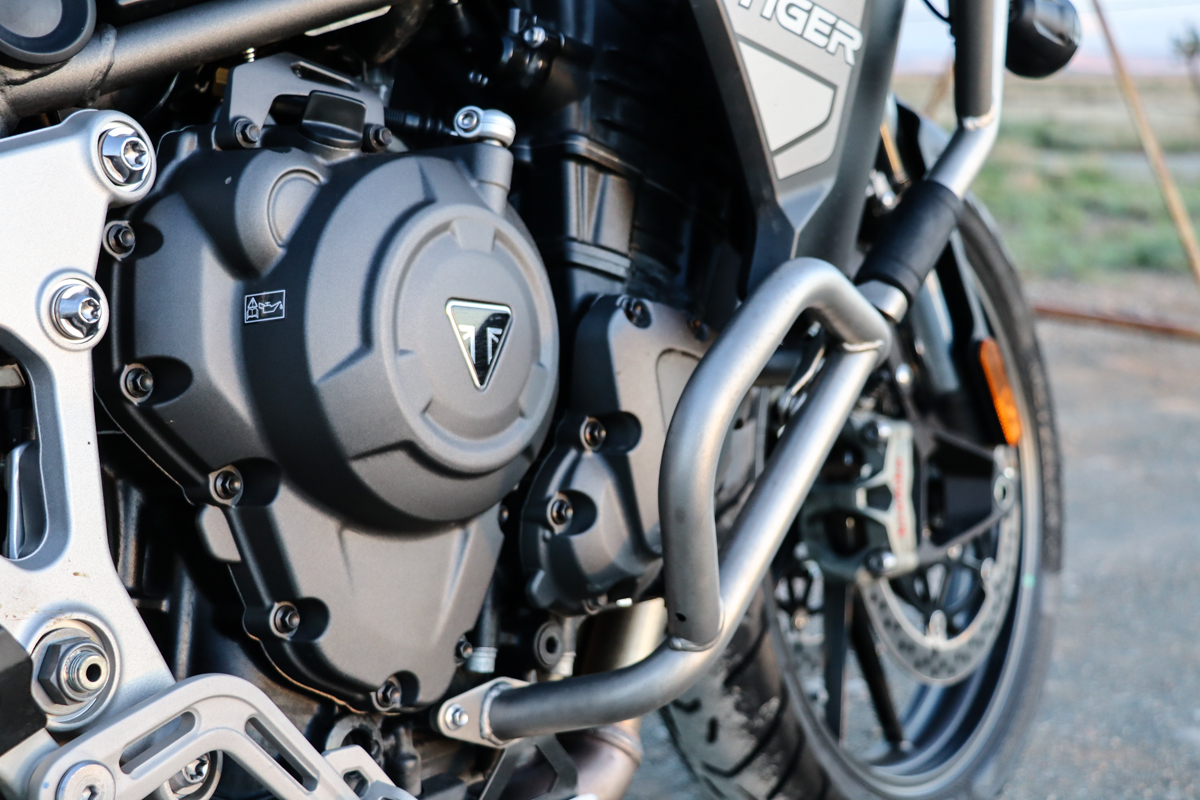 Suspension is by Showa with 200mm of travel at both ends and semi-active electronic damping adjustable for the type of riding that you intend to do. I left it in Normal and found it coped perfectly with every road condition which I encountered. Wheels are cast aluminium with a 120/70/19 up front and 150/70/18 at the back.
An honourable mention must go to the shaft drive. Not only does it give you peace of mind irrespective of road conditions, but it is also truly unobtrusive. With no lash to speak of, it does little to remind you that it is shaft drive. Brakes are state of the art with brilliant Brembo Stylema callipers biting on 320mm discs up front and a single 282mm disc with a single pot Brembo calliper at the back. Powerful with a great feel.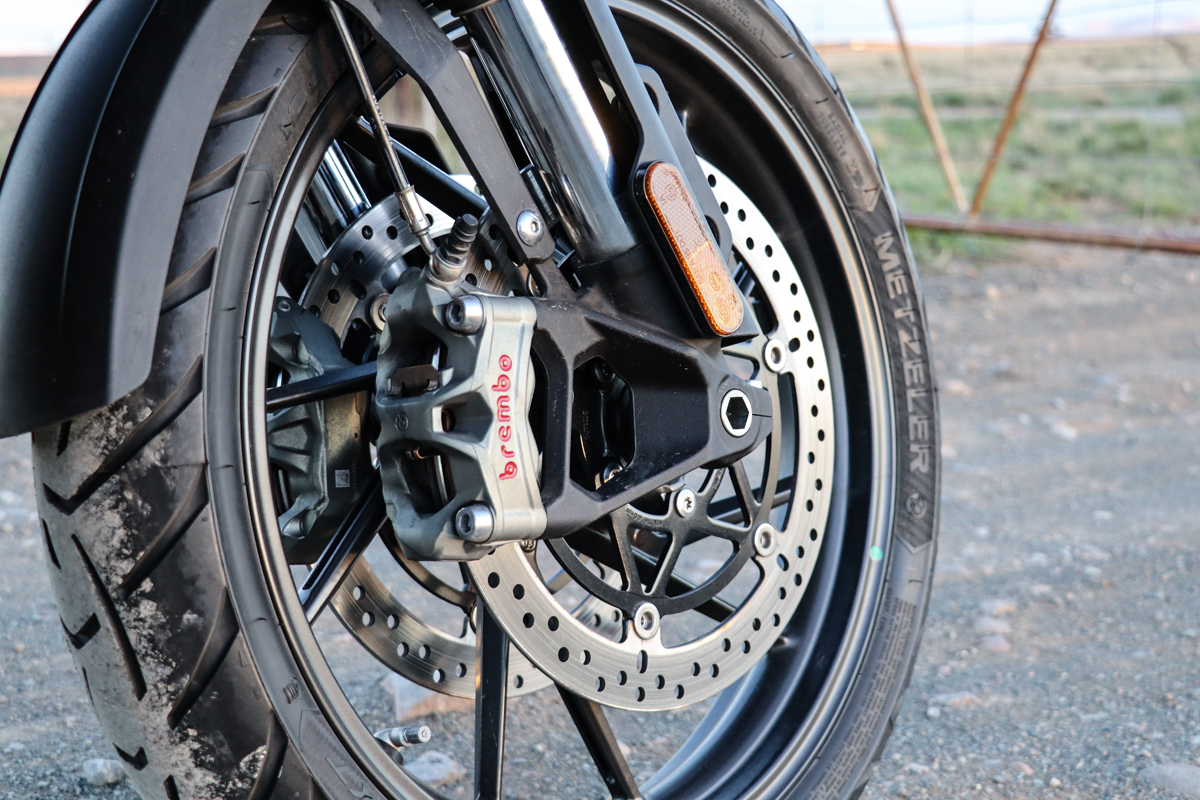 A 7" TFT display and My Triumph Connectivity allow the PlayStation generation to do their thing. Personally, I just want to get the vital info in the easiest way possible with the least amount of bother. The highly electronic nature of modern top-of-the-range bikes demands this kind of interface though. Once familiar with the workings it is not too difficult to navigate through all the functions.
With the 30-litre tank topped up, the big Tiger weighs in at a reasonable 255kg, a good 20kg lighter than the previous generation Tiger 1200. Luggage is built in conjunction with GIVI and works superbly. I just had a top box fitted as I had no need for panniers, with my brilliant Turkana Duffalo stash bag bungied to the back seat.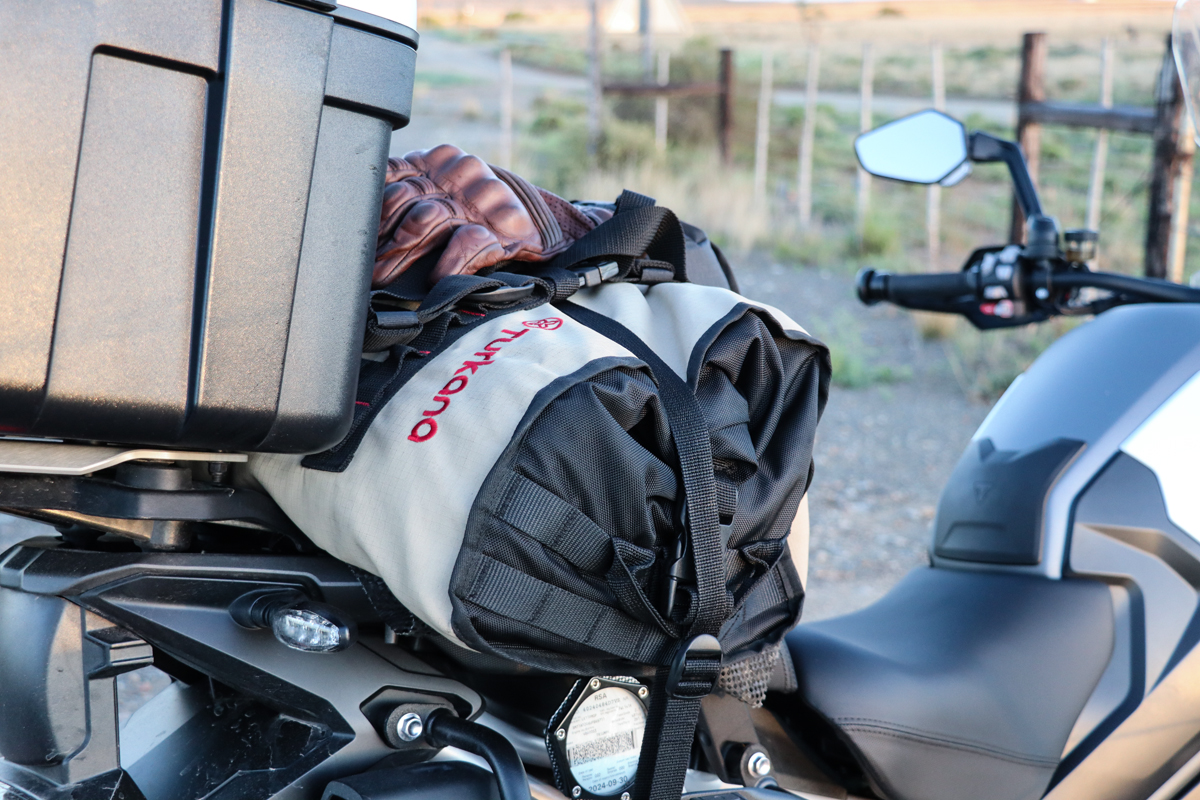 Triumph has deals going on the new Tiger 1200s which effectively gets you on the road from around R295,000. It is an incredible deal for that sort of money, offering a bike that is close to flawless for its intended purpose. You need to ride one and see for yourself what I am on about.
Once again Triumph have paid attention to what riders in this class need and want and hit the bull's eye. Good job guys, good job!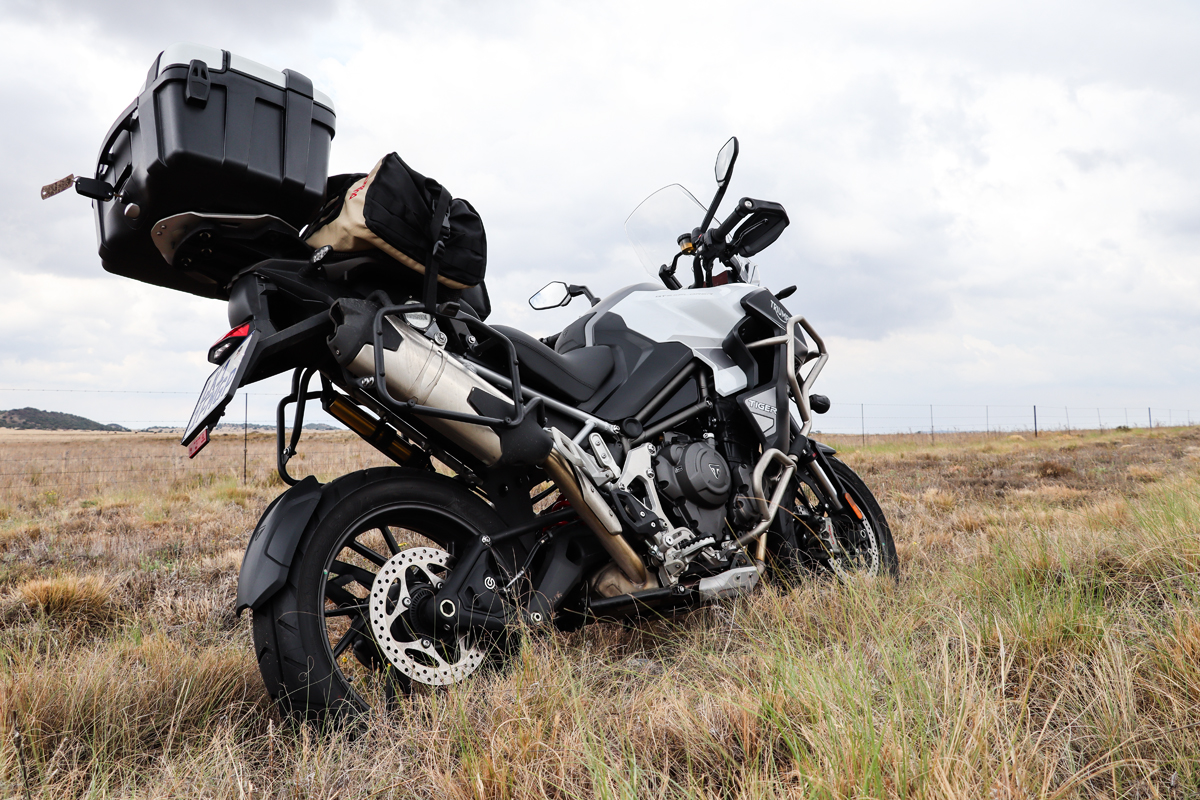 Triumph Tiger 1200 GT Range
For more information on the bikes featured in this article, click on the links below…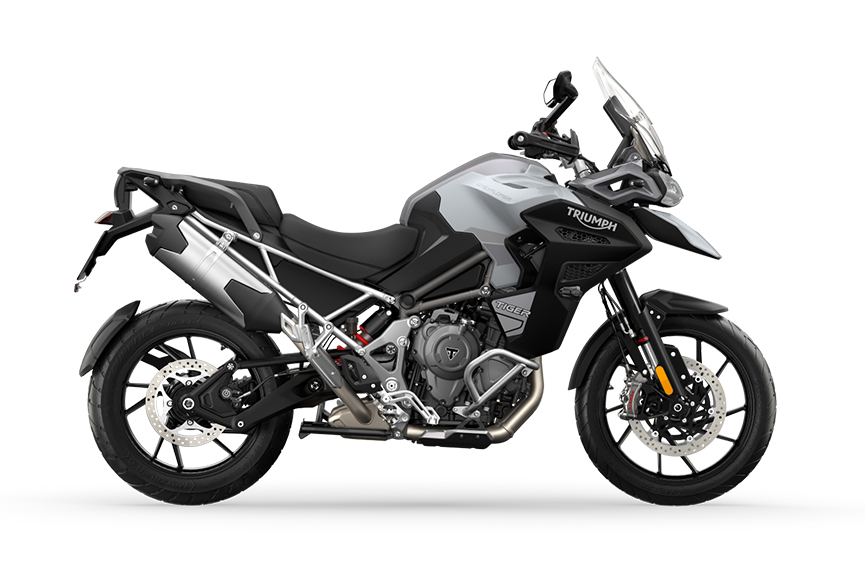 2023
Triumph Tiger 1200 GT Explorer
Pricing From R325,000 (RRP)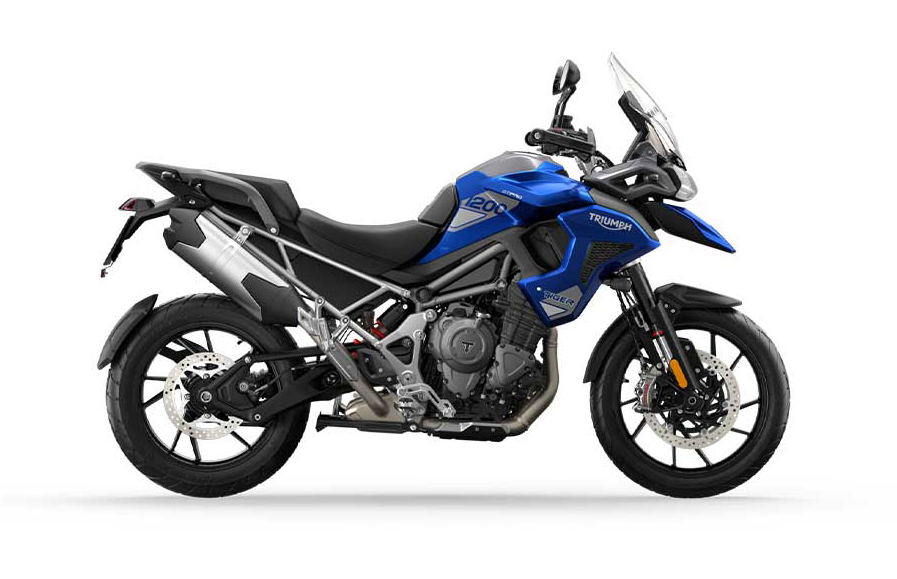 2023
Triumph Tiger 1200 GT Pro
Pricing From R295,000 (RRP)