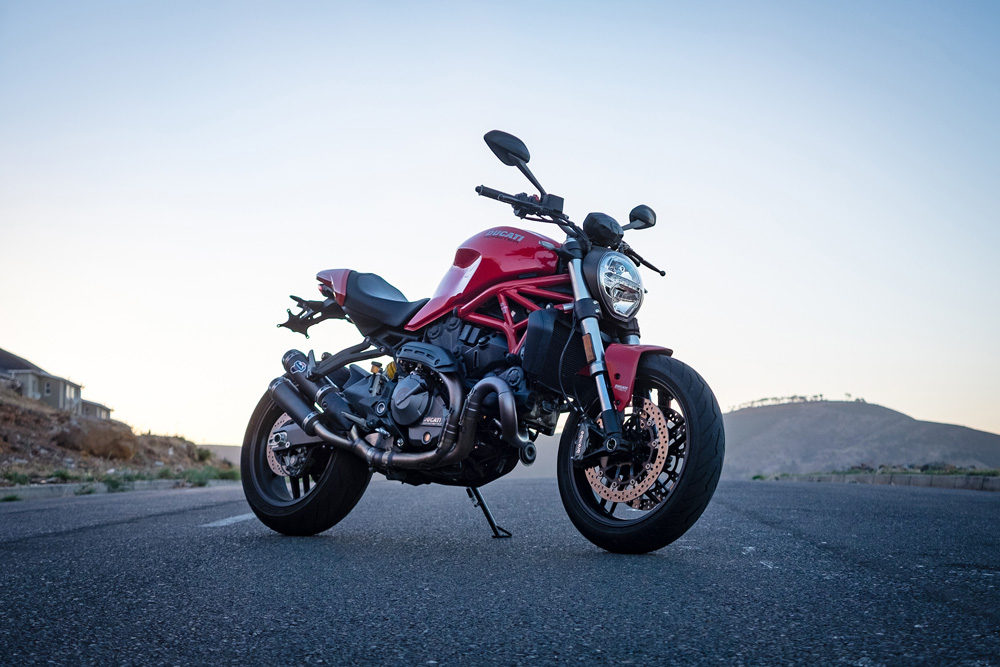 The iconic Ducati Monster celebrates its 25th birthday this year. But what's truly remarkable, is that the contemporary Monster still resembles the design that Miguel Galluzzi first penned in the 90s. The new Monster 821—back from a short hiatus—testifies to that.
The 821's beautifully sculpted fuel tank, trellis frame and aggressive street fighter stance are all genetic markers referencing the Monster lineage. And it even comes in yellow, just like the M900 did back in 93.
Note: 'Revisited' is a series of reviews where we get our most hipster test rider, Wes, to spend some time on a motorcycle that we've already reviewed. It's a fresh perspective, and might not cover all the points you'd typically find in a motorcycle review. We originally reviewed the Ducati Monster 821 here.
Even though the 821 sits wedged between the approachable 797 and beastly 1200 in the range, it's much closer to its bigger brother in nature. Behind the retro cues lurks a liquid-cooled 821 cc L-twin, capable of a claimed 109 hp and 86 Nm. Then there are bonus features like a TFT display, ABS, traction control and switchable riding modes.
Sure, it doesn't make quite the same numbers as the 1200—but it doesn't carry the same price tag either. And after spending a few days on the Monster 821, I can vouch for its capability. It launches off the line—and keeps going way beyond where I'm usually comfortable.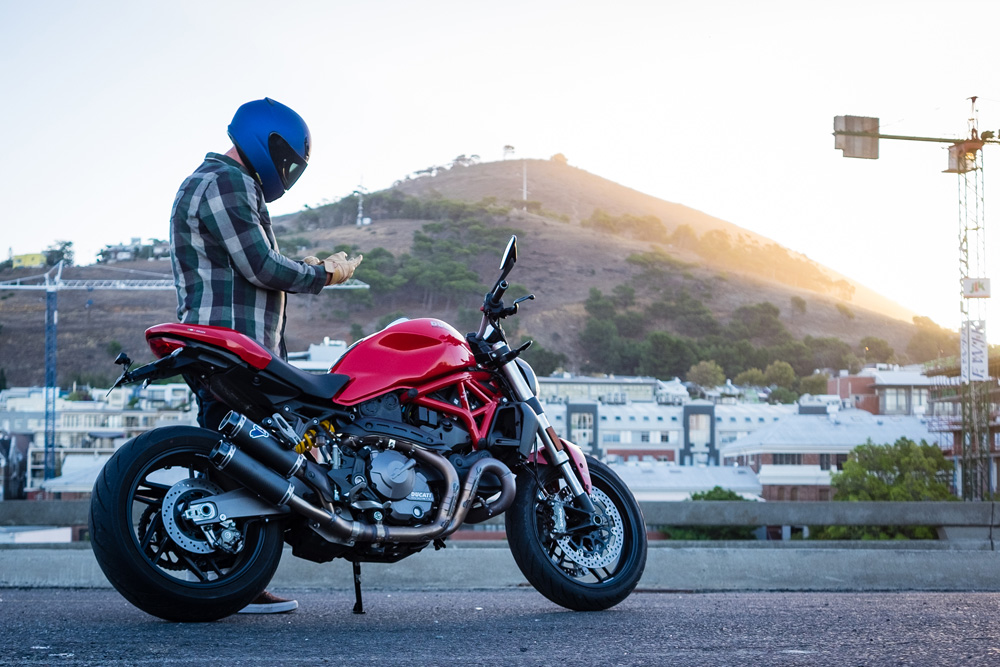 Power is controlled by three riding modes: 'Urban', 'Touring' and 'Sport.' Cycling between modes is simple enough, though it involves using the indicator cancel button, which is a bit fussy. I would have preferred a dedicated 'mode' button.
'Urban' mode cuts roughly a quarter of the power and retards the delivery a lot, and I struggled to get along with it. Most of my time was spent in 'Touring' mode, where the 821's full power is delivered progressively and smoothly. I flicked over to 'Sport' whenever I hit a particularly fun stretch of road. In 'Sport' mode, you get all the power, everywhere, but your right hand has to work hard to keep the revs in the sweet spot.
Full disclosure: I wasn't riding a completely stock 821. My test unit came pre-loaded with Termignoni slip-ons and a quick shifter. It had also been treated to Ducati's optional 'Sport Pack,' which includes a slick tail tidy setup, narrow LED indicators and a couple of carbon fibre bits.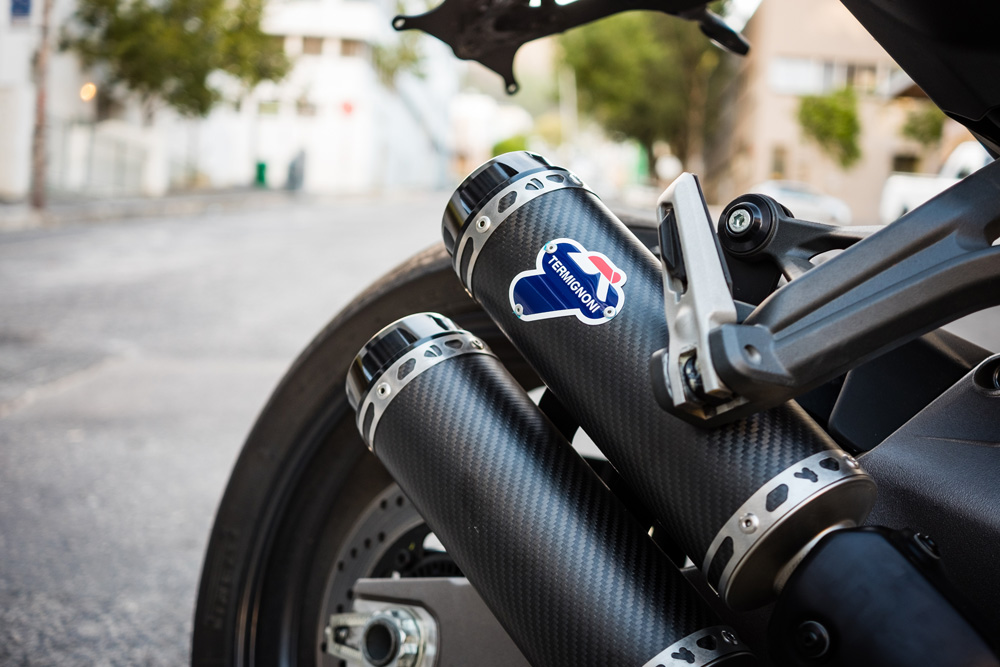 Together they give the 821 a more premium feel—and an incredible sound. But they also come with a couple of idiosyncrasies. With the new cans (and the engine remap that comes with them), the Monster 821 became temperamental under 3 000 rpm.
The quick shifter is a blast to use, but you have to be pinned wide open for it to operate smoothly. Relent even a little, and upshifts became clunky. Regular shifts with the Monster's slipper clutch are pretty smooth and fuss-free though, so I settled into a pattern of only relying on the quick shifter when I was in full attack mode. But what was really concerning, was the false neutral I'd occasionally find between fifth and sixth.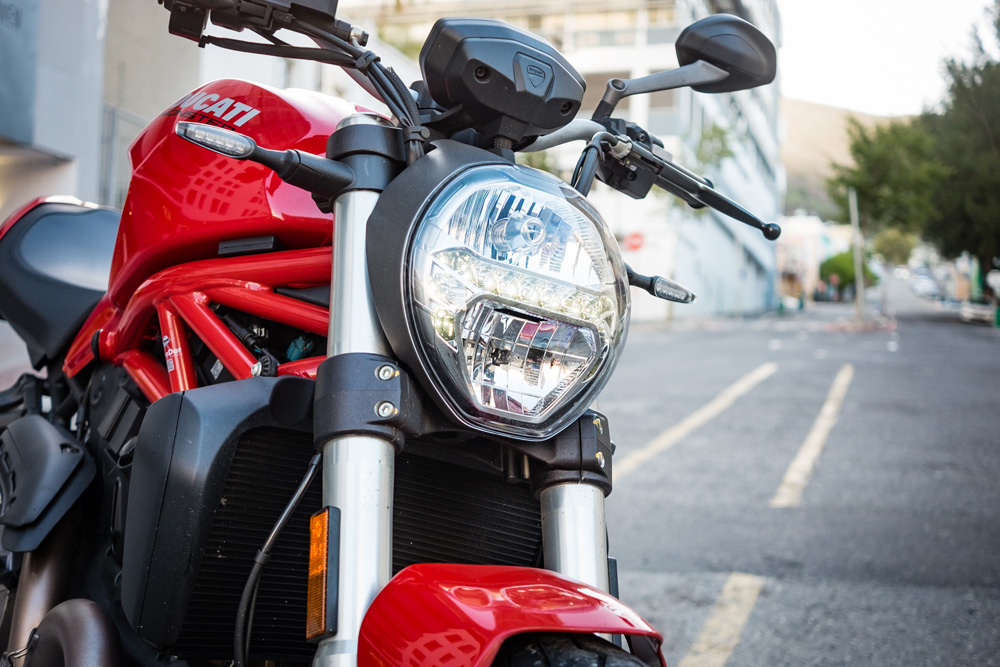 The Monster's real strength is that it excels in the midrange. It comes alive on curvy mountain passes, where active and conscious throttle use is highly rewarded. It's here that the quick shifter's auto-blip shines, making downshifts a breeze as you scrub speed into the next turn. The chassis is stellar too, and at a svelte 180.5 kg dry, the 821 has no trouble being thrown from corner to corner.
Pirelli Diablo Rosso IIIs are standard issue, with the rear measuring a healthy 180 wide. The suspension is adequately stiff for aggressive riding, but for a big guy like me the front forks are just a touch too soft. Given how primo the rest of the Monster 821's package is, I'd love to see suspension adjustability.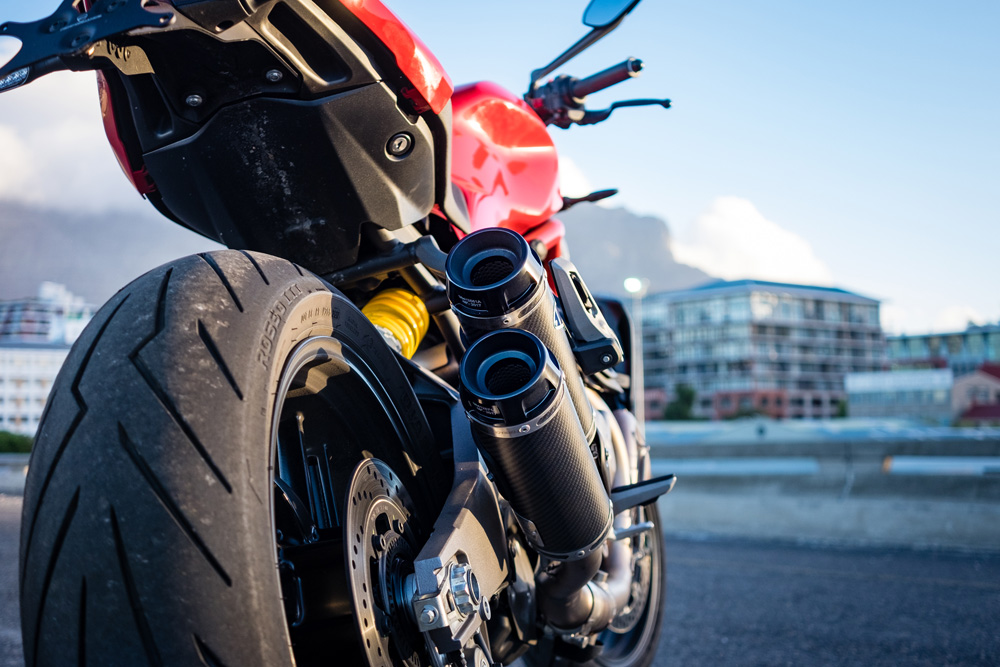 I can't fault the brakes though. There's plenty stopping power from the Brembo grabbers, twin 320 mm front discs and Bosch ABS, and there's a decent amount of brake feel.
Solid ergonomics also contribute to the 821's handling prowess. The stepped seat, foot controls and low-rise bars combine to create a neutral riding position that not only gives you ample control, but a surprising amount of comfort too. Even at higher speeds, the height of the bars makes it easy to hunch down and tuck into the wind (as much as you can on a naked bike).
The cockpit area's a little hit and miss for my taste though. While there's zero flex from the 22 mm handlebars, the Monster's aggressive nature begs for a set of fat bars. And those standard Ducati diamond-shaped mirrors are almost impossible to adjust properly.
The TFT display is a real stand-out feature. At a glance it'll give you your speed, revs, current riding mode and fuel level. Secondary data includes your odometer, trip meter, range, average consumption and more. And when the sun dips, the dash automatically switches over to night mode, where colours are inverted for maximum visibility.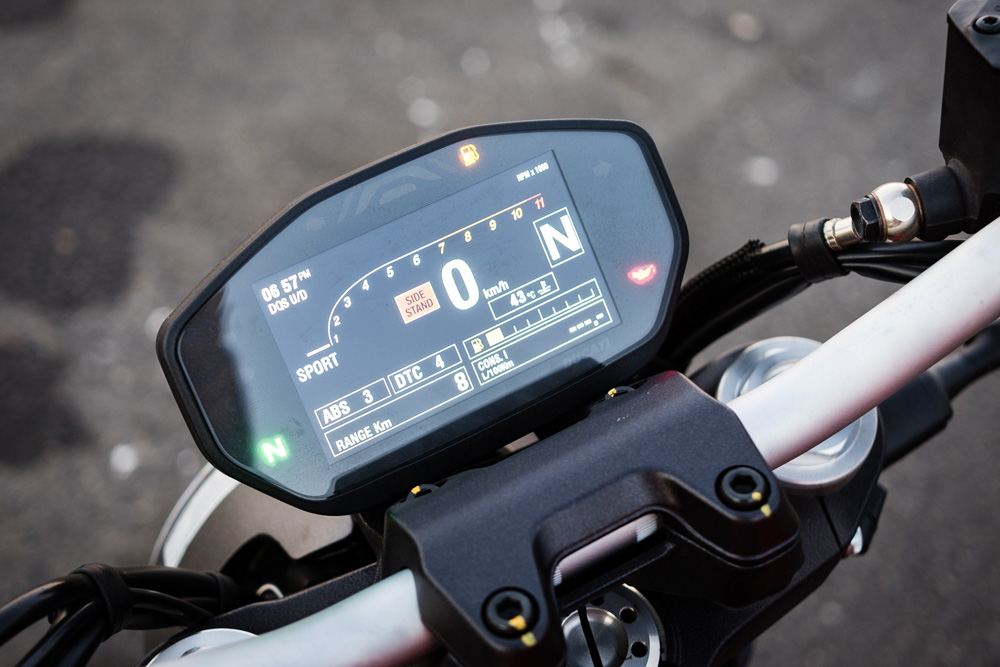 Take a big step back, and you'll notice this sort of top-shelf design everywhere on the Monster.  Every little detail—from the sharp, stubby front mudguard to the angular pillion seat cover—fits together flawlessly. Ducati are still using a latch to secure the fuel tank up front, and hiding the ignition just in front of it; classic Monster cues that don't go amiss.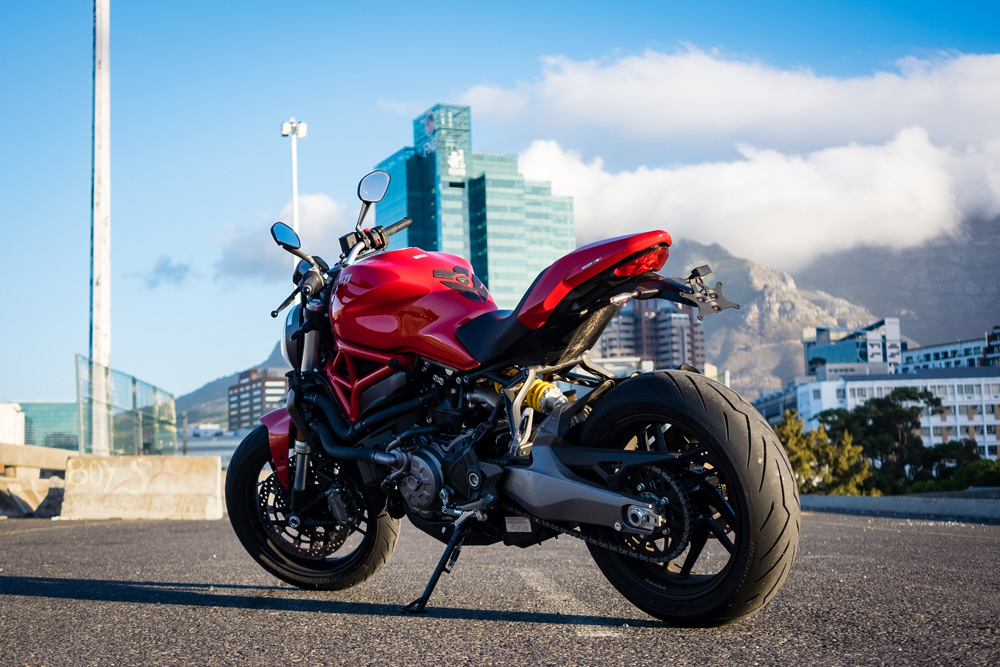 Experts and weekend racers might pine for a Monster that has little more of everything. But for this rider, the Monster 821 hits the sweet spot like Baby Bear's porridge: not too hot, not too cold, but just right.
Images by Wesley Reyneke