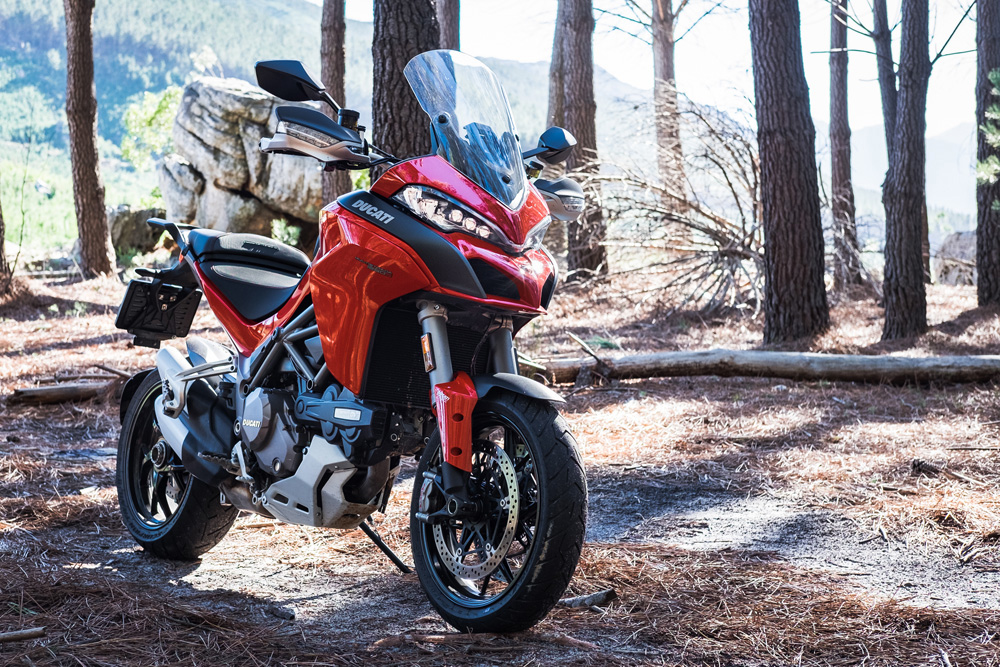 Ducati clinched yet another victory at the hotly contested Pikes Peak International Hill Climb, just outside Colorado Springs this past weekend. It's the seventh time the Italian marque has conquered the Race to the Clouds, and the fourth win for racer Carlin Dunne, who laid down a blistering time of 9:59:102 to cinch the crown.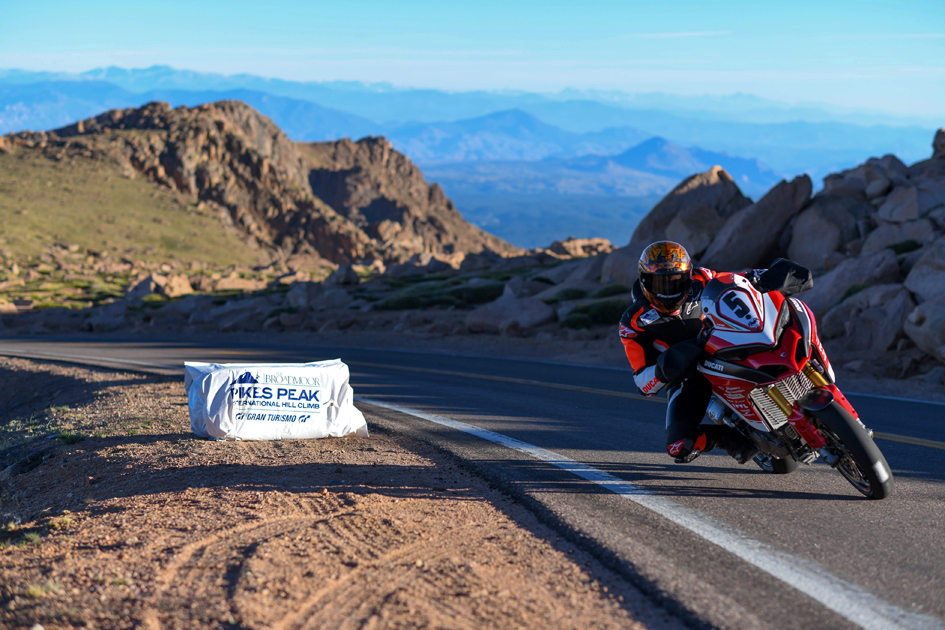 His teammate Codie Vahsholtz rounded out the podium in third, with Rennie Scaysbrook's KTM 1290 Super Duke R wedged between them. Ducati's weapon of choice: a race-prepped version of the Ducati Multistrada Pikes Peak edition. I'm no racer, but after spending just a few days aboard the non-race edition Multistrada S, I can see why they picked it.
Note: 'Revisited' is a series of reviews where we get our most hipster test rider, Wes, to spend some time on a motorcycle that we've already reviewed. It's a fresh perspective, and might not cover all the points you'd typically find in a motorcycle review. We originally reviewed the Ducati Multistrada S here [First Ride: 2018 Ducati Multistrada 1260 S].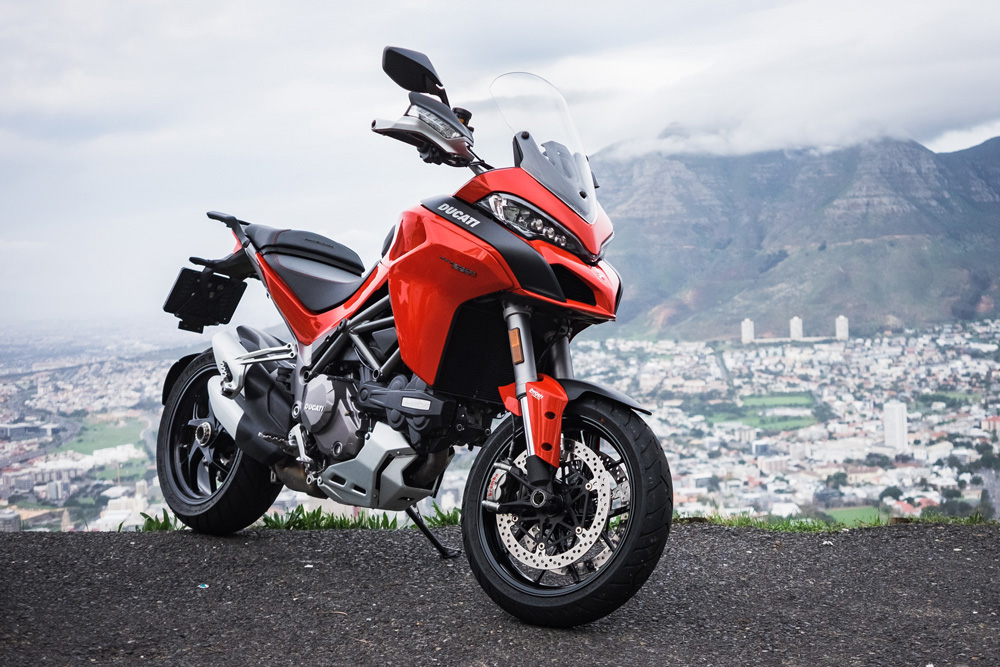 Ducati designed the first Multistrada as a Swiss Army bike—a tall-rounder that would do everything except go off-road. (Multistrada translates from Italian into 'many roads.') The current Multistrada still clings to that ethos, but it's much more powerful, exponentially better looking, and better equipped.
It's powered by Ducati's liquid-cooled, 1 262 cc Testastretta L-Twin, good for 158 hp and 129,5 Nm. Power is handled by a Bosch fuel injection system, ride-by-wire throttle, a wet, multiplate clutch, and a six speed box.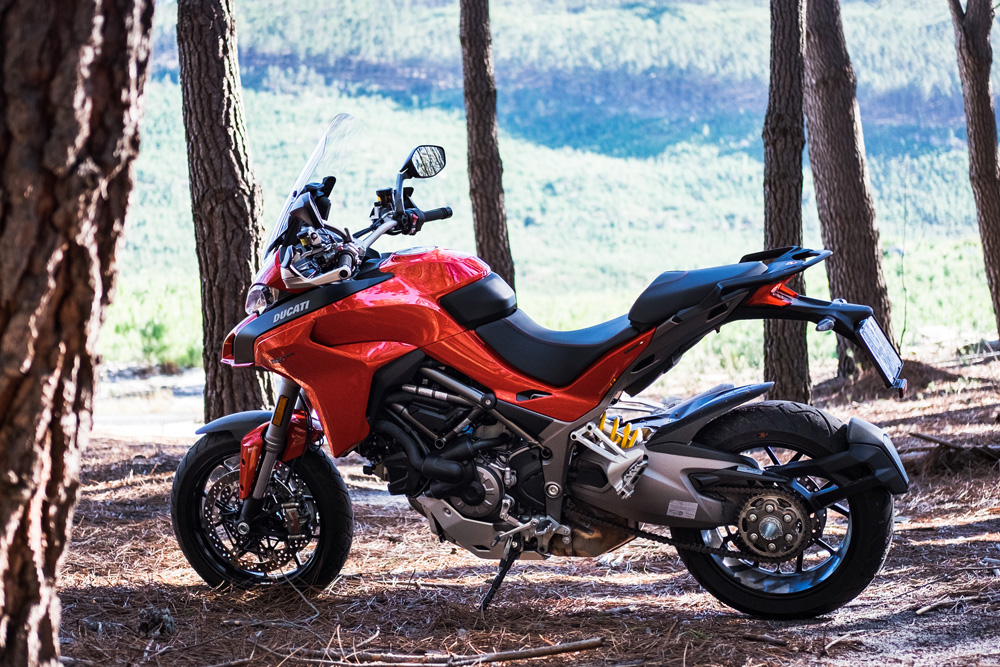 The Multistrada rolls on road-biased 17" alloy hoops, with a respectable 190 wide tyre out back. Bosch Cornering ABS is standard, with twin 330 mm discs and Brembo monobloc four-piston calipers adding extra stopping power up front. The whole package—complete with its tubular steel trellis frame and a 20 l fuel tank—weighs in at 235 kg wet.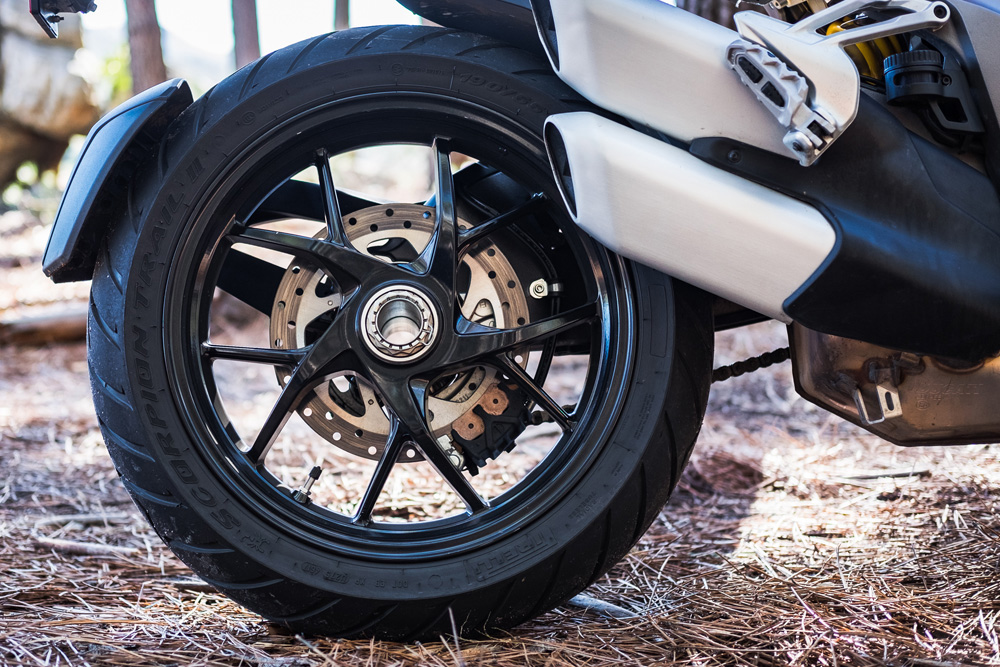 The Multistrada S comes in Red at R260 900, and Iceberg White and Volcano Grey at R264 900. That's a fair chunk of change more than the base model 1260 (R217 900), but that's because Ducati have crammed some really nifty additional tech into the S.
Both models get tunable riding modes, Ducati's standard safety pack (ABS and traction control), wheelie control, cruise control and a really neat touch—backlit switches. But the S also gets electronic suspension adjustment, and a quick-shifter.
Then there's the dash—a gorgeous full colour TFT display with both day and night modes. Also included is a onboard multimedia system that can interface with your smartphone, and LED lighting with cornering lights.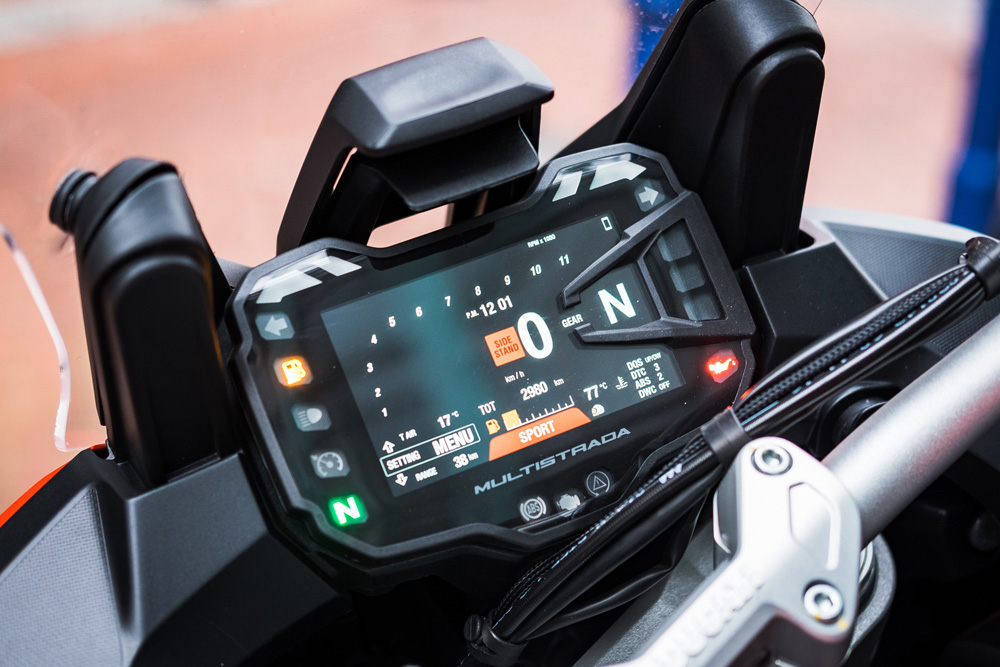 Ducati has fancy names for each one of those features, but do they really make a difference? They do, and if you don't feel like reading further, test ride the Multistrada 1260 for yourself and you'll see why. Is it the perfect motorcycle? No. But it's damn close.
I thought the Multistrada's styling would polarise opinion, but it was universally admired wherever I took it. It has more curves than Pikes Peak itself, and a weird, beak-like air intake—but somehow everything harmonises to create an imposing, aggressive motorcycle. There's just enough of the trellis frame poking out to remind you it's a Ducati, along with the token single-sided swing arm that shows off the split-spoke wheel design.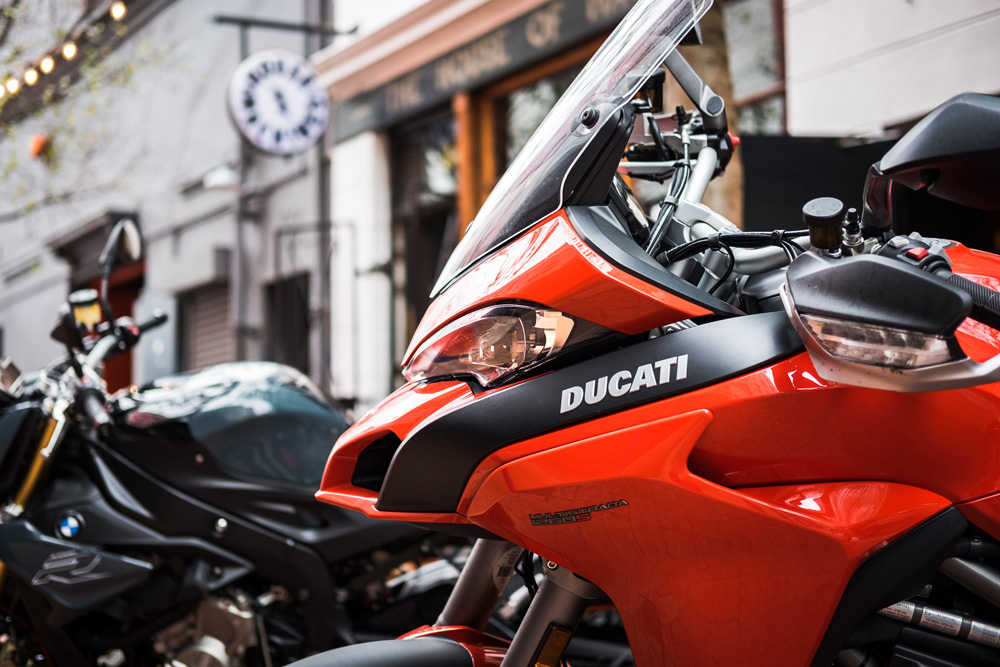 Even though the S isn't meant for dirt (you'll want the 'Enduro' for that), Ducati have added a few dual-sport touches. You get hand-guards with integrated LED indicators, a bash plate, and serrated pegs with removable rubber. There's even a luggage rack, for added practicality.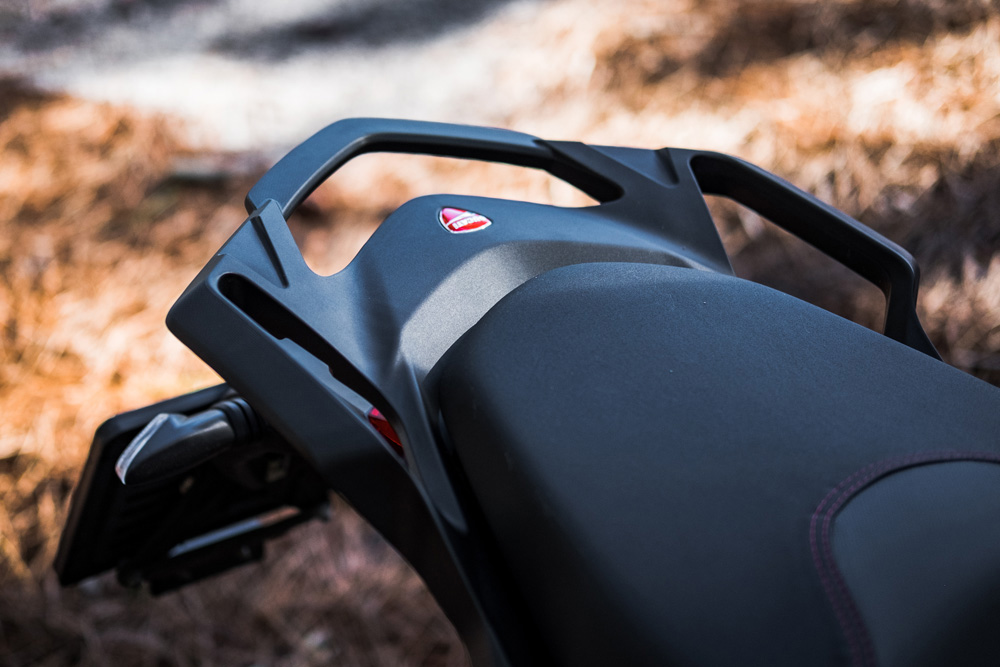 It's a tall bike, with a base seat height of 825 mm that's adjustable to 845 mm. I admittedly didn't even try to adjust it, but even at 1,86 m tall the stock setting suited me perfectly. Overall, the Multi's riding position is commanding and supremely comfortable. The screen's adjustable too, between two positions. I'd have liked it if the high position also angled the screen forward a bit, to block more wind for tall guys like me.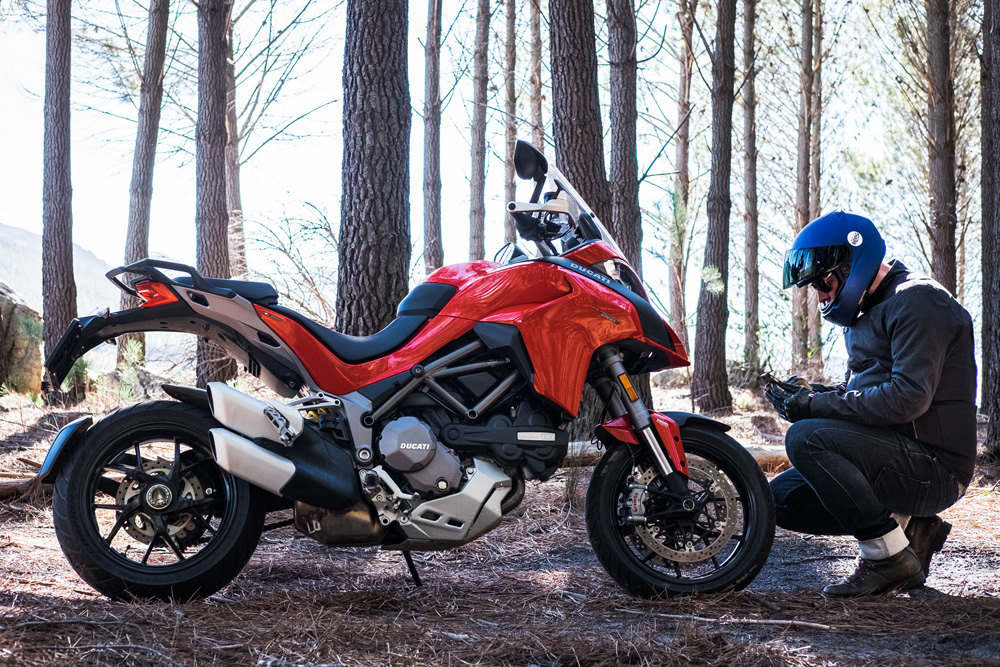 There's enough leverage from the handlebars to throw the Multi around in turns, and the seat's plush enough for long days out—and you'll want to do plenty of both. It really is a versatile machine, and performed just as well picking its way through traffic, as it did railing turns miles from home.
Piloting it is a game of point and shoot—the throttle is smooth and reactive, and if you can wrap your head around riding a taller bike, it's surprisingly agile. It's the sort of bike that adapts to your mood easily, whether you feel like a relaxed cruise, or hanging off the side of it while flying up Franschhoek Pass.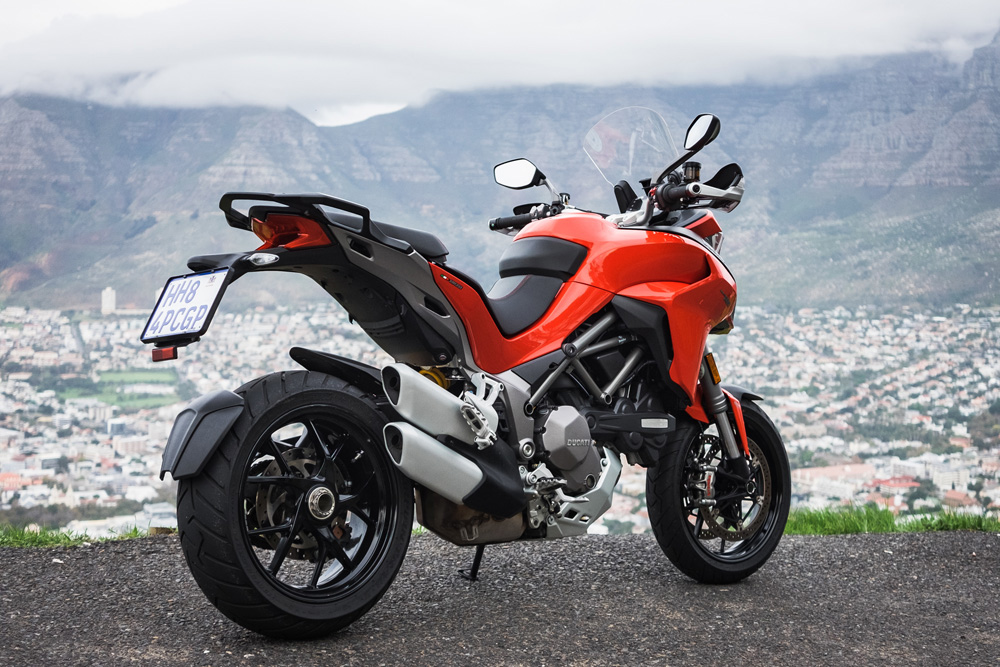 The stock twin cans are expectedly muted, but point the rev counter north of 5,000 and both the engine and exhaust tones come alive. Flicking through the six speed box is bliss, thanks to the quick-shifter (which, let's be honest, every bike needs). It works best when you're wide open, so I found myself using the clutch around town—which is perfectly fine, thanks to its light action. Neutral and I didn't get along though; getting the bike into neutral was a pain every time, except when I accidentally hit a couple of false neutrals between fifth and sixth.
But it's the Multistrada's onboard tech that really steals the show. The TFT display is a marvel, and makes traditional dashes feel medieval by comparison. With both day and night modes (you can pick one, or set it to 'auto'), everything is clear and readable. There's a ton of info on show, but it's designed so that your eye can quickly find the important stuff—like your speed, revs, gear, fuel and current riding mode.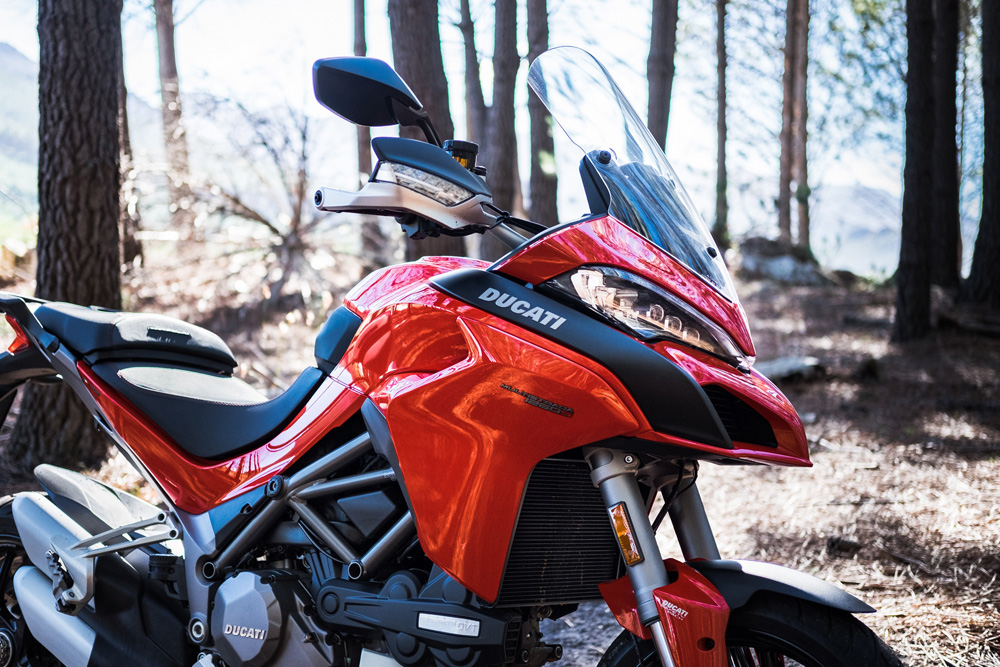 The switchgear deserves special mention too. Not only is the backlighting cool, but the switches are solid and easy to navigate with your fingers. One big combo switch helps you navigate the display and onboard menu—so you can flick through info, or change riding modes, in a snap. You can also switch the suspension preload between one or two riders, with or without luggage, with minimal fuss.
Everything is super-intuitive, right down to the cruise control which is one of the easiest systems I've experienced. (Ducati have even figured out a better way to reset trip metres, than the trusty hold-for-a-few-seconds method.) On the downside, the supposed self-cancelling indicators never really seemed to self-cancel. #firstworldproblems.
The Multistrada ships with four riding modes, and they're all pretty self-explanatory: Urban, Touring, Sport and Enduro. Touring mode is a great do-it-all setting, so I defaulted to that most of the time, switching to Sport mode when the situation demanded it. You can change modes on the fly, provided you lay off the throttle and brake once you've selected your mode, to let it engage.
You can dig deeper too—and that's what really got me hooked on the Multistrada. Jump into the menu, and you can fine tune each mode to suit your personal riding style. And I do mean fine tune; you can set the engine output, traction control, anti-wheelie control and ABS levels individually. Plus you can set how stiff the front and rear suspension is for each mode, on top of the separate preload settings.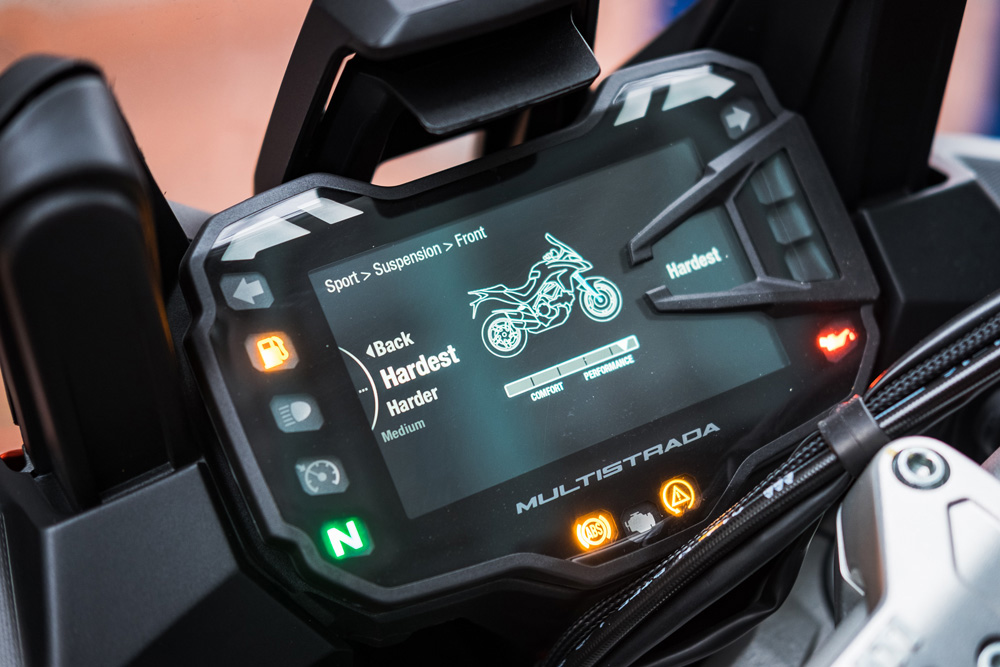 It's not snake oil either—the changes really are tangible. The first time I hit a twisty road on the Multistrada, I flicked it over to Sport, but the suspension felt way soft for my liking, with the bike wallowing into corners. A quick fiddle with the suspension stiffness on the side of the road took it to scalpel-like levels of surefooted-ness. A little more fiddling, and I soon had the Multistrada at laughter-inducing levels of liveliness.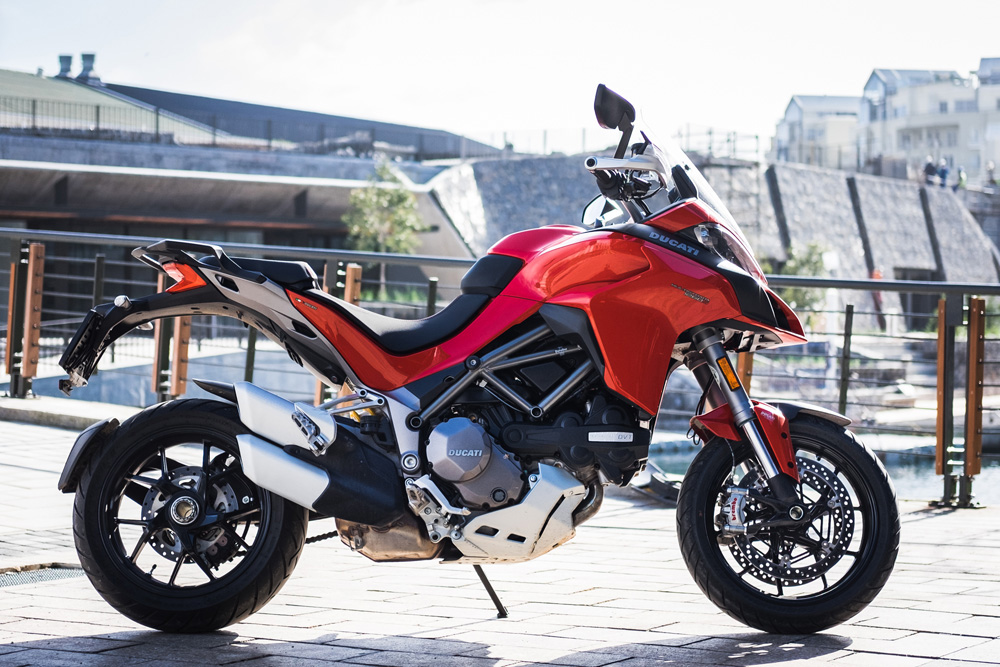 The 1260 S is plenty good stock. But if you like to fiddle and you know what works for you, it can be even better. It doesn't get much more versatile than that.
Images by Wesley Reyneke [www.ratherberiding.co.za]