I will always remember the first time I stumbled onto the Loteni Valley, conveniently hidden away from the rest of the Midlands Meander, KwaZulu Natal. I would like to claim that I discovered this piece of heaven, but that would simply not be true. It had that much of an effect on me! I was on a ride to nowhere…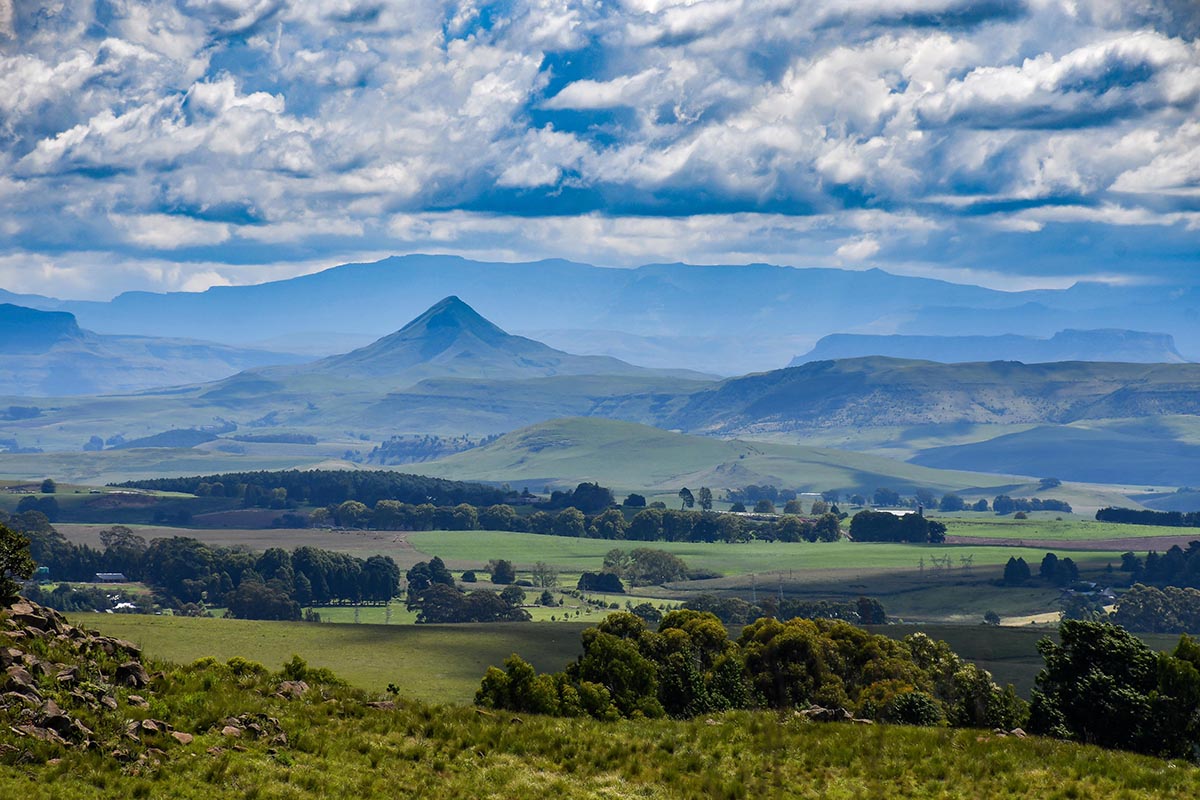 I say "a ride to nowhere" because that is what I do when I meander solo. I spread out my trusty, wrinkled and outdated topo map on the bare earth beneath me and stroke to frontiers unconquered. That is how many of my journeys begin.
This time was no different. The only other companion on this journey was Liberty, my trusty and loyal BMW R1200GS Trophy. The year was 2016. It felt like I had discovered a parallel universe. Just Liberty, my map and myself.
My thoughts usher me back to the present day as I behold the same scenery yet again, the same emotion. This time Liberty is but a fond, everlasting memory.
The brand new BMW R1250GS Adventure burbles underneath me as I throttle back from 5000 rpm, backing into the next flowing, undulating corner. I feel like I am conquering this private world all over again.
She is a beauty, this Exclusive model dressed in her Golden-Green, Kalamata dress. For today, just today she is all mine as this mystical world unfolds. But let's escape from this dream for just a moment, as I explain…
Earlier this morning my fellow journalists and I get transported from a busy King Shaka International airport to the Beverly Hills Hotel, Umhlanga, and a breathtaking view of the Indian Ocean. After breakfast we are greeted by the ever cheerful Chris Modise, National Sales Manager, BMW Motorrad SA.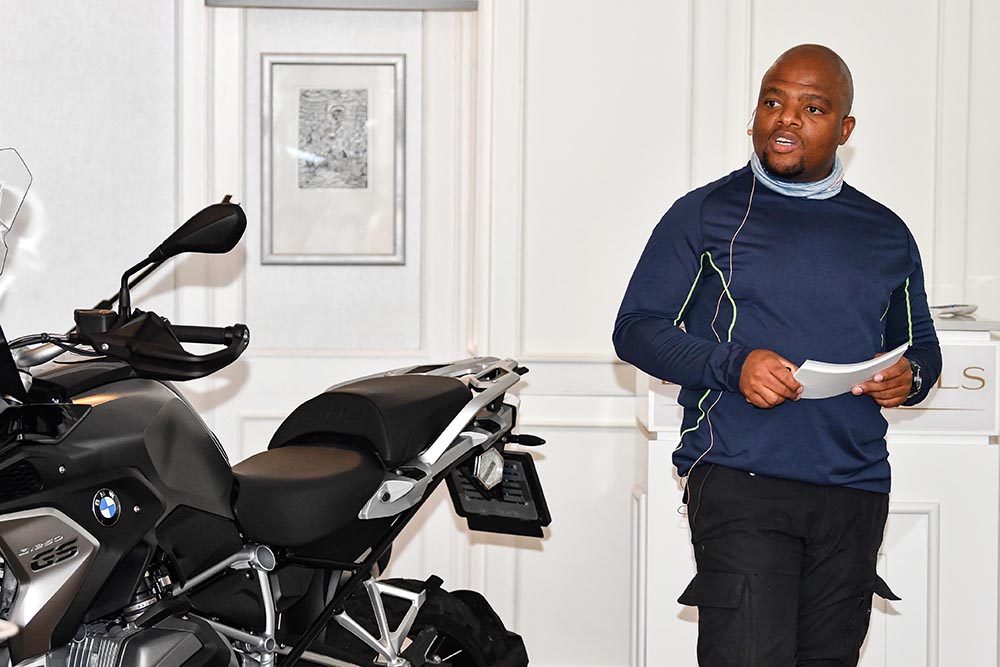 It is a proud moment for Chris and team as he introduces us to the new flagship GS models that we are here to evaluate. He mentions that BMW Motorrad has just completed its 8th consecutive year of record production. Close to 165 000 newly manufactured BMW Motorcycles has seen the light of day in 2018 alone. The Juggernaut seems to be at full momentum, hence the slogan "Unstoppable", adopted a few short years ago.
For the whole of today I will be aboard the R1250GS Adventure, shod with brand new Metzeler Karoo 3 tyres. She is the direct replacement for the outgoing R1200GS Adventure. The so called "GSA" began life as an 1150 back in 2002.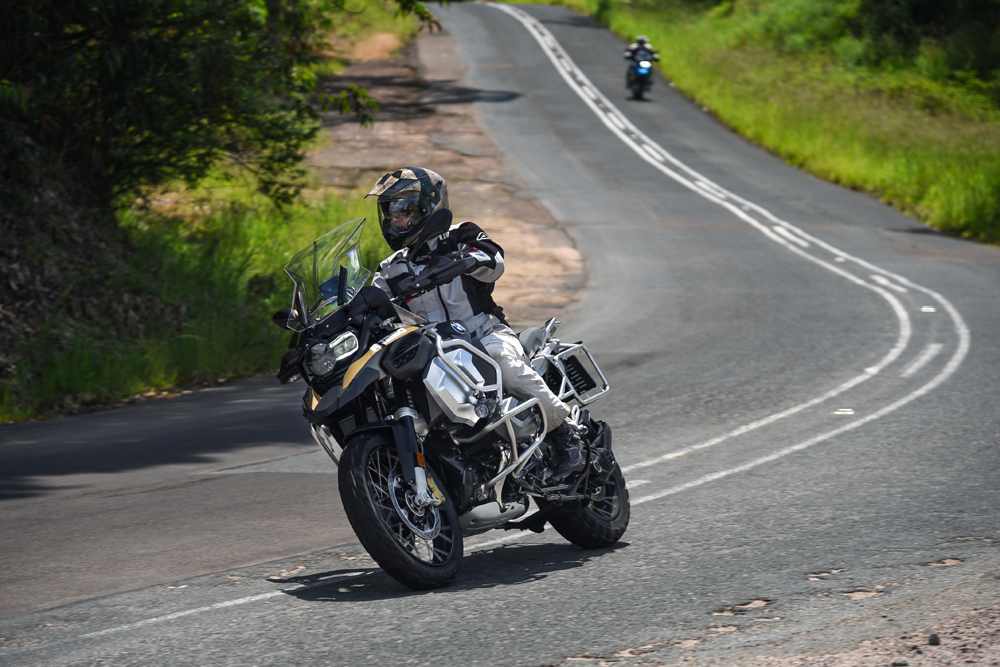 As the undisputed heavyweight champ, it is no stranger to criticism. Seemingly unfazed, it goes about its business of being the weapon of choice for the local adventure bike community.
The subtle changes to the chassis and electronics certainly compliment the new engine design. BMW seem to always take the opportunity to make numerous but telling changes. These changes most regularly go unpublished, but seldom unnoticed.
Case in point, I notice how much more smoothly the gearbox works. As a result, the shift assist feels more sorted on the boot, especially when downshifting. Subtle design queues include the black handlebars, white hand guards (HP model) and redesigned chrome style side panels.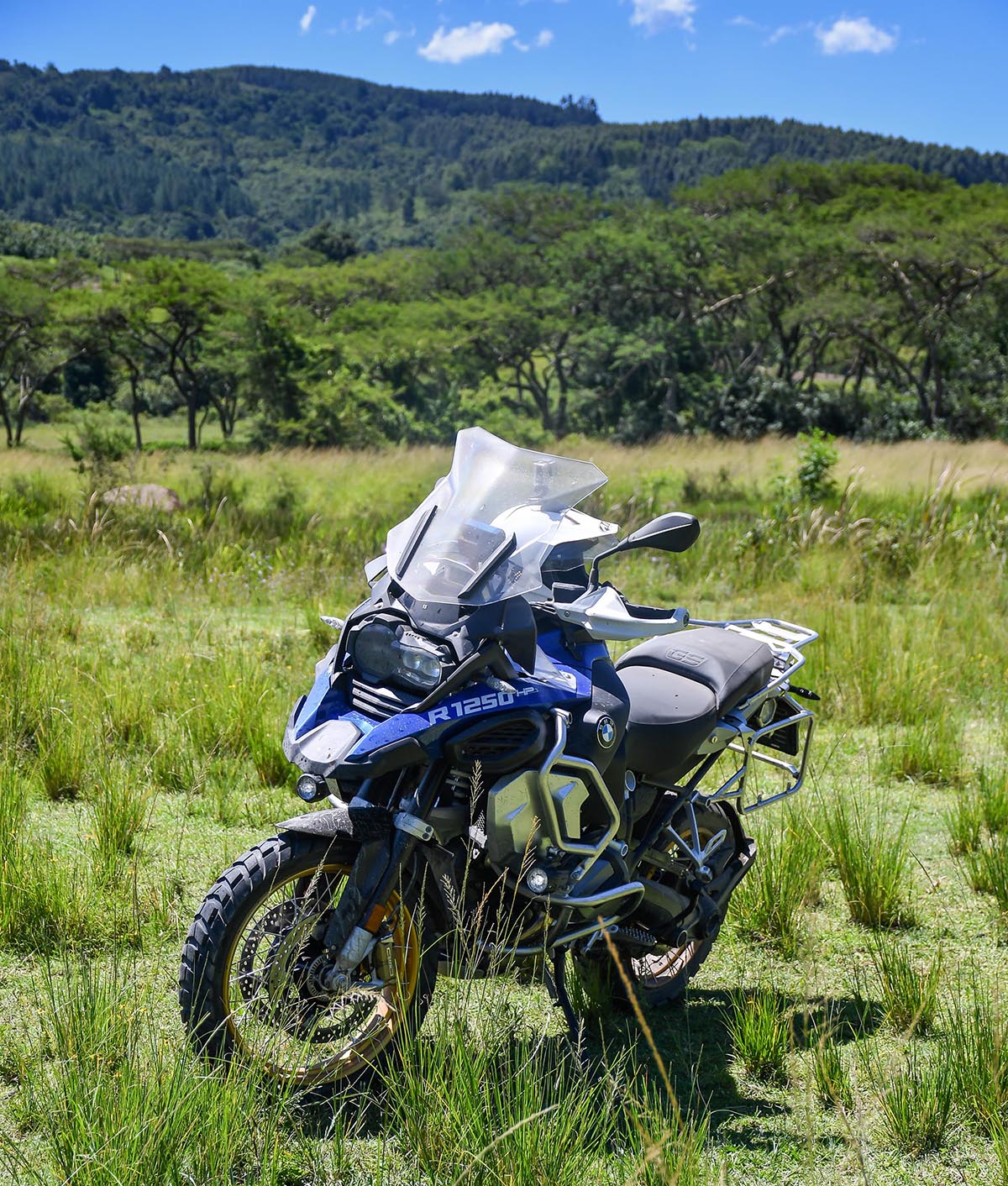 We leave a congested Durban behind in search of the serenity that the Midlands Meander and Drakensberg regions have to offer. The open road affirms yet again why this beast has become a household name. If you have not experienced one of BMW's Adventure incarnations, then do yourself a favour by contacting your local dealer for a test ride. But be sure to plan a full day of riding, as this is where you will truly appreciate its qualities.
We spend the night in the glorious Drakensberg Sun Luxury Hotel where we share the days' experiences over good food and drink. This place is cradled in an Amphitheatre of mountains and lush green beauty abounds.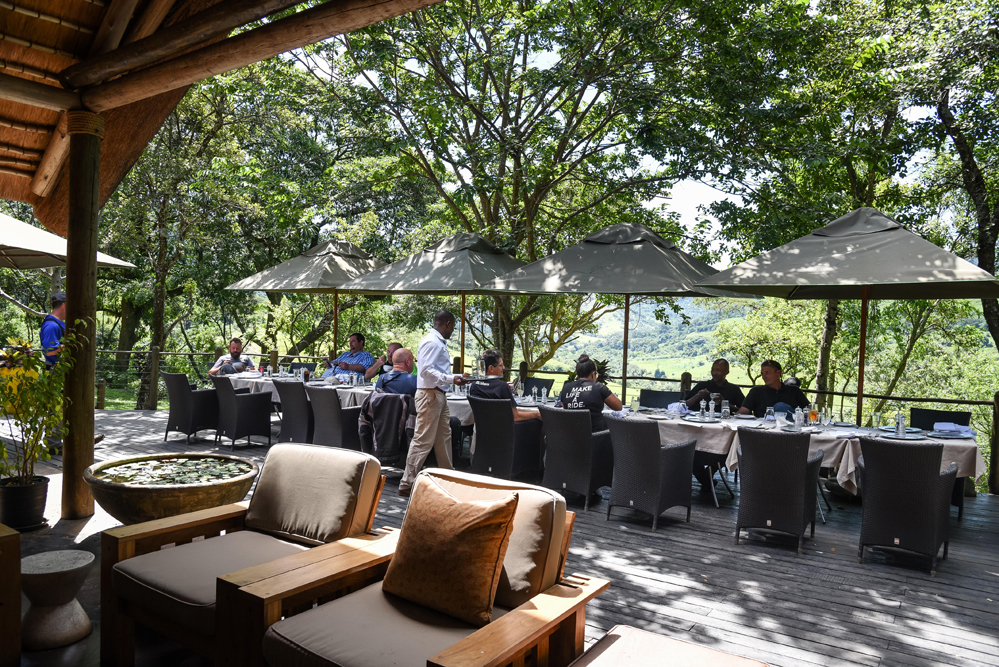 Day 2 beckons, and I am handed the Storm Black R1250GS, fitted with Michelin Anakee Wild tyres. We leave a thousand photo opportunities behind, in search of new ones. There is lots and lots to be said about these bikes, our experiences and where we rode, yet I have decided to cover two of the most hotly debated questions a typical Motorrad Sales Executive has to deal with. Follow me….
"What should I buy, The standard GS or the Adventure?"
The simplest answer would be that you cannot really make a mistake with either. Point is, on this launch we spent two days in all sorts of terrain on both these variants. The one could go where the other did. Plain and simple.
However, this answer seldom suffice, as the customer searches from a deeper conviction. So here goes; From a "Rand-and-Sent" point of view, the Adventure model certainly makes more sense. For the extra R25 000 odd, you get the larger fuel tank, larger wind shield, higher suspension, upper and lower crash bars, LED driving lights, quick adjustable rear brake lever and wider footpegs. The seat also has extra padding and there is a neat glove box forward of the fuel cap that can hold your credit card, spare cash and gate remote. You also get steel luggage frames as opposed to the standard GS's Plastic frames. For most buyers, this warrants a decision towards the GSA.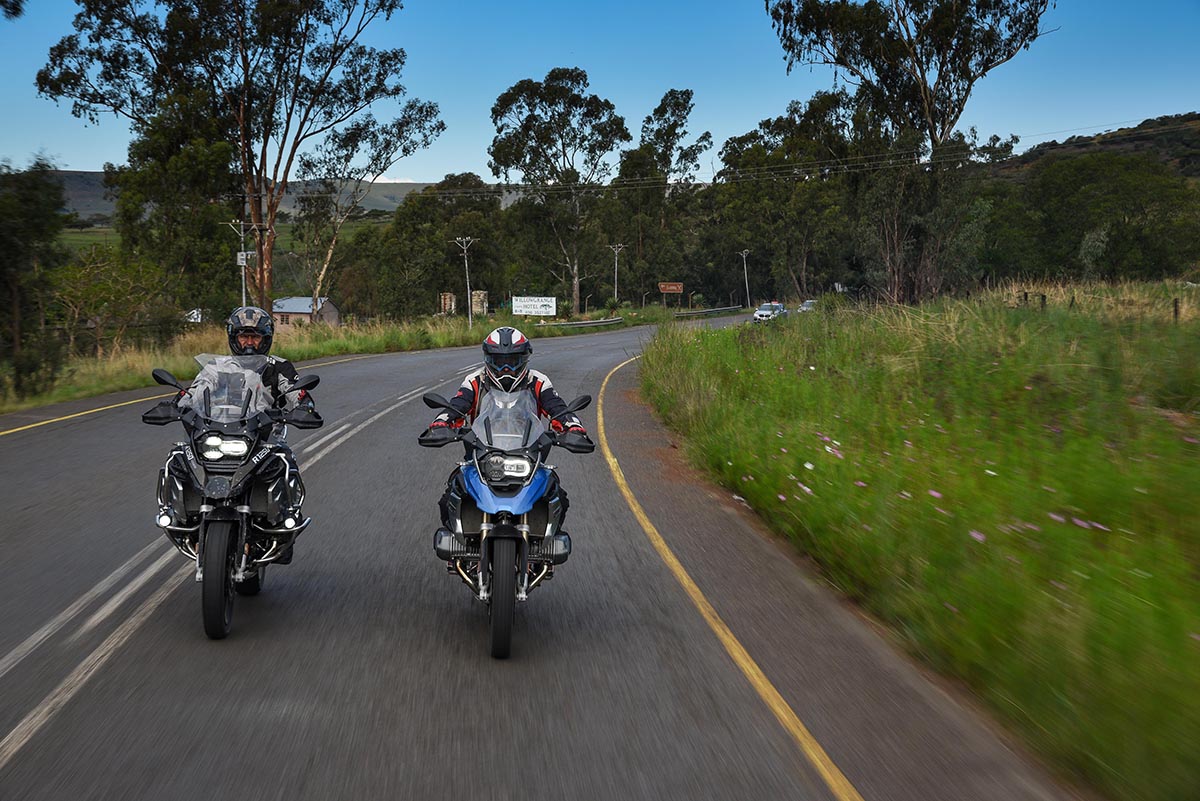 Then there is the other side to the coin; The standard GS is a much more exciting bike to ride, primarily because of the very absence of these extras. Whereas the Adventure ushered me into a comfort zone of bird watching and flower smelling, the standard GS kept provoking me to cover more ground in less time. The GS was an absolute blast to ride. These bikes are so similar, yet so different.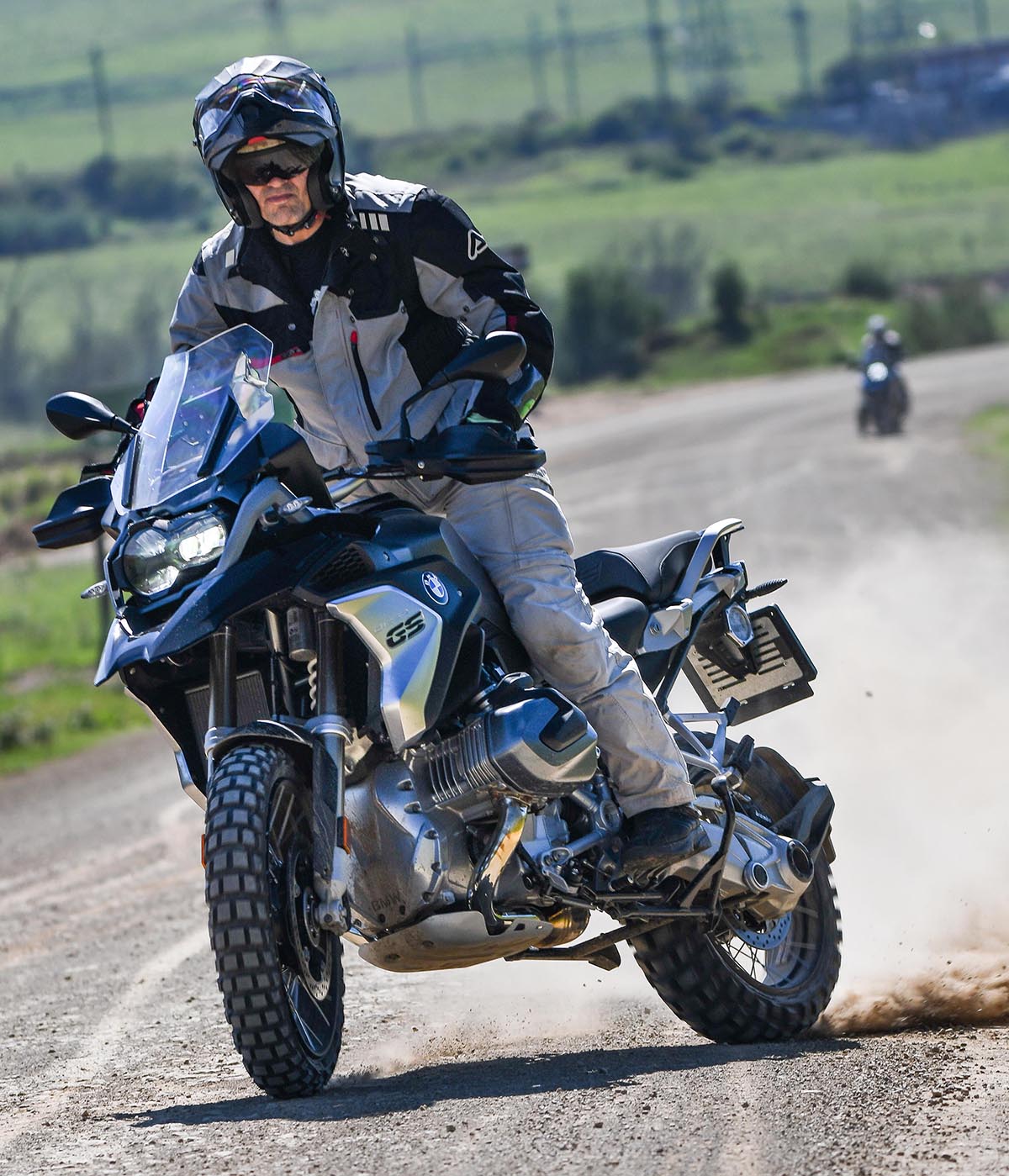 The difference in character boils down to more than just the spec sheet.
Careful thought and engineering went into the portrayal of character, so to speak. I know many friends who have had more than one Adventure, eventually down scaling to the standard GS for a different look and feel. I am on that same path. Owner of numerous Adventures, I have since found the standard GS a more rewarding bike to ride. I often find myself in the middle of nowhere, needing nothing more than a GS and a soft luggage roll strapped to the back.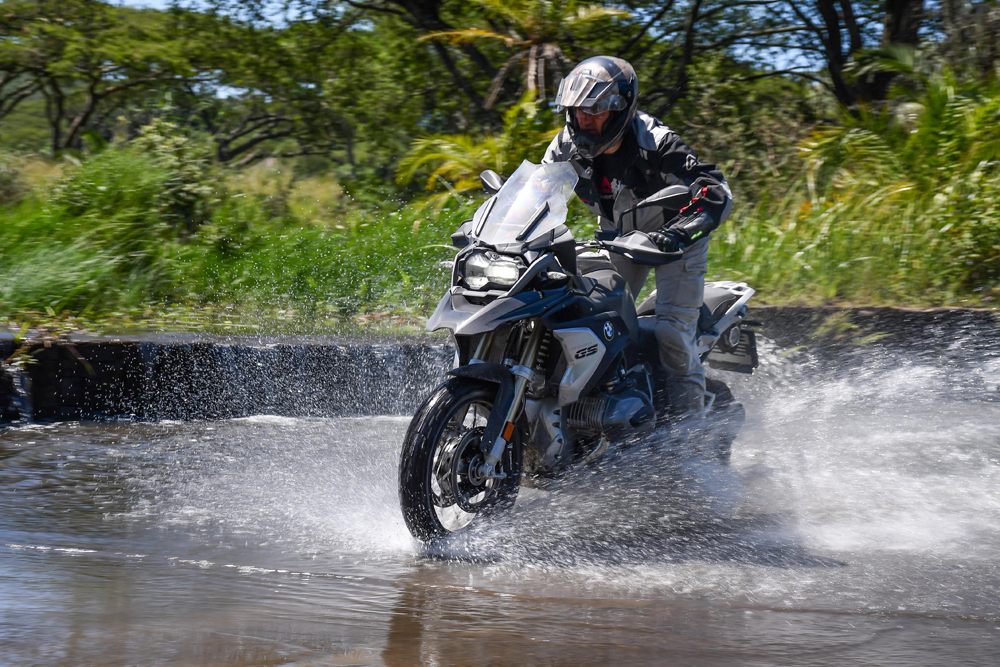 "Tell me more about the automatic suspension?"
This question warrants an article all on its own, but allow me to condense a few meaningful words for now. To be correct, the suspension system is called "Dynamic Electronic Suspension Adjustment" or DESA in short. This basically gives you 3 options, which I will cover briefly;
Auto mode:
In auto mode the suspension adjusts the damping automatically, in accordance with the demands of the varying terrain. I am starting to sound like an engineer….
The earliest version of this was to be found on the R1200GS Rallye, introduced in 2017. The good news is that it has evolved slightly on the new bike into a more compliant, less choppy ride. It seems a little less foreign to deal with and becomes less excitable, for lack of a better word, than the first incarnation mentioned.
I find it useful in most conditions off road for when I want to enjoy a ride without thinking too much. In this mode it is also more stable at high speeds, than the first version. I tested this one numerous times and once took the bike up to very illegal speeds on a open gravel road. She remained composed.
Max mode:
Maximum mode adjusts the preload on the suspension spring to a much firmer level, making the bike grow in height quite a bit.
This is the mode I use most often. I find this to be my favourite mode for hard sports riding on twisty roads, primarily because it keeps the bike more stable and gives best ground clearance for really hard cornering. It is also much more predictable due to the fact that it is a set point.
Off road, I prefer this mode for speed ranges above 120 km/h. It becomes your best friend at these speeds. The harder you ride, the more it rewards.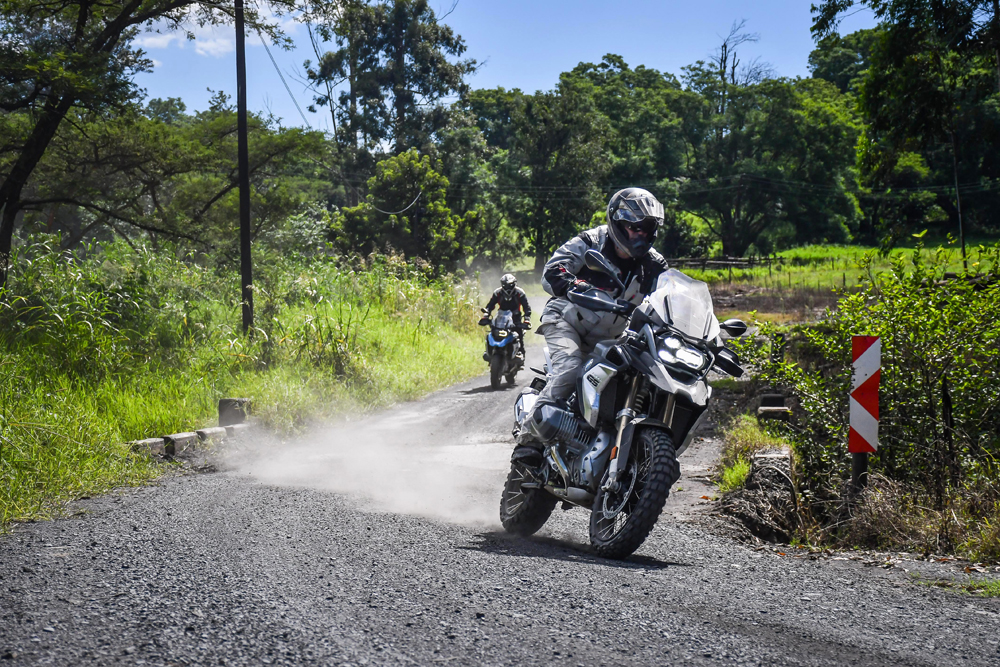 Min mode:
Minimum mode adjusts the preload on the suspension spring to a much softer, compliant level, making the bike much lower in the process.
This is the mode I find most useful for speeds below 100 km/h. I also prefer this mode in slow, technical riding. The downside is that the ground clearance is compromised, so take care when traversing rocks, logs and other foreign objects.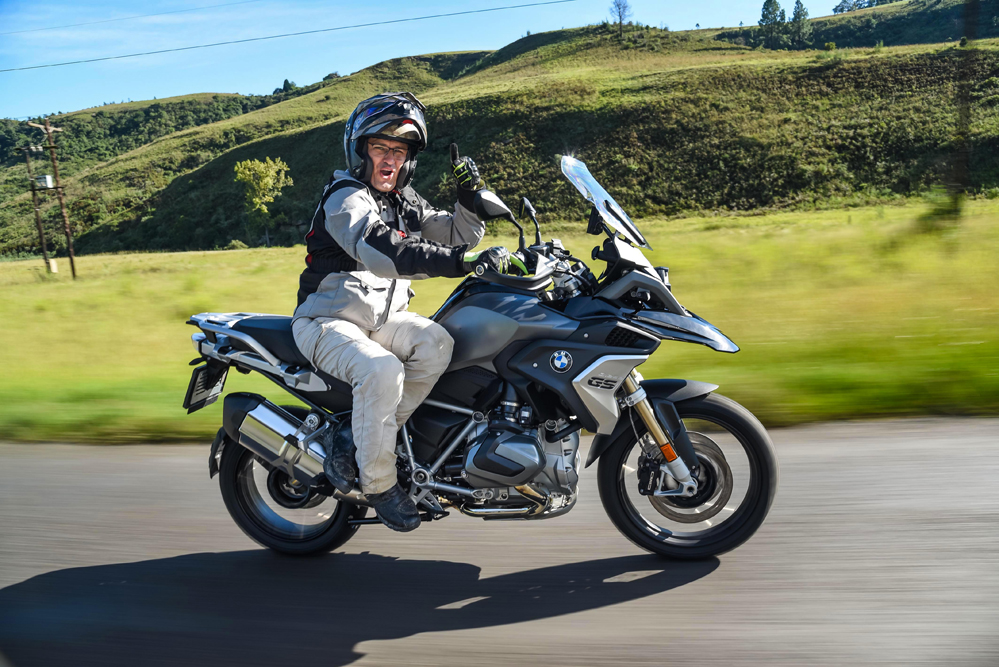 In summary, the two days spent in the company of the BMW Motorrad team and their newest offerings was certainly time well spent. Accolades to the team for planning such adventurous routes, backed by some of the most exquisite destinations. The new motorcycles are state of the art and will certainly position the brand well for the next round of battle in this, the premium segment of Adventure touring. These bikes seem to tick all the boxes with even less effort than before and should enhance the ownership experience, especially with the added peace of mind that the 3 year, unlimited mileage warranty offers.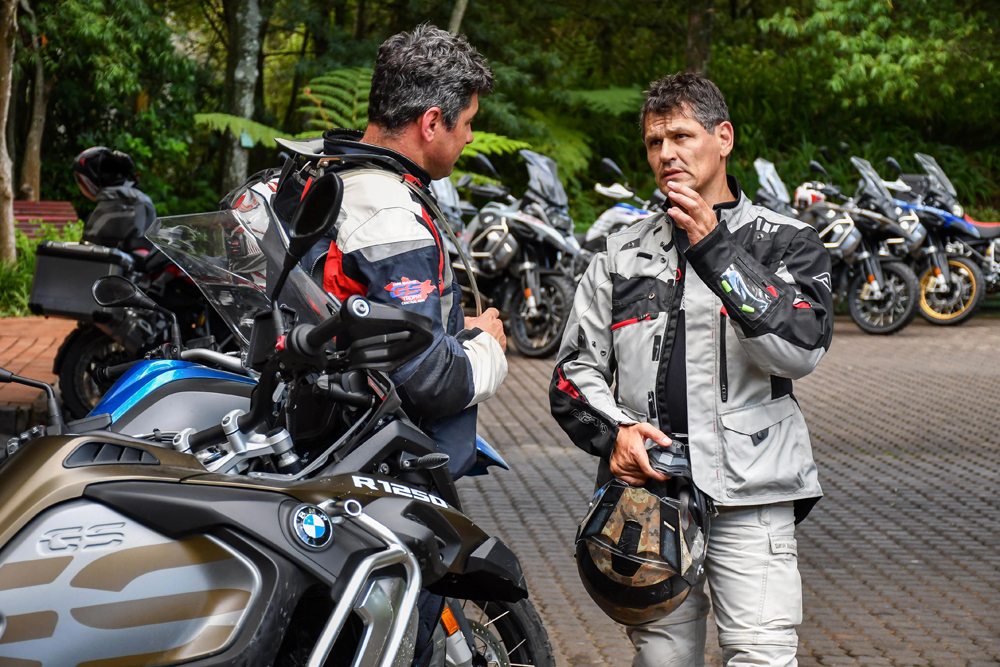 For more technical information and for pricing read the following press release:
The new BMW R 1250 GS and R 1250 GS Adventure now in South Africa