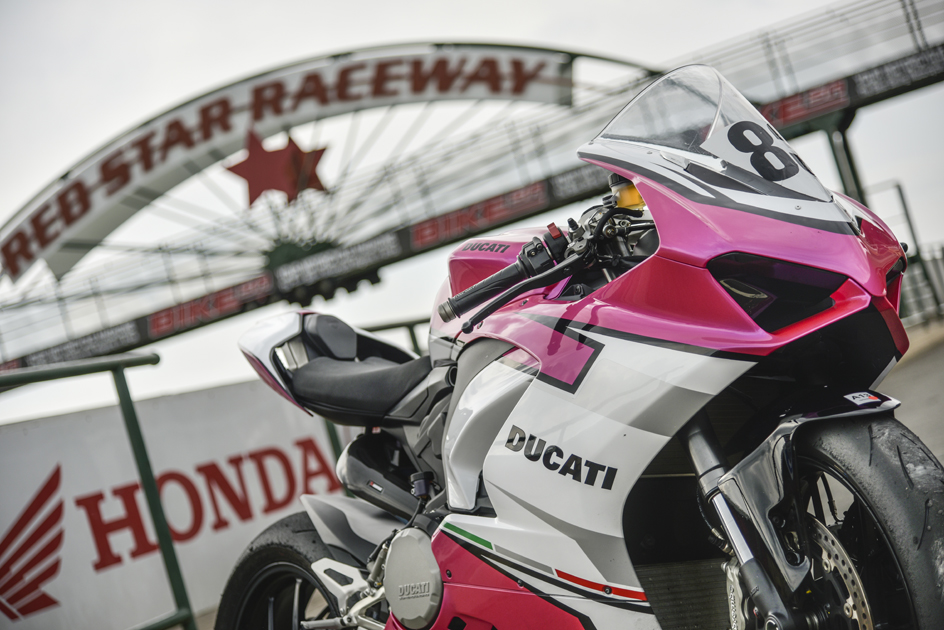 It was to be a number of firsts for me, when Jos Matthysen from Ducati SA and myself jumped onto the highway in his custom-built, immaculately turned out MAN racing and show truck. It was my first time in this truck, although I had seen it before at the Jeffreys Bay Bike Festival, taking centre stage with its very imposing presence. Even the mayor of Jeffreys Bay came by to take a look and sample some of the show bikes, on that occasion. We were on our merry way to Redstar Raceway with a number of equally immaculate race- and show bikes neatly arranged in the loading compartment.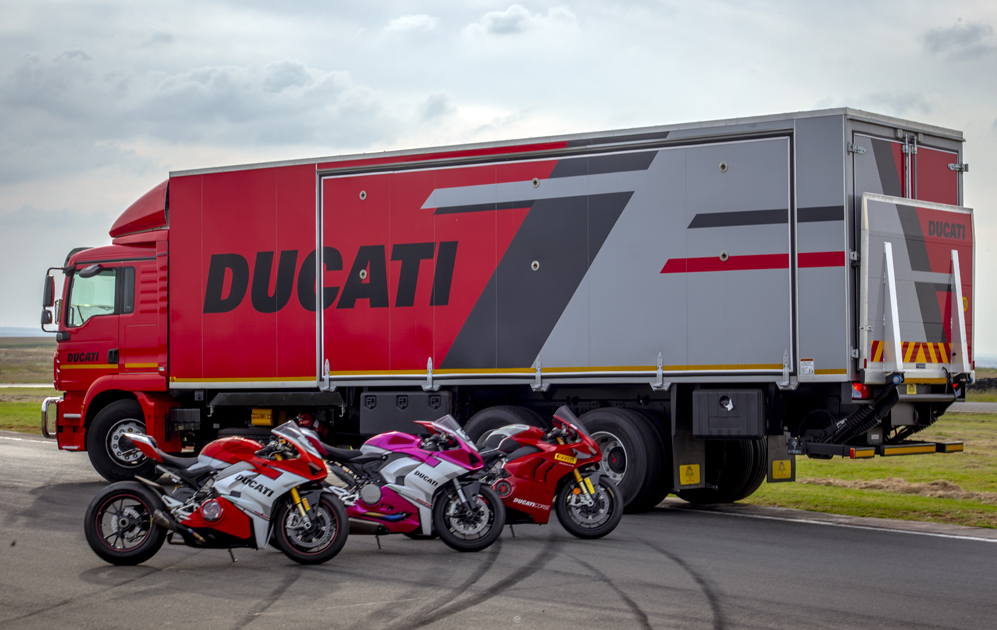 I had been to Redstar Raceway on a number of occasions. I had competed in the 24 Hour Endurance Races held there in both 2012 and 2013. Needless to say, those were all fond memories. But for some weird reason, this was to be my first opportunity to ride Redstar in the anticlockwise direction.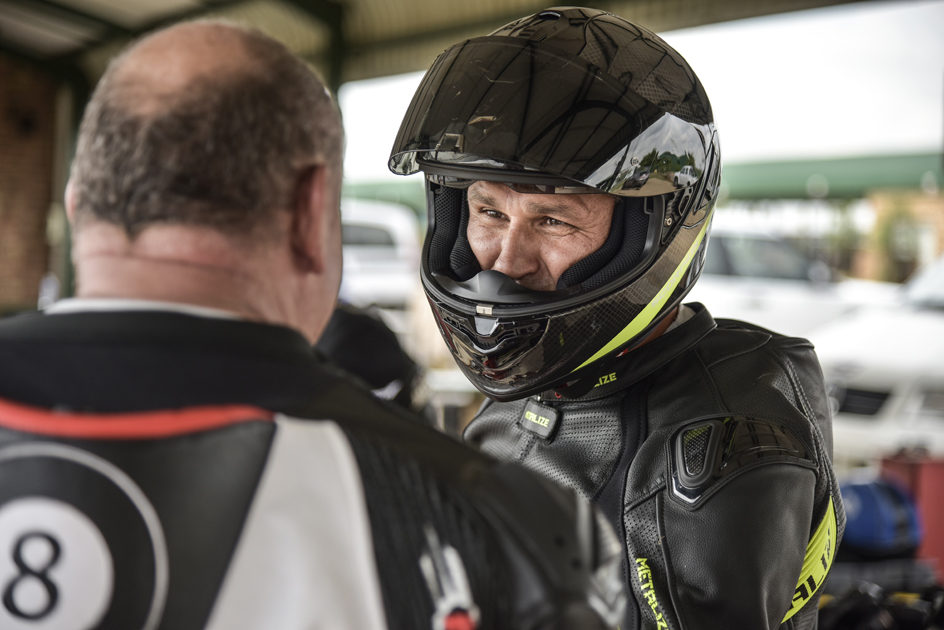 Furthermore, it was also my first time to sample Ducati's V2. Jos was kind enough to offer me some track time on Morongoa Mahope's well-prepared race bike and this turned out to be much more of a highlight than I had anticipated. "Mo", as she is affectionately called by her peers, is sponsored by Ducatis SA and prefers the V2 as her weapon of choice. This superfast lady's career and progress can be followed on Facebook, under the search name "Momahope83"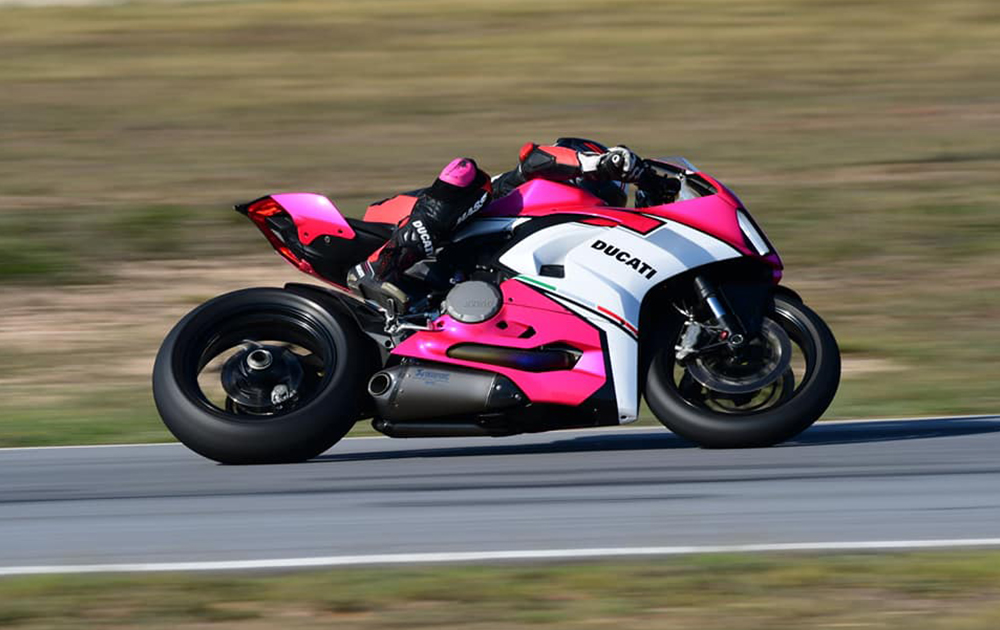 I was also to briefly revisit Jos' personal race bike, the "madcap" Ducati V4S that I had ridden a number of months ago at Zwartkops Raceway.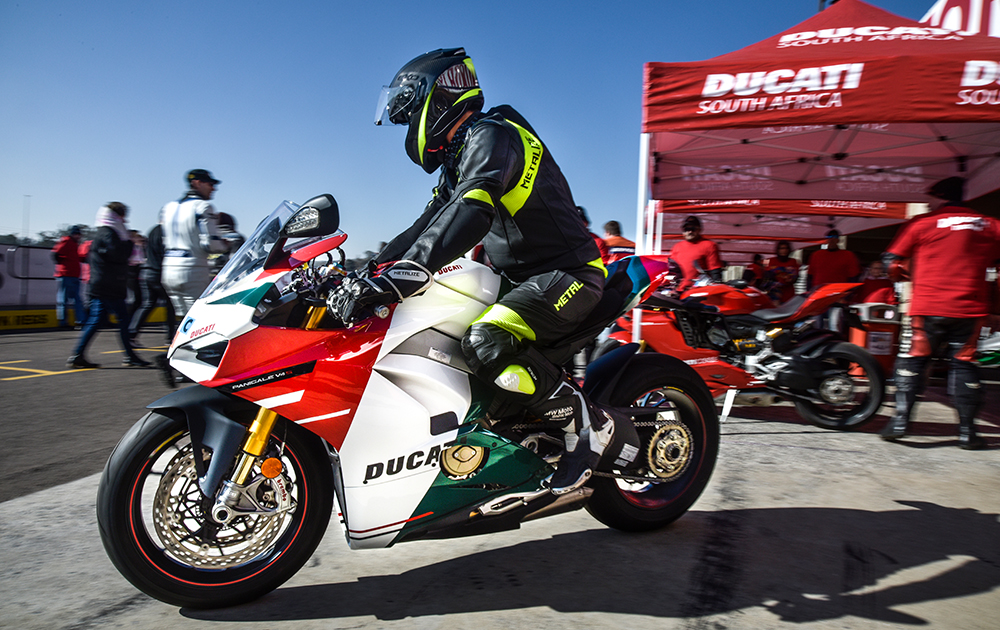 Redstar is a modern-day circuit, designed and built with a lot of wisdom and forethought.
Not only is this circuit smooth and safe, with ample runoff areas in critical places, but as a bonus, it was also designed to run in both directions with fairly minor adjustments. So, every 6 months, they change the direction. From January to June, they run it anti-clockwise and from July to December it is run in a clockwise direction. For an avid racer living in the surrounds, this makes life way more interesting as one gets to utilise what seems like two very different circuits at the same venue.
My first outing was aboard the V4S with me carefully making sense of my surroundings lap by lap. One can get "lost" quite easily on this circuit. It is the kind of place where careful planning is necessary on the riders' side. It combines many corners, so the rider is forever planning one's approaches carefully. Of course, smoothness is of utmost importance aboard this eager, attentive machine. Like the track, it rewards subtle inputs from the rider to get the best result.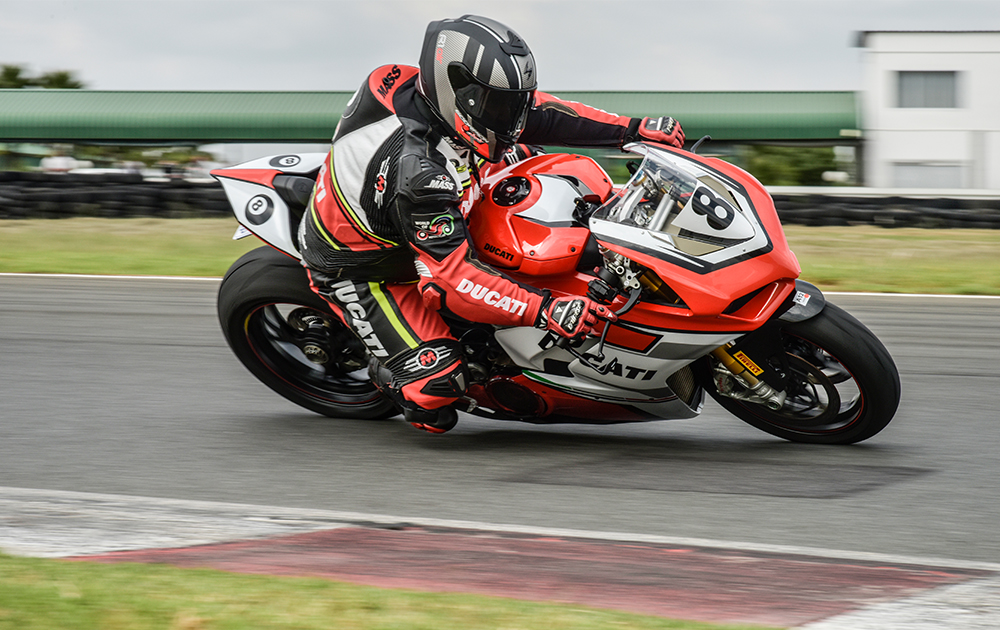 The V4S remains one of my favourite modern superbikes. Why you may ask? Simply because you will spend a lifetime on this bike and never get bored with the brutish power it delivers. I remember distinctly, whilst exiting turn 13 and catapulting onto the main straight, how my left foot blew off the footpeg due to a combination of wind force and acceleration. It is an enticing ride and you must constantly remind yourself to breath… 'Nuff said! Despite a sizable price tag, It remains one of Ducati's most popular sellers, simply because it is like no other superbike. If you like a challenge, look no further.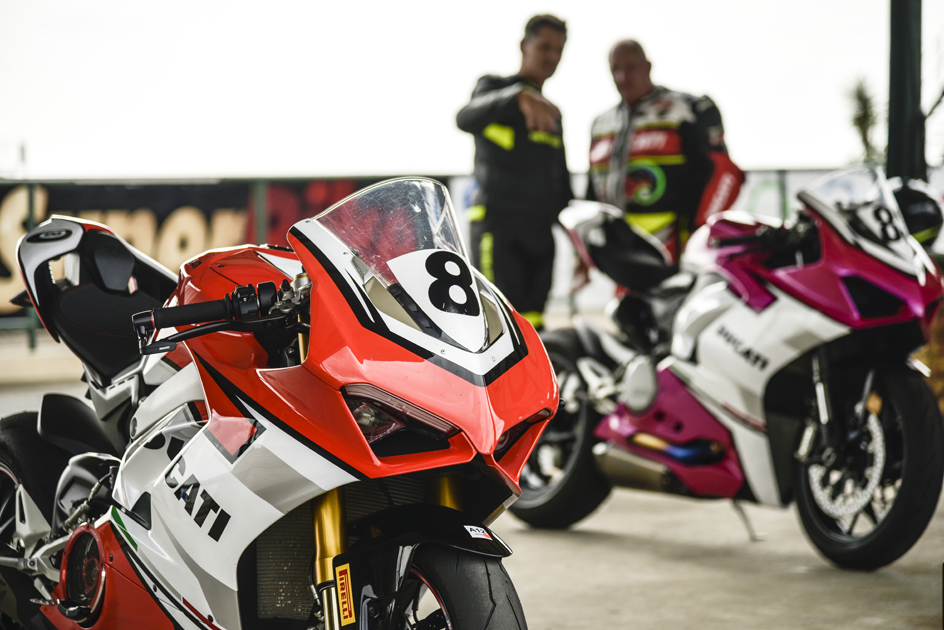 Then came my opportunity to sample the V2, as the "Ducatista" calls it. The revised 959cc Superquadro powerplant on this middleweight makes for a very user-friendly outfit. It took less than one session for me to start turning in consistent lap times. Compared to the V4S, this bike is a walk in the park to ride fast. I made many mistakes, but this bike is so forgiving that none of my mistakes turned into catastrophes.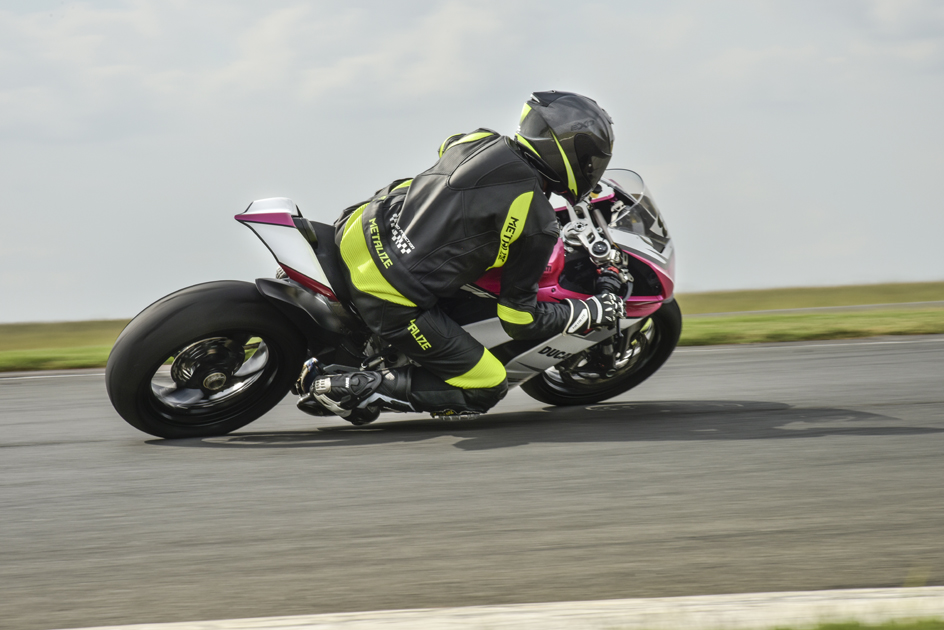 The reward is instant! There is more than enough power to exit corners hard, often with a subtle, controlled drift from the rear wheel. Especially so, exiting turn 3, the long bottom left-hander after the main straight. This bike reminds me of all Ducati's racing successes aboard similar V-Twin arrangements. (To be technically correct, Ducati used to call this 90-degree arrangement the "L-Twin" layout, as the more discerning fan will argue.)
The way this bike settles after hard braking and rolls into turns had me singing in my helmet. Just make sure to get the gear selection right on corner exit and she accelerates like any larger capacity machine would. She also loves to rev, which cannot always be said about twins. It's the kind of bike that will howl and scream happily all day long on the racetrack. It was tangible to me how much less effort was needed to ride this bike fast, compared to it's bigger sibling.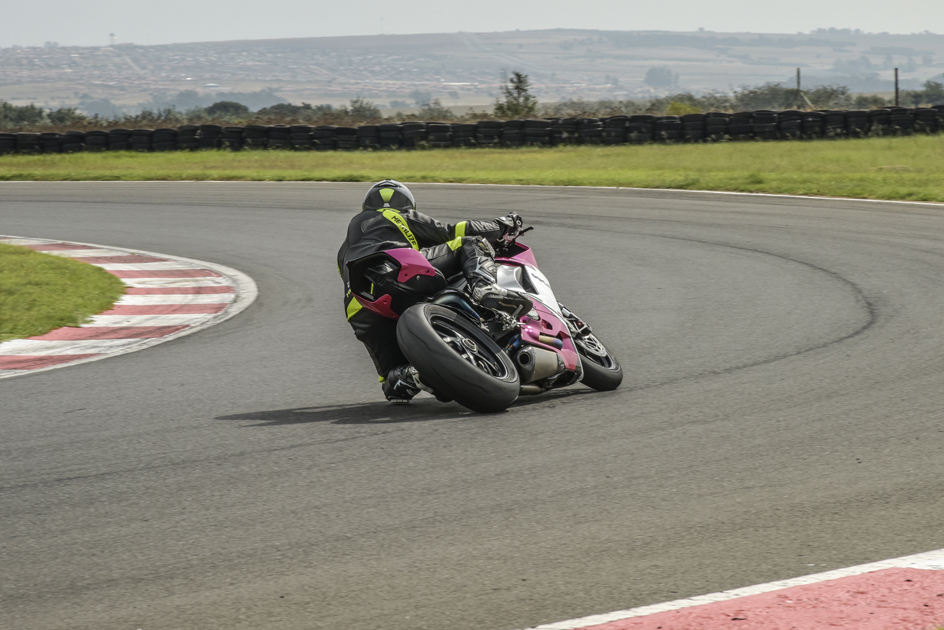 In summary, this would be my pick of machine, if I was an active, serious track day rider. I cannot imagine needing more than this to top the A-group timesheets, yet you will do it with much less effort and drama than most others. And if I was crazy enough to turn racer again? In that case, I would make the extra effort and time to master the V4S. I say this, simply because it poses much more of a challenge to ride, so the reward at the end of the rainbow must be similar to winning a small war. Aboard this machine, you are guaranteed to have many breathless moments on your journey to greatness!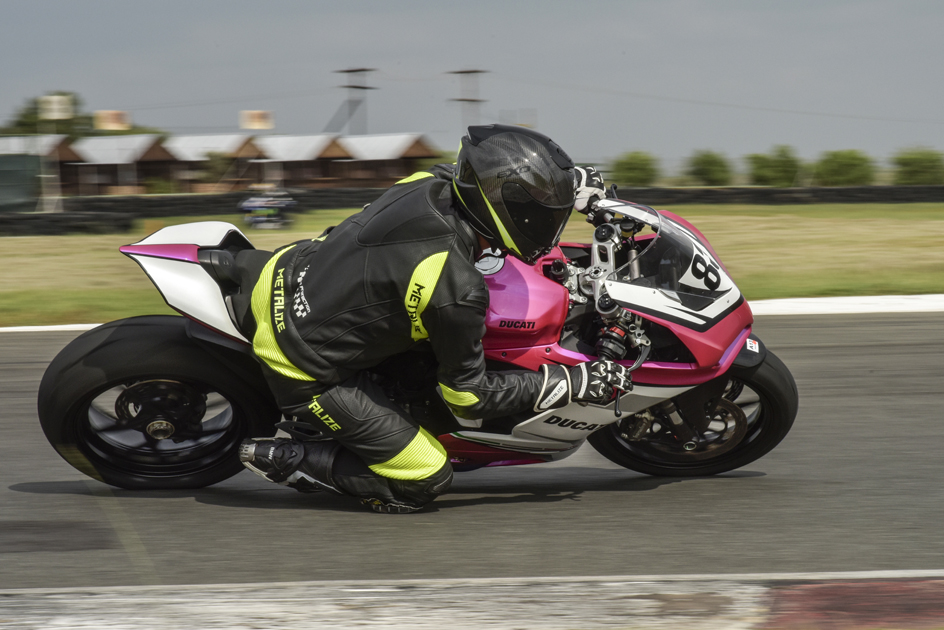 Furthermore, Ducati SA has thrown their full weight behind the Annual Monocle Motorcycle Racing Series held all over South Africa. Jos himself is an avid participant and uses his powers of persuasion to help get the grids full on most occasions. He enjoys the racing and this, in turn, keeps him sharp and focussed. It also sends a message of support to the racing fraternity and, of course, the Ducati Racing Family. Racing, as we all know, does not just form part of Ducati's culture but rather, it is the very core of all things Ducati.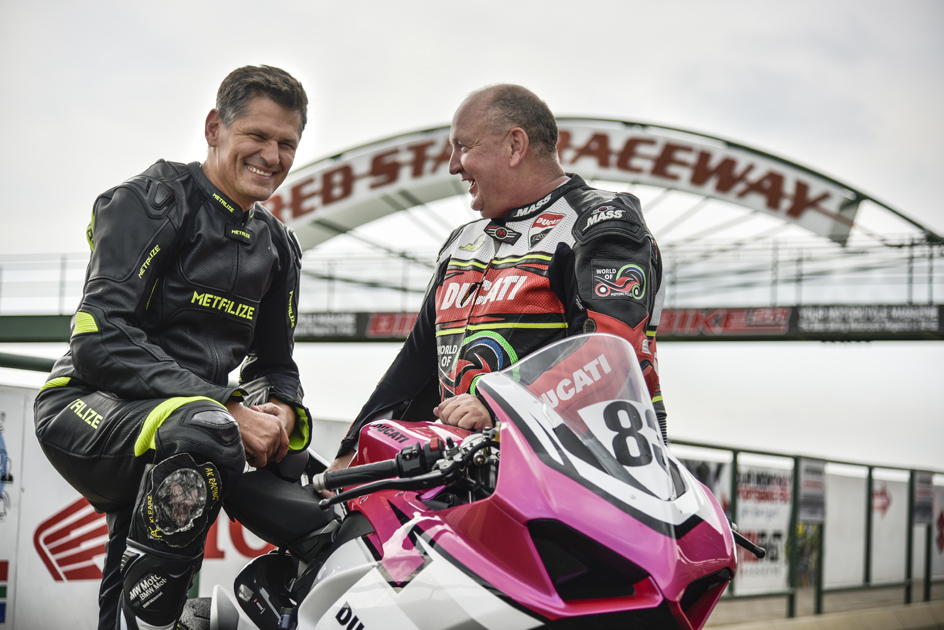 To top off an enjoyable, busy day at the track, Jos had also arranged a photoshoot in celebration of the new truck mentioned earlier. Showgirls and photographers took to the stage to do what they do best. As the afternoon sun settled lazily over the horizon, we could just relax and enjoy the banter and watch the professionals at work. I scratched around for some photo opportunities of my own, as it is very seldom that you have so much beauty in one place.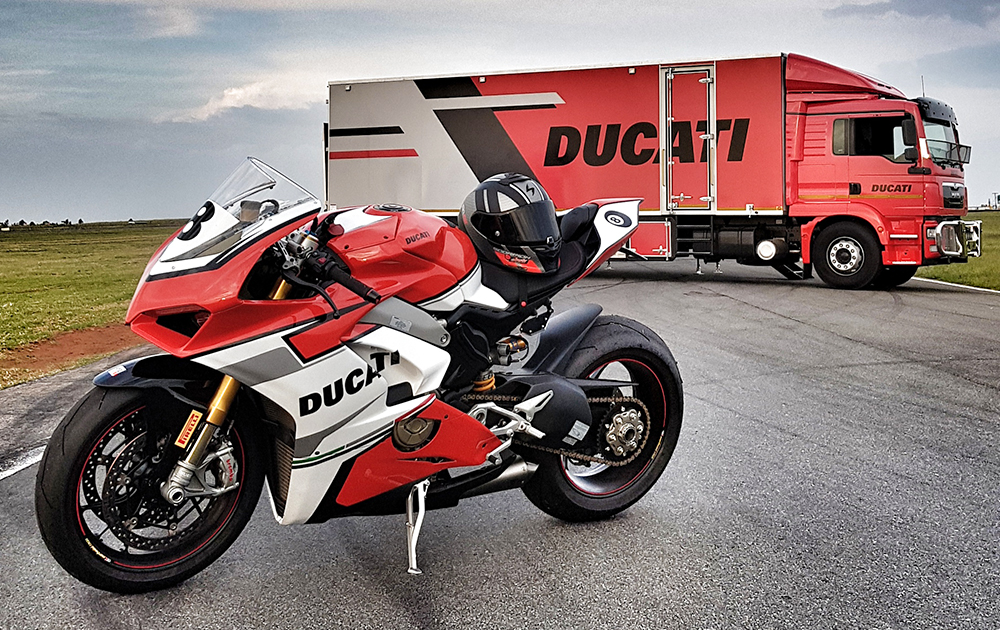 Shortly after this fun-filled day, the famous Covid-19 lockdown ensued. This leaves many questions about the immediate future and the plans we are in the habit of making. Only time will tell how much the local economy has been impacted. But one thing is for sure; the motorcycle industry has faced bigger challenges before and survived!! In fact, this could become our finest hour, if we let it! We will certainly respect and appreciate our freedoms more, for one thing. Hopefully, we will also realize that a good life is a balanced life. What better way to celebrate our return to normality than to ride into the morning sun with a motorcycle between the legs and a smile on the face!