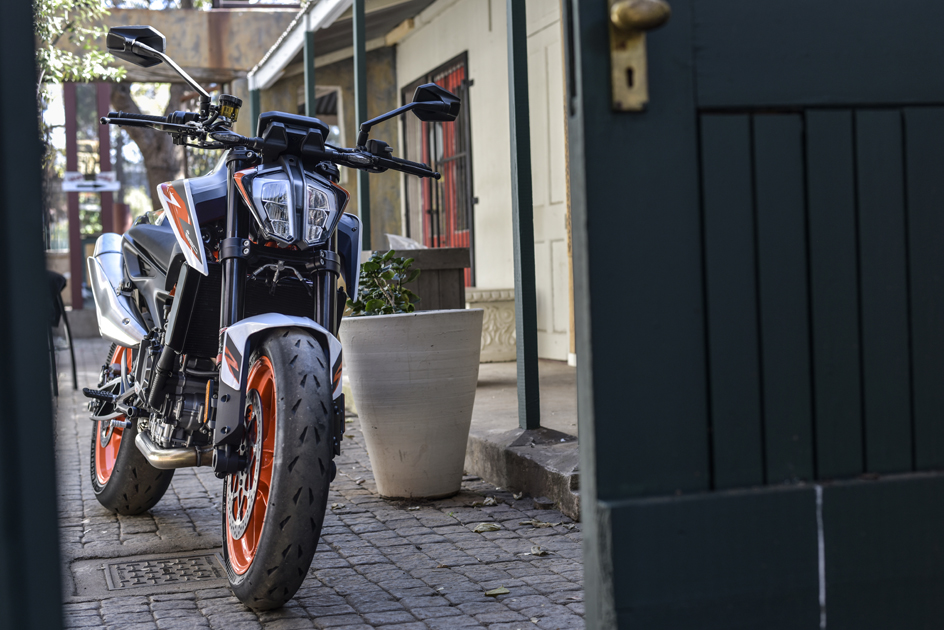 KTM's 790 Duke won instant acclaim when it arrived on the scene a mere two years ago. It was fast, handled well and proved a real blast to ride. Having said that, it was far from flawless. Front suspension was not adjustable and the rear for pre-load and rebound only. Brakes were by J.JUAN (KTM branded) and the general fit and finish was just a tad iffy. The suspension allowed rapid progress down a twisty road but was a wee bit twitchy.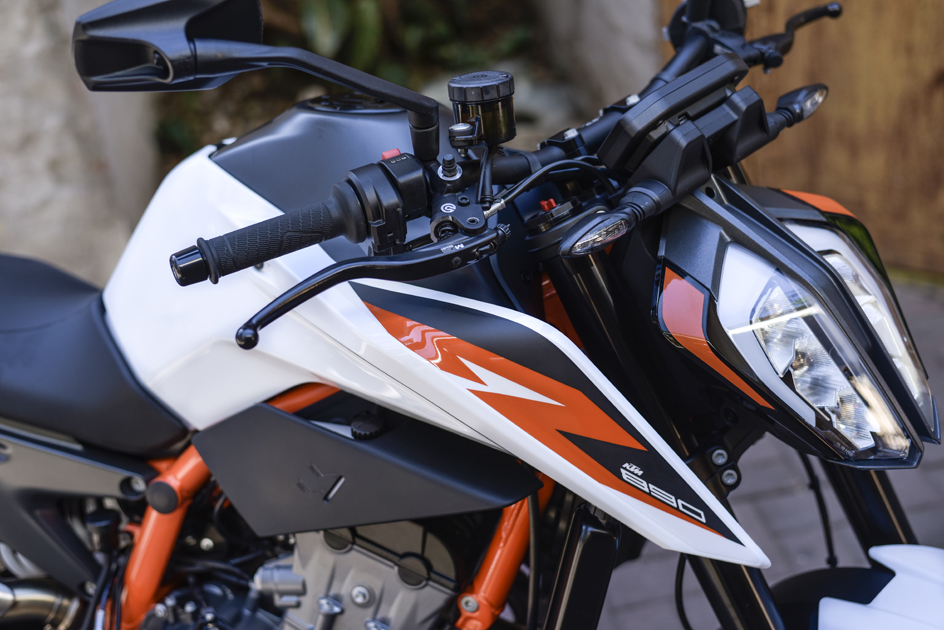 The bike was dubbed "the Scalpel" for its lightweight, agility and cornering precision. I summed up my "Pirelli Bike of the Year" impressions of the 790 by saying, "Ridden in isolation it will certainly thrill prospective owners and its flaws will be easily overlooked by those with a hint of orange in their blood". What KTM has now done is address each of the criticisms of the 790 in spectacular fashion and honed the Scalpel to a fine edge.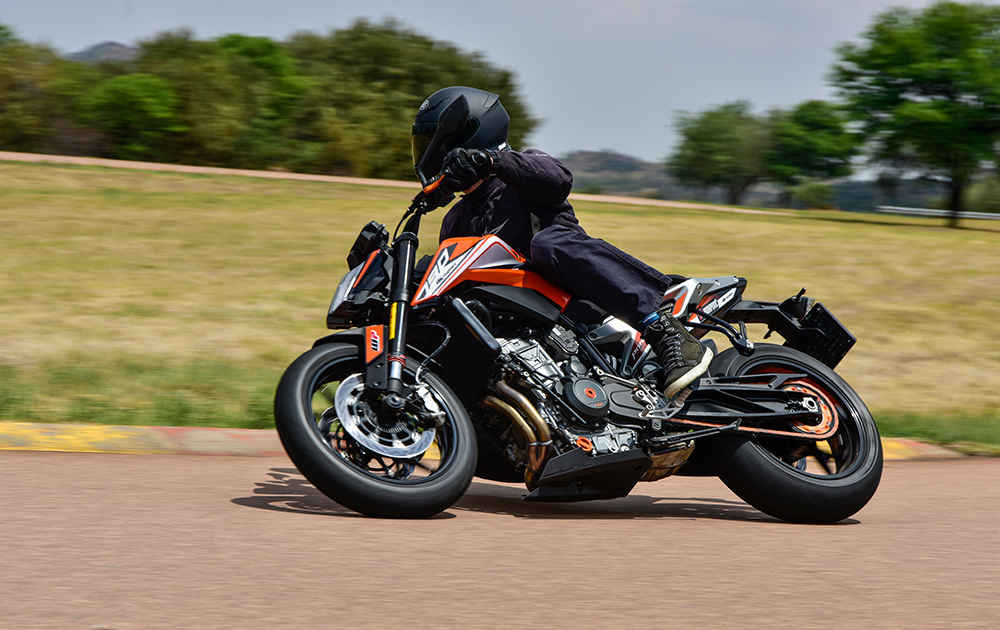 Enter the 890 Duke R. The engine has swollen to 889cc's, with an over-square bore and stroke of 90.7mm x 68.8mm. This hints at an easy revving nature and so it is. The 890 has bigger valves riding in a new cylinder head. It has gained a balance shaft, the pistons have gone on a diet, despite their larger size (each piston is 10 grams lighter) and KTM have cut the overall weight by 3.5 kg's, from a bike that was already by no means porky.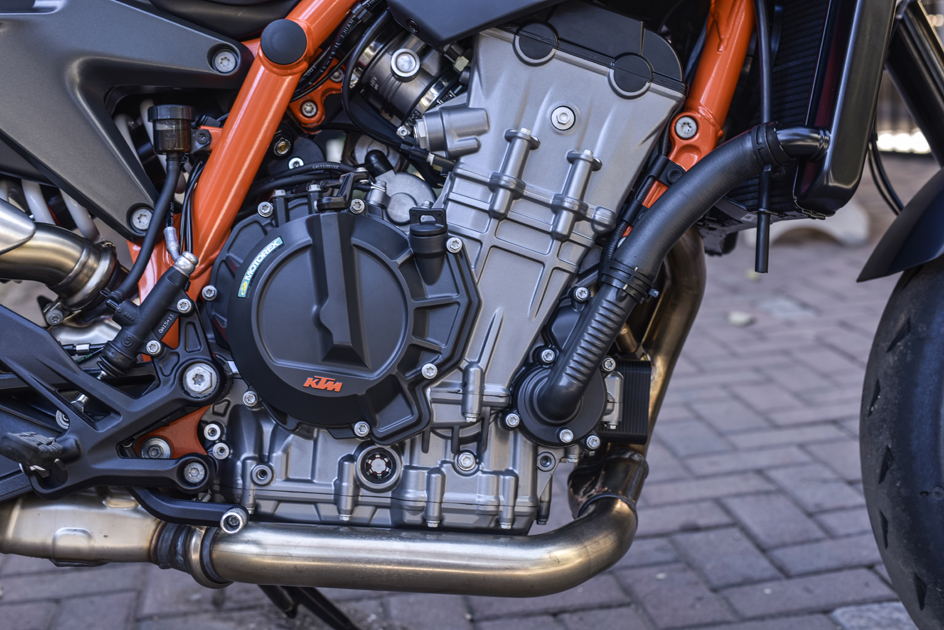 A "heat exchanger" is fitted to help the Duke R keep its cool. Back in the day we just called them "oil coolers", but what the heck, "a rose by any other name will smell as sweet", as the Bard so famously said. All of this is good for a fit 119 ponies @ 9250 aided and abetted by an impressive 99 Nm of torque @7750. Feed that all through a six-speed, typically slick KTM gearbox and you get astounding performance. Here is the rest of the good news.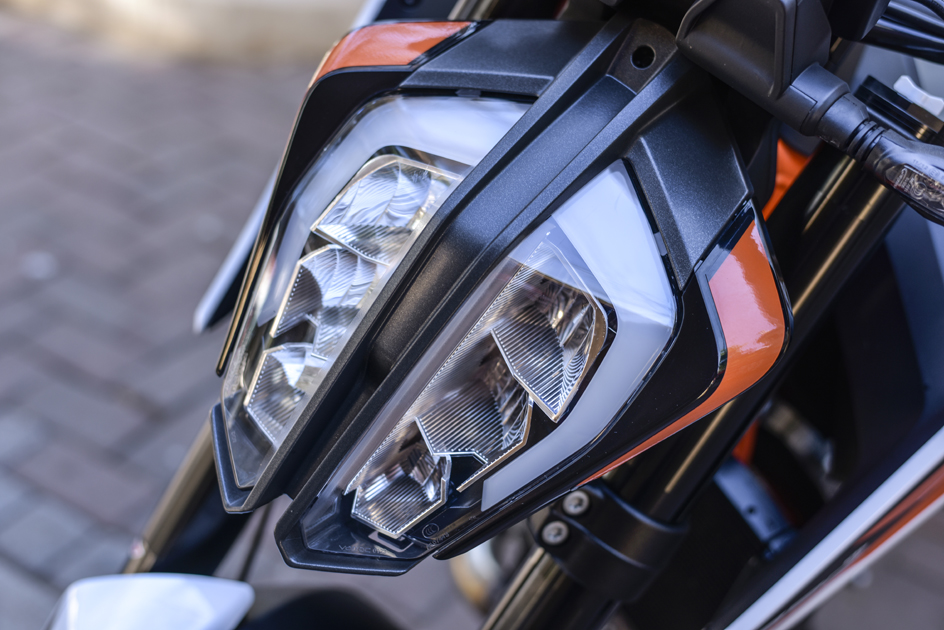 Gone are the budget suspension, brake and other bits. The 890 gets WP's brilliant, fully adjustable Apex suspension. 43mm forks allow for 140mm of travel with 150mm from the rear shock. The ride quality is firm yet supple and inspires confidence like you simply never felt from the 790. The "Super Scalpel" is just that. Pitch it onto its ear on corner entry and it holds a line tighter than a Metro cop onto a bribe. You just look through the bend and feed in the abundant power.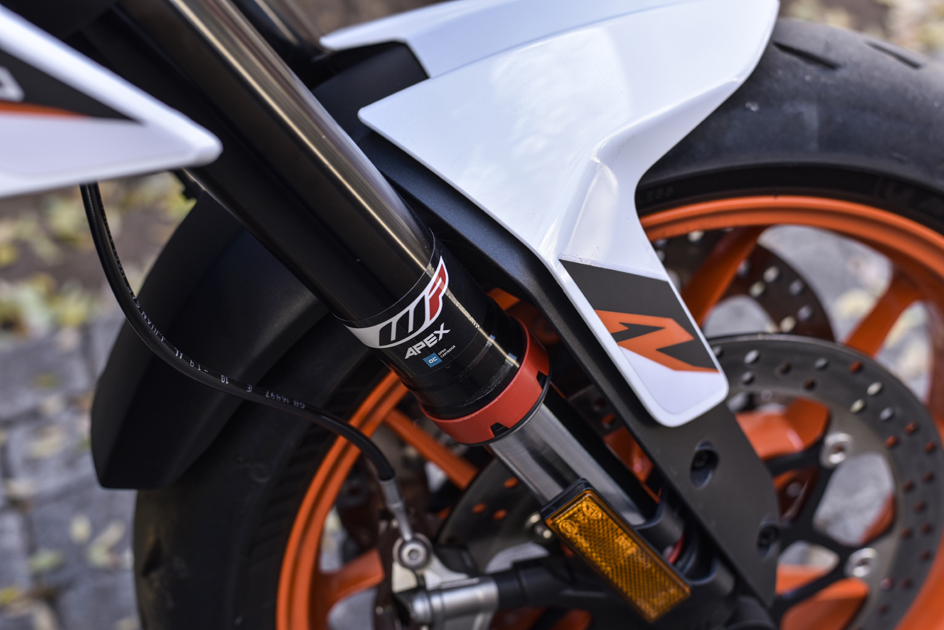 Bosch cornering ABS is there for just in case and chats to the Brembo Stylema Monobloc calipers to perform a flawless braking act. The MCS master cylinder has an adjustable lever ratio allowing you to set the brake feel to your own taste. Our test bike had a brake chatter issue that marred its performance but this is not the norm and typically the 890's braking ability is one of its strong points.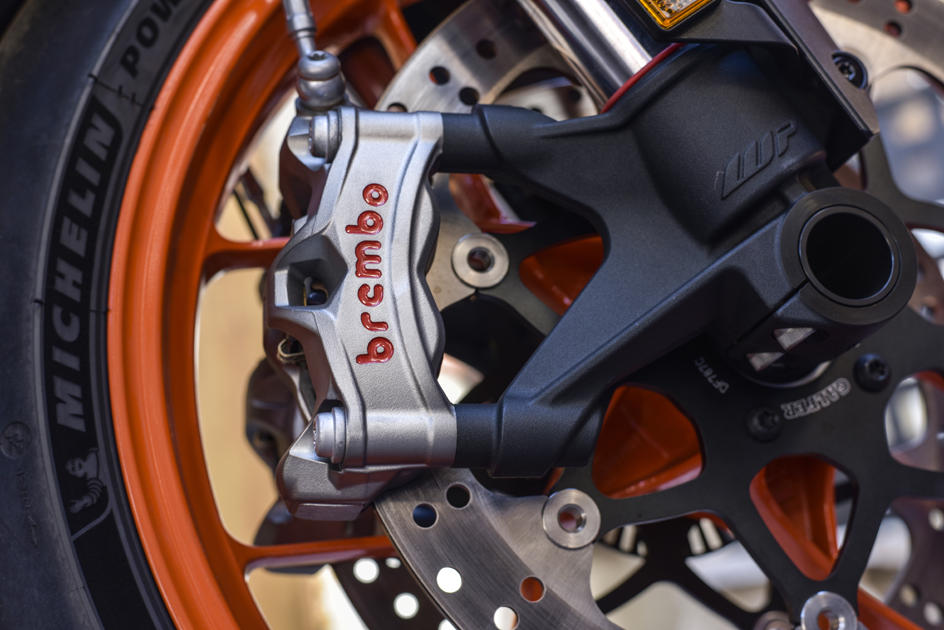 KTM's "Ready to Race" philosophy is taken to the next level with this R. The bike has no provision whatsoever for a passenger. No back seat and no place on the frame for passenger pegs. This is a machine designed to serve unashamedly at the Altar of Speed.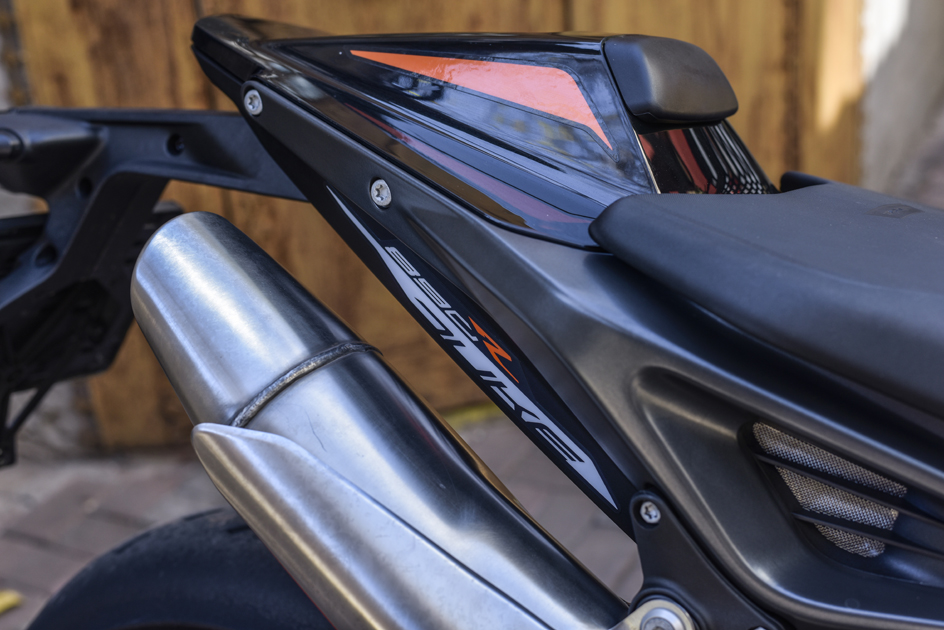 The wide, flat and hard seat does not encourage any thoughts of touring, but allows easy movement around the bike as you ply your speedfest trade. The electronics package is also there to assist in this quest. Engine modes can be selected for Rain, Track, Sport or Street. Track, allows you to access 9 levels of traction control, a Motard brake function allowing you to back it into corners (yeah right, Brad Binder!) and wheelie control. Almost semi-slick Michelin Powercup 2 hyper sport tyres mounted on a 180/55×17 rear and 120/70×17 front rim provide good grip for your shenanigans.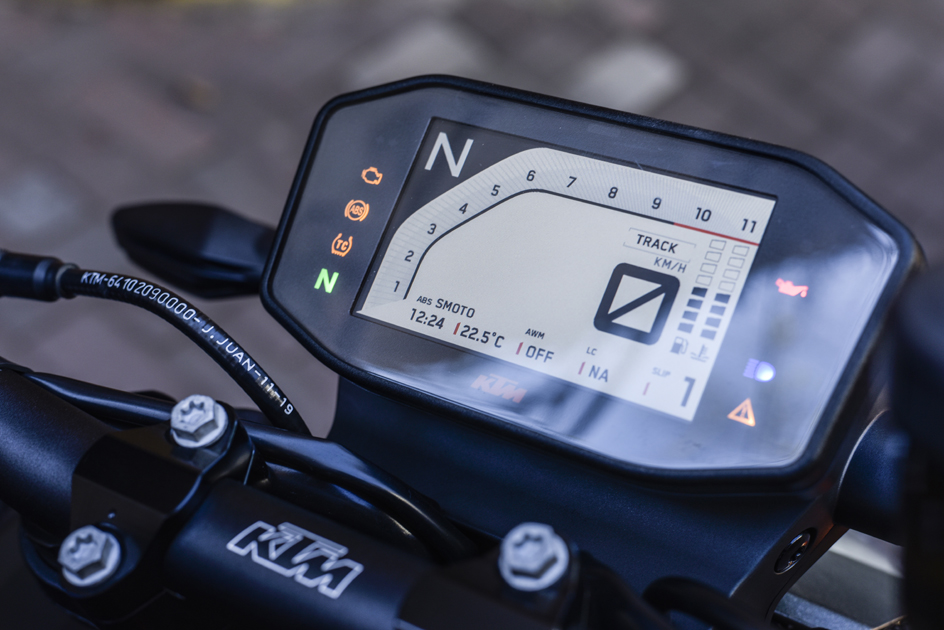 The 890 R is a truly thrilling ride. Fire it up and it settles into a busy idle with a fair bit of mechanical threshing noise coming from the motor. I would want to delve into the comprehensive Power Parts catalogue for a slip-on pipe to drown out what is not really an endearing engine tone. No worries, just drop it into gear and hook it through the (optional) Quickshifter and all is forgiven.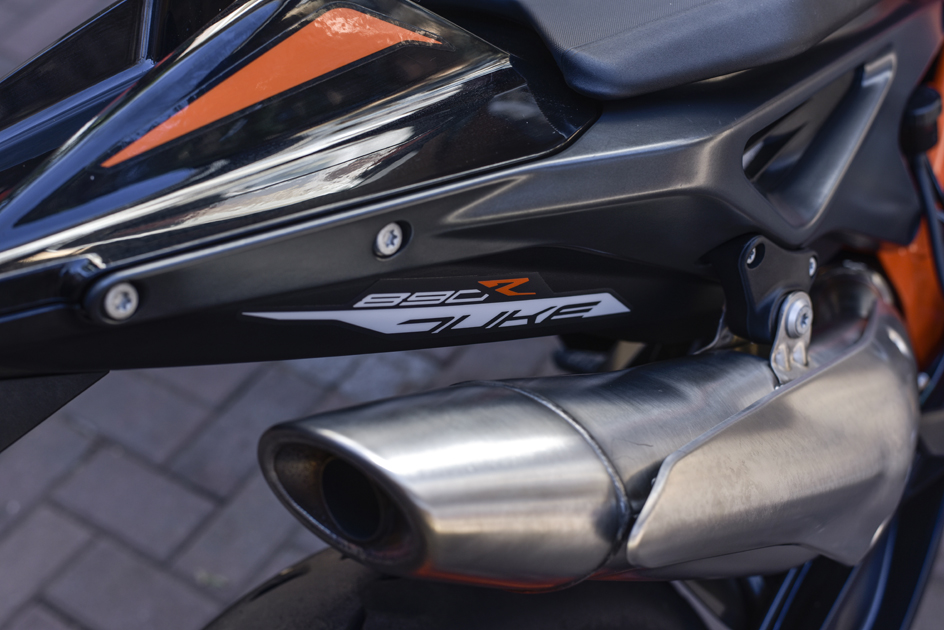 This bike is seriously fast. Not 1290 Duke fast, obviously, but I promise you, most riders will go quicker down a twisty road on the 890 thanks to its exquisite balance of talents. Less point and shoot and more corner carvery. The wide, flat bars give you plenty of leverage and gone is the 790's skittishness. The 890 wheelies, cuts and thrusts in amazing fashion, a continuous willing accomplice in your quest for more speed.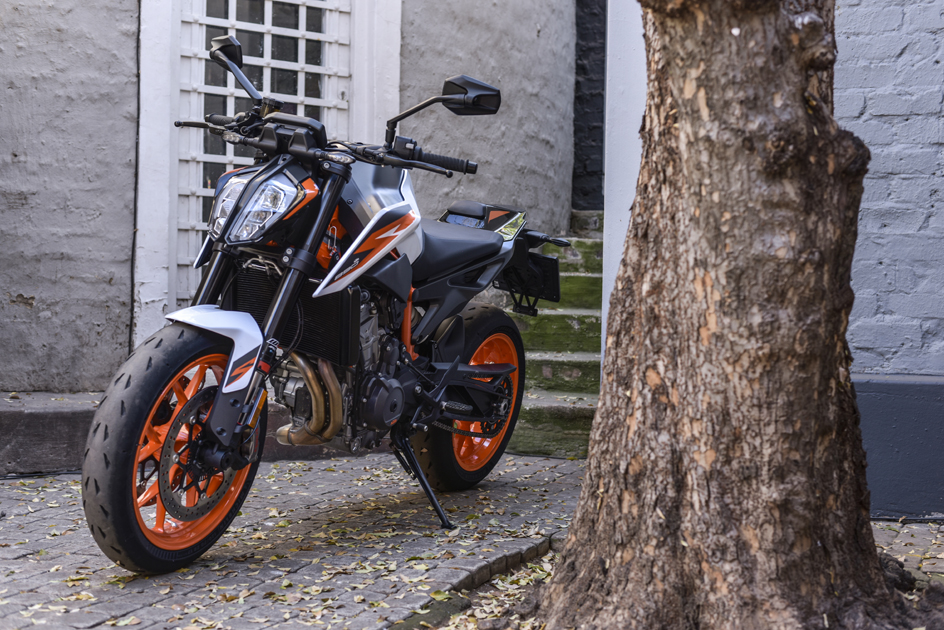 The 1482mm wheelbase and 24-degree head angle allows almost intuitive direction changes, yet you never feel like the fitted steering damper is working furiously to keep the shiny side up. This is a motorcycle for experienced discerning riders who know what they are about and want a strong motor in a really capable chassis. Let me add that the balance shaft keeps the power smooth right through the rev range.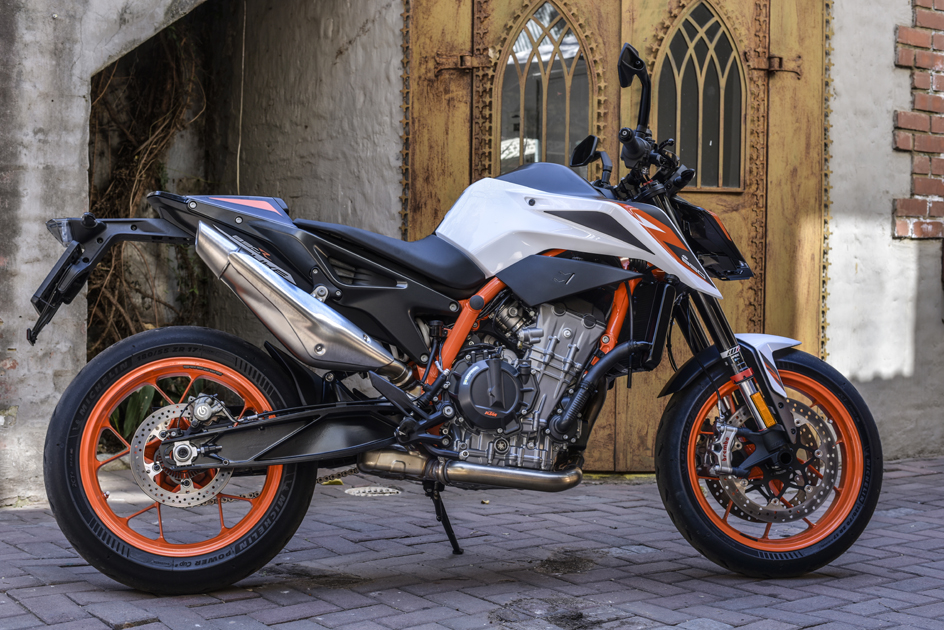 The bike is styled in line with KTM's current sleek yet angular "transformer" look. The chrome-moly frame and cast wheels are orange in keeping with the other R models from KTM. Visually stunning when clean, but a mission to keep that way. A 14-litre tank allows decent range because this motor, as with the 790, sips fuel most frugally. It is really difficult to get over 5l/100, no matter how much you throttle it.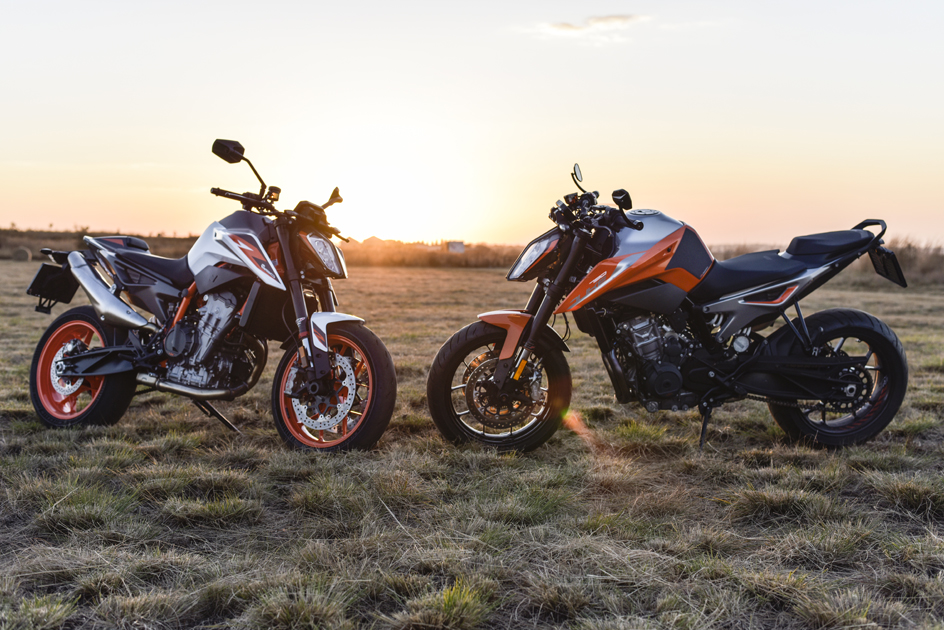 The 890 KTM Duke R is the middleweight performance, class leader. In the right hands it will punch way above its weight and hand out an ass-whupping to many a Sportbike, yet it is a somewhat acquired taste. There is a rabid edge to the motor that is both appealing yet may prove a little tiring to live with day-to-day.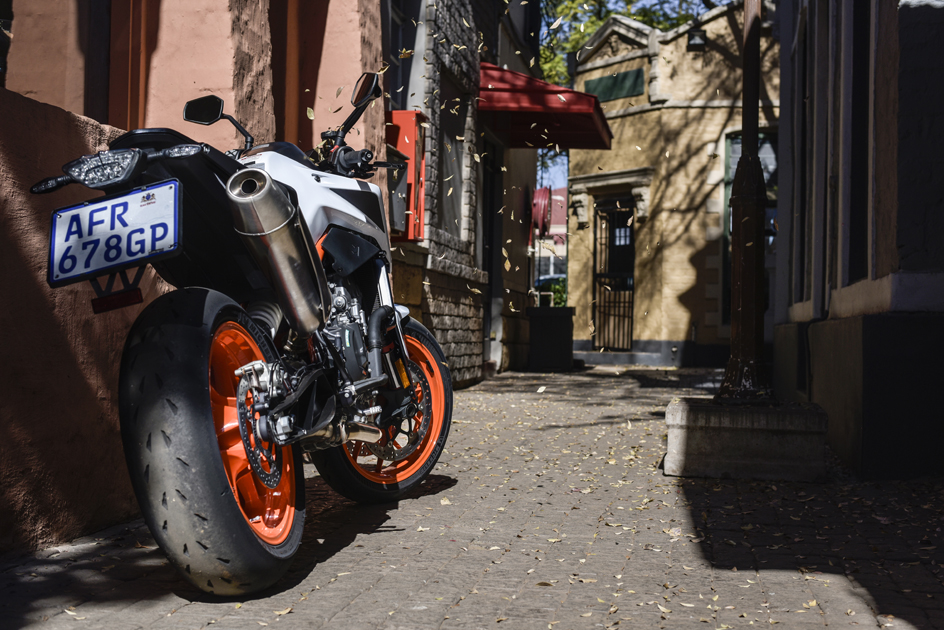 But for the true enthusiast, the guy who orders his curry extra hot, then adds a handful of jalapenos. That guy who has a specific budget for replacing the knee-sliders on his leathers……… This is just the bike!
KTM 890 DUKE R
For more information on the bike that we tested in this article, click on the link below…