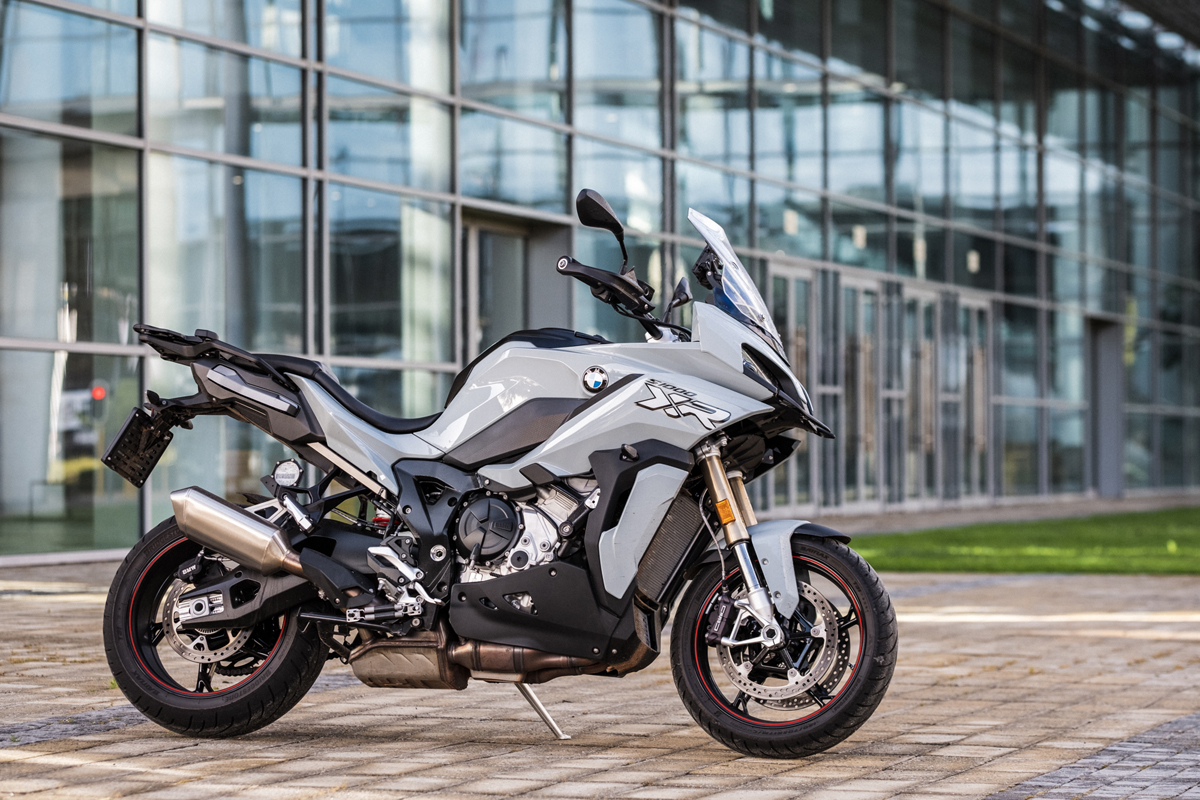 South Africa is a country where the best scenery is usually at the end of a gravel road, and the Toyota Hilux tops the sales charts. So it's little wonder that the GS range is BMW Motorrad South Africa's biggest seller. That's great for the GS, but there is a downside: it means that bikes like the BMW S 1000 XR struggle to get noticed.
It's a crying shame, because BMW's superbike-derived 'tall rounder' is one hella good bike. First released in 2015, and updated for 2020, the S 1000 XR mixes near-superbike levels of performance with ergonomics that ride the line between touring and adventure riding. The first iteration of the XR was no slouch, but this year's version is even better, thanks to a complete overhaul.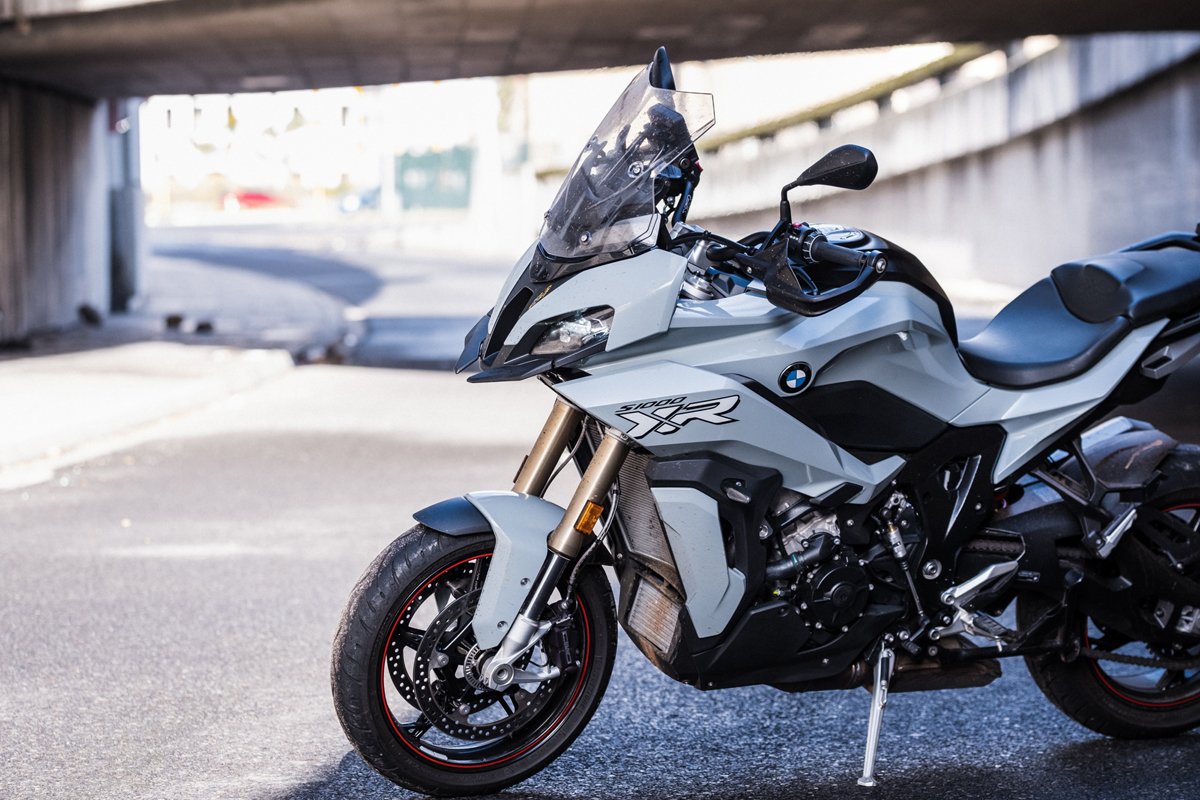 For starters, the new XR is 10 kilos lighter than before, clocking in at 226 kg dry. And the chassis has been tweaked two—the swingarm is lighter and uses a revised linkage system, and the motor has more of a load-bearing role than before.
Speaking of the motor, just like before it's been derived from the S 1000 RR—but down-tuned. The inline-four now makes 165 hp at 11,000 rpm, and 114 Nm at 9,250 rpm. BMW have given it longer fourth, fifth and sixth gears than before, for better feel on the open road. And the XR now has engine drag torque control, which mitigates rear wheel slip under heavy throttle and/or downshifts.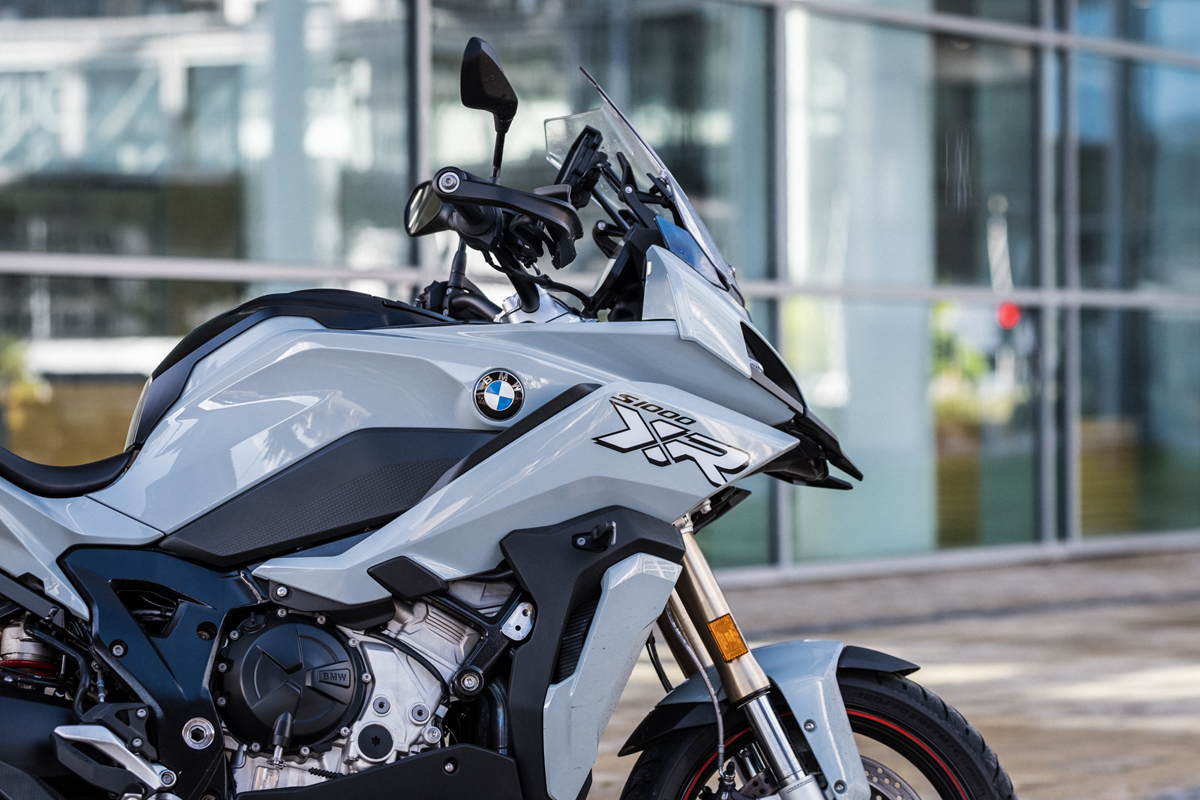 The S 1000 XR is jam-packed with tech, and includes a TFT display, a full complement of riding modes, cornering ABS, traction control and wheelie control. The 'Dynamic Pro' riding mode is customisable too, if you want to turn some of those hindrances off. My test unit came fitted with a few factory extras too: a keyless ignition, quick-shifter, and the 'Pro' version of BMW's electronic suspension adjustment system, which automatically tweaks its damping according to road conditions.
BMW's TFT display is one of the best on the market (with the caveat that a small task like resetting the trip metre is more effort than it should be). On the S 1000 XR, it includes an optional 'sport' display, that puts the tach front and centre, and shows you fun stuff like your lean angle, and traction control and braking levels.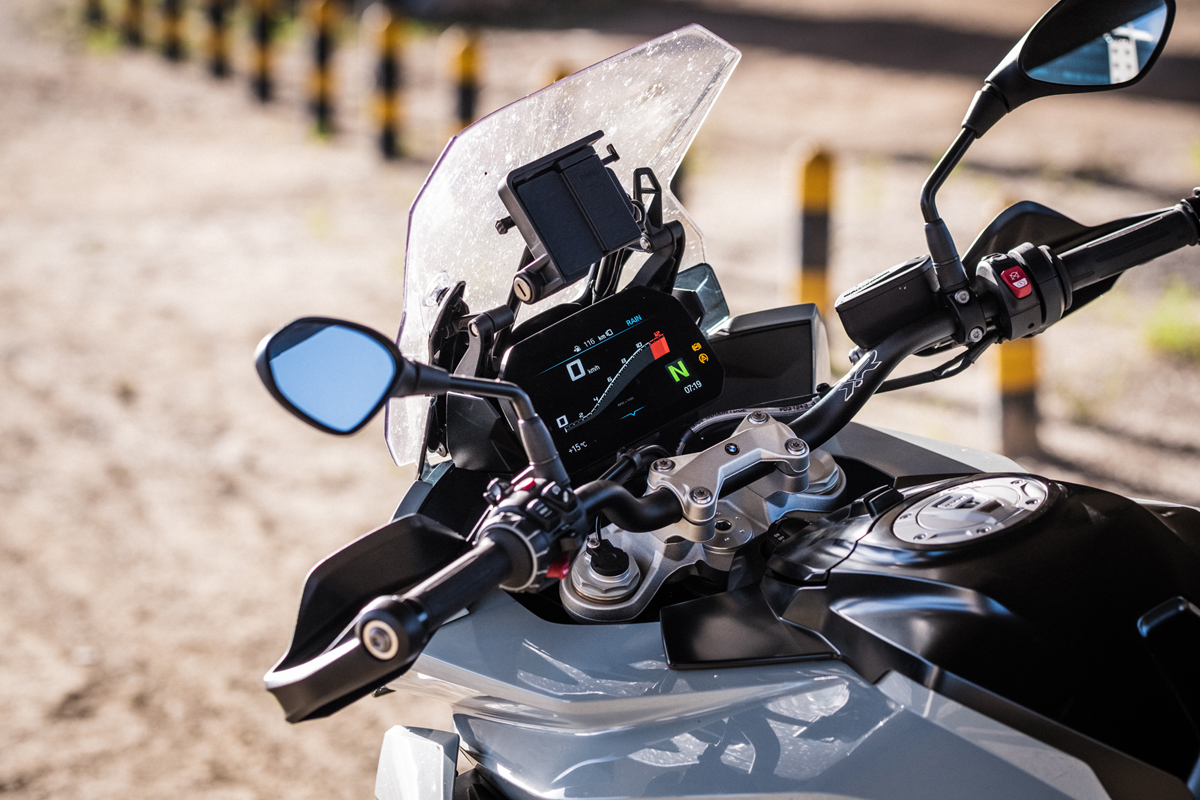 Connectivity with the BMW Connected App is included, and linking up your smartphone with Bluetooth is a cinch. Once connected, you can track your rides (along with an impressive amount of telemetry), and integrate with features like the display's turn-by-turn navigation. It sounds gimmicky on paper, but it's damn useful in the real world.
The S 1000 XR's a looker too—even if it does look like a robotic praying mantis that's been juicing. The aesthetic is slightly more refined than before, with narrower LED-equipped headlights, and an exhaust can be borrowed from the RR. Sure, those hand guards are probably just for show—but at least they'll keep some weather off your hands. My test unit was wrapped in a stunning Ice Grey, which is honestly a colour that BMW should offer all their bikes in.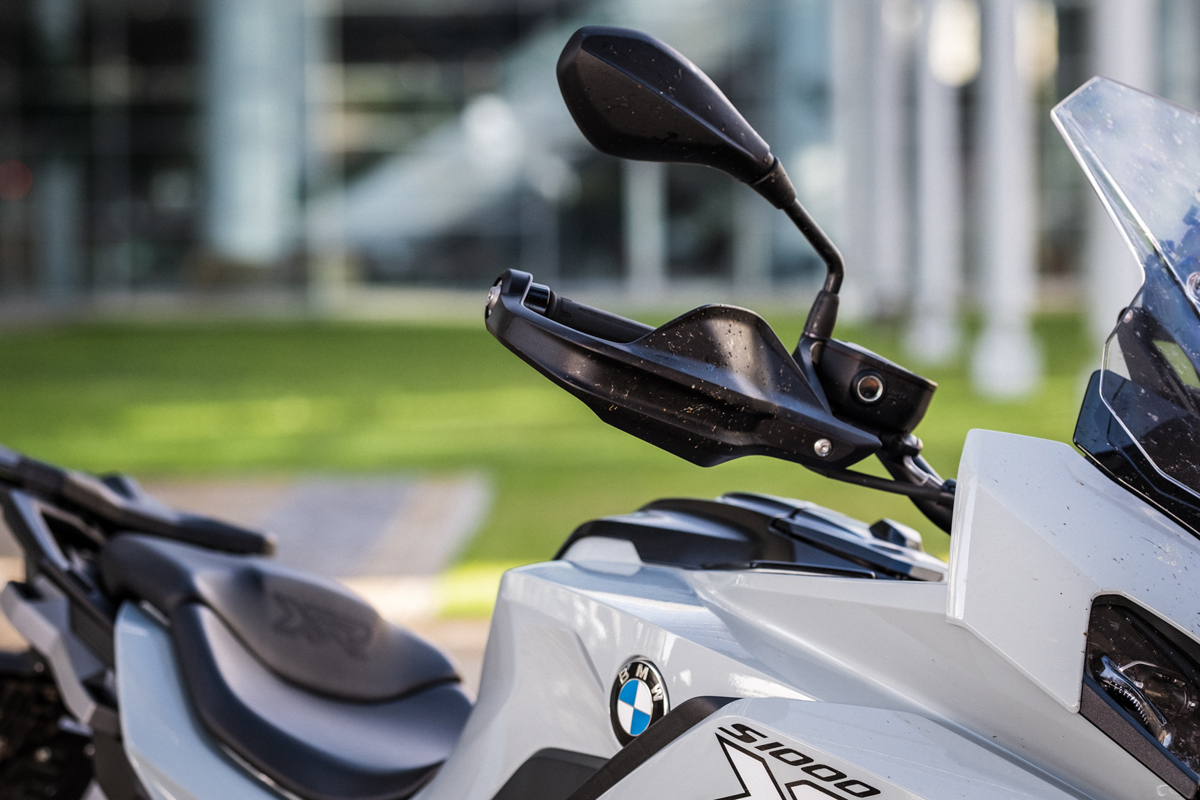 So what's it like to ride? In a word: bliss.
For starters, BMW nailed the ergonomics on the XR. It might be hard for hardcore adventure riders to get around the idea of a bike that looks dual-sporty, but also has a small front wheel and can't actually go off-road. But the fact is, not everyone that wants a fast, revvy bike wants the cramped, track-focused riding position that comes with it.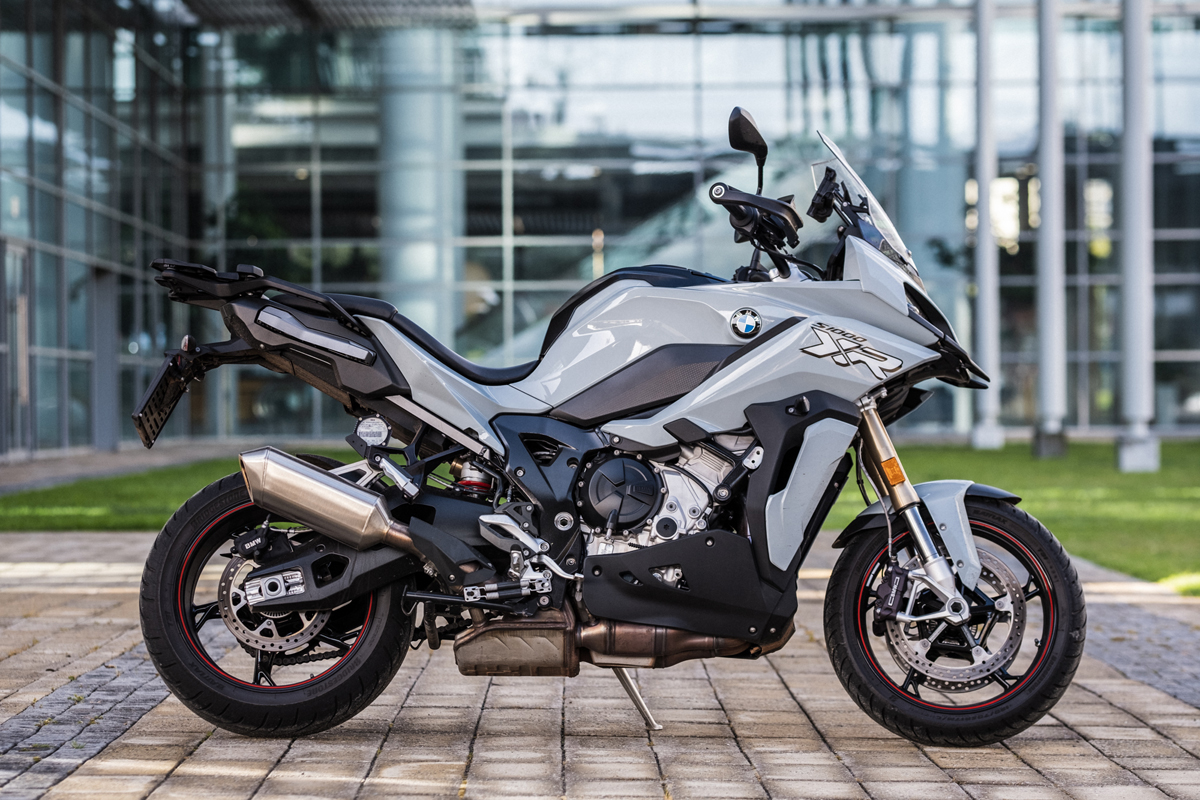 The XR's high and wide handlebars, scooped seat and relaxed foot peg placement offer the perfect balance between control, and all-day comfort. The screen works well enough, even if my 1,86 m tall frame wished for just one more inch on long hauls. And it's adjustable between two positions, via a lever that's easy enough to operate with one hand, on the move.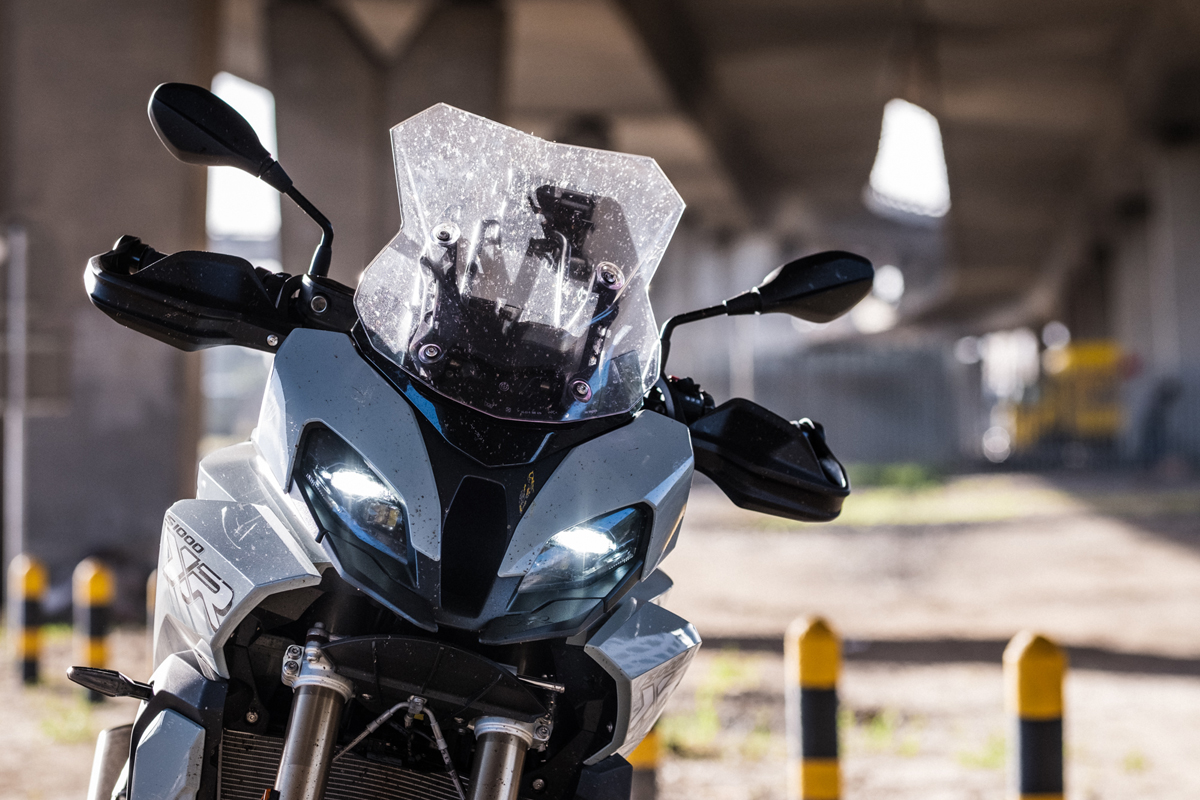 A trip to BMW Motorrad's native Bavaria would help explain the S 1000 XR's intended purpose. Leave Munich, and you could spend days criss-crossing the country, constantly alternating between serpentine alpine roads and stints on the eye-watering Autobahn. Truly, every time I put the S 1000 XR onto something twisty, or long open stretches, it excelled.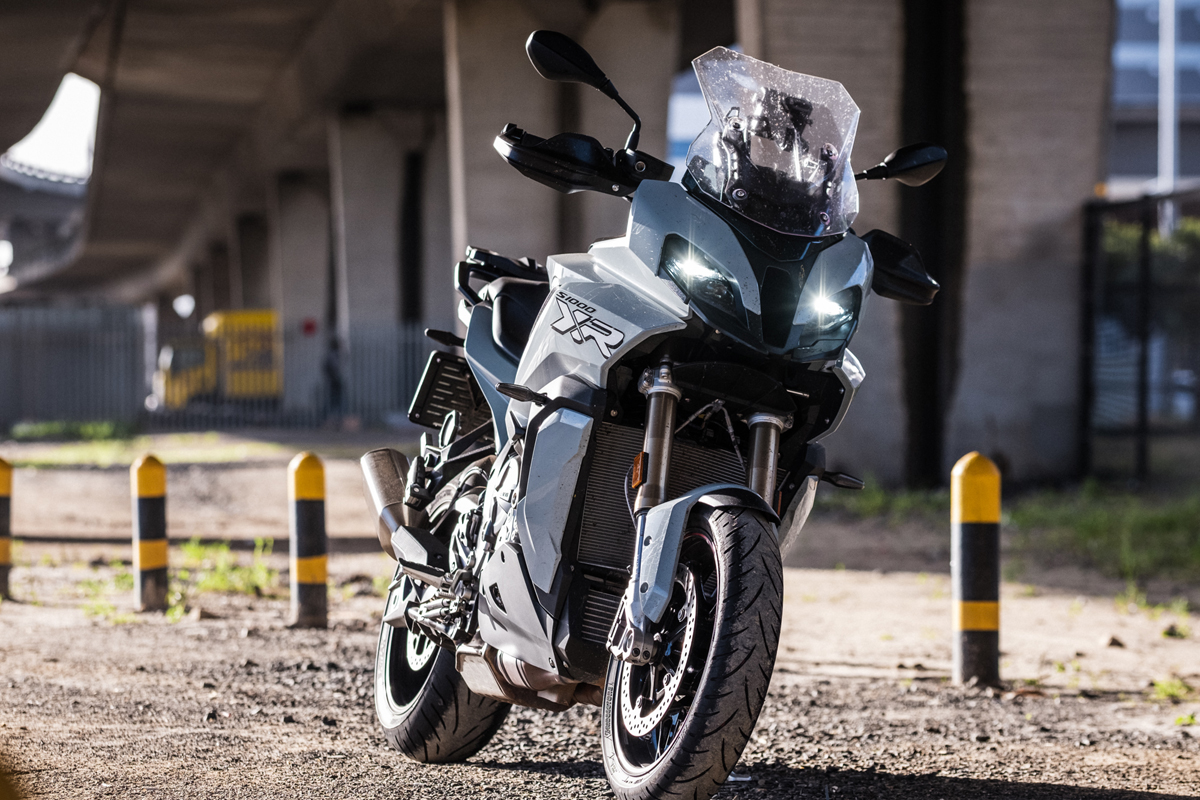 The XR's rider triangle creates massive amounts of leverage, so it falls into turns quicker than you'd expect for a bike this size—and it'll hold its line while its there. But it is still a big and tall bike, so a little body English is required for quick direction changes. I wouldn't call it spritely—but I would call it energetic, and willing.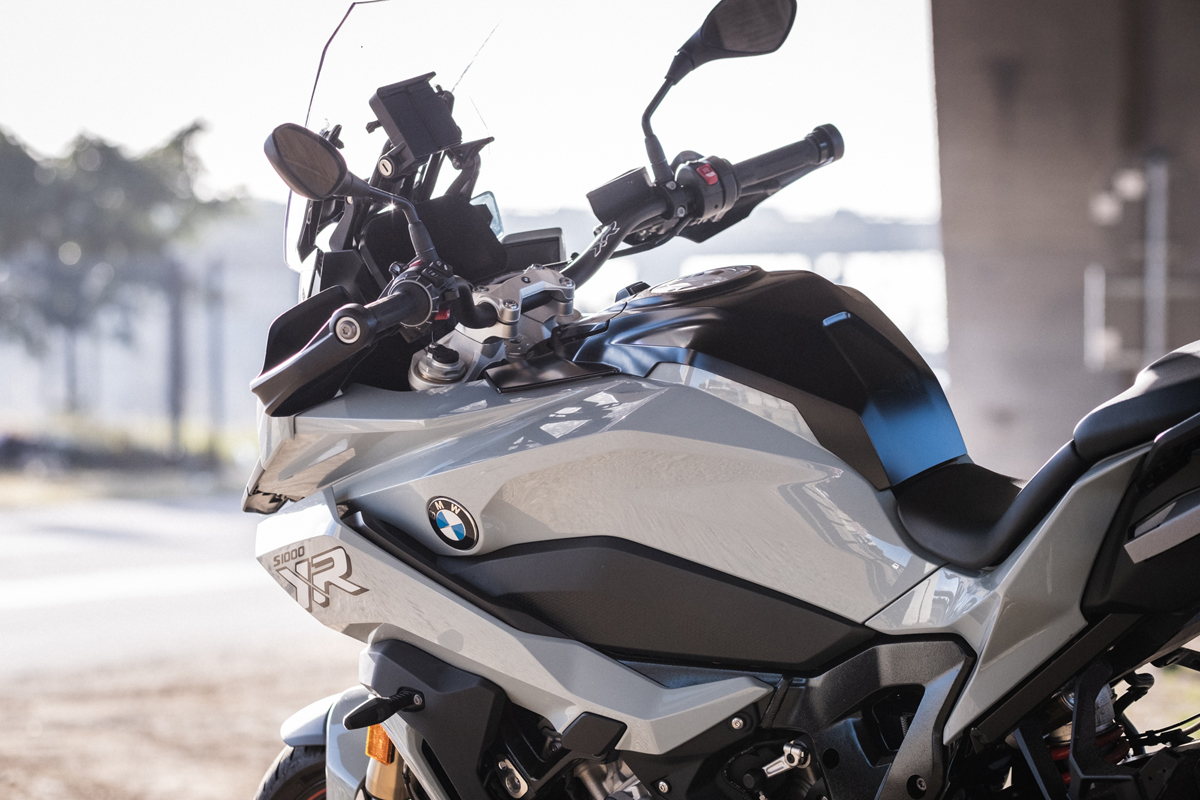 Open road speeds are easy to maintain without feeling like you're straining the motor, and I found the seat comfortable enough to go all day on. On one of my days with the XR, I actually finished my usual loop—and then decided to tack on a different loop on the fly. Had I not run out of daylight eventually, I probably would have kept going.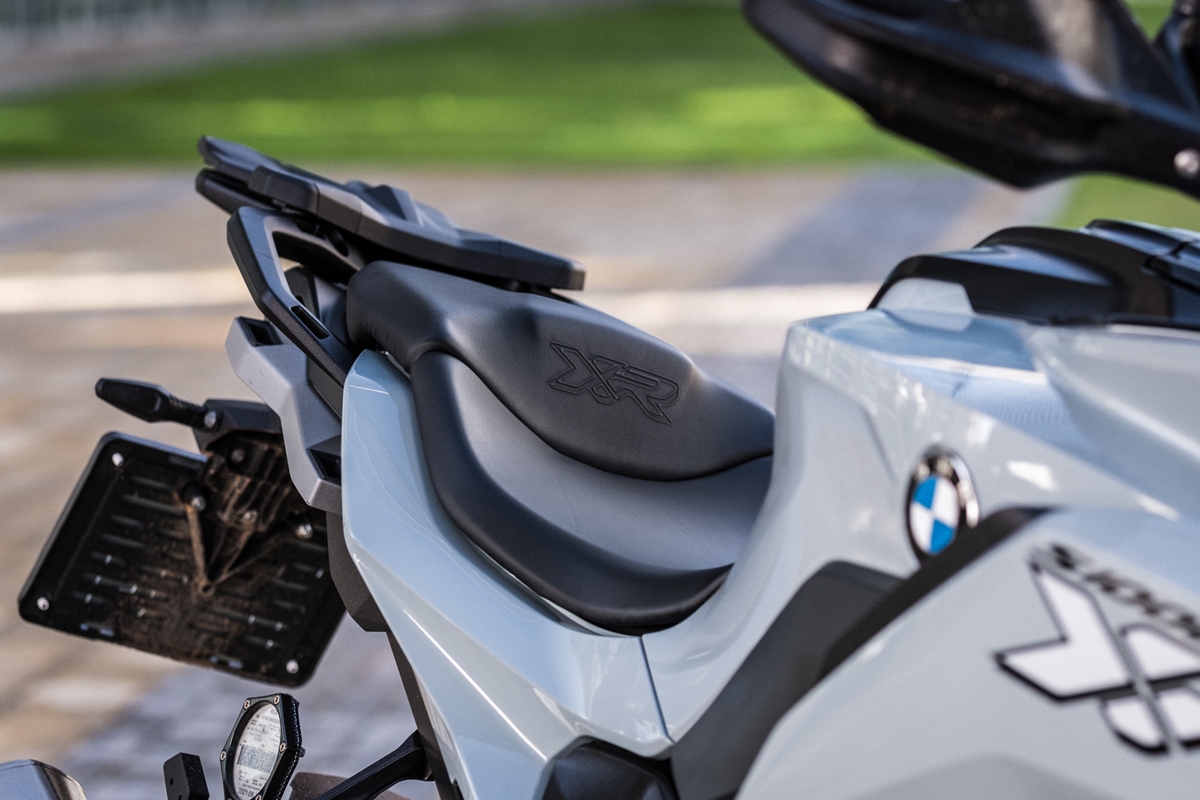 All-day comfort's helped by amenities like cruise control, and heated grips and seats. Plus, judging by the generous grab handles and rear luggage rack, the XR is more than ready enough to accept luggage. There's a small cubby just in front of the fuel cap too, but it's tiny—big enough for a set of keys, or a card wallet.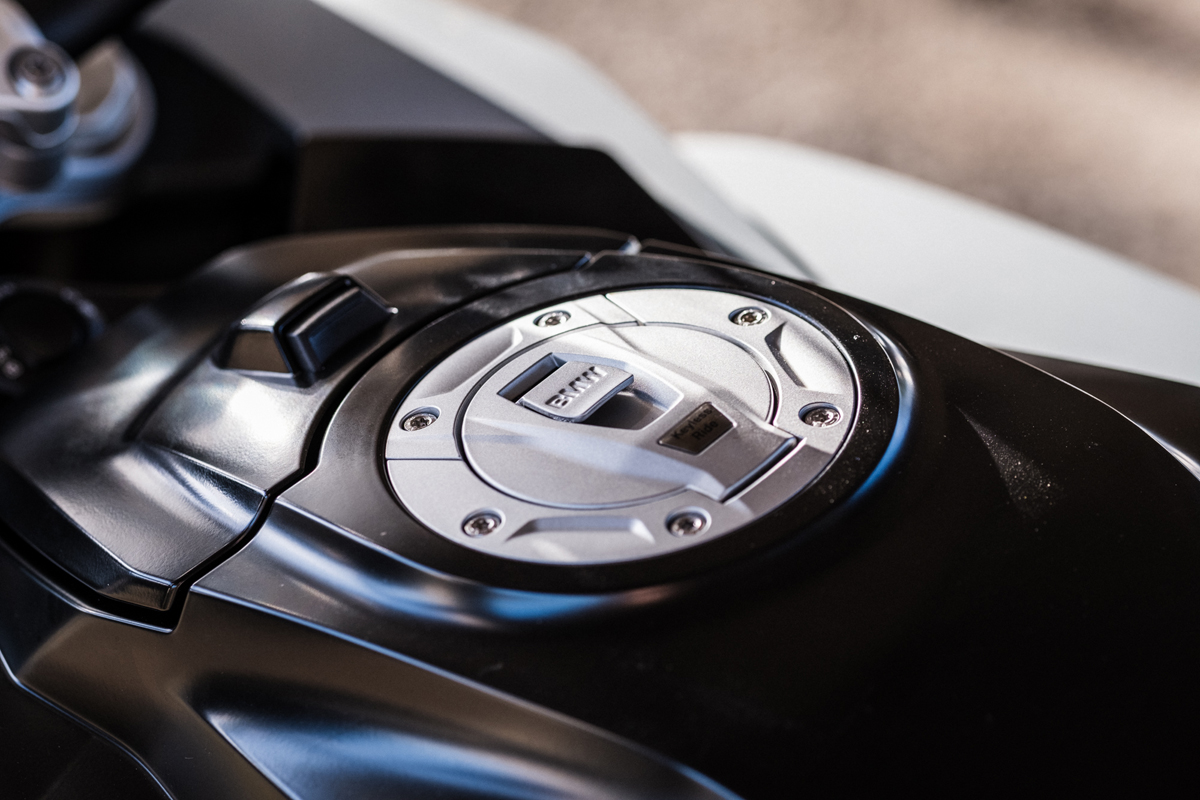 As for the motor, it might make less power than the RR—but you don't need it. The XR needs a minute to warm up in the morning, but once it has, power rolls on in a smooth and progressive way. The quick-shifter blips through the 'box without argument, and the throttle's predictable feel is as useful in a straight line as it is negotiating corner sequences.
Expert riders will appreciate the ability to fine-tune everything from traction control to anti-rear wheel lift settings. And they'll appreciate the brakes too; there's more than enough stopping power there, and the XR doesn't lose composure under heavy braking.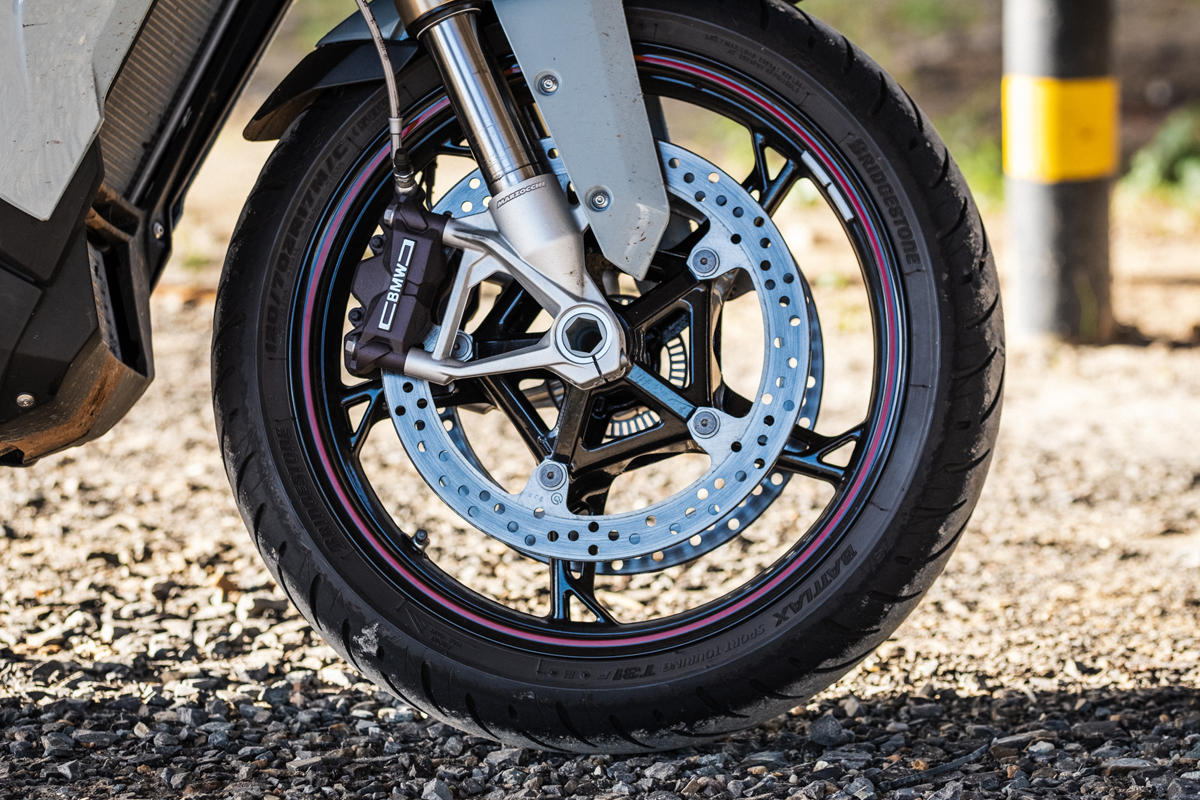 What's lacking on the S 1000 XR is some sort of user-based suspension adjustment. With so much performance in hand, and the ability to fine-tune so many other settings, the ability to fiddle with the suspension's individual settings, whether electronically or manually, is missed. That said, I can't really fault the current system's performance—the XR feels planted and responsive most of the time—I just want more control.
Depending on how it's been specced from the factory, the XR starts at R 274,900. That's not pocket change, but you're getting a whole lot of motorcycle for your money. Between the revvy motor and the sharp chassis, the XR is so good out the box that it's sometimes too slick.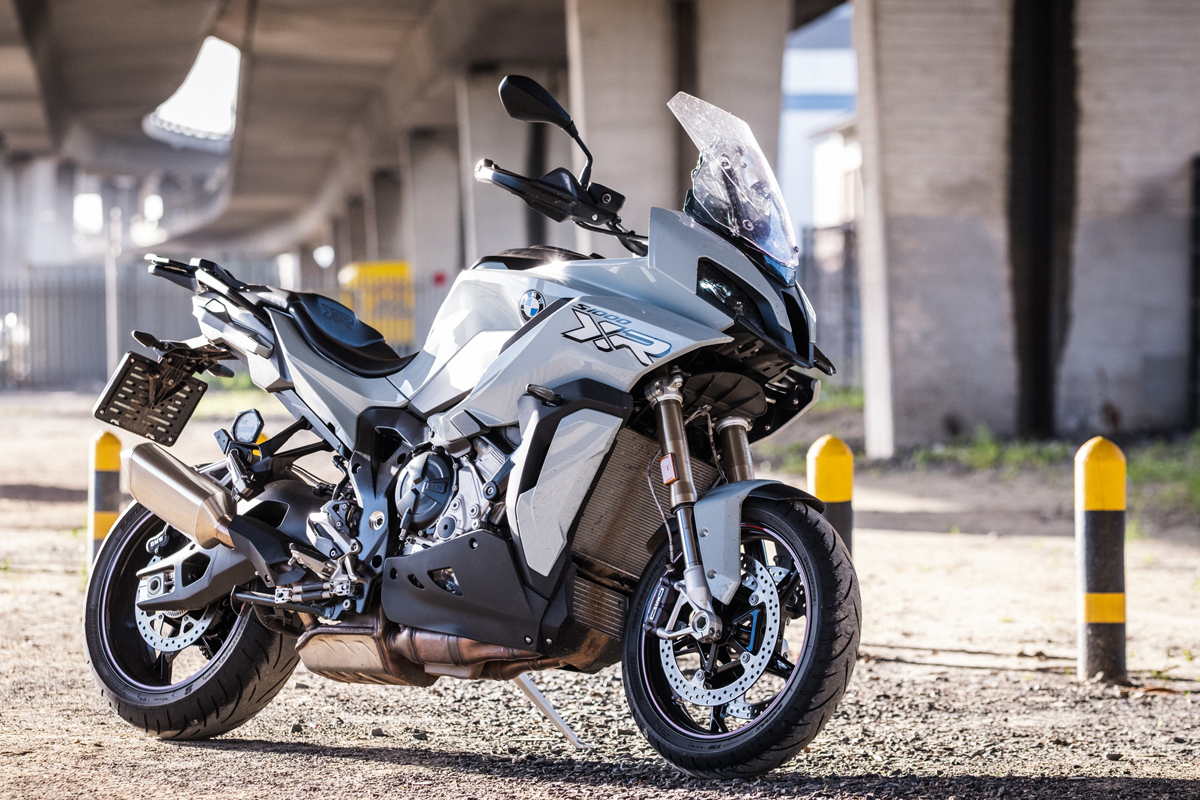 But the XR's hardest job isn't justifying its price—it's standing out in a sea of adventure bikes. I'd pitch it at riders that love performance, but are tired of going full pretzel to ride superbikes. Or anyone who wants a bike that can hustle through turns, but still has long legs. Heck, it even works well as a straight-up road tourer, too.
It might not be able to go off-road, but the BMW S 1000 XR does everything else so damn well, that it's hard to ignore.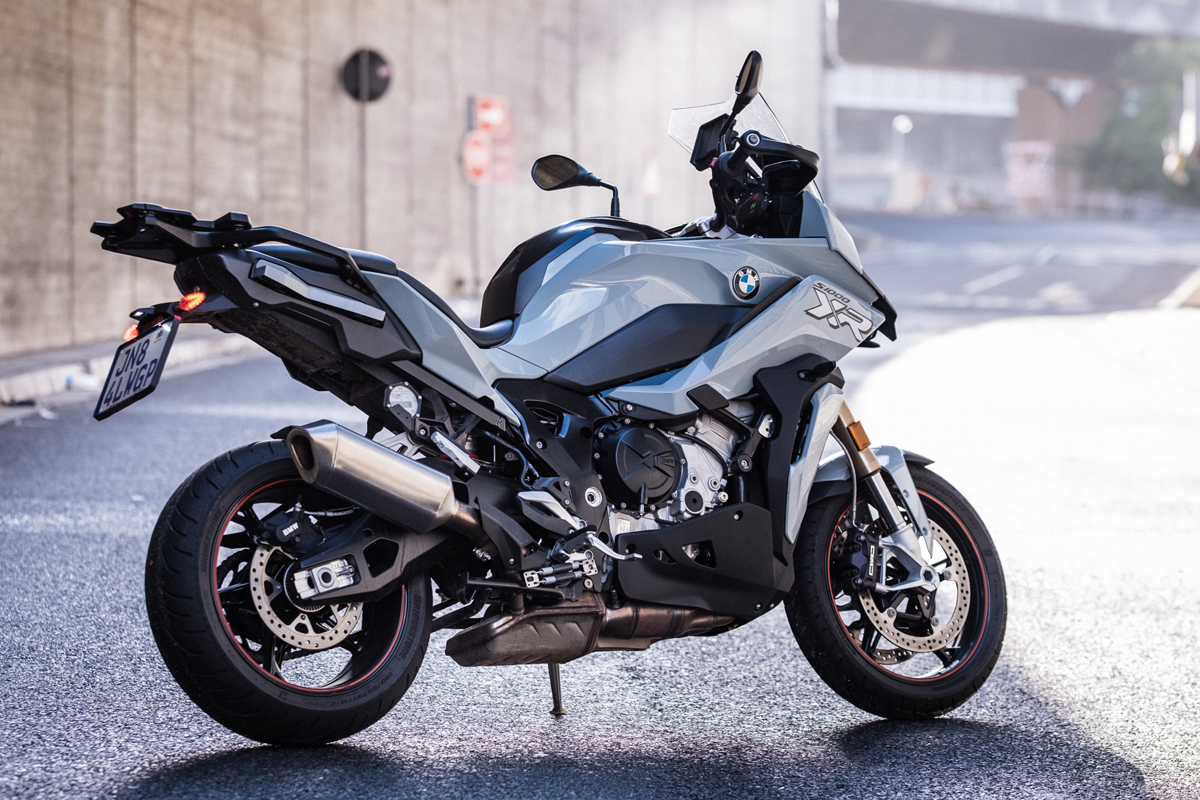 BMW Motorrad S 1000 XR
For more information on the bike that we tested in this article, click on the link below…