For the past 6 years, South African motorcyclists have been making the annual pilgrimage from Johannesburg to the small town of Sabie for the Sabie Bubble Run, South Africa's only traditional motorcycle run.
The motorcycle run started in 2014 when 3 friends set out from Johannesburg on their motorcycles for a weekend of riding and exploring around in the area.
"I was new to the country and was amazed at what this part of South Africa had to offer. The roads seemed as if they were designed with a motorcycle in mind, there were lots of forest and rolling hills, and I soon realized on this trip that I wanted to come back again to share this place with others," said Joe Fleming co-owner of Bonafide Moto Co.
On the first night of the adventure, Joe stayed up late inside of his tent with a notepad and pen making notes of what he saw possible for making an annual event out of this. He had recently moved from San Diego, California where he had been on a traditional motorcycle run called the "El Diablo Run" and had always wanted to join the Gypsy Run; two well-known runs in the United States.
"What I liked about these runs was that it was about taking everything with you on your bike, camping, riding and enjoying your time with friends."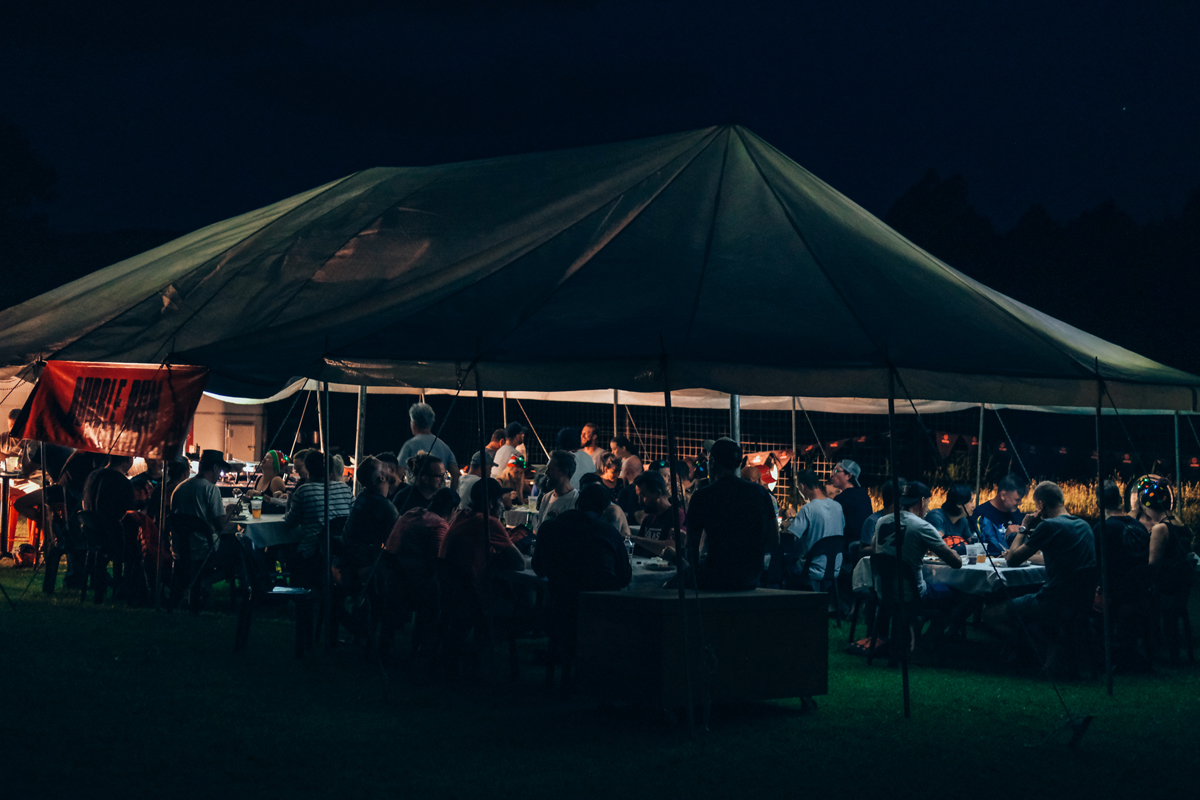 Over the years the Sabie Bubble Run has grown organically by means of Joe's passion for photography and storytelling on social media. "After my first trip, I created a website for the Sabie Bubble Run, an Instagram and Facebook account and really started doing my best to hype it up. In 2015 there were 25 people on the run, we brought on Jimmy Reynolds (a local Director of Photography) to shoot a film and that was also the same trip where I shot my first photo from a motorcycle. I knew something was special and that this would be an annual event to keep around for years."
As the years went by the event grew more and more, adding additional activities to make it better but still keeping the event quite intimate. Last year in 2019 the event saw 35 riders and it was the largest event to date. The event had its first tented village where the first 15 campers to sign up would get a reserved tent already set up for them by Bonafide.
"Motorcycle runs in the Mpumalanga region are a dime a dozen, yet no one quite prides themselves on great food & coffee, campfire stories, moto-games, community and rides in an inclusive, non-patched, non-motorcycle specific environment like Bonafide. When I attended the Bubble Run for the first time, I was made to feel welcome and learnt from those around me – there were little ego, and a lot of info. I used it as an opportunity to become a better rider, and person. Now, the annual Sabie Bubble Run is all about the people who attend it," said Alan Shenton co-owner of Bonafide Moto Co.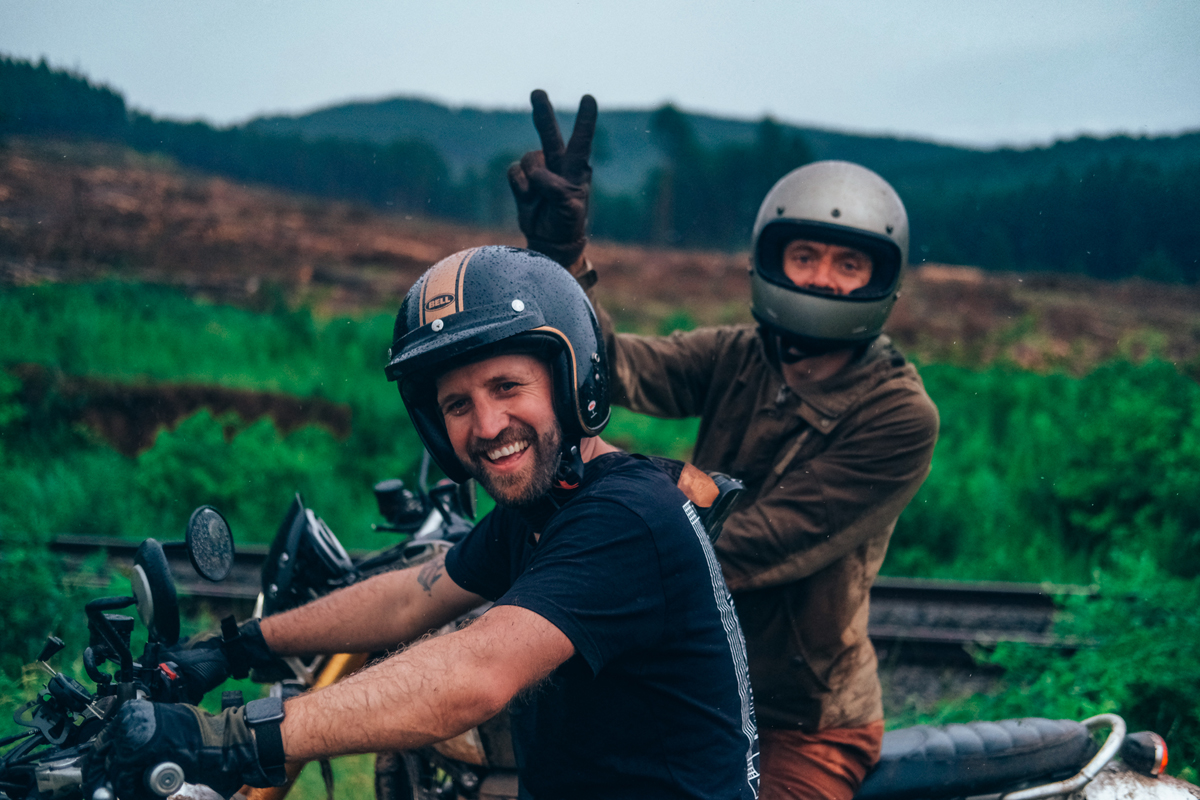 2020 SABIE BUBBLE RUN, AN EVENT LIKE NO OTHER
"I knew going into the second half of 2020 that the chances of us being able to host the Sabie Bubble Run wasn't looking great, but I remained optimistic," said Joe.
South Africa eventually came out of their hard lockdown and the stage was set for Bonafide Moto Co to move forward with the planning of the 7th annual run.
Each year the event grows, surveys are sent out to all riders who joined asking them for their feedback of the event and it's taken seriously to help with growth.
One of the toughest challenges that faced Bonafide Moto Co was the growth of the event. It had always been quite an intimate group of riders, but they felt that all riders who wanted to be a part of an event like this should have the opportunity to join. So, the event was capped at 60 riders in 2020, ticket sales went live on October 1st and the event sold out in less than 30 hours.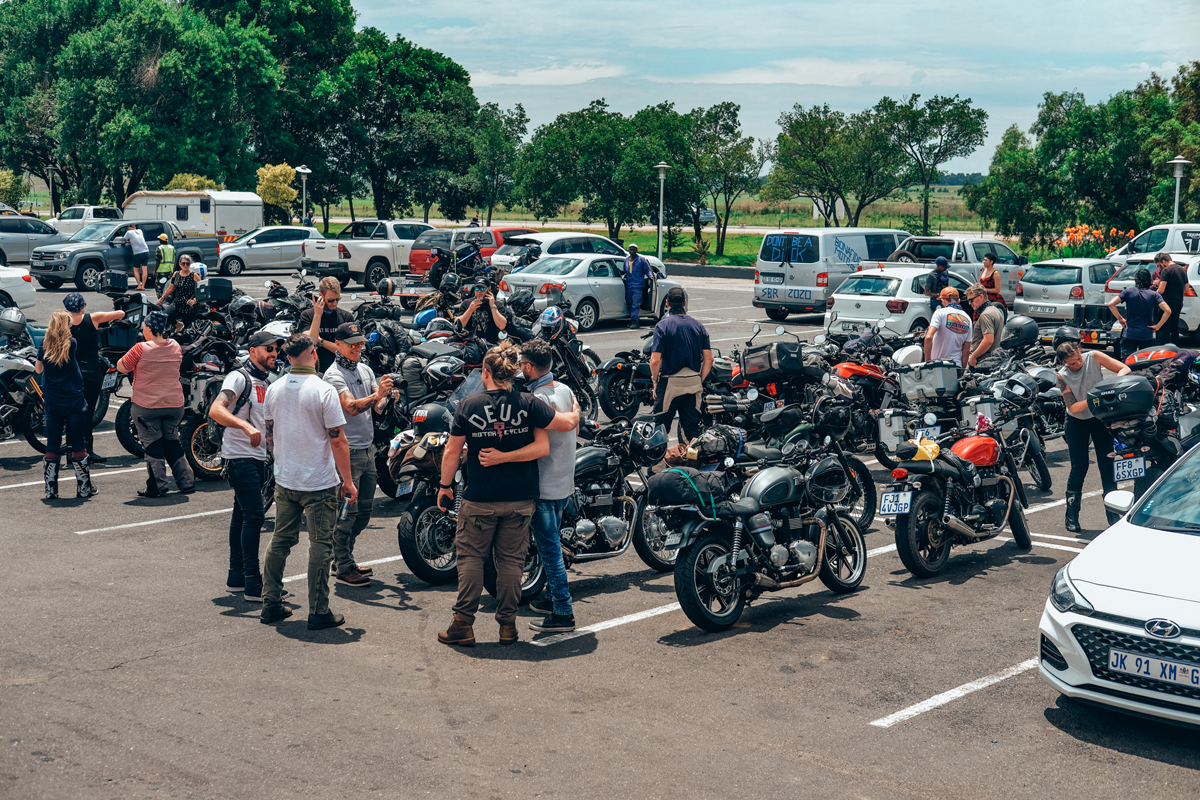 "We couldn't believe everyone's interest this year. I knew it was going to be big but I had no clue things would sell out that quick," said Joe.
To keep things running as lean as possible and to make sure the events are profitable all of their moto-events for the year are run, operated and managed by Joe & Alan themselves. The two have a great blend of interests and each of them brings specific strengths into the business; Joe is the creative side of Bonafide and Alan is the business side. "We both know what we're good at, and allow the other person to keep to their strengths while knowing we're both there to give 100%," said Joe.
"We run a small, yet great business. We both know exactly how we want things to run, what we would want to experience if we were a customer, and we like to give everyone joining us that extra 20% of attention & detail that they wouldn't expect to find at any moto-event," said Alan.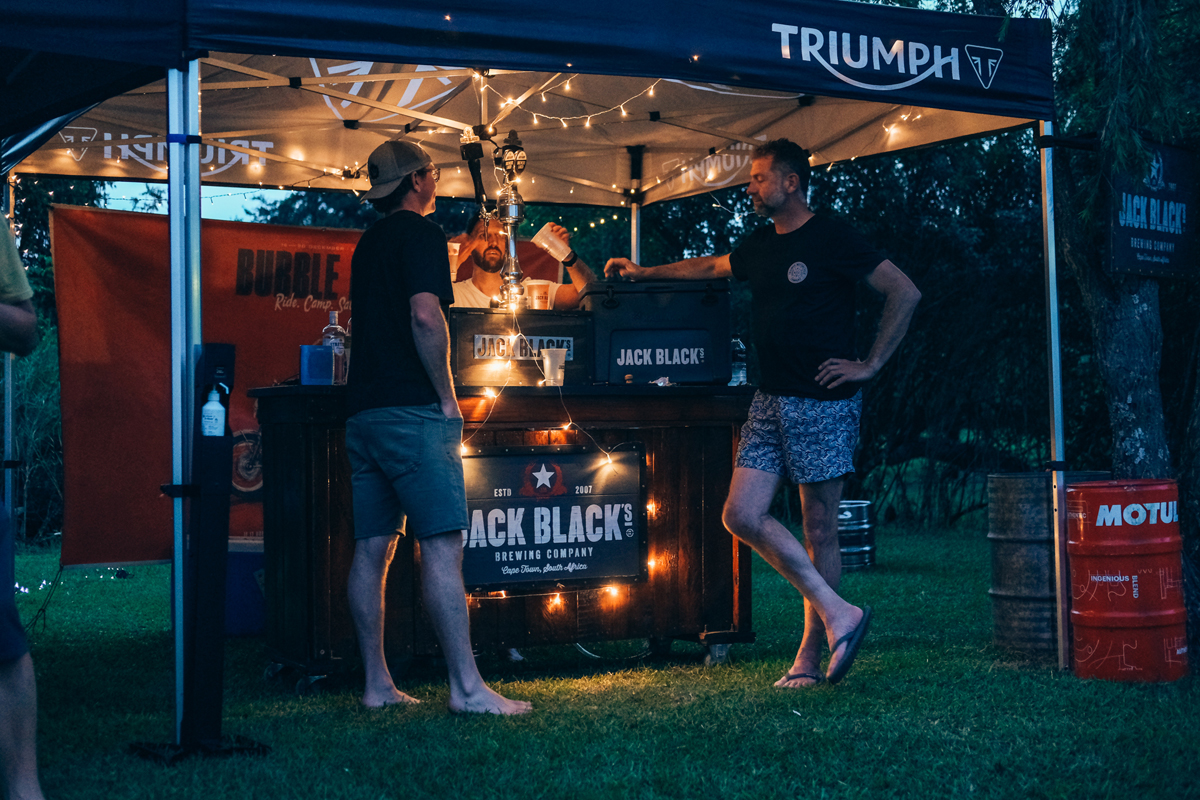 WHAT WAS NEW ABOUT THIS YEAR?
In years past of the run, it has focused on everyone going to the same places together. While there are positives to that approach, with the growth of the group almost doubling the reality of them moving as one wasn't possible.
The Bubble Run has always been about giving riders the freedom to do what they want to do, and in 2020 the event changed the dynamics of riders being able to select from each day's "recommended rides" that were laid out in a welcome packet weeks before the event.
"Not everyone wants to rush to get up and meet somewhere in the morning, and the person who is up first ready to go is going to run out of patience waiting on the last person," said Alan. He continued, "with the year we've all had we wanted to leave it up to the riders to have the freedom to choose if they wanted to go with the group, go somewhere else or go when they're ready." There is so much to explore in the region, you could spend months on end taking different routes.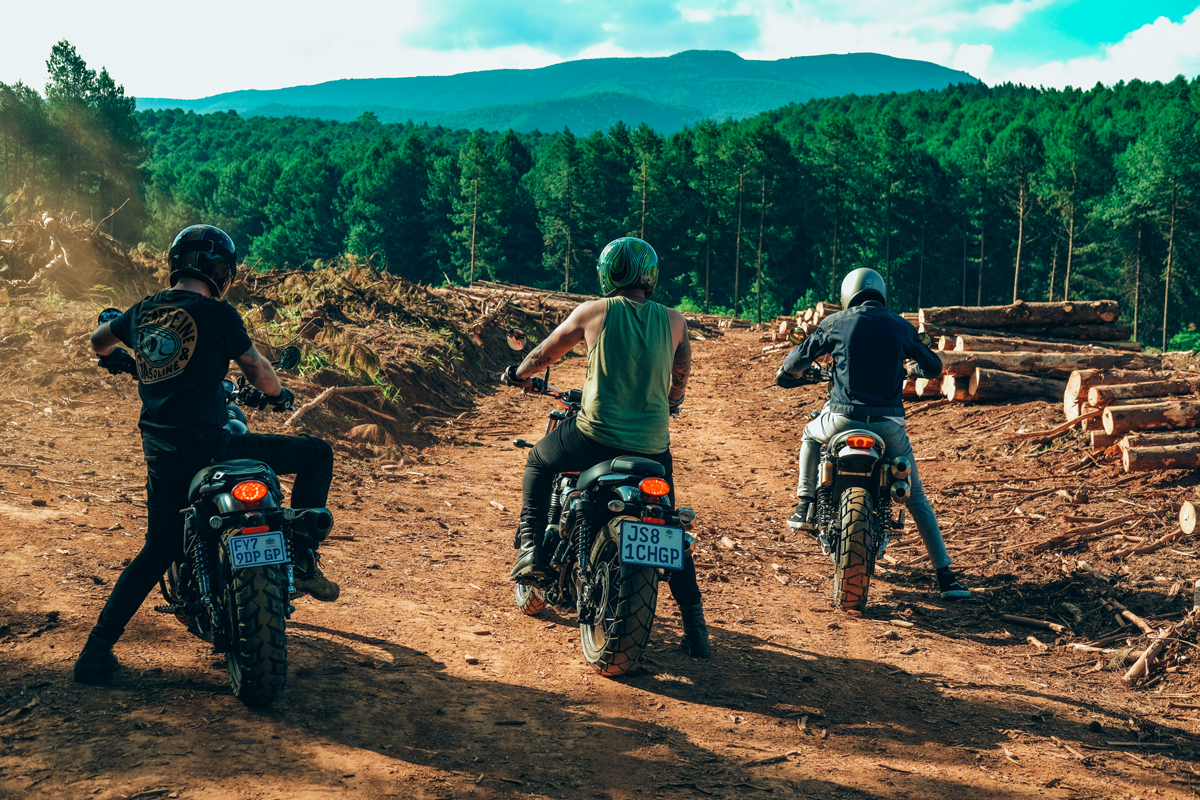 "I think it took some getting used to for the people that really like to have things laid out for them but ultimately it gave the event an overall sense of chilled vibes," said Joe. "I loved it, I was able to hang back more often if I wanted, took the pressure off of me and I didn't feel the need to always be rushing."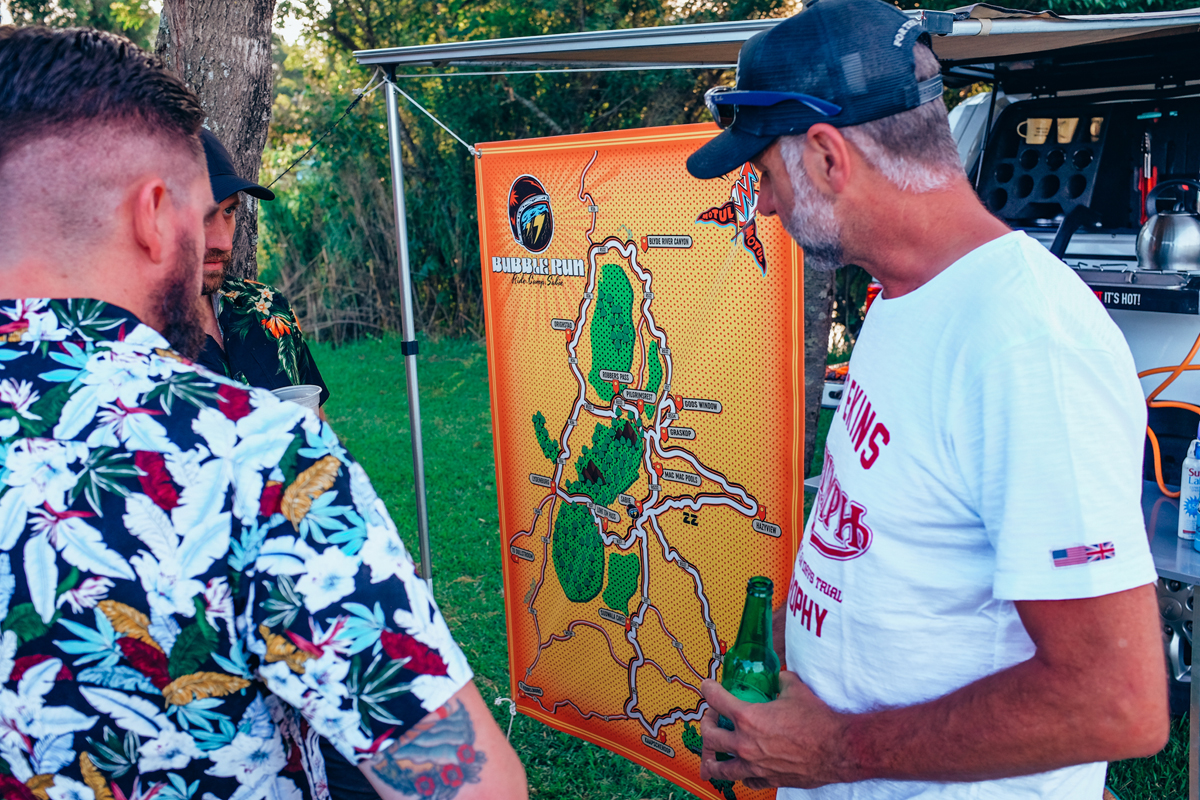 Motul Moto Games
Last year the Sabie Bubble Run saw it's first set of "Motul Moto Games" – however, it was largely informal & participation from riders was slow – we saw the huge potential of this activity, and knew it just needed some work.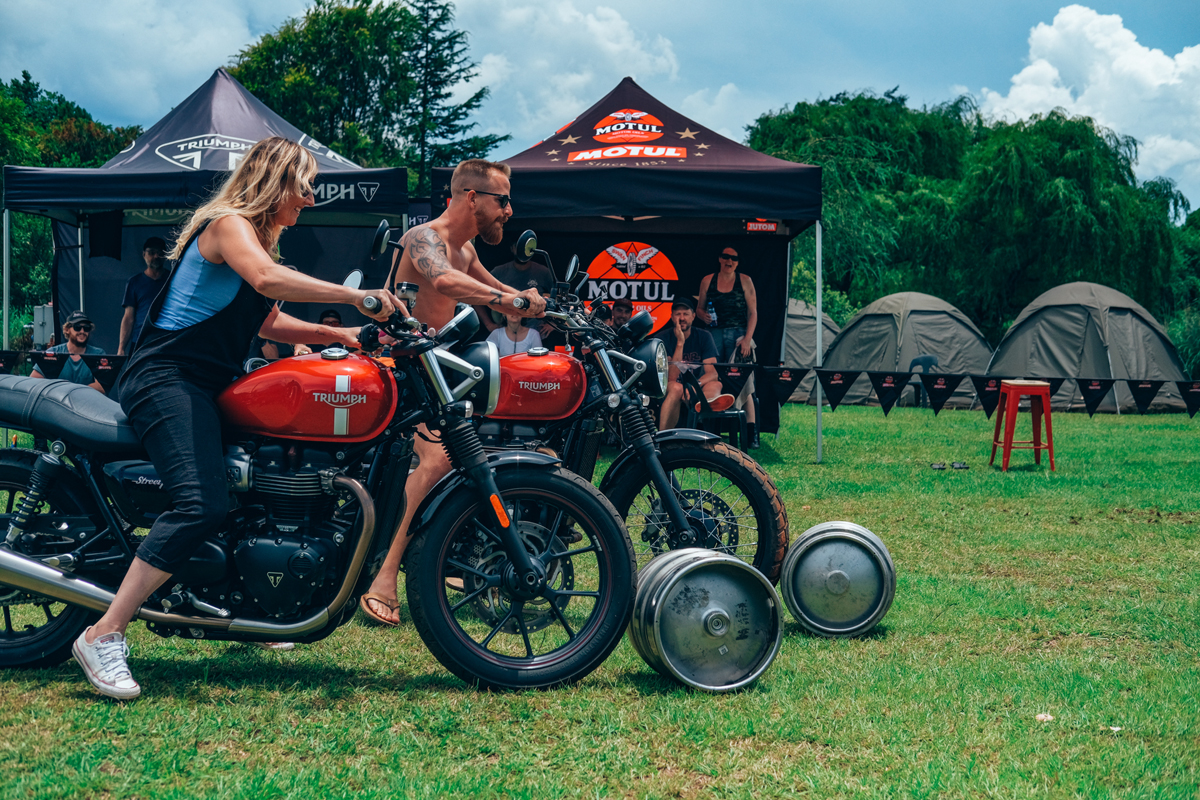 This year, Alan and Joe came back to camp early after breakfast on the day of the games to prepare "the battlefield" for the games to take place.
"If you don't make something of it, and really encourage people to get involved they won't do it," said Alan.
Motul flags, banners, barrels and signs were all placed on the property so that when riders got back to camp they knew this was going to be legit. Again, this is an example of Joe and Alan's ability to go the extra mile to prepare things for riders they wouldn't expect.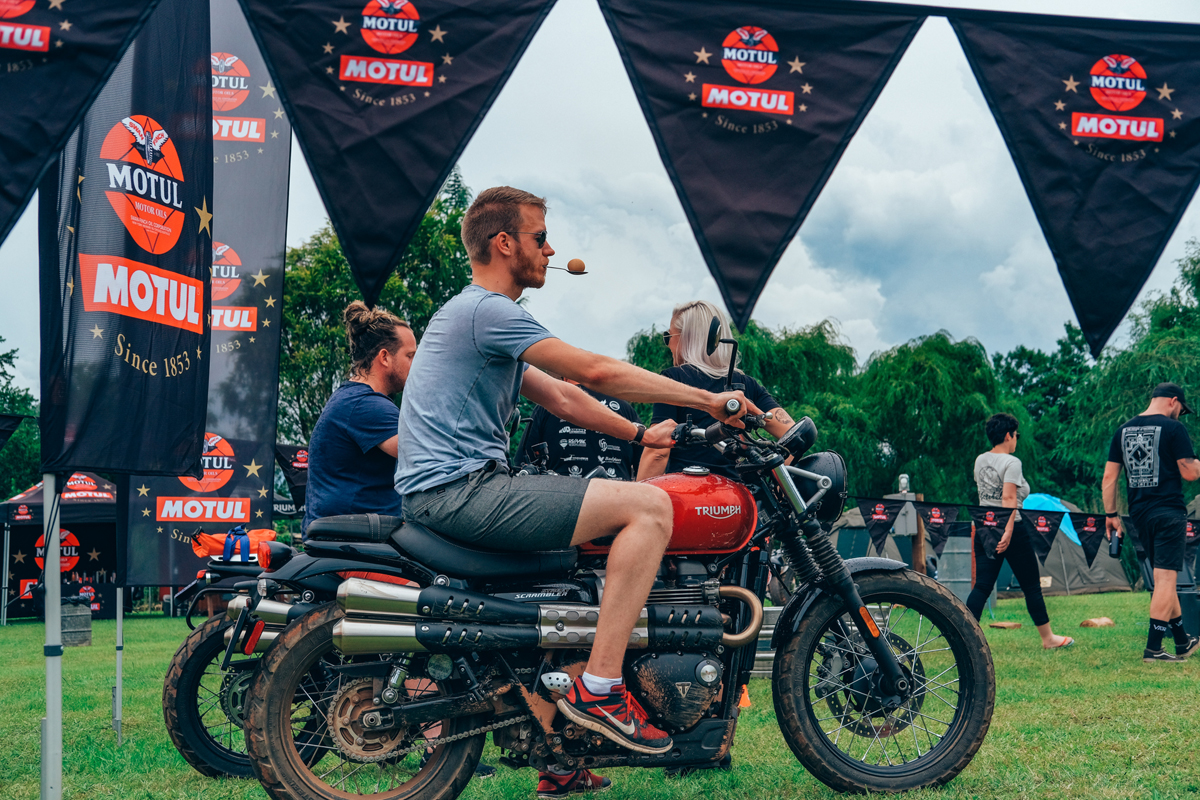 The 2020 games had 4 main events: The keg push, skills challenge, slow race and the 'egg on a spoon' race and everyone got involved. Riders were paired up against one another based on when they signed up for the event, they were scored and rewarded points for a good time and deducted points when their feet touched the ground or couldn't complete an event within the recommended time.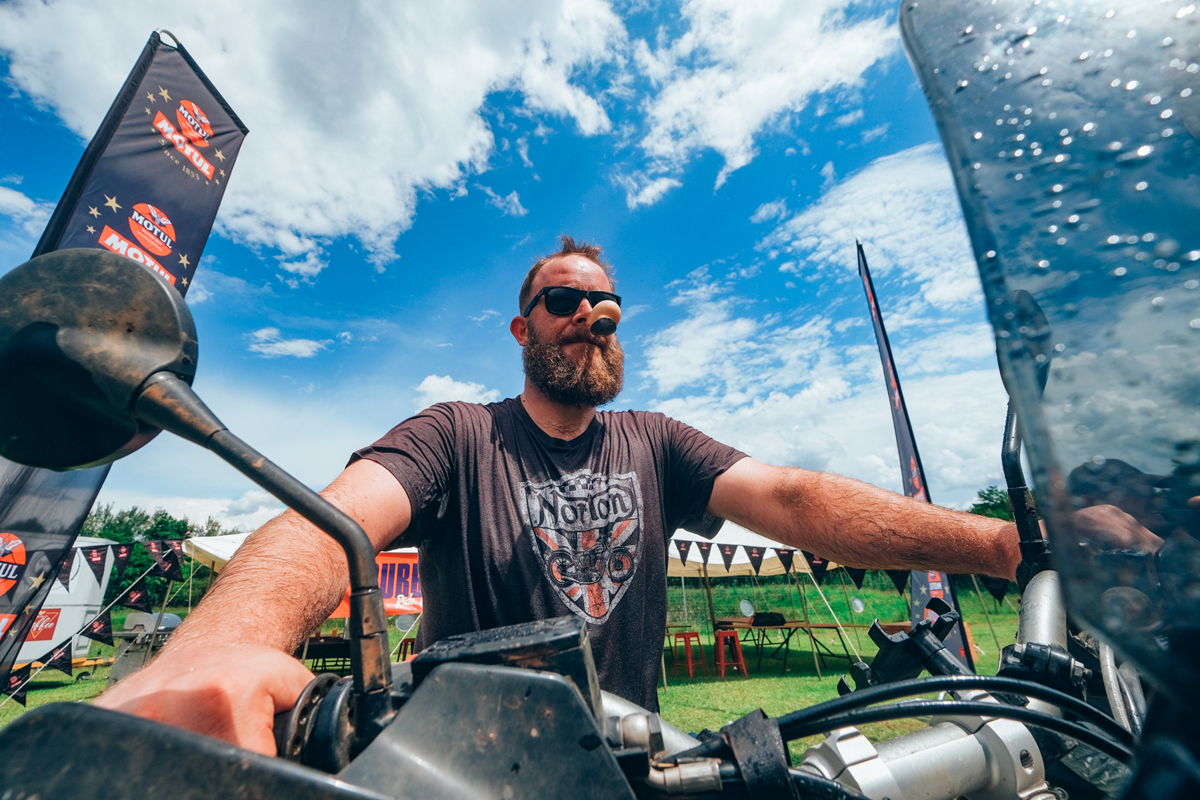 Soon into the games, two sides of the field were formed by the audience and each side picked their representative to support them. Joe said, "it kind of felt like medieval times kind of vibe. One side would pick a rider to support and the other would do the same. The same amount of energy put into supporting their rider was the same support they would put into 'boo-ing' the other rider. It was hilarious to watch and it was all in good fun. What was also great was that every rider felt like they had a crew cheering them on."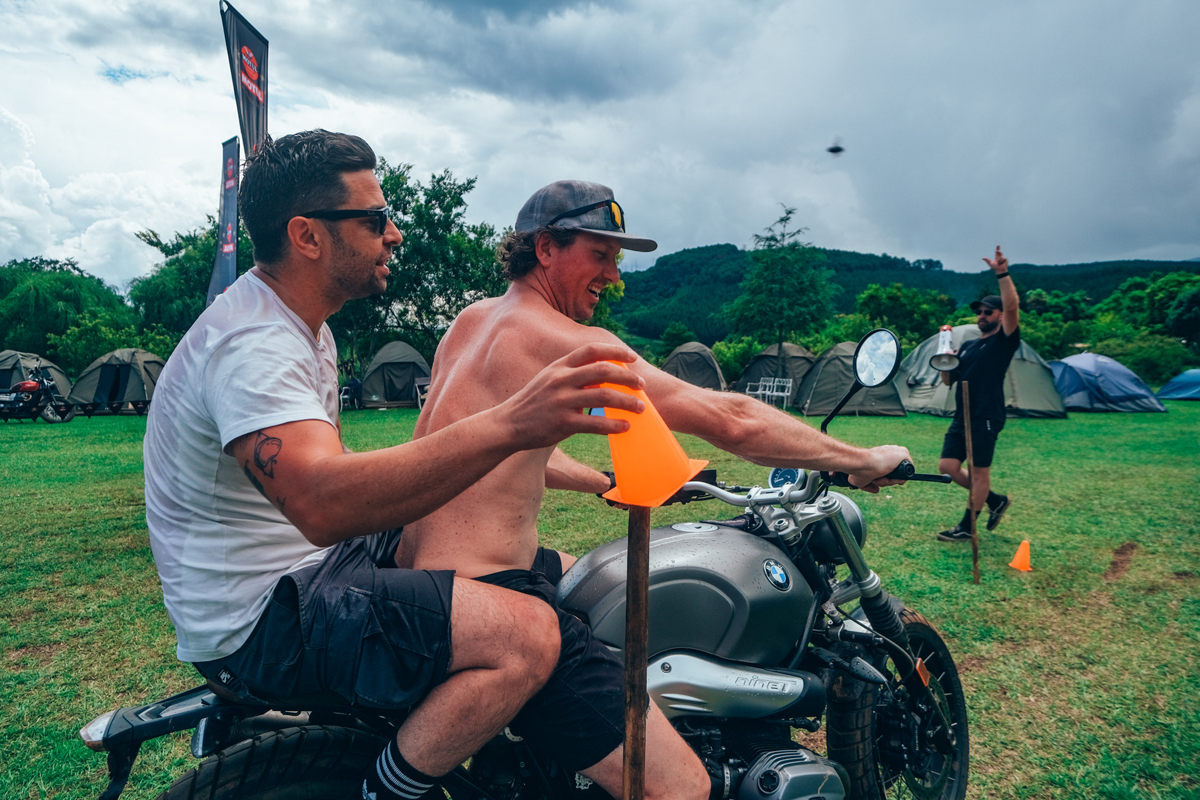 At the end of the games, there was only one man standing on top of the podium who had the fastest time and most points. While he didn't win anything of value, he was recognized by all for his skill and got to spray everyone else with champagne. What else do we need in this life?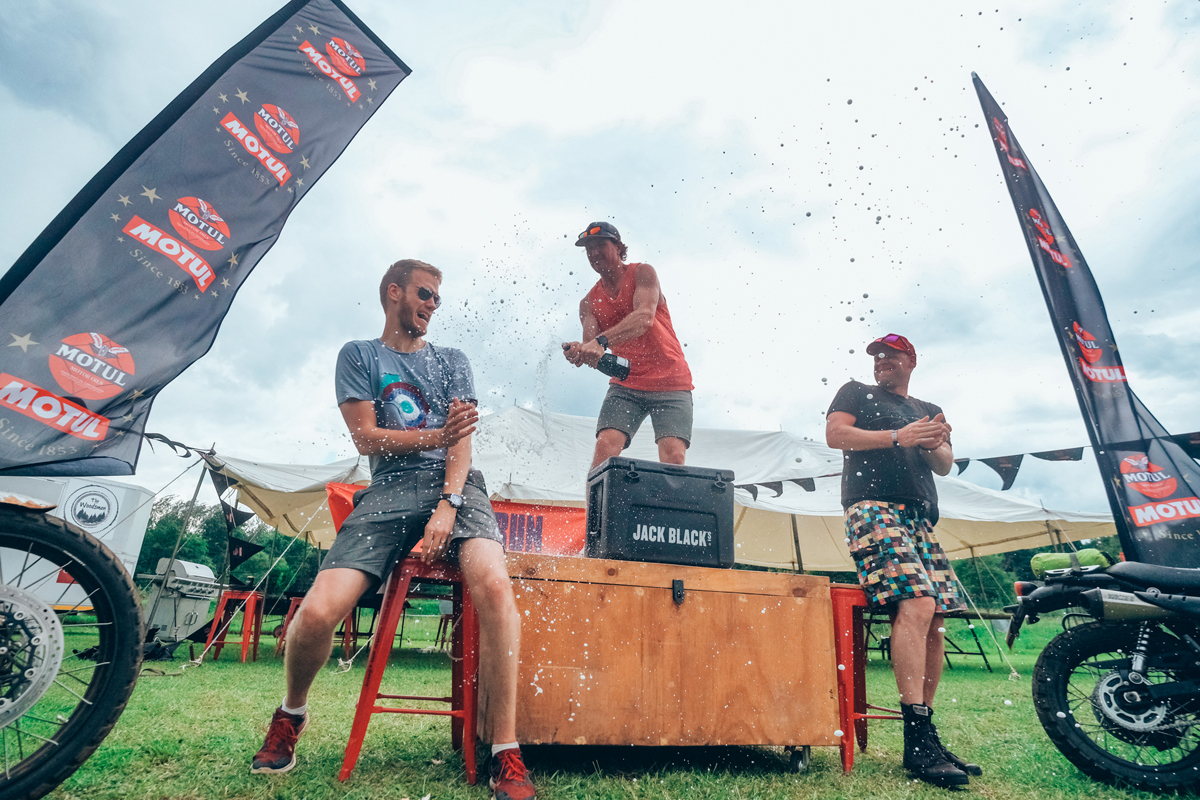 More off-road adventures
The surrounding areas of Sabie are littered with forestry roads and dirt roads that will take you to some hidden gems of Mpumulanga overlooking dams, along river banks and rumor has it you can also find bushman caves deep in the forest.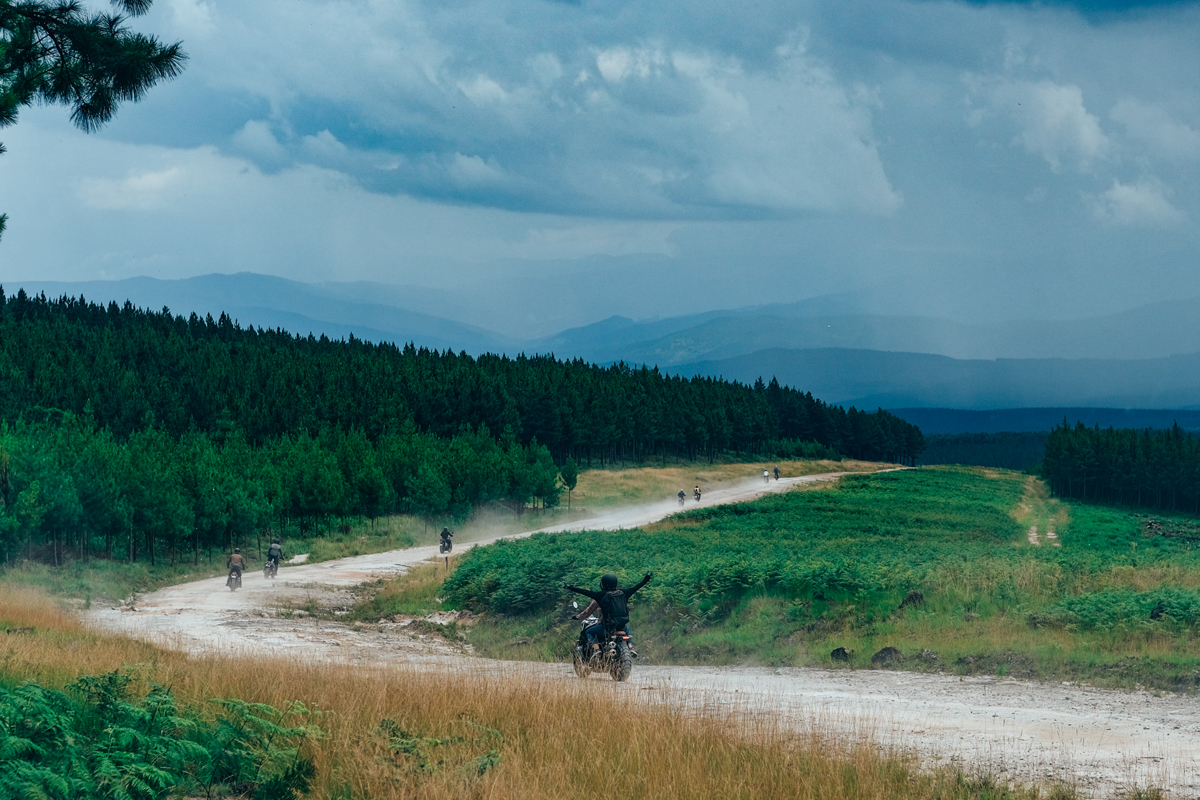 In years past the Sabie Bubble Run has been about 99% tar focused but this year the event held its first guided outride day, and had a larger group than normal group of riders who were keen to explore more dirt at this years run.
"We've often told people to just bring a road-focused bike (if they've got more than 1) because we typically don't do a lot of dirt road riding," said Alan. He continued, "but it's such a missed opportunity because there are so many areas of dirt roads to explore here around Sabie."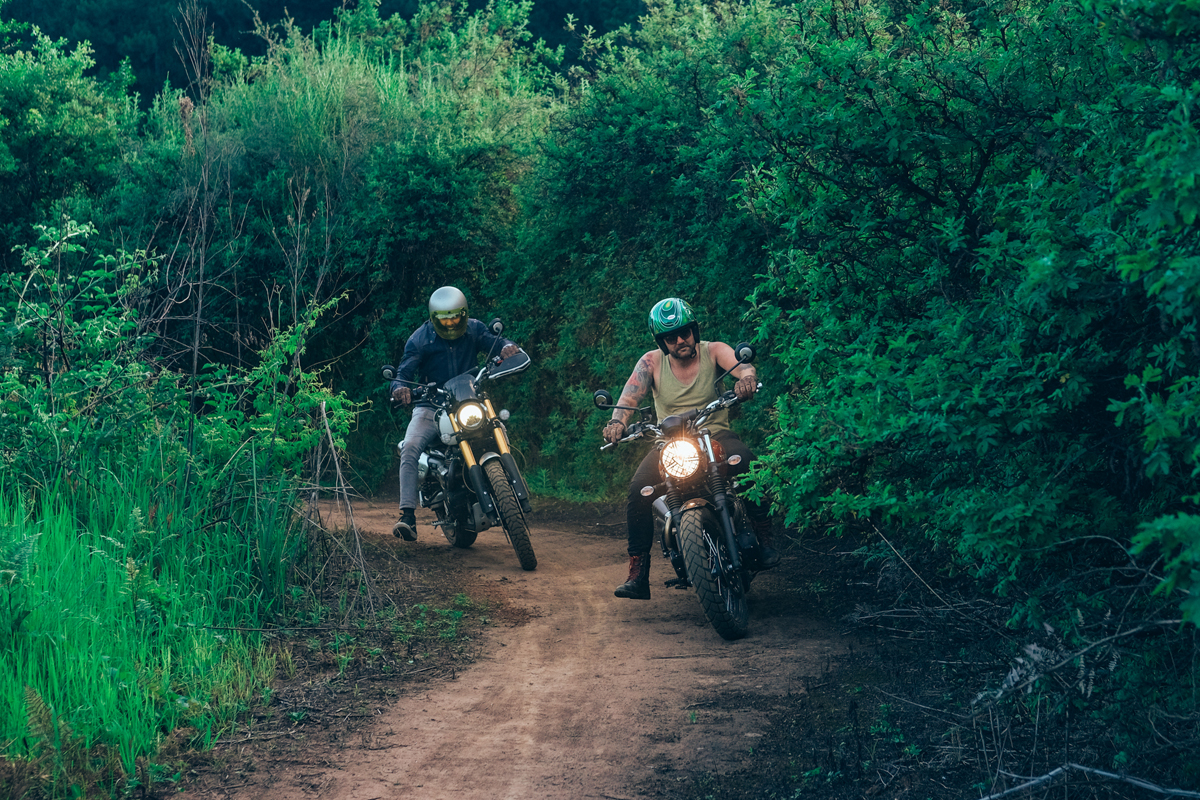 So the two brought on a local guide, Thomas Bohm from Sabie Rider Academy, to take out a select group of riders one day to some of his favourite routes. "This worked out really well as Thomas is extremely knowledgeable of the area, he's a motorcycle instructor so riders felt safe with him and we could leave it up to him to manage."
Outside of the guided outride, the two kept saying how they loved "heading into the forest."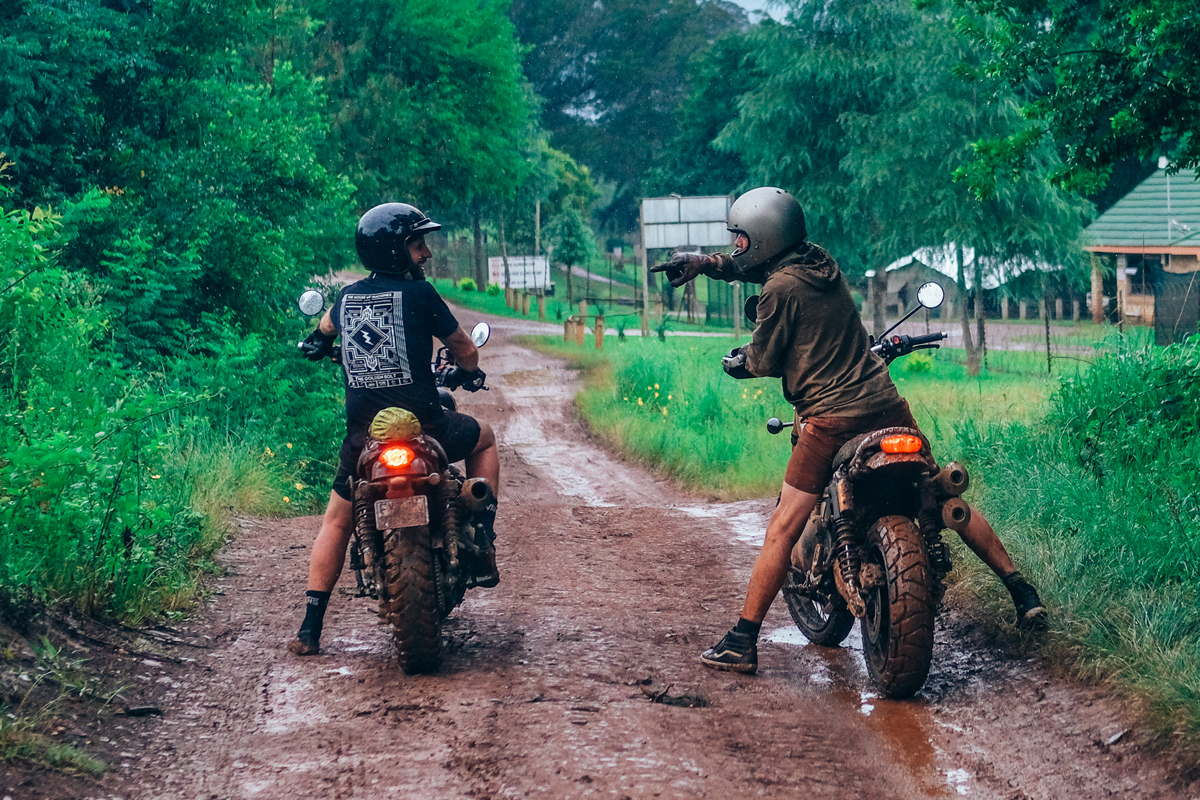 "Just outside of the camp in the opposite direction of the tar road is a dirt road that will take you to limitless amounts of trails. A few of us set out in the rain one evening to go play around in the mud and it was one of our most enjoyable times of the trip," said Joe, "there was a few unhappy people at camp when we came back because they saw how full of mud we were and the smiles on our face."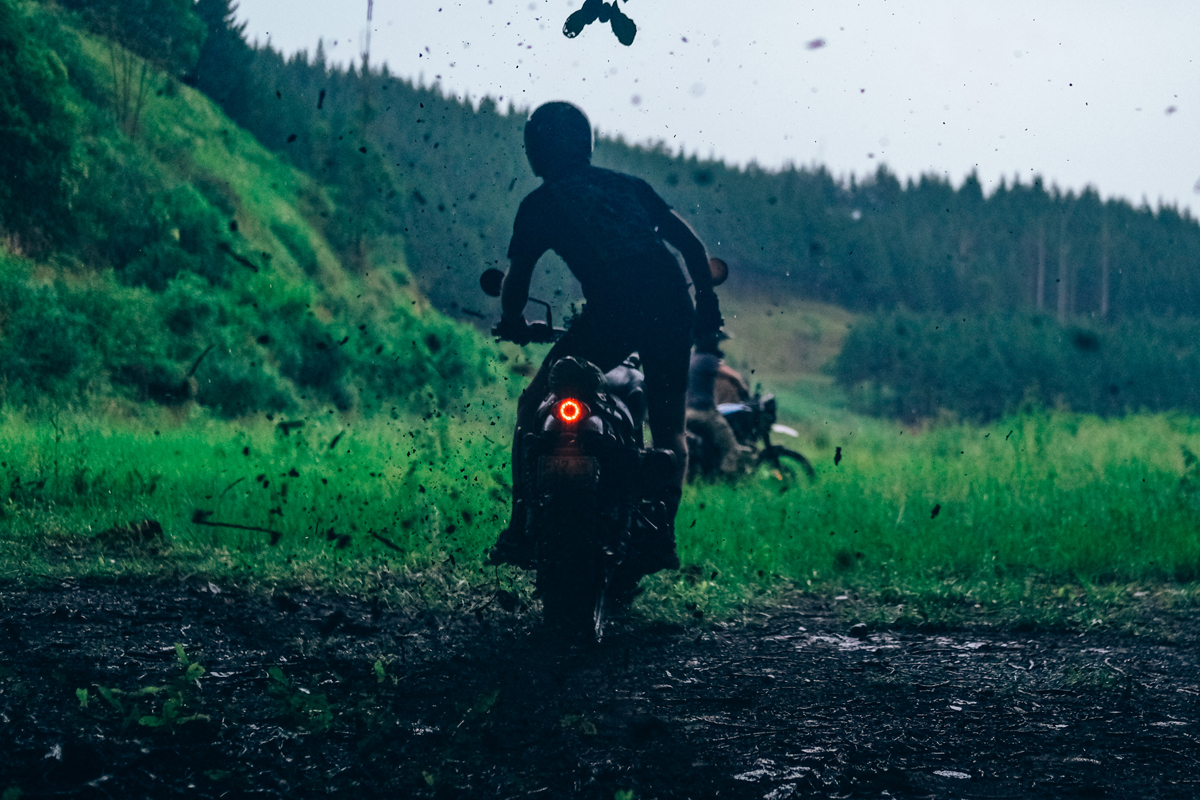 Triumph Test Rides
While one of the Sabie Bubble Run's major partners of the event is Triumph Motorcycles, ALL brands of motorcycles are invited and took part on the run.
"It's a natural fit for us to have a motorcycle manufacturer as one of our partners for our events, and Triumph has been with us for over 3 years now. It's been a very organic fit for us and our customers. We love their bikes, they suit our needs, the brand is extremely helpful towards us and our riders and it's been a very healthy partnership for us over the years," said Joe.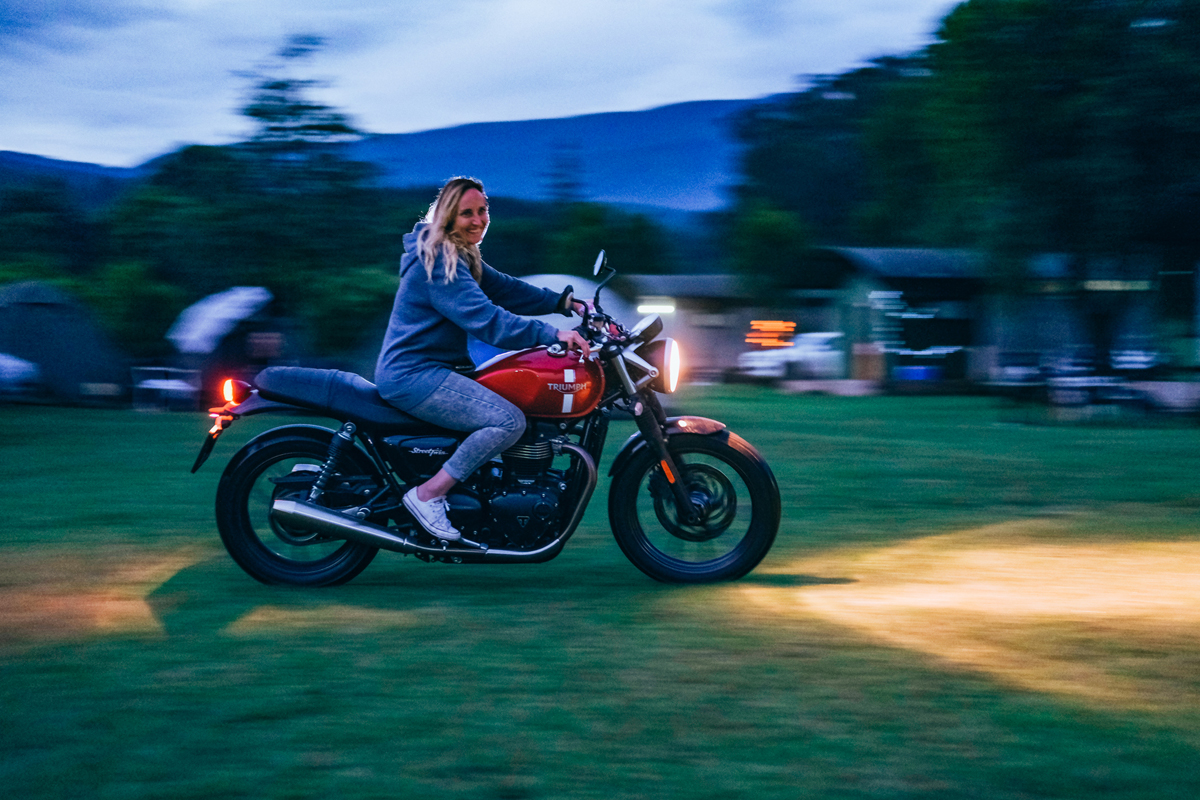 This was the first event of Bonafide Moto Co's where a small fleet of Triumph bikes were made available to participants to take out for a few hours to get a sense of the bikes.
"Great selection. Loved the option to go for a long test ride to really get a feel for the bike," said Ronny Tack, one of this year's riders.
"We brought a few 1200 Scramblers, Street Scramblers and new 900 Tigers here to Sabie for people to ride," said Bruce Allen CEO of Triumph South Africa, "it's been great to be here at this event. I'm having an absolute blast, it's been a great way to end the year, I'm enjoying the riding and just taking time to appreciate what a year it's been."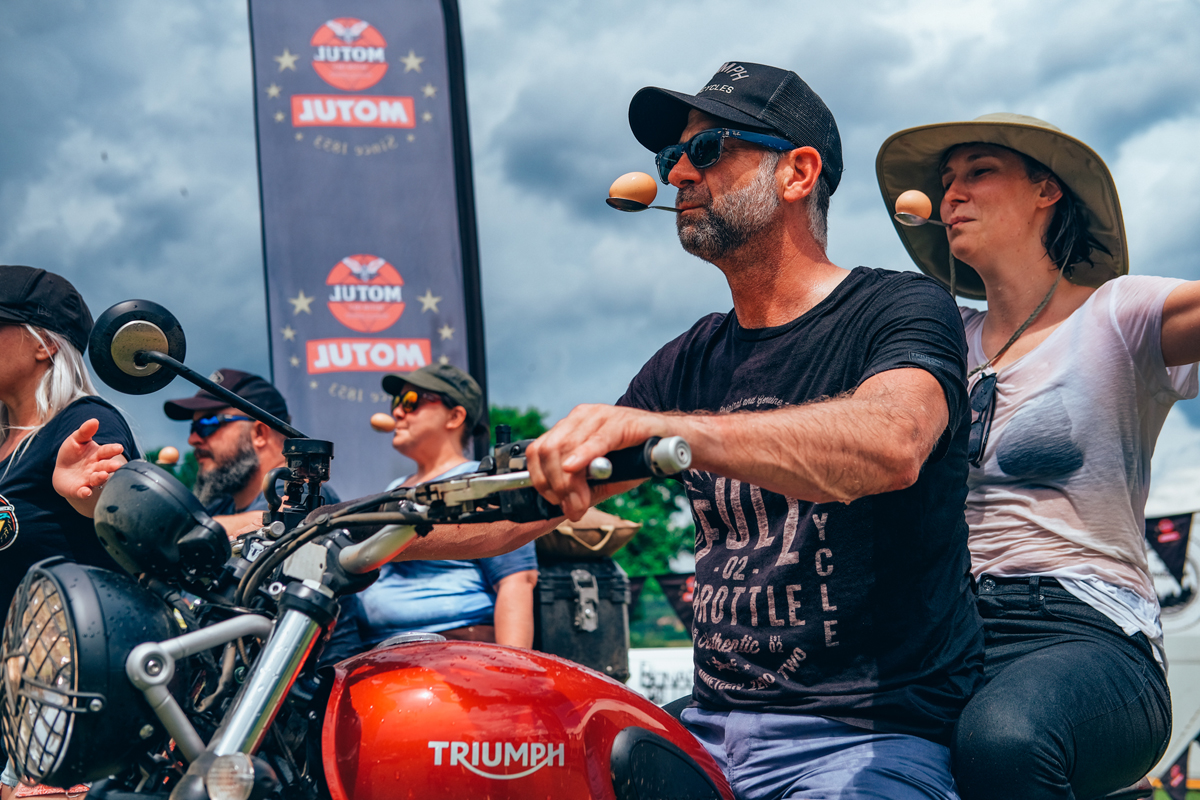 Outside of the bikes that were available, Triumph also brought along their chief mechanic to provide support to all riders and their bikes (regardless of make) throughout the weekend along with support trailers in case it was needed.
"There is always an element of anxiety from riders about going on events like this and possibly running into mechanical problems. Having a mechanic here and a handful of riders who are very handy around bikes makes everyone else feel a bit more comfortable if there is a problem," said Alan.
WHAT DOES THE 2021 EVENT LOOK LIKE?
"I woke up the morning after the run to start making notes of how and what to improve on for next year," said Joe. "The ride home from Sabie is about 5 hours long and that's when I start reflecting on the event and what I'd like to see at the next event."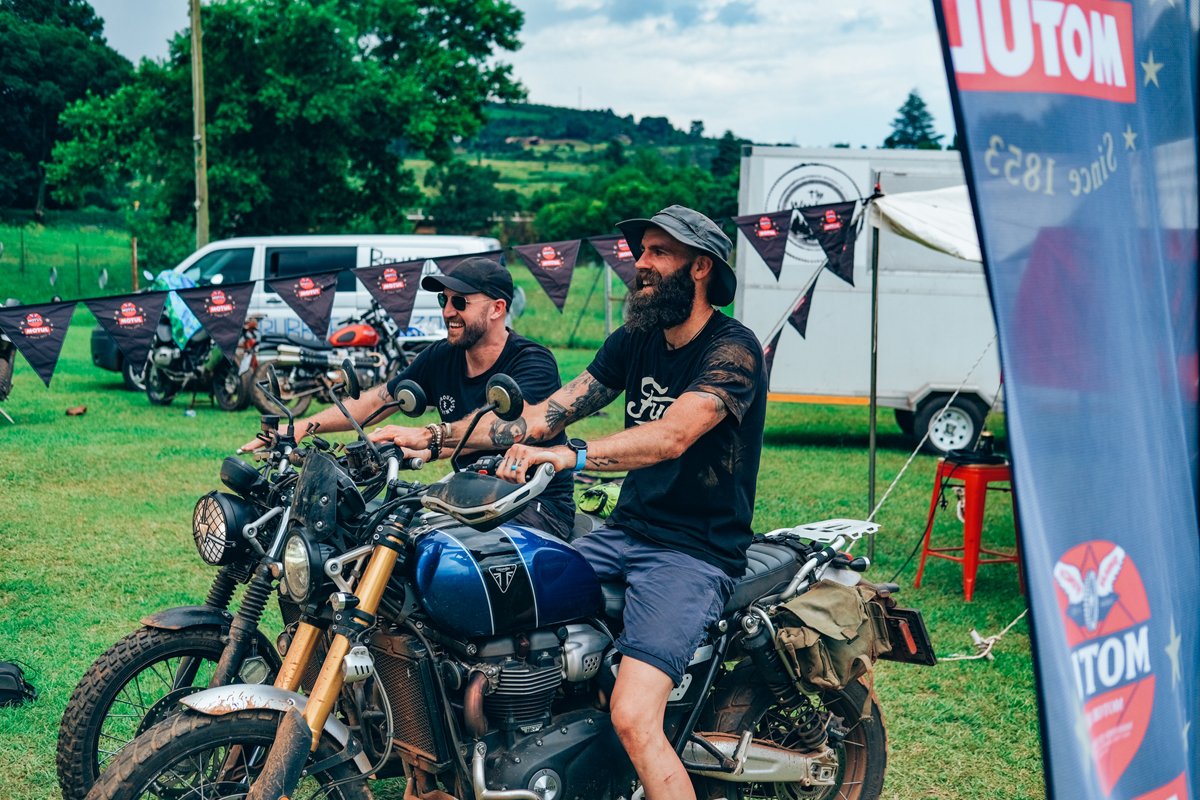 "2021 will continue to grow, but there is a number we have in mind to cap it at. The reality is that we want more people to join us, because not everyone could make it, but we need to see how well the facility can handle if 100 people are there for next year."
"It makes sense for next year that we add live music, a full-service bar at camp, a coffee truck and more infrastructure. We know what's possible for this event and that's what we'll be bringing next year," said Joe.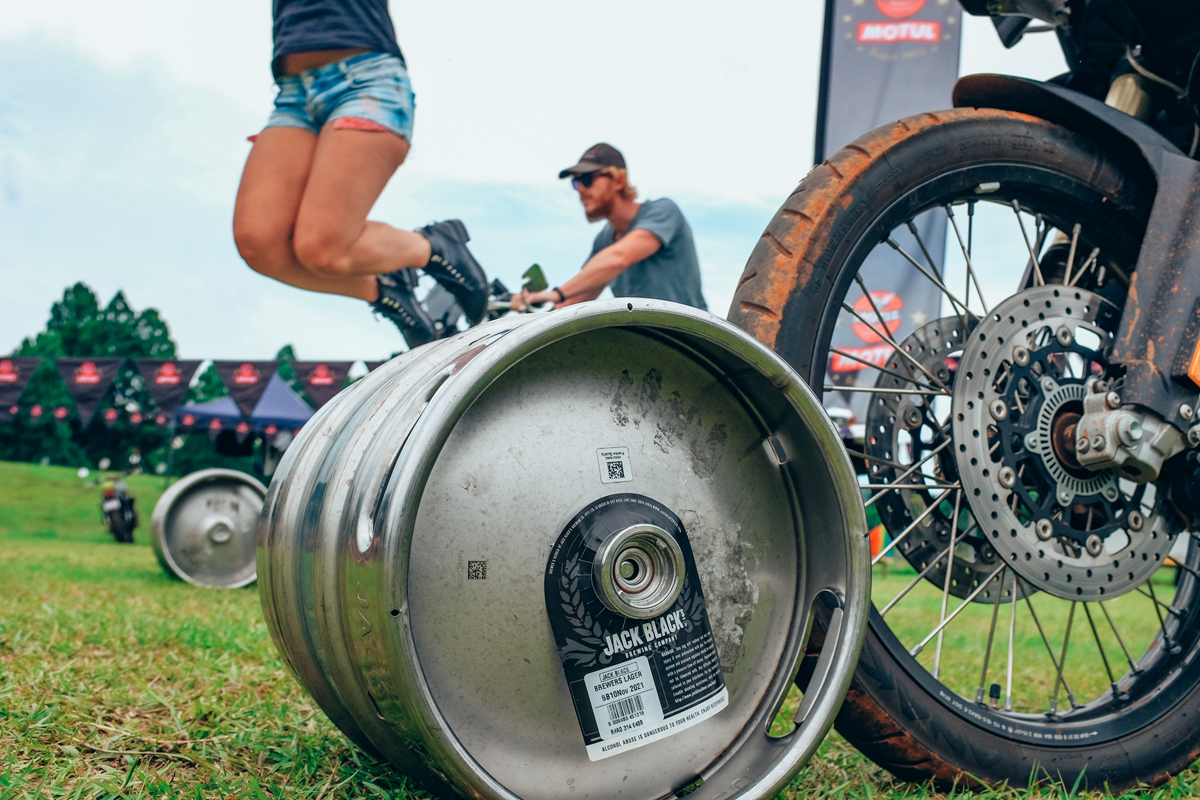 The 2021 Sabie Bubble Run is on the radar as a global motorcycle event and had a lot of interest this year from riders around the world to join.
"It was unfortunate that some of the riders who wanted to join us couldn't be here due to the borders being closed," said Joe. "We had riders lined up from Spain, USA, Scandinavia, UK and India who were all ready to come and ride with us in Mpumulanga."
"Hopefully in 2021, the borders will be open and riders from around the world can come and have some fun with us here," said Joe.
For more information on the 2021 Sabie Bubble Run you can go to the event webpage here or watch their short film that was produced in 2015 and shown at the Motorcycle Film Festival a few years ago.