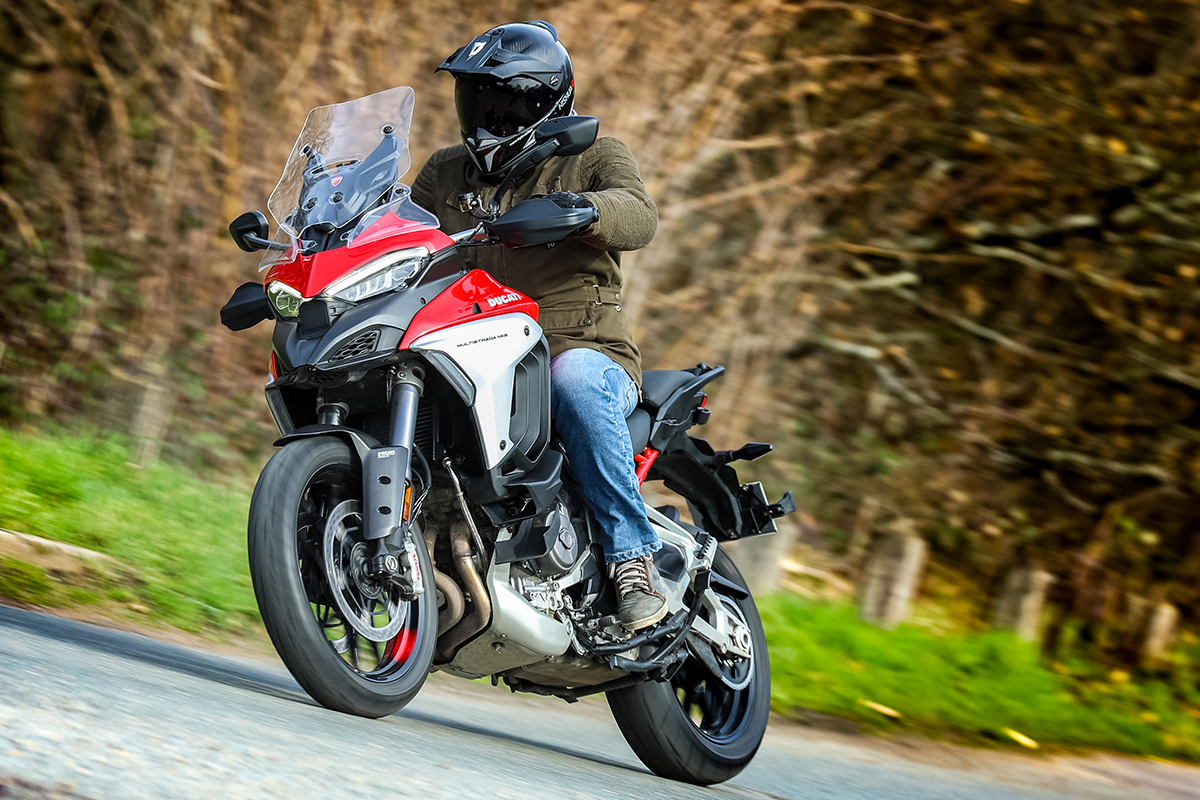 Four cylinders, 170 horsepower and more electronics than a premium car: with the new Ducati Multistrada V4, adventure riding enters a brand new dimension. It's a long way from the Pierre Terblanche-designed 2003 Multistrada 1000 DS. That air-cooled Desmodue V-twin produced 84 hp, less than half of this new Italian missile.
The Multistrada had continuous evolutions throughout its long career, but with the new V4, Ducati's taken it another step up. This mill is another variation of their latest V4 platform—bored out to 1,158 cc, because, as Ducati believe, more bore equals more torque.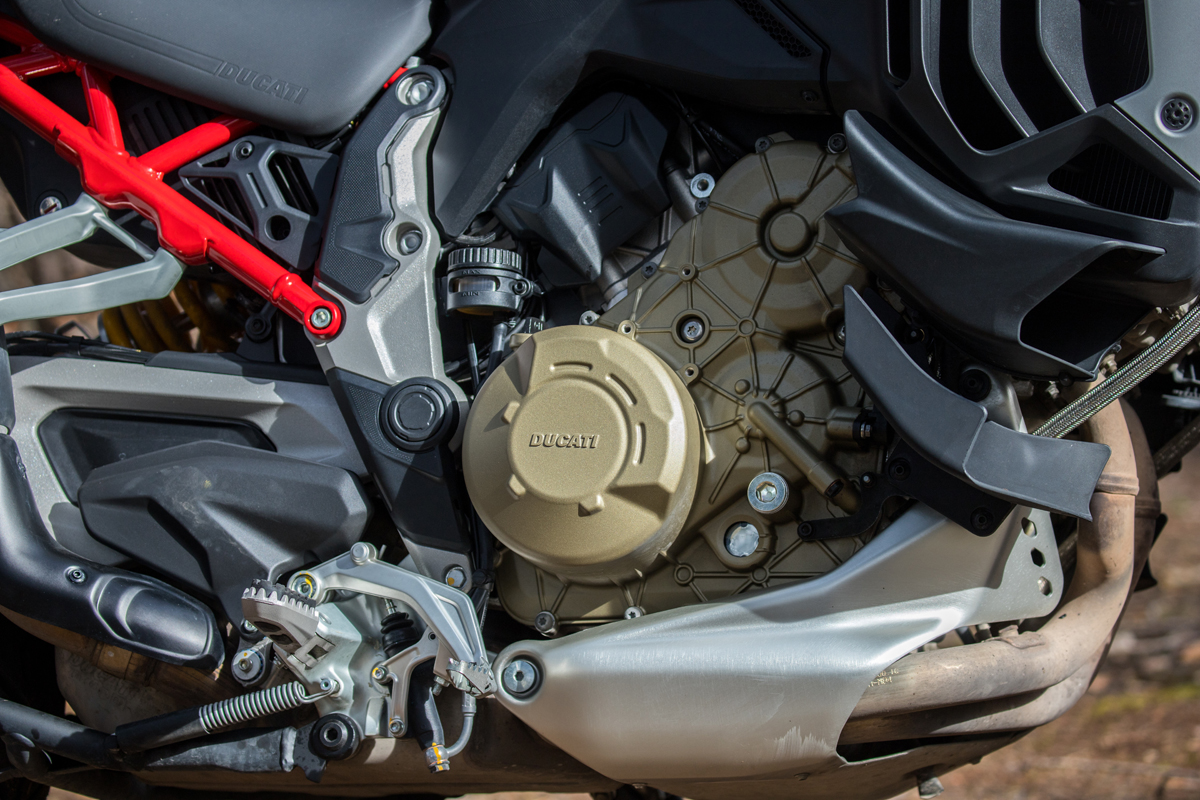 The good news is that the new 'V4 Granturismo' engine is 1.2 kilos lighter than the previous 'V2' Multistrada (totalling 66.7 kg now), and more compact in the frame. Yes, it's 20 mm wider… but 85 mm shorter and 95 mm lower, so there's 46 mm more ground clearance than before.
Along with a power output of 170 hp, the new four-cylinder motor makes 125 Nm of torque. Yes, it's much less than the BMW R1250GS's 143 Nm, but the Ducati relies on a 'twin pulse' firing order, where the left cylinders are fired at the same time, as the right cylinders. The result is that 70 % of the torque, is available from 4,000 rpm, and 90 % at 5,250 rpm. The rear cylinders can also be automatically deactivated at standstill, to reduce heat.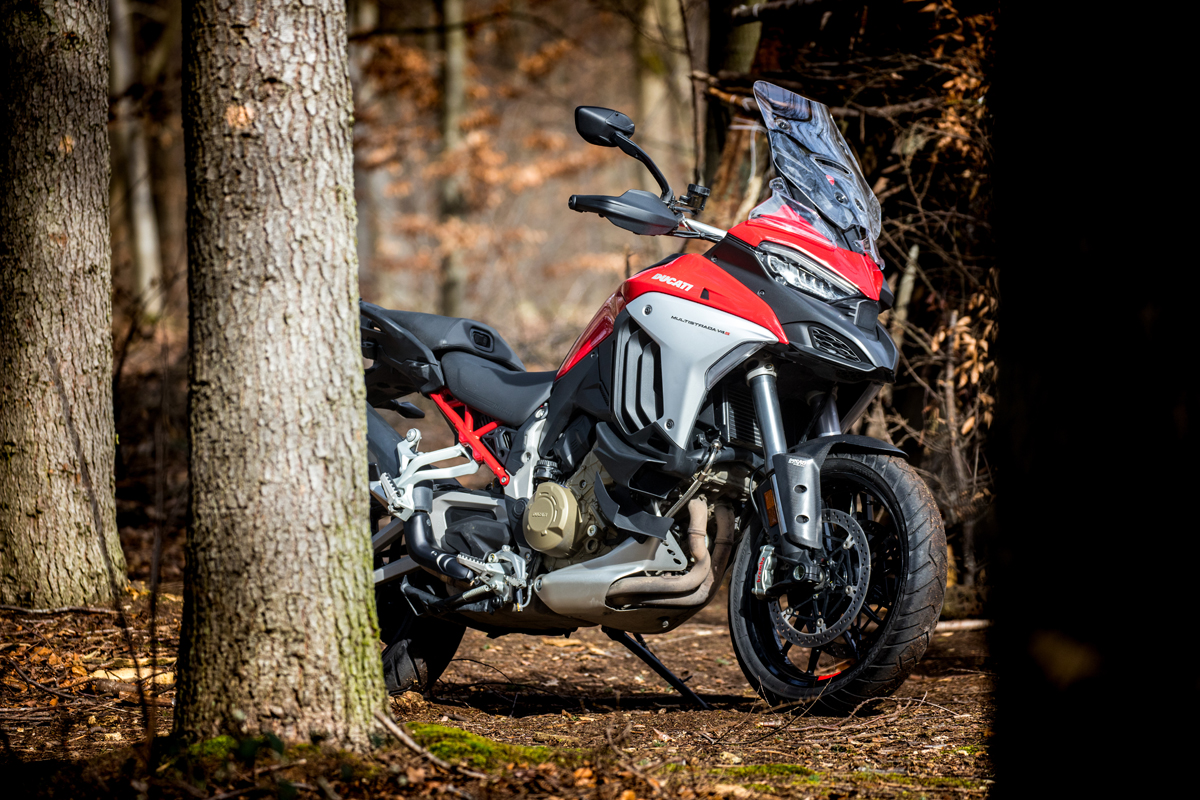 As usual, on recent Ducatis, there's an extensive electronics package to help you control all that power. There are four riding modes: 'Sport,' 'Touring,' 'Urban' and 'Enduro,' with the last two limiting power to 136 hp. And you get eight anti-wheelie and traction control levels, three ABS settings, and a setting for engine braking, to help you configure the perfect ride.
A quick-shifter is standard equipment, as is cruise control and hill start assist (the pressure from the Brembo M50 Stylema brakes is quite strong, so you need a bit more gas than usual to pull off). The only thing the Multistrada V4 S can't do, is brew a good Italian coffee.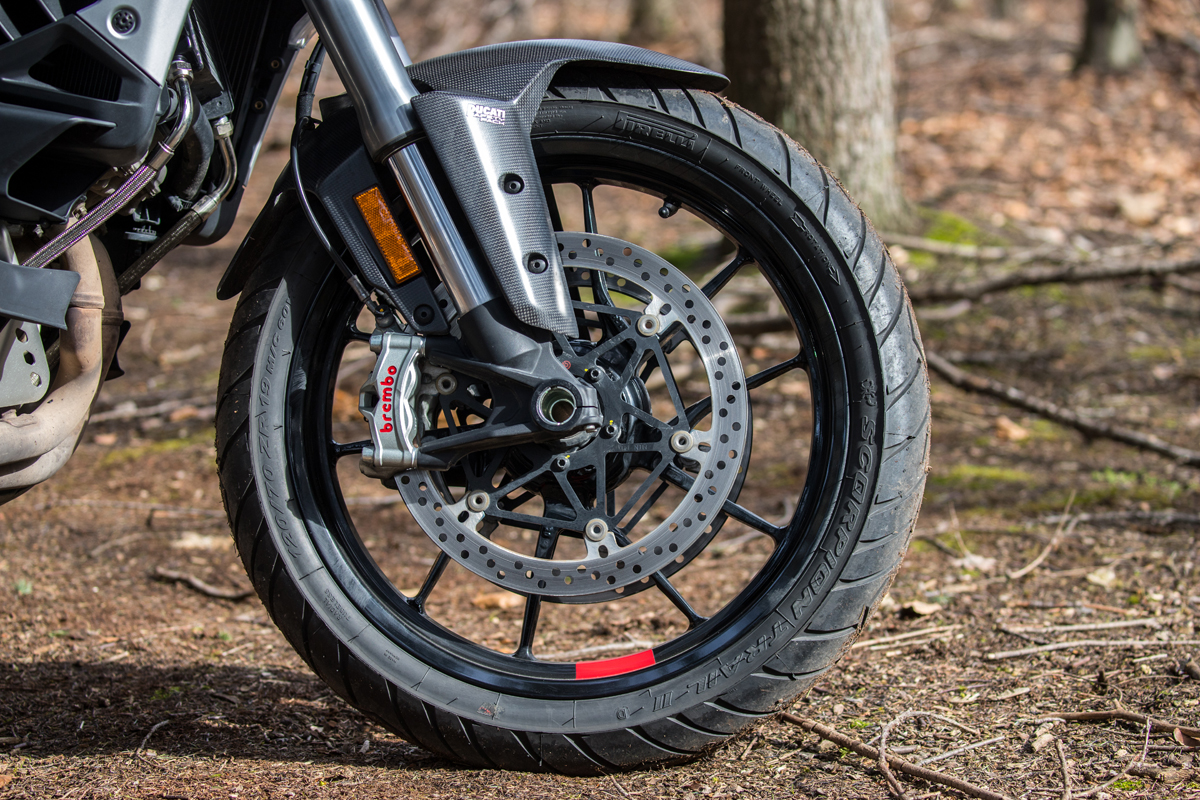 There's even more innovation in the Bosch radar—two small black squares at the nose and the back of the V4, which feed data to adaptive cruise control and blind-spot detection systems. I was afraid the system would be difficult to use, especially in the Parisian traffic with kamikaze Yamaha T-Max riders. But no… when the orange light flashes in the mirror, there really is someone in your blind spot.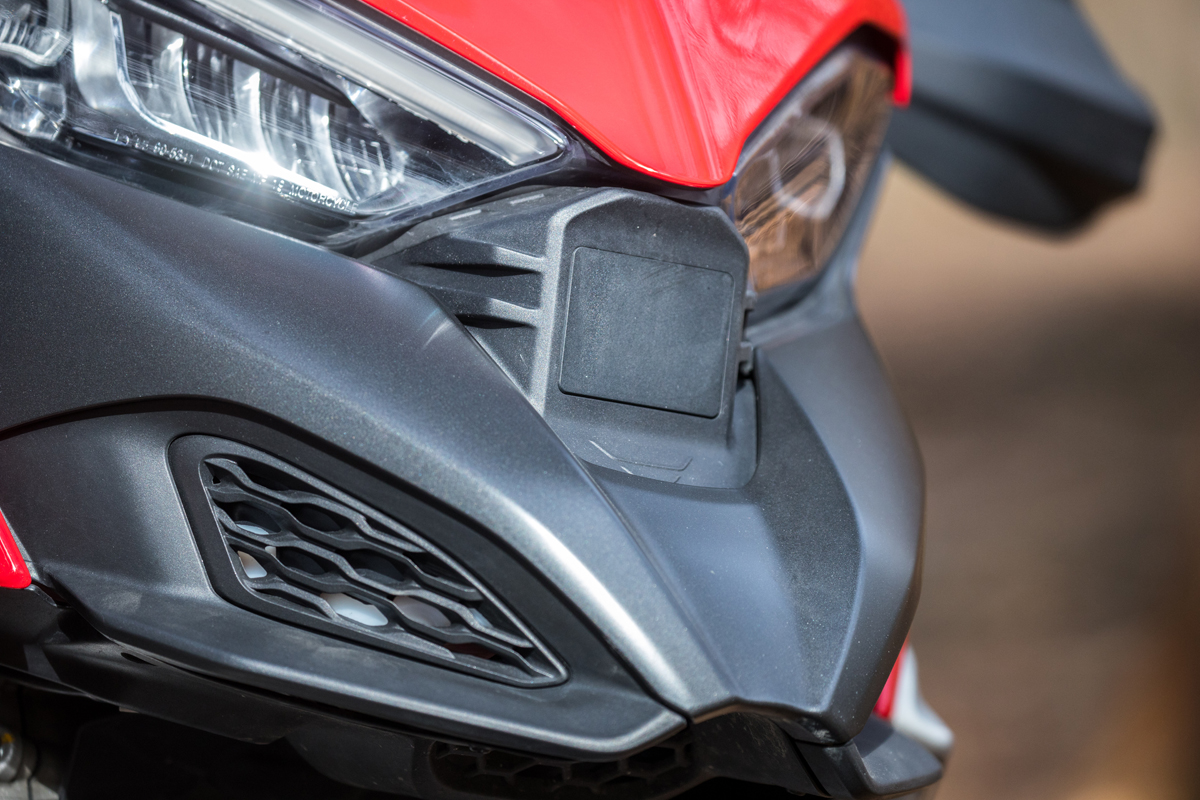 The good thing, is that you don't need to be an engineer to operate it, thanks to easy-to-use backlit switchgear and an informative TFT display. There's also Bluetooth connectivity, and, on the S version, a keyless start and Ducati's electronically controlled 'SkyHook' suspension.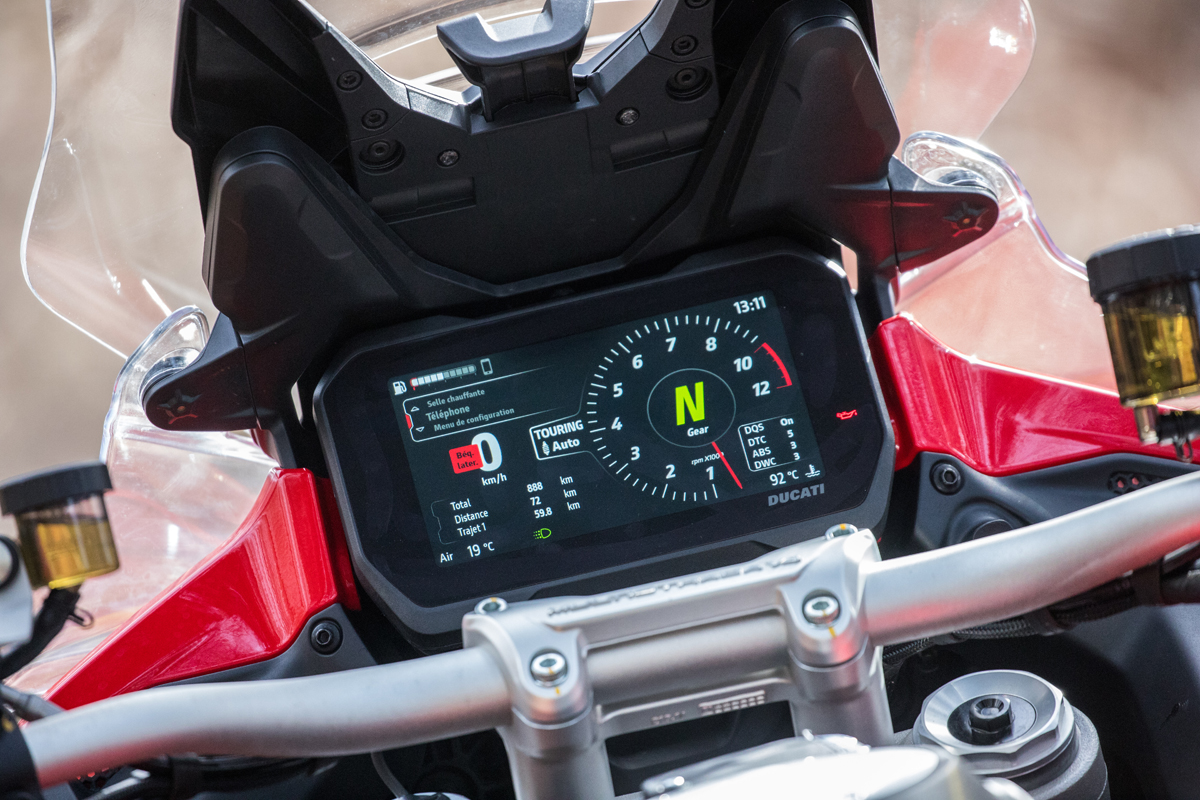 The chassis is a bit more compact now, and the geometry has been redesigned for better agility. The wheelbase has been reduced by 18 mm (to 1,567 mm) and the front end is 'sharper' (24,5° and 102,5 mm of rake and trail, compared to 25° and 111 mm on the V2). So the Multistrada V4 remains a bit on the big side.
Even though I'm quite tall (1.8 m) with rather long legs, I can't get both my feet flat on the ground. The standard seat can be lifted from 840 to 860 mm, and there are 810 and 875 mm options too. Regardless, the balance and riding position feels perfect to me, and I felt instantly at home on the Multistrada V4 S, thanks to an extra 21 mm between the seat and the foot pegs. The machine feels less bulky than the 1260 S that I have previously tested.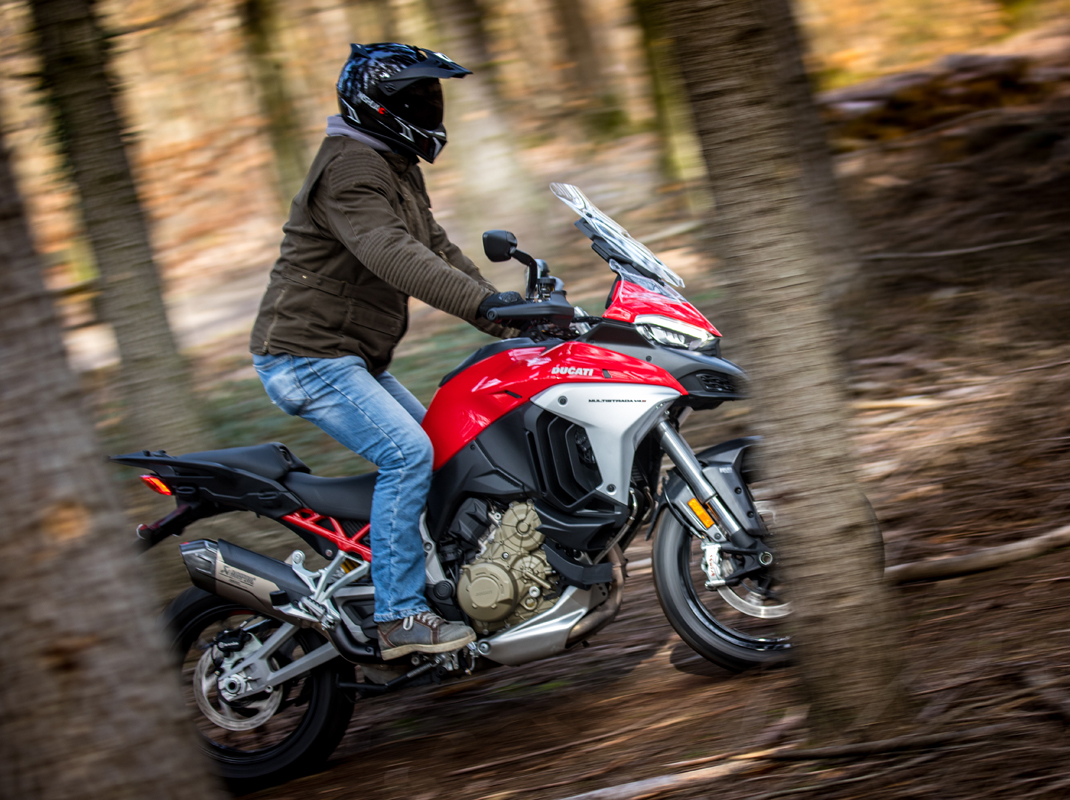 To be honest, I never really enjoyed the Multistrada 1260. I found it too noisy for daily use, and the SkyHook suspension didn't work for me, as I never really managed to find the proper suspension set up. On the other hand, when it comes to 'tall rounders,' I'm a big fan of the BMW S1000XR for its mix of travel ability and effortless cornering speed, as well as proper engine character. So I was a bit curious to find out how the Multistrada V4 S would position itself within that high level of competition.
The first good surprise came the second I pressed the start button. Even with an Akrapovič slip-on, the Multistrada V4 S is not too noisy. I was worried about that, since I rode the Streetfighter V4—which I loved, but for which there is hate all over my neighbourhood, because that thing is hell on wheels. The Multistrada is much smoother, and I could easily consider it for daily commuting, and even long-distance touring without the fear of coming back deaf.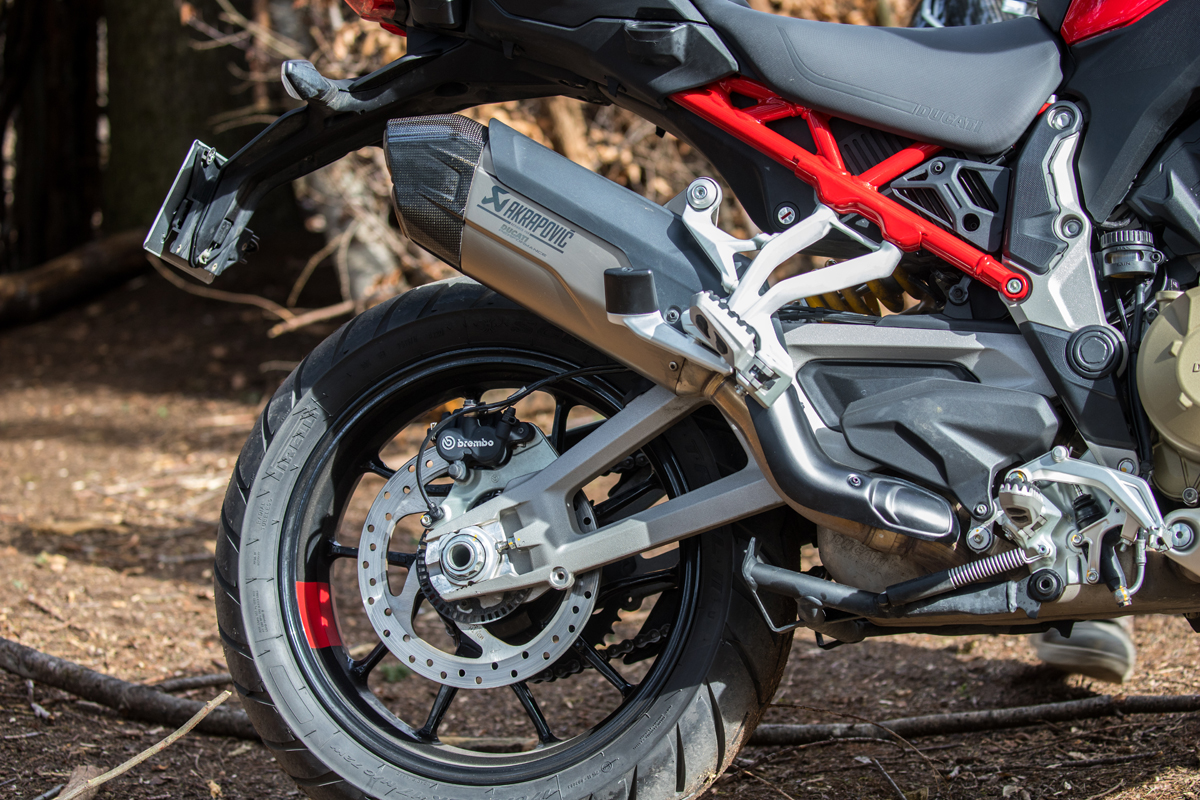 The 60,000 km major service interval is also a good thing (an around the world trip is tempting), with a standard service occurring every 15,000 km.
Most V4 engines are not very smooth at low revs, like the Aprilia Tuono and Ducati Streetfighter. The Multistrada V4 S is definitely easier to live with, and you can cruise at low revs at 50 km/h in 4th gear without much trouble or vibration. In that environment, the V4 feels much more accommodating than the previous V2. The clutch is light, gear changes are precise, and the throttle is predictable (a good thing with that much power).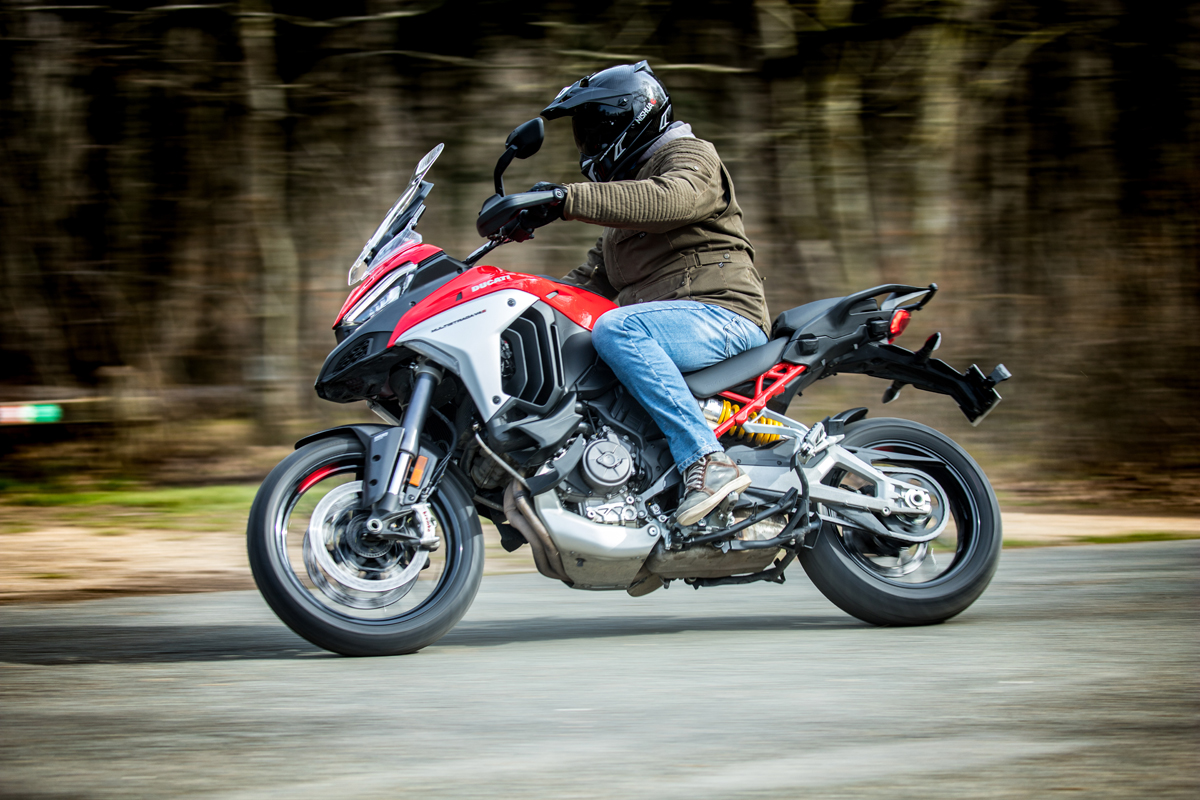 So it's easy to see out how much progress the V4 has made compared to its predecessor.
The same applies on the road—the whole bike feels easier and more comfortable. The manually adjustable screen is perfect for my size, the heated grips are welcomed even at their lowest setting (it's quite cold around here), and the suspension seems to work perfectly well, with a good balance between the front and back.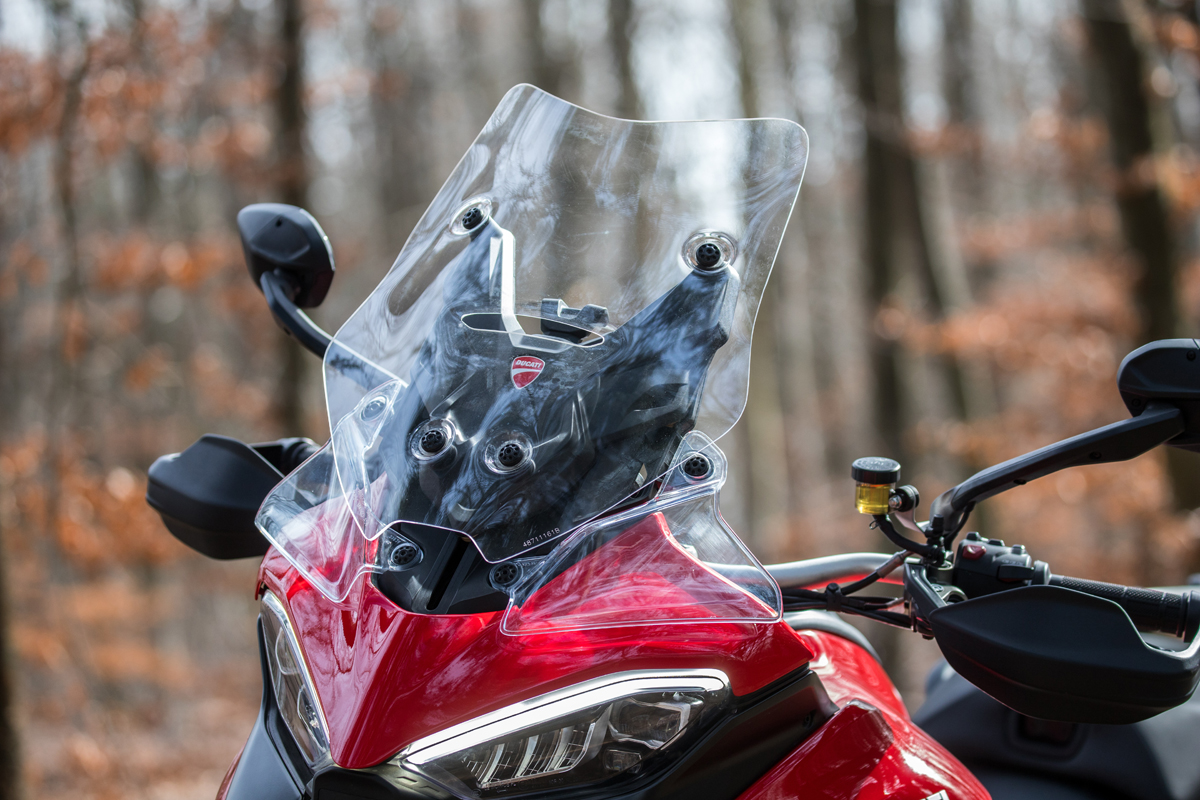 Ducati did a great job of designing a V4 motor for maximum torque. On top of that, the V4 is a bit on the short side when it comes to gear ratios: at 130 km/h, it sits a bit above 5,000 rpm in 6th gear, where 90 % of the torque is available. Just look ahead, twist it open, and you can clock serious speeds in no time.
Despite the 19" front wheel, the bike feels great in corners, and the 170-wide rear tyre helps keep the bike agile. Another good thing is that you can hold the brakes far into a corner, without the front end freezing up too much. On the other hand, the short gearing is responsible for a rather heavy fuel consumption, with an average between seven and eight litres per 100 km. At least the fuel tank is two litres bigger than before.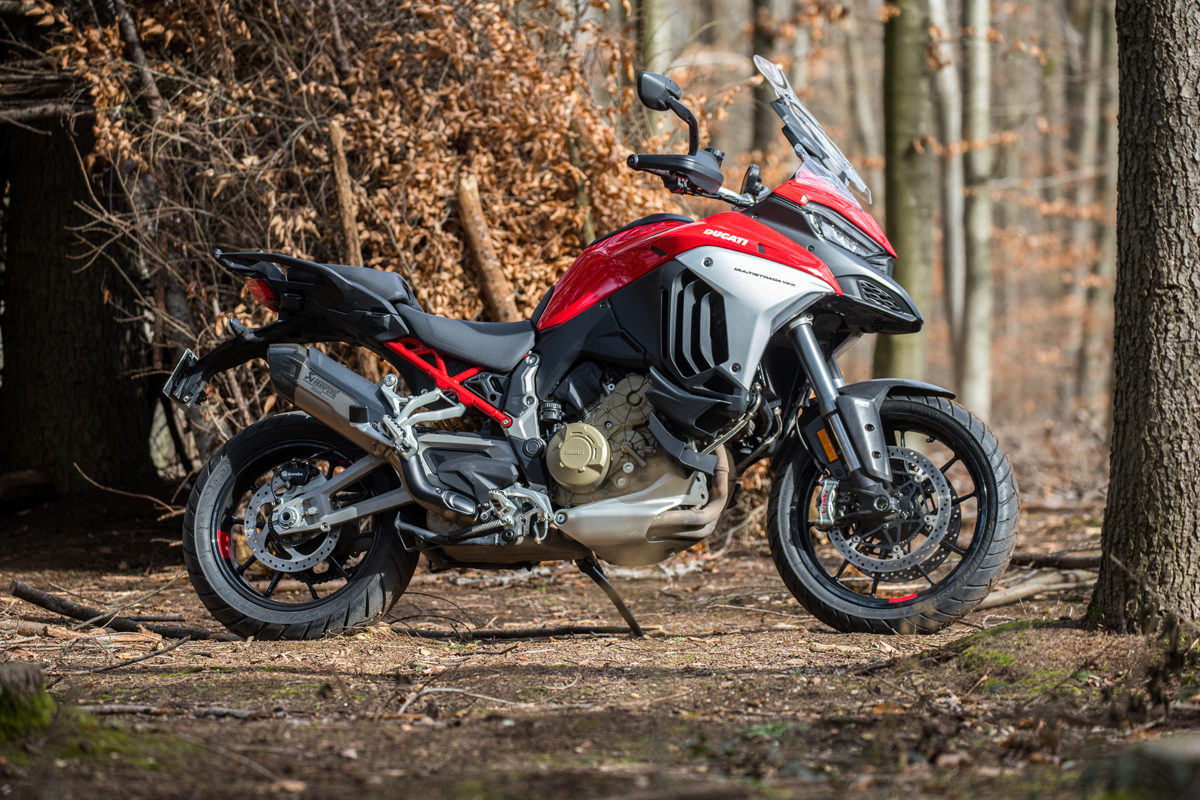 I did a bit of off-roading too—although it was in a dried-up muddy French forest. The standing riding position is good, with enough space for your legs around the tank. And, when ridden gently, the Multistrada V4 offers good traction and power delivery. Of course, tyre selection will change the bike's behaviour, and no, I don't want to go up Sani Pass with it… but in average conditions, it'll do well.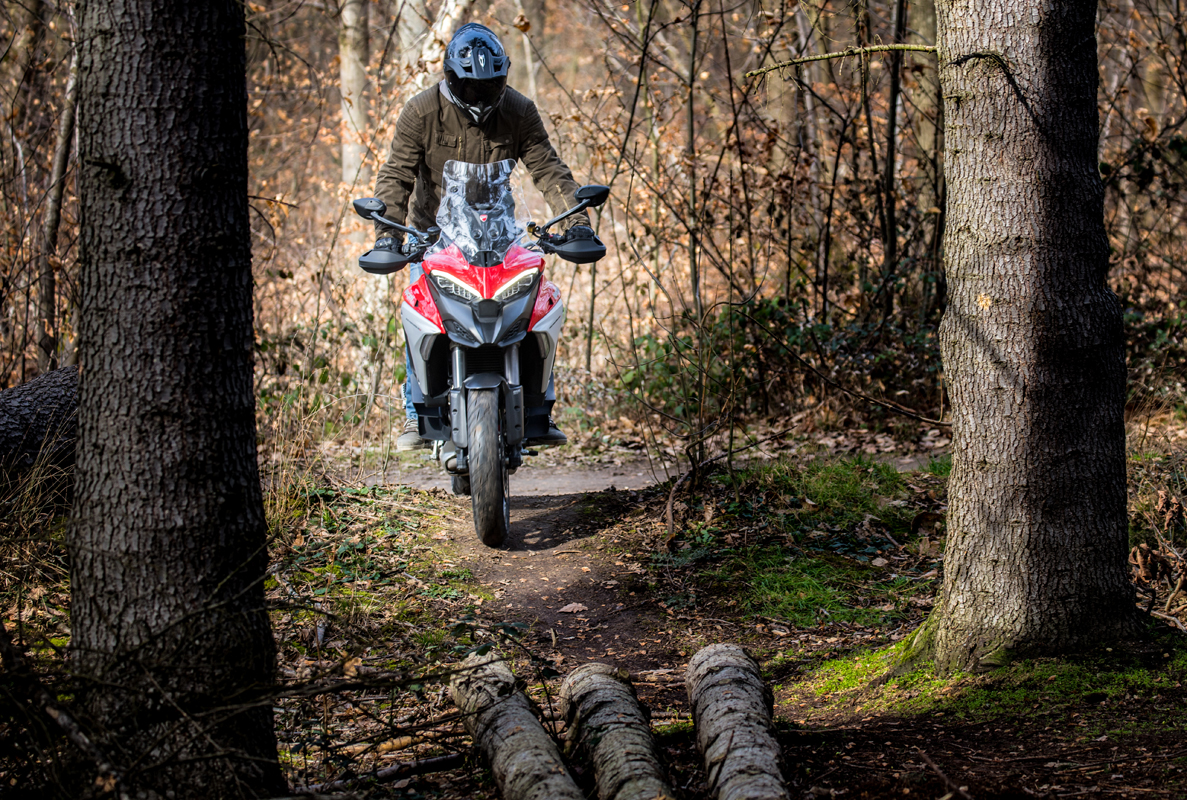 So, to my great satisfaction, I discovered that the Multistrada V4 is more powerful than the BMW S1000XR that I love. And that the V4's acceleration between 7,000 and 11,000 rpm is not for the faint-hearted! The Ducati is more versatile, more comfortable and smoother in every situation—but no less spectacular.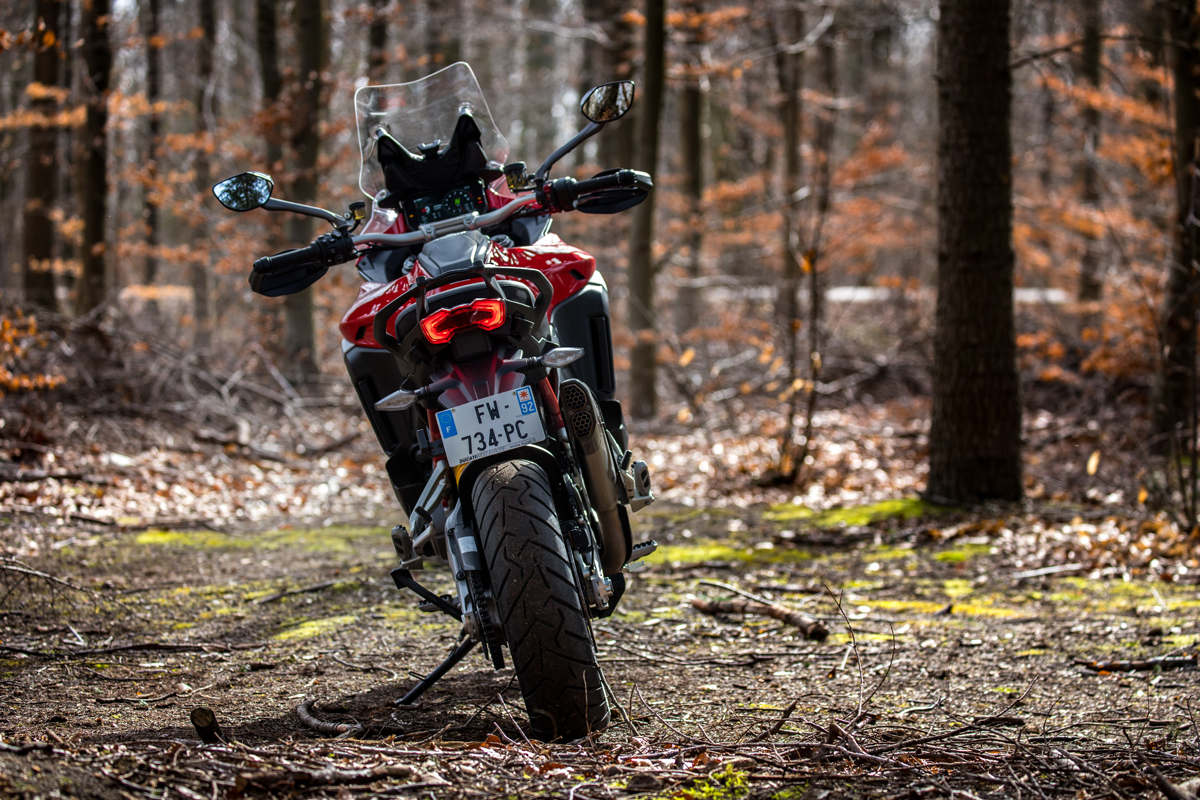 The new Multistrada V4 is available in three flavours – base, V4 S, and V4 S Sport.
2021 Ducati Multistrada V4: Starting from R292,700
2021 Ducati Multistrada V4 S: Starting from R358,700
2021 Ducati Multistrada V4 S Sport (Pikes Peak): Starting from R435,500
For more information contact World Of Motorcycles…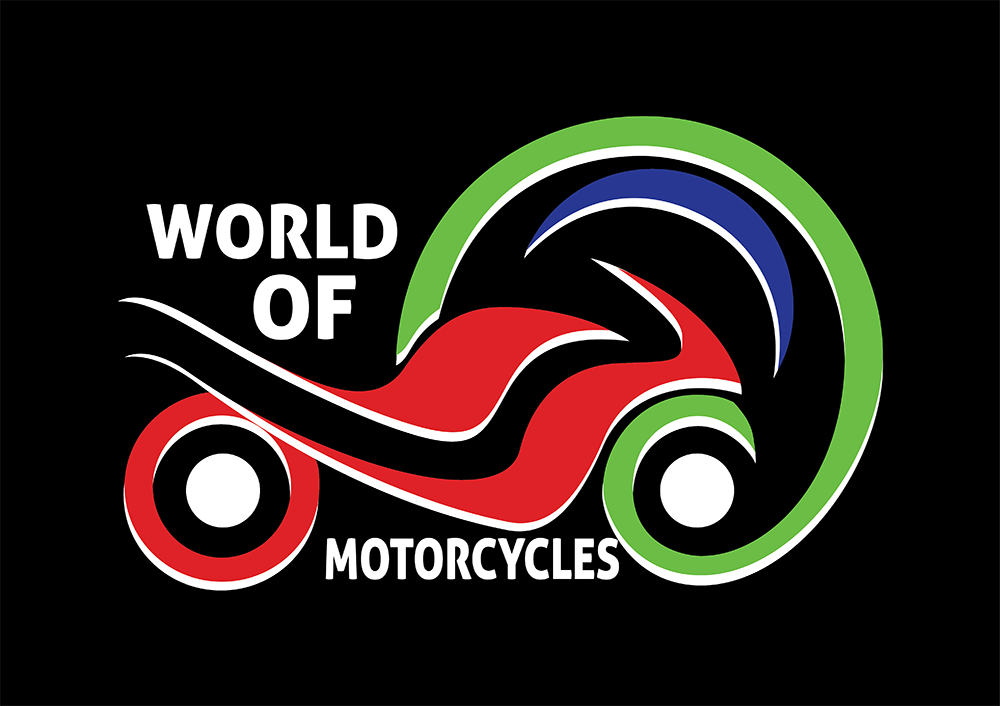 WORLD OF MOTORCYCLES
Tel: 012 765 0600
ZA Bikers Profile: World Of Motorcycles
Email: [email protected]
Social: Facebook
Address: 146 Akkerboom St, Zwartkop, Centurion, 0051, Gauteng.
Ducati Multistrada V4 S
For more information on the bike that we tested in this article, click on the link below…