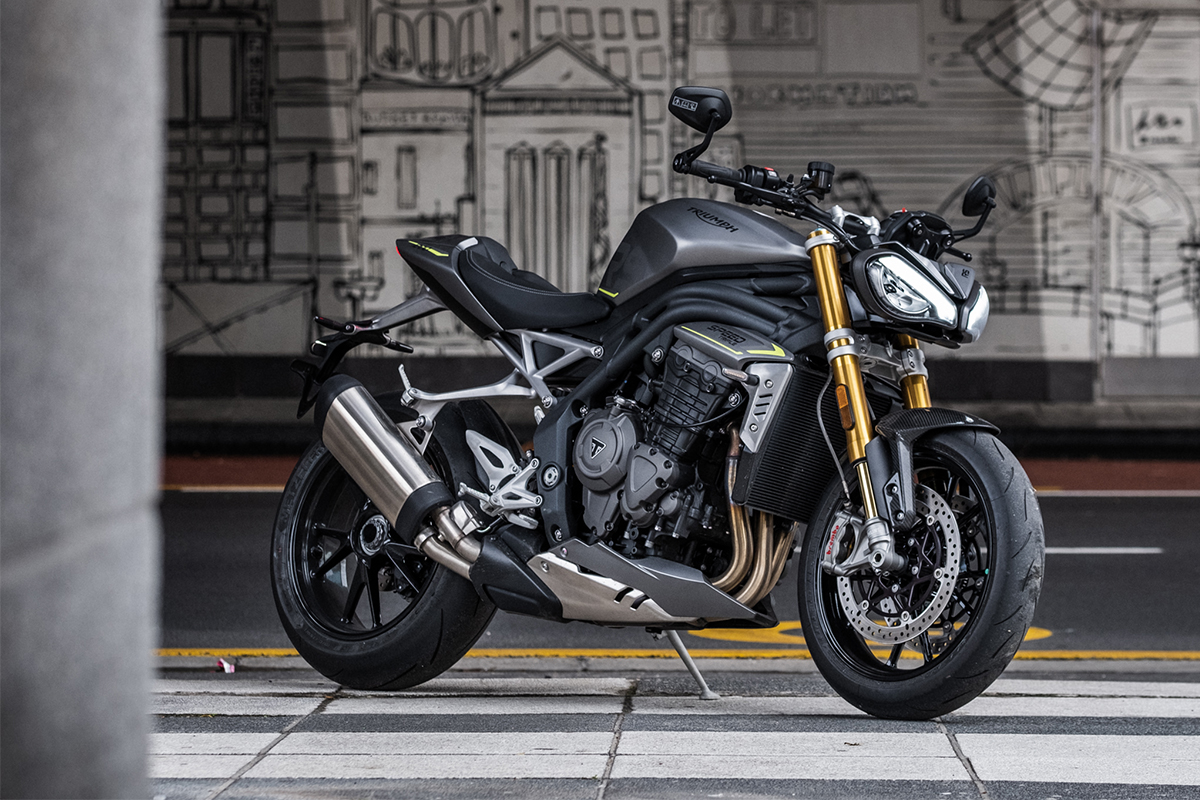 The modern factory streetfighter market is stacked with options, but few motorcycles can boast the iconic status of the Triumph Speed Triple. It's been around since the 90s, helped define the genre, and has built an unmatched cult following. But it's also been a little outgunned of late… so Triumph have completely redesigned it.
The 2021 Triumph Speed Triple 1200 RS is a big leap forward for the British marque, sporting 110 cc and 30 more horsepower than its predecessor. There's more to the story than just a power bump—but it is significant, because it's repositioned the Speed Triple among its peers.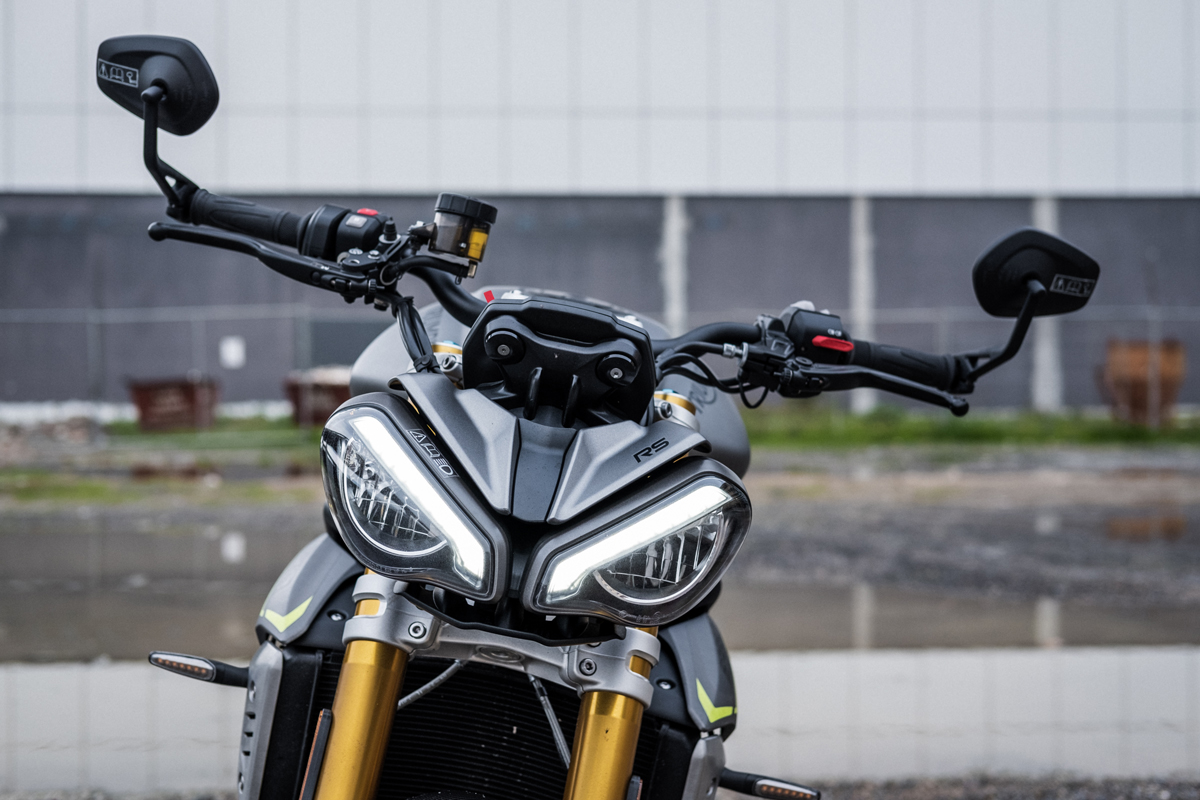 By pushing the Speed Triple's power to 177.5 hp, Triumph have properly thrown a cat among the pigeons. It's now on par with the 177 hp KTM 1290 Super Duke R, and a step up from the 147 hp Ducati Monster 1200 and 165 hp BMW S 1000 R. It's only outmatched by super-nakeds like the Kawasaki Z H2 and Ducati Streetfighter V4, and both of those are significantly more expensive machines.
The Speed Triple hits its 177.5 hp peak at 10,750 rpm, with 125 Nm of peak torque at 9,000 rpm, and the red line at 11,500 rpm. But it's not just more powerful than before; it's also 10 kilos lighter at 198 kg wet, and a lot more compact. That's because it's a ground-up redesign rather than a refresh, with major changes to the chassis, motor, clutch, gearbox and electronics package, and tweaks to the ergonomics and looks.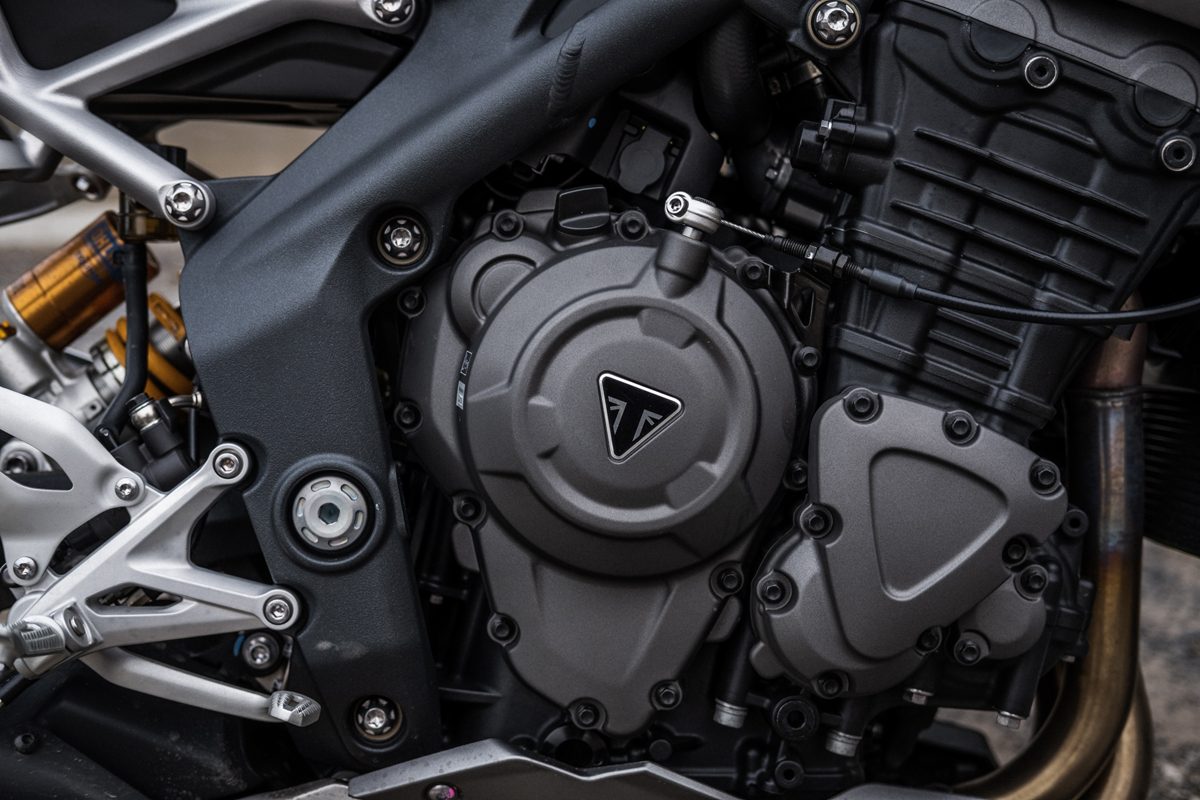 You can get the full skinny here [The Triumph Speed Triple 1200 RS is Here to Party], but the big takeaway is that Triumph have gone to town on fine-tuning everything that made the Speed Triple so popular in the first place.
Numbers aren't everything though, and 'good on paper' doesn't mean 'good in the real world.' So I borrowed Triumph Cape Town's only Speed Triple 1200 RS loaner for a firsthand experience of how it's changed, and if it's that much better than before. Since the bike's in hot demand, I had just one afternoon with it… giving me just enough time to answer five burning questions.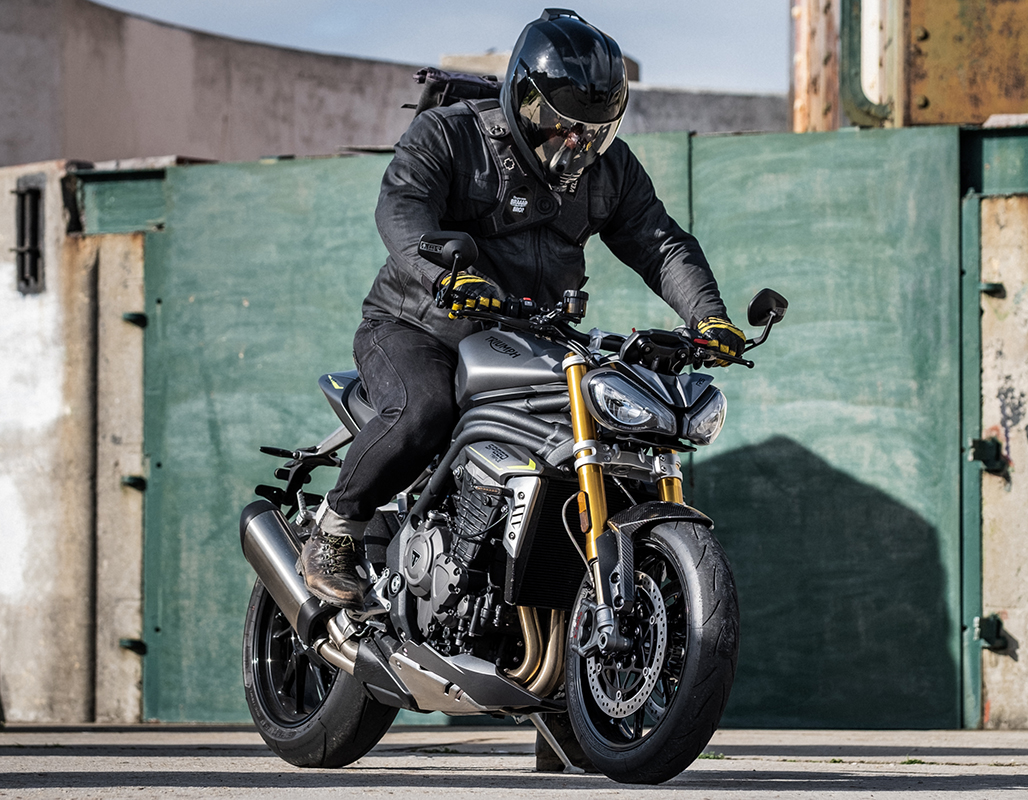 Is it overkill?
I'll let you in on a little secret: no-one really needs 177.5 hp on the street. Here's another one: on the street, you're seldom revving the Speed Triple 1200 RS high enough to even hit peak horsepower. The key here isn't that the new bike makes more power and torque at the top—it's that it's more powerful everywhere in the rev range, and that it's more usable.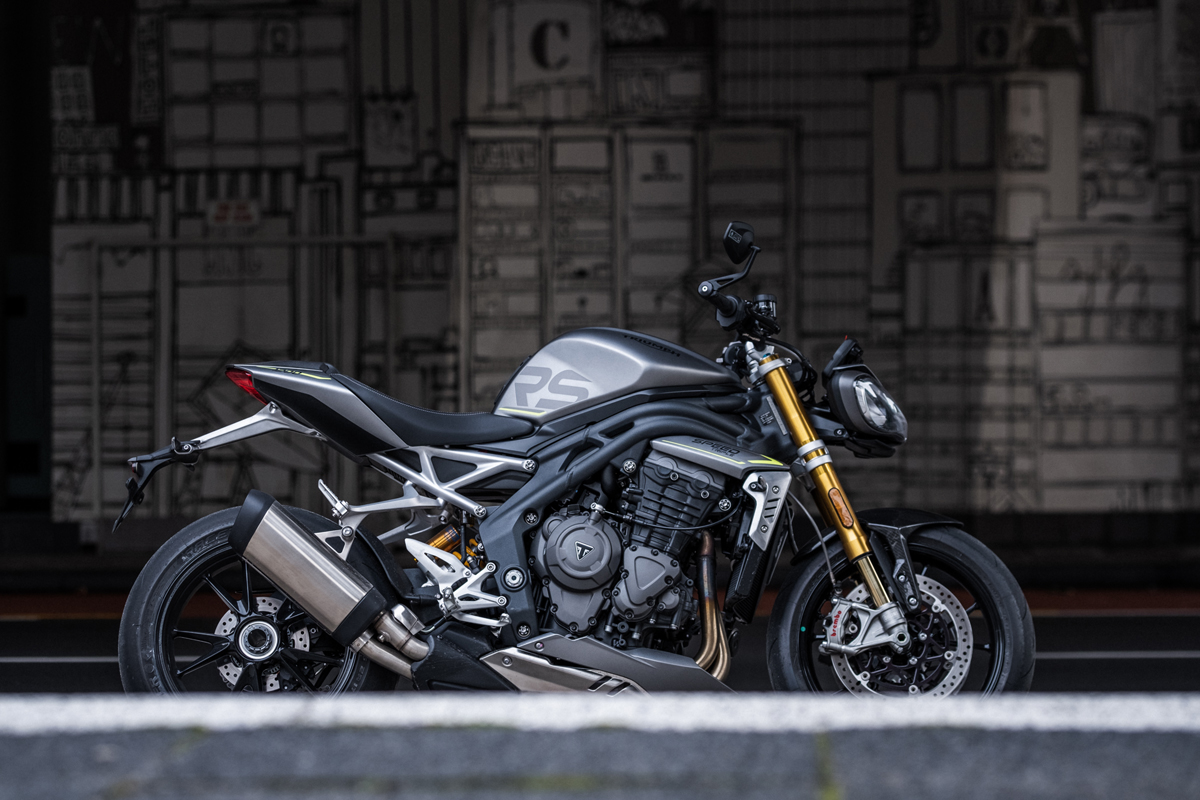 The throttle is smooth and responsive, and power rolls on consistently and flawlessly. That's partly because the new motor has less powertrain inertia than before, along with a revised intake and exhaust. And it's no doubt a result of revised fuel mapping, too.
Despite this, it's not an intimidating machine to ride. It's perfectly happy to be babied as you settle in, and even feels decent with the rider mode set to 'rain.' Flick it to 'sport' mode and crank the throttle, and it's instantly wily—but never unwieldy. In short, it'll give back whatever you put in.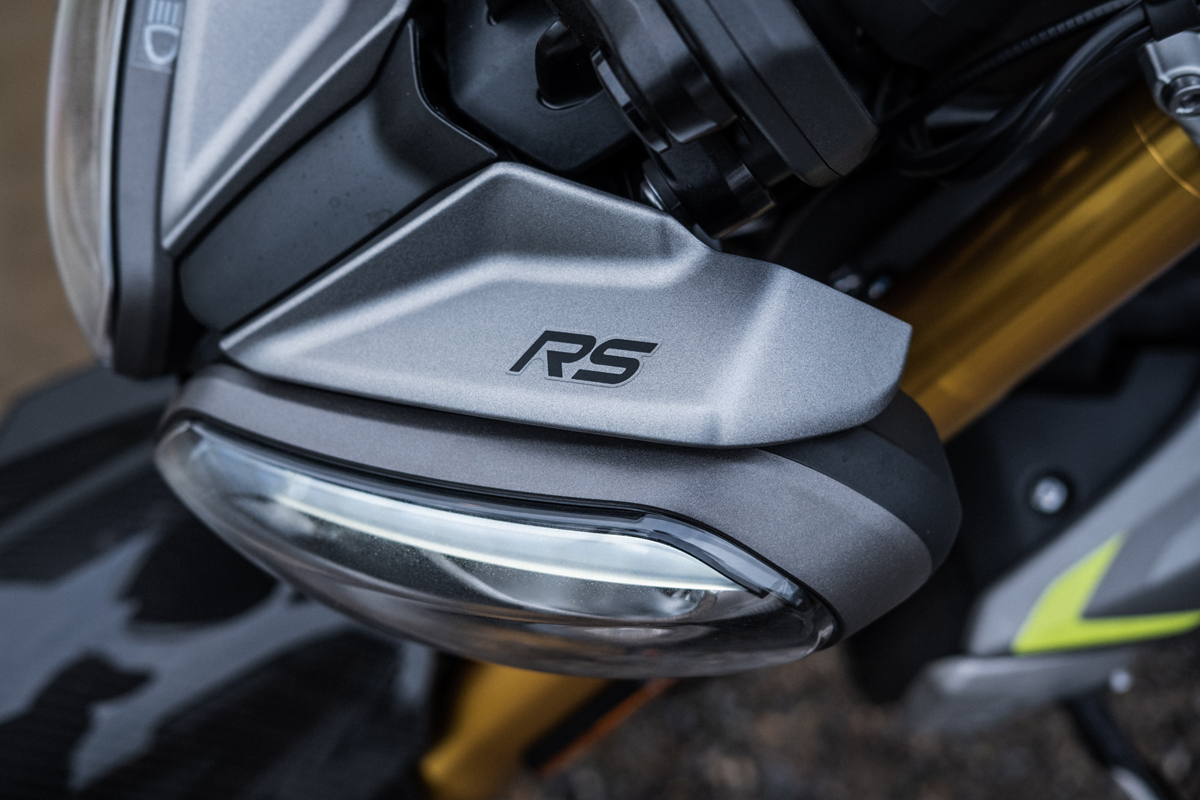 Add to that the inimitable triple cylinder feel that made its predecessors so popular, and this ranks among the best motors I've ever sampled.
(As an aside, I'm convinced it'll be an entirely different beast on track, where it'll have the space to properly cut loose. There's a 'track' mode just for that scenario too.)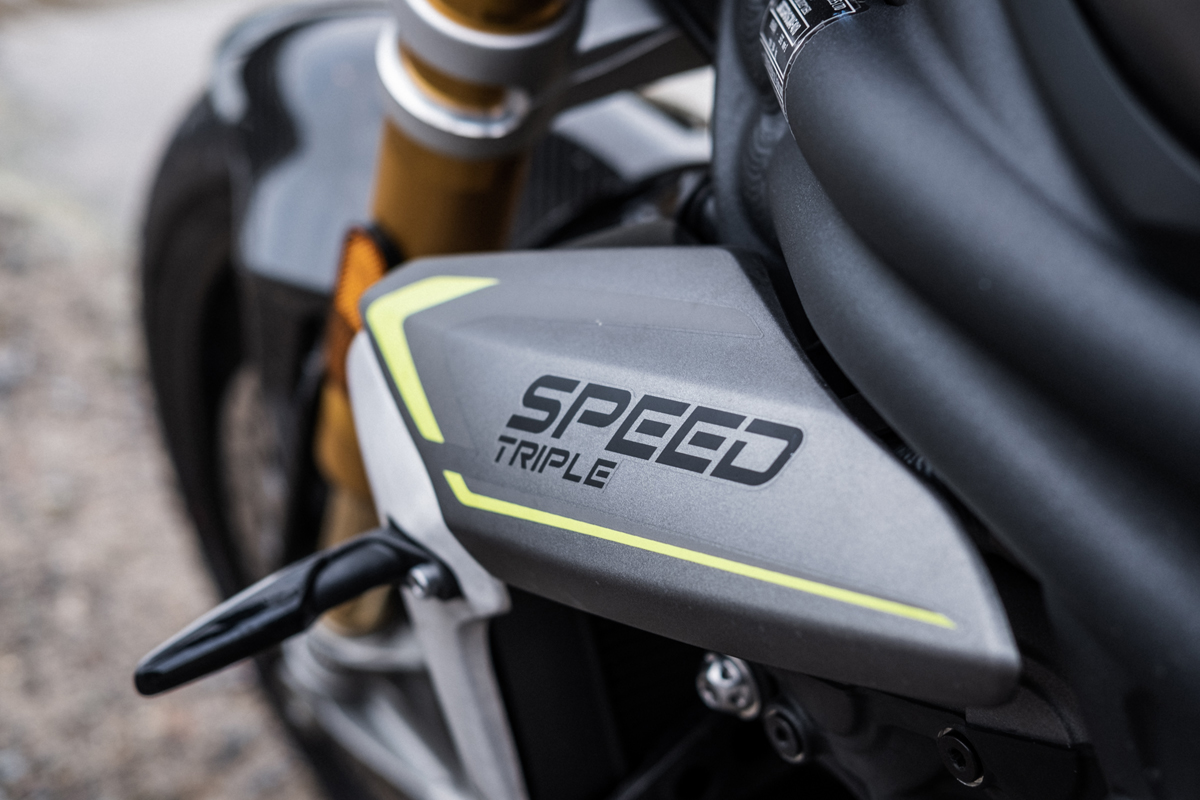 Is it too refined?
It's noticeably more refined than the outgoing 1050, but that refinement stops short of feeling sanitised. It accelerates so smoothly and turns so precisely that it almost feels boring at first—until you realise the pace you're riding at. There's a more advanced electronics package now too, with multiple ABS, traction control and anti-front wheel lift interventions baked in' but it never feels intrusive.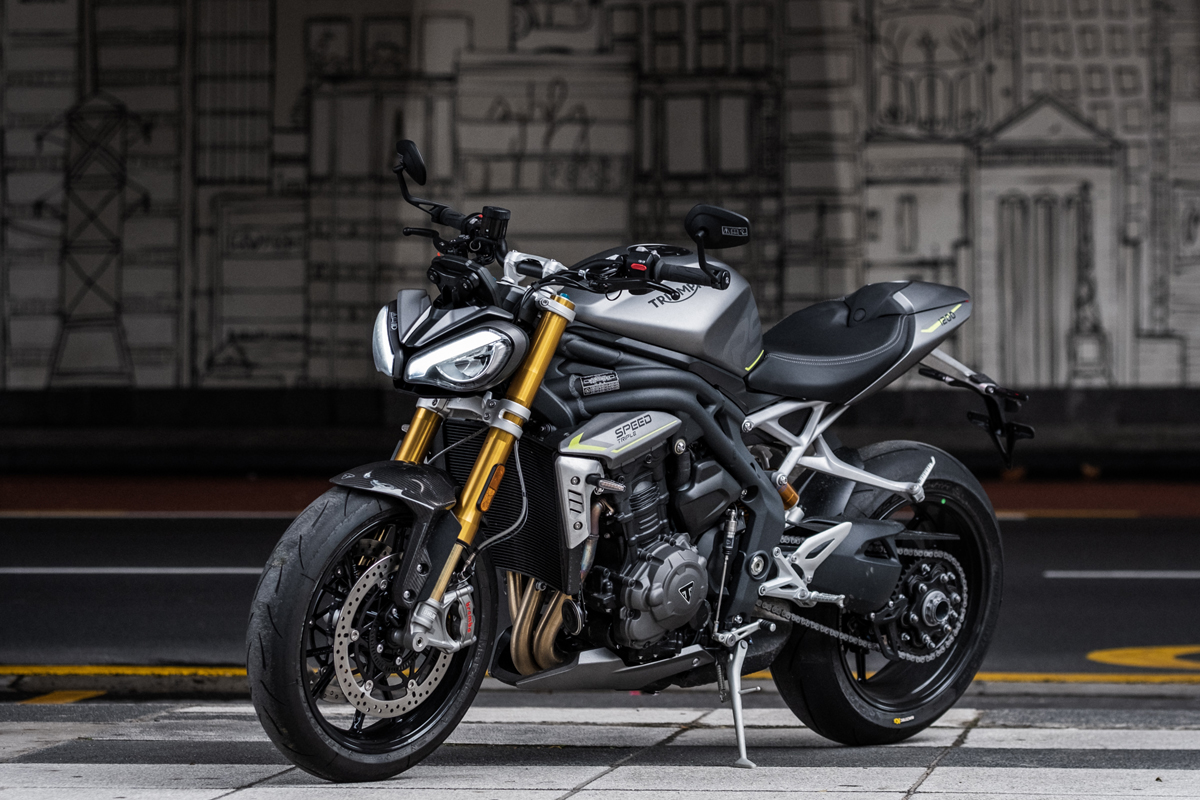 It's not all peachy though. While the Triumph's slip-and-assist clutch has a light enough feel and the gear ratios are spot on, the gear lever itself needs a firm foot to shift, and neutral is hard to find. It also has an up-and-down quick-shifter as standard (good), but unless you find the sweet spots, up-shifts can be jarring (bad).
Despite Euro 5 compliance, the Speed Triple's new motor, intake and exhaust setup all sound spectacular. Sure, the exhaust is a little muted—but the charm of triple cylinder motors has always been how they sound as they spool up, and that hasn't gone away.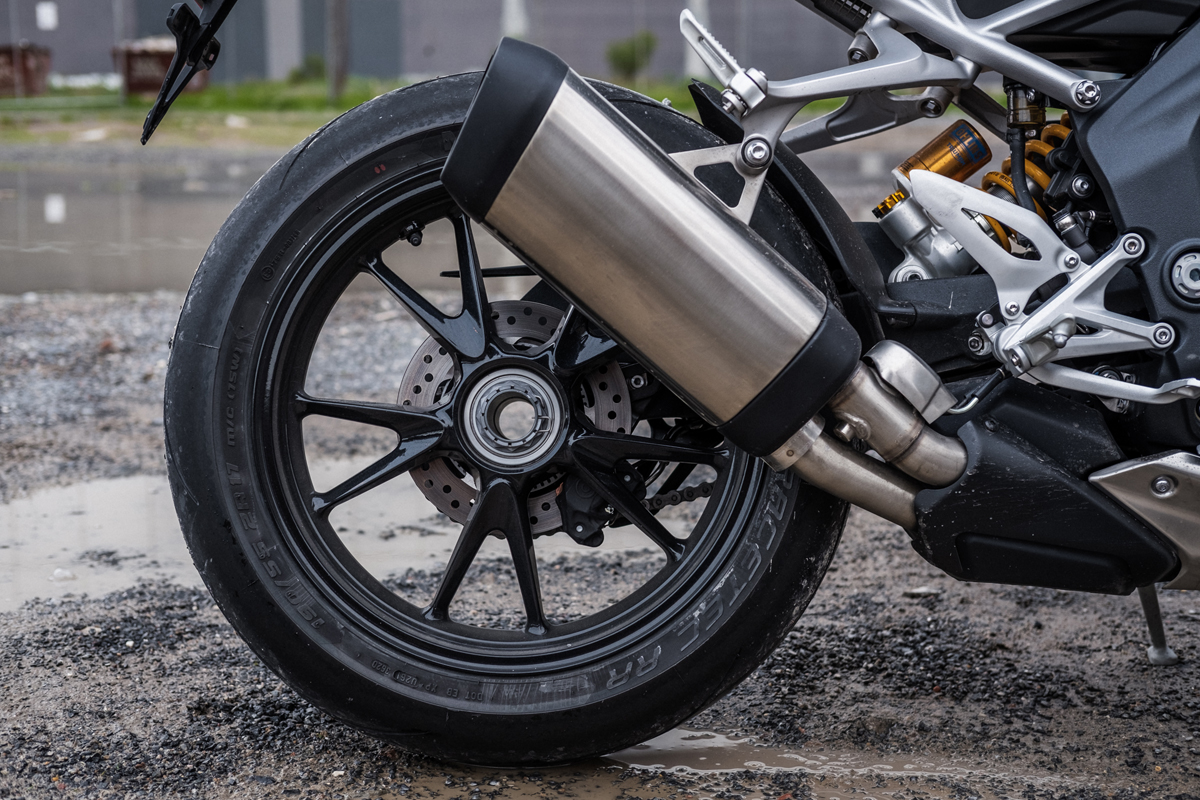 The new TFT is also a massive leap forward for Triumph, and uses a new screen technology that reduces glare, making it super-crisp in any light. It's a remarkably vivid display, but the actual on-screen design is in desperate need of simplification. Triumph's designers have quite literally shoved a round peg into a square hole, and the result is wasted space and information that's so clustered, it's hard to navigate.
There's a lot of info available if you dive deeper—but I don't want to be fiddling with a joystick on the switchgear and trying to decipher menus, when I should be focussing on the road.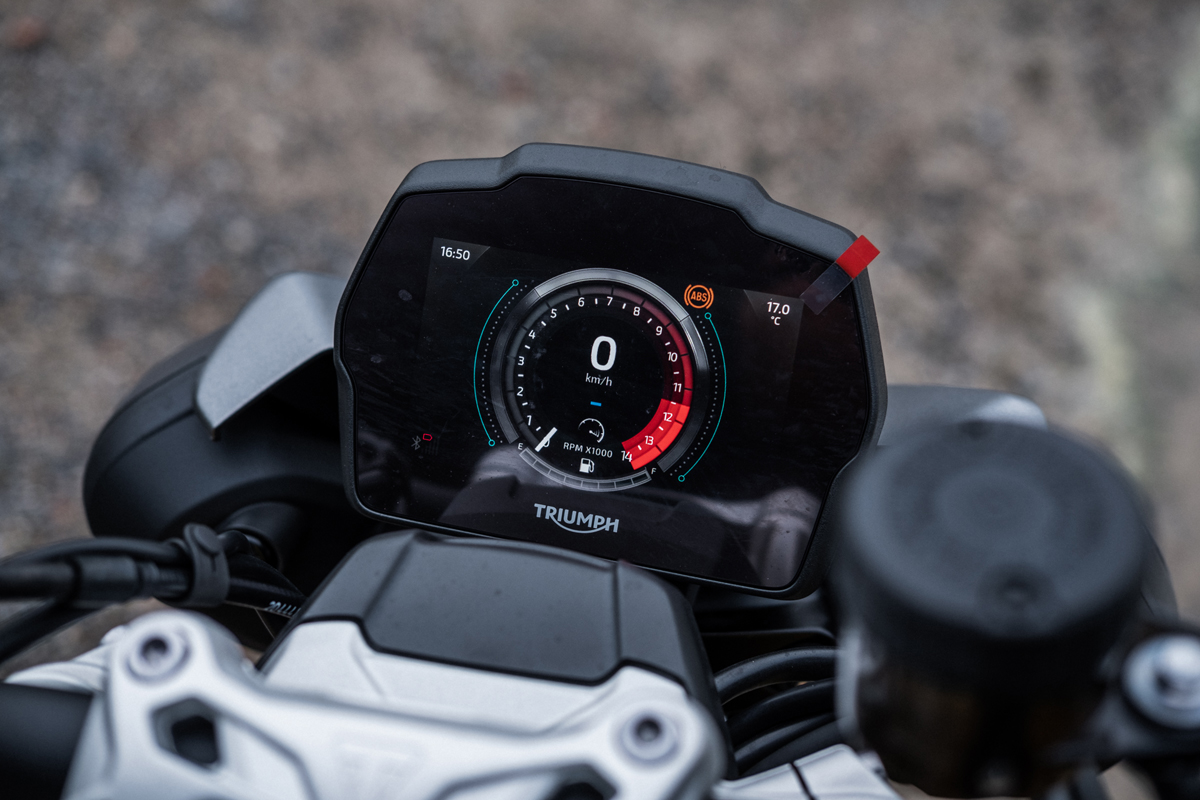 How does it handle?
Like it's on rails. The Speed Triple's weight loss is tangible, and it feels just as compact as it looks. Through corners, it's a true point-and-shoot machine.
The revised ergonomics also put your feet a little further back, and give you more leverage with wider bars—so the bike feels most natural when it's being thrown around. But they also make it a harsher ride, by pushing you into the tank and putting weight on your wrists.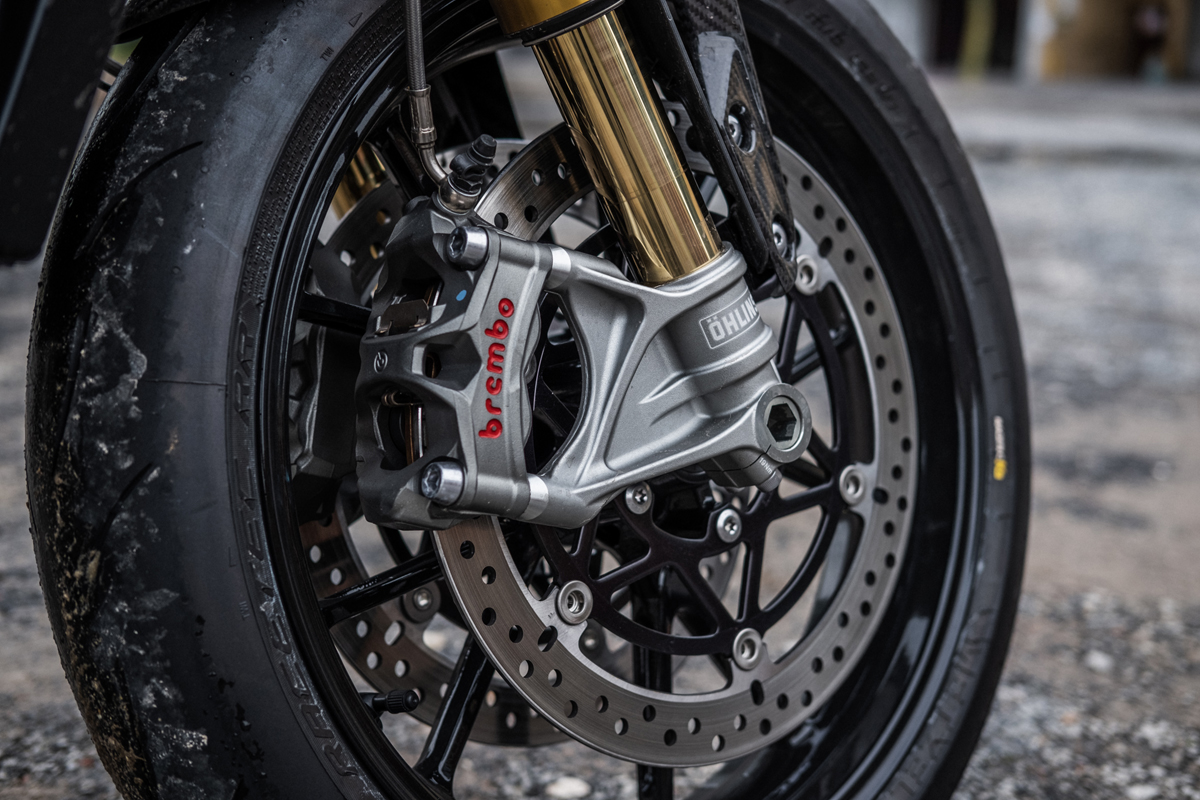 With Brembo Stylema brakes and Metzeler Racetec RR tyres as standard, there's more than enough grip, feel and stopping power to keep things well under control.
There's full adjustable Öhlins suspension too, but it's very stiff out the box. So it's stellar when the road surface is perfect, but harsh when it's less so. You might be able to dial it in over time, but my gut says you'll never quite tune out the harshness. The trade-off is a bike that feels eerily planted when it's pushed hard through turns, and should excel on the track too.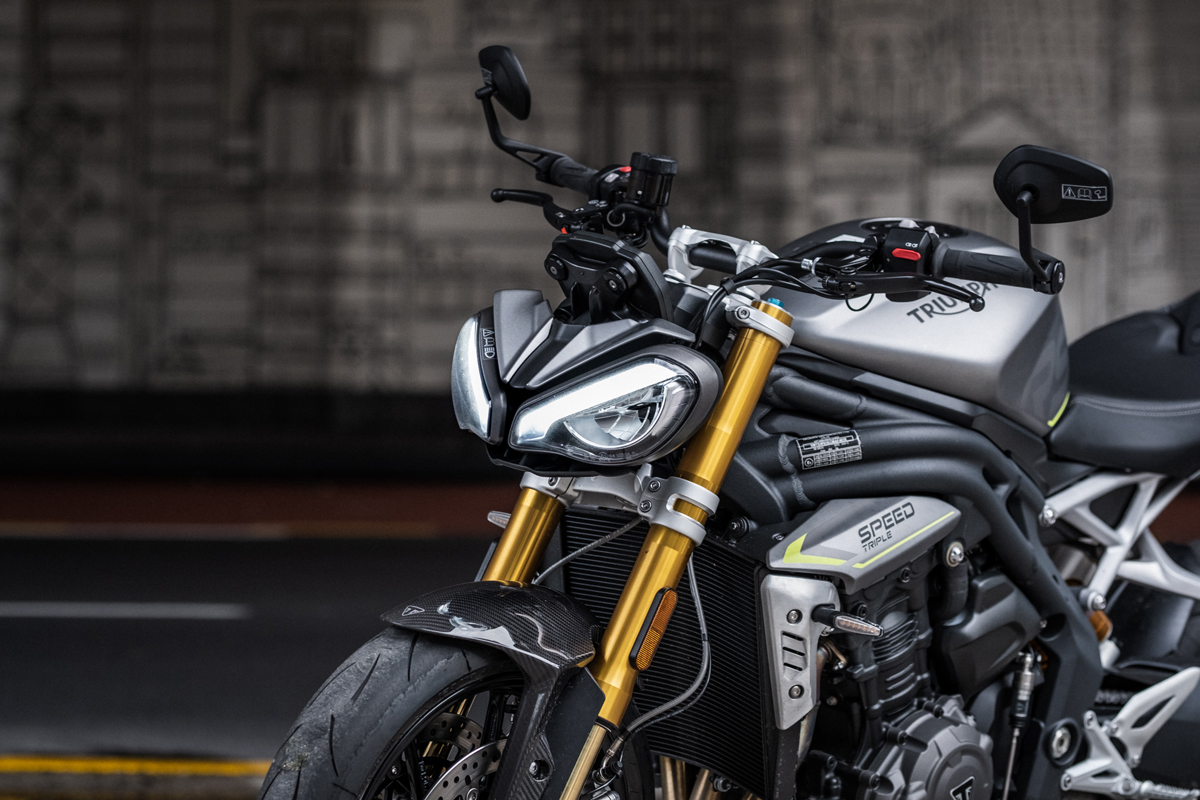 How about those headlights?
Some people hated the twin round headlights on the 1997 Speed Triple, and even more people complained when they became slanted headlights. If you're designing a new Speed Triple and you're not upsetting someone, you're doing it wrong.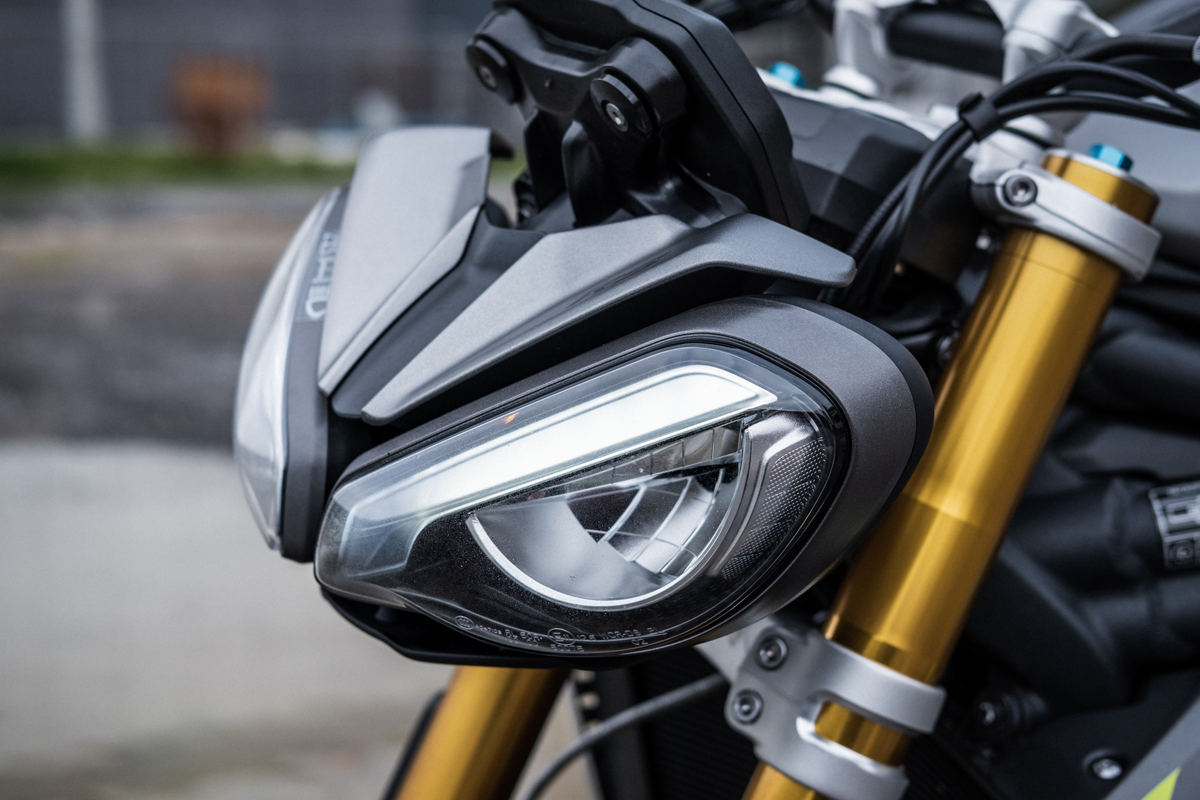 That said, I love everything about the new Speed Triple's design. I dig the narrower headlight cluster, the slick LED running lights inside, the tiny air duct below them, the sharper angles of the bodywork, and especially the burly side-slung exhaust that harks back to early models.
There's enough of the line's DNA to keep it recognisable as a Speed Triple, but it's way more svelte, and distinctly more aggressive looking.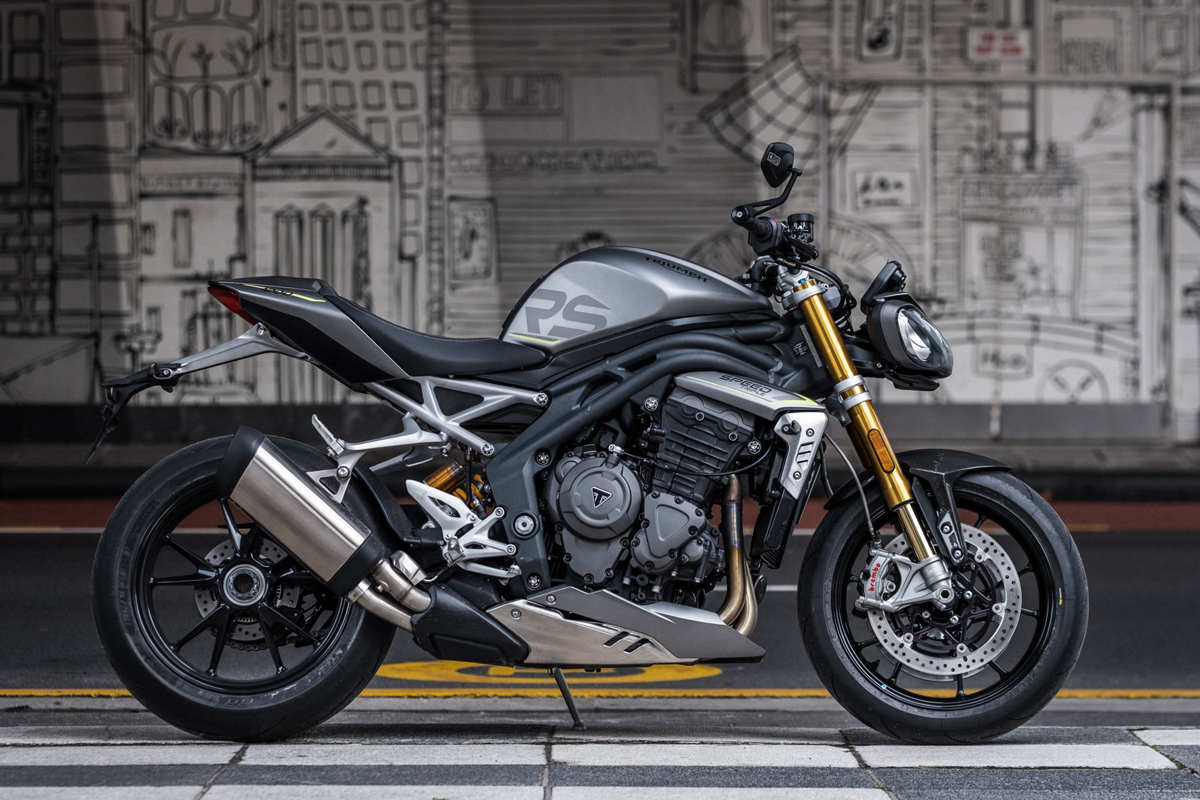 Is it worth jumping to it from the Street Triple?
There's no clear answer here. Some people pick the Street because, at R180,000 versus the Speed's R259,000, it offers maximum bang at much less buck. But others pick the Street over the Speed because it's a lighter, more flickable and more manageable machine… and with the refinements to the Speed's handling, that gap is much smaller.
Maybe you already own a Street Triple RS and are considering an upgrade, or maybe you're buying a new bike and aren't sure what to get. Either way, you'll have to test ride both bikes side-by-side and figure it out for yourself.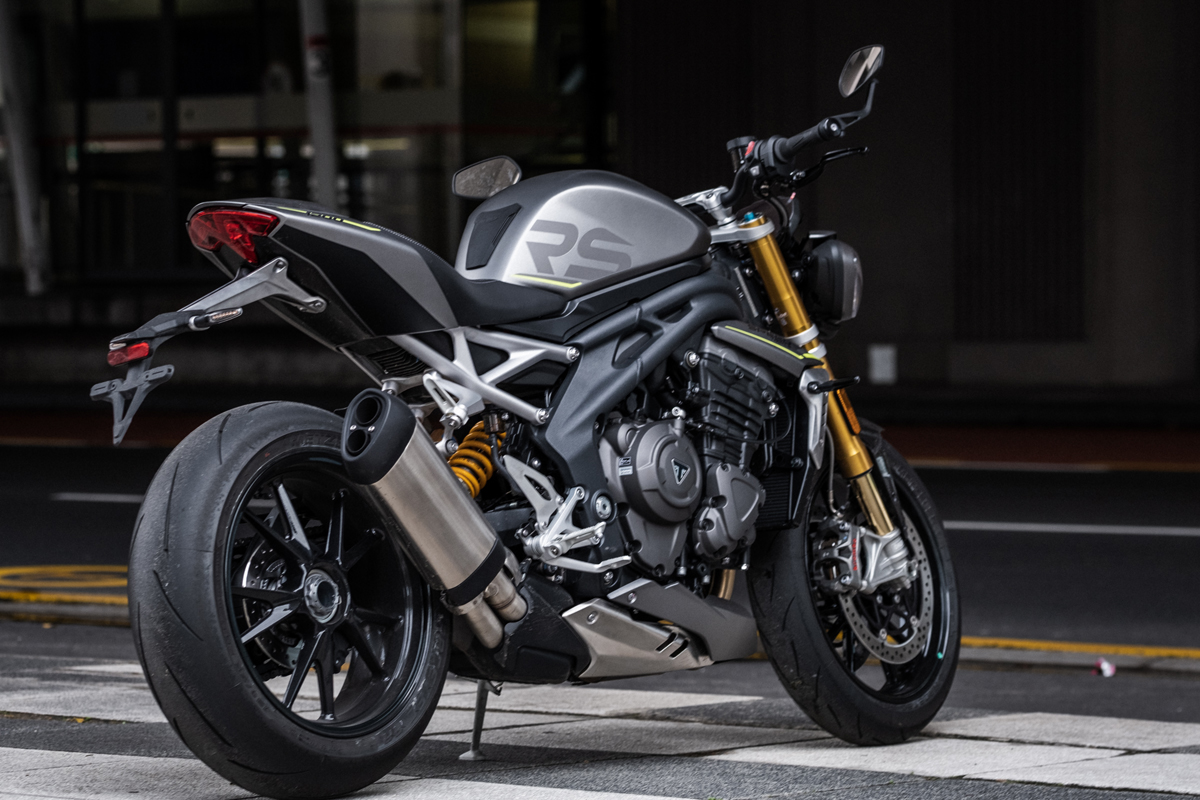 Triumph Speed Triple RS
For more information on the bike that we tested in this article, click on the link below…