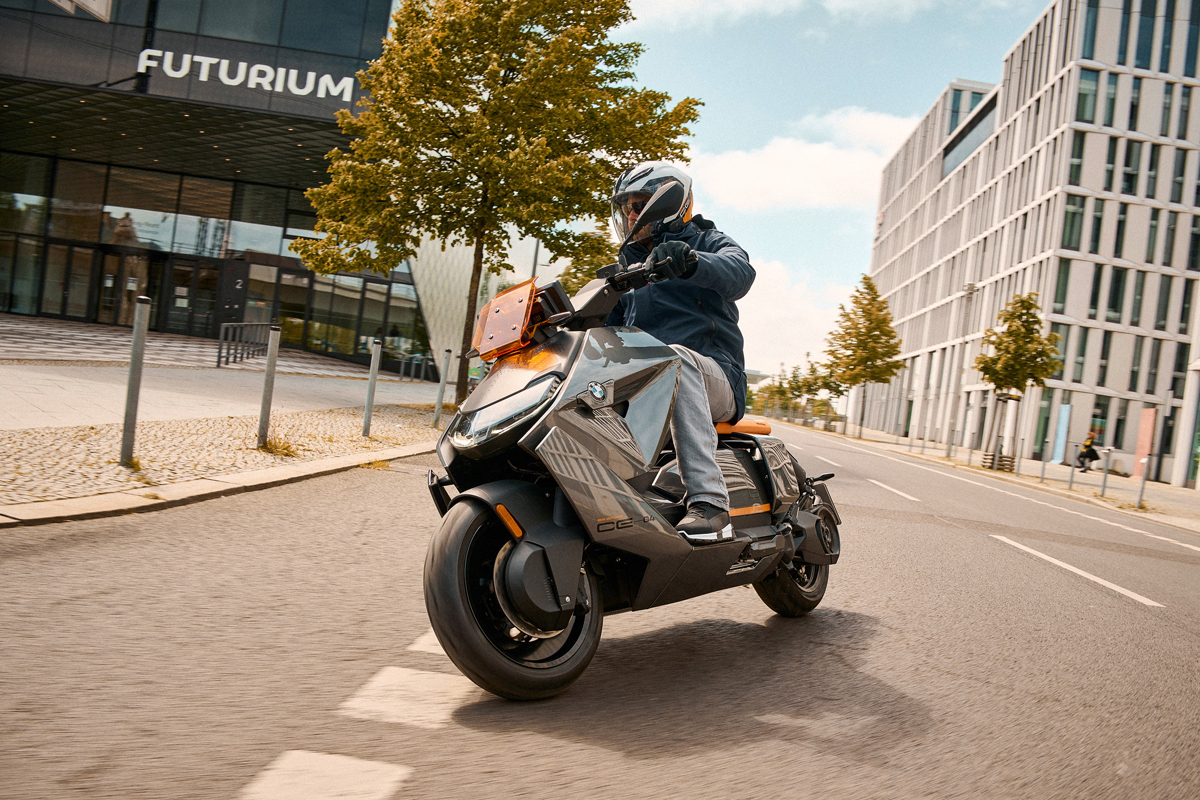 When BMW Motorrad teased their Definition CE 04 electric scooter concept late last year, they made no bones about the fact that it would eventually go into production. Now we've got a look at the production-ready BMW CE 04, and it's remarkably close to the ultra-futuristic concept.
The CE 04 is a very logical move for BMW. Until electric motorcycles can go further and charge quicker, electric-powered two wheelers make the most sense in urban environments. Add that to BMW's clear commitment to electric power in their automobile range, and an electric scooter is a no-brainer for them.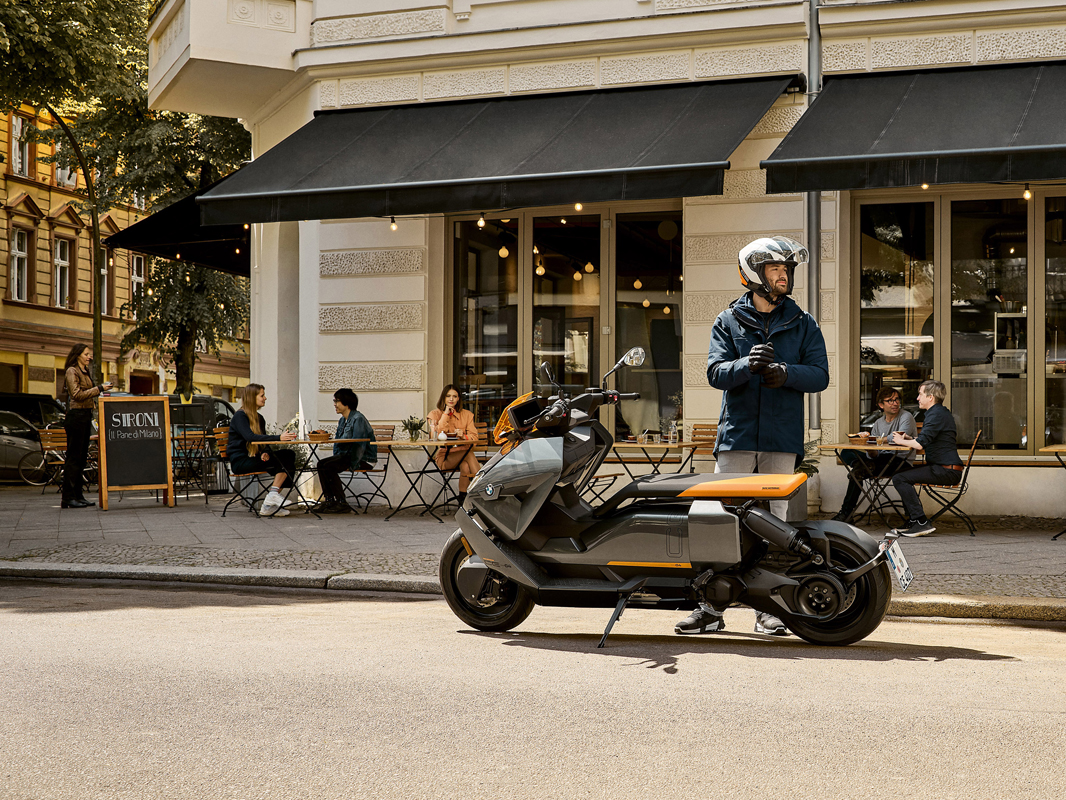 Looking at the numbers, the CE 04 is most definitely built for urban mobility. It puts out 31 kW (42 hp), with a top speed of 120 km/h and a 0-50 km/h time of 2.6 seconds. So while it's only just adequate for highway use, it'll excel in the city.
The powertrain itself is a liquid-cooled, permanent magnet electric motor, mounted in the chassis between the battery and the rear wheel—a design borrowed from the BMW 225xe Active Tourer hybrid. The Lithium-ion battery has a capacity of 60.6 Ah (8.9 kWh), which BMW say is good for a range of 130 kilos. That's ample for getting to work and back, with a few detours thrown in.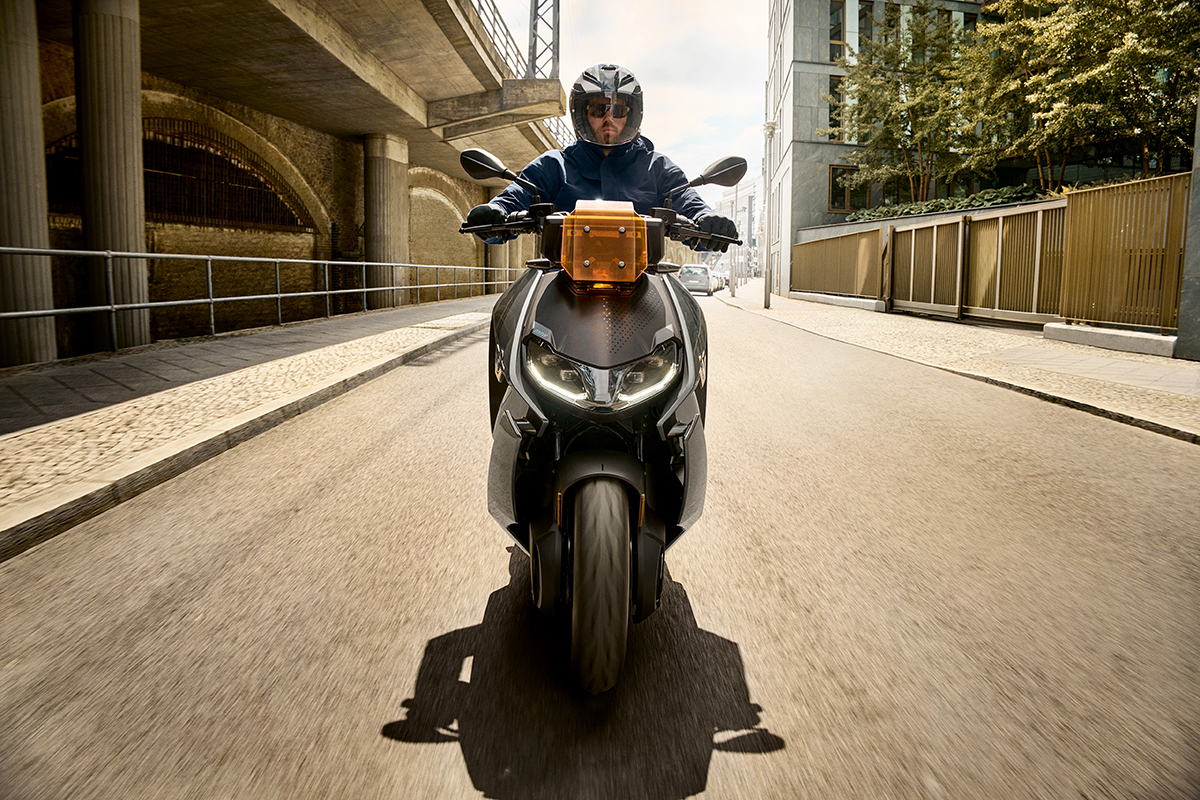 BMW have borrowed tech from their electric cars for the CE 04's charging system. They claim a full charge from flat takes just 4 hours and 20 minutes, regardless of whether you're using a wall socket or public charging station. And there's an optional quick charger that'll bring that down to 1 hour and 40 minutes.
But the real kicker is that a charge from 20% to 80% will only take you 45 minutes with the quick charger. Which makes it easier to top up enough to get home, in a pinch.
The CE 04's also sporting the same rider modes as the rest of BMW's motorcycles, with electric-specific features like regenerative braking baked in. 'ECO,' 'Rain' and 'Road' modes are standard issue, and work much the same they would on an internal combustion motorcycle. BMW's Automatic Stability Control is included too, which limits engine torque to prevent rear wheel slip. 'Dynamic' mode, and traction control, are available as factory add-ons.
Everything's packaged around a one-piece tubular steel frame, with 35 mm forks up front and a single-sided swingarm at the back. The CE 04 rolls on 15" disc wheels, with a belt drive putting power to the back. The braking system uses twin discs up front, with ABS as standard, and cornering ABS ('ABS Pro') as an option.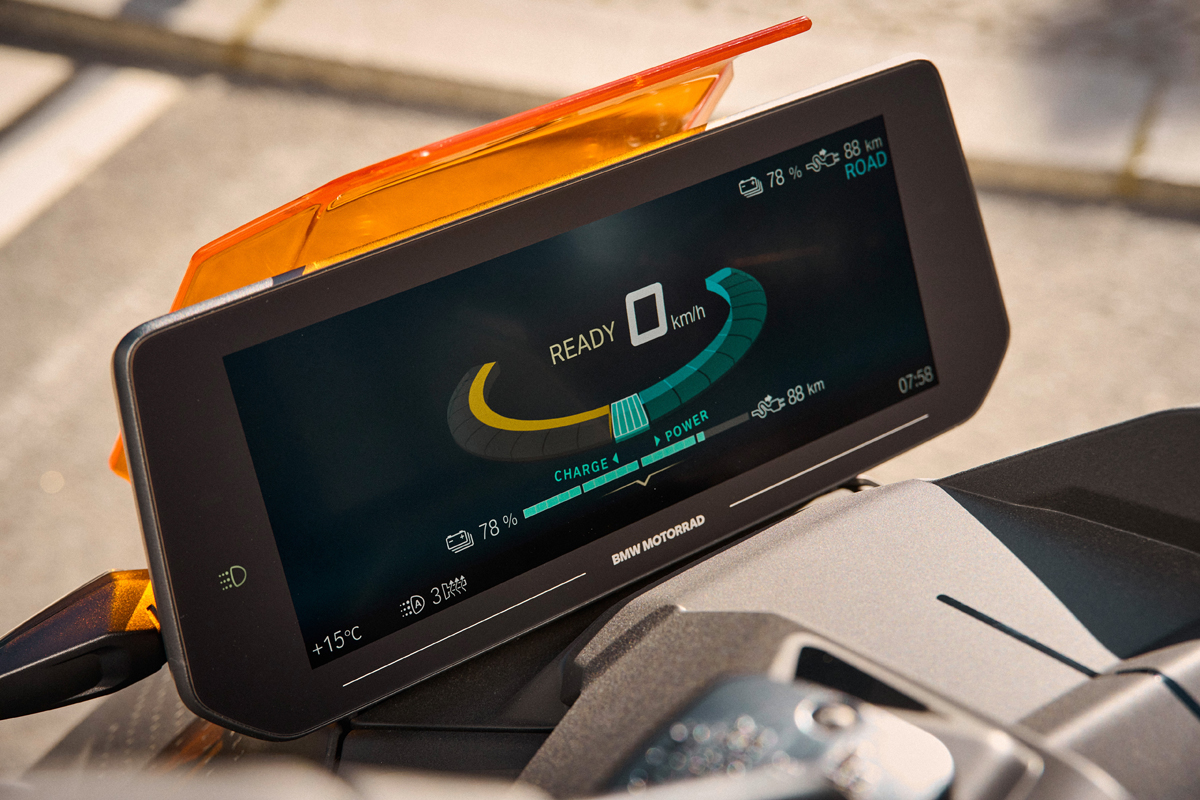 Very little has been lost in translation from the Definition CE 04 concept design, to the final bike. The vibe is borderline futuristic, with a couple of seriously bold aesthetic choices—like the 'floating' seat and the modernist graphics. Initial colours on offer include white, and a grey with orange accents that will no doubt cost a little extra.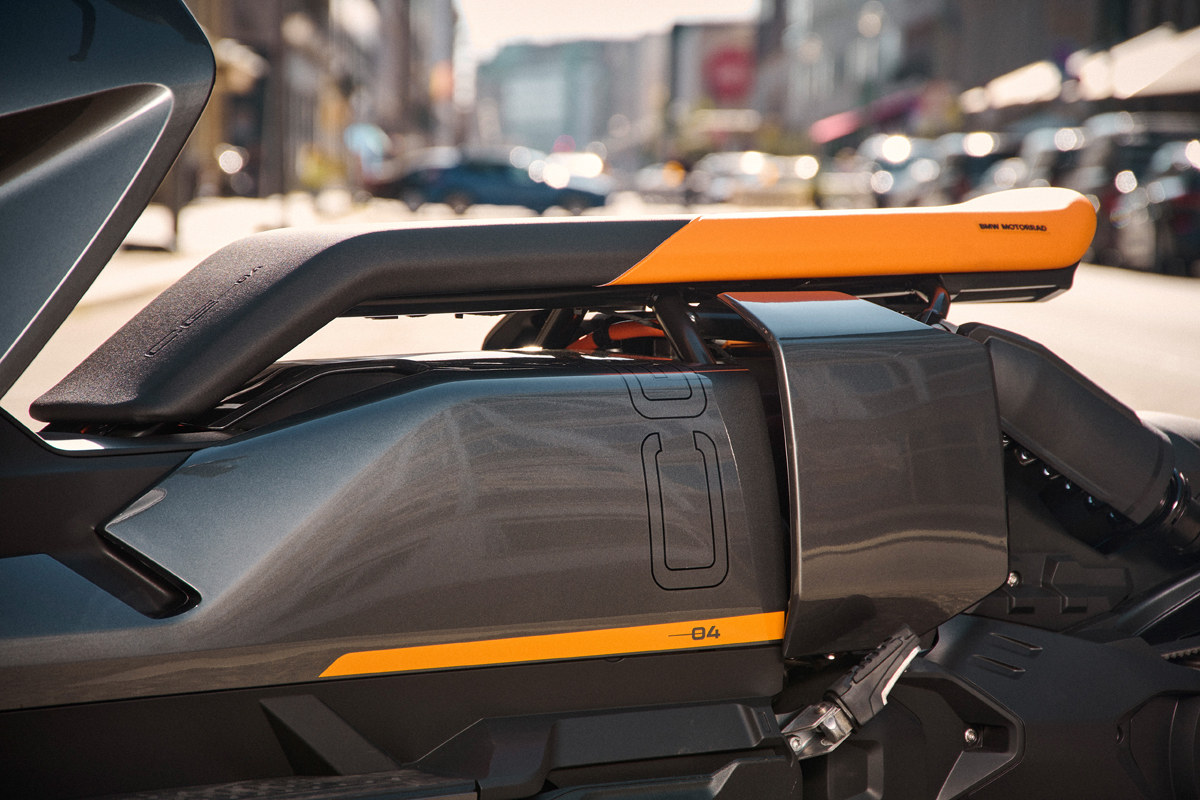 It's a sharp-looking scoot that admittedly won't appeal to everyone… but I'd happily ride it.
As you'd expect from a scooter, practicality's built in too. There's storage up front and under the seat—except the compartment under the seat's actually accessed from the side. There's space to store the CE 04's charge cable onboard too, and a USB-C charging port for smartphones.
The CE 04 comes with LED lighting all-round, with cornering lights as an optional extra. There's also a 10.25" TFT display tucked behind the svelte translucent fly screen. The display includes smartphone connectivity via Bluetooth, with integrated map navigation, similar to the setup on the R 1250 RT.
There are of course a host of add-ons for the CE 04, like a bigger screen, and various seats. And BMW have rider gear to match, too.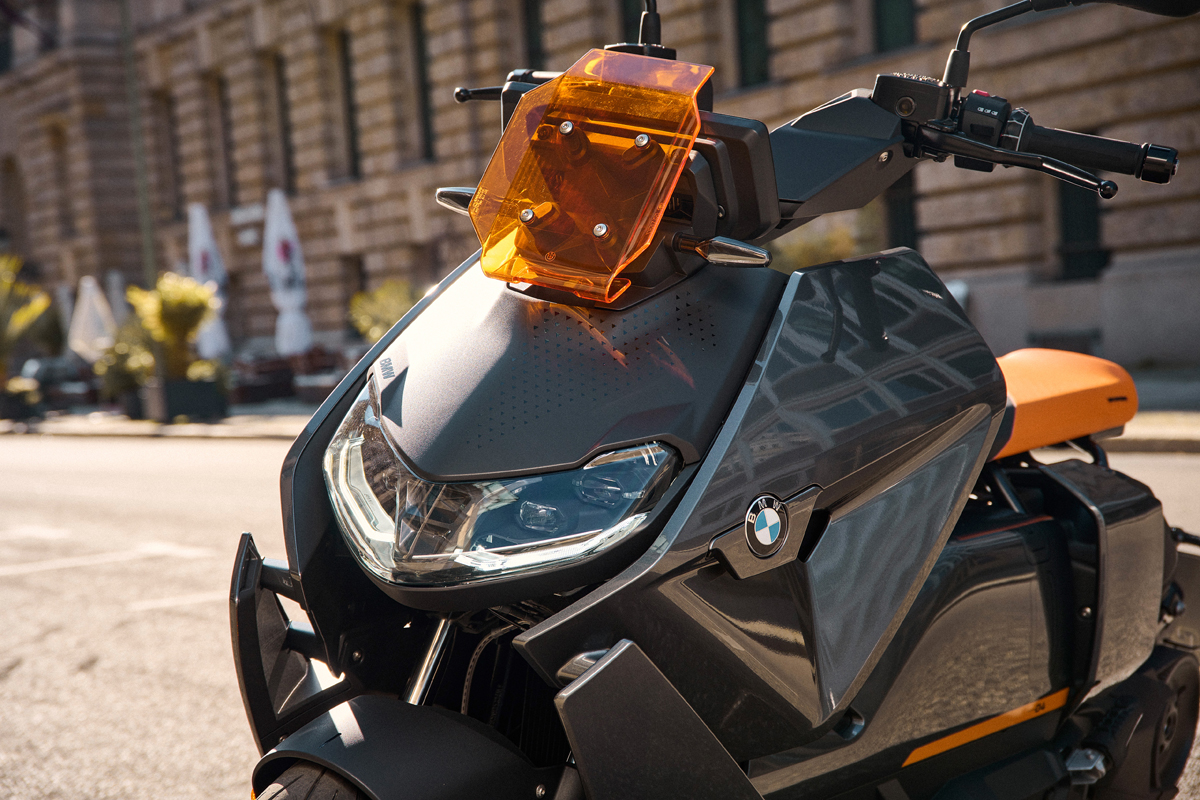 It's unlikely that the CE 04 will make its way to South Africa, but it's significant in what it represents. Although it's not BMW Motorrad's first foray into electric scooters, it shows a lot of consideration and intent from the Bavarian marque. And if you consider that BMW's electric footprint (and charging network) is steadily growing in South Africa, perhaps there is a future for bikes like this here.
Besides, if this is how good BMW's new electric scooter looks, I'd love to see what else they're cooking up.