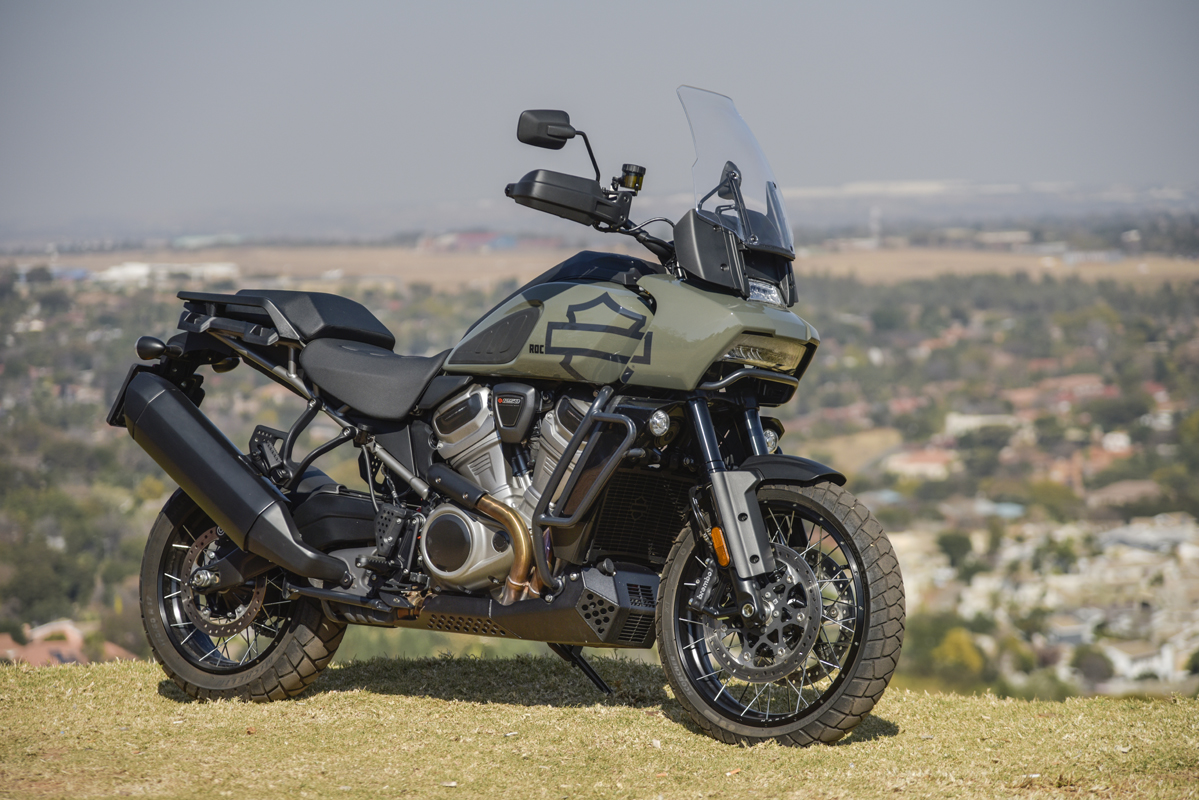 Anyone who thinks that Harley-Davidson does not have the technical ability to build a competitive adventure bike is not only delusional but downright dumb! I have followed reams of vitriolic drivel on social media, spouted by riders of the current crop of adventure bikes, slating Harley's entry into the adventure space with their Pan America. The general drift is that Harley can and should only build overweight underpowered old tech cruisers, as that is all that they are capable of. Even making a comment like that smacks of absolute ignorance and a case of engaging your tongue before putting your brain (if you have one) into gear.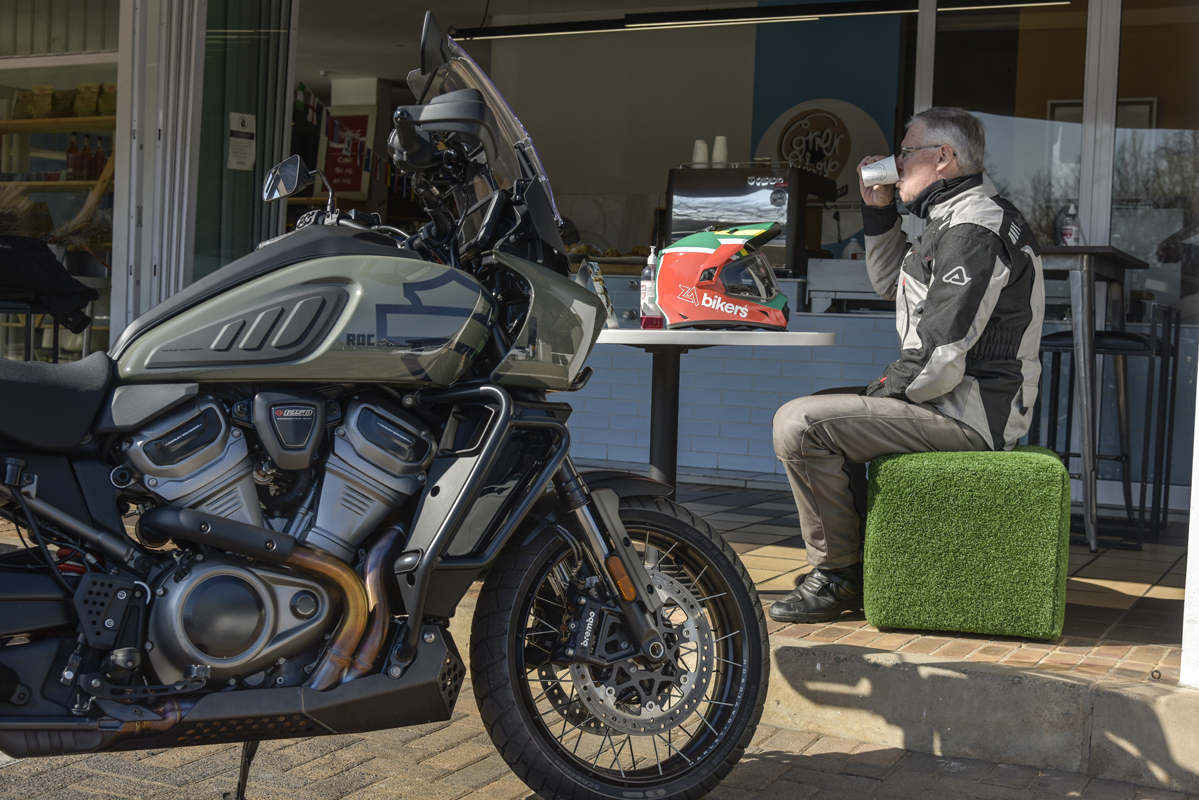 Let's digress for a moment with a motorcycle motorsport quick quiz for these brain donors. What is the most winningest race motorcycle of all time? "Well, it certainly can't be a Harley", I hear these fellows say, with a derisive howl. Sorry to burst your ignorant bubble. Ever heard of an XR 750? Yeah, I thought not. Those a bit better informed about motorcycles generally, or who have watched that all-time classic motorcycling movie, 'On Any Sunday', will know that the Harley XR 750 has won more races over a longer period of time than any other race bike ever! The first race won by an XR 750 was in 1972 and the last was in 2008. 36 years of dominating flat-track racing, winning 29 AMA Grand National Championships. Not too shabby for builders of fat, flabby cruisers hey? So dude, if Harley says they are serious about building a contender in the adventure bike space, at least be clever enough to shut up until you have personally ridden it!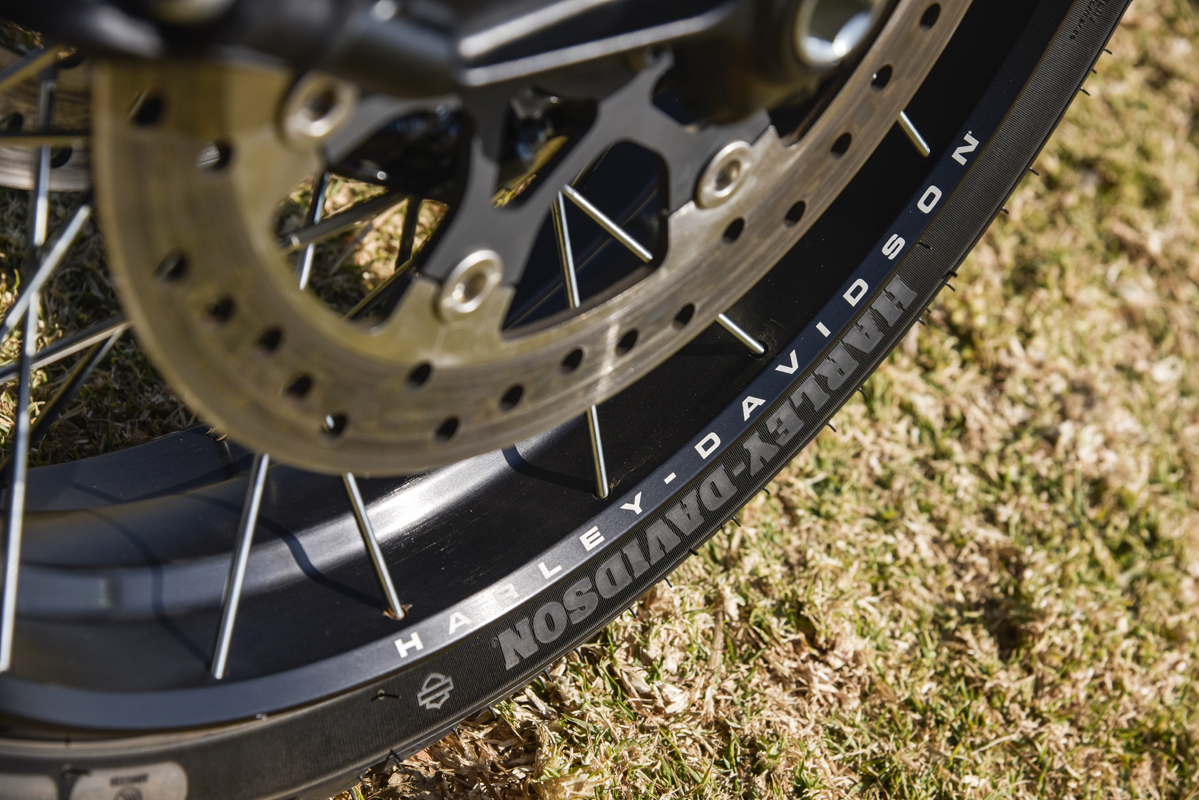 Courtesy of ROC Harley-Davidson in Alberton, I spent a mere three odd hours in the saddle of a H-D Pan America, so I am in no way qualified to speak with authority on its pros and cons, but what I did learn, is that this is a bike that needs to be taken seriously by all who consider themselves thinking motorcyclists. For those of you who want to carry on your ignorant bleating, ultimately you are the losers. Wallow on in your ignorance.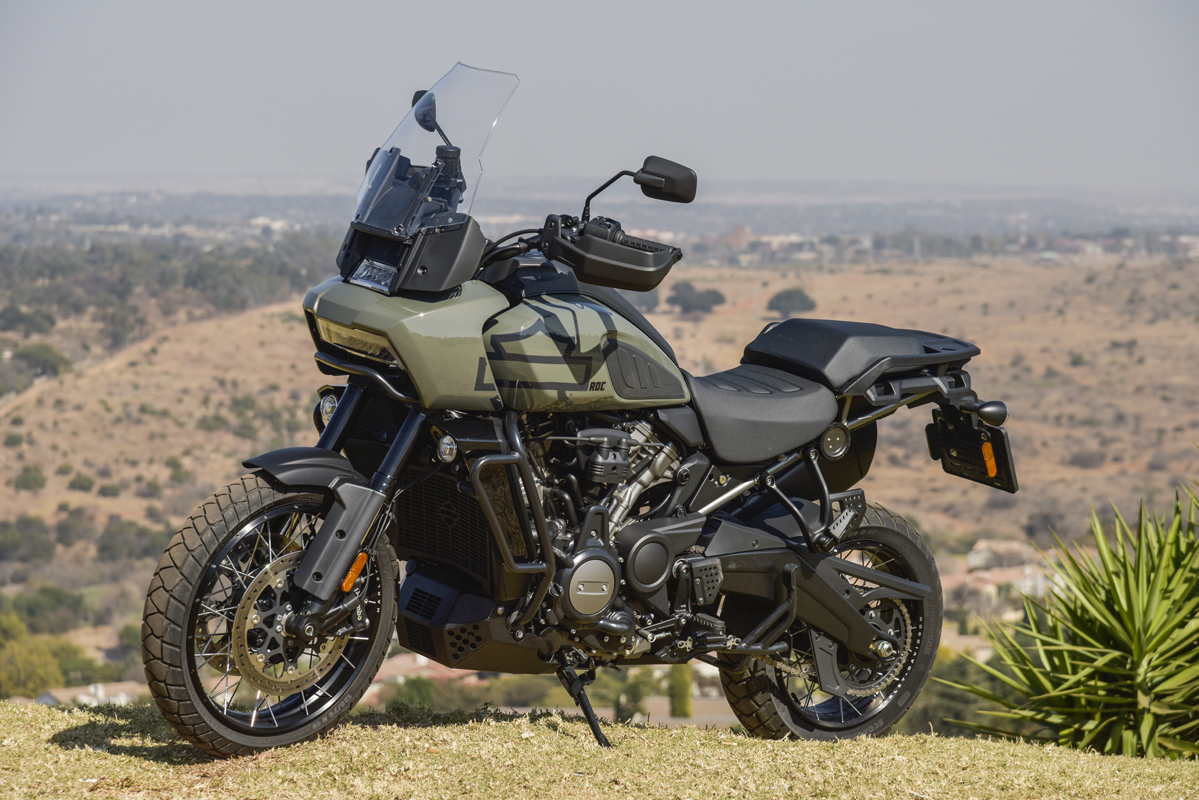 H-D knew what they were shooting at when they designed the Pan. The first step was to build a potent motor. With more experience at building V-Twins than anyone else, this layout was the obvious choice. V-Twins are particularly suited to adventure bikes in that they typically produce good torque and can also deliver a proper top-end hit. Typical 270-degree crank intervals give good traction on loose surfaces too. Enter the 1252cc Revolution Max engine powering the Pan. 150 hp at 9,000 rpm and 127,5 Nm of torque at 6750 rpm. Impressive! By comparison, the BMW GS 1250 makes 136 hp and 143 Nm. KTM's potent 1290 makes 160 hp and 139.4 Nm, albeit at 2000 rpm higher than the Harley. So it compares favourably in the power stakes.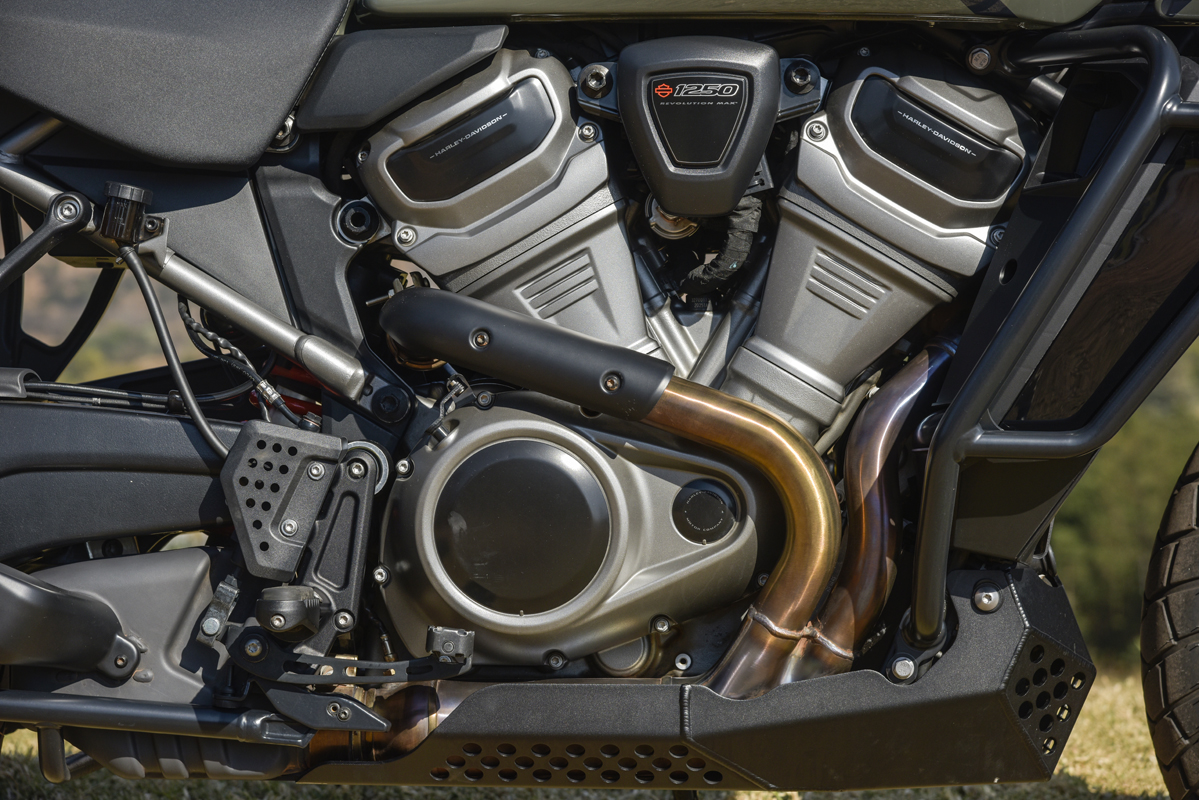 Weight-wise, the Pan, with a 21.1-litre tank and standard main stand and engine protection bars, is also on point, at 253 kg FULLY FUELED! A GS 1250, with its 20-litre tank, is virtually identical at 249 kg, with the Katoom 1290 at 250 kg. So, they measure up pretty well in the vital statistics stakes. How about other specs?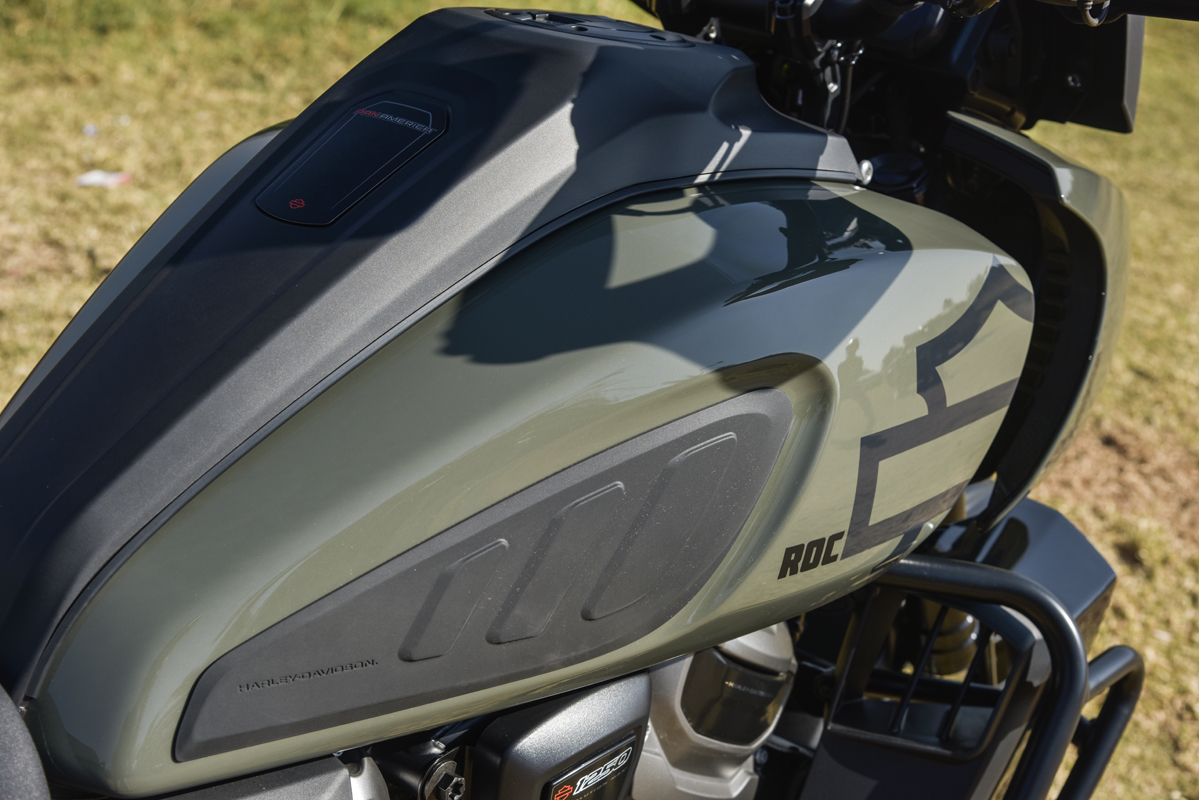 The Pan has a complete electronics package, as befitting a modern adventure motorcycle. Engine ride modes, being Sport, Road, Rain, Off-Road, Off-Road Plus and a custom set-up option. Cornering Rider Enhancement, controlled by the Inertia Measurement Unit, will try to save your butt when you run out of talent. Cornering ABS, Hill Hold Control, Traction Control and Cruise Control is all there and reasonably intuitive to use. Touchscreen enabled (at standstill) 6,8" TFT display, Bluetooth music and call function compatible, as well as NAV via H-D's free App. All these features are STANDARD! You do not have to pay extra to ENABLE what the bike already has, like some other bikes I know in this class. LED lighting, adaptive cornering lights, tyre pressure monitor and heated grips. It's all there.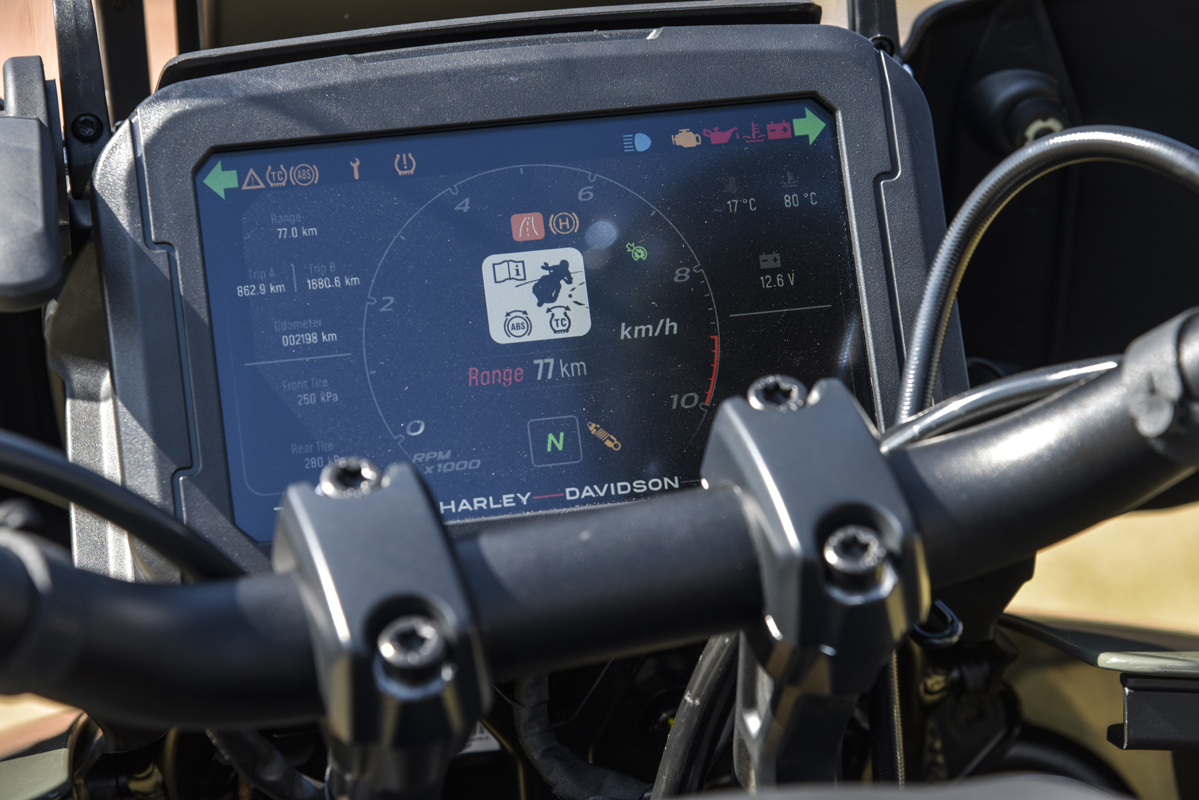 On the hardware front, the Harley once again drips with the clever and good stuff. Monobloc Brembo brakes chomp on 320 mm rotors up front and a 280 mm rear. Powerful, with good feel. Suspension is semi-active and electronically adjusted Showa's, with 190 mm of travel at both ends. Brake and clutch levers are reach adjustable. Wheels are 120/70×19 front and 170/60×17 rear and are rugged tubeless spoked chaps, shod with Michelin Scorcher Adventure tyres, developed especially for the Pan.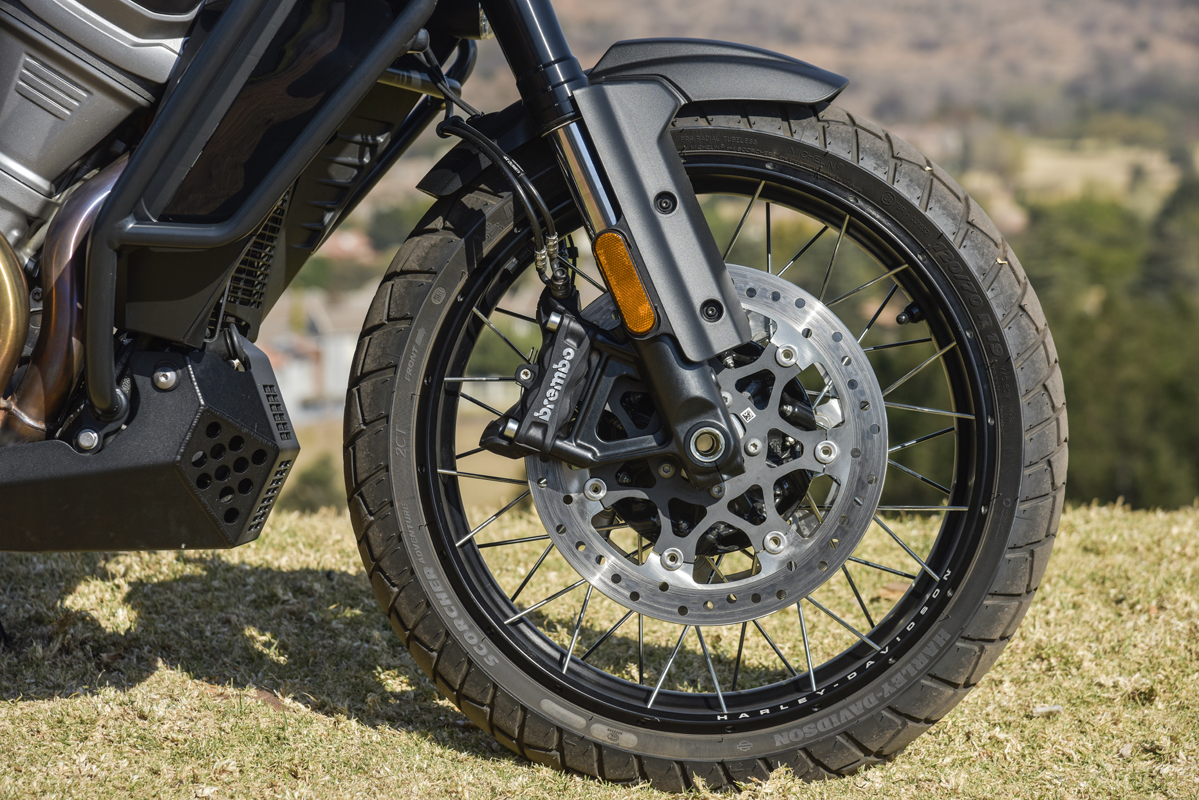 The motor is used as the central stressed unit, to which a front, mid and rear frame are bolted. Rigid, weight-saving and able to be individually replaced if damaged. Clever. All the typical touring accoutrements are available ex-factory too. Harley has always been exceptionally good with having a detailed and comprehensive accessories catalogue for their models. With the Pan, I am sure it will be no different. What I haven't yet mentioned is a masterstroke innovation available as an option on the Special. For those vertically challenged individuals and shorter lady riders, large adventure bikes have been a no go zone, as they are generally just too tall. Harley came up with a fiendishly clever solution. Their Adaptive Ride Height literally has the bike squat down as you come to a standstill. Feet flat on the ground gives short riders new confidence. Pull away and up she goes, back to full height and suspension travel. Utterly brilliant!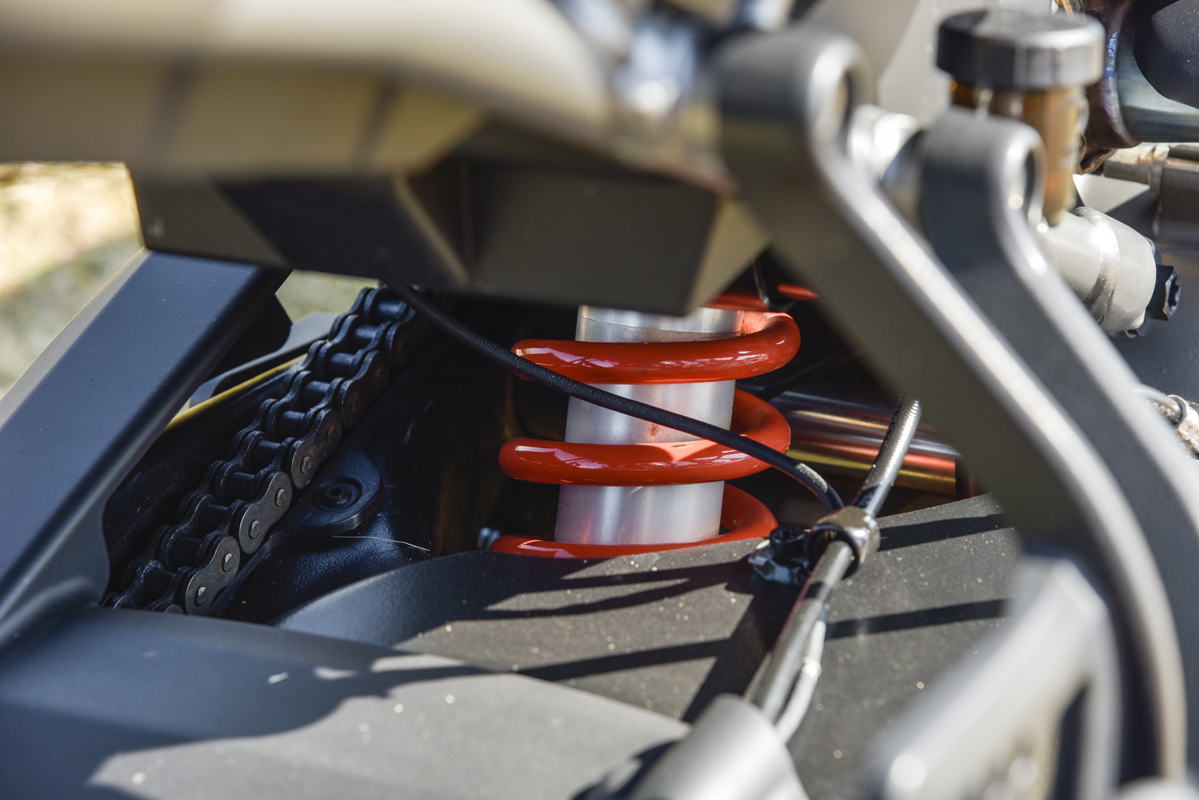 For me, the jury was out on the styling of the Pan America. Until I saw it in the flesh, that is. The bike looks and feels, physically quite small when you ride it. From the back, it is slim and lithe. The controversial styling is the fairing. We have become so conditioned to 'Captain Beaky' adventure bikes that we struggle with anything not poured from the same mould. Manufacturers have worked at a distinctive style. We recognize a Bee Emm from miles away, as we do a KTM with its Transformer headlight. Guess what? The Pan looks like a Harley, so there! Parked for photos at a coffee shop passers-by commented on what they considered to be a sweet looking beast. The lady, in particular, was tickled pink when she learned that it was a Harley!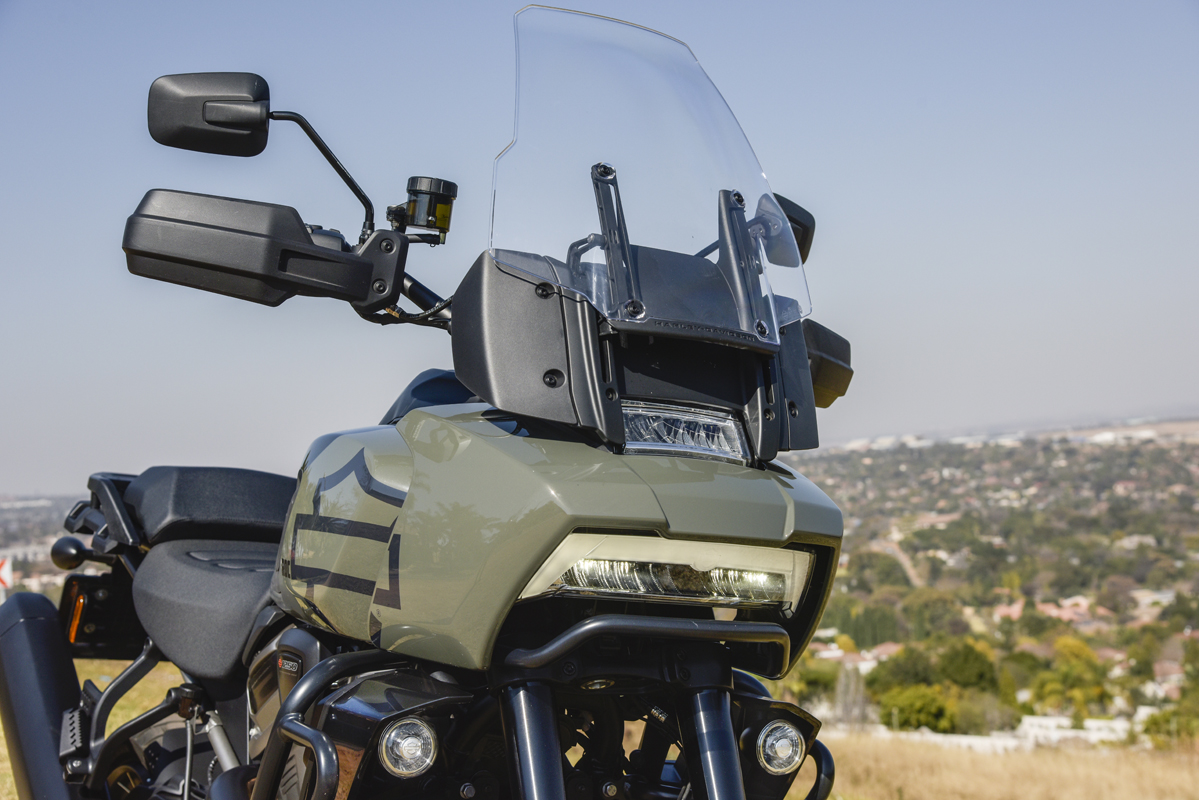 The Harley-Davidson Pan America is a seriously impressive bike to ride. I never got to venture off-road, unfortunately, but, after watching endless YouTube reports from reputable American publications, I can confirm that it is good on the rough stuff. On the tar, it is a hoot. The motor is particularly sweet, endowed with a torquey bottom end and proper top-end hit. It is really intoxicating!
It also gets me contemplating what other interesting models are going to be forthcoming from The Motor Company. We have already seen this motor being used in the recently announced Sportster S which, I personally believe will be spectacular!
In the Pan America, however, it makes for a fast, comfortable, sweet-handling Sports Tourer, with proper dirt capability. What is not to like about that?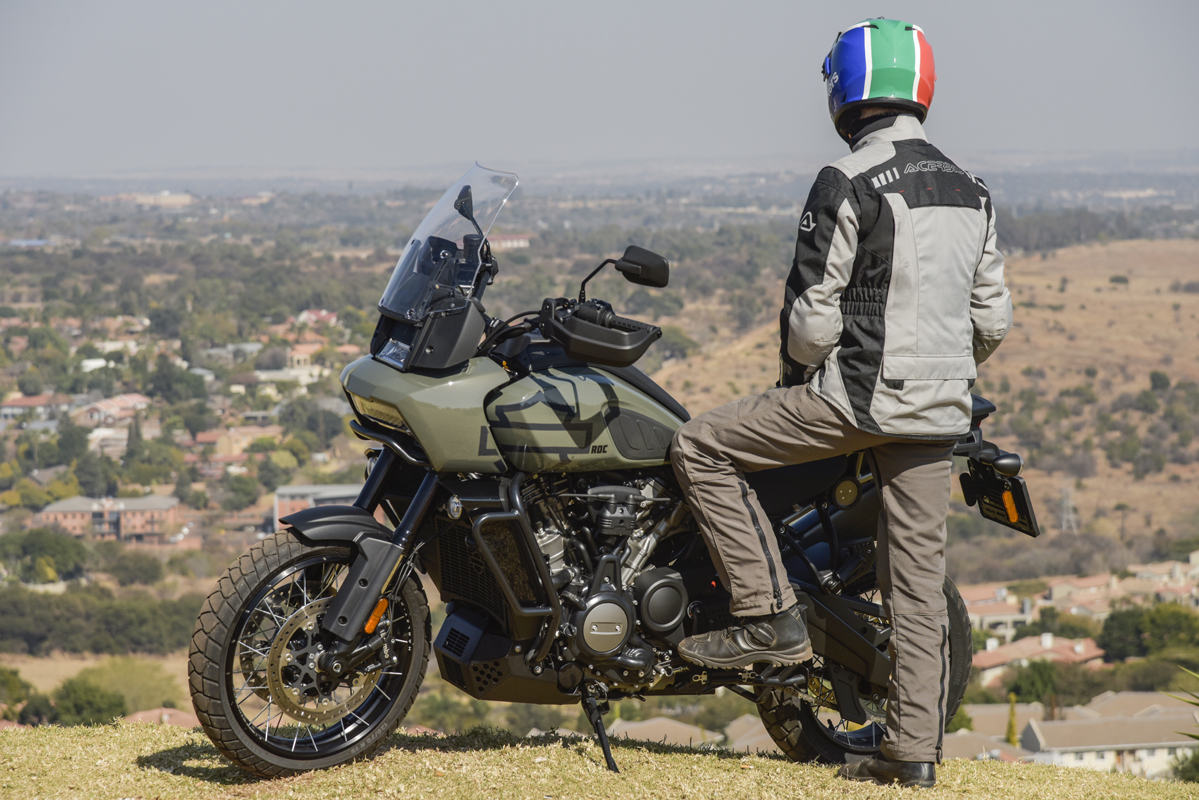 The screen is one-hand adjustable through four settings which halter the height and screen angle. The headlight surround and screen punch a hole through the air which allows seriously rapid progress in a bubble of pretty still air. This bike will smash huge distances with minimal rider fatigue. It is composed at all speeds. I squirted it to 220 kph and it got there quickly, without any stress or strain and was still pulling like a freight train. Handling is light, neutral and stable when upright or pitched over. A steering damper is standard equipment and would really only be needed across gnarly terrain at speed.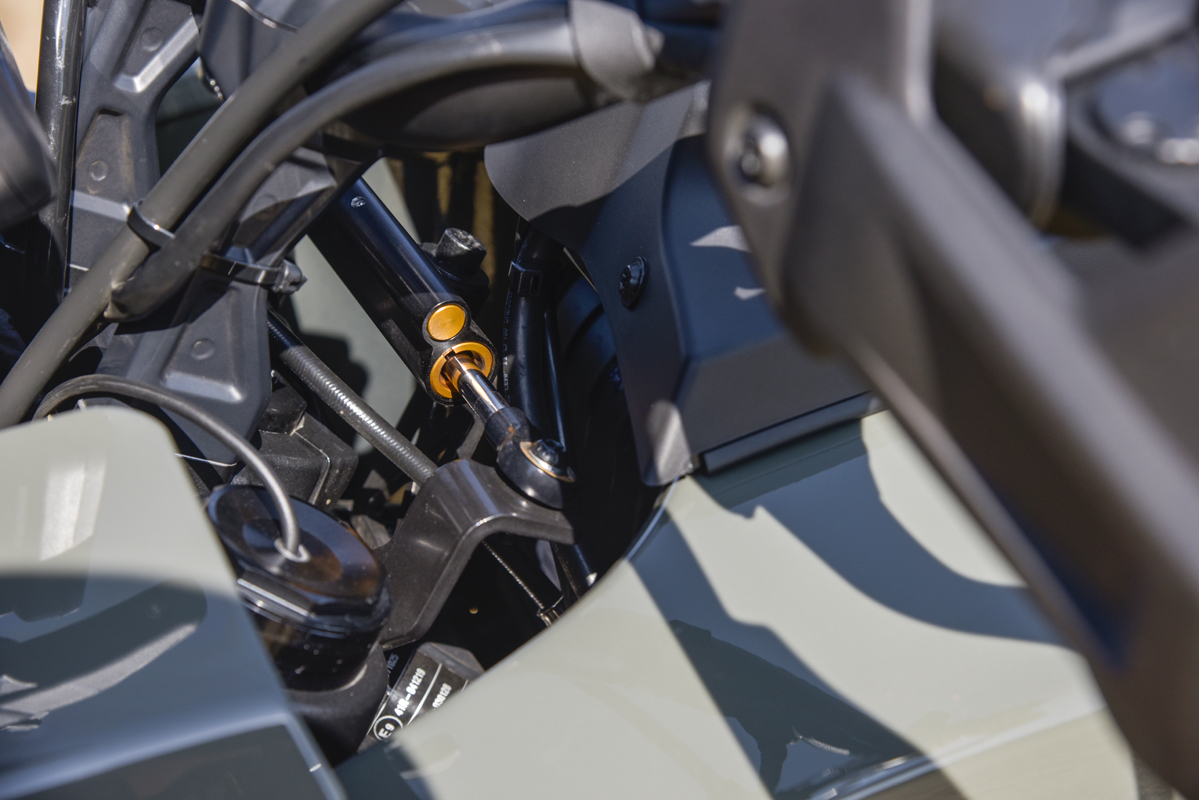 The Pan is a fantastic addition in the adventure bike space, giving riders an option with a brand that has been carrying people across Countries and Continents for over a century. We now have a Harley that can take us cross country in the dirt too. Good job, Motor Company. Good job! This bike is a good and refreshing option in the large adventure bike space.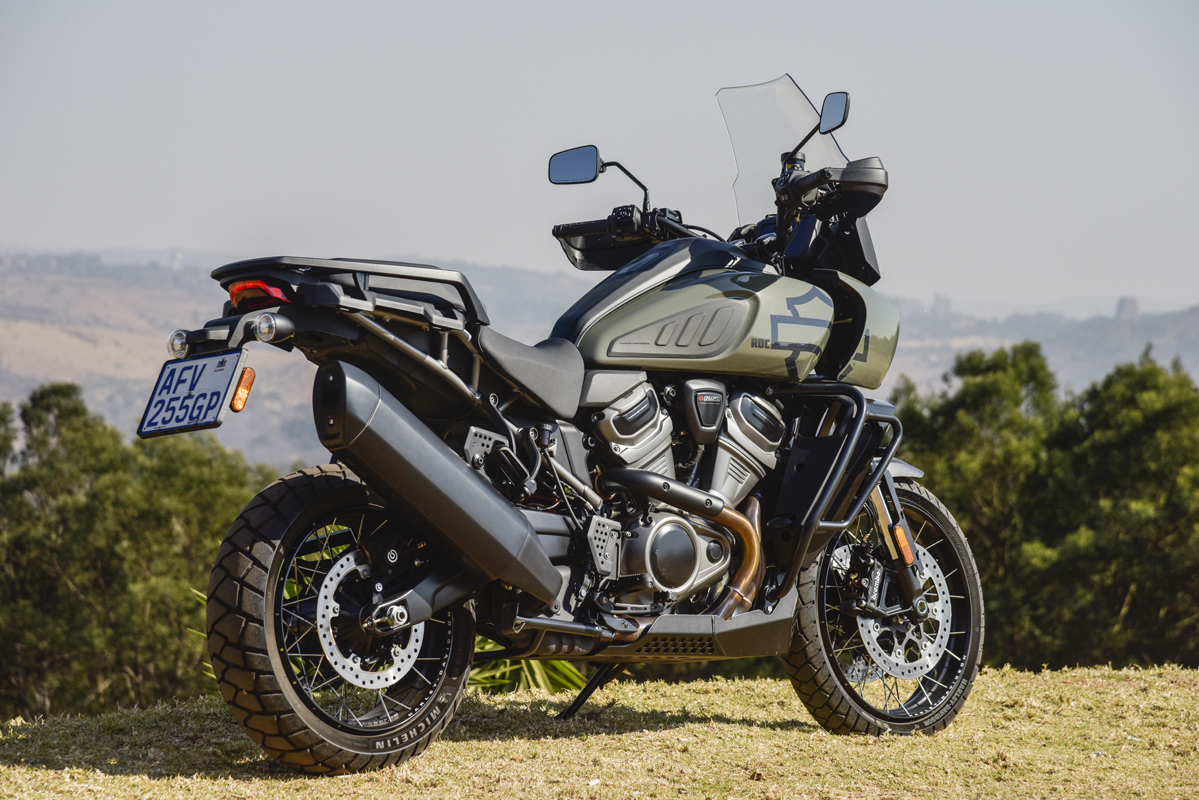 Get yourself down to ROC Harley-Davidson and book yourself a demo ride.