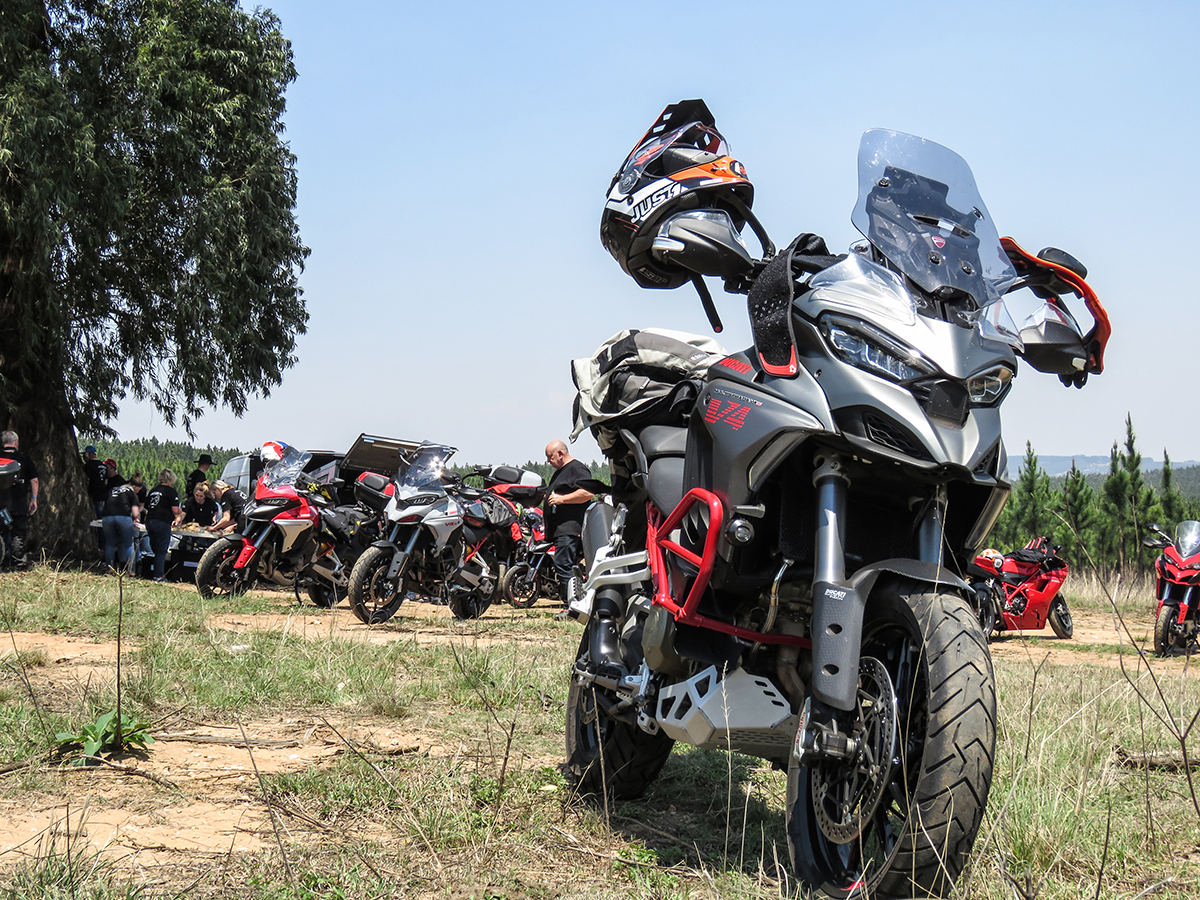 You may remember from my story about Mystery Tour 2, how the Mystery Tour works. It is Ducati Supremo Jos Matthysen's way of thanking and building relationships with current owners as well as getting massive exposure far and wide for the Ducati brand. Essentially Jos decides on a route for the four-day tour, with the last day returning to the starting point at World of Motorcycles in Centurion. Participants try to figure out the destinations based on distances per day provided by Jos, as well as some cryptic clues that he feeds on the Mystery Tour WhatsApp group prior to departure. This serves to build excitement exponentially as the departure date approaches.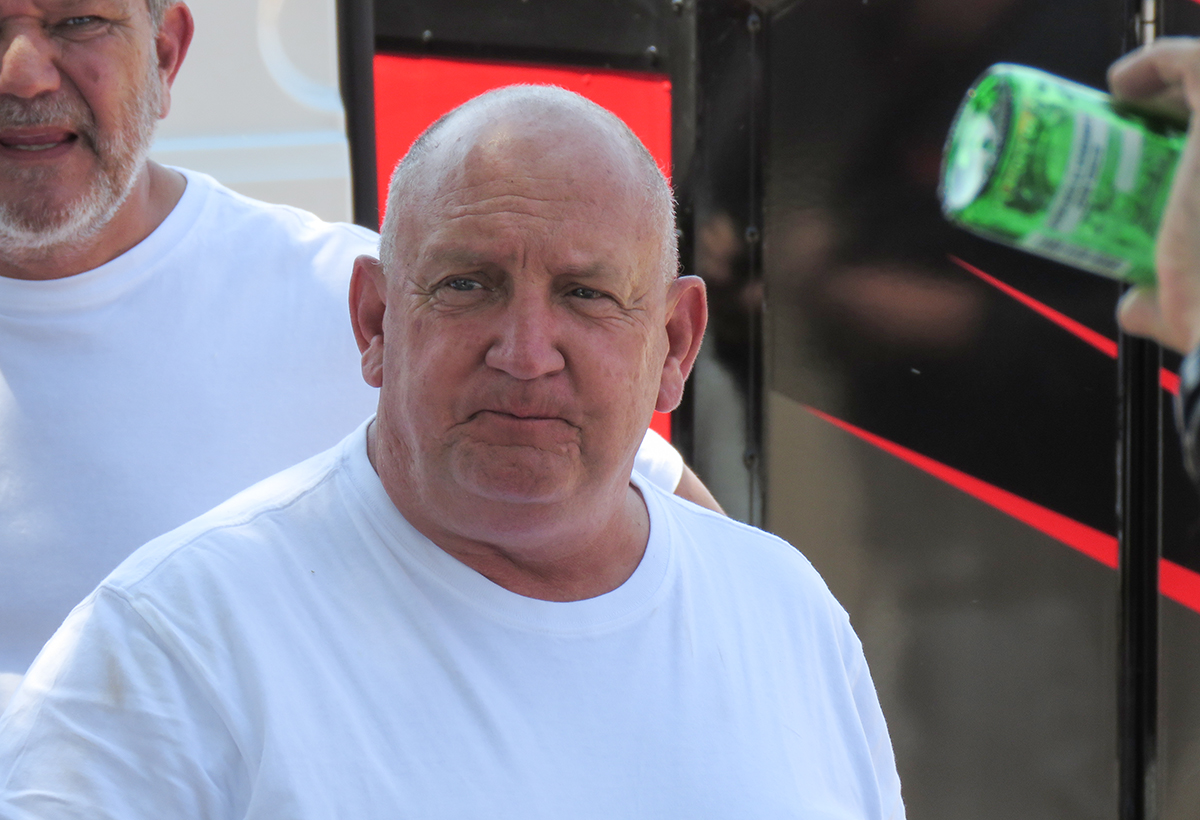 A week before departure there is a briefing lunch, or should I say feast, at World of Motorcycles for local tour participants. This is also when 'goodie bags' get handed out filled with an all manner of awesome kit. The day 1 t-shirt is also included. Every day on tour a different coloured branded T-shirt is supplied at the end of each day with the map of the previous days ride on the back.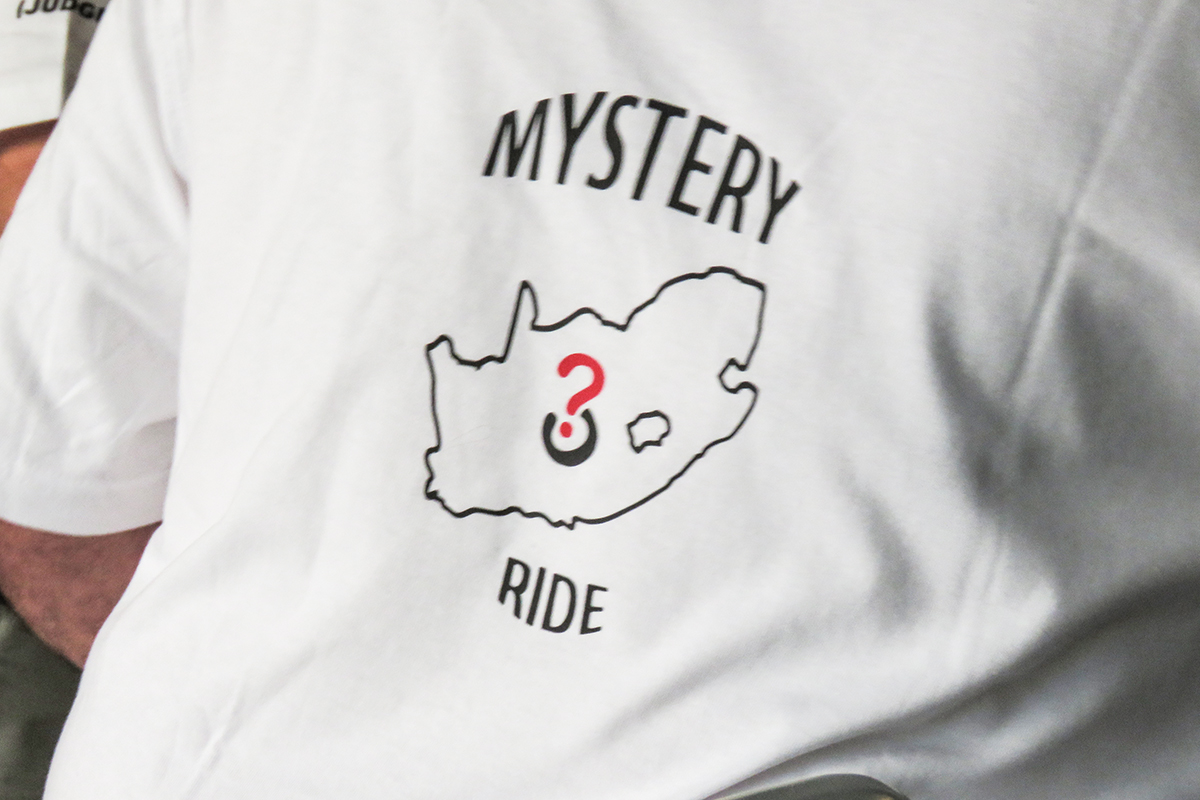 On this ride, the tours t-shirts had a particular significance. Each sleeve carried the name of Tour 2 legends who succumbed to the pandemic that has devastated our lives in the recent past. Joop, a man amongst men, and the 'Judge' of the final night on tour 'fines committee', and Laurinda, the life and soul of every gathering, as well as the baker of banana bread with magical joyful properties. A Dakota Sioux saying comes to mind when I think of these two giants that have fallen… "We will be known forever by the tracks we leave". Their tracks are indelibly woven into Mystery Tour DNA. And so, on a bittersweet note, the count down to departure day began.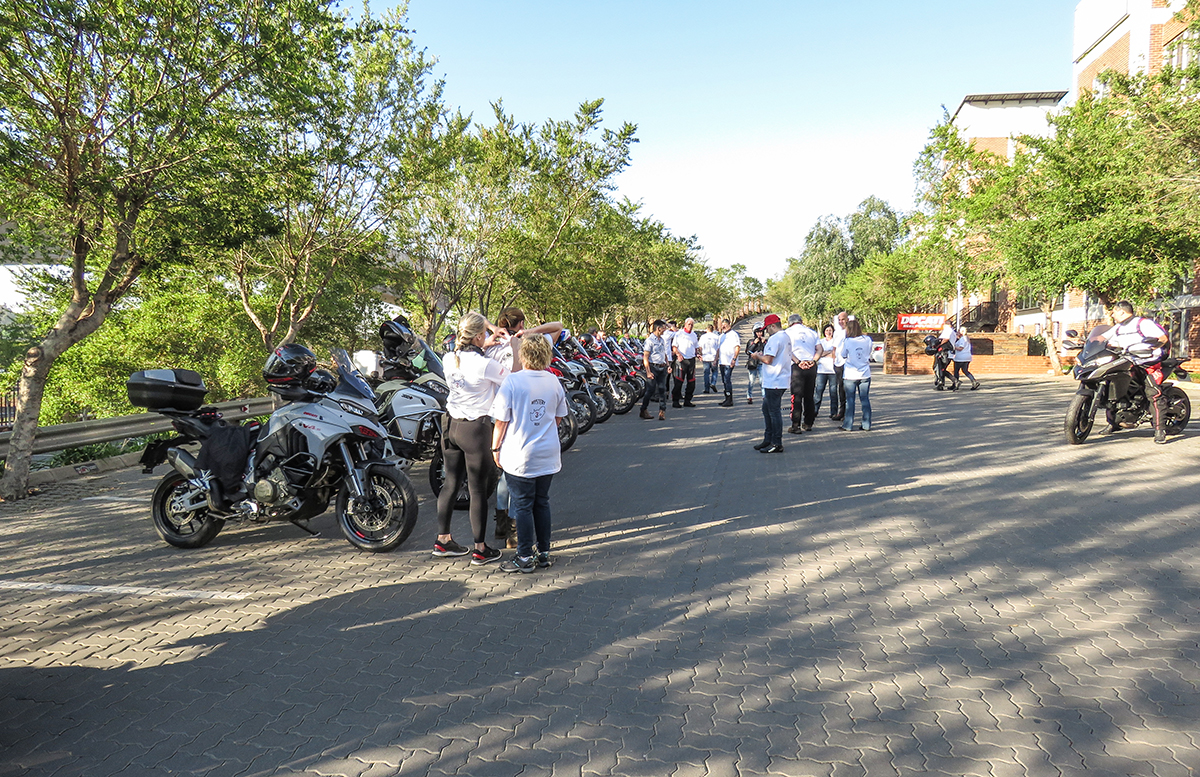 Friday dawned with the promise of a really hot October day. And so it was. We rode north out of Pretoria, immediately dashing the dreams of those who had chosen destinations in other directions. A short stint on the highway took the 40 odd Ducati's off and onto the Moloto road. Jos hates highways! And so we progressed north, stopping for juice for the riders of bikes with smaller tanks. On that score, there was a wide array of different Ducati's on tour. A brace of Diavel's, Steve on his 1100 Scrambler, a Streetfighter or two, a solitary 1098, RESPECT! And Multistrada's of every persuasion. Speaking of Multi's, I was privileged to be riding a V4. Oh Lordy, what a bike! More on that later. The Multistrada's, endowed with bigger tanks and decent consumption, only fuelled at every second fuel stop.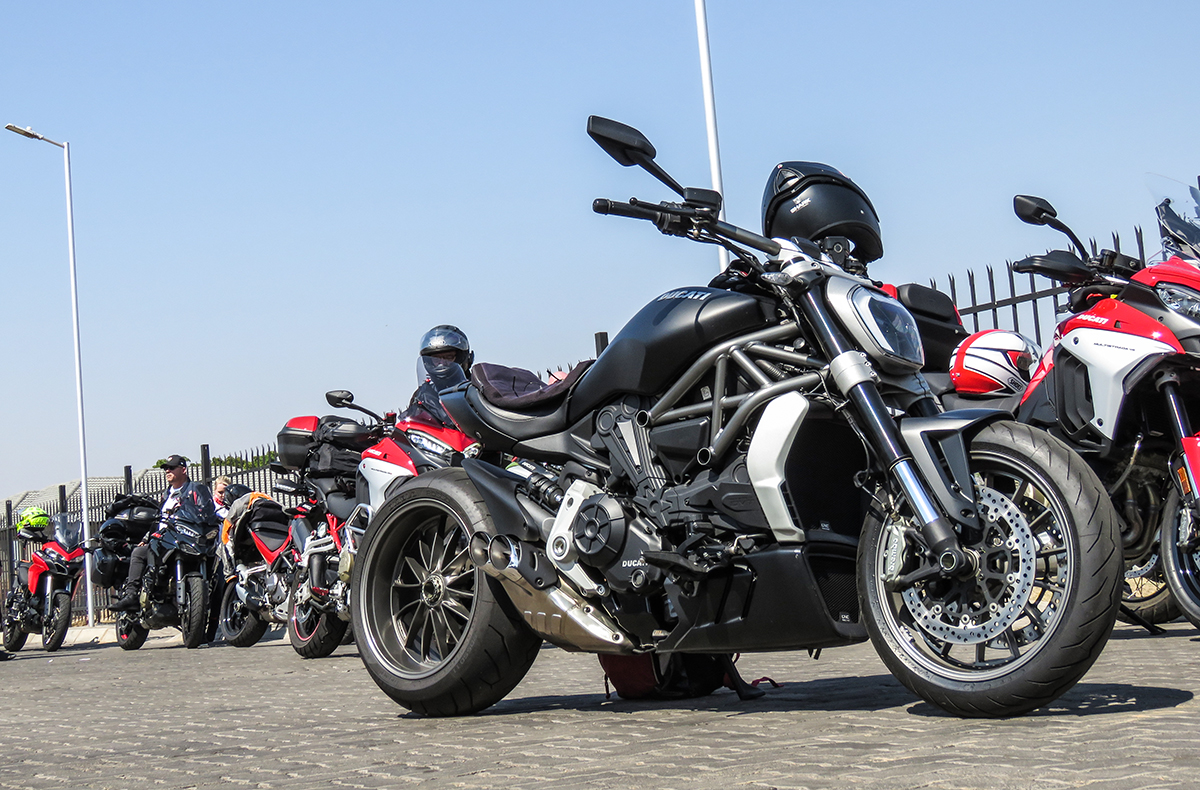 We cruised the back roads, which proved to be pretty quiet, until we T-junctioned at Moria, between Polokwane and Haenertsburg. The Bologna Bullets came into their own on the sweeping road down the mountain, with Jos setting a cracking pace upfront. His better half Lida, as she always does, hung on for all she was worth as Jos annihilated the hero blobs on the tyres of his Multistrada V4 S. Albie Eagar, a guest along for the ride, with his wife Jackie riding pillion, dropped a gear with the seamless quick-shifter on his loan V4 and pitched it on its ear as his eyes lit up with the prospect of strafing some curves on the Italian thoroughbred. His joy was short-lived, as the governor intervened rather abruptly in the form of a short right jab in the ribs from Jackie, who did not feel comfortable with the sudden close proximity of her helmet to the tar. He was forced to let sanity prevail and settled into a slightly less frenzied pace.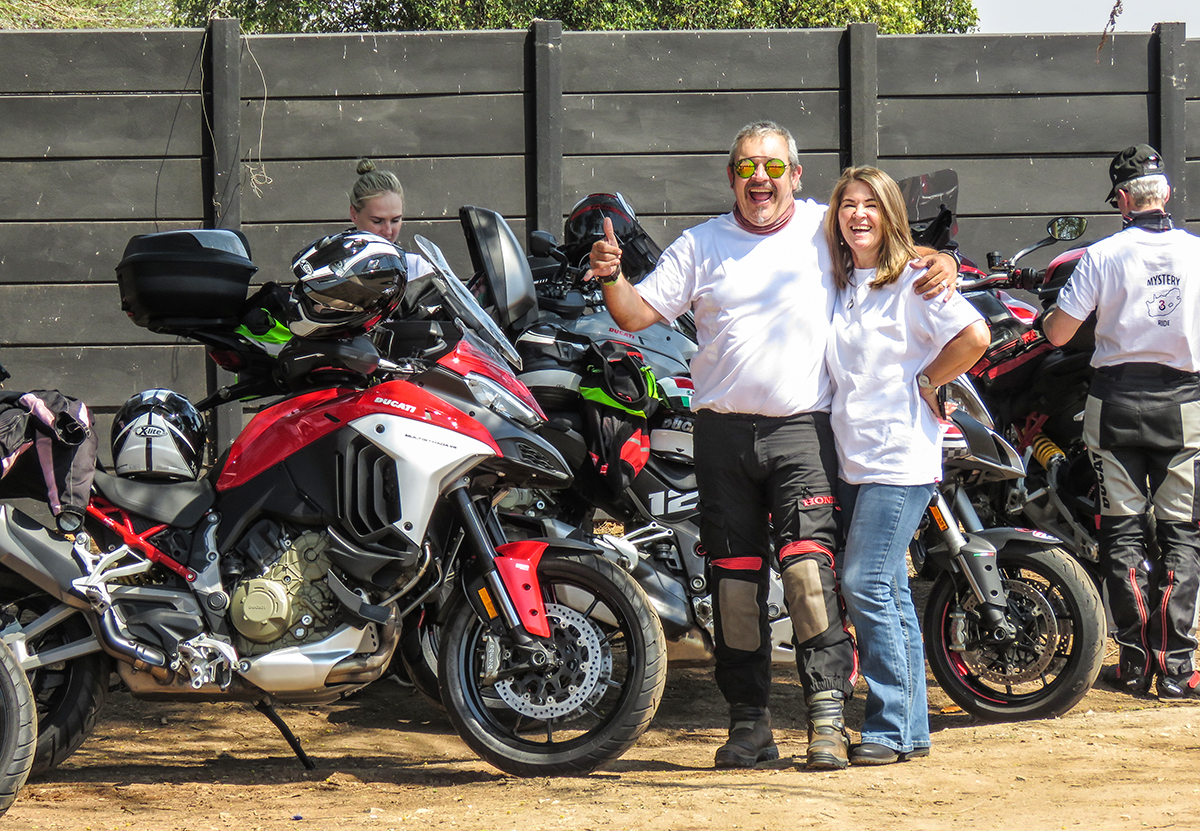 I absolutely revelled in the handling of the V4 down the mountain and then through Magoebaskloof. I played a game of very enjoyable high-speed tag with Roy on his 1260 Enduro, with us running in tandem through the sweeps and tighter bends of the Kloof. A short hop into Tzaneen for a splash 'n dash before continuing to the Eiland resort, 60 odd kays down the road. It was a group of hot and bedraggled riders that settled into their comfortable air-conditioned rondavels in typical late 30-degree Lowveld heat and humidity. The pool and a cold one was suddenly a major priority. Chilling around the pool was the perfect opportunity to build or renew friendships with fellow Ducatisti. A special bunch of people this Ducati Familia.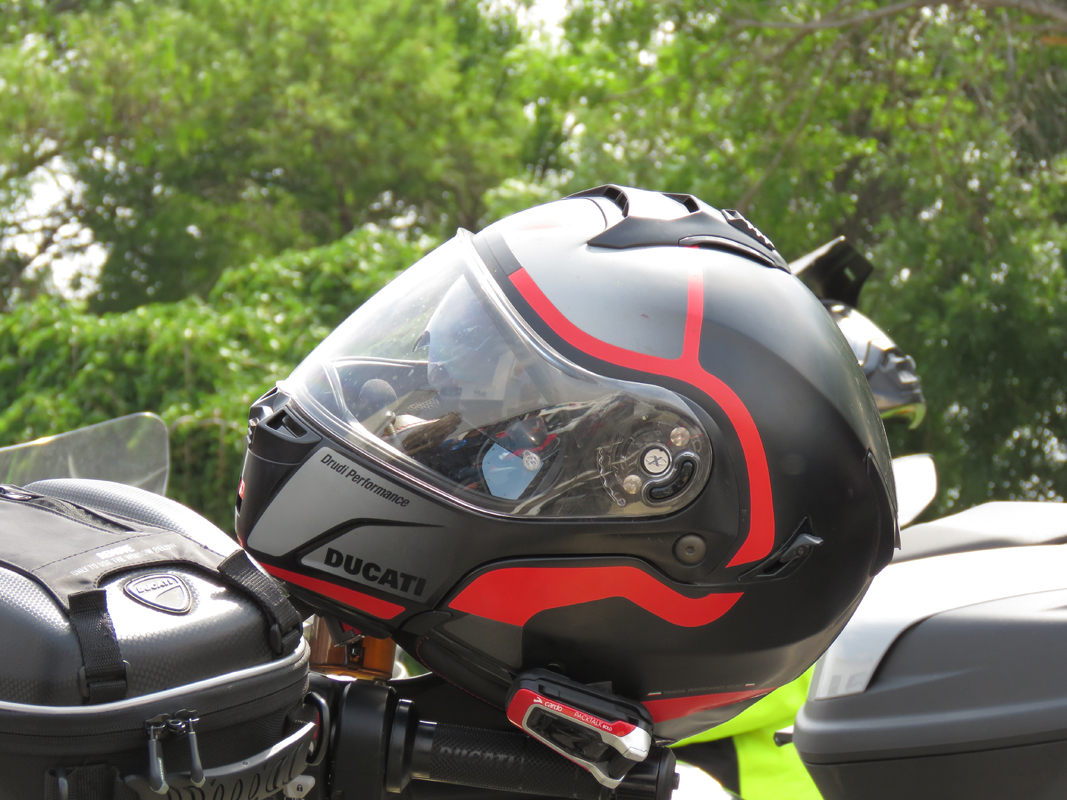 Early evening had us together in the boma to share war stories and enjoy some "tjop en dop". Lida had lamb chops chilling in a marinade on their way down in the back up van and trailer, once again driven by Mystery Tour stalwart, Rob accompanied by the ever willing and helpful Ronel. The two worked tirelessly to ensure that luggage was delivered timeously and the van was in the right place at the right time to dispense food and drinks at various points on our daily journeys. The chops went down singing hymns with the pap and sous. Tender and tasty, a perfect meal to end a perfect day. Day two was to be the longest of the tour at just over 800 kays, so it was relatively early to bed so as to be locked and loaded for a 6:00 am start on the morrow.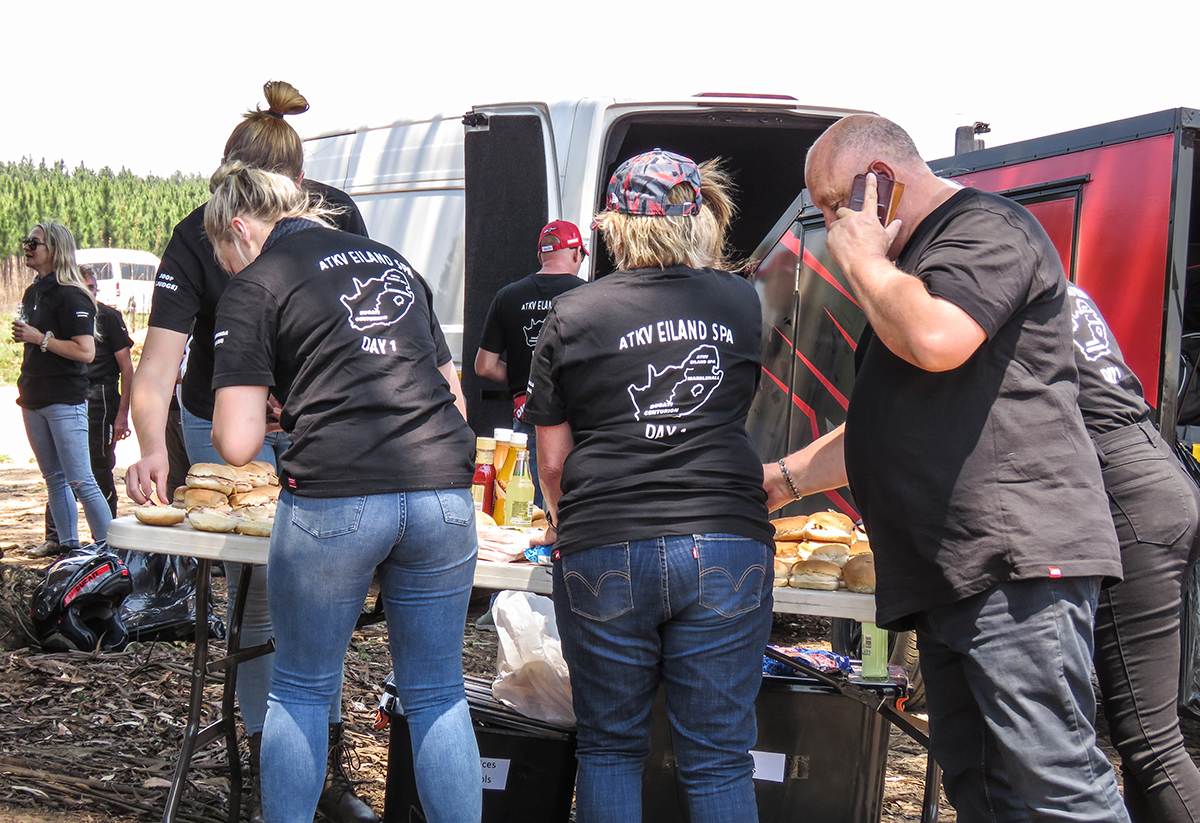 Bright-eyed, well mostly, and bushy-tailed, we rode out under a big blue sky through spectacular bushveld scenery, skirting Tzaneen then on to Hoedspruit, Hazyview, White River, Nelspruit and towards Barberton. The bends are so tight on the steep descending mountain pass towards Barberton that the fast guys got glimpses of their own taillights railing through the bends. Genuine! Jambila mountain pass to Badplaas was despatched in no time and then it was a left turn towards Swaziland and a right towards Lochiel and then Amsterdam.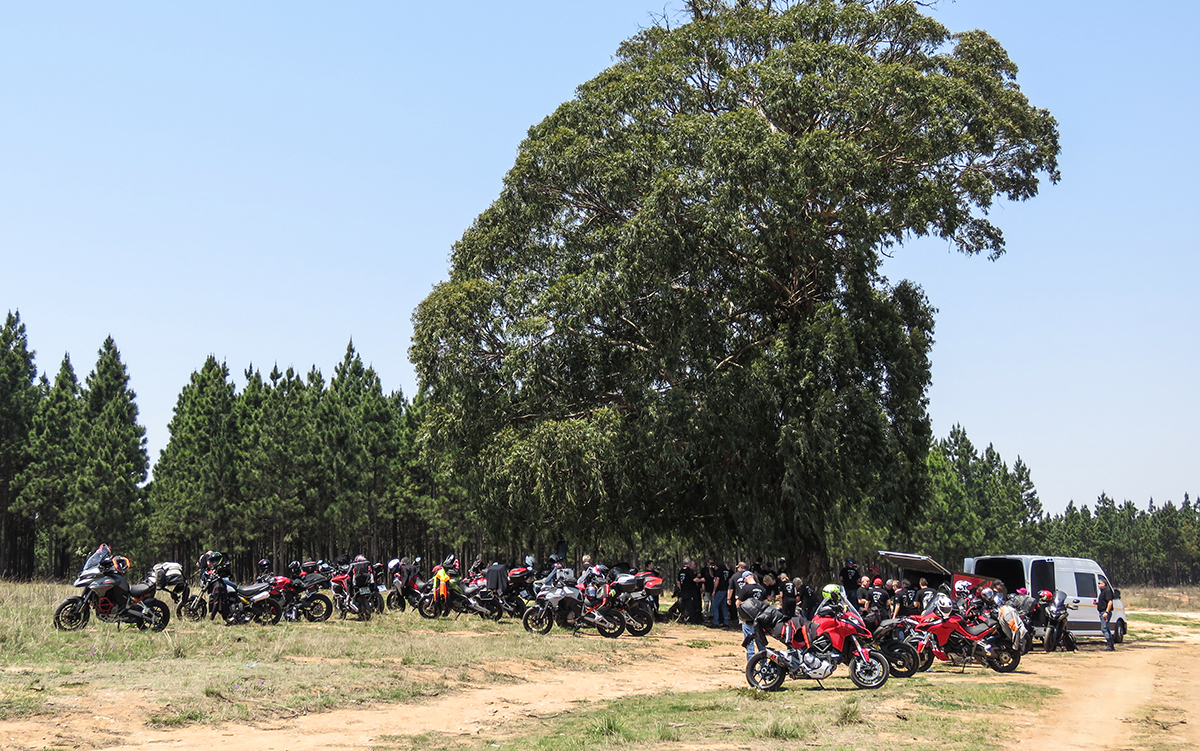 We stopped under a massive shady tree for a lunch rendezvous with the van. Once again an oft-repeated scenario played out. While we were doing our thing, travellers passing by were captivated by the plethora of magnificent Italian Stallions. They pulled over and wandered around the bikes, feasting their eyes and taking selfies by the score. This happened wherever we stopped. The allure of Italian beauty seems universal. Piet Retief, Pongola and Mkuze flew by under our spinning wheels and as we pulled into St. Lucia under a darkening sky, we were greeted by a soft coastal drizzle kissing our visors. In no time at all, we were settled in at our guest house and holiday flat accommodation, before gathering at the Ski Boat Club for the evening's festivities.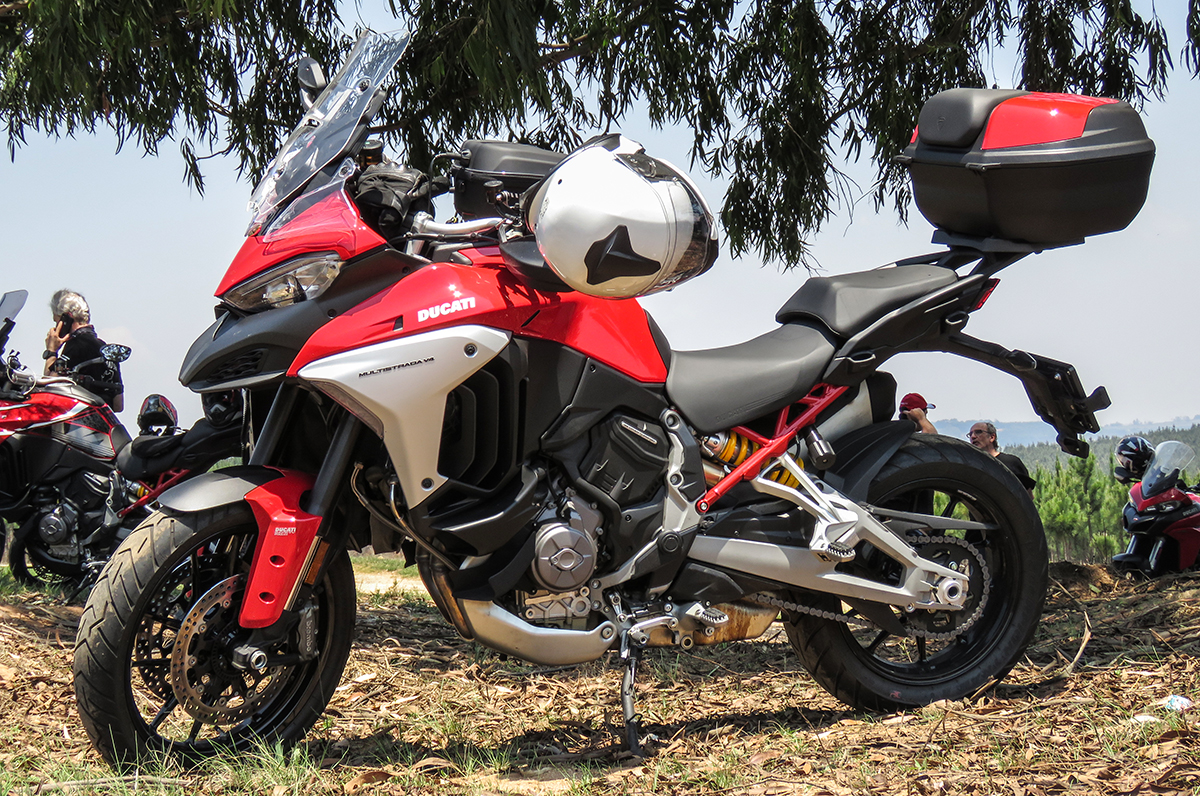 And how festive it was! Being the typical family that the Ducati crew is, regulars in the form of Cilliers, Brian and a couple of others rolled up their proverbial sleeves and helped Rob to braai a mountain of meat which was utterly demolished by the hungry hordes, washed down with a good few well-chilled chaps. All the while a significant wet weather system was rolling in and the drizzle gathered in intensity. This caused what in Rallying terms is known as "Force Majeure". When nature intervenes and scuppers the best-laid plans of men then we just have to roll with the punches. The rain persisted throughout the night and as a result, the ride planned for day three was cancelled.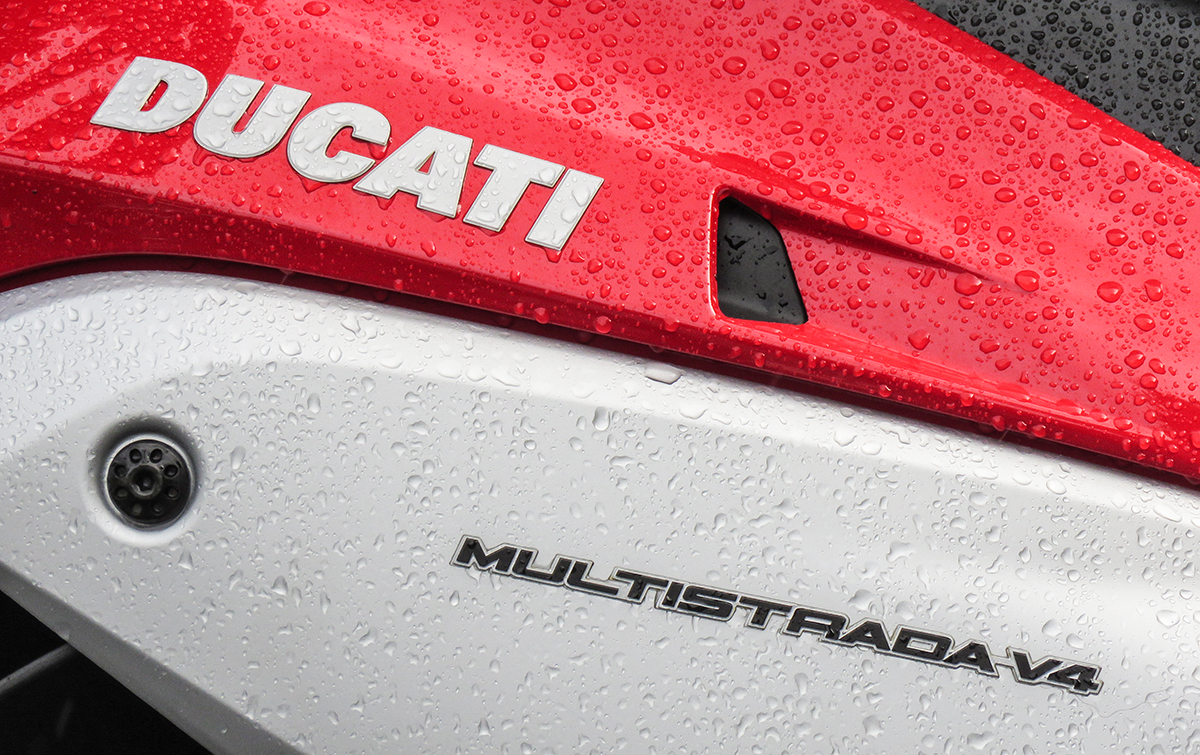 A decision made easier by the fact that Jos had planned a circular route back to St Lucia. Sneaky fellow! Those who wanted to venture out in the rain were free to do so, however, we all got together the next morning at the local Wimpy for a slap-up brekkie. Given the long previous day, I think there were more than a few folks, especially pillions, thankful for a respite from riding. Local beaches and other haunts were frequented and a really good time was had by all. It was then back to the Ski Boat Club for our last night on tour festivities.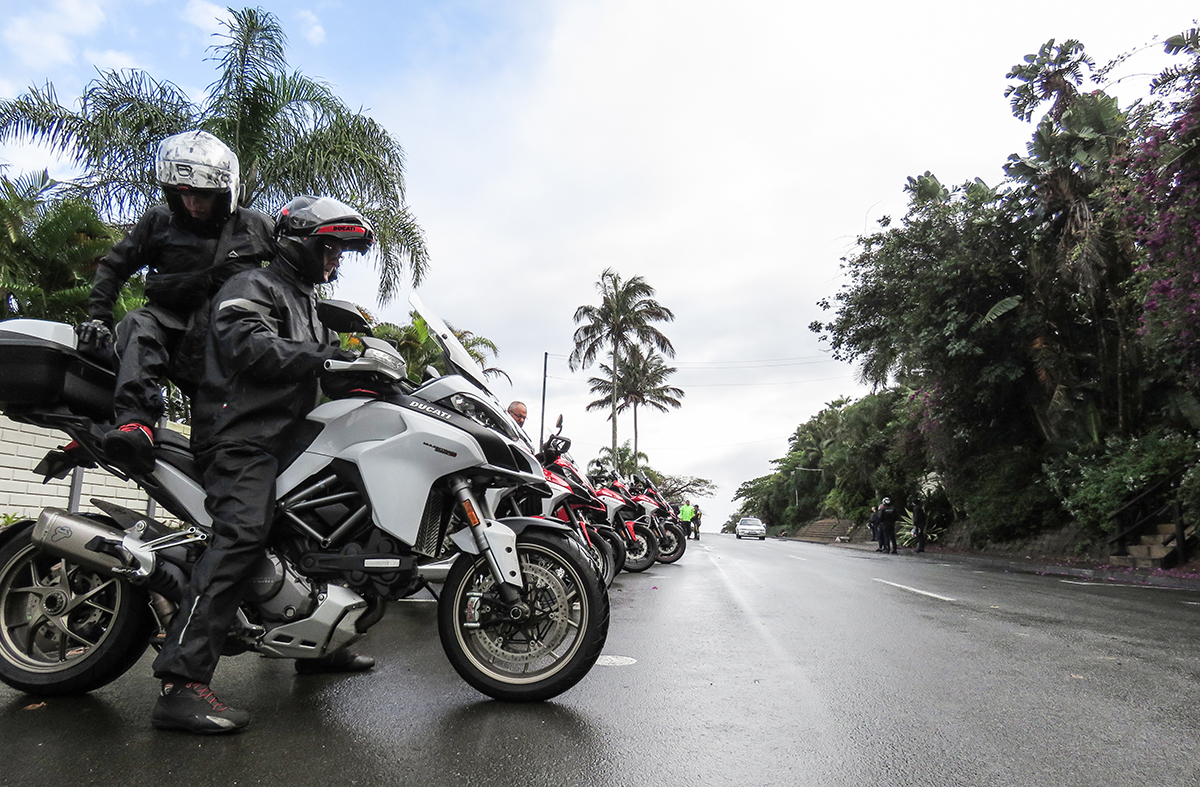 Last night on tour comes around with some trepidation. The Judge presides over fines committee court proceedings with an iron fist. The newly appointed judge was Cilliers and the softest part of him proved to be the enamel on his teeth! He meted out justice without any mercy. Sentencing was to an allotted number of "Straf Doppe" and/or "Magic Chocolate Brownies", which were delicious, but came back to haunt you a little later, with bouts of inexplicable mirth. Funnily enough, no perpetrators seemed to mind their sentencing and took their punishment manfully. The van ferried merrymakers to and from their places of abode to ensure the safety of all concerned. The superb Ducati's remained stabled till the ride home the next morning. It was a happy and content bunch of Mystery Tourists that settled into comfy beds for a good nights rest.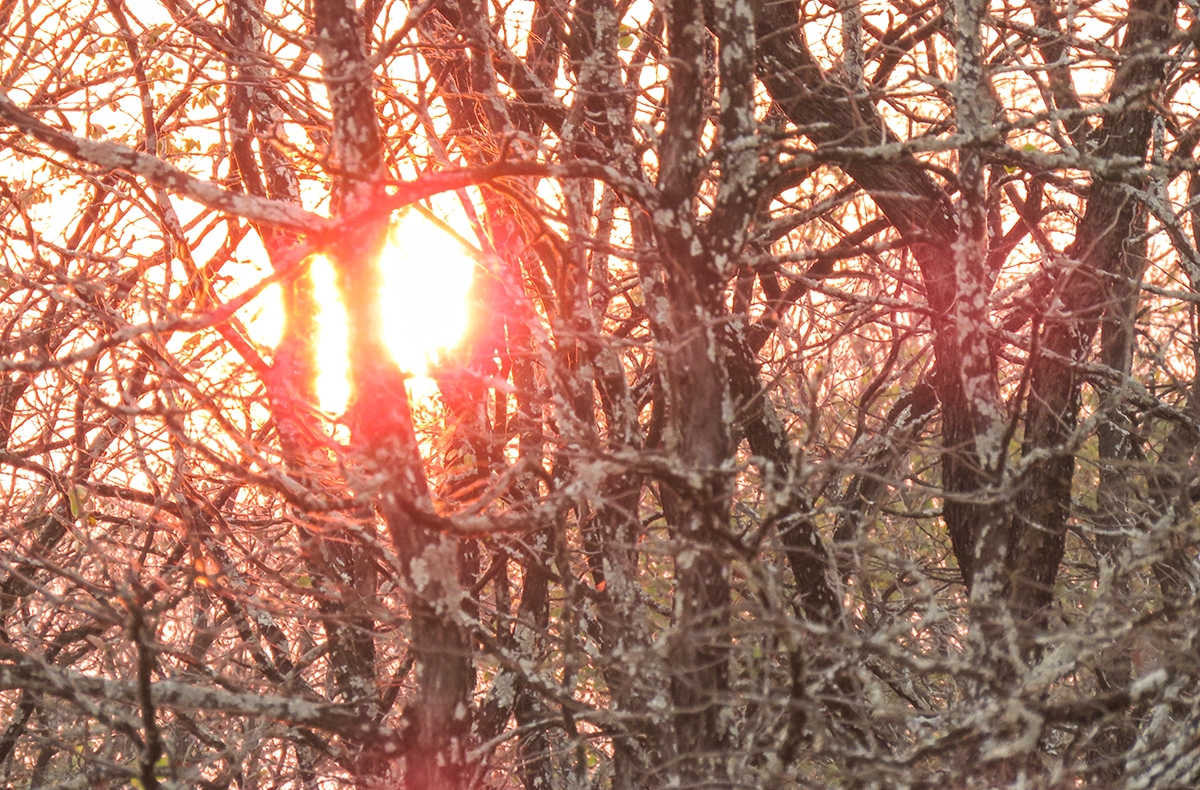 Our last day dawned in typical coastal fashion. I rode the 1 kay to fill my bike in the sunshine and then literally did the return journey moments later in rain! Go figure? It was rainsuits on when we departed in damp and cool conditions. The temperature remained low all the way to Pongola and got even chillier as we climbed away from the coastal plain to Piet Retief. The Ducati's were revelling in the cool dense air that they were greedily sucking into their motors. My V4 was pulling like an absolute raped ape! Cruising at an effortless 140 plus and needing to pass a row of trucks, of which our roads are now inundated since the railways became defunct, I prodded down twice on the slick quick-shifter, listened to the muted exhaust note rise to a spine-tingling howl and then pinned the throttle.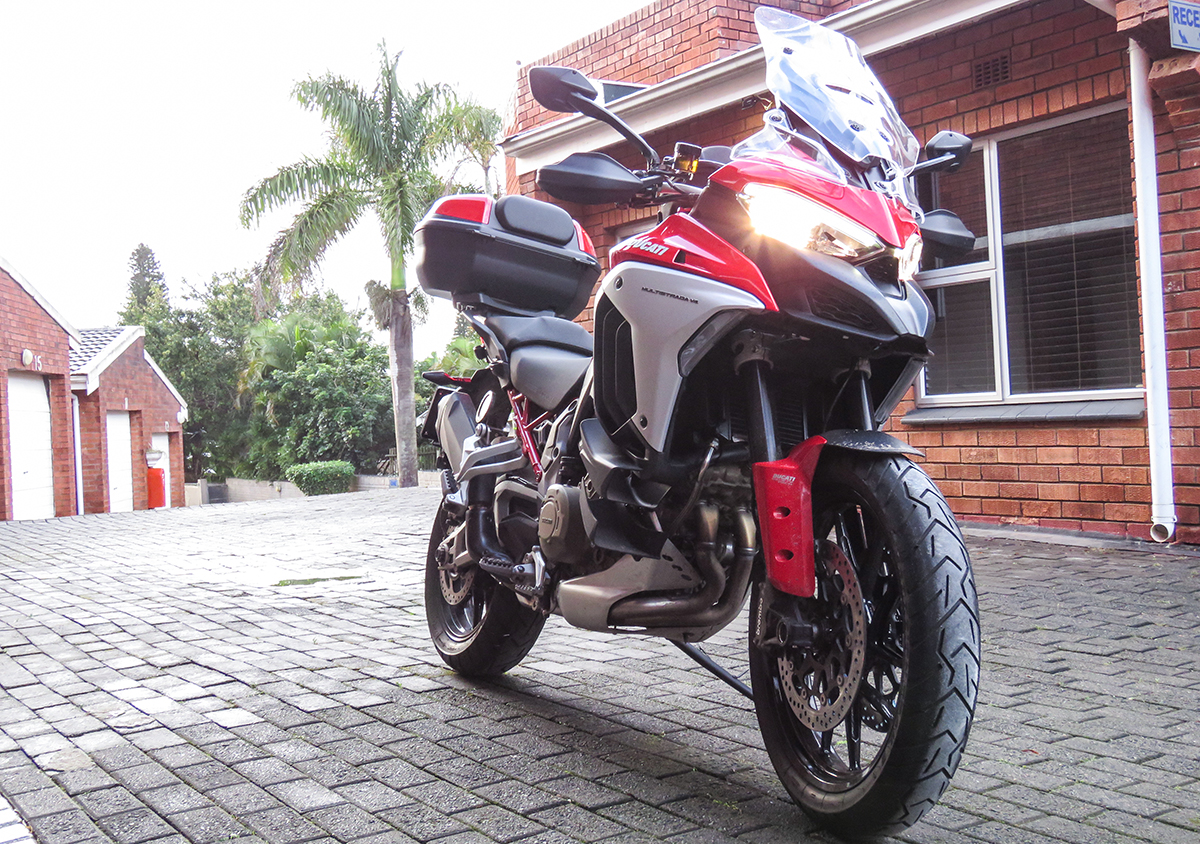 The Multistrada launches past traffic so fast that you short shift back to sixth surfing the wave of smooth torque and horsepower whilst it reels in the horizon. You really don't need to downshift, but why would you not conduct that magnificent V4 Italian symphonic delight at every opportunity? Despite this excessive enthusiasm, the fuel consumption remained very acceptable, hovering around 17 km/L. The V4 Multistrada is an incredibly good Adventure Sports Tourer, with flair and good looks unique to Italian motorcycles. The S variant raises the bar even further, with a wad of high tech extras. As Glen, an airline Captain by profession, riding his V4 S with his lady Colleen on the pillion, puts it, "riding the V4 S long distances is like flying Business Class". Well said, Captain Glen!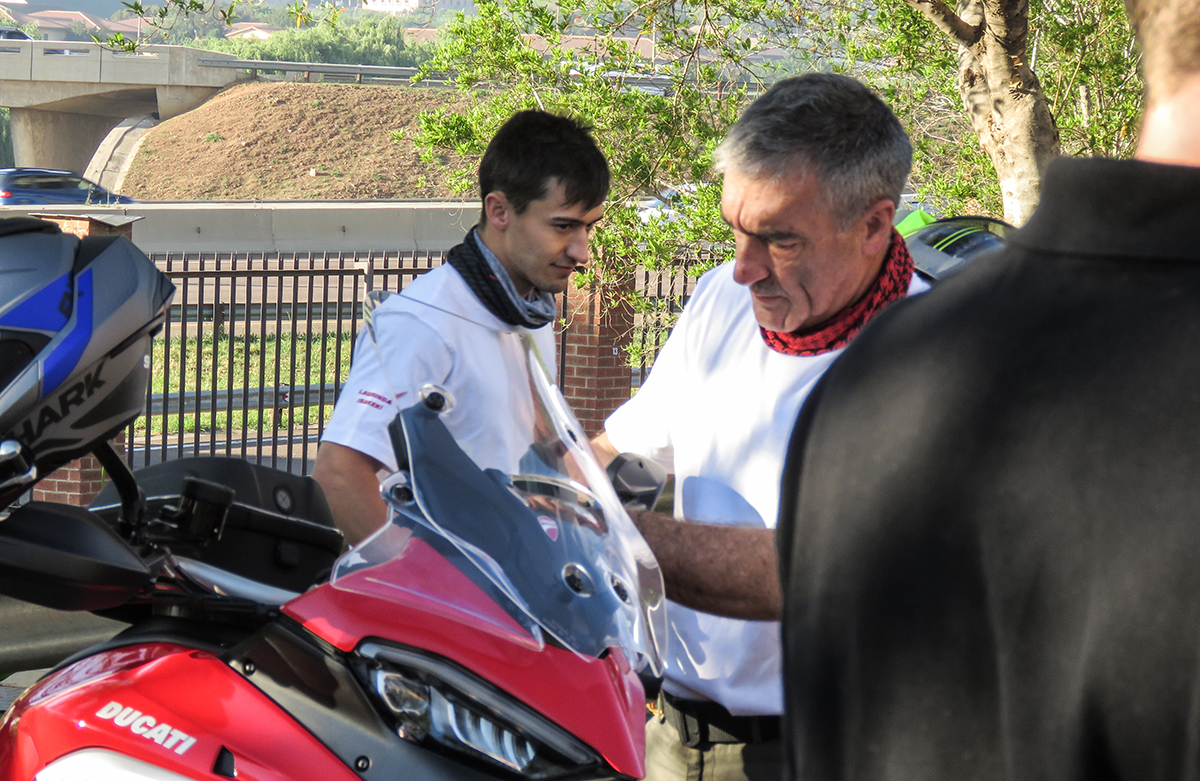 In the interest of getting home reasonably early and to avoid the appalling Bethal road, Jos apologetically led us onto the N4 near Middelburg. We ran swiftly and smoothly back to World of Motorcycles, still feeling fresh despite having just despatched over 600 kays in iffy weather, over some less than perfect roads. The Ducs did not even raise a sweat! A short while later, after a debrief and farewell session, we went our separate ways. Another Mystery Tour is done and dusted. As always, after an epic ride, there is the slight downer as you think back on the good times and you part company with mates both old and new. God willing we will reunite for Mystery Ride 4. Words seem inadequate when it comes to saying thank you to Jos and his team, as well as to all the participants who, in effect, help to make these rides the amazing experiences that they are.
In a world becoming more and more "corporate", with big, successful companies becoming more rigid and almost, dare I say, arrogant and condescending in their dealings with their customers, Jos and his recipe with Ducati are a breath of fresh air. Strong relationships build brand loyalty better than anything else. Bikes are as much objects of the heart as they are the head. The Ducati Familia is a perfect combination of both.