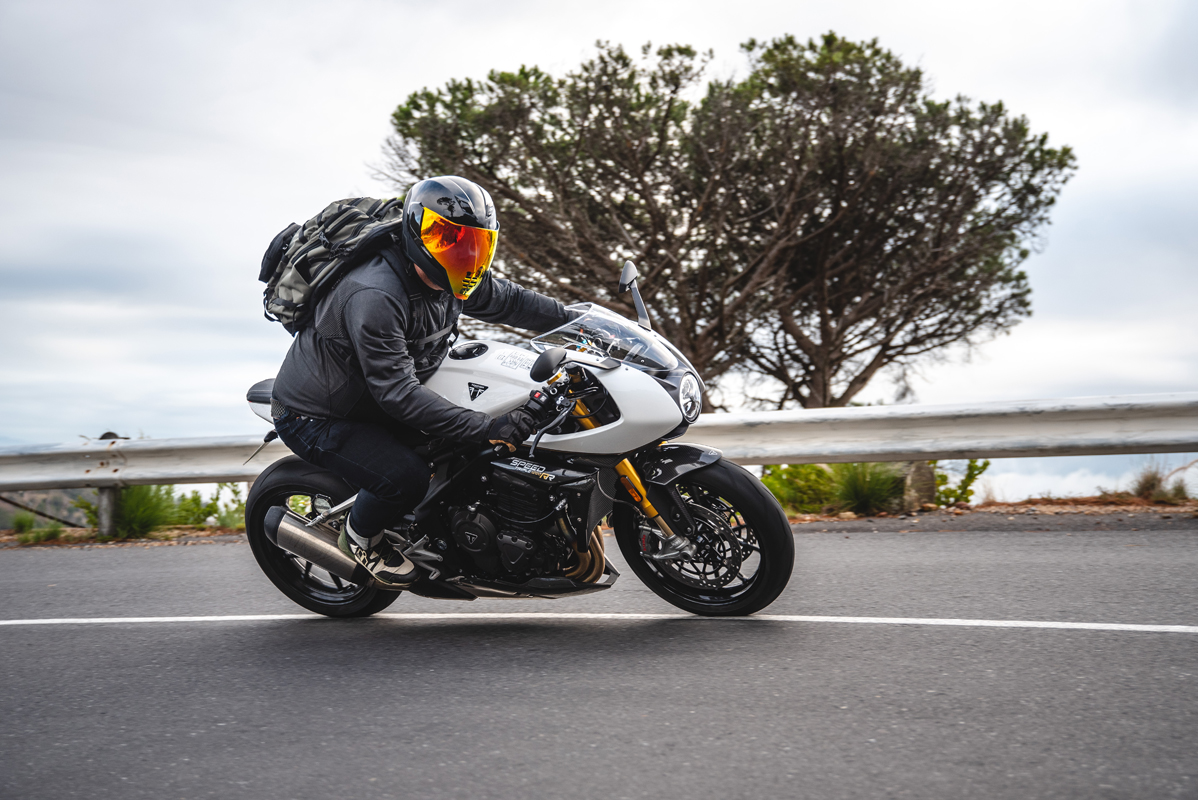 Triumph wowed us with their updated Speed Triple 1200 RS last year—a sharper, lighter and more powerful version of their iconic streetfighter. Then someone at Hinkley had the bright idea to slap a fairing and clip-ons on it, up the spec even more and call it the Speed Triple 1200 RR. Bless them, because this is the bonkers triple-cylinder sportbike-slash-café-racer we didn't know we wanted.
Let's settle one thing straight out the gate: the Speed Triple 1200 RR is gorgeous. The naked RS is already quite a looker, and they're mostly the same bike. But the RR ups the ante with classic lines, sleek finishes and a nose-down riding position.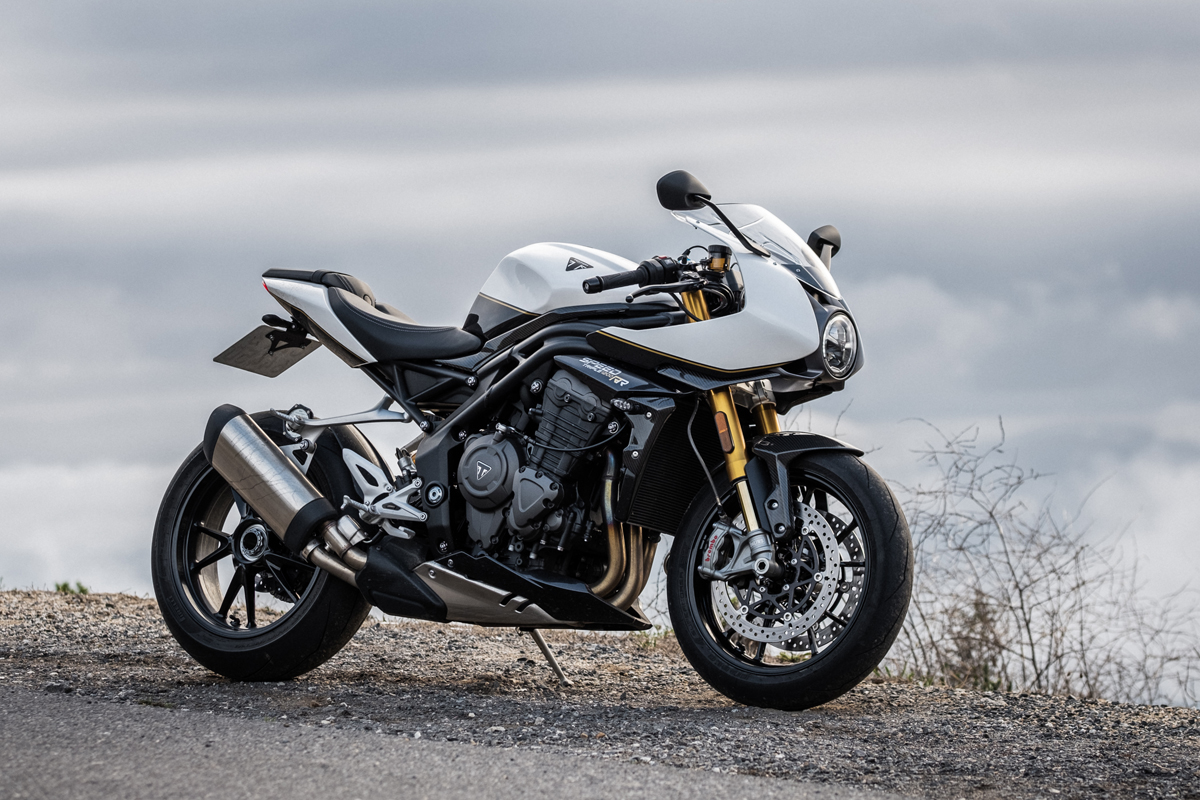 Gone are the controversial bug-eyed headlights, ditched in favour of a slick bikini fairing cupping a single round light. Some have drawn comparisons to the fairing on the MV Agusta Superveloce, but you really need to squint to see it. Remarkably, the fairing's the only major change to the Speed Triple's bodywork—but combined with the new controls, classic liveries and upgraded trim, it makes a big difference.
The Speed Triple 1200 RR comes in either white or red, with a black section that cuts across the bottom part of the tank and fairing. Traced by a subtle pin-stripe (gold on the white bike, grey on the red), it emphasises the RR's aggressive stance.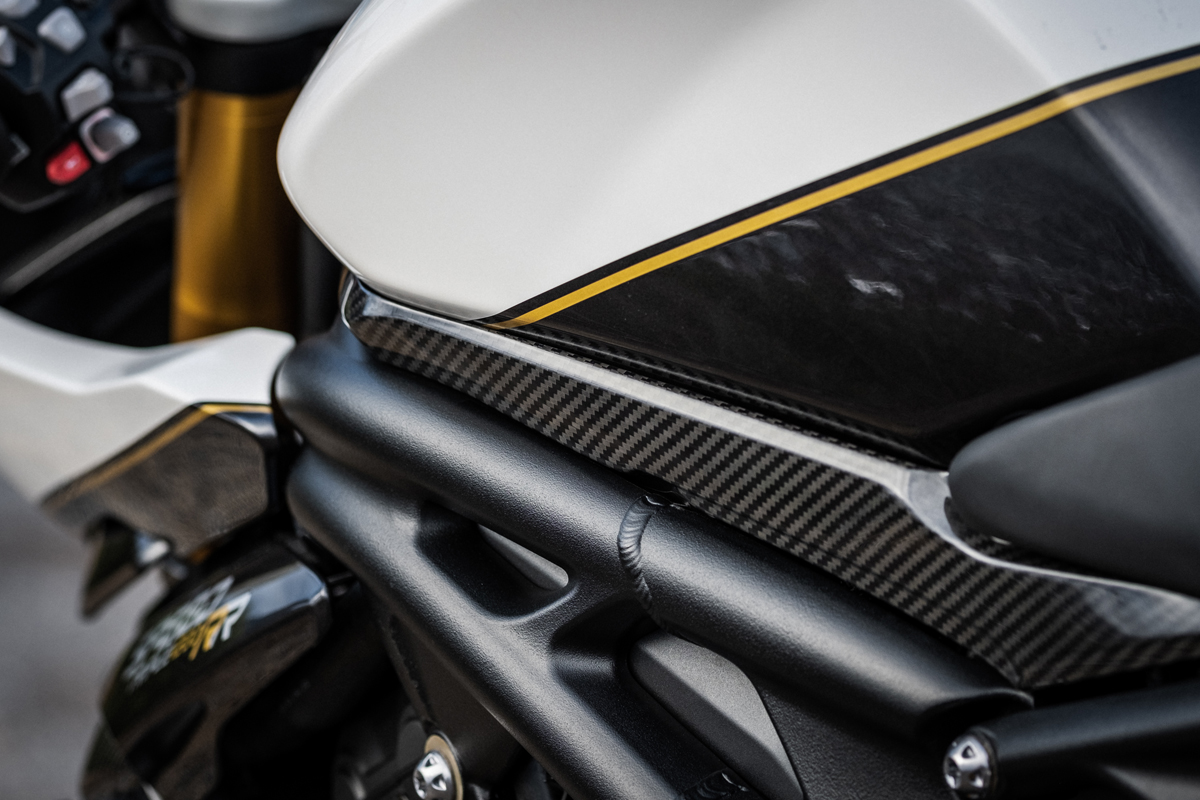 It's dressed in swathes of carbon fibre too—on the tank trim, front fender and fairing stays. It not only adds to the RR's overall lust-worthiness, but it helps keep the weight down too. Despite the extra bits, the RR weighs a mere kilo more than the RS, clocking in at 199 kg wet.
The RR also has the same TFT display as the RS, recessed deep into the fairing. But the controls are completely different; the RR wears clip-ons instead of regular bars, and its foot controls are further back and up. So although both bikes share the same seat, sitting on them couldn't feel more different.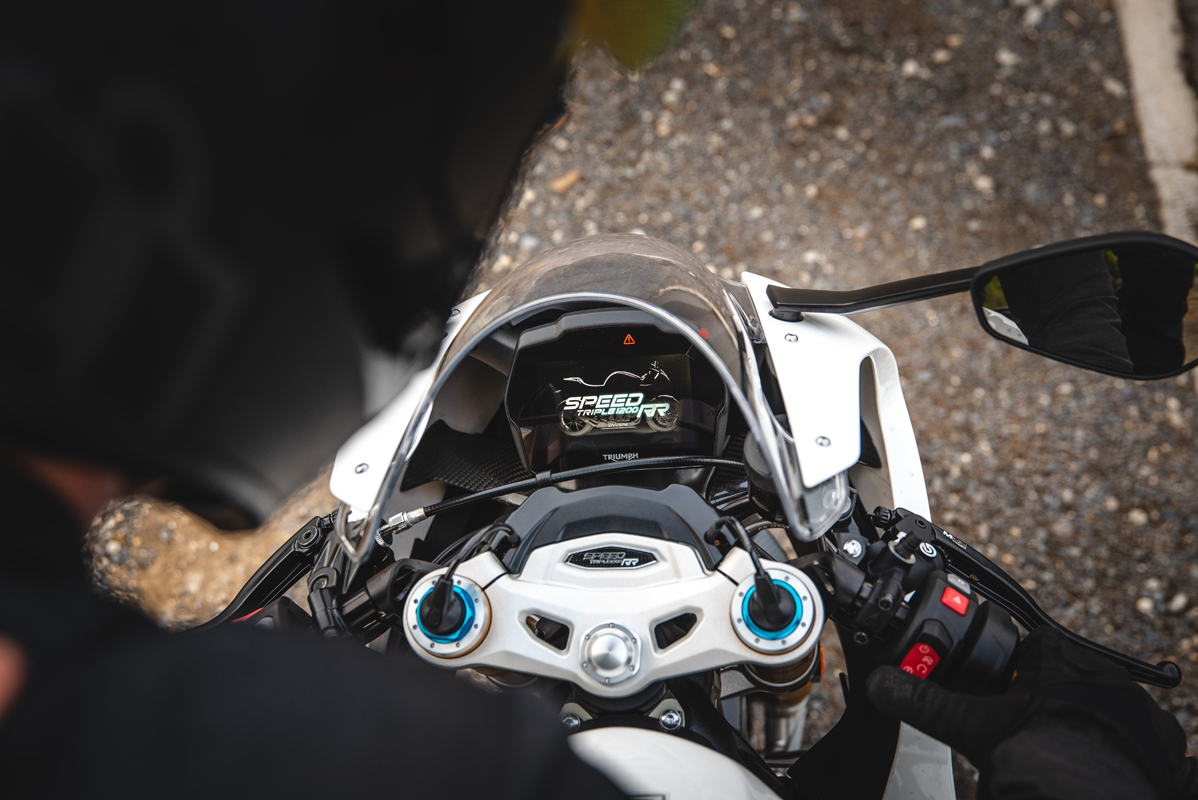 And that's the remarkable thing about the Speed Triple RR—on the surface, it's really just a dressed up Speed Triple RS, right down to the identical cast aluminium chassis and 1,160 cc triple-cylinder motor. But in reality, they are two very different motorcycles.
Like the RS, the RR makes 177.5 hp at 10,750 rpm and 125 Nm at 9,000 rpm. More importantly, it sounds and feels great, with smooth and responsive power delivery all through the rev range. And thanks to a slip-and-assist clutch, faultless gearing and quick-shifter, it's a pleasure to ride.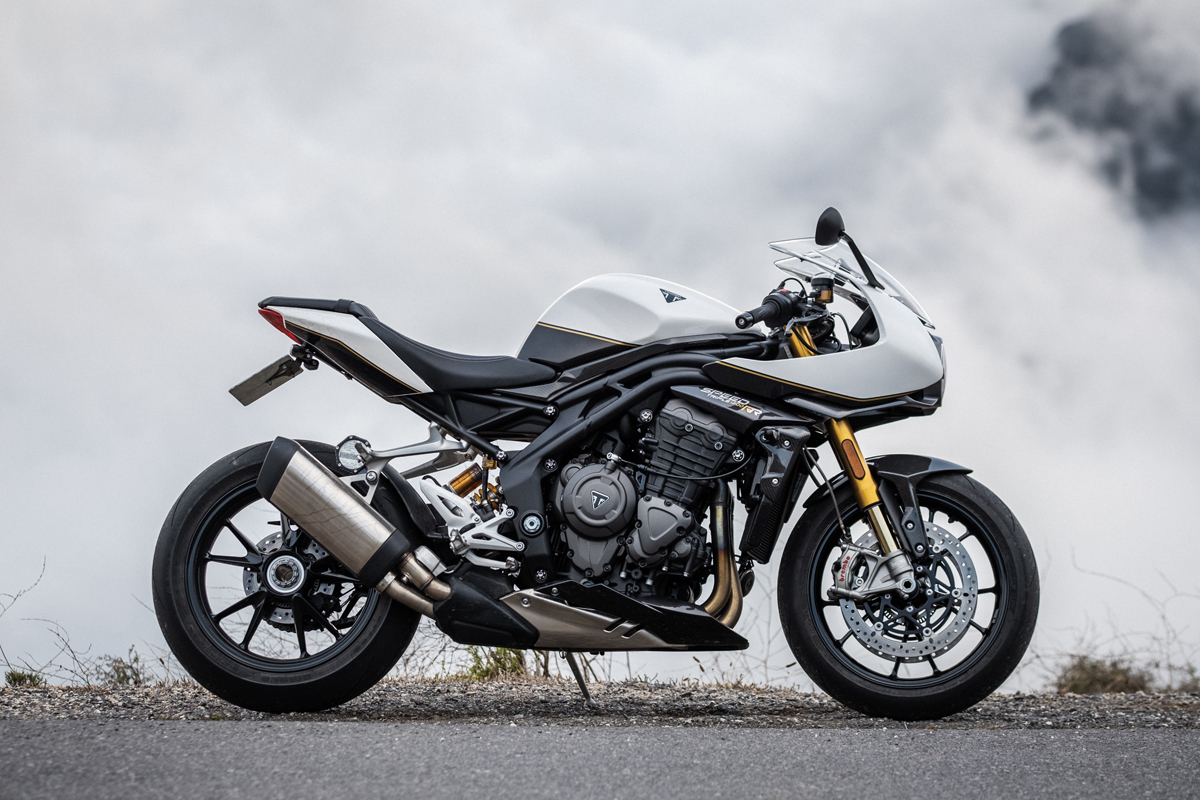 But while the RS is a versatile roadster, the RR has an extremely narrow focus. It hates plodding from robot to robot and groans at the sight of traffic (or rather, your wrists and back do). In order to truly bring it to life, you need clear tarmac with plenty of turns.
Get it up to highway speeds and it's eerily comfortable—to the point that you feel like you're floating. And although the windshield is small, it directs air well when you're tucked in.
But where the Speed Triple RR undoubtedly shines most is in corners. It turns intuitively, and holds a line with scalpel-like precision, and a big part of that is down to the Triumph's semi-active electronically adjustable Öhlins suspension. Through the use of some dark electronic magic, it responds to the road surface and your riding style… then adjusts itself accordingly.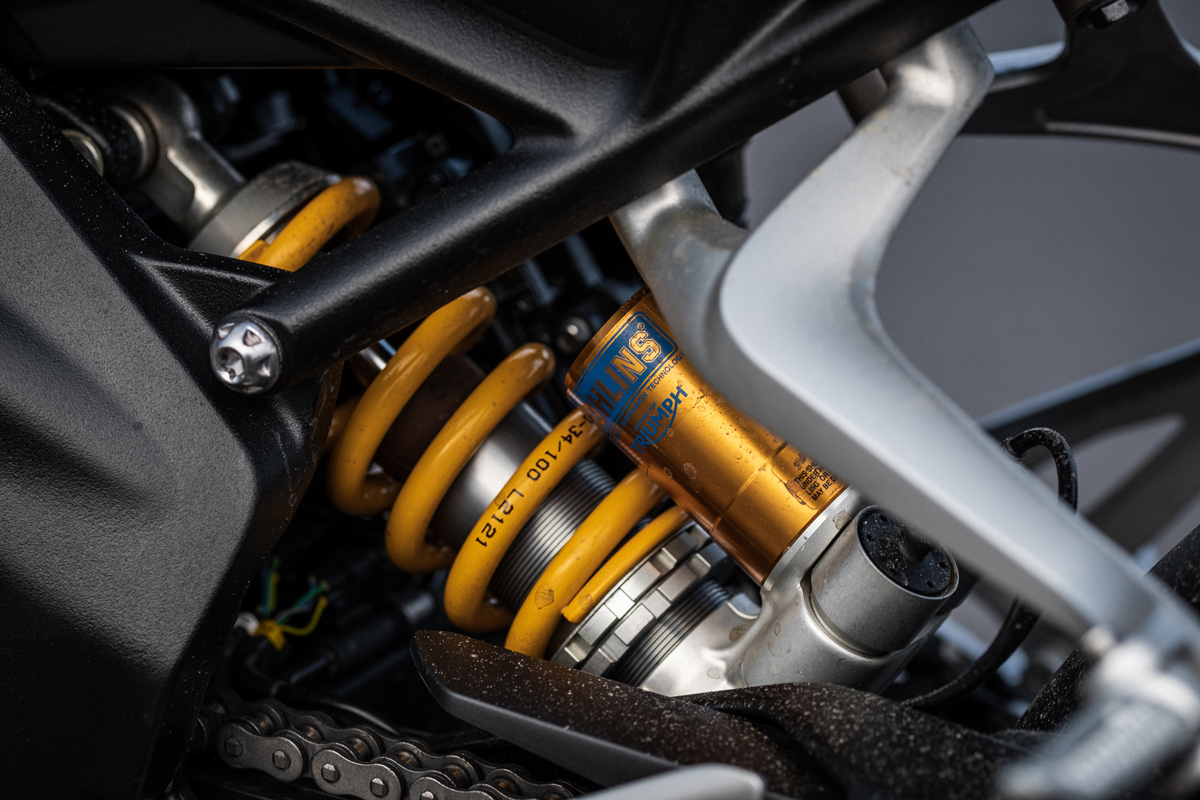 You can deep dive into the bike's menus to adjust everything from the overall stiffness, to how the system behaves under braking or acceleration. But I left it alone—partly because it behaved so damn well out the box. With the exception of some front end dive during snatchy brake tests (which I probably could have tuned out), the RR felt engaged and planted no matter what I threw at it.
The Speed Triple's Brembo brakes are both strong and sensitive, and the OEM Pirelli Supercorsa SP V3 are grippy as heck. The triple-cylinder motor's grunty yet usable nature makes also it easy to fire it in and out of corners. Whether your riding style relies on engine braking, trail braking or a combination of both, the Speed Triple complies.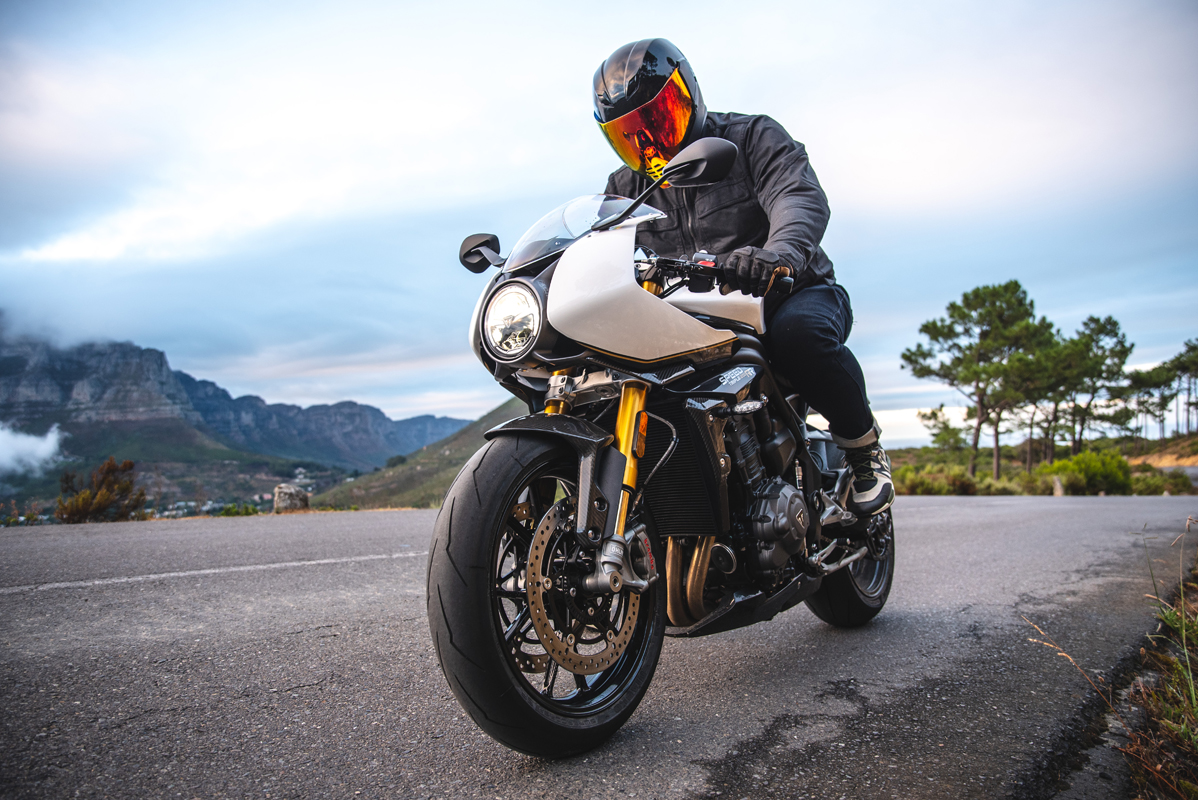 It's bundled with a full complement of electronic rider aids too, including multiple customisable rider modes. 'Sport' mode gave me plenty of power and character to tackle Cape Town's inimitable Clarence Drive at a reasonable pace. I flipped it into "Track" mode for the sake of science, where it felt a little more skittish—but not unwieldy.
Just like the suspension, you can fine-tune everything from the power delivery to front-wheel lift in the various modes. But I didn't fiddle too much, because I couldn't quite get along with the RR's TFT display. It's a good looking design that works well enough as a speedo and tacho—but even tasks like changing rider modes feel unnecessarily overwhelming.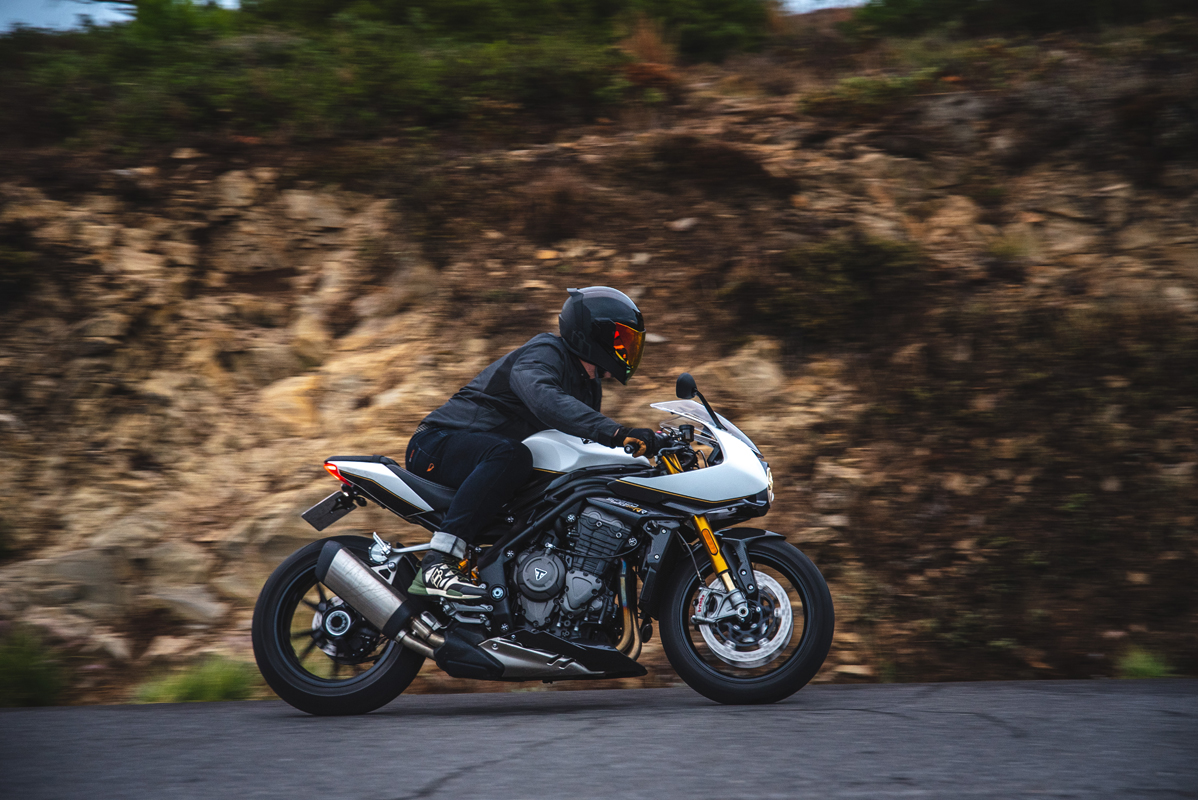 It's something you'd probably eventually get used to, but off the cuff, there's just too much info crammed into too small a space at one time. But that's about the only gripe I have with the Speed Triple's overall package. (That, and the fact that its mirrors are only really good for looking at your own elbows.)
I didn't take the Speed Triple RR to the track, but I'd imagine it'd slay there—and bend necks in the process. There's an air of exotica around the RR; a triple-cylinder sportbike with classic lines, tasteful finishes, top-shelf components and carbon fibre in all the right places.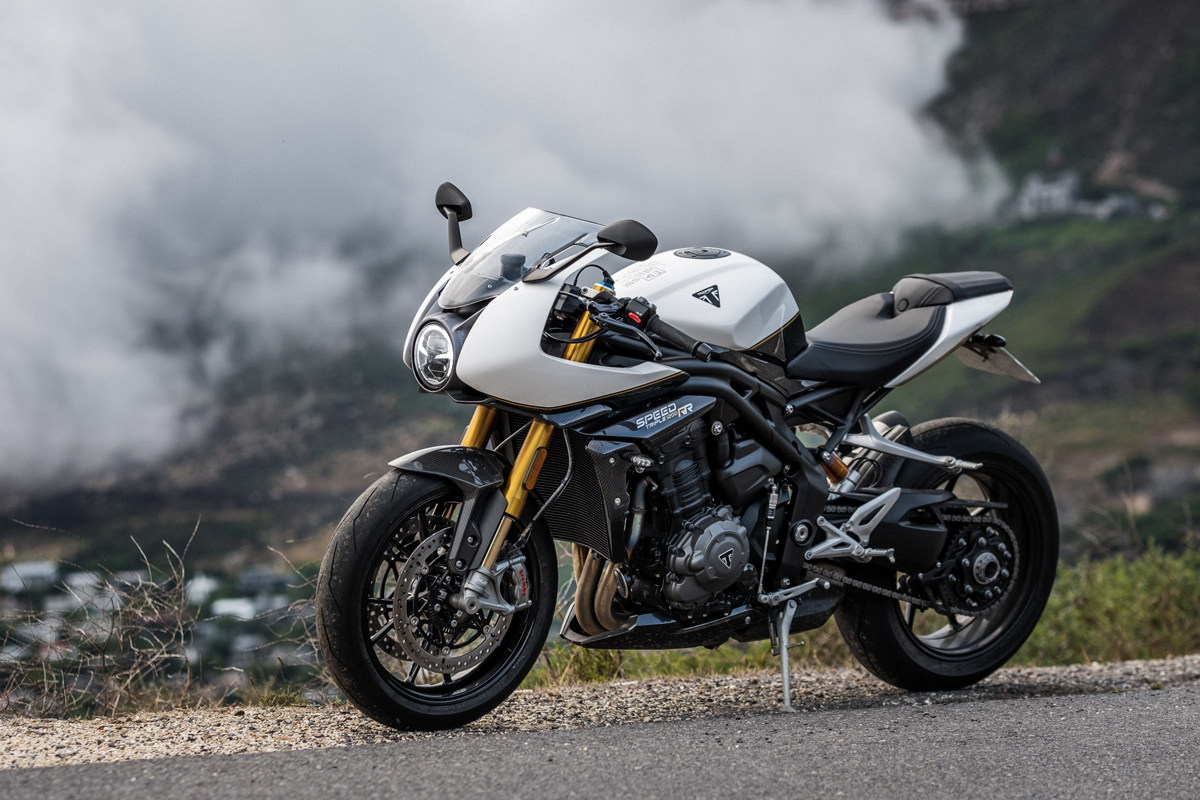 It's easy to prep for track use too, since most of the parts you'd need to remove can bolt off in minutes. And you get both a tail cowl and pillion pad in the box, so that you can swap them out at will. (You'd need to fork out extra for a special bracket to hold the exhaust if you want to ditch the passenger pegs though).
All that goodness does come at a premium: the Speed Triple 1200 RR costs R315,000, which is R46,000 more than its sibling. But that's not unreasonable as far as high-end European machines go. Price-wise, it wedges itself nicely between the Ducati Panigale V2 and V4.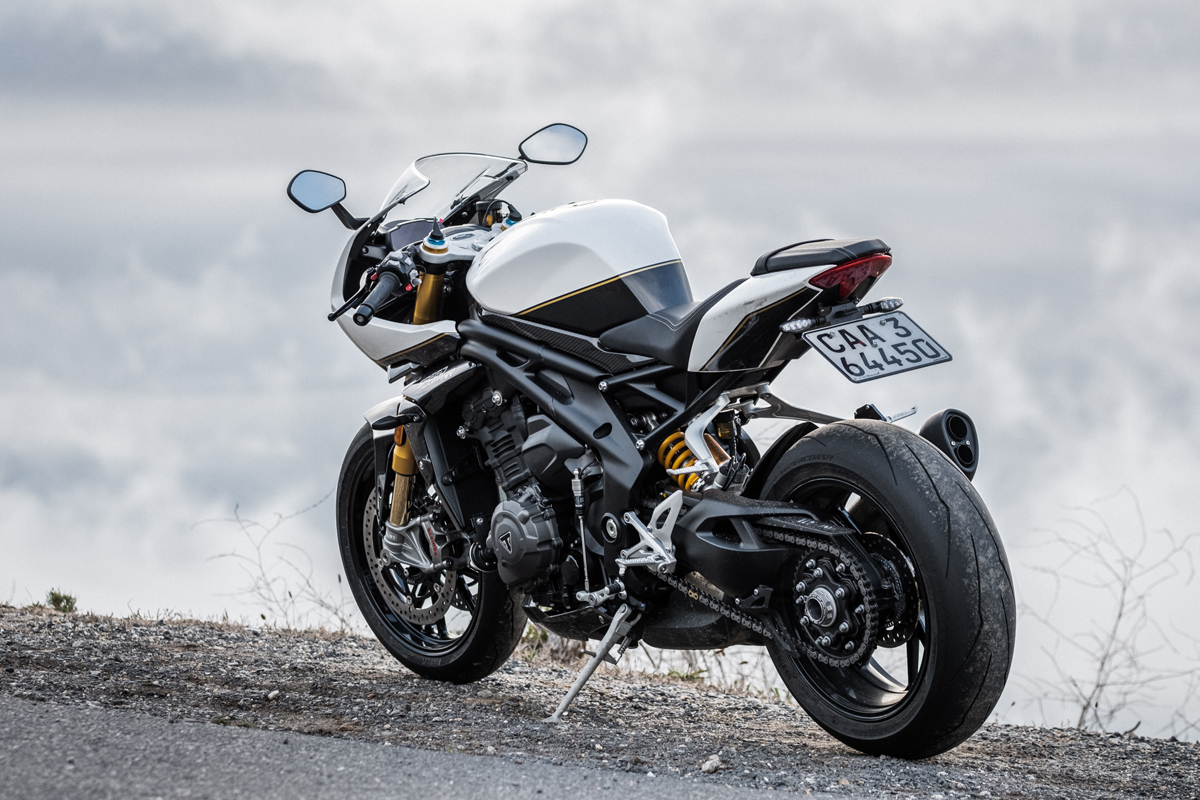 Would I pick the Speed Triple 1200 RR as a daily runner? Nope—the RS has that covered, and costs less. But as a nimble plaything that goes like stink, but also looks great parked outside your local café, there are few bikes that can compete with it.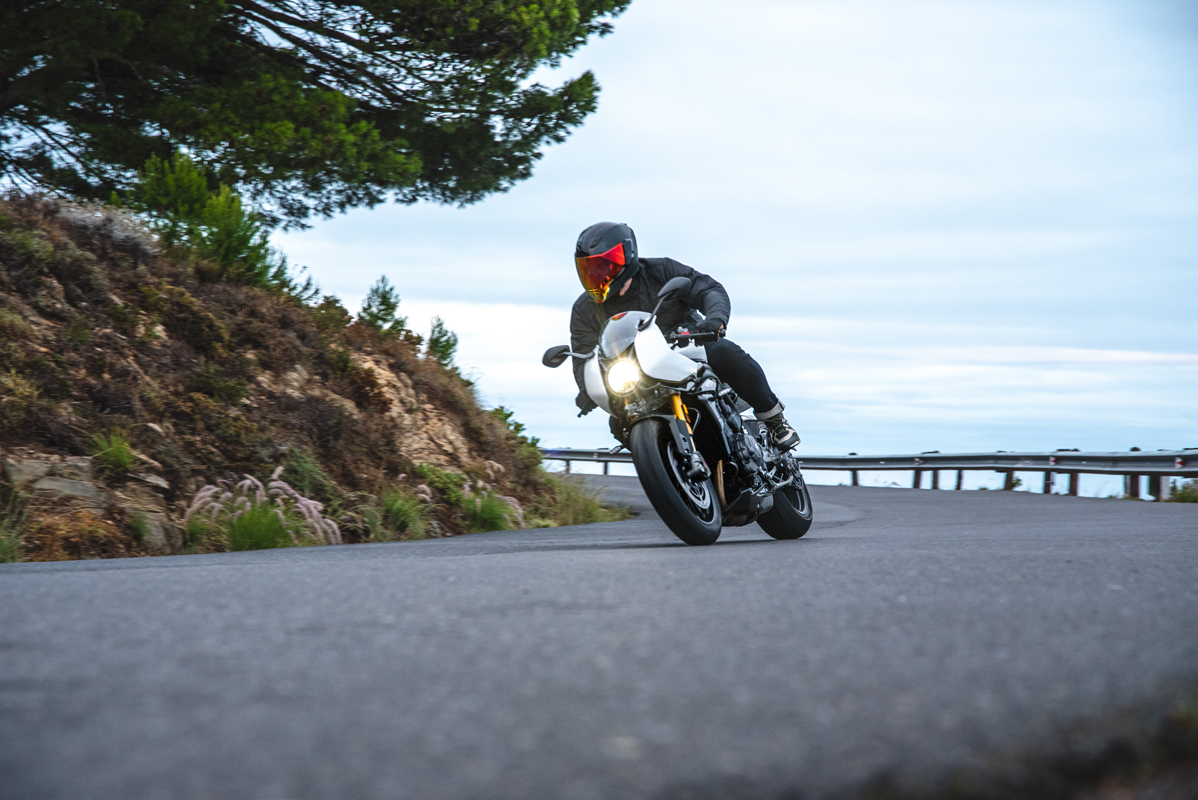 Triumph Speed Triple 1200 RR
For more information on the bike that we tested in this article, click on the link below…