I told you all recently about my ride down to Colesberg, to attend the SA Bike festival. What I didn't elaborate on, was the ride itself. I decided that it was an excellent opportunity to give my Suzuki V-Strom DL650 X a proper run. Since my initial run-in trip to Phalaborwa, it has been used for typical town and around duty. It has performed superbly. It is big enough to not feel cramped, but smaller and lighter than your typical large Adventure bike. This makes it much better for urban trolling. The motor has loosened up nicely and provides plenty of shove. Four-wheel shopping baskets are despatched with disdain. I find that I rarely need to exceed 6,000 revs, so it always has plenty in reserve. The gearbox is slick and a pleasure to use.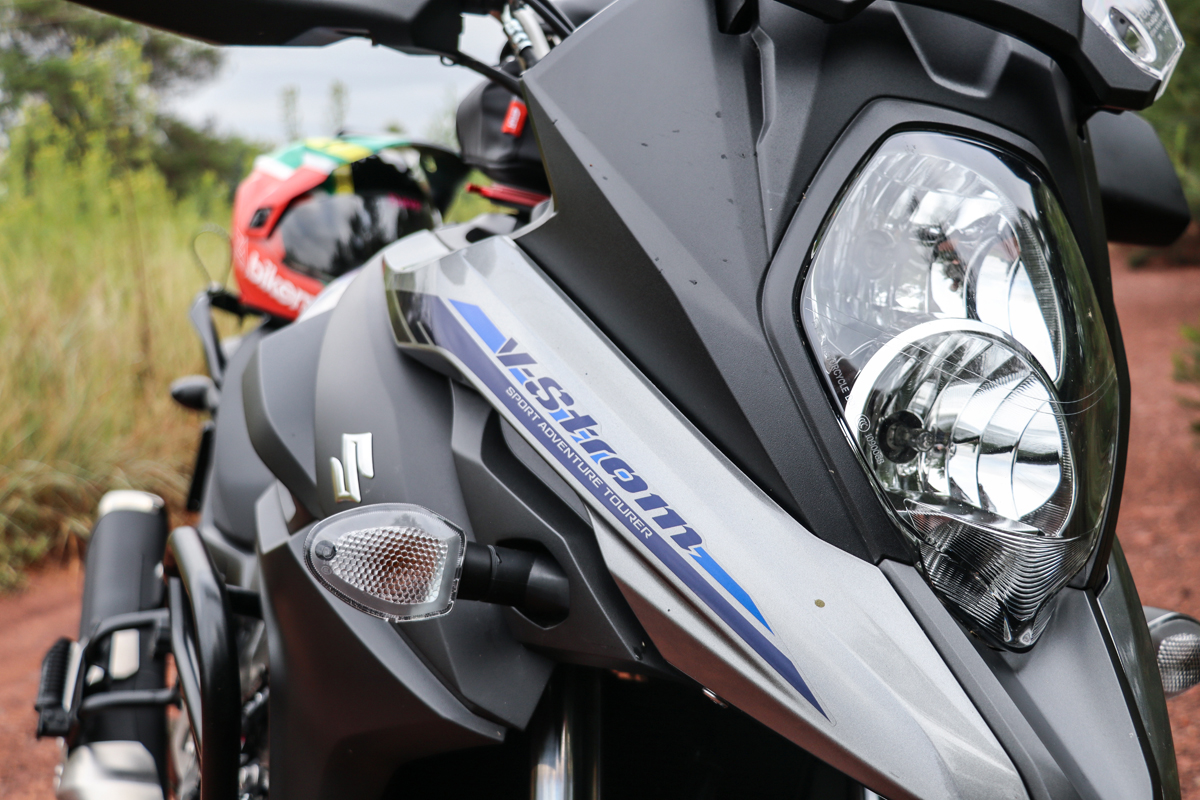 I decided that the 'Strom would do duty for the Colesberg trip. With just a weekend away I could travel light. A 20-litre Givi tank bag and my Go Gravel backpack bungeed to the back seat and I was sorted. I left Jo'Burg with a full tank at around 9.30 a.m. with the promise of good weather for the ride down. The Free State looks magnificent after the good rains that we have been blessed with. Rolling green grasslands as far as the eye can see. After Kroonstad one kind of settles into distance mode. Riding south under a big sky. It was rapidly getting properly warm.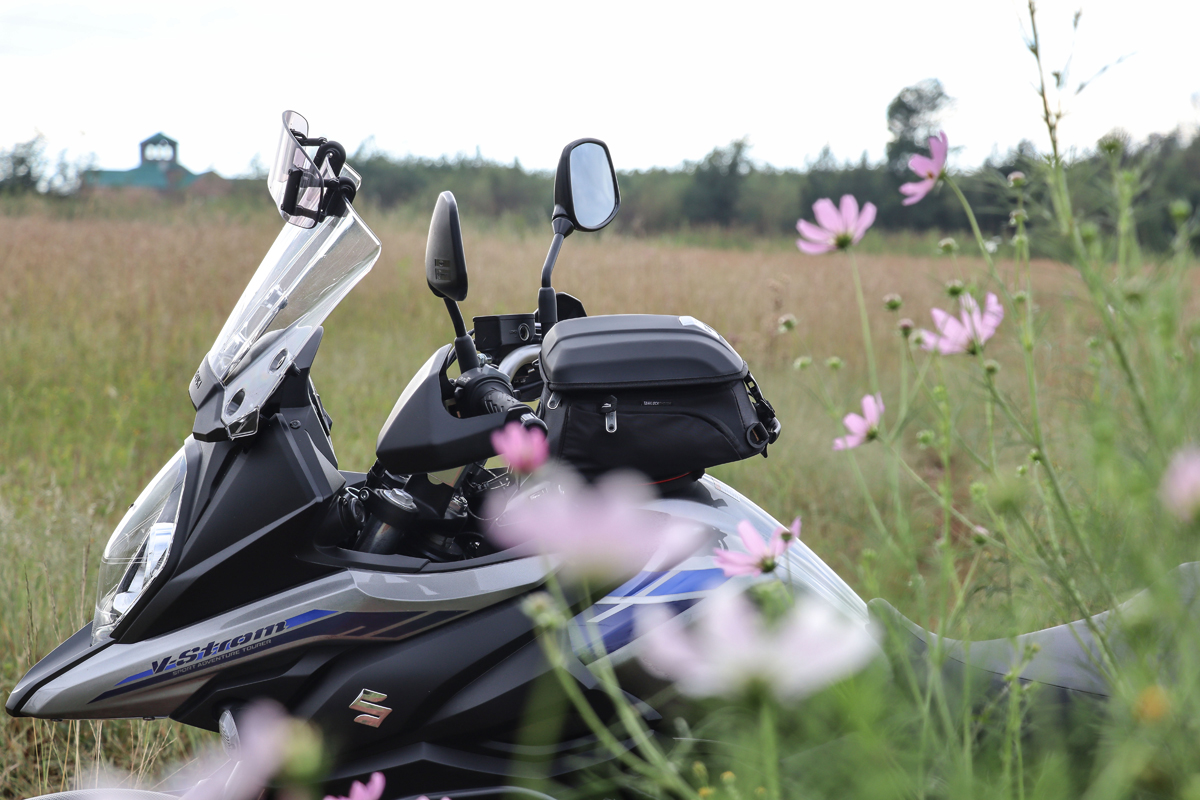 The Suzuki, as is typical, settles into a V-Twin thrum. I was cruising at 6,000 rpm, a full 4k from the redline. It equates to 130 kph. This might seem slow, however, this is a seriously economical speed for the DL650, which saw me filling up for the first time in Bloem. Riding at 150, which is a doddle on the 'Strom, sees the consumption go up and requires a top-up before Bloem. More haste, less speed.
The wind protection and seat comfort on the V-Strom make it a long-distance weapon. It effortlessly reels off the kays, never feeling stressed or strained. The motor has evolved over the years into a really sweet unit. Keep it under 130 and you are virtually guaranteed over 20 km/L. With a 22-litre tank, this means over 400 kays between fill-ups. The other thing worth mentioning is that smaller capacity motors with their lighter reciprocating masses, generally run smoother, with less vibration, than bigger capacity motors. This contributes to a general 'sweetness' riding the smaller DL650.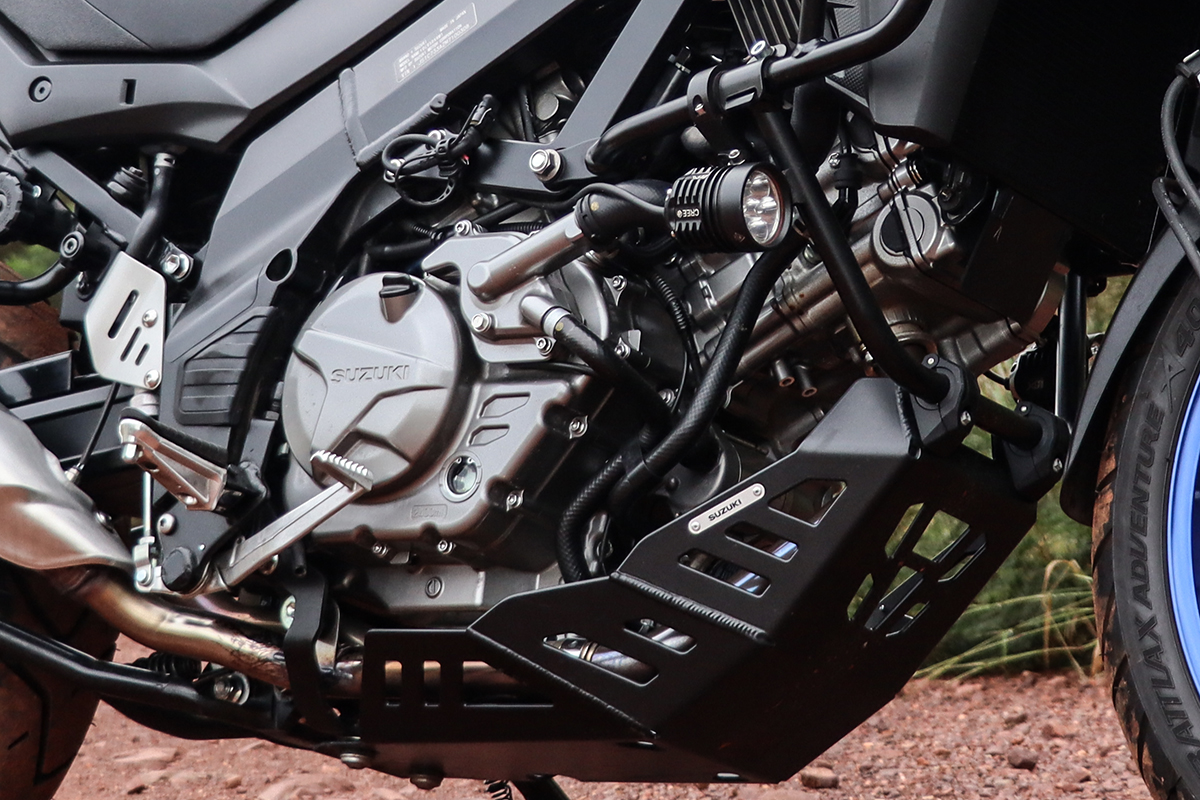 The hot weather couldn't nudge the temperature gauge from normal. The bike feels absolutely unburstable, and so it should with its awesome reputation for reliability gained over the years. I cannot overstate how important reliability is on an adventure motorcycle. You just know that the Suzuki will get you there and back!
The suspension copes perfectly with what deteriorating SA roads throws at it. Off-road travel requires a little circumspection on really bad surfaces, given that the DL650 is endowed with moderate travel. Having said that, it does keep the centre of gravity lower which allows you to dab a foot down if necessary without fear of capsizing. I discovered this when I got up early on Saturday to enjoy the fresh Karoo air. I rode up a rocky Koppie for photos.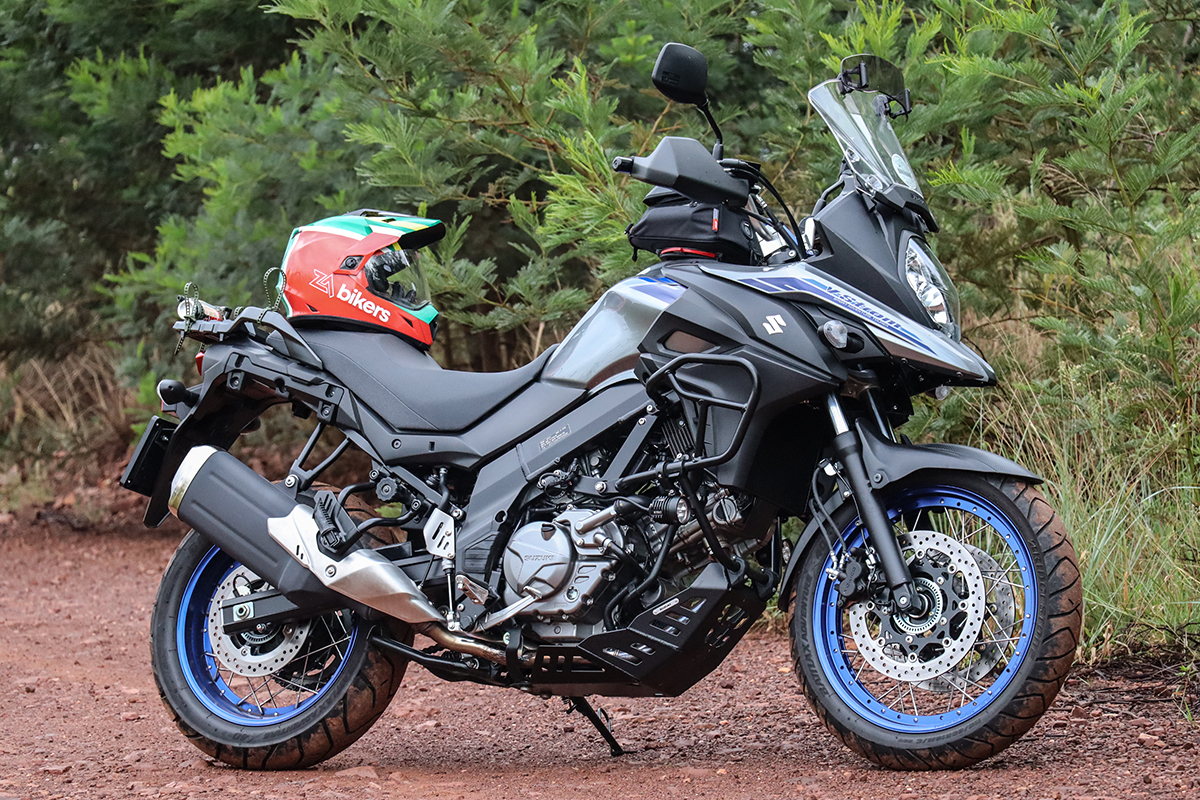 The bike is very well balanced and the throttle response allows easy low-speed manoeuvring. If you don't feel compelled to race everywhere you go, the V-Strom will never be found wanting. It will get you wherever you wish to go and back again. Kind of Jeep vs Rally car analogy. If you want to average 10 kph faster off-road you can shell out R50,000 more for a bit more suspension travel. That could also buy you a really good second hand 'plastic' as well. The choice is yours.
It speaks reams about the DL650 that despite a 700 km trip on the Friday, I could not wait to cruise the early morning on the 'Strom. It is like road tripping with your best bud. You just feel good in its company. At the end of the day, I topped up the tank as I planned to get going really early the next morning. I have always favoured early starts. The bike runs so sweetly in the cool of the morning and by breakfast you are already 300 kays into your journey. And so it was. I rolled north out of Colesberg in the dark, with purely the faintest hint of light creeping into the sky. The headlight on the 'Strom is proper. I wanted to take advantage of the low traffic volumes and the cool, so I ran at 7,000 rpm. As is customary, it started getting chilly just as the sun rose off to my right.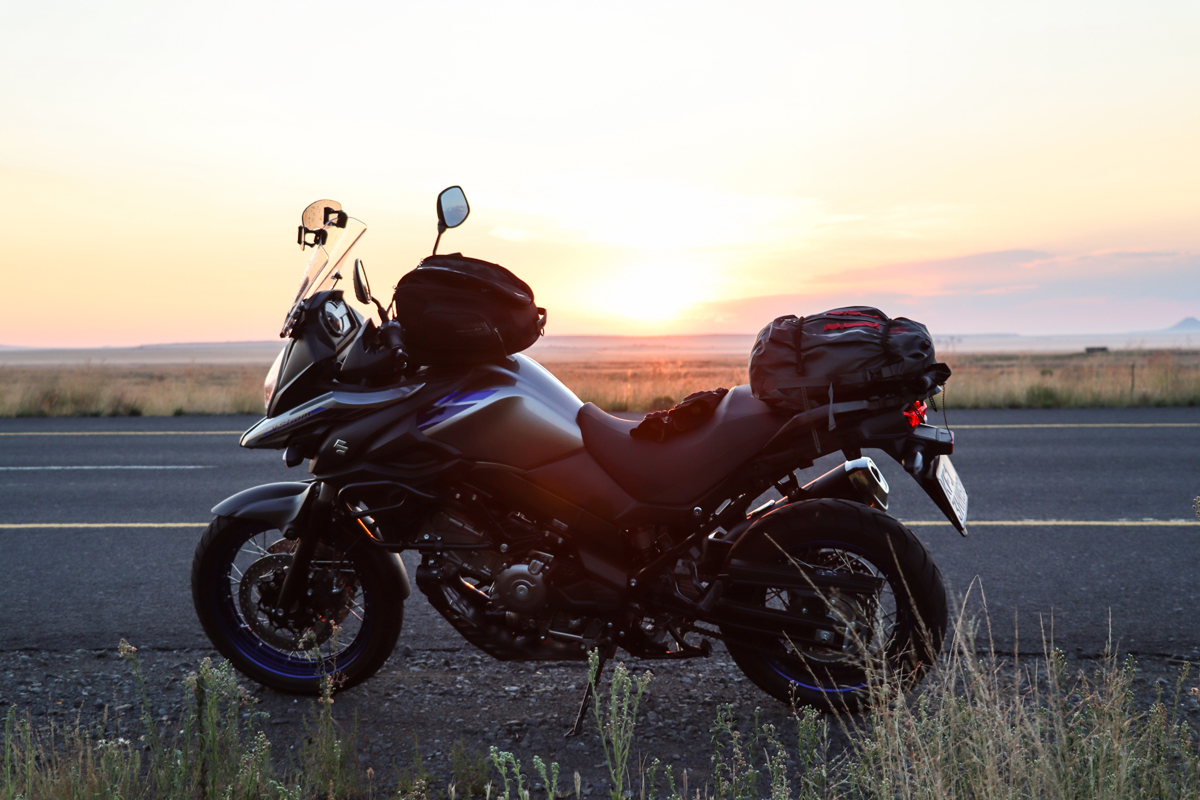 I stopped to capture the 'Kodak moment' and pull my rain splash cover over my Airflow jacket. A trio of GS's swept past as I pulled back onto the road. I ran with the big Bee Em's for a few k's before deciding that they were travelling just a bit too quick. I backed off a tad and rode on. Only bikers will really grasp that feeling of mild elation that overcomes you when the bike, scenery and early morning light blend together into a memorable riding experience. I rolled into the Engen in Bloem to find the GS's still at the pumps. Again it illustrated to me how a consistent good clip will never have you lagging far behind. Wringing the bike's neck unmercifully tires the rider and demands longer stops and more frequent fuelling.
I was back on the road before the GS's and sat at 130, wondering how long it would take the Bee Emm boys to haul me in. I had Jo'Burg in my tank and I reckoned that the hard-charging GS's would need a splash 'n dash before home. And so it turned out. They past me at speed about 85 kays out of Bloem. Resisting the temptation to up my pace, I stuck to my game plan. These sorts of games make the time fly by. I tried to overtake efficiently, without scrubbing off speed. The DL650 was loving the cool air, as was I. In no time at all, I cruised past Soweto and on to Pretoria.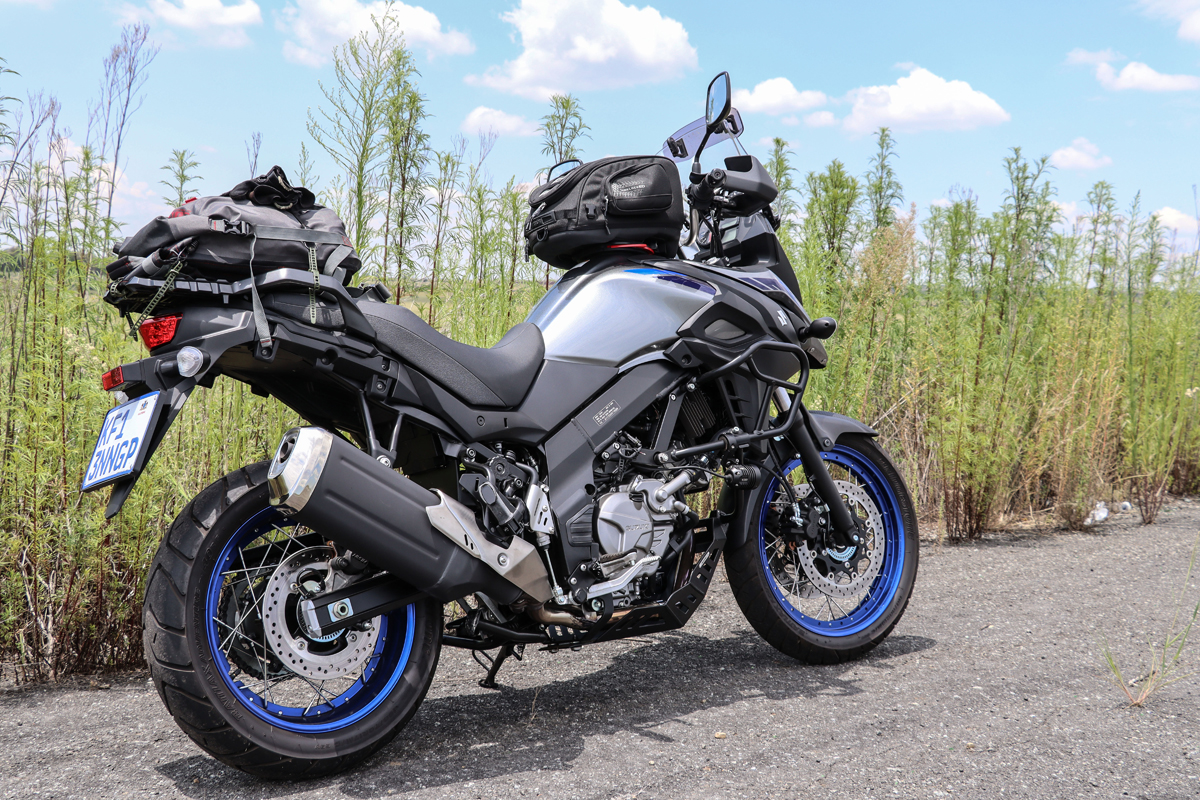 The fact is I enjoyed the ride immensely. The bike is comfy and smooth. I was also doing a chain wax test. I lubed my chain prior to leaving for Colesberg with Liqui Moly Chain Lube White. This task was made easier by the centre stand on the 'Strom. Putting the bike in first gear I sprayed the inside run of the chain. I did this the night before departure as I wanted the lube totally dry and settled. The recommendation on the can is for 15 minutes prior to riding. I filled the little 50 ml can from the 400 ml 'mothership'. I reckoned that that would see me through for the 1450 km round trip. It is such an ingenious idea. It takes up no space at all.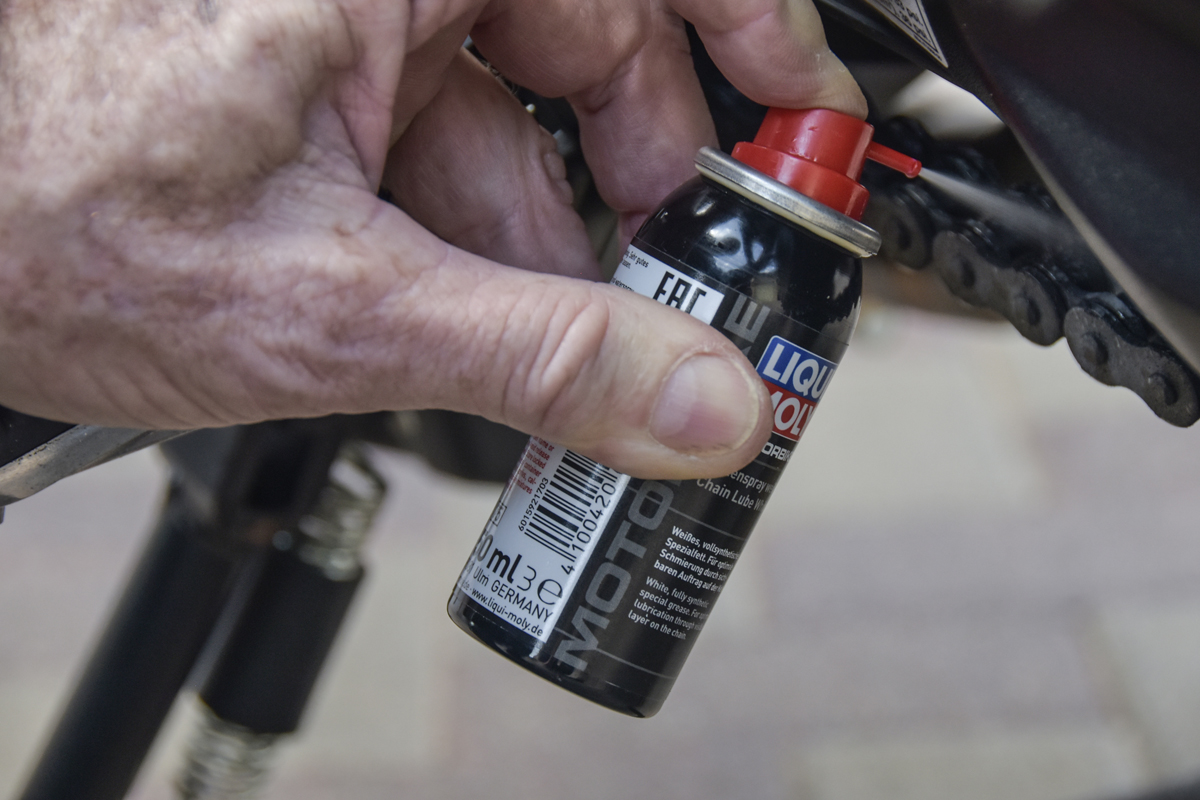 You can stick it in your pocket or in the side pouch of your tank bag. As is customary, I checked the chain at Bloem, after 400 kays. Still good. Colesberg, also good. This lube is proper! I eventually rode all the way back home without needing to use my 50 ml stash. 1450 kays on one application of lube. Astounding, to say the least! I even took a photo as documentary evidence!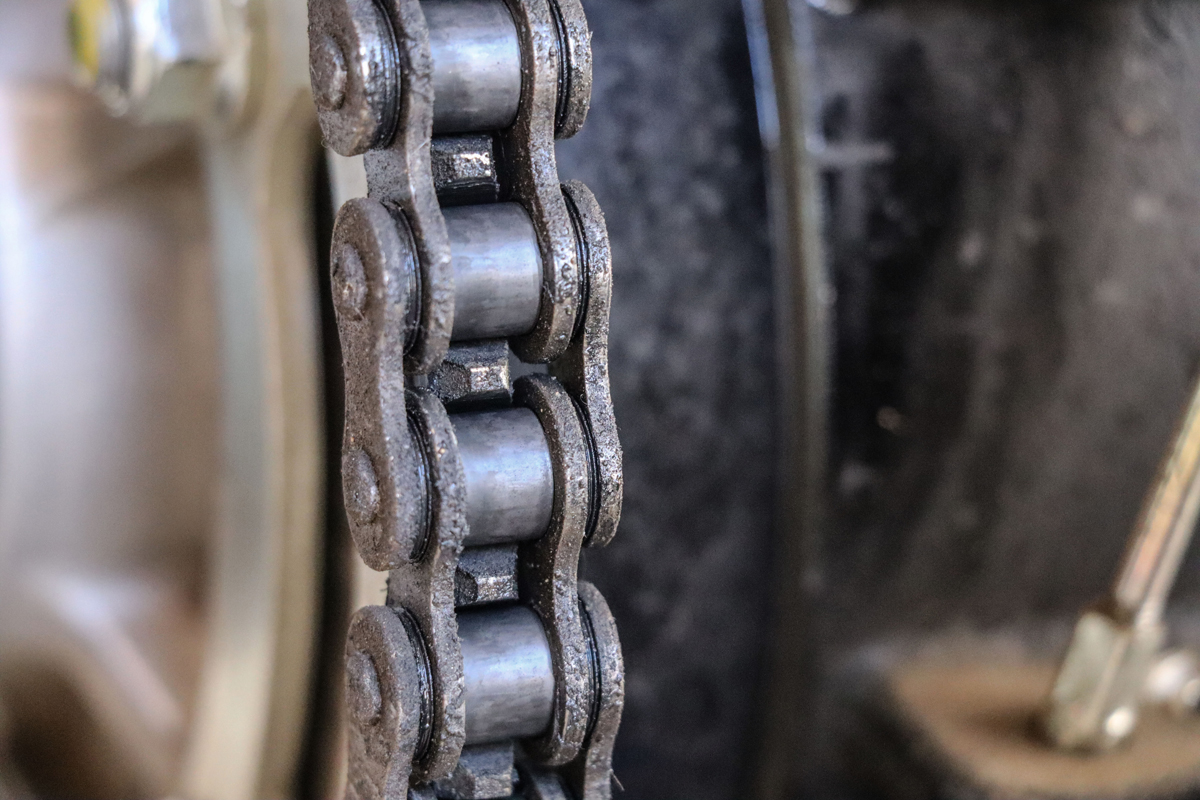 This may be a 'Strom story, telling you about the virtues of this brilliant value for money middleweight option, but at the end of the day, I just want to encourage you to get out on your bike. Covid, Vlad Putin and all the rest of the crap in the world just fades away when you cruise the highways and byways of our magnificent land.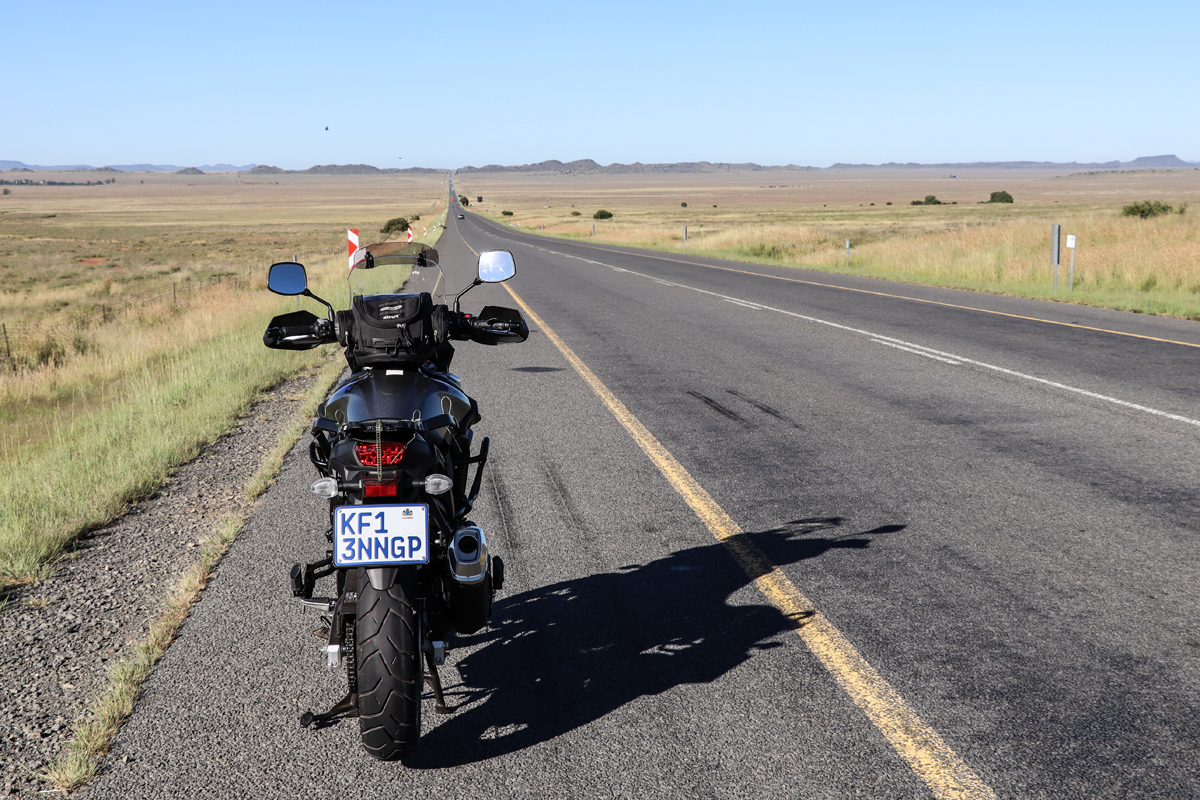 Next up in our 'Strom stories may well be Botswana. I am longing for that vast land with its wide-open spaces. Got to show it to 'Strom…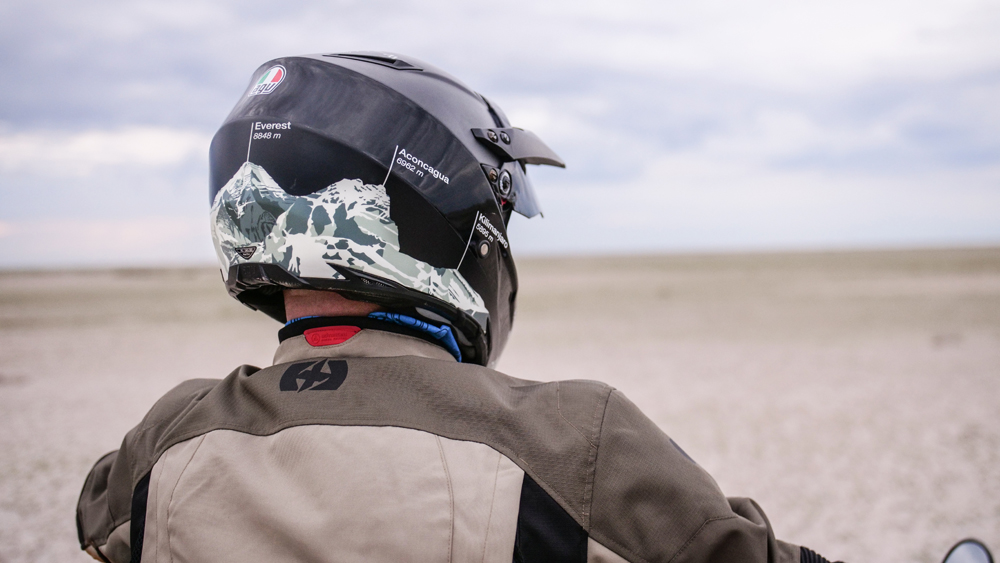 Suzuki V-Strom DL650XA
For more information on the bike that we used in this article, click on the links below…