It is an open secret that for many years I have been a massive fan of sports touring motorcycles. I acquired my first red Honda VFR 800 in 1999. I took my Yamaha R6 into Linex Yamaha for a service and there it was. A spotless VFR with a mere 800 k's on the clock. The deal was done and my love affair with sports tourers was on its way. I found that the VFR was very little compromise over a pure sport bike, but much easier to live with. It would do track days as easily as it would tour far and wide. It also had the sports bike look that I craved.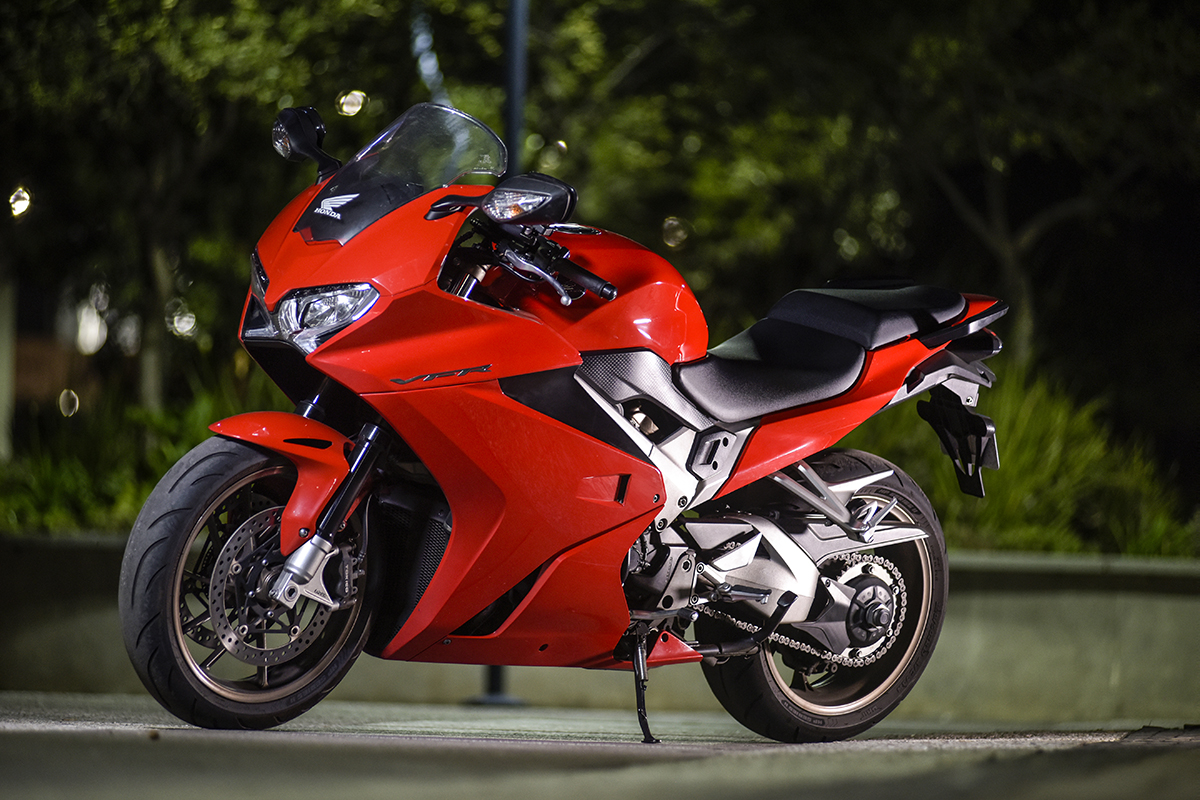 Numerous VFRs, a Honda Blackbird and a Kawasaki ZX-14 all fit that mould (Granted the 'Bird and ZX-14 ticked the fast box in spectacular fashion too). Fast forward 22 years and I again have a last generation VFR 800 in my stable. Until now, that is. It is to be replaced by a bike that has blown my mind with its sports touring capabilities.
Enter Ducati's SuperSport 950 S…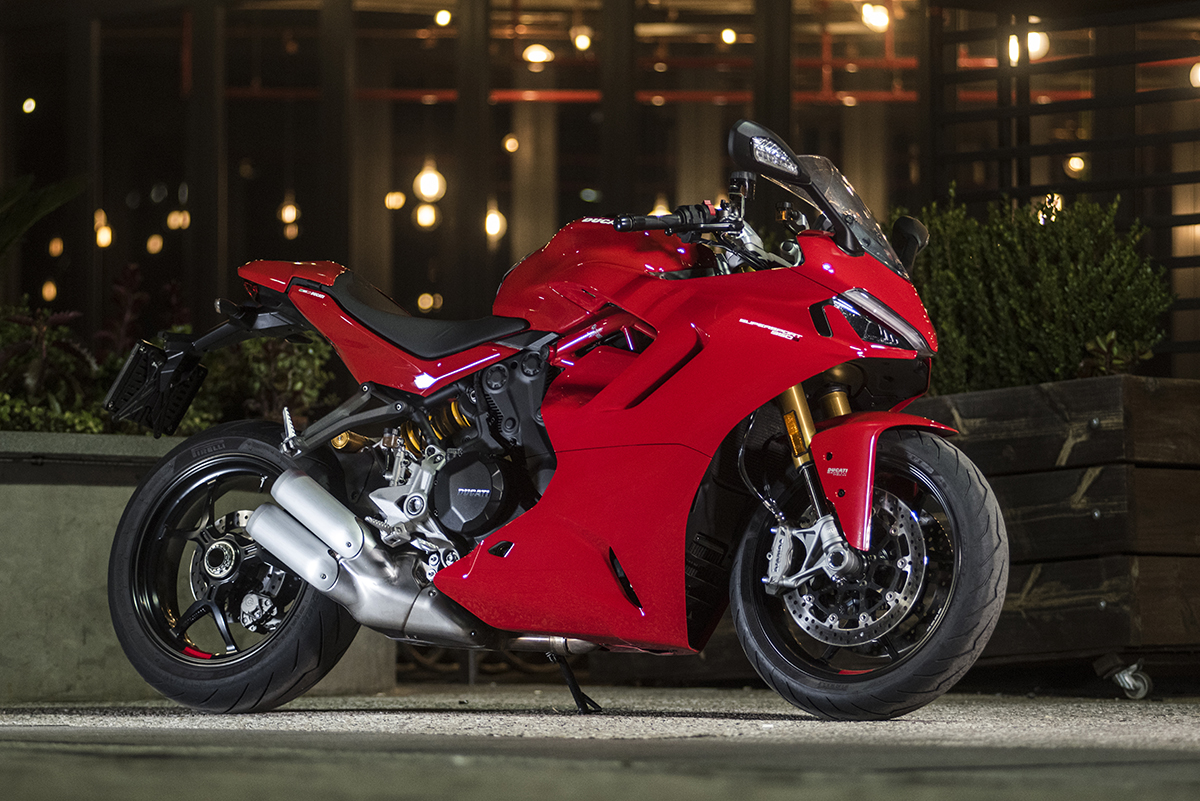 In another life, I sold Ducatis. The silver and blue 900 SS, with its desmodromic motor, bevel driven overhead cams, huge Dellorto pumper carbs, sans air cleaner, just bell mouths which threatened to suck in the leg of your bell-bottoms and bellowing Conti pipes, had me drooling with unbridled lust. I wanted one so badly. I was just at a point in my life with small kids, a house bond and sundry expenses, that put it firmly out of reach.
Ducatis in those days were synonymous with brilliant handling and torquey 90-degree twins that allowed them to run away from anything down a winding road. I have always favoured handling over sheer straight-line speed, so they were at the top of my lust list. In hindsight, I should have sold a kidney or whatever. Good examples of a 900 SS sell for over half a bar today. If you can even find anyone willing to part with one, that is.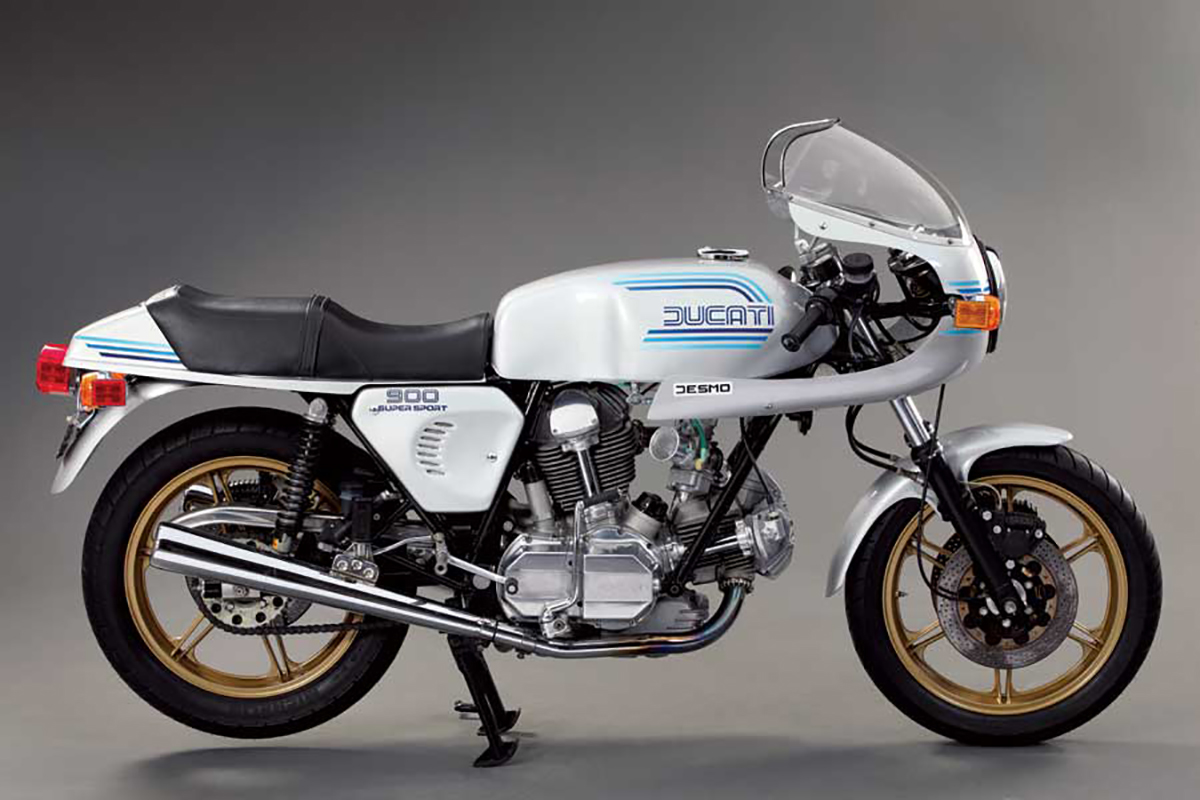 Ducati Supremo, Jos Matthysen, aware of my long term love of the brand, suggested that I stop vacillating and offered me an attractive purchase option. Done deal! At long last, I have got my Ducati. So why a 900 SS you may ask? Well, here is the thing. Multistrada's are brilliant bikes and all, but for me, Ducati has always been a sports bike brand. For the same reason, I would only ever own a sports Porsche. The SUVs are cool, but just don't do it for me.
The 950 SS on the other hand is, for me, the spiritual successor of the original 900 SS. The Panigale is a bridge too far. For all its incredible virtues, it is uncompromisingly track focused. I ride on the road, where 200 horsepower and track rigid suspension is more of a liability than an asset. The riding position is also a chiropractor's best friend.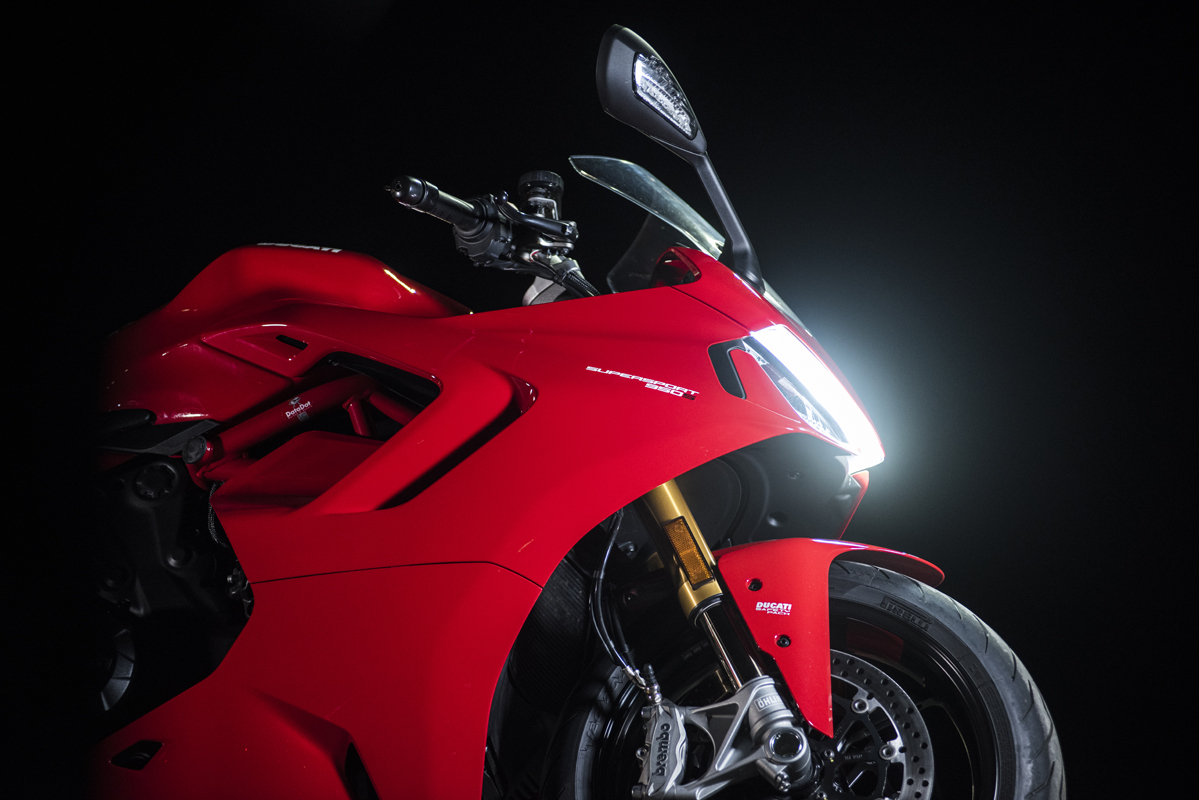 Friends, just take a careful gander at the 950 SS. It is simply achingly beautiful from any angle. Parked next to a V4 Panigale, it makes the Panigale; dare I say it, look almost porky and frumpish. The 950 is lean and lithe, with perfect proportions put together as only the Italians would know how. Stunning! Then it is red too. The colour God intended for Italian vehicles. Let's stop gushing for a moment and discuss the hardware.
At the heart of the bike, used as a stressed member for the steel trellis chassis, is the familiar unburstable 937 cc Testastretta liquid-cooled desmo motor. Like the original 900 SS, it is an L-shaped V, if that makes sense? It is fed by 53 mm fuel injection throttle bodies and a fly by wire throttle. It just occurred to me that you may not be familiar with quite what "Desmo" means. Essentially, it means that the valves are both opened and closed mechanically. The only function of the valve springs is to keep the valves closed for starting purposes. Once running, desmodromic valve action gives you precise valve timing without any 'float' at high revs. Cool hey?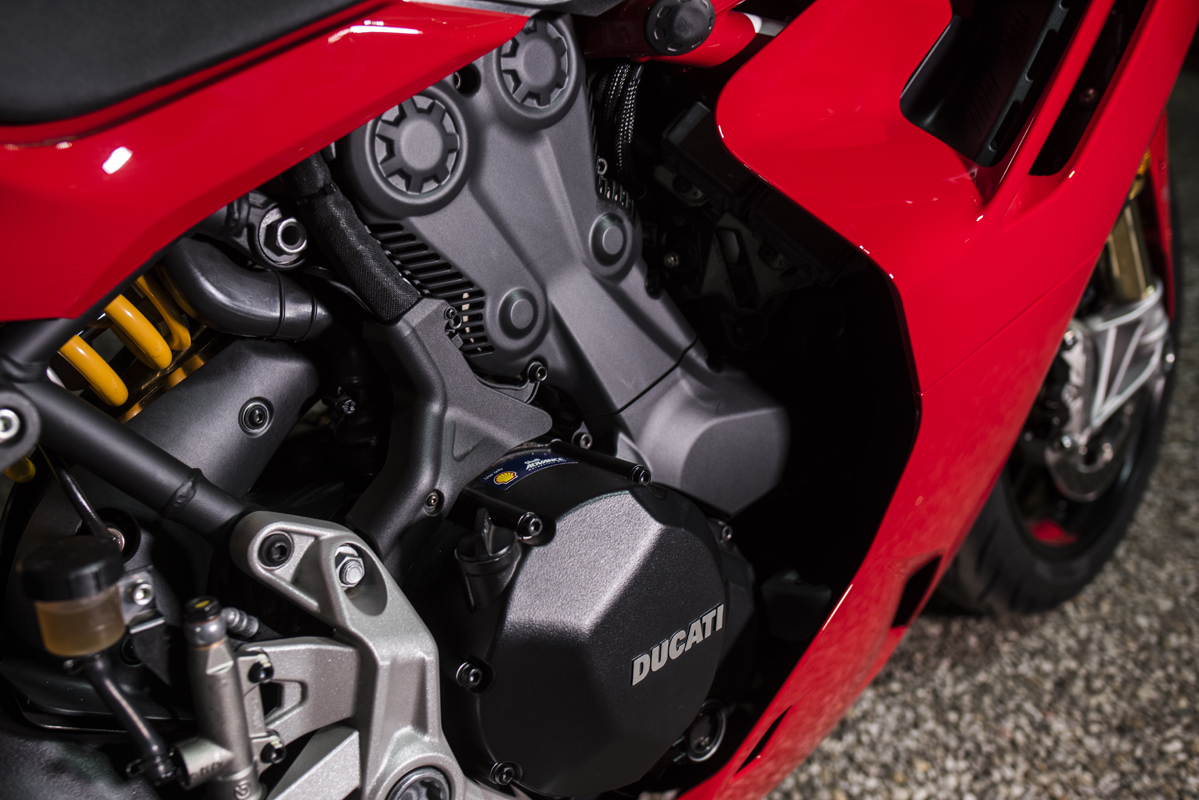 The S model differs from the normal 950 in that it has fully adjustable 48 mm Öhlins forks, rather than the 43 mm Marzocchi's on the base. Similarly, the rear shock on the S is also a fully adjustable Öhlins unit, mounted to the single-sided swingarm. This allows you to take full advantage of the motor's 110 horsepower and 93 Nm of torque pumped out seamlessly. A six-speed gearbox works slickly via a DQS (Ducati Quick Shifter) which works both on upshifts and auto blips on downshifts. A seat cowl for the passenger seat is also standard on the S. 120/70×17 front and 180/55×17 rear mags come shod with sticky Pirelli Diablo Rosso 111'S.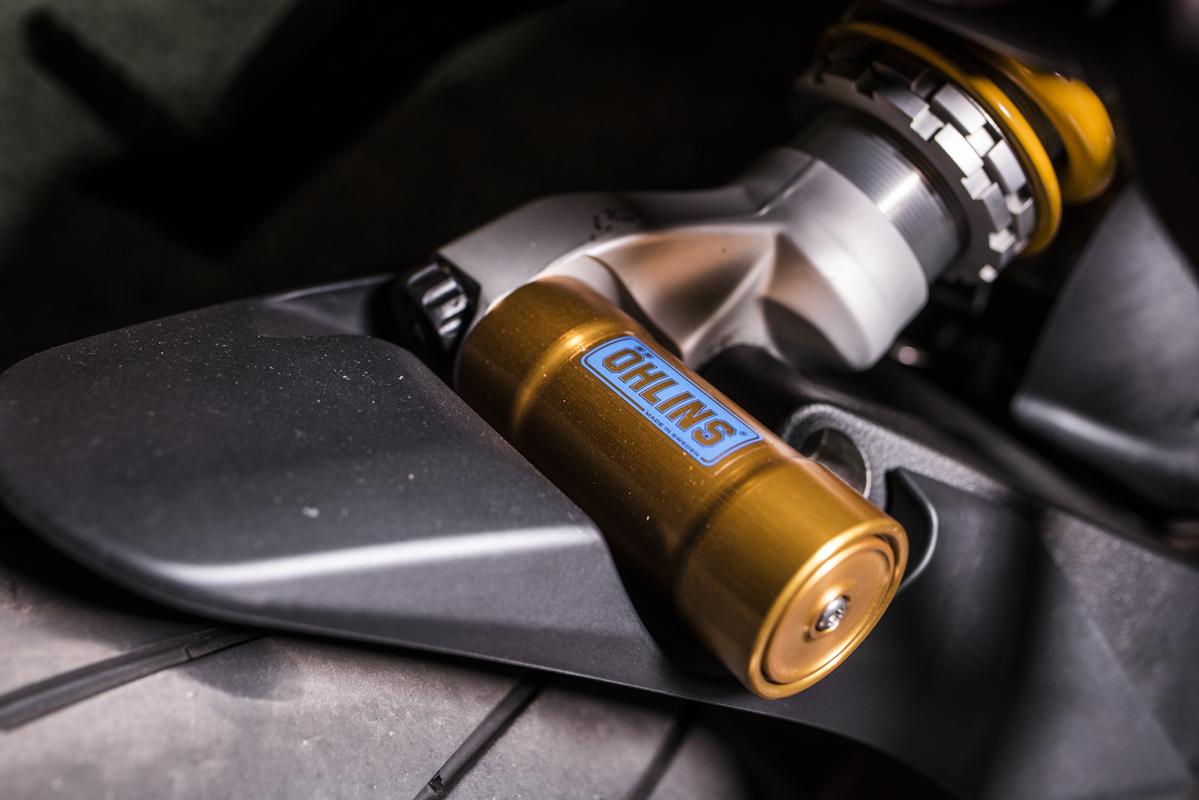 Let's talk riding position. I measured my VFR against the Ducati. Despite looking tiny when parked next to the VFR, the Ducati has 1,5 centimetres more legroom (seat to footpeg) which may not sound like much but makes a huge difference climbing from one to the other. Similarly, the handlebars on the VFR are 2 cm lower than the Ducati. The Duc feels roomy and comfortable, with no extreme angles on the wrists, back or neck.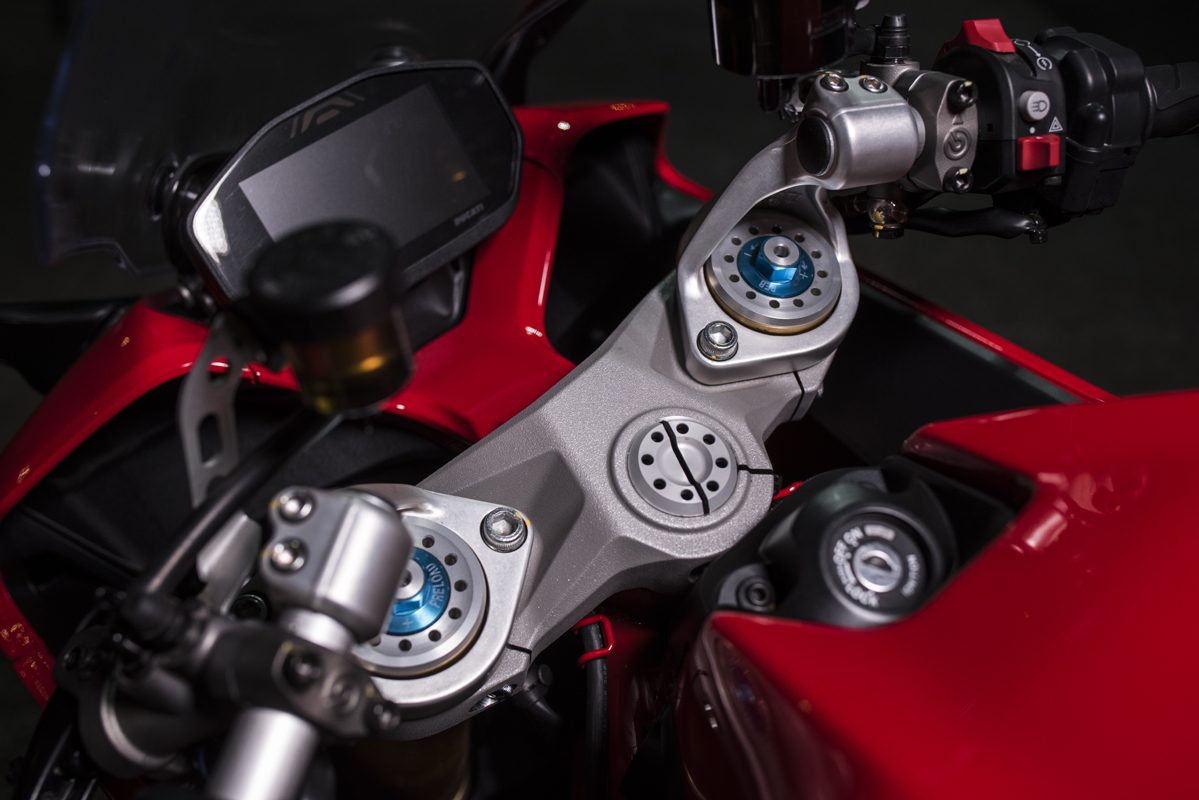 The seat is incredible. 1000 k days induce no 'numb-bum'. A two way, manually adjusted windshield plays its part too, taking the worst windblast off your chest. High-speed cruising becomes a doddle. Interestingly, the wheelbase, at 1478 mm is 8 mm longer than that on the Honda. This contributes to handling that is stable at all speeds and at any lean angle. The 210 kg wet weight is never a burden to hurl down a winding road. The tank is a little small at 16 litres, yet allows 250 plus k's on a tank, given the 5,5 l/100 or better, that you will get at a constant 140 km/h.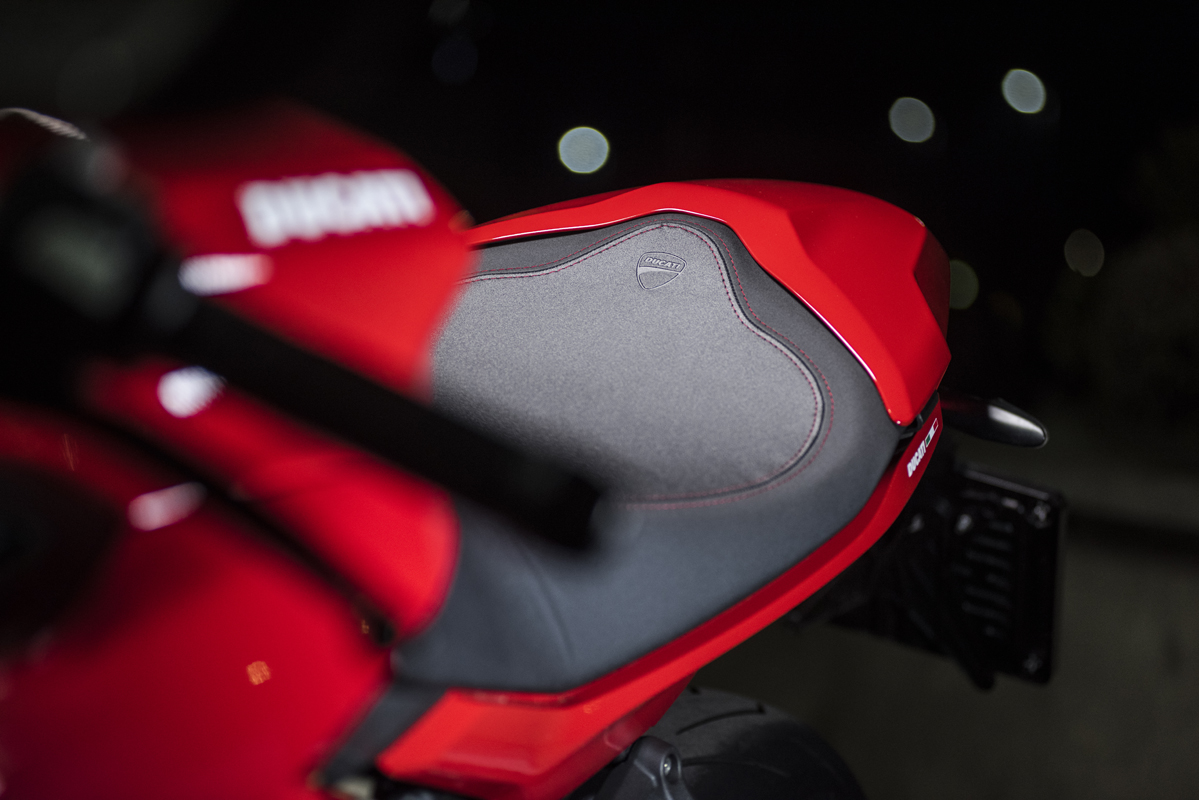 Nice features are a tidy TFT display allowing you to change engine modes, suspension settings on the back shock, traction control intensity and even wheelie control. All the typical info is there too, easily accessed via the left-hand switchgear. All in all the 950 is a surprisingly comfortable sports touring package…but, that doesn't tell the half of it! To ride it gives you insight into the psyche of the Italian company.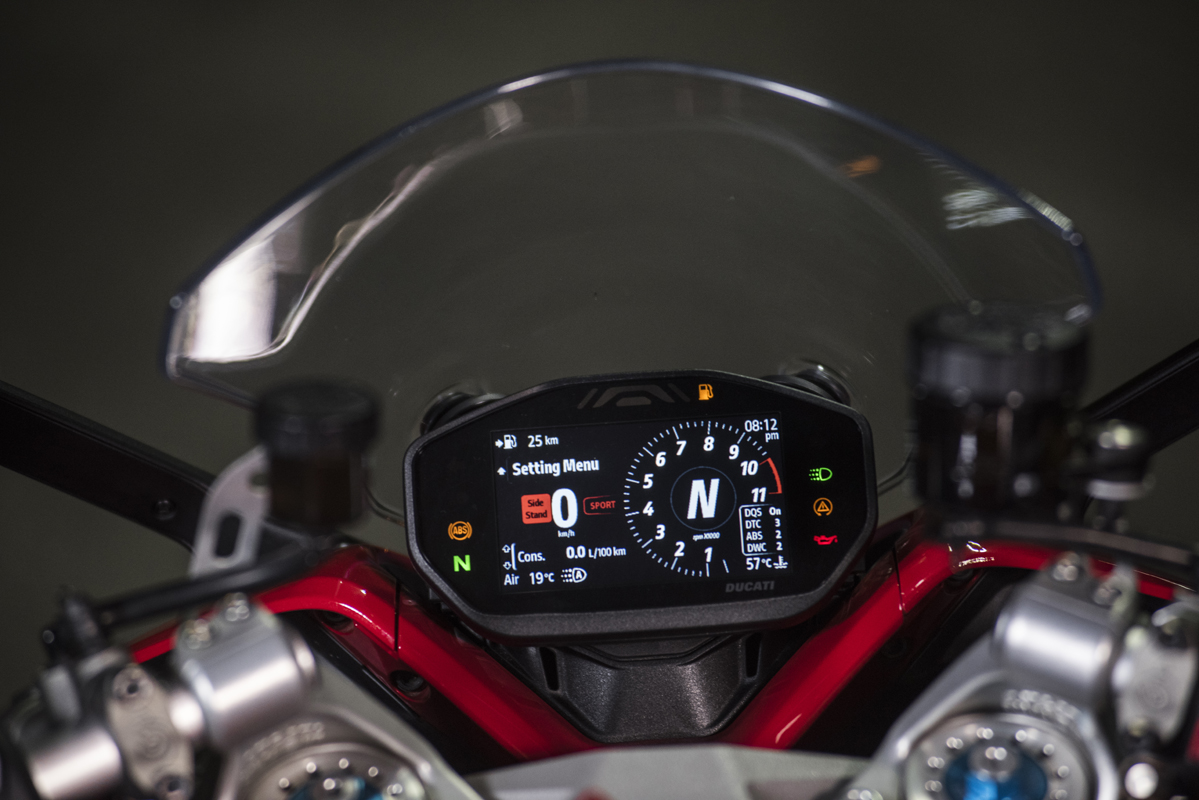 If you have had a regular diet of Japanese bikes you will find the Ducati a very different proposition. Italians are passionate people. For them, it is not just how a bike looks, but also how it feels. How it functions for what is designed to do is all-important. To go back to the original 900 SS for example. The fibreglass of the fairings could be a little iffy. At least the fly that was trapped forever under the clear coat was a genuine Italian fly! When you pitched the SS into the first bend, with the Conti's booming, all was forgiven—it was how the bike worked, sounded and felt, that somehow spoke to your soul in a way that few other bikes did.
This is both the bike's strength and weakness. It requires dedication to the Italian cause to live with it as a day to day ride. It is vibey at low revs. You can feel the thud of each piston firing. It runs hot in traffic and the mirrors work best as a place to hang your helmet. In my case, that all matters, not a jot. In fact, perversely that is part of the appeal—its quirkiness. Chatting with Mark, who now rides a Multistrada V4 (his fourth Ducati), having been a Suzuki nut, he too says it is the quirkiness that holds such allure for him. Character is what's lacking in many Japanese bikes. Hence the phrase, "Universal Japanese motorcycle." They are efficient, no doubt, but lack the soul of many European bikes. Like many connoisseur choices, the Ducatis are an acquired taste, which does not always appeal to everyone.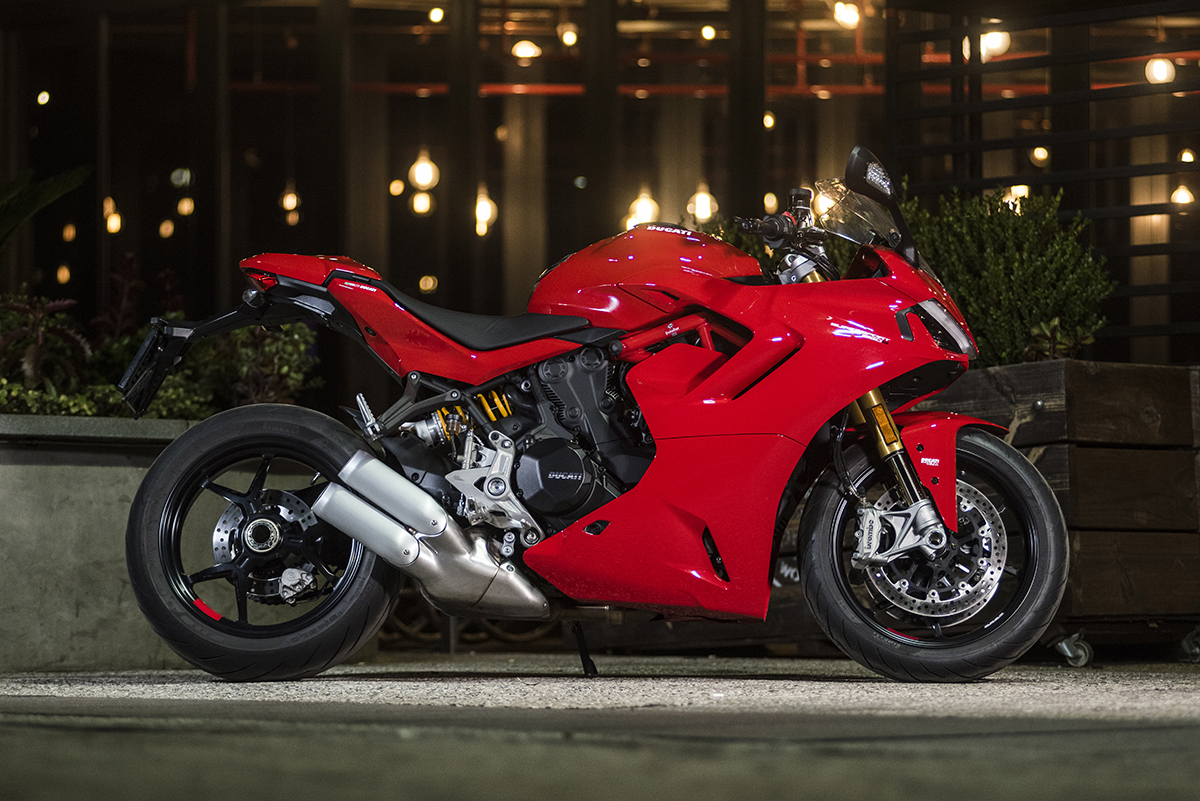 Another bike in my garage is a case in point. My Suzuki DL650 XT. Like Suzuki's road only SV, it too has an 'L' shape V-Twin engine, yet is absolutely smooth off idle, unlike my Duc. The DL gets vibey at high revs, whereas the Duc smooths out, begging you to rev it. Built for its intended purpose. The Suzy, as is the case with the SL version, satisfies as a great run-around and everyday bike, with its easy-going nature, but will never give you the satisfaction that the purpose built Ducati will give you at speed. Horses for courses, as they say.
So it is worshipping at the 'Altar of Speed' that is the Ducati 950 S's reason for being. I am not talking about hauling along at 300 kph, I'm talking about exploring all of the virtues of riding a bike fast on roads that are the ultimate test of motorcycle ability and design. Like the famous '22' in Mpumalanga. Real-world roads that feel as if the road engineers who built them ride bikes. Like the mountain passes, we encountered on the Ducati Mystery Tour. Outeniqua pass, Huisrivier pass, Garcia's pass, Franschhoek pass, the list goes on and on. Your speed is determined by what the road, the bike you are riding and your skill level allow. This is where the 950 S shines with incandescent brilliance.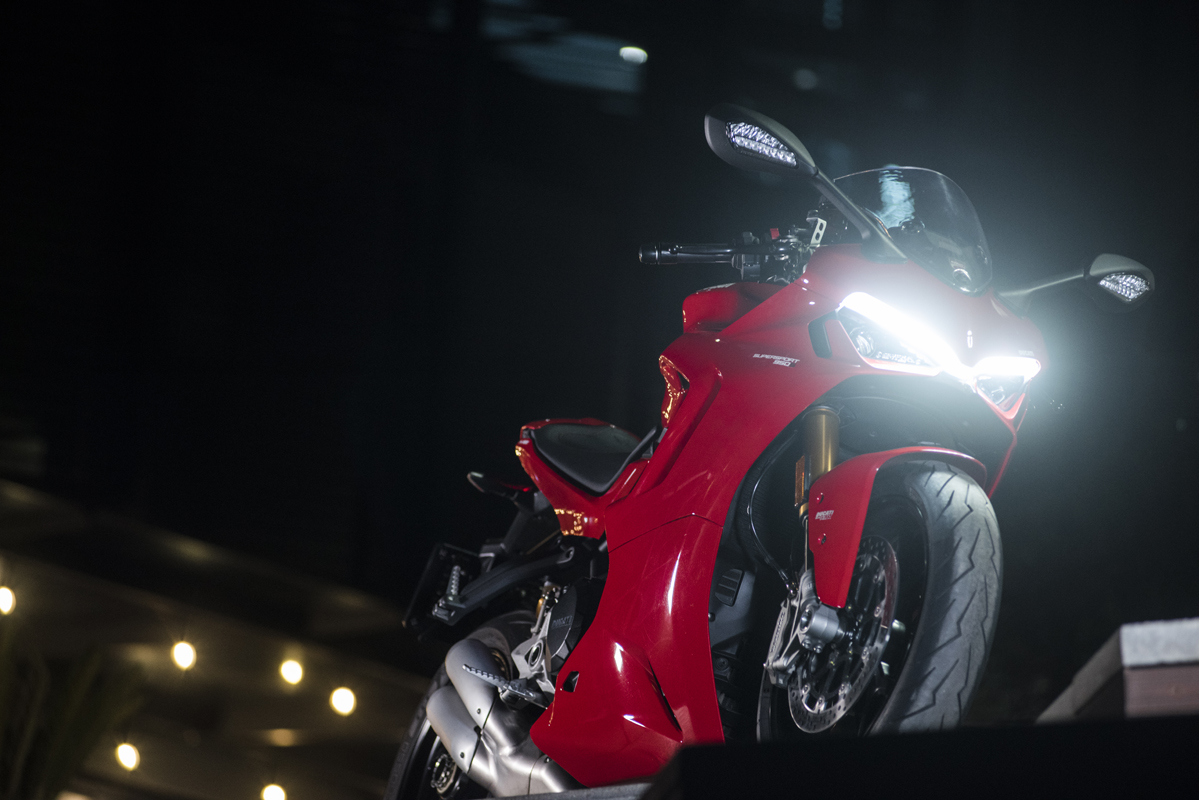 The chassis, Öhlins, Brembos and steering geometry all work together in perfect harmony. And the engine! The ample engine compression allows you to roll off the throttle, allowing engine braking to adjust your speed for corner entry. Rather than brake, more often than not you just prod down on the gear lever. The auto blipper works a charm and the Duc slows with absolute control, the exhausts popping and banging their baritone song. This way the chassis stays balanced and you turn the bike into the bend with absolute stability and poise. It holds its line with precision. The Brembos, with their perfect feel, are there for 'in case'. This is confidence-inspiring and talent flattering.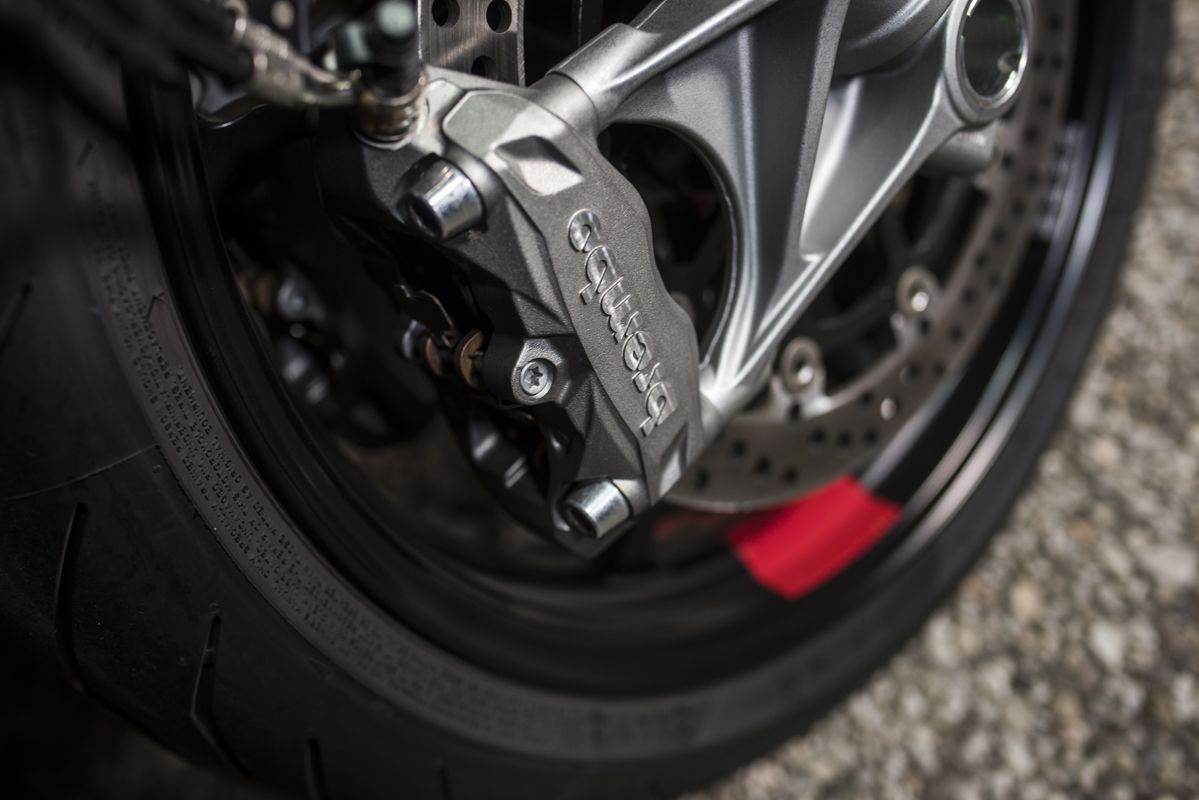 You then simply roll open the throttle as the corner opens up. Torque hurls you out of the bend and a satisfying top end hit reels in the next corner. Your focus is on riding impeccable lines, made easy by the handling virtues of the S. Your mate on his sport bike has run in hot, climbed on the brakes, upset the chassis, eventually got the whole plot settled and now tries to make the best of what's left of the bend. By now you are long gone. He hauls you in on horsepower down the straight, only to have the same situation play out all over again. You always feel balanced and in control while he is at the limit. Smooth is fast, and the Ducati 950 S is as smooth as they come. He is frustrated, knowing that he has twice the horsepower yet can't match you down the mountain. You, on the other hand, are just boogying!
Not many bikes have you whooping in your helmet with the pure joy of it all. Bikes that make you feel like you can REALLY ride. The Ducati SuperSport 950 S is one of those rare beasts. This is reason enough to own one. Especially if you are a weekend rider who enjoys what I have tried to describe. Track days are a pleasure too. You will embarrass many sport bike Rossi wannabees.
When you have washed it post-ride, park it on a paddock stand and just gaze at it. A thing of exquisite beauty in both form and function. It is not 200 plus horsepower that is going to make you fast, it is feeling in perfect harmony with your bike. Yamaha has understood this with their new R7—accessible performance for the average moderately skilled rider. The 950 S plays to the same tune but at a far higher level, with no limits to its dance repertoire. Highly skilled riders will revel in its ability too.
At around R250,000 the Ducati SuperSport 950 S is an absolute steal, given its quality, character and ability. You deserve a bike like this.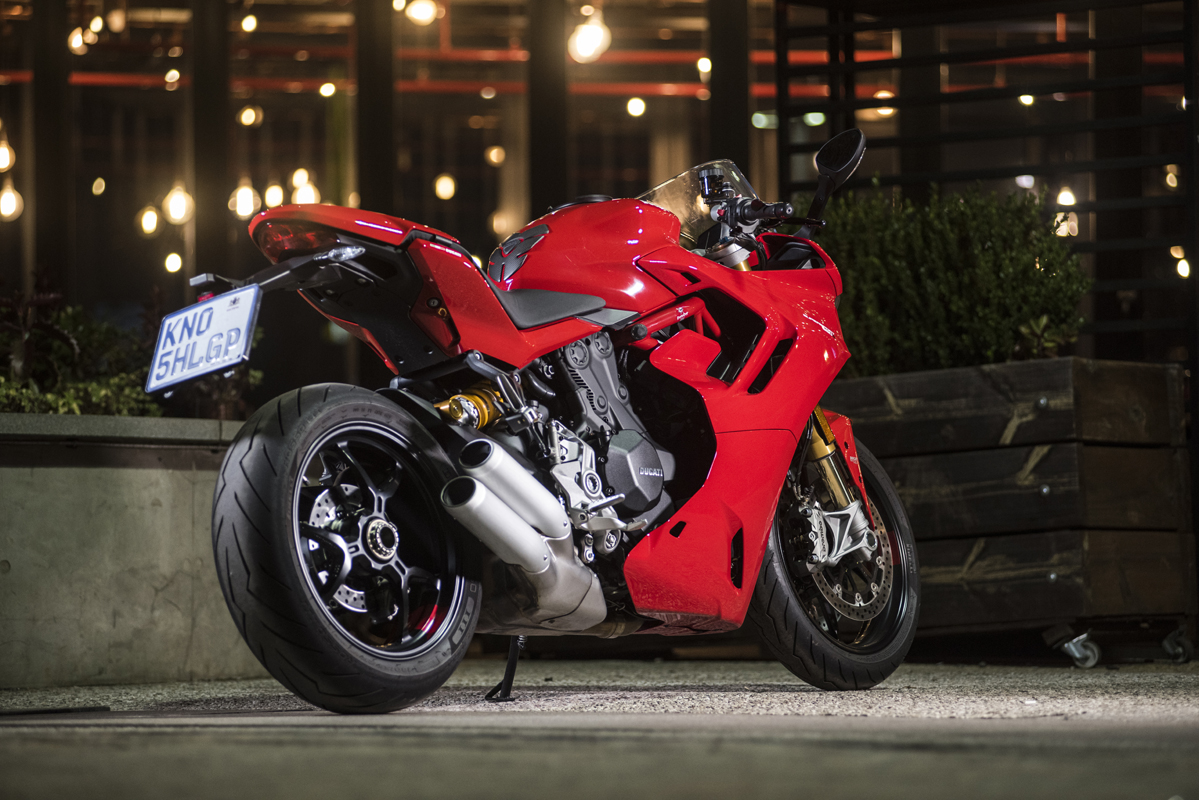 Ducati 950 SuperSport S
For more information on the bike that we tested in this article, click on the link below…