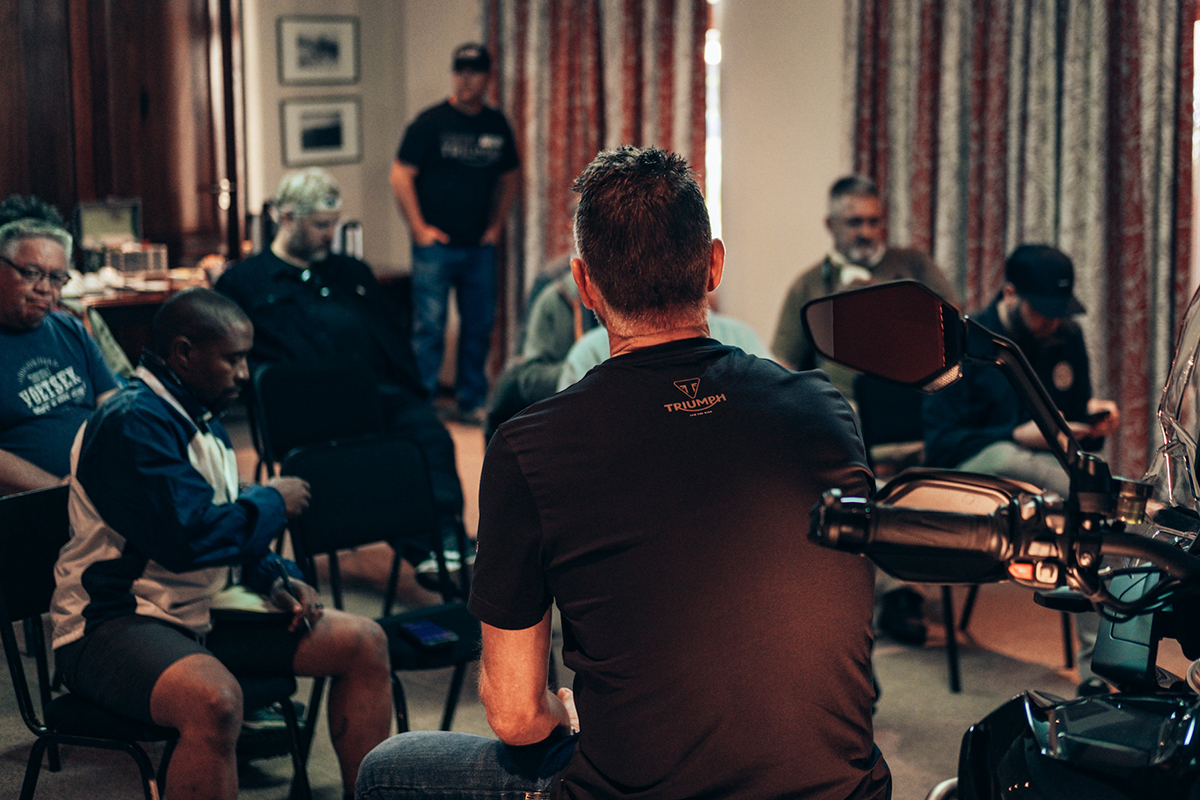 To the outside world, attending a new motorcycle launch might seem like the best thing in the world: ride bikes, eat, drink and stay in great hotels before returning to the mundanity of everyday working life.
However, if you'll believe that there might be a downside to that, it's not all a bed of roses: modern motorcycle design and manufacture has largely negated any justified criticism of a new model: they are simply all too good. Gone are the 'easy' days of wayward handling, badly set-up carburettors or early fuel injection systems and their jerky fuelling, non-existent brakes, forks or frames that have all the rigidity of drinking straws, questionable ergonomics and styling directions: we are now at a pinnacle of motorcycle design and any improvements are incremental rather than ground-breaking.
We are constantly reminded, when riding the cream-of-the-new-crop of models, what a rarified world we live in, when every new product is, if not necessarily better, at least as good as the opposition. There just aren't any glaring defects anymore upon which to hang your easily reached and colourful conclusion. Nowadays, you really have to scratch to come up with anything that might be a negative to balance out the gushing praise.
In any case, finding the faults was always cheap journalism: it's always easier to blame than praise. Now, one has to look solely for the positives and find a way of distinguishing them from the positives of all the others. But what a fantastic position to be in, where everything you get to ride is almost perfect!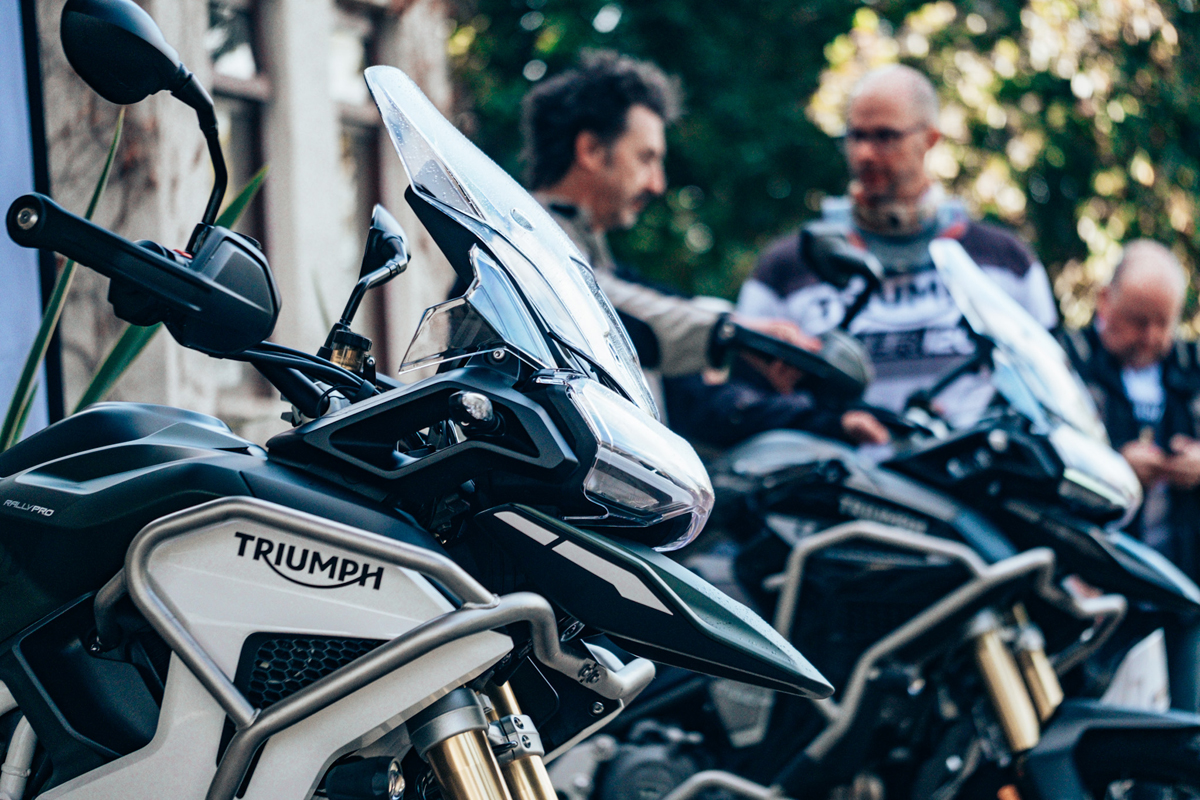 In the adventure bike world, BMW and KTM reign supreme in the sales figures. Whether either one reigns in your own particular book is down to personal preference (or is that blind allegiance?). You could also say that both those companies determine the direction that adventure bikes are moving in—whatever they do, everyone else copies. But it's not as simple as that. Yes, there is a large element of keeping up with the Joneses but, while the broad strokes of design may be in place, there is a lot of room for individual flavour and it is this that makes riding models from different manufacturers so rewarding.
So, after that rambling introduction, it's time to stop procrastinating and try to set down my thoughts on the new Triumph Tiger 1200 which has its own very distinctive design flavour.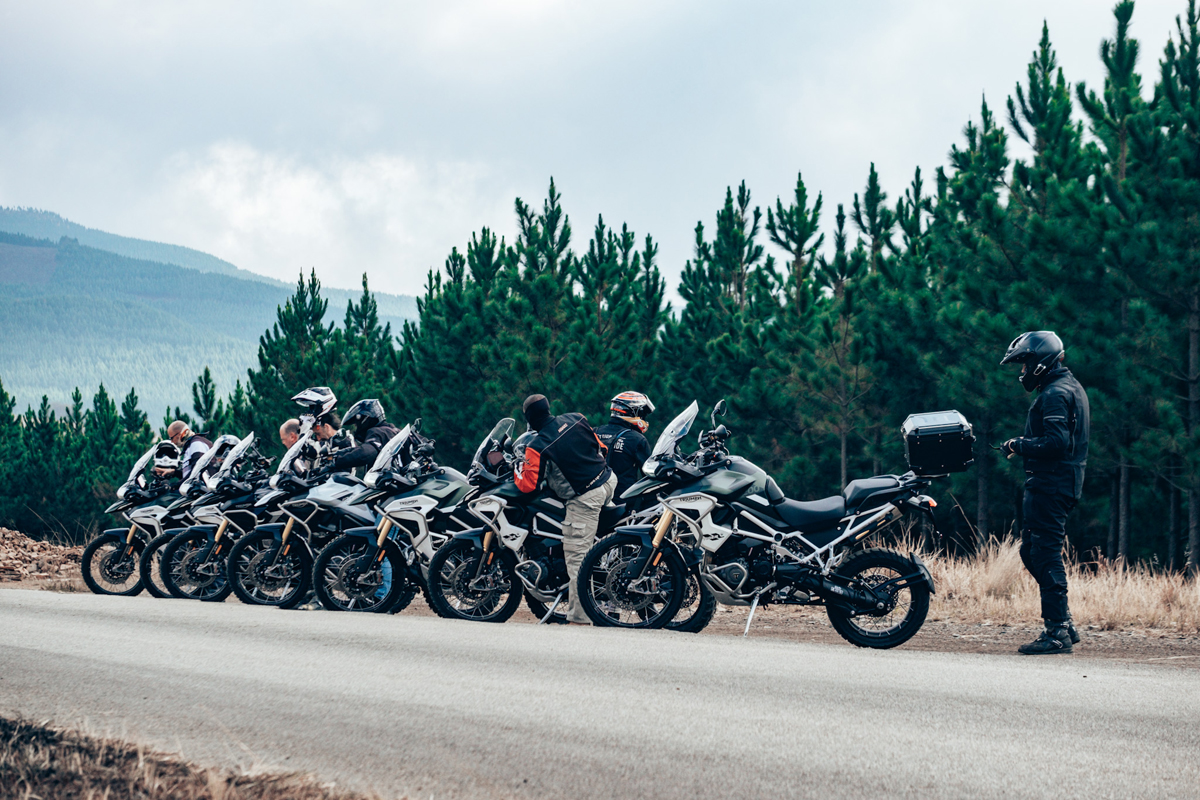 To their credit, Triumph has made no bones about the fact that, with the new Tiger 1200, their sights have been firmly set on the BMW R 1250 GS. Both are shaft-driven so they are natural rivals in the adventure field. On paper, Triumph has the BMW licked: more power and less weight – not to mention visually less bulk but the same fuel capacity – tells a story but, as always, it's only part of the story: the new Tiger 1200 might just have the BMW licked in the real world as well.
As is Triumph's way, the new generation of an existing model is light years ahead of the old model: the new Tiger 1200 is measurably better in every way than the outgoing model. It almost makes you wonder what they were thinking with the old version? But that is being unfair: you can look at any previous generation of any bike from any manufacturer and wonder how they managed to make something so clunky.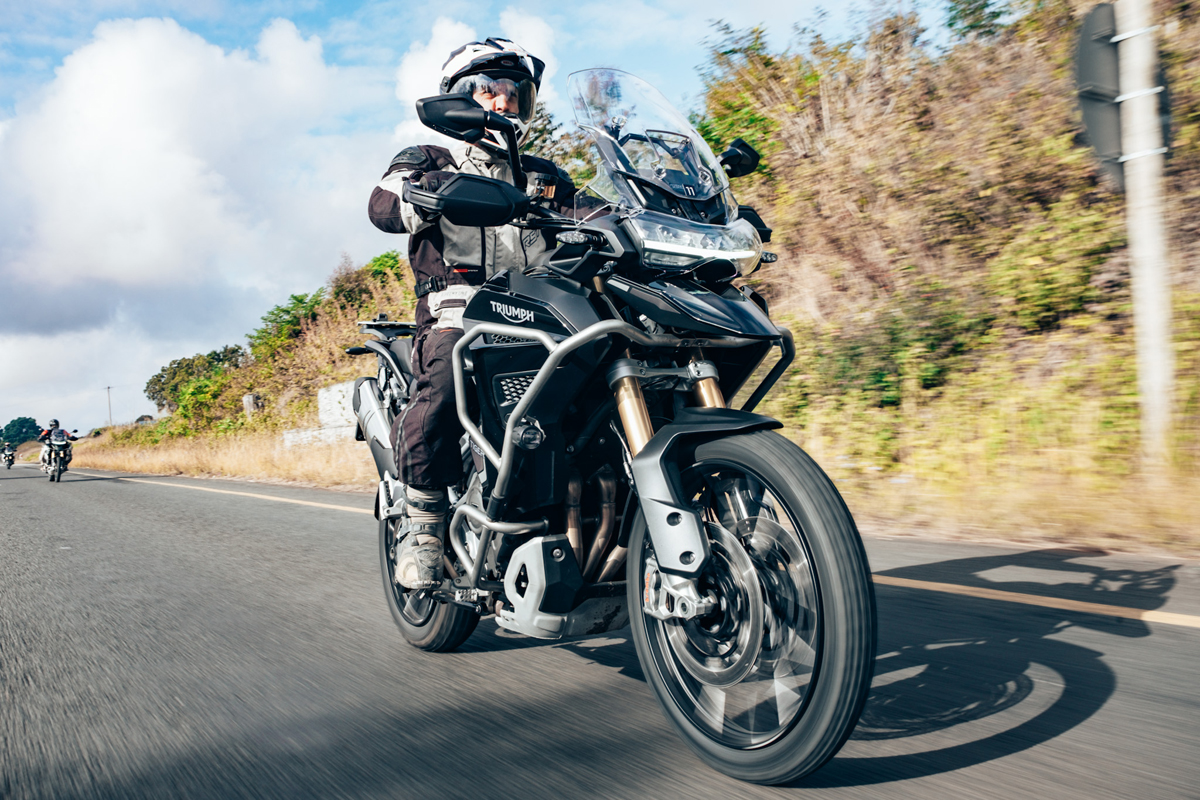 That's not to say that the old Tiger 1200 was a bad bike, but time and technology have moved on and any manufacturer knows that to stand still is to die in the market. But it is the amount by which the Tiger 1200 has moved on that is impressive. Triumph said it would be better and, by gum, it is!
A strict diet has resulted in shedding 25kgs from the overall weight (making the all-in weight 17kgs less than the R 1250 GS) and this has transformed the Tiger's chassis dynamics. The one word that kept springing to mind, whether on dirt or tar was 'confidence.' The new Tiger just instils so much confidence no matter the surface upon which you are rolling.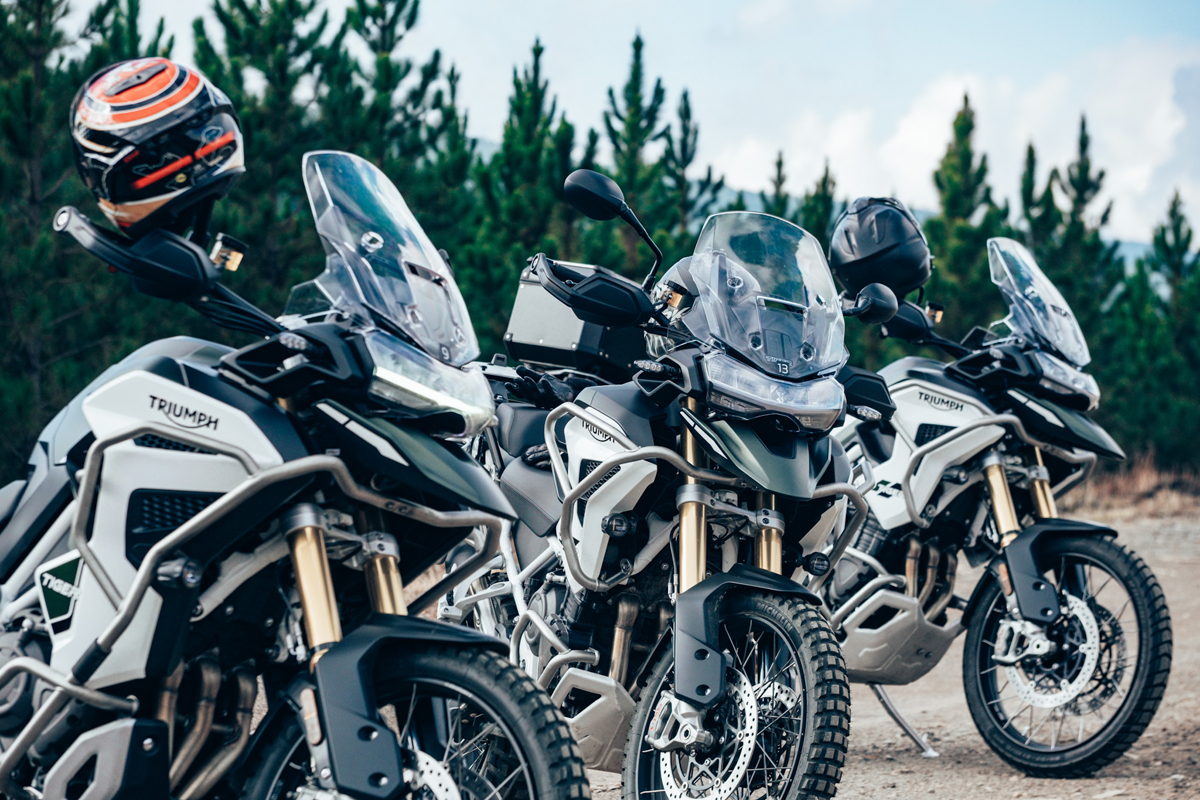 There are five models in total, although only four are coming to South Africa. The Rally models are the off-road focussed ones and run on a 21" front wheel (18" rear). The GT models, are more road-focused and run a 19" front wheel, also with an 18" rear. Both Rally and GT are available in Pro or Explorer configurations, the differences between the two being the size of the petrol tank: 20-litres for the Pro, 30-litres for the Explorer.
All models have the same engine and chassis components – semi-active suspension, cornering ABS and Traction Control, Brembo Stylema brakes, a TFT dash with connectivity, cruise control, an up/down shifter, hill hold, auxiliary lights, cornering lights, heated grips, a centre stand and six riding modes, which adjust the ABS, semi-active suspension, traction control and throttle map. The Explorer adds a 30-litre tank (10-litres bigger), tyre pressure monitors, blind spot detection and heated seats.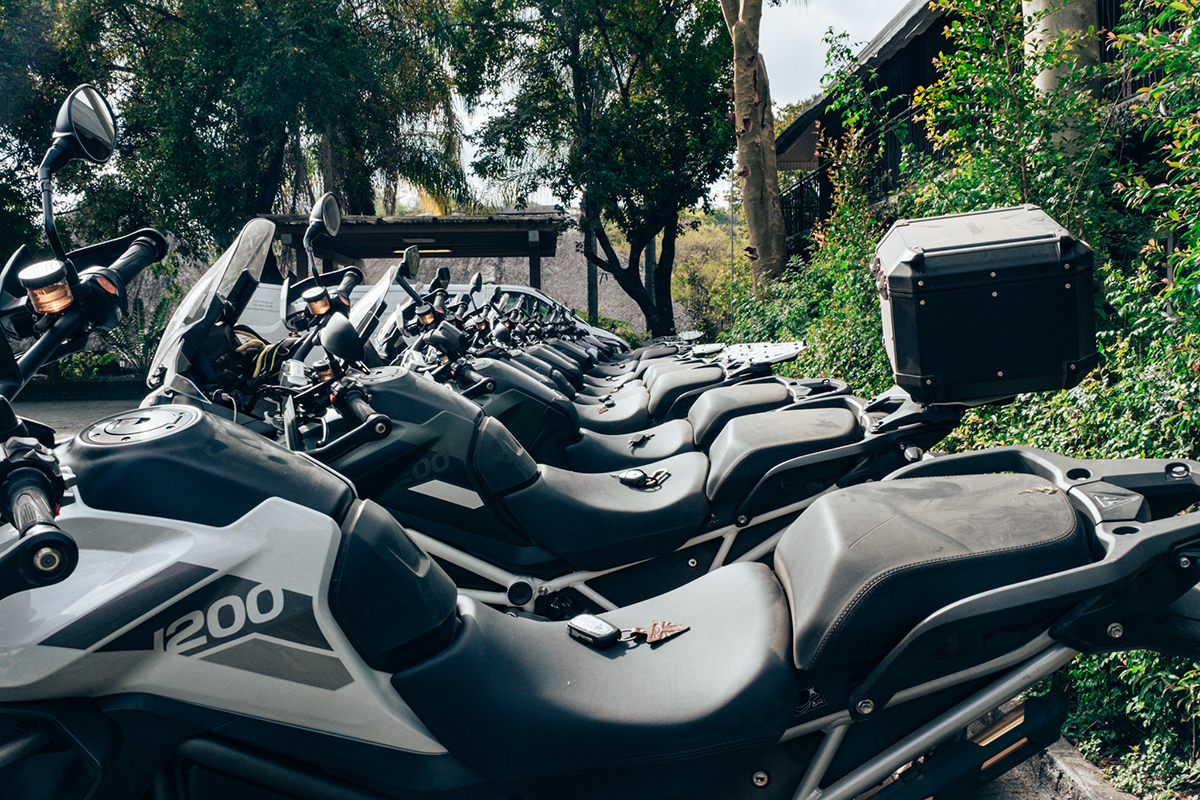 What is immediately impressive about the 30-litre models is the lack of bulk at the front of the bike. Somehow, Triumph engineers have managed to fit in another ten litres of fuel seemingly without increasing the size of the tank, although, of course, it is larger but in a fore-and-aft dimension and crucially no wider. The seat, while being supremely comfortable, is very narrow at the front so that when standing up on the pegs, you just don't feel as if there is a large machine between your legs. Look down while standing, and the enormous bulk that characterises the GS Adventure just isn't there: it's a very impressive piece of packaging.
If the Explorer models lack bulk, then the Pro models are positively anorexic! They manage to make any other adventure bike feel very large and this, naturally, translates into a supremely accessible bike to swing a leg over. Yes, they're tall, but it's an adventure bike: they're all tall so get over it (literally!). If you're too short, well, I'm afraid it's just tough luck. There is a low seat option but that will only go so far in solving the height problem.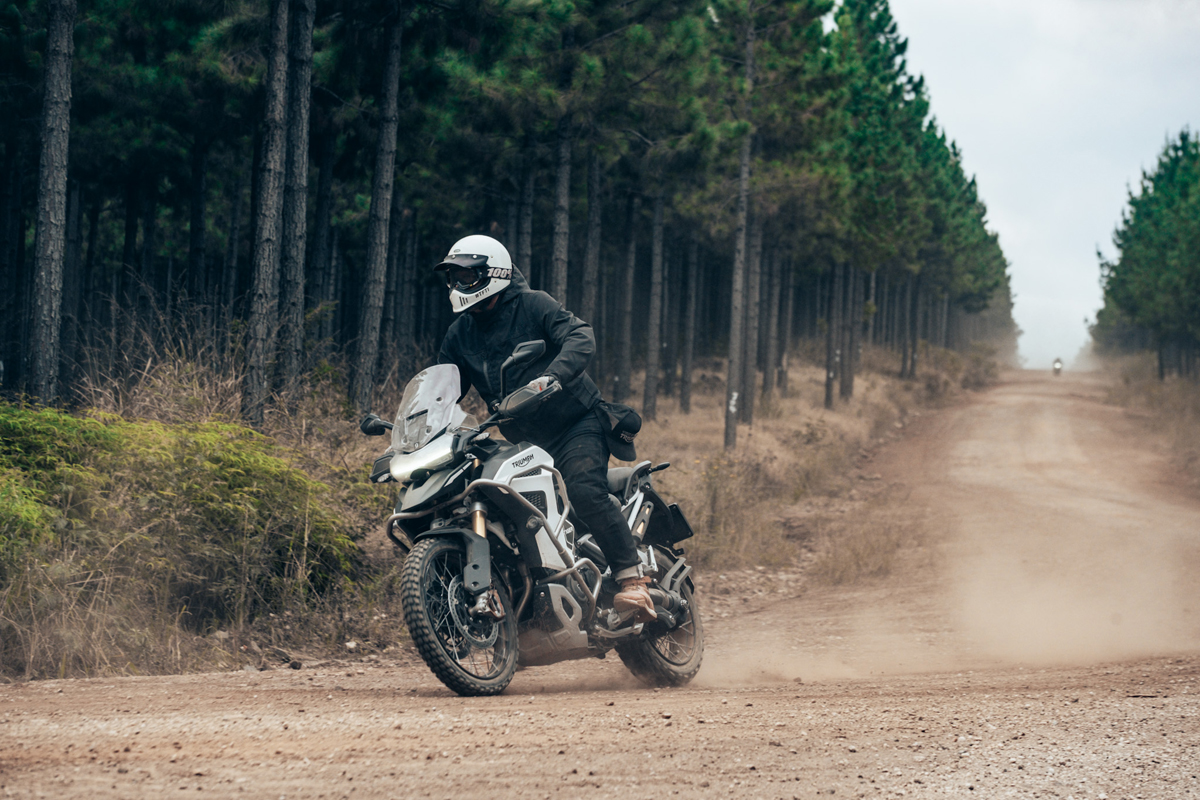 The weight loss is the real story here. 25kgs is a huge amount of weight to lose (try picking up a 25kg bag of sand) and it's immediately noticeable on the move. The old Tiger handled well but the handling could never be accused of being quick or nimble. The new Tiger is another thing altogether: the handling is quick and sharp on tar and, off road, it's as easy to control as the Tiger 900.
A large factor in this ability is the new Showa semi-active suspension. Automatic preload adjustment is one thing, but it is the nine levels of damping, from comfort to sport, that is the real icing on the cake. Even better, it can be adjusted on the fly using the toggle switch in the left hand cluster so you can instantly change the damping rate dependent on the surface or how you feel like riding.
In full comfort mode, the ride has a magic carpet quality, easily a match for the GS's system which impressed me so much when the 1250 version was launched here a couple of years ago, and a few flicks of the toggle firms everything up for a press-on style of riding.
You can also simply select 'Rain' or 'Road' riding modes which are preset with their own damping levels – generally towards the softer side – but 'Sport' is the bees' knees, providing a confidence-inspiring (that word again!) stability to the front, especially in the long, fast sweeping turns of Mpumalanga, where the launch was held. The (linked) brakes, with Brembo Stylema callipers are, of course, monstrously powerful but never sharp: just mountains of smooth and progressive stopping power.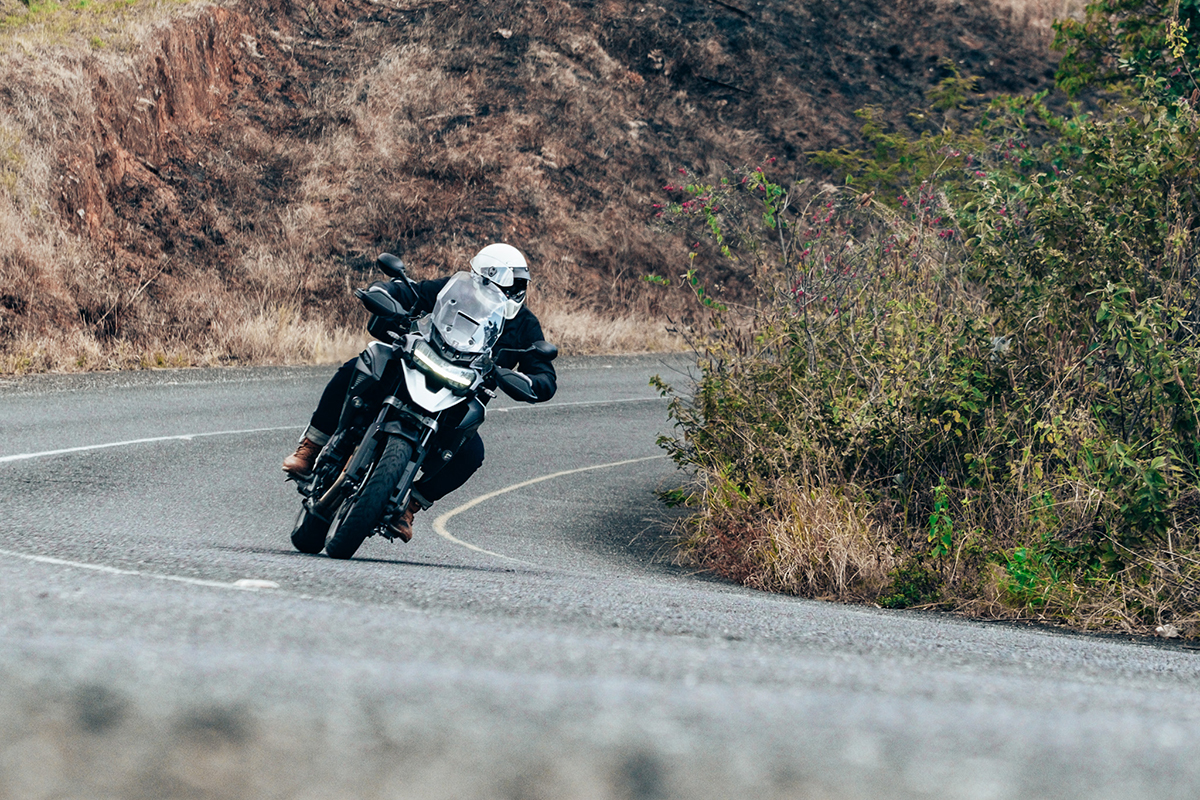 Much has been written about the new T-plane crankshaft first seen in the Tiger 900. The offset crankpins give a firing order of 1, 3, 2, with a firing 'gap' between 3 and 2. Not only does this give the engine more vibration (never intrusive – let's call it 'character') and a much gruffer exhaust note, as well as better traction off-road, but it also addresses one of the criticisms of the 'old' 1200cc triple: it was simply too smooth and lacked low-rpm grunt.
The new engine has bags of torque when pottering along at 2000rpm and then screams up to its redline, accompanied by a bass howl from the exhaust, with an unending surge of power. Such is the power delivery that you tend to forget that you are riding a triple sometimes. It's just a relentless surge of power that manages to be both intoxicating and unintimidating at the same time.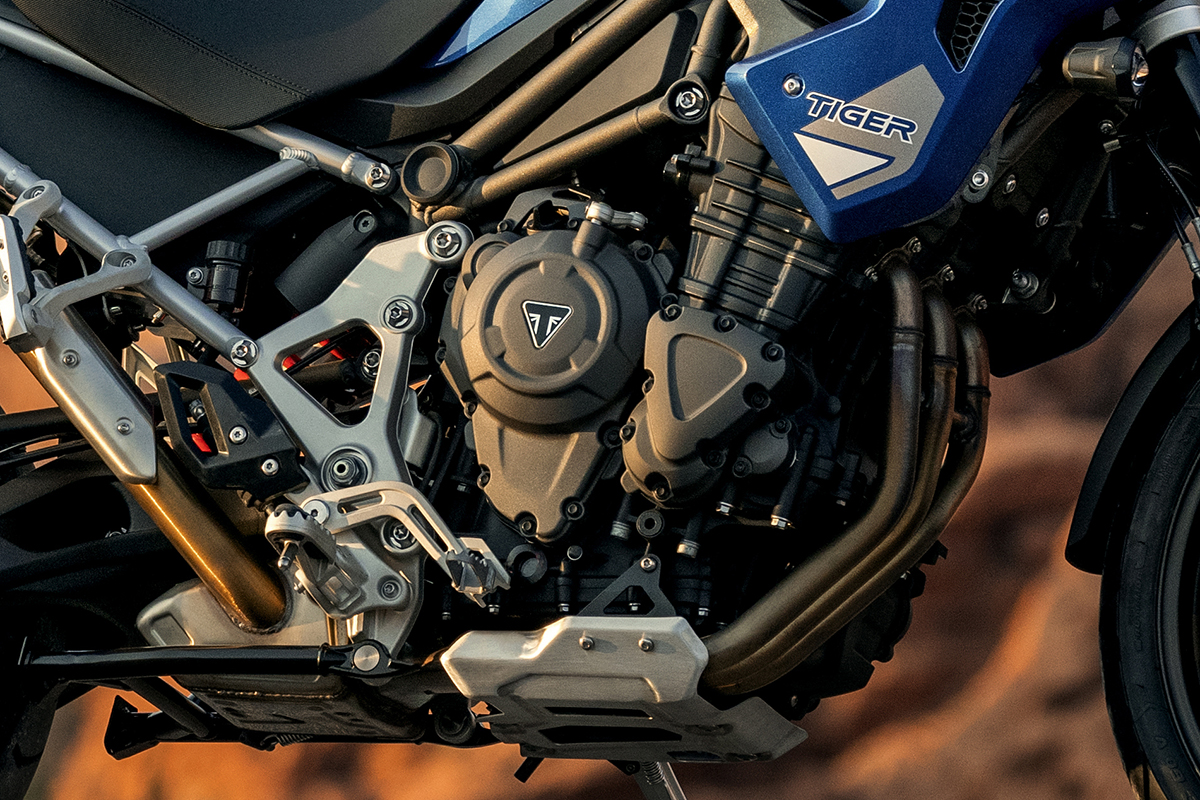 The 'cockpit' is an attractive place to occupy. Switchgear is chunky and solid, the TFT dash is large, clear and well-designed, the screen is small but gives good wind protection and is easily (manually) adjustable for height. The rider triangle was near perfect for me (6ft+ tall) and the handlebars were ideally positioned for standing off-road without resorting to a tool kit to adjust them. And over it all, is typical Triumph build quality which I would argue no other bike can approach.
If there was one disappointment, which is purely subjective, it is that the colour schemes are a bit dull and not up to the style of the rest of the bike. If that stops you from buying one, however, then I'm not sure you've got your priorities right! It is an extremely good-looking bike, especially in Rally guise with spoked wheels: the right balance between style and functionality.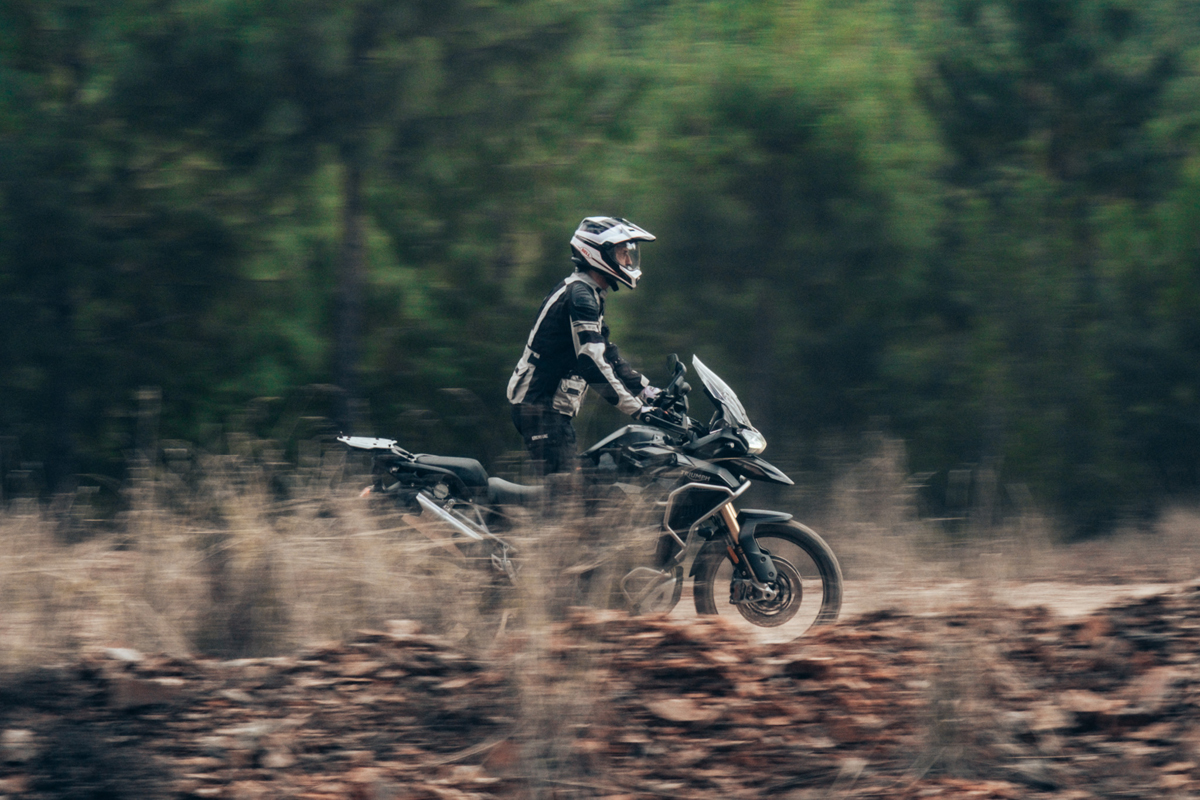 Is it better than the GS? I don't think that's the relevant question here. The new Tiger 1200 is enormously better than the old model and is a brilliant adventure bike in its own right, that can hold its own in any company. Will it take sales away from BMW or KTM? That's a harder question to answer as both brands have such a loyal following.
If rejection of the Triumph Tiger 1200 as a serious adventure proposition was based on the performance of the old model, then that assessment has to be completely revised with the new one. This is a truly brilliant bike that has not only addressed all the criticisms of the old but improved in every other area, whether those areas needed to improve or not.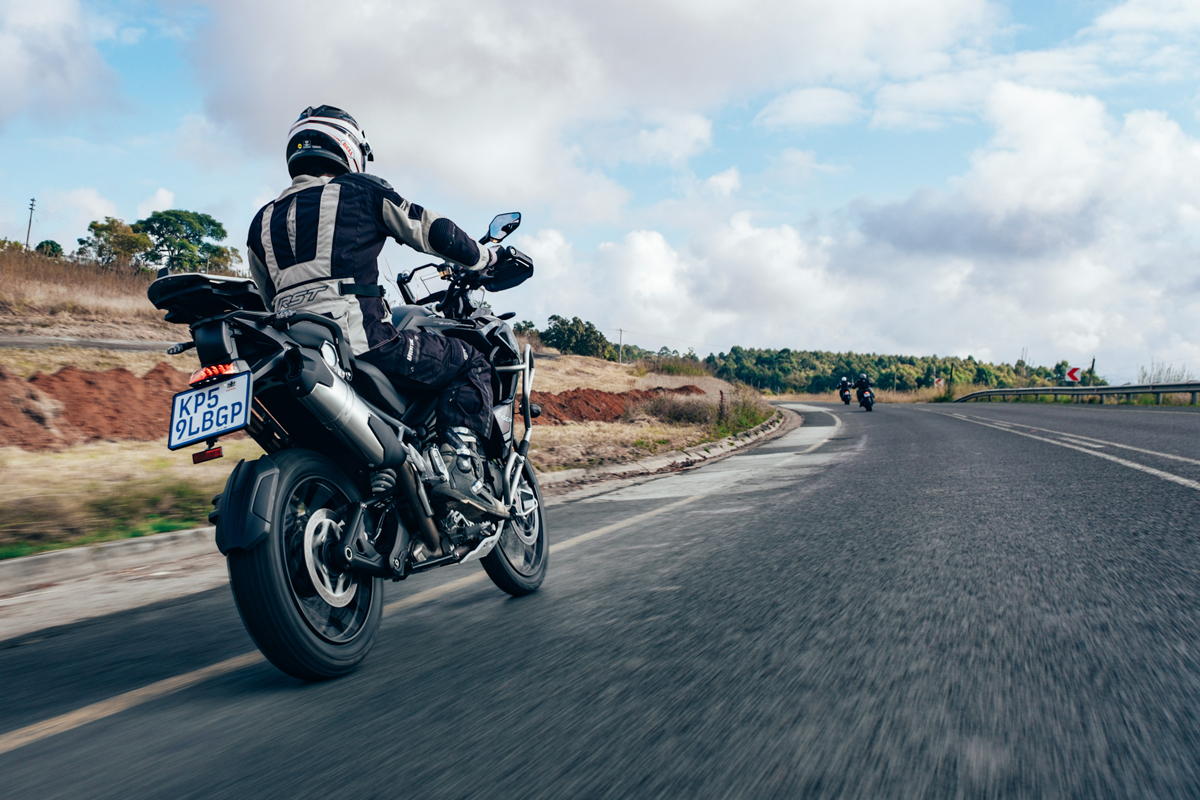 Now you can talk about Triumph, BMW and KTM in the same breath, with neither giving anything away to the other and that has to be Triumph's biggest achievement with the new Tiger 1200.
New Triumph Tiger 1200 Series 
For more information on the bikes that we tested in this article, click on the links below…