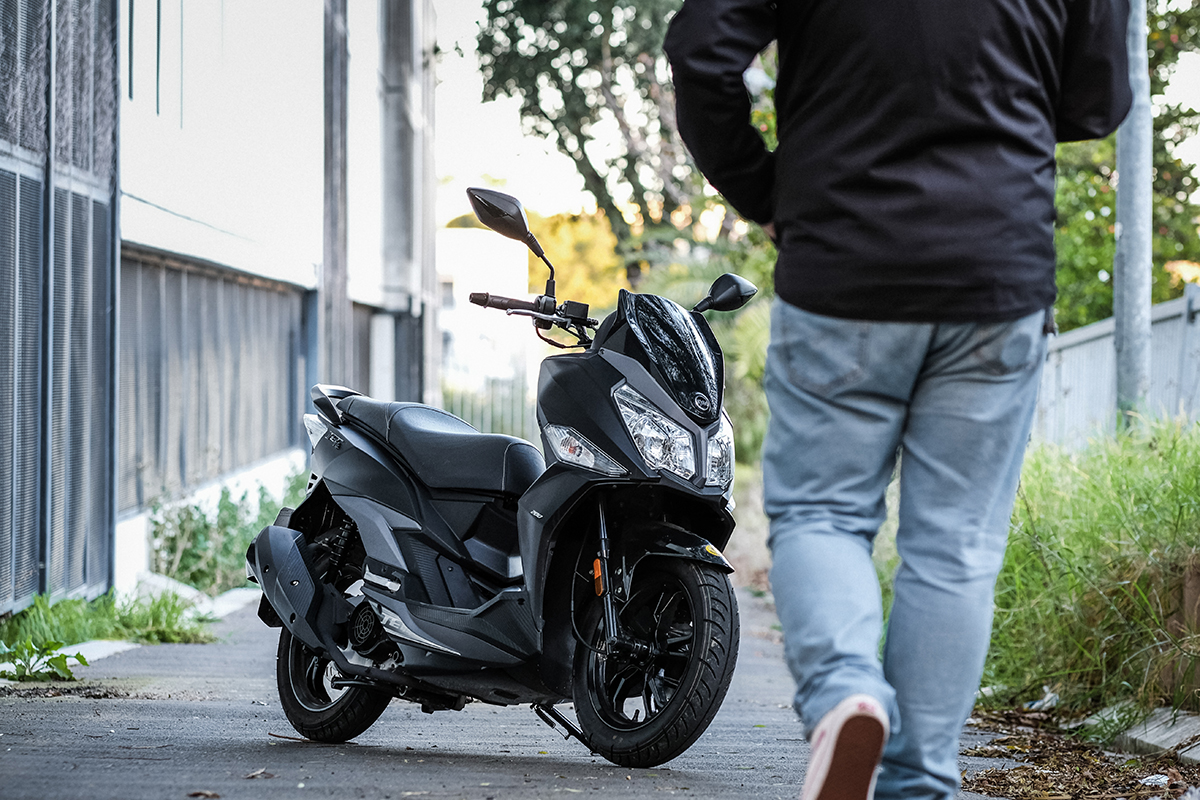 What does a 43-year-old moto-nerd who hasn't owned his own wheels in years, because he's been too busy test riding new bikes, buy as a daily runner? A 169 cc SYM Jet14 scooter, that's what.
If that seems like a weird flex, I've broken down my thought process here: Gone Scootering. TL;DR: scooters are affordable, economical and practical, and suit my current needs perfectly. So I crunched the numbers and settled on the SYM Jet14—and now I'm going to tell you what it's like to own.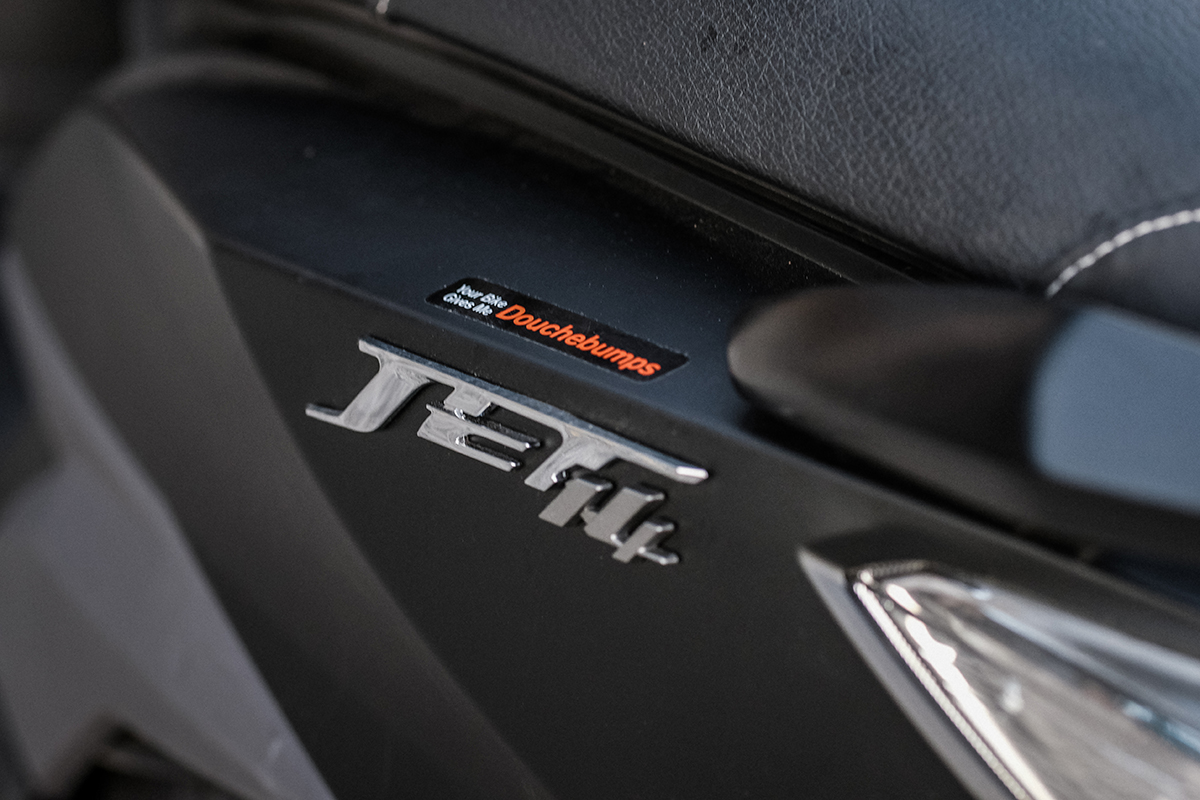 Our job here at ZA Bikers is to ride bikes, figure out what's good and bad about them, and present our findings to you, to inform your purchasing decisions. But it's a different ballgame when you're shopping for yourself. I went through the usual rigmarole before pulling the trigger on the Jet14—1,000 km later, I have a pretty good idea of whether or not I made the right call.
And so far, I'm happy.
The ugly truth is that any budget vehicle comes with its own set of compromises. At R32,995 (plus an on-the-road fee of R1,800) the SYM Jet14 obviously cuts a few corners—but none of these are deal-breakers. Once you add up what it costs versus how much it offers, the few niggles it has are easy to look past.
Most of my gripes are around the Jet14's build quality. There's a fair amount of free play on the seat hinge, so you need to aim well when you close it, and it doesn't always stay up when you open it. And the seat cover itself has a small crease in it (clearly a manufacturing defect) that I figured would iron itself out over time, but hasn't. The latter is probably something SYM would sort out under warranty—but it's not big enough of an issue to worry about really.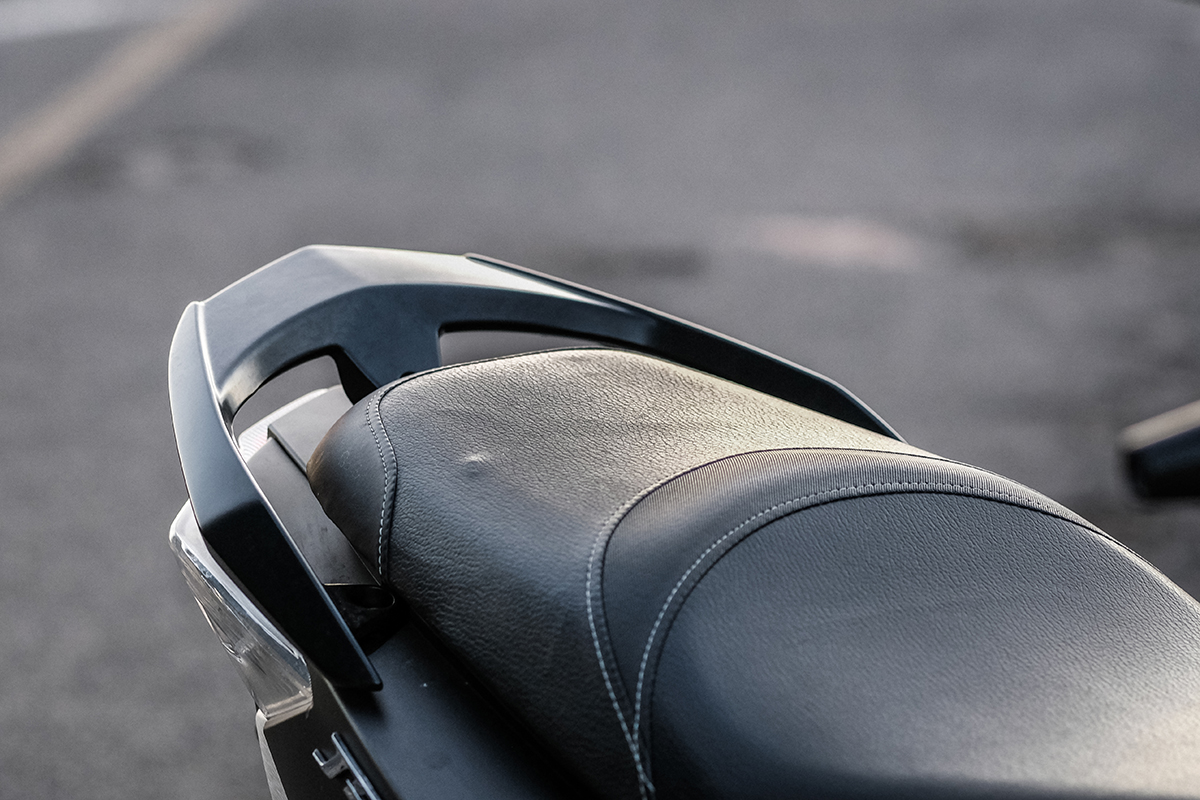 There's a handy cubbyhole up front that even includes a USB charge port with a waterproof cover. But the latch that opens it has a habit of getting stuck—and it's impossible to squeeze an iPhone in there while there's a charging cable sticking out from the bottom of it.
None of these niggles are big enough to trigger buyers remorse, and they're easy to reframe as idiosyncrasies. Especially when you consider the areas where the Jet14 excels.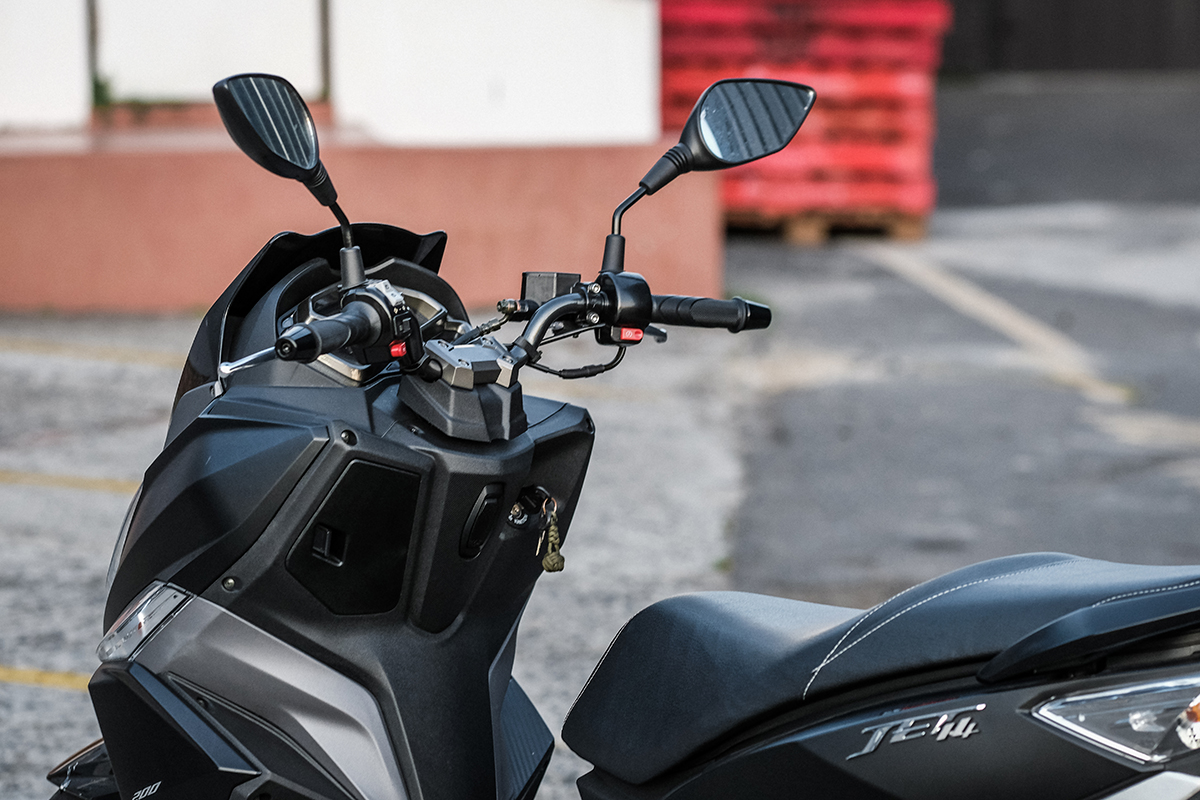 For starters, it's surprisingly well put together. Sure, it has more plastic than your mom's Tupperware cupboard—but that's par for the course in this corner of the market. Aside from the few issues mentioned above, there's nothing loose or misaligned here.
Looks-wise, the SYM Jet14 punches well above its weight. I've heard comments that it looks like a Honda PCX (not that much of a stretch, when you consider that SYM used to build Hondas), but I think it's unique enough to stand on its own. The look is compact and angular—like a pint-sized first-generation Suzuki V-Strom.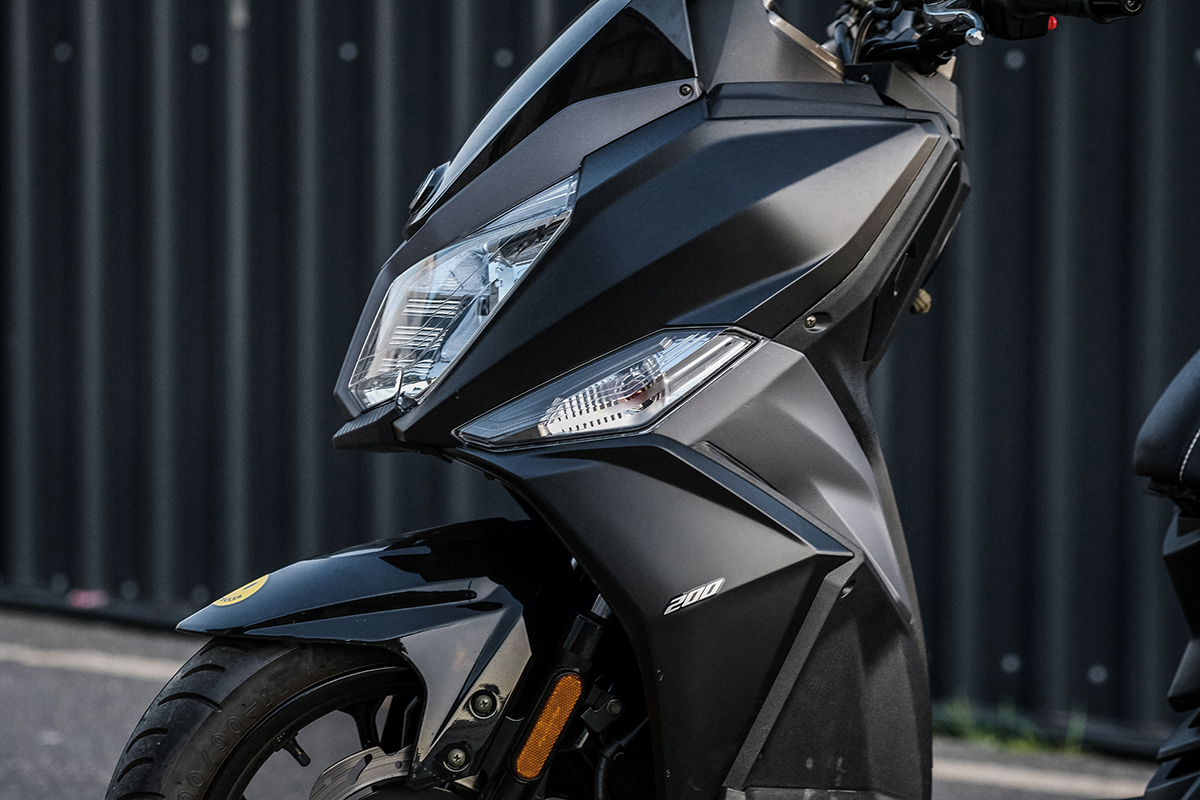 There's a clever mix of painted, unpainted and textured plastics throughout, and the seat both looks and feels good. Parts like the exhaust, wheels and even the grips and mirrors are surprisingly nice for a scooter.
Practical touches include a sturdy rear grab handle, flip-out passenger pegs and a centre stand. You can cram a small full-face or big open-face helmet in the space under the seat, which can be opened by turning the key to the left when the scoot is off, or via a switch on the bars if it's on. The cubby will take a few small odds and ends, and there's even a flip-down shopping bag hook.
Since scooters are popular as commuters, the Jet14's lighting is… generous. The indicators' ticking sound reminds you that this is a budget bike, while the small LEDs along the edges of the main headlights are really for show more than anything else. And there's a fuel cut-off switch under the seat if you need to park it somewhere sketchy.
One area where SYM went all out to impress, is the dashboard. A thick dark grey bevel snakes around an analogue speedo, a fuel gauge, and a small digital display. The latter shows your revs, with two smaller readouts that can flick between time/voltage and odo/trip at the push of a button.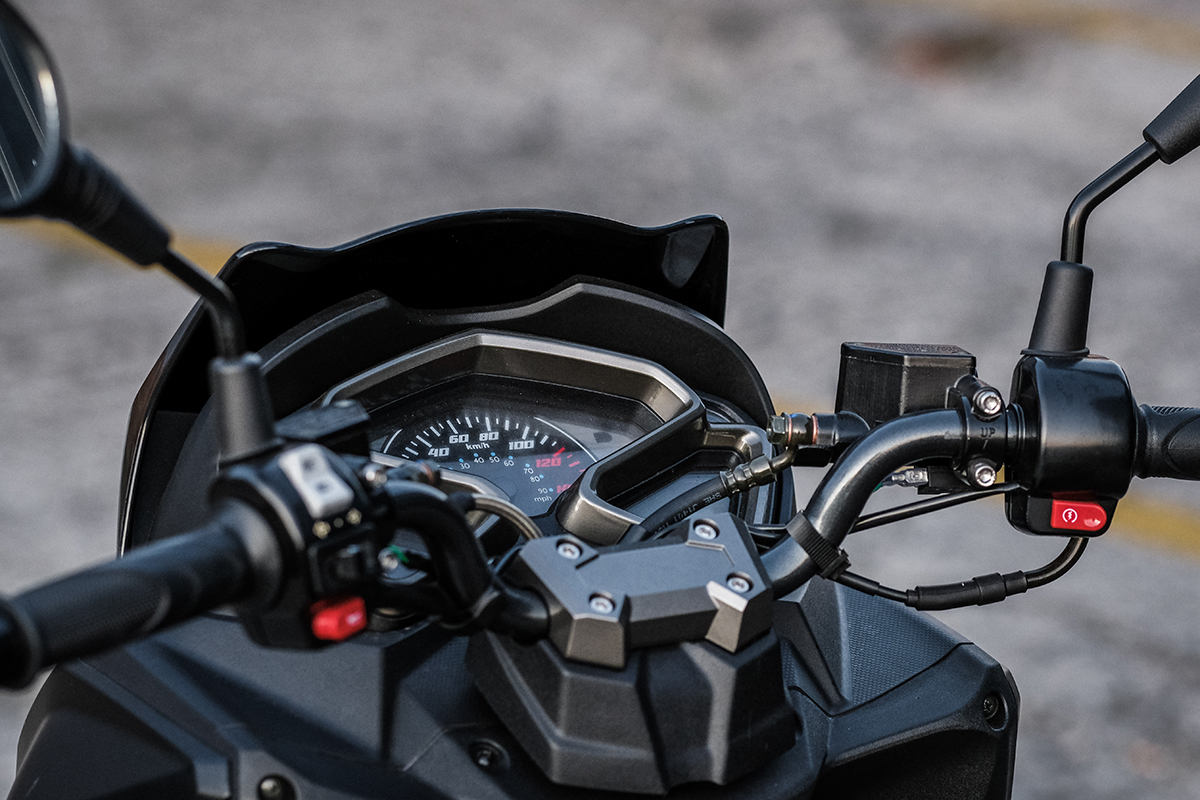 It's a bit overkill, and SYM could have got away with something much simpler here. The fuel gauge has a mind of its own too—but you get used to it once you've burned through a couple of tanks of gas.
SYM's claimed consumption of 28.5 km/l is optimistic; I've been seeing numbers closer to 20 km/l (my 1,86 m tall frame might have something to do with this). That's still respectable though, adding up to a total range of around 150 kays from the 7.5 litre fuel tank. And I know owners that are hovering around the 25 km/l mark, so results may vary.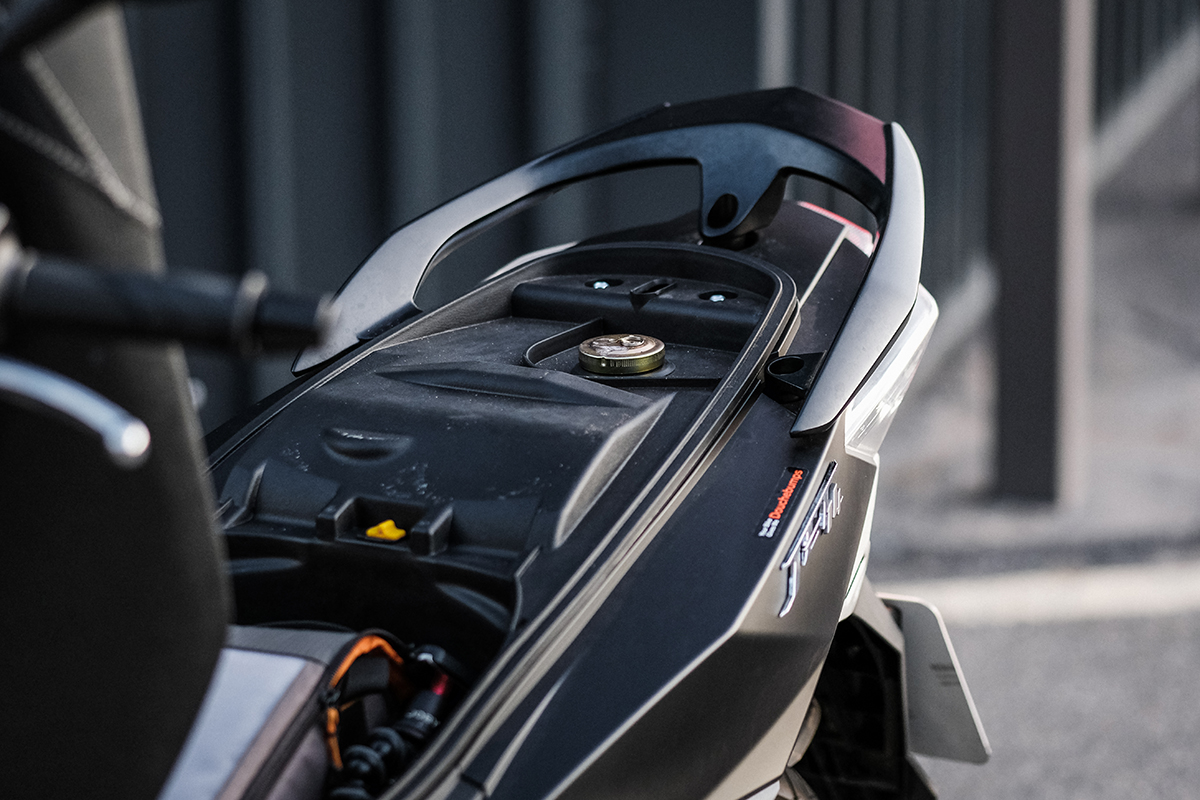 Out on the road, the Jet14 is zippier than a sub-200 cc scooter has any business being. The carb'd single-cylinder mill makes 8.8 kW of power and 12.2 Nm of torque, but the scoot weighs just 134 kilos. So pulling away from cars at robots—and staying in front of them—is a breeze.
My scoot's throttle started out a little lethargic, but the helpful techs at MHM Motorcycles adjusted the slack on the cable for me at the first oil change, and it's way more responsive now. Getting to 60 is a cinch, and pushing it from there to 80 takes minimal effort. It's happy to sit at 80-90 all day, and will manage 100+ if you point it at a downhill and keep the throttle pinned.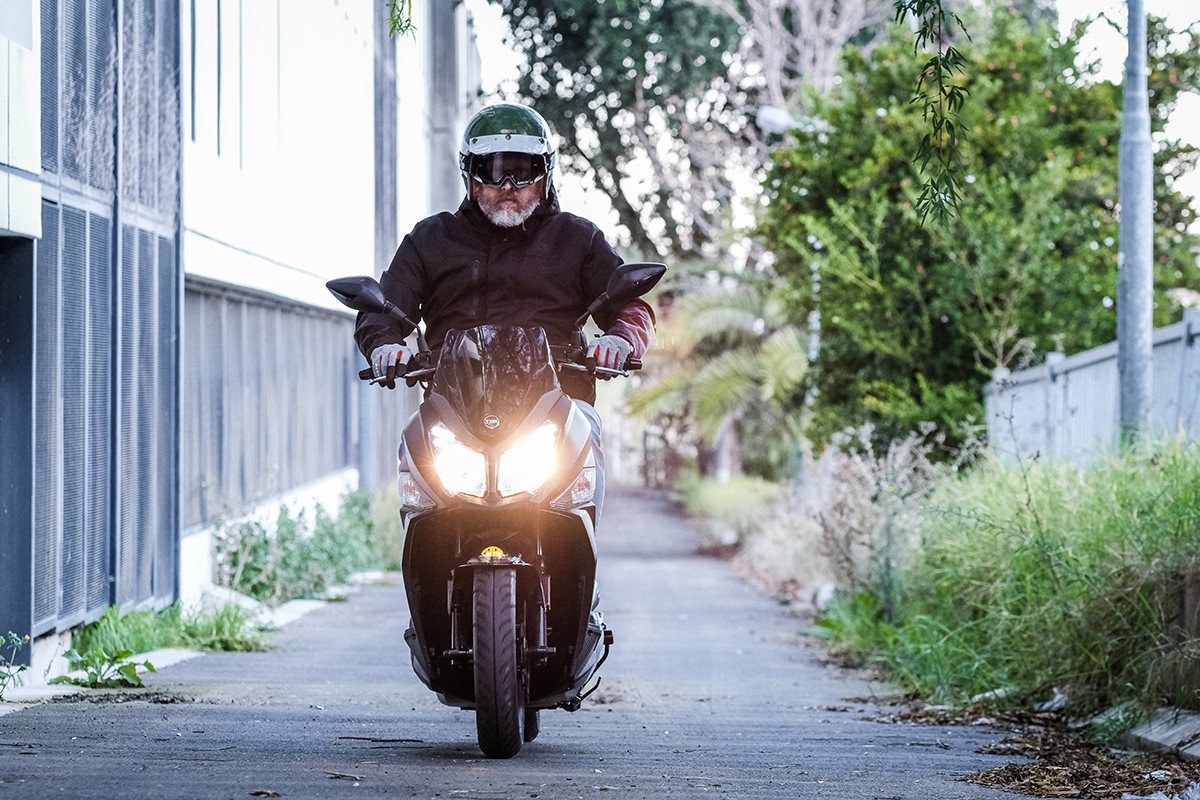 Small passengers do little to curb its acceleration (I regularly ferry my kids around on it), but I've yet to ride it with a full-sized pillion.
It'll cope on the highway too, but I've only attempted it a couple of times. On the one hand, I hate the feeling of being on a slower and smaller vehicle on the highway. And on the other, I have too much sympathy for the little motor to keep it wide open for that long.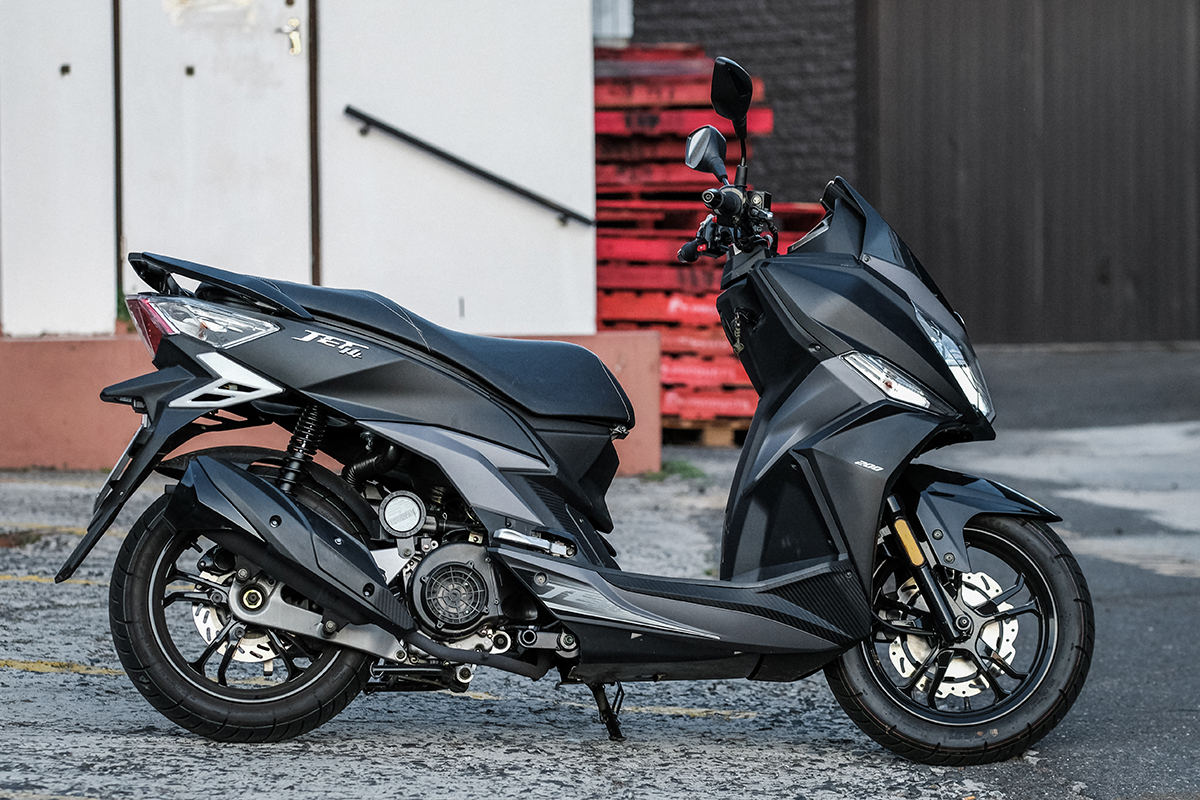 The Jet14 gets its name from its 14" wheels, which are a Godsend on this nimble little scoot. It's a proper little hooligan, able to zip through tight turns in the city with enthusiasm. Sure, if you push it a little too hard it will get unsettled, and the budget forks and twin shocks do have their limits—but for most riders, it's more than adequate.
I do pine for better brakes though, given the speed-versus-size ratio of the Jet14. And the side and centre stands are low enough to scrape the asphalt now and then.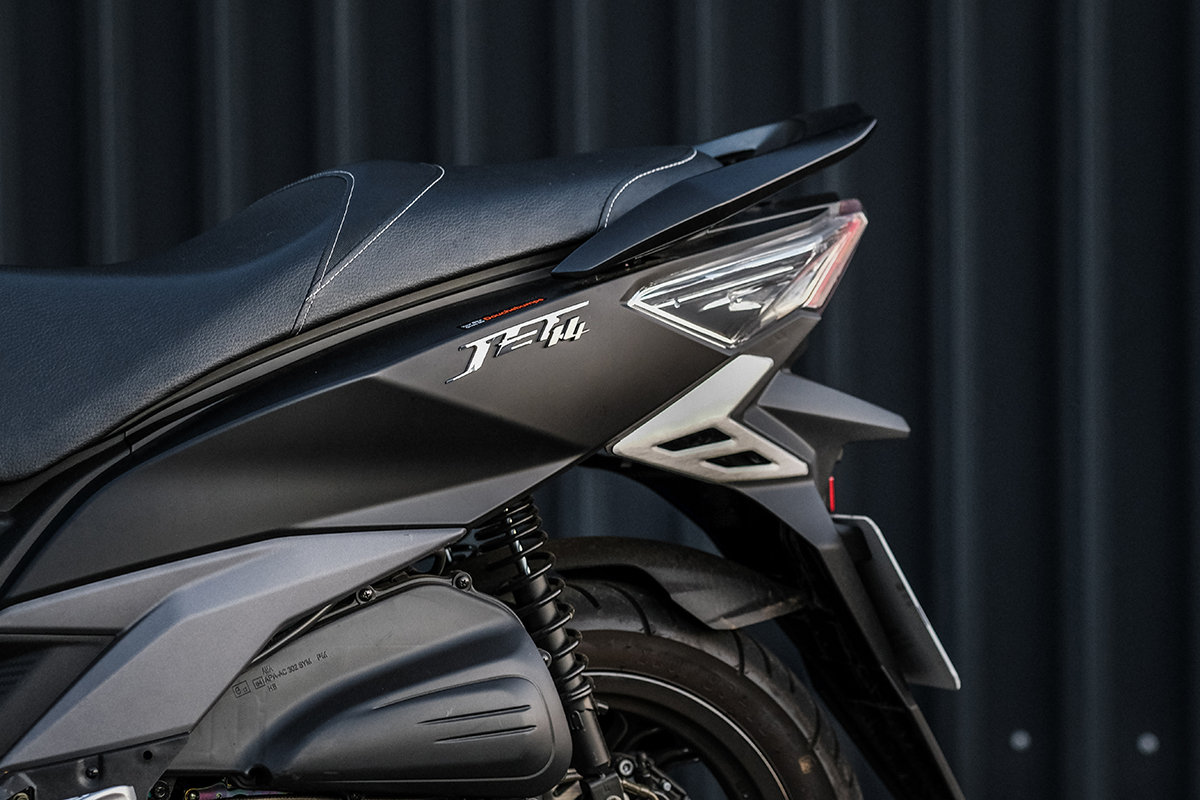 Ultimately the SYM Jet14 does exactly what it says on the tin: it's fun, practical and looks dope. And it won't bankrupt you either. It's costing me peanuts to insure, and the first two run-in services (at 300 km and 1,000 km) have cost me less than R1,200 in total.
For that price, I've bagged myself a scoot that gets me from A to B in moderate style—and that includes running errands, Uber-ing kids, and even getting to band rehearsals with my bass guitar slung over my back. So I'm chalking this one up as a win.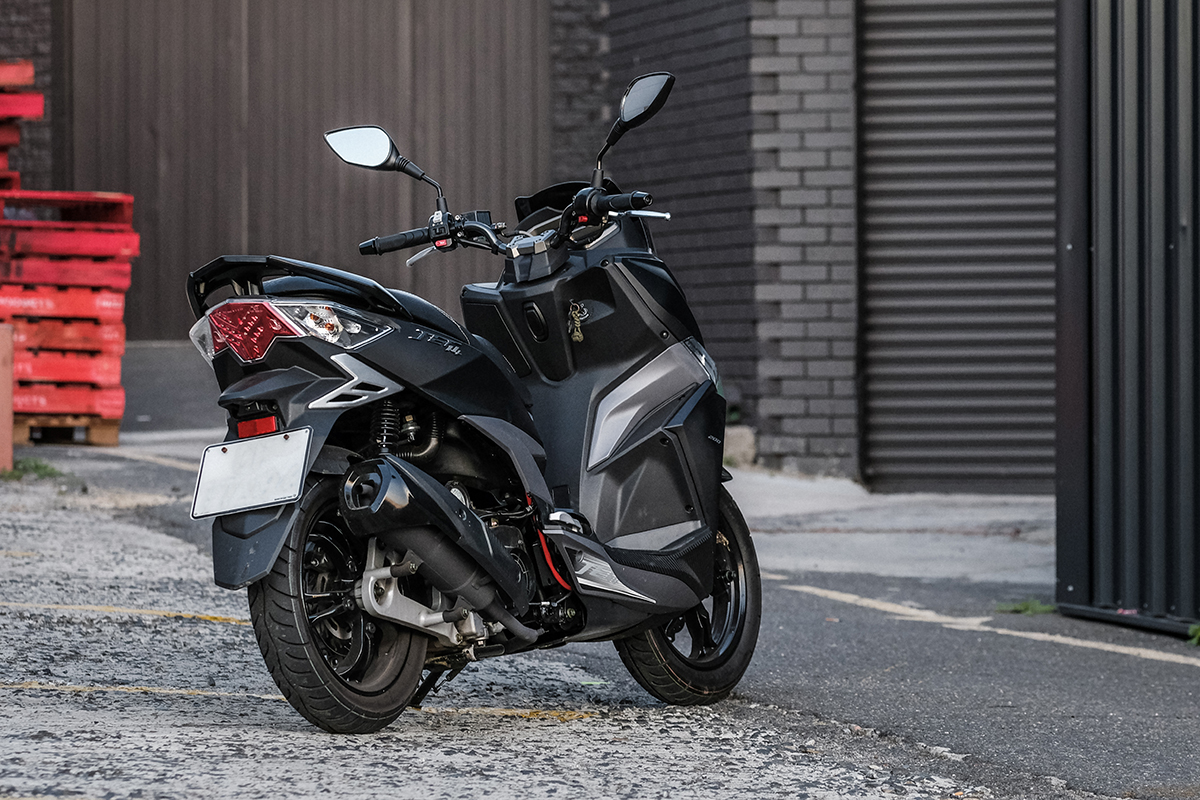 SYM Jet 14 200
For more information on the bike that we used in this article, click on the link below…