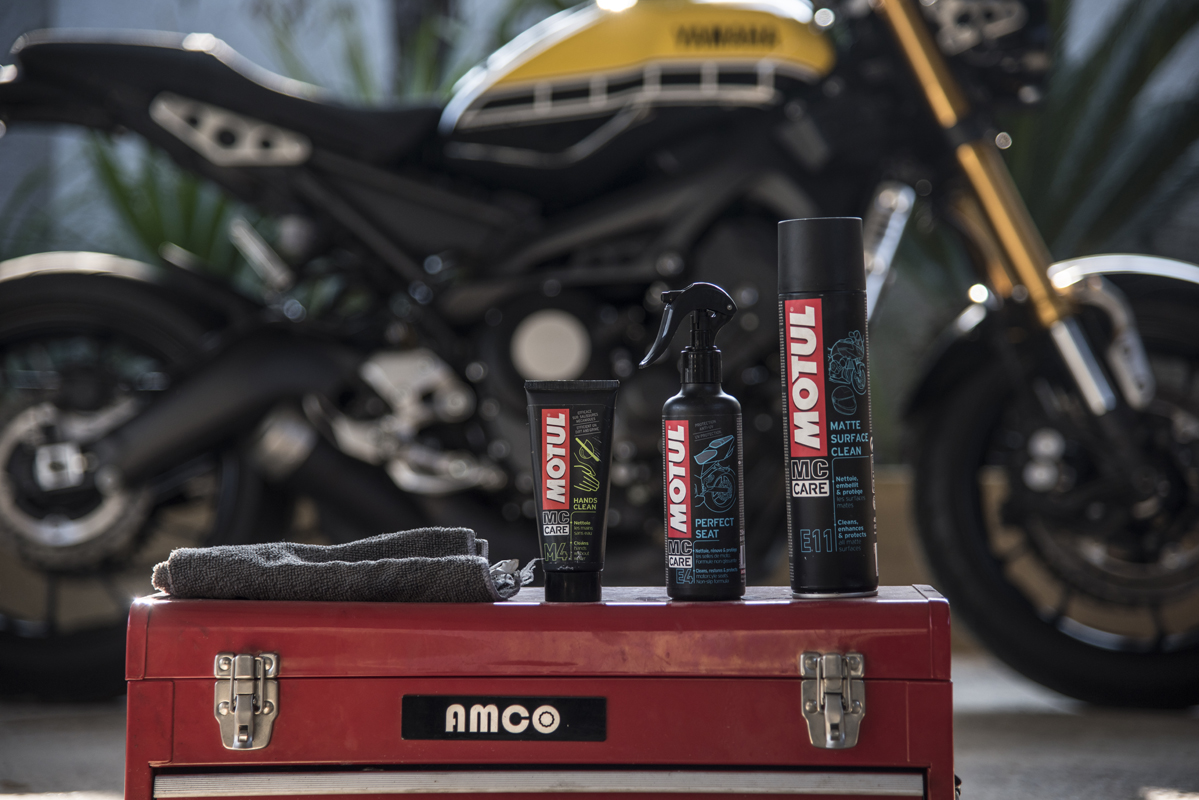 Motul's MC Care Range sort of reminds me of the old saying, "You can never have too much of a good thing." After caring for our beloved machinery with all the products money can buy, there will always be a few products stowed away in the dark corners of the shelf that never get to see the light of day, when they actually should. With washing, waxing and shining out of the way I found three more products that I wouldn't normally use, but gave them a try.
After getting into a set motorcycle washing or maintenance routine it's quite easy to use the same old products, products that have worked a treat for years, but we need to keep our eye out on newer and easier ways of getting the same old job done. So, after reaching into the 'MC' cabinet I pulled out Motul's Perfect Seat, Matte Surface Clean, and Hands Clean—all three still applying Motuls dry cleaning formula.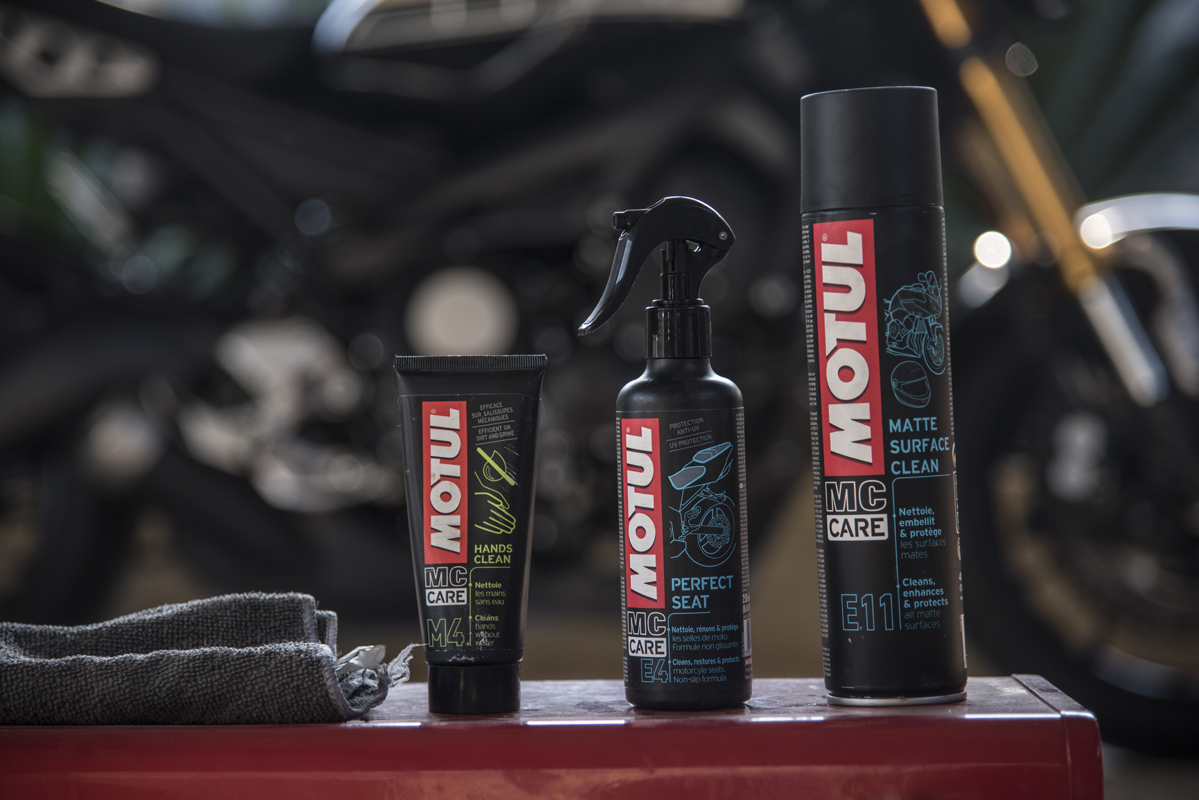 Perfect Seat
Who really pays attention to their seat? Clearly, Motul does, as they have a bottle of the soapy stuff made just for your butt cushions called, Perfect Seat. Now many of you and myself included have been washing our vinyl seats with a hosepipe for years and just drying it off, maybe even spraying the seat with silicone spray to make it look brand new. There is nothing wrong with hosing down your motorcycle seat with water, but what you put on afterwards is important, especially if you are looking to preserve your seat.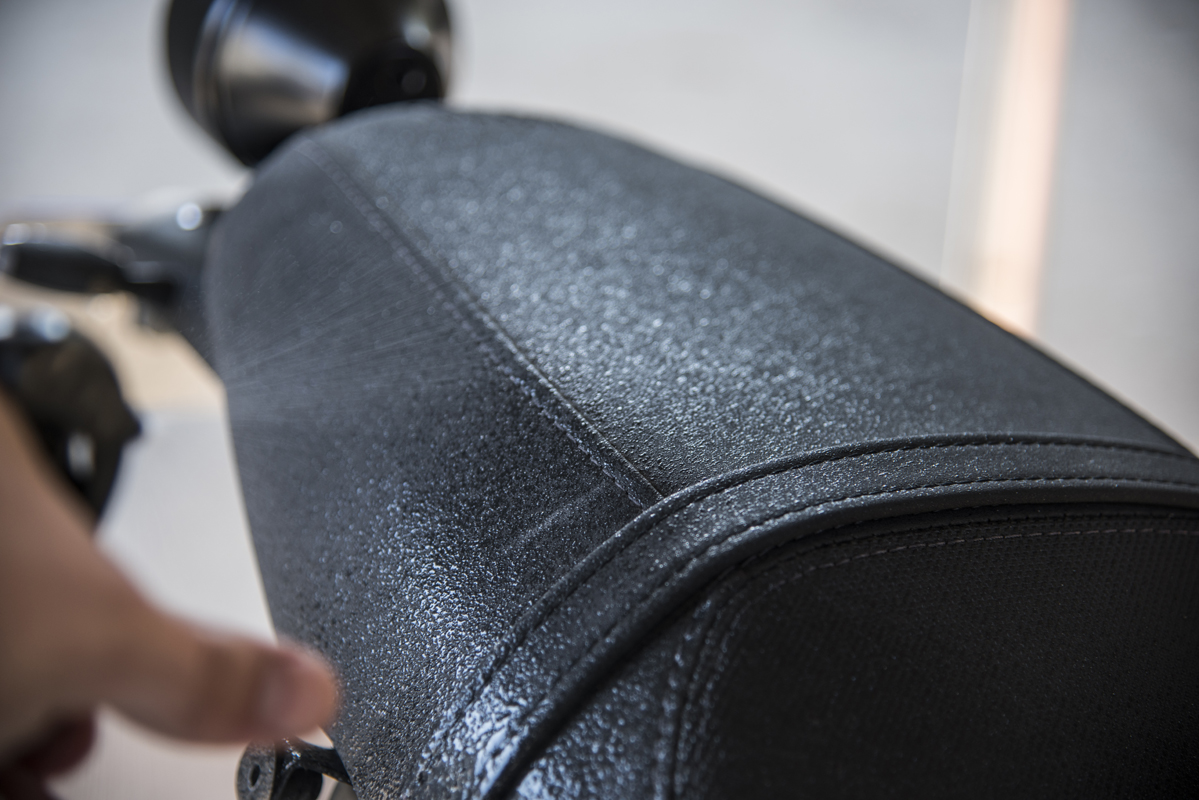 Motul's 250 ml bottle of vinyl-only seat cleaner has actually been around for nearly 11 years now—if that's not a testament to how good the product is, then I don't know what is. Although a seat cleaner, it also restores, prevents fading (UV protection) and offers a non-slip formula. Oh yes, it also smells like oranges.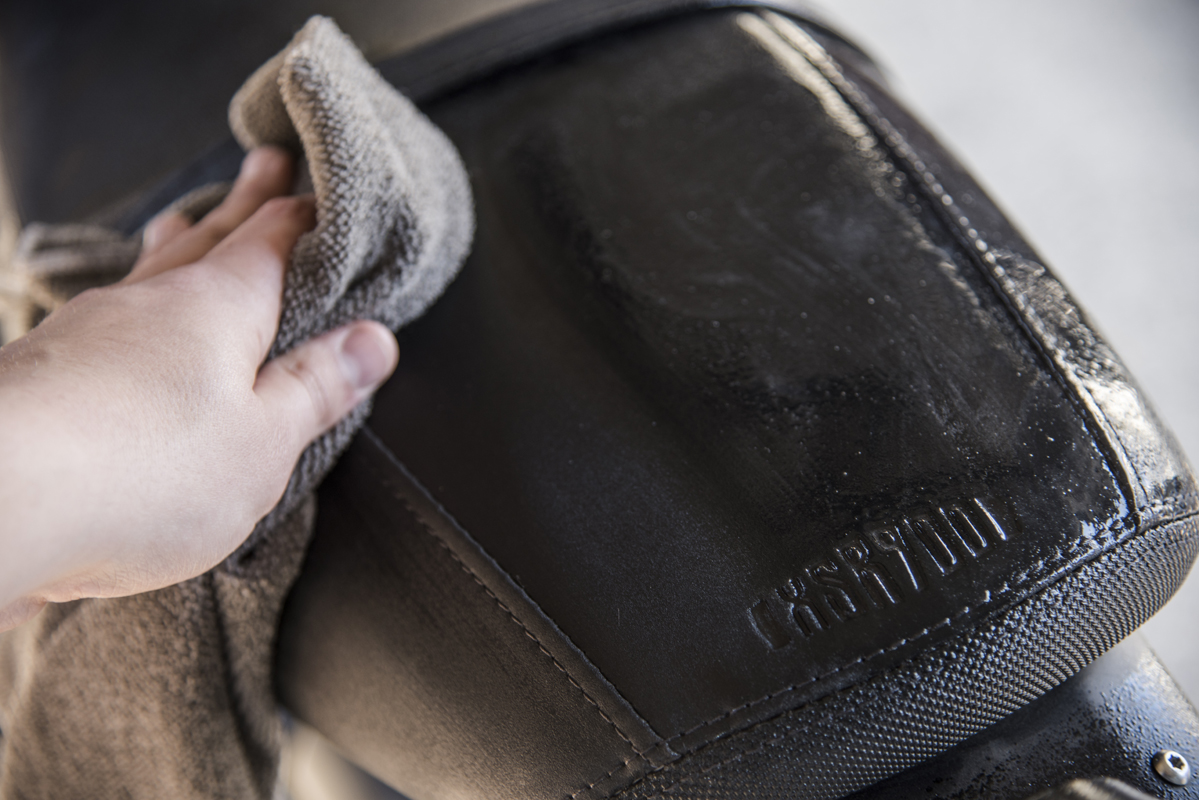 After getting your seat moderately dirty, all you need is two microfibre cloths and a bottle of the good stuff—this is literally all you need, along with a shaded-off area of course. Using it is simple, but I have to be honest and say it's not for your hardcore enduro or adventure riders, but rather for your daily commuter. The reason is, that you'll still have to hose down your enduro bike after a muddy ride to get all the gunk off which defeats the purpose of this waterless product.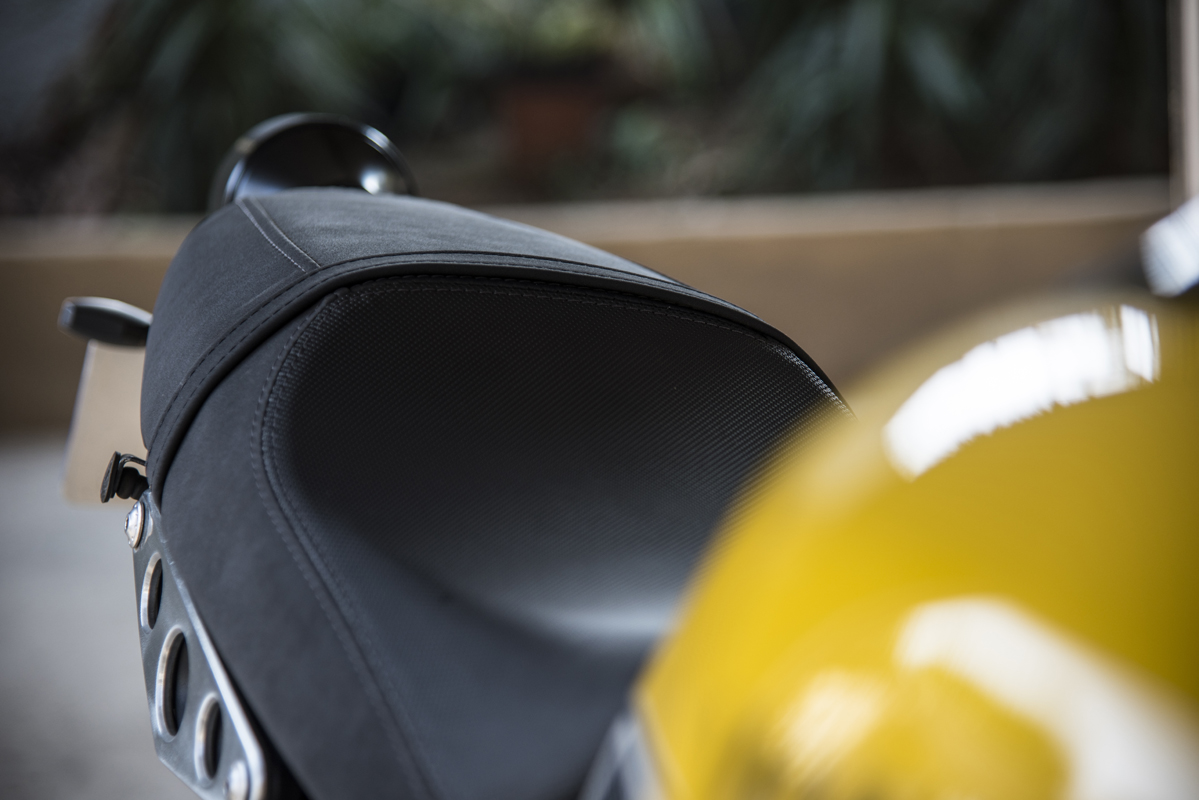 After a few months of using Motul's Perfect Seat, I saw a major difference, the colours started to pop on all my bikes' seats and even the stitching started to stand out like new. It's a good product to have in hand for your daily or weekly bike cleaning routine.
Matte Surface Clean
This isn't the sort of product I'd normally use, mainly because I tend to stay away from owning any form of matte vehicle or gear, but certain plastics and vinyl wraps on most bikes are matte these days. Motul's Matte Surface Clean sort of works just like their Shine & Go, but for Matte surfaces obviously, which means it's mostly used to maintain an already semi-clean motorcycle. Basically for the rider who gives their bike a clean after heading out for a quick ride.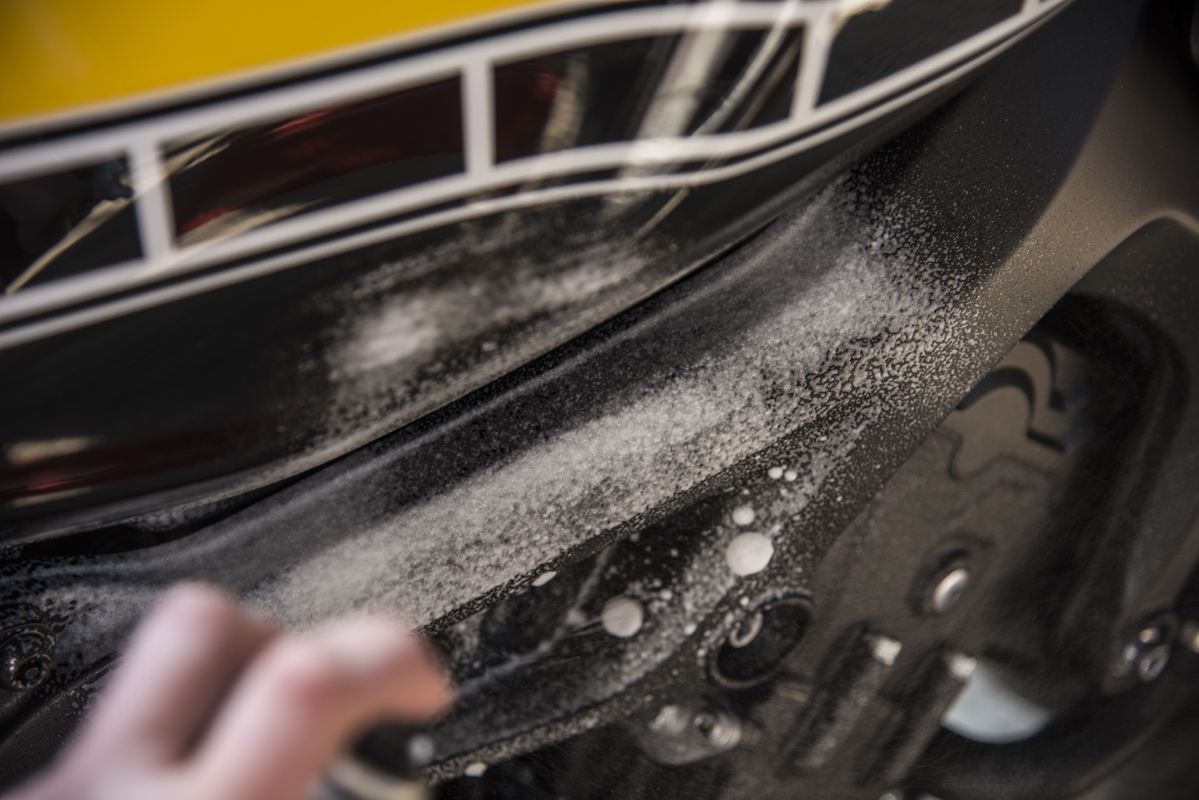 So, what makes this matte cleaner so special? Well, for one it actually cleans and restores all matte plastic and leaves a flat, matte, and non-sticky finish with its protective UV filter. If you're looking to keep your matte helmet or in my case my Yamaha's matte black frame popping without a drop of water, then you need to park this on your shelf.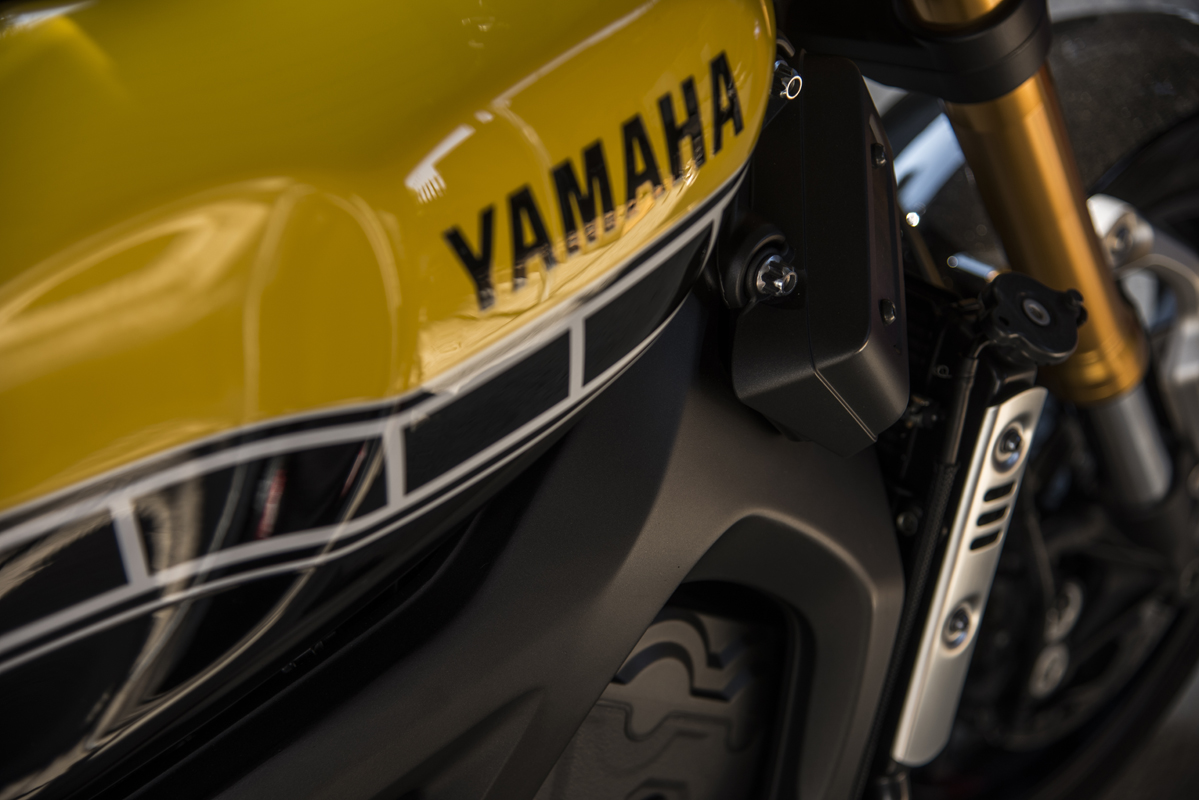 Hands Clean
Motul's "Hands Clean" has made its way out of the dark corner of the cabinet and into my top 5 must-haves in the garage cleaners. Again Motul throws another dry cleaner at us, but this one is just so cool. This dry cleaner dissolves grease, oil, and other stubborn dirt without the help of a single drop of water. Yes, you heard me right, no water is needed! So, how does it work then?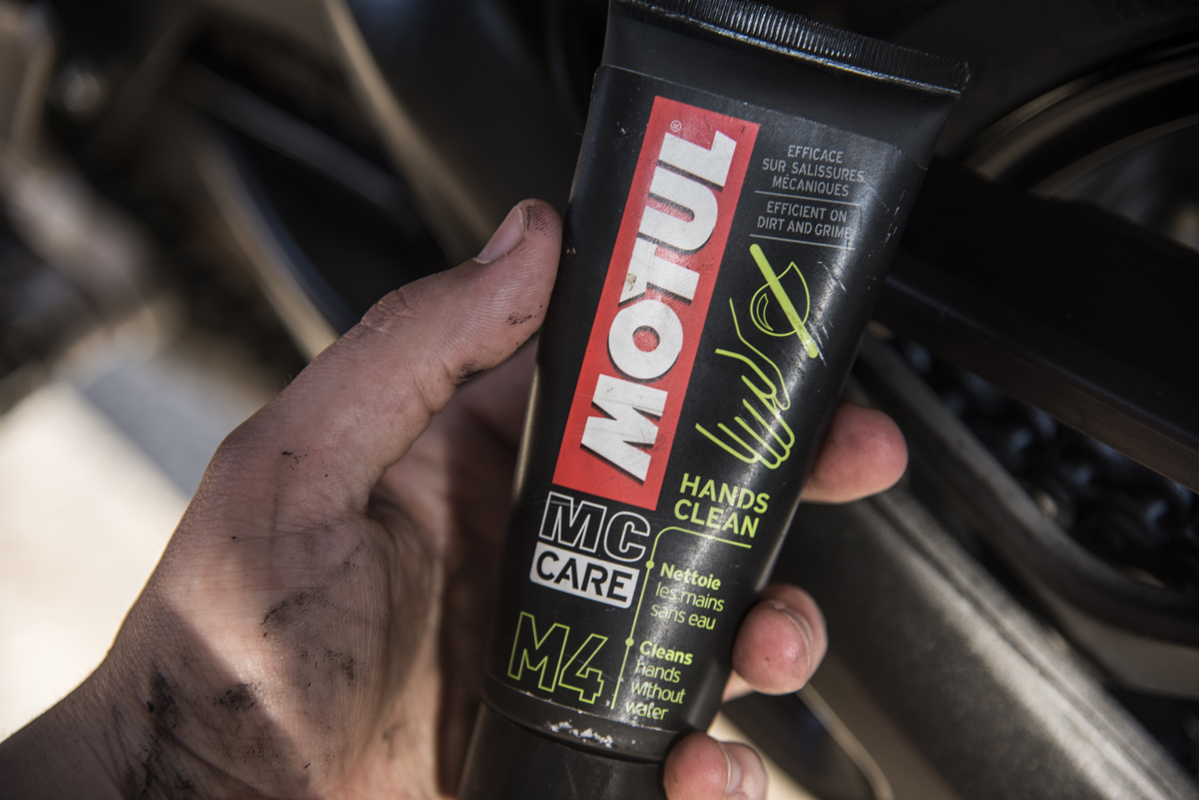 All you need to do is give the tube a good squeeze and rub the cream deep into your hands or wherever else you may have gotten some dirt onto. Here's where it gets cool! As you rub it into your skin the cream turns into a rubbery substance that just peels right off. I don't know about you, but if you are like me and enjoy working in the garage or on your bike without gloves, then you need a tube of Motul's hand cleaner.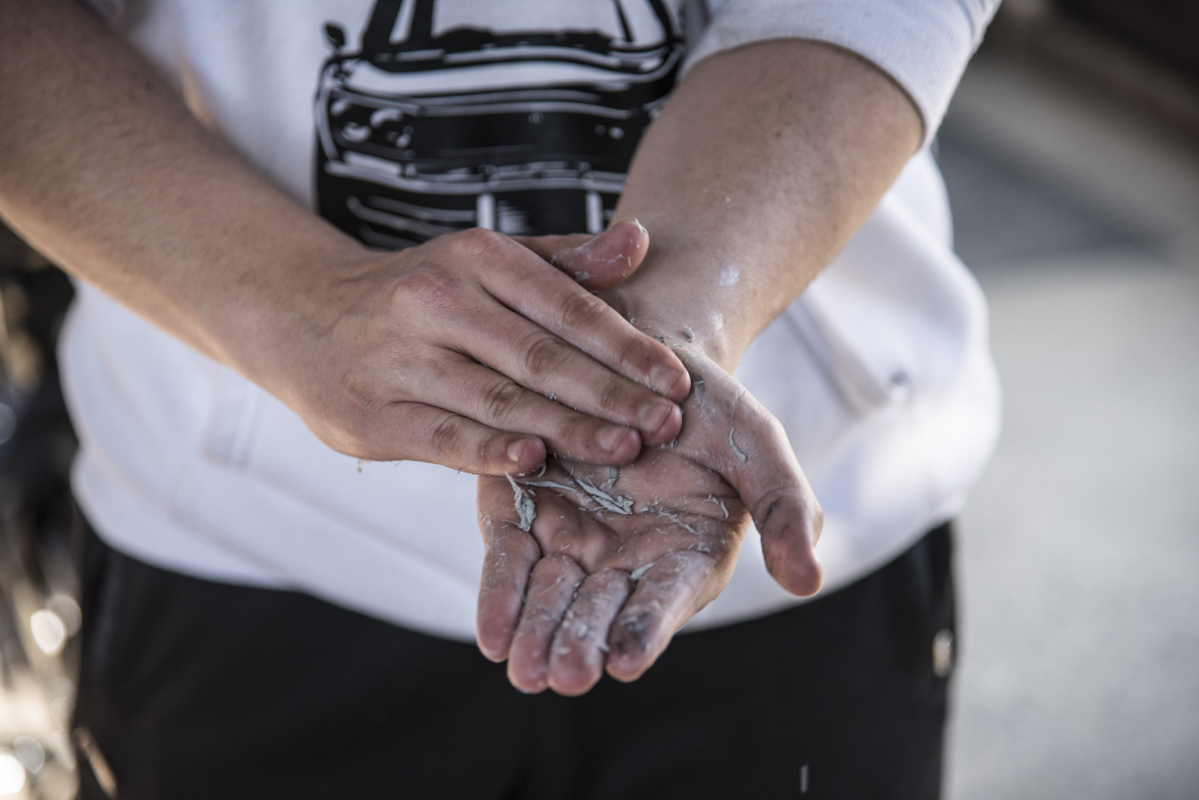 For more information on the products used in this article, click on the links below…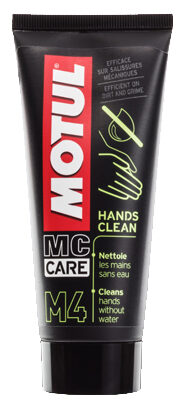 MC CARE ™ M4 HANDS CLEAN
R107.00 (RRP)

MC CARE ™ E11 MATTE SURFACE...
R136.00 (RRP)

MC CARE ™ E4 PERFECT SEAT
R107.00 (RRP)