I own a Triumph Street Twin, which I bought back in late 2017. Since buying the bike, I have been gradually customising it to my liking.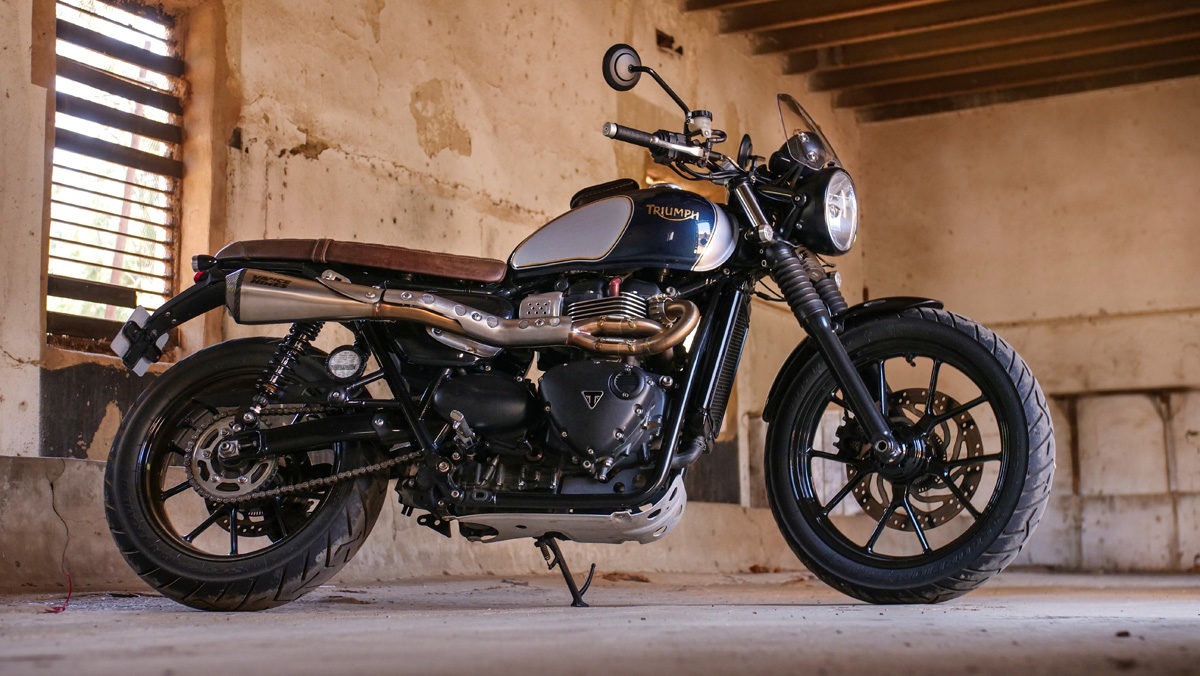 When I first got the bike, I found the suspension to be a bit on the soft side, especially around corners the front-end felt somewhat squishy. So, I took it to Justin Waddington from Shock Logic and he fitted a set of K-tech shocks at the rear, and upgraded the standard front forks with progressive stiffer springs. These modifications really improved the bikes handling.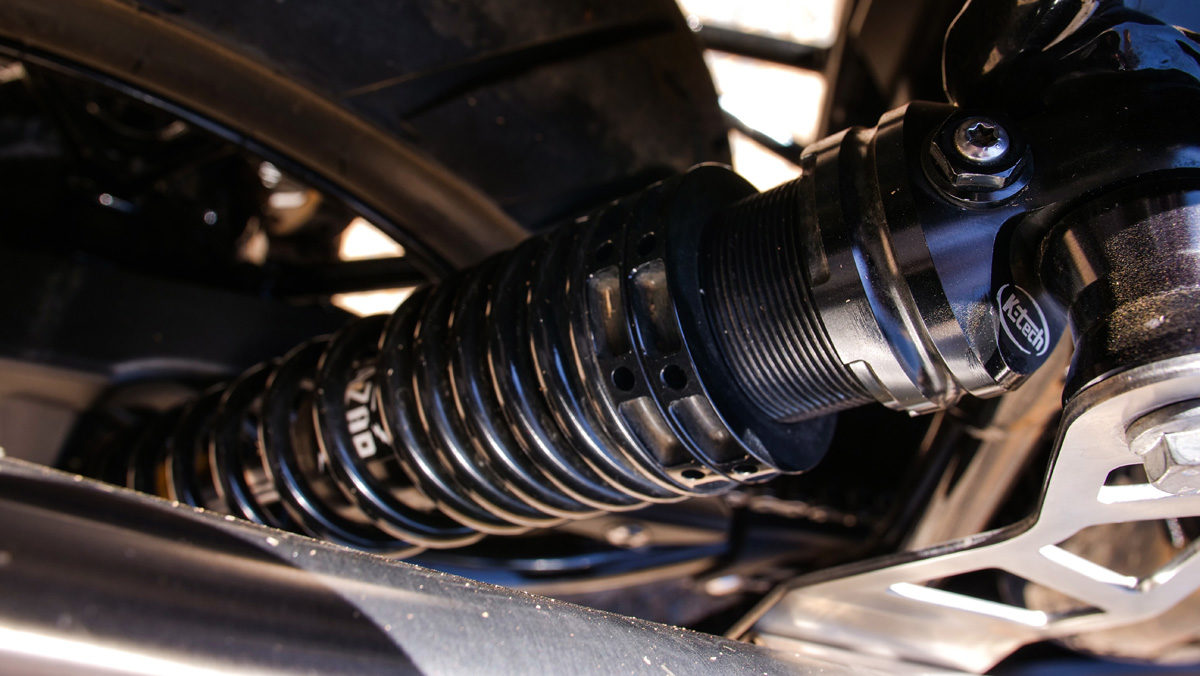 Annoyingly, Triumph had restricted the 2016 (first generation) Street Twins, and as a result the bike's power would feel sluggish in the mid-range. I did a ton of research about this online, and I found that they had done this not in the traditional way via the ECU, apparently they had been restricted mechanically via a restricted Camshaft, resulting in a max output of only 47 hp.
The guys on the forums speculated that Triumph did this because a none restricted Street Twin would have similar power to the more expensive T120, and therefore why would a consumer ever buy the T120 at a more expensive price?
Whatever the reason, the 900cc motor on my Street Twin obviously had a lot more to give, so I made it my mission to try and get more performance out of it. Having done more online research, I came across a company in Germany called Classicbike Raisch who had developed a performance Camshaft for the 2016 Triumph Street Twin.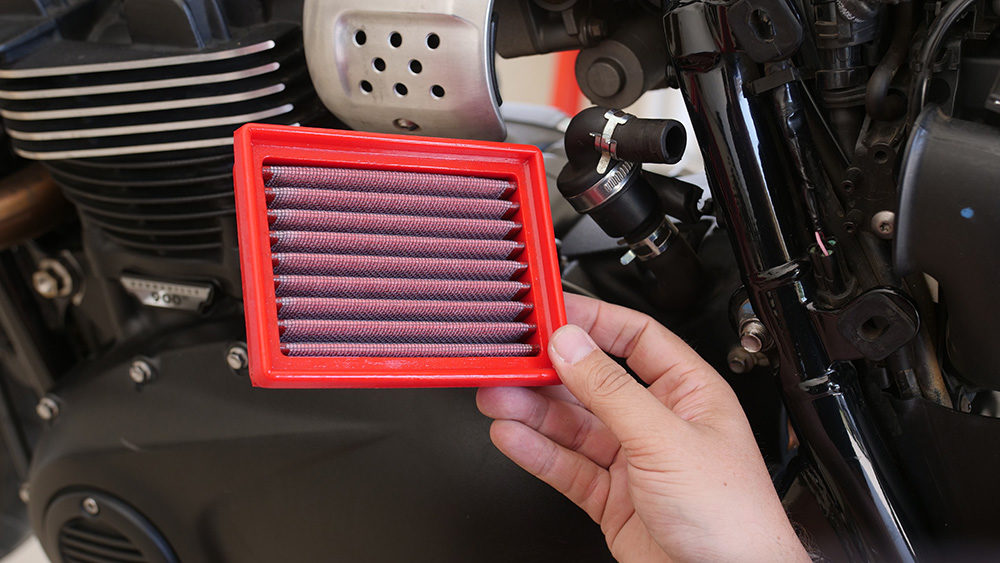 Long story short, I fitted the Camshaft into my bike, along with a BMC Air Filter and a Rapid Bike Easy fuelling module. The results were outstanding! She now has a max output of 62 hp, and the bike now pulls much stronger than before, and delivers way more power in 3rd/4th gear. It has totally changed the characteristics of the bike, and I am really enjoying it so far. An expensive upgrade at approx 15k, but worth every penny.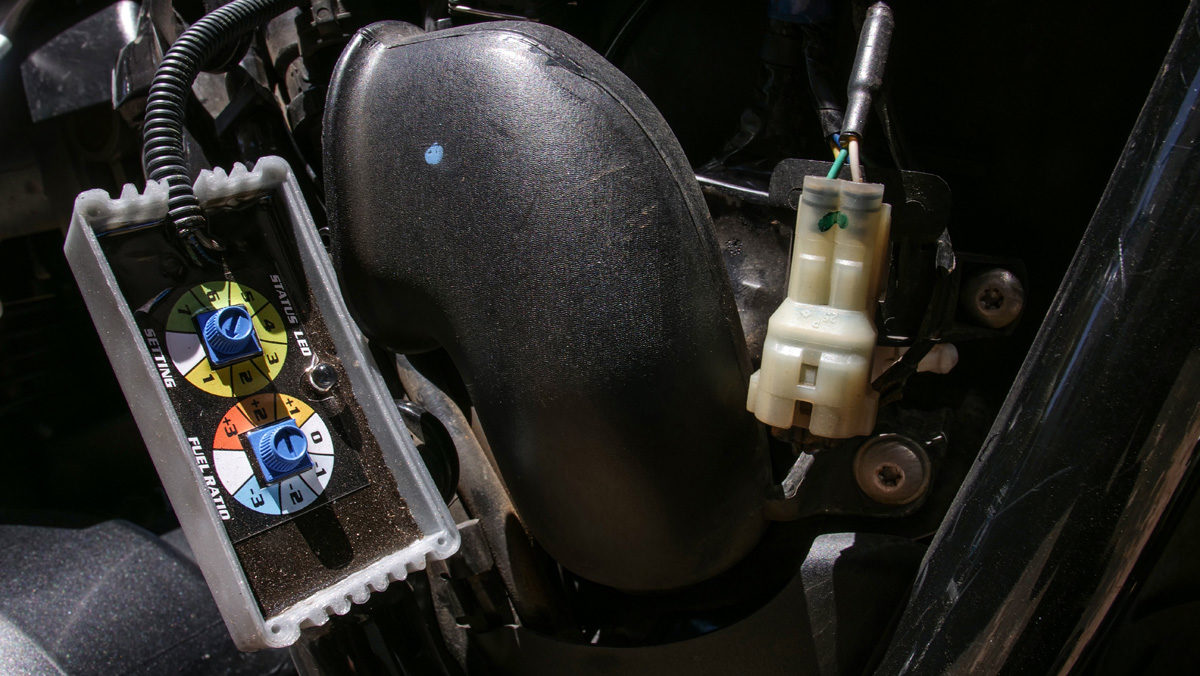 Please note: for 2019, Triumph has added an extra 10 hp to their standard Street Twins, so the engine modifications that I have done would only be advisable on the first generation models.
In the paint department, I visited Kim from The Air Brush Studio in Pretoria, who did a frikken awesome job. She painted the tank in a dark metallic blue and silver, with gold leaf pinstriping and logo.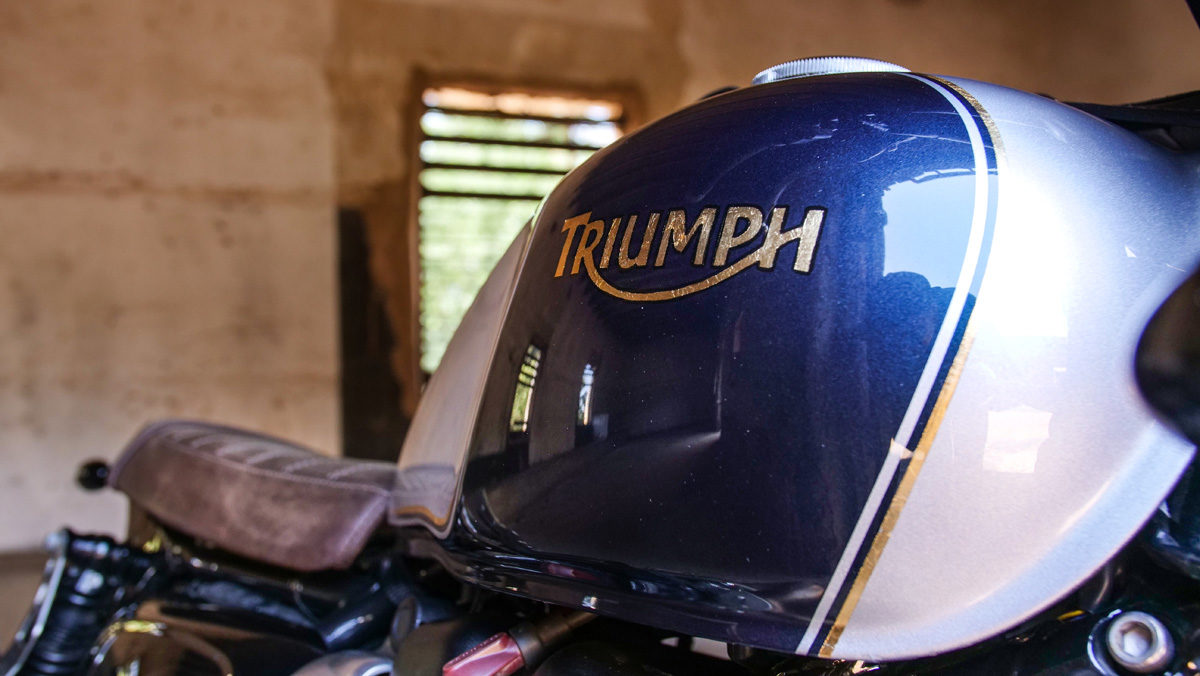 The fender and side covers became black with a blue pearl tint that sparkles in the sun. Kim added her personal touches by airbrushing a Union Jack design with Street Twin logo on one of the side covers – it looks Rad!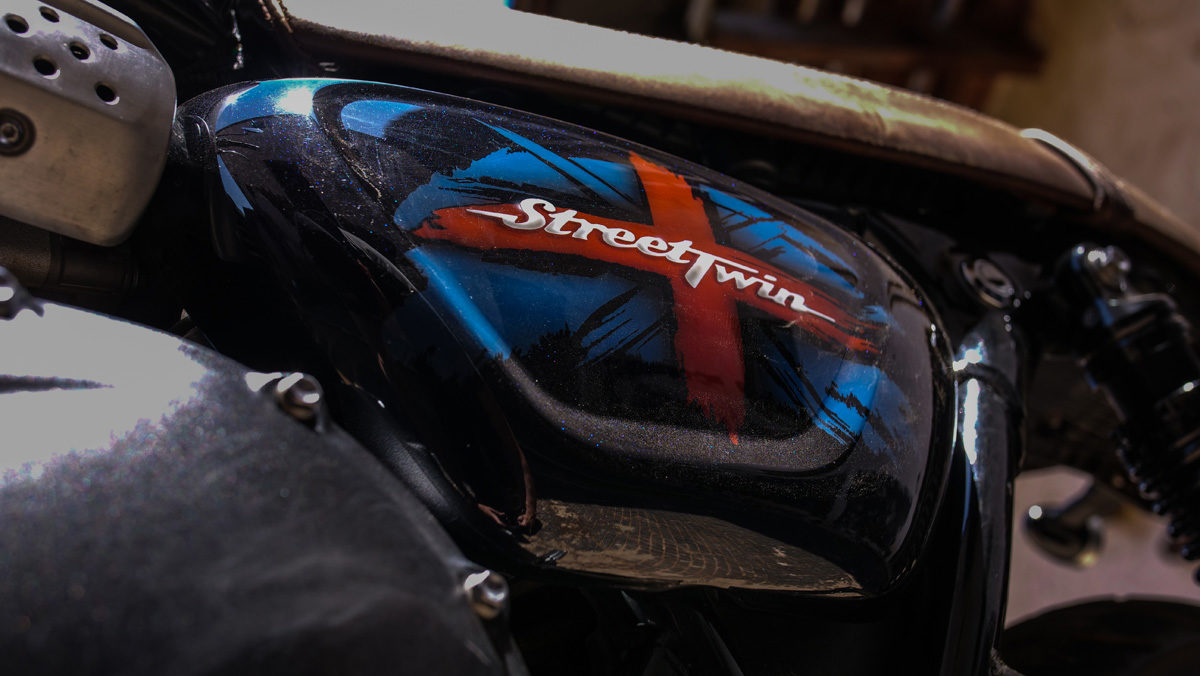 I also had some custom leather work done, which included a tank protector/bag and the re-upholstering of my seat. This was done by Dion Korkie (Leather Man D), who is also based in Pretoria; his craftsmanship is incredible, and his prices are very reasonable too – check out his Facebook profile for more information.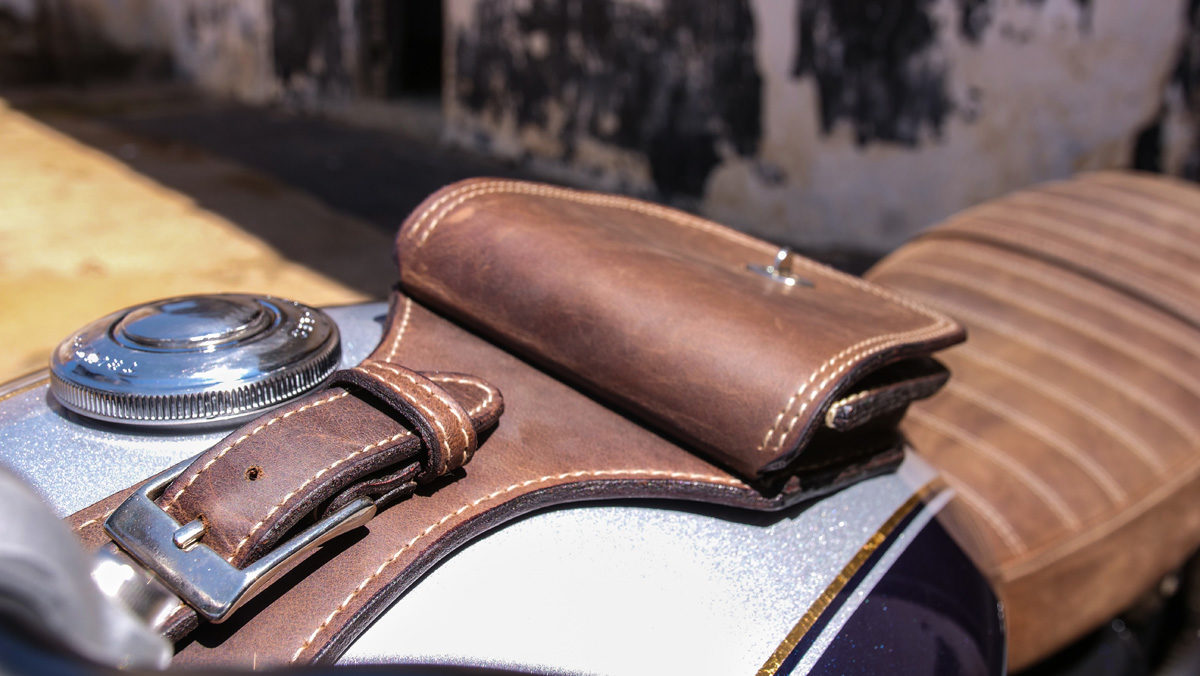 Other upgrades included; a new set of Pirelli Scorpion Trail II tyres, Vince and Vines full system high pipe, anodized gunmetal grey gear selector and foot rests, and Triumph laser etched valve caps.
Because of budgeting reason's, it has taken me the best part of 2018 to finish my ride to my liking, and up until that point, I had not ventured anywhere outside of Gauteng. So, when I received a newsletter about the 2018 Sabie Bubble Run, I was very keen to go along for the ride, as this trip was going to be the perfect place to mingle with other like-minded Triumph enthusiasts, and for the first time, I would get to ride and experience my bike on some of South Africa's finest undulating roads.
What is the Sabie Bubble Run?
The Sabie Bubble Run began in 2014 by Joe Fleming, Leroy "Black" Tulip and Marnitz Venter. It was inspired by a few different traditional runs from the United States (The Gypsy Run and El Diablo Run), but was given a South African flavour.
During the inaugural run, the first two days were filled with rain. It was pretty miserable, and their only saving grace during those days was their "Bubble Shields", and the word "Bubble" stood out to them. So, they decided to call it the Sabie Bubble Run.
Simply put, a traditional run is high mileage and low drama. While the modern run is essentially a forty mile coffee run with a lot of bolt on chrome compliments, a traditional run is riding, camping and a hell of a good party. They are geared towards the rider who feels out of place at a "major rally" or anywhere you find an excess of "LIVE TO RIDE" patches.
This years Bubble Run
I have known about the "Sabie Bubble Run" now for a number of years, and I have always wanted to go and experience it for myself. Unfortunately in years gone by, I have always had other commitments but this year I was free. So, I quickly signed up and paid my entry fee of R1 800, and that was that.
Amazingly, for a mere R 1 800, the trip included; accommodation, dinner each night at camp, an endless supply of coffee and beers, plus a few other gift items. Honestly, this is really good value for money, and I cannot figure how they made such a trip of a lifetime so affordable – what a Bargain!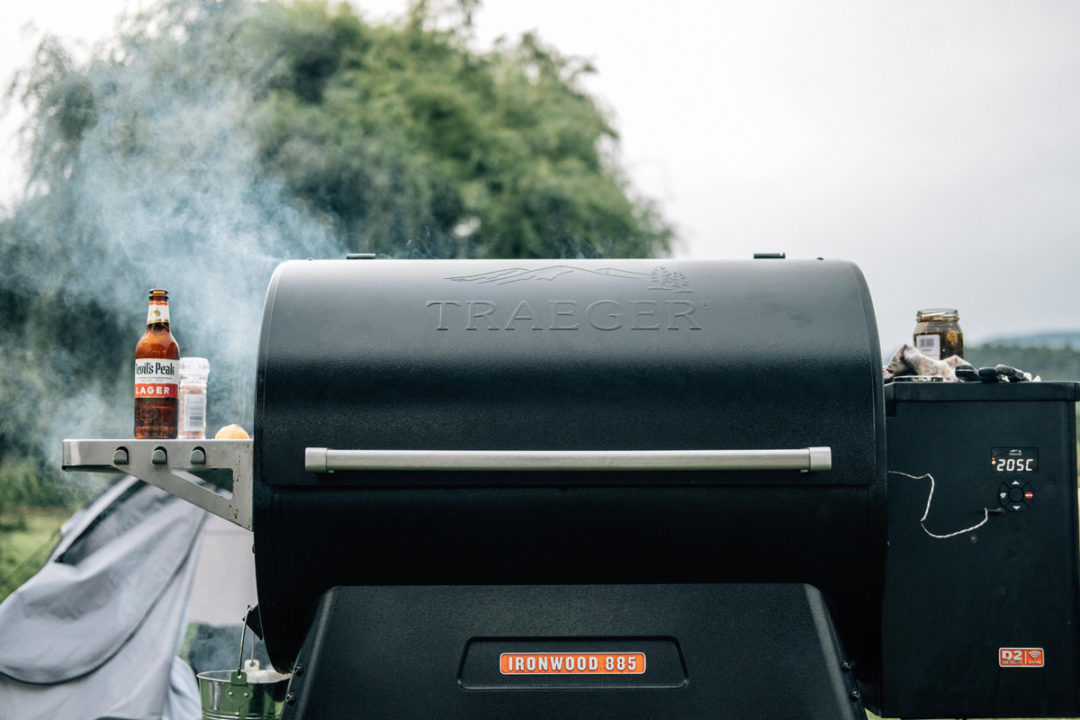 Reading the itinerary for the first time made me extremely excited for the trip. A mixture of; stunning scenery, some of SA's best twisties, Mpumalanga's finest tourist attractions, waterfalls, lots of coffee stops & pub lunches along the way, and evening chilled camp fire vibes by the Sabie river – it sounded awesome.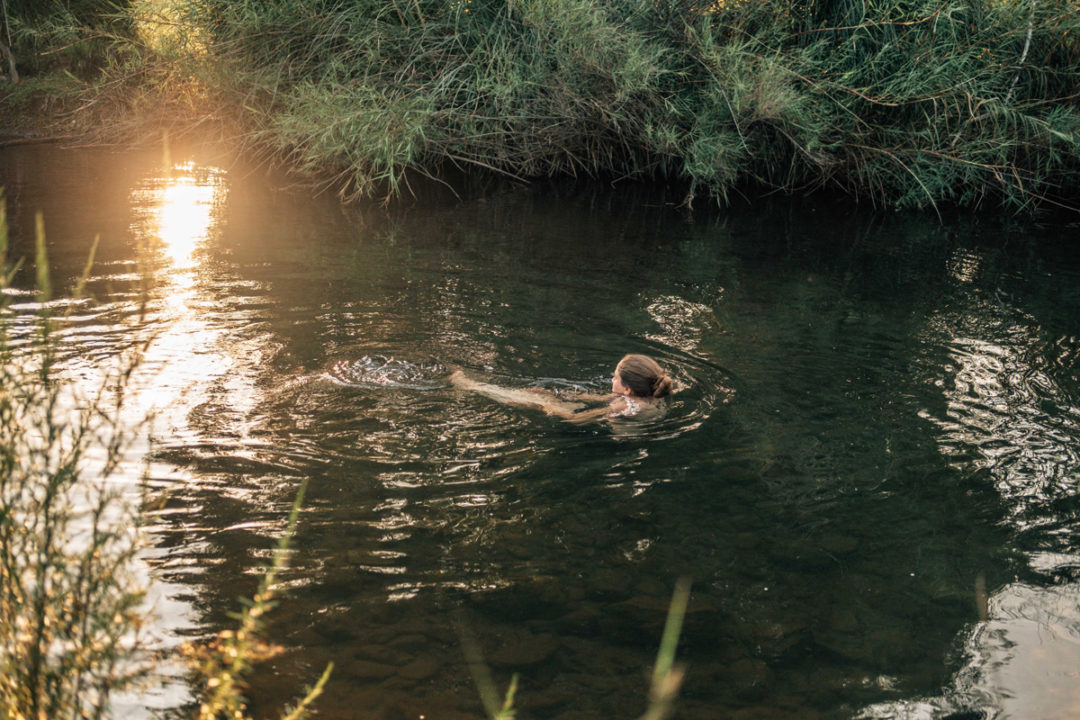 The Bubble Run is aimed mainly at classic bikes, although there were a few non-classic bikes on this year's ride. The organisers seem to be very chilled about what bikes are allowed, in-fact on their website it states:
"It does not matter what you ride. So long as you ride."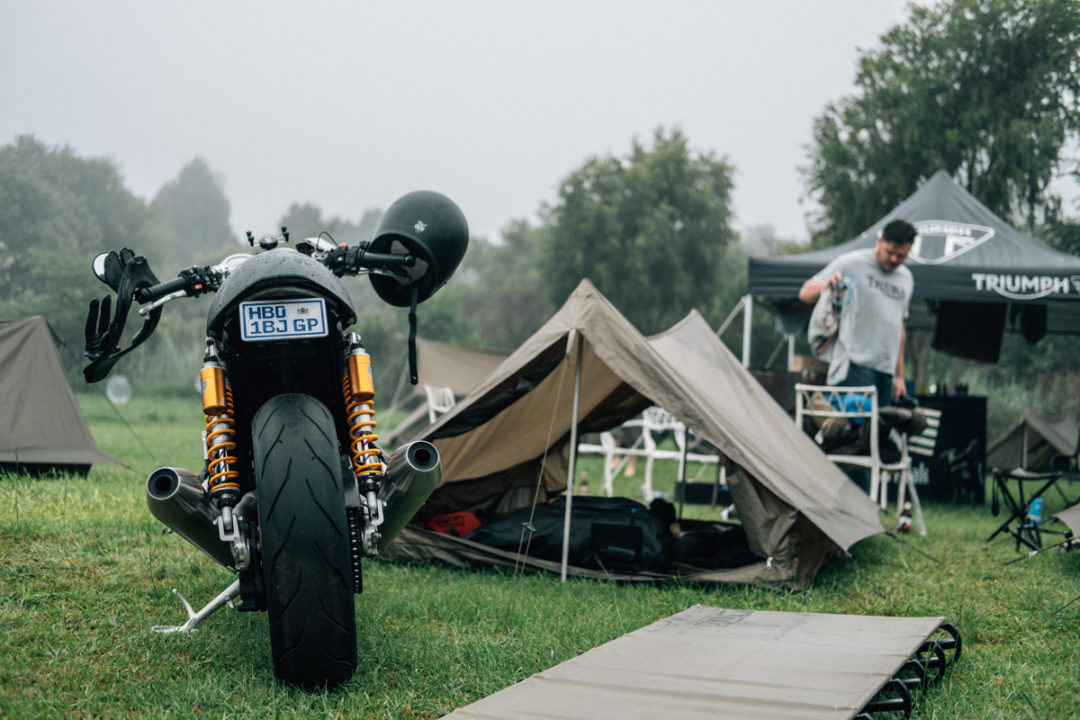 Packing for the Ride
Planning for any kind of bike trip is exciting, it always starts to build the anticipation weeks before the trip. Especially when considering how to pack everything that I was going to need for a 5 day camping adventure on the back of a Modern Classic motorcycle.
For this particular trip, I decided that I was going to use my OSAH Drypack 40L Duffel bag, because it was fully waterproof and came with X4 tie down straps, that easily attached to my frame (underneath the seat), and tied my bag down into position without any movement – a perfect fit!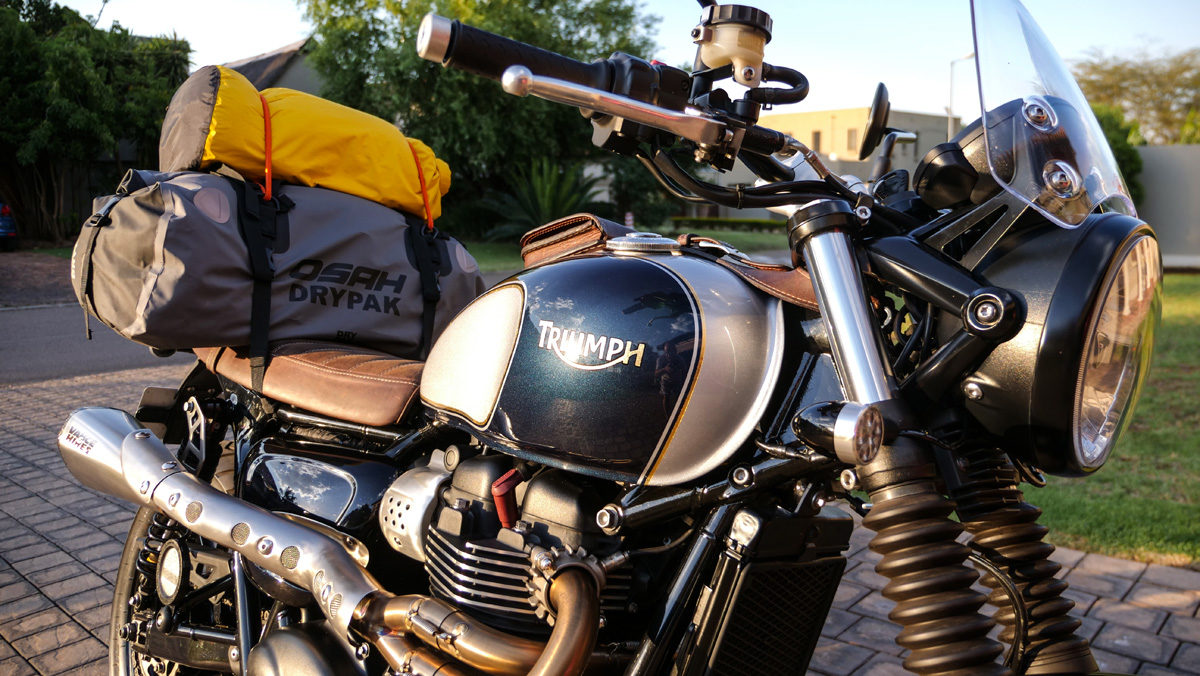 Now for the fun part, trying to figure out how to fit everything that I would need for a 5 day camping trip into a 40L bag. Luckily, there was already tents supplied by the organisers (Bonafide Moto Co.), so this was one item that I did not need to worry about.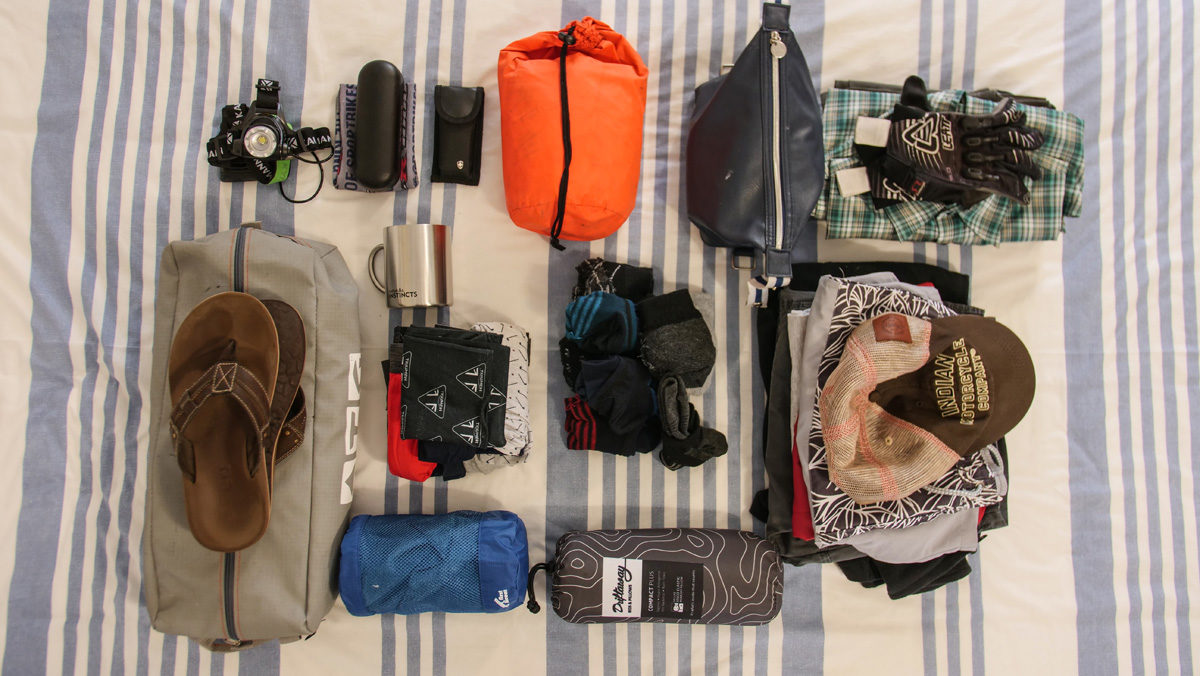 The first thing that I considered was my sleeping stuff. I pulled out my old self inflating sleeping mat, to find that it had a puncture. I tried to fix it using the repair kit that came with the mat, which was not a great idea as it made a real dogs dinner of the mat, and after all the faffing around, it still did not fix the puncture.. Aaagh!
I then came across a very compact stretcher by a company called All Terrain Gear (ATG), at R2,200. This was a bit more pricey than simply buying another inflatable sleeping mat, but my thinking was that it would last a lifetime and would never get a puncture, so I bought it. I am very happy that I did because it sleeps lekker!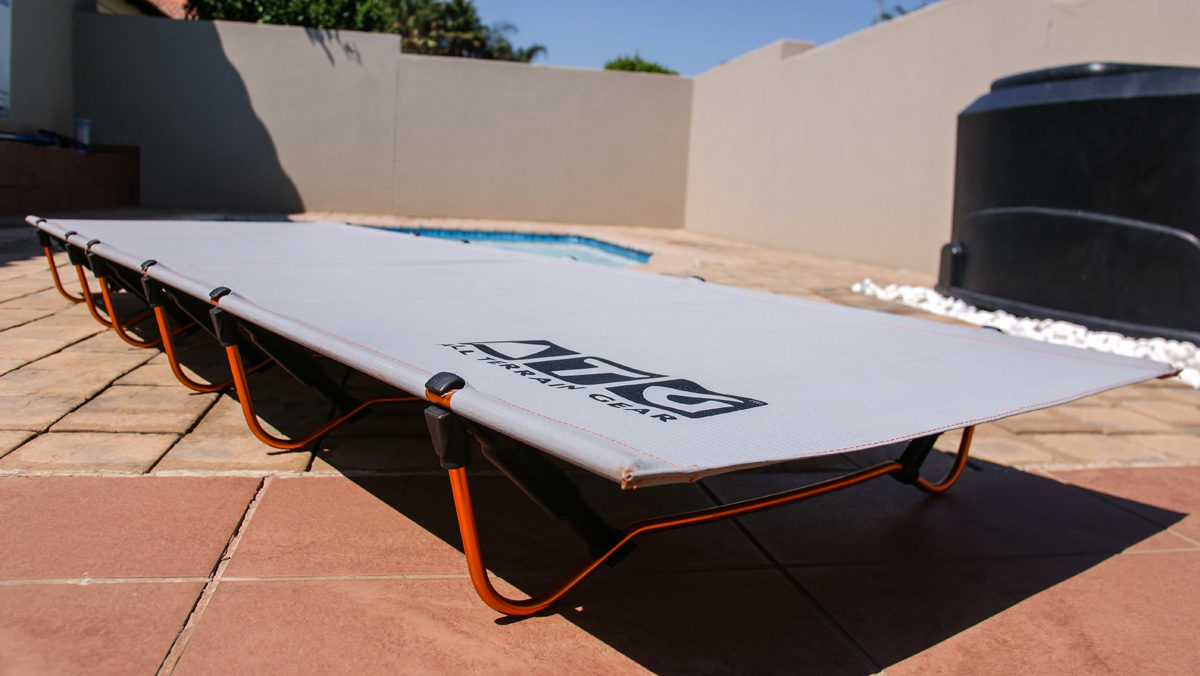 I took my old sleeping bag along which I fitted into a dry sack, then using some bungee cords, and the very handy D buckles that are cleverly paced on-top of the OSAH bag, I was able to easily secure down my sleeping bag on top of my OSAH bag. Oh, and I also bought a memory foam compact pillow which I bought from Xkulcha which took minimal space in my bag.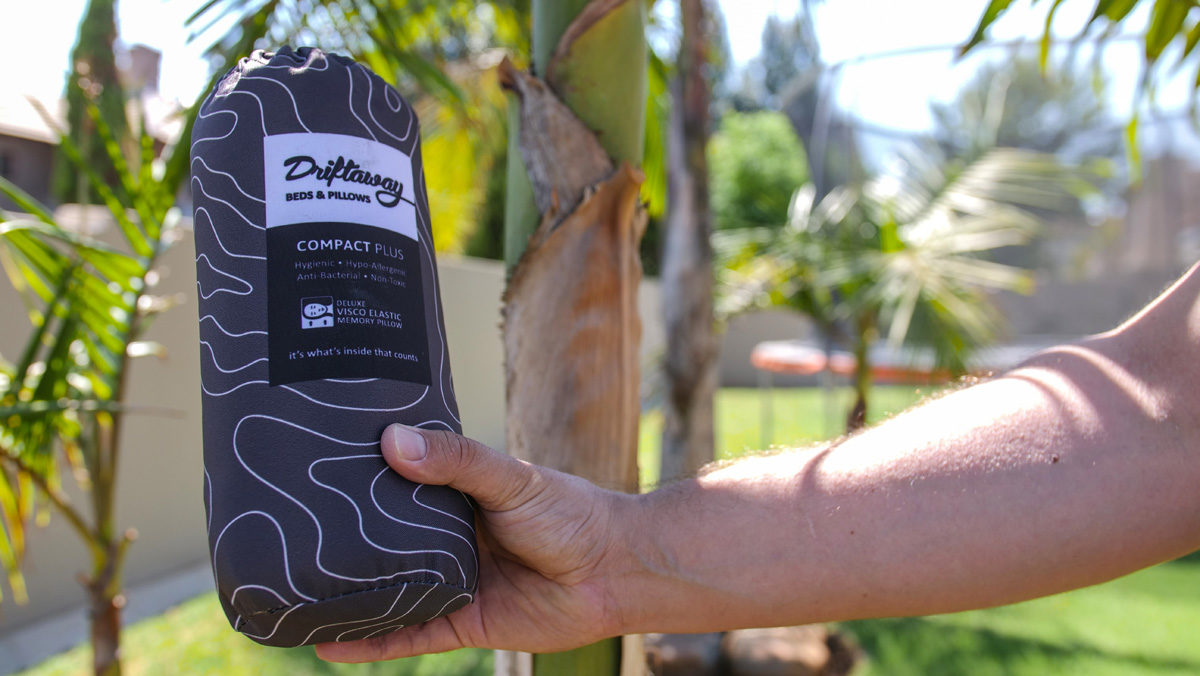 Instead of packing a lot of t-shirts, I bought two Under Armour non-iron t-shirts, which I was able to wash at camp each day. Shopping at Outdoor Warehouse, I found small bottles of laundry and body wash, which helped to keep my toiletries downsized. I love the fact that you can pretty much get everything you need in a mini version of sort. When you apply your mind to it, you can really pack allot of essentials into a small space.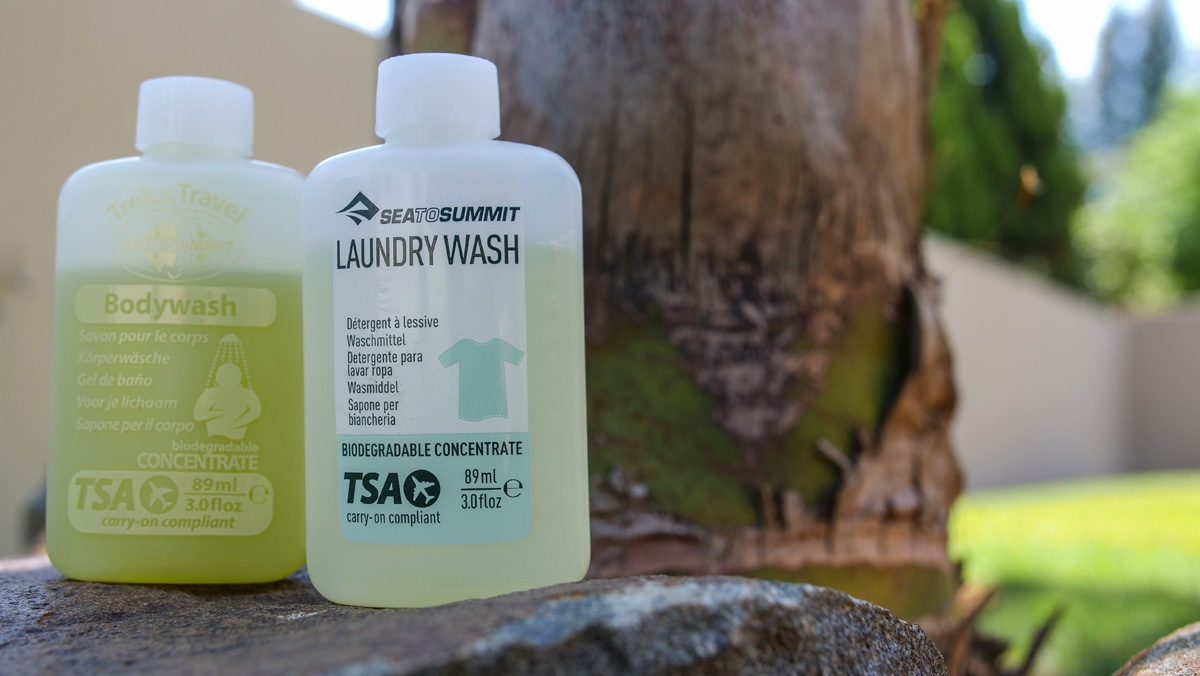 So that was that, everything I needed for my trip packed easily into my bag, and then fitted onto my bike – I was now packed and ready to go!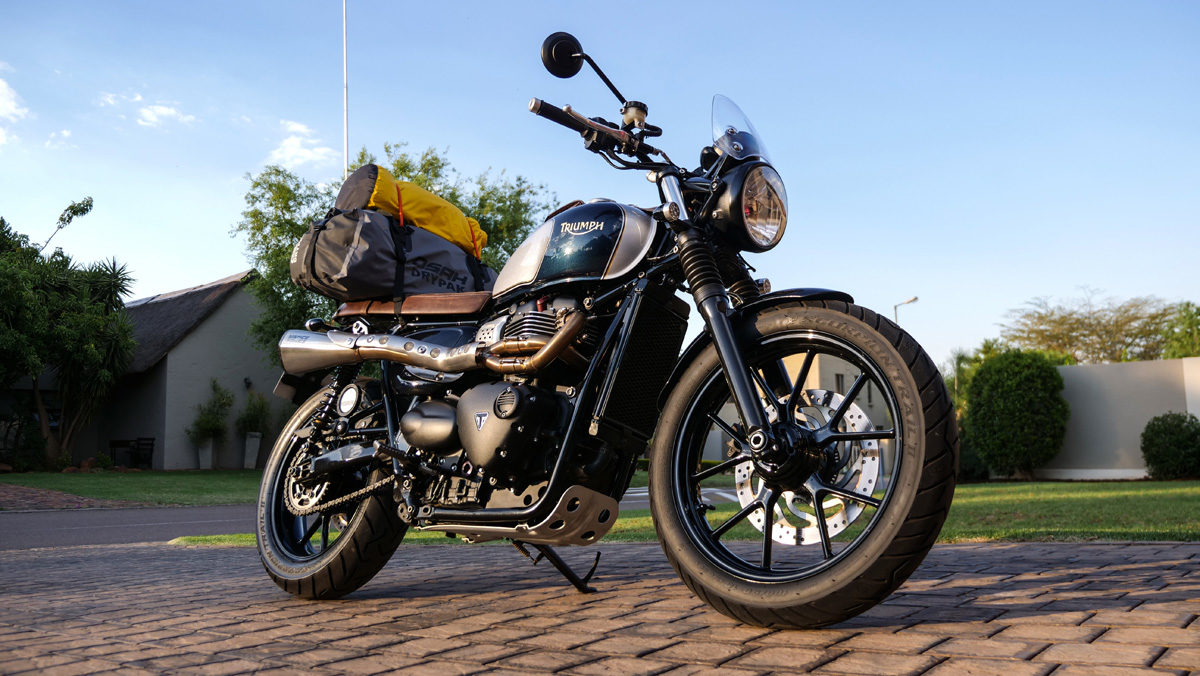 My Impressions
The trip was an absolute blast! I really enjoyed riding around the beautiful roads of Mpumalnga, and riding my bike now with the upgrades on these roads was pure motorcycling bliss.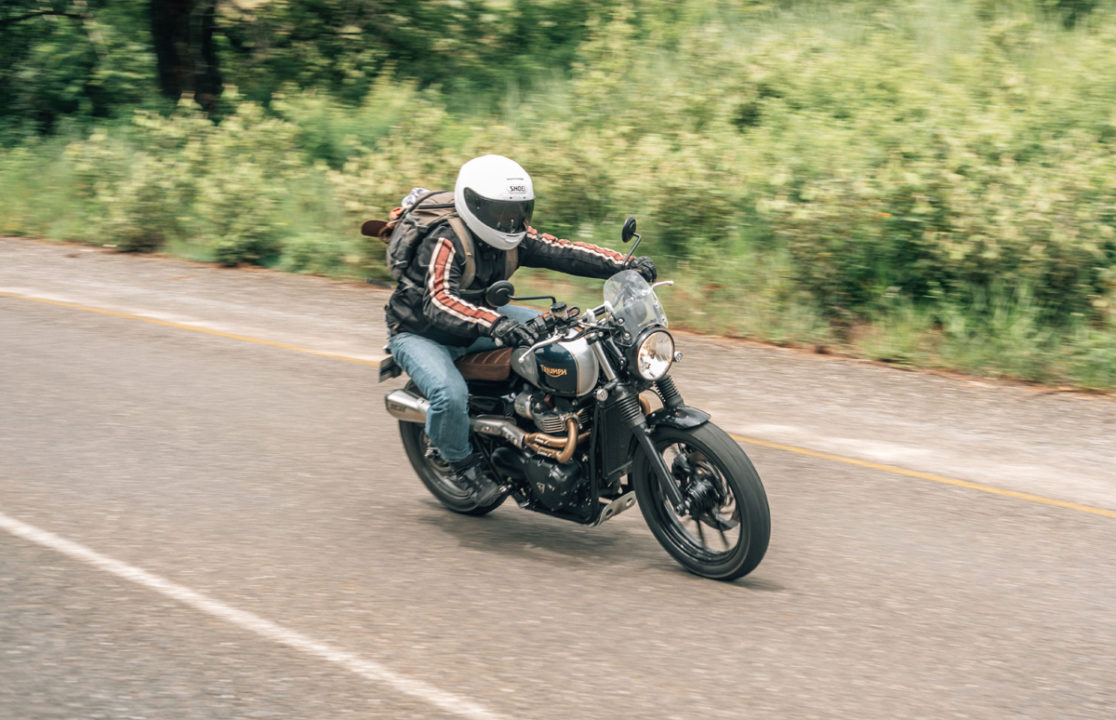 The absolute highlight of the trip for me was visiting and swimming at Forest Falls, which is located near Pilgrims Rest – it was totally epic! All the people who attended the ride were really cool and easy to get along with, and it made for a magical experience.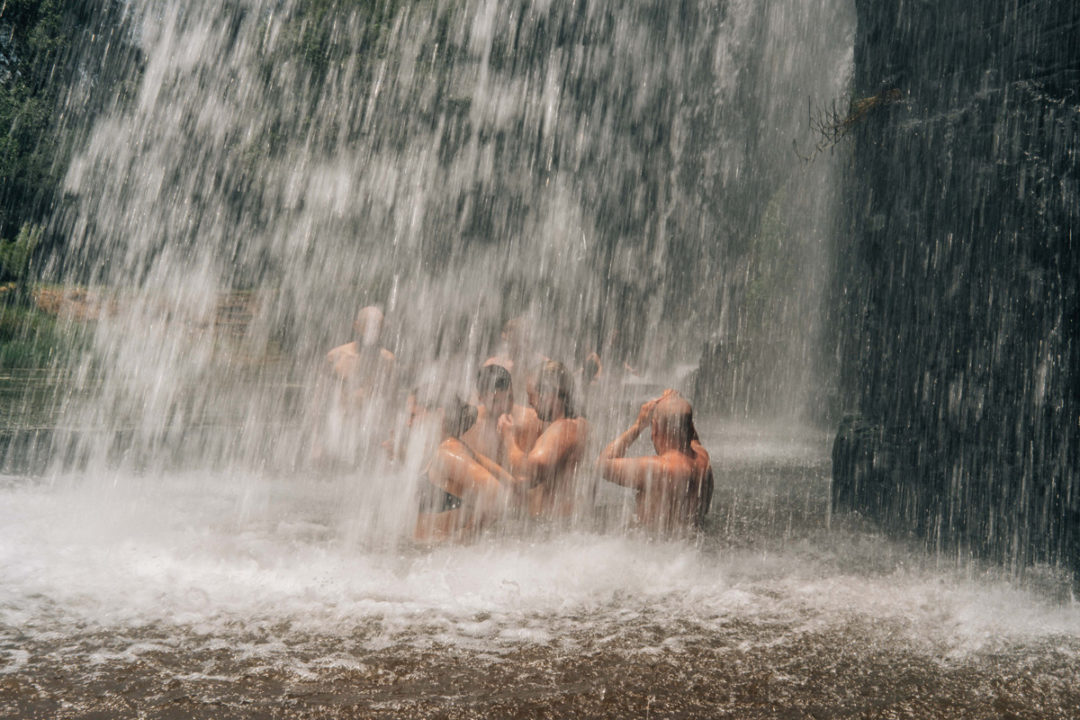 The daytime was spent cruising around the Eastern Transvaal region, at a leisurely pace, stopping at pubs along the way and visiting some of the local hotspots.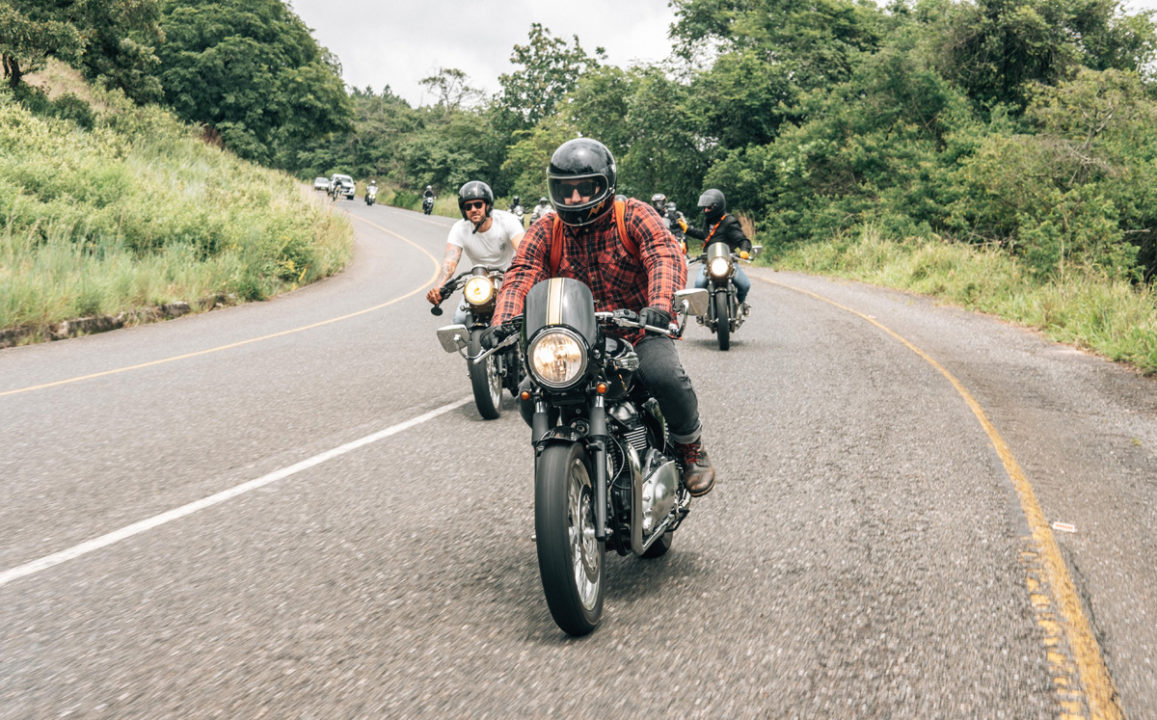 After a long day in the saddle, a quick dip in the pool before winding down for the evening, and then sharing stories of the days ride, whilst enjoying a scrumptious dinner – was a wonderful experience it was.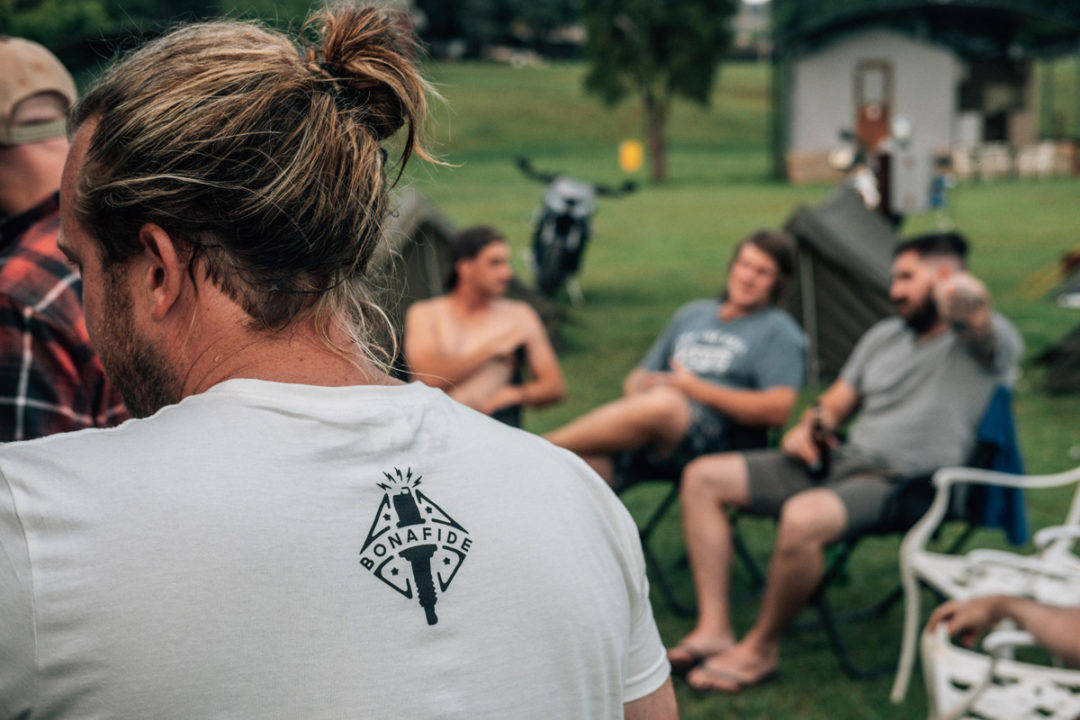 I have to give a shout out to both Richard Harper from Ride Motos Take Photos, and Joe Fleming from So Tall Right Now, as they are masters at taking tracking photos whilst riding on their bikes. I was very impressed with their techniques and skills – Respect!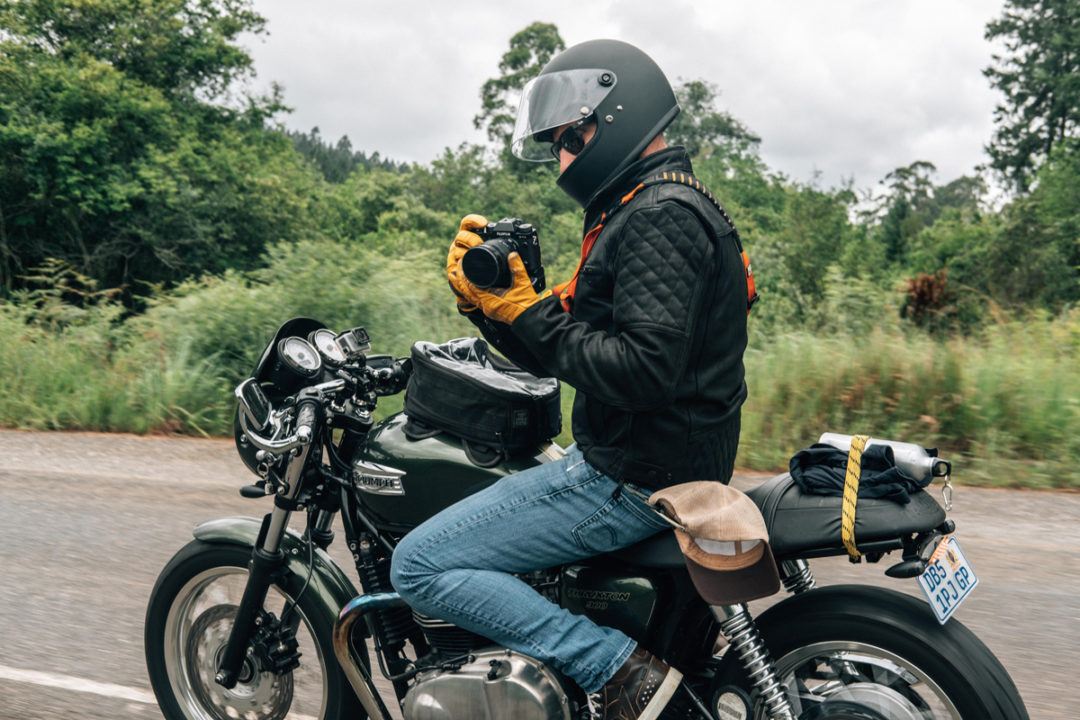 Another memorable occasions for me, was riding Ashleigh's (from Triumph South Africa) Street Triple, and on the famous 22 road. Oh my soul, what a machine!
What I forgot to mention earlier, is that the itinerary had a RULES section, which explained the do's and don'ts of the trip – they read:
"We aren't one for all kind of rules when it comes to the run. Just one simple rule that can be applied to life and will ensure that you're safe, treat everyone with respect, and have a great time…
DON'T BE A DICK"
When I first read this statement it made me chuckle. However, I had to remind myself of this rule, whilst riding over Long Tom pass and overtaking a few slower riders through some of the bends. It occurred to me that I was actually being a dick, so I retracted back to a slower cruising pace. What seemed like a joke at first is actually a very true and clever statement, and I will always remember it going forward through life's journey.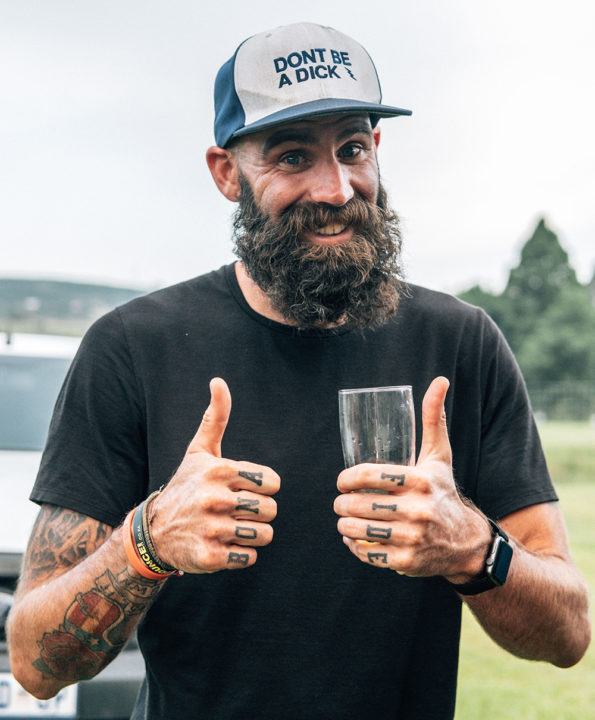 Overall I really enjoyed the trip, and I will be back on one of Bonafide Moto Co's adventures again next year – for sure.
Bonafide Moto Co.
Bonafide Moto Co Adventures? I thought this was the Sabie Bubble Run?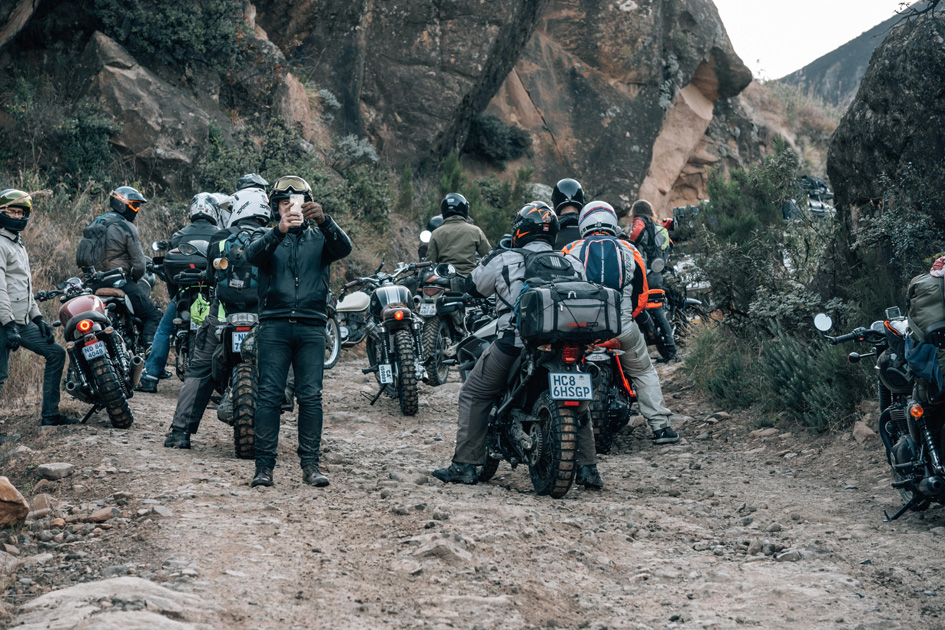 Since the Bubble Run which started in 2014, Joe and his good friend Alan Shenton created a brand called Bonafide Moto Co. which has now evolved somewhat, and offers throughout the year numerous adventures and rider training events – such as; In Search of Swazi Gold, Adventure to Sani Pass, and One Night In the Dirt. Again, these adventures/training events are mainly aimed at classic bikes, but it seems that anyone is actually welcome, you certainly won't get frowned upon if you arrive on your KTM, on the contrary these guys make you feel welcome whatever you ride.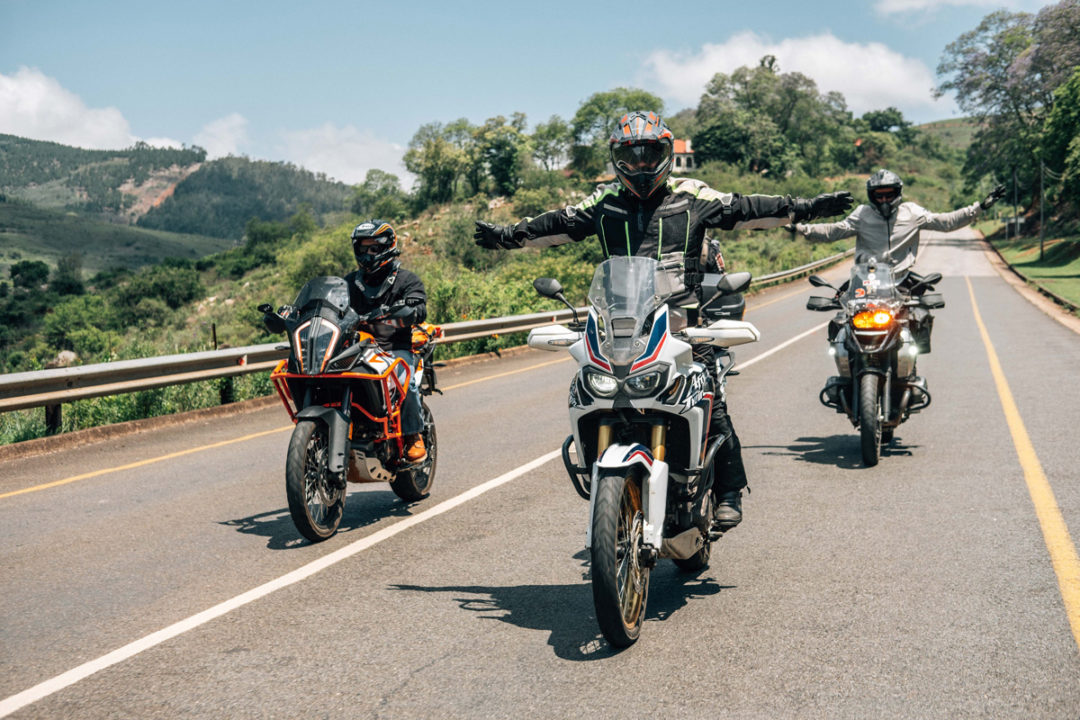 To keep up to date with all things Bonafide, follow their Facebook & Instagram pages below… #HeresToTheNextAdventure