Four countries, 3600 kilometres in just two weeks, a bit of dust and plenty of memories: when a bunch of foreigners decided to come over to Southern Africa for a bike trip, it's just to pay a tribute to your local wonders.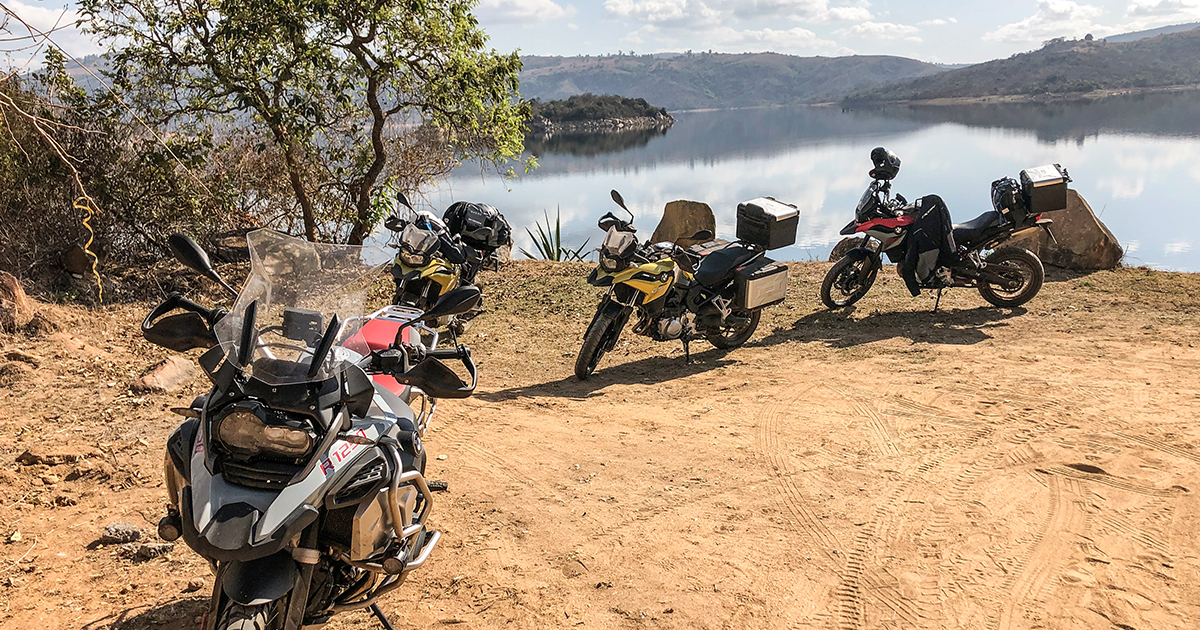 France has its share of socio/political/economic problems and all French people are not always as sweet and charming as they should be. However, I still have to admit that the country I currently live in has some great appeal when it comes to tourism: food, history, landscape, architecture, a certain sense of "Douceur de Vivre" (which can be translated by an evening spent chilling with a glass of wine in one hand and a slice of foie gras over a crispy-fresh baguette in a remote village, as well as an espresso, sipped next to the Sorbonne in Paris) is still appealing for many. But you know the proverb: the grass seems always greener on the other side of the fence.
This is why for a holiday trip with a couple of friends, I decided to come over to South Africa and tour with what seems to be the perfect tool for adventure touring: the latest generation of the BMW R 1250 GS Adventure. For me, it was not terra incognita as I lived in South Africa for 8 years. But to convince a couple of "Africa-virgin" friends to come along, I had to change myself into a tour operator. That was not so difficult as Southern Africa has so many wonders.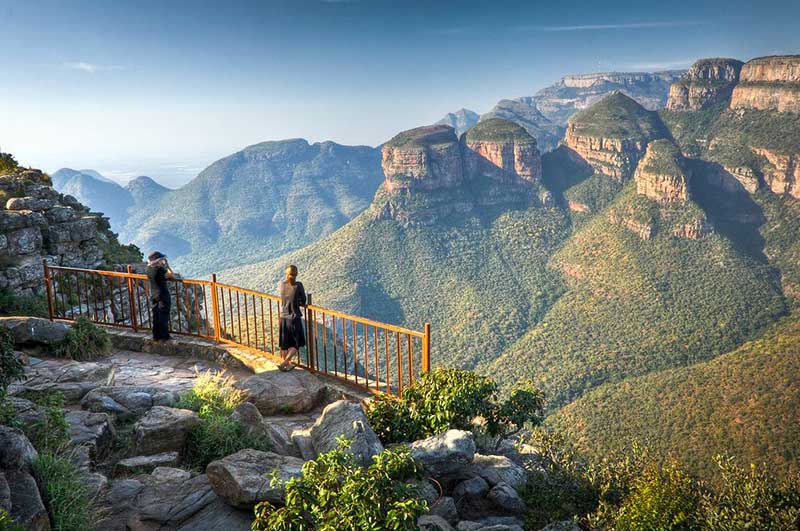 The Cape Horn of riders
Every experience has an apex: for sailors, a world tour has to come through Cape Horn. Cape Horn is not only a geographic frontier and a symbolic barrier: it's also one of those rare places on this earth where sailors have to go beyond their very own limits to get through the Cape Horn.
For Adventure riders, the infamous Sani Pass is our equivalent to Cape Horn. You must understand, my mates biggest exploit, when it comes to off-road riding, was to get over a pavement edge in Paris, so tackling Sani was certainly going to push their limits, for sure.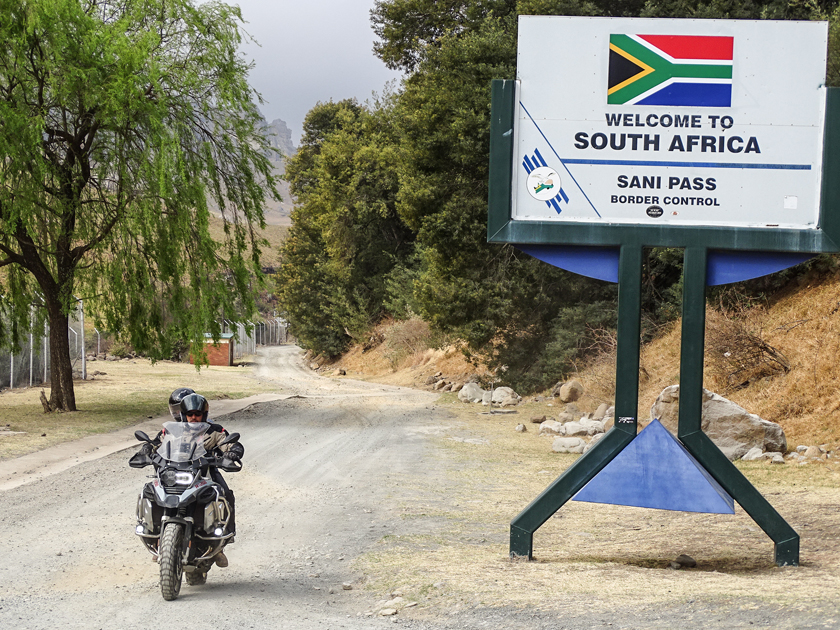 I'm not going to describe how great the Sani Pass is: it has been brilliantly described and photographed on many occasions. My friends overseas had been reading those stories and they were half excited and half scared at the same time. This is why I decided to take it easy: after all, the pass is only around 20 kilometres long. Not a big deal. So we headed off to the South African border post at around 1 pm, knowing that we would have plenty of time to relax, enjoy the scenery, take some pictures and many other things before the Lesotho border post closes at 6 pm.
Sometimes, however, things do not go according to plan. The weather was relatively mild and sunny when we got through the South African border, but it became windy, cold and misty with only 20 metres visibility.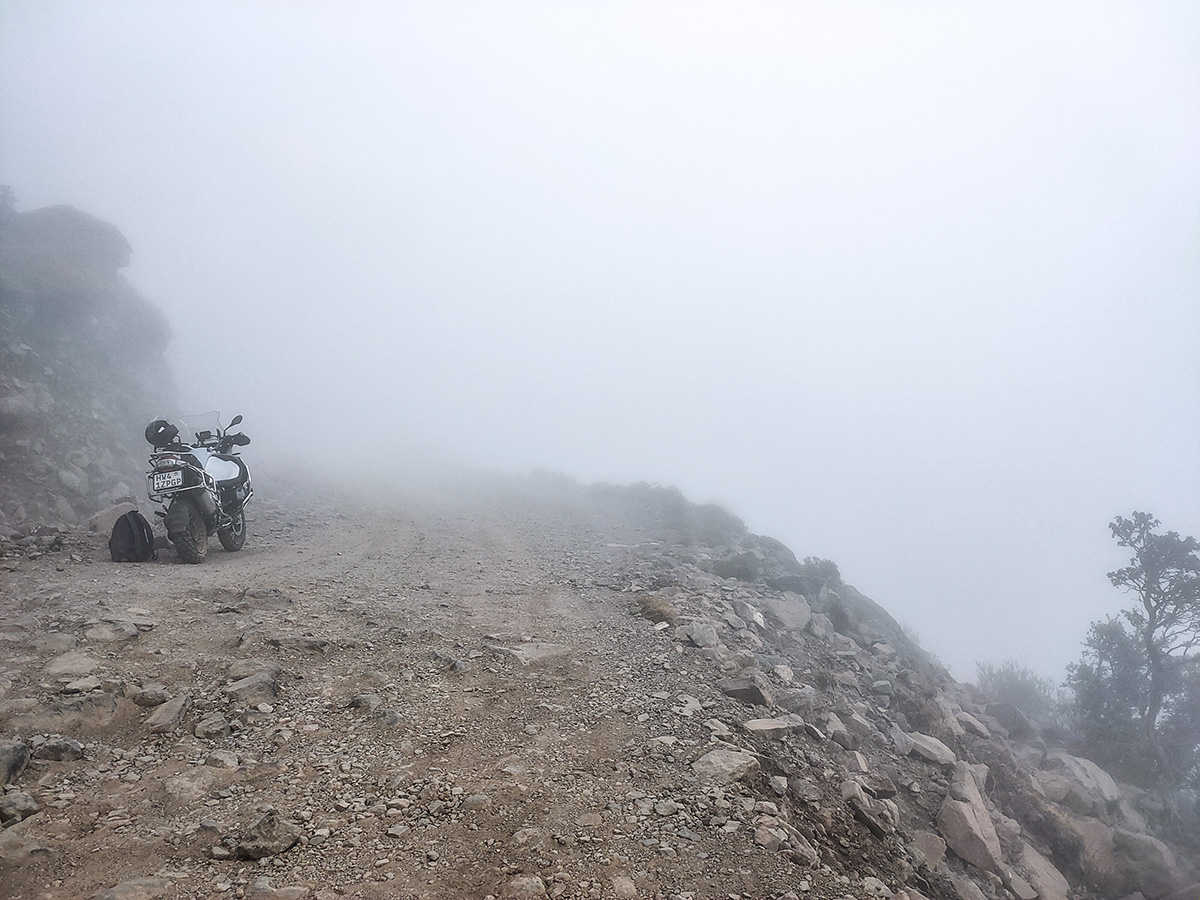 As the rocks became wet and slippery, the faith of the team faded away. This story is not only about Sani Pass, so I'll make it short: we had four bikes and the last one passed the Lesotho border just ten minutes before it closed. The Pass resulted in one really sore leg and one dodgy clutch, this, however, was not enough to stop a dedicated team of French riders to keep ongoing. After a long day in the saddle, the team was ready for a well-deserved night at the Sani Top hotel, it was as friendly and welcoming as we could only imagine.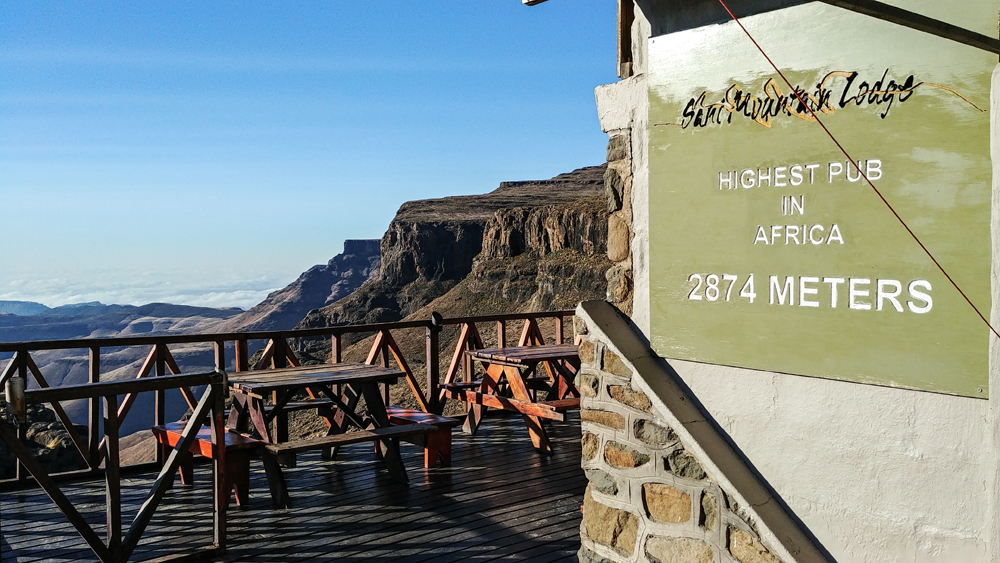 The following day, we went all over and through Lesotho and then spent the night in Maseru, after riding roads over 3400 metres high and admiring remote villages surrounded by pink peach tree blossoms, despite one clutch missing. This did not prevent us from crossing the border, paying toll gates and finishing the first part of our trip near Centurion during afternoon peak hour traffic. Riding bikes is all about dedication.
One world in four countries
To get all these people on the plane, the tour operator (remember: me) had to make several promises. The first one was the promise of culture shock and a sense of disorientation. The second was to promise that every day, we would sleep in a different world. Well, kind of. Some promises are easy to keep, thanks to the natural Southern African wonders. With a daily stretch of fewer than 200 kilometres, our small team of intrepid foreign adventurers only needed a few days to go through the scenic Mabalingwe game reserve, Tzaneen and then head down to Pilgrim's Rest.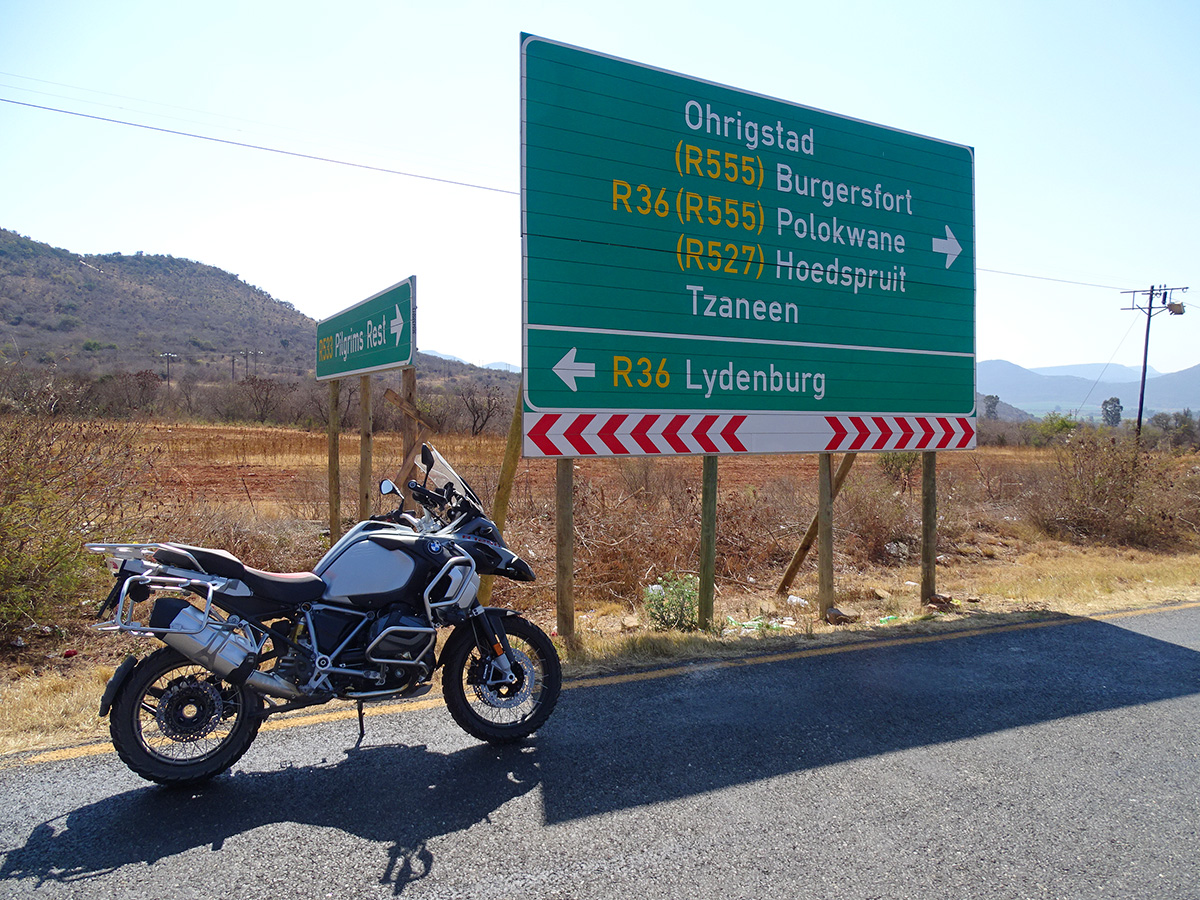 Leaving Joburg in the morning was a bit hectic, but nothing can be worse than Paris at peak hour, so it's with some joy that we discovered that bike commuters have increased significantly over the years and lane filtering seems to be permitted. For Gauteng riders, the Hartbeespoortdam loop seems quite common and probably as tasteless as a Wimpy burger.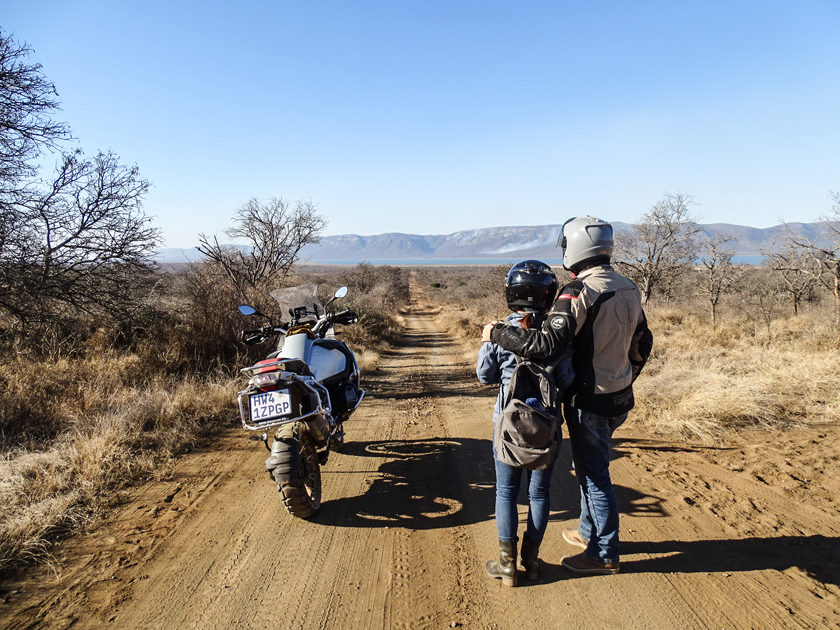 For French riders discovering the unknown, it was just like the promised land! From the delicate hills hosting exotic trees over some typically African red soil to the one-way bridge nearby the Crocodile River, it's a genuine "Out of Africa" postcard just an hour away from the Metropolis. We enjoyed a light breakfast near a snake park overlooking the dam, somewhat choked with water hyacinth. After a coffee refill, our small team of bikers was looking to hit the road back. Africa, here we come.
A proper sense of time and space
Then it was time for the real adventure and the deep, wide, open spaces. Remember how mild and sweet last winter was? That was another surprise for our team, who had some bad memories of rides below 0°C, like yours truly, having once done the famous Elephant rally in Germany. Nothing like that on our South African trip. With daily temperatures between 18°C and 28°C, we need to let you know that what you call "winter" was for us very pleasant. We enjoyed the overall feeling once on the open road.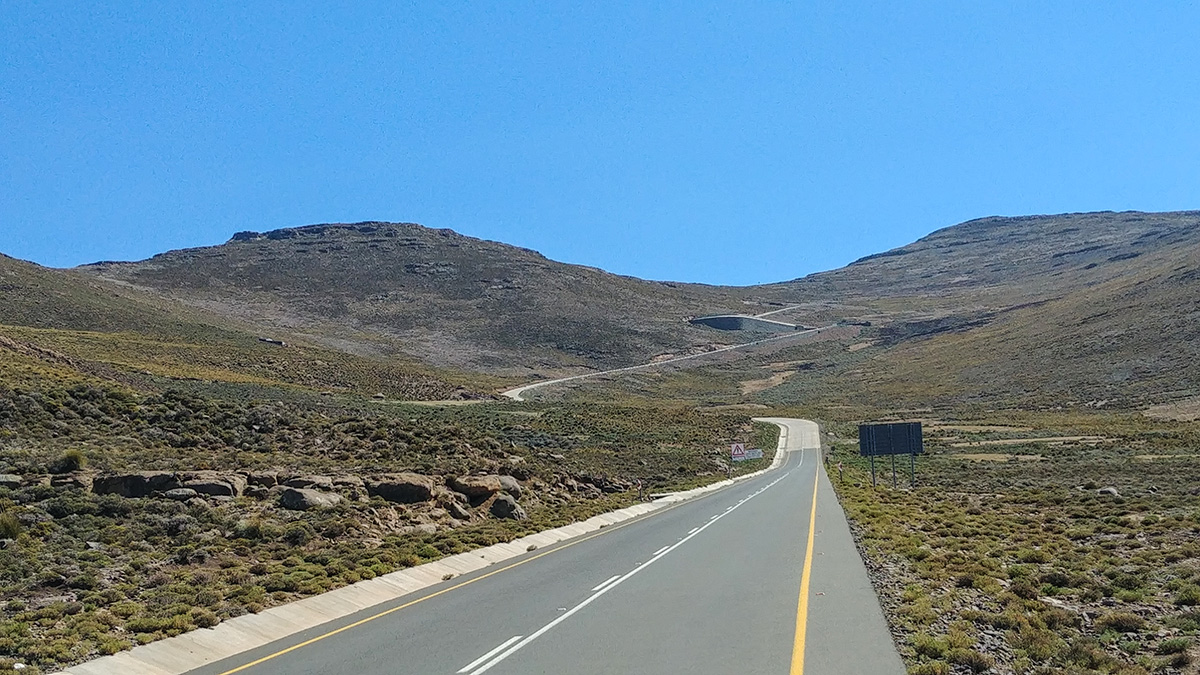 With the ayatollahs of road safety and environmental issues taking over in France and many western countries, the pleasure of riding starts to fade away, between the new 80 km/h limitation on many main roads, various fines, speed traps, average speed limit cameras, the prohibition of riding your bike in some city centre (if it's too old), means that you have got to head out to very remote areas in France to find some riding pleasure.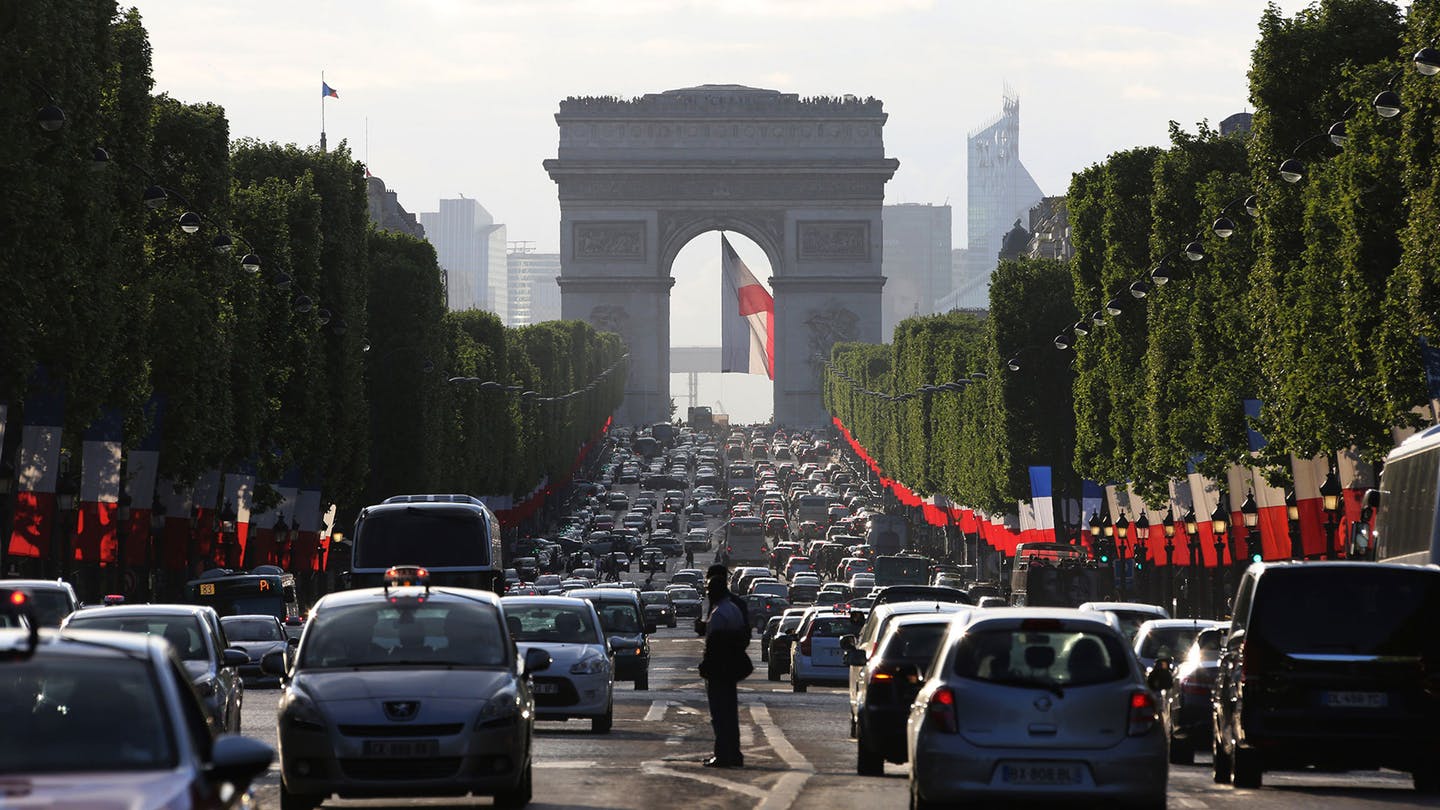 Riding pleasure is not only about speed; we spent most of our trip cruising a bit below the legal speed. Riding pleasure is about the moment, the camaraderie, the feeling. In Southern Africa, it's also about the people, the roads, the landscape, the lights, the smell, the game and the overall diversity.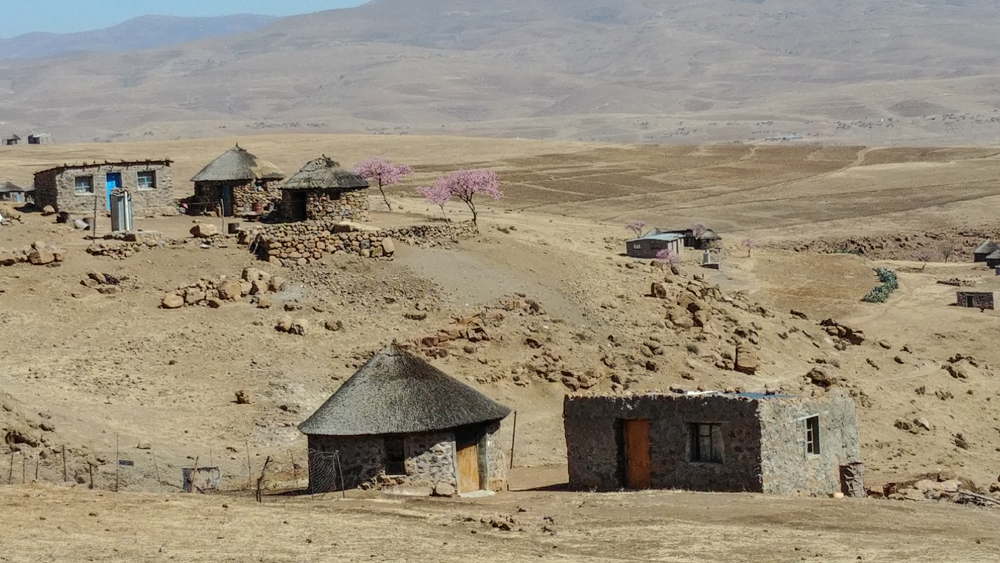 It's about opening your eyes and your nostrils and trying to print the biggest proportion of what you get in your brains forever. Memories that can last as long as you cherish them: sit back, relax, close your eyes and you suddenly find yourself in a giant and animated postcard shop: that's why motorcycle touring will always be superior to car travelling, as your five senses all contribute to some unforgettable experiences.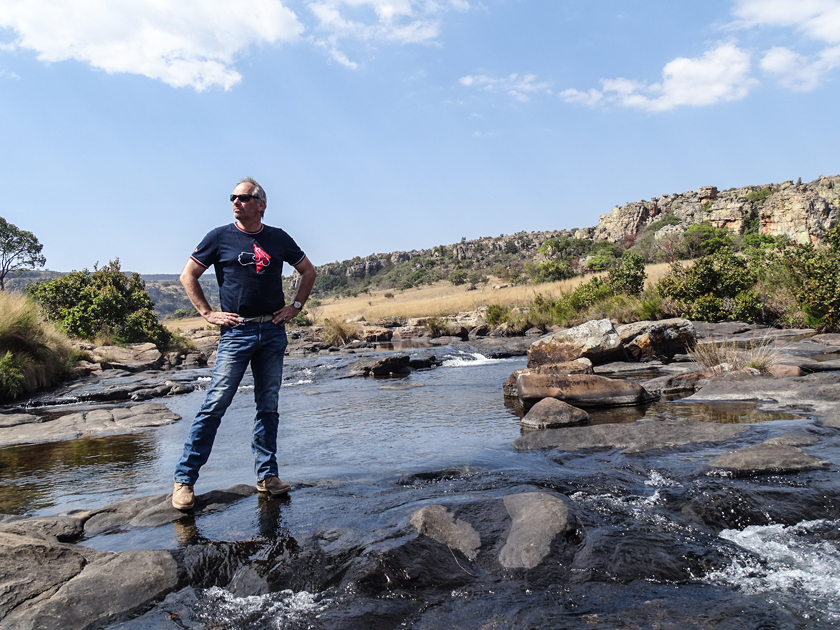 Then, if it's too much work to classify them, let's take them all. What about riding near some ostriches down a fence, in the Northern Province. Finding an awesome restaurant with just a few tables on a river bend, just before the Blyde River Canyon? How about stopping the bike on the hill above Pilgrim's Rest and enjoying the warm sunset over the old steel coloured roofs? How about taking one extra day of pure riding pleasure, experiencing the hundreds of corners in the "magic triangle" of Sabie, Hazyview and Graskop?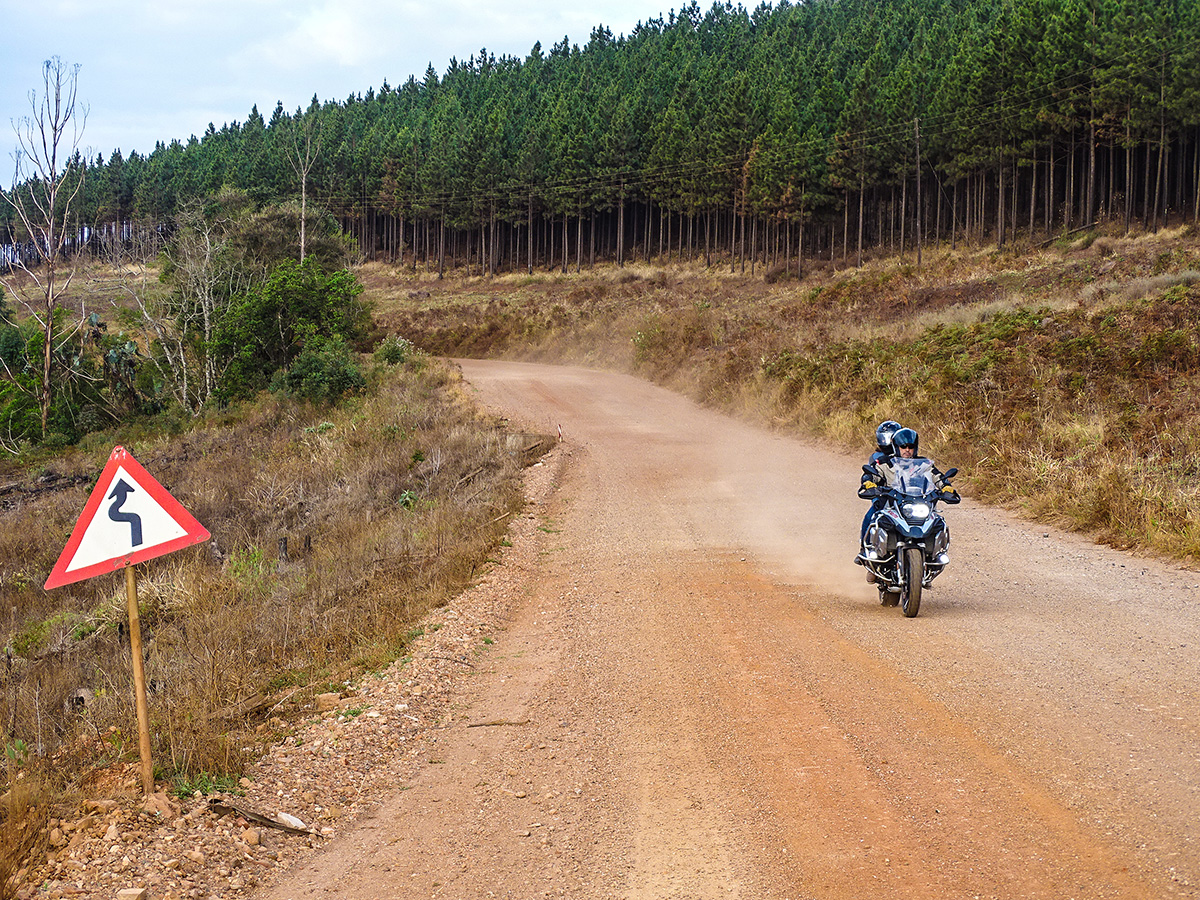 How about getting through Swaziland on a nearly forgotten mountain pass? How about checking the hippo which is supposed to live in the Maguga Dam? About experiencing the Mozambican officials legendary "efficiency"; and then trying to find your way at night riding in Maputo as you still don't know why you spent so many hours stuck at the border?
How about, two days later, enjoying some sand riding near Macaneta? How about, a few days later, riding carefully through the Pongola Game Reserve and seeing your path crossed by animals?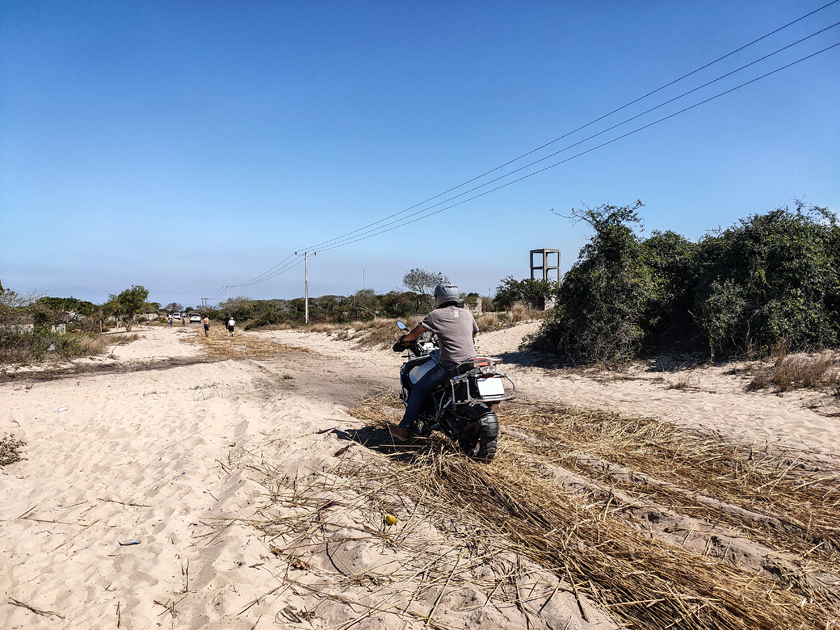 How about spending a few days in Durban and feeling the atmosphere of the Indian ocean?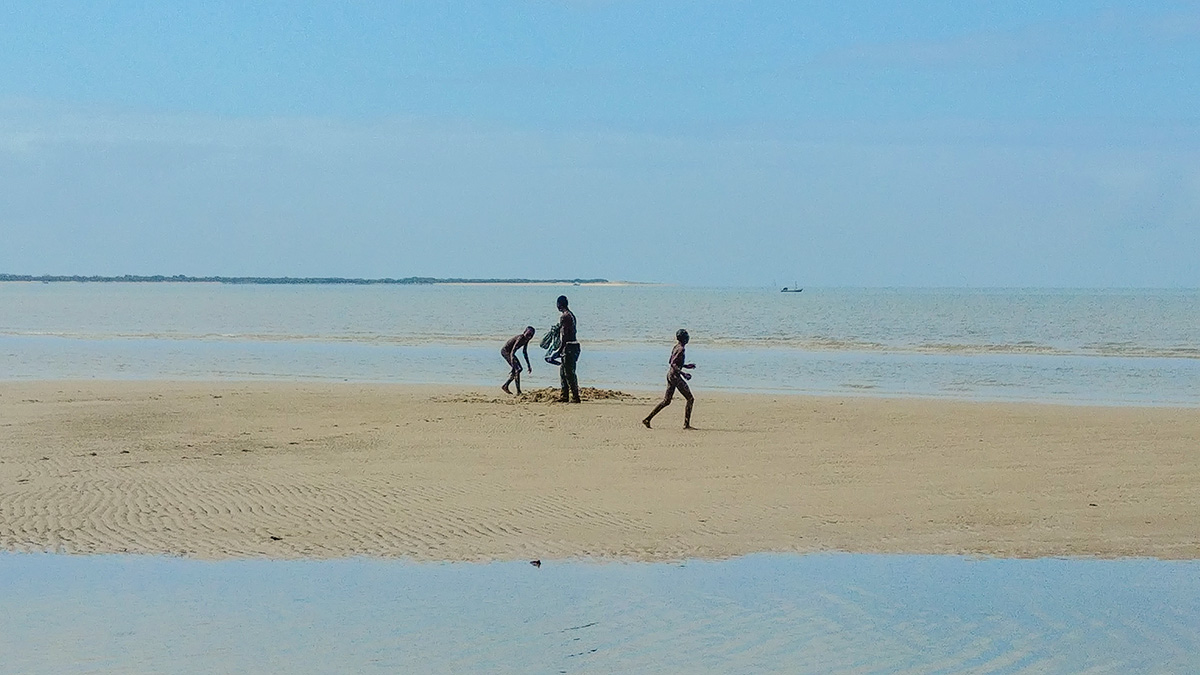 And how about getting the strength to get up the infamous Sani Pass, expecting that the group will all make it?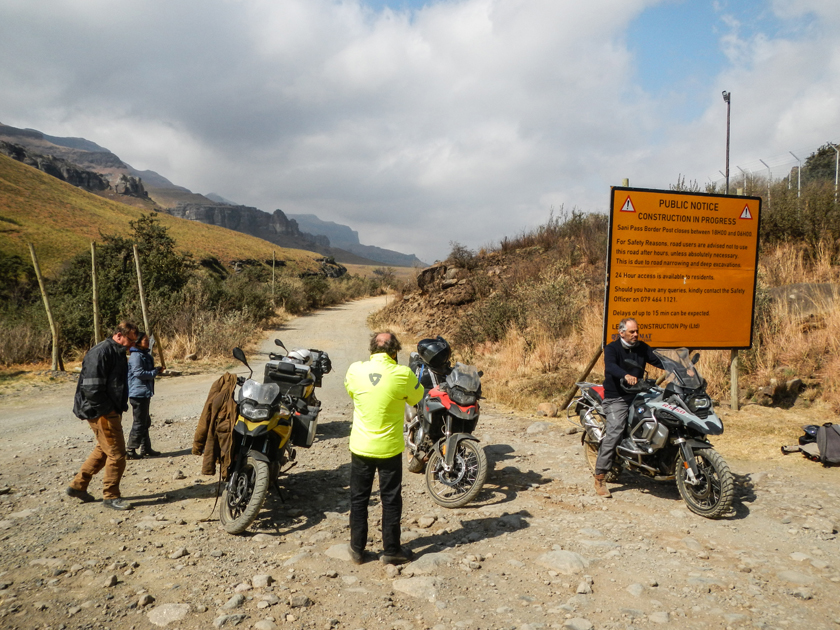 For our fellow South African riders, all the above might look like another day at the office. For us, it's a "trip-of-a-lifetime" where every day has its own sense of time, people and space, a whole story of friendship, sharing adventures and biking pleasures.
650 kilometres on one tank
I forgot who once said: Travelling is not about the destination, it's about the trip. That may be right. But it's also about the bike, the way it handles it. BMW's worldwide second best seller is the R 1250 GS Adventure and nothing can unite the words "Adventure" and "Africa" with the same determination. More than a motorcycle: it's an experience.
Strong. Big. Bulky. Powerful. Equipped like many cars would dream. The adjustable windscreen and wind deflectors do a great job, and whilst being tall, I can still tour with an open face helmet, in order to enjoy the fresh air and the smell of the African vegetation.
The latest generation of 1250 cc engine is just a peach. During the whole trip, I've certainly never been in need of 136 hp, but riding two-up, the smoothness and the constant torque availability made it the perfect companion for such a trip. No need to switch into the Dynamic riding mode, the Road is powerful enough and very smooth on the long run. Gear changes are kept to a minimum effort – and when it's needed, the gear shift assist helps. The comfort is top-notch under any circumstances. On some remote roads, I discovered the potholes can now host a family of ostriches, but the R 1250 GS Adventure suspension can still cope like a magic flying carpet!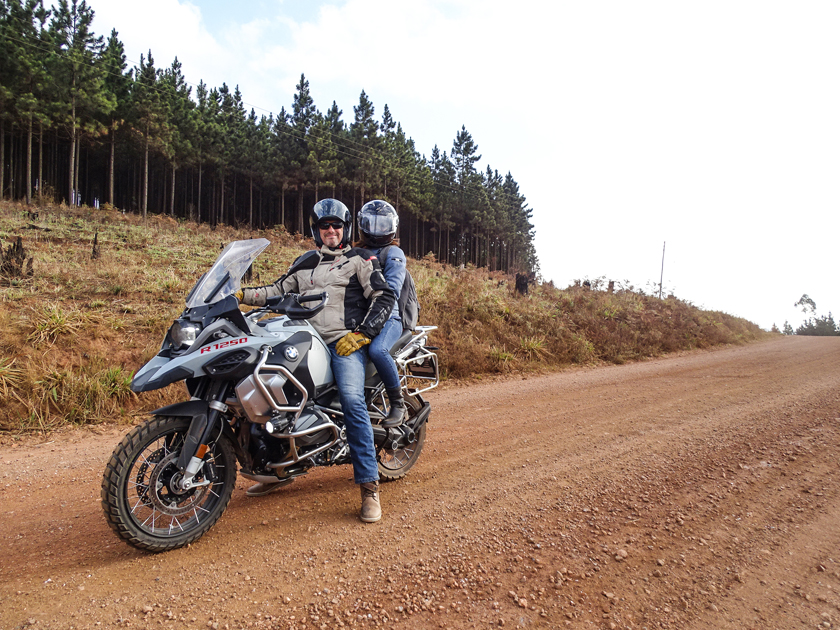 Another benefit of such features is the fuel range. Riding two-up at a very relaxed touring pace, the fuel consumption was 4,7 l/100. After more than 30 years of motorcycling, I've never had this experience, refuelling the R 1250 GS Adventure, the on-board computer tells me that I can ride over 650 kilometres before the next fuel stop. That can be useful in some very remote areas, like riding up through Mozambique, or down from Morocco to Senegal through the Western Sahara and some parts of Mauritania, as I did on some previous trips. Not that such a fuel range was much needed in my Southern African trip, but refuelling every second time, compared to your teammates F 750 GS, was quite funny.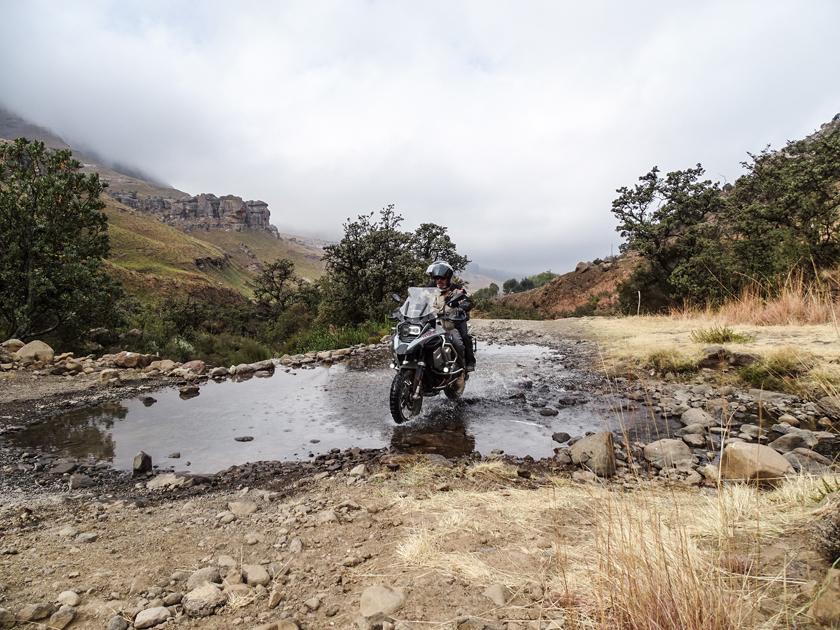 So, after 3600 kilometres in two weeks, it's time to decide if the ultimate GS is the perfect bike for the trip. The answer is just yes: comfort, engine strength and smoothness, chassis balance, and many other things are just fantastic on the long run, as it gives you that peace of mind and stress-free confidence, knowing you will get on the road day after day. Just bear in mind that when it comes to some adventures, such as sand riding or off-road mountain passes, the size and the weight of the machine requires some riding skills, some long legs can also help for this. On the other hand, the 1250 was easier to get to the top of Sani Pass than the 750: better balance, better suspension, and better low-down torque and grip made it a successful and rewarding ride!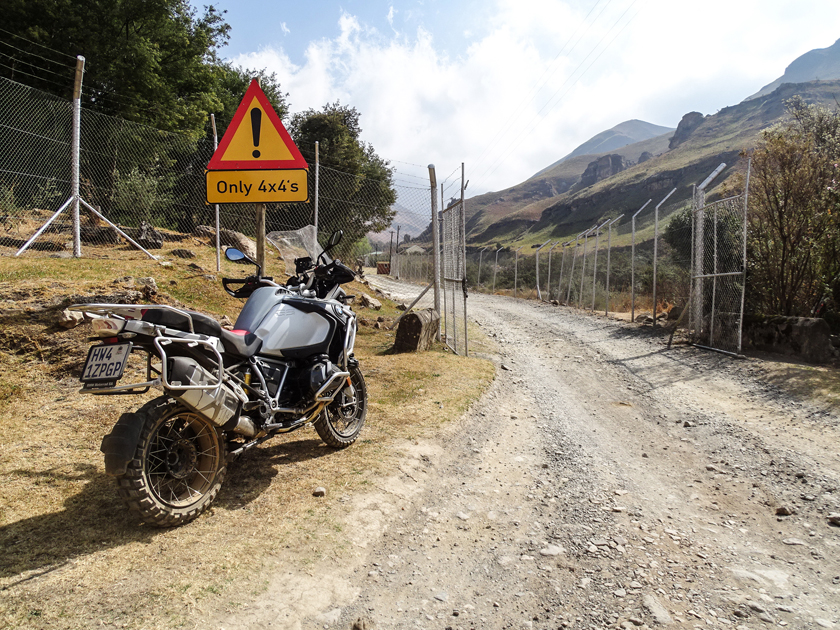 The big GS not only conquered Sani Pass, but it's a success everywhere. In France, they also sell like hotcakes. In France in 2019, 3420 R 1250 GS and 2454 R 1250 GS Adventures were sold. On a daily basis, I see many of them commuting between piles of cars. I can't keep smiling, because I know what they are missing out on…
Acknowledgements: many thanks to BMW Motorrad South Africa for the loan of the R 1250 GS Adventure, which was the perfect companion for the trip! and many thanks to BMW Motorrad France, for helping me arrange this.
I would also like to thank Supertech BMW Motorrad in Pinetown for their excellent service and ability to promptly solve a tyre issue during the ride.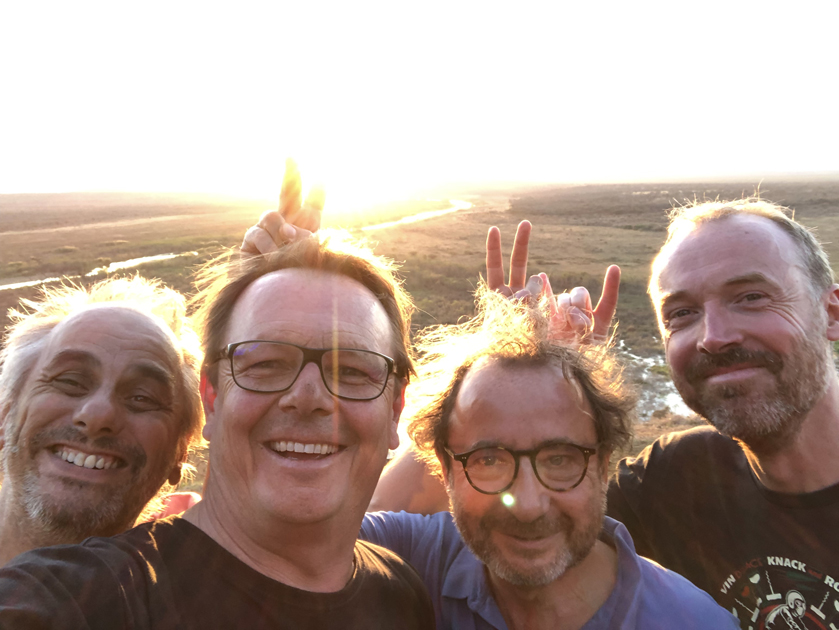 You do not realise how amazing your country is for Adventure riding, to all you local bikers out there – I urge you to get out more and experience the magic that you have right on you're doorstep.