It's midday and I'm riding my Triumph Speed Twin south out of 'The Big Smoke'. Only going as far as Clarence, in the eastern Free State today, hence the 'late' departure. Those that know me will tell you that I favour early starts, when the air is crisp and cool and the motor sings a sweet melody as you lay down 300 k's before breakfast. Today I wanted the weather to show its hand. We have had a wet summer, so rain on this road trip is almost a certainty. Not an ideal time of year to be on an essentially naked motorcycle. All good at the moment, cloudy, but, as my old Mum used to say, "enough blue sky to make a pair of breeches for a bow-legged sailor". I'm travelling down the N3 as far as Warden, where I plan to climb off of the freeway to Bethlehem. As is often the case, my mind wanders to another day and another time where I was also on a naked bike heading to Durban.
Back in '76, I rode my Honda CB750 F1 from Pretoria. The plan was to leave early and meet up with my buddies Joe and Roy, in Durban. They had spent a few days partying in Durban. Both owned new GL1000 Honda Goldwing's, which had been fitted with clubman handlebars to make them more suitable for high-speed riding. My F1 was as yet unfaired but fitted with clip-on bars. I arrived in Durban mid-morning, had a quick bunny chow with the guys, then we all rode south out of Durban. The plan was to ride to PE, where we would shack up with Roy's sister for a day or two before going on to Cape Town. What transpired was the hardest day of riding in my life. The road through the then Transkei was not the greatest. Domestic and wild animals wandered along the unfenced roads, making progress sometimes slow and dangerous. We eventually rode into PE at 10 pm. I had been in the saddle for over 17 hours and ridden more than 1750 k's.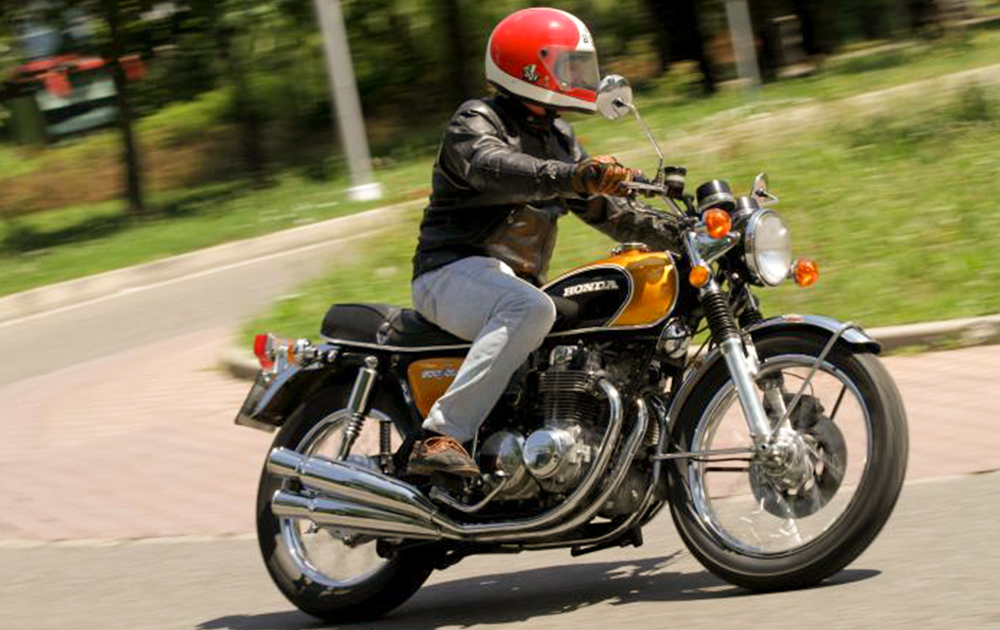 This trip was my inspiration for riding the Speed on this occasion. In the spirit of 'Run what you Brung', where the bike you rode was the only one you owned. All was well with the world as I scudded towards Warden. I had a brisk, skirt lifting tailwind pushing me along. A fill-up revealed consumption of over 26 Km/L on the 1200 Twin at a steady, and pleasant for a naked bike, 135 kph. Just before Warden, I donned my rain suit after a few warning drops splattered onto my visor. The skies towards Bethlehem became almost apocalyptically black and threatening. I rode straight into the eye of a monstrous storm. It was a virtual white-out for ten-odd k's, before abating slightly into a steady heavy downpour. I cannot lie, at that moment I seriously missed the weather protection of my GS Adventure. But hey, this is how we rolled in the '70s! Potholes presented a big challenge as they filled with water and became indistinguishable from the sodden tarmac. I got through Bethlehem and on to Clarence, where the rain had faded to a light drizzle.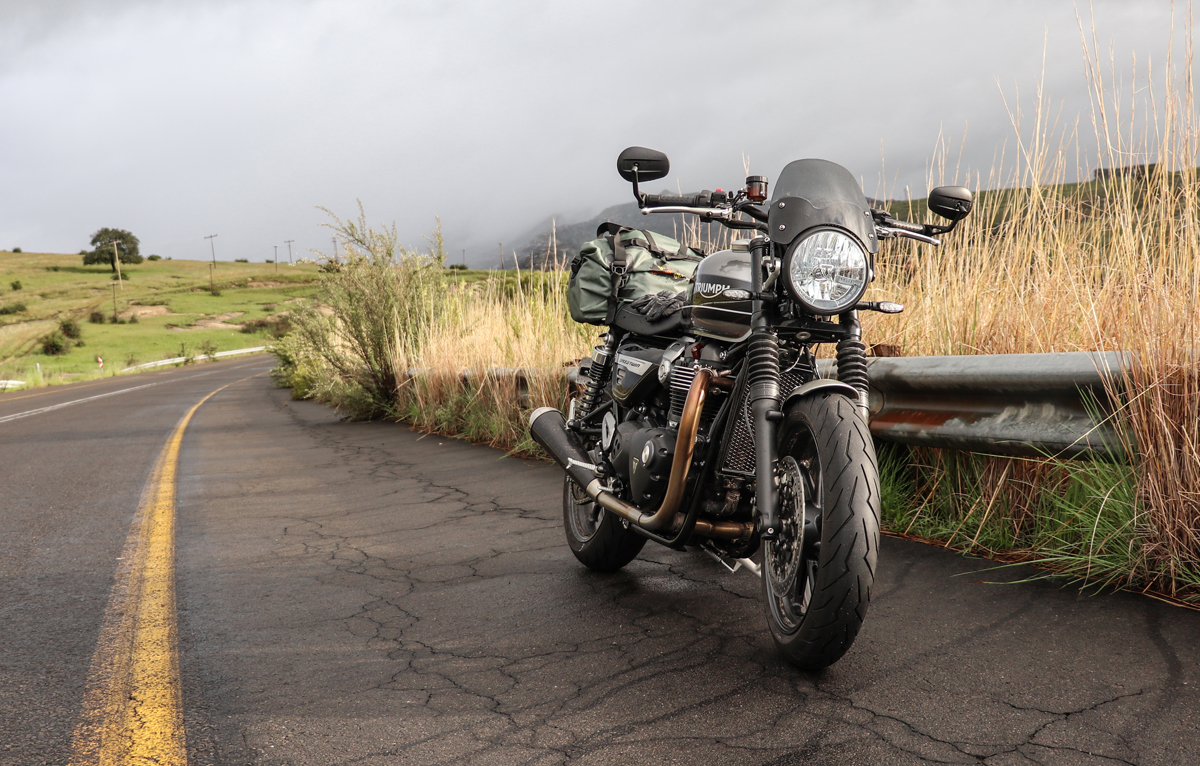 I pulled in to my mates Joan and Barry, where I was watered, fed and rested in five-star fashion. Huge thanks guys! 6 am the next day I was on the road again, leaving in the drizzle, which gave way to intermittent, bright, early morning sunshine which shone like pearls off the sodden mountainside to Fouriesburg. The rivers and flatlands resembled lakes as the three days of solid rain-filled every farm dam to overflowing. What a country we live in. Like life, we go through times of extreme drought and then God's providence restores everything.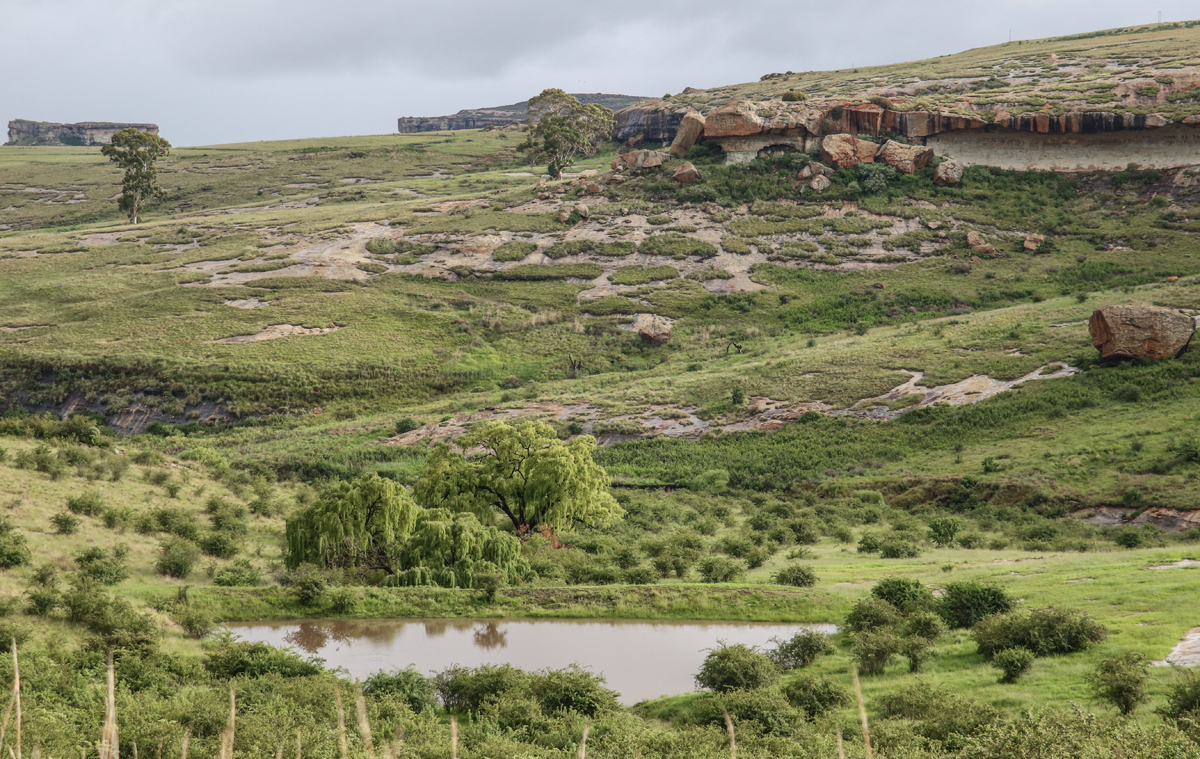 I hugged the Lesotho border on the tourist Moluti Route. The scenic splendour is marred only by the appalling state of the road and once-pristine rural towns. You don't just keep to the left on those roads, but rather ride on what is left of the roads! All courtesy of a vile and corrupt government. Rather than benefit the 'Previously Disadvantaged', they have stuffed it up royally for everyone. Oh well, 'Only in Africa', as the saying goes.
Once free of the mountains, I joined the N6 at Rouxville, having survived kilometres of bike eating potholes. The national roads are still good, so I made up for lost time as I gave the big twin its head, running hard and fast to Aliwal North for brunch. The road to Queenstown undulates and sweeps across beautiful countryside, made all the more spectacular by an endless blue sky. Dropping down the mountain into Queenstown brought oppressive heat, worsened by a huge traffic jam, almost the length of the town. The cause soon became apparent, as I threaded through the logjam of vehicles. A dude was simply changing his flat wheel in the middle of the road. Go figure.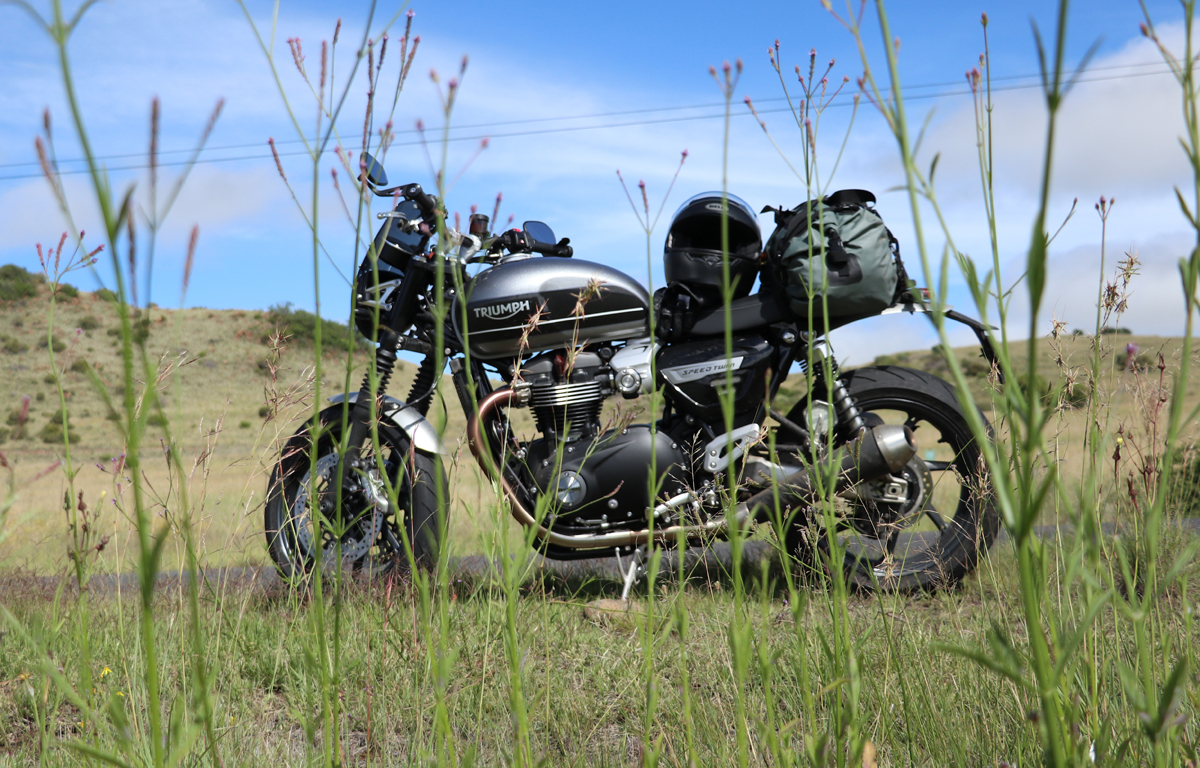 As I neared the coast it clouded over once again and sneakily, without any warning, just before Stutterheim, absolutely dumped on me. It was too sudden to suit up, so I just jumped on the main jet and rode through it. In the last hour or so to East London I sort of drip-dried before reaching my destination, Glen Navar, overlooking Queensbury Bay, a popular big wave surfing venue. It was great catching up with family again over Christmas.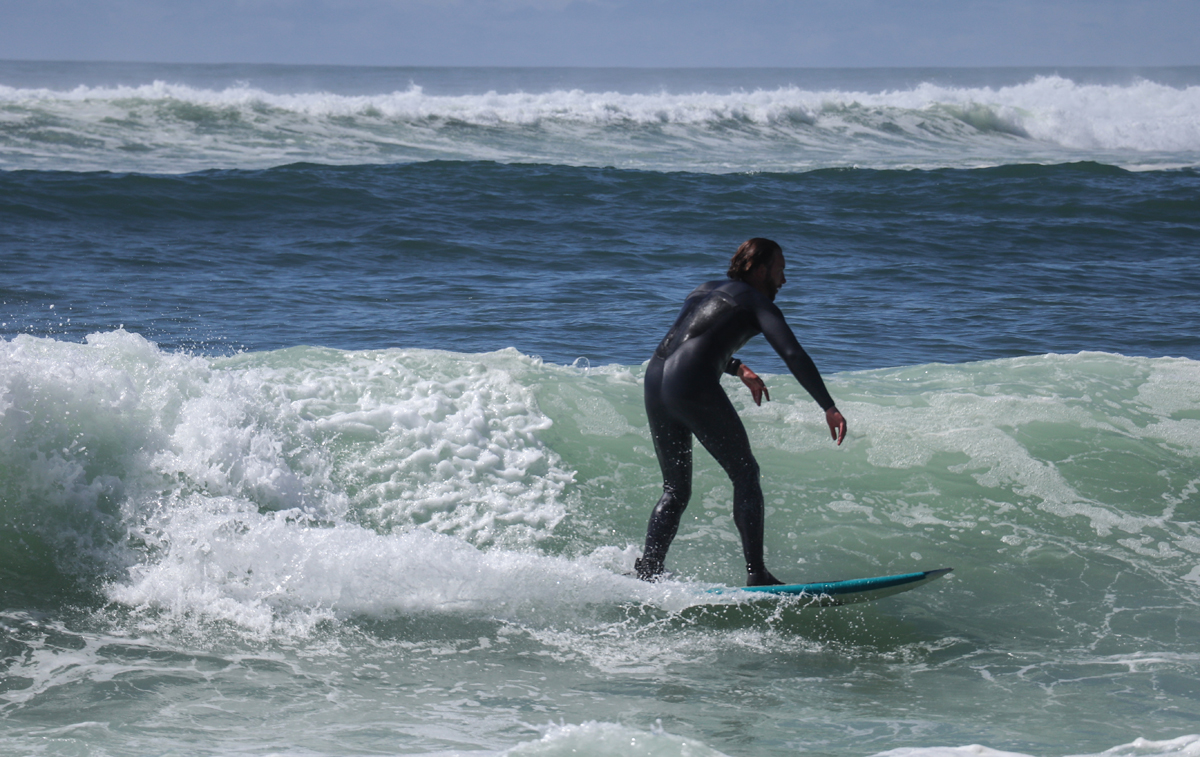 I took time to bath the Triumph and use my homemade back wheel prop to lube the chain. A spit and polish with that wonder substance, WD 40, had the beast looking spectacular again. Stubborn chain lube wipes off effortlessly and the WD 40 leaves a glossy lustre on the paintwork. Always good to use after riding in the rain for any length of time as it dispels moisture and leaves a protective film.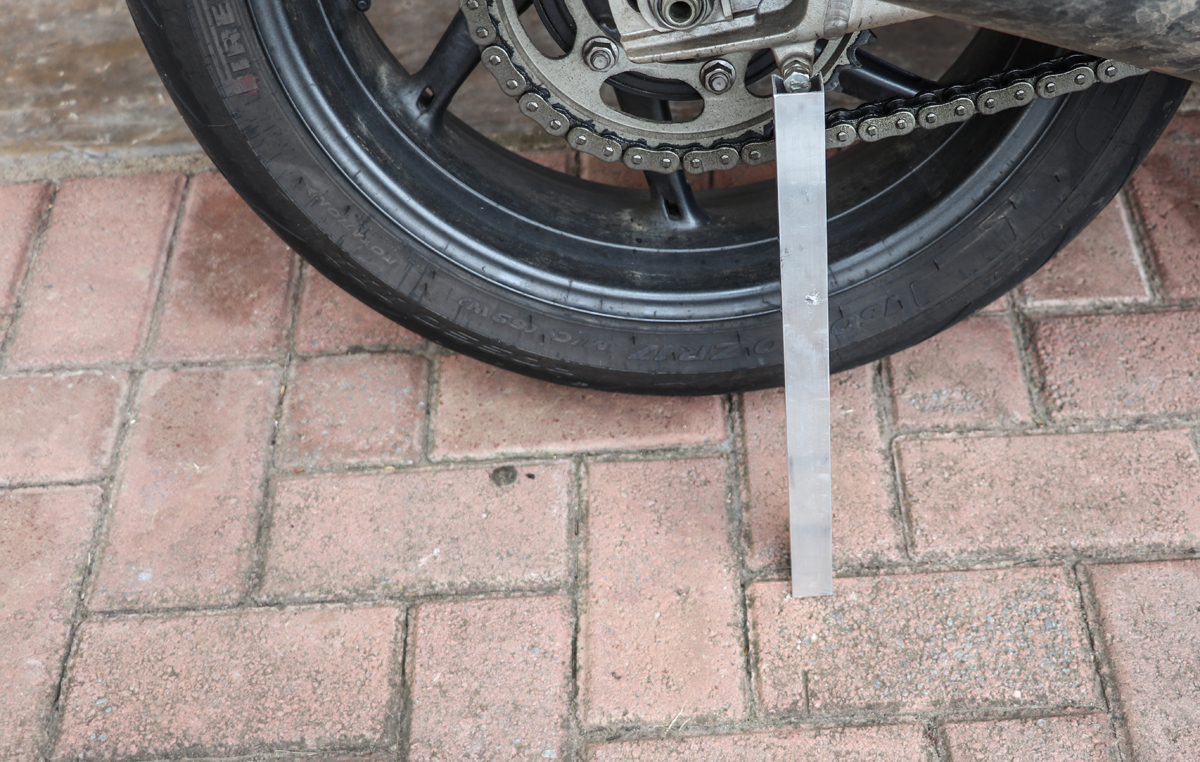 All too soon I was riding out at 6 am on the homeward trail. The plan was to ride home in one day, so I decided to stick to the highway, in the interest of covering distance safely and speedily. The weather forecast was favourable for the whole journey, for what it was worth. It was bordering on too cool with my airflow jacket, but not quite cold enough to put on more layers. The ride to Queenstown was sublime. Endless green and stunning landscapes through Cathcart and beyond. I was well past Aliwal North before it got seriously hot, approaching Bloemfontein, where I stopped for brunch. A pumping headwind was playing havoc with my fuel range, requiring top up's every 250 k's, which bumps up your overall travel time.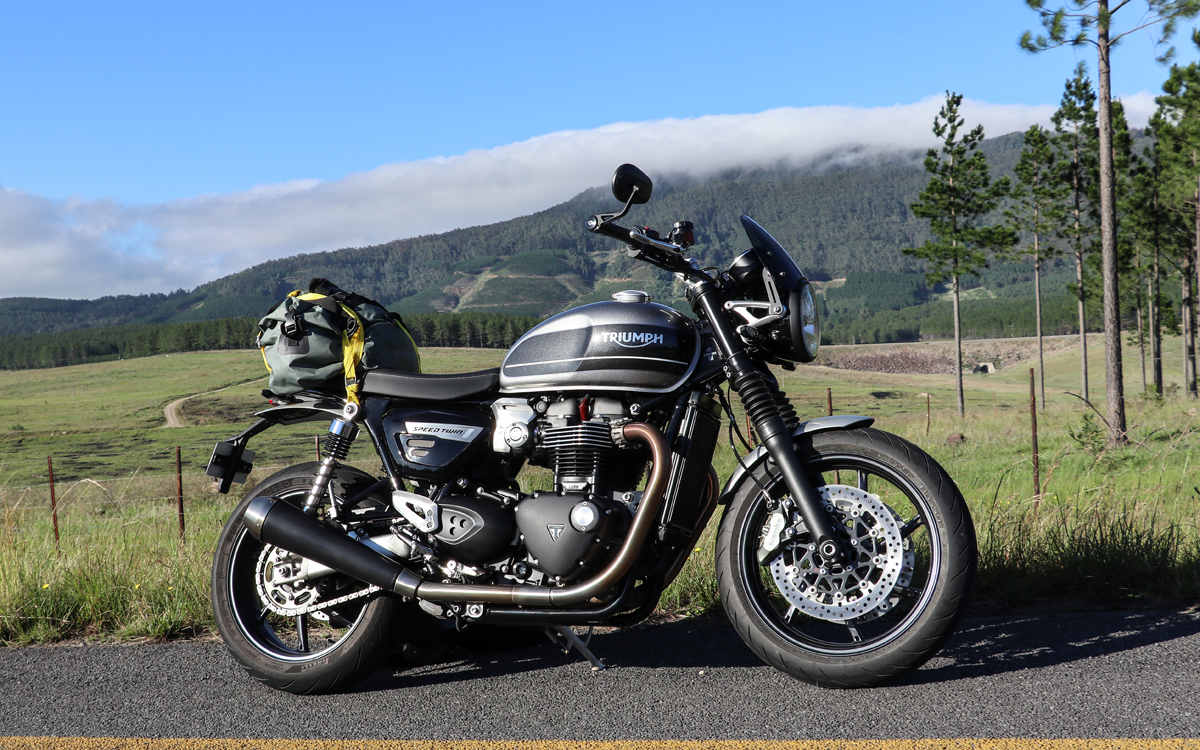 At the Grasmere Toll Plaza, I put on my rain suit jacket and pulled the splash cover over my backpack. The roads were wet from a passing shower, which threatened rain up ahead. As it turned out, the rain never materialised and I rolled up to my house with 1053 k's on my trip meter. A solid days ride on a naked bike. The next day, after sleeping the sleep of the truly weary, I cleaned my bike and all my riding kit. Reflecting on the ride and all the quality helmet time, I was once again reminded of the incredible allure that motorcycle road-tripping holds for me. The freedom and uncertainty that open road riding brings are both intimidating and intoxicating. For a time, Covid and all the uncertainty that we have had to endure in 2020, got kicked into touch, drowned out by the thunder of a big booming twin.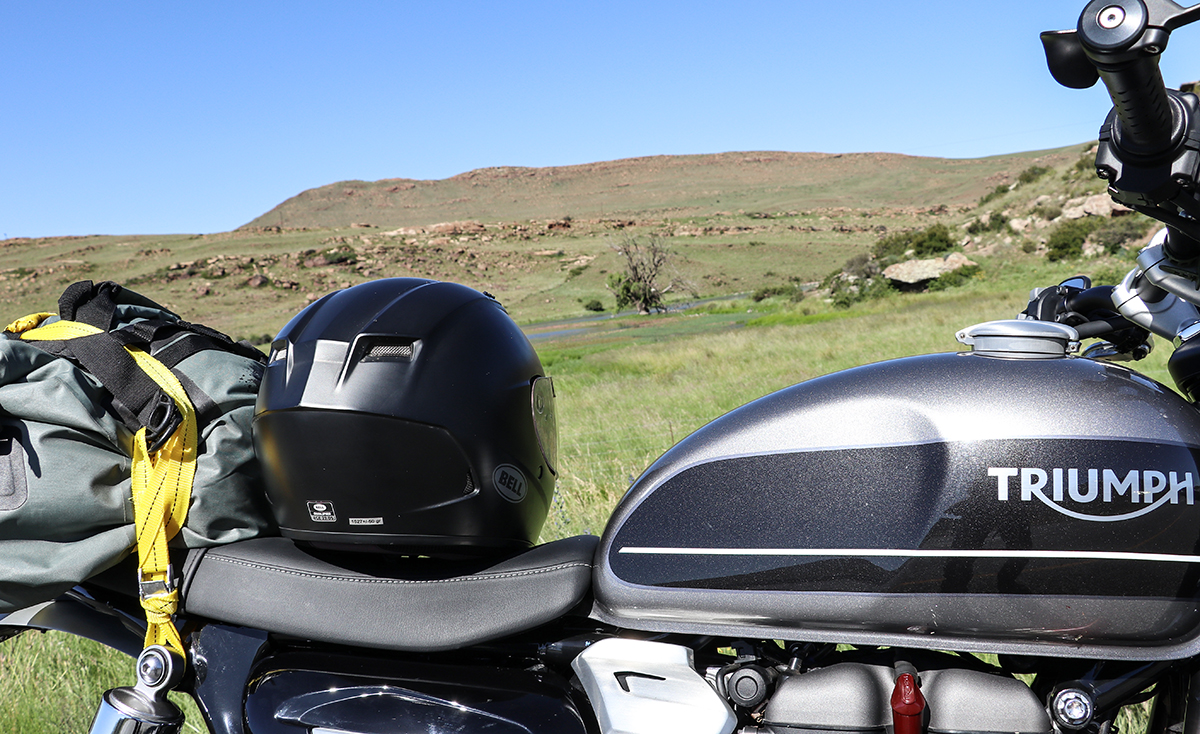 As for the big booming Twin? I can't say enough. Hook sixth gear and go, cruising on a wave of torque that always leaves serious punch in reserve. A feature of open road travel is the prolific number of trucks everywhere. The now-defunct railway system, once the pride of Africa, means that goods are now moved around by trucks, to the detriment of our roads. I commonly encountered rows of cars backed up behind a pedestrian 18 wheel behemoth. Just crack the throttle and the Speed Twin leaps forward, passing slower traffic without any fuss or drama.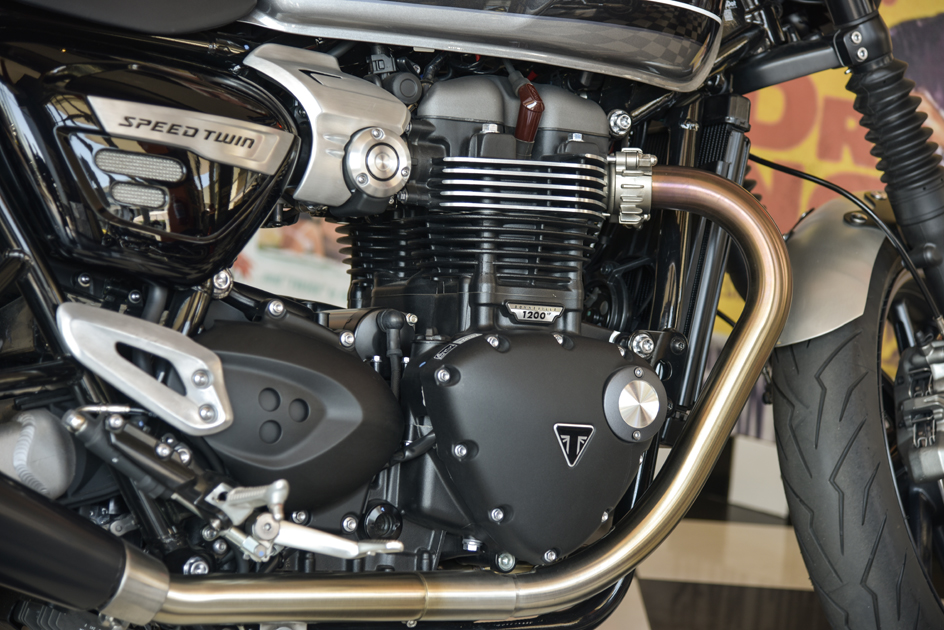 The riding position is comfortable for up to 140 kph cruising. Faster than that and you take strain on a naked, especially if you are reeling in large distances. Interestingly, I was passed on occasion, by some cars travelling at really high speed. It became a game. I would resist the urge to speed up but rather wait for traffic to impede their progress, whereupon I would fly past and off into the distance. Buy a bike, dude! Get on your bike and go ride. A wonderful experience awaits.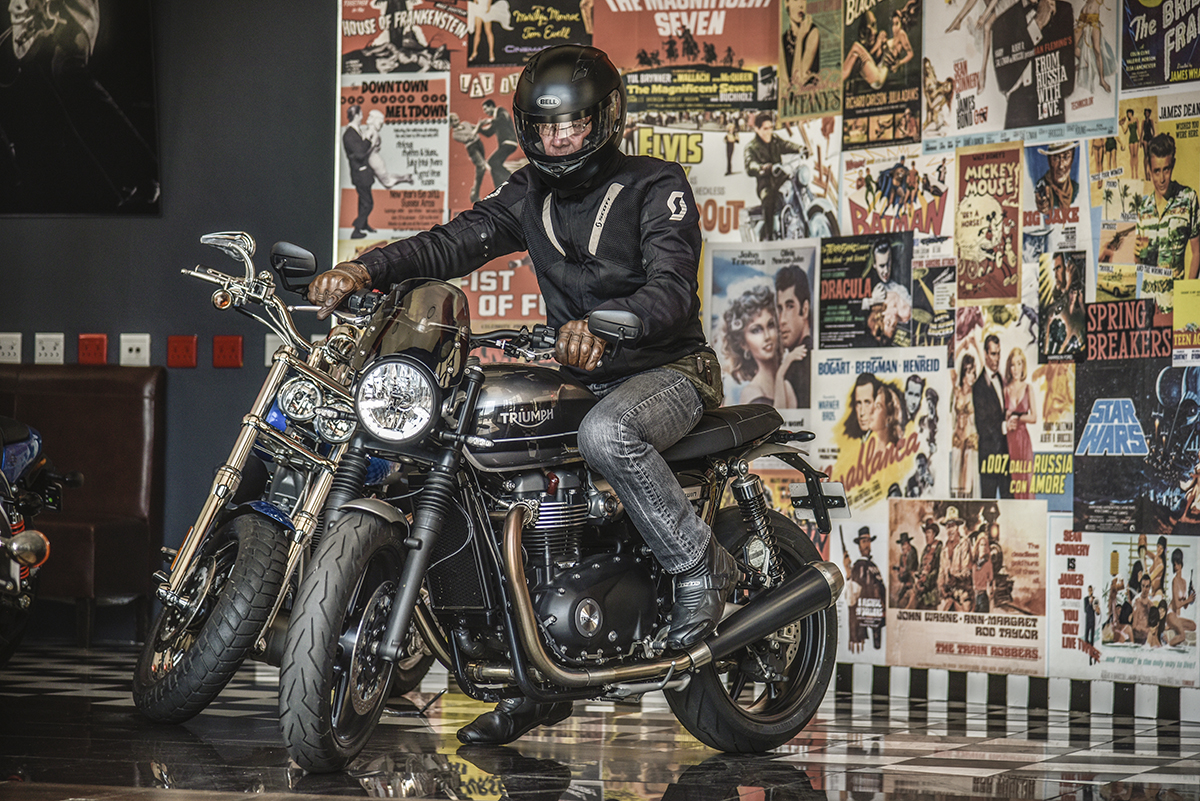 Robert Louis Stevenson could have had motorcycles in mind when he said, "I travel not to go anywhere, but to go. I travel for travel's sake. The great affair is to move".