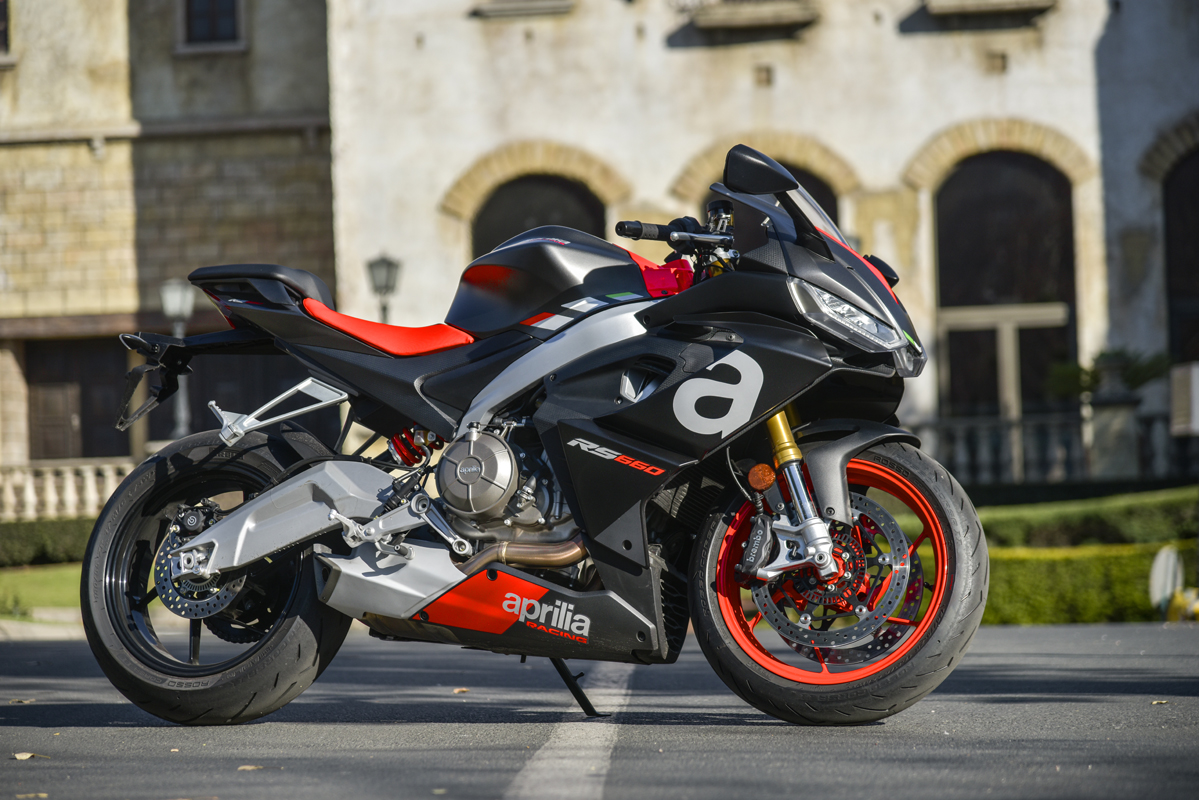 Aprilia is known for breeding thoroughbred sportsbikes—bikes that love their throttles wide open, where a flurry of revs meets corner speeds and a complete lack of self-preservation. Since the birth of the RS-series in 1992, Aprilia have brought home 45 road racing World Championships, so it's pretty clear what the RS plaque symbolises.
For 2021 Aprilia have thrown diehard RS fans a curveball, and newcomers a gentle underarm toss, by making the new RS 660 a more road-orientated motorcycle. The RS 660 lowers the jump to the RSV4, giving riders a chance to hone their skills on a more approachable platform that combines supersport, commuter and Italian exotica all into one.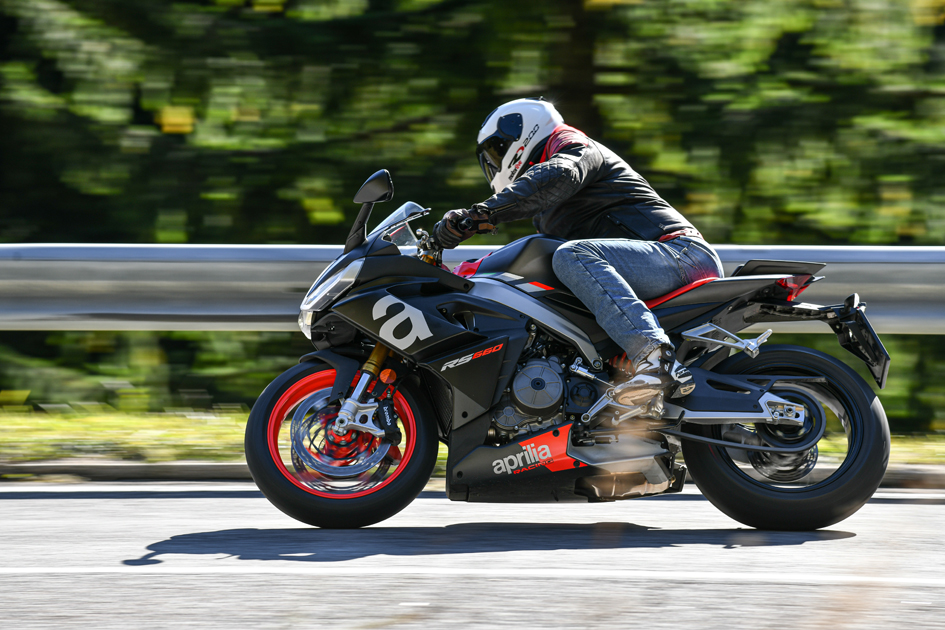 Our man in France, Philippe Guillaume, spent some time on the RS 660 in the stunning mountains of Venice last year. That left me drooling, but also questioning where the latest RS fits, and whether it would suit South Africa's long open roads. Our local Aprilia and Moto Guzzi importer, Italian Motorcycle Importers, organised a speed date for myself and their Apex Black RS 660, to figure out exactly that.
Like any first date, you want to make it a memorable and enjoyable one. So I decided to take the beautiful RS 660 for a cruise through some local Tuscan architecture—reminiscent of Aprilia's picturesque home town of Noale in Northern Italy. It was here that I got to admire the prowess of Miguel Galluzzi's design team up close.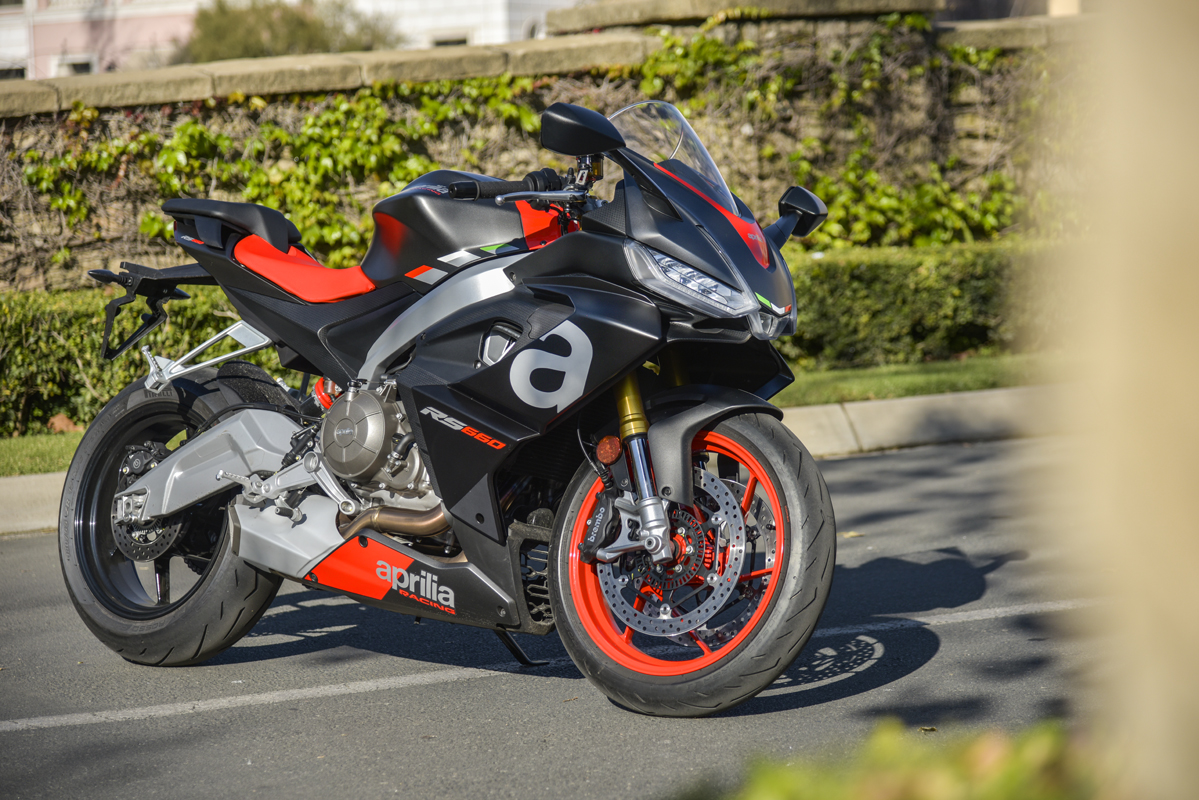 A combination of wind tunnel technology and Aprilia racing heritage form the design inspiration here. An RSV4-Esque triple headlight cluster is combined with updated LEDs and cornering lights. The RS 660 also has real-world functioning aerodynamics, in the form of 'double layer' fairings, which have internal winglets that disperses engine heat away from the rider's legs. Winglet design is usually an afterthought, but here it's integrated, with the RS 660 hiding its moustache under its fairings.
With a slim fully-faired upper body and a pointy RSV4-style rear, there's no angle on the latest RS that's not pretty. So, instead of wasting time looking for flaws, I hit the road.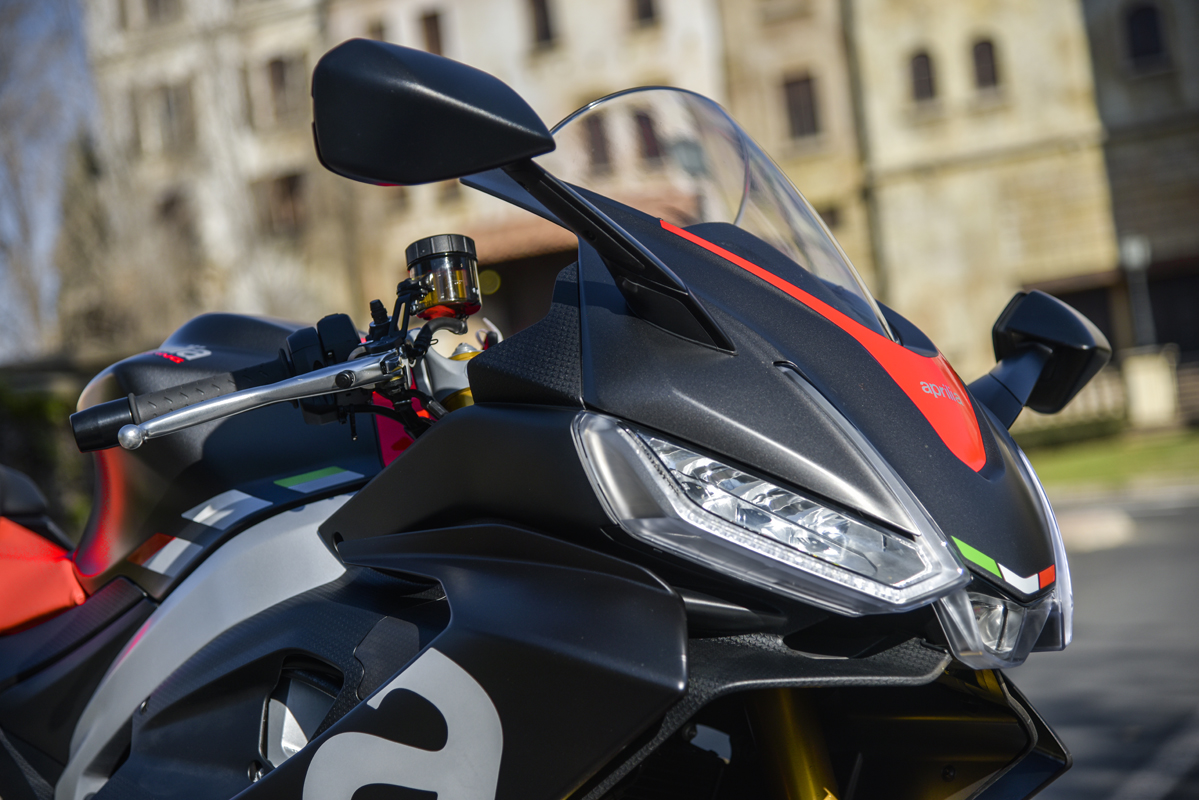 When it comes to ergonomics, the RS doesn't feel like a supersport machine. It has a shockingly comfortable seat, easy to reach bars placed above the yokes, lots of wind protection, very little steering lock and creature comforts like cruise control. Overall the ergos scream sports tourer, which means the RS is a fun bike that's so much easier to live with on a day to day basis than any supersport. Oh, and for lovers of all things practical, you'll be able to order a full set of luggage too (including a tank bag, tail bag and side panniers).
The heart of the RS 660 is a 659 cc parallel-twin motor which ekes out 100 hp at 10,500 rpm and 67 Nm at 8,500 rpm. The RS 660 only forfeits a few hp compared to the fire breathing inline-fours, but gains more accessible power at lower rpms, where you're more likely to spend time anyway. It also embarrasses every other bike that's in its actual middleweight sportsbike category, like the Yamaha YZF-R7, Kawasaki Ninja 650 and Suzuki SV650.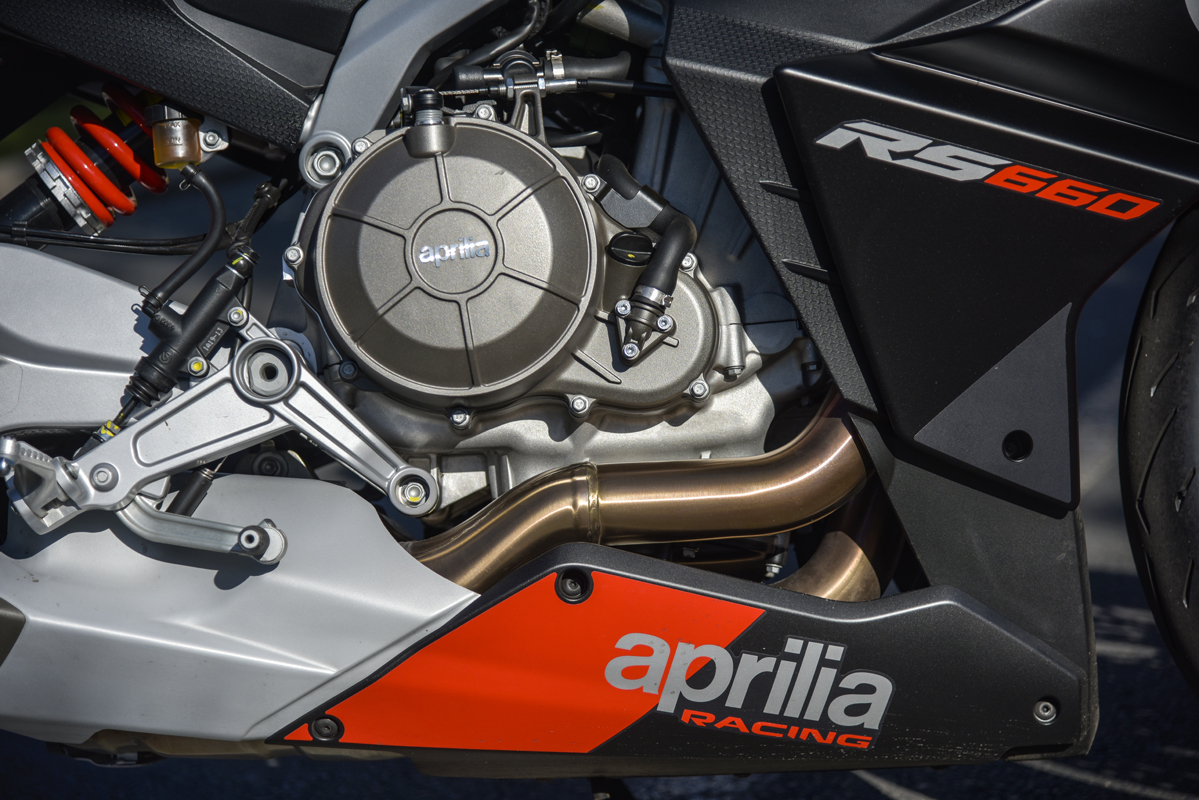 In the city, the RS is very smooth and nimble, weighing just 183 kg. That makes it a comfortable commuter for whizzing past traffic, as you listen to the pops and bangs coming from the exhaust, and quick-shift your way through the smooth gearbox. On the open road, you've got 6 juicy gears and 11,500 rpm of opera. The RS 660 sits at a comfy 5,500 rpm at 130 km/h for highway travel, with a top speed of 240 km/h for tarmac teleportation—more than enough for most.
The electronics package (dubbed APRC) is what pushes the RS 660 into a whole new realm, but does a 100 hp bike need any of it? We talking about cornering ABS, cruise control, an up and down quick-shifter, traction control, wheelie control, ride modes, engine braking control (something the RSV4 doesn't even have) and even an optional pit limiter. I'm pretty sure Max Biaggi's 2010 World Championship-winning RSV4 didn't have as much tech in it as the RS 660.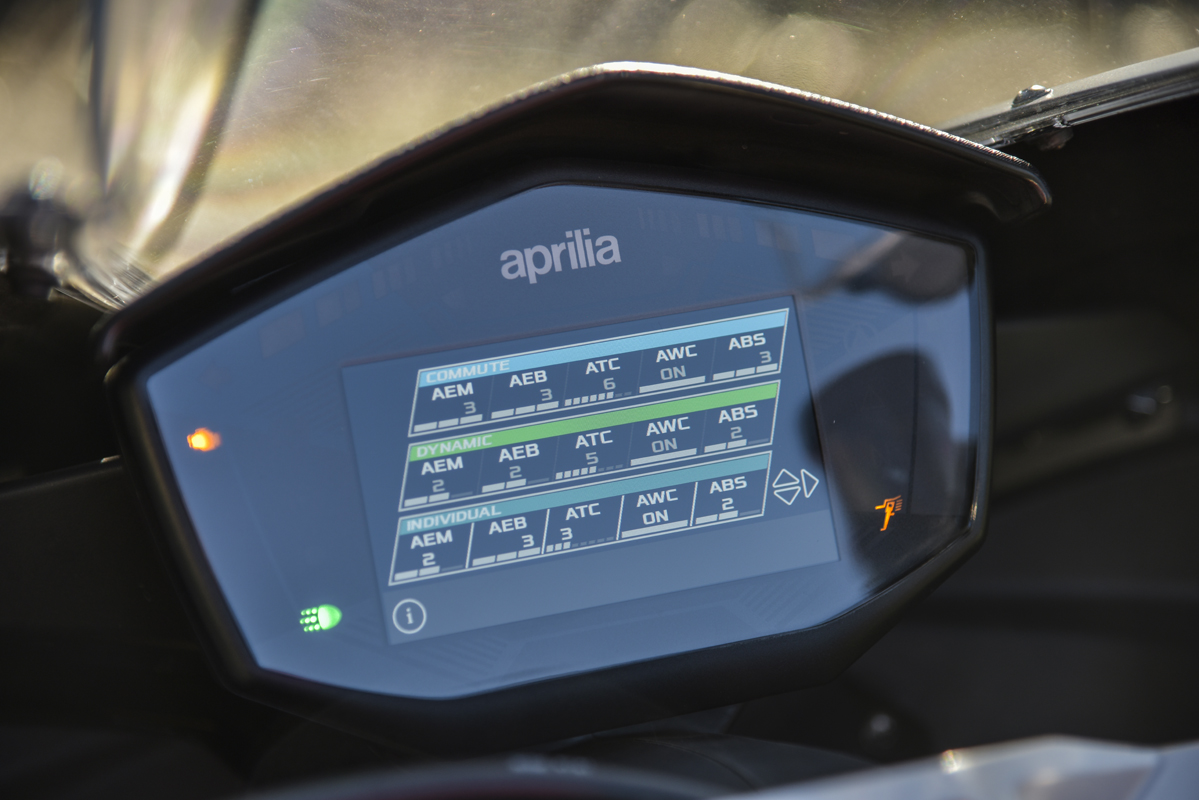 In the real world, all you need to know is 'commute' and 'dynamic'—these two modes will give you the best of both worlds, where all the electronics are automatically tailored for easy commutes or sporty rides. If you feel like unlocking more of the RS, you can tweak every individual riding aid in 'individual' mode. And for racers, there's 'challenge' mode, which unlocks a cool lap timer and more goodies.
The RS 660 is a dialled-in road-biased package, which is confirmed by its not-quite-top of the range Brembos and KYB suspension. The suspension works more than well enough on our bumpy South African roads though, and with an adjustment guide provided by Aprilia, you can dial it in and hustle the RS 660 to your limits. The brakes still offer an excellent feel thanks to the braided lines, and even in 'dynamic' mode, you can feel the rear wheel lift slightly.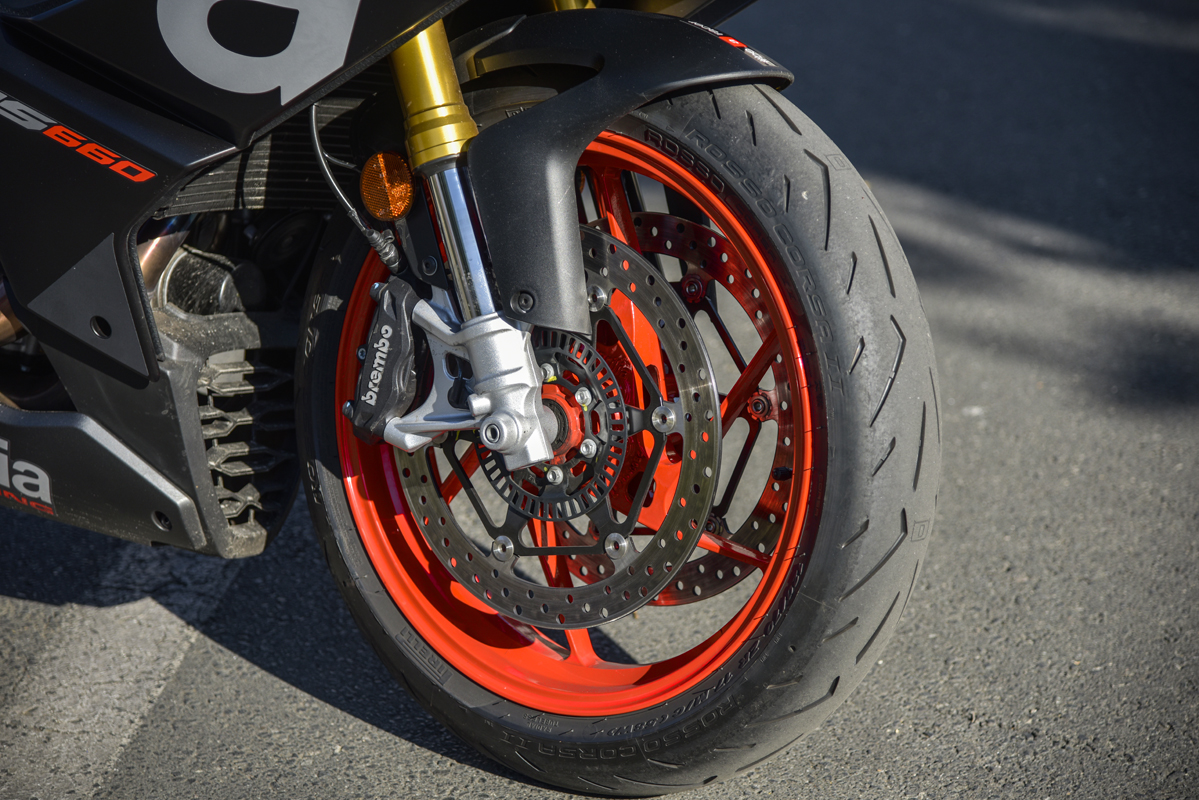 There are three colour options available on the RS: Apex Black, Lava Red and the either loved or hated Acid Gold. Personally, I love the Lava Red as it reminds me of the original Loris Reggiani RS 250 colours, a bike with so much history. The Acid Gold is a bold statement from Aprilia, but I prefer that yellow on the logo of my favourite fast food joint rather than on a bike.
After 200 km in the saddle, there were no aches or pains. And with some on-and-off sporty riding, I saw a generous fuel economy of 22.2 km/L (333 km on a 15-litre tank)—try doing that on your supersport.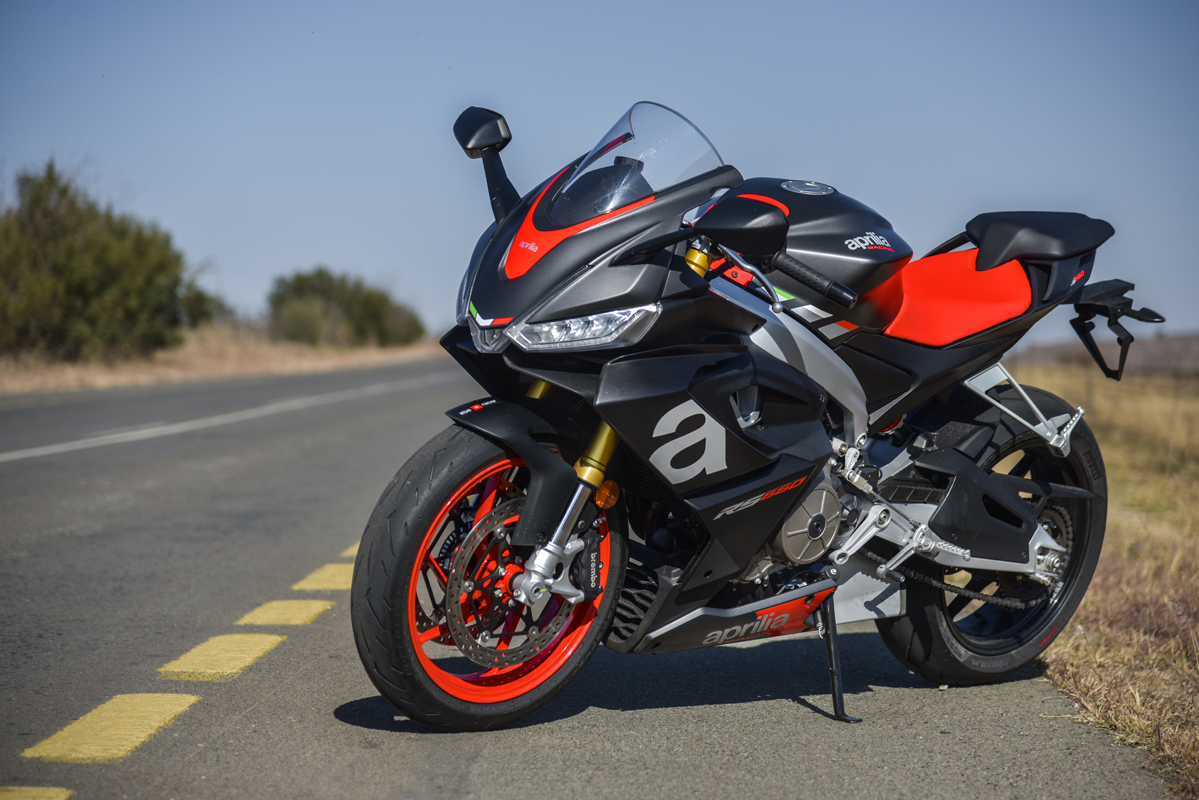 The RS 660 isn't going to win any drag races, but you'll achieve your knee-sliding dreams, enjoy some long sporty tours, and ace your daily commute. Don't think of it as a traditional sportsbike, but rather a clever cross between supersport and commuter. It might not be a winner across the chequered flag, but it's a winner across the striped lines you ride on every day.
The future seems even brighter, with the 660's motor set to be placed in a new Tuono, and an adventure bike (the rumoured Tuareg). Would I go on a second date? Well if I had R234,660 and I was looking for a middleweight, sporty road bike, I think the RS 660 would be right at the top of my list.
Aprilia RS 660
For more information on the bike that we tested in this article, click on the link below…