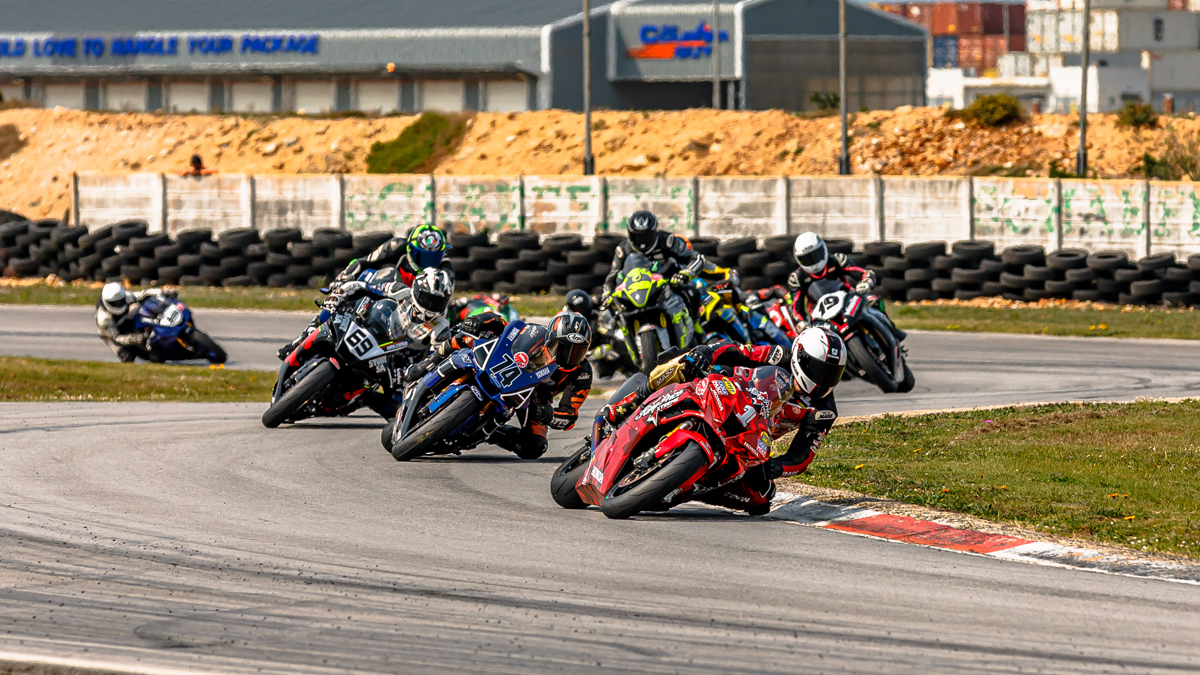 That motorcycle racing has been suffering in recent times in South Africa is no secret, culminating with the abandonment of the SA Superbike Championship half way through the 2021 season.
Adversity breeds innovation, however, and hard behind-the-scenes work by those with vested interests in keeping racing alive culminated in the Ultimate Superbike Shoot-Out, comprising a new format and new participation rules to breathe new life into the ashes of the old.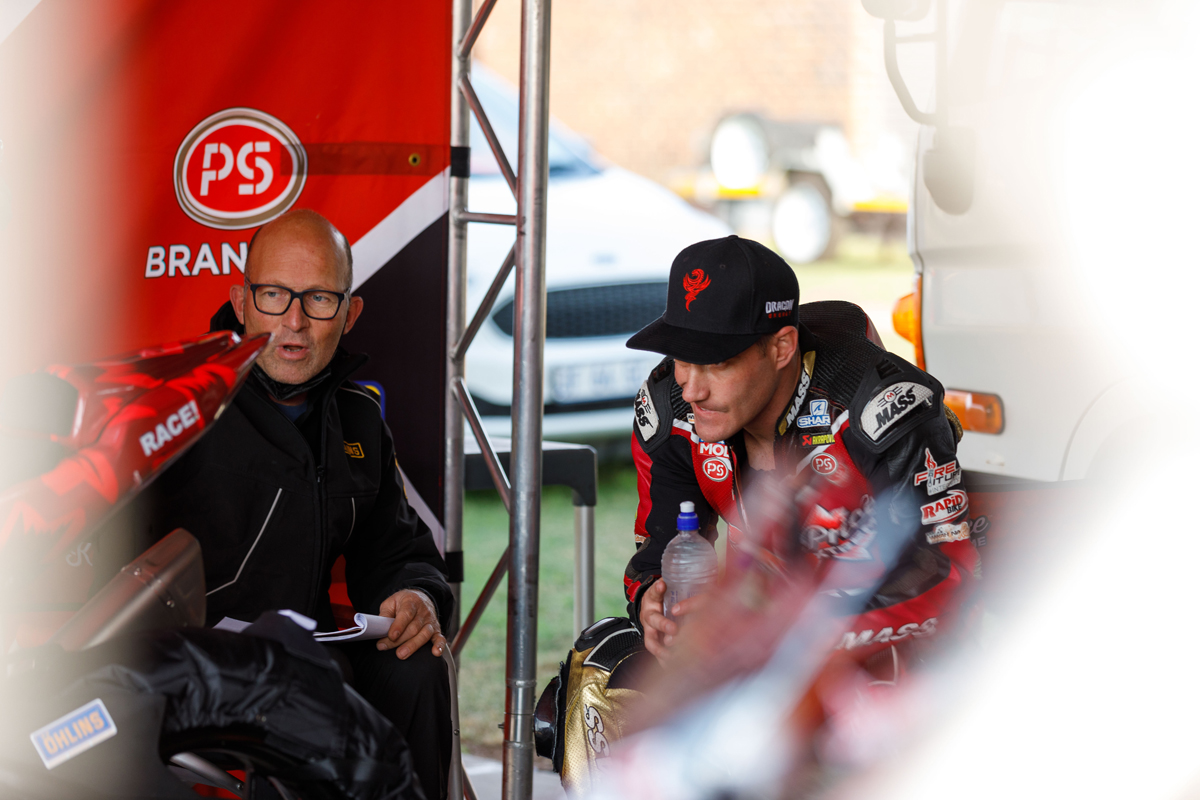 With title sponsorship from NGK and significant prize money on offer, the three round shoot-out saw unprecedented numbers of entries, ensuring full grids and the promise of close racing from lights to flag.
(You can read our interview with Clint Seller at the start of the 'season' here, where he outlines the details.)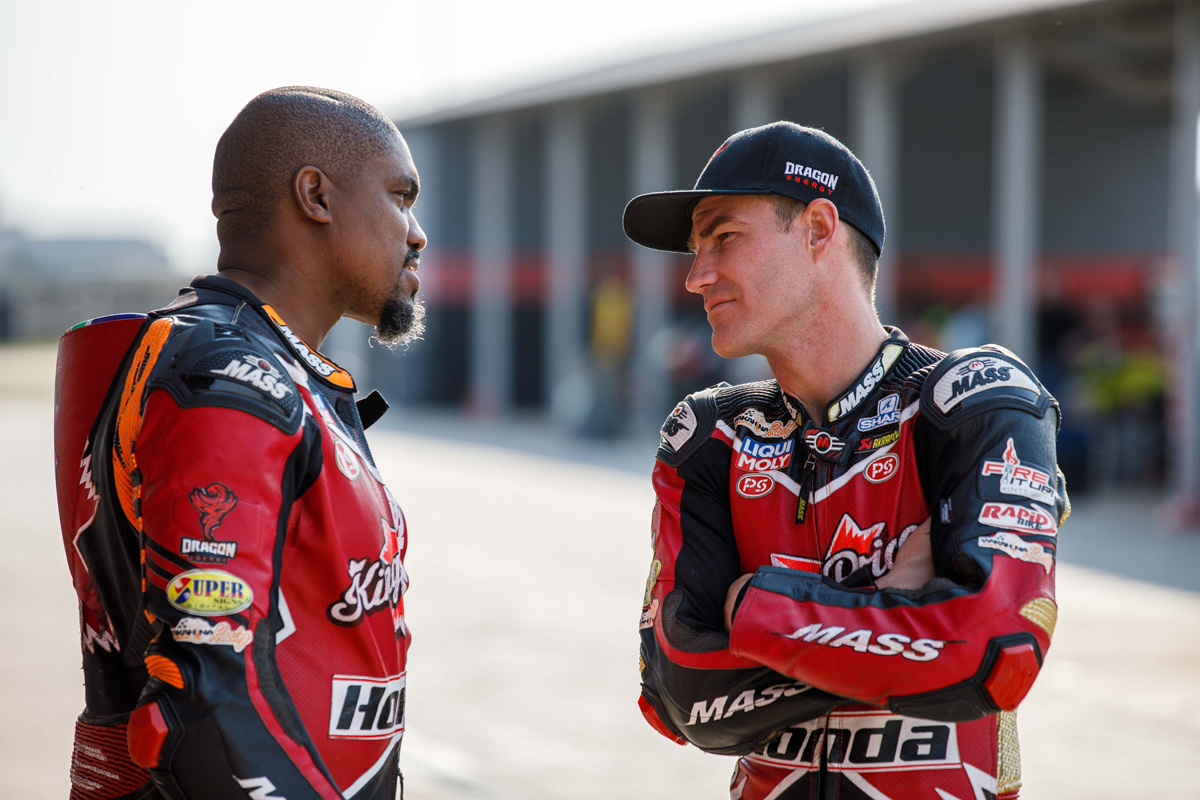 That early promise was fulfilled and culminated in a fine Championship for Clint Seller and Honda. But lest you think that the result was predictable, when you look closer it is clear that Clint didn't have it all his own way and had to fight hard for the title, not necessarily something he has had to do for a while and proof that the new format is worth pursuing for 2022 and beyond.
The shoot-out started in Port Elizabeth and Clint did his title hopes no harm by taking pole position and winning both heats and setting fastest lap time.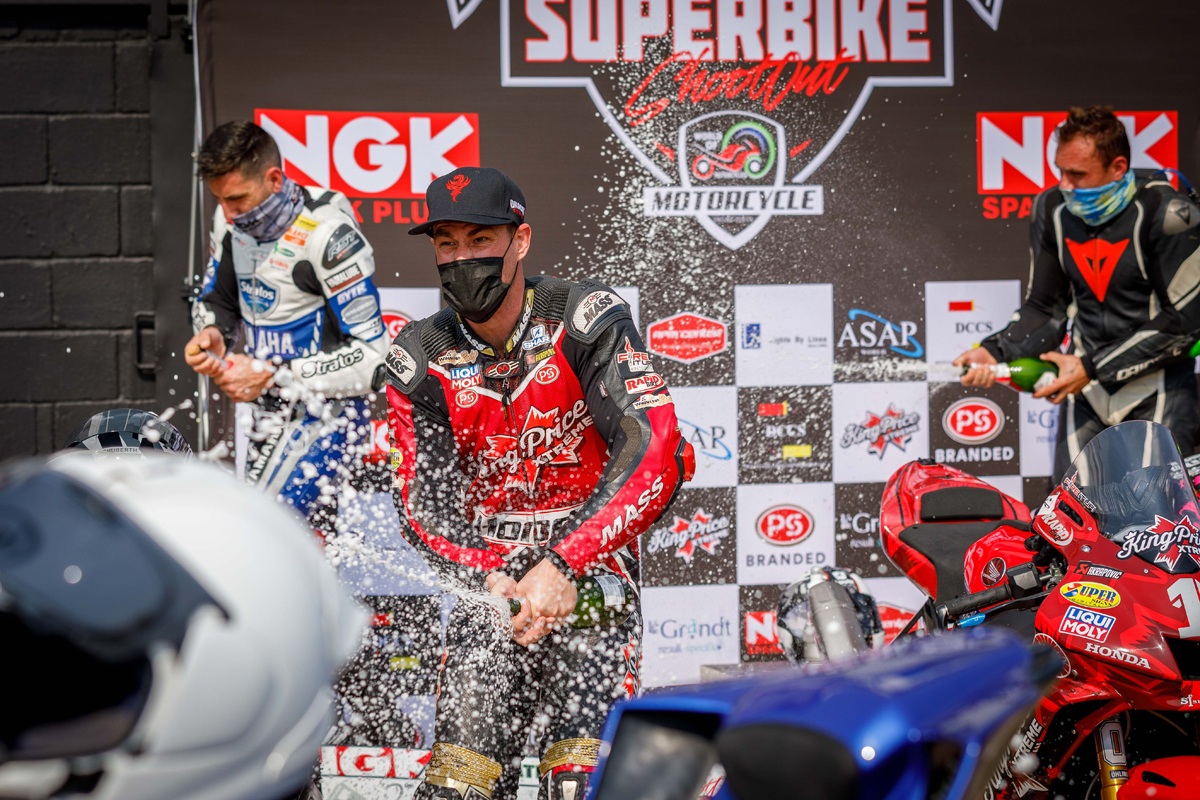 Round two at Red Star Raceway didn't go at all according to plan: a practice crash saw the bike needing not-too-extensive repairs and, in the races something clearly was not quite right with Clint's Fireblade following the repairs and he could only manage a third and a fifth, with Dino Iozzo taking both victories.
By the time of the last round at Dezzi raceway in Port Shepstone, Clint's team had found the problem and the bike was back to as near-perfect as it could be. In the first heat, however, Clint was finding it difficult to stay with pole-sitter – and championship rival – Morne Geldenhuys, until a machine failure took the leader out, leaving Clint free to cruise to another double victory and the Ultimate Superbike title.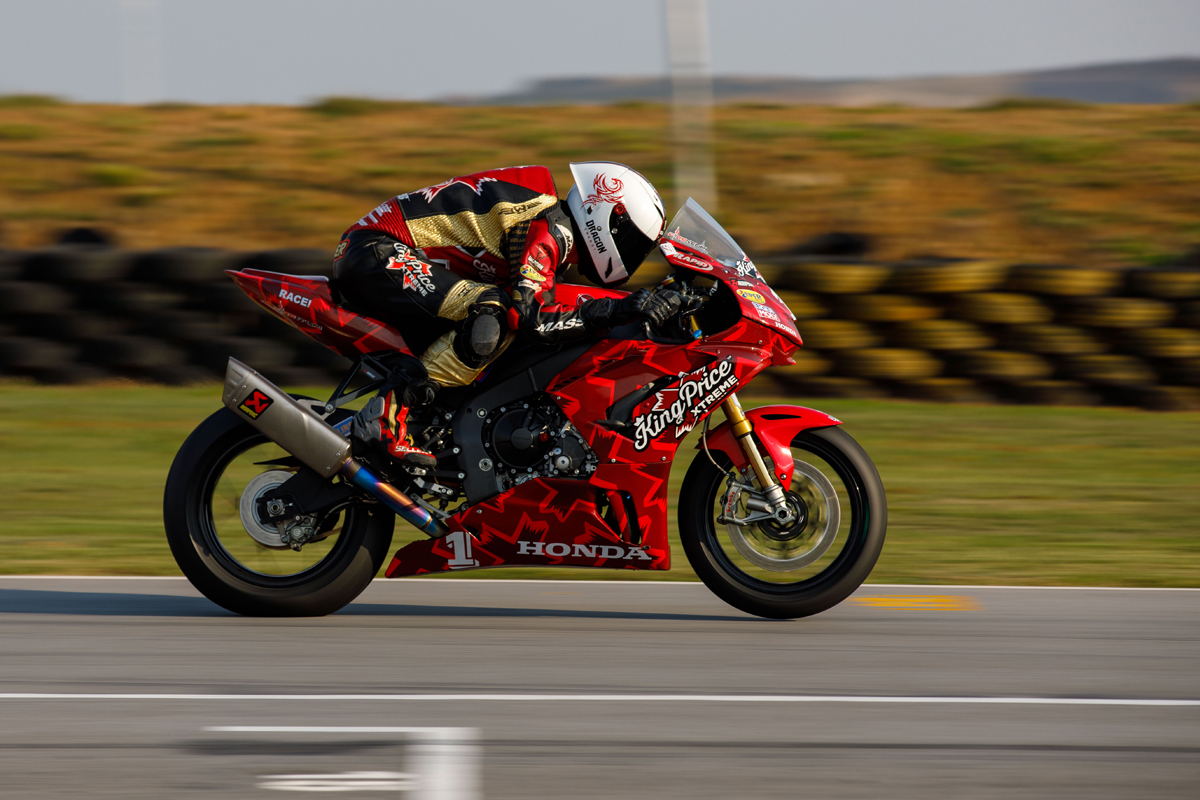 Another factor to consider is that the Honda isn't necessarily suited to all the tracks. With it producing so much power and being so fast, it is brilliantly suited to tracks with big, fast, open sweeping corners, such as P.E, Killarney in Cape Town and Phakisa in the Free State. But the NGK Ultimate Superbike Shoot-Out only visited one of those favoured tracks. The other two – Red Star Raceway and Dezzi Raceway – are much tighter, calling for punch out of slow corners, a characteristic that suits the cross-plane crankshaft engine of the Yamaha R1, for example. So, for Clint to perform well at those two tracks was doubly satisfying.
So, those are the bare bones of the story but, as we all know, there's a lot more to winning a championship than what happens on the track. A huge amount of work goes on behind the scenes, not only by the team personnel but, in Clint's case, by Honda as well, for whom Clint has only the highest praise.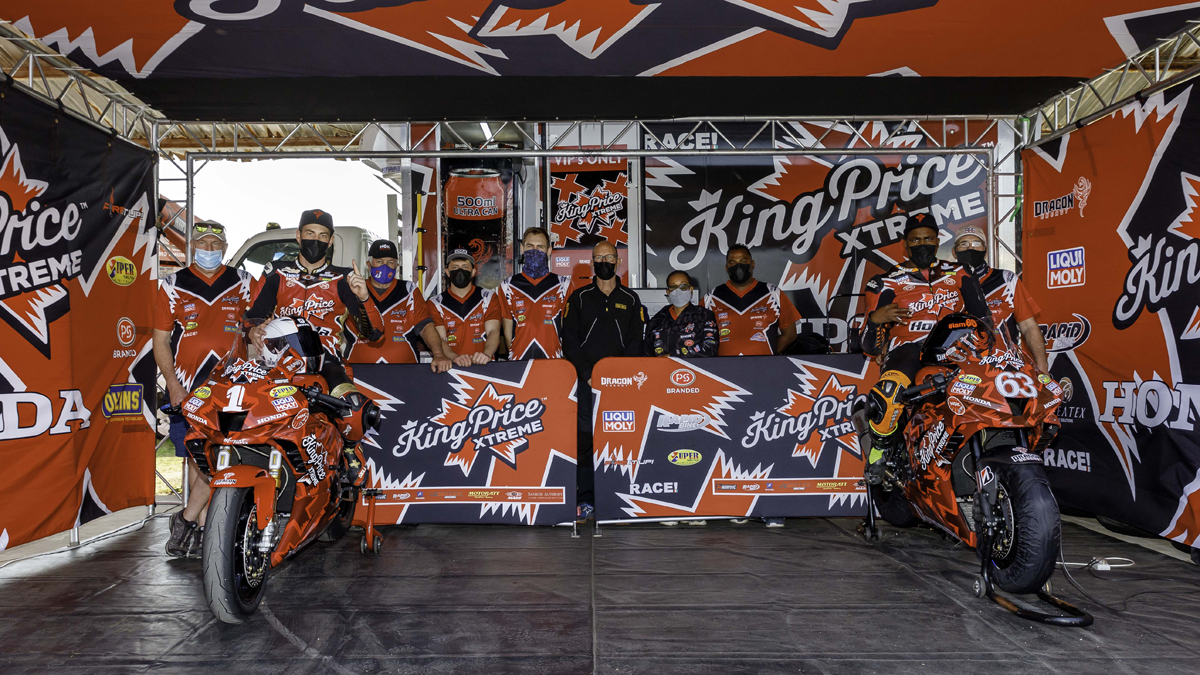 "The support Honda has given this year is beyond what I've had the last ten years of racing. The last time I was so well supported was, coincidentally, ten years ago when I raced for Honda!
"Honda came in this time and said, 'We want to win; we understand it's not going to be easy but that's why we're doing this.' They put their money where their mouth is and gave me every spare I asked for, the bike I asked for, every bit of information I asked for. At every turn, it was 'how can we help you so we can achieve this together?' And their belief in SA motorsport is such that they backed me to the hilt, understanding that SA motorsport is worth investing in, that it can pay dividends in the long term.
"That was the big thing for me: Honda were hungry to win and were prepared to do what it took and I really think they are going to reap the rewards. The bike that wins is the bike that other riders are going to want to race next time."
Talking of next time, I asked Clint what the plans are for 2022 and beyond.
"Next year is going to be a six-round championship, run to the same rules and with the same prize money and support. It seems there are a few manufacturers who weren't in this year but who are showing interest in backing some teams and riders next year, which is fantastic news. At the moment Suzuki, Kawasaki and BMW are making noises about being on the grid in some shape or form and that can only be a good thing for the series and SA motorsport as a whole.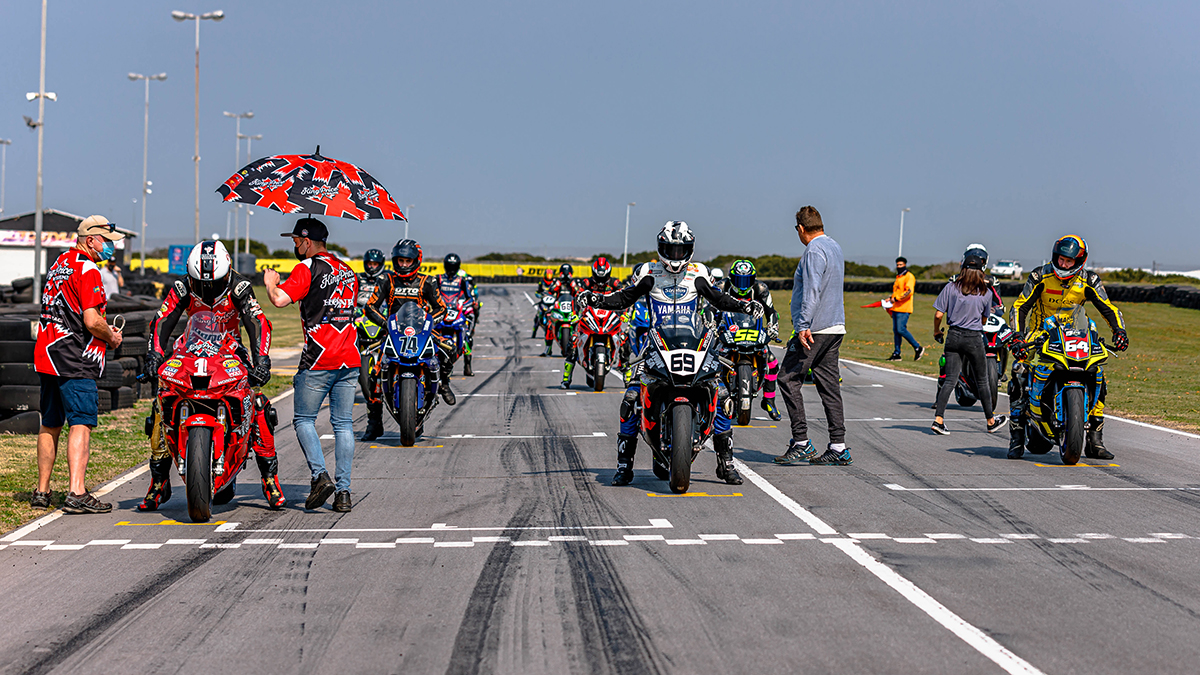 "As for me, well I really want to continue with Honda and I think they feel the same way. No contract has been signed yet but everyone is really happy and excited about what we have achieved and it would add even more validity to this year's achievement to come back against stronger opposition and do the same again next year.
"I'll keep the same bike I used this year: it's at a really early stage of development and there's still a lot we can do to it, given more time. It's a really good platform on which to build."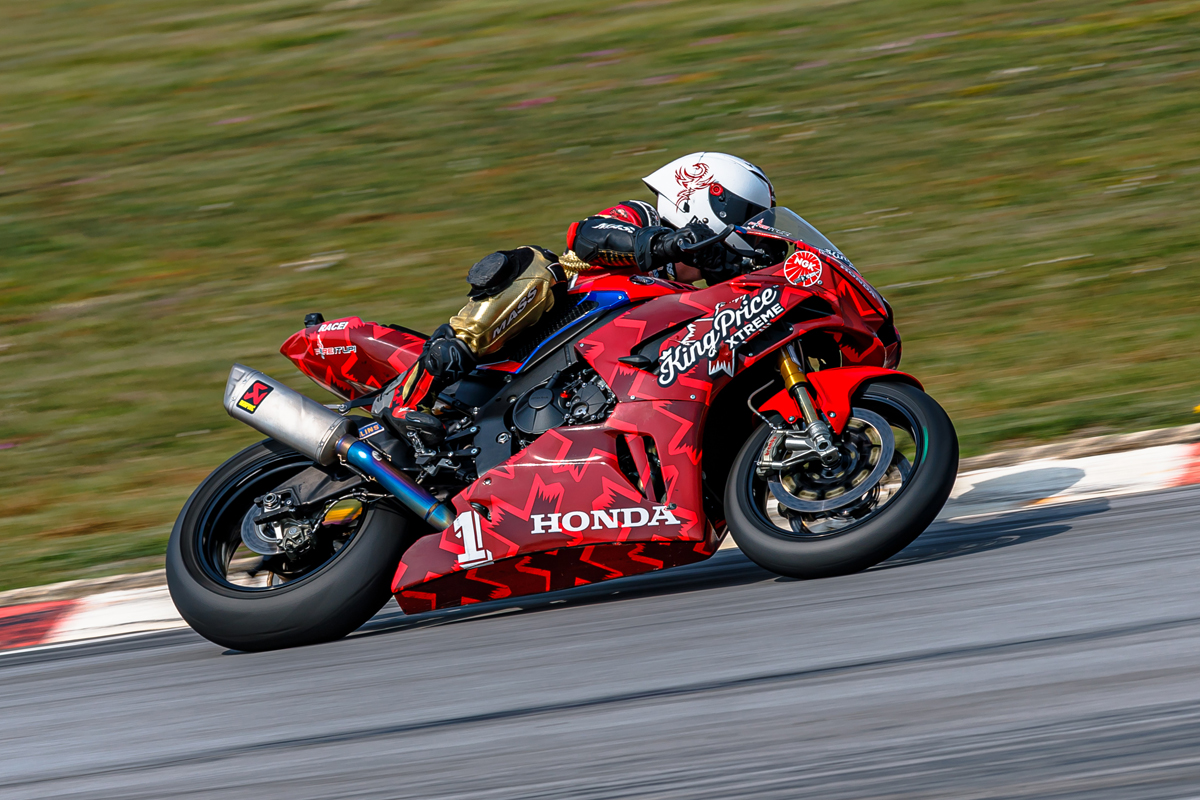 Clint has been fortunate to have a strong team around him this year. Riaan Fourie and Paul Jacobs of Honda have given him the support he has asked for, while King Price has continued its loyal financial support. Liqui Moly, Dragon Energy and Fire It Up! have all played essential roles in the team's success and, while Clint will ride the wheels off the bike to take the win, it's not much good if the wheels can't turn, and for that, Steve Cannon takes the credit.
So, there you have it: Clint Seller is the NGK Ultimate Superbike Champion for 2021. The real winners, however, are you and I, the fans, who finally have a decent championship to get behind, and the South African motorcycle sport and motorcycling industry who can only benefit from wider exposure.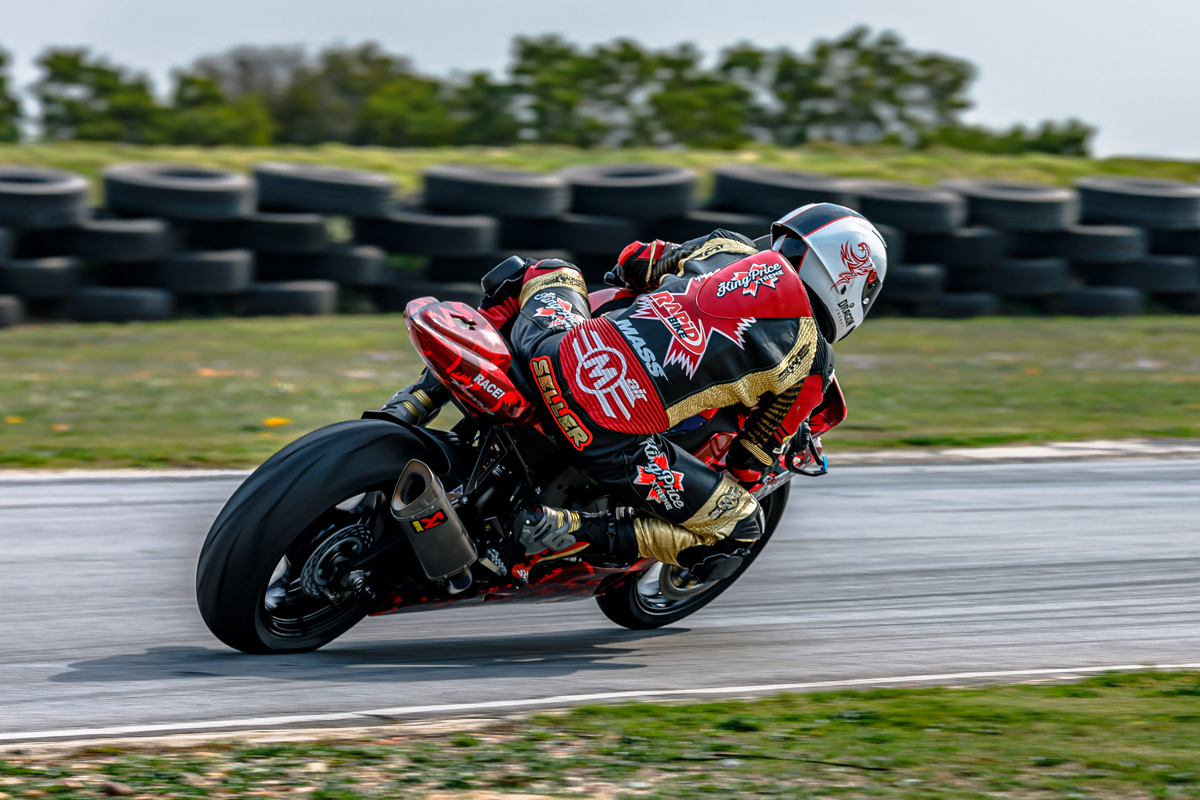 2022 is going to be a great year for South African motorcycle sport.