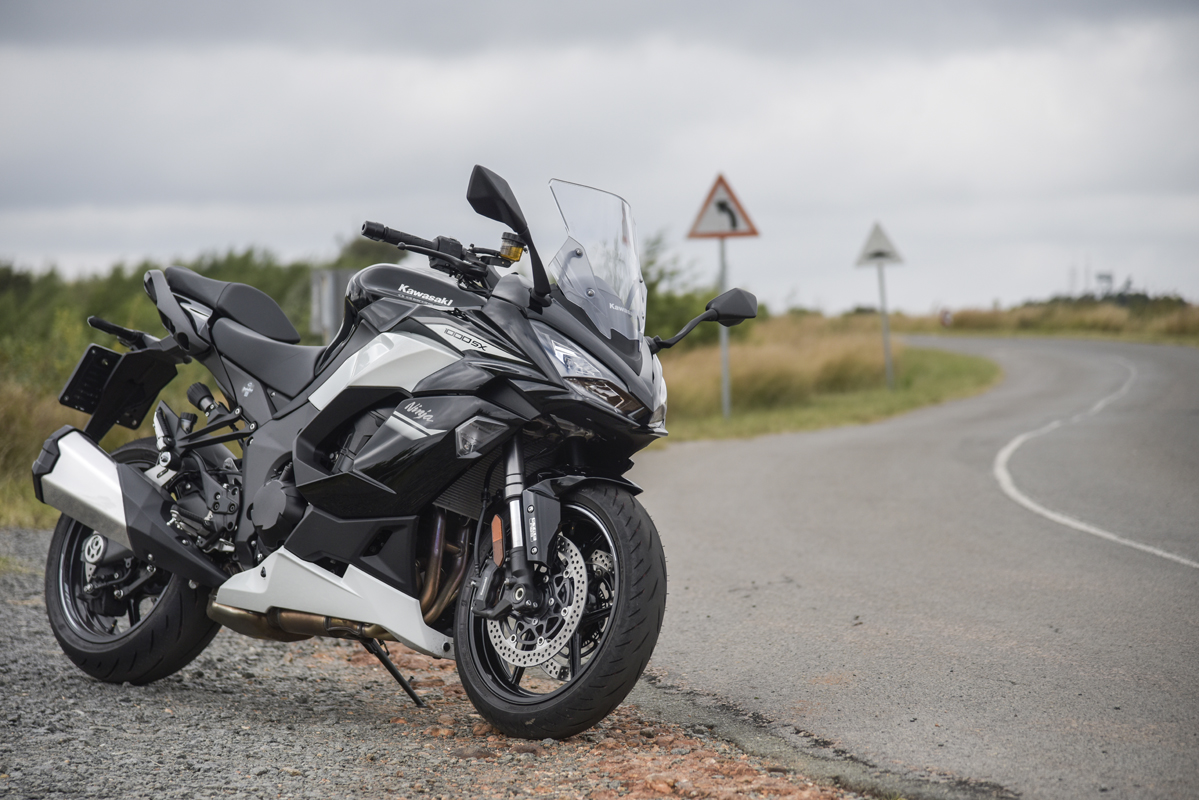 If you have a flirtatious spin on Kawasaki's World Superbike replica Ninja ZX10-R, or the mental supercharged H2 SX, you may climb off a little weak in the knee from the adrenaline rush that these bikes induce. Neither of them are likely to endear themselves to you in the long term, in the same way as the subject of this review, Kawasaki's Ninja 1000 SX Sports Tourer. This is the 1000 Ninja that you marry. Let me explain.
The world is a strange place. Back in '69, the globe was wowed by the first proper mass-produced four-cylinder motorcycle. What followed was a swathe of predominantly Japanese fours which coined the phrase 'Universal Japanese Motorcycle' or UJM. Over time, being labelled as a UJM has become even a little synonymous with, dare I say it, ordinary, or even a tad boring? Fact is, manufacturers love to put a new spin on things. Makes marketing easier. Newer is better, right? V-4s, V-Twins, parallel-twins and triples. They are all out there. So is the UJM with its inline-four dead? Not on your Nellie! Sling a leg over this Ninja 1000 SX and discover, what a wonderful thing the inline-four motor has evolved into.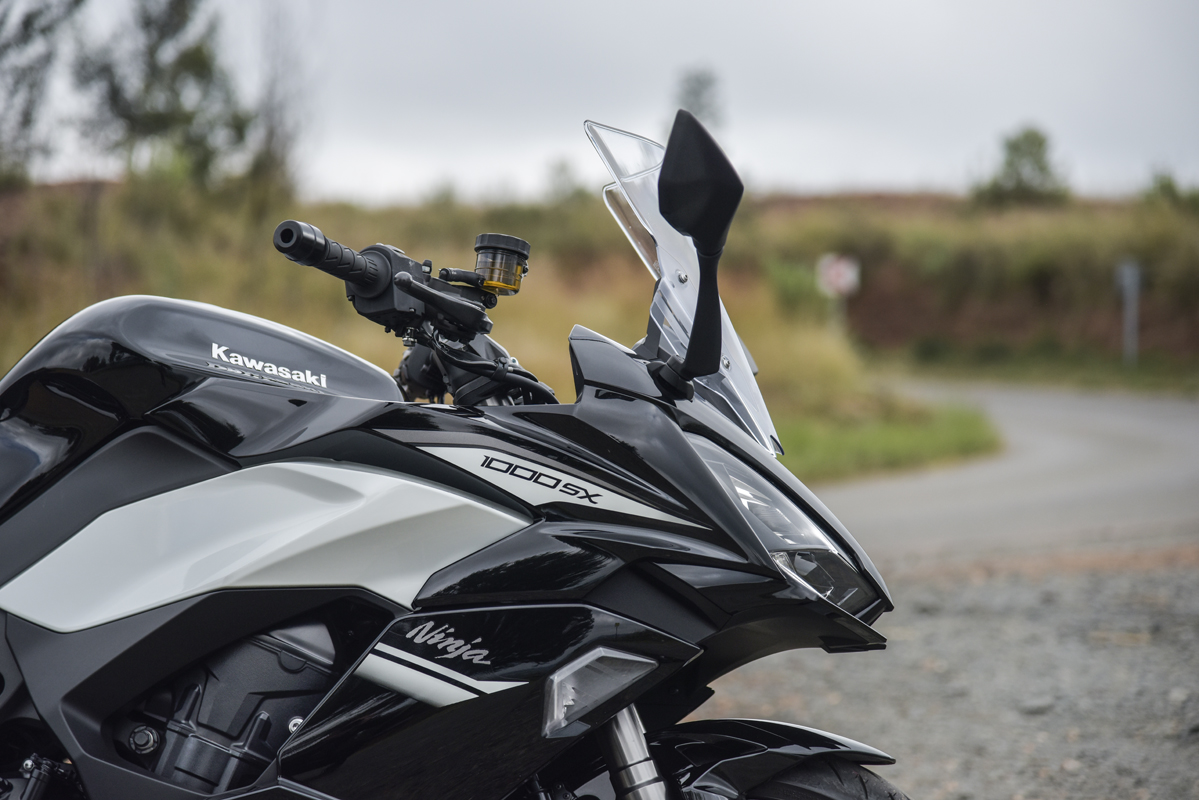 Double Overhead Cam's, 16 valves and liquid-cooled with a massively over-square bore and stroke, fed by 38 mm throttle bodies in the fuel injection, the inline-four SX motor is a gem. 105 kW of power and 111 Nm of torque provide a wide, seamless and velvet-smooth whoosh of power and acceleration, with every twist of the wrist. An assist and slipper clutch work with an unbelievably slick and precise gearbox to make riding absolutely effortless.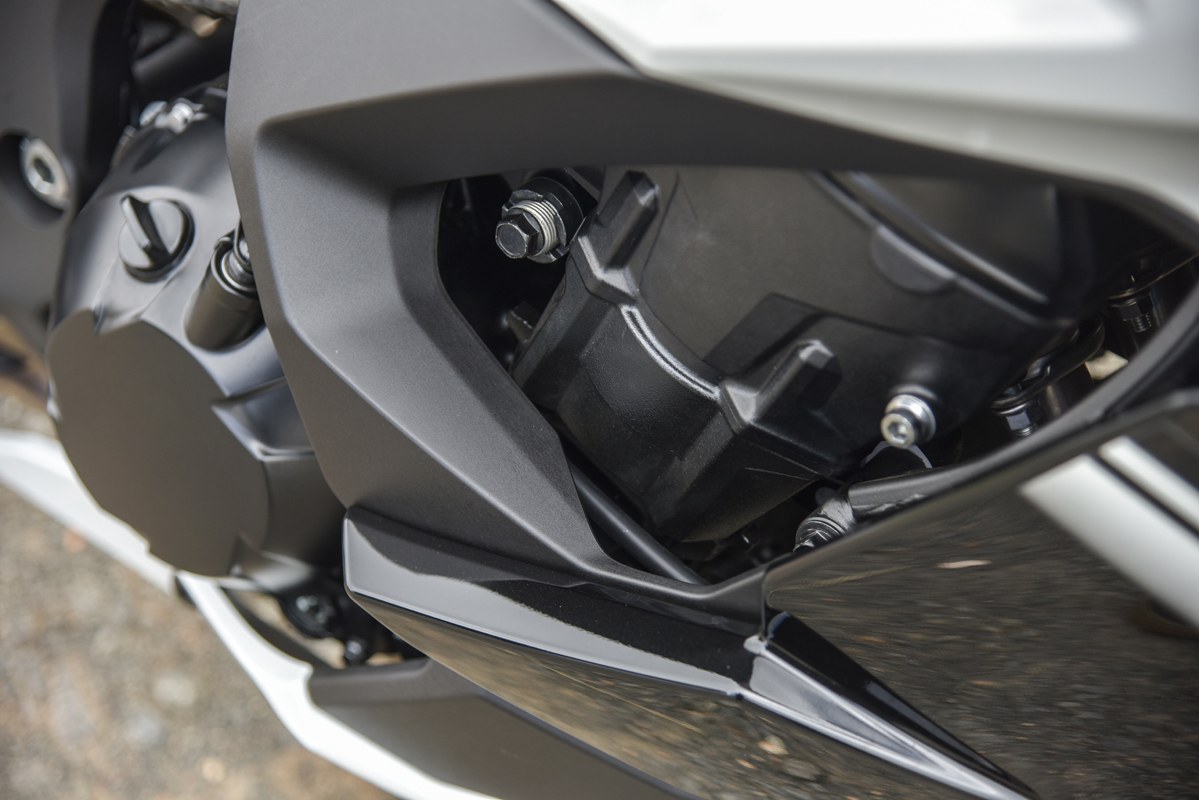 The standard up and down quick-shifter allows you to go through the gears faster than the ANC through a Covid budget. You surf the big wave of torque into 6th gear, where you can stay, traffic allowing, virtually forever. Need to overtake? No problem, just turn it on and the big Kawi leaps forward with such gusto, that you find yourself checking that you are indeed in top gear.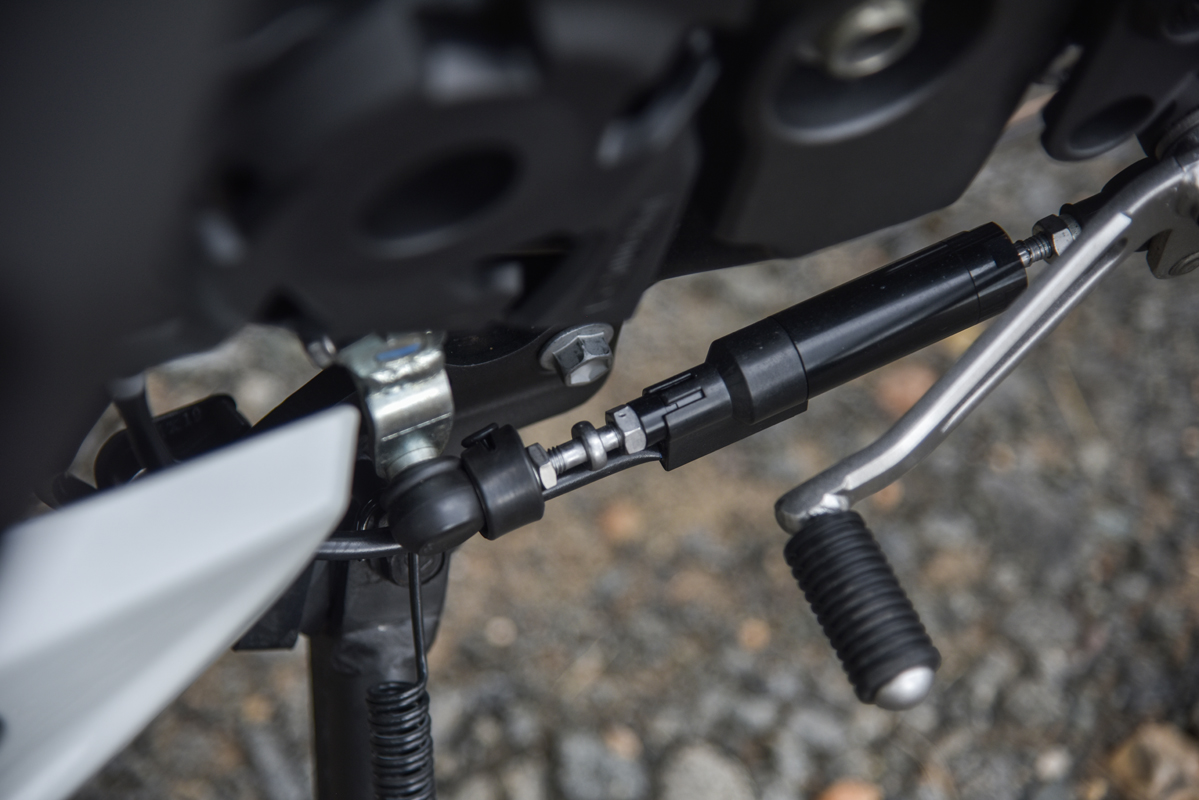 Four power modes, Sport, Road, Rain and a custom set-up, allow you to fine-tune the throttle response to your liking. I found Road to be the sweet spot. The throttle is sweet and soft on take-off, or when filtering through traffic. Yet if you crack the whip the Kawi reels in the horizon effortlessly. There is nothing worse than trying to ride a powerful bike in traffic with a 'Pitbull on a leash' type throttle.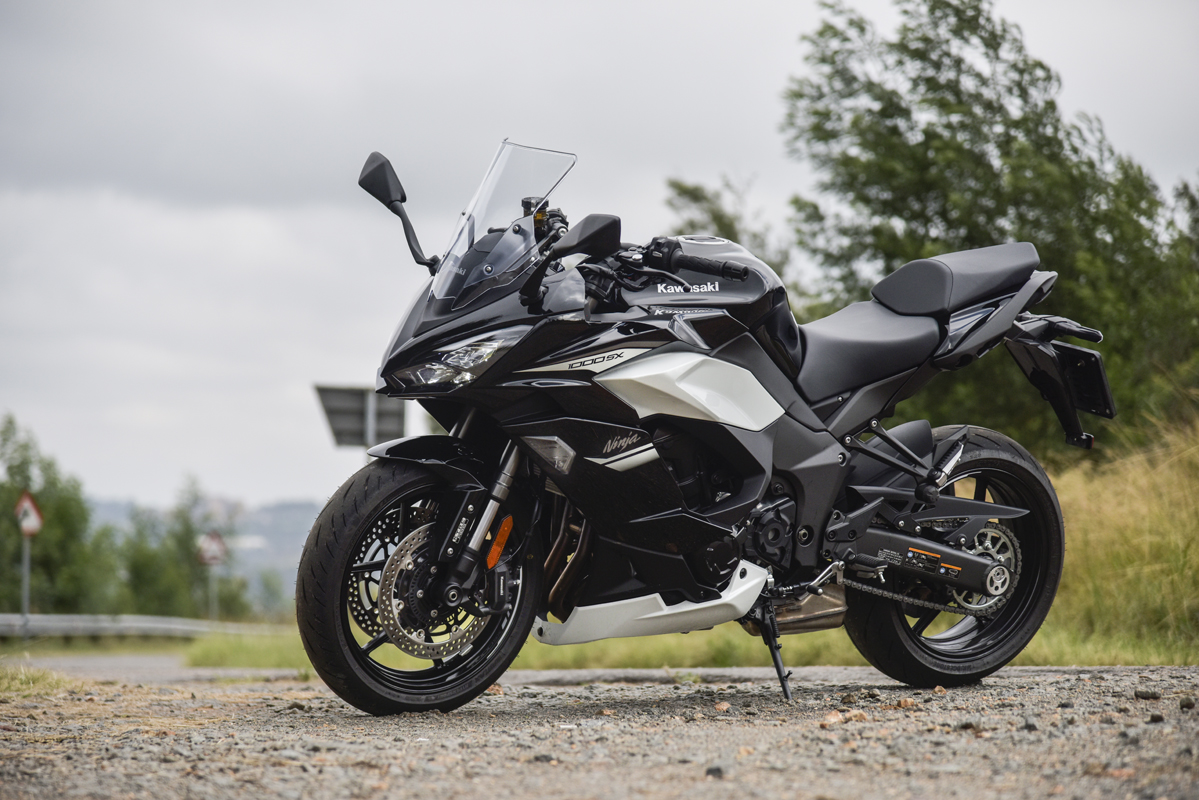 Before I babble on about a bike that I thoroughly enjoyed riding pretty damn everywhere, perhaps we should examine whether there is still a need for Sports Tourers, given what good all-rounder's big-bore adventure bikes have become. In SA, we have endless dirt roads which beg to be ridden. If you like riding dirt roads, that is. Which reminds me of Mike. A while back I met a fellow called Mike on a breakfast run. He was in well worn full leathers and was riding an equally well worn Yamaha R1.
Like me, Mike is what Visordown, the international motorcycle website, term a "lifer". Someone who has ridden, and intends to continue riding motorcycles, daily, for as long as they are able. The difference between Mike and I, however, is that he has, and will only ever, ride Sports motorcycles. When I rode the SX in anger, I kind of realized why.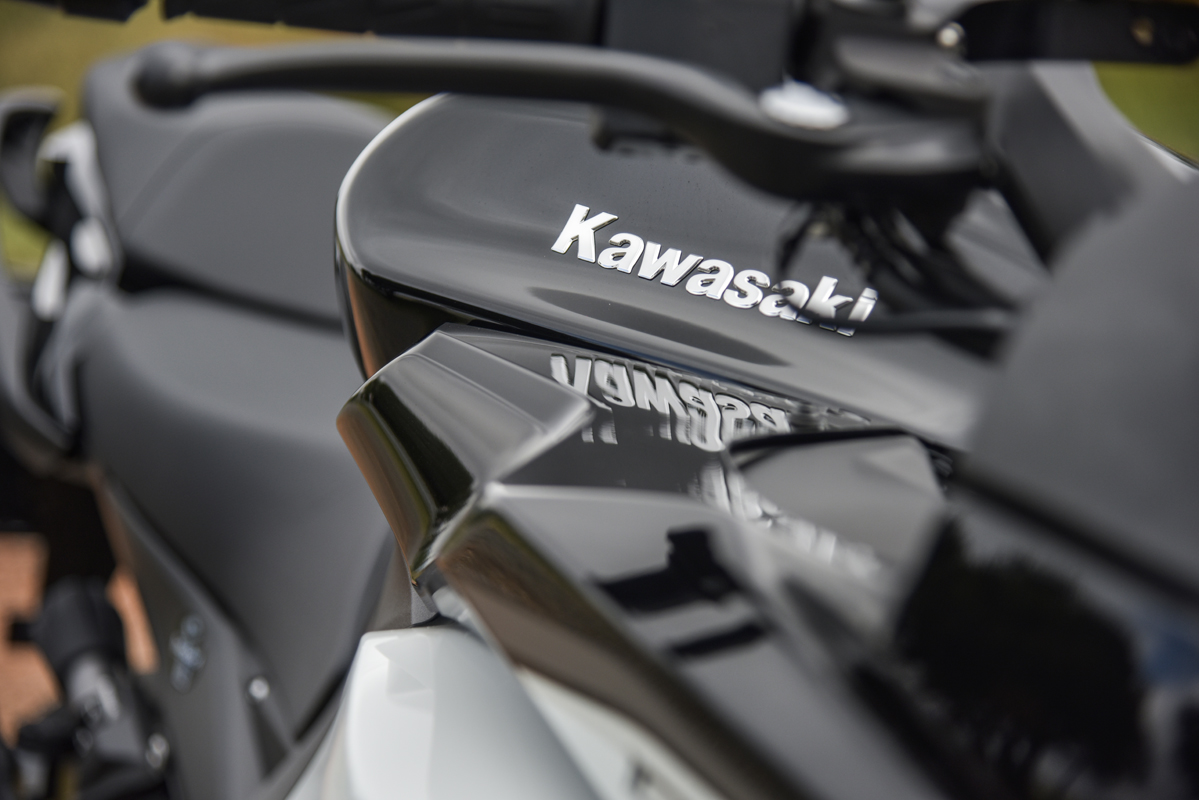 You see guys, no matter how good 'do it all' bikes have become, they remain a compromise for the sporting purist. When you rail the big Kawi through a sweep and feel the precision and accuracy with which it steers, aided no doubt by its street only tyres, no adventure bike yet made can give you that feeling. The reason why I have a Honda VFR 800 in my stable. In the same way, pure Sportbikes raise the bar even further. On the track, that is. On the road, they lose composure due to overly firm suspension and lightweight.
The 1000 SX rides on fully adjustable Showa USD front forks and what Kawasaki calls "Horizontal Back Link" rear suspension (essentially a laid down shock position, claimed to aid mass centralisation). The bump absorption is superb, giving a firm yet comfortable and controlled ride over all surfaces. I dialled in a bit more preload on the shock, made easy via the remote adjuster. This steepened the head angle and quickened the steering slightly.
The Ninja revels in smooth rider input. Ridden in this fashion, it is blisteringly fast point to point and incredibly rewarding to ride. The riding position is sporty, yet relaxed and very comfortable. The clip-ons are easy on the back and neck and your knee bend does not resemble that of the Durban July winning jockey. The 835 mm seat is firm but properly padded and resilient enough for the really long haul. The windscreen is a doddle to adjust through four height settings, done in a jiffy, by hand. Passenger accommodation is equally plush, so no issues from the significant other.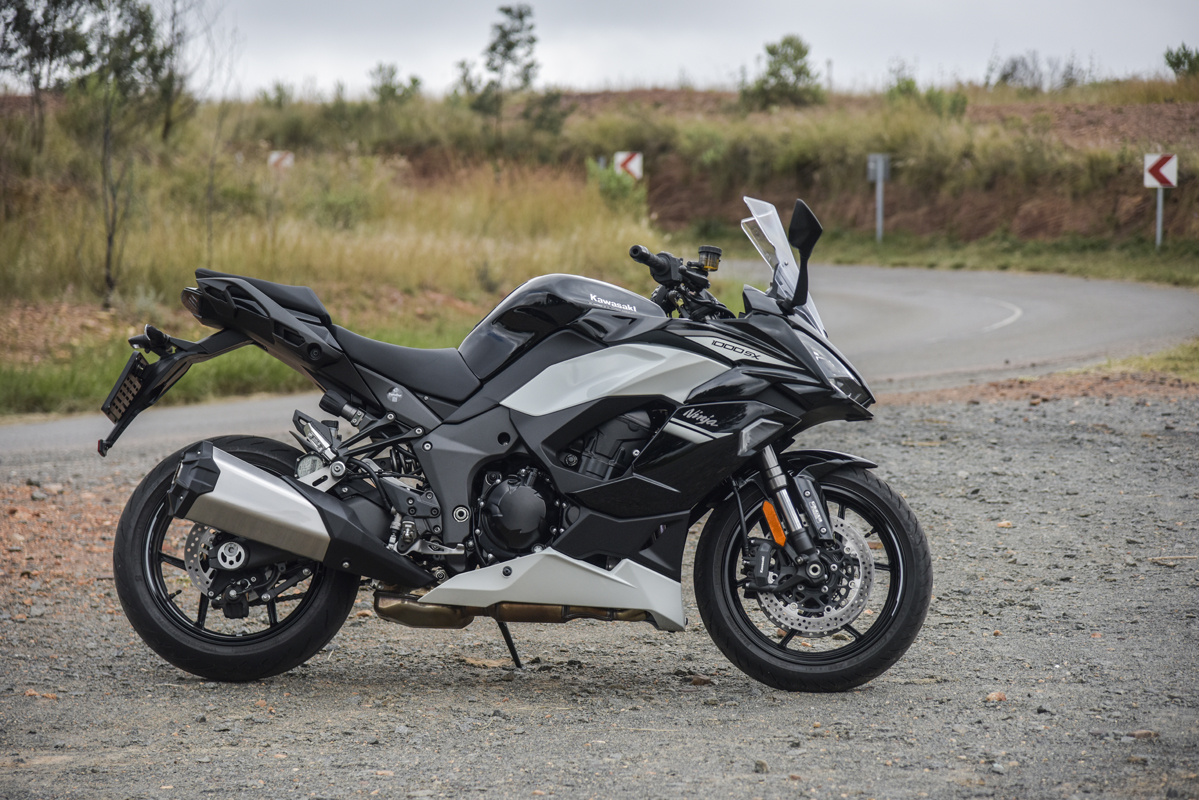 Hit the highway, engage the intuitive cruise control and you are sorted till the 19-litre tank requires a refill. At sane speeds that should be over 300 kays. Be warned, the SX laughs at sane speeds. It is one of those bikes which inspires so much confidence and is so composed, that even when you feel as if you may have overdone things, it says, "Chill Bru, I got this". However, on a busy inner-city commute, you will see a pleasing fuel figure of just 22 km/L.
This stability is thanks to a good chassis and a full bag of electronic aids. Acronyms abound. 'KCMF' is Kawasaki Cornering Management Function, 'KTRC' is Kawasaki Traction Control, 'KIBS' is Kawasaki Intelligent anti-lock Braking System. There is an Economy Indicator on the excellent TFT display as well as all the other usual information which I always mention ad nauseam, ie, trips, clock fuel etc. From now on I'll tell you if it doesn't have it, OK? What it doesn't have, is self-cancelling indicators. Every bike built, irrespective of capacity or price, should have them. There is built-in cell phone connectivity as well.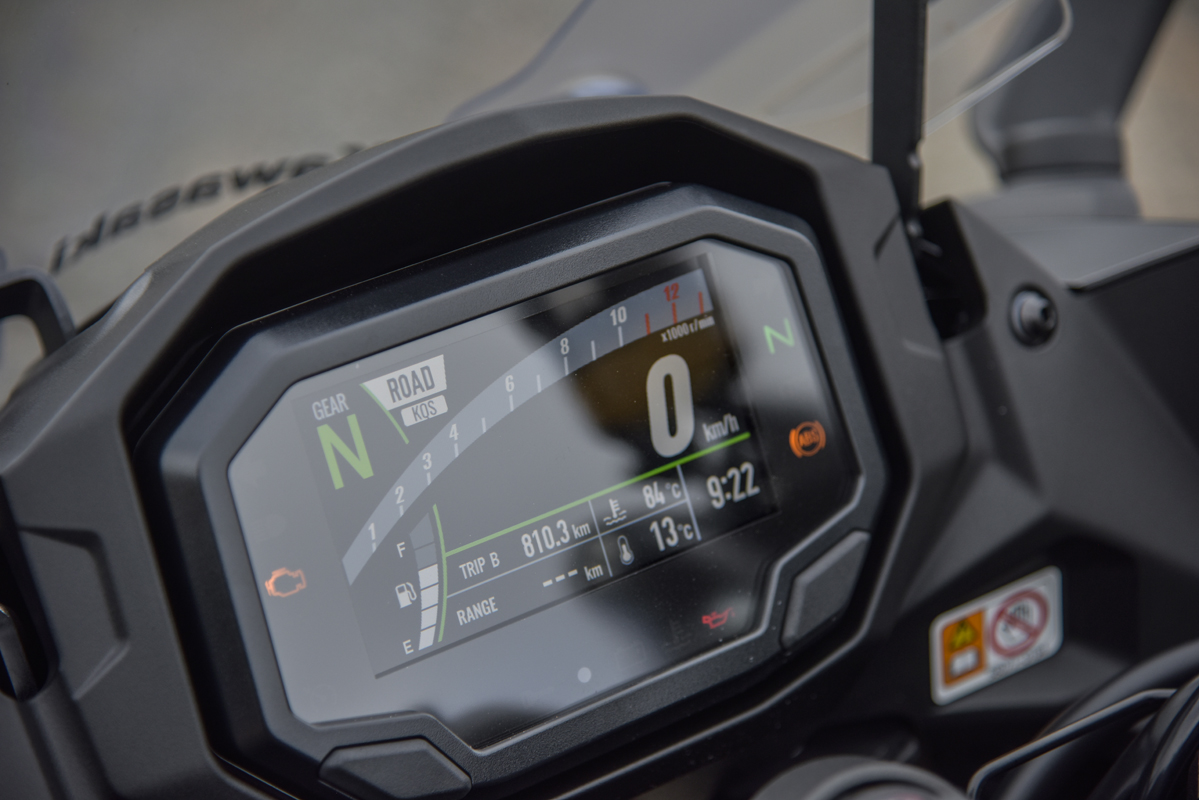 The brakes, Oh Lordy, the brakes. Tokico four-pot callipers and 300 mm twin discs up front are powerful and endowed with excellent feel. The 250 mm rear disc with its one-pot caliper is also perfect for the job. It really is a complete and excellent Sport Touring package.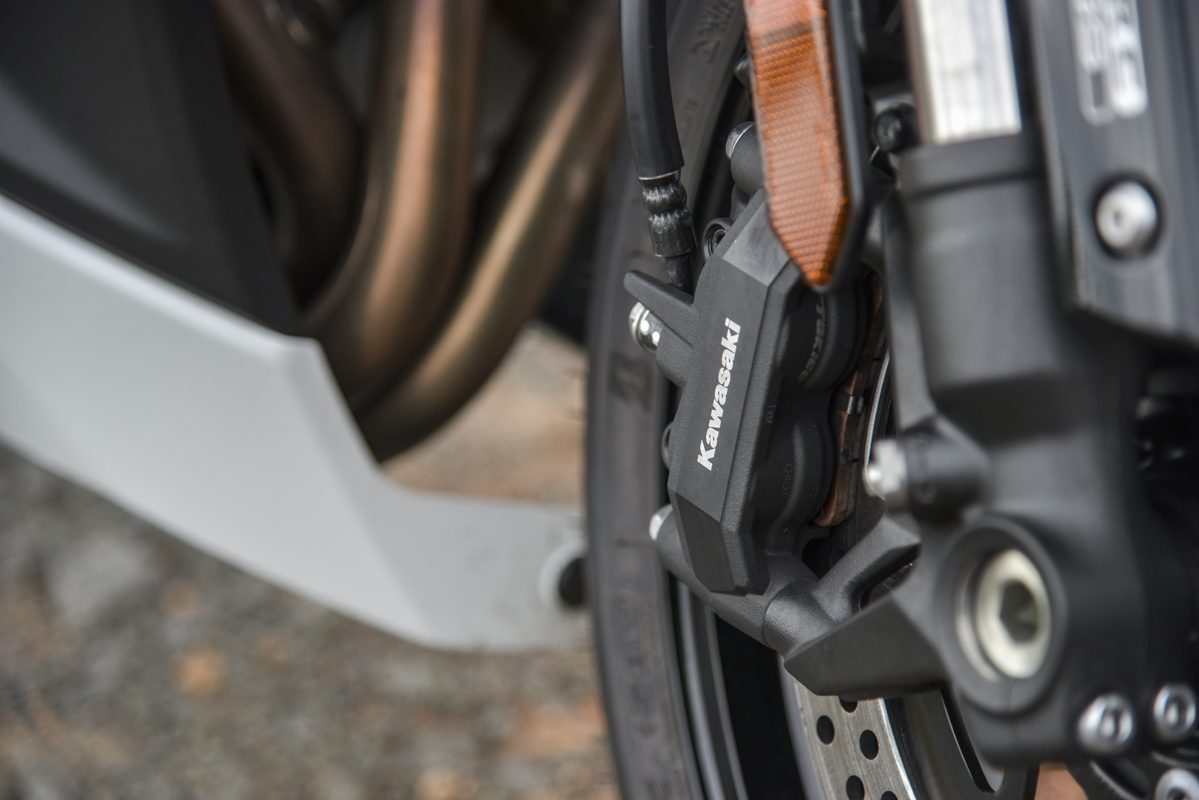 The accessory list is also comprehensive. A larger windshield, USB socket kit, 47-litre top case, tank bag, hard side cases, GPS mount and heated grips, are all available. Maybe heated grips could have been standard, given that this is a bike that is likely to be ridden in all seasons.
For me, at this stage of my life, where a Race Replica is literally a pain in the neck and totally unsuited to the long distances I like to devour in big chunks, the Kawasaki Ninja 1000 SX is the elusive unicorn. Fast, competent and nimble enough to satisfy the racer in me, yet so usable day to day, commuting or touring.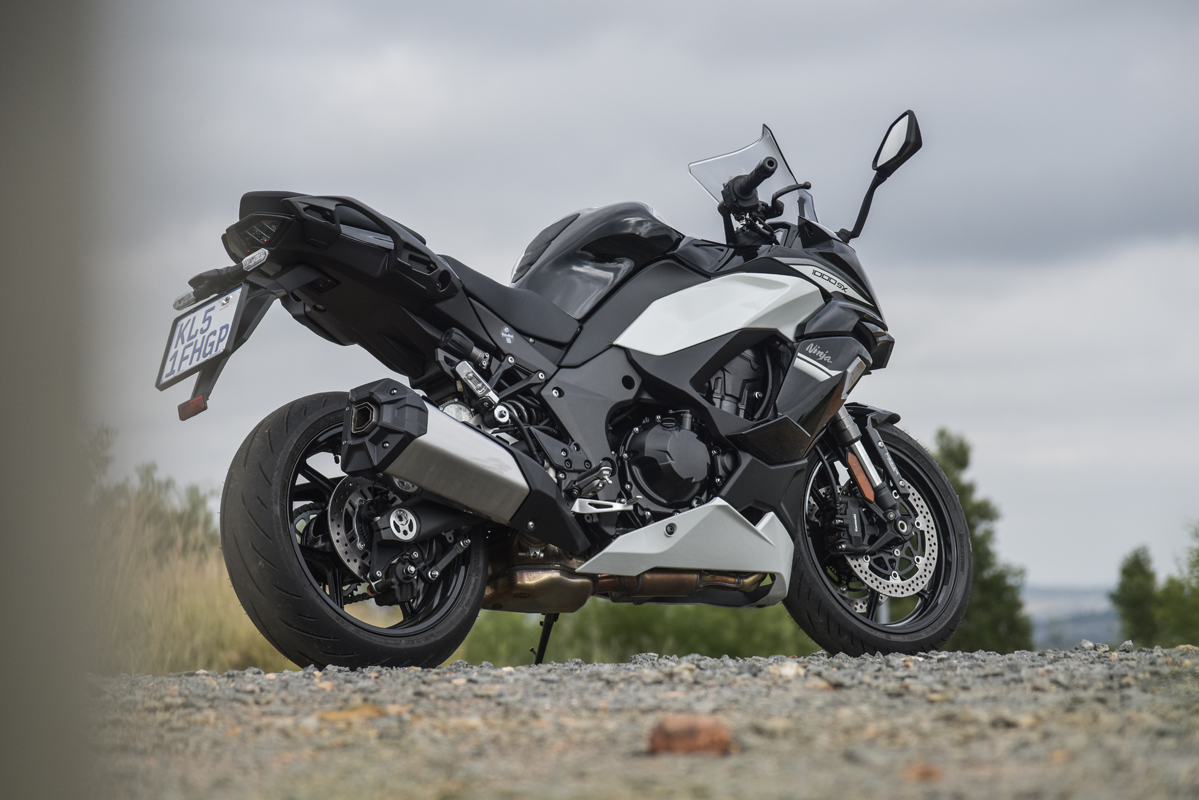 A truly superb motorcycle which requires very little compromise as it fulfils its reason for being. An incredible amount of motorcycle, for only R229,995. When you consider its array of attributes and proven ability, there is not much, if anything, which offers such comprehensive value.
Kawasaki Ninja 1000 SX
For more information on the bike that we used in this article, click on the links below…