Creating decent content for our clients requires transporting camera equipment and the like to some weird and wonderful places, as some of you may already know, we bought a Suzuki Jimny late last year as a backup vehicle for doing such a job.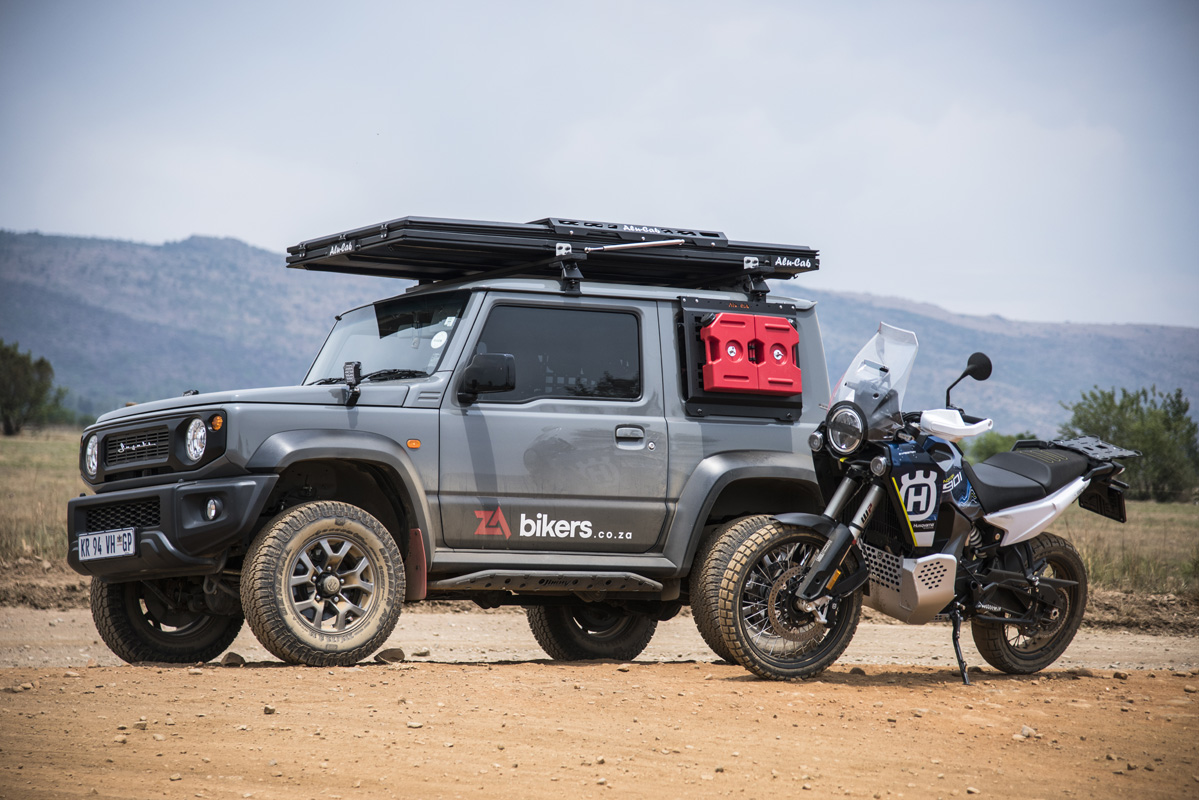 We've told you about several upgrades that we've done to our Jimny to fine-tune the vehicle to suit our requirements in our ongoing blog.
Next up in our build project was turning our Jimny into the Ultimate Micro Overlander.
We've been researching for a while now several roof-top tent options that are available for the Jimny, personally, I like the clamshell roof-top tent design as they are so simple and easy to use. Unfortunately, at the time of purchasing our Jimny, these types of tents were all generally too heavy for a Jimny as they had been designed for much bigger 4×4 vehicles.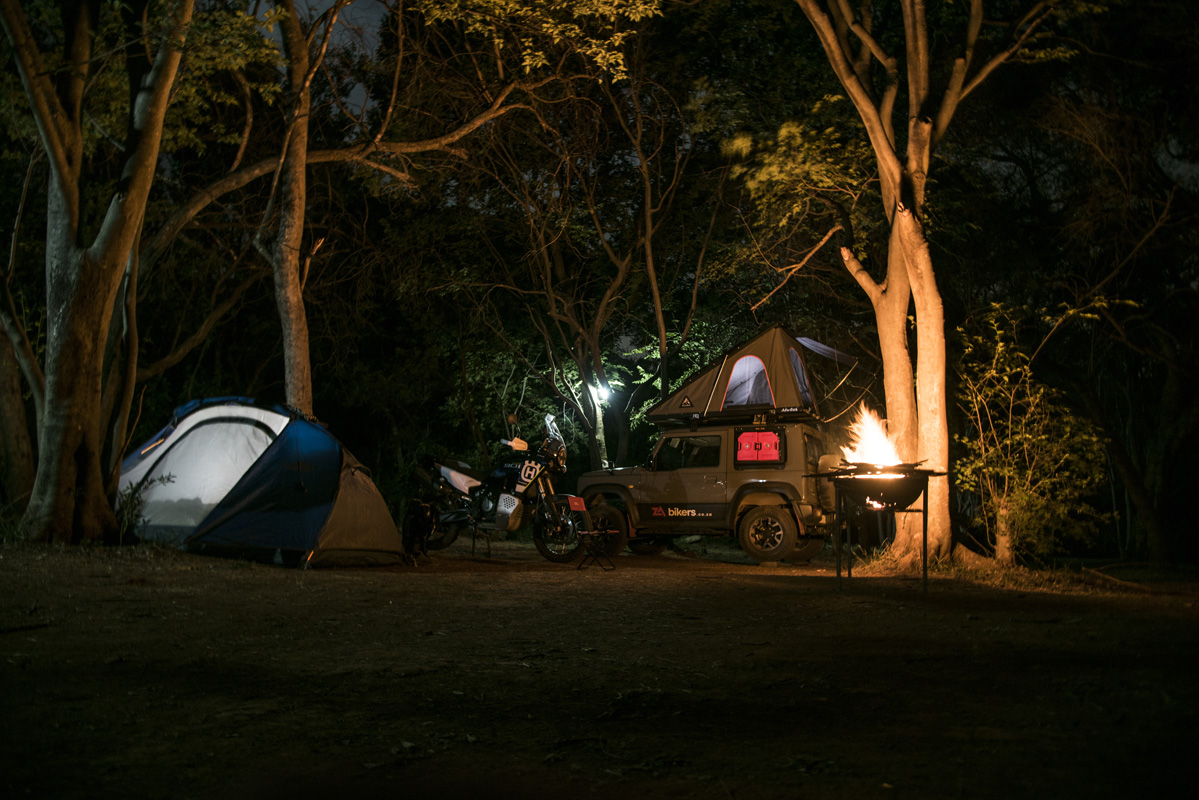 So we were stoked to hear that the Cape Town-based and internationally renowned 4×4 accessory company Alu-Cab had launched a 'light-weight' version of their clamshell design roof-top tent which they specifically developed around the Suzuki Jinmy.
Enter Alu-Cab's LT-50 Lightweight Roof-Top Tent…
Storage & Fitment:
Okay, so before we dive into the features/specifications of the roof-top tent, I first want to discuss the fitment and storage aspect of owning an LT-50.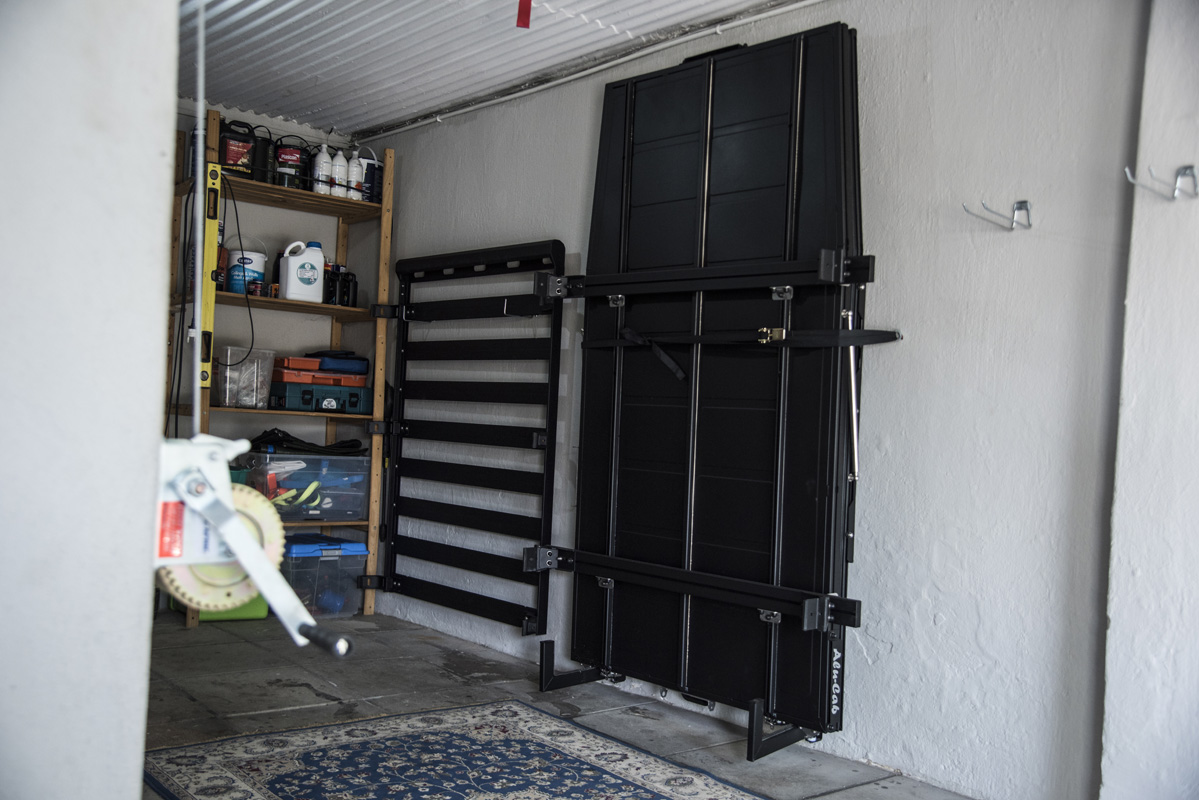 First up, we've fitted Alu-Cab's LT-50 Wall Mount in the garage at our offices. This is a very cleverly designed mounting system made up of 3 main parts; there's a set of hinged brackets mounted at ground level that keeps the LT-50 off the floor, what I like about the design of this bracket system is that you can kick the brackets out (one side at a time) which enables a single person to lower the LT-50 onto the floor without needing any assistance from a second person.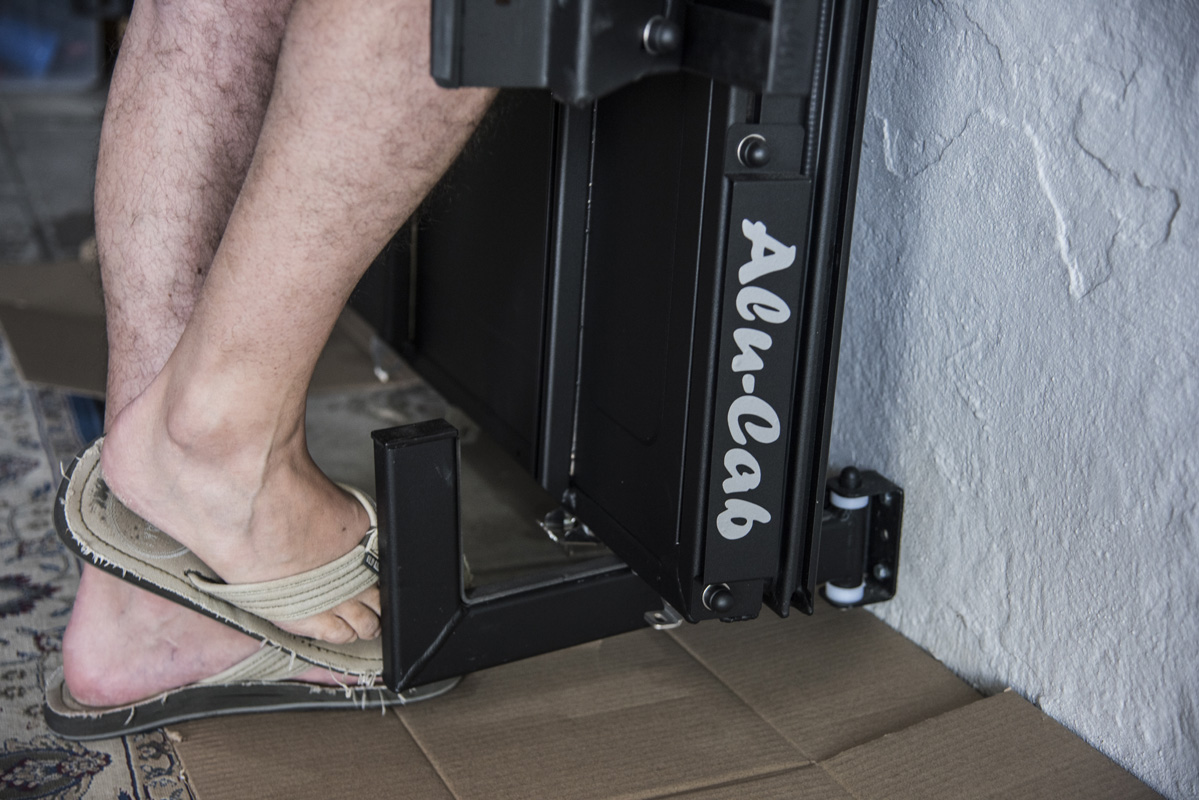 There's a padded base plate mounted higher up on the wall with a strap running through the back which holds the LT-50 snuggly in place—it takes minimal space in the garage when stored.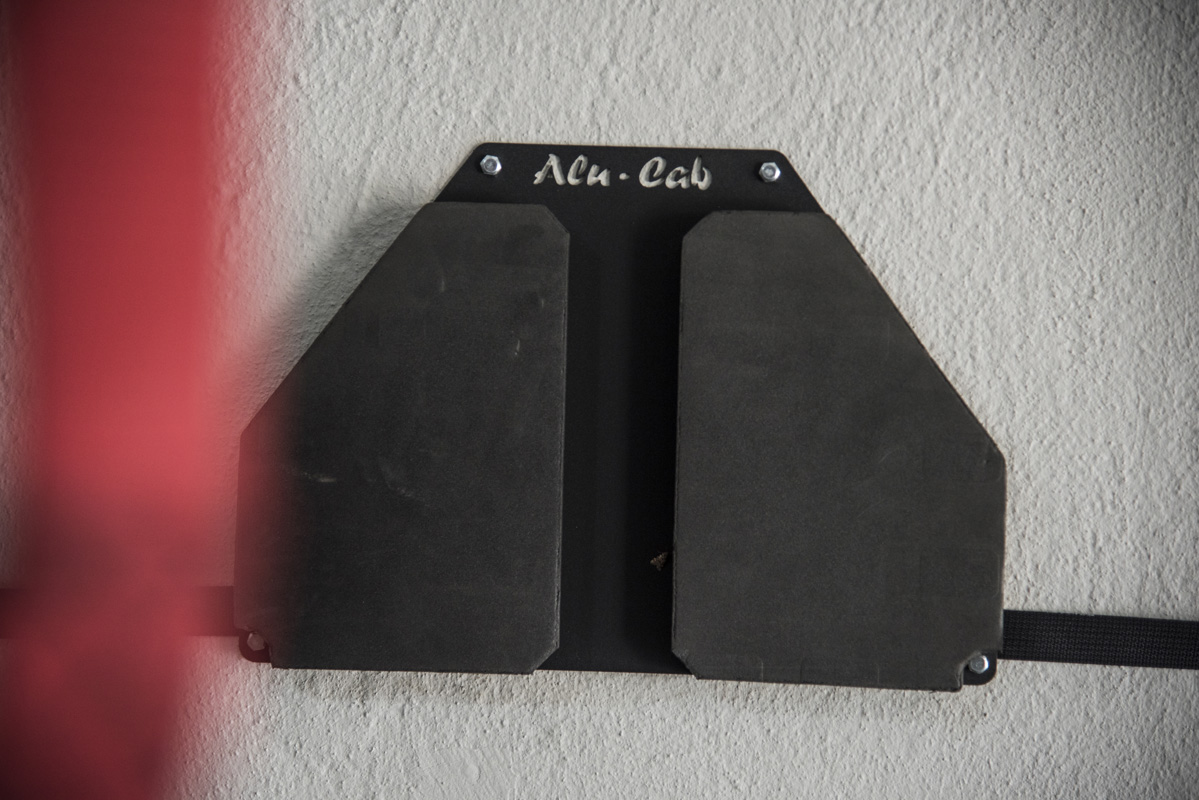 Talking more about single-person fitment, for me 'personally' I wanted to be able to fit the LT-50 on/off my Jimny without needing any help. So I made a simple pulley system so that I could lift the LT-50 into the air, drive my Jimny underneath and then lower it down into position (please note: that a pulley system is not totally necessary; if you have an extra set of hands then lifting the tent onto your load bars or roof rack would be straightforward).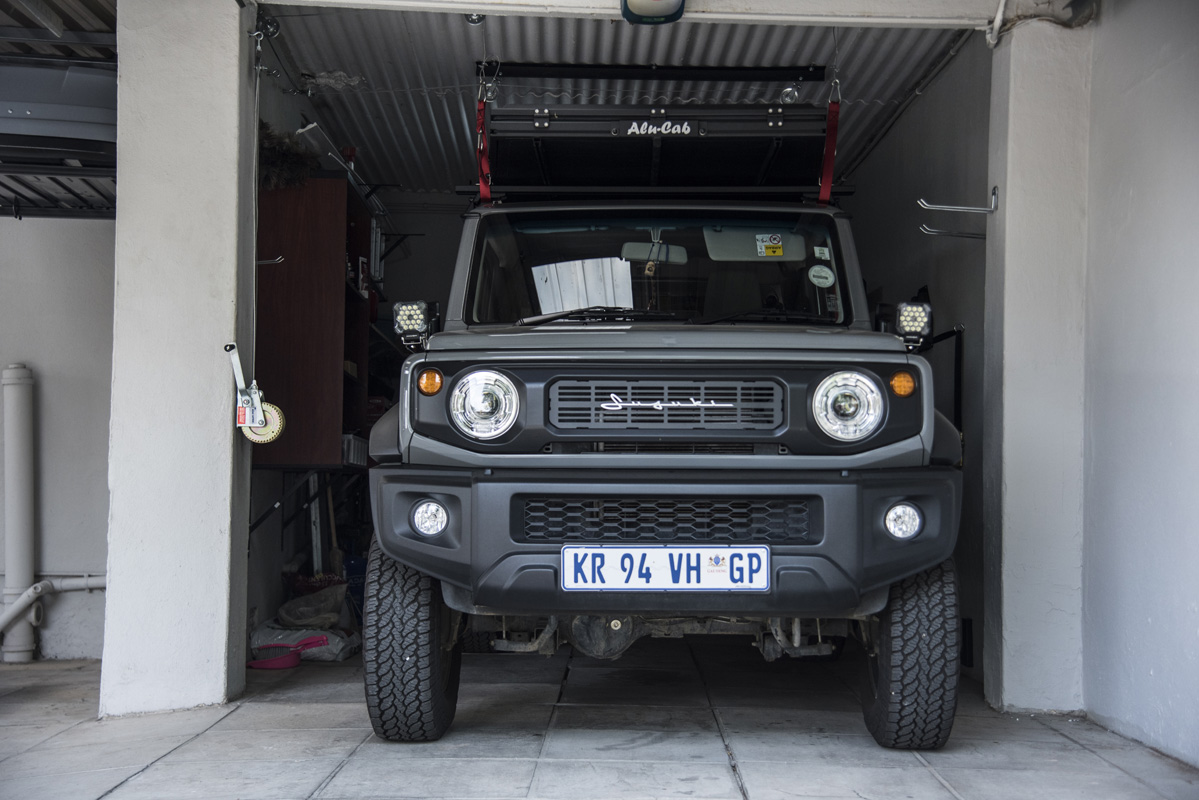 Finally, we opted to mount our LT-50 onto a set of Alu-Cab's Load Bars using their Load Bar Mounting Kit, the kit is made up of 8 brackets (4 that mount underneath the LT-50 onto the side channel of the bars, and 4 that mount from the sides of the LT-50 onto the top of the bars), the load bars have gutter mount feet which then fit onto the Jimny's roof gutter system. What we do is keep the load bars mounted to the tent all of the time (because we have a secondary roof rack system), so that when we remove the tent from our Jimny we just loosen the gutter feet mounts, lift the LT-50 in the air, and then drive our car out from underneath.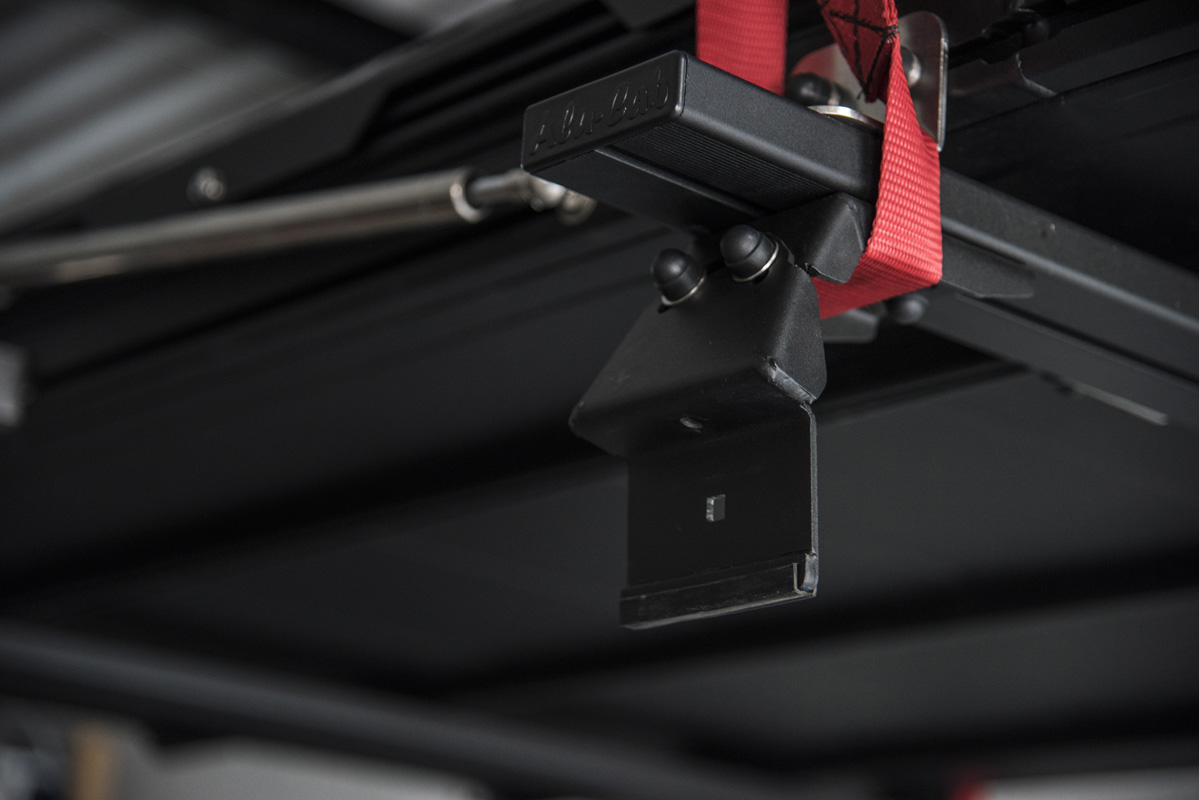 Alu-Cab tells us that they are developing a quick-release system which will work with various roof rack systems, as soon as these are available, we will test them out on both our rack systems and give you our feedback…
Out in the Field:
We headed out recently to the Magaliesburg region on a mini-weekend adventure to test ride Husqvarna's Norden 901 Expedition. This was a perfect opportunity for me to properly test out our new LT-50 Roof-Top Tent from Alu-Cab.
So let's now dive into the specs…
The LT-50 weighs in at only 50kg (including the mattress) which is ideal for small vehicles such as the Jimny—where weight really matters.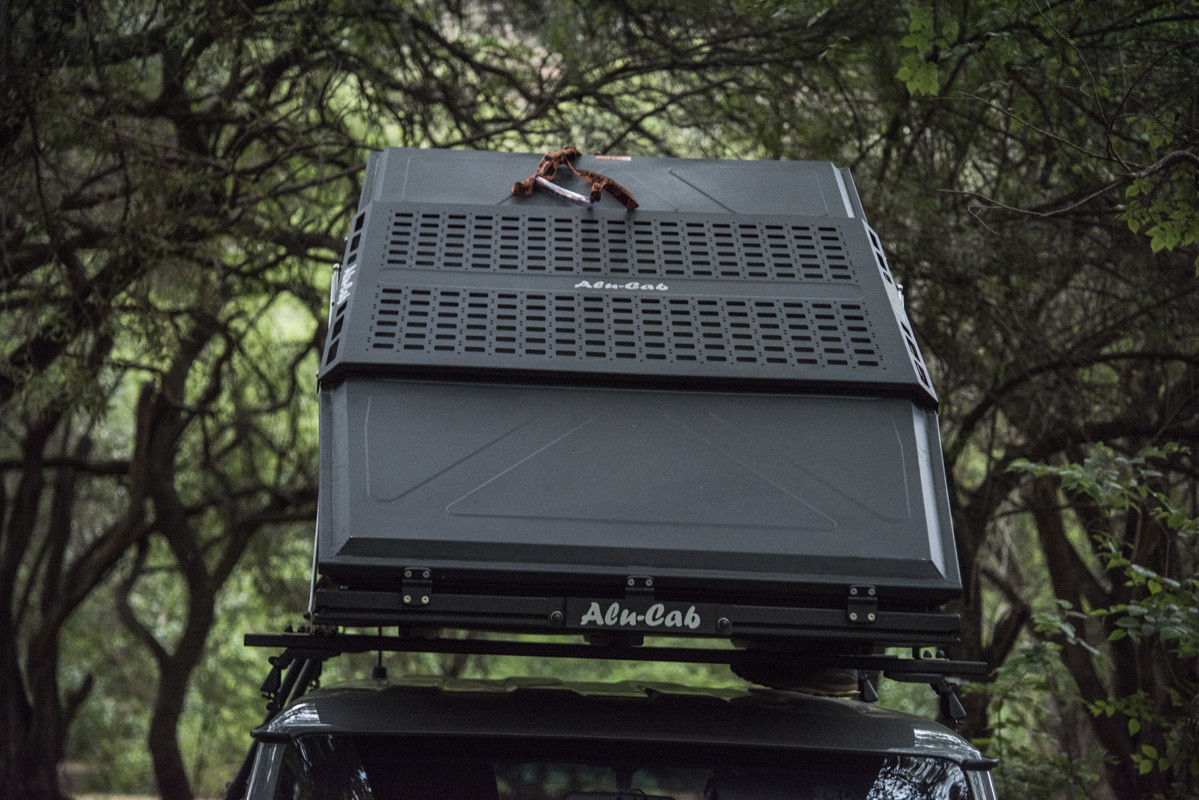 It is made from a lightweight hard-shell aluminium construction, which can carry additional gear of up to 30kgs. There are mounting channels on the sides of the LT-50 where you can fix an 8mm eyebolt so that you can strap down your gear; we've opted for the additional Roof Molle Plate which increases the loading capacity to 50kgs, you can then mount and fix your gear directly onto the Molle Plate.
The LT-50 has a streamlined aerodynamic profile, which is wind-resistant thanks to its single-sided opening. I've tested this driving to and from the Jimny Gathering in Clarens and I can tell you that there is minimal wind noise and drag.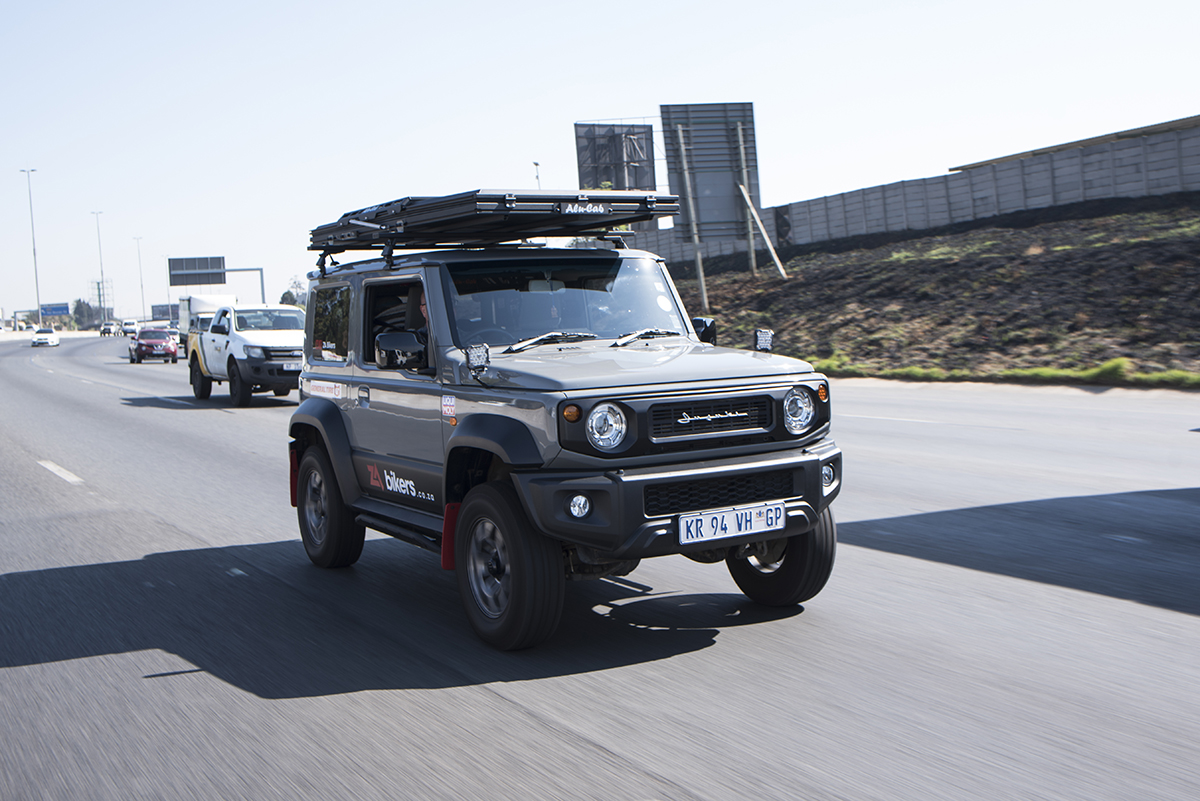 Opening/closing the tent is the real party trick of the LT-50, it is so simple to do; I've even demonstrated this act with intrigued fuel attendants when filling up at a gas station, to which their eyes lit up in amazement. You simply open the latches and push upwards, and then the stainless steel 316 marine-grade gas struts take care of the rest.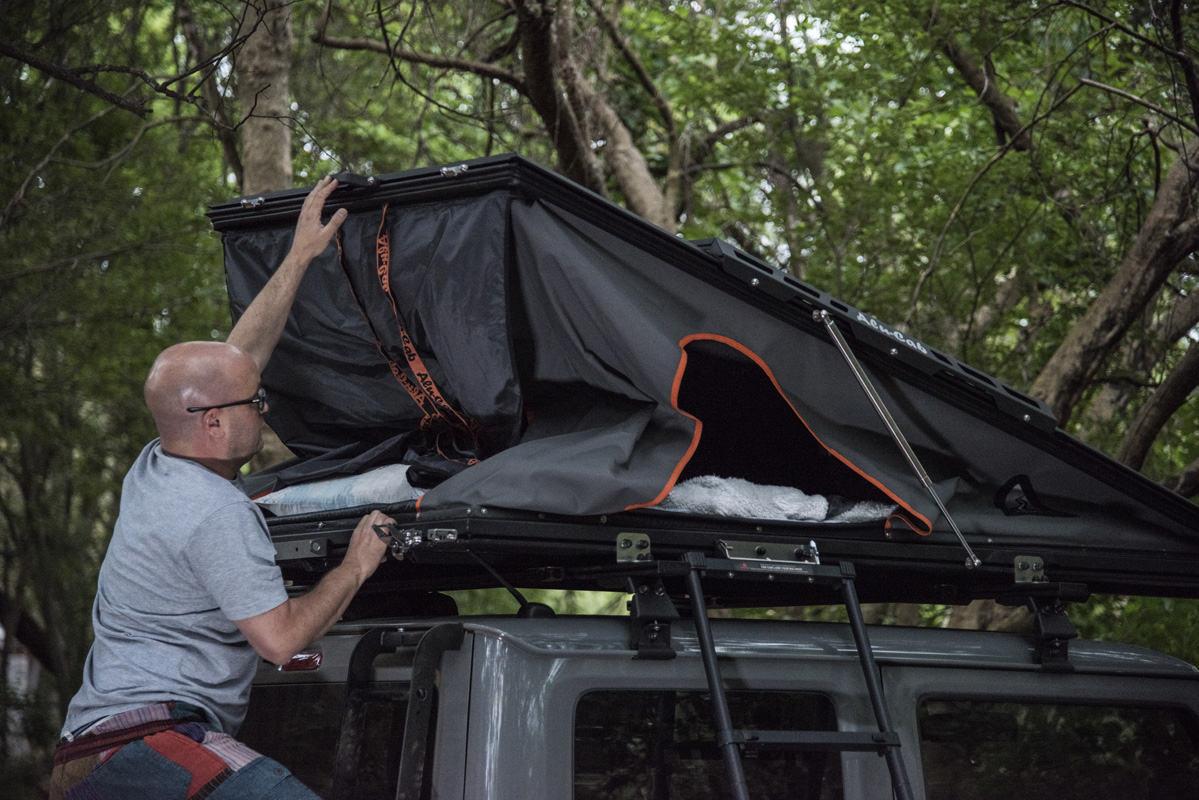 Voila! your tent is erected; your mattress is a permanent fixture, so all you really need to do to finish the set-up is to attach the Telescopic Ladder (optional extra) take in your pillow and blanket and you're set up for the night—it's that simple.
Closing down the LT-50 is a doddle, all you need to do is pull on the extended rope handle and then close it and lock it—it doesn't get much easier than that.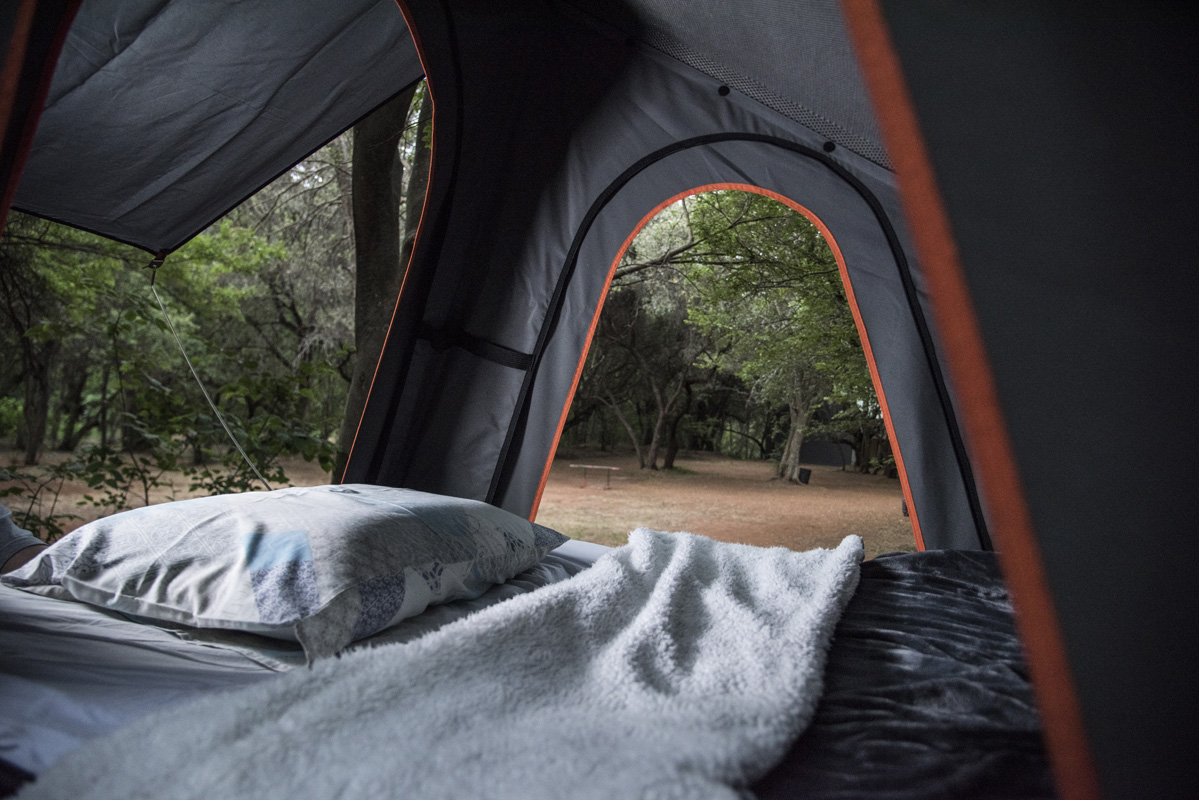 Once opened, there are 3 points of access, at the front and on both sides. There's a double zip mechanism so if everything is zipped up then it's pitch black inside, if you zip down the inner zip then there's a midge-proof mesh screen which gives plenty of ventilation for those hot South African summer nights. On the nights that I've slept in the tent, I've zipped the top down on both sides ever so slightly, revealing a bit of the mesh, which gave me enough ventilation and also it wasn't too dark.
The fabric is a dual-layer 280gsm UV-resistant ripstop canvas. We've fitted the Rain Cover (optional extra) to our LT-50 which fastens with velcro at the top and then extends out with provided poles, giving you extra protection in the event of rainy weather. On the nights that I've slept in the tent it has been dry so I am not able to comment on this aspect.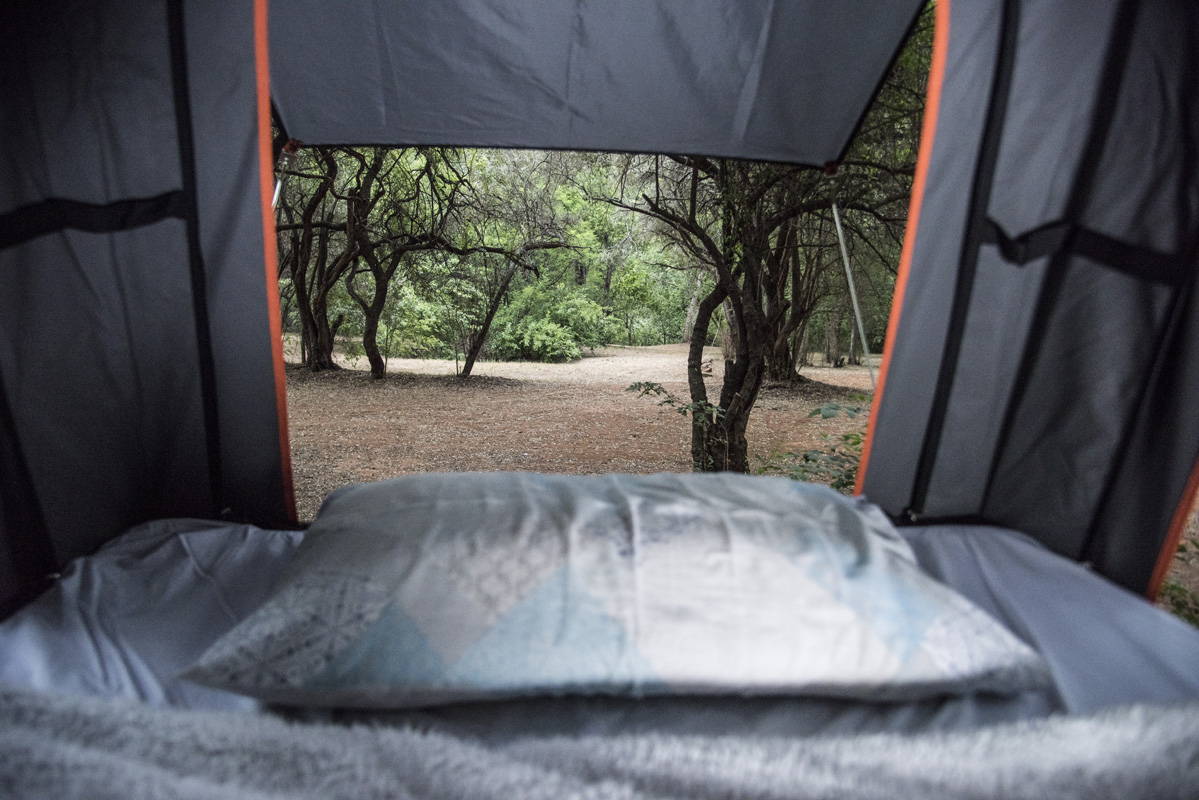 Comfort-wise, the top and bottom of the cabin are insulated, then there's a 60mm high-density foam mattress with a zip-off cover. I do not come from a hard-core camping background (I like my comforts in life), so for me personally, sleeping in the LT-50 was more of a glamping experience, I found it to be very cosy and I slept well in the tent.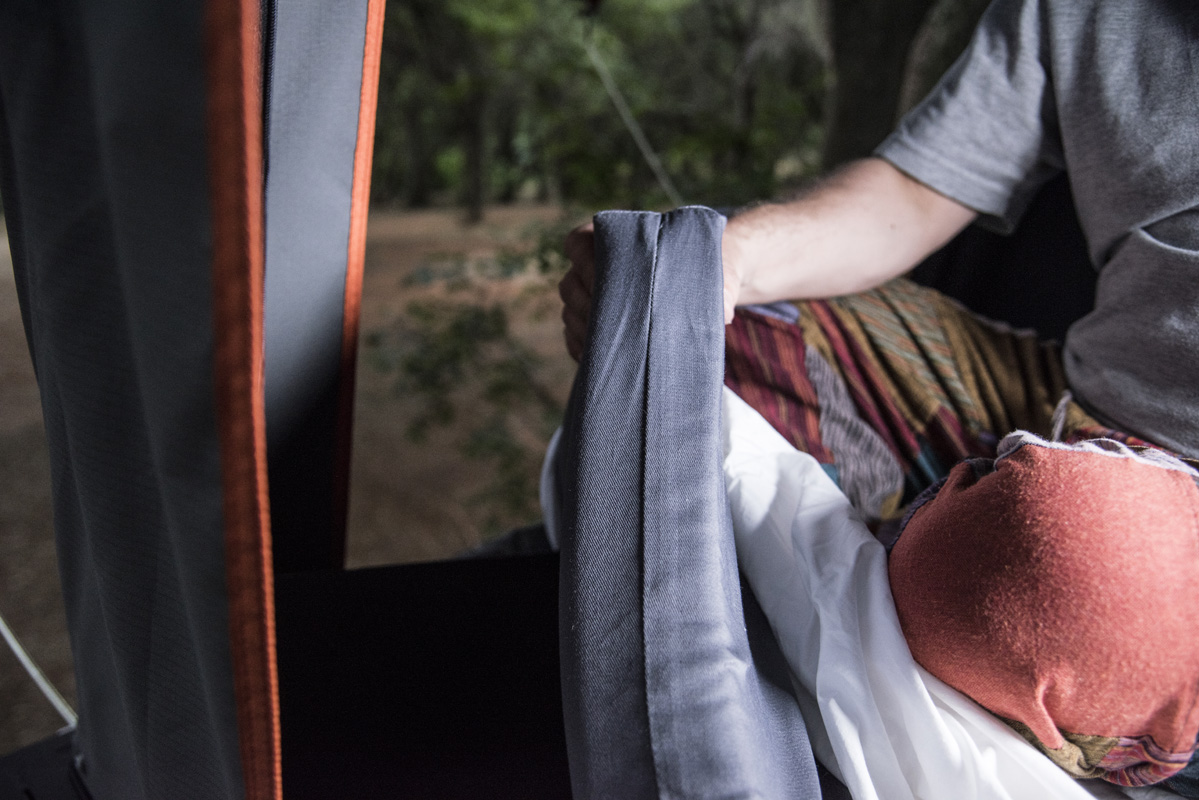 I liked the fact that whilst out during the day on an adventure, I wasn't stressing about where I was going to sleep that night, as I knew I had a home-away-from-home sitting on top of my Jimny. So I could enjoy the adventure with the peace of mind of having one less thing to worry about—that's flipping cool if you ask me.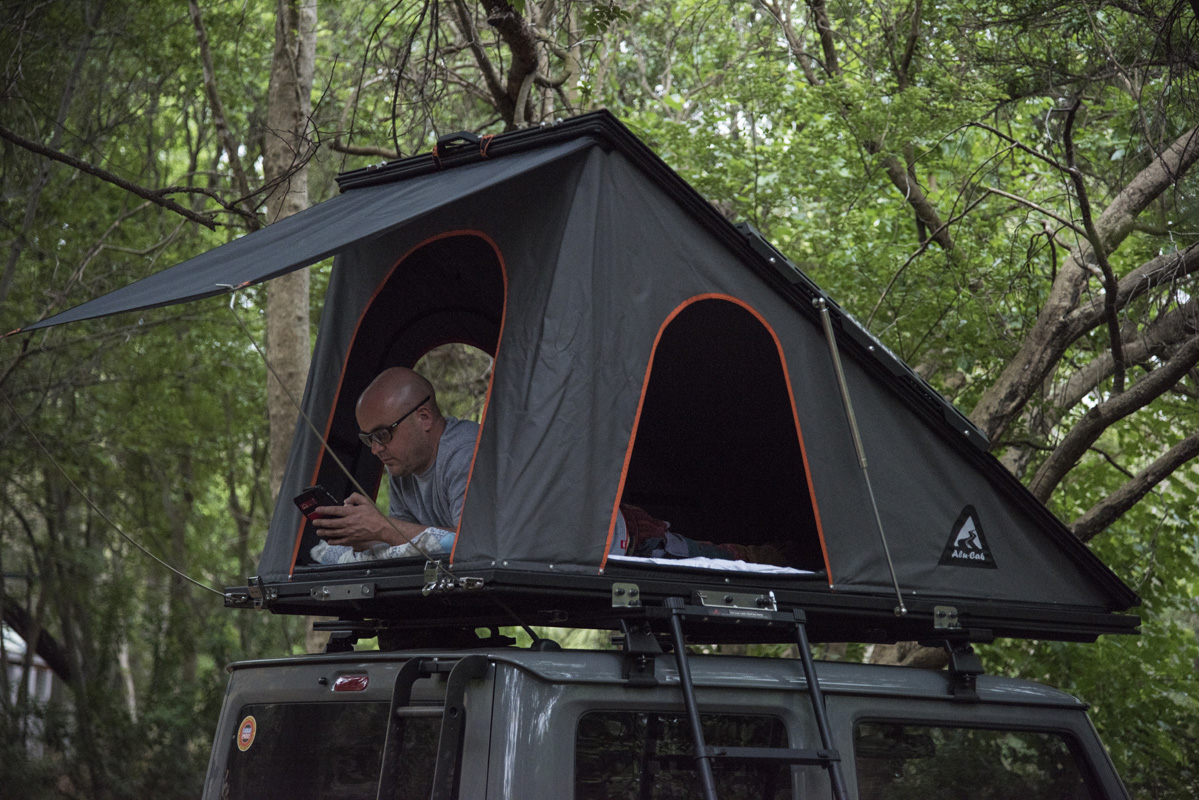 Other things to mention, we have also fitted to our Jimny a few other accessories from Alu-Cab. First up is the Exterior Molle Plate that we've mounted a set of 5L Jerry Cans onto (Alu-Cab has a Jerry Can Mounting Kit available for this).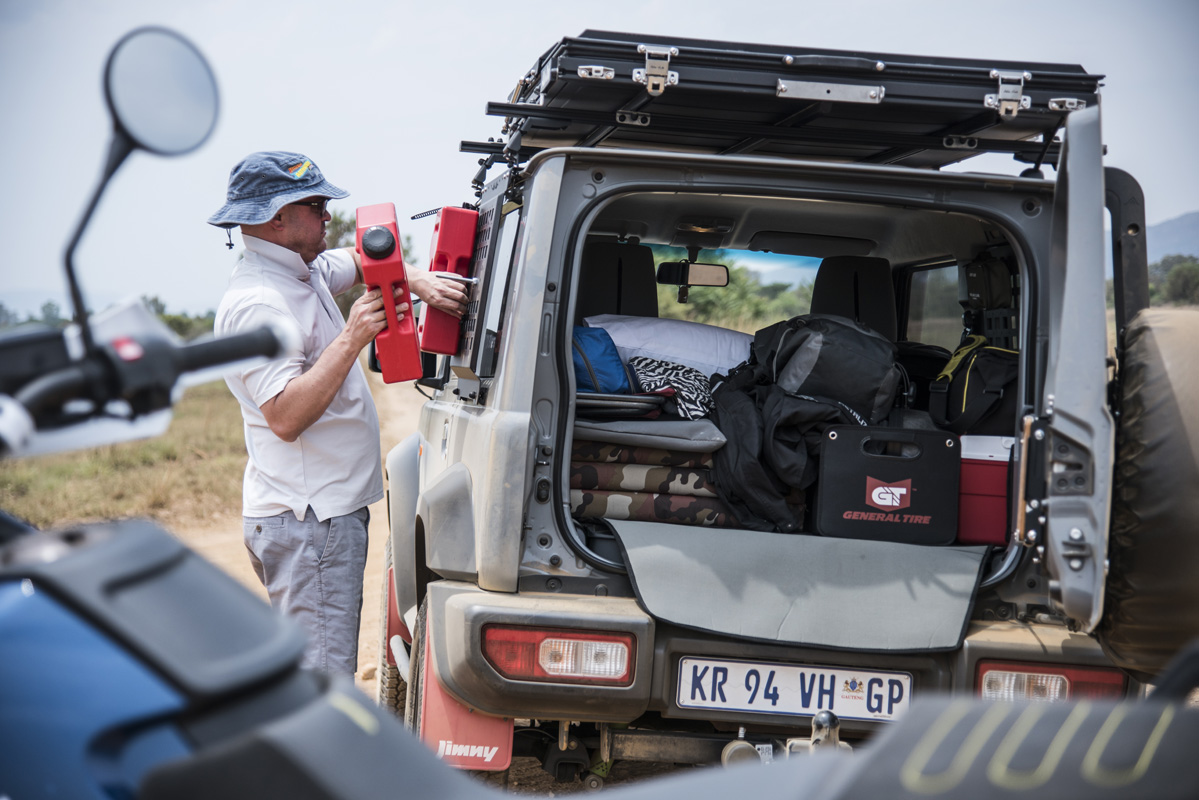 This was particularly useful for topping up the Husqvarna with fuel when out in the field. Obviously with the Jimny not having a big fuel range, when on an extended trip, carrying an extra 10L of fuel along gives you peace of mind, especially when out in some remote areas (like Botswana for example).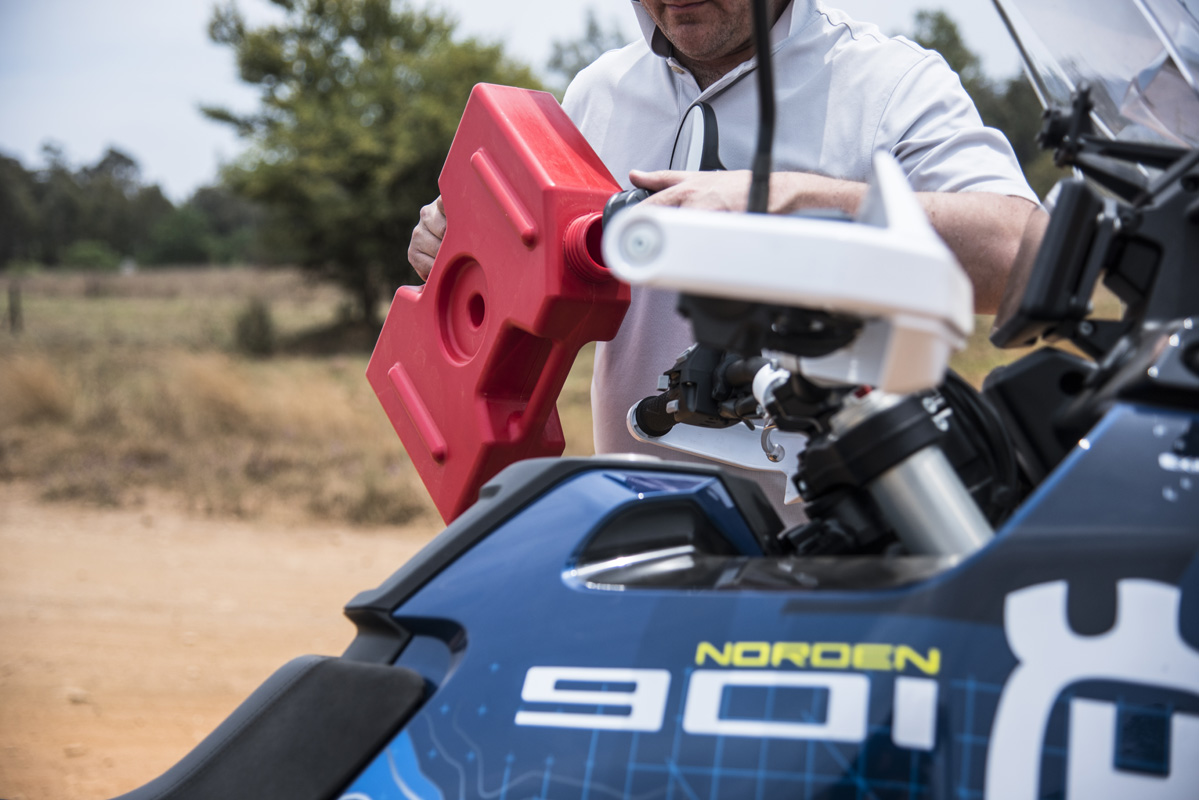 We've also fitted to the inside rear door of our Jimny, Alu-Cab's Rear Door Dropdown Table, this is so useful when camping, it even has a pull-out wooden chopping table that I've been using mainly for boiling a kettle in the mornings to make a cup of coffee. A very practical addition for Jimny camping enthusiasts. 10 out of 10 from me.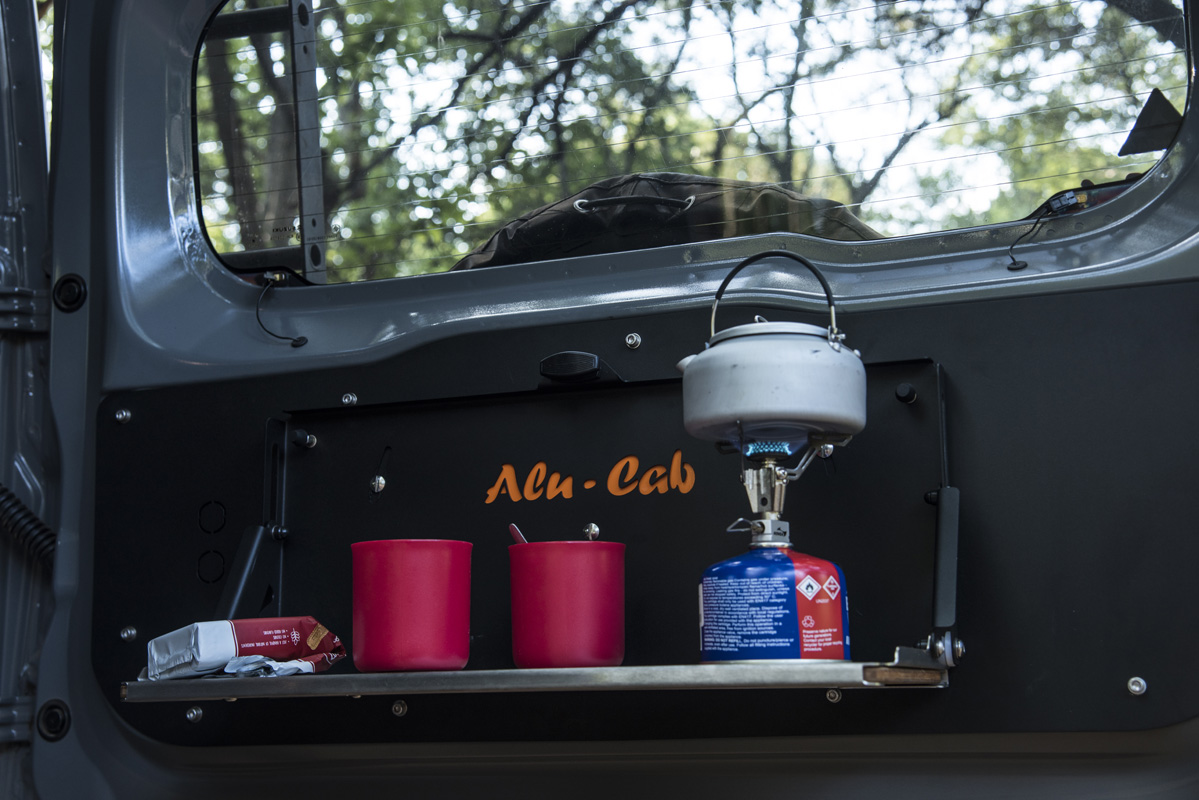 Last up is Alu-Cab's Spotlight Bracket, we've fitted these along with a set of spotlights that turn on/off using a button located underneath the steering column. It is one of those items that you didn't realise you needed until you had them fitted. I tested them when leaving the Suzuki Jimny Gathering at 05:00 in the morning, the camp we were staying at was just outside of Clarens, and was several kays from the main road, so it was very dark. Once the lights were switched on they lit up my pathway giving me excellent visibility, so much more so than the standard lights on the Jimny. Very impressive indeed!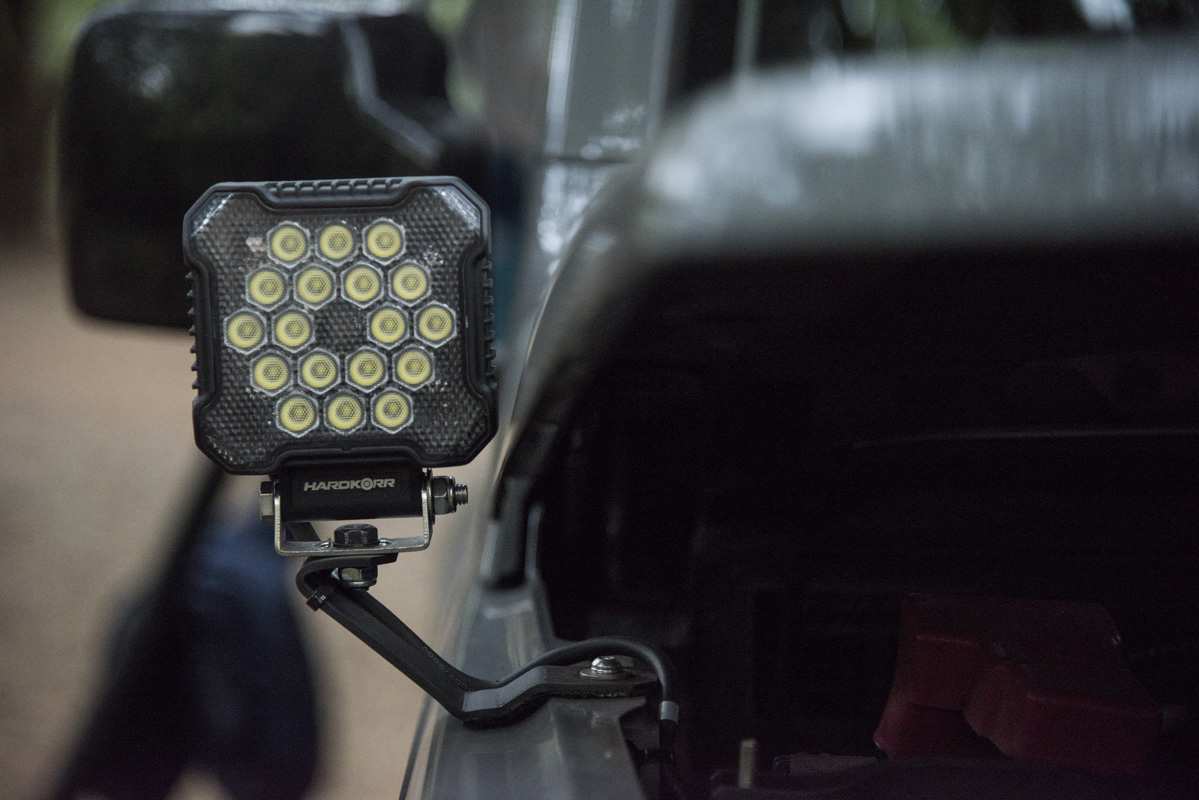 Overall we are very happy with our Alu-Cab additions that we have fitted to our Jimny and we look forward to many adventures ahead with our new Micro Overlanding Machine.
See below for further information…
Dimensions & Weight:
Overall Dimensions: (L x W): 2258 x 1261mm
Height Roof Closed: 172mm
Roof Open: 1155mm
Tent Weight: 46kg
Mattress: 4.55kg
Mattress Dimensions: (L x W): 2070 x 1085mm Depth: 60mm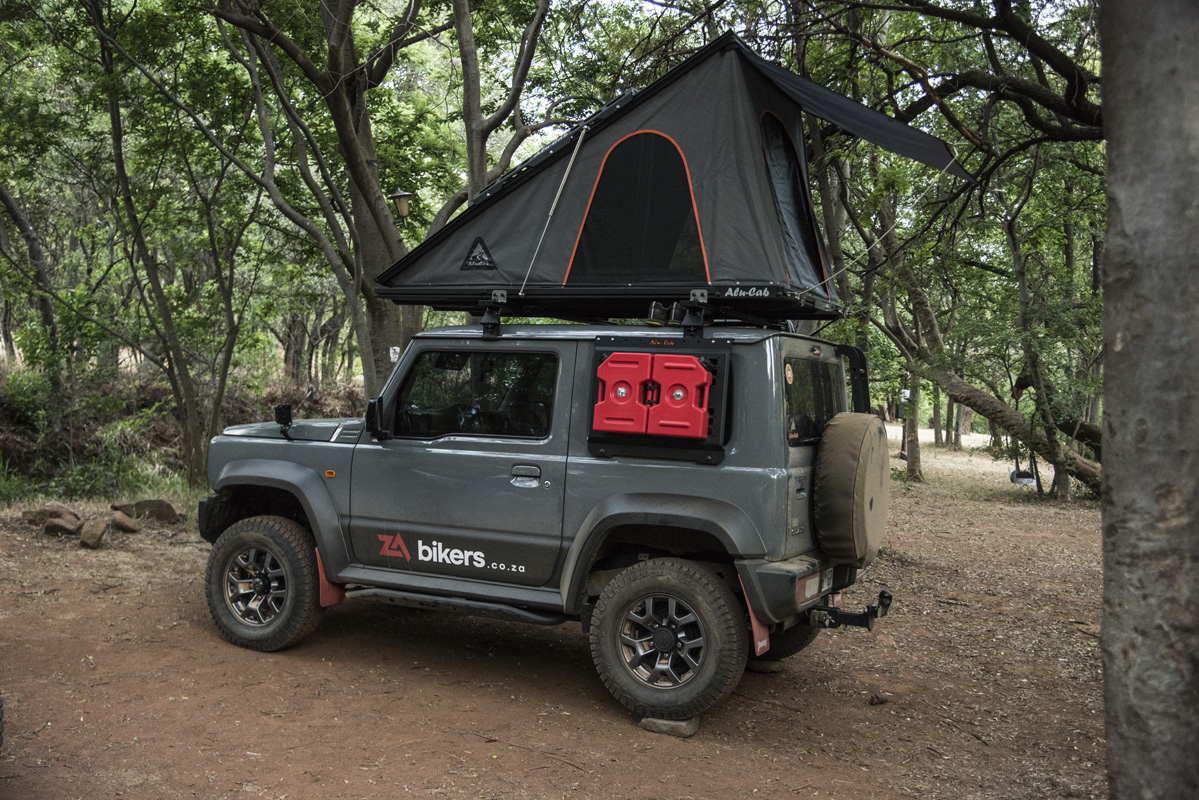 Pricing + Available Accessories:
For further information about Alu-Cab visit: www.alu-cab.com